21c Museum Hotel in Durham, North Carolina is a truly unique experience. How do we love thee? Let us count the ways! It's a hotel not too far from us and the only question we asked ourselves after our first stay was, "Why didn't we stay here sooner?" (And ever since, we can't stop recommending it to all our friends.)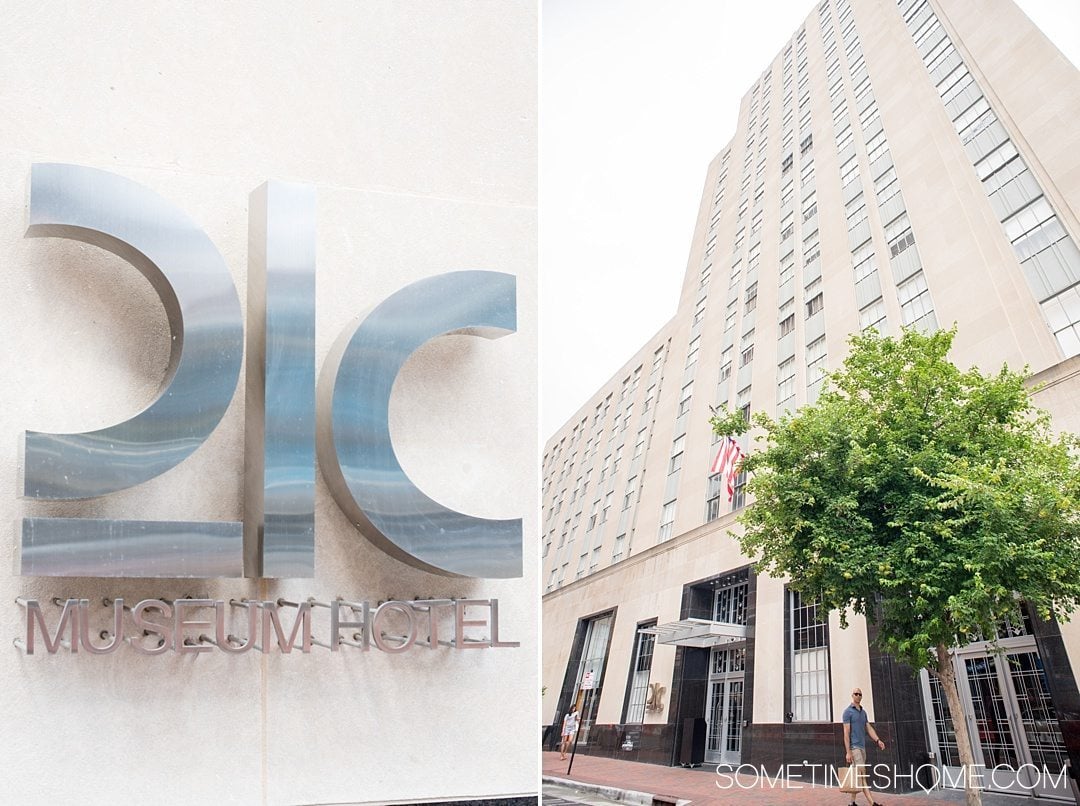 1. Location of 21c Museum Hotel (Part of M Gallery, Accor Hotels)
This boutique hotel is walking distance from downtown Durham's hot spots, including tons of local shops, restaurants, bars and performance spaces like DPAC. It's close to home and highly and highly accessible from any number of surrounding areas including Raleigh, Cary and Greensboro. It's also very near RDU international airport.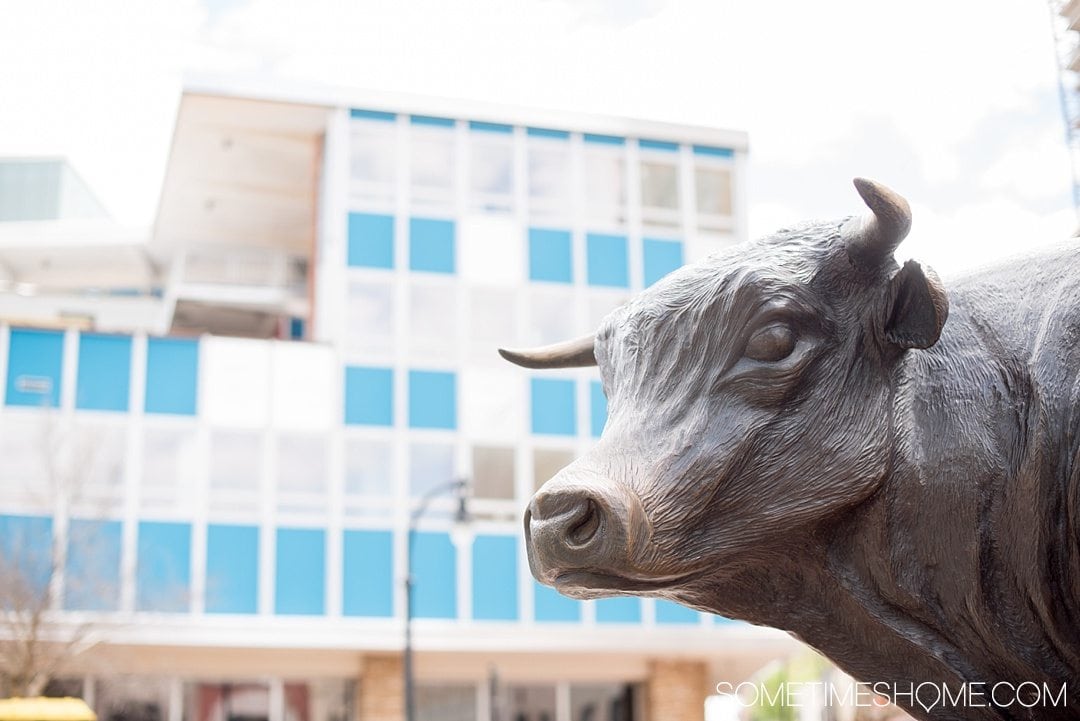 2. Nod to History at 21c
I absolutely love the history of the hotel. In fact, it's on the National Register of Historic Places. Its past life is celebrated from their 1970's-esque Terrazzo floors to their basement vault to this ultra cool Directory board. It's posted immediately after you walk in the front door and provides museum information and weekly events.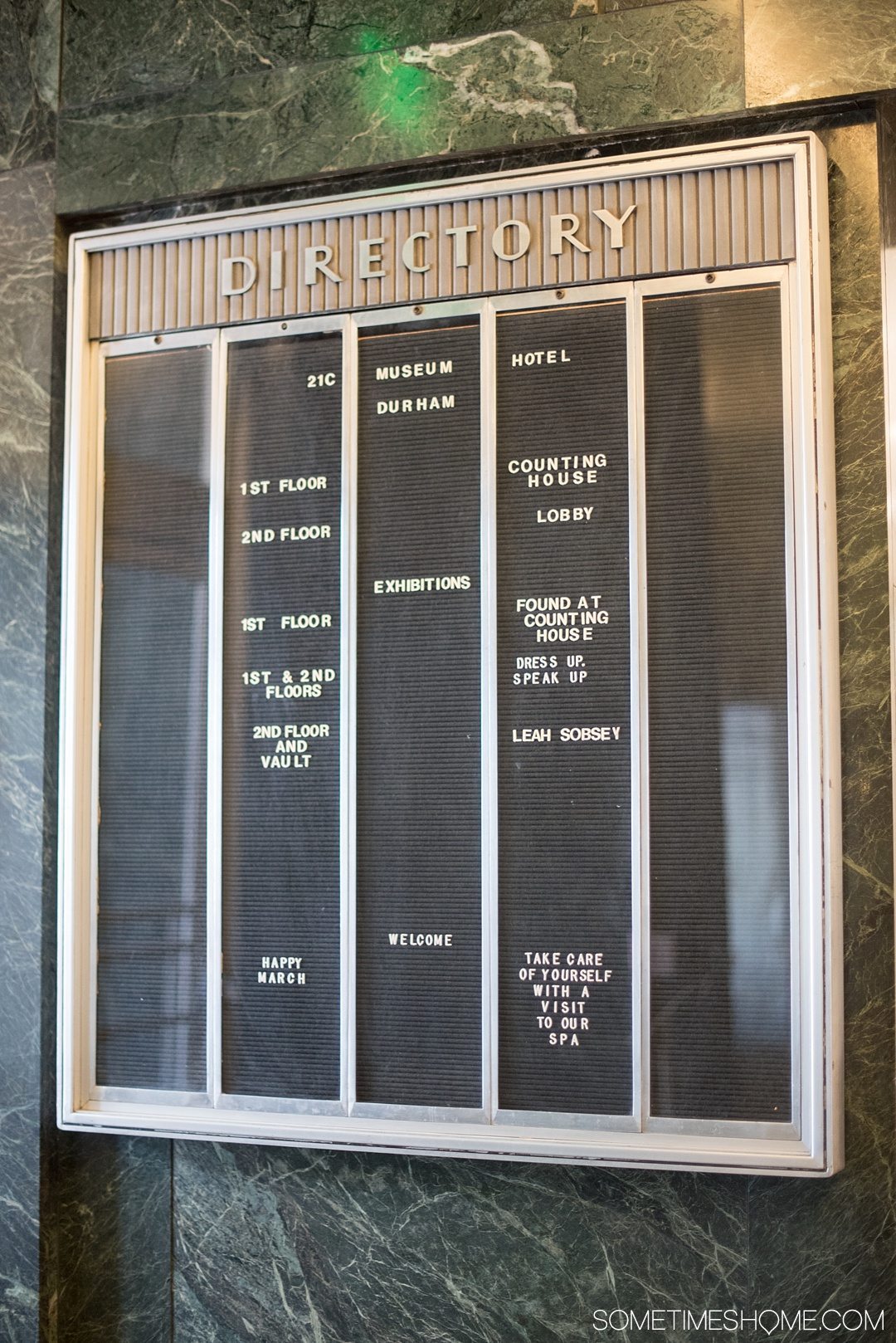 3. Super Cool Bank Vault in the Basement of 21c
This is one of the coolest features I've ever seen in any hotel. You'll instantly feel like a James Bond character here. Head downstairs to see the many small safety deposit boxes to gargantuan vaults.
The floor tiles are cheeky and have money printed on them! How posh would it be to have a little down time after a day of exploring downtown Durham in a bank vault? Talk about #InstagramWorthy.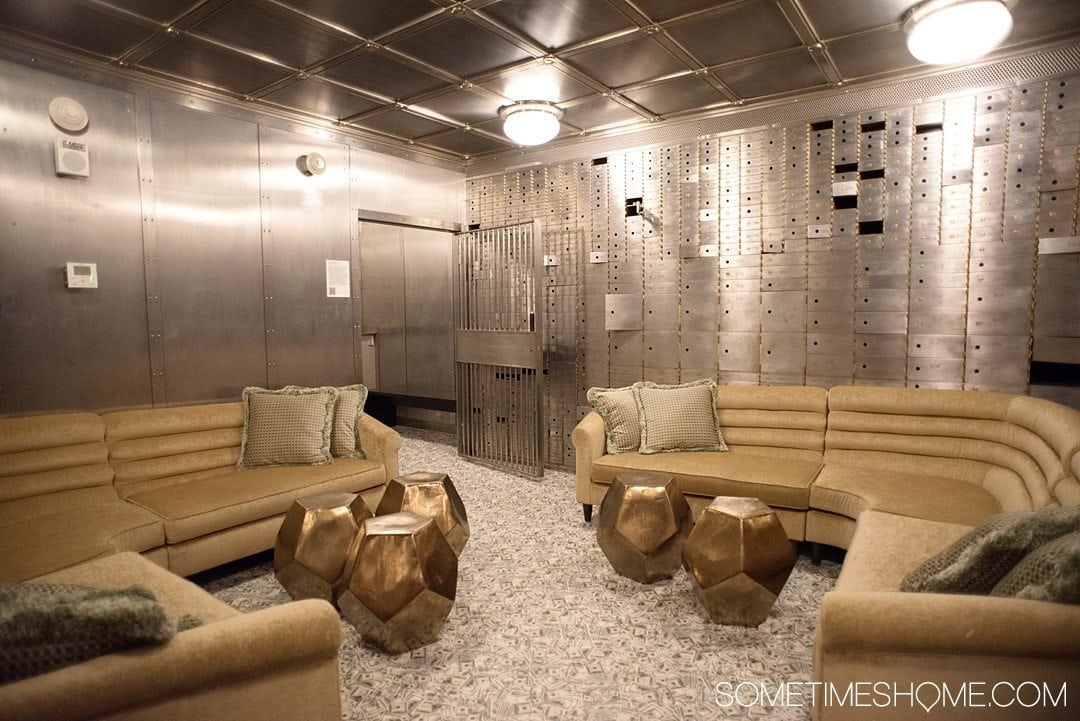 4. Luxurious Rooms at 21c in Durham
The rooms were amazing! The bed was comfortable and we had a wonderful night's sleep. The wifi was fast and free, the Nespresso machine made high quality coffee (not the weak coffee excuse you often receive at less wonderful hotels) and the bathroom was spotless.
I even noticed that the grout in the sleek black-tiled shower looked brand new. We were on the 11th floor so had an added bonus: the VIEW! Their bath products are available for purchase in their hotel gift shop if you end up loving their bath products as much as we did.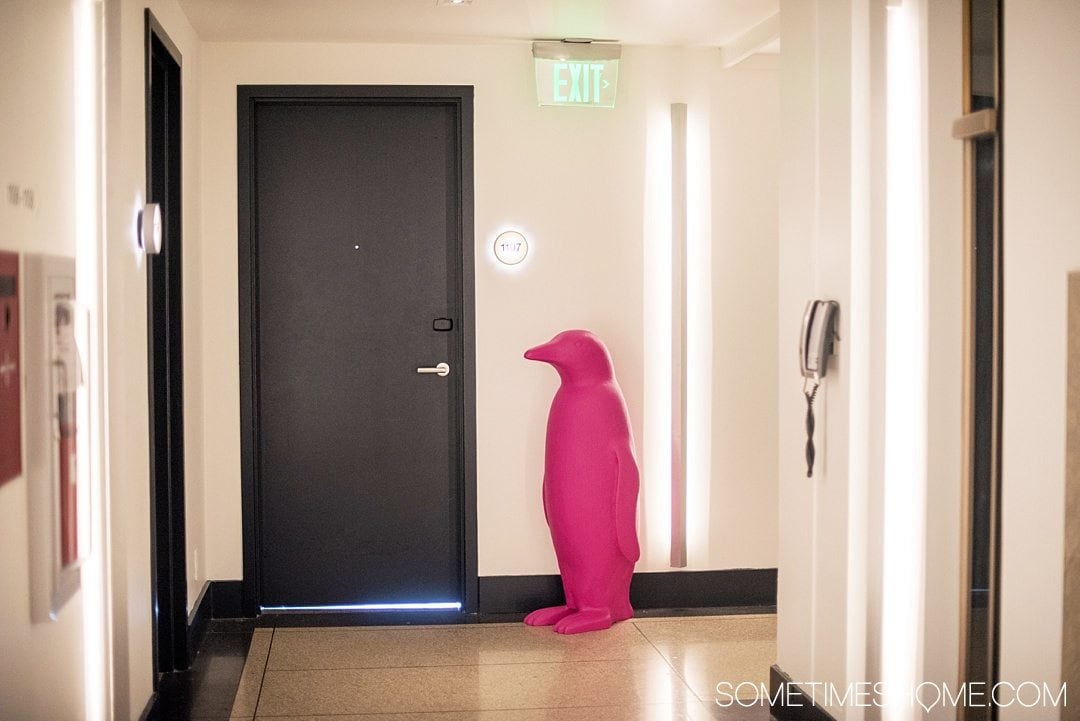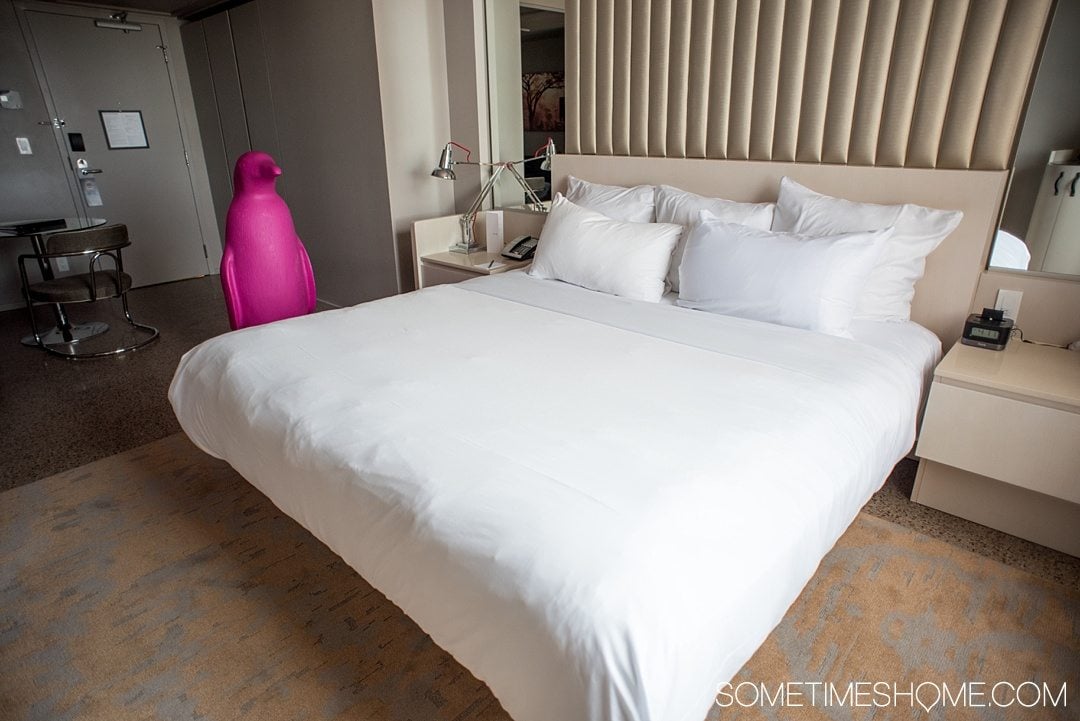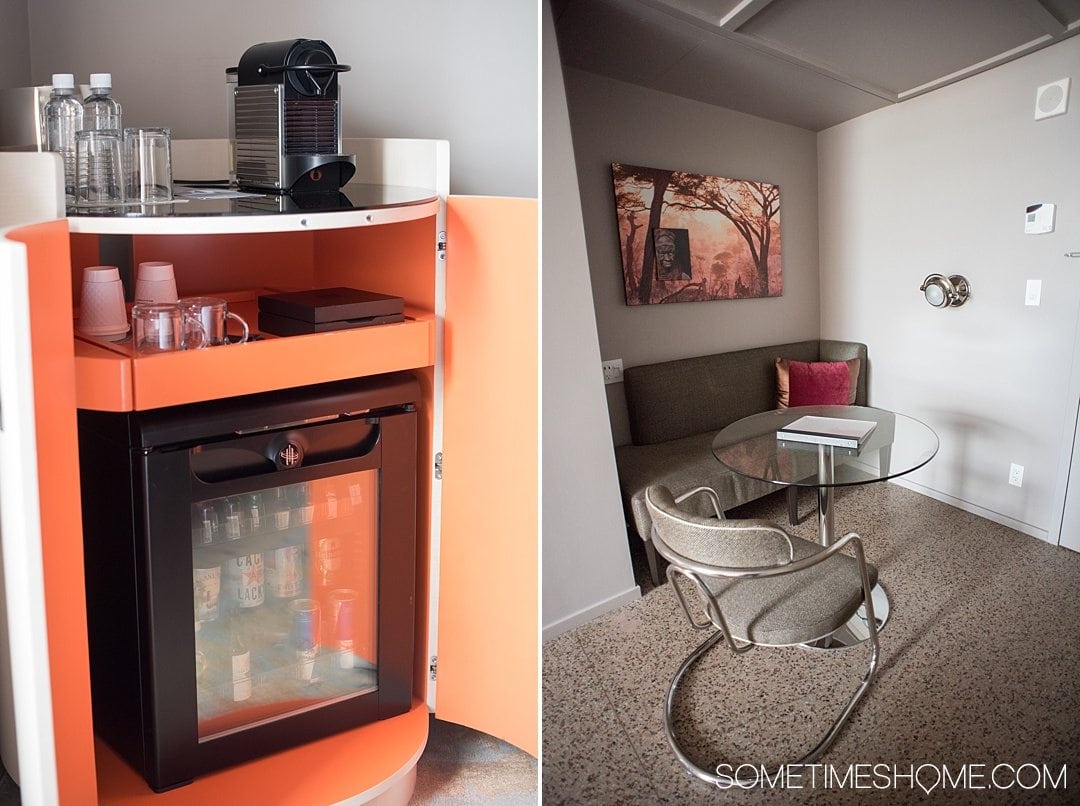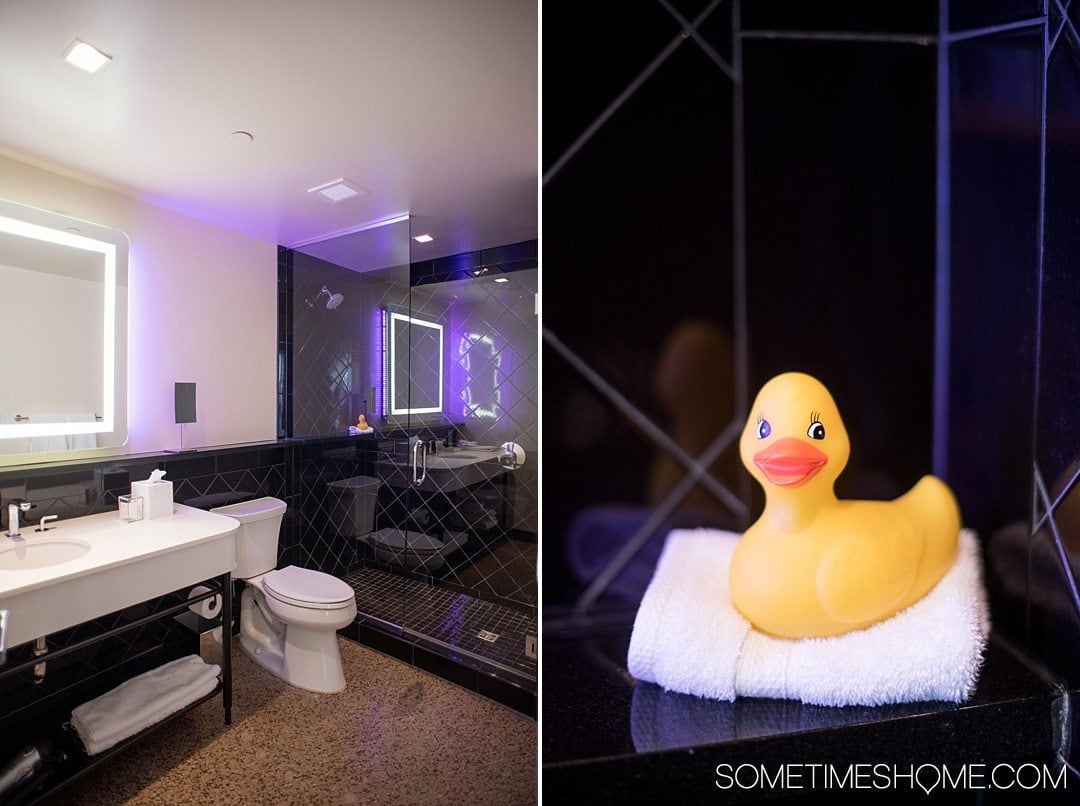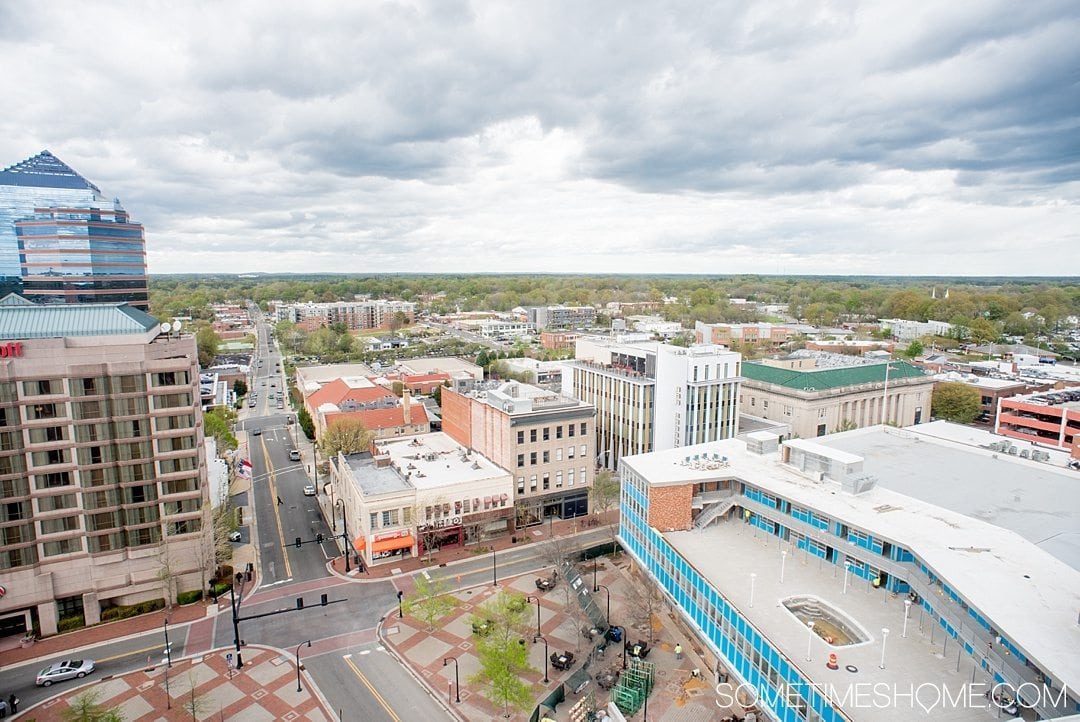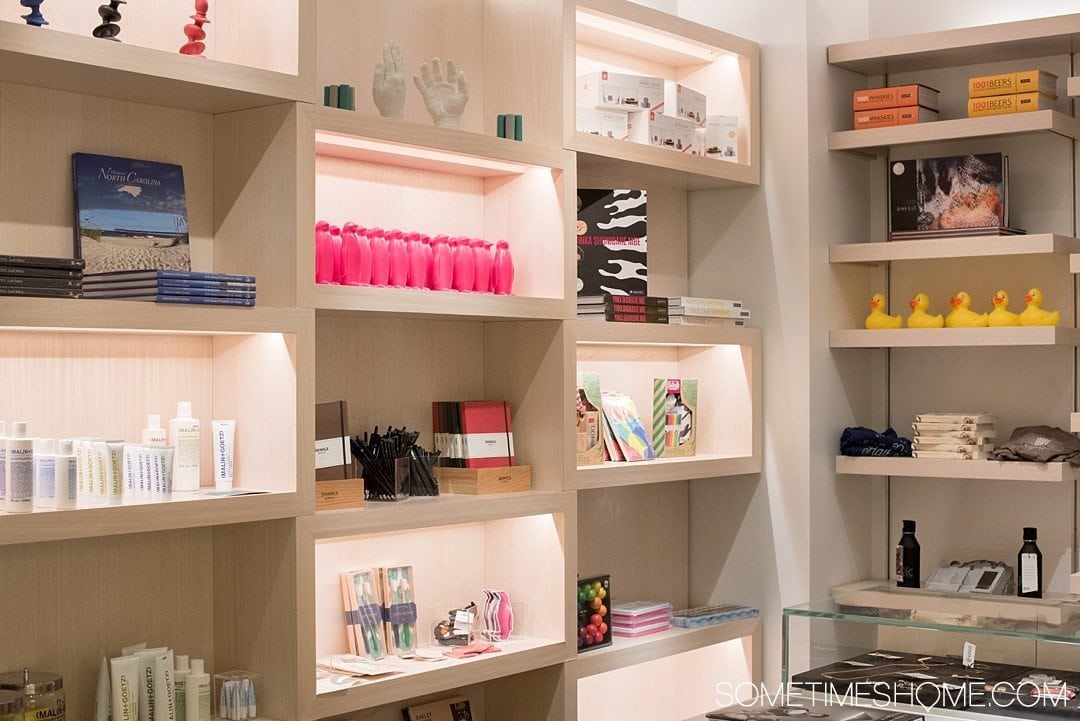 5. The Counting House Restaurant at 21c Museum Hotel in Durham
We had the most delicious drinks and appetizers in their restaurant, Counting House. Would our downtown Durham staycation have been as complete without time at the Counting House? Probably not!
Bloody Marys are my jam and I have to tell you, having just returned from Spain about 2 weeks prior to our 21c trip, they put truly delicious authentic Spanish olives in the cocktail. I was in heaven!
I would have asked for a whole bowl of olives if not for the filling Deviled Eggs and Fried Oysters appetizers in front of us, which we thoroughly enjoyed as well. (I'm a sucker for a tasty deviled egg.) Their menu has changed a bit, especially during the pandemic, but overall their food is great and it's worth ordering something if you're feeling noshy.
I admit we would have enjoyed cocktails at the bar the evening before as well had it not been such a packed scene (pre-COVID) which means get there early or be patient if you want to see and be seen at this happening location; there wasn't a seat in the house so we took advantage of champagne in our hotel room instead which is another great option.
The Counting House's inviting couches, plush yellow velvet curtains and incredible collection of animal inspired art will certainly have you visiting at some point during your stay.

6. Atypical Ballroom Bliss at 21c
21c Museum Hotel in Durham has various meeting and event spaces throughout the hotel. My favorite, however, is the vast celebration space pictured below that can seat up to 250 people. The tall ceilings and gorgeous huge sphere-like light fixtures are inspirational.
I can envision a bride and groom's wedding ceremony entrance through plush curtains here with their cocktail hour amongst the art exhibits upstairs. This ballroom is the perfect place to dance into the late hours of the night – it feels upscale and luxurious and anything but your typical "hotel ballroom."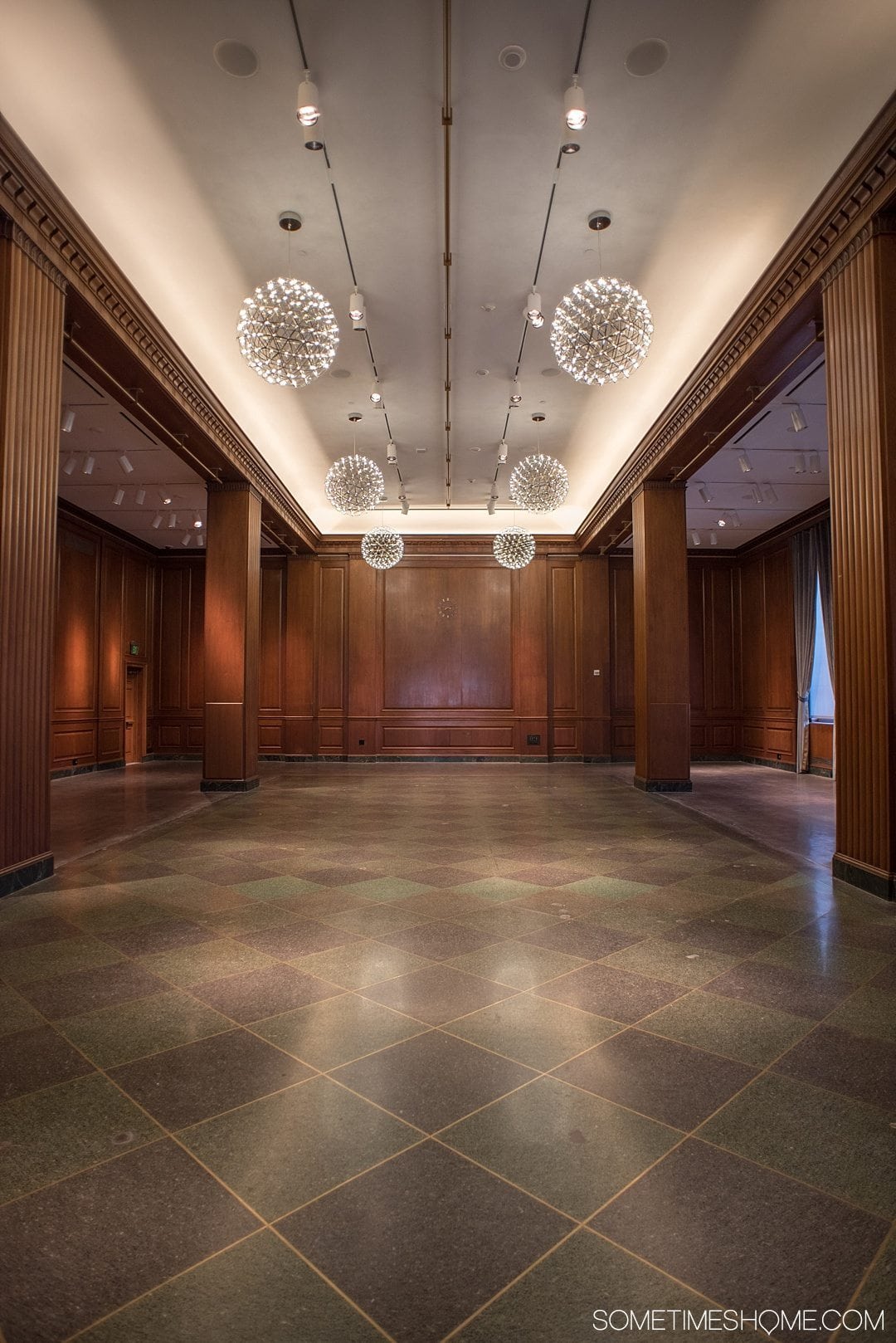 7. Incredible Staff at 21c
I read a comment in Conde Nast Traveler magazine mentioning that no matter how much the quoted writer traveled, it was the hotel staff who truly made it feel like a welcoming place she'd want to visit again.
If that's the measure of a hotel's superiority, then 21c Museum Hotel in Durham is at the top of its game. From the front desk greeter, to housekeeping staff I said hello to, the the mini-bar restocker, to The Counting House waiter and bartender everyone greeted us with a smile and upbeat personality.
I can truly say every interaction we had with their team was pleasant, from the moment of booking to last goodbyes said as we sadly exited their doors.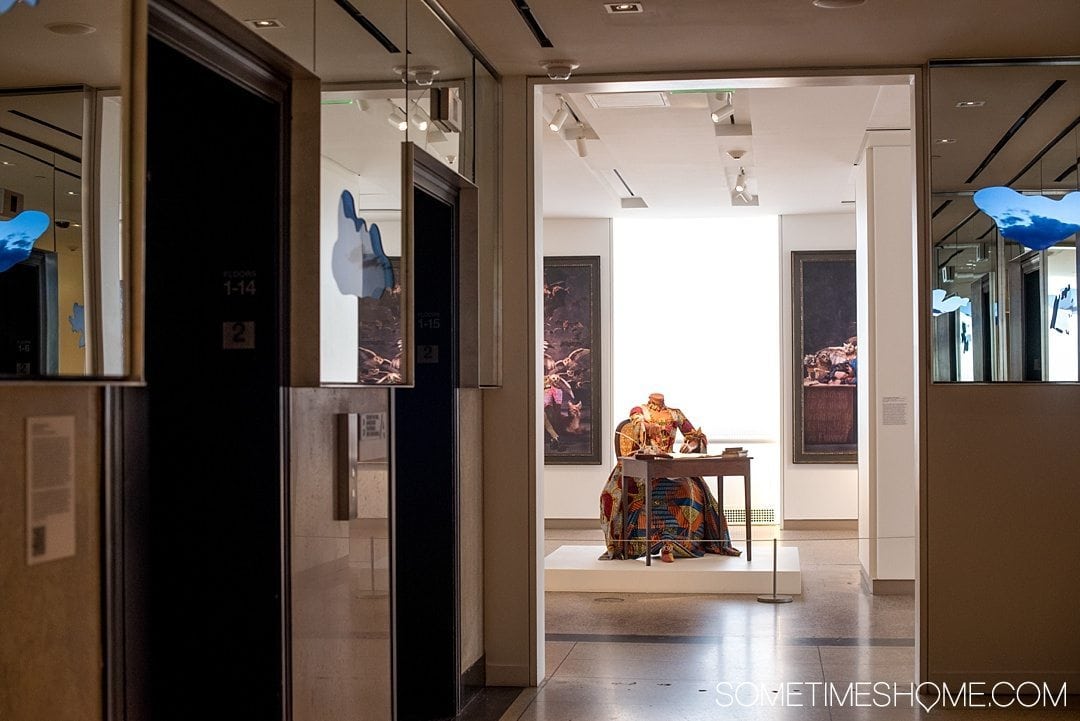 8. Exquisite Contemporary Art at 21c
All the art in the hotel, whether temporary or permanent, is carefully curated and hand selected. Some art is more permanent, like the screen clouds in their stairway, while other pieces rotate approximately every six months. So if you were at the hotel in February 2020, for example, plan to head back in February 2021 for fresh pieces of art to admire.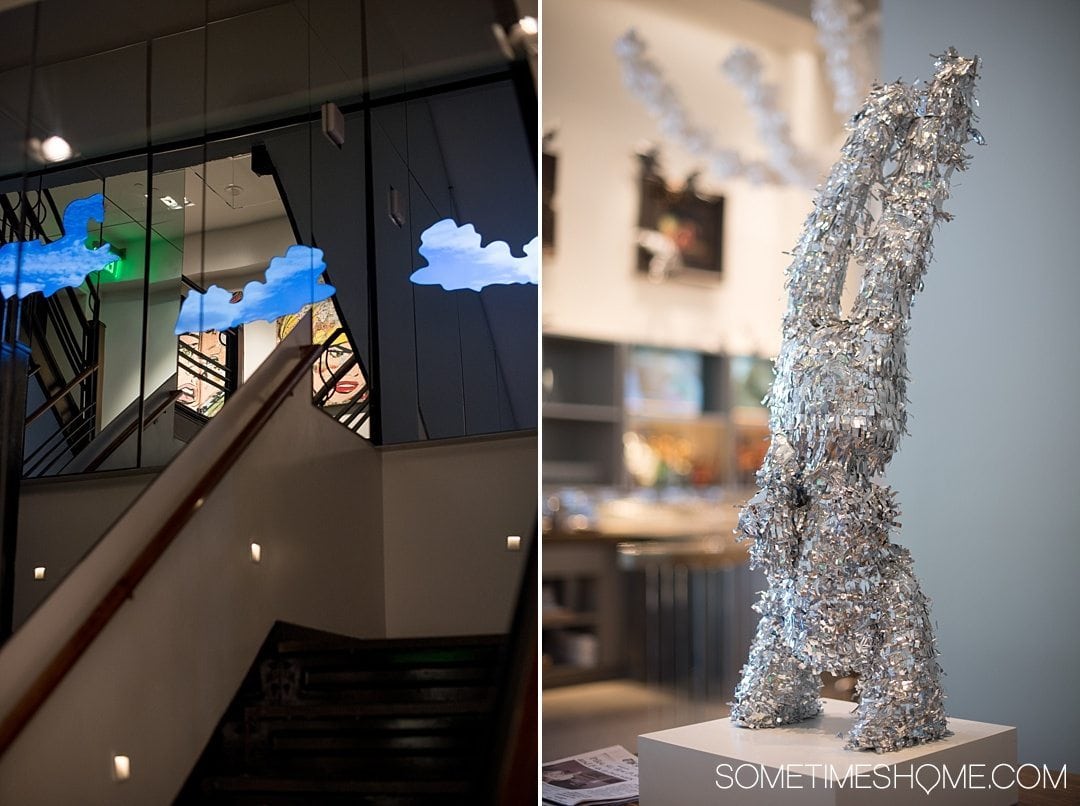 9. Pink Penguins at 21c
We made some new friends during our stay! They were pink penguins and about 3.5 feet tall and were very photogenic.
The hotel has 200 pink penguins that are carefully accounted for at any given moment of any day. Little did we know we would be staying with one in our room – she was a welcomed third-wheel. 🙂
We also learned that each of the 21c Hotels across the nation have their own unique color. For example, Louisville Kentucky has red penguins. We loved the vibrant pink color of Durham's!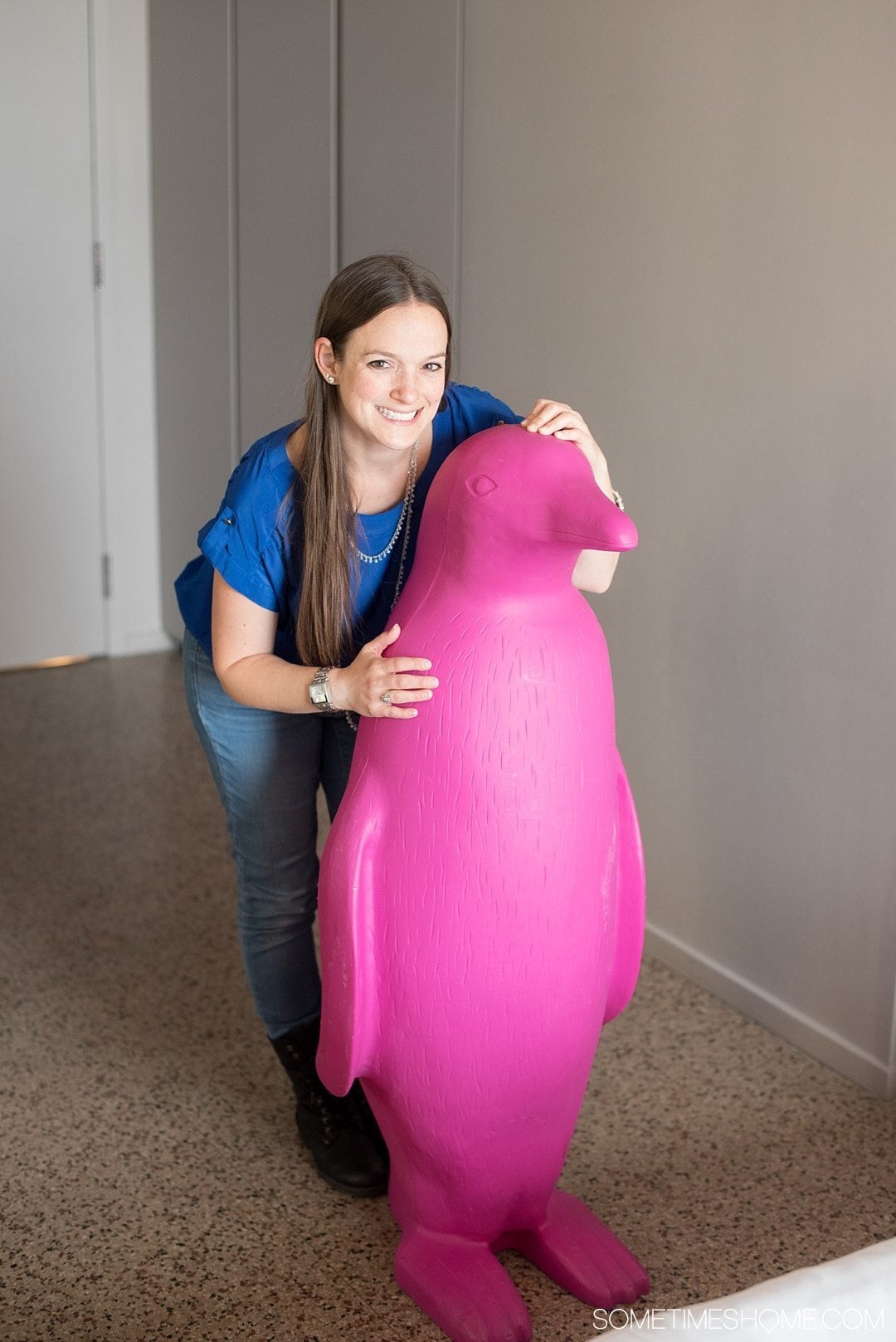 10. Exit Survey Sent by 21c
I received an email with a link to a survey requesting my feedback after our stay. Sigh. I usually hate these things…but wait! I clicked the link to complete the survey wanting to pass along the positive review of our stay. I was so incredibly pleasantly surprised…so much so it made our 10 Reasons We Love 21c Museum Hotel list.
They're tongue and cheek about the entire survey adding requests like rating the following statement on a scale of 1-5, "Love the ambience: lighting made me look 10 years younger, great tunes and fantastic art." I was actually a little sad when I got to the end of the survey. It had me smiling from ear-to-ear.
So what are you waiting for? Look up their availability and reserve a stay!
Please note: We thank 21c Museum Hotel for generously hosting our stay. All the opinions in the post are ours and we bring you genuine content with real facts, photos and thoughts. Always.
Heading to Durham? Also check out:
Tell us in the comments below: What's your favorite feature of this boutique hotel?