12 Best Photography Spots in Durham North Carolina
The best photography spots in Durham are easy to find with our post and insightful guide.
Durham is an amazing city just north of Raleigh in North Carolina. I love traveling there for a great meal, a meeting or a photoshoot since it's only 30 minutes from where we live. Taking pictures in this city is amongst one of my favorite things to do in downtown Durham.
Most of the spots are downtown but if they aren't, they're very close to that central area. We've included our favorite landscapes, sculptures and colorful murals in Durham.
Grab your phone to Instagram, point and shoot camera to capture your vacation, or pro DSLR to photograph your clients. Use our Durham photography guide to maximize your visual pleasure of this great city.
1. Liberty Apartment Building Facade
The rustic exterior of this apartment building was purposely preserved when the developers of the current residences remodeled it. It's so urban chic I can hardly stand it!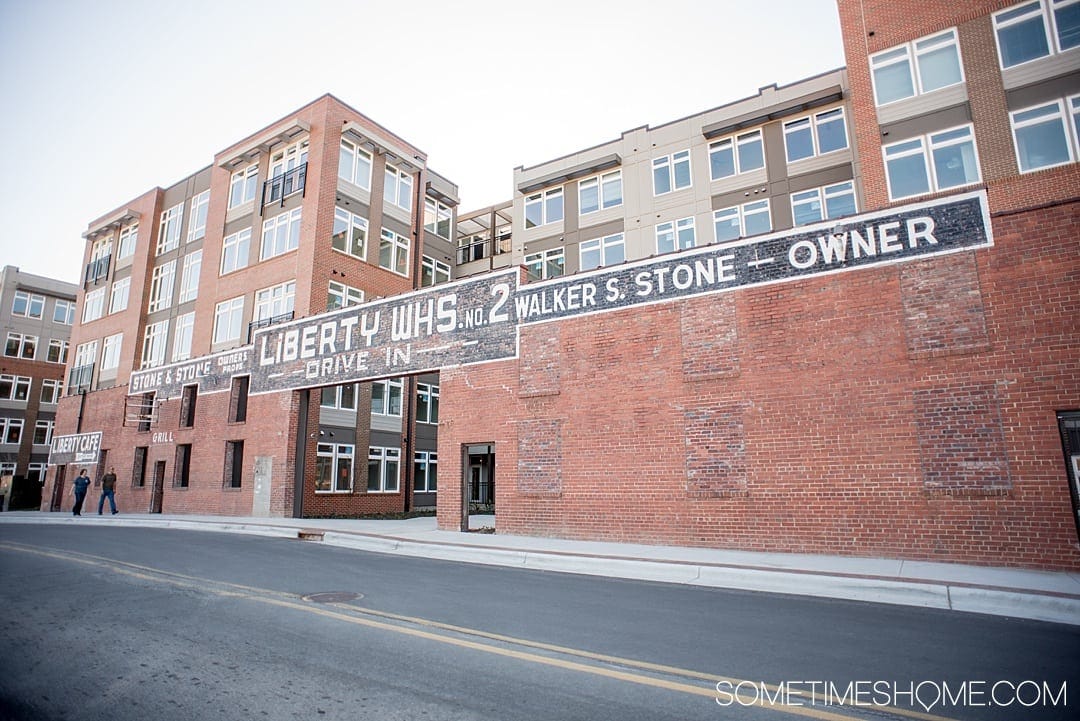 It's especially a favorite on my photoshoot locations in Durham because of the murals painted inside the outdoor atrium before entering the apartments. (Check out the complete engagement session from the photo with the couple below on my wedding photography site.)
Durham's Food Hall is right around the corner if you get hungry. And if you love murals like us, be sure to check out the murals in Chapel Hill, just north of Durham, too.
2. North End of American Tobacco Campus
If you haven't been to American Tobacco Campus you need to get there right now! It's home to a lot of awesome bars, restaurants, Burt's Bees (yes, the famous brand has its headquarters here) and the Durham Bulls minor league baseball stadium. It's also one of the most beautiful Landscape Architecture projects in the city so it's one of the best places to take photos in Durham, if you ask me.
The north end has a really rad water feature, an outdoor oversized chess board, and lots of intriguing stairs and walkways, including a pedestrian bridge. It also have overhangs in case you need to do a photoshoot with a couple when it rains. Bonus? They don't require a photoshoot permit if you're a pro looking to take a couple out for Durham photography!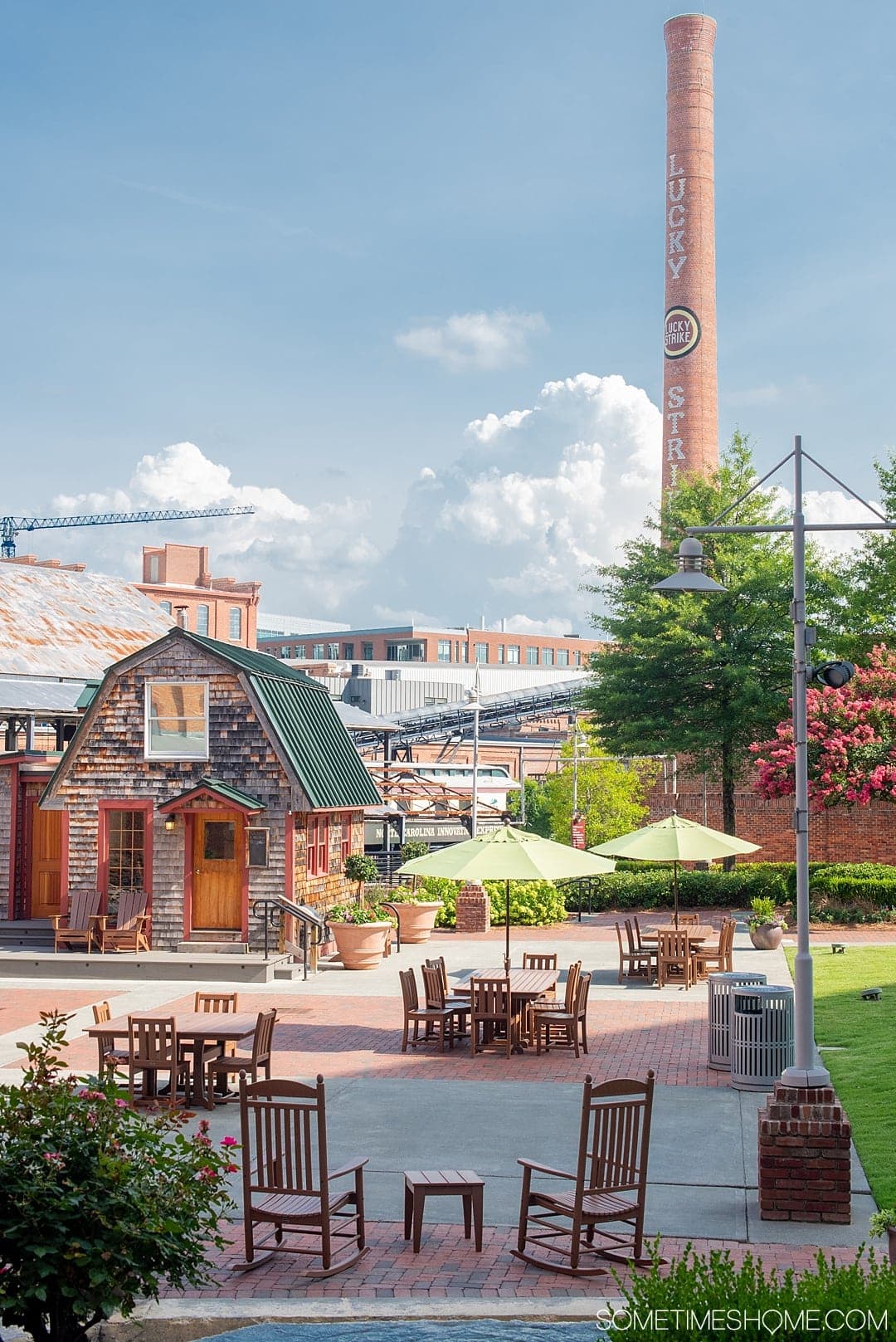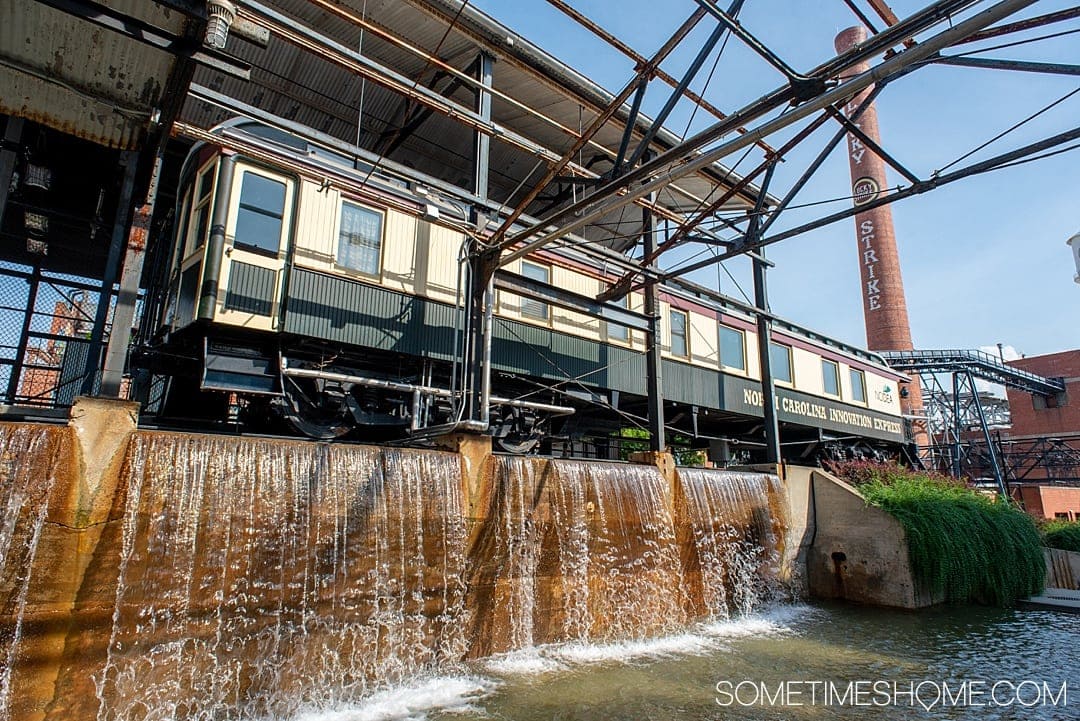 3. South End of American Tobacco Campus
American Tobacco Campus is so large it is worth occupying two numbers on our 10 Best Photography Spots in Durham North Carolina list.
The south end is equally as beautiful, providing a lot of diverse variety from the north end. I love the neon American Tobacco sign, the colorful mushrooms near Mellow Mushroom restaurant, and the rustic structure that provides shade from the heat and shelter from the rain during inclement weather. It's also often illuminated with bistro string lights.
Overall you can't go wrong with American Tobacco Campus if you're looking for places to take pictures outdoors in Durham…but with an added bonus of shaded areas and coverings in case it rains.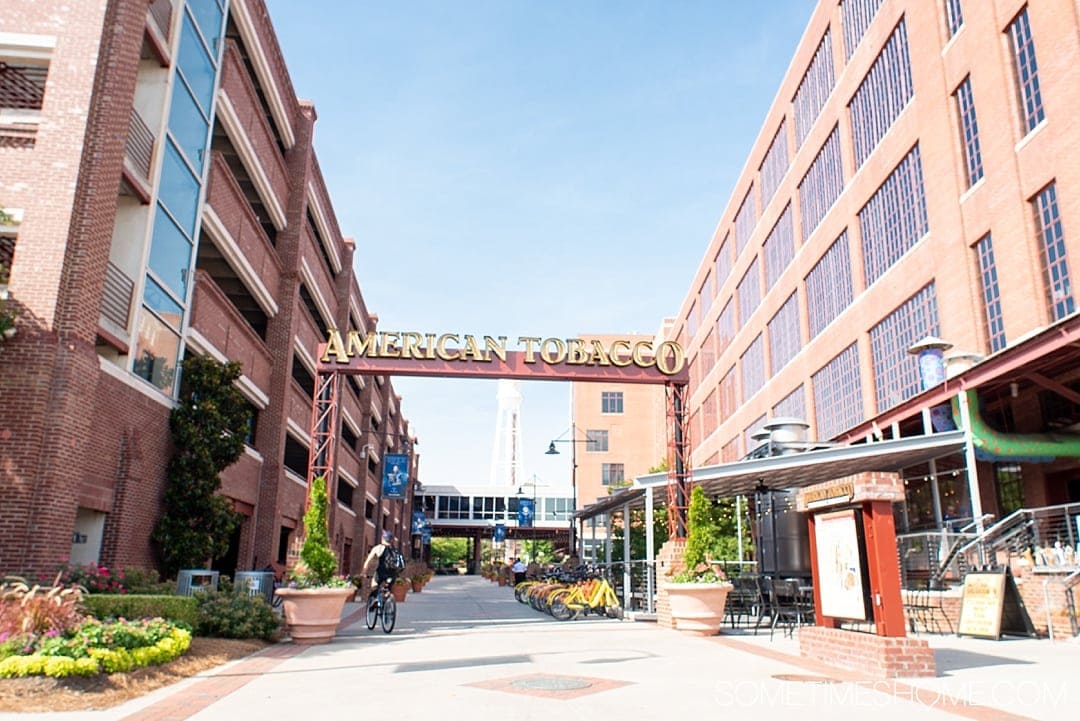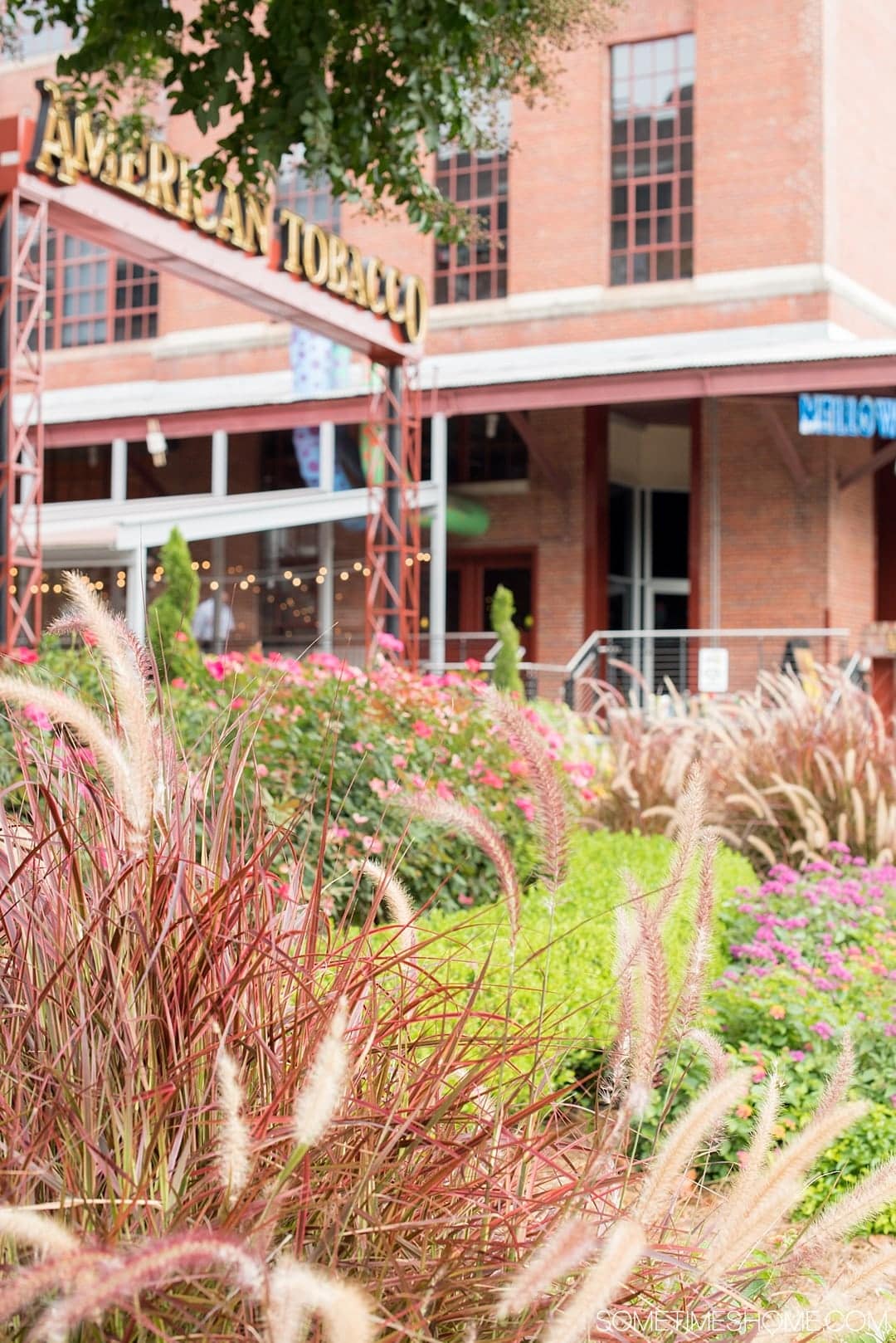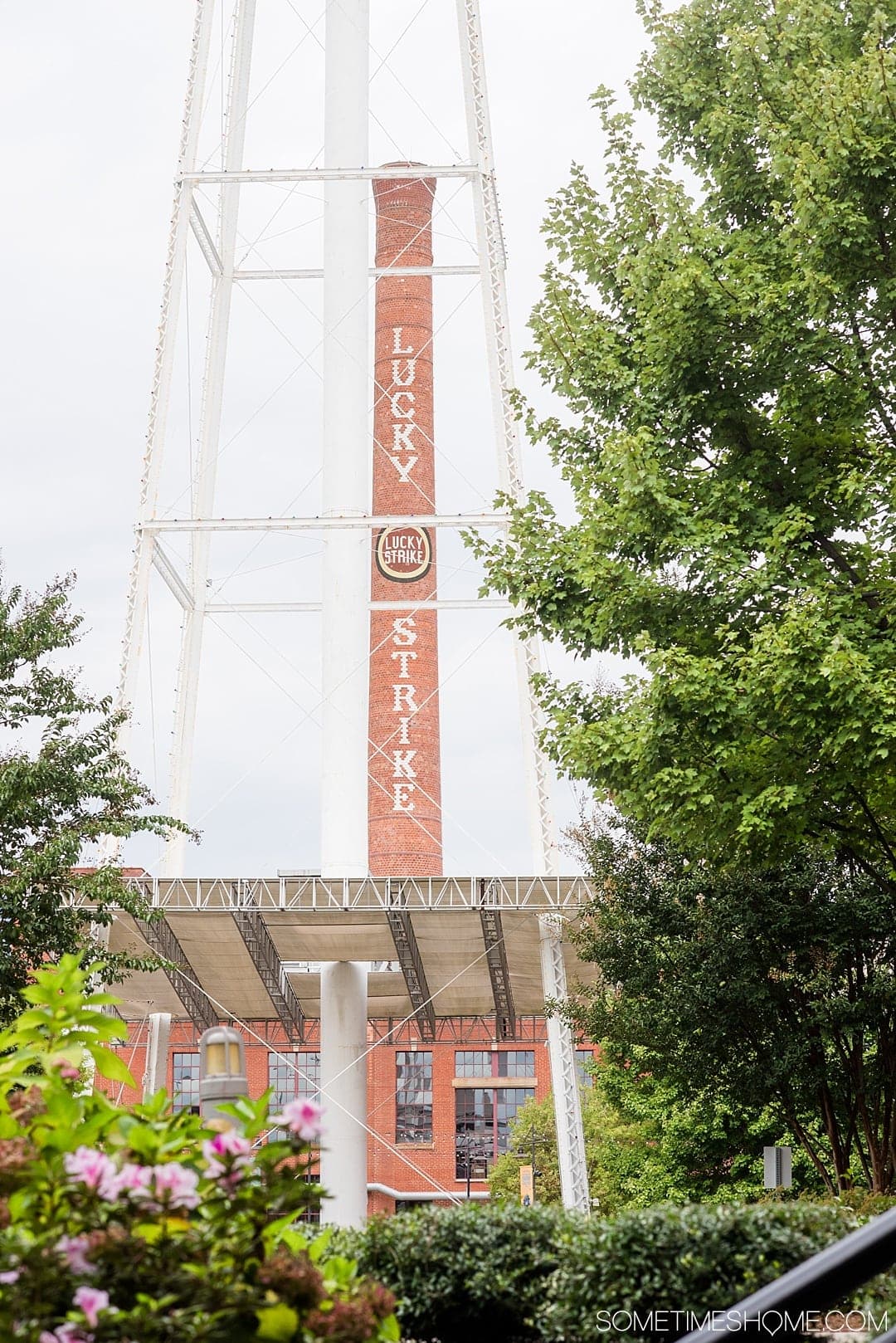 4. The Bull Sculpture
Have you really visited Durham if you don't get a photo with the bronze bull sculpture near Unscripted and 21c Museum Hotel? "Major" (that's his name, of course) stands tall and proud at the northwest corner of Corcoran and W. Parrish Streets in downtown Durham. Sculptors Leia Foushee and Michael Waller created this stoic mascot of the city!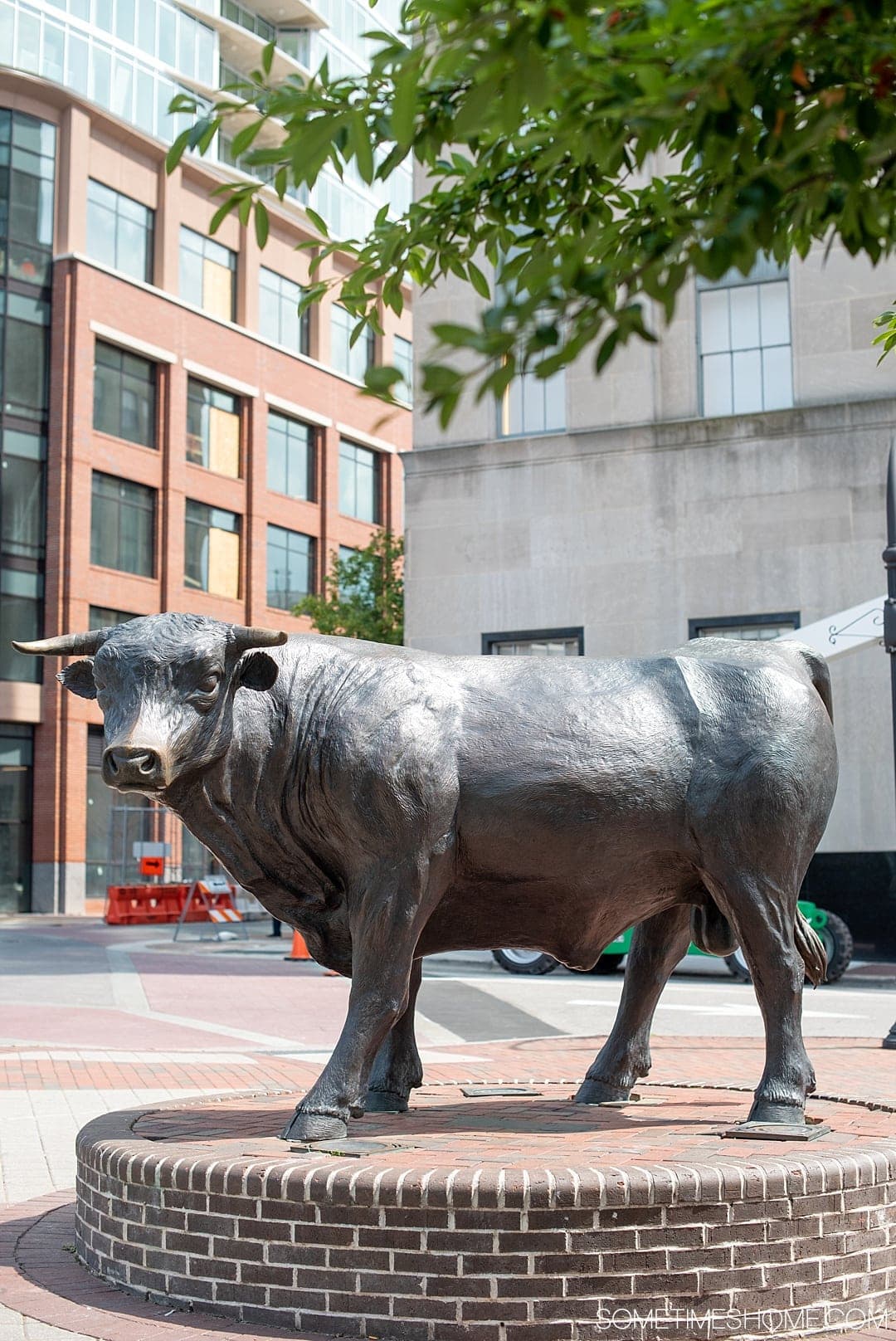 5. Blue Sunrise Mural
This mural has been in downtown Durham for over a decade. The color isn't as vibrant as it was when it was first painted, of course, but it's beautiful nonetheless. I call it the "Blue Sunrise" mural but according to Mural Durham, it's official name is Here Comes the Sun, by Karen Stern.
Also please note, as with any street art, it often comes and goes. This mural's been there since the 1970s and was revitalized in the 1990s, so I don't believe it's going away any time soon but I like to make that disclaimer, just in case!
(The photo I took below is from Chloe and Xander's colorful downtown Durham engagement session!)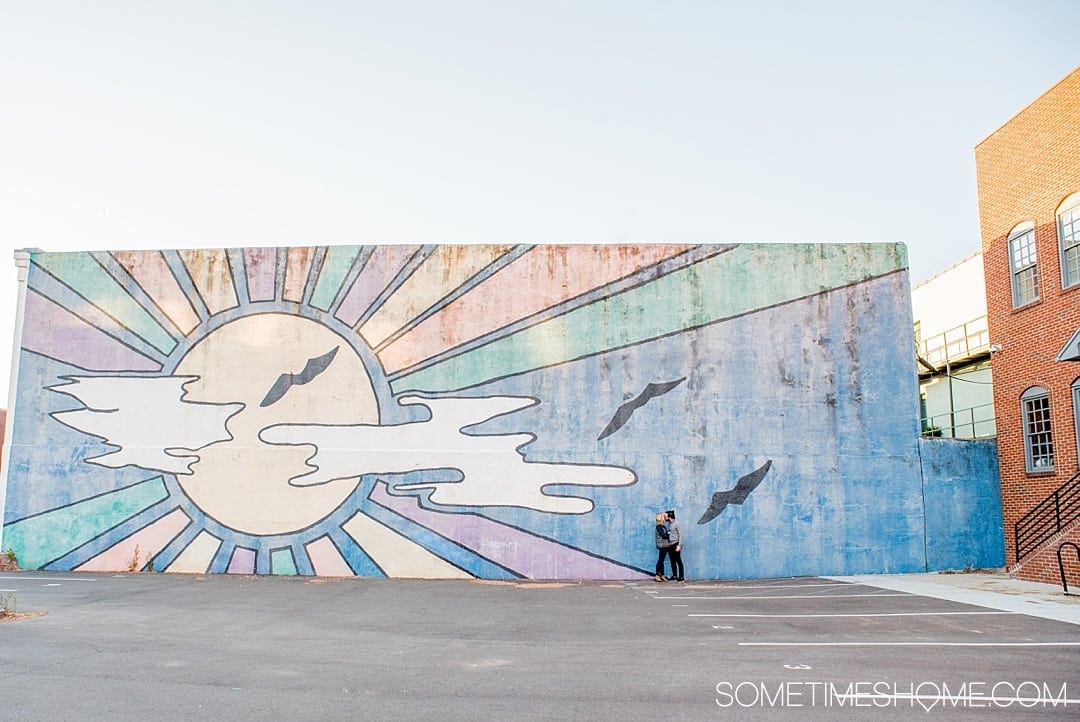 6. Brightleaf Square
Two former tobacco warehouses are now the locations of multiple shops and restaurants. In between the two buildings is a pedestrian walkway with overhead bistro lights. The green trees in the distance provide the perfect backdrop for one of the best photography spots in Durham.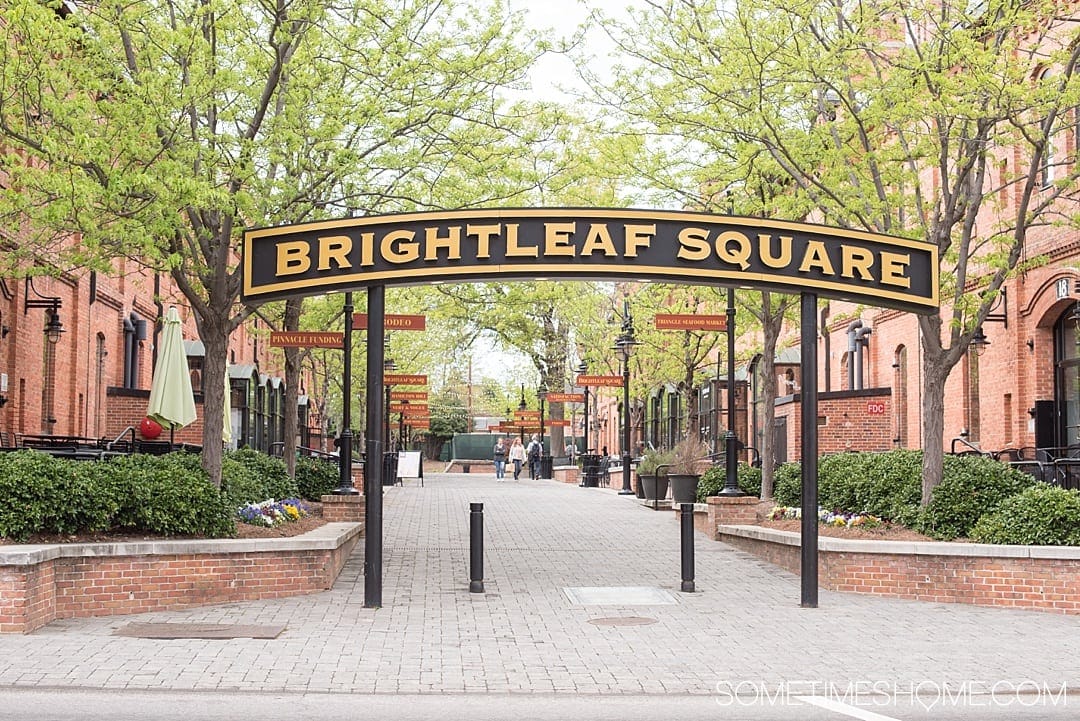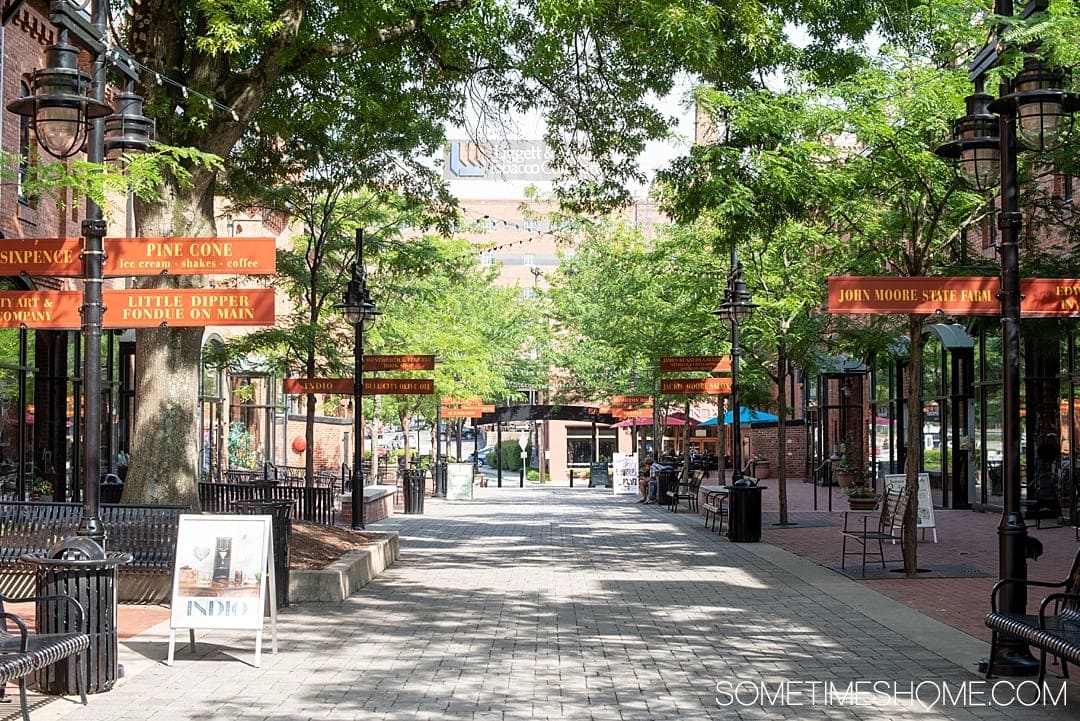 7. Carolina Theater and Durham Convention Center Courtyard
The exterior area in front of the Carolina Theater and Durham's Convention Center is amazing! There's a water fountain and oversized black and white chess board, beautiful Crape Myrtle trees, and an incredible vertical neon sign.
I would say there's at least five spots (if not ten!) in this small radius for your photography heart to swoon over. I had a blast photographing bride and groom, Chloe and Xander, during their summer wedding here.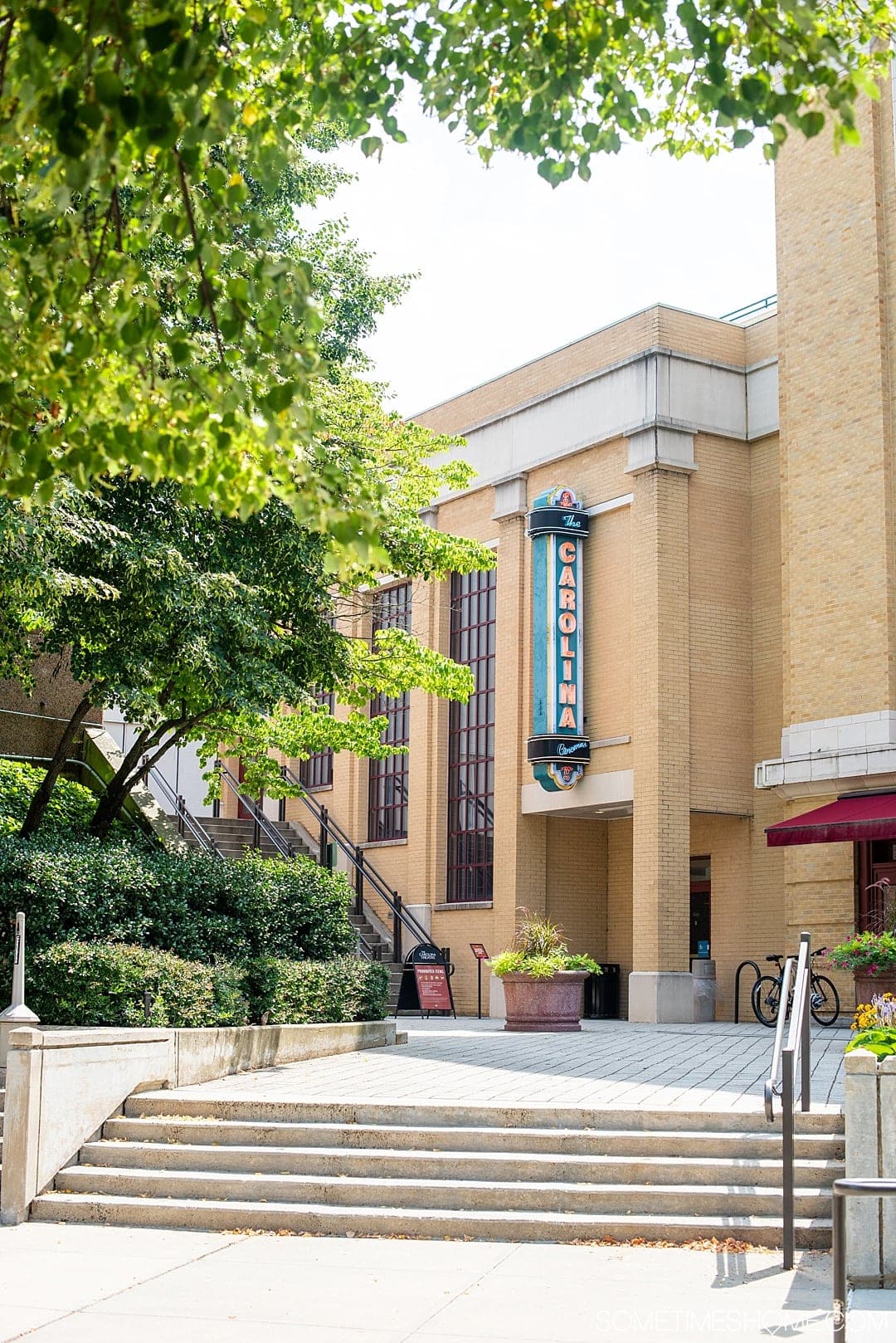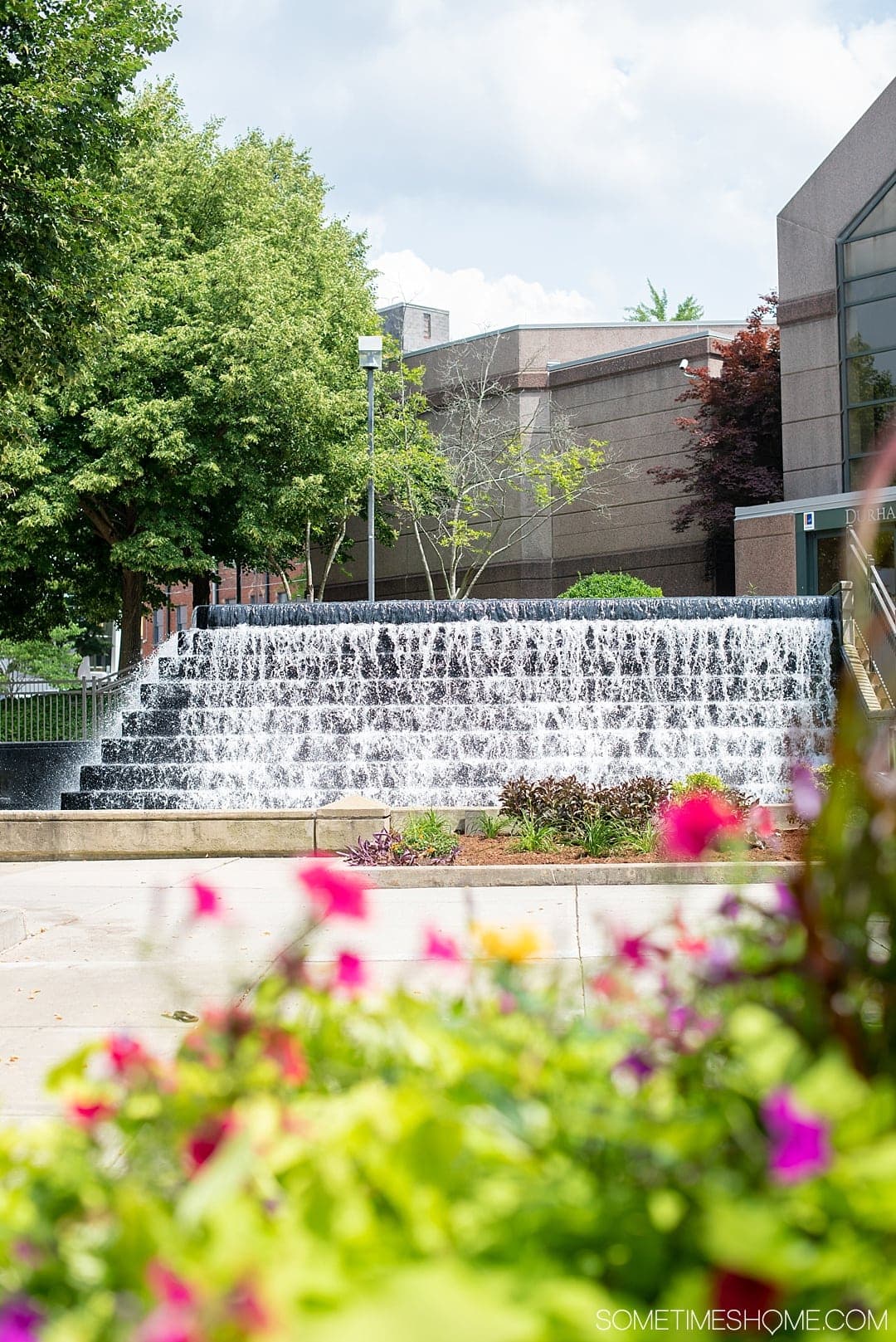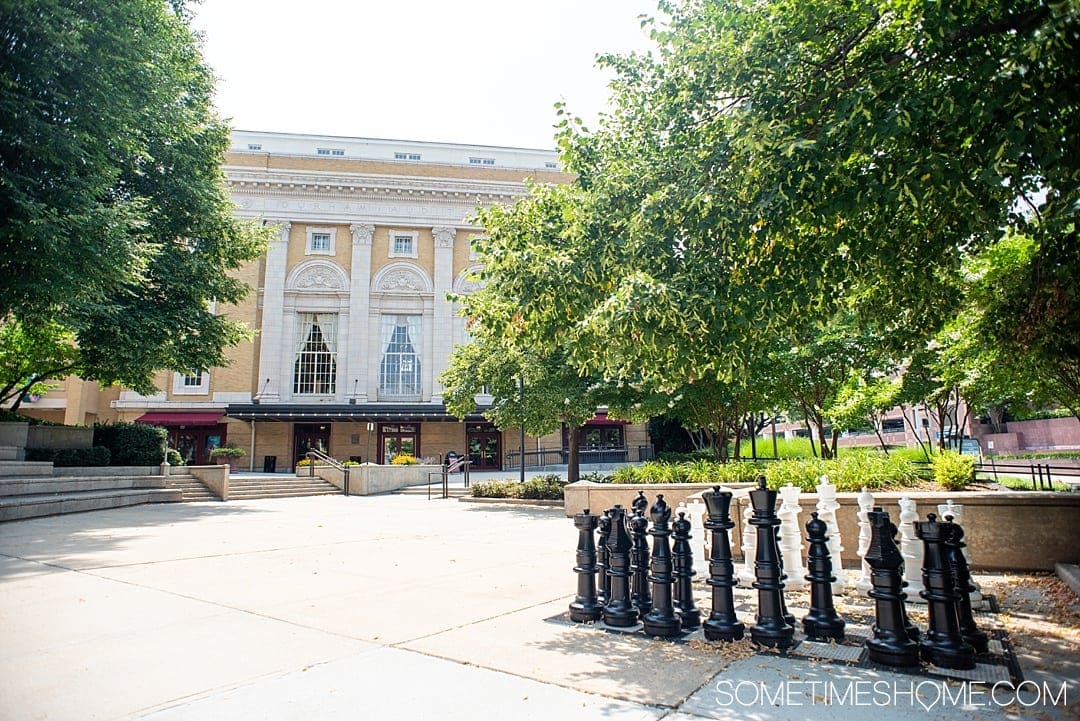 8. Durham Central Park
This public park is often the site of outdoor food truck and concert events. It's also one of the best places to take pictures in Durham.
My favorite area of the park is tucked away off the bike trail, just behind the wide open park lawn you see from the street view, from Foster Street. There's a twisted shape sculpture, lush greenery, interesting stairs, a wooden bench or two and ironwork leading up the stairs too.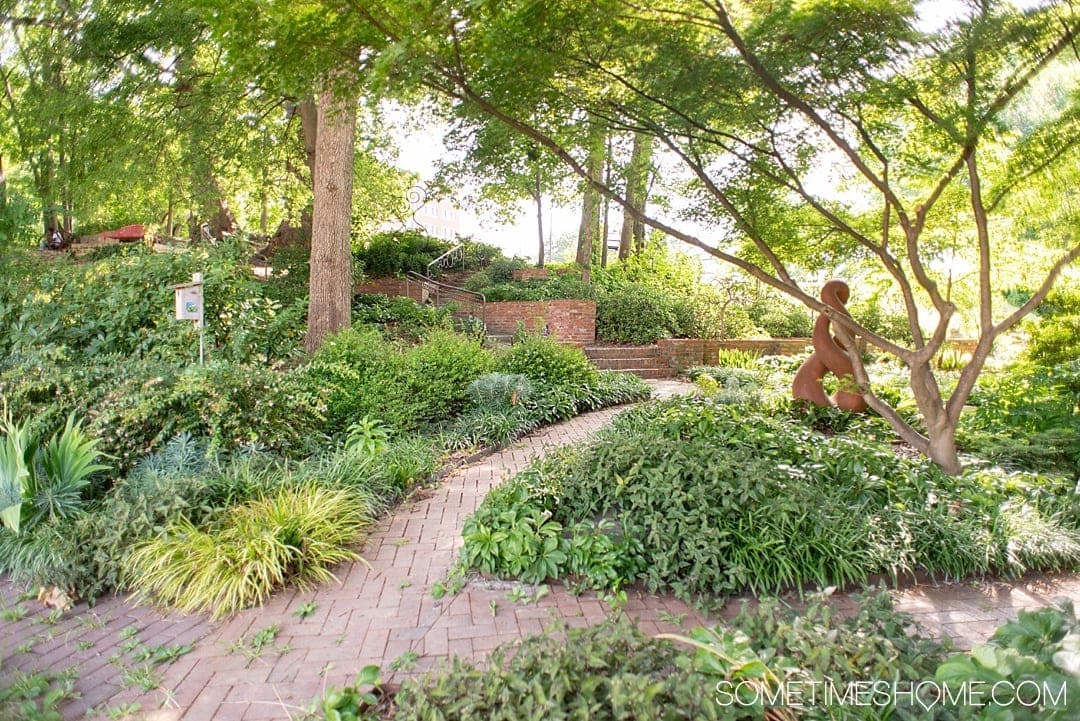 9. Elevated Wooden Train Tracks to the Sky
There are train tracks that just…end…by Blue Note Grill. I like to say they simply lead to the sky. Please note this is a parking lot for customers of Blue Note Grill only so be respectful of their property and the grounds around it. (It's worth a stop in Blue Note Grill because it's wonderful!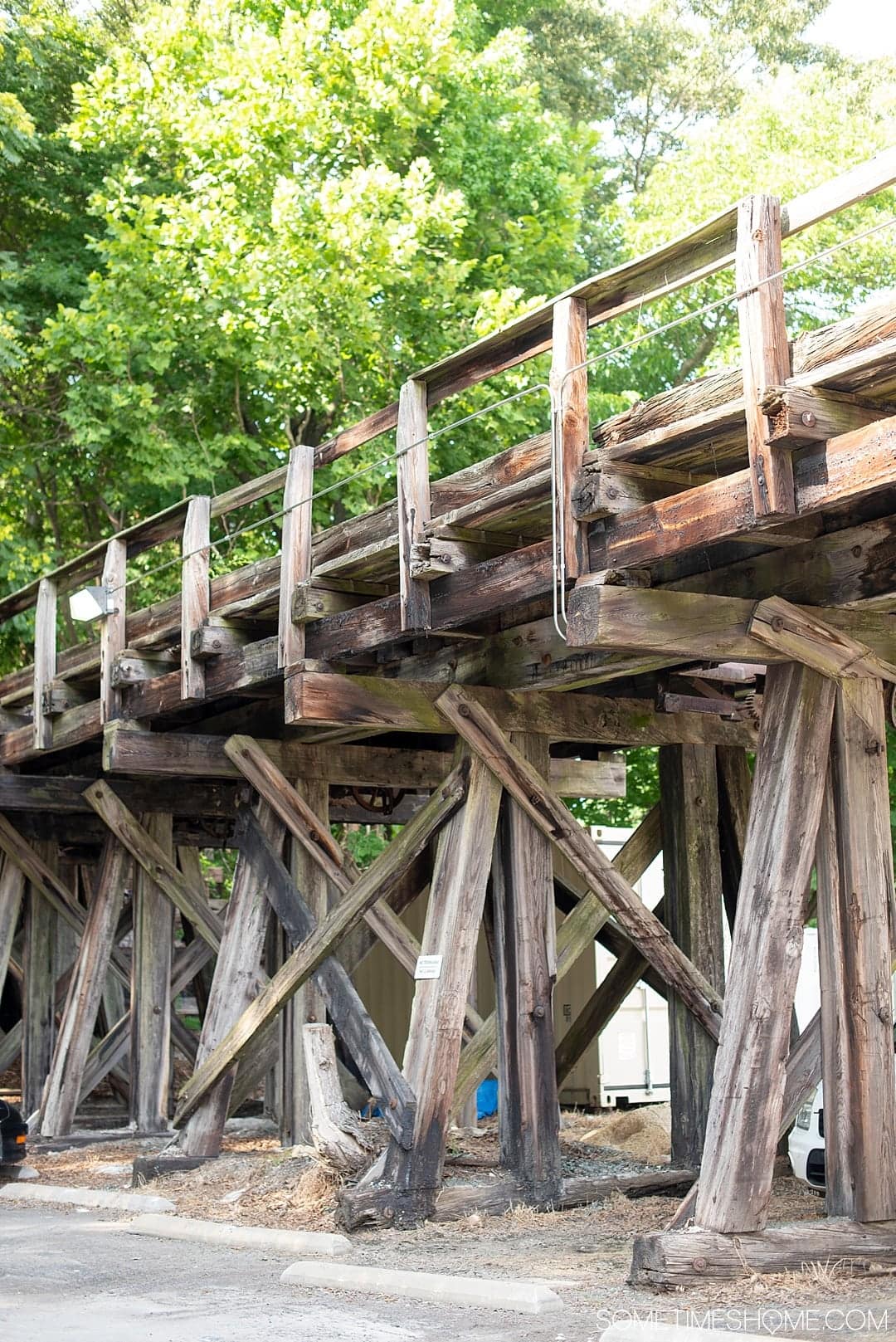 10. Alley 26
There's an alley off of E. Chapel Hill Street that leads to a small pedestrian walkway that curves around to Orange Street. This "26 Alley" on Google Maps provides an abundance of brick to satisfy all the "brick wall" desires a photographer could ever have. I especially love the overhead archways.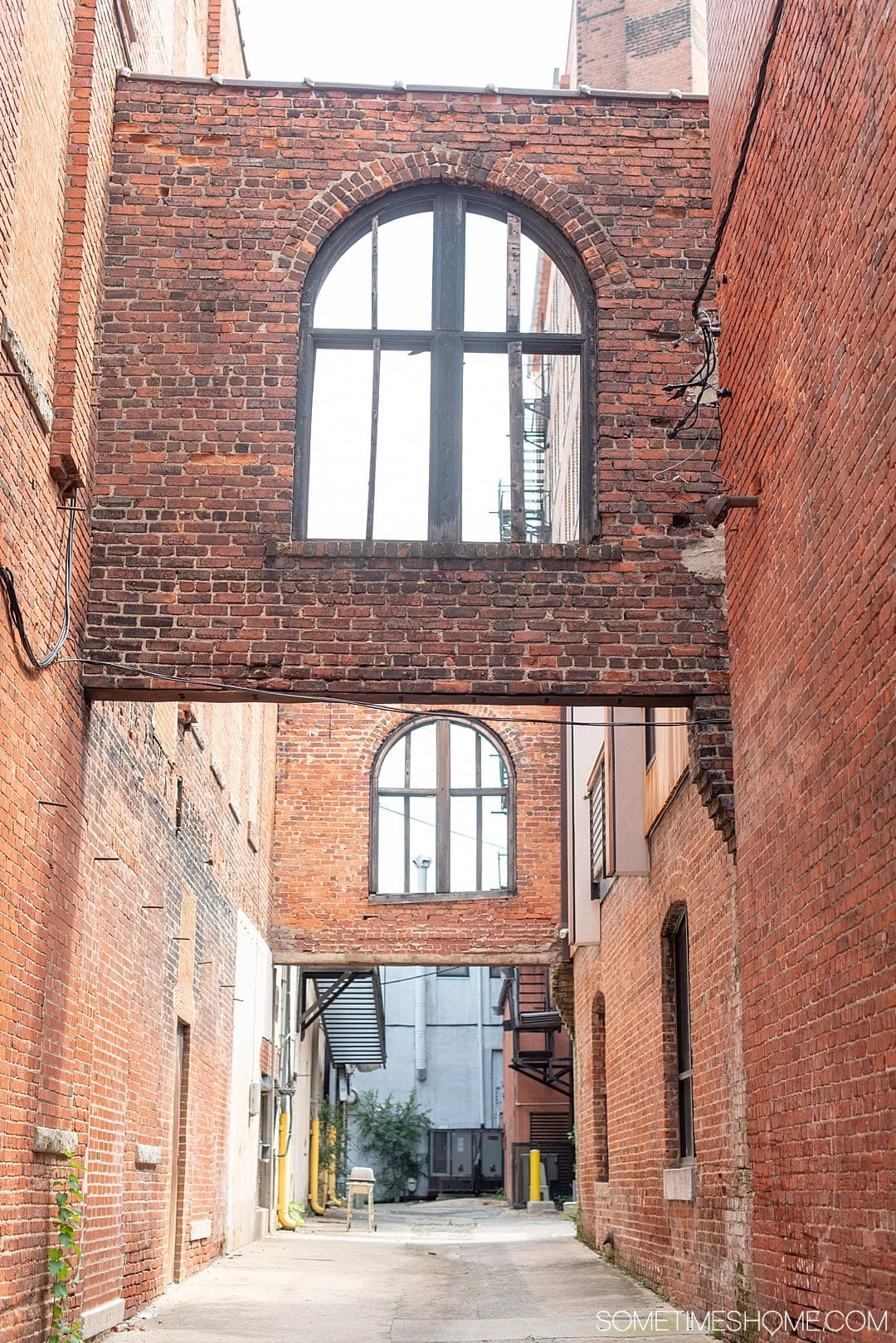 11. Vintage Pepsi Cola Wall
One of my favorite things about Durham, NC is the vintage signs around downtown that are great photography spots. A lot of them are painted onto the sides of buildings, weathered by decades of sunshine, rain and other elements. One of my favorites is the vintage Pepsi Cola wall, located on the side of Bull City Burger and Brewery, at 107 E. Parrish Street.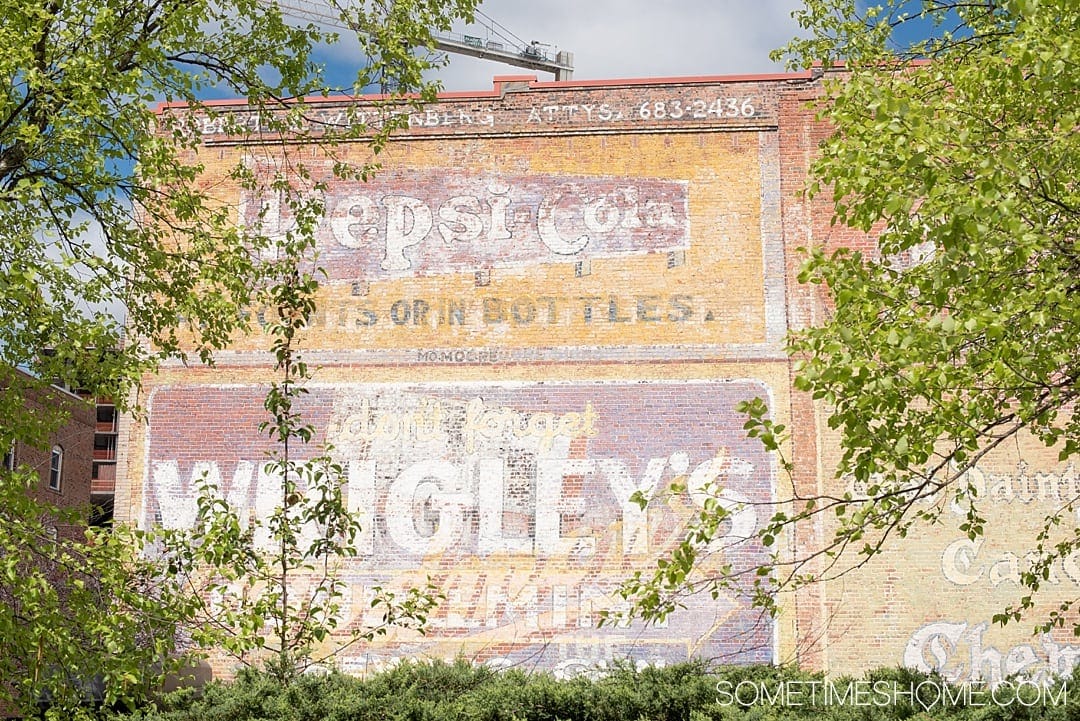 12. Duke Gardens
This is the furthest spot on our list from downtown Durham, located on Duke University's campus. (It's only a 10 minute drive from downtown.) Sarah P. Duke Gardens is absolutely breathtaking during spring, summer and fall.
Even though it's much more sparse during winter it's still beautiful. It has several water features, bridges and other assorted interesting structures no matter the season. Admission is complimentary and there's plenty of pay-per-hour parking in an on-site parking lot. (Note Duke Gardens and Duke's Campus is closed during COVID-19 for healthy and safety precautions.)
**If you are a professional photographer or videographer you must obtain a photography permit for your commercial use shoot. For clarifications on what is considered professional please see their online photography guidelines.**
(I certainly got a permit for this beautiful engagement session.) If you're a visitor with a camera, simply taking pictures for your vacation memories, however, you're welcome to snap away, permit-free.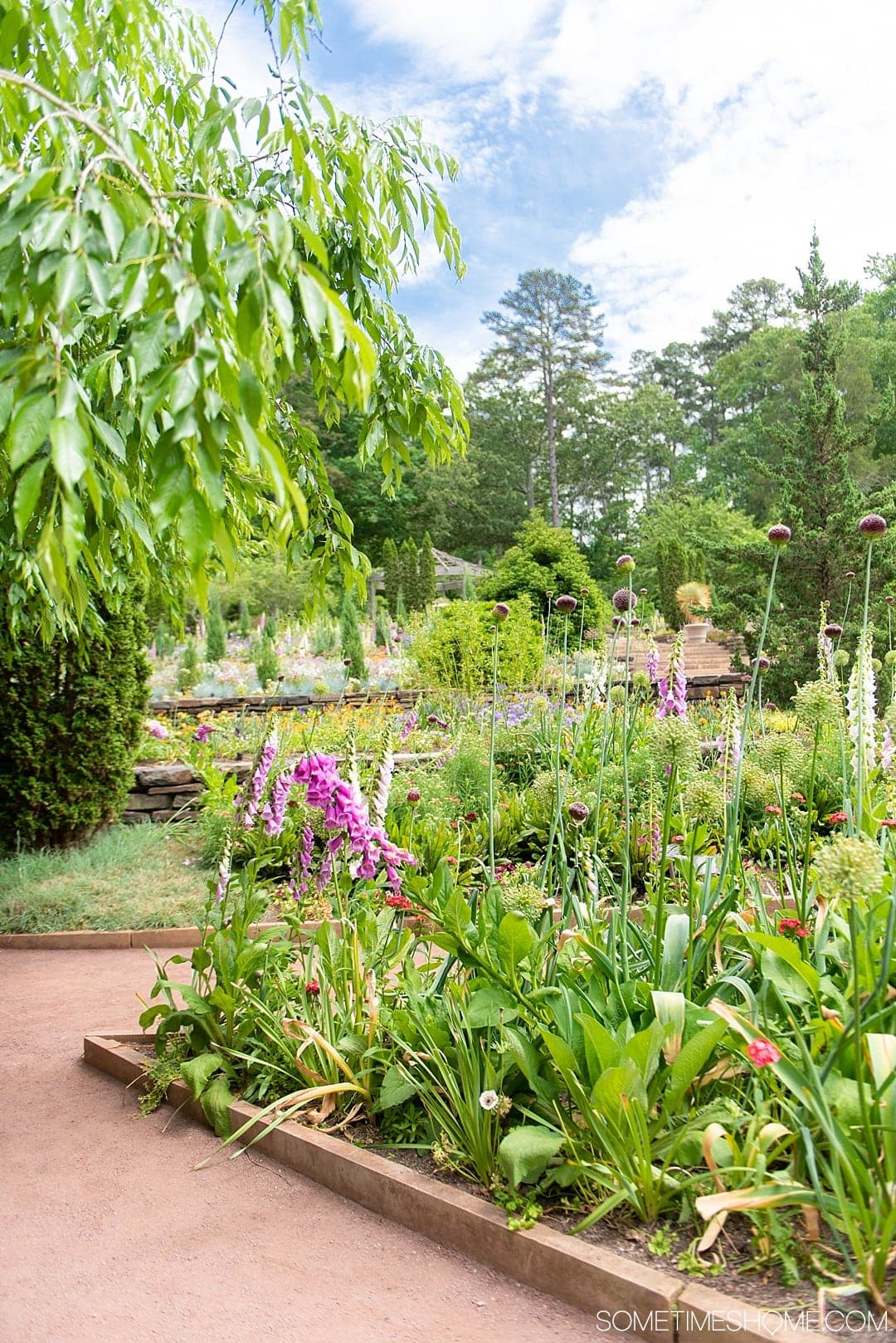 For more things to do in Durham area, check out:
Do you prefer landscapes or architecture for your photos?