The Best Hotel Near the Durham Bulls Stadium
We have stayed in the most stylish hotels in Downtown Durham so we have first-hand knowledge of the best hotels near Durham Bulls Stadium.
One of our favorite things to do – if we want to get away but not stray far from home in Raleigh – is travel just thirty minutes north for a staycation in Durham. We love enjoying some of the great restaurants and breweries there or even experiencing a minor league baseball game at American Tobacco Campus.
This post highlights three stylish hotels: 
The Durham Hotel
Unscripted
21c Museum Hotel
All of the hotels are practically in the same area, in Downtown Durham, a mere handful of blocks (or less) from each other. Or simply a stone's throw, as they say! They're close to Durham Bulls Stadium so no matter which of the three you choose you'll be golden for proximity to the game or action in the downtown area.
Don't miss our comparison of all three hotels at the end of the post.
The Durham Hotel
We love how deeply they support the local community! The Durham Hotel uses local brands, including Burt's Bees, Counter Culture Coffee, and Raleigh Denim Workshop, for everything from welcome gifts in their rooms to bedspreads. Their mid-century modern design had our hearts before we ever stepped foot inside. And when we did, it only got better. We also love that they support local artists, hanging art from North Carolina creators in their rooms.
The only con we have is they don't have a pool, but it's balanced out with a pro point, unique to Durham: they have a rooftop bar. You can't beat unwinding with a glass of wine or a fabulous cocktail, some oysters, and a beautiful view of the city from up there. Also, note they are the only hotel of the three that does not allow pets.
Fun fact: this hotel was previously a bank, built in the late 1960s. 21c Museum Hotel, also referenced in this post, was also previously a bank!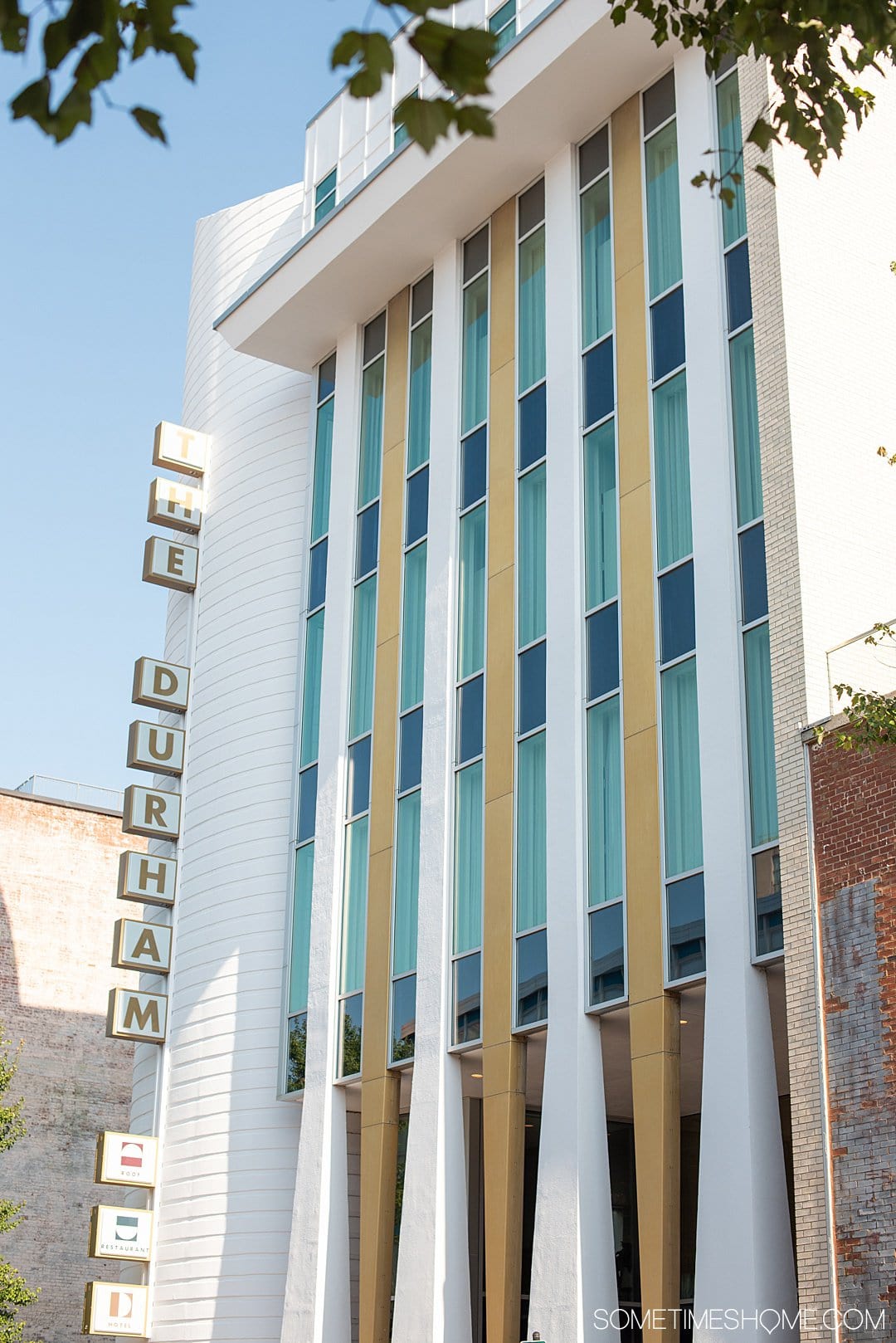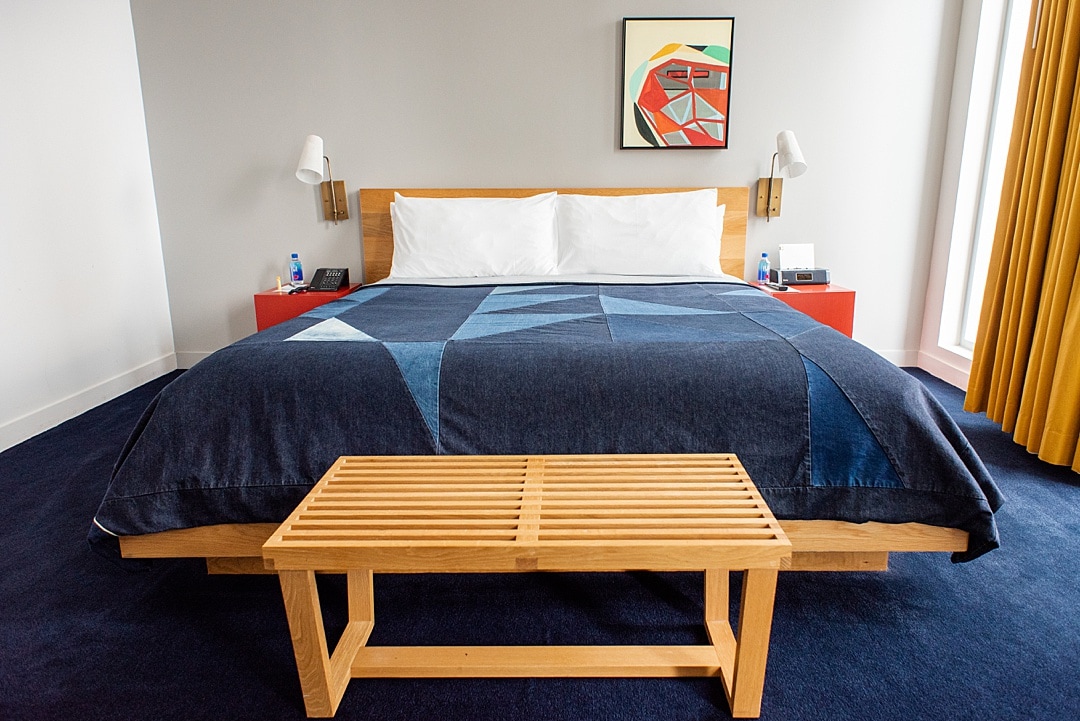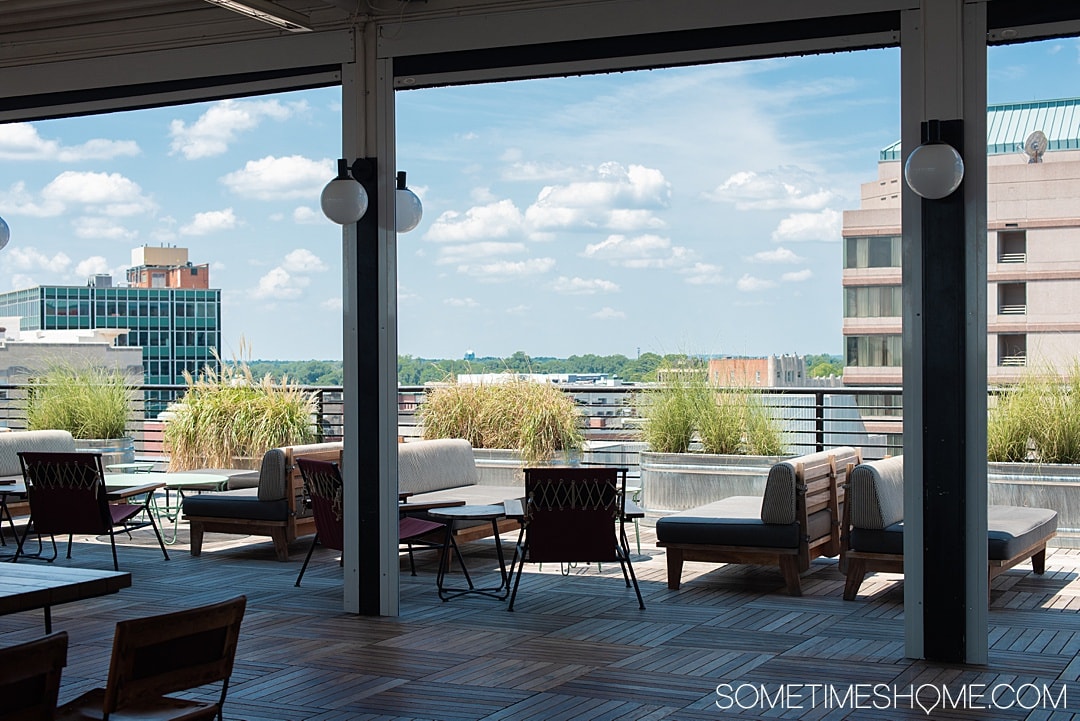 Unscripted
The blue color on the outside of Unscripted is sure to catch your eye as you pass by. This hip downtown Durham hotel has the ultimate cool factor with street artists who were flown in from Los Angeles to paint their walls. (We're suckers for great street art who know a thing or two about great muralists!)
Their branding was so catchy we photographed it every chance we had. And their pool is incredibly Instagram-worthy. We love that they have parking on-site, in a garage attached to the hotel.
The only setback we could think of is some of their hallways are essentially outside, motel style, but given its nice 90% of the time in the Durham area, with very little chances of snow during winter, that's okay with us. They also have a North Carolina resident rate you can inquire about if you live in the state.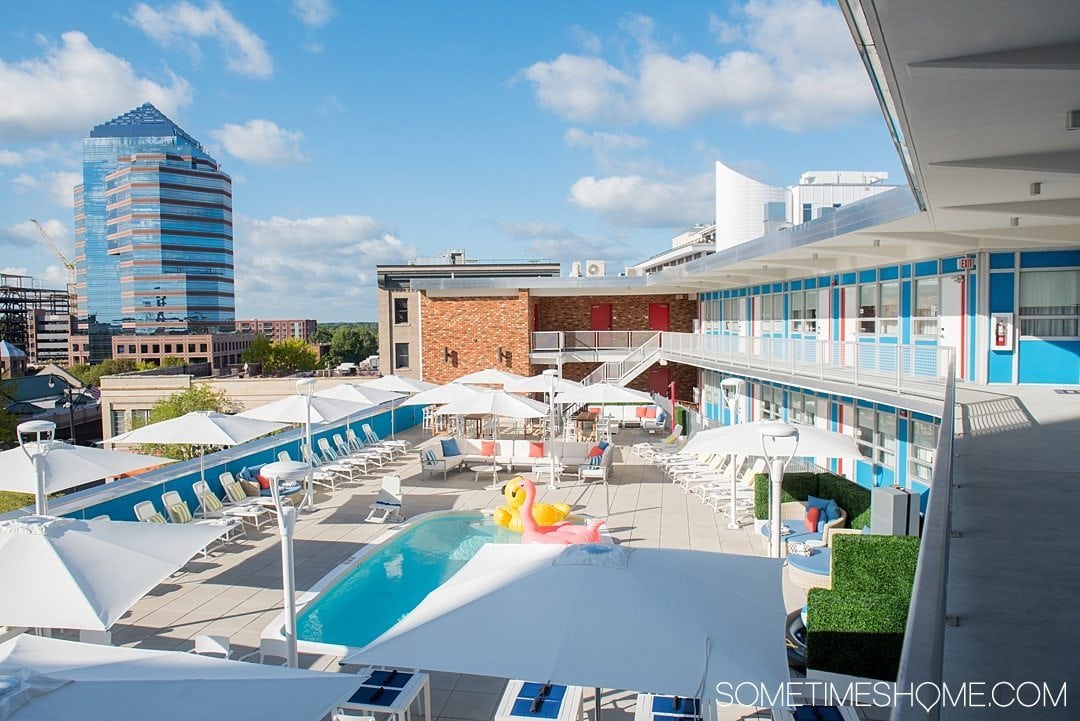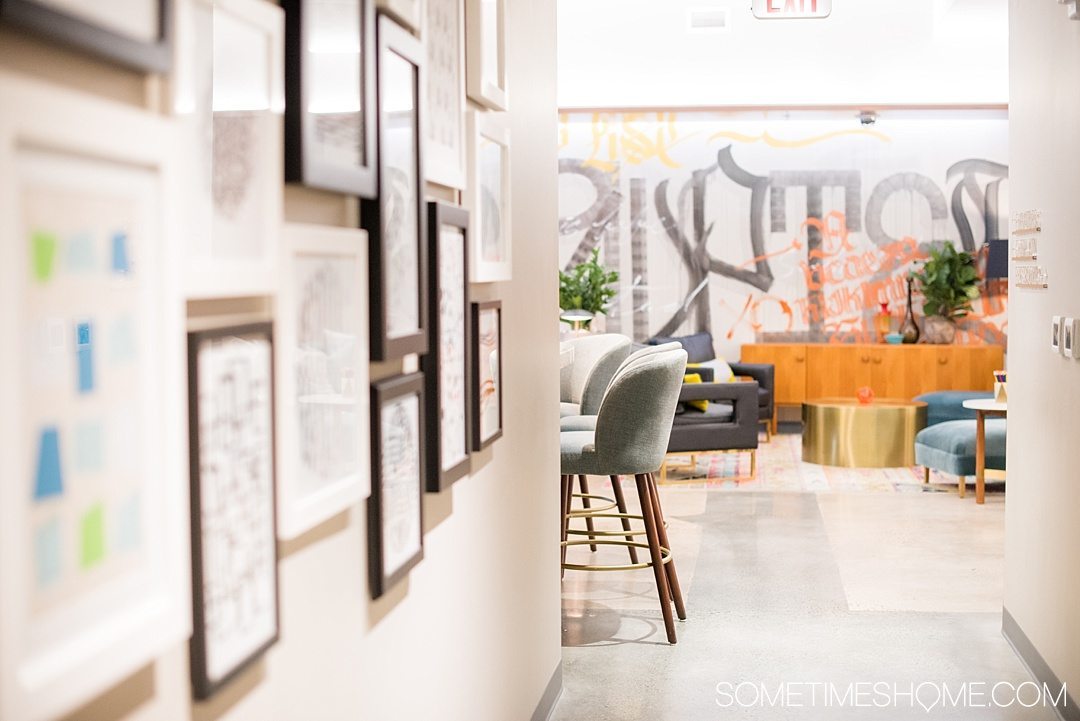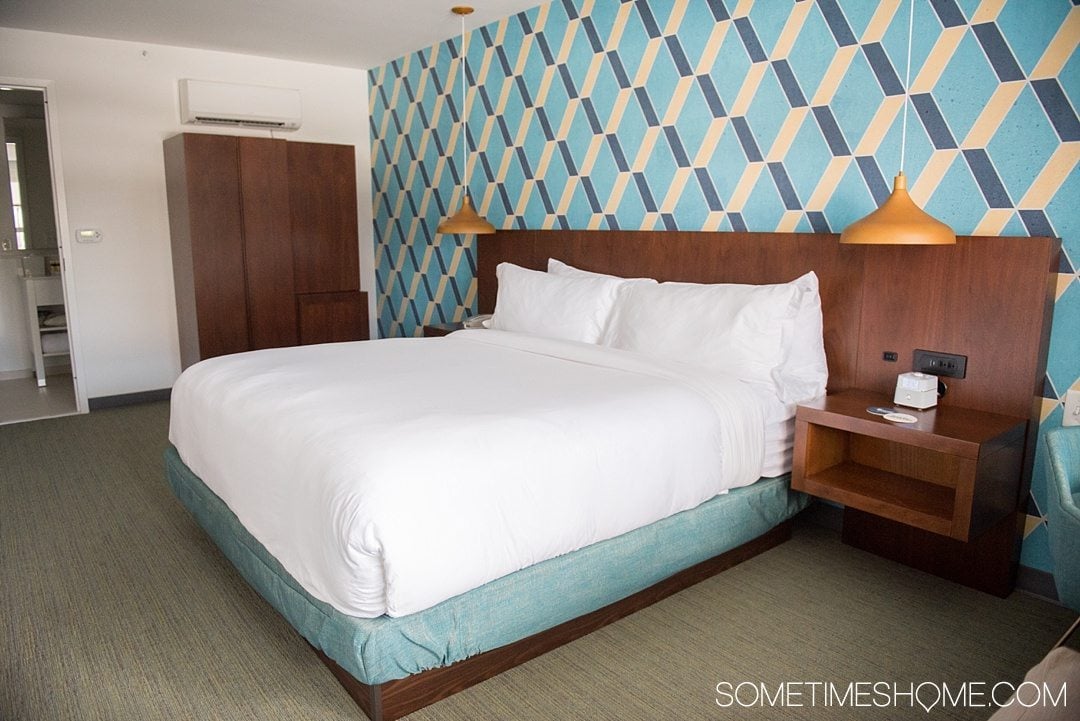 21c Museum Hotel
This hotel is a rare bird in our eyes. Though 21c Museum Hotel has nine locations (and growing) each one is singular in its design and exhibits. It's literally both a museum and a hotel.
21c is an art museum with carefully curated exhibits that rotate about twice a year. They're also a hotel, with luxury rooms and furnishings. And they put a high value on their culinary presence in their restaurant and bar on their ground level.
We miss the absence of a pool and rooftop bar but can you really complain when you get free art in exchange? Some rooms have pretty stellar city views as well as it's one of the tallest buildings in downtown Durham.
Don't miss spotting the pink penguins around the hotel; each 21c Museum Hotel has a unique color (Durham's are pink) and each penguin is carefully numbered and accounted for! There's also a bank vault in the basement that's pretty freaking cool (and was in fact used for the bank at a point in the building's history). The vault is next door to their onsite spa.
All Three Hotels, Compared
Location
All hotels are equal on location. It's a wash since they're all in downtown Durham, near the Durham Bulls Stadium and American Tobacco Campus.
Parking
While it's possible to park overnight on the street in downtown Durham there is metered parking nearly anywhere you go. Weekends are a bit more manageable as, generally speaking, you don't have to feed the meters Saturdays and Sundays.
There's a complimentary lot downtown if you want to park for free and walk over to the hotel after check-in. (Which is only a few blocks away from each of the hotels below.) The free weekend parking deck is called the Corcoran Street garage, at the corner of Corcoran Street and Ramseur Street.
Also, note there is often a discount on overnight valet if you bundle it into your room rate or opt to add it on during your reservation booking. All have valet. Unscripted was the only hotel where we could self-park in their attached parking lot. 
The Durham Hotel: $20 per night
Unscripted: $20 per night (garage attached to the hotel, valet available for the same price)
21c Museum Hotel: $25 per night
Internet
Complimentary at all three hotels.
Hotel Group
If you're like us and appreciate hotel perks we want to note two of the three hotels are part of larger hotel groups, which means you should give them your rewards number when you check-in or book your reservation:
The Durham Hotel: Independently owned
Unscripted: Dream Hotel Group
21c Museum Hotel: Accor Hotels
Public Spaces
The Durham Hotel: They don't have much of a lobby area but do have a few couches and chairs to relax in. Most of the lobby is taken up by their restaurant and coffee area, both of which are inviting and mid-century modern in design. Their rooftop bar is great – not too big, not too small. Note if you're a guest you can take the stairs up to the rooftop which may be faster than their very slow elevators. (The building is only six or seven stories high.)
Unscripted: The lobby is super cool and inviting, with their very unassuming check in desk towards the back before the elevators. You almost wouldn't recognize it as check in or a desk. The art on the walls is inspiring and colorful, perfect for any urban art lover. Their patio area – comprised of their pool and restaurant – are inviting. We don't love a loud DJ sometimes but they only seem to have one on given event days.
21c Museum Hotel: The Counting House restaurant and bar is on the ground level and incredibly posh, whether you're there for day drinking, a night cap or dinner. The art in the hotels spills over to this area, which we appreciate, adorning the walls and hanging from the ceiling. They have a historic vault in the basement and the multi-level museum is open to the public. Note their "lobby" or guest check in space is not on the ground floor; check in is several flights up, accessible by the stairs or elevator.
Pets
We love dogs so we feel the need to point out dog-friendly hotels, knowing they're a perk for dog owners:
The Durham Hotel: They are not a pet-friendly hotel.
Unscripted: Dogs less than 40 pounds welcome for an additional $20 per night
21c Museum Hotel: Dogs up to 50 pounds welcome with a one-time cleaning fee of $75. A waiver needs to be signed as well.
Check In/Check Out
The Durham Hotel: 3:00pm/12:00pm
Unscripted: 3:00pm/12:00pm
21c Museum Hotel: 4:00pm/11:00am
Price Per Night
There are so many variables that go into any hotel cost, from time of year to day of the week and then some. All three hotels compared here also have various package options to make an overnight stay extra enticing.
For comparison's sake, we've looked up a Deluxe King Room for a Saturday to Sunday in mid-September, with the Flexible Rate/Non-Refundable Rate **including taxes and fees** rounding to the nearest whole dollar:
The Durham Hotel: $366/$430
Unscripted: They have "Interior King" and "Poolside King" options. We've selected the Interior King for price comparison. $237/$203
21c Museum Hotel: $317/$301
Reviews
All three received stellar reviews – not just from us but from hundreds of travelers too. We've linked them below for your convenience:
We also want to mention there's an Aloft hotel very, very close to American Tobacco Campus, near the Durham Bulls Stadium. Yet we chose to focus on the more boutique hotels in Durham for this post.
Please note: we thank these hotels for generously hosting us at various points in the past. We also may make a small commission from affiliate links in this post but all opinions are ours and we bring you genuine content with real facts, photos, thoughts and recommendations. Always.
Heading to the Durham area? Also check out: