Incredible Downtown Durham Staycation Schedule
Our incredible downtown Durham staycation did not disappoint. You truly don't have to travel far from home to discover nearby areas – either for the first time, or to rediscover them through new eyes. Sure, we had heard of people taking "staycations" but we adore traveling afar so greatly we hadn't seriously considered it until a great hotel close to Raleigh came across our radar.
Conversations with friends who had stayed at 21c Museum Hotel in Durham, North Carolina piqued our curiosity. I had also visited the area in the past with1 an all-around general curiosity of what a staycation was all about. So Dan and I booked an overnight getaway at this unique boutique hotel.
Day 1
3:00pm: Late Lunch at Parker and Otis
From novelty shops, to hip clothing stores, notable restaurants, bars and a memorable hotel we adored each moment of our downtown Durham staycation, 30 minutes from our apartment in downtown Raleigh.
We arrived in the area in time for a walk around Parker and Otis. As soon as I knew our check in at 21c Museum Hotel was at 4:00pm I knew we'd opt to arrive at 3:00pm, just in time for a late lunch and walk around this well curated store and eatery.
They have a southern menu of Pimento and Grilled Cheese sandwiches and optional deviled egg additions (a personal favorite). They also have a great selection of salads.
We split a pimento cheese sandwich and enjoyed walking around their shopping area. It's full of vintage toys, great gift items, and catchy signs. It's completely up my alley!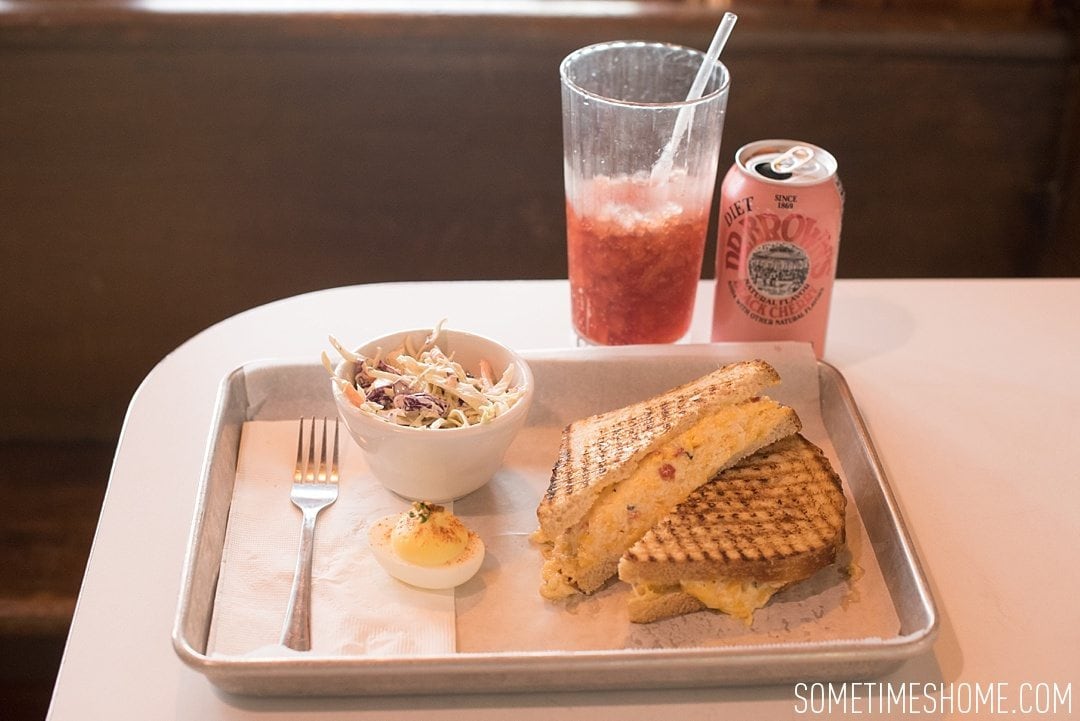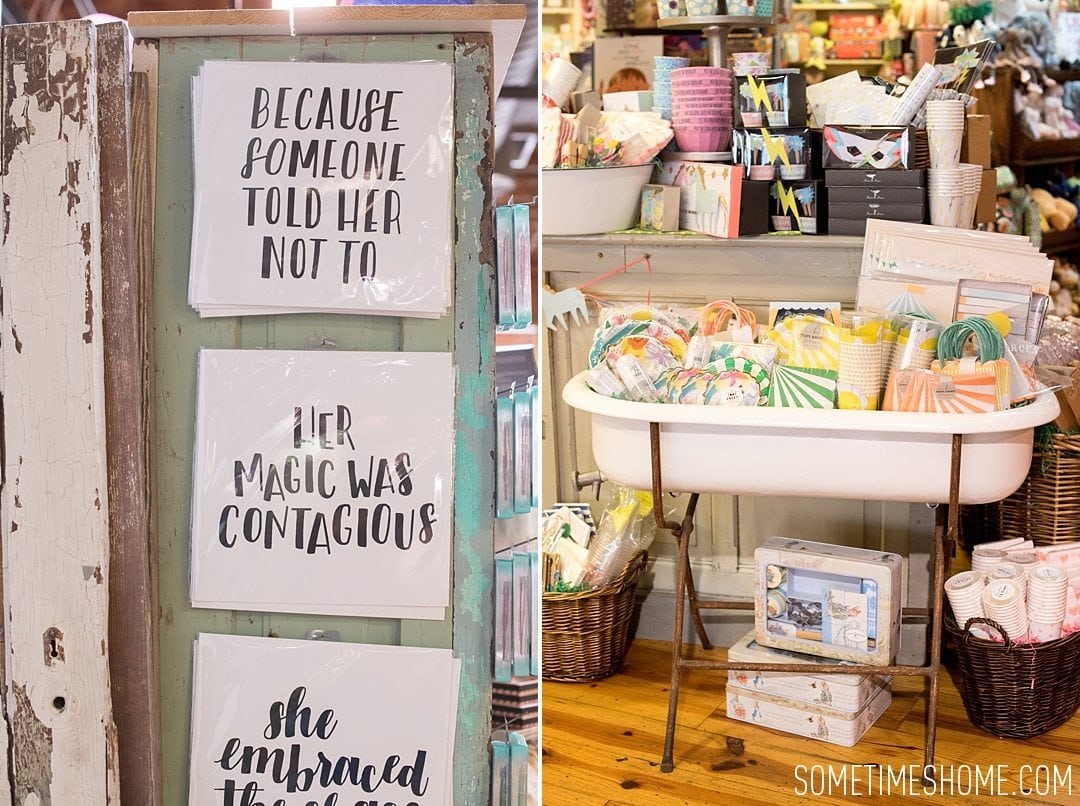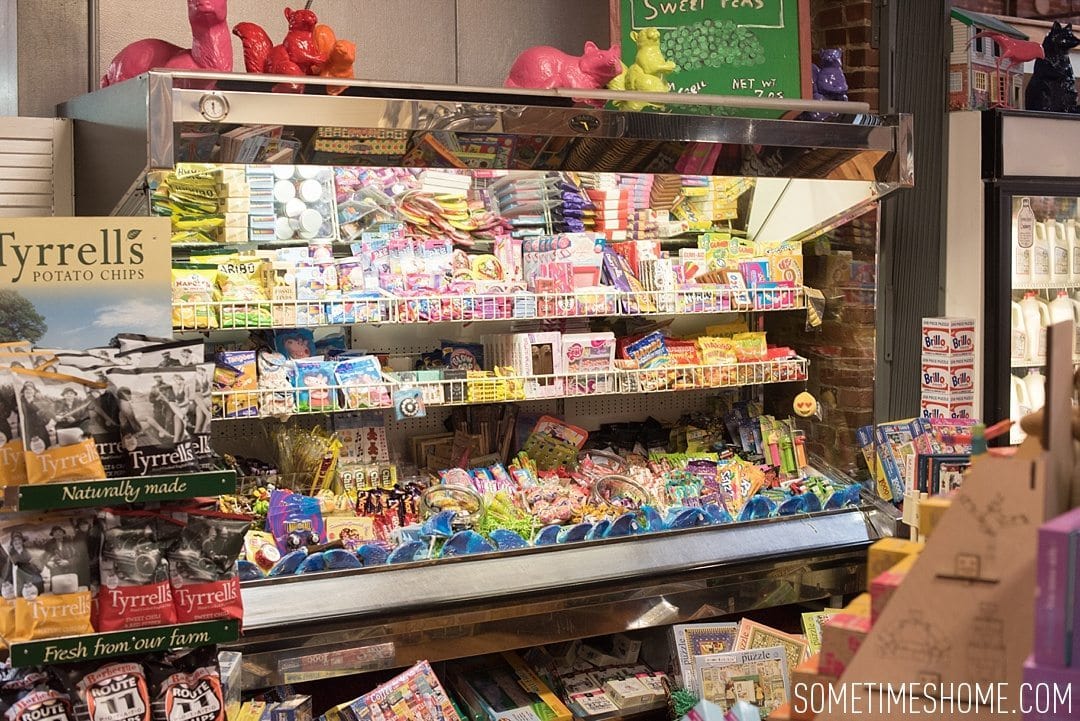 Brightleaf Square for Shopping
We also headed to Brightleaf Square, a block away, to do a little more shopping. We particularly loved the boutique shop called Indio but we admired Schoolkids Records store and Bull City Olive Oil too.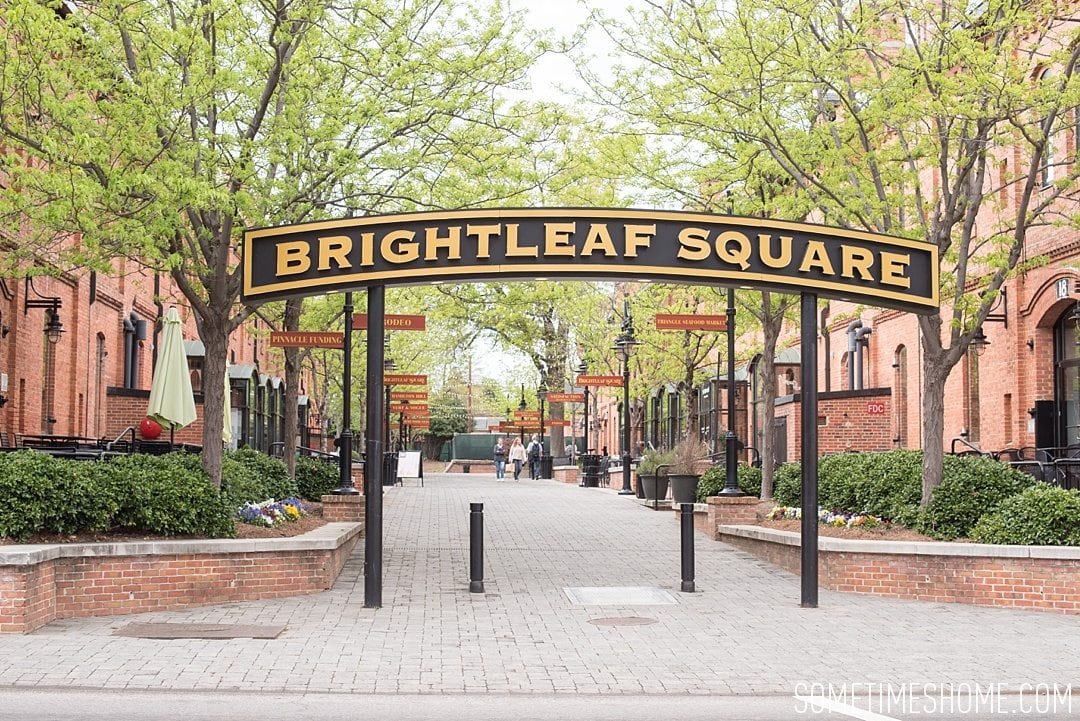 4:00pm: Hotel Check In at 21c Museum Hotel
We were so excited to check into our hotel room. This trip we stayed at 21c Museum Hotel. But we have three favorite hotels in downtown Durham – you can't go wrong with any!
We opted for street parking (there's metered parking on the streets) and to deal with meters until it was after hours. The valet parking is very costly at about $32 per night, which we learned was because it's what the hotel needs to pay the city. No worries on our end – street parking was good with us.
We checked into our room to find the most gorgeous plate of chocolate covered strawberries and champagne and incredible view. Cheers to that!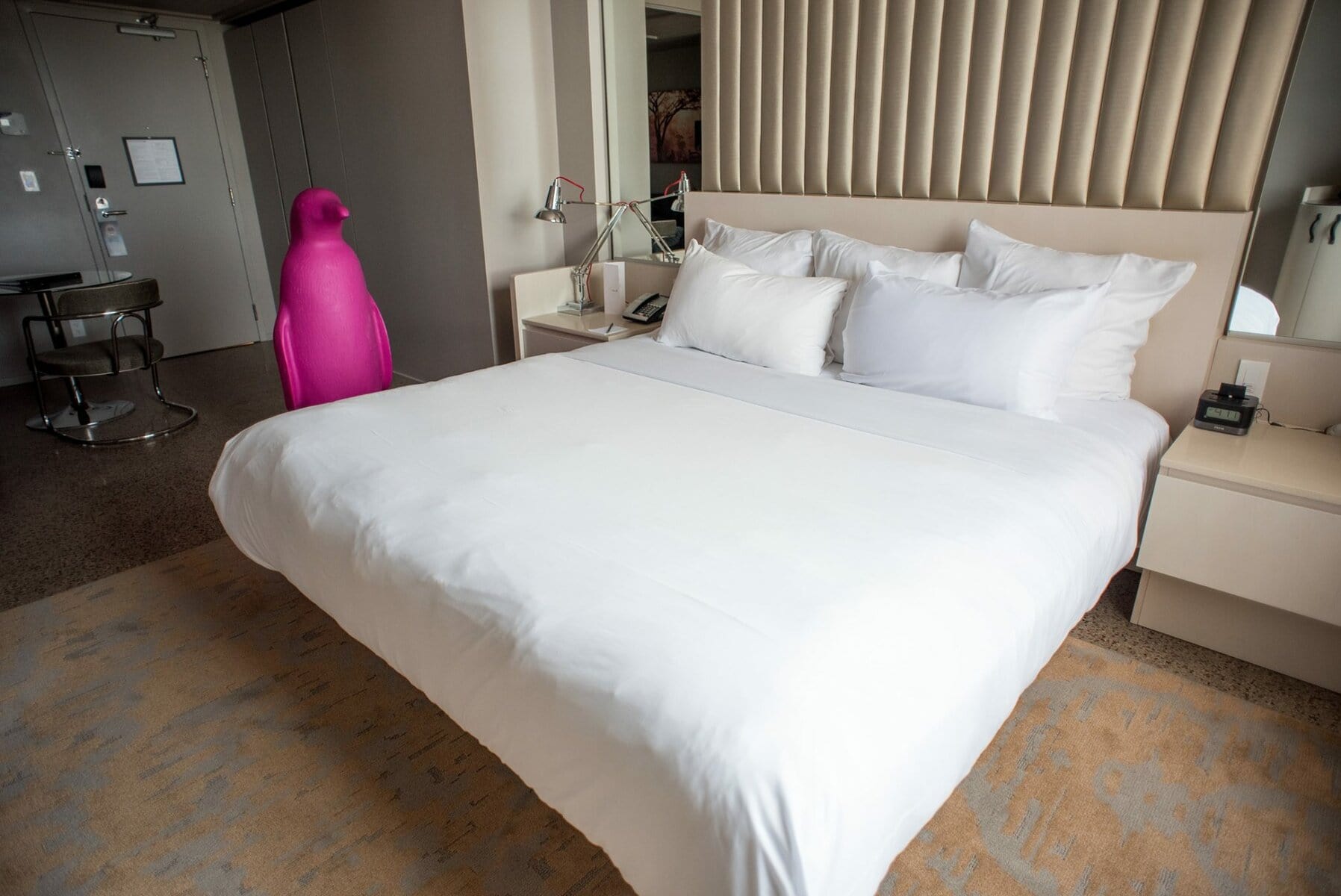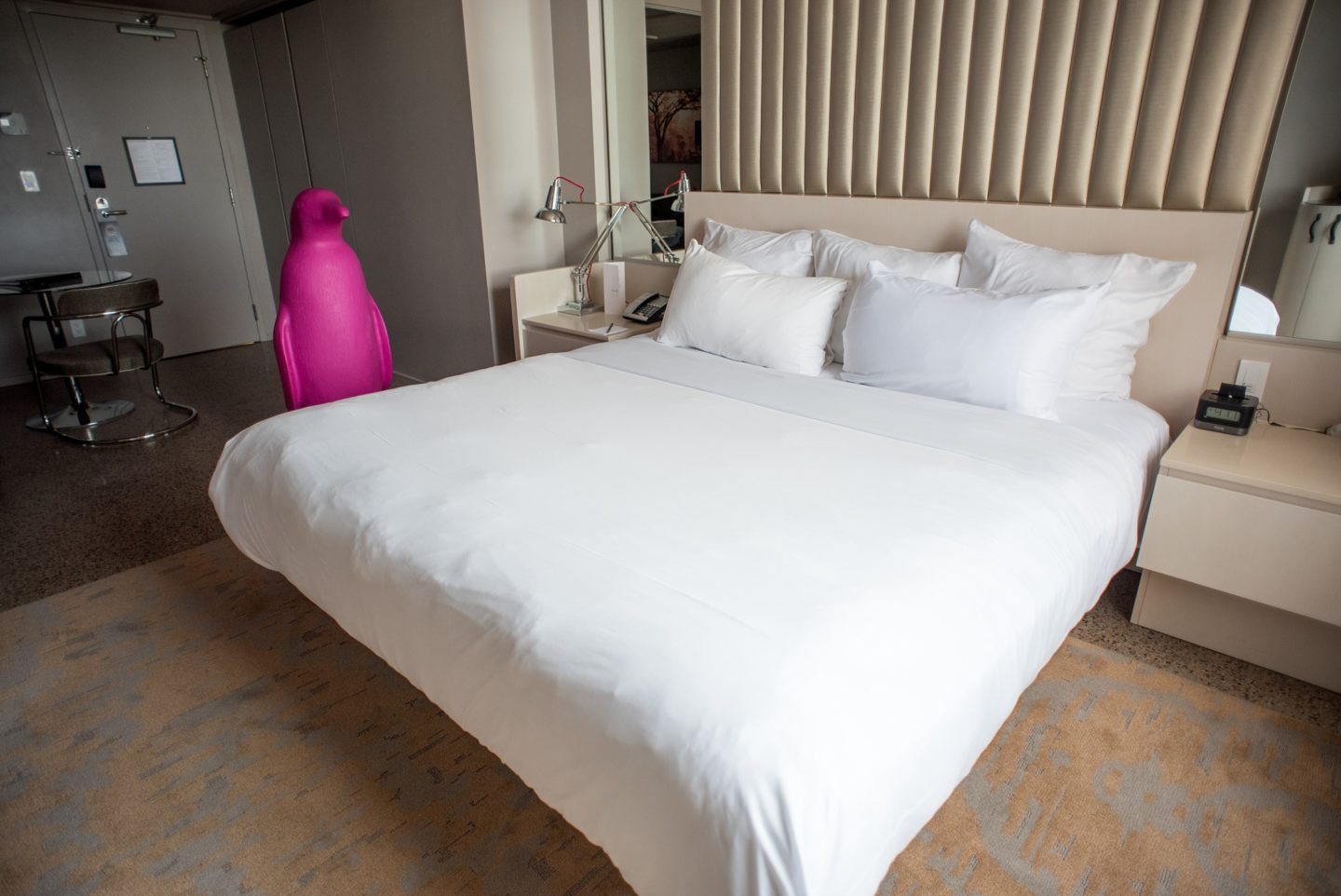 We were looking forward to coming back to our room later but left to enjoy the city.
5:00pm: Head to Ponysaurus Brewing
After indulging in our sweet treat we left to enjoy some beer. It was vacation after all! Durham has some great bars and breweries. We stopped for a couple of beers at Ponysaurus. (That's right – a pony and dinosaur in one animal!)
They have indoor and outdoor seating options; both are inviting. On the weekends they have food trucks too. You can also rent grills they have on their property for a little cookout if you wish and reserve ahead of time.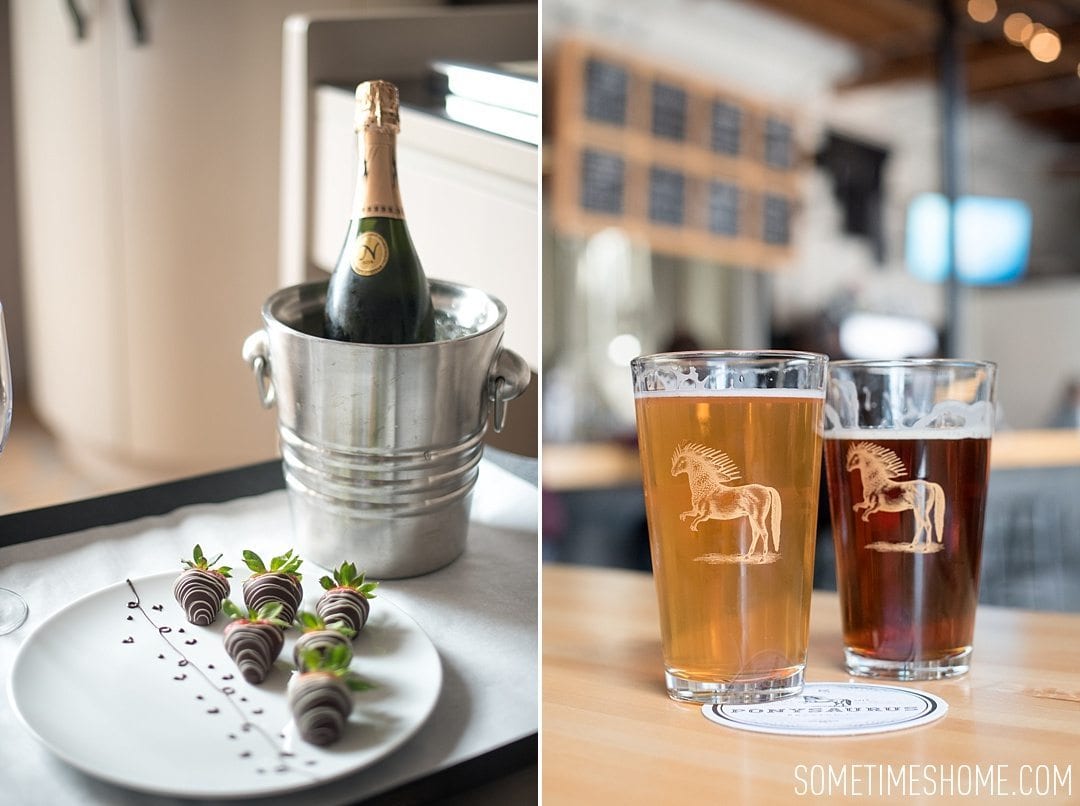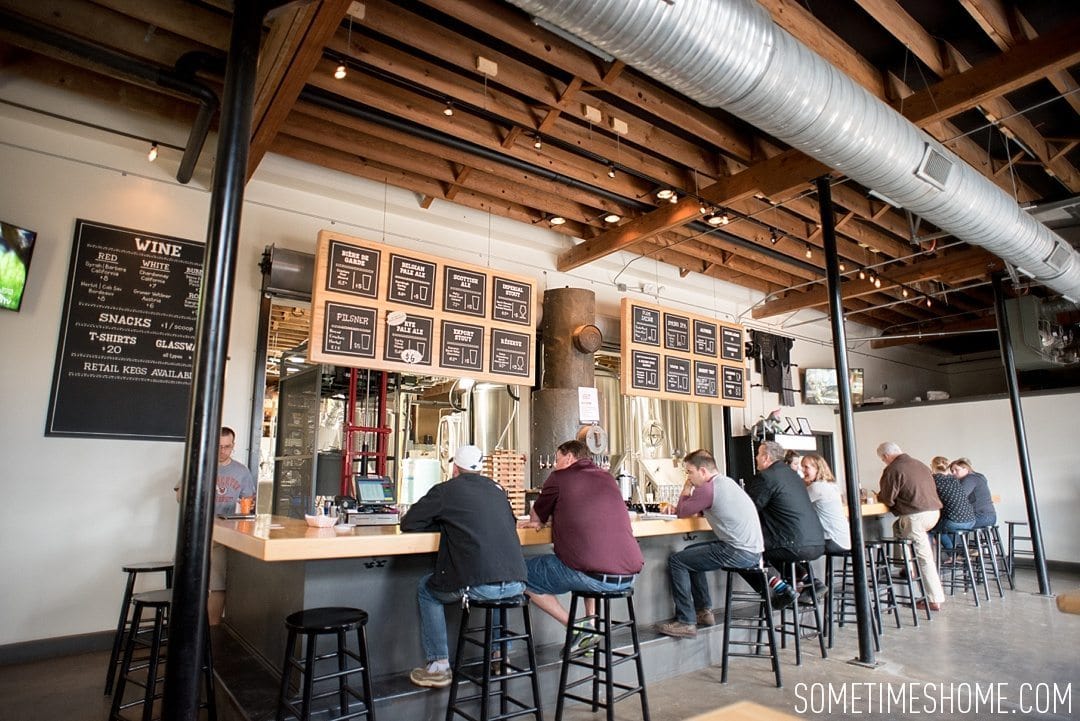 6:00pm: Indulge in a Hand-Rolled Cigar while Enjoying the Outdoors in Downtown Durham
After we had a beer, we drove from Ponysaurus back downtown to get an Amendola Family Cigar to smoke outside in downtown Durham from Bulldega Market, relaxing and enjoying people watching. The market is on the corner of Corcoran and W. Parrish Street, across from 21c, so it's convenient to park the car for the rest of the night. You'll be downtown the rest of the evening anyway! (A perk of a staycation.)
It's a favorite pastime of ours once in a blue moon, especially when we're in Fort Lauderdale. You can save your cigar if you don't finish it in one sitting.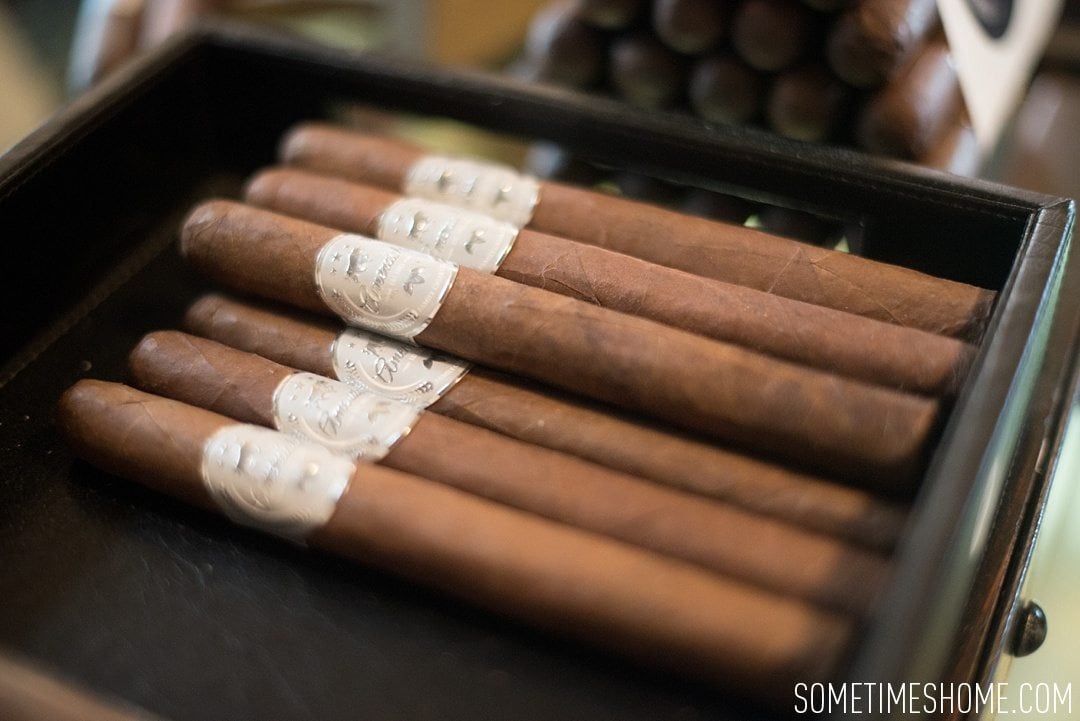 7:00pm: Pre-Dinner Cocktails at Alley Twenty Six
I had bought a tonic mix from Alley Twenty Six at a Durham Picklefest event months before and wanted to try the bar's handcrafted cocktails.
It was the perfect way to make the evening last longer before heading to M Sushi for dinner, just blocks away.
8:00pm: Omakase Dinner at M Sushi
I'm always looking for ways to experience Japan (a definite favorite of places I've visited) when I can't physically be there.
M Sushi is, hands down, the closest thing to authentic Japanese sushi I've had in the Raleigh Durham area.
We opted for their omakase and a sushi roll. An omakase is a classic Japanese term for "chef's choice." It's definitely the way to go here. We also ordered a few hot sakes – we were, after all, walking home to our room for the night at 21c, two blocks away!
(It's also directly across the parking lot from The Durham Hotel, which we also recommend.)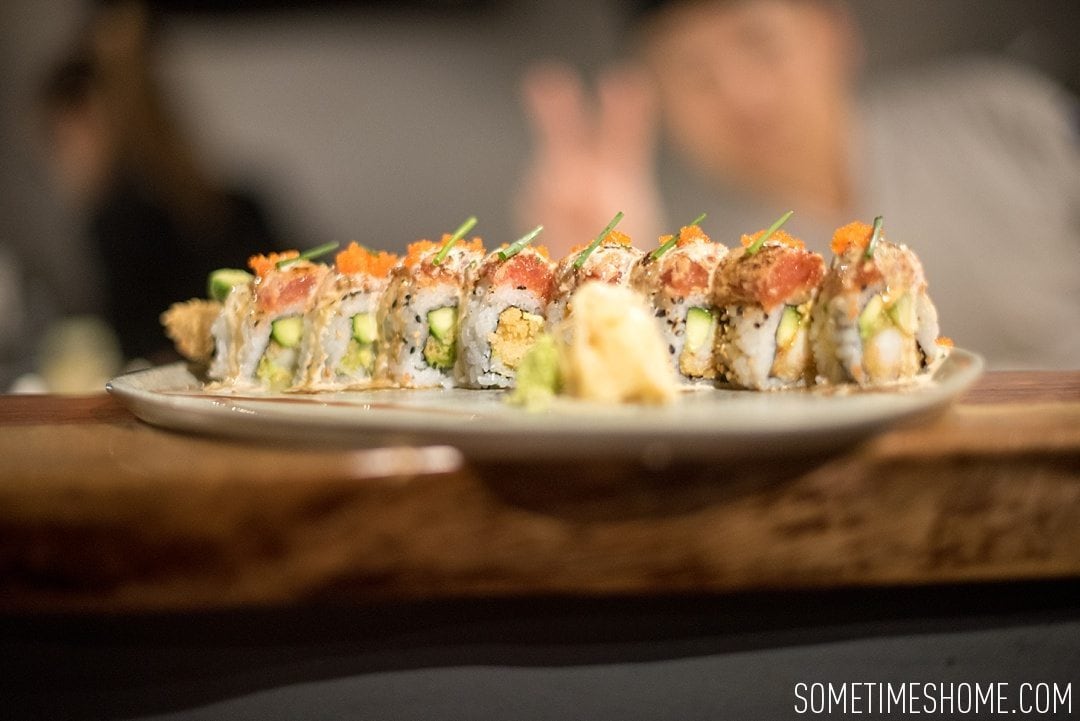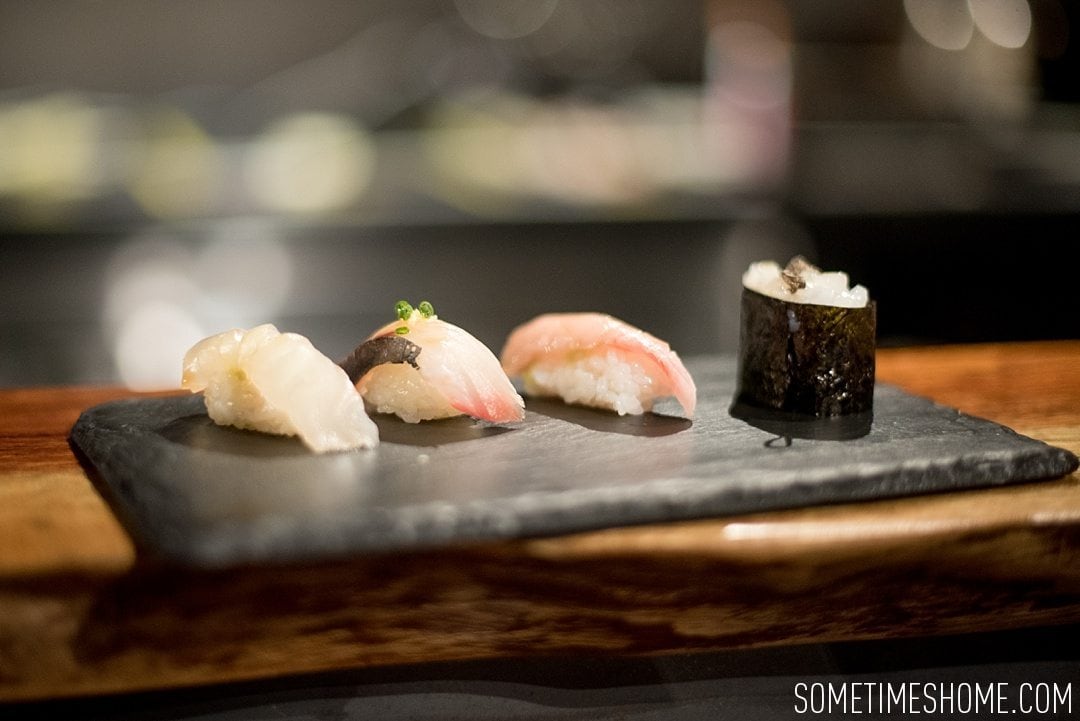 10:30pm: Bedtime at 21c Museum Hotel during our downtown Durham Staycation
We went back to our hotel room to enjoy some more in-room champagne.
If there's room at the Countinghouse bar downstairs, however, definitely enjoy some cocktails to make the evening last longer. We were very much looking forward to getting into their cozy beds and enjoying our downtown Durham staycation the next day.
Day 2 of our Downtown Durham Staycation
10:00am: Breakfast from Loaf
Loaf is a fresh bread and pastry shop just a few hundred feet away, around the corner from 21c.
I walked over there to get us some breakfast pastries to enjoy in our room's little breakfast nook. We took advantage of the in-room Nespresso machine for some caffeinated hot beverages to perk us up in the morning. After showering and having a bite, we walked across the street to visit a cool store.
We checked out before continuing our day and simply put our bags in the car.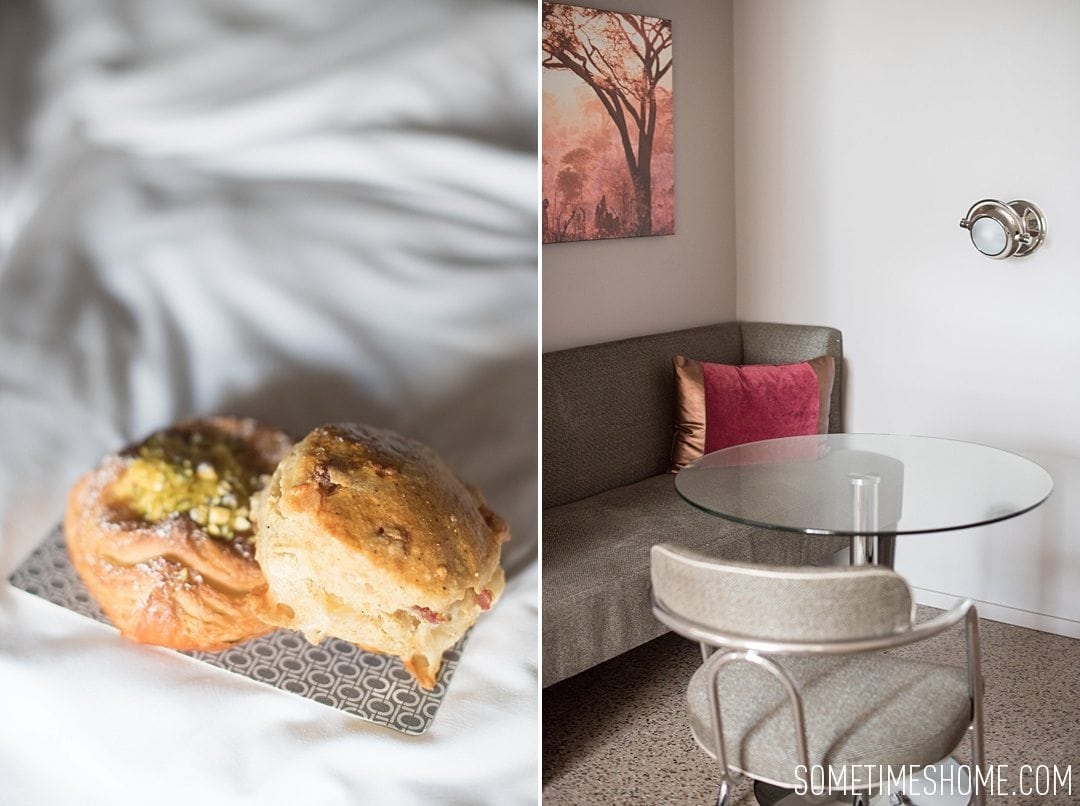 11:30am: Boutique Shopping for Home Goods
Chet Miller is a super cool store across the street. We found out we loved it as much as we adored Parker and Otis, the day before, because they have the same owners. They have different products though so if you have time make a point to stop here. There are great gifts for men and women.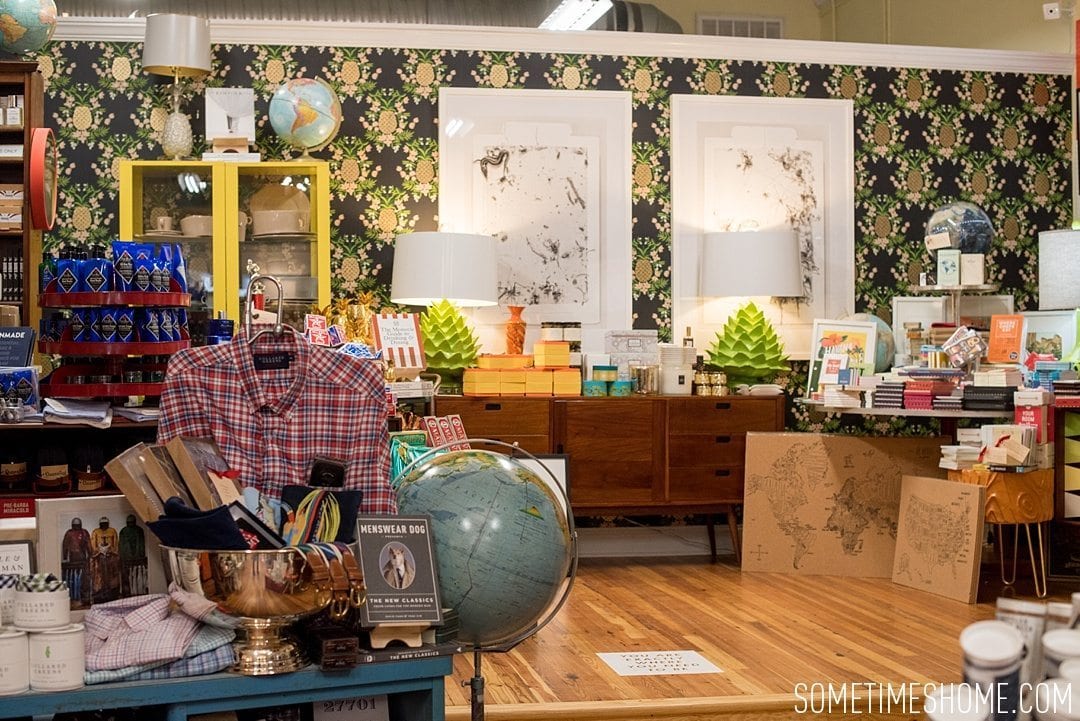 12:00pm: Countinghouse Cocktails and Appetizers
We decided to have a pre-lunch cocktail hour. Because that's just how we roll! We loved the sunshine that streams into The Countinghouse, the art around us to enjoy and the delicious drinks and appetizers we had there.
We highly recommend trying their appetizers – they're delicious.

1:30pm: Another Drink at the Durham Hotel and a Late Lunch
We stopped to check out the midcentury modern lobby of the Durham Hotel and a drink on our way to Il Forno for lunch. The light fixtures alone are worth stopping to see but the hotel's entrance, with its black and white tiles, are always photo-worthy.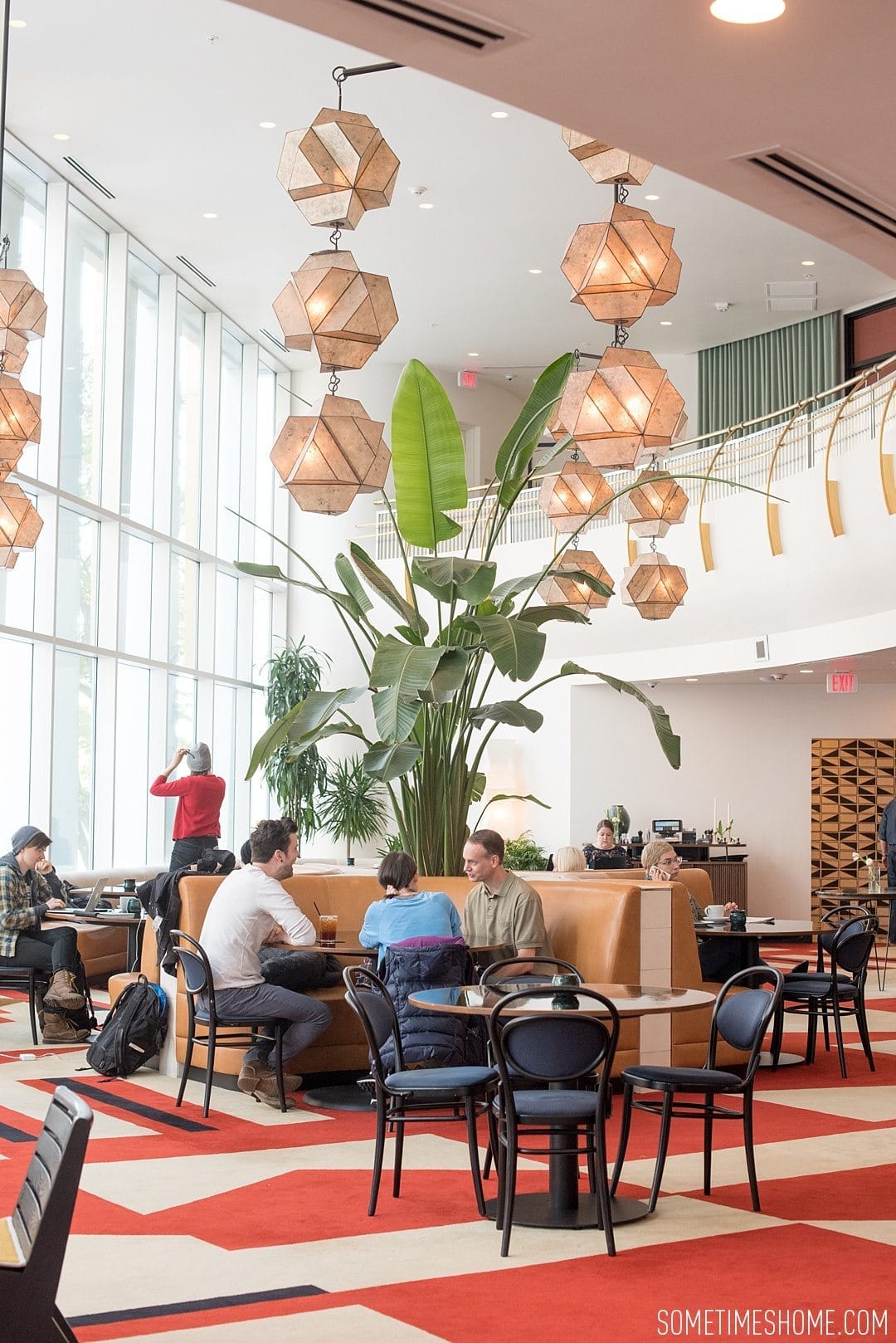 Il Forno Italian kitchen is a short walk away. We loved the authentic brick-oven style personal pies here. They have you self-cut them…with scissors! It's a fun touch.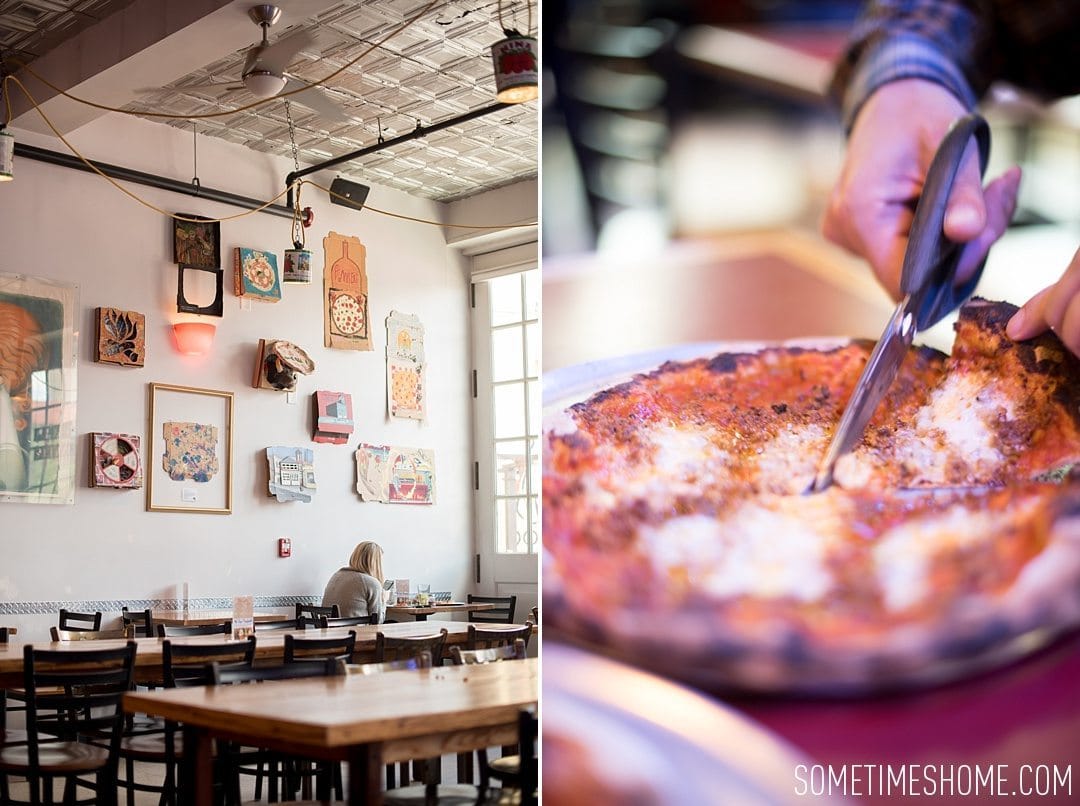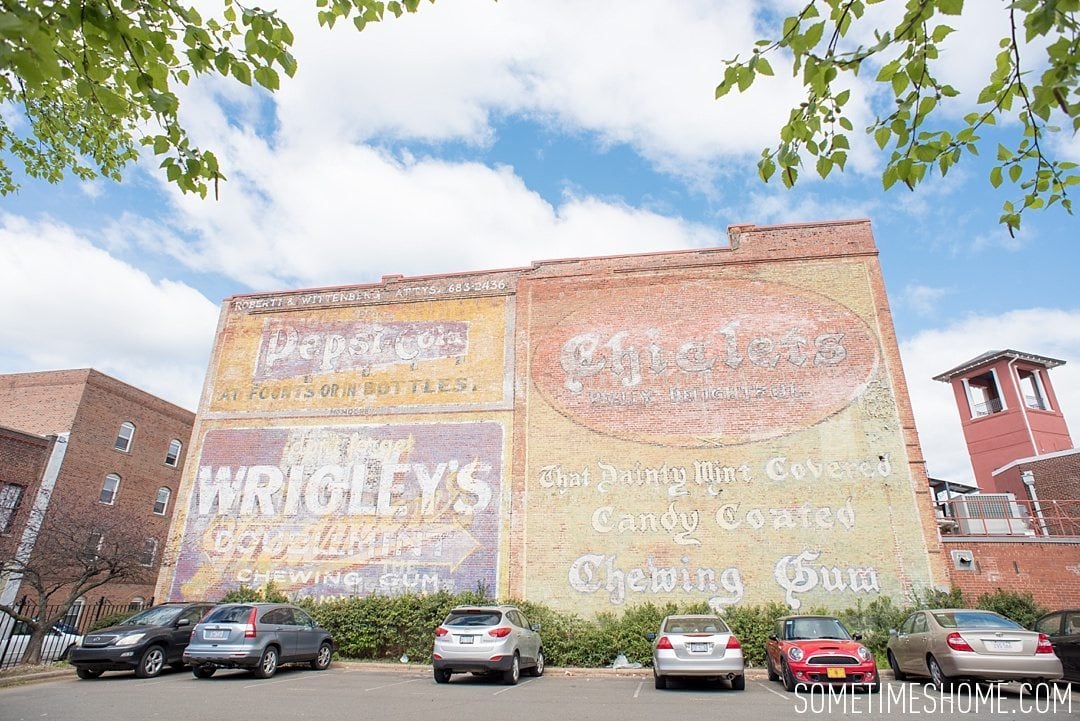 We walked around a bit more (we just couldn't get enough of the town) and saw this super cool vintage painted wall before heading out.
Hopefully this inspires you to have a Durham staycation of your own! There's so much to do and see there each time we go back is different.
Please note: We thank 21c Museum Hotel for generously hosting us. There may also be affiliate links in this post that are at no cost to you but may help us make a small commission that assists with us running this blog. All the opinions in the post are ours and we bring you genuine content with real facts, photos and thoughts. Always.
Craving more North Carolina adventure? Check out:
Have you taken a staycation in your town?