"Sugar may be an easy way to lure people to a town," I said to Dan as we tasted the famous wafer-thin Moravian cookies. And that may be so, but the history of Winston-Salem attractions, including great restaurants and a walkable downtown area, are what continue to draw people back to this North Carolina, Piedmont region city. It's a hop, skip and a jump from Raleigh and we gladly packed our bags for a weekend getaway.
Visit Old Salem
This is the best place to start your visit because this Winston-Salem attraction will give you a great basis for the area's history. It's a "Living Legend Town" (one of a few in America) comprised of a small community of historic homes and shops you can walk around at your leisure.
One of the things we valued was learning more about the Moravian community that moved to the area in the mid 1700s. They relocated here from other regions of the United States after emigrating from what is presently known as the Czech Republic. Learning about the famous Moravian star, many of which you can see hanging in the covered bridge photo below, was particularly valuable. It's a motif you'll see repeated over and over again at many Winston-Salem attractions.
We envisioned it a lot like Williamsburg, Virginia's American Revolution Museum, which is all fenced in and contained within the boundaries of the property. You need a ticket to access it. But, to to the contrary, Old Salem is simply a lovely community you're able to enjoy as if you live there and pull your car right up to the buildings. (And you can in most cases!)
That being said, we recommend buying a ticket to visit the museum. Tickets also give you access to a few shops you benefit from admission already being paid for. The museum will give you good backstory of the town's founding that will make your visit more meaningful. We found it was very worthwhile to talk to the volunteers and employees at the museum; they provided a wealth of knowledge about Winston-Salem.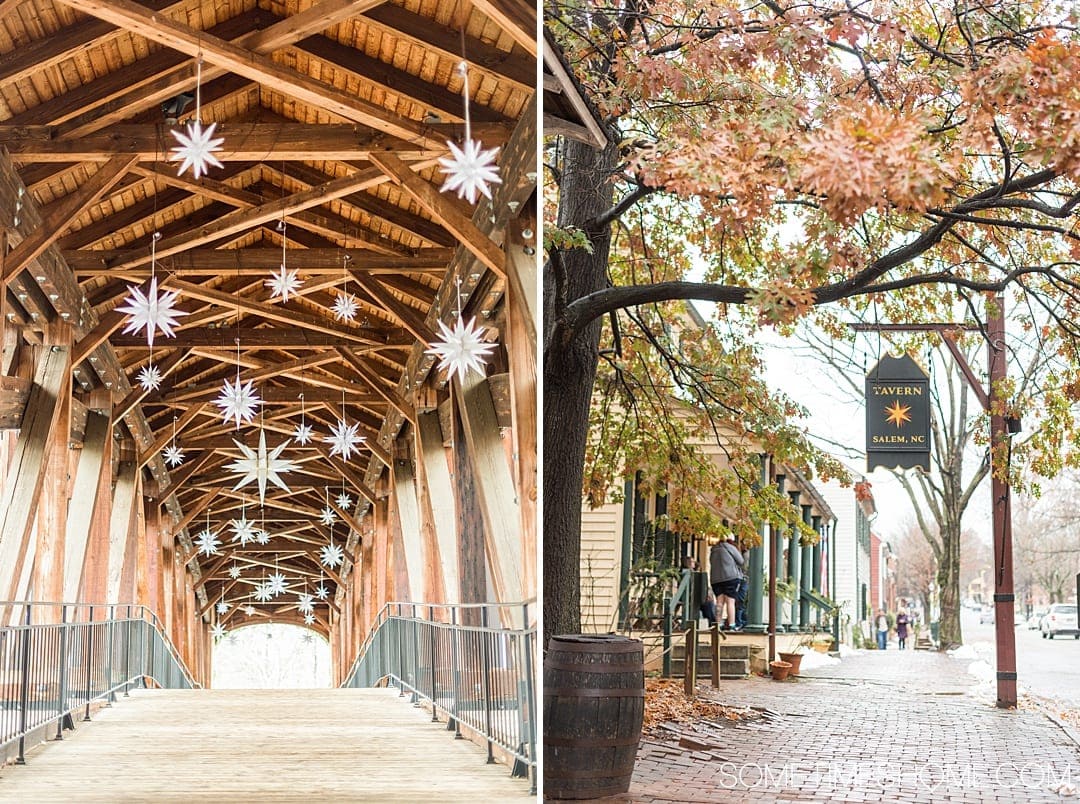 Do not miss a meal at the Tavern, open Thursday through Sunday. This delightful restaurant is family owned and operated. The building that houses it was built in 1816 and has a lot of charm! Make a reservation ahead of time if you know you want to go during trip planning though walk-ins are welcome. We cannot recommend the Tavern's Beer Cheese Soup enough! We also loved the Overnight Pot Roast, Beer Boiled and Grilled Bratwurst with Sauerkraut, and local North Carolina brews we ordered to wash it down.
If you haven't had dessert at the Tavern (well, even if you have!) be sure to stop by Old Salem's Winkler Bakery on Main Street before you leave Old Salem. Get a cup of coffee or tea with their famous sugar cake and Moravian sugar cookies.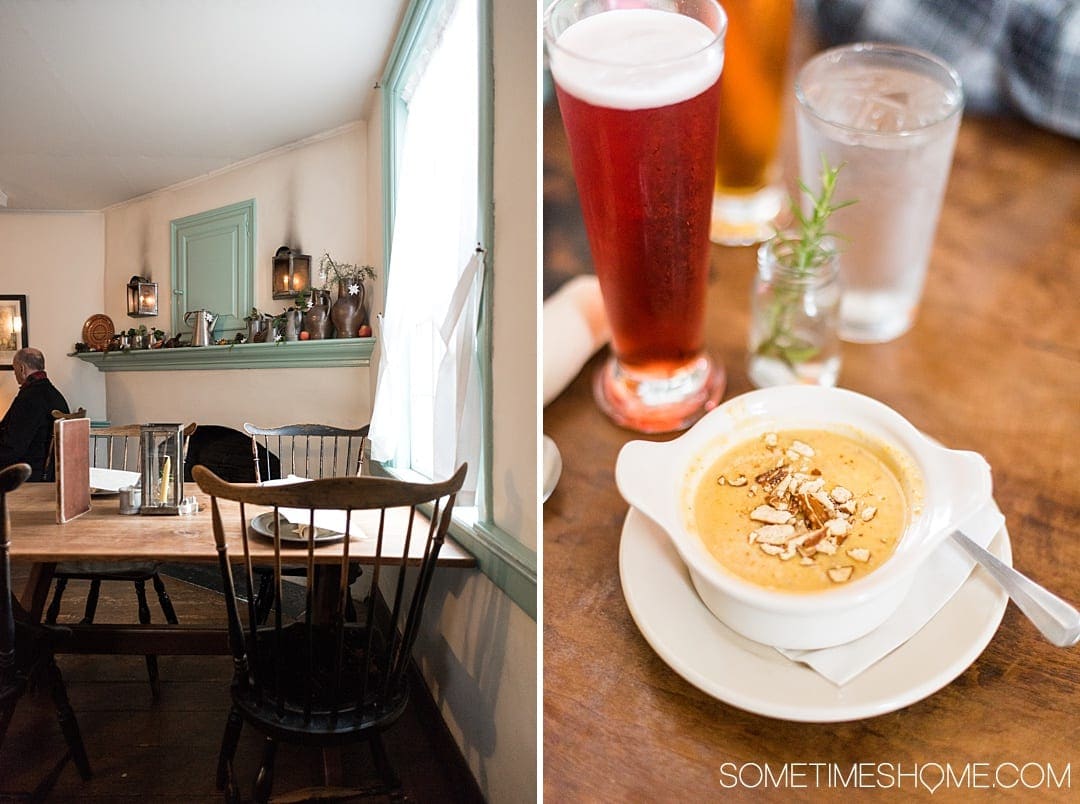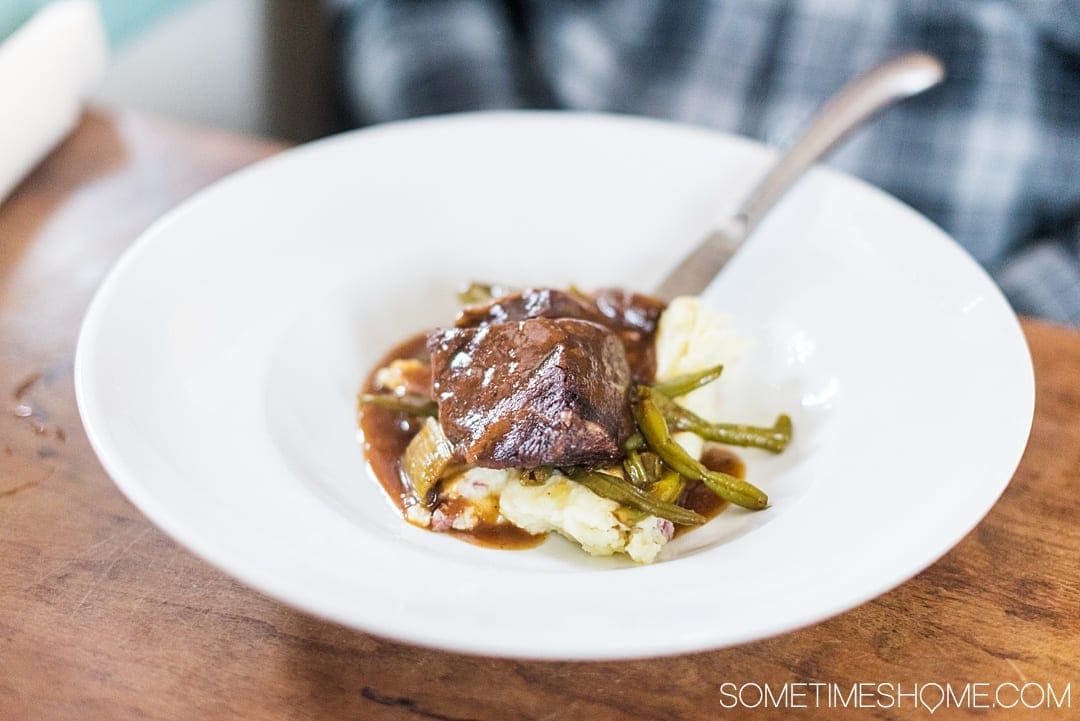 Another incredibly unique thing in Old Salem is its cemetery. It's visually beautiful, with white headstones that lay parallel to the earth and Cypress trees rising from the ground. We were there during fall and enjoyed the rich red, brown and green tones that painted the landscape.
Moravians are chronologically buried in the order they were "called home to be with the Lord," as a sign on site explains. Men, women and children are buried separately and there are no statues or monuments to distinguish the graves of the rich from the poor.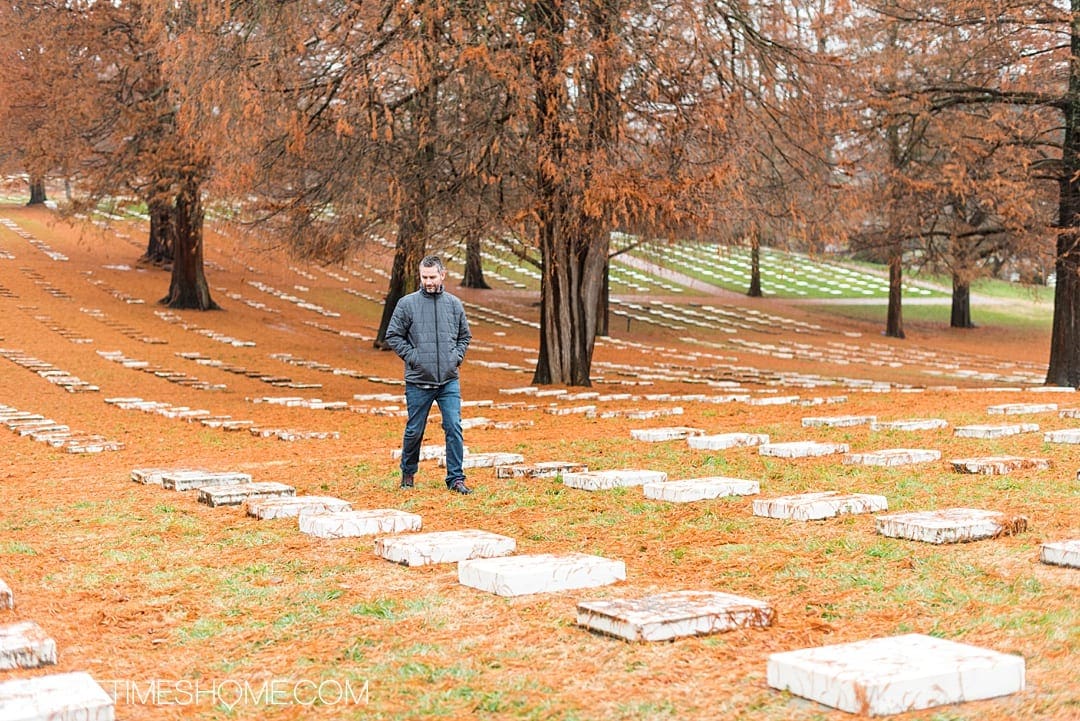 Spot the Art-o-mats and Buy Affordable Art
Clark Whittington, a self-proclaimed "retro geek," had a wonderful idea to recycle old cigarette machines about 20 years ago. The concept came to him in the late 1990s when cigarette machines were becoming…well, nearly extinct and ending up in the trash. What he's created with the Art-o-mat is not only an incredibly original concept, unlike anything else in the world, but also democratizes art.
We love the affordable cost of a token (about $5 each) enables any consumer to walk away with an original piece of artwork. (This is what most lattes these days and you don't have anything to show for that afterwards except for extra calories!) A person simply inserts the token into an Art-o-mat machine, selects which knob to pull for the desired artist's work, and enjoys the thrill and nostalgia liken to pulling a toy machine's level as a child. And trust us – the thrill lives on and it's still exciting to experience as adults!
We were thrilled to meet Clark at Delurk Gallery in the Winston-Salem downtown art district during our visit. He shared his process behind creating these one-of-a-kind pieces and the selection process for artists who create their contents. (The machines are pieces of art themselves too.) Their biggest concentration is in the United States with a few locations overseas, as far as Australia.
We saw about five of them over the weekend excluding the many we adored in Delurk Gallery. One of our favorites was the ant farm Art-o-Mat at Colony Urban Farm, next to Joymongers Barrel Hall.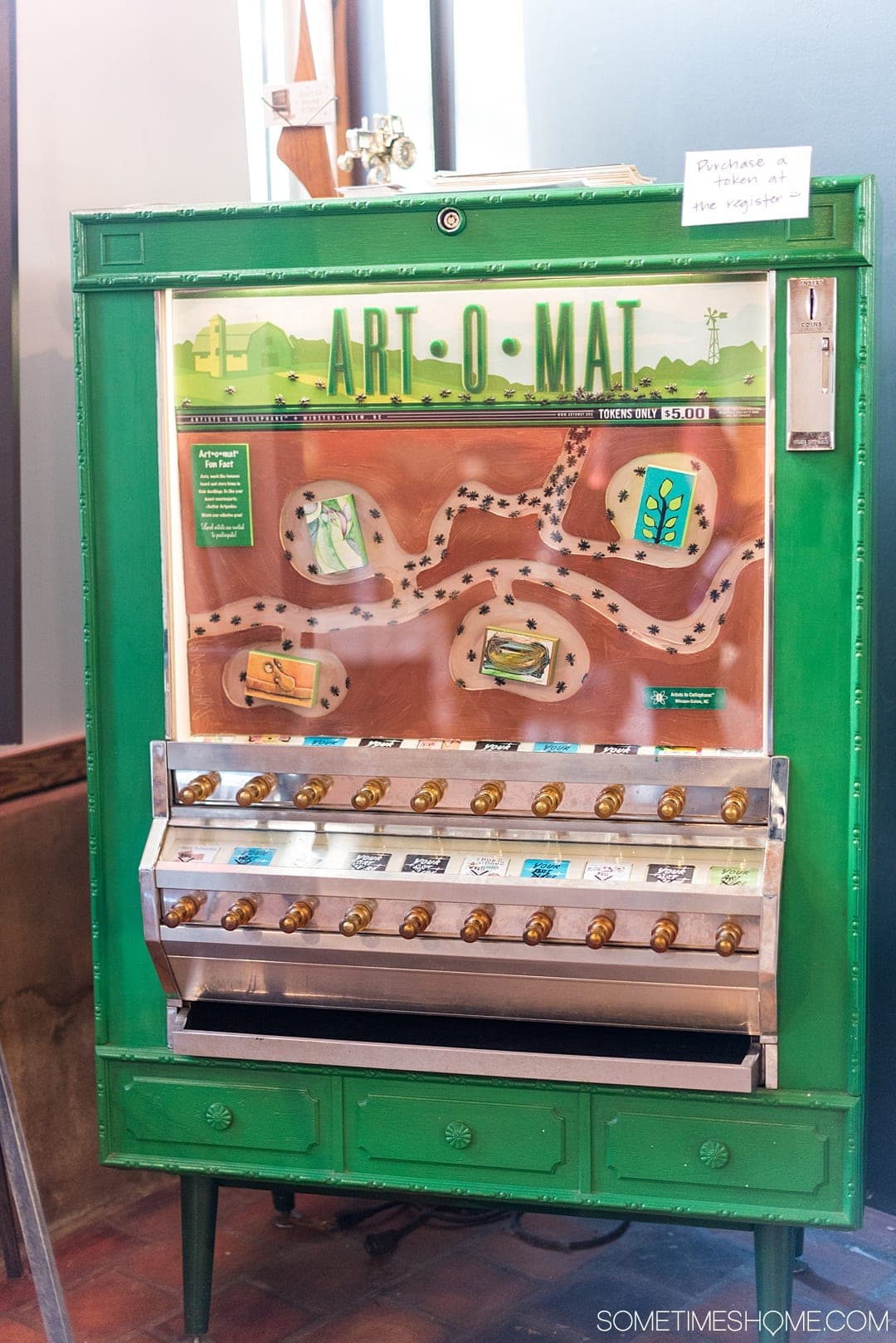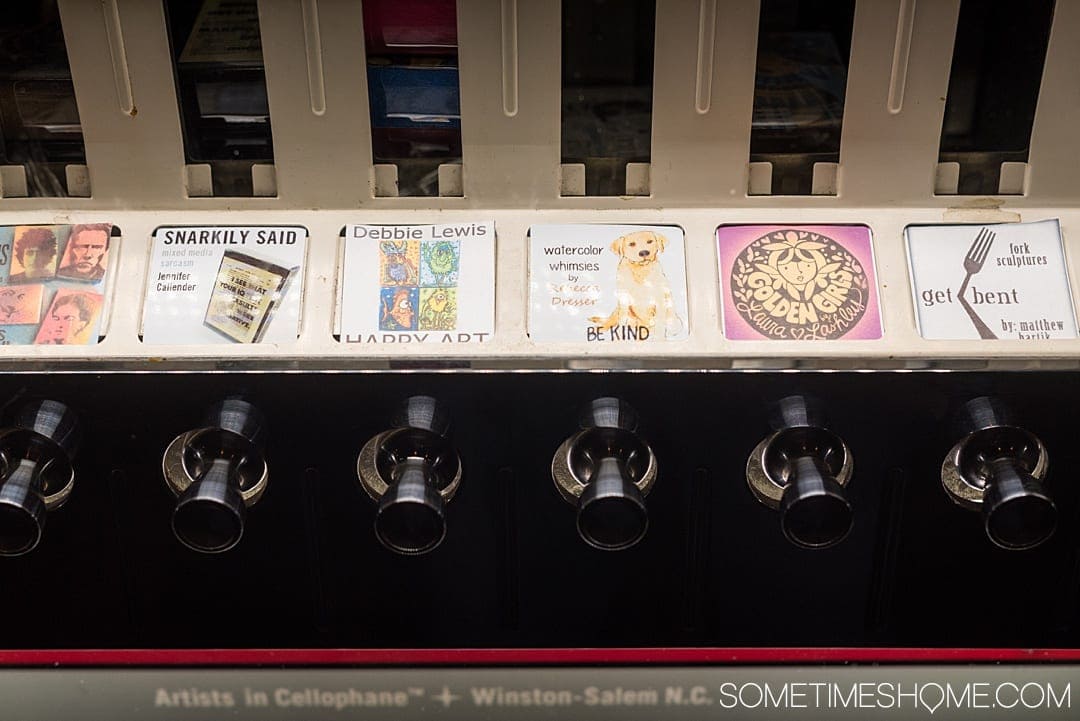 Admire (and Stay At) the Kimpton Cardinal Hotel
The premiere hotel in Winston-Salem is the Kimpton Cardinal Hotel. It's beautiful and ideally located in downtown Winston-Salem. Its posh interior is colorful and inviting: During the day its filled with light and is a wonderful place to enjoy a coffee or meet friends in the lobby lounge before venturing out to experience the city. At night it's a hotspot for drinks and dinner at The Katharine Brasserie and Bar.
This hotel rocks and we highly recommend staying overnight. If you're not staying overnight we recommend you rethink that choice! Staying there was a delight and the perfect excuse to extend our time in Winston-Salem. Besides, what's better than enjoying food and a few cocktails and only having to press an elevator button to get to your room afterwards?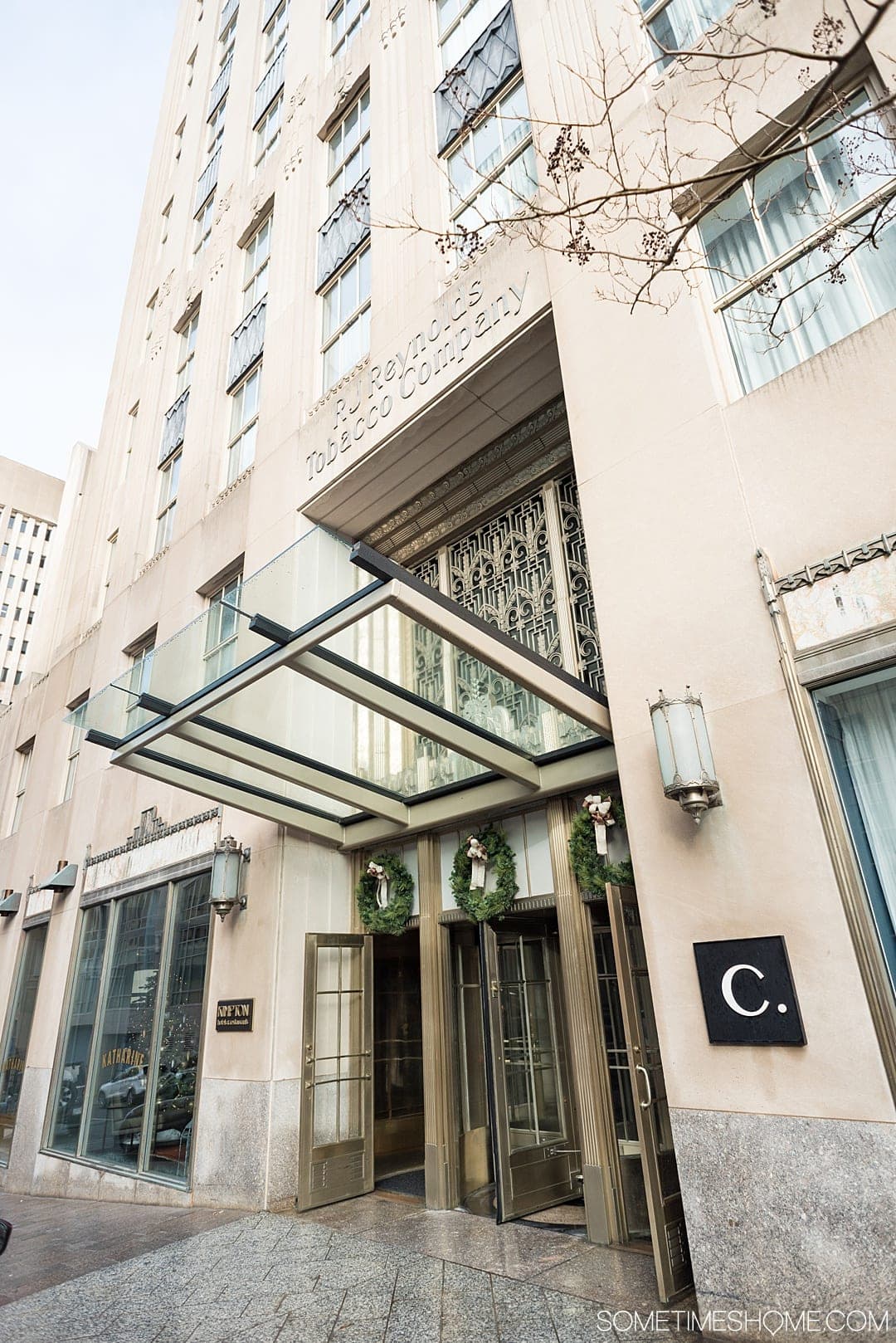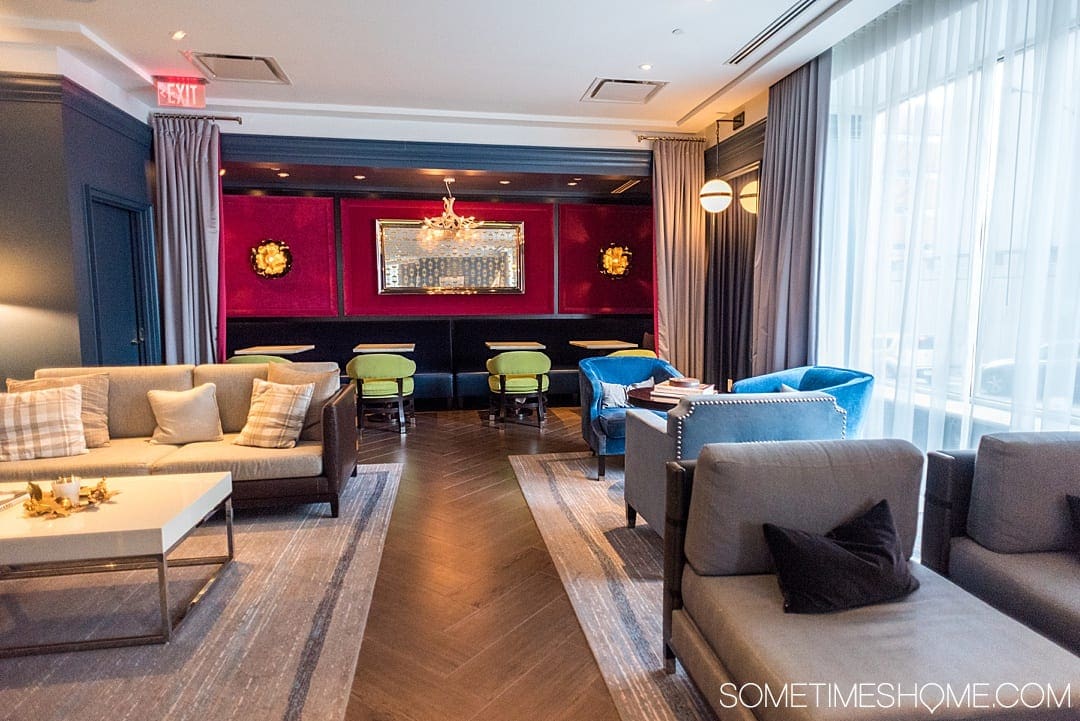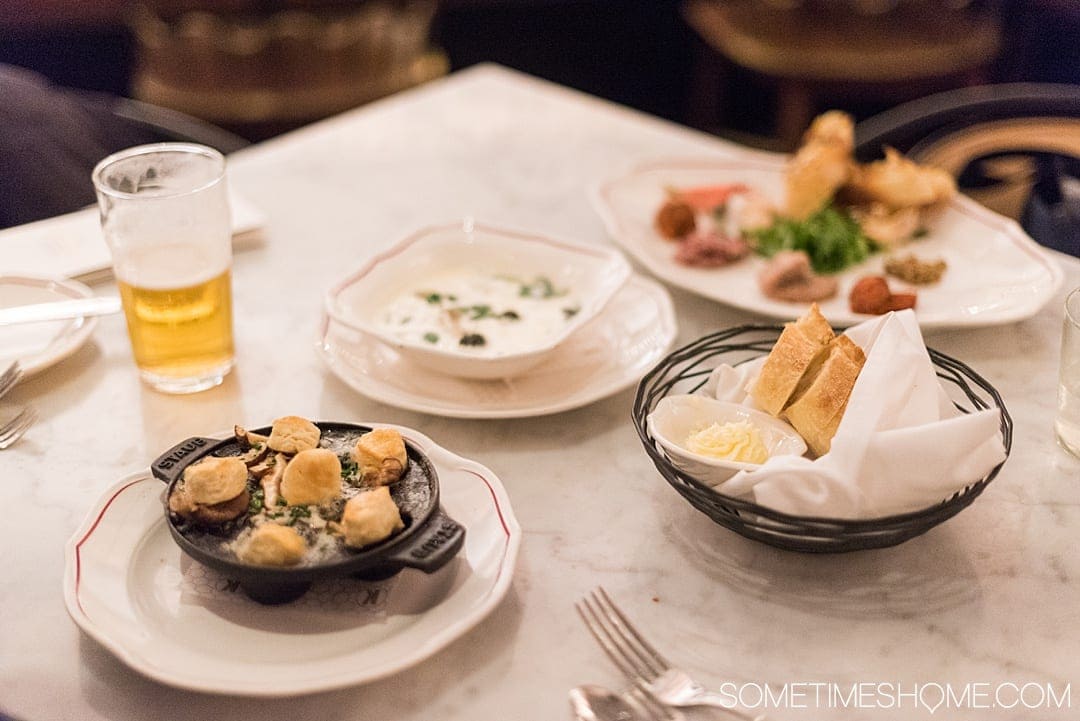 Hit Up the Local Bar Scene and Breweries
The bar and beer scene in this city is an attraction in itself! We admit we indulged a bit in the 48 hours we were in Winston-Salem for the first time. (And came back a second time specifically to deep dive into Winston-Salem breweries.)
Wise Man Brewing
When we heard the master brewer at Wise Man had a Pharmaceutical PhD we immediately thought of him like a genius similar to Walter White, in Breaking Bad! The brewery's name was taken from the Plato quote, "He was a wise man who invented beer," which is proudly painted on the side of their building.
Their beers are all named after quotes from…you guessed it…wise men! Visit to simply enjoy a beer, hear live music, play a game of corn hole or for a brewery tour.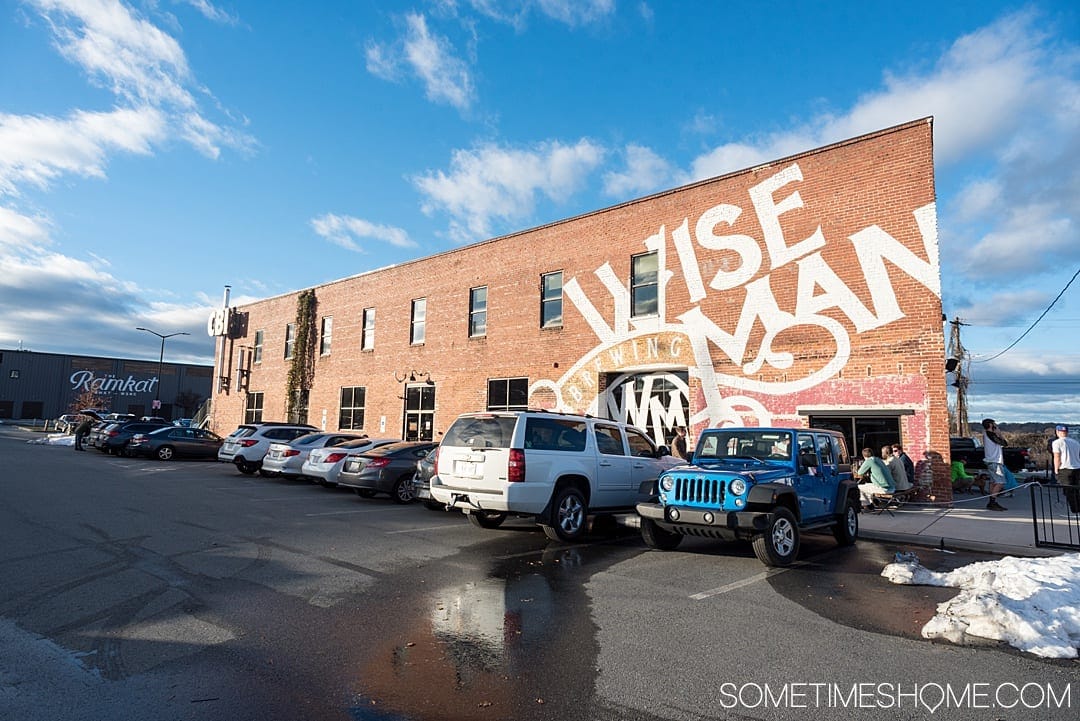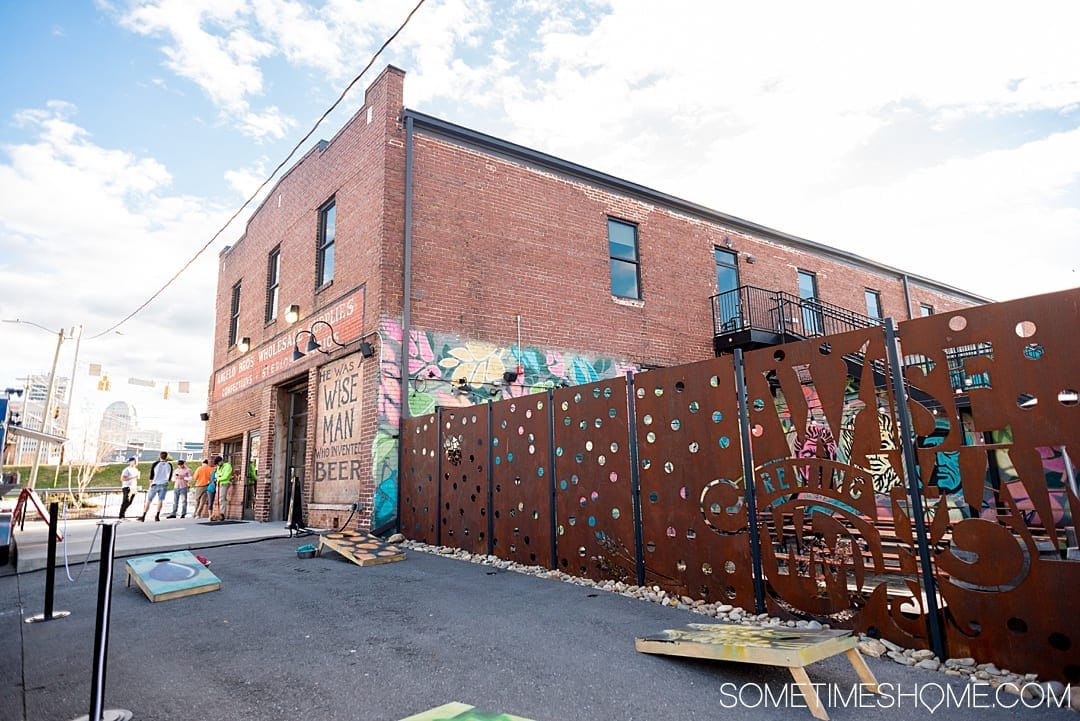 Foothills Brewing
Foothills taps are all over bars in North Carolina. Their delicious beer has made them a very popular brewery. No matter if you're getting an IPA, Pale Ale, or seasonal brew (like their famous Moravian Porter offered in December or Sexual Chocolate Russian Imperial Stout in February) you can't go wrong with any selection here.
We enjoyed visiting their downtown Brewpub on W. Fourth Street. The place was packed! And we loved adding to the vibrant energy radiating from customers that Saturday night. (Though we didn't eat, we hear their food is delicious.)
Stop by for a beer, live performances including music and standup comedy or sign up for their beer school.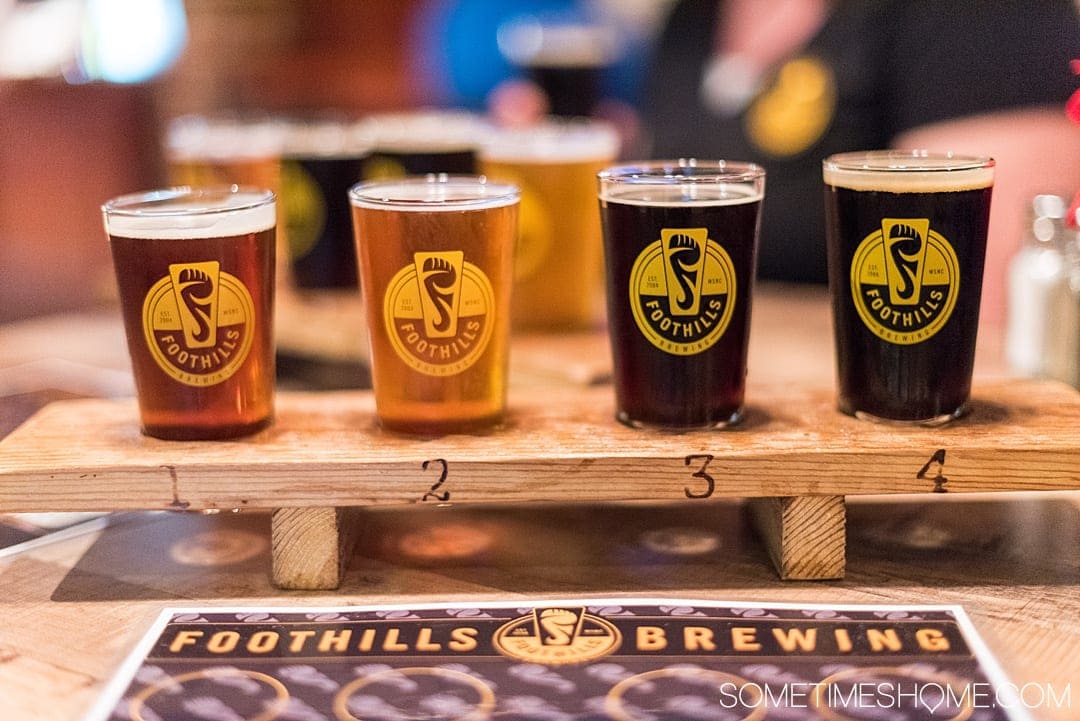 Dogwood Hops and Crops
This bar is in the heart of the Arts District in Winston-Salem. It was a quick favorite of ours because it's also a bottle shop with a large selection of beers. It was the perfect day-drinking spot for a low key pint during our Sunday walk past the city's murals and art galleries. Don't miss a sandwich with their original, homemade Ivan Drago sauce. It's unlike any other condiment out there and incredibly delicious. (Mikkel's a condiment queen!)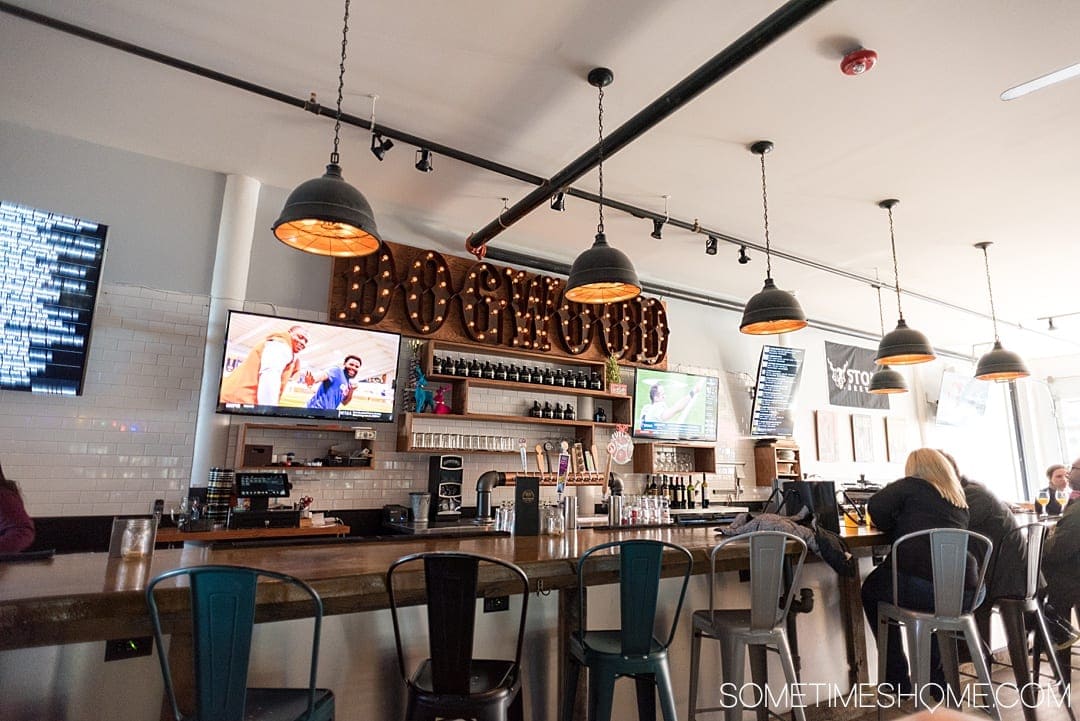 Joymongers Barrel Hall
Just as a fish monger brings fish, a joymonger brings joy! This bar is known for aging its beer in fresh bourbon and wine barrels, creating a unique beer tasting experience. It's an ideal spot for friends and families to gather at their indoor picnic tables. (Joymongers is right next to Colony Urban Farm, mentioned in the Art-o-Mat portion of this post.)
Here's a little fun fact about the Mighty Mouse hanging from their ceiling: it's one of three in the world…but is the only ONE whose whereabouts are known. The owner purchased him on a whim while on a trip to Savannah!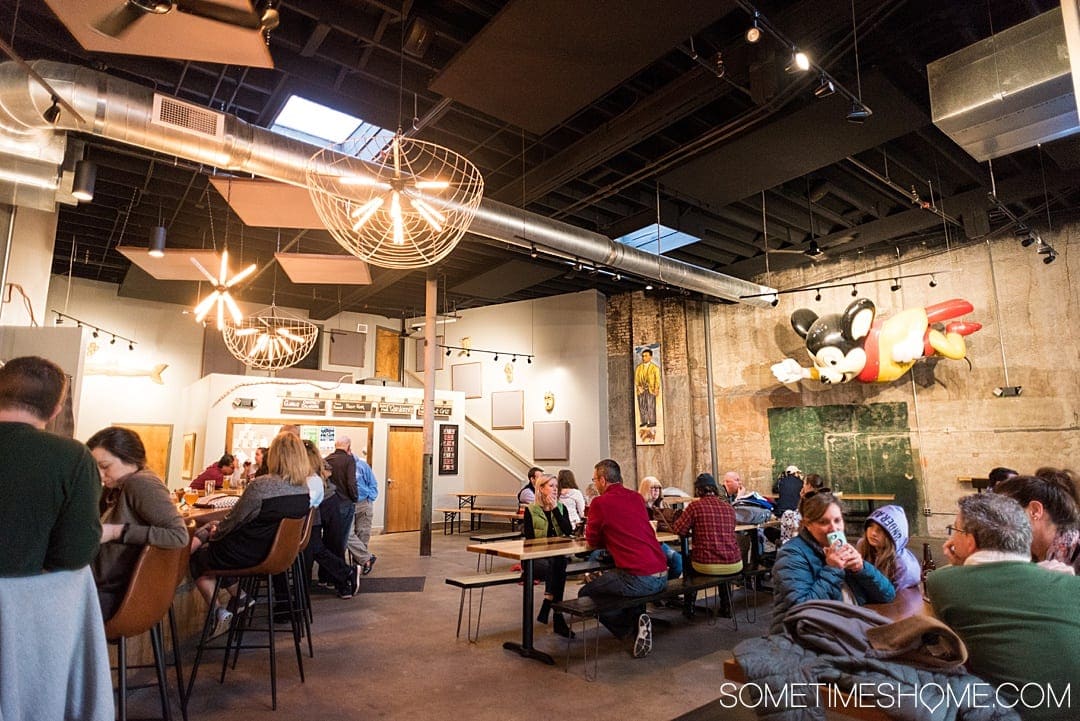 Have Brunch at Krankie's
We asked three friends who had been to Winston-Salem the best place to get brunch and all three agreed: Krankie's. (It was a huge bonus they have an Art-o-Mat too!) They have a pastry/coffee counter and sit down restaurant with a somewhat southern-inspired menu. We indulged in biscuits and gravy and a rice bowl topped with collard greens and chow chow.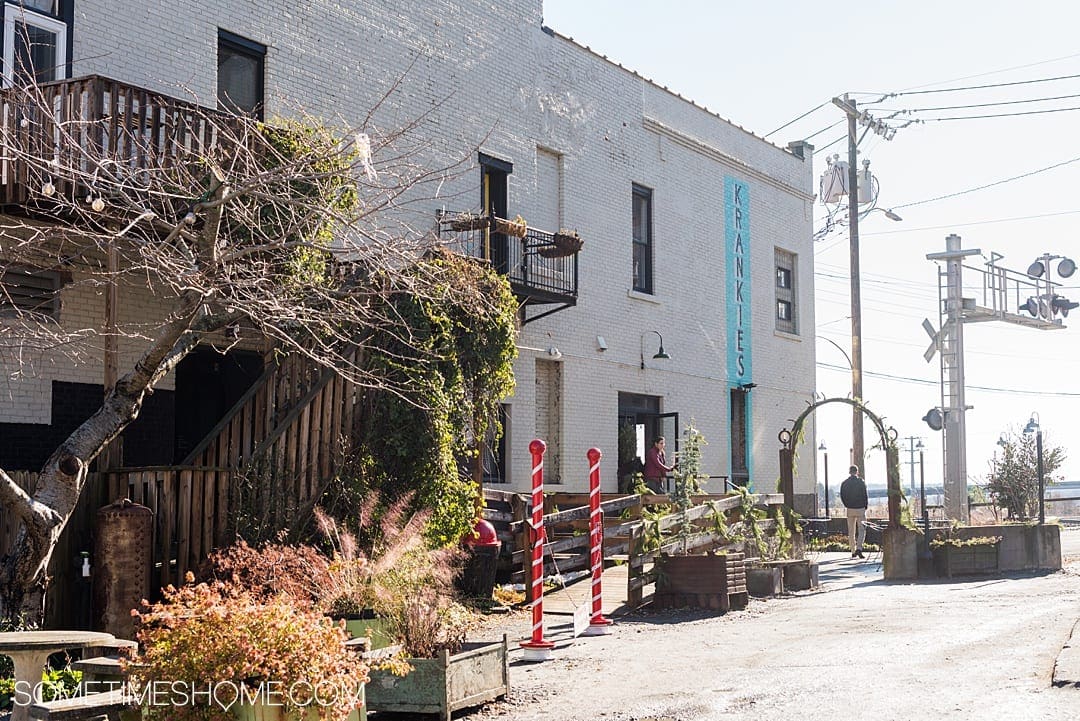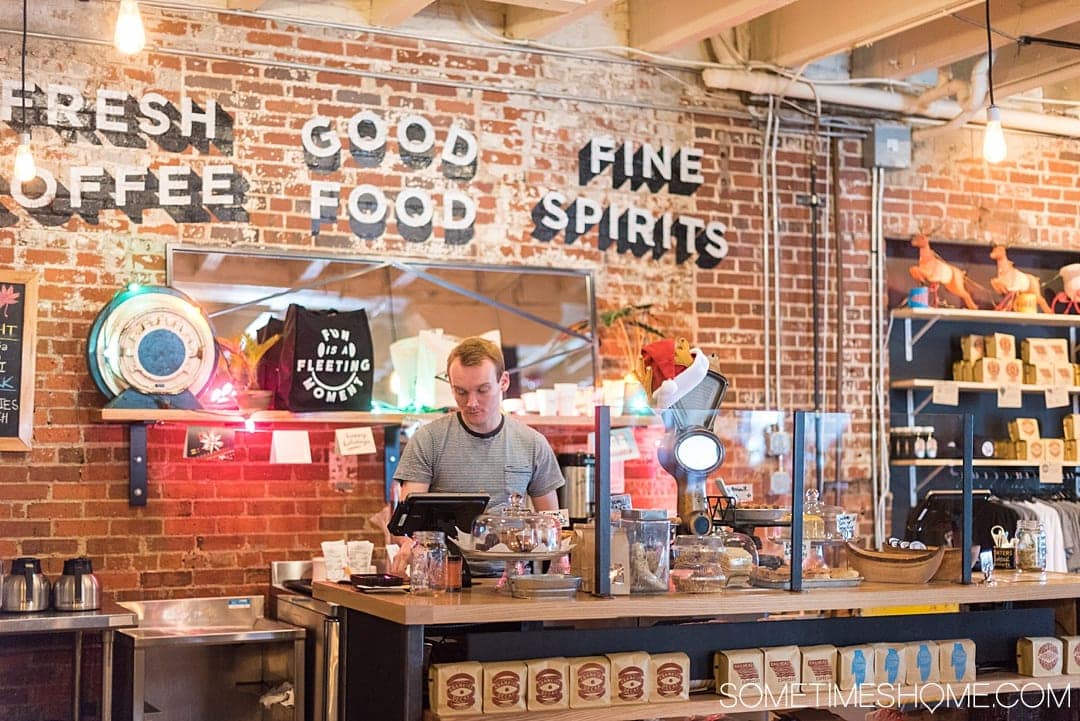 Explore the Downtown Art District
We love hunting for street art wherever we go. The Arts District in downtown Winston-Salem is an attraction in itself. We walked around to participate in a bit of a self-guided tour and found all sorts of colorful murals and sculptures. (This gumball machine mural is by artist Kendall Doub, entitled "Baller".)
We also enjoyed walking through Artivity Park complete with intriguing red and white sculptures and additional murals.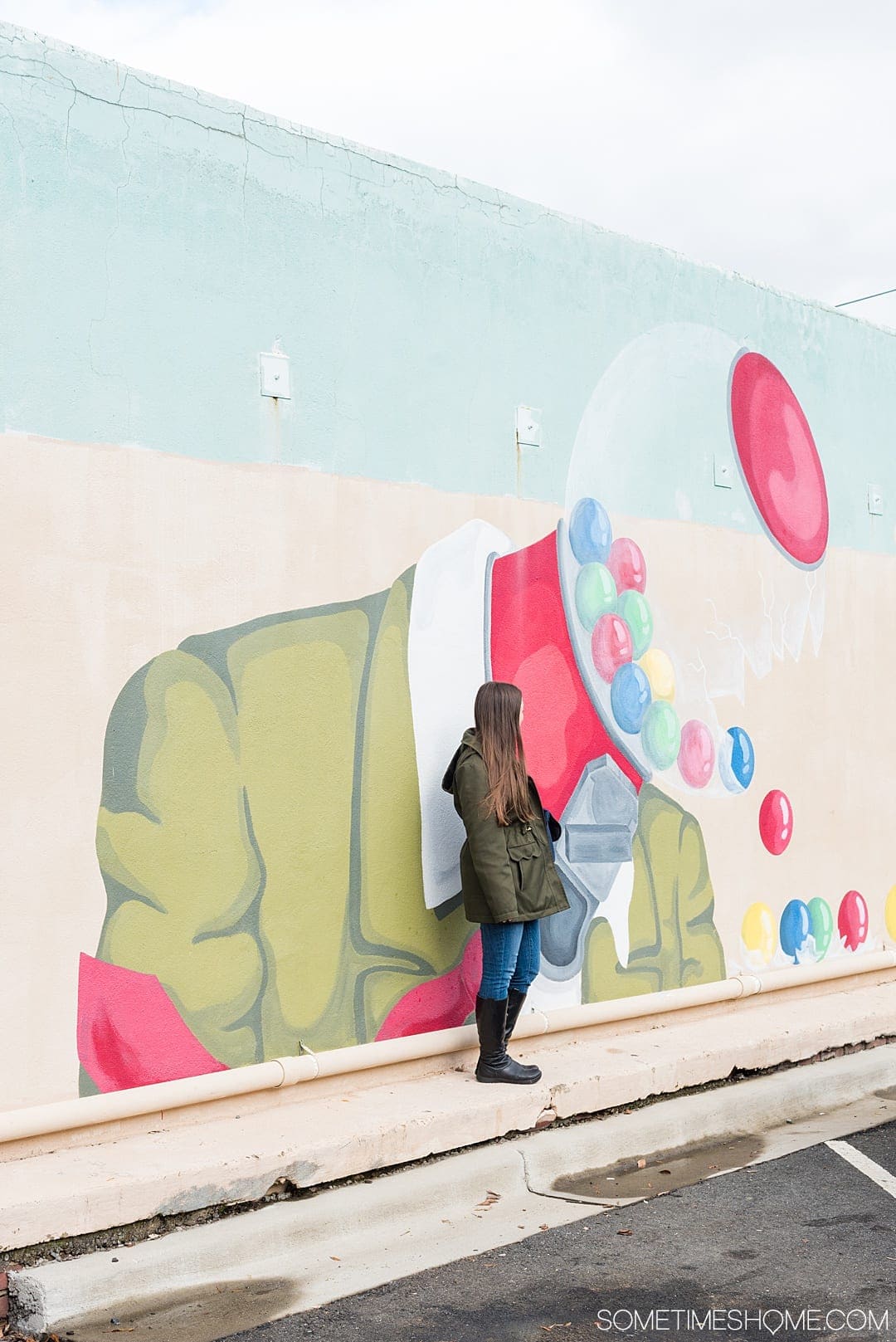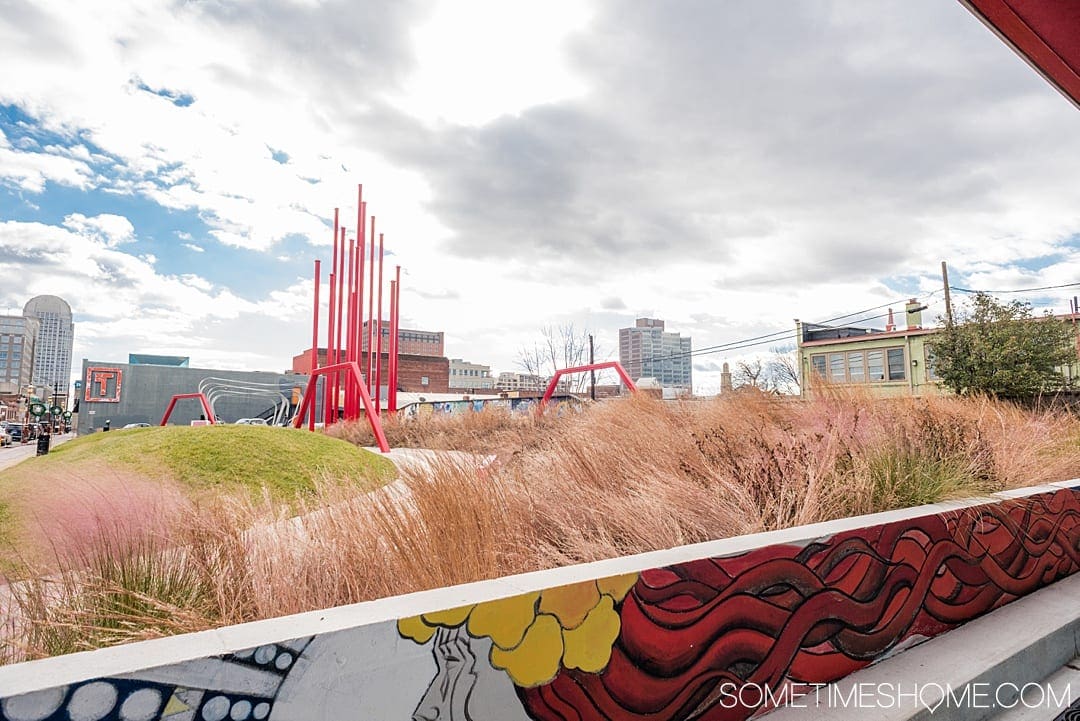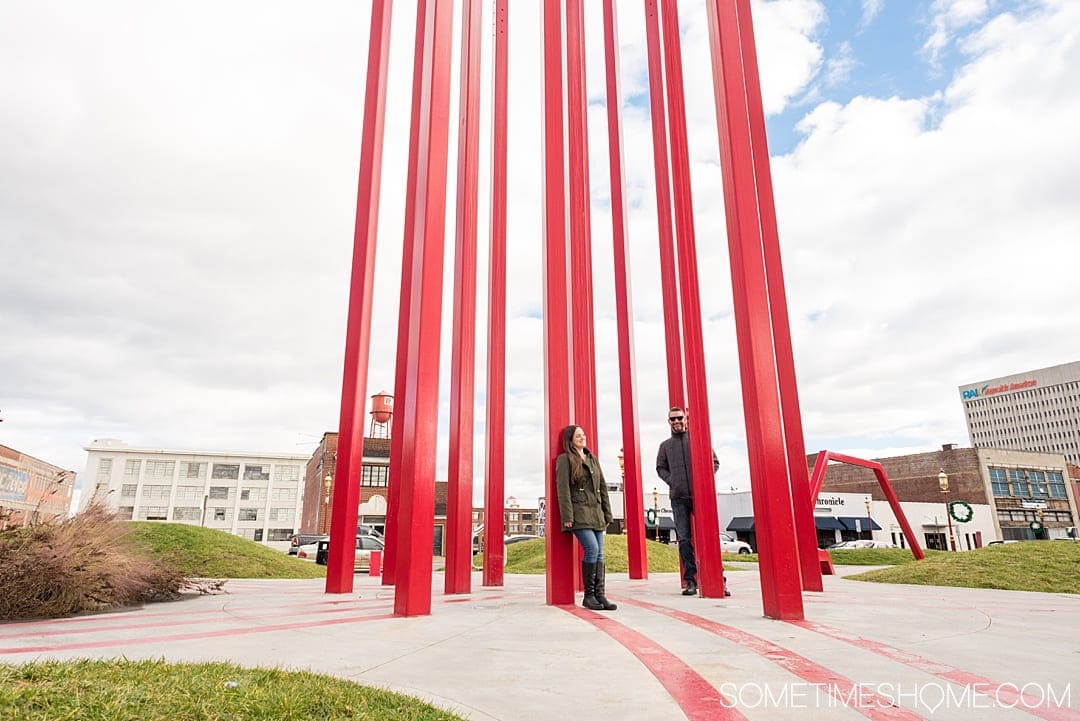 Get Outfitted with North Carolina and Winston-Salem Apparel at Camel Goods Co.
Stumbling upon Camel Goods Co.'s store was a happy accident. We enjoy looking for simple, cool designs printed on shirts with buttery fabric when we shop and we hit the jackpot here!
If you're looking for North Carolina or Winston-Salem themed gifts and apparel this is the spot for it. We bought two shirts and admired their Winston-Salem Skyline puzzle and tote bags. They were the best city and state gifts we saw all weekend. (Actually, the best out of most cities we've visited!)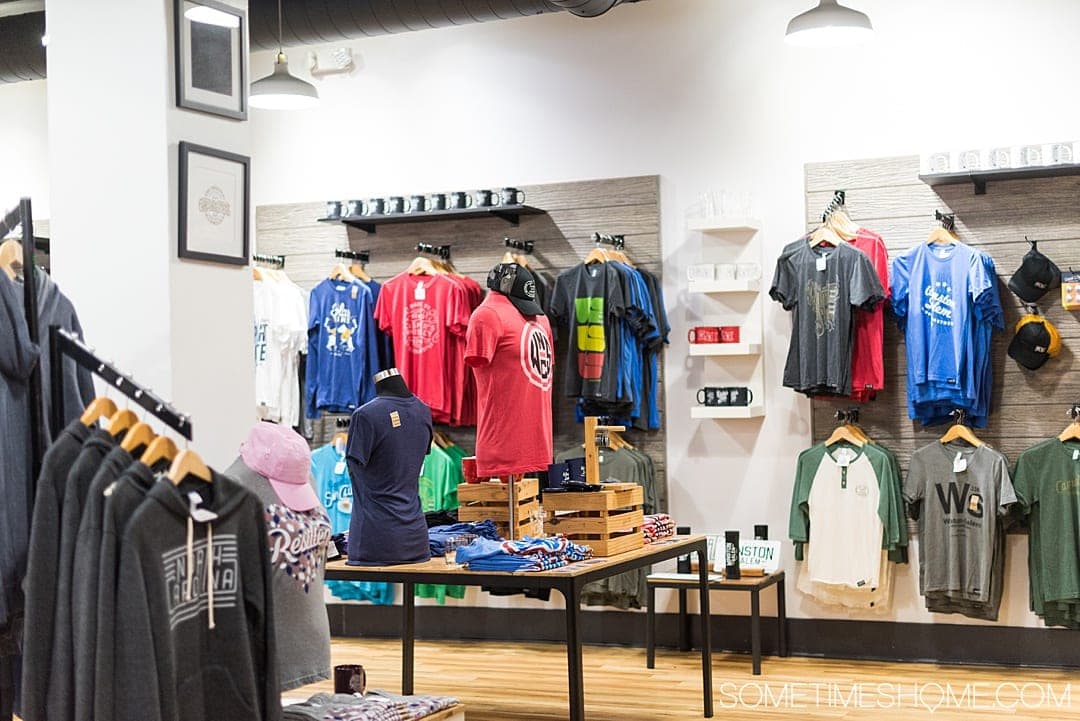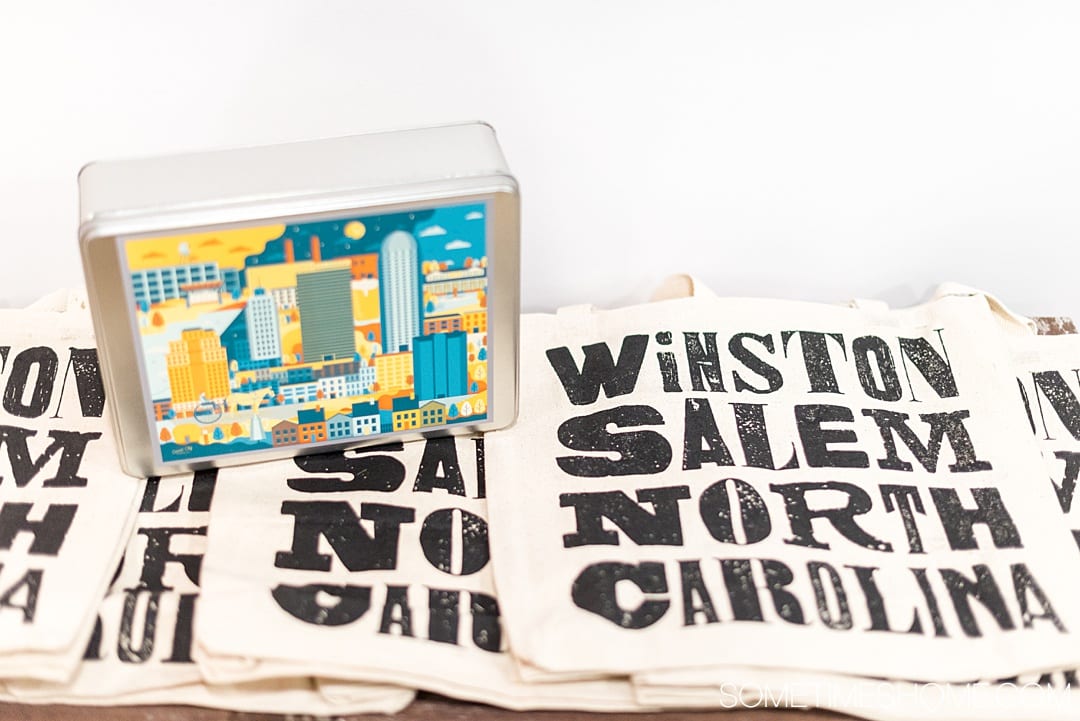 Please note: we thank Visit Winston-Salem for generously hosting us. All the opinions in the post are ours and we bring you genuine content with real facts, photos and thoughts. Always.
Visiting Winston-Salem, North Carolina? Also check out: