21c Durham Photos: A Unique Museum Hotel Downtown
Our 21c Durham photos reveal what an interesting hotel this is. 21c Museum Hotel in Durham contains everything a posh boutique hotel should have: iconic architecture, a great bar and restaurant, and many levels of eye-catching modern art.
What further interested us about this hotel, which we had been hearing so much about, was their available event space, which always perks up my ears since I'm also a wedding photographer. And as artists, we're always curious to see its rotating art exhibits.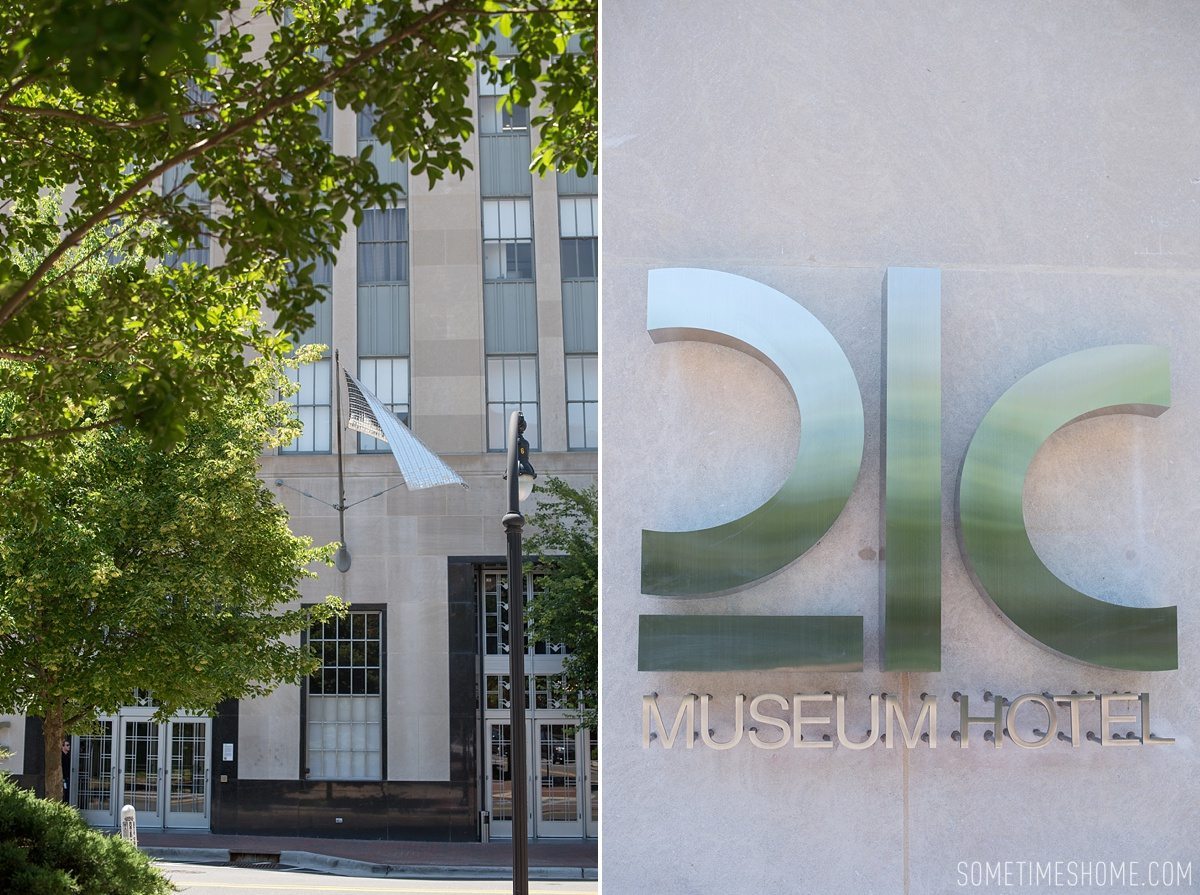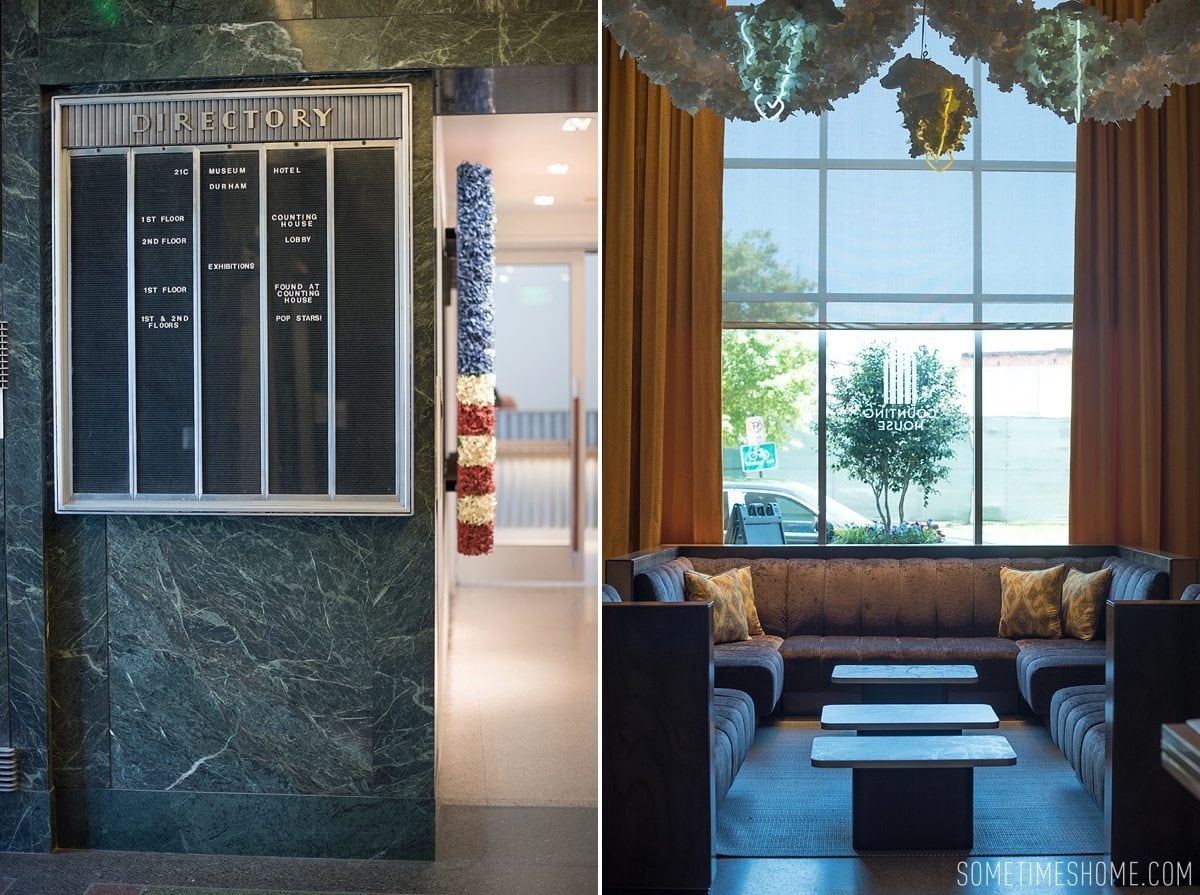 First Impression
You walk in and it feels like a wonderful kickback to the era of Fitzgerald and the roaring 20's. The art deco nods on the directory sign and post office letterbox by the elevators intrigue you – are you in a hotel? Are you in an office building? Alas, you are certain you're in a hotel once you turn the corner and are greeted by one of the hotel team members, happy to answer questions!
The lobby is actually a floor up and we were directed to level 2 to see the space and additional art.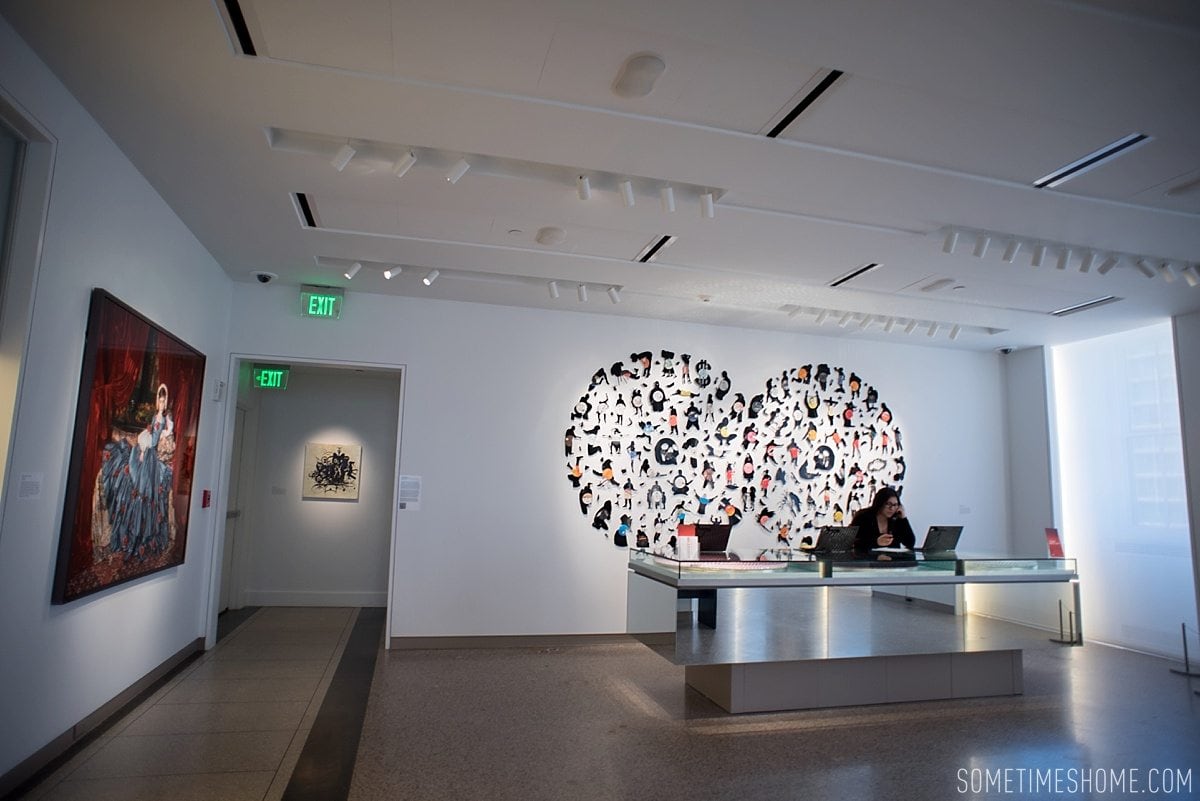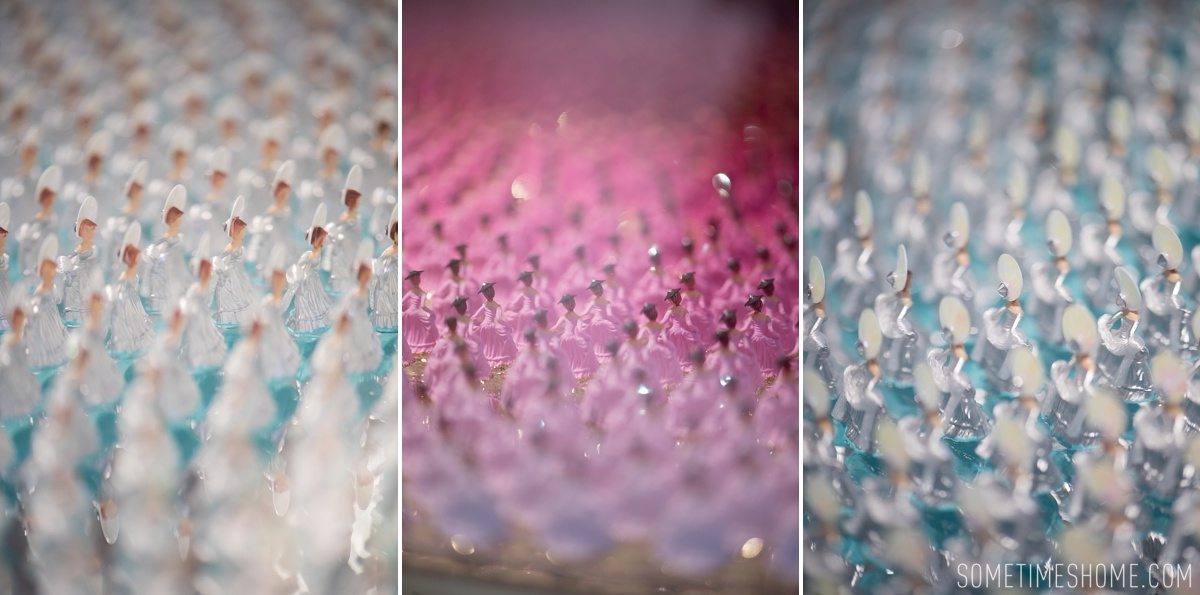 The hotel check-in desk had a really cool installation of records and little plastic figurine women. This installation is underneath the glass countertop of check-in. I love that if you look at it from different angles it looks different each time. You can see in these 21c Durham photos that far away it looks like an army of women, close up you can see their individual form. Don't be surprised if the art behind the desk changes, as it often does!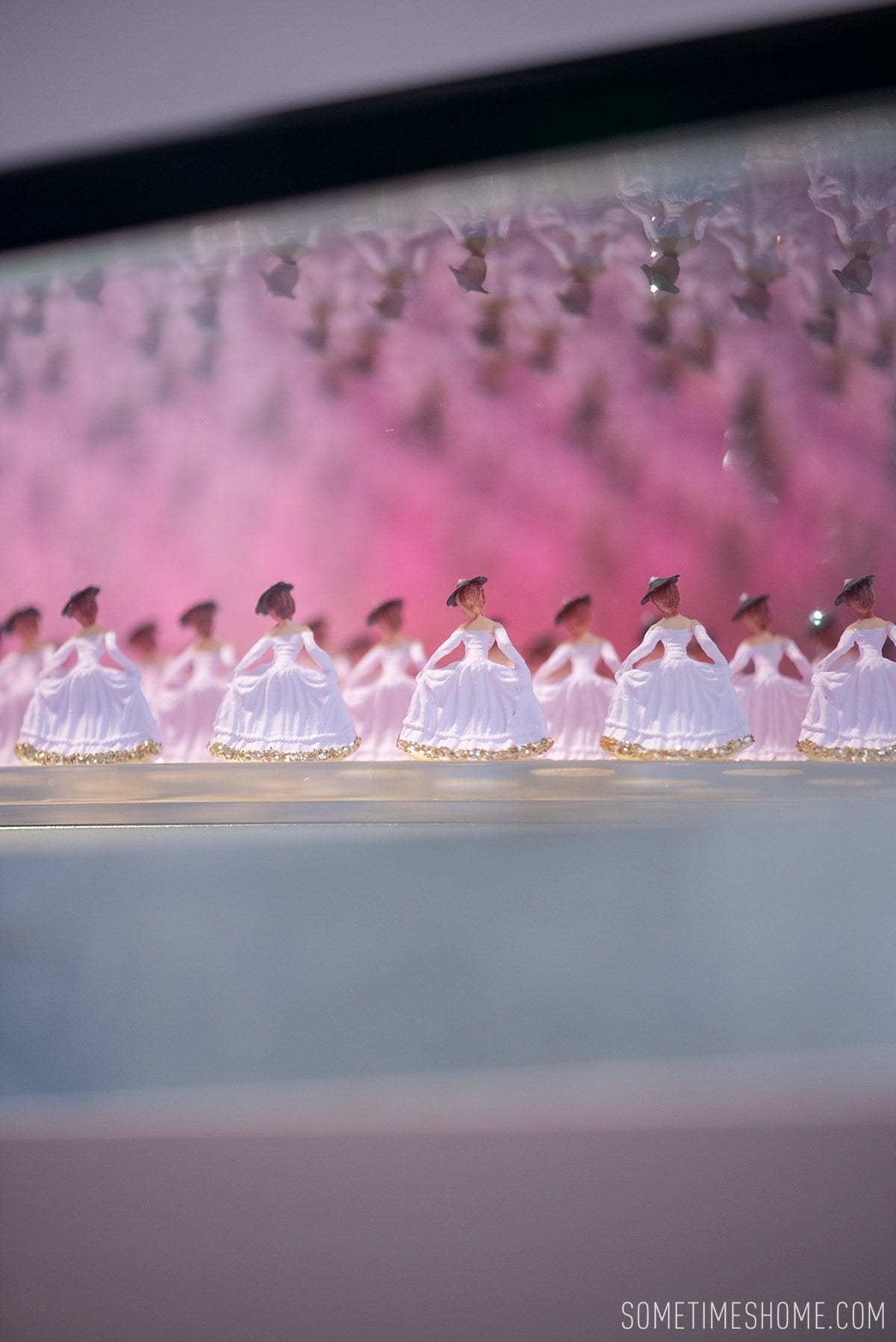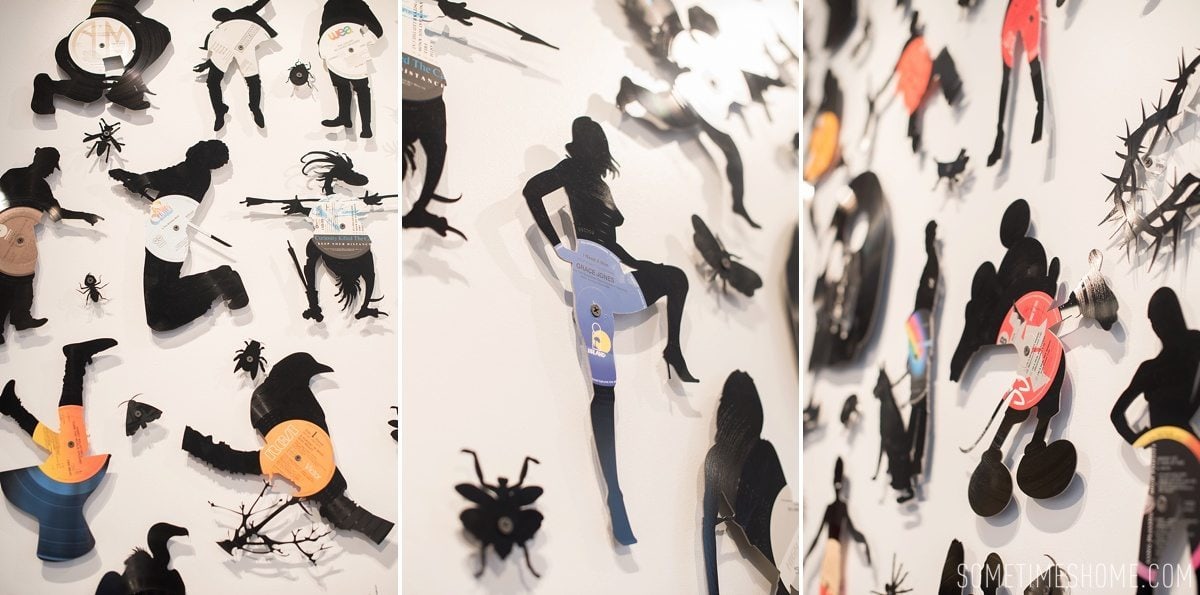 The Art Museum
A team member was kind enough to show us around and explain some of the art. We learned it rotates every six months – which is part of why we were sure to capture photos of the record cutouts behind the check-in desk on the second floor, knowing we may not have another chance to see them. If you look closely at the record title it has to do with the laser cutout shape. (And we've been back many times and the art does, in fact, rotate out.)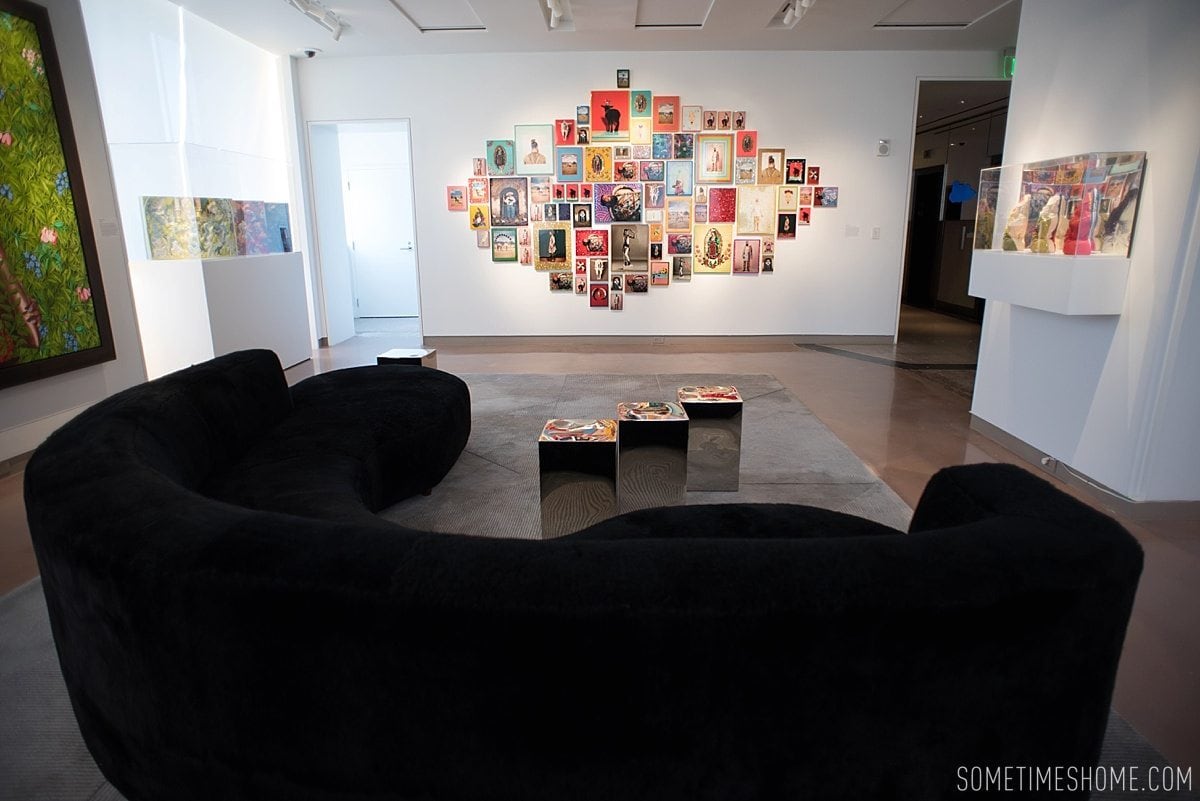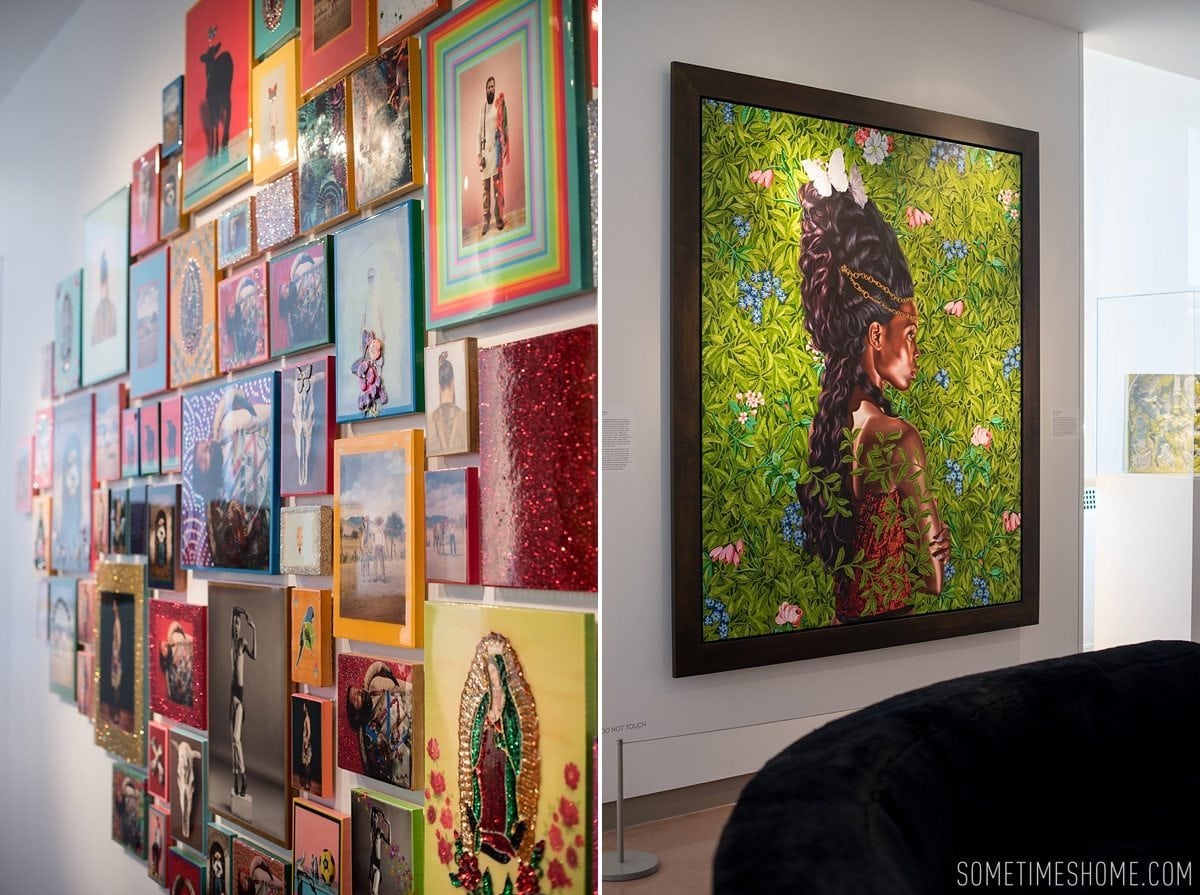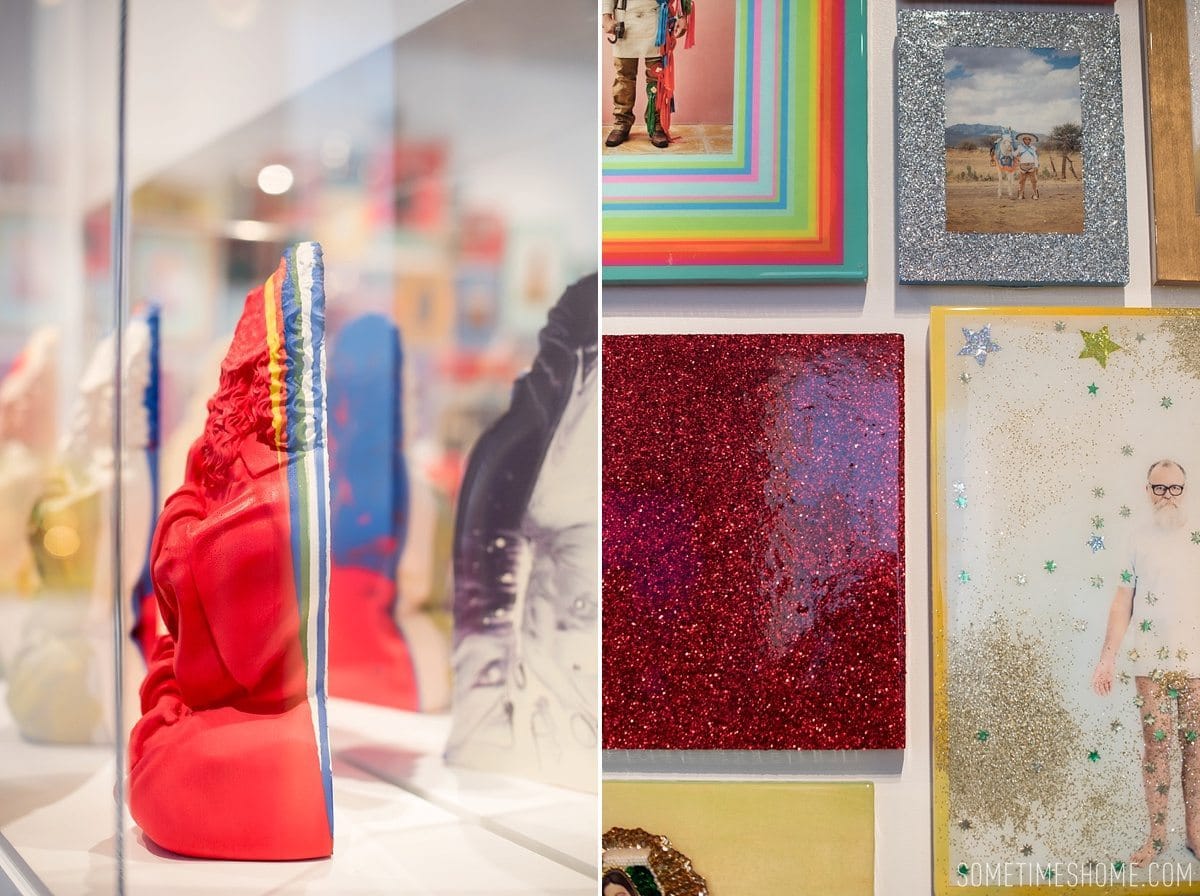 Whoever curates the art collection does a really beautiful job. There's so much variety in mediums, textures, colors, and subjects while all being modern and vibrant enough to keep your interest. Even their mirrored staircase interested me – I couldn't resist a selfie.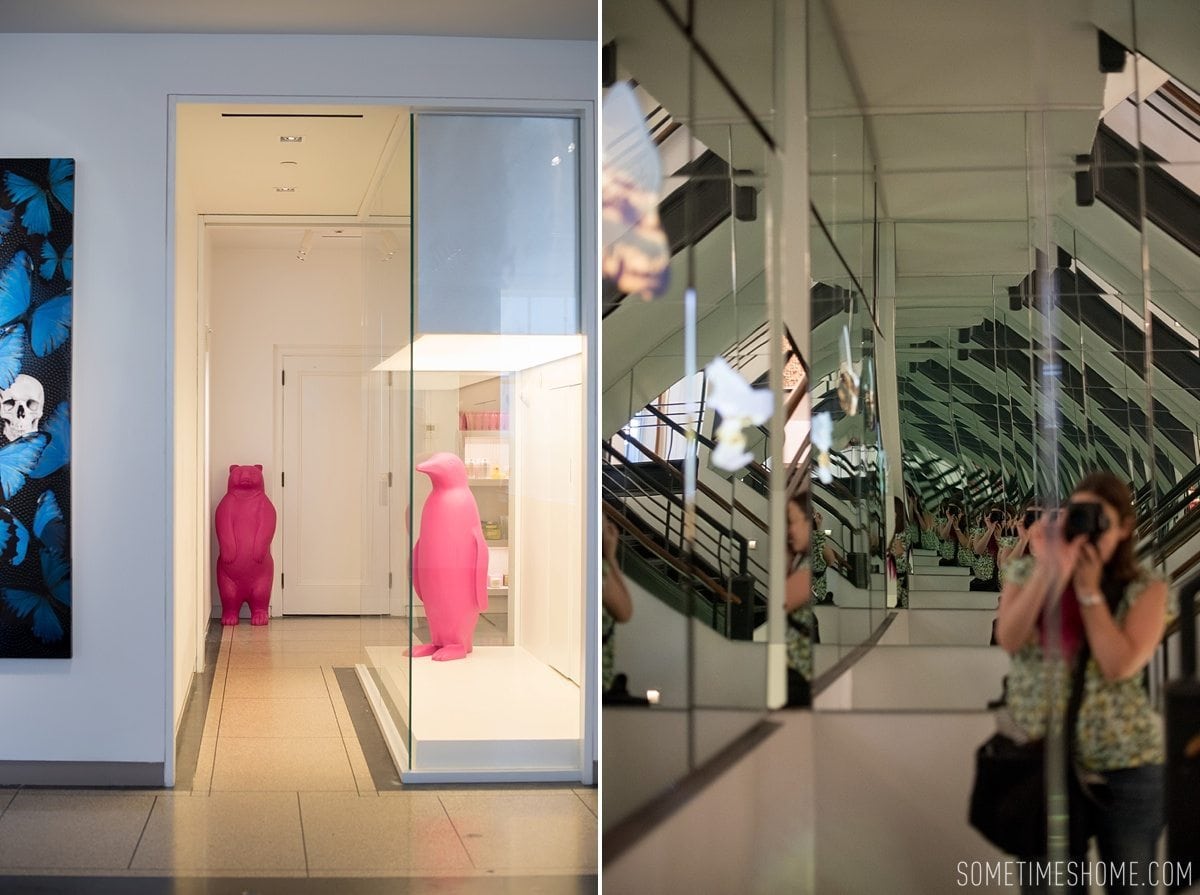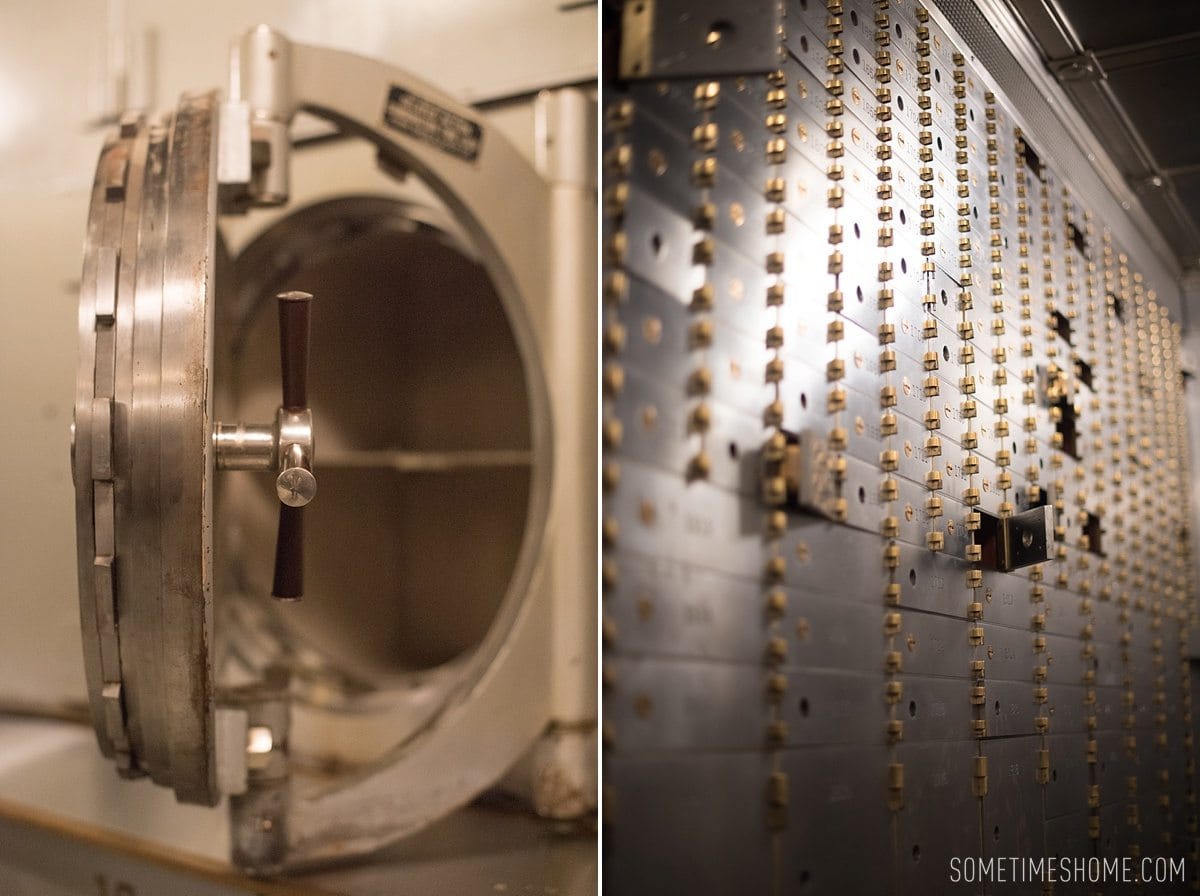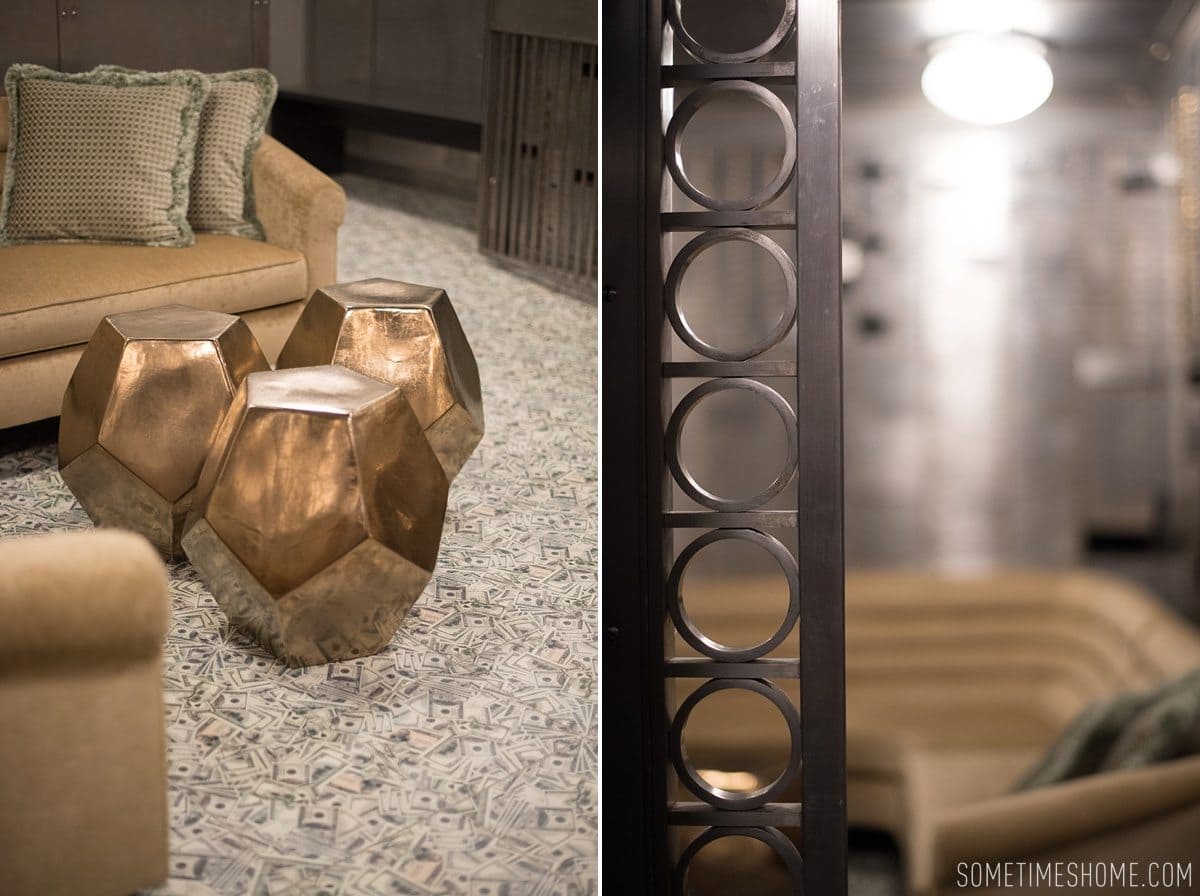 21c Museum Hotel Vault and Event Space
We were then shown two other great areas: the vault and event space.
They kept the original vault from the time the building served as a bank intact! It's a great place to take 21c Durham photos.
We love that they installed flooring with a money motif! Even the couches and tables jive with the vibe of the space.
After we toured the vault we went upstairs to the grand event space. It used to be where the bank tellers were; now you can celebrate with up to 300 guests 'til late in the evening at a wedding or holiday party under creative light fixtures and next to the most spectacular velvet curtains.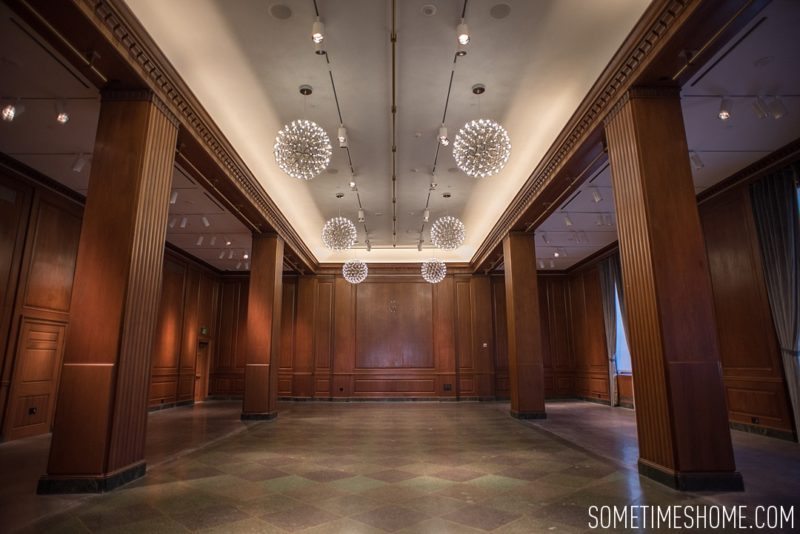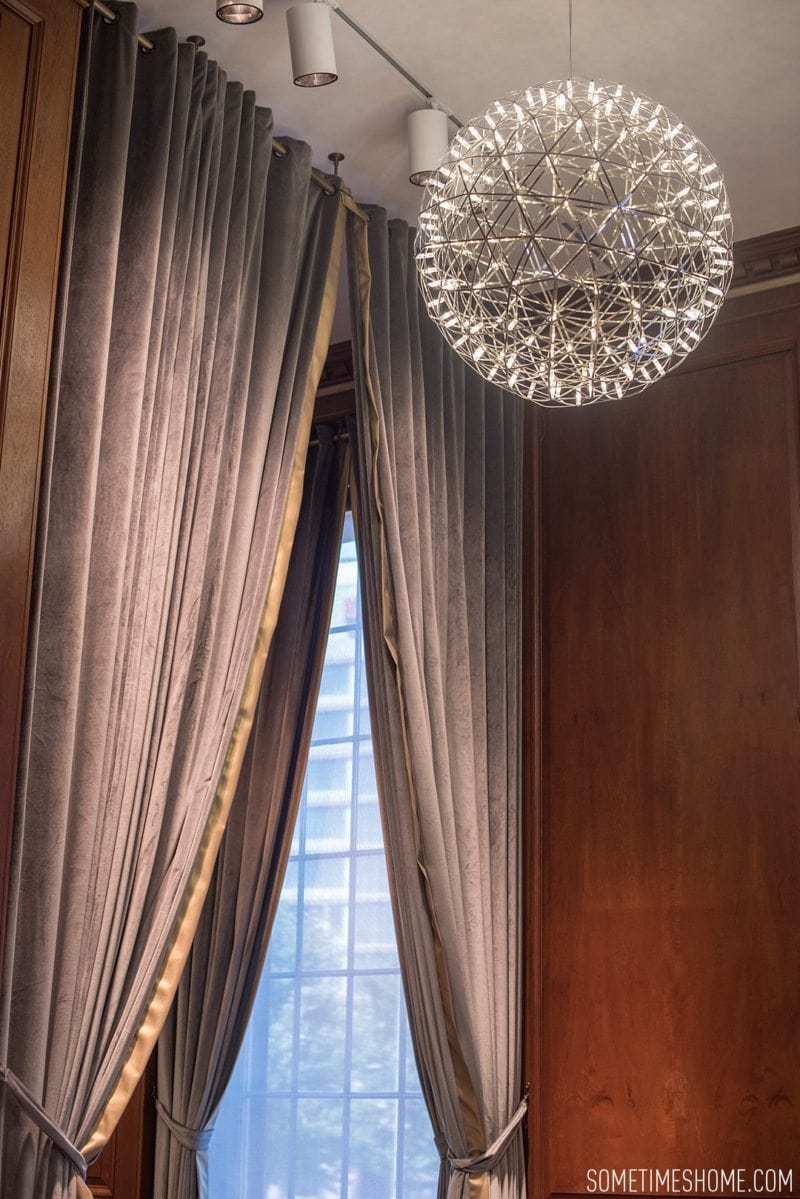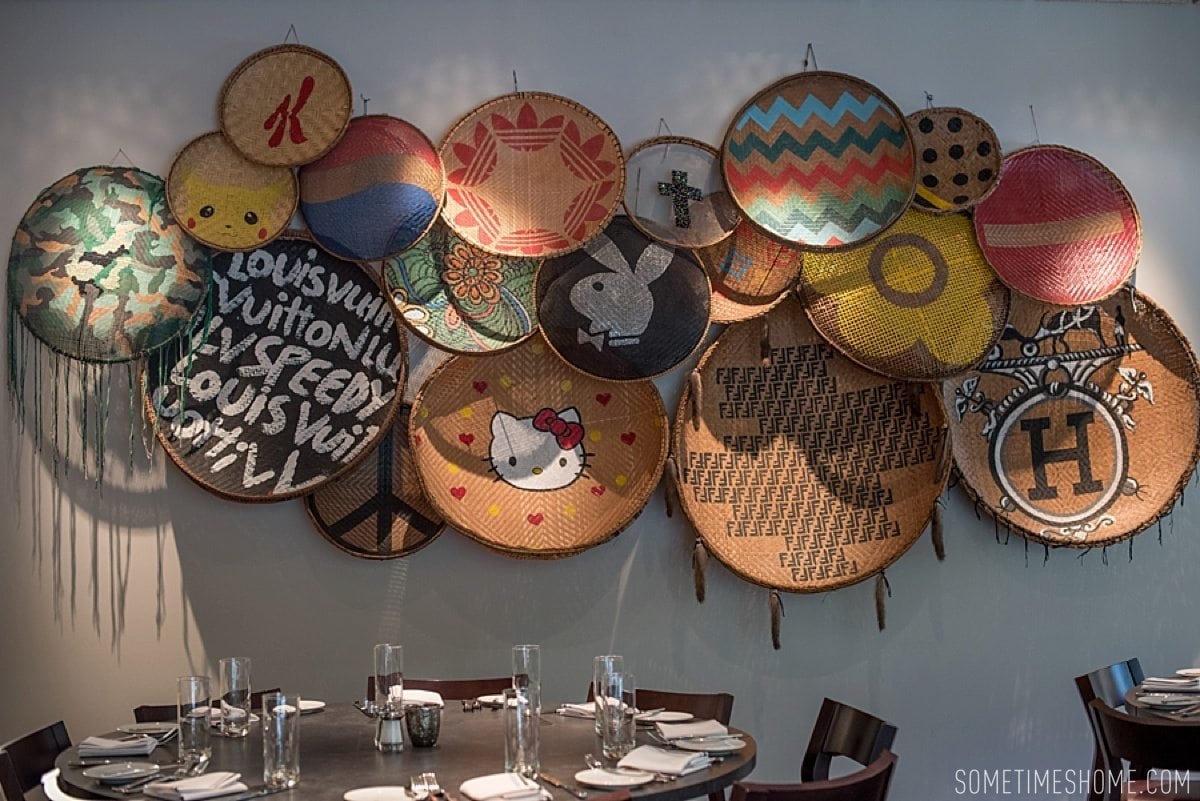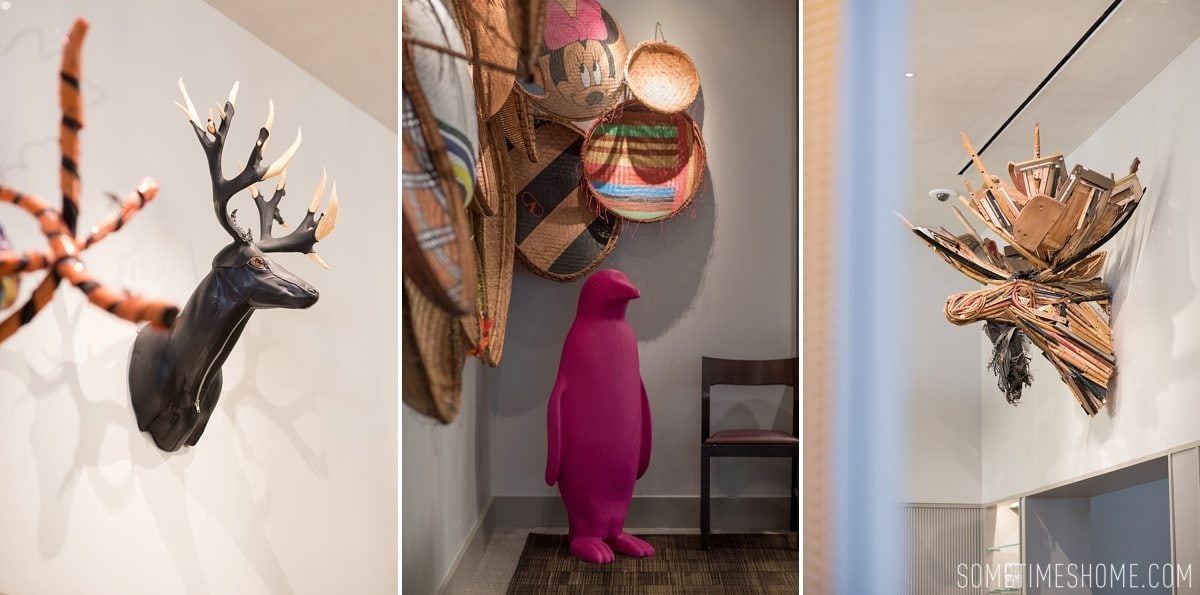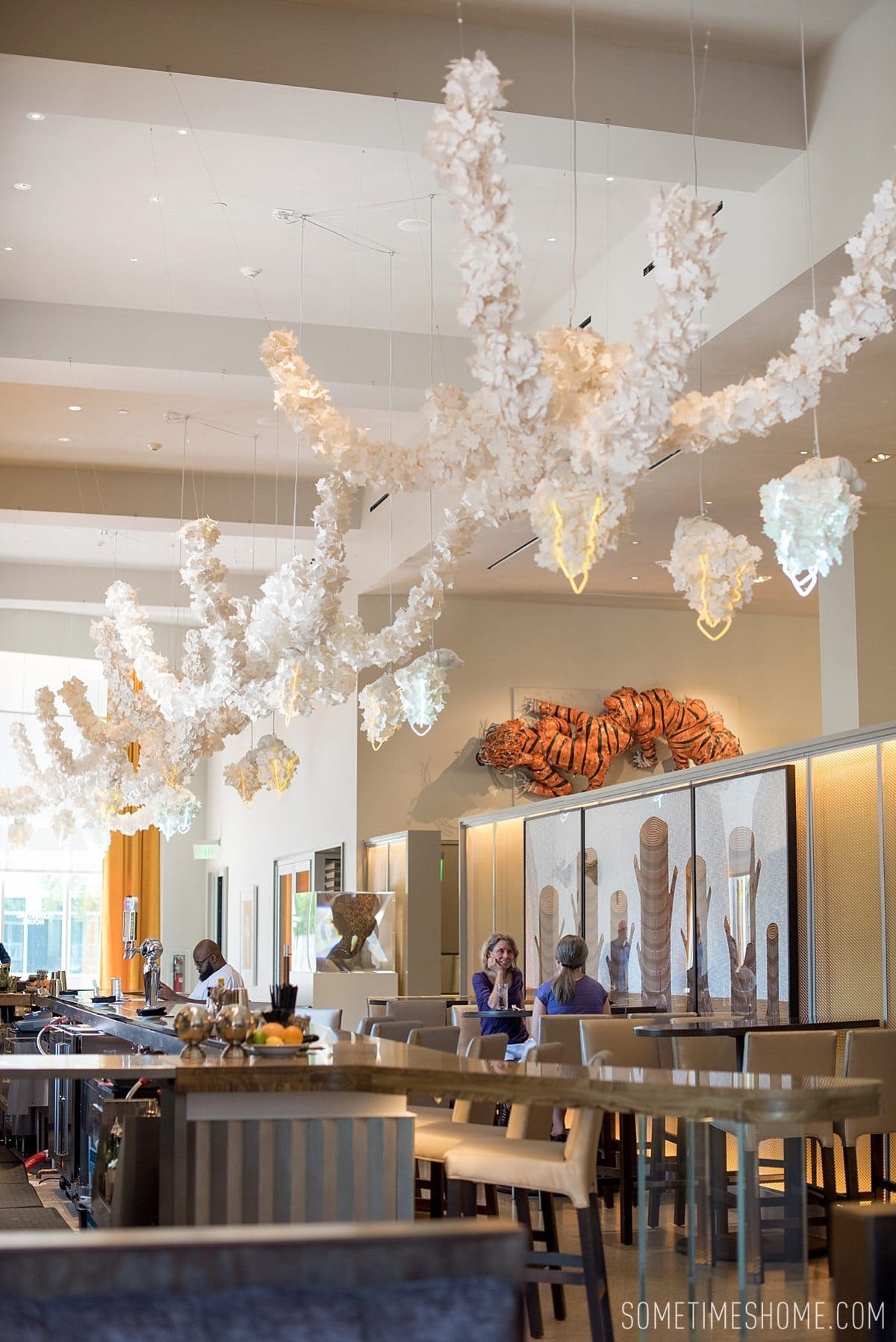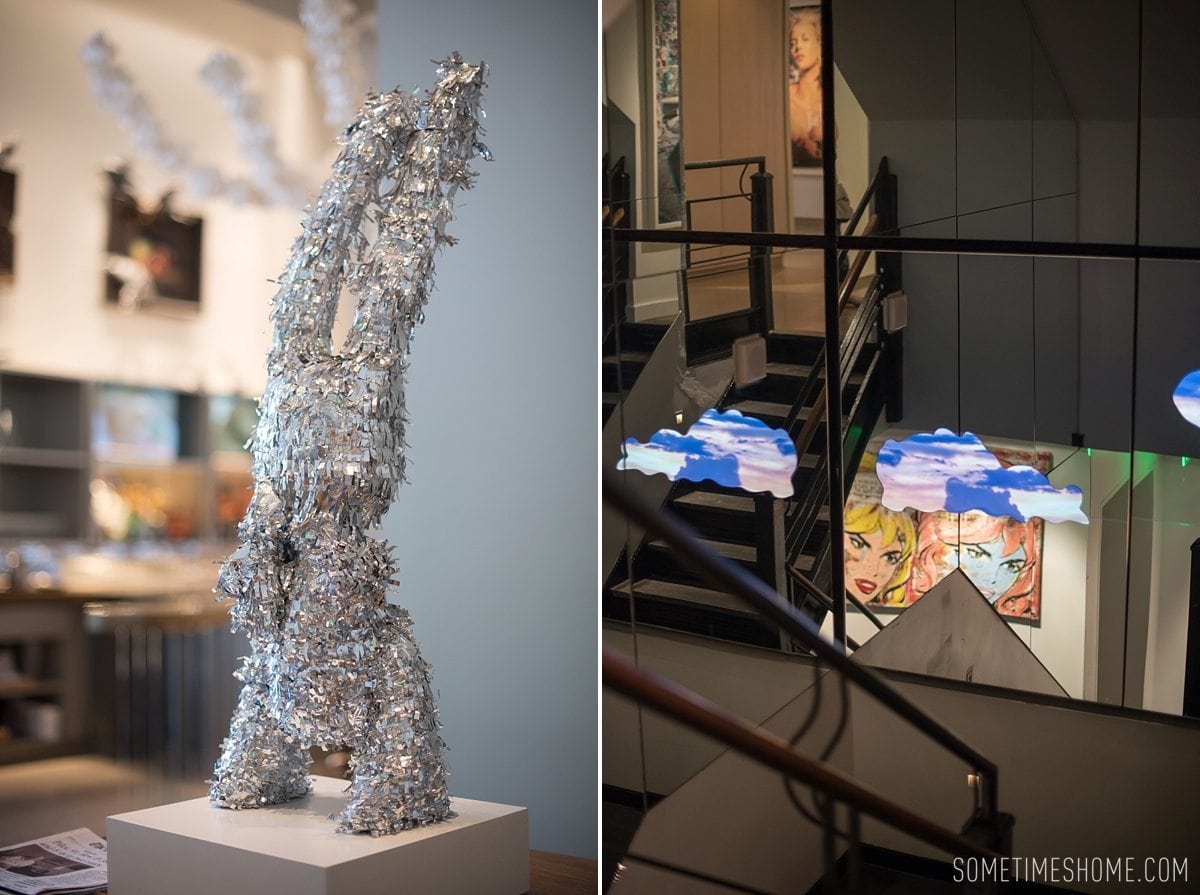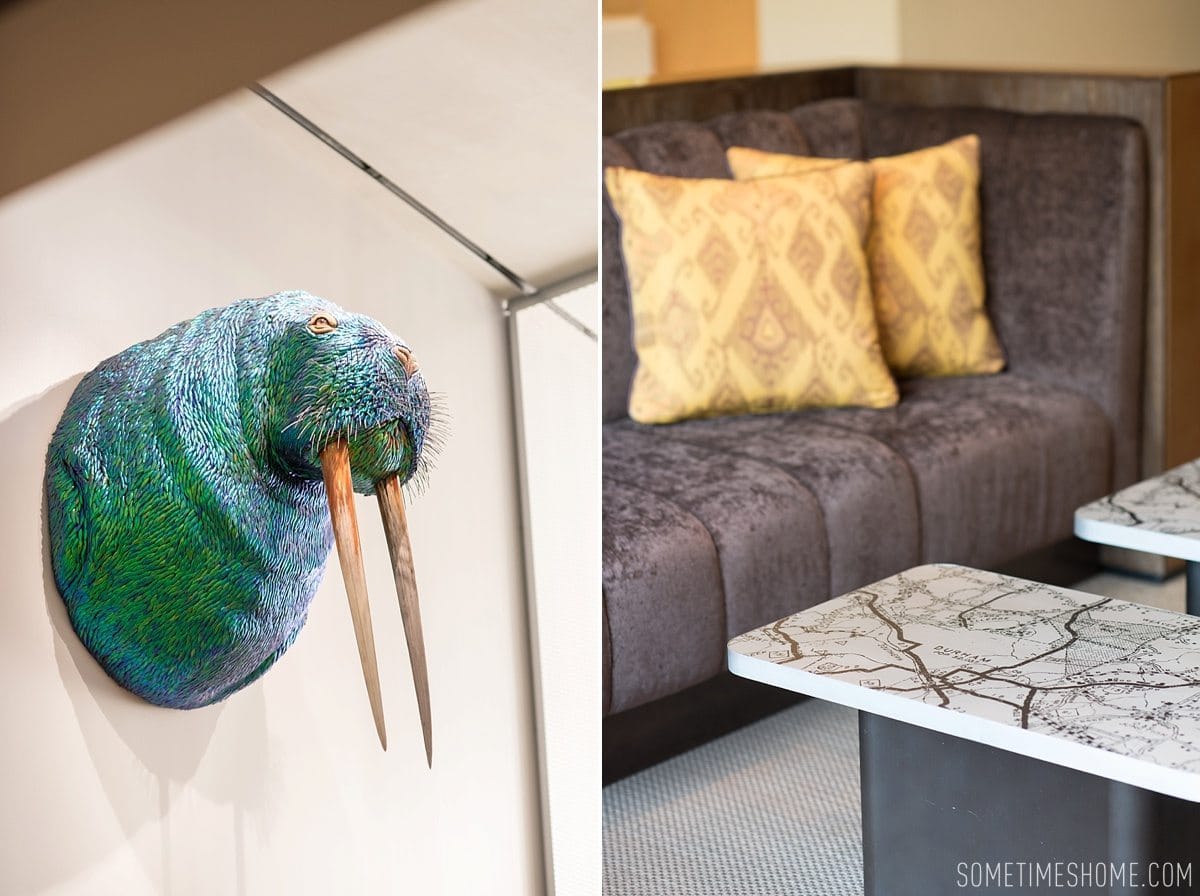 Before heading out we were sure to thoroughly look around the restaurant and bar. I LOVED the fake animal heads (because fake animal heads are way better than real ones) and I just loved how playful and colorful they were.
We appreciated their local touches too: the tables in the photo above in their lounge area have maps of Durham on them.
Additional Locations of 21c Museum Hotels in the United States
21c also has locations in Louisville (Kentucky), Cincinnati (Ohio), and Bentonville (Arkansas).
We were also lucky enough to stay overnight at a later date, and officially consider it one of our top three favorite hotels in downtown Durham.
If you like this post please consider pinning the image below!
Please note: We thank 21c Museum Hotel for generously hosting our tour. All the opinions in the post are ours and we bring you genuine content with real facts, photos and thoughts. Always.
Heading to Durham? Also check out:
What are some of your favorite boutique hotels around the world?