The Best Excursion We Did in Phuket and Railay Beach Thailand
I was frightened when they recommended it. There we were, relaxing with a couple of beers at Modern Times Brewery in San Diego. Our friends, Katherine and Romeo, were sharing advice for our upcoming trip to Thailand. It was then they uttered the words, "Rock climbing excursion." I am not a rock climber. But before I knew it I was emailing the guide they recommended about booking our own Rock Climbing in Phuket day trip.
It was exciting to try something new and out of my comfort zone especially because I knew how happy it would make the person I love. )Sometimes you make sacrifices for the greater good of the team and it was OUR trip to Thailand, after all, not just his or mine!) I awaited a reply from Aon (pronounced "on") from Gecko Thailand. I was anxious to hear what he had to offer and what our options were.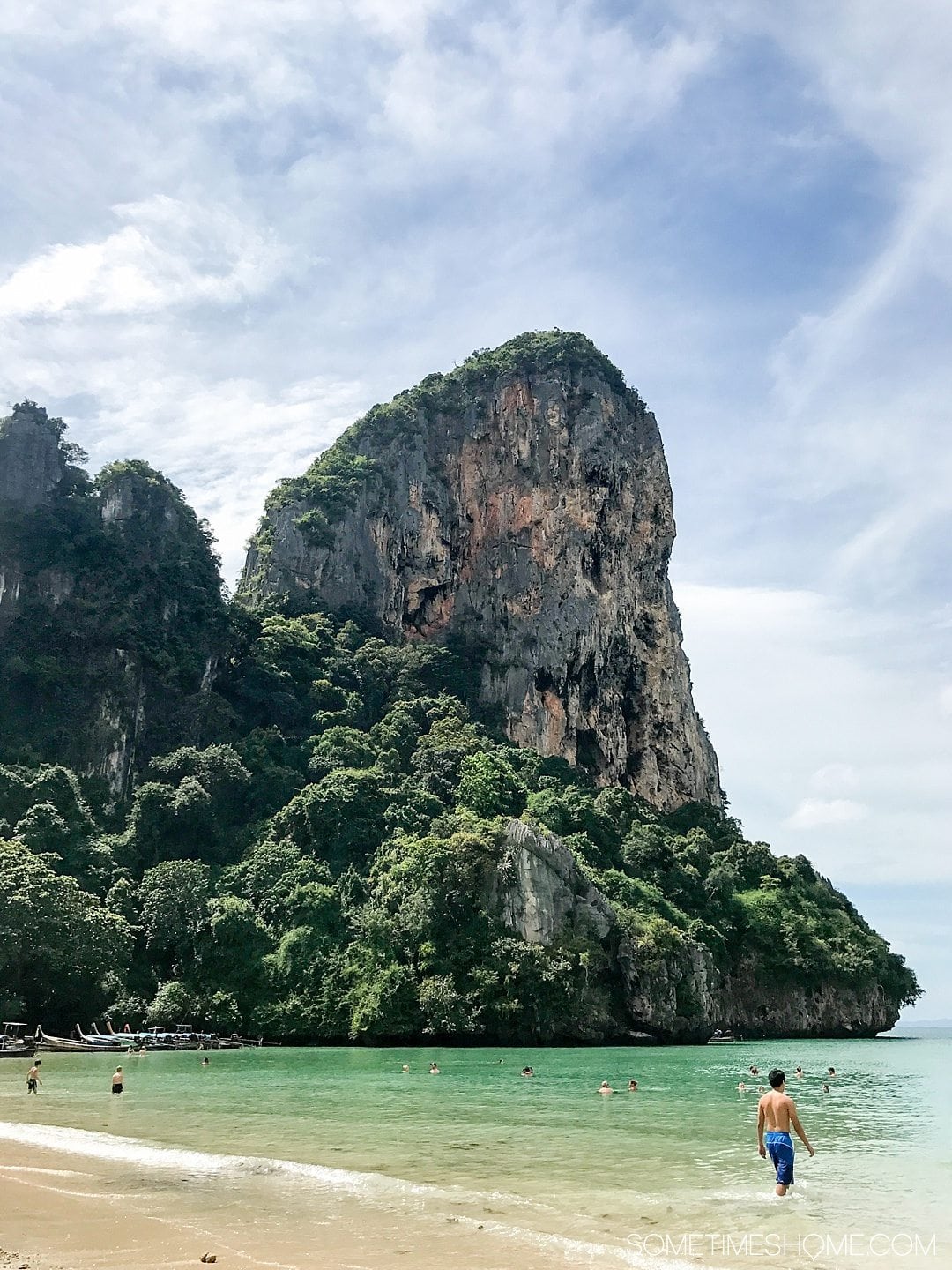 It took a few days to receive a reply – he apologized for the delay, which was due to sickness, and said he'd be in touch soon. (Note Aon's English is a bit broken, which is absolutely fine with me – I don't speak a word of Thai so any English he speaks is 1,000 times better than my Thai.) Perhaps communication via email isn't his strength but we soon found out what is: rock climbing, humor, his passion, smiles and giving us the BEST day of our entire two weeks in Thailand. And his English is quite good in person!
What is Included in a Rock Climbing Tour with Aon from Gecko Thailand
For 5500 Thai baht (based on booking two people), which is approximately $160 USD per person, we received the below:
Roundtrip transfers to/from our hotel in Phuket (Westin Siray Bay) to Krabi beach, then from Krabi beach to Railay Beach
Climbing equipment, including shoes, helmets, harnesses, ropes, carabiners and chalk bags
Climbing basics and safety teaching
Lunch
Private trip
National park entrance fee and insurance
I was apprehensive. It was a costly excursion, at about $320 for us to both participate. It was also a time when money wasn't exactly flowing like waterfalls in our lives. But we talked about it a lot and decided to book. Candidly, we also shopped around for other options and even asked him to compromise on the price (bargaining is common in Thailand) but he stood firm. Once on the tour, I quickly regretted even doubting the cost and questioning the tour's value. As the day unfolded, my partner and I tallied up costs in our head, wondering what, if any, Aon's profit was.
Why the Tour Was Befitting for Us
We highly trusted the opinion and experience our experienced traveler friends, Katherine and Romeo, had. They gave it the "two thumbs up" approval.
Having pick up and drop off completely coordinated from our hotel was a huge benefit; when you are at a remote resort in Phuket you quickly realize how much it costs you in time, money and energy to get from one location to another.
All equipment was rented and provided for us. We didn't have to bring anything but sunscreen and appropriate clothing.
Aon was the lead climber. You need a lead climber to set up the course and ropes for those who follow. We weren't at all advanced enough or qualified to have done that on our own.
It was a private tour which meant we'd get one-on-one instructions, better and more plentiful climbs and an all-around superior experience as the guide's only climbers for the day.
Here we are on Railay Beach, at the end of the tour when we felt elated, tired and incredibly accomplished!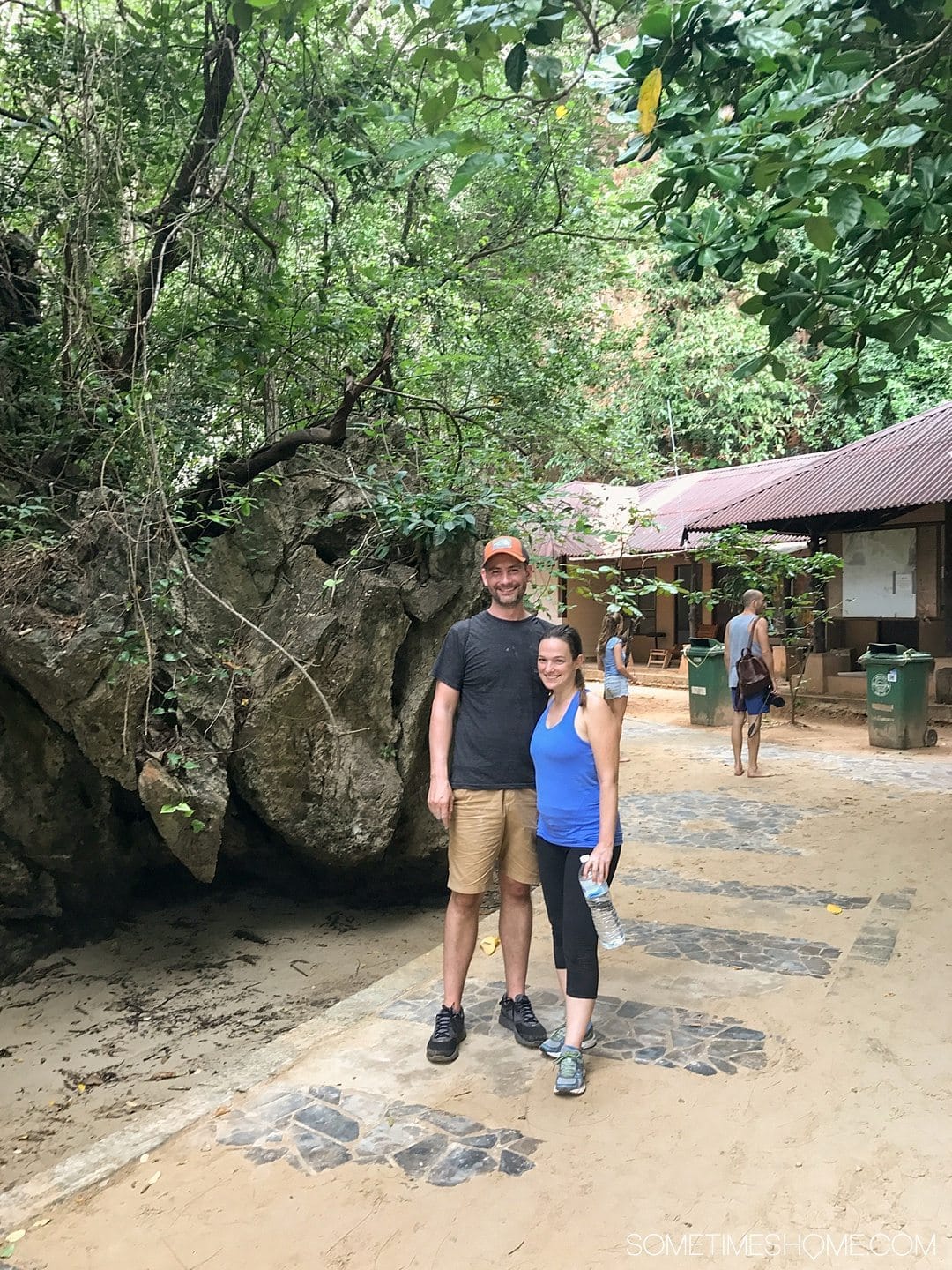 Our Rock Climbing Experience from Phuket turned into Our NUMBER ONE Memory from Our Two Weeks in Thailand
We didn't for a second regret booking the tour. In fact, it quickly became our favorite experience of our entire trip. Here is how our day panned out…
Morning Pick up and Transfers to Railay Beach our Rock Climbing
We were promptly picked up at our hotel between 5:45/6:00am as promised for our venture into rock climbing Phuket. Aon arrived with a driver in a very nice van, which was comforting because the drive from our hotel to Krabi Beach was two hours.
He had breakfast, snacks and water for us – a welcomed surprise. Aon was friendly and professional and in great spirits. His positive attitude was something I truly appreciated, especially at such an early hour of the day.
*Note the photos in this post are from my iPhone – I did not want to risk bringing my professional gear with me (and I recommend you don't either.) I also brought a GoPro with a helmet mount for fun that we used on some of our climbs.*
We were transferred to a long tail boat at Krabi Beach that sailed us the 15-20 minute journey to Railay Beach. I can't reinforce enough how seamless the operation was from each pick up to transfer point, to walks to get to the climbs.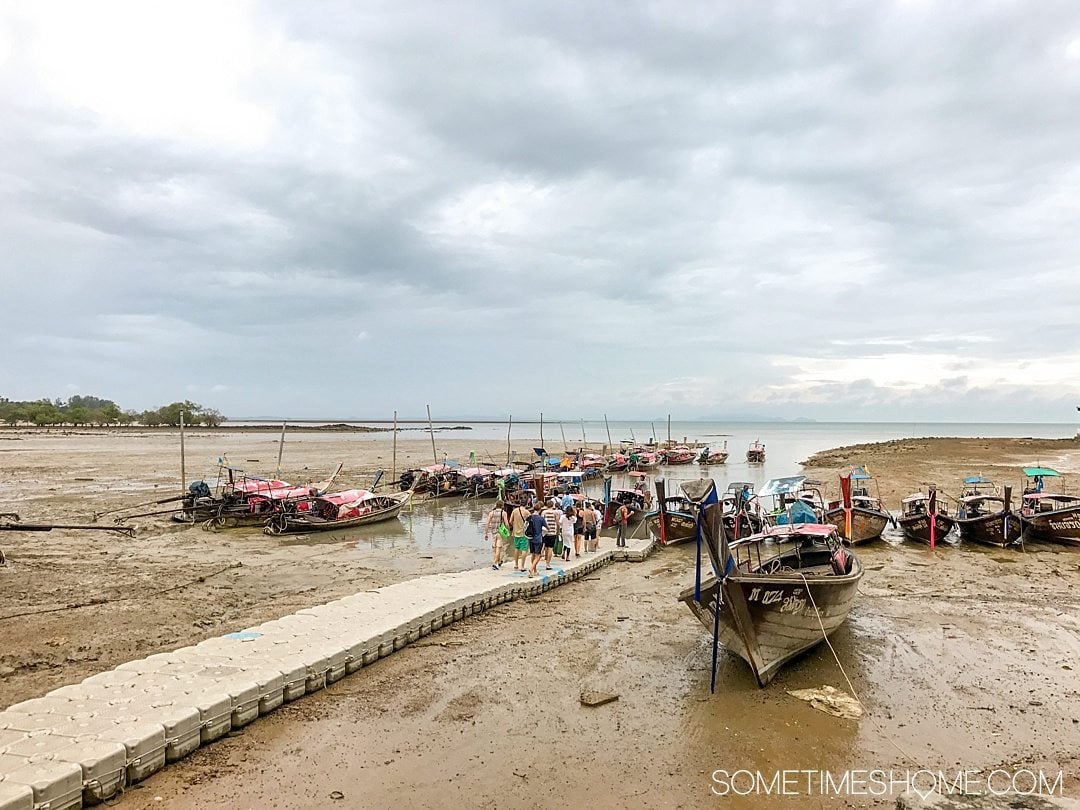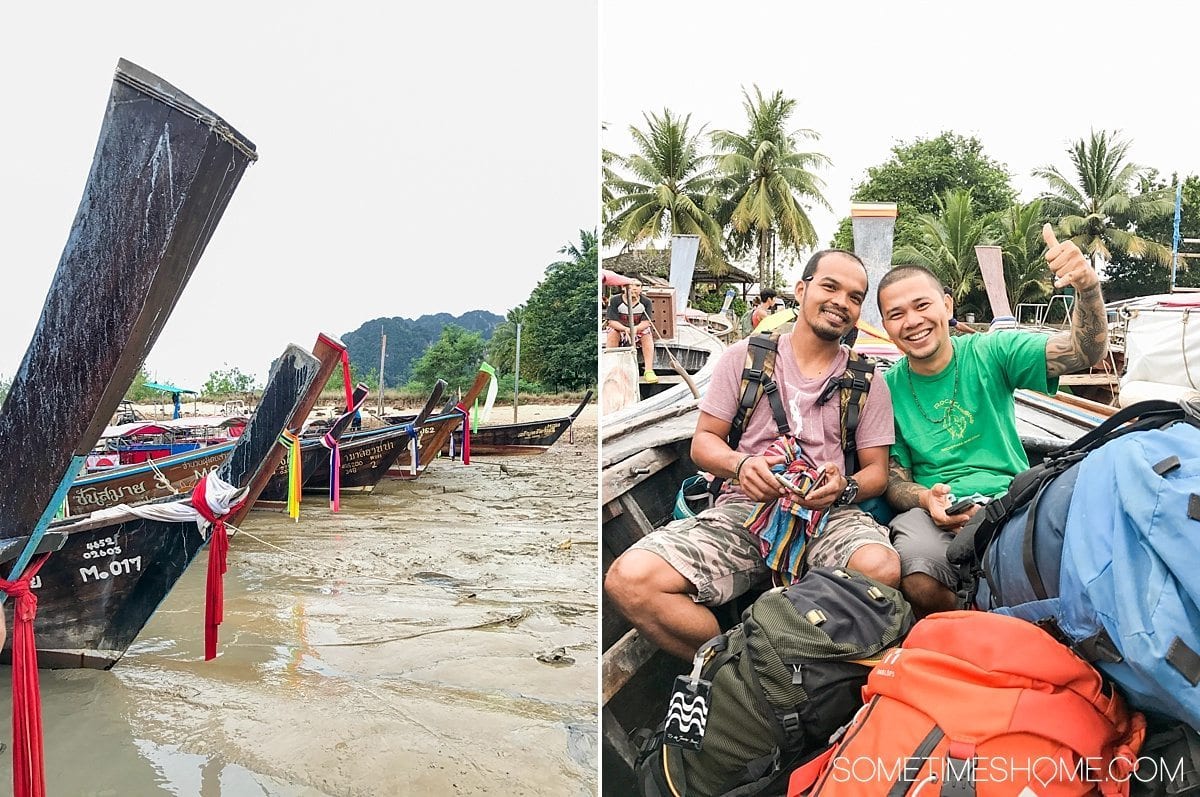 The long tail boats were lined up ready for the day's work. Aon (in the green shirt in the photo above) and his friend both greatly helped us throughout the day. The scenery on Krabi and Railay Beach was incredible. Look how aqua the water, and how lush the limestone, were!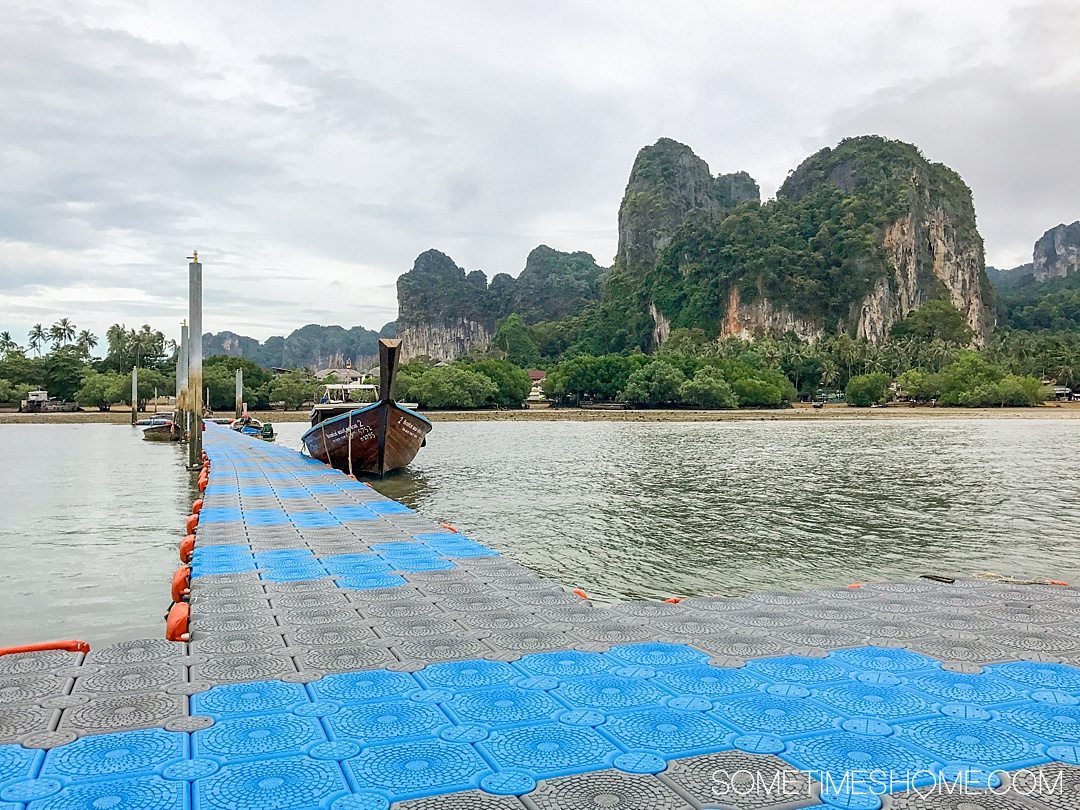 Morning Rock Climb on Railay Beach
We were in awe of the beach's beauty. We were like little kids in wonderland as we gazed every which way. If we looked down we saw our feet walking on beautiful sand and to the right we saw the splendor of the ocean. Ahead was the exterior of a cave we were about to attempt to climb. There was another couple already prepared to scale the limestone rock even at 9:30am. Everyone we encountered was friendly no matter where they were visiting from, be it the United States, Siberia, or England. The climbing culture was quite amenable!
Aon gave us a quick safety lesson and explained the basics of climbing, which I soon realized were best learned through experience. It's important to note that unlike a rock climbing gym the routes are NOT all set for you, as I briefly mentioned earlier in the post. Sure, some of them are marked but that's far different than having a safe rope set up to follow. Aon was our lead climber and he quite literally paved the way for us to enjoy many routes, setting up rope after rope for safe climbing.
Dan knew a lot more about climbing than I did having dabbled in it as a hobbyist for a few years (mostly on indoor rock walls) so I let him go first. I was all smiles as I watched him in his element. I went all in when it was my turn and quickly got the hang of it thanks to the coaching of my group. A grin appeared wider and wider during each portion of my experience. After our first climb we saw the famous Princess Cave, or Phra Nang Cave, which is a phallic fertility shrine to a princess goddess.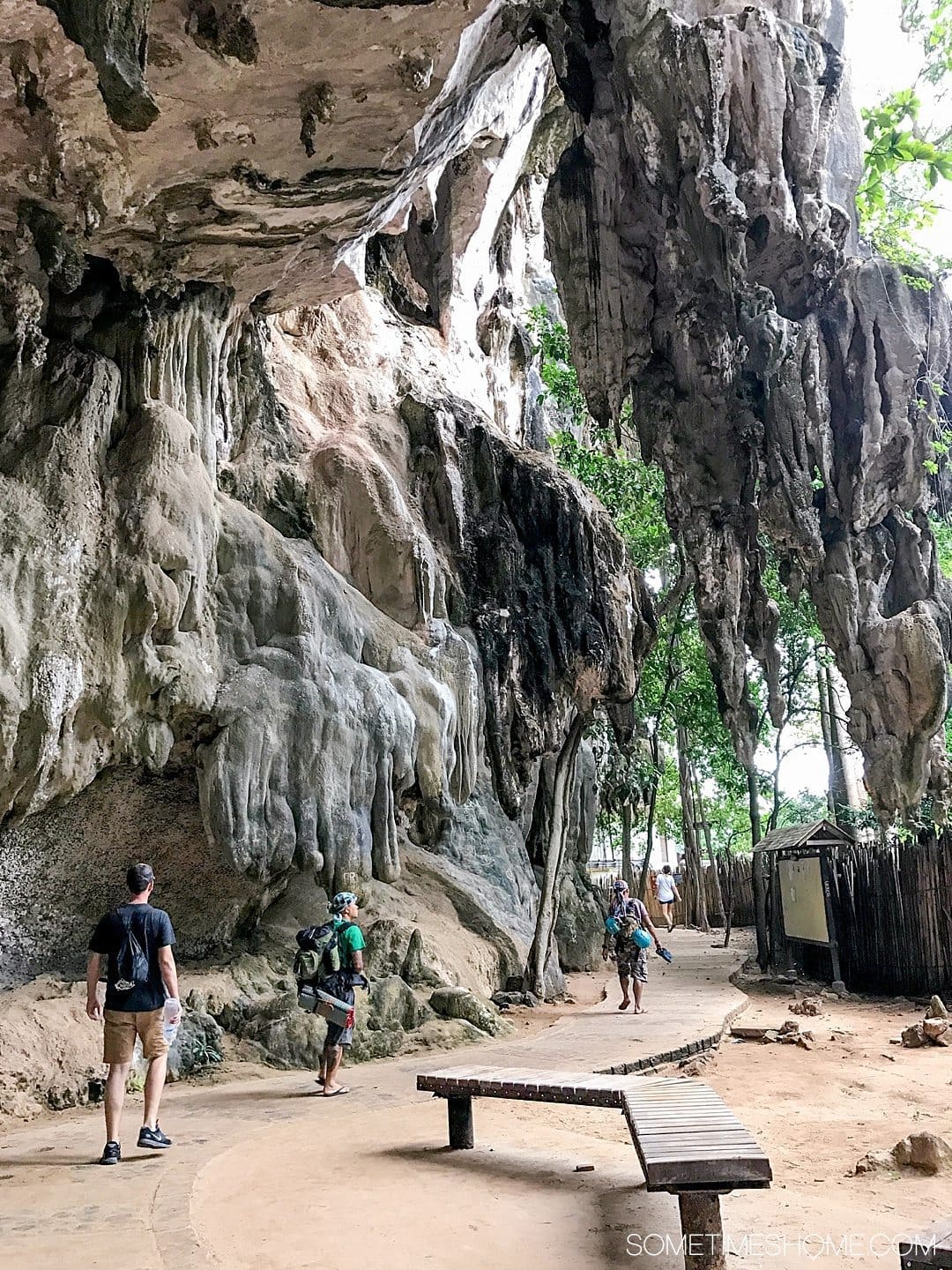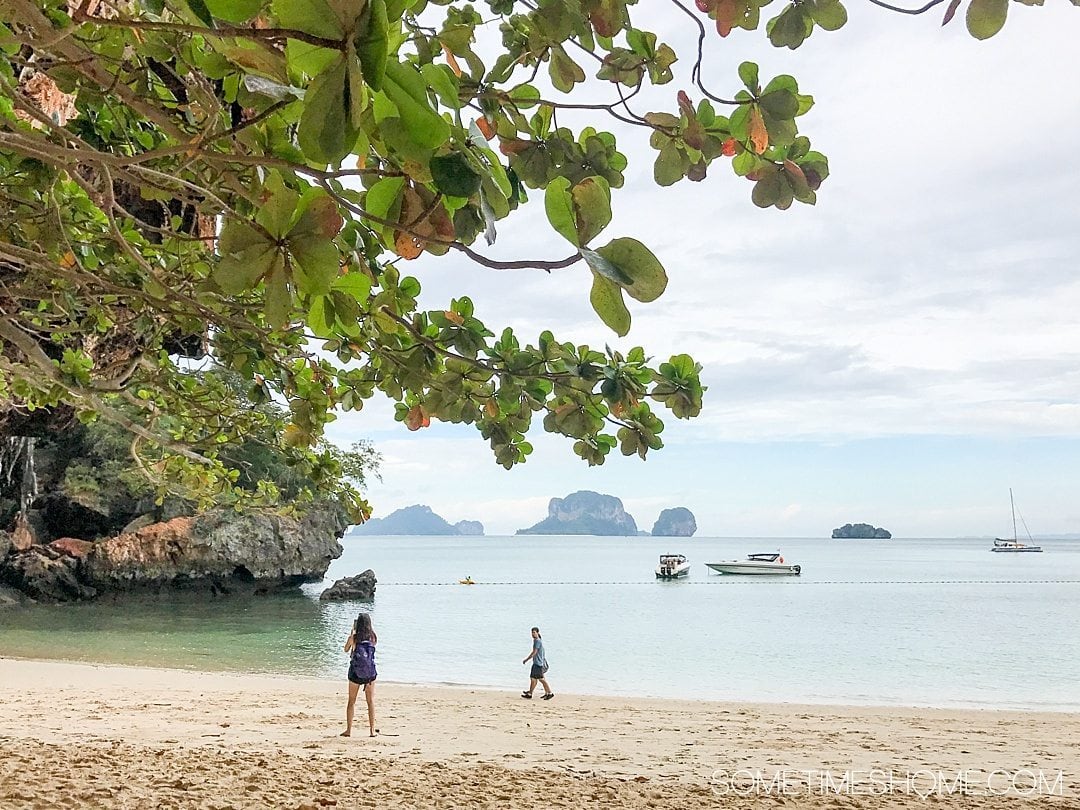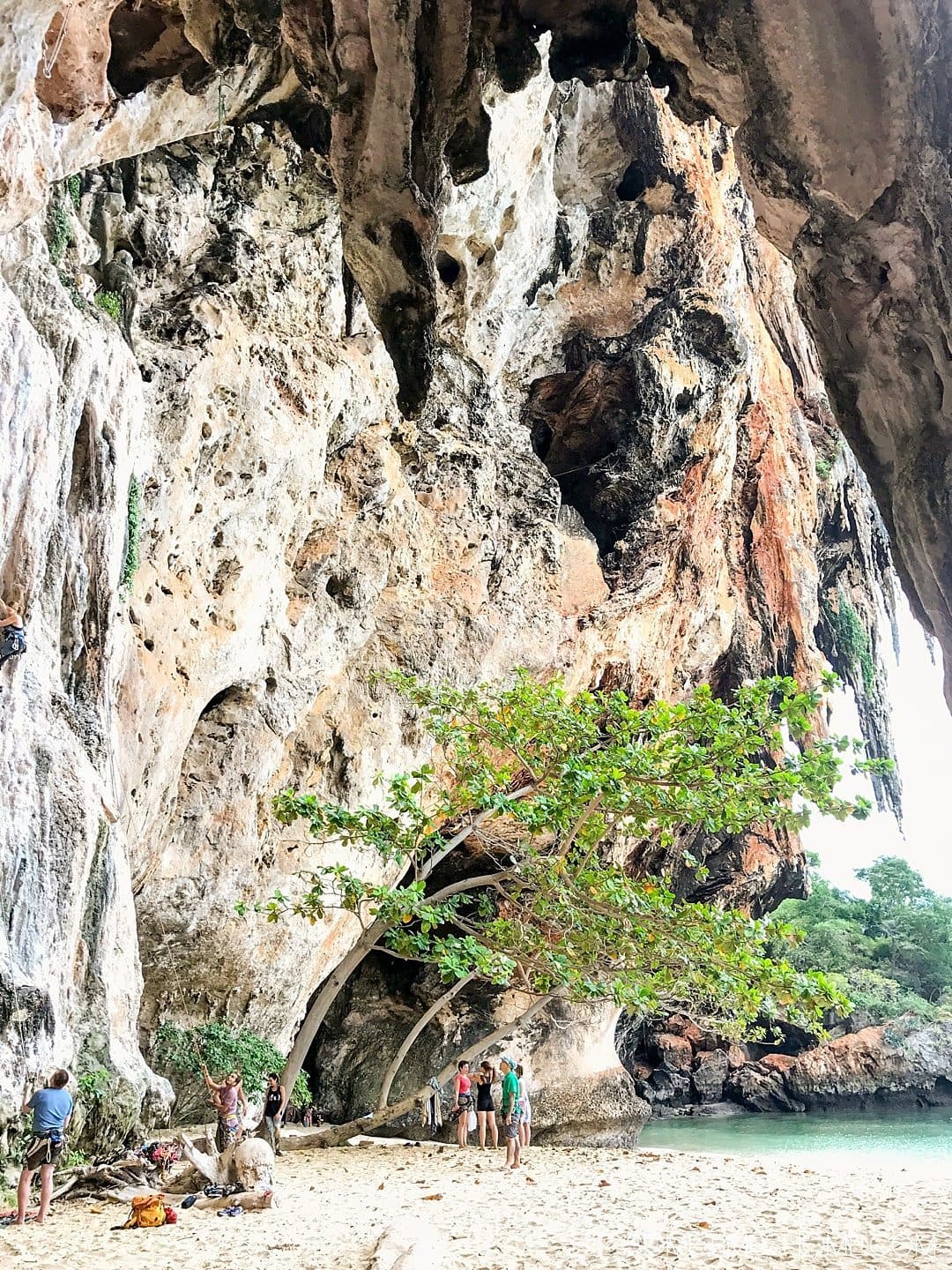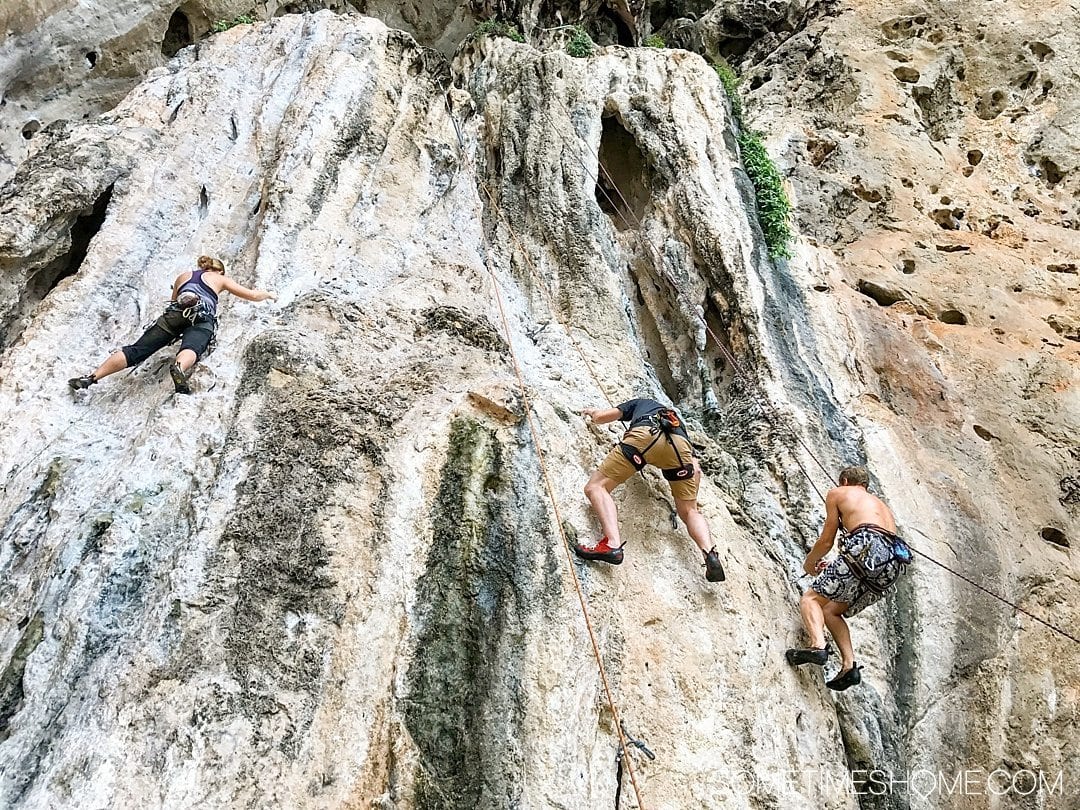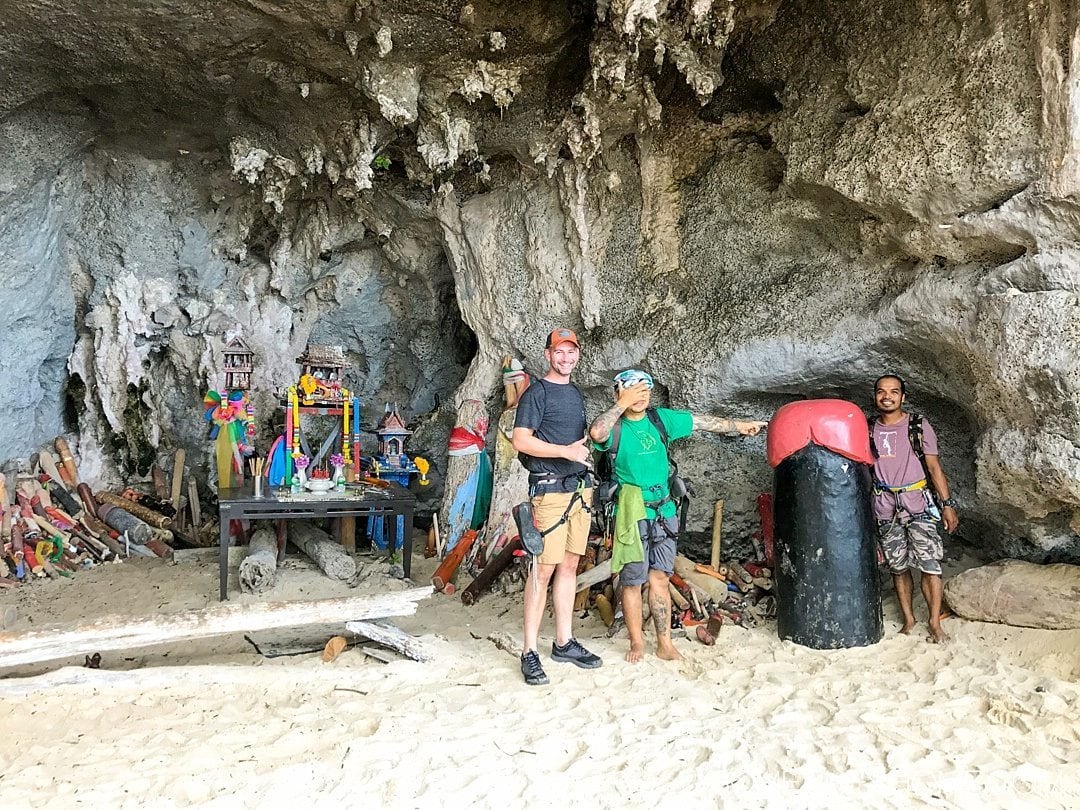 We climbed a few routes and with each one I got a little better. I challenged myself to go further than I was able to on the climb before it every time.
Aon and his friend were amazing – they made us feel secure and safe the entire day and had us laughing for most of it too. A notable highlight was when we took a short hike through the inside of a dark cave on our rock climbing Phuket adventure. The destination revealed a beautiful vantage point and repel spoint. We paused to admire the beach far below and take some photos then started to head in the direction of gravity. We repelled down the side of the rocks to the ground beneath us to reach another course.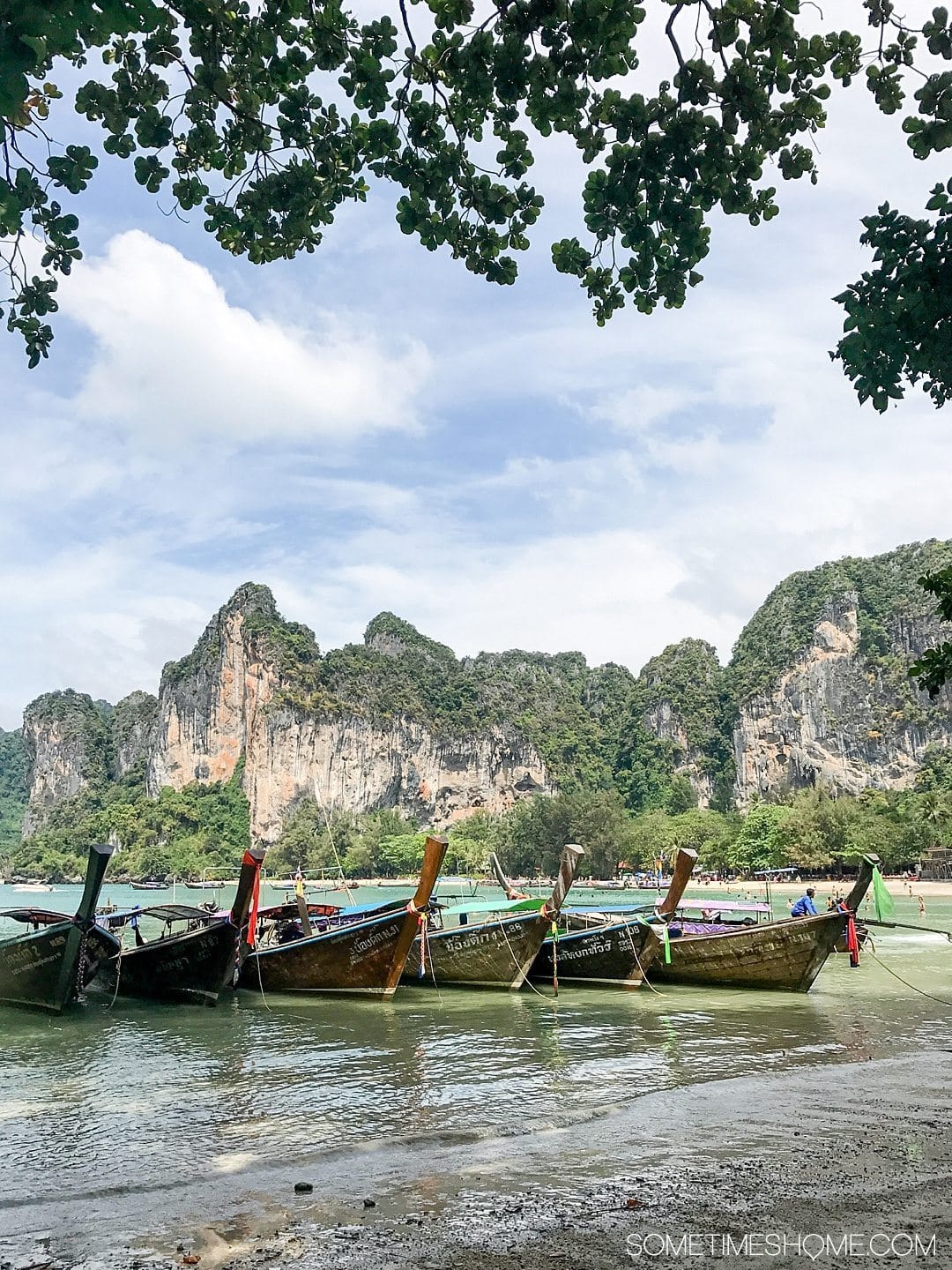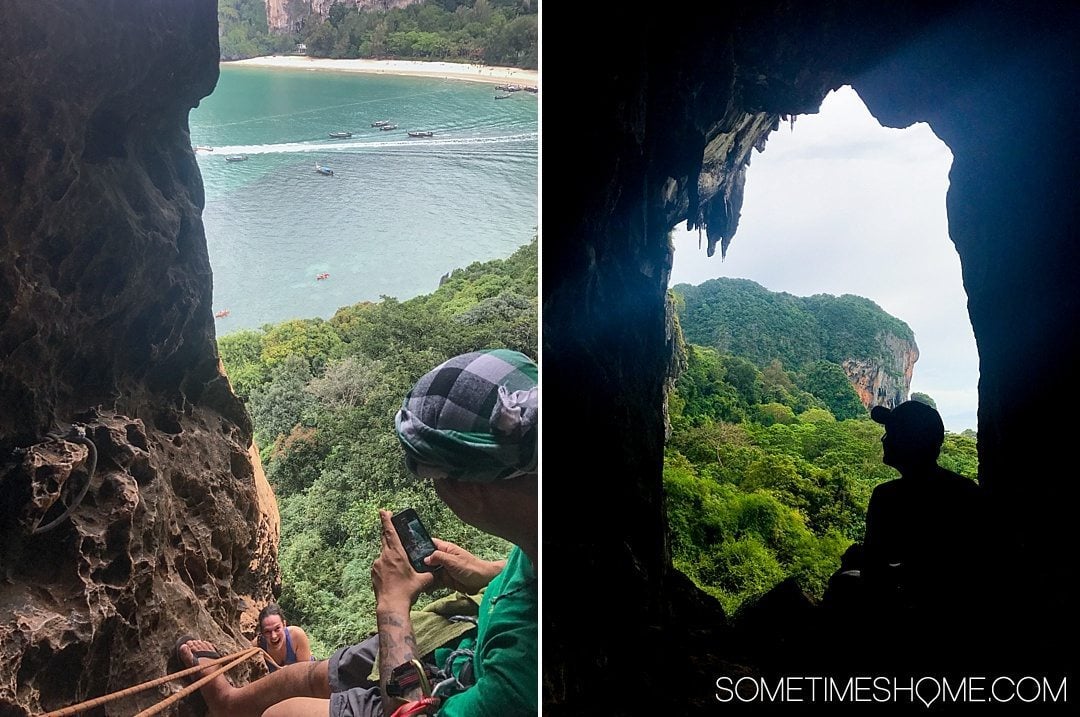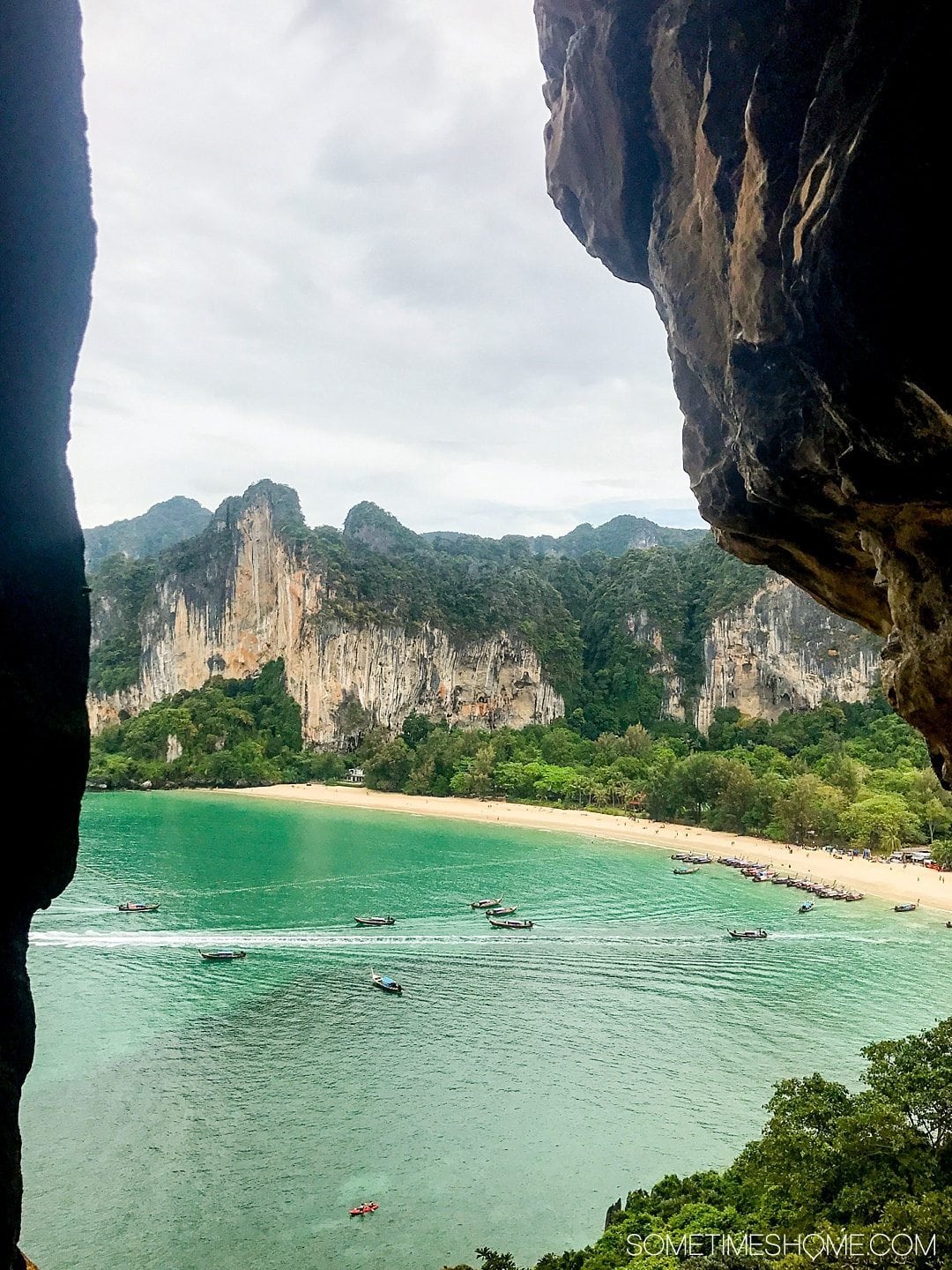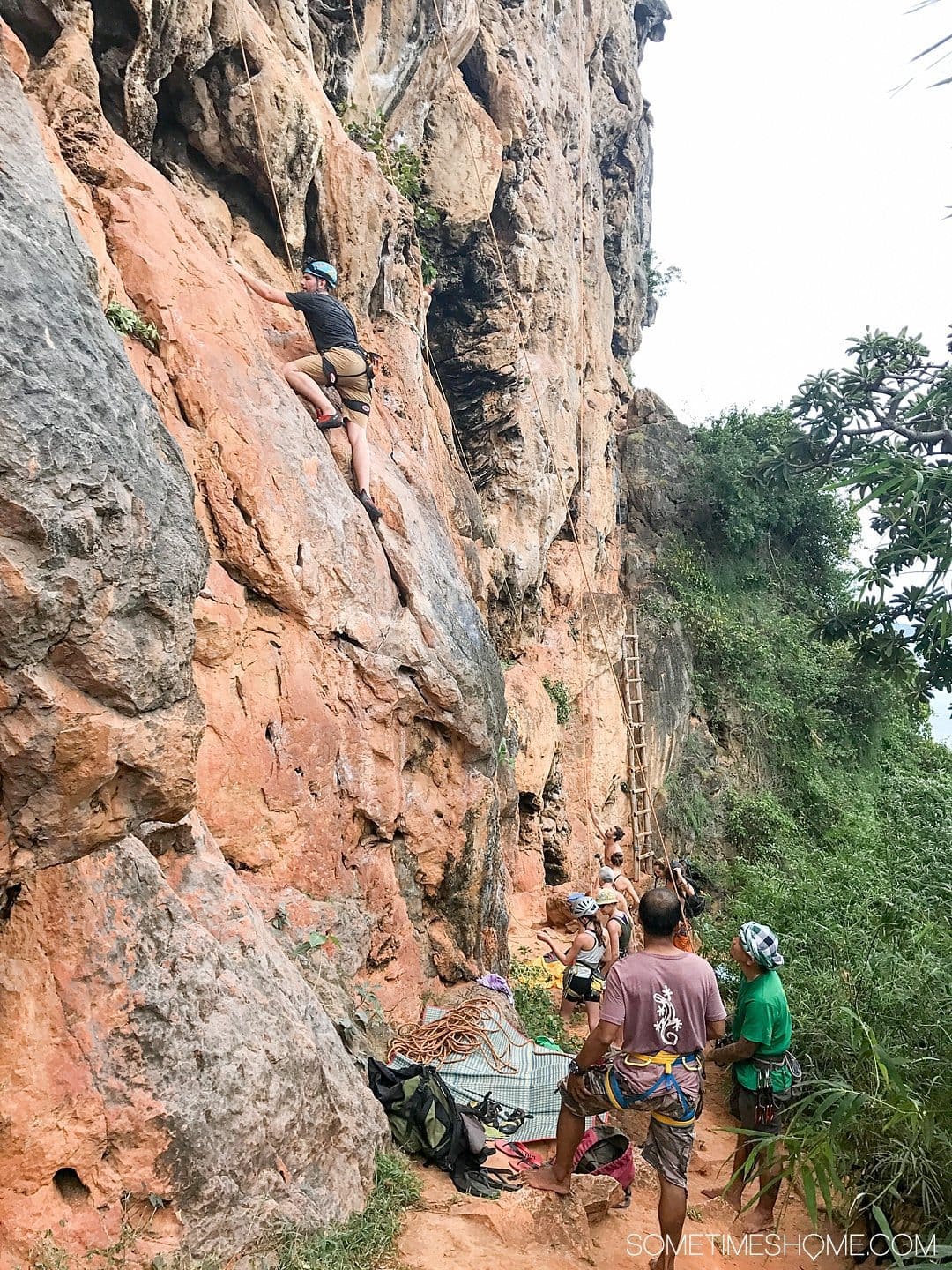 Rock Climbing Break for Lunch on the Island
We walked to the little village on the island and had one of the best meals of our trip for lunch. Aon simply asked us what we liked to eat, communicated the order to the staff in Thai, and out came a bounty of entrees.
After we ate he informed us we'd be continuing with…more climbing! I couldn't believe it – there was MORE after this meal?! I thought, "How am I going to digest this fast enough?" Thankfully our walk to our next destination did the trick.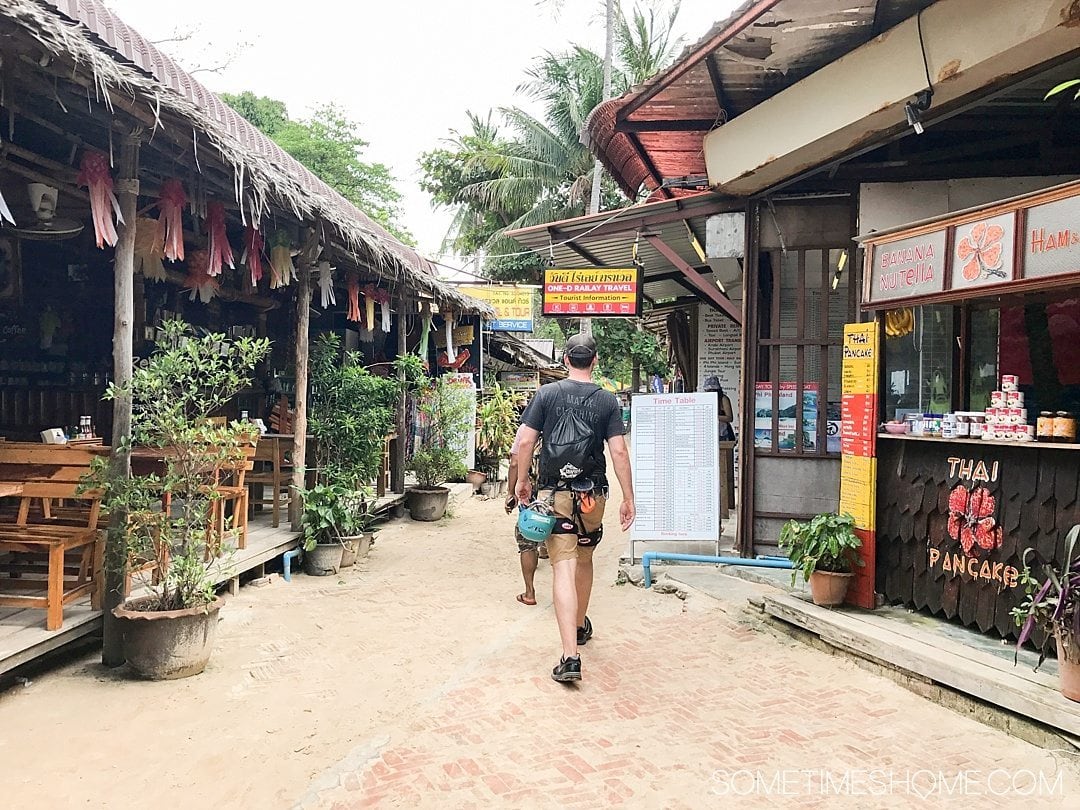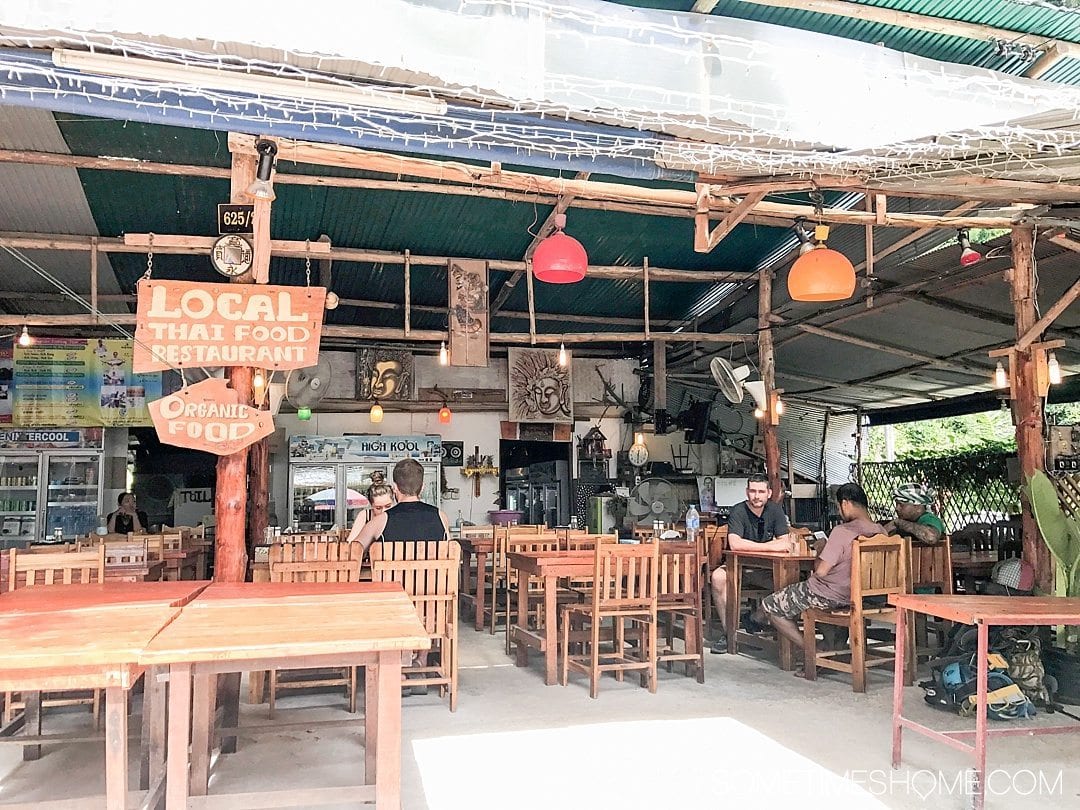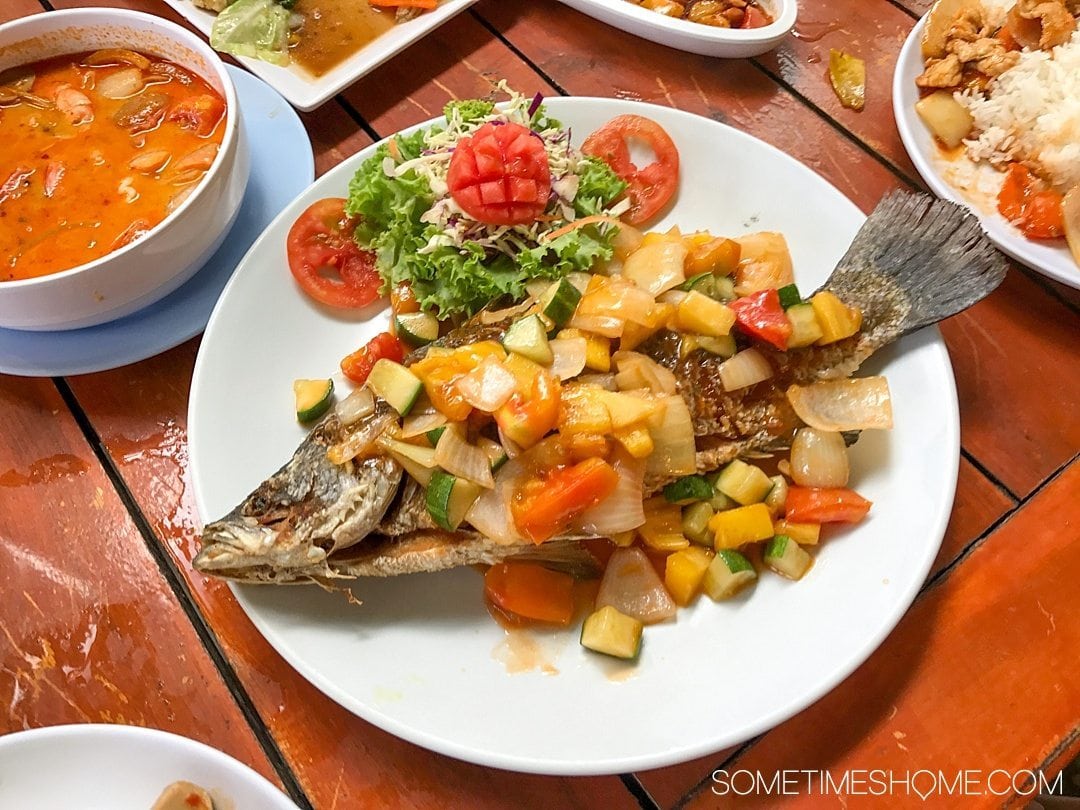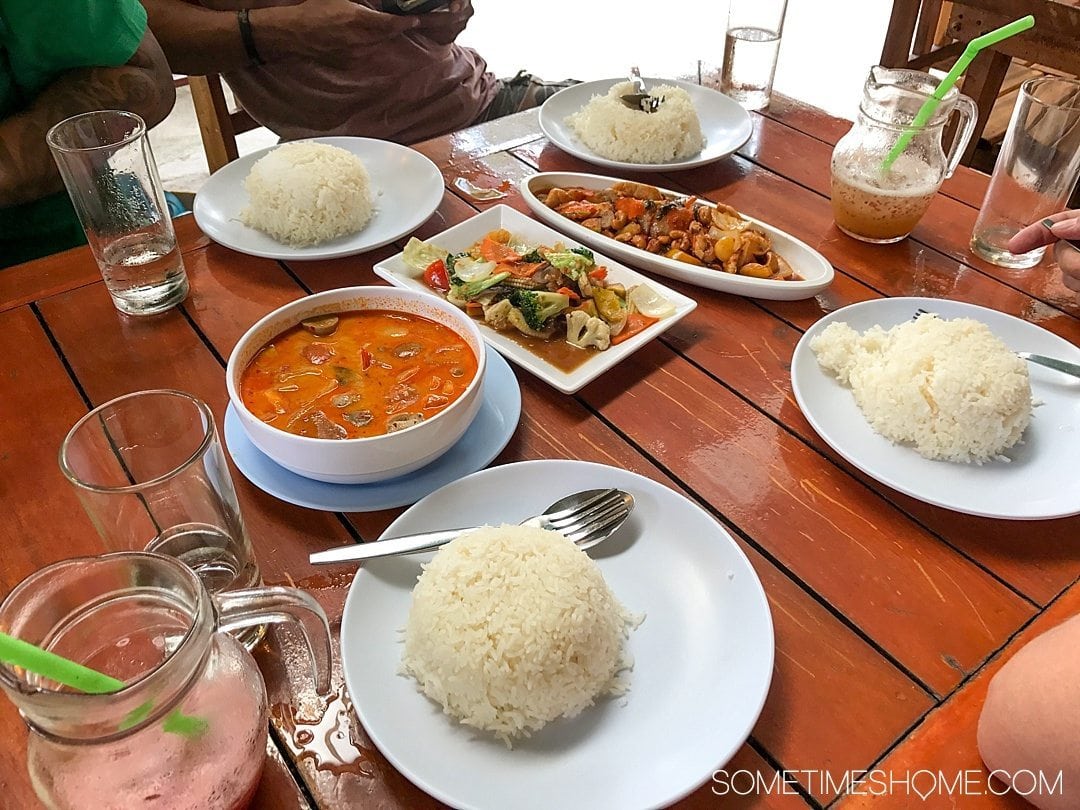 After Lunch Rock Climbing on Railay Beach
I felt like a rock star at that point and was really getting the hang of it. A few more climbs were in our future but as late afternoon approached we grew weary faster. We weren't used to expending so much energy in one day!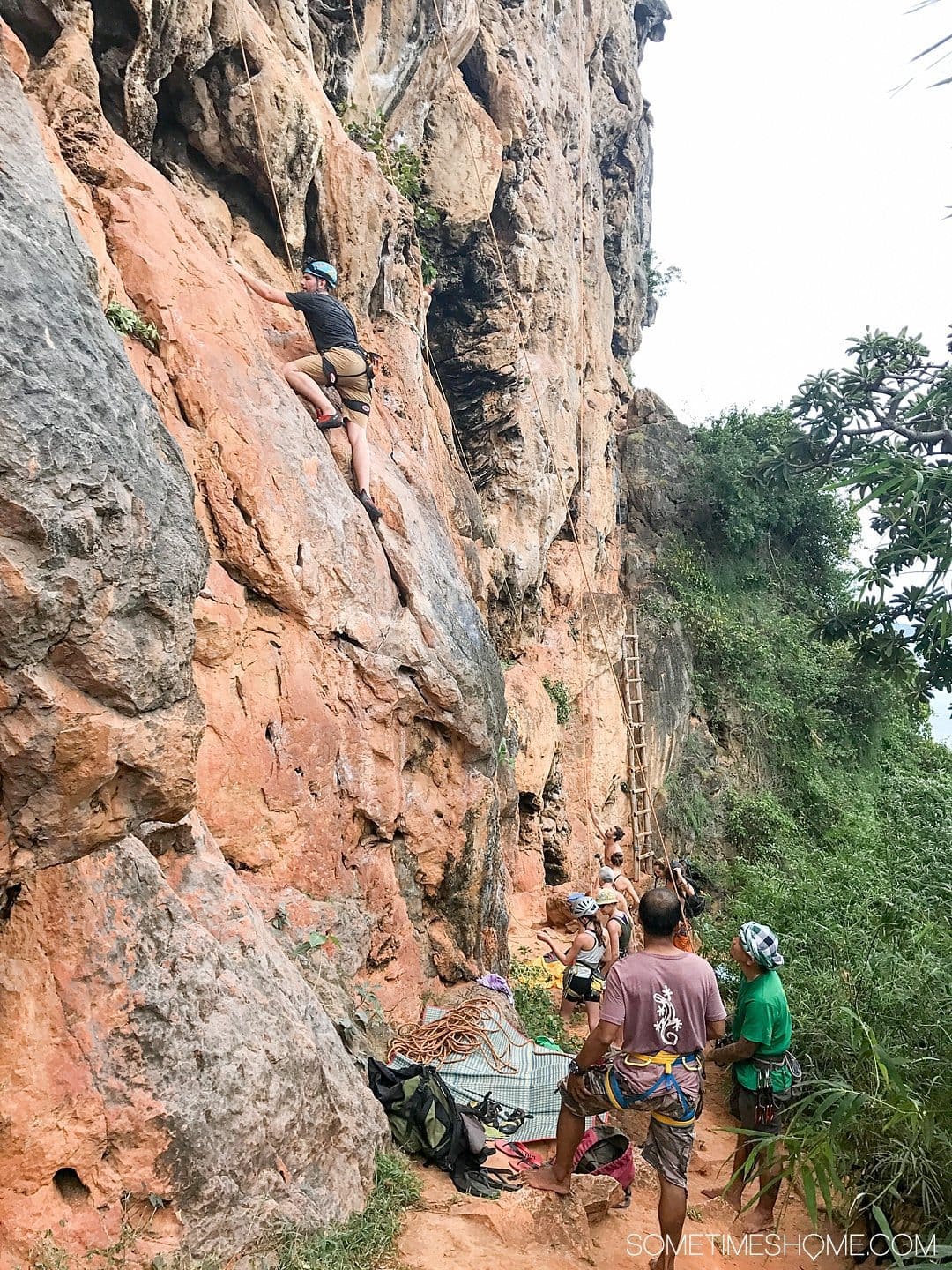 Heading Back to Phuket after our Day of Rock Climbing
We decided to head back to mainland Phuket at approximately 4:00pm. I am sure we napped in the ride back to our resort and the van stopped once upon request for a bathroom break. We arrived back at our hotel around 7:00pm.
Final Thoughts and Advice for Rock Climbing in Phuket
The cost was WELL worth it and there is truly no need to shop around. Contact Aon if you have the money and don't think twice about booking a private tour. His passion, expertise, organization and SPIRIT were priceless. I'm truly not sure how much he profits when all is said and done and everyone is paid – from the van driver to the restaurant during lunch, to the boat drivers and more. (I sincerely hope Aon ensures he is getting paid!) I am certain he appreciates tips.
We emailed Aon a photo of us before meeting him in person. (He didn't ask for it but I figured it couldn't hurt. My hope was it would assist him in recognizing us when he picked us up at the hotel. I also thought it may help him gain an idea of our size for the harnesses he had to bring for us.)
He asked our shoe sizes ahead of time, which was important information since he needed to outfit us with rock climbing shoes. Note they are very different from sneakers or trainers you may already own and are specifically designed for rock climbing. You cannot wear your own shoes.
Contact him in advance. If you need to follow up with him, do so. It's worth it.
Any relatively physically fit person can do this. (Hell, I'm sure I could use more physical fitness in my life – I'm no Jane Fonda!) I had ZERO rock climbing experience before this yet found myself falling in love with the sport with each climb.
It's important to go into the day with a can-do attitude. We were optimistic from the moment we got in the van that morning. I believe in the power of positive energy and feeling such great vibes from everyone throughout the day elevated our experience. I also believe it helped us power through climbs.
It's the NUMBER ONE memory we have from our trip. We visited an elephant rescue camp, had an incredible meal in Phuket, saw incredible temples, experienced VIP treatment in Chiang Mai, had heavenly massages…we truly had an outstanding trip. Yet still, this rock climbing Phuket experience ranked number one in our eyes.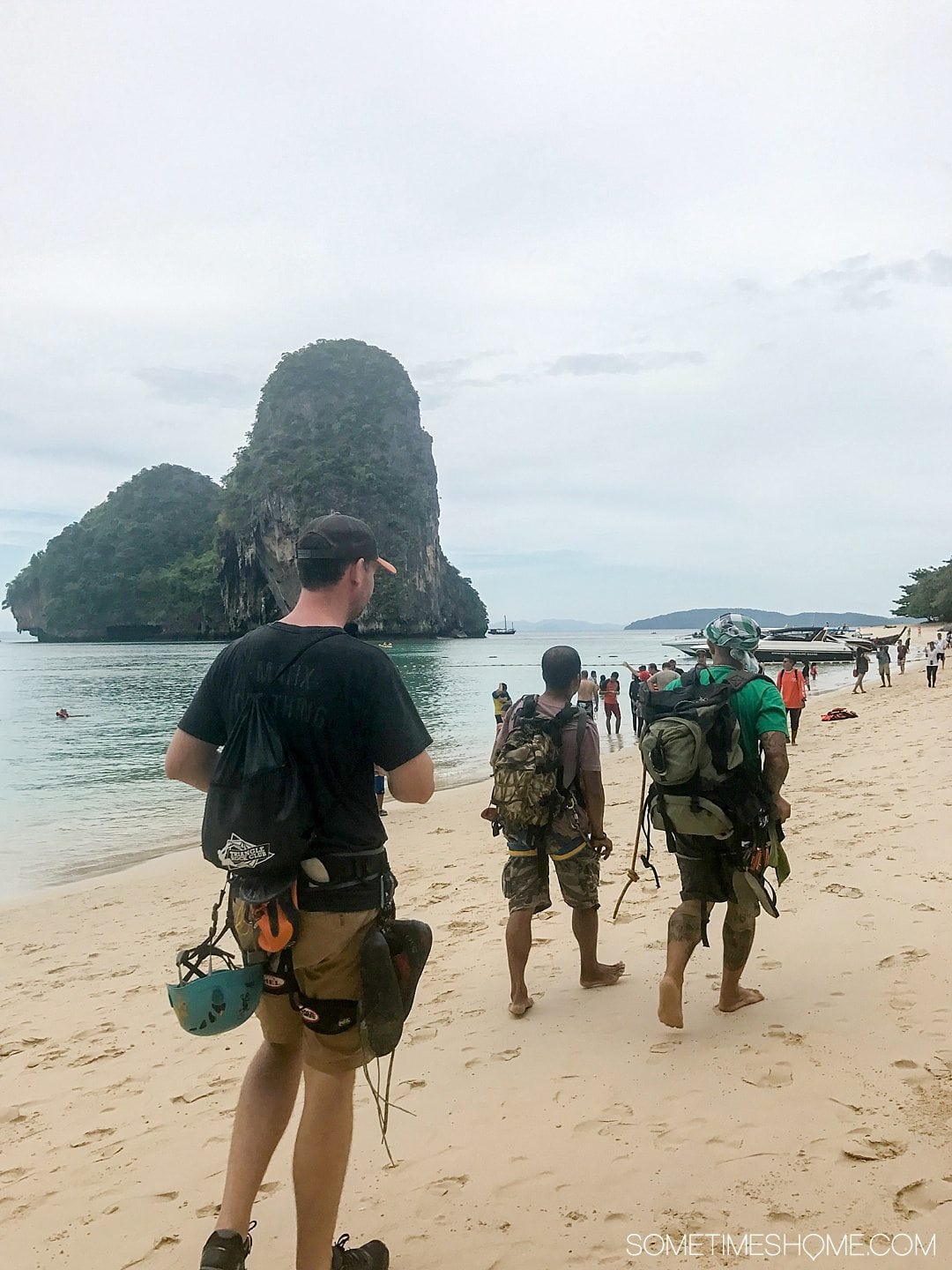 Final Thoughts on our Rock Climbing Experience in Thailand
I went from a feeling of "I'm doing this for Dan" to wondering, "Why doesn't EVERYONE who comes to Thailand do this?!" On Gecko Thailand's website it says a rock climbing excursion will give you a "more exciting life" and I truly feel like a better person for having experienced this. We feel like a better couple for it too.
Aon also coordinates:
Overnight rock climbing trips
Trips for solo travelers
Sea kayaking tours
Paragliding tours
Rafting tours
ATV tours
Cycling tours
He's a one-stop shop for Phuket adventure excursions! If there's an adventure sport you want to try he's your guy.
For more information on his offerings, including pricing and sample schedules, contact Aon via Instagram, @geckothailand.
Surely you'll want a low-key outing the day after you finish any adventure sport excursion with Aon. Check out our experience with a Great Option for a Budget-Friendly Private Tour in Phuket in our article over on Hippie In Heels.
Disclosure: There may be affiliate links in this post, which means we may earn a small commission if you click the link and proceed with a purchase. We truly only recommend products or services we personally use. 
Heading to Thailand? Also check out:
Would you book a private rock climbing experience?