Phuket Marriott Resort with Breathtaking Ocean Views
We planned our time in the area surrounding our Phuket Marriott Resort with breathtaking views. We were struck by the beauty of the Westin Siray Bay as soon as we arrived.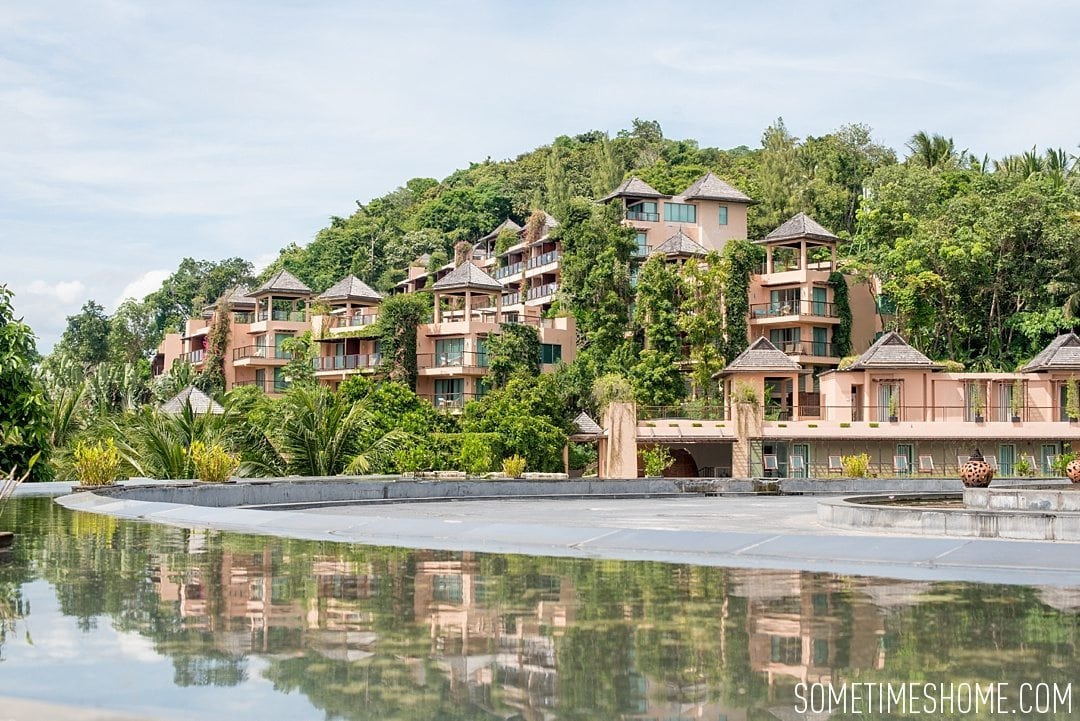 Its stunning ocean views had me gazing, wide-eyed, immediately envisioning a bride and groom in the foreground amongst the hotel's beautifully landscape grounds with the expanse of ocean behind them. I'd soon learn every room has incredible scenery and impressive balconies at this Phuket Marriott resort with breathtaking ocean views.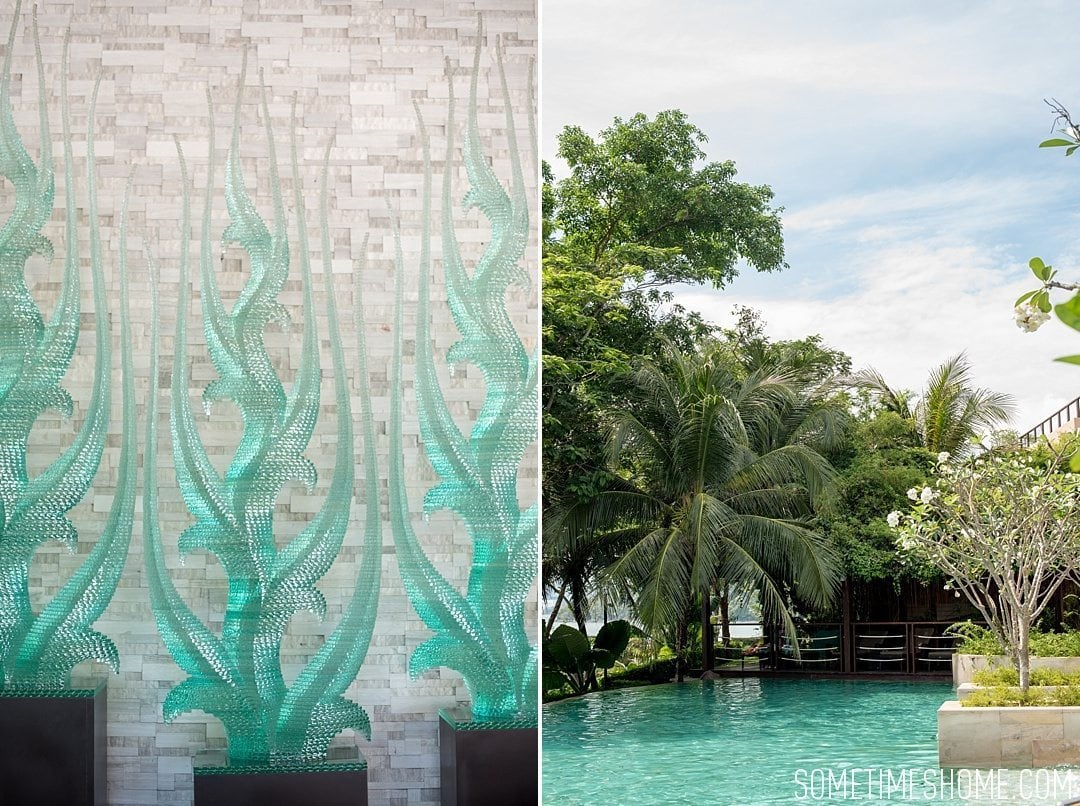 First Impressions
When you arrive to the resort you're dropped off at its roundabout porte-cochere and check in at their serene open air lobby.
The glass sculptures in the lobby had me thinking of tropical blue water and waves and made me immediately wonder where the pool was; I adored that they mimicked the aqua color and organic feel of the nearby hotel pools.
Lush landscaping is everywhere at this Phuket Marriott resort – from staircases lined with tall palm trees to a stone bridge focal point bordered with striking pink flowers. It feels like you're in a tropical jungle!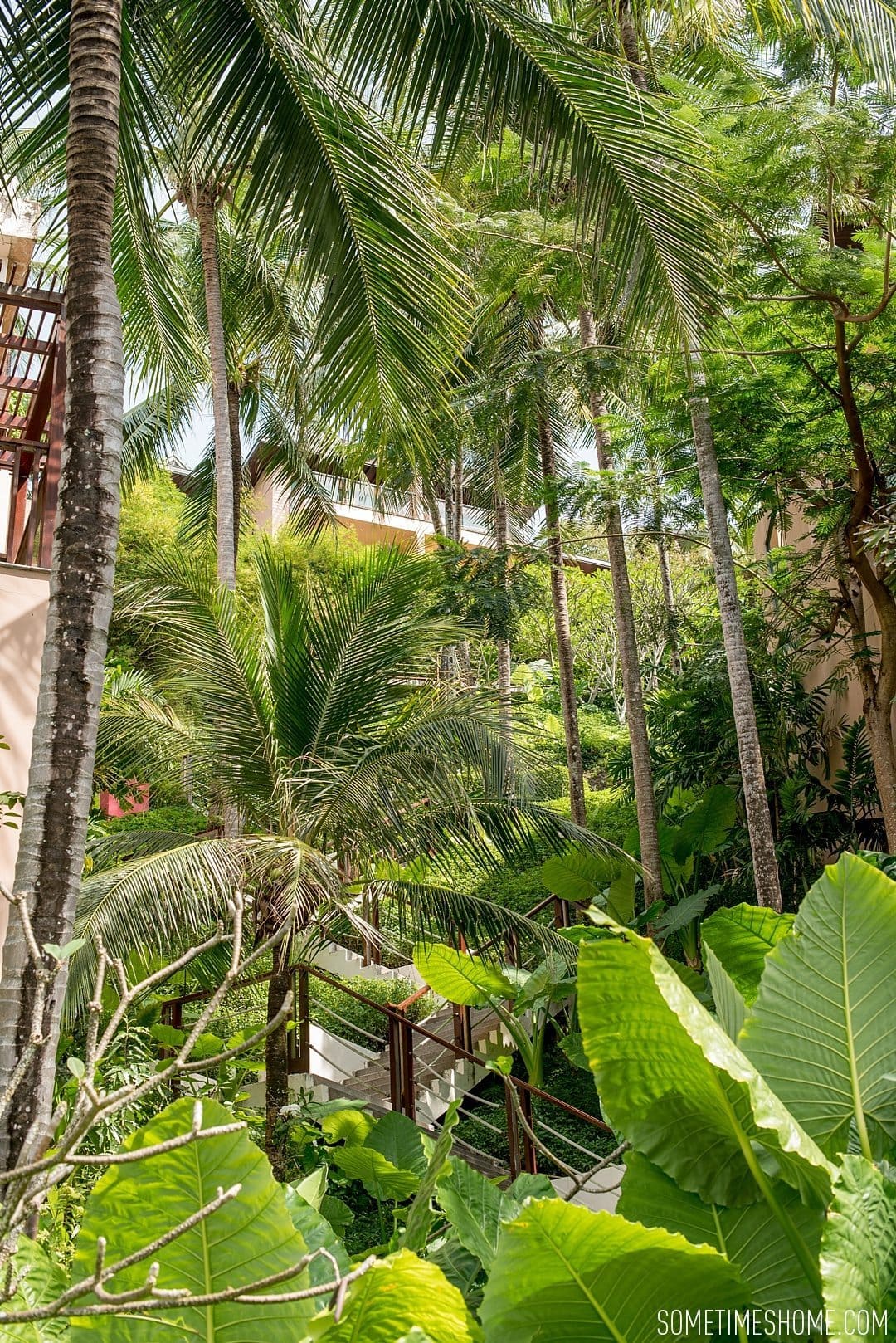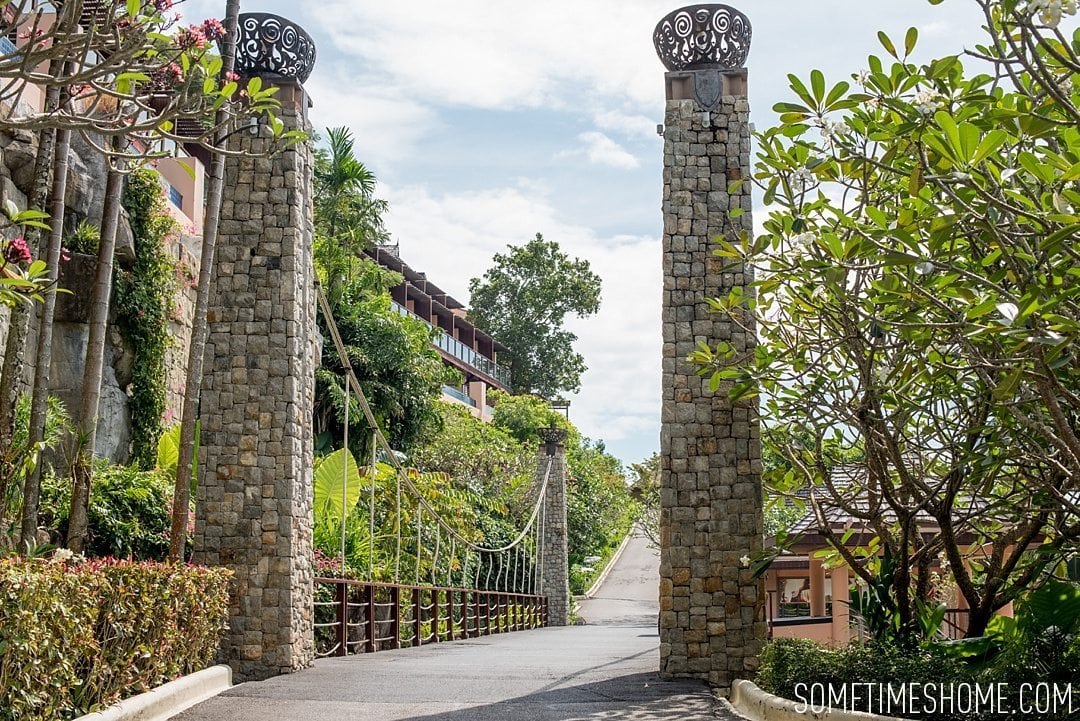 Staying at the Westin Siray Bay for Free
How'd we stay here for free? We're die-hard fans of our Marriott Bonvoy American Express cards! It's one of our favorite things and we use it for nearly every charge at home. Which means we rack up points for when we go away.
When we go to book a hotel in any destination we check Marriott resorts first to use our Marriott Bonvoy points. And your points go very far in Thailand, like they did at the Le Meridien in Chiang Mai too.
We can't recommend signing up for a Marriott Bonvoy rewards American Express and booking with points for you vacations enough.
Features of the Phuket Marriott Resort, Westin Siray Bay Property and Rooms
Every (yes every!) room has an ocean view of Phang Nga Bay.
24 hour gym.
3 pools around the resort, my favorite being the Infinity Horizon Pool.
Many Phuket excursion tours pick you up right at the hotel.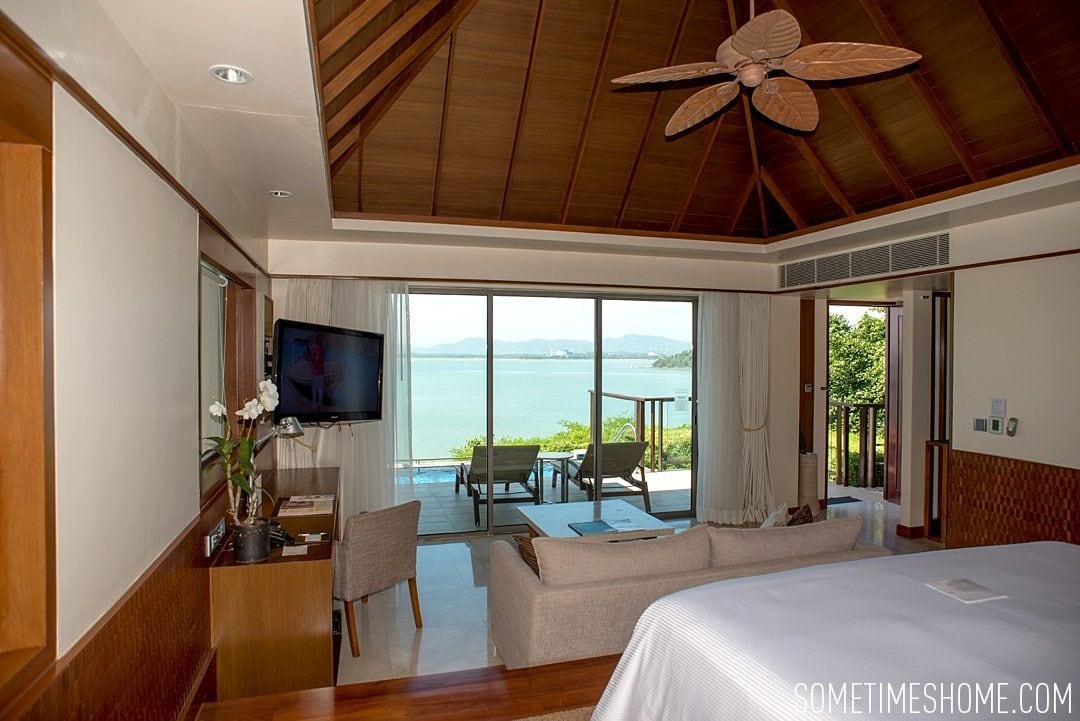 One of my favorite features of the resort is the suites – the one pictured here is Category 2, a vacationing couple. The bed is purposely situated to face the water – or, if you prefer, you can lounge on your personal balcony and take a dip in your personal pool when you need to cool off! Now that's what I call luxurious!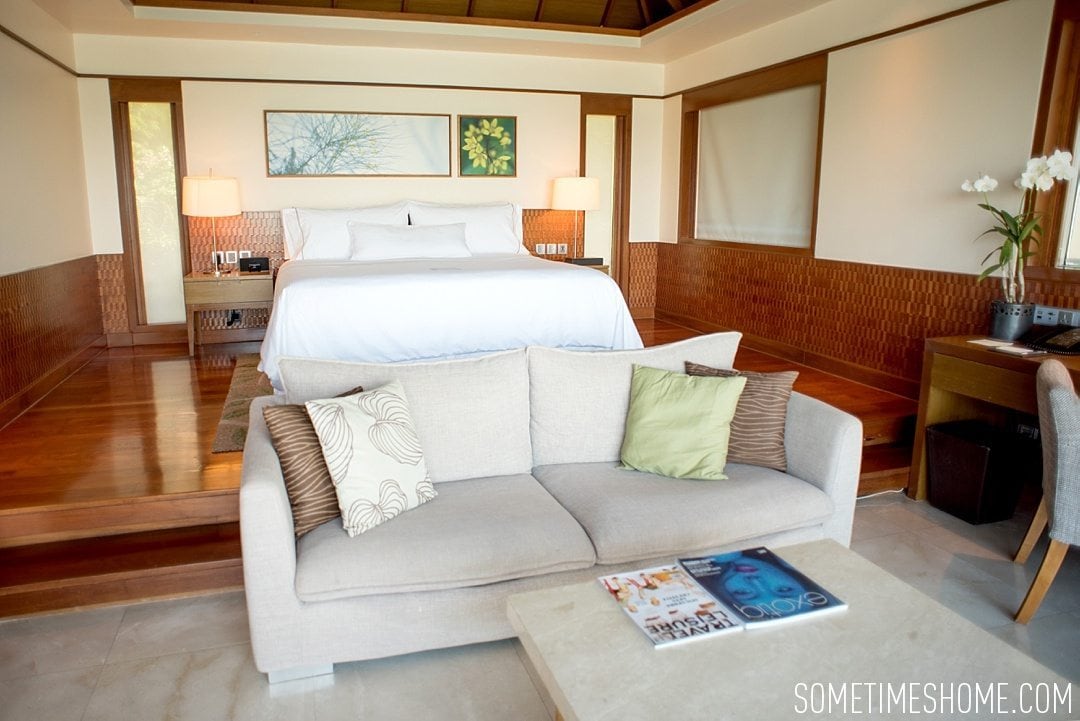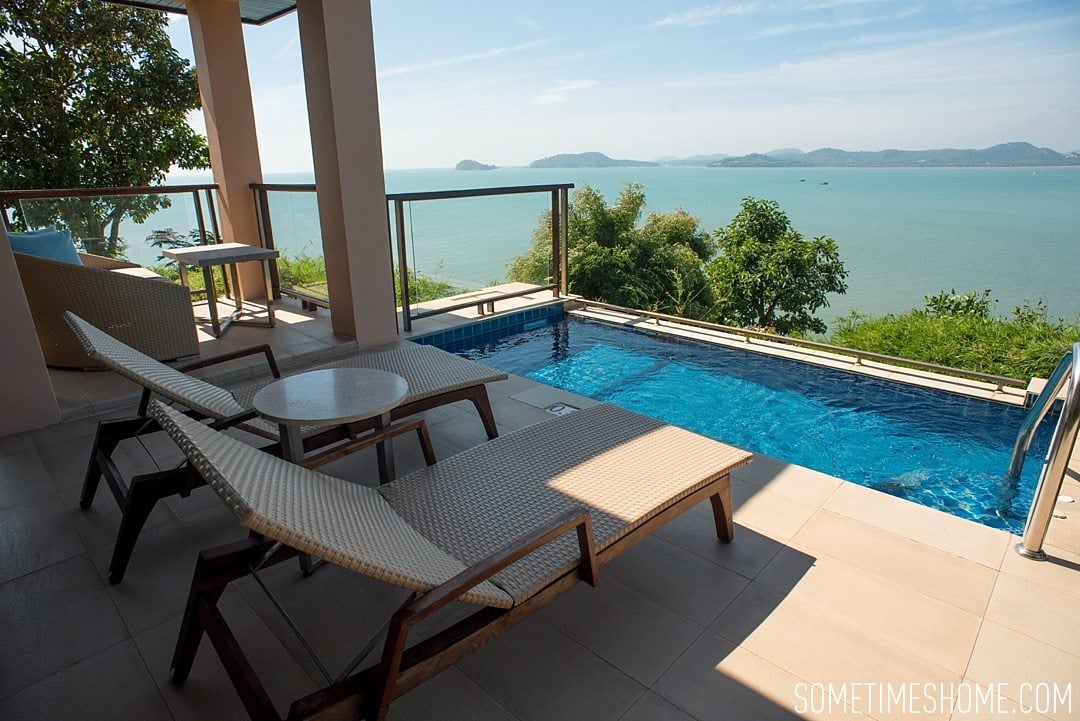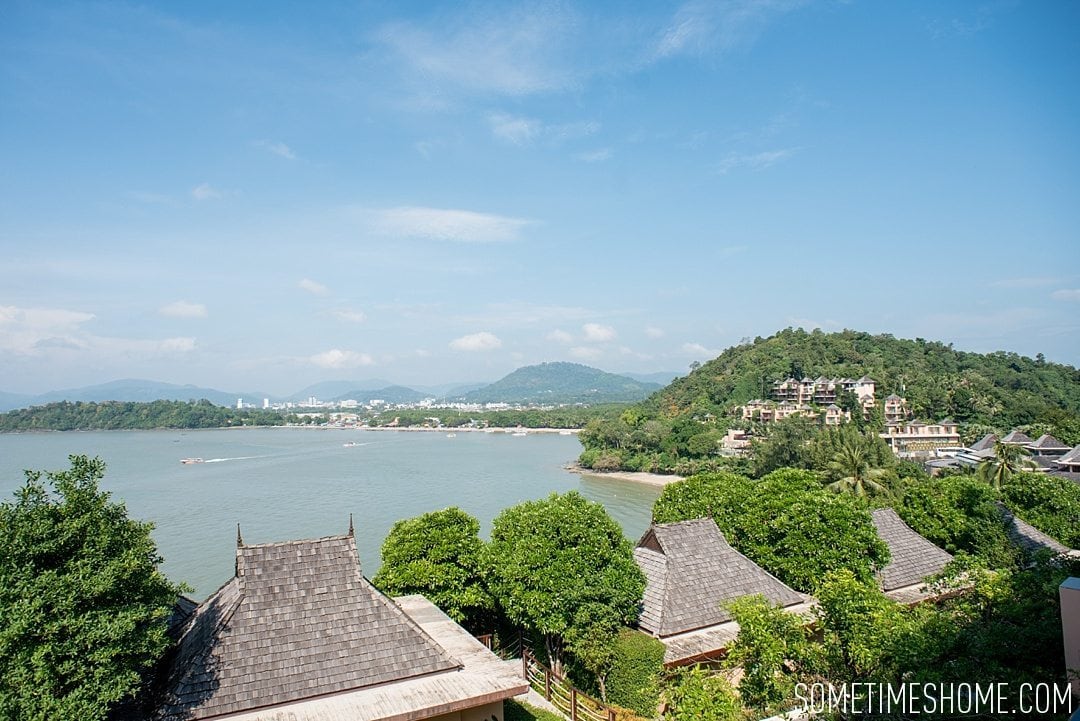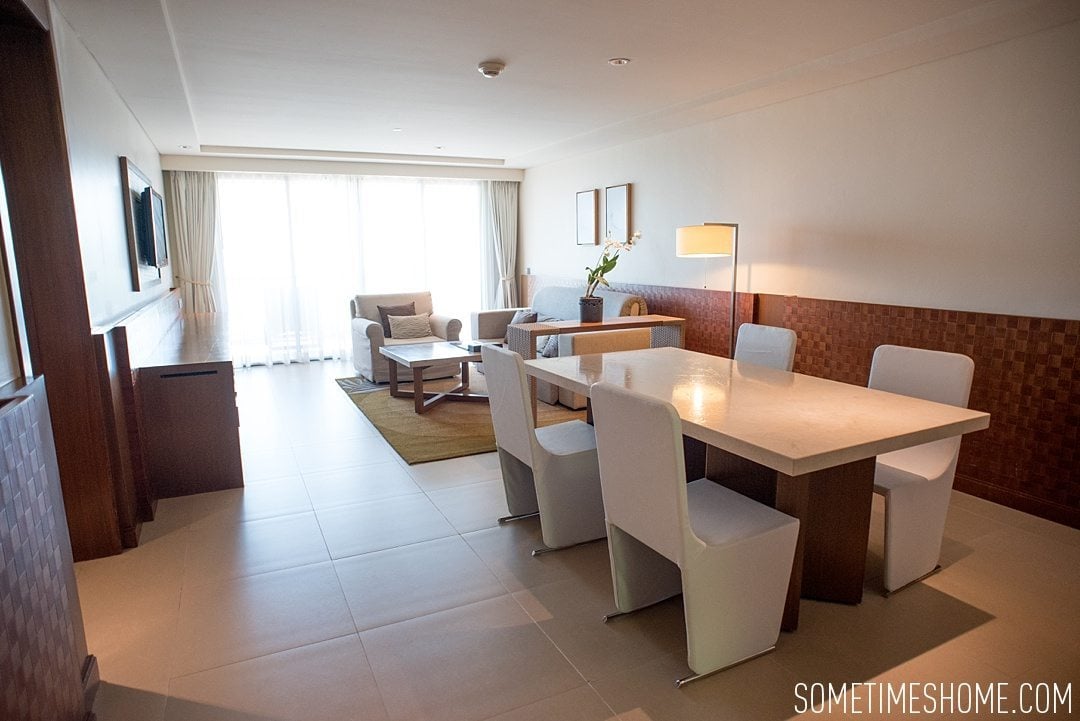 Perhaps you're the family traveling for a special event (like a wedding!) and need a bit more space. The Indulge Suite, pictured above, is the PERFECT "getting ready" location. I can envision room service here, with both savory and sweet breakfast items, spread out on the dining room table complete with bridesmaids moving about preparing for the wedding day. And what goes along with a great bridal party getting ready morning? The Heavenly Spa!
Phuket Westin Siray Bay Spa
Wouldn't it be so much fun to get pampered together as a couple in Phuket, enjoying massages, sauna lounging and manicures? A Thai vacation is the perfect time to get pampered!
Not to mention the decor of the Westin Siray Bay Spa is inspiring. Its curved walls are made from concrete and branches and the plush upholstered furniture everywhere looked very comfy.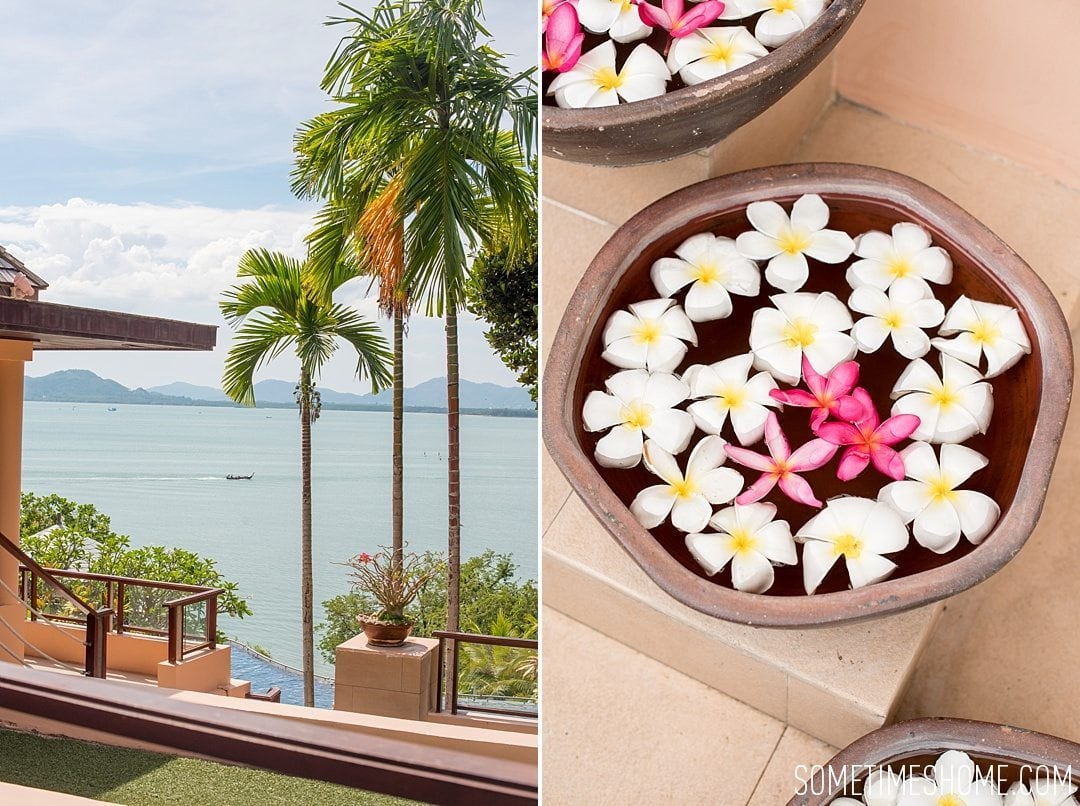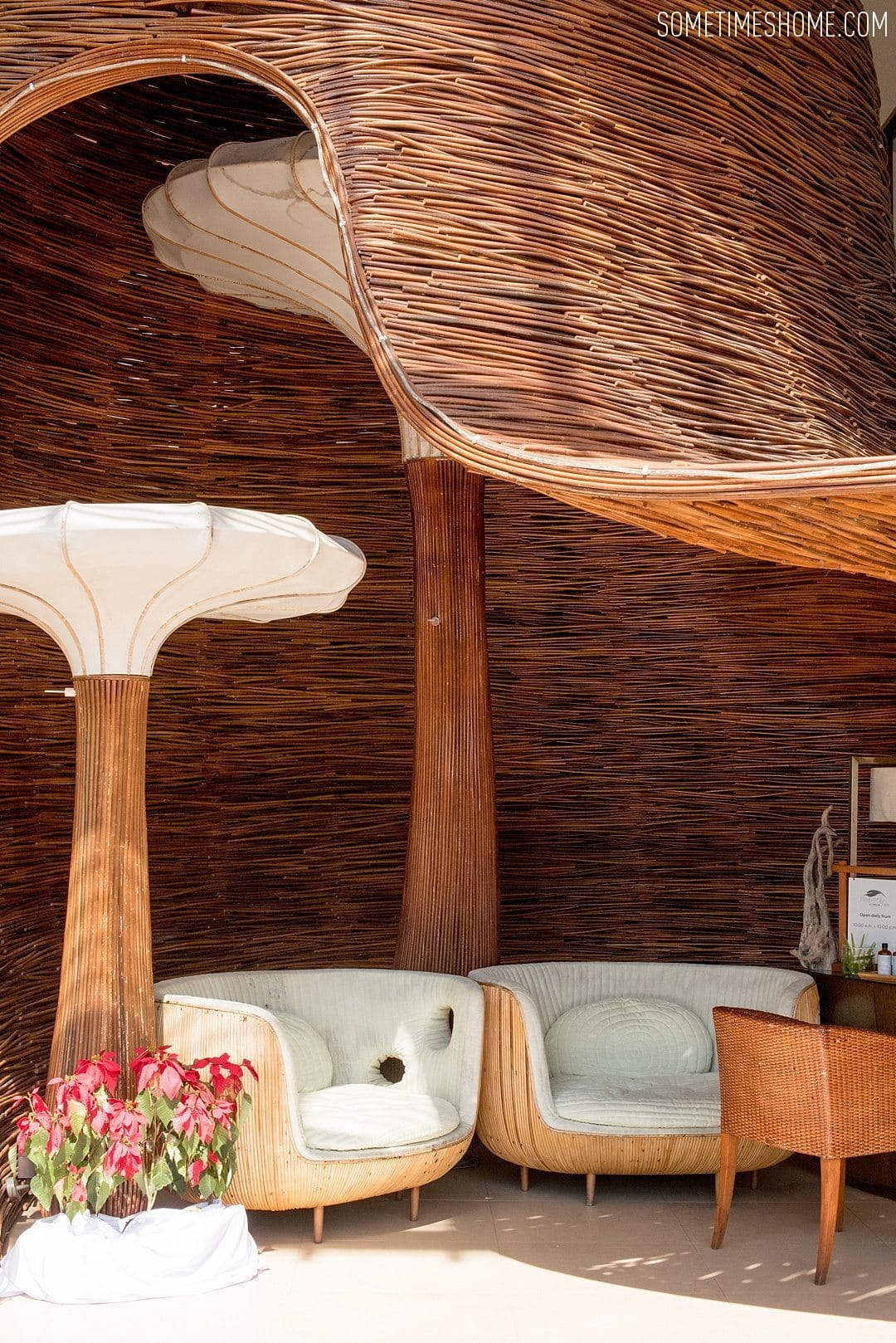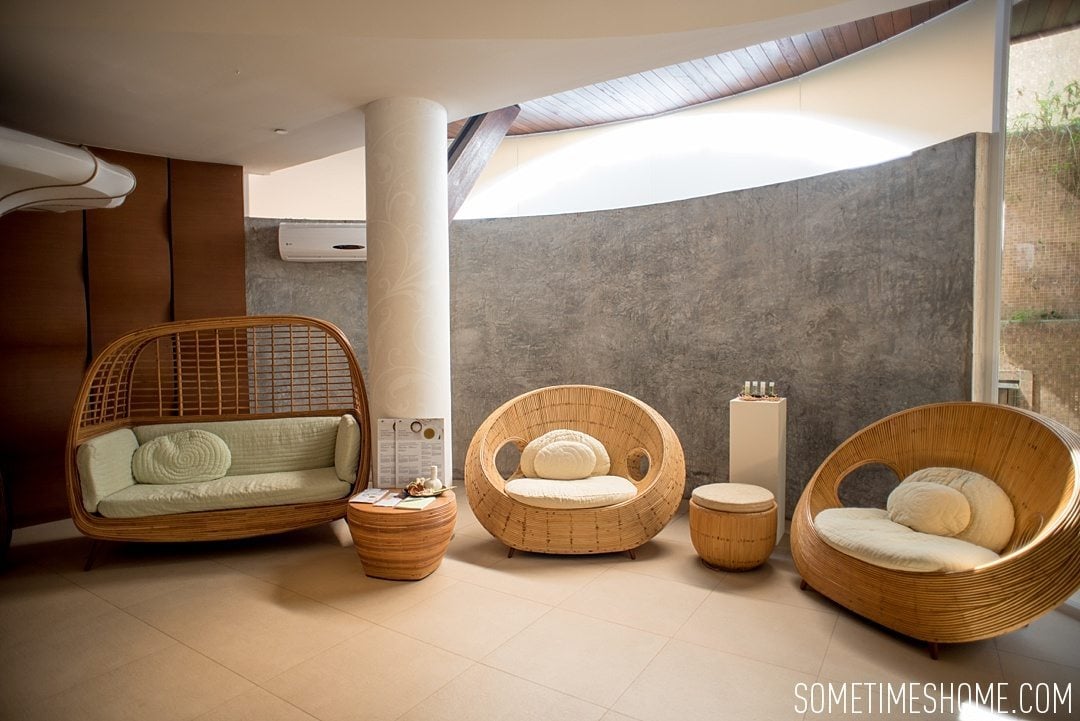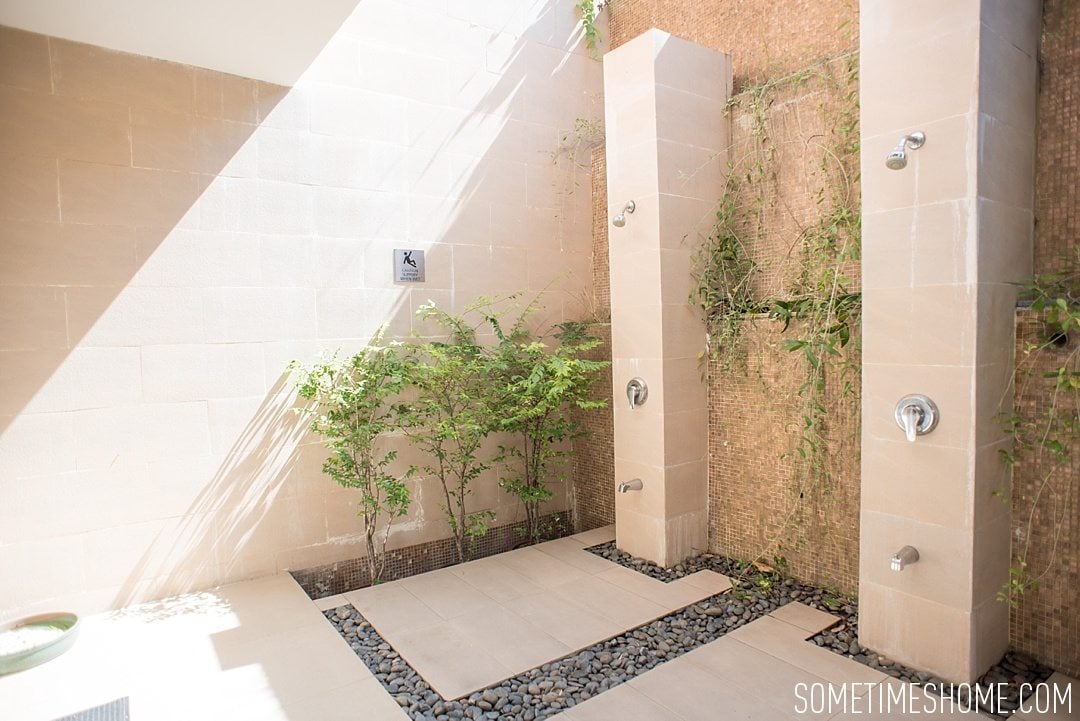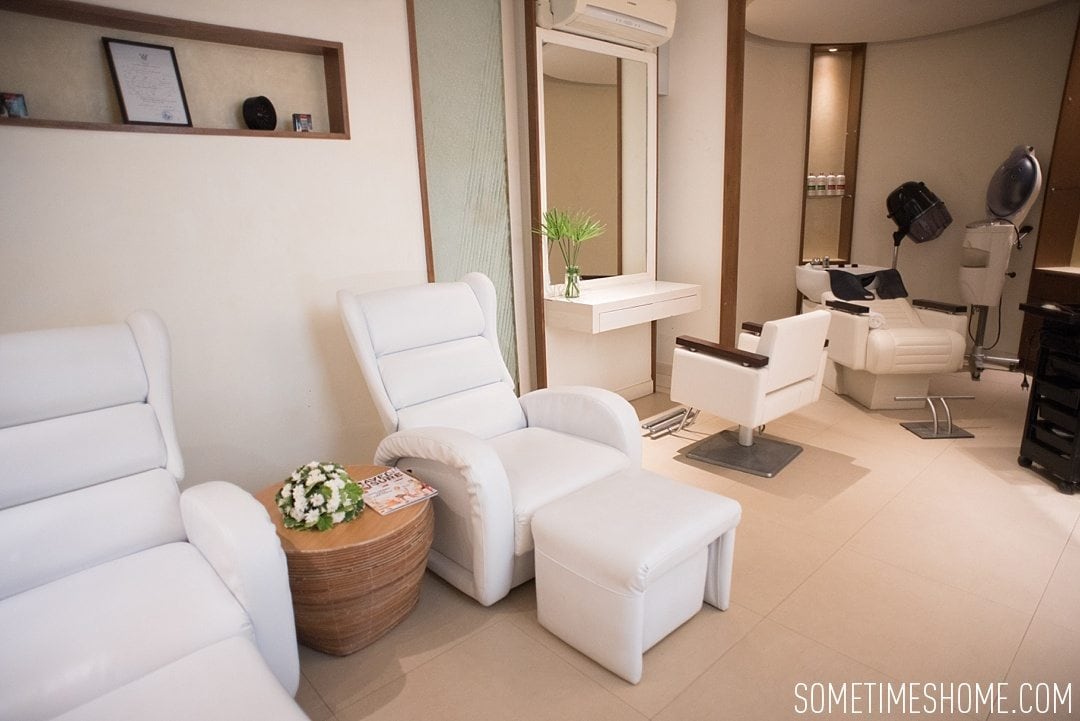 Additional Outdoor Spaces at this Ocean-View Marriott in Phuket
One of the best things about the resort is not leaving to enjoy awe-inspiring views of the water. There are several areas to see the beautiful blue sea outside of your hotel room for a change of scenery.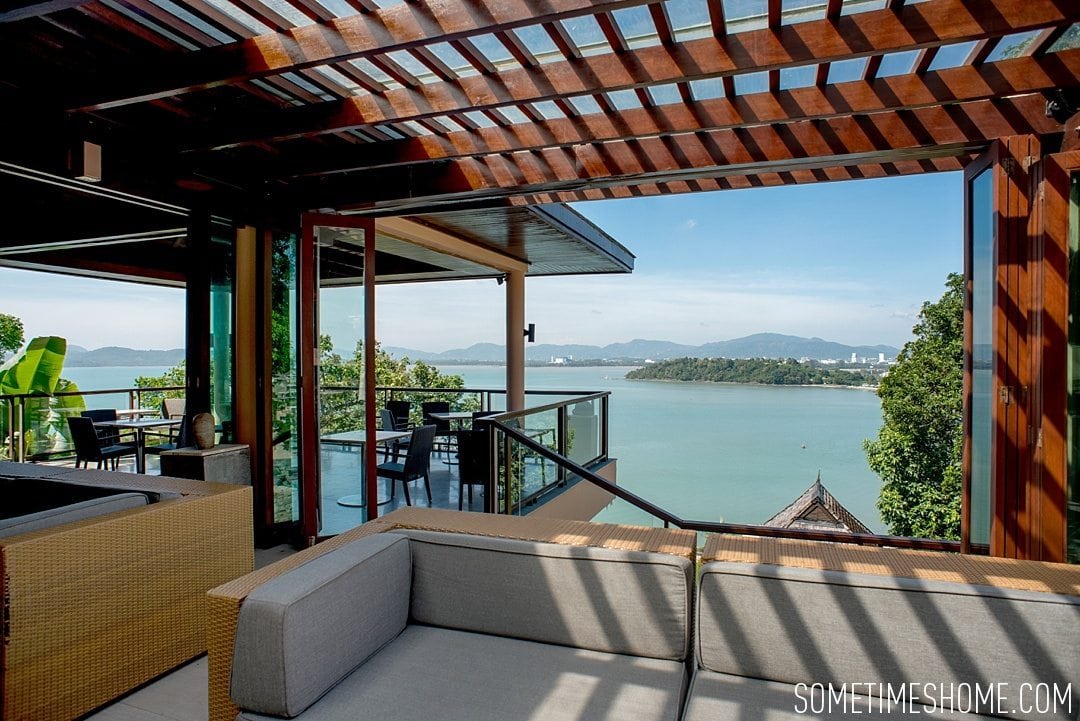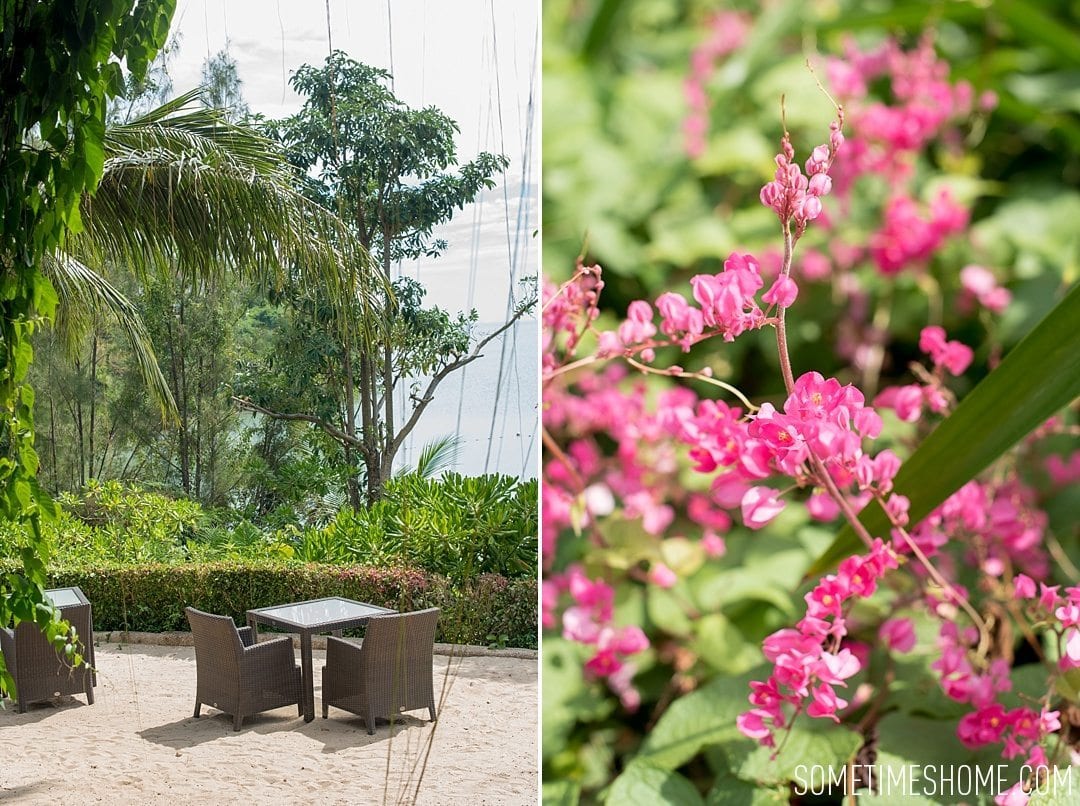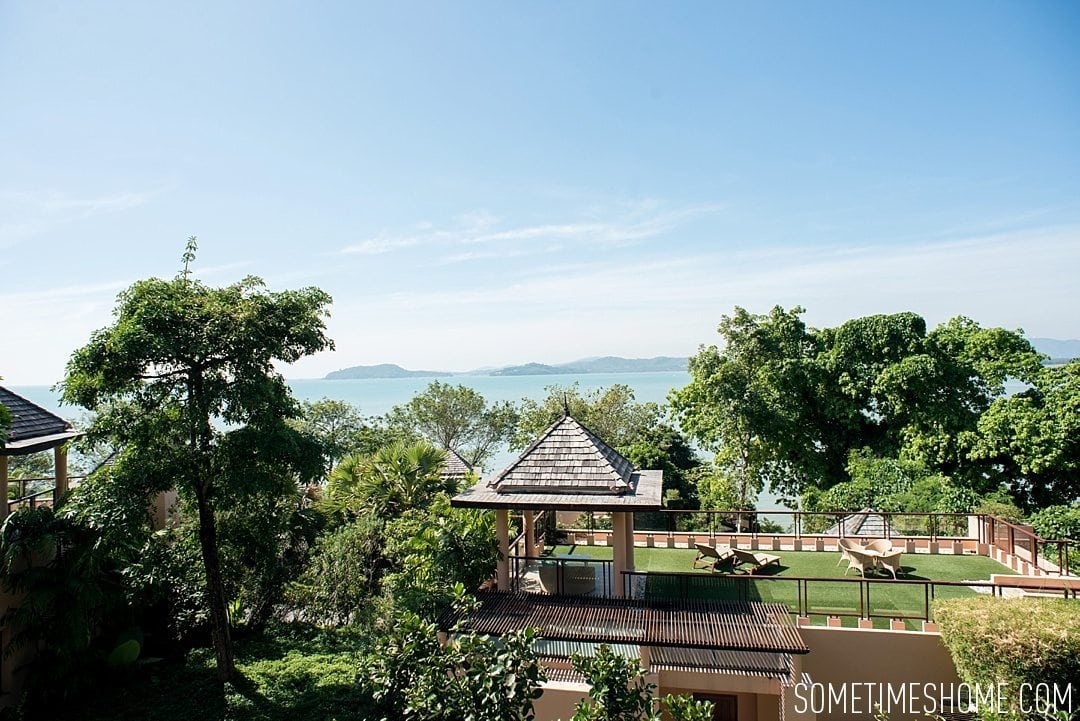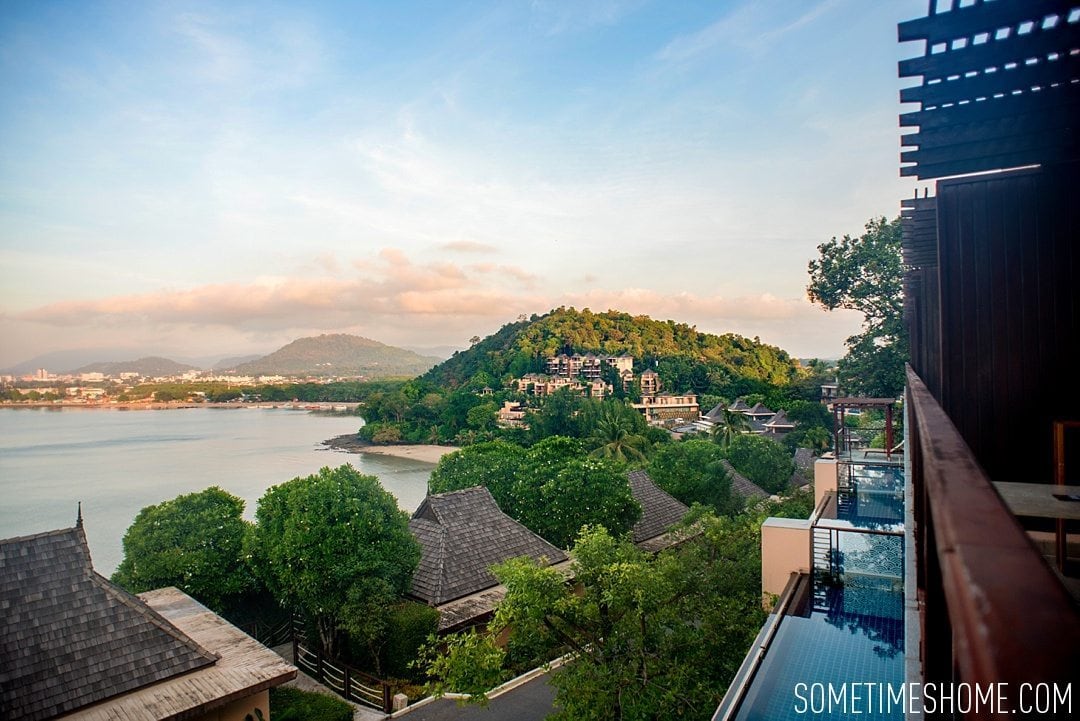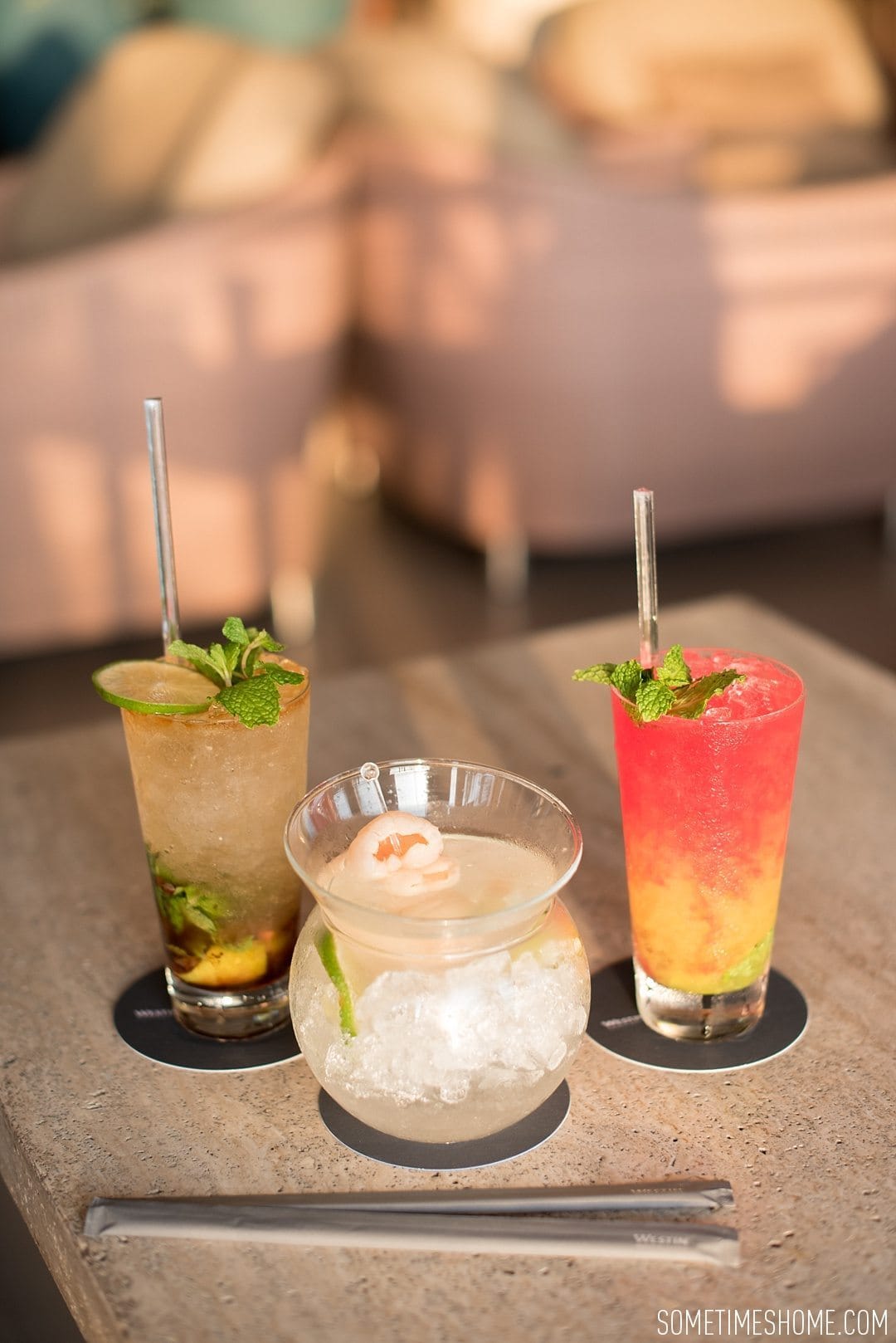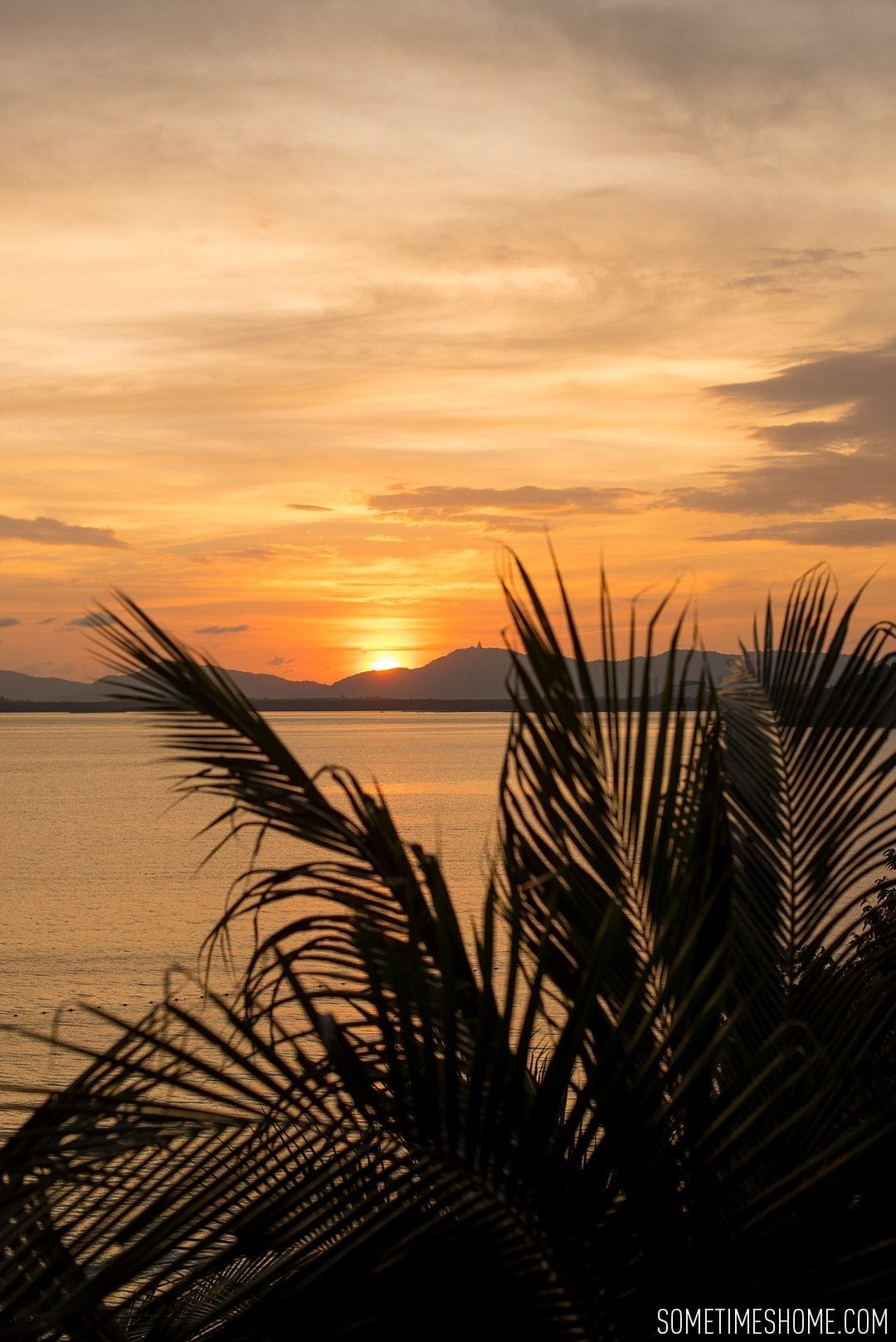 Sunset Cocktails
You must finish your day (at least one, if not every) with cocktails and a view of the sunset in Phuket from Siray Bay's lounge area, MIX Lounge.
We had a Lychee Martini and tried additional tropical concoctions, as Dan and I watched a magical sunset before heading to our evening dinner reservations. If you want to stay on property, we recommend the a la carte Indian cuisine at their restaurant, Seasonal Taste, or heading to Phuket Town for a romantic Phuket dining experience at The Blue Elephant.
Heading to Phuket? Also check out:
Would you get married on the beach or by the pool?