The Best Thing(s) I Ever Ate: Japan + Portugal
Many of the best thing(s) I have ever eaten were not in America. Japan and Portugal top the list and I had seafood at both locations. It's amazing how a meal can really shape memories of a trip, even on our tastebuds.
To be more precise, Lisbon, Portugal, and Miyajima Island, Japan are where I traveled and found these surprising things.
Portugal
My friend and I went to Portugal for three and a half wonderful days on the heels of a bigger European trip we made surrounding a wedding I had in Norway. Another friend, who had previously visited Lisbon, suggested we go to Time Out's mercado. I was fixated on going insisting we make it a priority. Why? I love good food.
We went the day after we arrived…and the next…and the next day too. We went three times in just about two days. And it was fantastic.
Salmon Tartar at the Tartar-ia, in Time Out Lisbon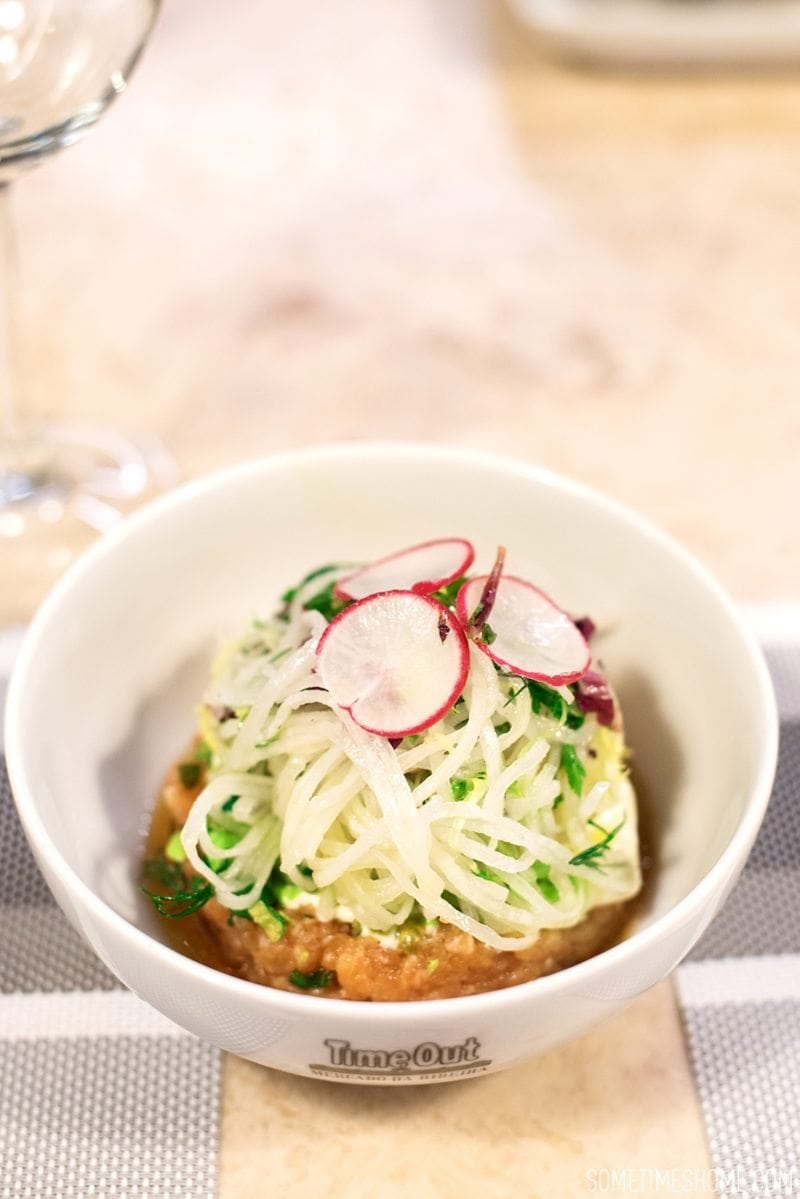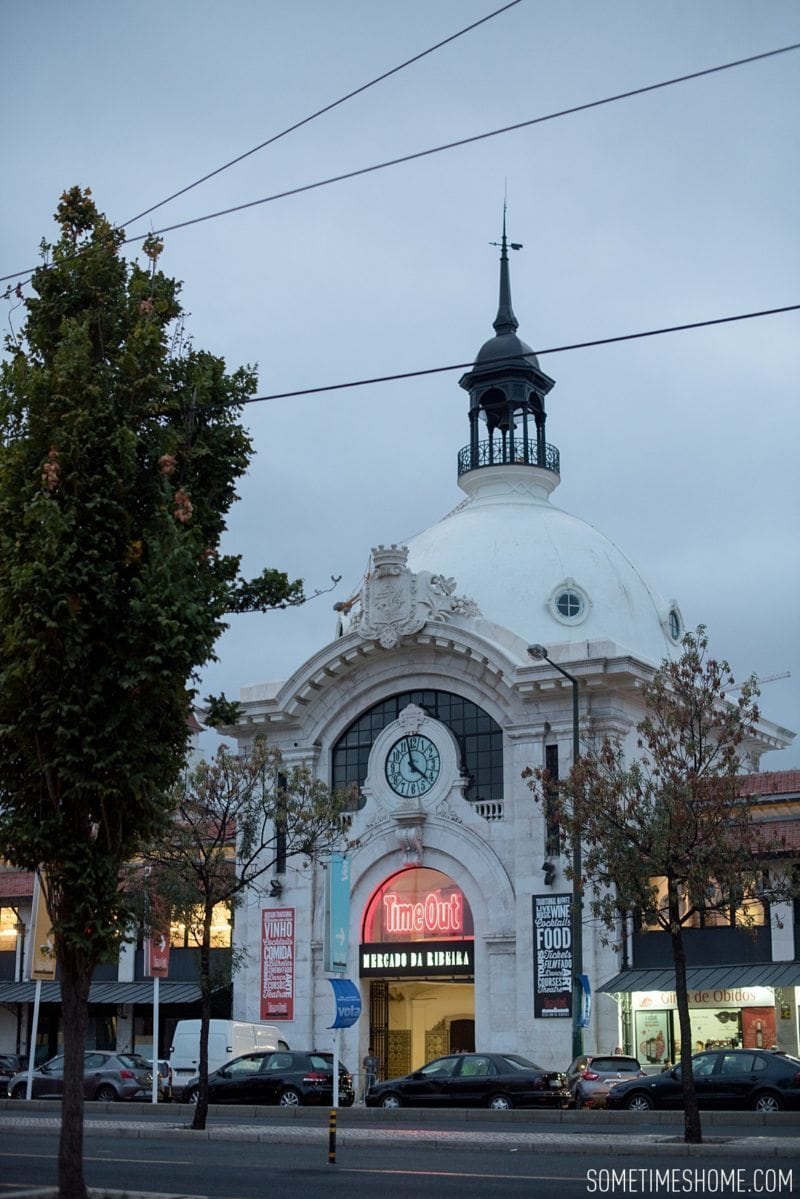 I know what you're thinking: raw fish. Like sushi. How unique. No y'all…you have NO idea. Because we weren't expecting much then it knocked us on our asses. Like…holy shit, it's AMAZING. I would say worth traveling to Lisbon for. We had the tuna tartare the next day and it wasn't as incredible as the salmon, but still impressive. Get the salmon.
I don't even know what was in it besides crack and love. No really though…it had foams and sesame seeds and radishes and cucumbers shredded on top. I saw them use tweezers to place the items just so… And I could taste the love.
I've read up on this and apparently Chef Peter Knogl created this. He has three Michelin Stars and I am not at all surprised. A taste from a three Michelin star rated chef for about $15? Sign me up.
Japan
I had dreamed of going to Miyajima Island ever since I heard its red gate in the water was the inspiration for the Japan Pavilion at Epcot's iconic gate of the same kind in the Seven Seas Lagoon. (If you've been there you know the one!) Thus, the first time I went to Japan I made it a priority to go. Lo and behold, I'd have one of the best things I've ever tasted there. (And at such an affordable price, too.)
Baked Oyster on Miyajima Island
Contrary to our salmon tartar, as far as I know, no one famous created this. Off the coast of south Japan lays an island called Miyajima. It's incredible. It took me about 3.5 hours, one way, to get there from Osaka for the day; it was so worth it. I toured my ass off (as per usual) and visited solo.
Here's the scenery you see as you approach the island on the ferry: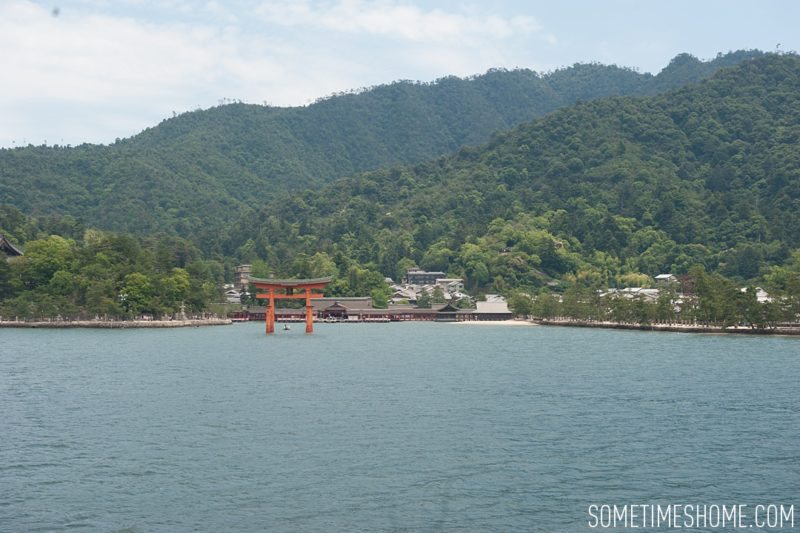 On my way back to the ferry (you take a train, to another train, to a ferry to get to the island) I stopped at an oyster vendor. For about $3 USD I purchased an oyster that looked pretty tasty.
Three Japanese women in their twenties got some before me and I love that they didn't speak English and I didn't speak Japanese but Japanese people are so nice (it's one of the things I love about Japan) we all looked at each other pretty darn excited about the oyster eatin' that was about to go down.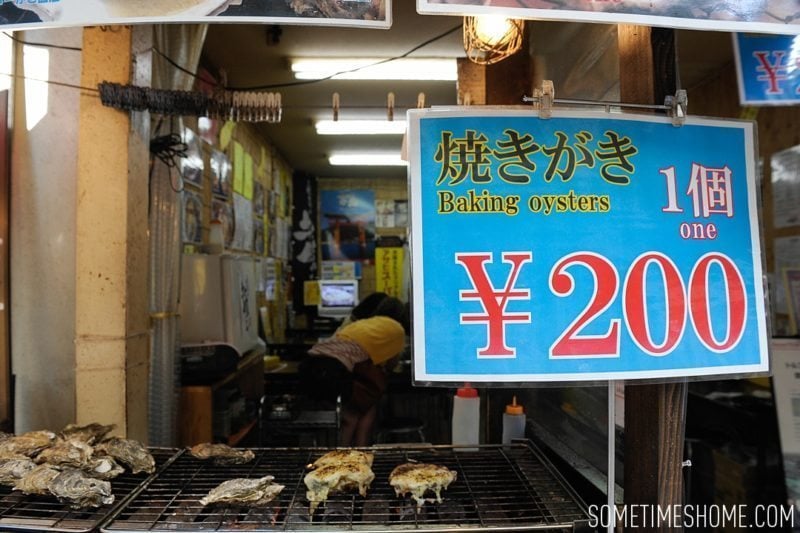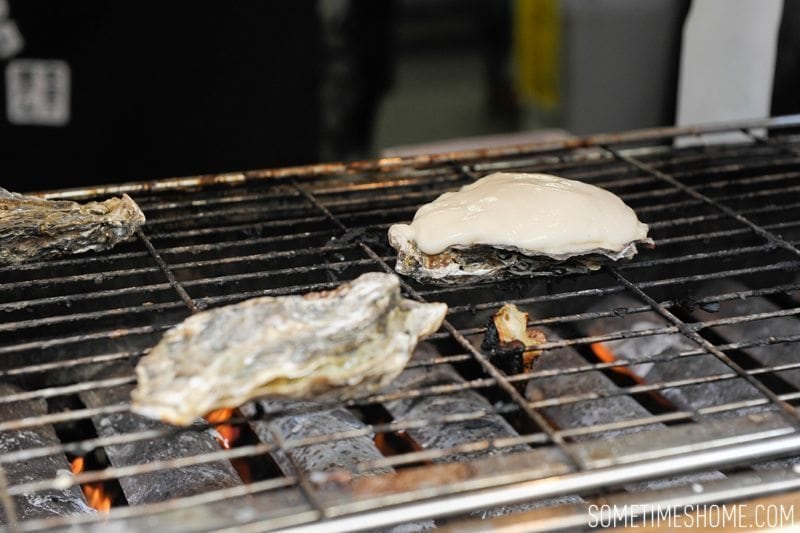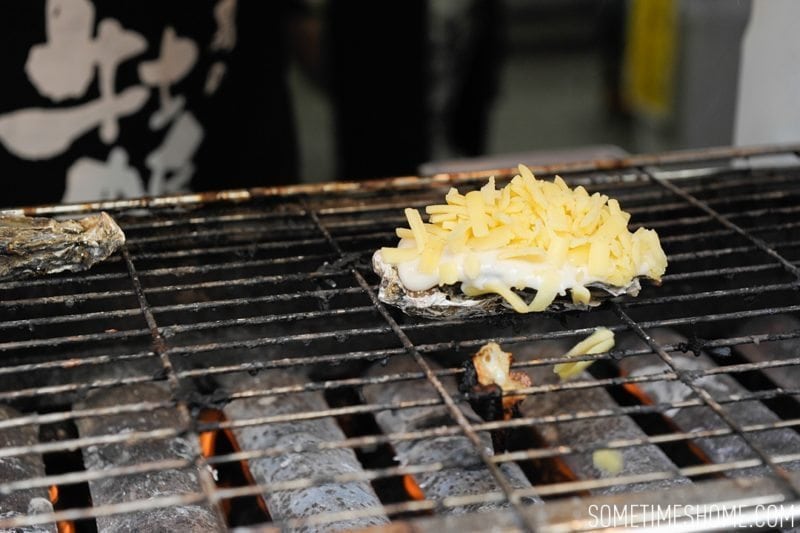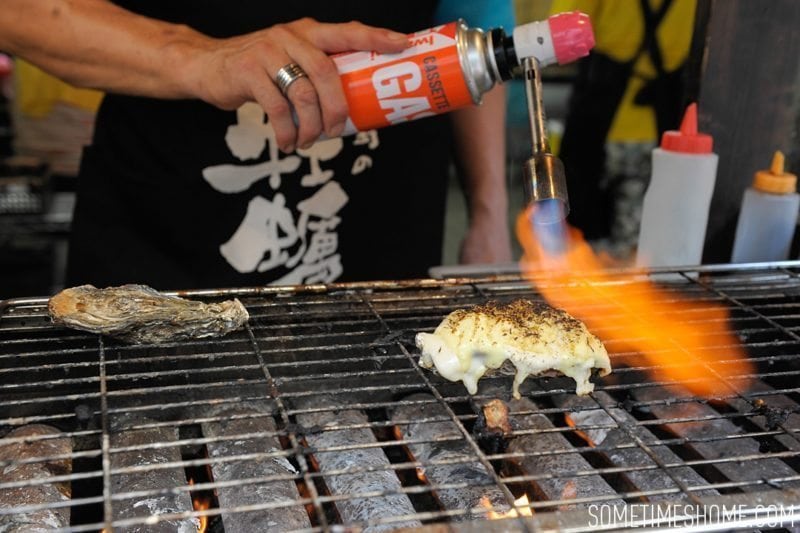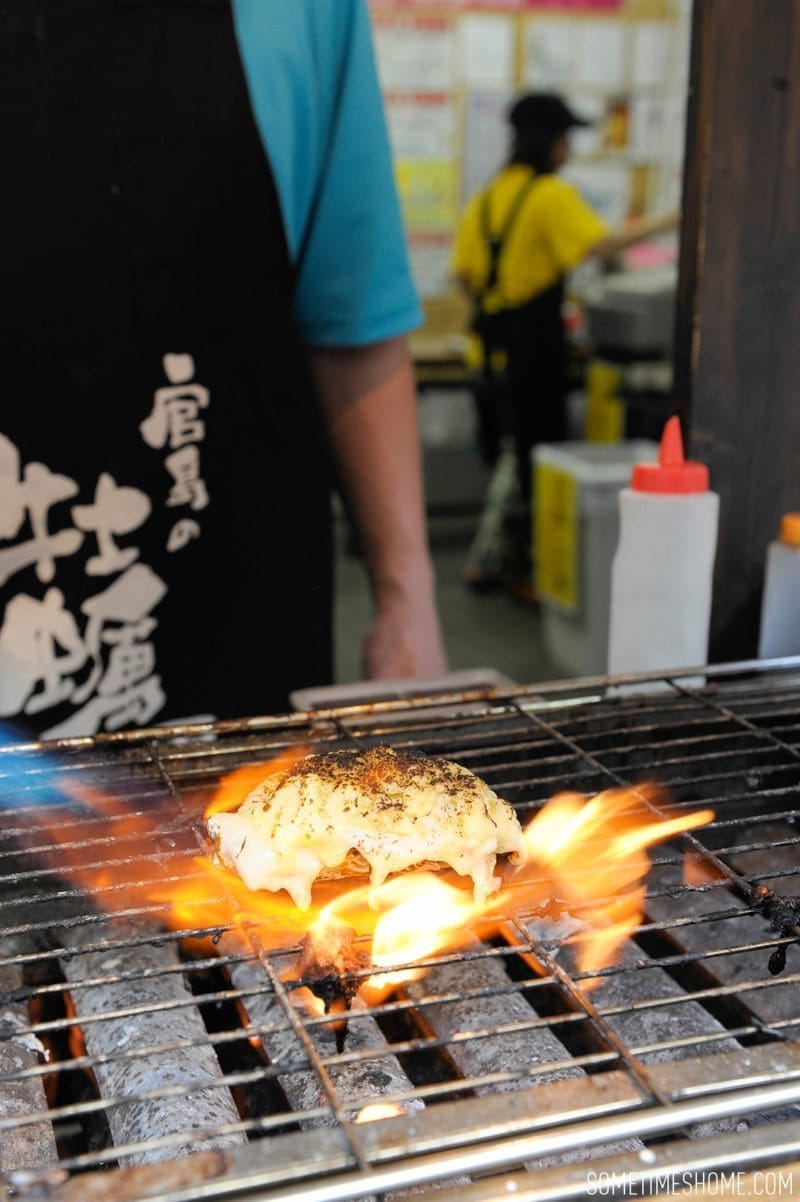 Yes, I tried to display the process in photos! Again, I do not speak Japanese and it's rare to encounter a Japanese person that speaks English. Thus, I can't be sure what was in it. But my best guess is: macaroni, cheese, spices, oyster. FLAMBE. Voila. Sometimes the simplest things in life are the best. It was amazing.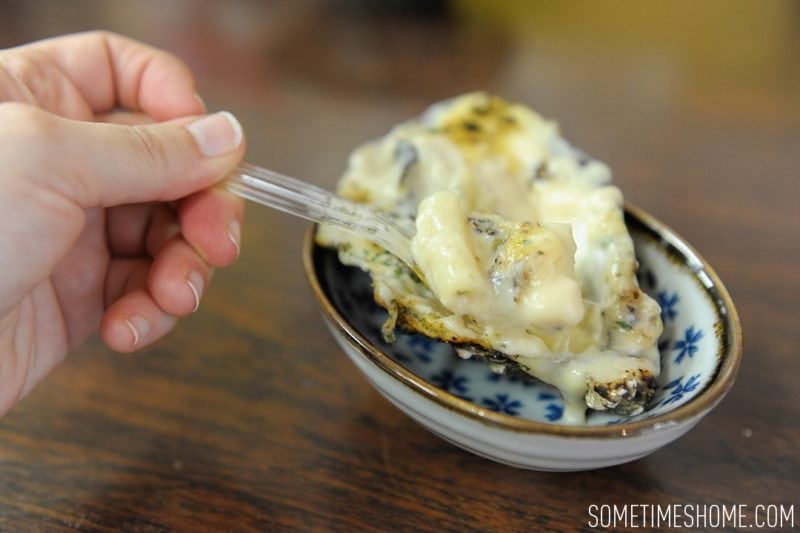 I have to say a close third for the "best thing I ever ate" would be the fresh sushi I got at Tsukiji Market, at Sushi Dai, in Tokyo just a week after my incredible oyster experience. The market's moved but Sushi Dai moved with it and you can still visit!
Posting these things make me think, "WHY didn't I get another one while I was there?!" I suppose it's because it's nice to think I can go back. And if not, I have these great memories to remember it by. Moderation, after all.
Heading to Japan? Also check out:
What's the best thing you ever ate? #willtravelforfood