Best Fort Lauderdale Everglades Tour: Sawgrass Recreation Park Review
Our tour with the highly-rated Sawgrass Recreation Park took us through a portion of Everglades National Park. We were looking for alligators, as most do during these excursions. But the airboat ride and education proved to be the grander experience during our Fort Lauderdale Everglades tour.
We'll take you through what makes Sawgrass Recreation Park the best Fort Lauderdale Everglades tour you can take, what you learn during the tour, how to book tickets, and what else you need to know to prepare for a successful outing.
Please note: We thank Sawgrass Recreational Park for generously hosting us and there are affiliate links in this post, for which we may make a commission if you click through and proceed with a purchase. All the opinions in the post are ours and we bring you genuine content with real facts, photos and thoughts. Always.
🕐 Short on time? No Problem!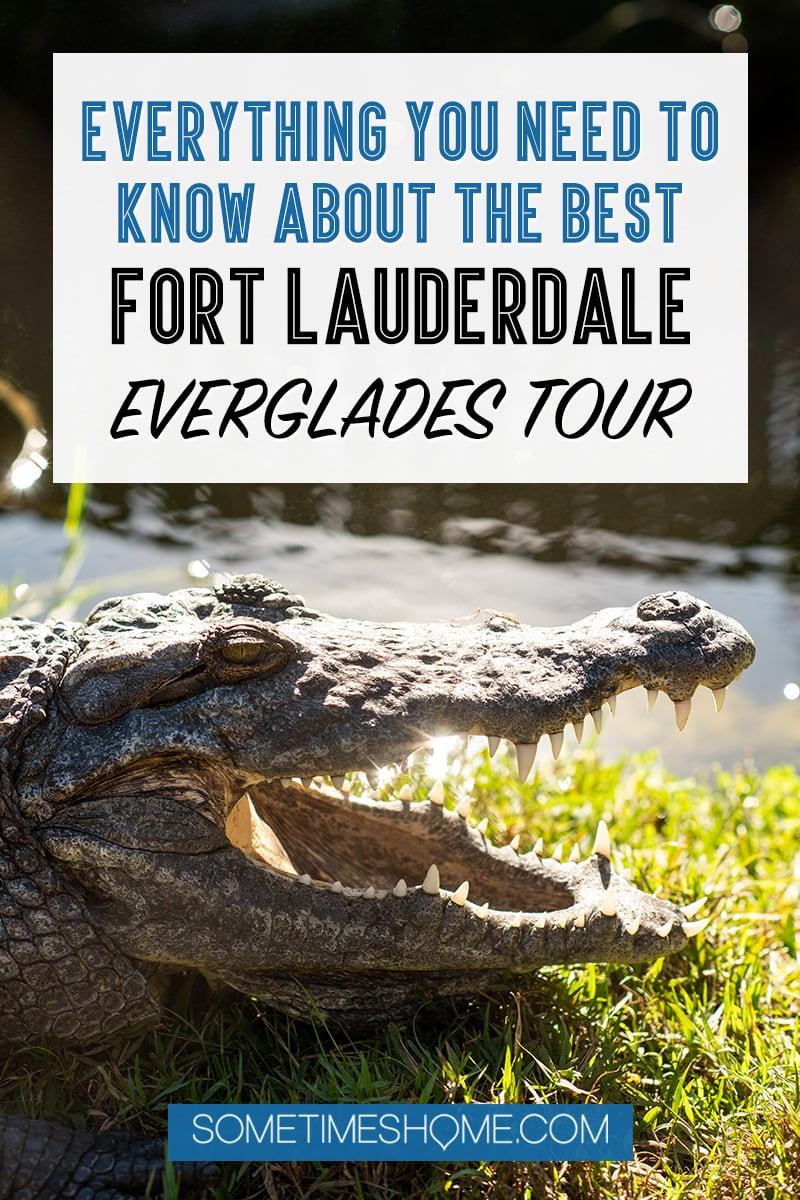 About Sawgrass Recreation Park
Our destination – the Sawgrass Recreation Park area – was a simple 30-minute ride from downtown Fort Lauderdale, or 45 minutes from Delray Beach. We were taken out on the boat by Captain Tim with three other people.
A Family Business
Tim and his family own the business; they bought it in 2005. By that time, it had established a name for itself, first founded as a fishing camp in the mid-1950s. It turned into a one-airboat operation around a decade later, in the 1960s. It was then purchased by another family, which is who Tim's family bought it from.
What struck me about Tim was his passion for nature and Florida, both its history and topography. Though the airboat was very loud when he drove it from one area to the next, he'd often stop for us to look at the wildlife or to talk to us about the Everglades' ecosystem. (Use the ear protection included in your admission to mitigate the noise during the ride.)
➡︎ Space is Limited: Secure your spot on a Florida Everglades Tour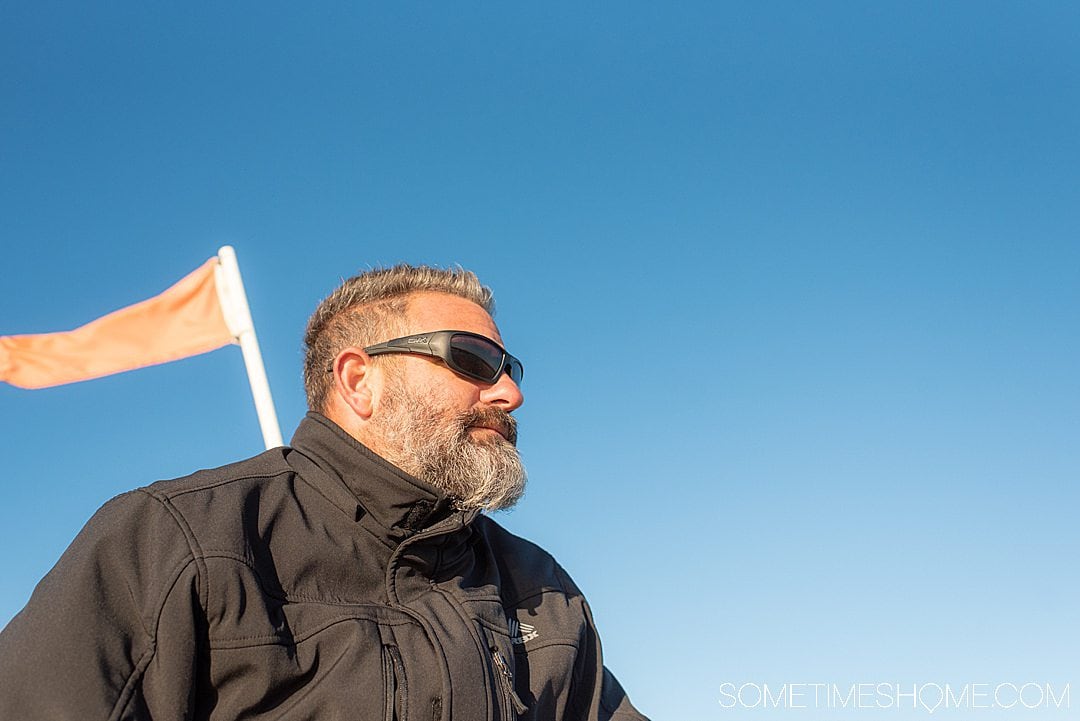 Learning about the Florida Everglades
It was great to learn so much about the area, including tales from Tim's camping stories and stories from countless trips he's taken on the water. We learned that a special airboat license is needed to captain the airboats we were on. It's a license separate and unique from a regular boating license.
We also saw the effect of pollution firsthand during our trip. We all spotted a glistening object in the water as the early morning sun spotlighted its reflection. Tim carefully navigated the boat over to it and stopped.
It was clear it was a deflated, gold mylar balloon. Every time Dan and I see balloons purposely being released into the sky, we cringe, knowing "what goes up must come down." The balloons harm the water and its creatures, including sea turtles, alligators, birds, and more.
We knew it was important to photograph and show here. He said it's not uncommon that he has to take unnatural things out of the water on a trip. (Let's all be a part of the solution, like Tim, not the problem!)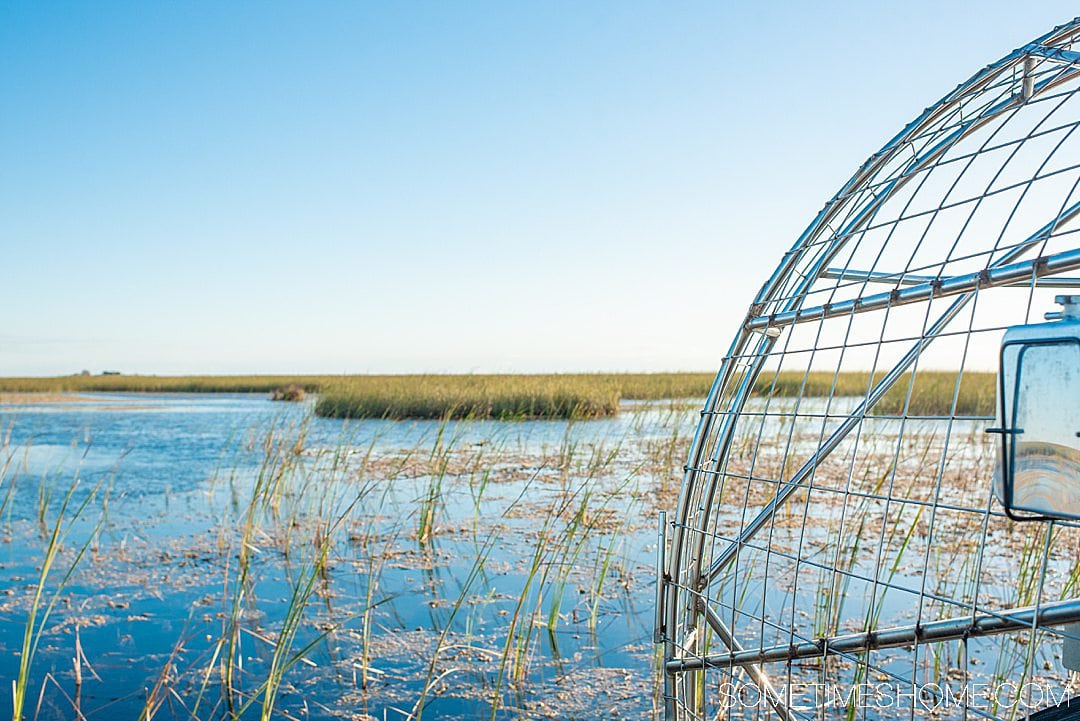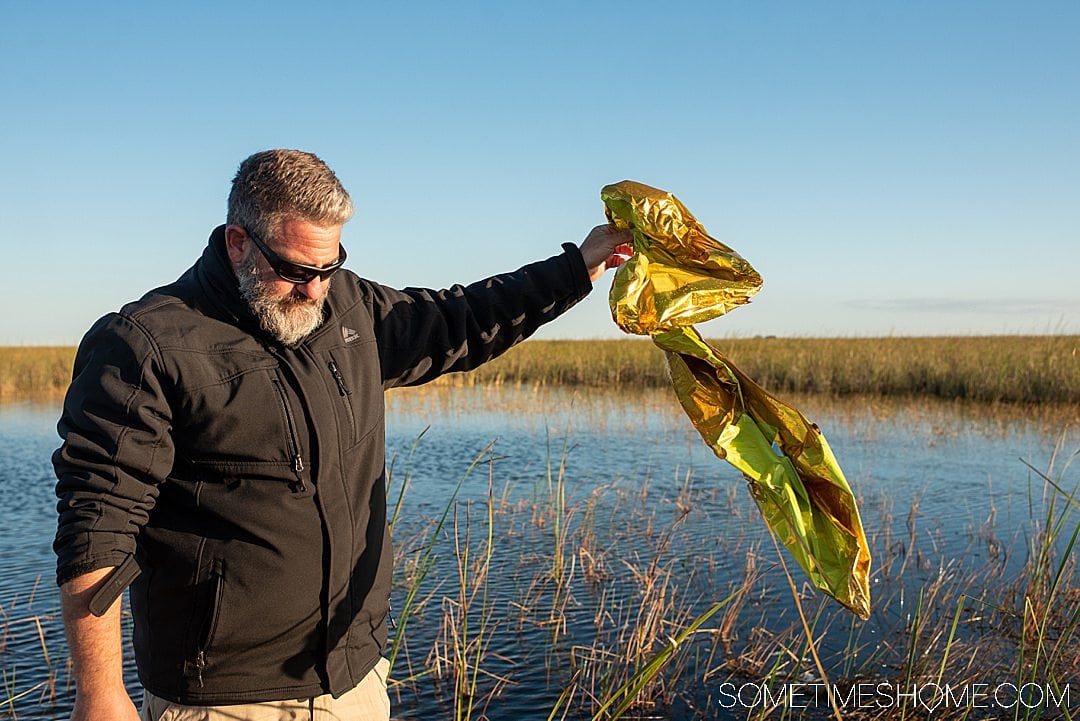 Quick, Fun Facts about Everglades National Park
Here are some interesting and unique facts about Everglades National Park. Many of them were discovered through the NPS site:
Everglades National Park was designated as a United States National Park back in 1934. It was officially established under President Truman in 1947.
Its 1.54M acres of land spans from Central Florida to the southern tip of the state.
It was declared a UNESCO World Heritage Site in 1979, with its human-inhabited history spanning 2,000 years.
Along with Dry Tortugas National Park, it was jointly declared an International Biosphere Reserve in 1976.
Rainy/hurricane season is May through September (aka mosquito season!). This means the "dry season" is during fall, winter, and part of spring.
It's the only subtropical reserve in North America.
The Everglades has the largest mangrove ecosystem in the western hemisphere.
It's home to thirteen threatened and endangered species, including the Florida Panther, West Indian Manatee, and the American Crocodile.
Everglades National Park is the only place where alligators and crocodiles coexist in the wild.
All these things combined are why it's unlike any other National Park we've ever visited. It doesn't have the romance of mountains and bears like Yellowstone National Park, perhaps. But it has something uniquely its own.
This quote, by Charles W. Tebeau from the 1968 publication of Man in the Everglades: 2000 Years of Human History in the Everglades National Park, says it best:
"Everglades National Park is at once a limited and vast sampling of a region full of contrast…. This park, which is chiefly of biological interest, requires a different perspective on the part of the visitor."
Extend Your Everglades National Park Experience
Head over to Everglades City if you want to extend your adults-only experience of Everglades National Park. This small fishing village is the western gateway to the Everglades. It's about an hour and 15 minutes southwest of where Sawgrass Recreation Park is located; it is a city known for great fishing and stone crabs.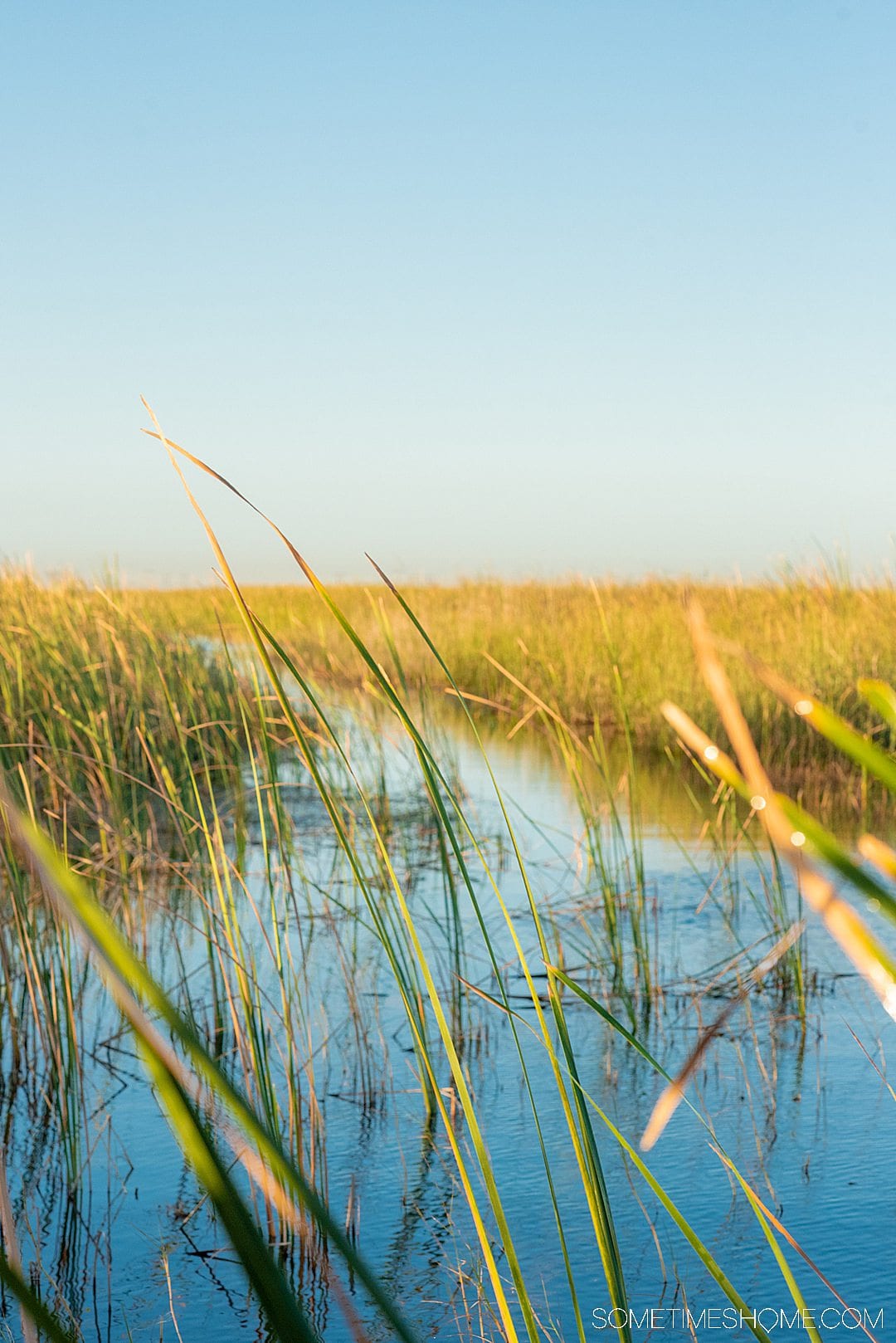 Tour Options, Hours, and Peak Times at Sawgrass Recreation Park
Tour Options for Your Florida Everglades Tour at Sawgrass
There are three main options:
General Admission tour: 25 to 30 guests (max) in a larger airboat. The cost is just under $25 per adult and includes ear protection. These tickets are usually available on the spot. While reservations in advance are never a bad idea, it's not particularly necessary.
Private tour: Though private tours can accommodate up to 19 guests, we recommend staying around six people or less for increased comfort and experience. **These tours are limited and likely to sell out. Book now.** Depending on the booking, private tours last for 30, 60, 90, or 120 minutes. It is recommended to book these in advance since the number of airboat operators able to do these private tours at Sawgrass Recreation Park is limited.
Packages: 1) Adventure Package, including 30-minute airboat tour admission, a bottle of water, ear protection (it gets loud on the water!), photo keychain, exhibit entrance, and a T-shirt of choice. $50/adult, $30/child 2) Deluxe Adventure Package, which includes everything from the adventure package, plus a gator tooth, a $15 credit to the onsite Gator Grill, and a pocket of gems for the Sawgrass Mining Co. experience on-site. $75/adult, $55/child
➡︎ Don't miss out on your preferred dates: Book this ⭐️ 5-star ⭐️ Florida Everglades Tour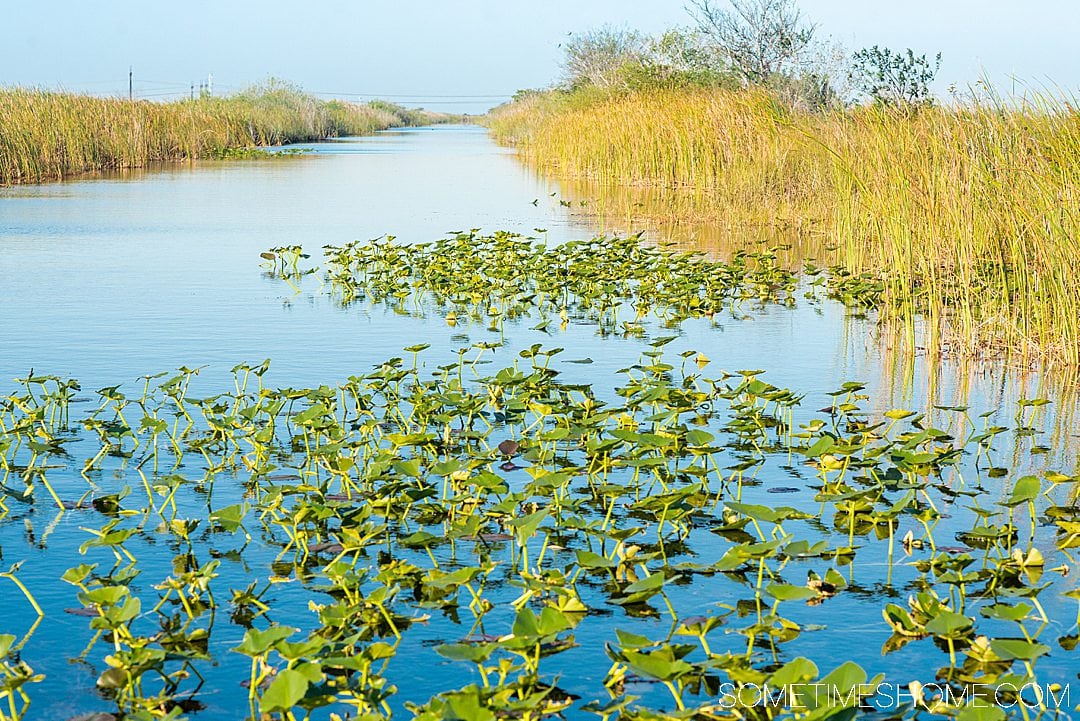 They also have:
Florida Resident Annual Pass.
Gator Nights (nighttime ride Wednesdays and Saturdays).
"Red Eye" private airboat tours at night for 60 minutes. Though you can arrive during business hours until 5:00pm to book one (and take advantage of the exhibits during that time), reservations in advance are recommended.
Note: if you purchase a Miami Go City Card, complimentary admission to their park and a General Admission tour is included.
Hours of Operation and Peak Times
Sawgrass Recreation Park is open daily from 9:30 am to 5:00 pm.
Airboats leave every 20 to 30 minutes between opening and 3:30 pm. Arrive by 4:o0pm, even for the last tour of the day at 5:00 pm. The exhibits close at 5:00pm as well.
Their dining options are open from 10:00 am to 3:30 pm.
We were surprised to learn December's Christmas week is their busiest time of year. However, given it's also peak time for those living in cold climates to visit Florida, it makes sense!
They're closed on major holidays:
Thanksgiving Day
Company holiday party (varies by year, yet usually in December, so check their hours for more information)
December 24
December 25 (Christmas)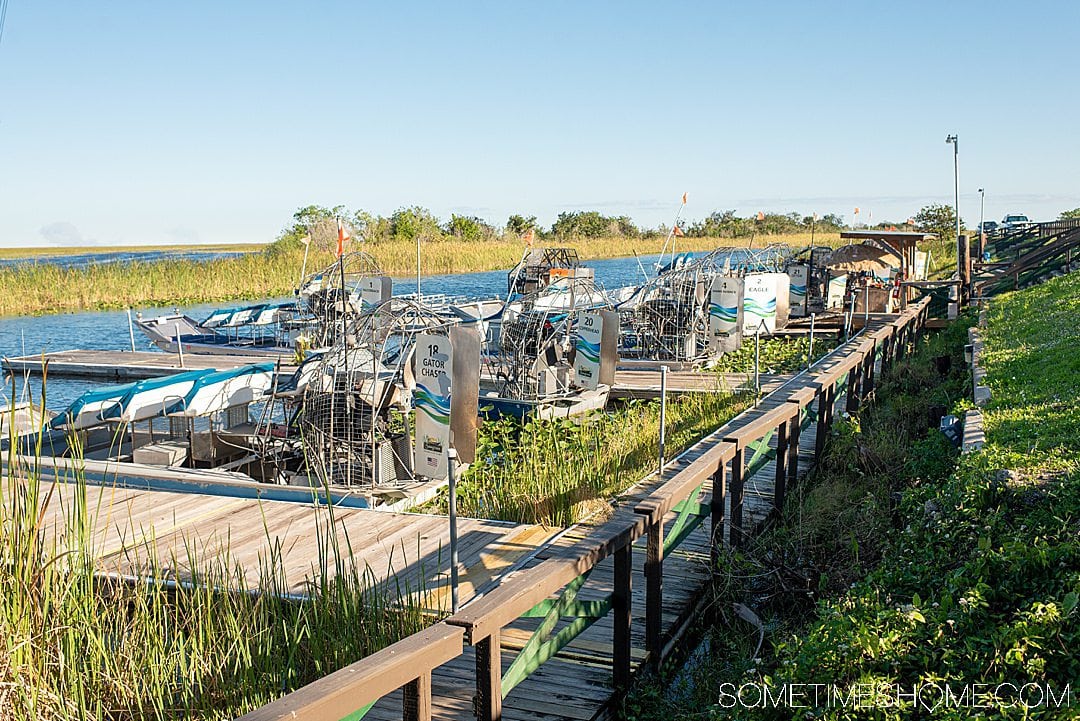 A Half-Day Trip from the Port of Miami and Fort Lauderdale Cruise Terminal
This is a great activity to sign up for if you're going on a cruise from the Port of Fort Lauderdale or Port of Miami. Don't have a car? No problem! There are services you can book that include transportation and admission to Sawgrass Recreation Park. Here are two options we know of:
Prestige Transportation: minimum of two people, about $40 per person. Includes roundtrip transportation to and from Fort Lauderdale city limits, whether you're at a hotel, the airport, or cruise port, admission to Everglades airboat park, a 30-minute airboat ride, and 30 minutes with the reptiles and wildlife. Available from 10:30 am to 4:30 pm
KSA Transportation: for groups as well
Everglades Excursions: for groups of 10 or more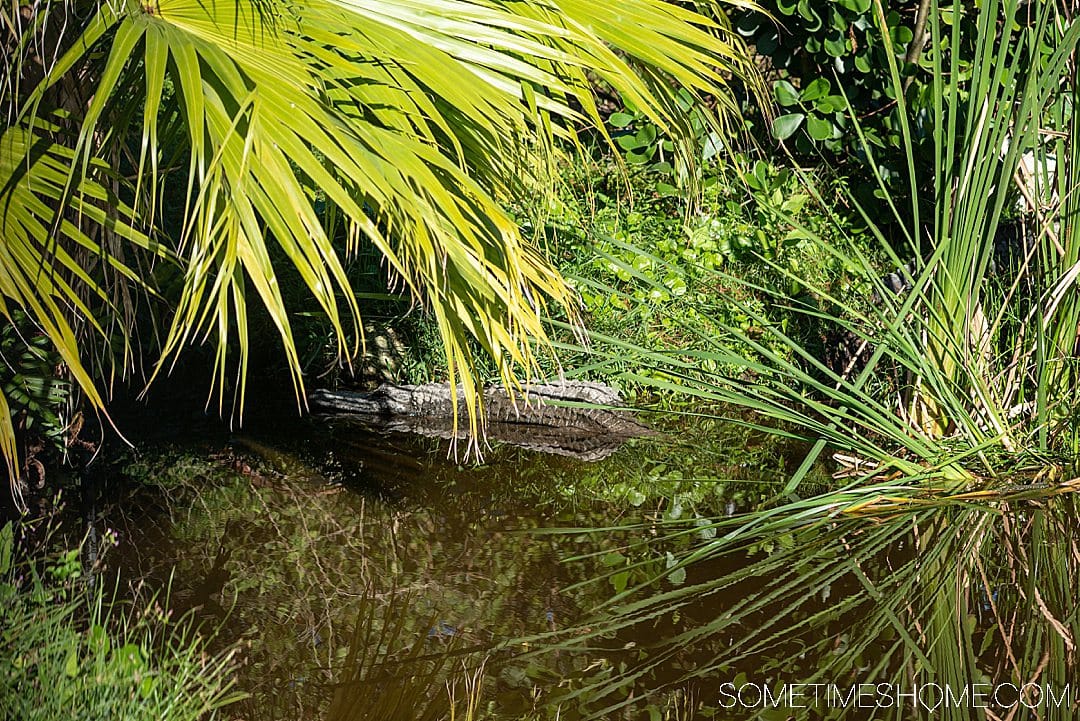 Wildlife We Saw During Our Fort Lauderdale Everglades Tour
There's a misconception the main goal of an airboat excursion is to see crocodiles and alligators in the water. However, seeing them should be considered the icing on the cake, as there is so much more to appreciate on your journey.
Candidly, we went out in the morning during one of the coldest times on the coldest days of the winter to that point. And we didn't see any reptiles that weren't a part of the Sawgrass Recreation Park exhibits. This is very unlikely to occur, but it does once in a while.
Tim shared that alligators like to enjoy the banks of the wetlands in warm weather, staying under the water when it's really cold. That being said, even without seeing reptiles in the "wild," we had a blast and saw other animals.
There are many birds, including Osprey, Egrets, Black-necked Stilts, and Tricolored Herons. And did you know Florida Panthers live in the Everglades? It's probably incredibly rare to see one, but hey…not impossible! We learned about periphyton too, which was equally as interesting. It's an organism that coats a lot of the plant life in the water and, as Tim described it, is the building block of the food chain in the Everglades.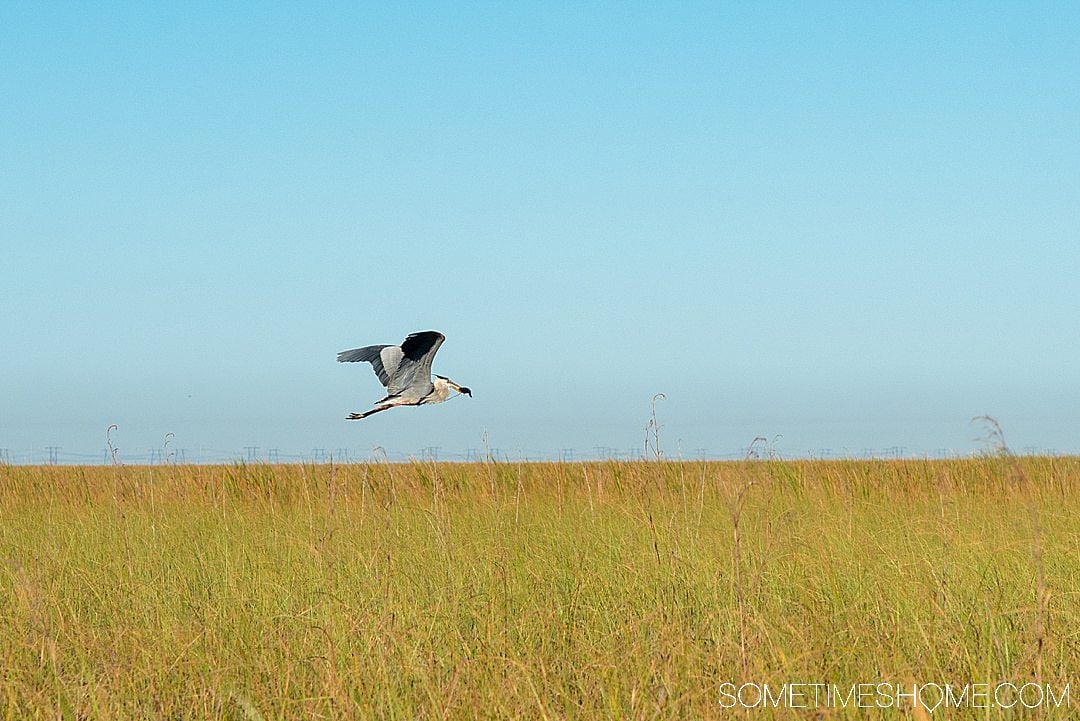 It's More than an Airboat Ride
There is so much more to Sawgrass Recreation Park than simply airboat tours. You can easily spend over three hours there, between checking in at the gift shop, the airboat tour, eating lunch, and exploring the exhibits.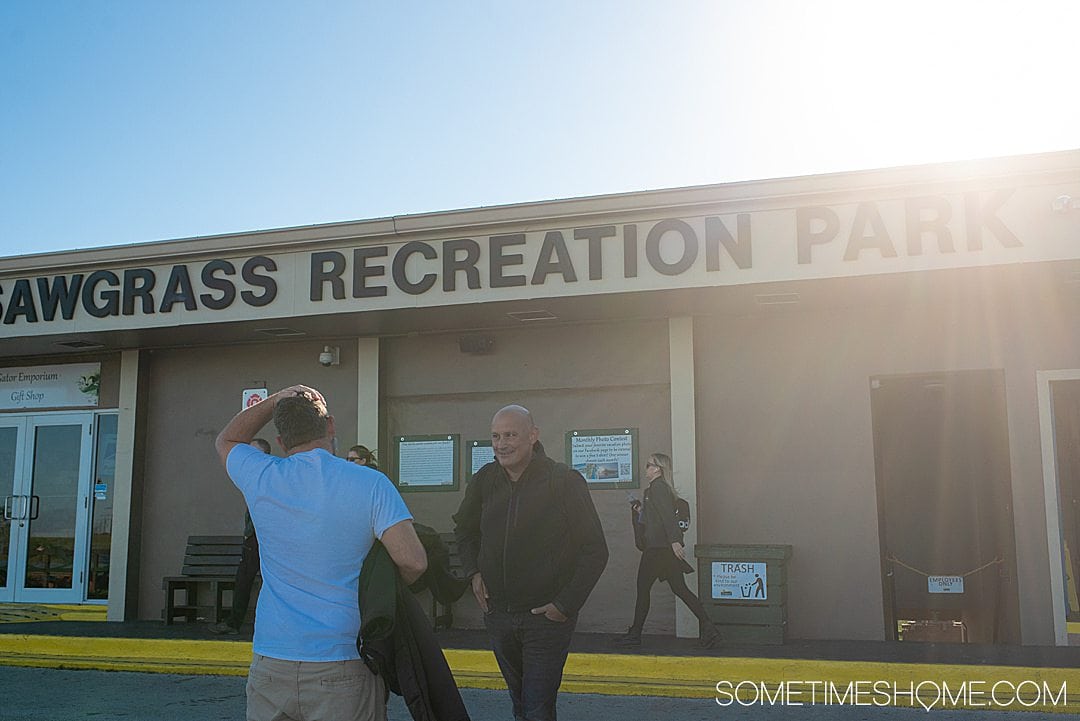 Food at Sawgrass Recreation Park
We had gator bites from the Gator Grill after our tour (whose meat is from a gator farm, not directly from the Everglades). We sat at picnic tables in a lovely area that was set up for enjoying food on the premises, with cute umbrellas everywhere.
They also have menu items like hamburgers, pulled pork sandwiches, and hot dogs. If you're in the mood for an ice cream sundae, funnel cake, smoothie or coffee, try something from their Sweet Tooth Cafe.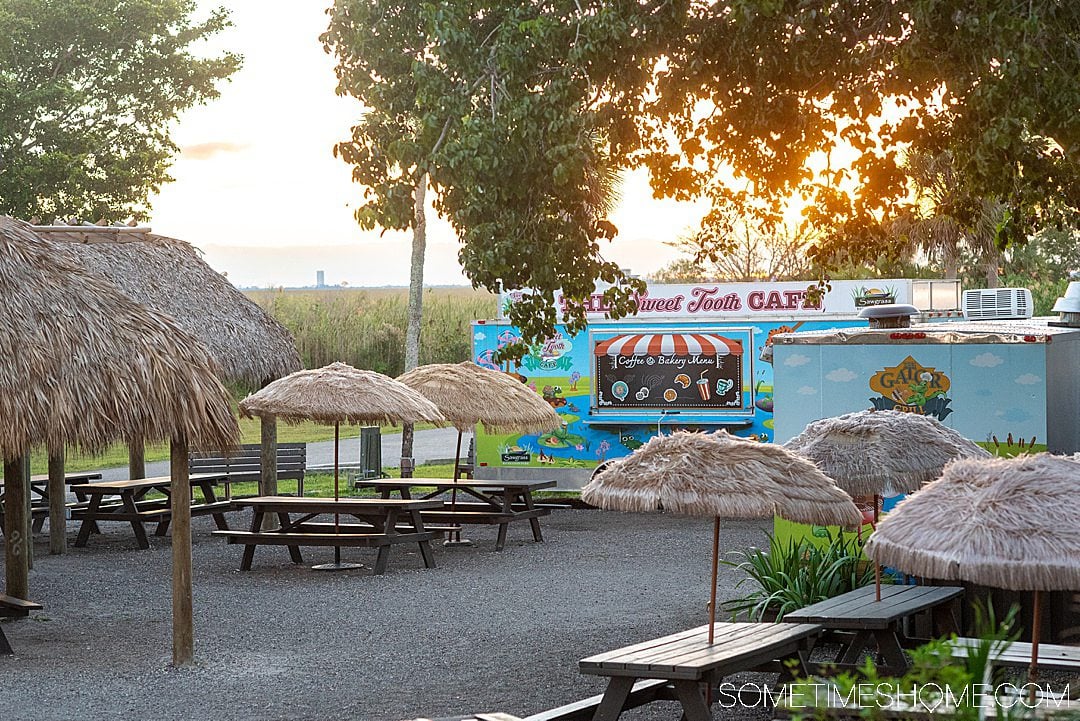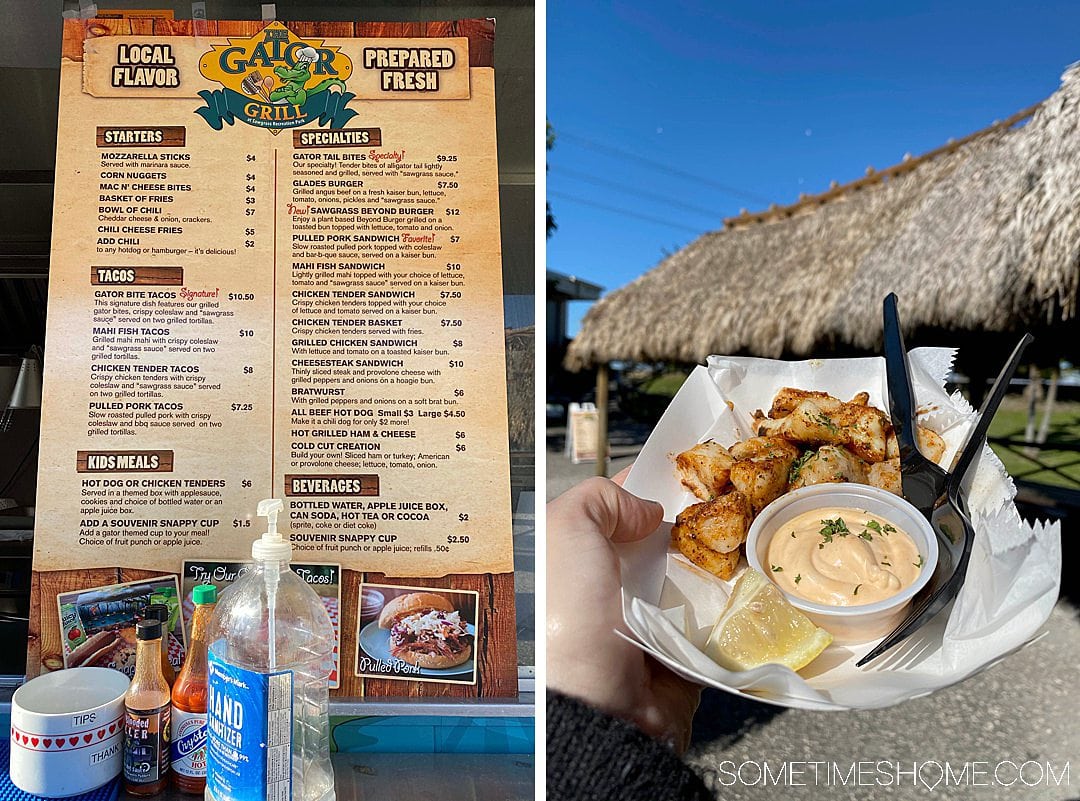 Exhibits at Sawgrass
Admission to the exhibits is included with all tickets. Don't forget they close at 5:00pm.
Reptiles Exhibit
We headed over to the Reptile Exhibit area to gaze at their gators in habitats while we digested. (These reptiles have all been either rescued, adopted or donated to the park over the years, as the "How did the exhibit animals join our family?" sign indicates). I put my fears of being incredibly close to gators aside to hold a two-year-old alligator, whose teeth and force are probably stronger than I imagine!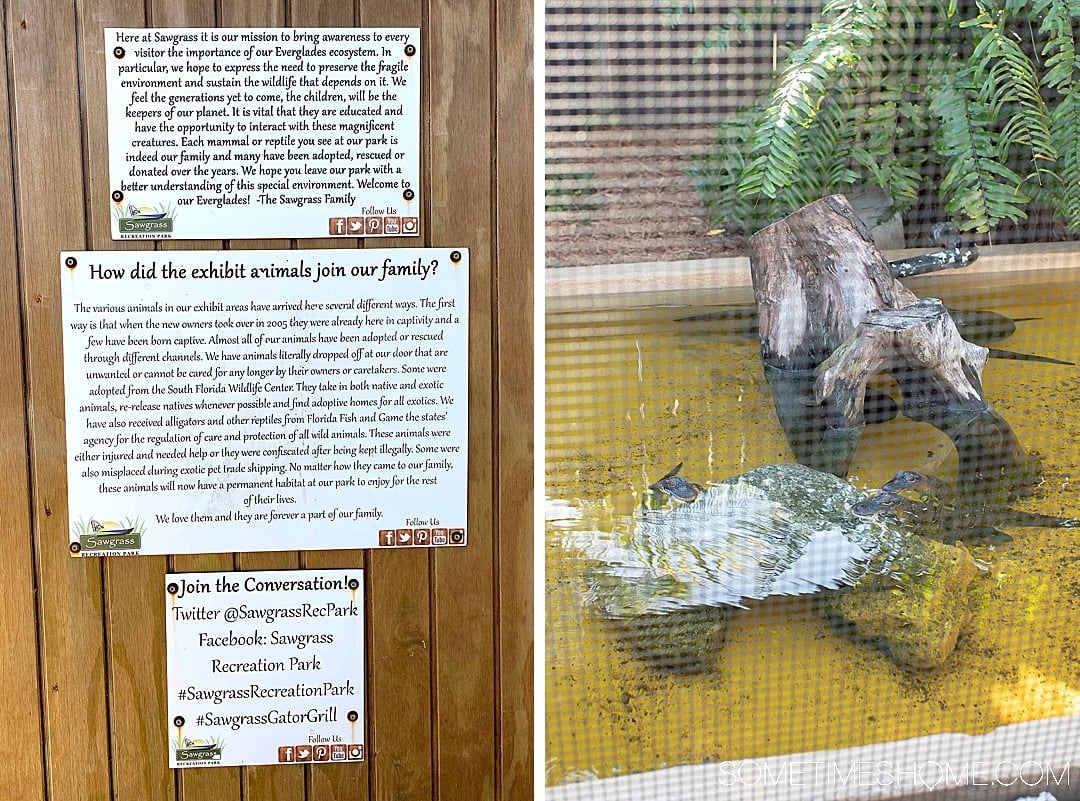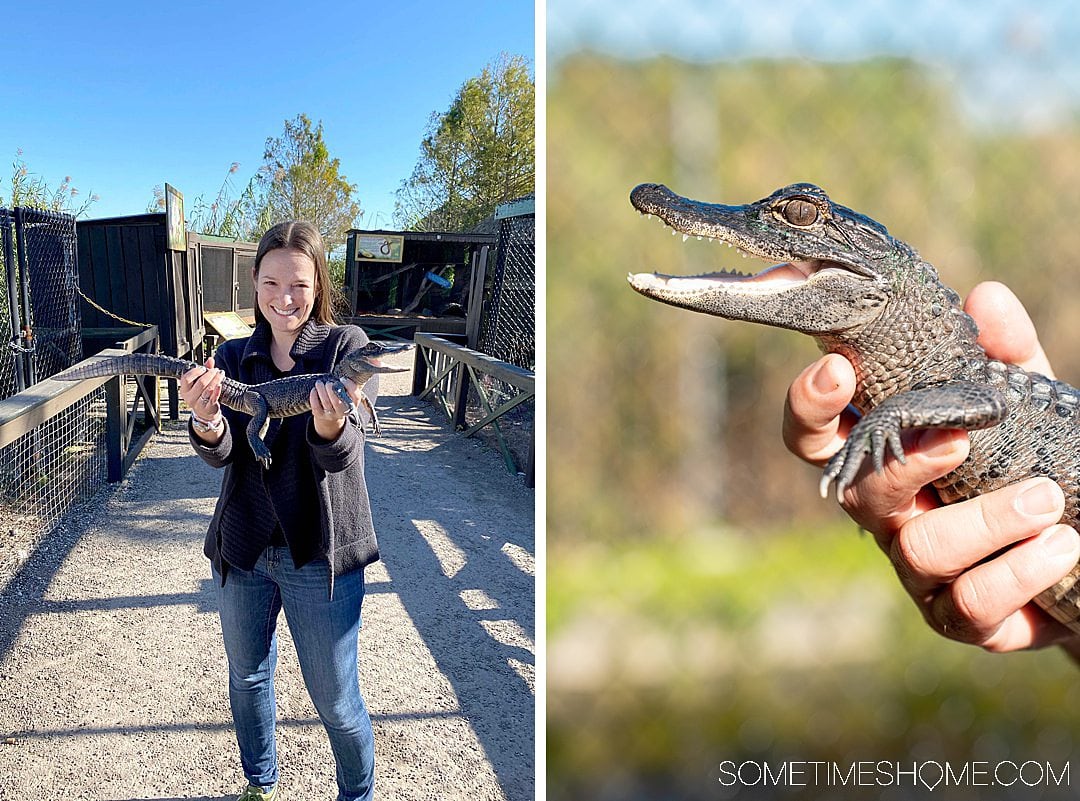 Glades Exhibit and Gem Mining
The Glades Exhibit includes tortoises, iguanas and peacocks. It also helps educate about the history of the Everglades and has gem mining!
I may be an exception but even as an adult I get a kick out of sifting through dirt to find gems. It's an activity aimed at children who visit but if you're a kid at heart I say go for it. It operates during normal exhibit hours and you can buy a bag of "rough" on the spot. Prices vary slightly from around $6 to $12, depending on the bag you want to buy to sift through, either for semi-precious gems (like Jasper, Quartz and Tiger Eye) or another bag option for shark teeth.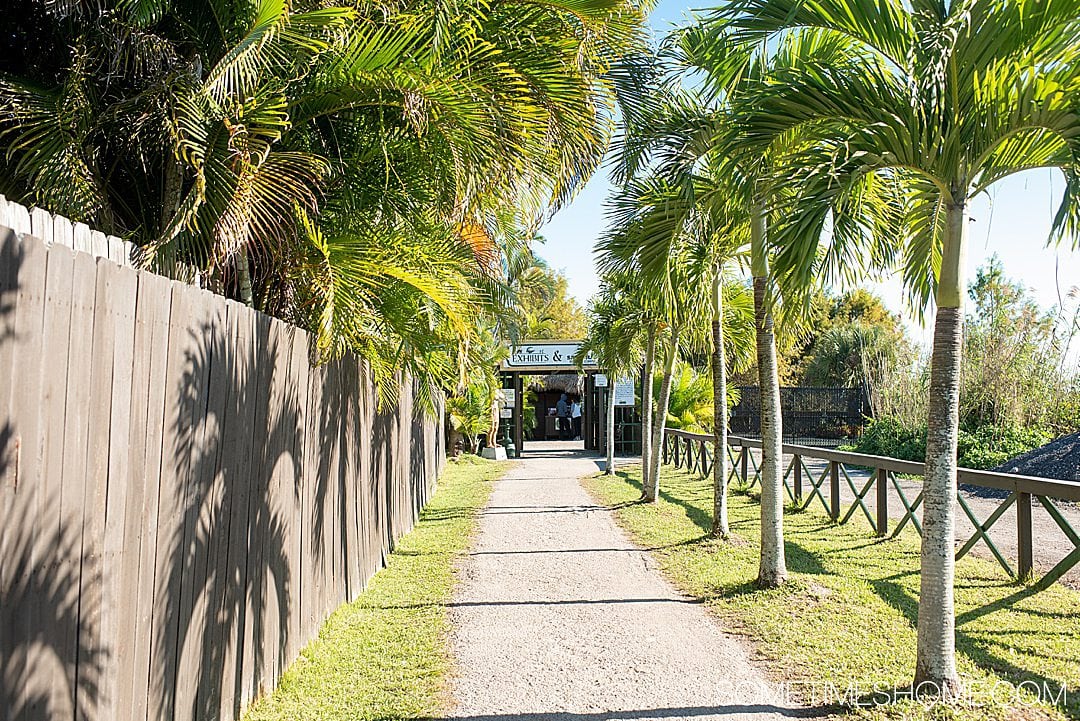 Gift Shop after your Fort Lauderdale Everglades Tour
They have a nice recently remodeled gift shop. You can buy things like T-shirts, candy, mugs, hot sauce, shot glasses, and gemstones, along with plush toys, keychains, and various Florida keepsakes. They also sell limited snacks, like chips and bottled beverages.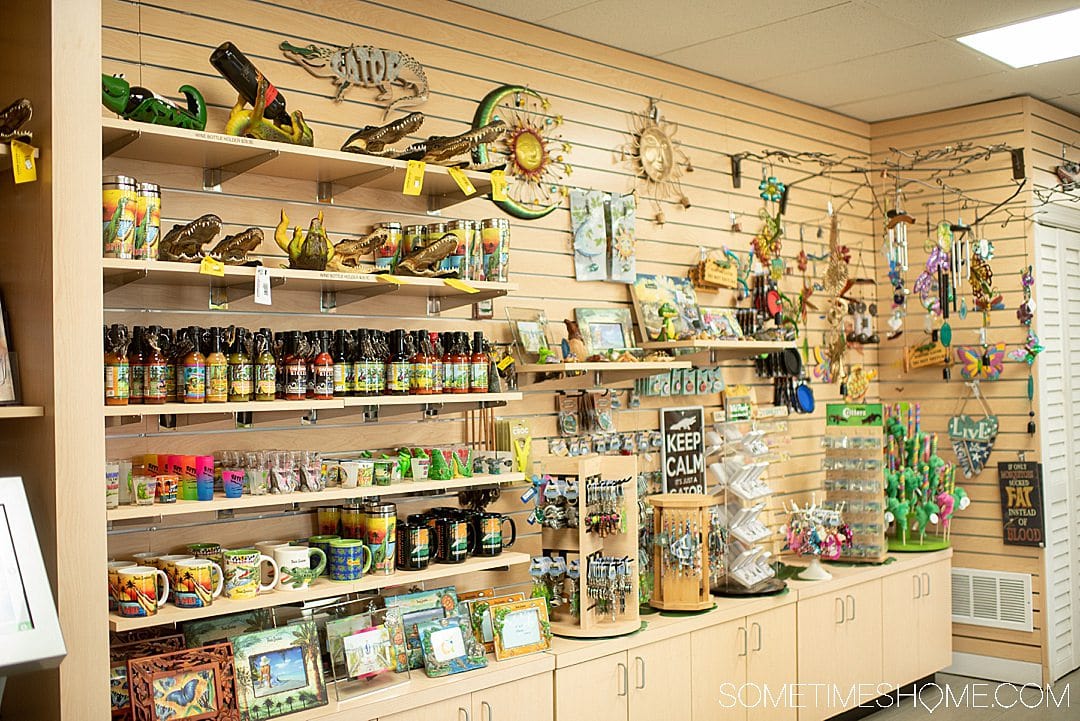 Pavilion Island at Sawgrass Recreation Park
The entire "recreation park" at this Fort Lauderdale Everglades tour includes event space! You can rent their venue Pavilion Island for only $25 an hour. There isn't water or electricity, but the restrooms at Sawgrass Recreation Park aren't but a five-minute walk from Pavilion Island.
It's not really set up for a wedding, per se, but it's the perfect option if you want to host a family reunion, for instance, or a picnic reception for up to 300 people. You can also rent their gazebo space on Pavilion Island for no charge for up to one hour.
Book Your Tickets Online for this Fort Lauderdale Everglades Tour
Easily book tickets online for Sawgrass Recreation Park on Viator, and choose from a variety of lengths of tours and times of the day.
Heading to Florida? Also check out: