Your Complete Guide to Saugerties, New York
The Hudson Valley is one of the most popular regions that New York City dwellers flock to and we have your complete guide to Saugerties New York, a cute little town in the region.
It's especially beloved by city residents during summer due to its ease of access from Manhattan and surrounding areas. It's a beautiful destination for a weekend getaway. We discovered it over the course of a couple days in August and are excited for you to plan a visit too.
Where Is Saugeries, NY and How to Get There
The easiest way to get to Saugerties is by car. It takes between an hour and a half to two hours to reach from the NYC area, including Long Island and Westchester.
It's on the Hudson River, just north of Rhinebeck and south of Germantown and the Catskills. (We recommend stopping in Rhinebeck too – it's a great city! And the Catskills are filled with endless photo opps.)
Guide to Saugerties New York: Where to Stay
Saugerties is a small town. There are a few chain hotels nearby but we absolutely adored our Air BnB in the heart of its quaint downtown area. Another option we happened upon was the Diamond Mills Hotel. (There are tons of Air BnBs to love in the area. We recommend giving them a look!)
Even if you don't stay there there's quite a view! (Read on for more on that.) There's also just a couple rooms at the Saugerties Lighthouse for those looking for more of a remote, unique, B&B feeling option. (Check out our trip to the Outer Banks in North Carolina for more cool lighthouse information.)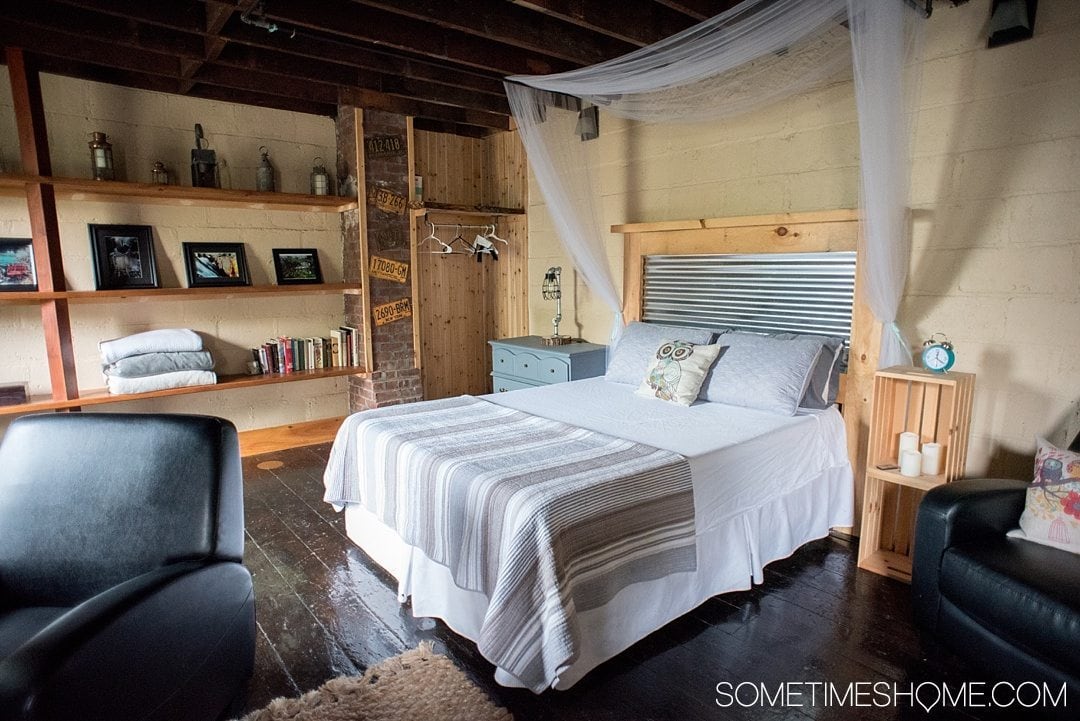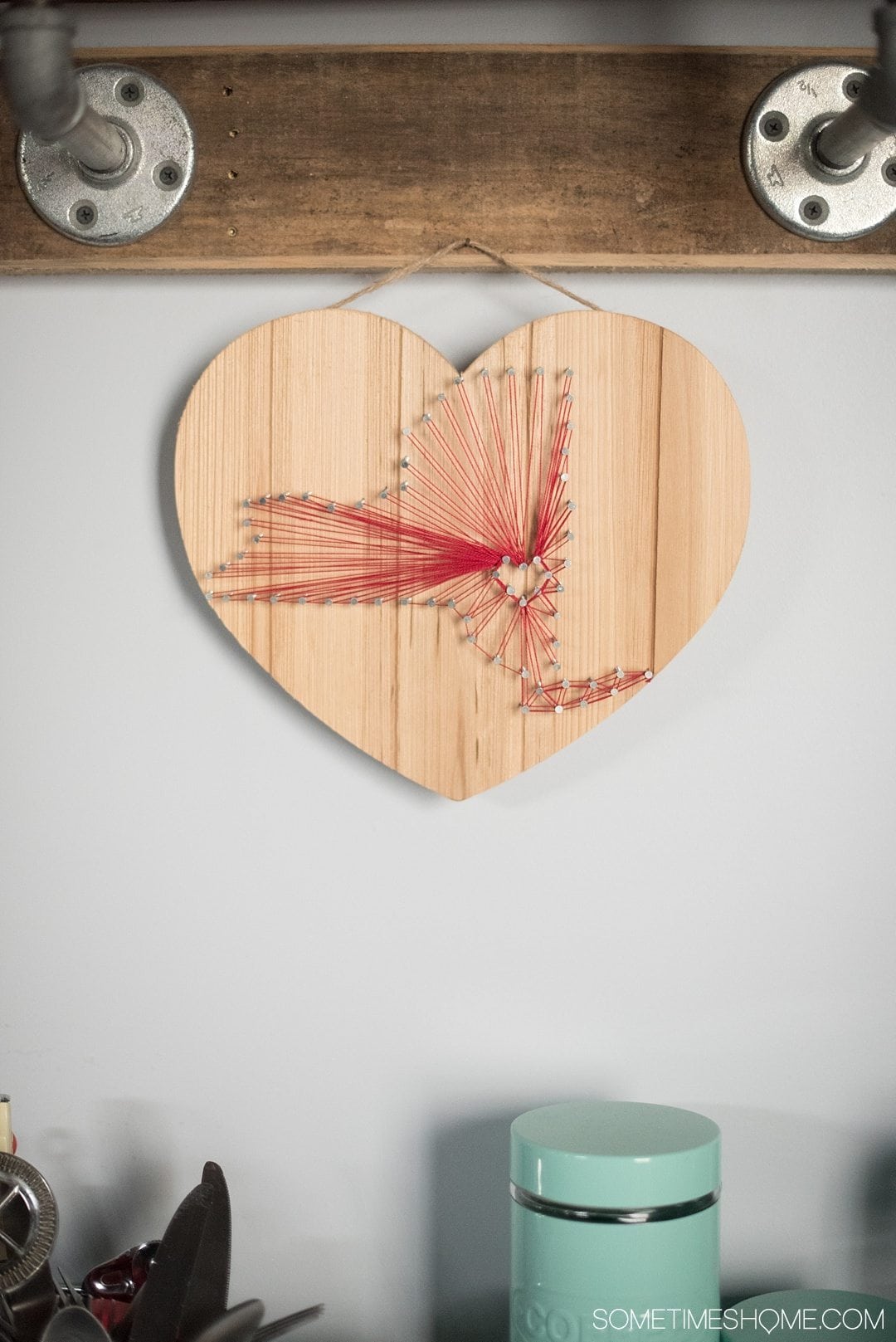 Guide to Saugerties: Where to Eat and Drink
I was pleasantly surprised by the food options here. My friend has a severe gluten allergy and we were worried our options would be limited but they were plentiful! We ended up eating at Love Bites Cafe several times because we loved it so much.
Another option is Rock Da Casbah where we enjoyed a lovely meal with pasta bolognese (also made gluten free for us) and a delicious Grilled Portobello Mushroom Napoleon dish. I also heard that Miss Lucy's is excellent though we didn't have time to have a meal there.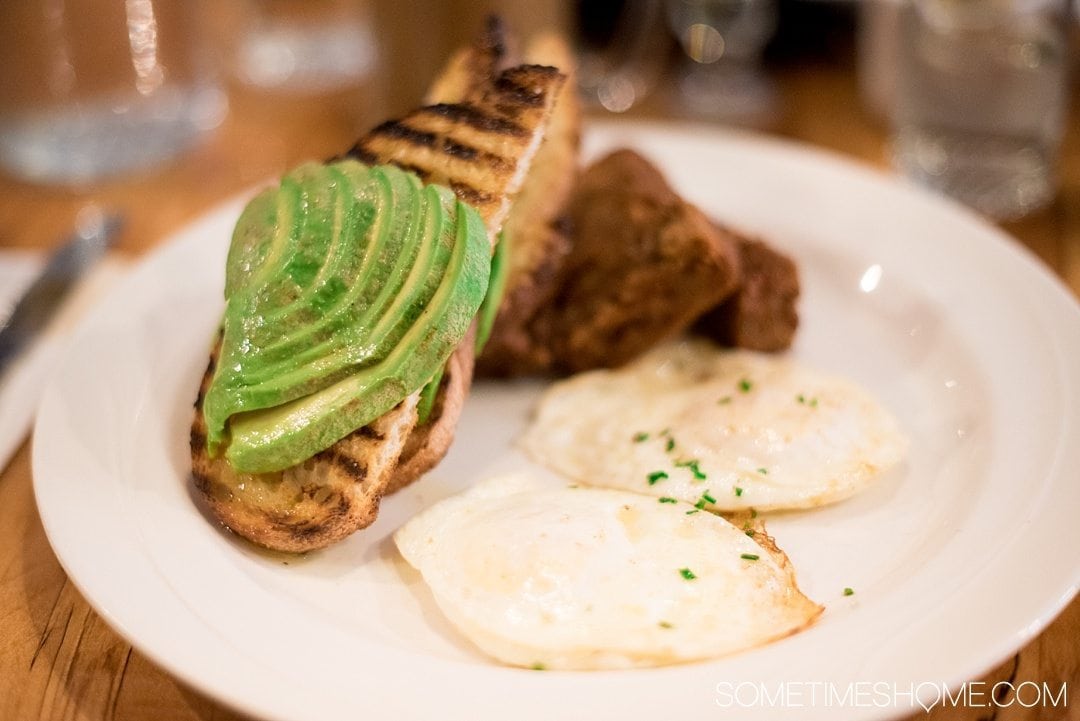 Guide to Saugerties, New York: Things to Do
It's such a quaint town you'll love simply being at your hotel and reading, watching tv, enjoying wine and conversation with your partner or a friend. But there's also great things to do there if you wish to be adventurous!
See the Falls at Esopus Creek
Right behind the Diamond Mills Hotel is the prettiest scene: waterfalls below a picturesque red bridge. Park in the hotel's lot and you'll be able to navigate towards the sound of the rushing falls, take some photos and enjoy the view.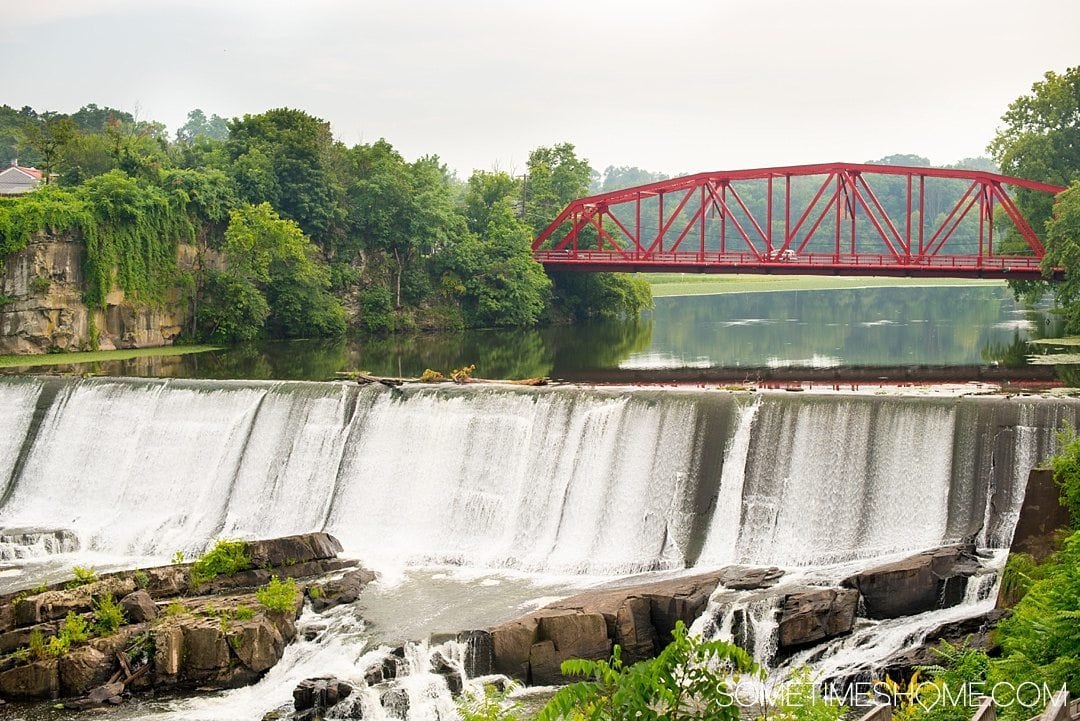 Head to Saugerties Lighthouse
The lighthouse was built in 1869 and is really beautiful. The biggest surprise was the beautiful walk there through a little park area, perfect for photos!
If you explore this part of Saugerties during summer, be sure you bring bug spray, sunscreen and sunglasses. You may want to consider bringing water too, so you don't get dehydrated!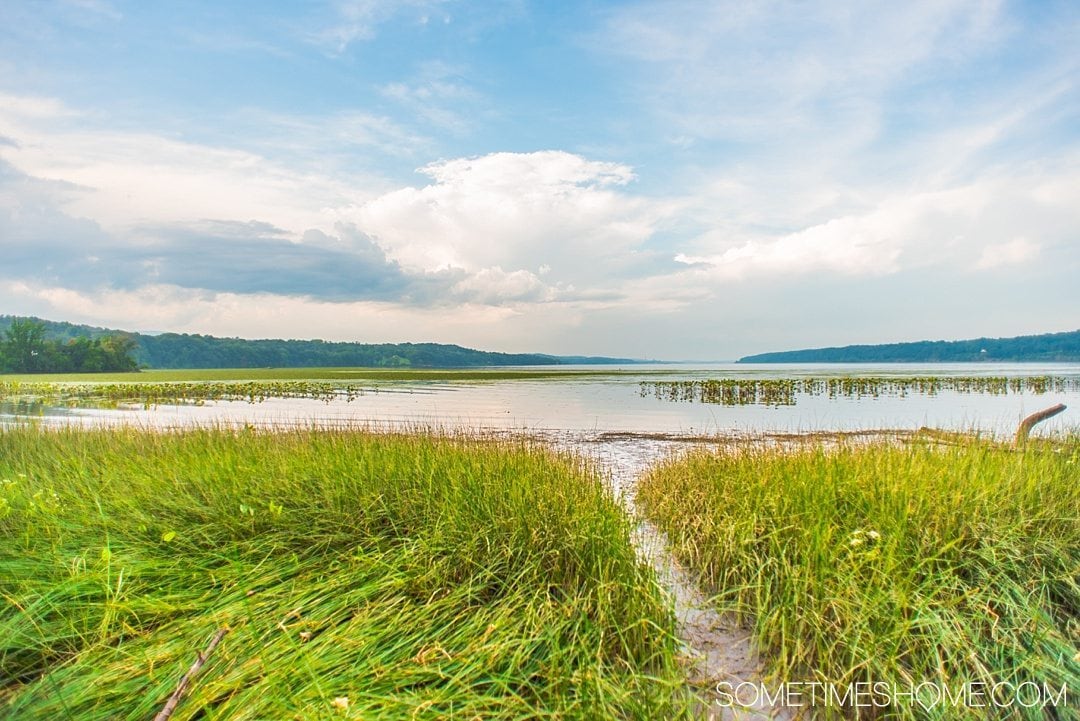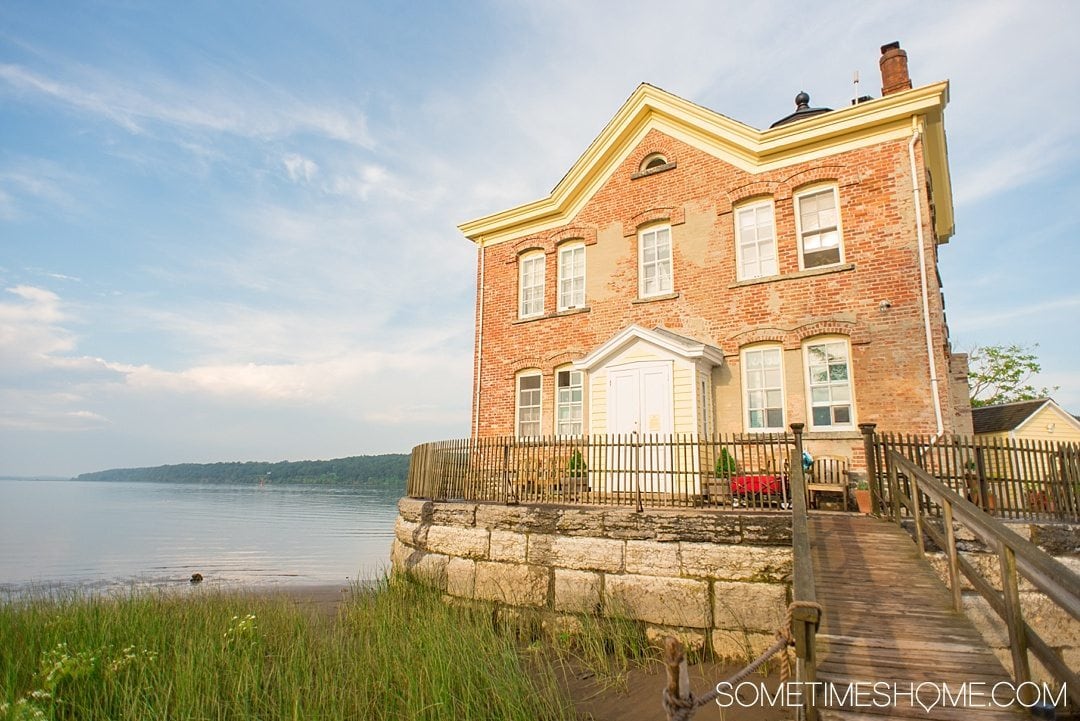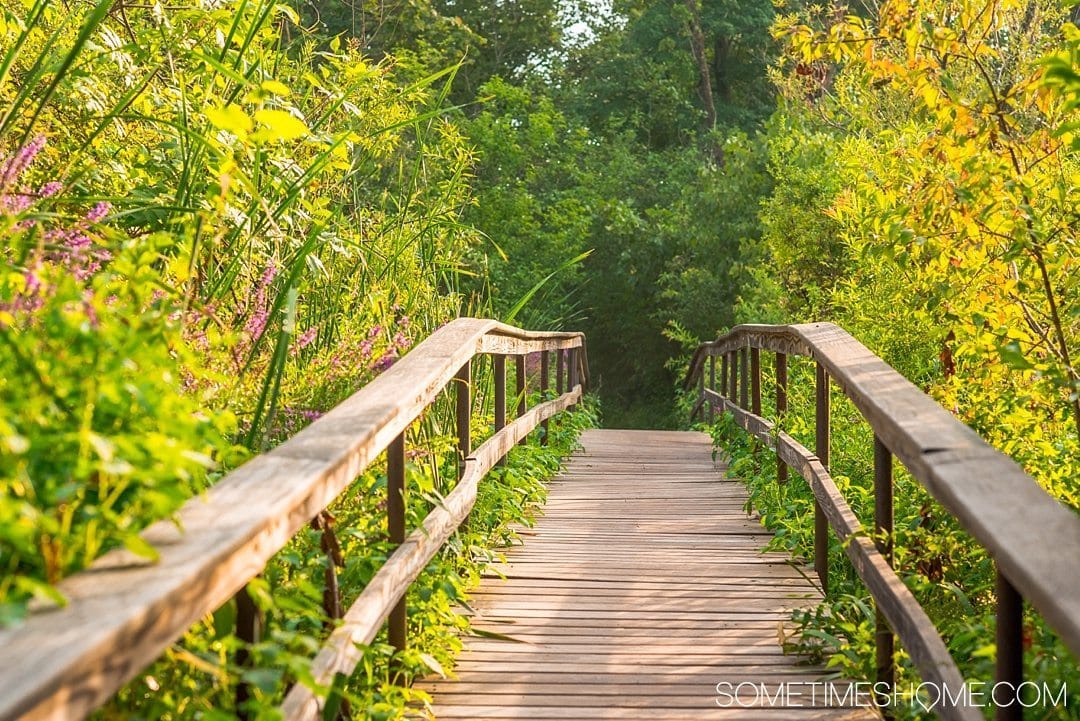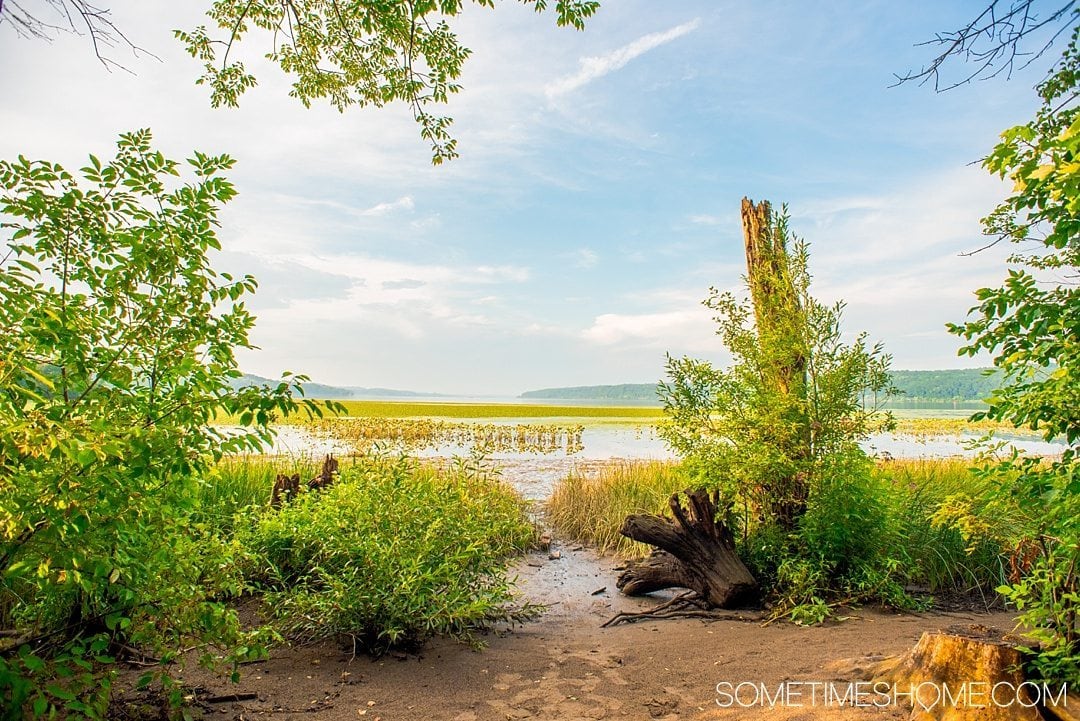 Go on a Photowalk
Before I hit the road to head back down south I decided to explore a little more with my camera in hand. I LOVED the buildings and scenery I found within a few blocks around our Air BnB, right in the heart of downtown.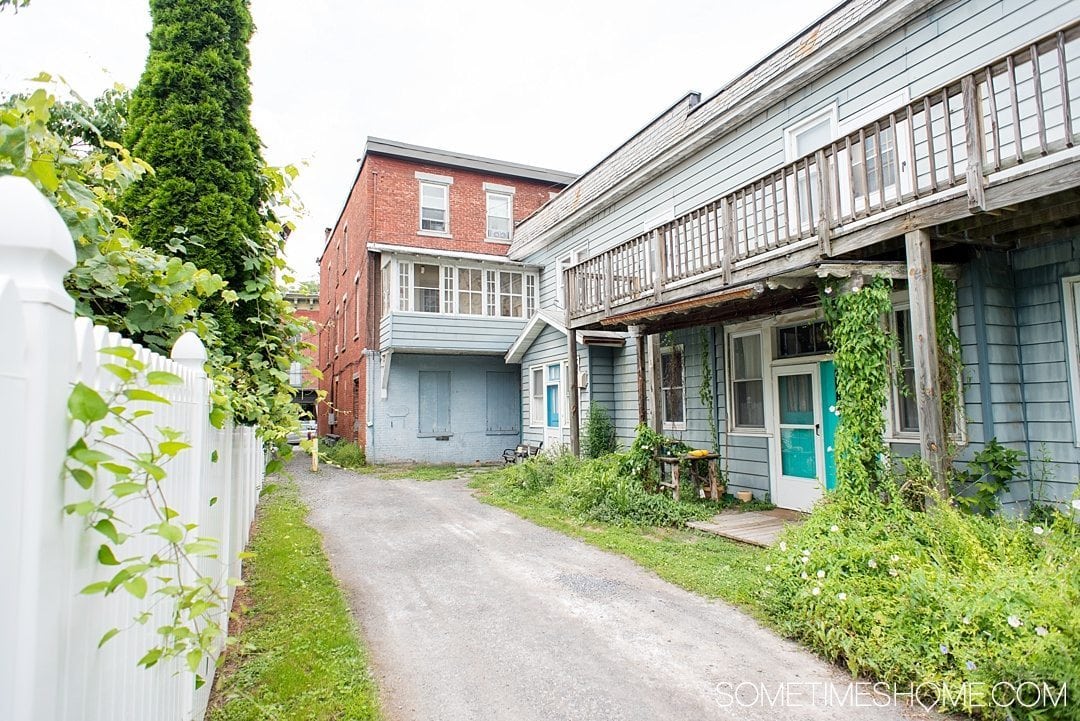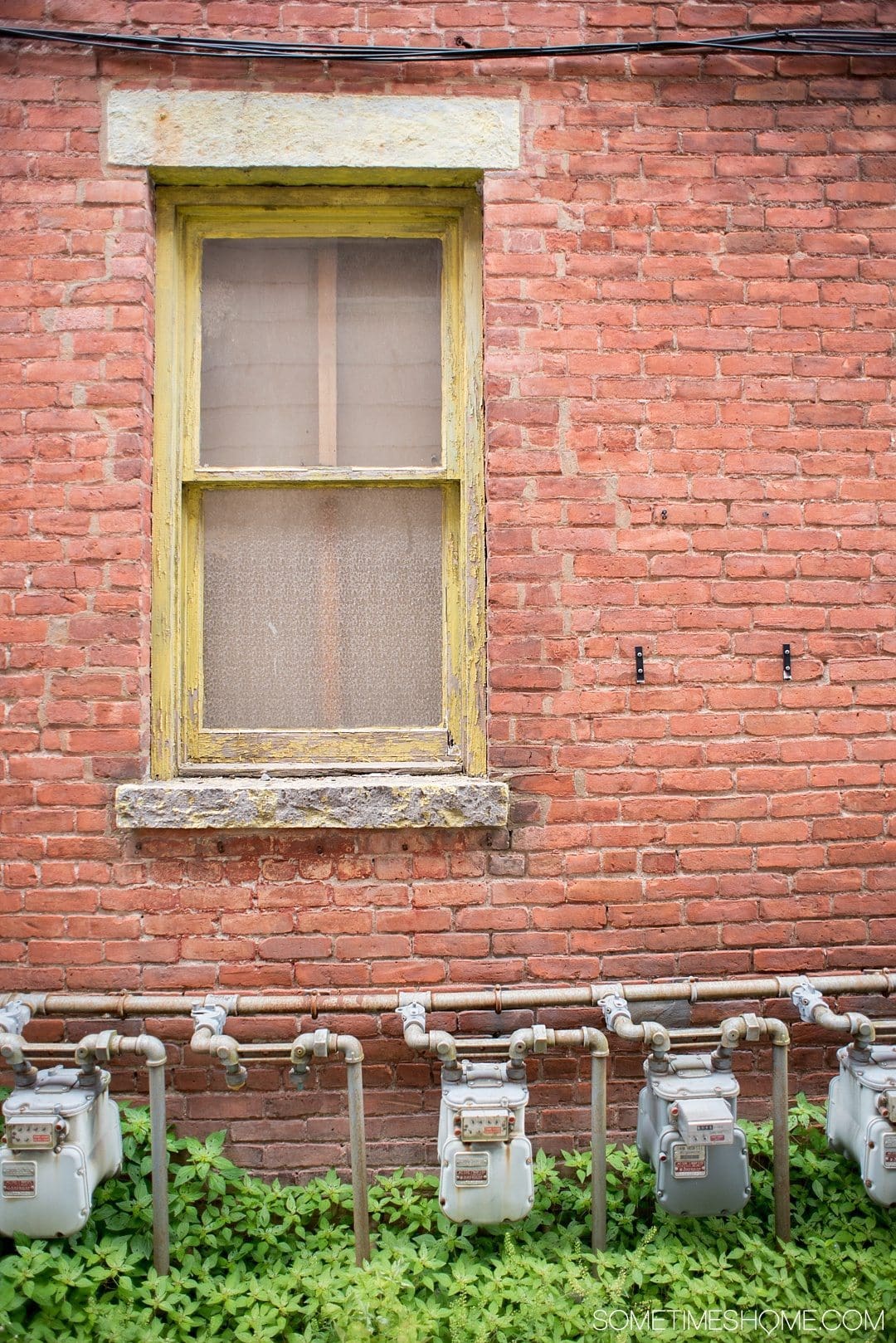 Visit Crafts People
About 15 minutes from Saugerties is a little village of five houses that are home to art pieces available for sale called Crafts People. The bulk of what we saw there included things like jewelry, pottery, and some additional knick knacks. It represents 500 contemporary artisans.
It's a great destination and pleasant environment to spend some time. On the drive home we spotted a flower field we couldn't resist stopping at for some photos!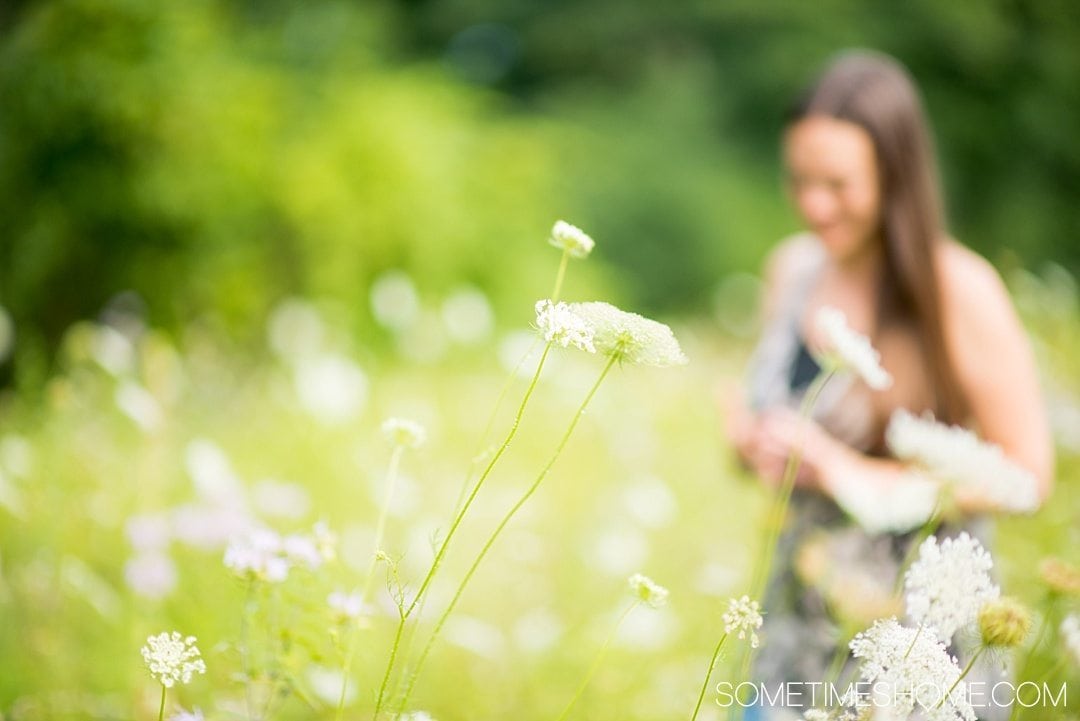 Buy Local at the Saugerties Farmers Market
If you're there on a weekend in the right season for it, there will likely be a farmers market. We headed to the Saugerties farmers market just a short walk from where we stayed. It was great to support local and get some fresh veggies!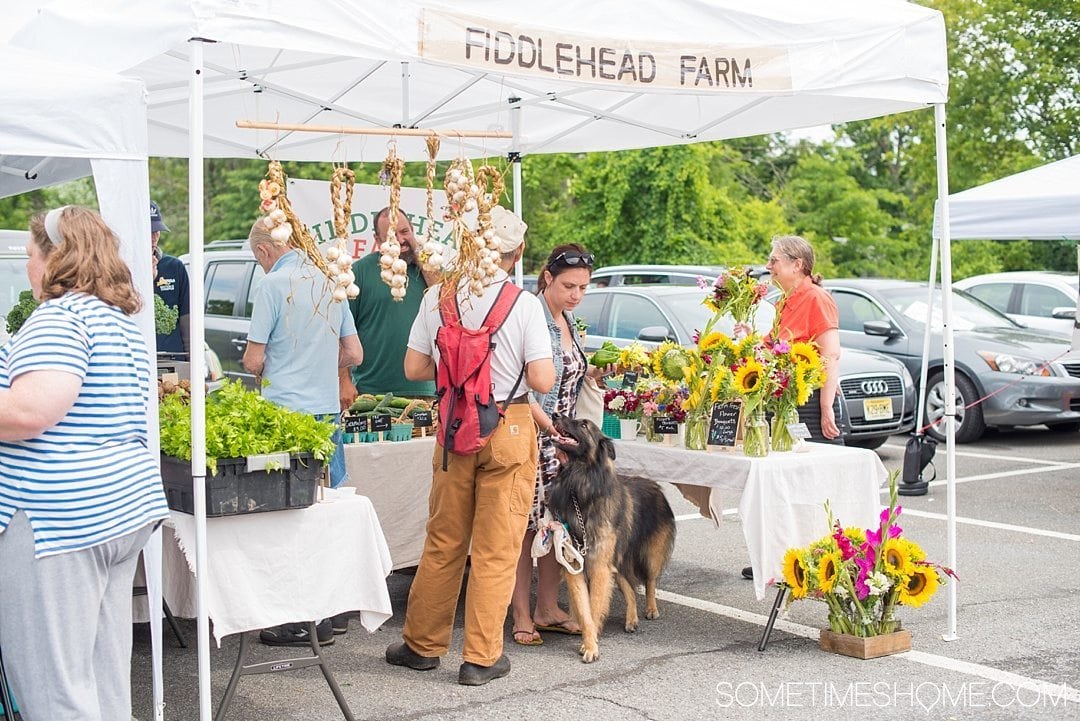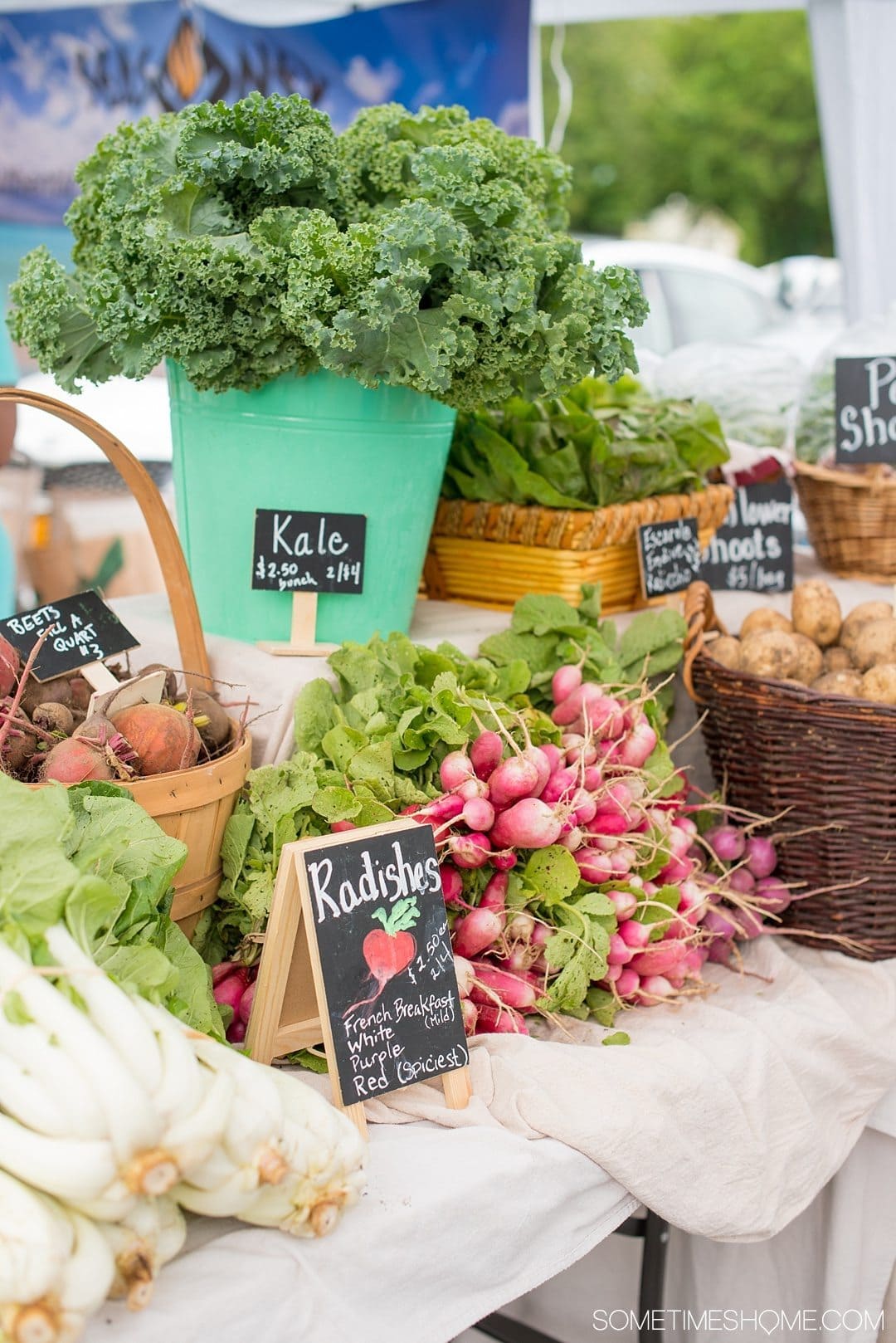 Walk Around the Small Town of Saugerties
There's really cute shops in the area. Vintage finds, cute cafes, chocolate and candy shops, galleries and restaurants were amongst some things we saw.
It's a manageable scale so even if you drive, park your car and explore on foot.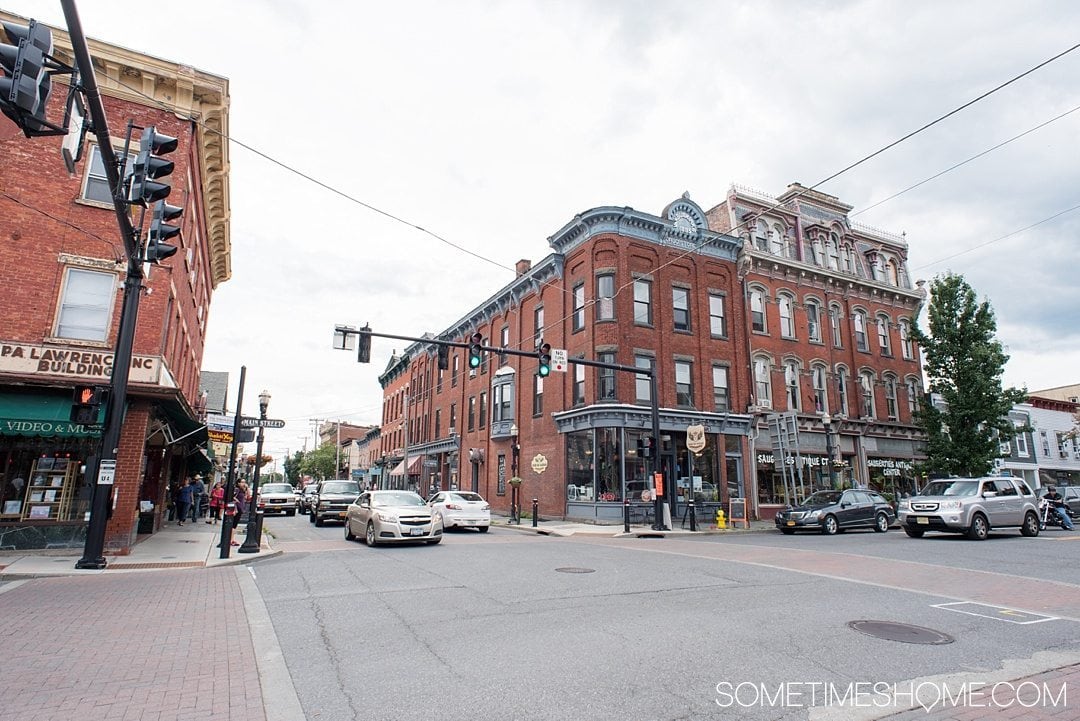 Disclosure: There are affiliate links in this post, which means we may earn a small commission if you click the link and proceed with a purchase. We only recommend products or services we personally use and recommend.
For other east coast US adventures check out:
Have you been to the Hudson Valley region of New York?