Things to Do in the Outer Banks in October (and What It's like in the Shoulder Season)
We love traveling to places during the shoulder season – you get great weather and less crowds! There are pros and cons of going to the Outer Banks in October so we're sharing what it's like and what there is to do there during fall.
What is it like in the Outer Banks in October?
There Are Less Tourists
Families flock to the Outer Banks when kids are out of school for summer. This is typically the beginning of June to August in the Carolinas. Since we're just a couple who travels without kids we stay away from this time. We prefer to visit during their shoulder season after fall begins.
It seemed like it wasn't busy when we were in Roanoke during our long weekend trip. So we asked the bartender at Ortega'z Wine Bar how October is different from summer to get a local's perspective.
We were shocked to learn that what felt like a "ghost town" (especially at night) was busy for October. And it was quiet in town. (It was much busier during the day in the village of Manteo but the nights were really calm and quiet.)
We also experienced way less people on Ocracoke island when we visited in October. It was busier in the Nags Head/Kill Devil Hills area that same trip. But we loved that there were less people, overall.
Needless to say, expect less people during shoulder season if you visit in October versus peak season, during summer.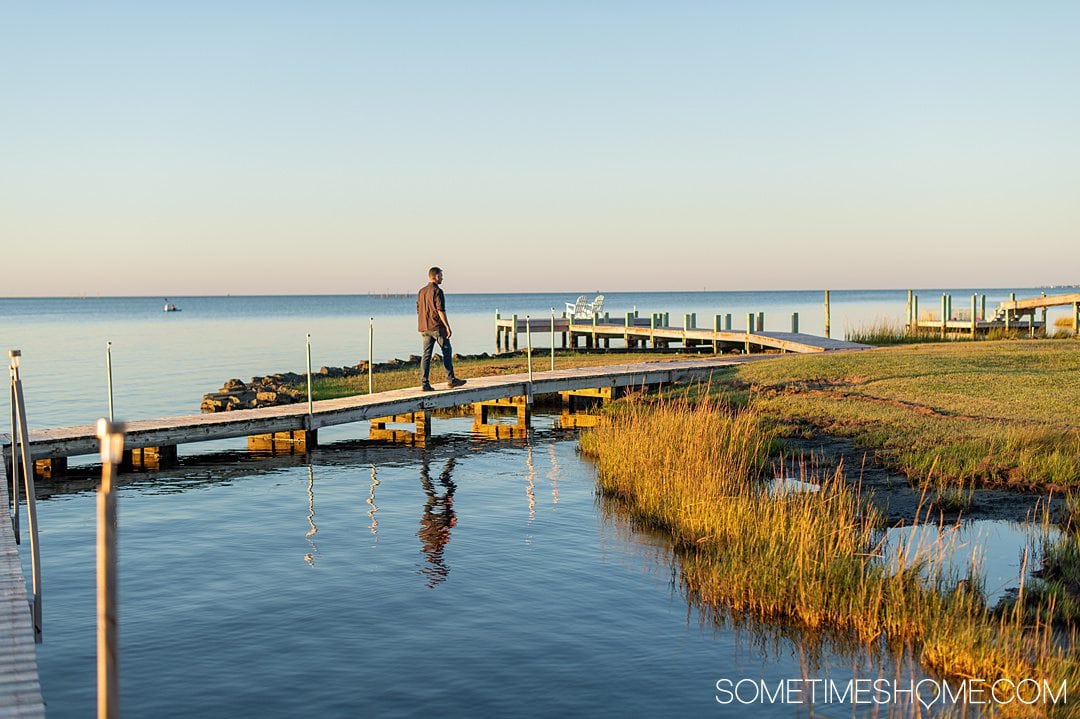 Some Places are Closed in OBX in October
We tried to pick up lunch from a local business on our way home from our OBX vacation back to Raleigh. We wanted to shop and support local.
Unfortunately, we learned both local businesses offering sandwiches to go in Nags Head on our way out of town were temporarily closed.
The summer, which is this "seasonal" destination's peak tourism time when kids are out of school, is probably exhausting for people who work in the area. We were there the first five days of October and both delis we called were closed because the staff was out of town for family vacation.
And hey, they deserve a break after a few busy months!
Overall it wasn't an issue, we were just bummed we couldn't try these two places.
We don't imagine a bigger restaurant with more people running it would close for a week's vacation. However, smaller restaurants may take advantage of time during shoulder season to close for a few day to treat employees to time off after working their butts off during summer.
You Have Greater Chances for Reservations and Perks
Your chances for reservations where you want to dine or partake in water sports, for example, may increase during October in the Outer Banks. This is also a result of there being less people in OBX in October.
For instance, we did a beginner hang gliding experience with Kitty Hawk Kites (read on for more info about that). We were grateful we didn't have to contend with high booking season for this!
There were also many restaurants where we benefited from simply walking in and being seated, as opposed to during peak season when you may need a reservation. You would potentially have to book a reservation way in advance.
Additionally, you may have a better chance of staying in a hotel that you are lusting over if you visit the Outer Banks in October. We stayed at The Inn on Pamlico Sound (read on for more information about that) and it was fantastic.
Visiting in October gave us other little perks too. It meant we didn't have to wait our turn to enjoy sunset on these white Adirondack chairs on their dock in the water. We had them all to ourselves.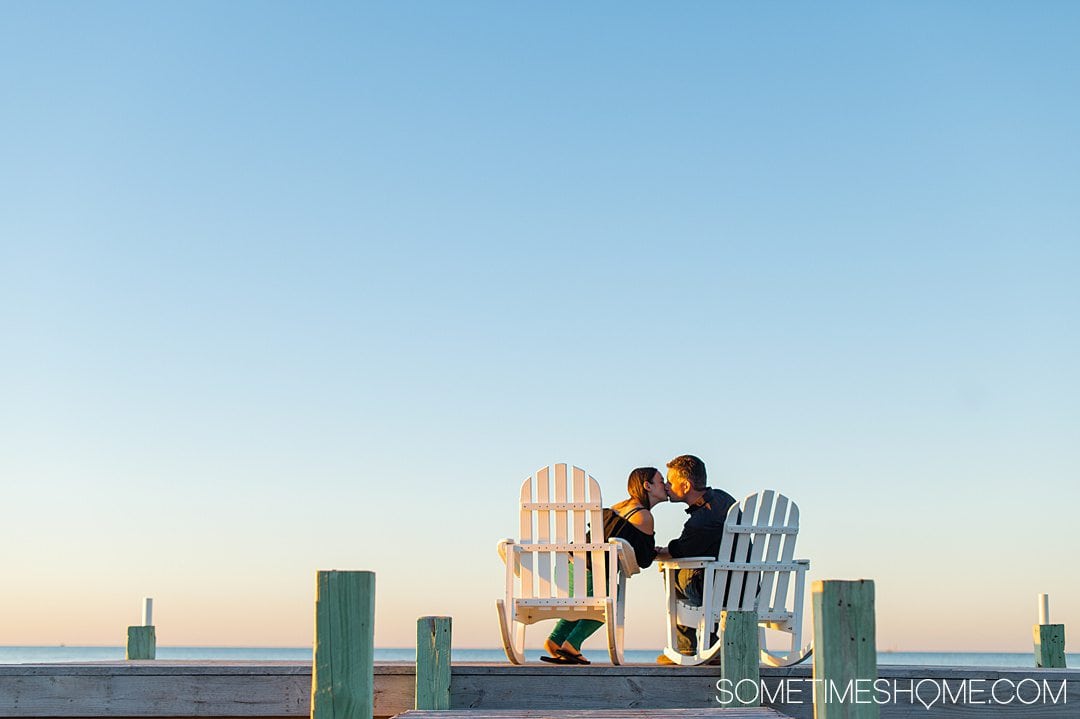 Hurricane Season in the Outer Banks
It's hurricane season in North Carolina (just like in South Carolina, Georgia and Florida) from June through November.
We've had plenty of friends book vacations in OBX during peak season, as well, including June and July. They rent a house for the week only to have outdoor activities rained out. Or worse – "hurricaned" out.
It's still hurricane season in October though. It rained the entire day we were there one day of our trip. Luckily, there's good indoor activities in the Outer Banks so we weren't at a loss for things to do that day.
You may not have to contend with an actual hurricane (though a possibility you will) when you visit in October. But it's plausible there will be colder temperatures, high winds and rain because of the season.
October Temperatures and Wind in the Outer Banks
It's typically not as hot as June, July or August in October in the Outer Banks. Yet it's entirely possible it can be.
It was warm during most days but rather windy when we were there the first week of October. Nights were pretty chilly and very windy. It's safest to pack for two climates – warm and cold – and bring layers to wear.
For example, I typically wear flip-flops throughout October in Raleigh. While I was able to do so in the Outer Banks most days of our trip there were a few times I wish I had socks and shoes on. I wish I had even packed fall boots. But we were glad we at least had jackets and plenty of layers.
The week before we were there, we heard people couldn't drive through Hatteras Island on the main road, NC-12, because the wind and inclement weather blew about six feet of sand onto it.
NC-12 road was clear by the time we visited but hey – you just never know. So prepare for wind, some rain and colder nights.
Things to Do in the Outer Banks in October (or Shoulder Season)
Visit Jockey's Ridge State Park (and Go Hang Gliding)
One of our favorite activities of our entire trip to the Outer Banks in October was visiting Jockey's Ridge State Park to hang glide. The park has the tallest living sand dunes of their kind on the Atlantic coast. Some of the dunes reach higher than 60 feet.
Jockey's Ridge State Park was declared a National Natural Landmark by the National Park Service in 1974, and established as such in 1975.
(Its National Park status may only be 45 years old but the ecosystem has existed for over 3,500 years. Scientists predict maybe even 4,000 years.)
It's a premiere place to fly kits because it's pretty much always windy there. For the same reason, it's also a great place to go hang gliding.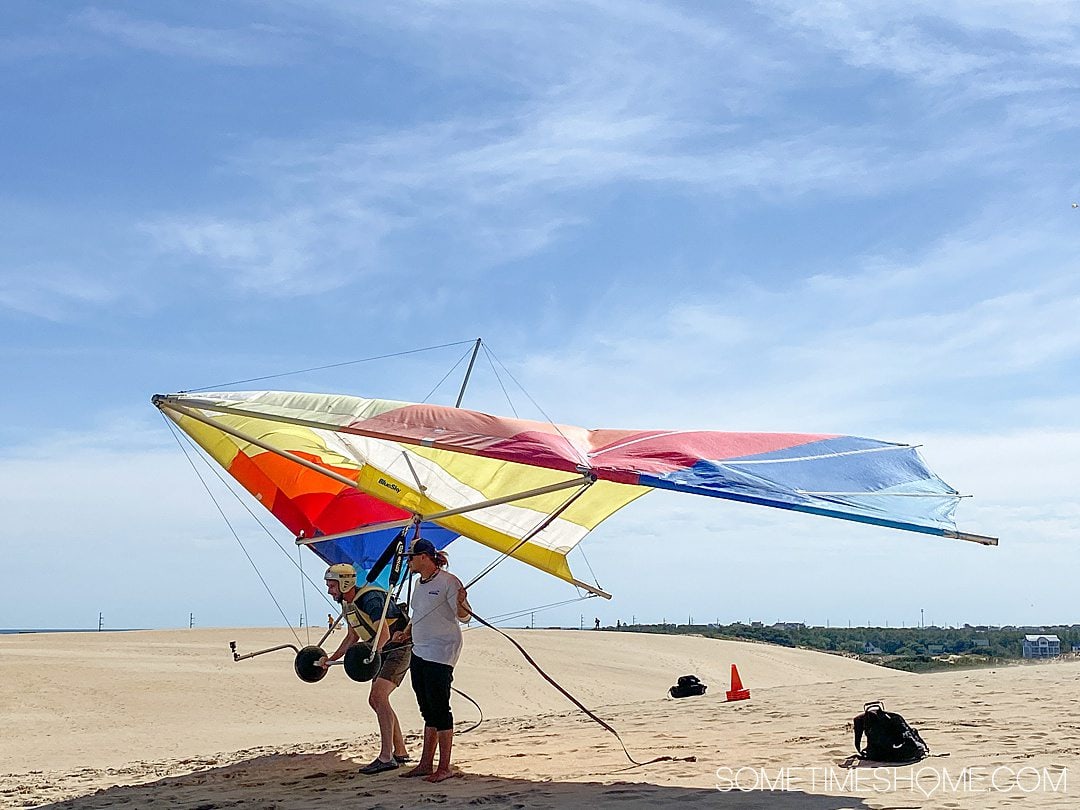 Walk Through the Elizabethan Gardens
We were SO excited to enjoy the outdoors, changing our beach scenery, for an activity. The Elizabethan Gardens were gorgeous and the perfect place to diversify the landscapes we were visiting.
The gardens are located on the north side of Roanoke Island. It was only a 10 minute drive from our hotel in the same town, The Tranquil House Inn.
Leave about an hour of time to walk around these beautiful botanical gardens, if not a little more. You'll probably want to visit at a leisurely pace and take advantage of sitting on a bench for a little to enjoy the scenery and nature a while.
The cost of an adult ticket is $9 and parking is free. They're open daily from 9:00am to 5:00pm during October.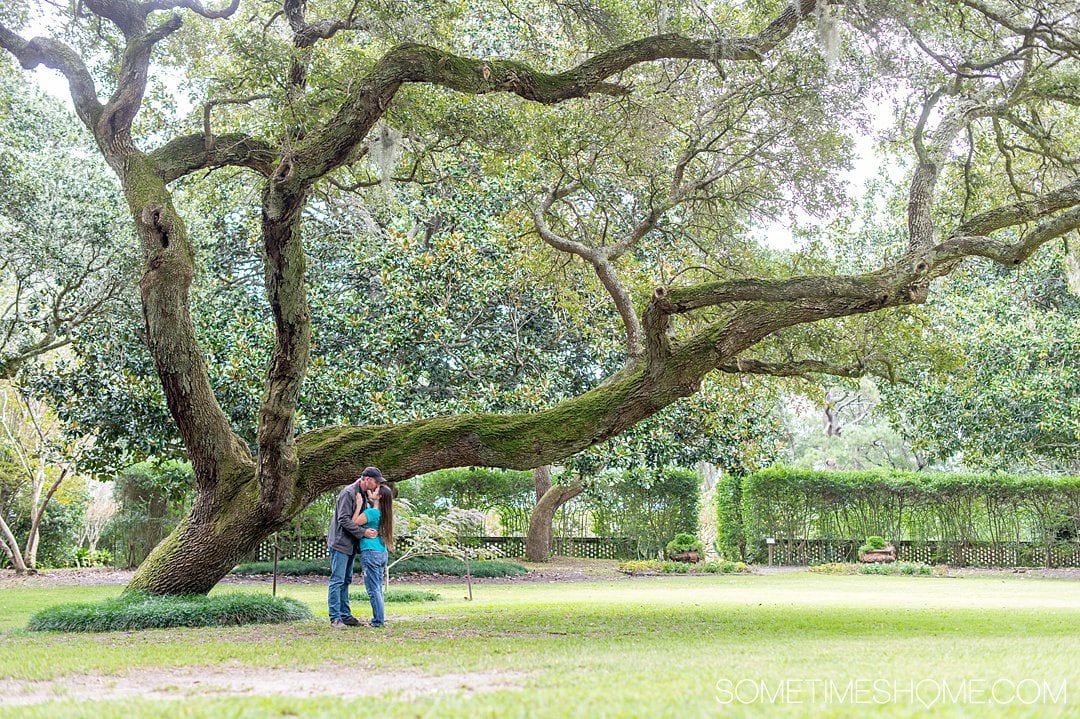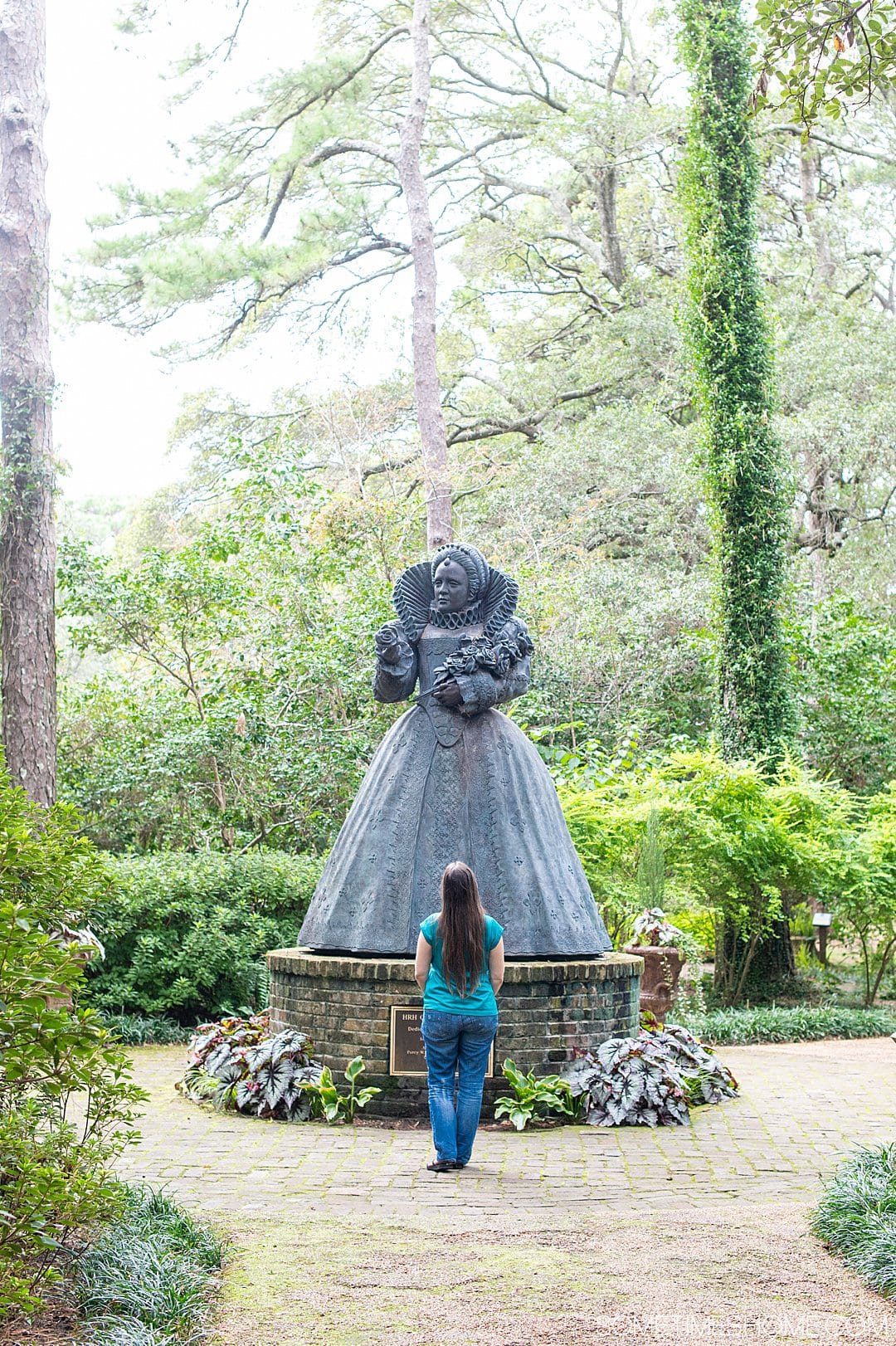 There are over 20 points of interest on the map of the gardens as well as 21 place that are a part of their OnCell audio tour.
Our favorite spots within the Elizabethan Gardens were:
The Sunken Garden: It was very English, formal and just gorgeous! It reminded us a little of the Sir Walter Raleigh garden at Sandhills Horticultural Garden, in Pinehurst.
Queen Elizabeth I statue: This statue of the Queen towers above you as you reach the end of the President's Walk. It's one of the first things you encounter in the garden as you enter from the Gatehouse area, where you purchase tickets to enter.
The great lawn: We LOVED an old oak tree there. Just gorgeous!
Colony walk: It leads to a beautiful view of the water, framed by two brick columns. Here, you can contemplate what it was like to land there during the late 1500s, discovering the area.
A perk of going to Elizabethan Gardens in the Outer Banks in October, especially an hour before they closed, was that there were only about 10 other people there we saw as we walked around. It was practically empty! It felt like we had the gardens to ourselves.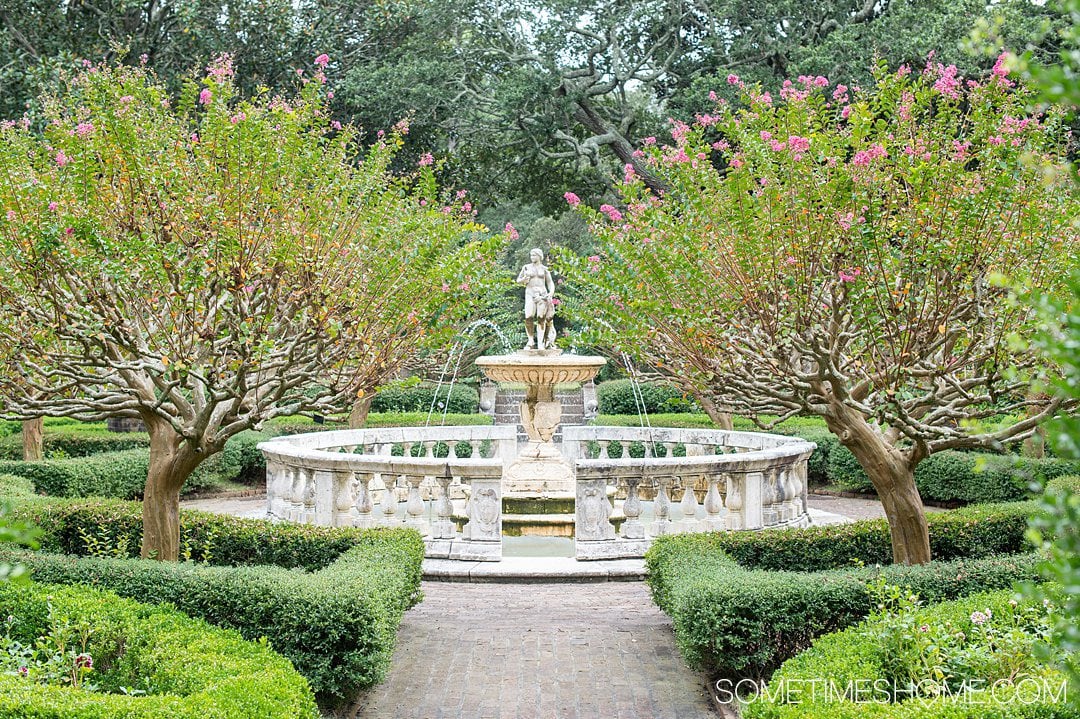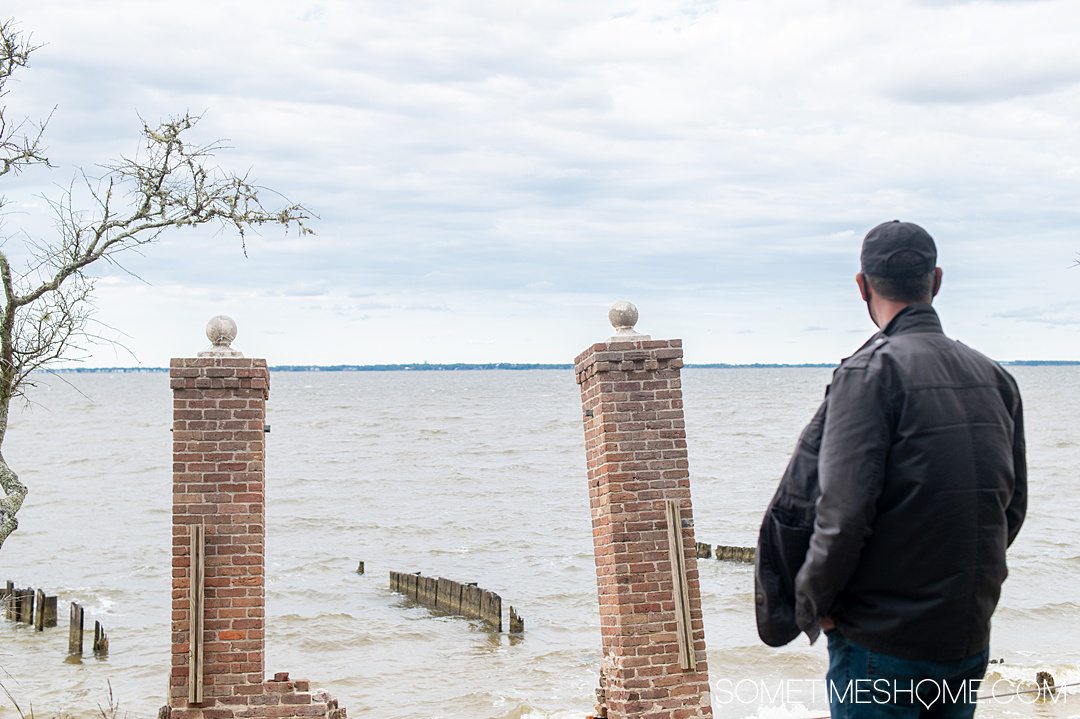 Enjoy a Beautiful Stay with Sunset Views
We stayed at a couple of notable hotels during our long weekend in the Outer Banks in October.
Inn on Pamlico Sound
This was our favorite hotel of the three we stayed in during our OBX October vacation. There were incredible views of Pamlico Sound from our room and outdoor balcony.
Each room at the Inn on Pamlico Sound is named after a flower – ours was the Sunflower room. Special touches, like paintings of sunflowers or the bathrobes embroidered with the hotel's branding, indicated we were at classy accommodations.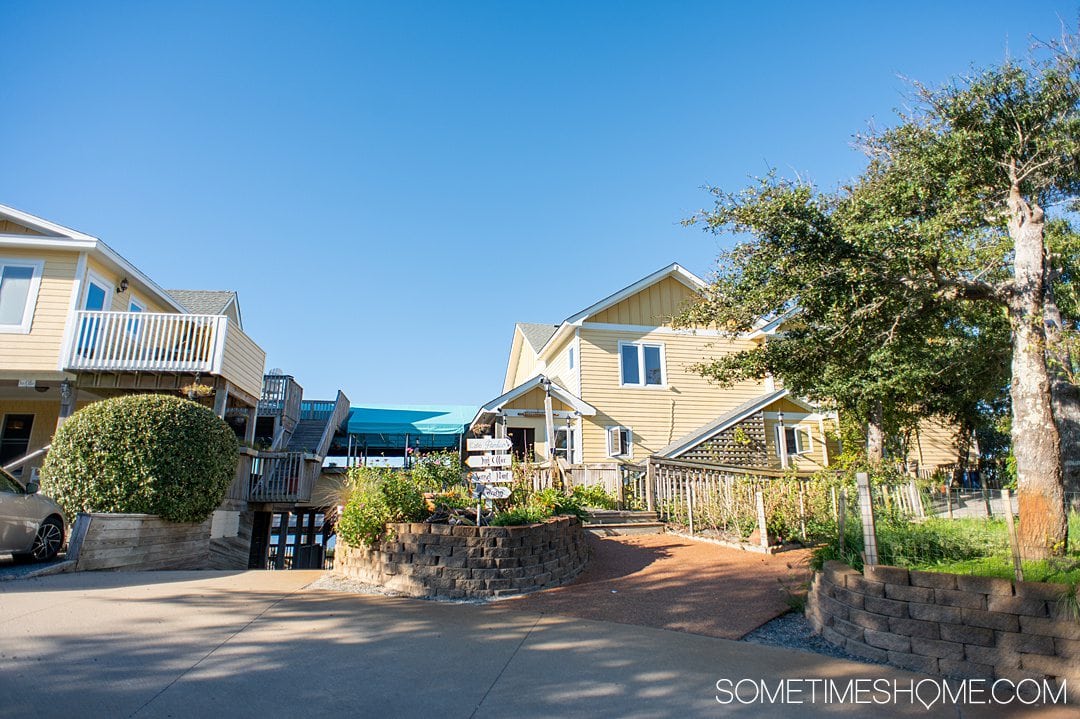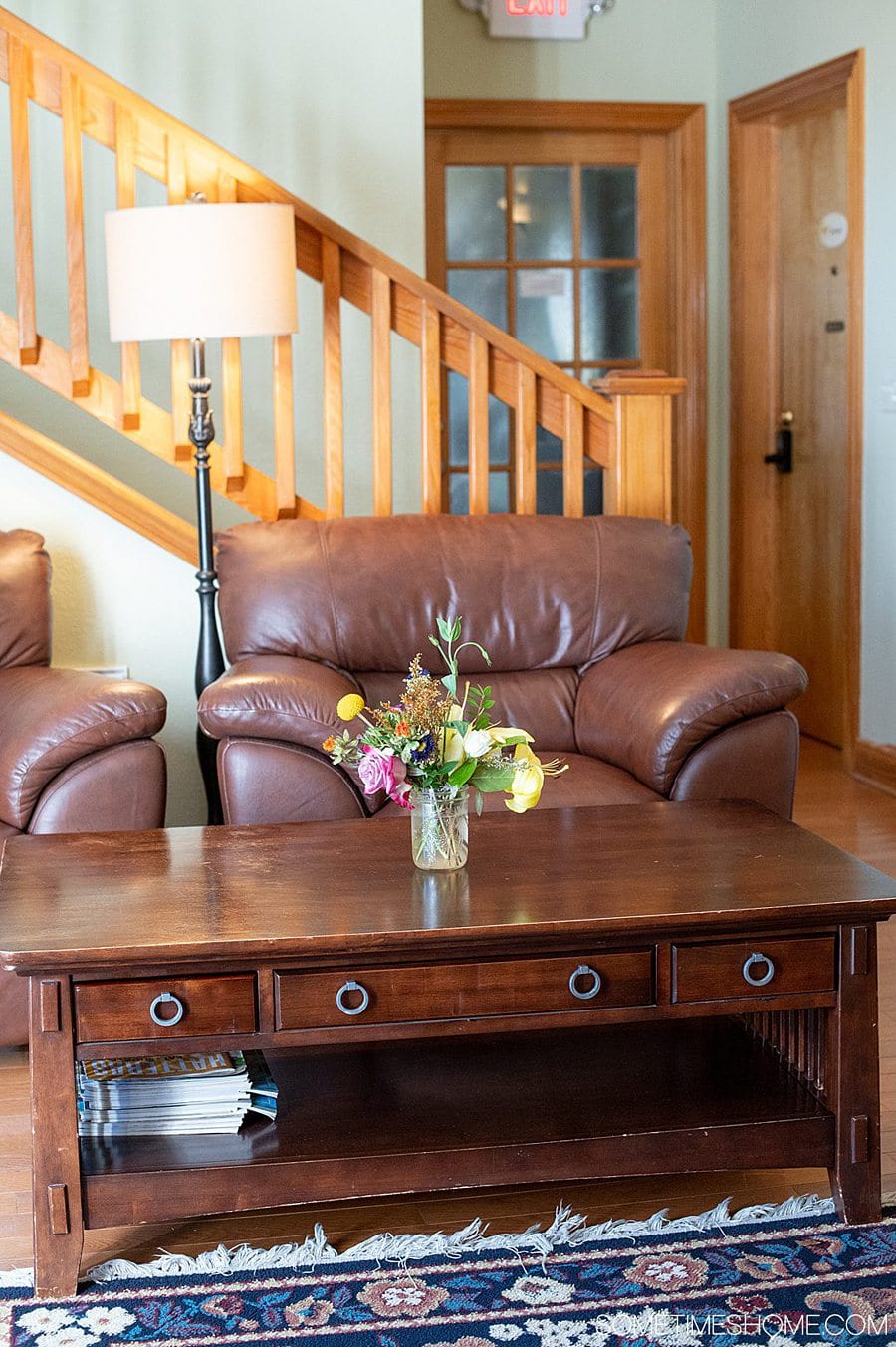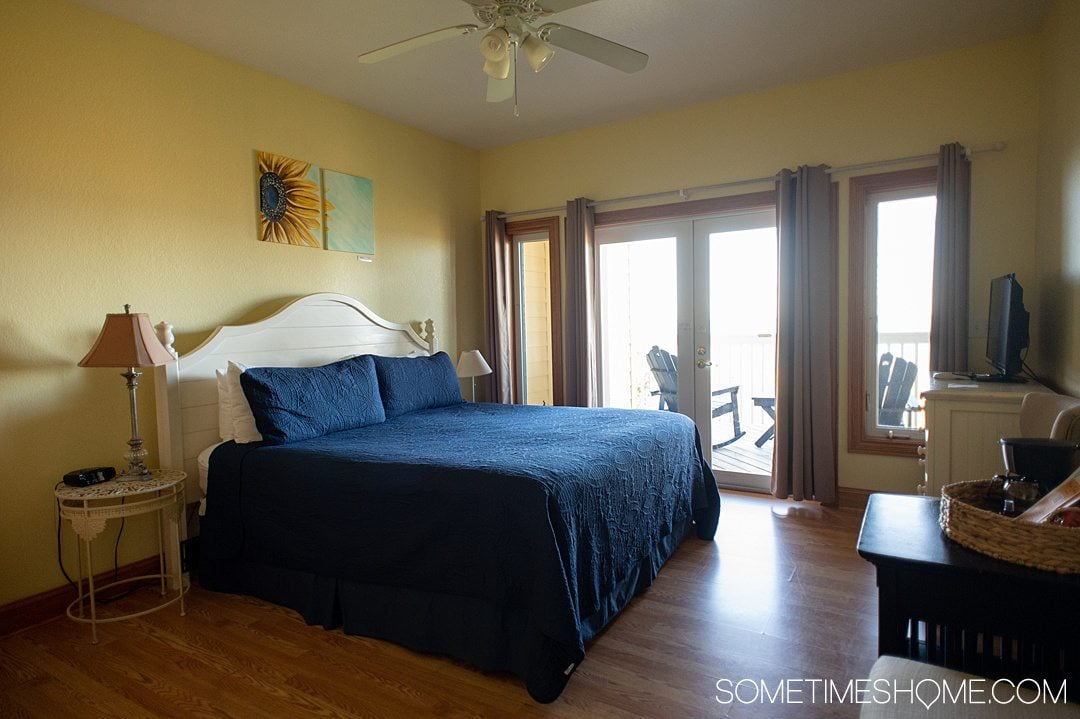 We ate a seafood dinner on their property that evening, at Cafe Pamlico. It was the nicest restaurant we went to all weekend yet still casual enough that it didn't feel "stuffy." Breakfast there the next morning was enjoyable as well.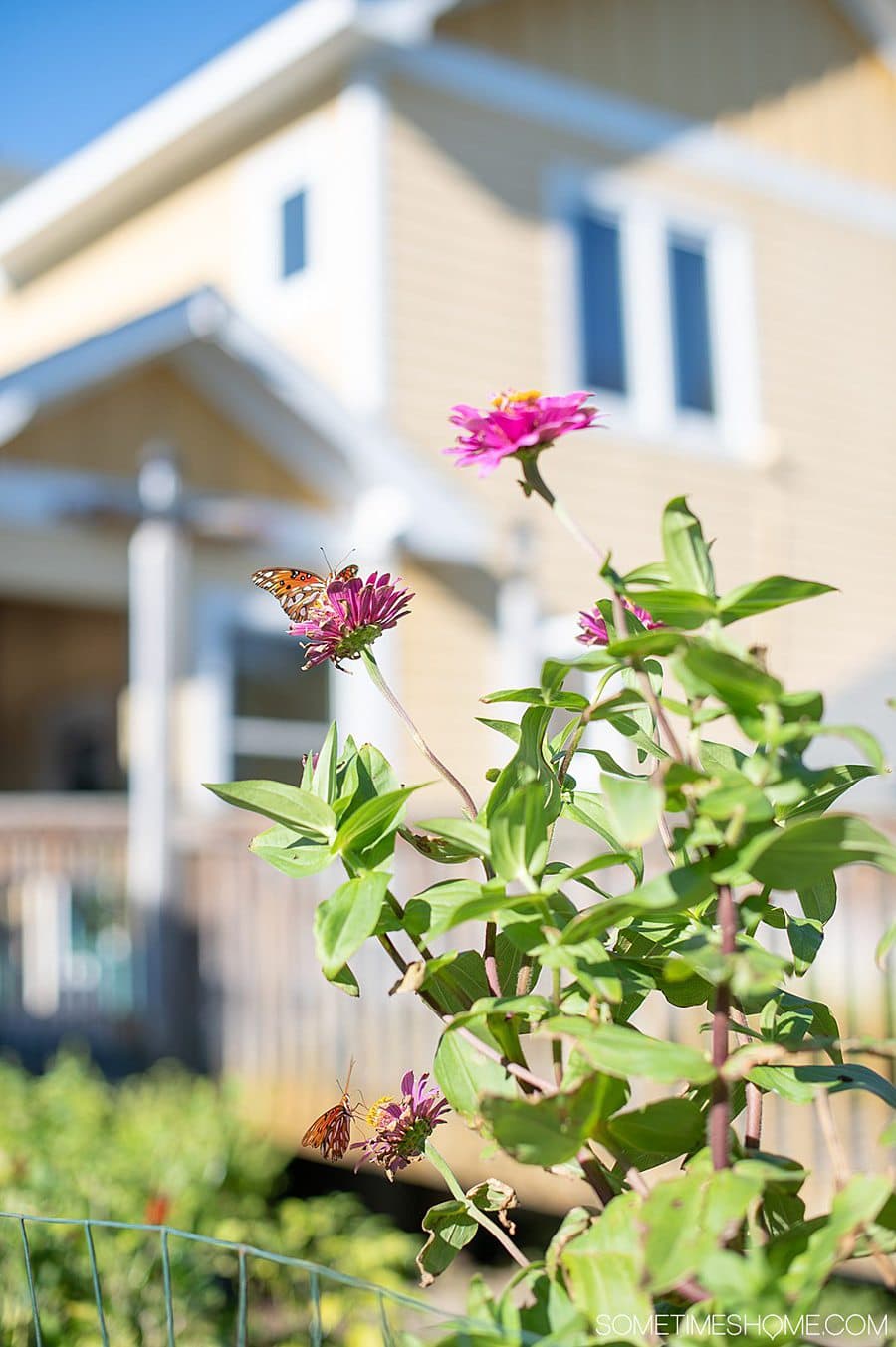 Our favorite part of our stay was perhaps watching the sunset over the sound and capturing those moments on our camera. It reminded us of sunsets in Charleston, with its pretty marshes and warm golden light.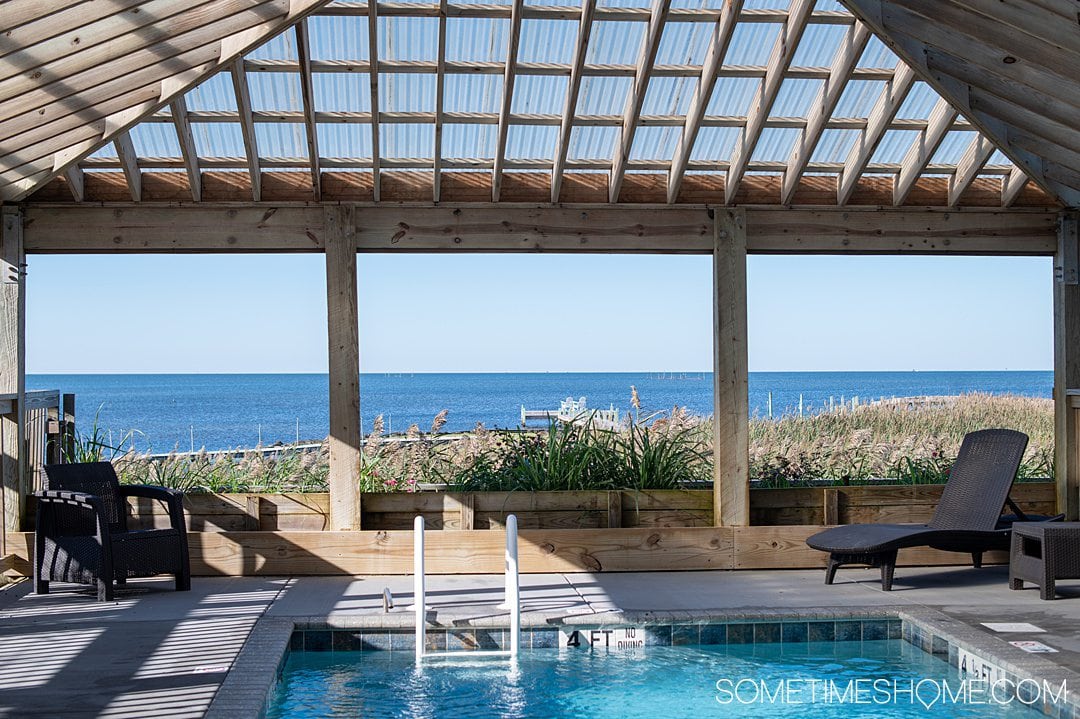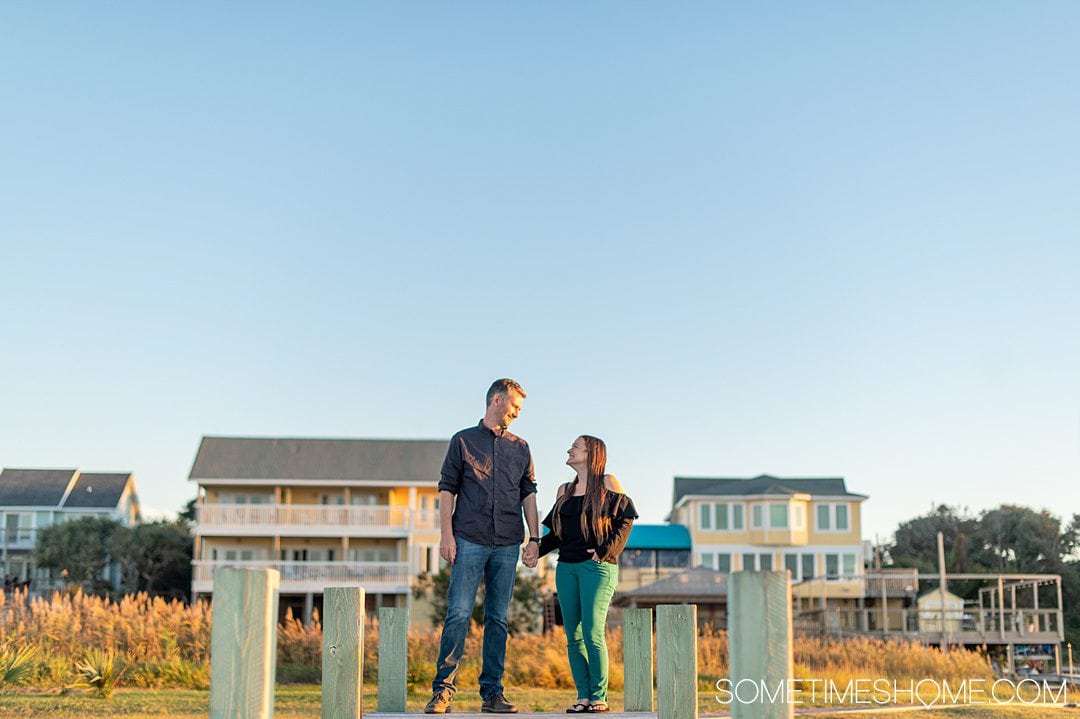 Tranquil House Inn
This east-coast hotel in Manteo on Roanoke Island has a waterfront view. It was great to be able to park our car at the Tranquil House Inn and walk to lunch or dinner in town. It's also just a walk over the bridge to Festival Park.
The rooms are charming; we felt very cozy in our beautiful room with white linens, a view of the boats through our bedroom and bathroom shutters, and outside access just outside our door.
It's a premium location in Manteo and a great place to stay.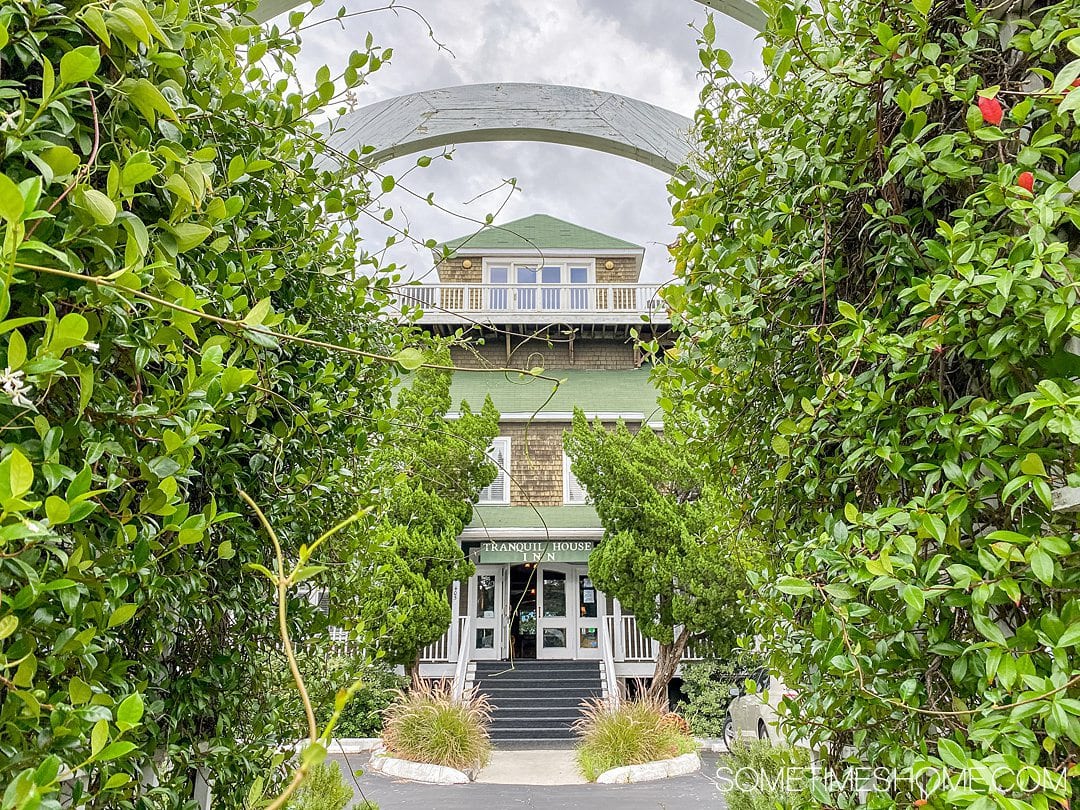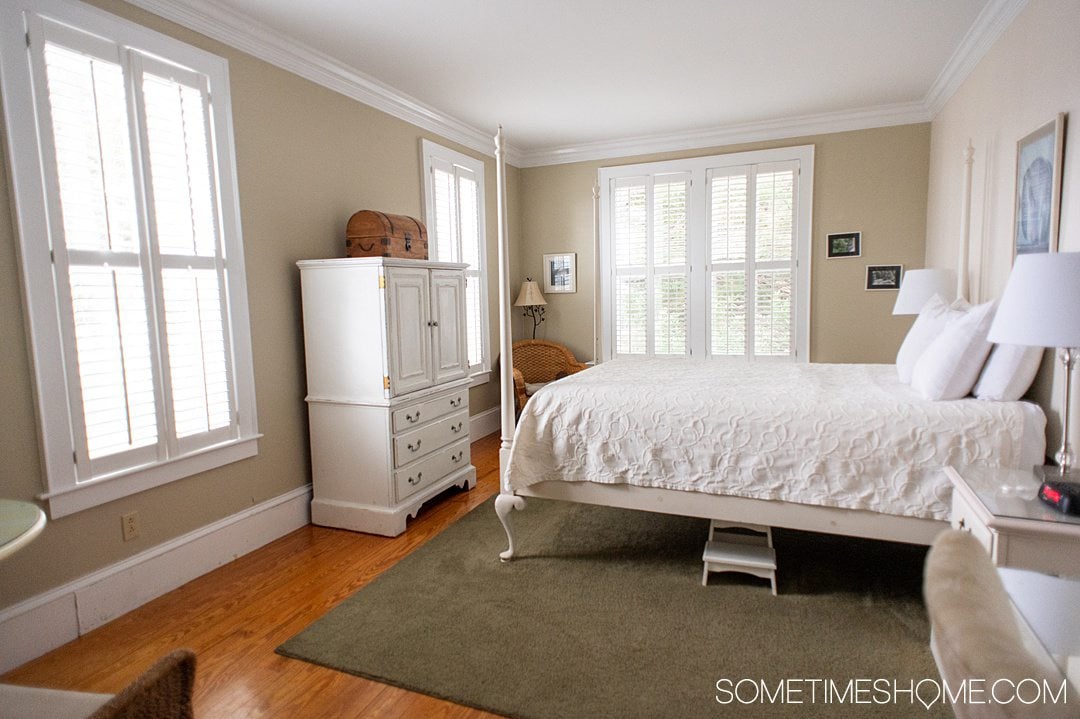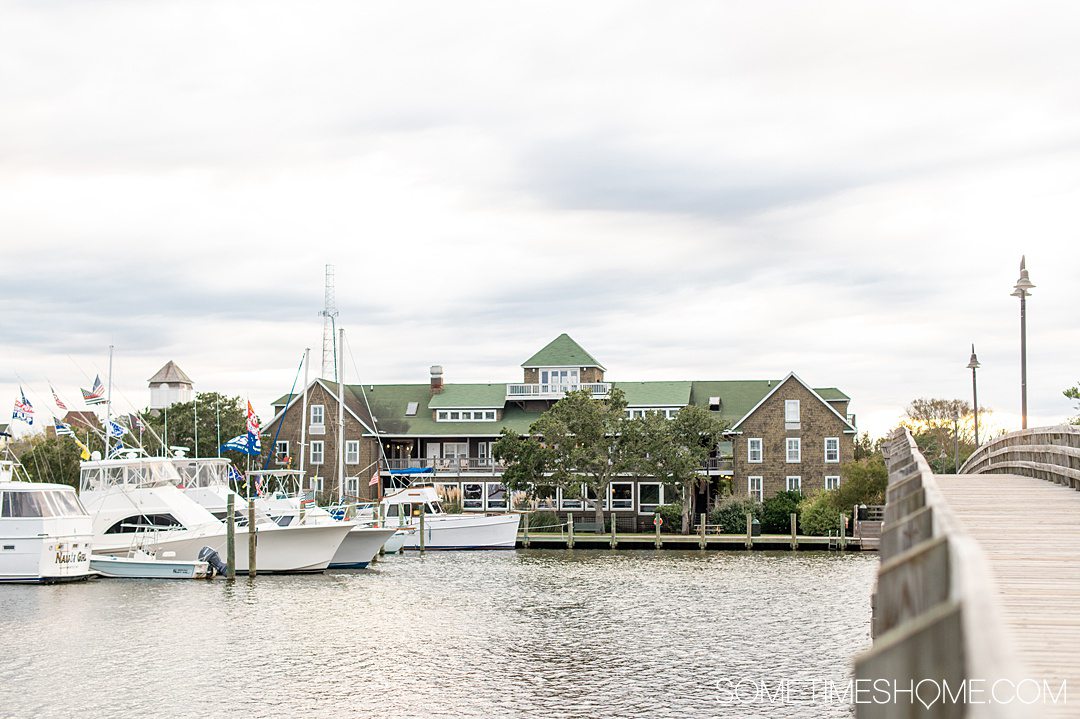 Expand Your Knowledge at One of Two Museums
There were two museums we visited worth noting. One had no cost to visit and the other had a nominal entrance fee:
Graveyard of the Atlantic Museum: A museum dedicated to the shipwrecks in the Atlantic Ocean, of which there, unfortunately, have been many off the coast of the Outer Banks. Hence, why there are a good amount of lighthouses in the area to guide offshore ships.
Wright Brothers National Memorial: This national park costs about $10 per person to visit. An annual pass to the National Parks will cover your cost if you have one.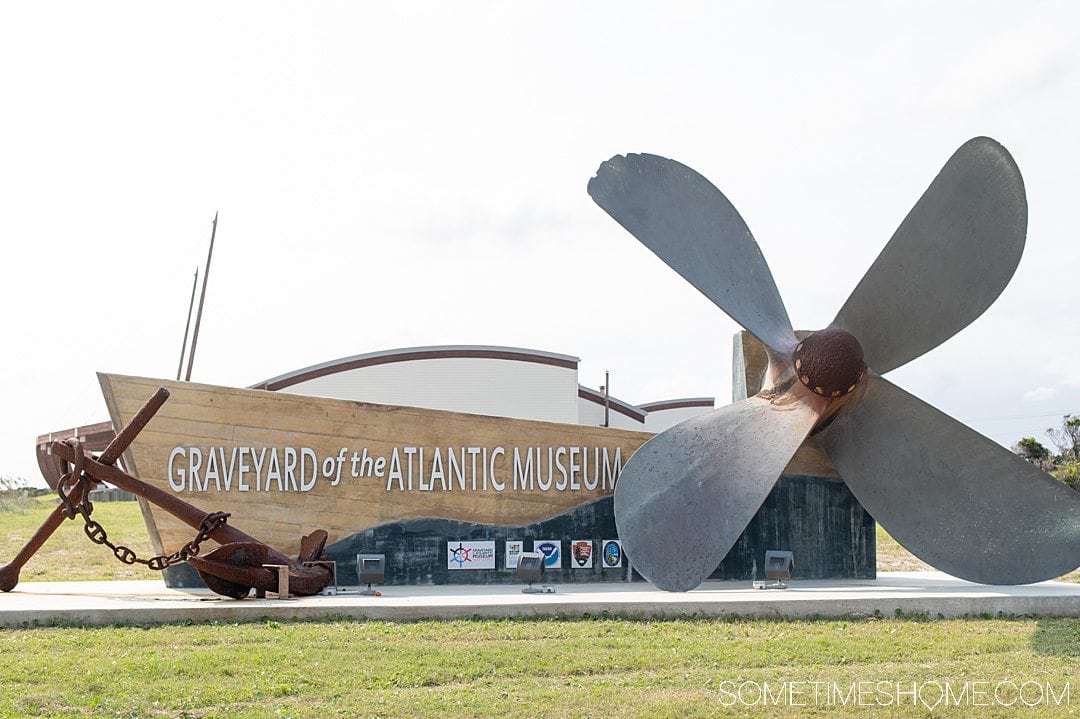 We wrote about both museums in more depth in our article about great indoor activities in the Outer Banks.
However, we'll also mention that there's a great outdoor component to both museums. There is direct access to Hatteras Beach directly across from the Graveyard of the Atlantic Museum.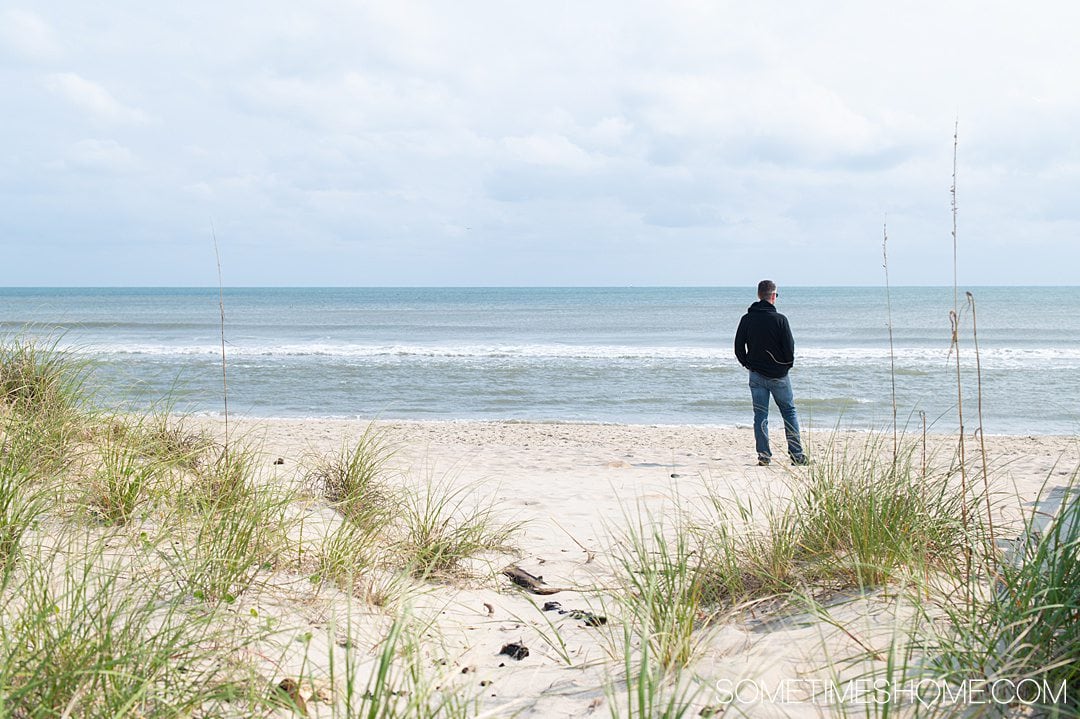 There's also a lovely outdoor component to the Wright Brothers National Memorial. We went back there the day after our first visit since entry is valid for seven days.
It was raining the first day we went when we did the indoor museum, so we went back to walk the outside areas the next day when the skies were clear.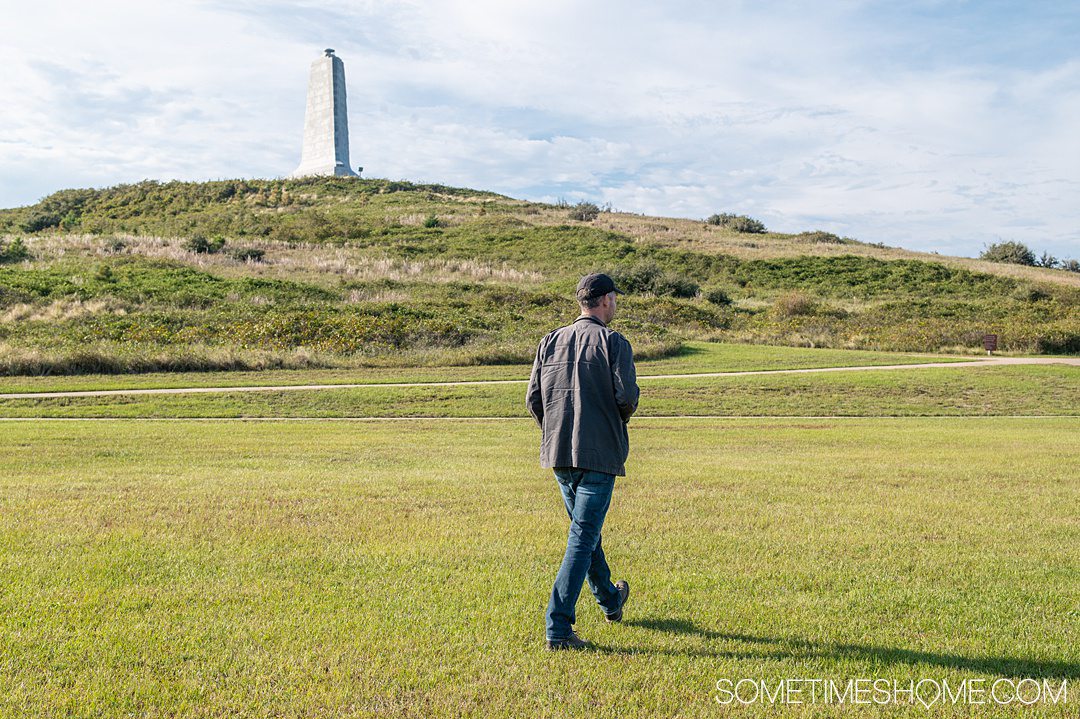 We visited as early as possible when the park gate opened at 9:00am. (We had to be at Jockey's Ridge State Park for hang gliding the same day, around 9:45am.)
The unofficial award for first car into the park went to us! (Though there must be another way in since locals using the park for exercise and to walk their dogs were around us.)
We took our morning coffee for a little walk up to the Wright Brothers Monument and had a beautiful view over Nags Head to the water. We highly recommend it! It was especially peaceful during a weekday morning in October in the Outer Banks.
Again, it's like we had the whole place to ourselves minus two or three other visitors we crossed paths with.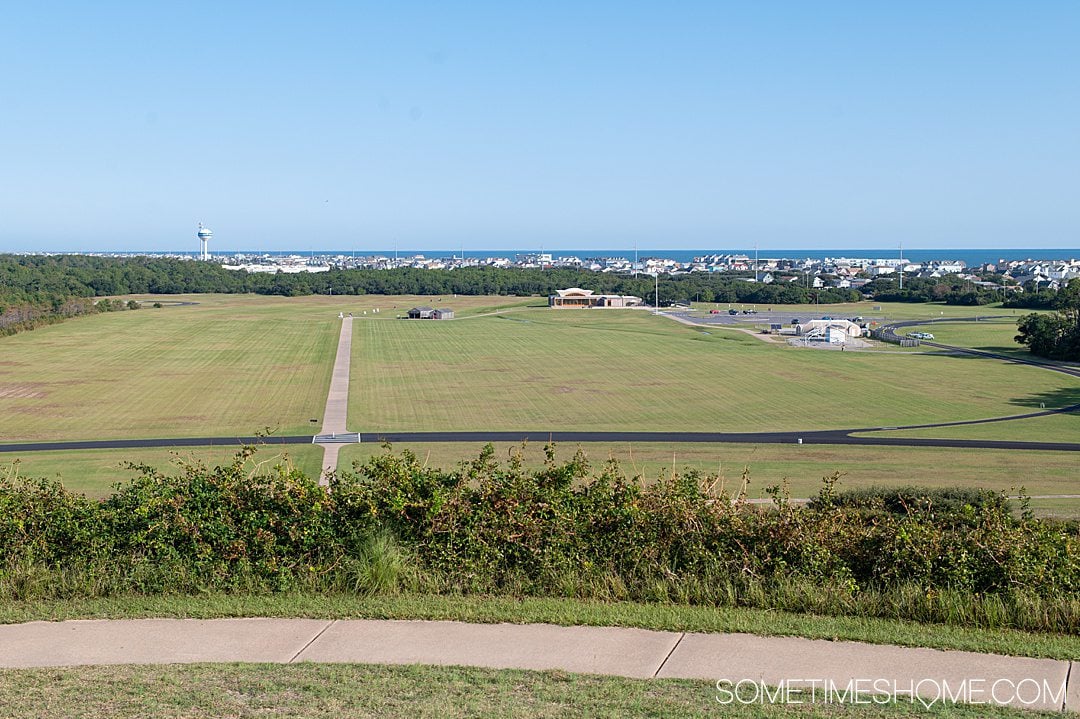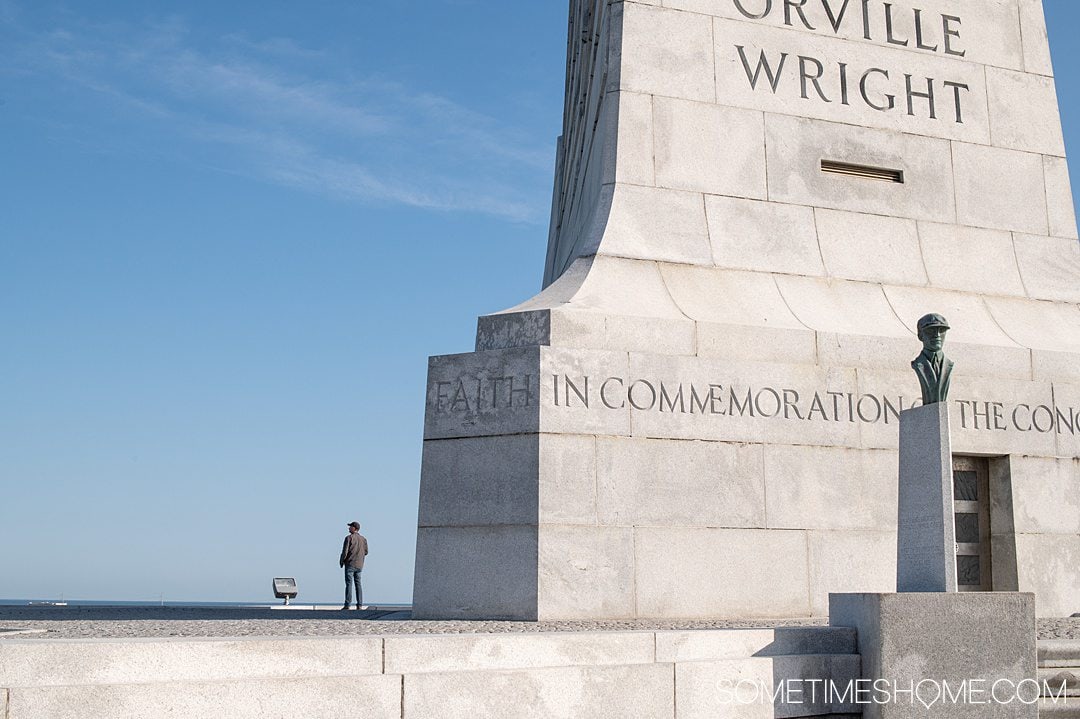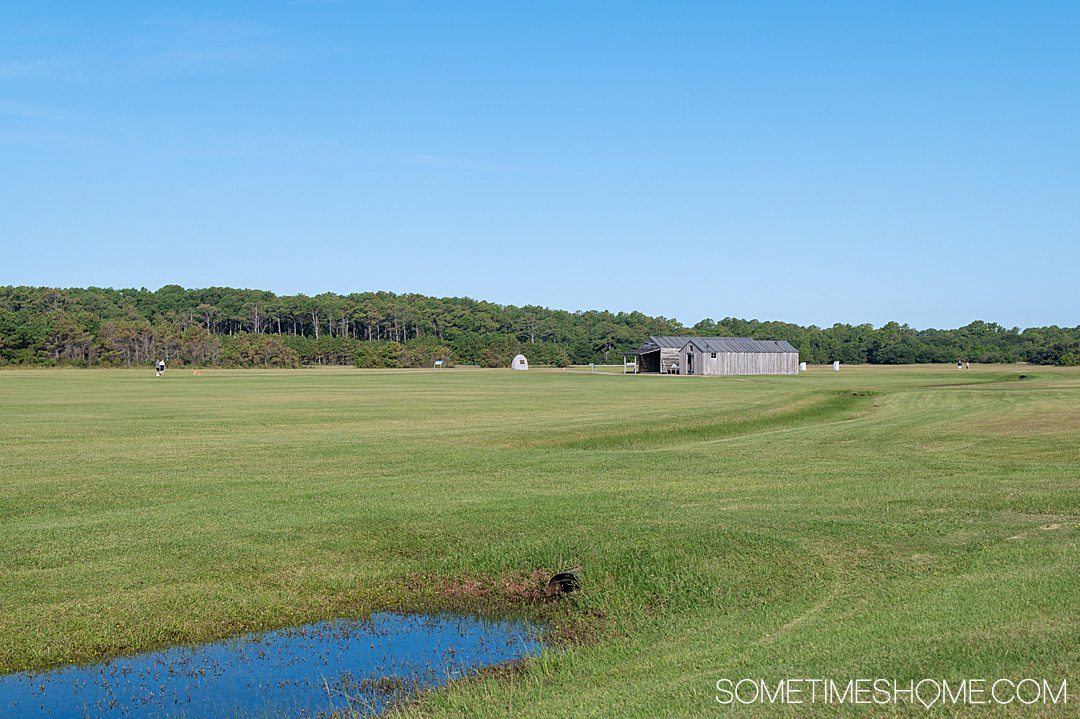 Visit the Outer Banks Lighthouses
There are five beautiful lighthouses in the Outer Banks to visit in October.
Some of these have small museums on the property where you can learn more about the lighthouse and its role in the history of NC and the Outer Banks. You can walk up spiral stairs to the top of most of them for a small fee.
We learned the name for the pattern on one of the informative signs around the lighthouse so be sure to read them.
The patterns on the lighthouses are called "daymarks." They're purposely painted in colors that make them stand out amongst the earth tones of the nearby beaches.
Cape Hatteras Lighthouse, which is painted in a spiral black and white pattern.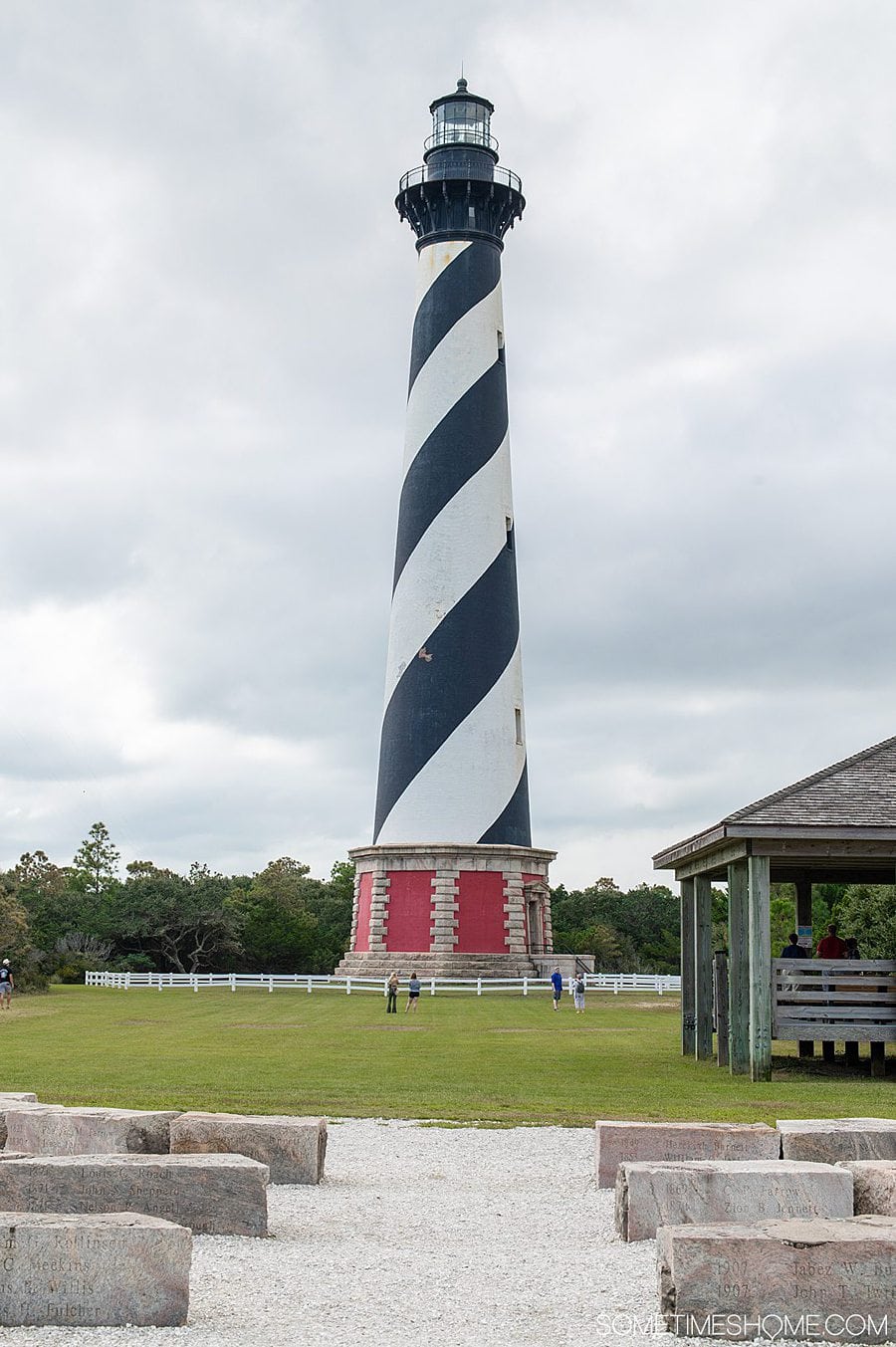 Ocracoke Lighthouse, on Ocracoke Island, is painted white. (It's also rather small compared to the other two we saw.)
Bodie Island Lighthouse, in Nags Head, is painted in horizontal black and white stripes.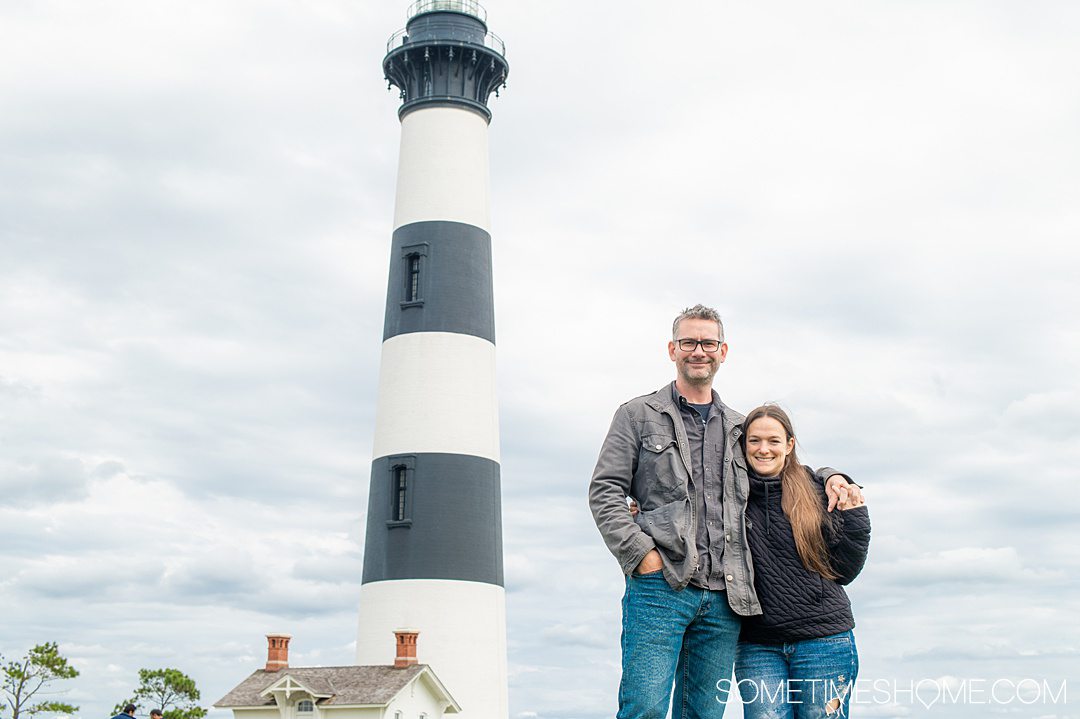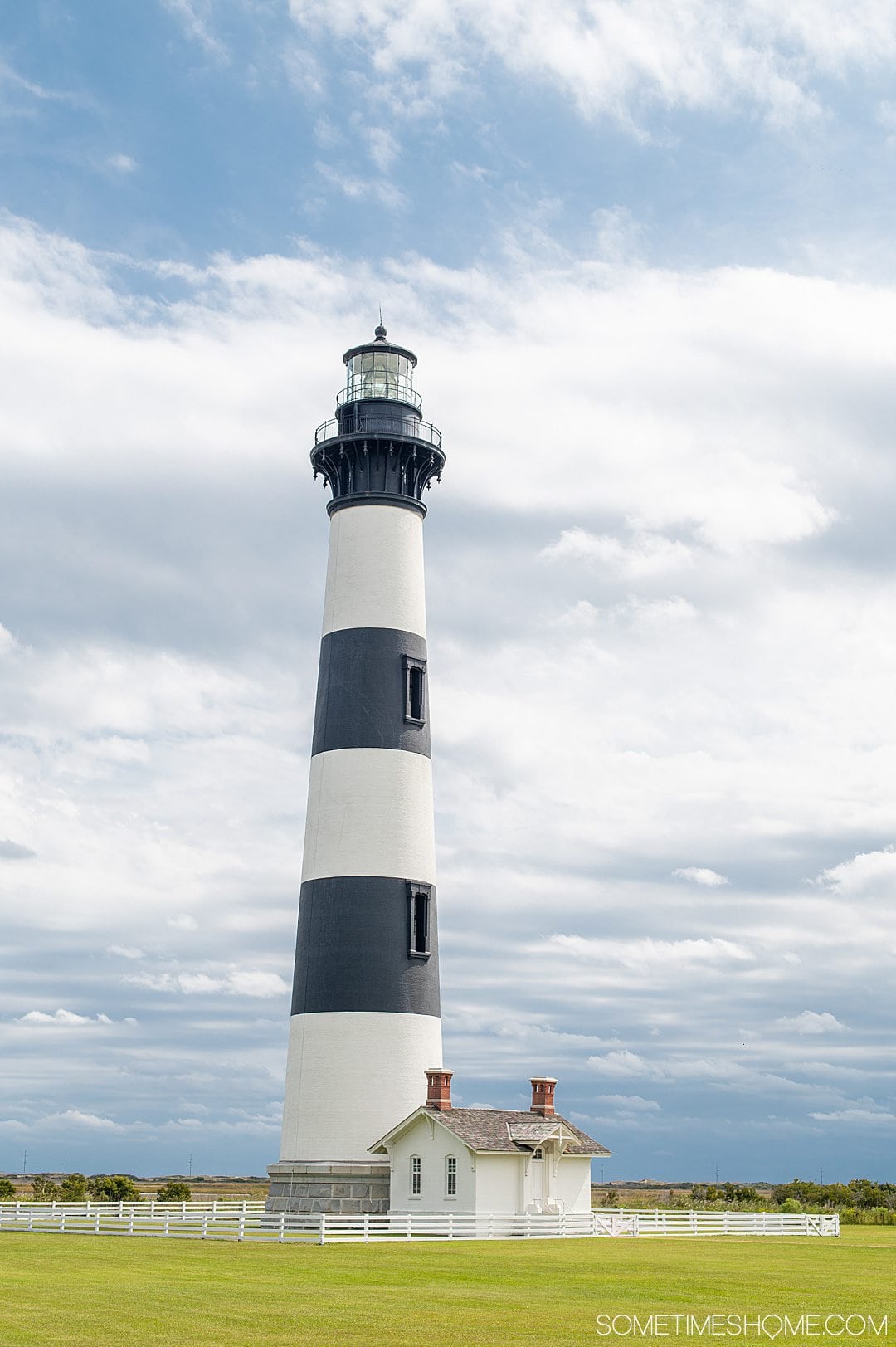 Roanoke Marshes Lighthouse, in Manteo. This is not a lighthouse in the same vein as the others. It's a small structure with a very small lighthouse on top of it. We could easily walk to it on the boardwalk from our hotel in Manteo, The Tranquil House Inn.
Currituck Beach Lighthouse, in Corolla. This red brick lighthouse is a bit of a way further north in the Outer Banks. But we wanted to mention it in case you are trying to see all the lighthouses in OBX. It's about an hour north of the Bodie Island Lighthouse or Roanoke Marshes Lighthouse.
Spend a Day (or more) at Ocracoke Island
We mentioned the lighthouse on Ocracoke Island above. You reach Ocracoke by taking a ferry to the island – for us, we traveled there via the southend, complimentary Hatteras Island ferry ride. It's a fun hour-and-a-half-hour ride.
You're able to drive your car onto the Ocracoke ferry. The island's main area is about a 15 to 20-minute drive west once you reach the Ocracoke shore from Hatteras. There, you can drive off the boat. It's a good idea to have a mode of transportation once you get to the island from the ferry since it's not walkable to reach the main area of town from there.
The best experience once you get to the main area of Ocracoke, in our opinion, is simply walking around the island. But you can do more on Ocracoke, including renting kayaks, walking around and enjoying nature, and visiting 1718 brewery.
You can also get lunch or dinner, indulge in some ice cream, and maybe even sign up for a fishing tour. (Which you can do in Hatteras as well, so if you're only on Ocracoke island for the day, perhaps don't spend the day fishing on the water.)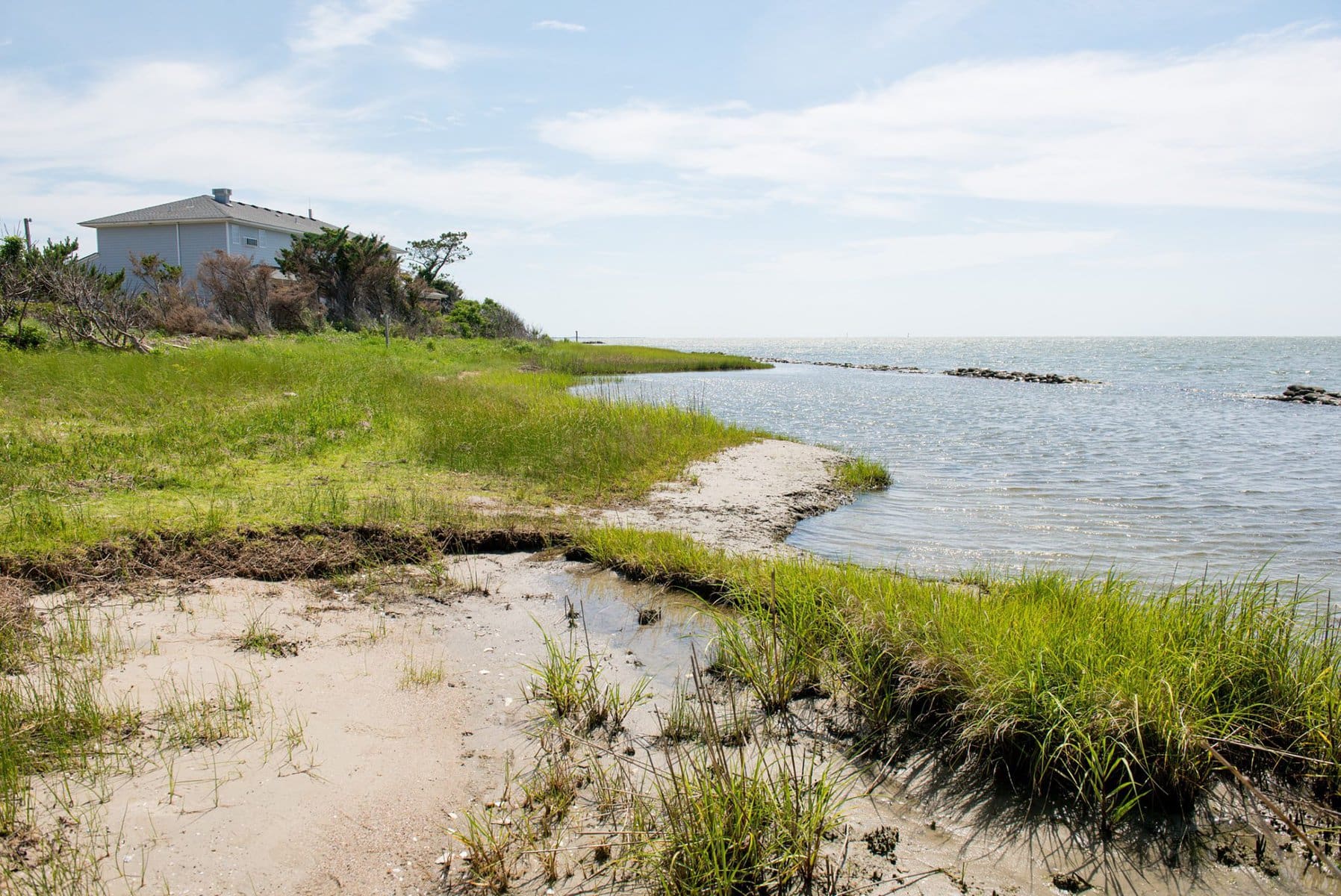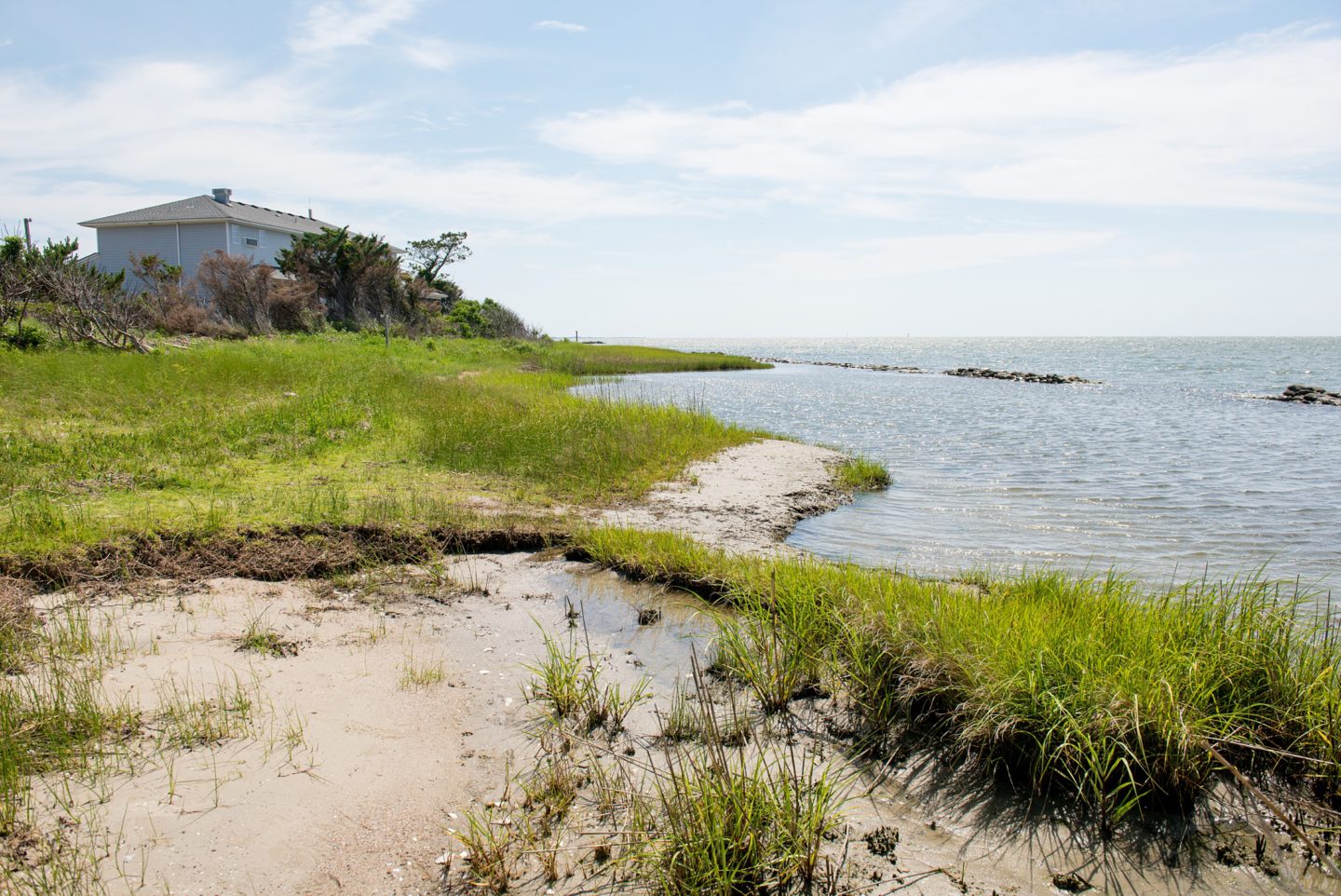 A word of advice for going to Ocracoke, especially for your first visit: if you can stay overnight, you should. It'll take you less time to get onto a ferry during off hours, rather than wait in line until your car makes it on during the day.
But once you can get onto a ferry at night, it's not enough time to explore the island in October with sunlight since sunset is between 6:30pm to 7:00pm.
We didn't have a wait and got onto a ferry around 5:30pm. We stayed overnight after our ferry arrival around 6:45pm. But we had heard that people wanting to get onto an earlier ferry that day, to spend the day there had to wait for hours. What a waste of time to simply wait in line!
We also had no problem getting onto a ferry the next afternoon, around 1:30pm, to go from Ocracoke back to Hatteras Island. Our ferry plan worked like a charm!
See the Mother Vine
The Mother Vine is the oldest grapevine in the United States. It's a muscadine scuppernong variety that's been there since the colonists came over to America in the 16th century. It's believed the Mother Vine earliest-cultivated grapevine in the US dates back to 1584. But exactly who planted it is unknown.
We were intrigued to see it after seeing the Oldest Vine in Slovenia, and hearing about the Mother Vine in our very own state of North Carolina. We learned about its existence after a virtual class learning about muscadine grapes. (And we were fascinated!)
It's a little odd to see it because there isn't much else to do there as of fall 2020. And it's on the front lawn of what appears to be a family home.
But it was fun to stop by to see the leaves changing color in October in the Outer Banks and get a historic photo. We got a kick out of visiting this very interesting piece of NC and American history. (And it's a must for wine enthusiasts.)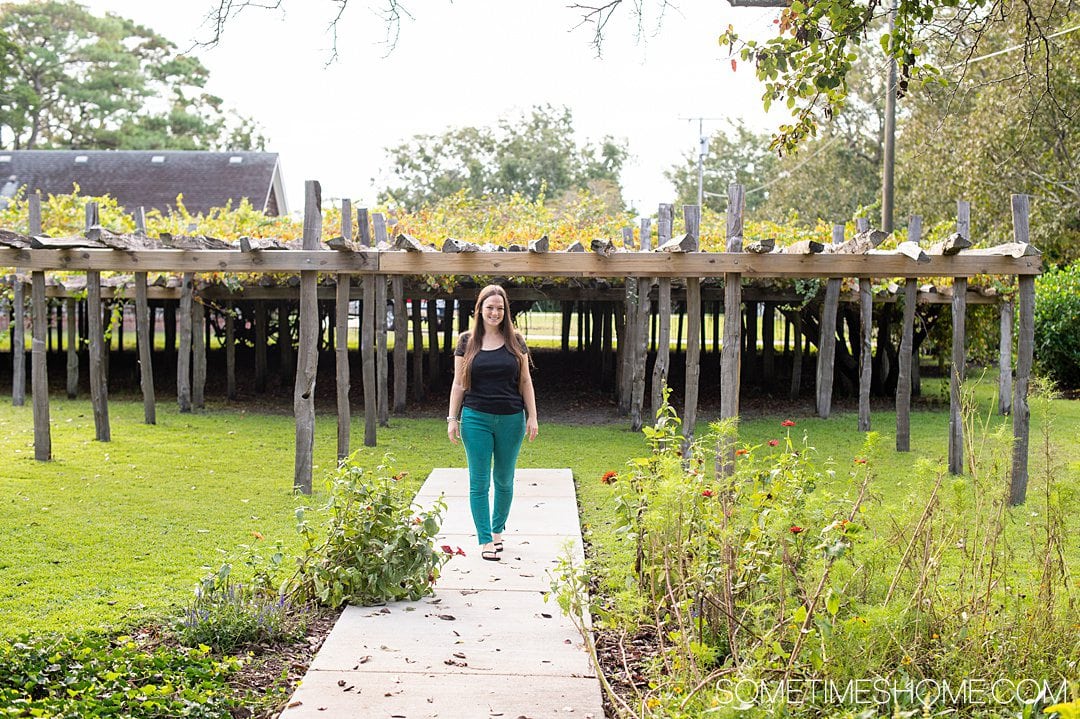 Enjoy Waterfront Dining and Delicious Seafood
We loved getting seafood everywhere we went in the Outer Banks in October. An advantage of visiting during this time is it shouldn't be too hot – nor too cold, hopefully – for waterfront dining.
Sure, you can get seafood year-round in OBX. But one of the best perks was learning that being there in October meant we could take advantage of Oysters Happy Hour at Blue Water Grill & Raw Bar! And that, alone, is worth visiting for during fall if you love oysters, like us. $1 oysters are available during October between 4:00 pm to 6:00 pm.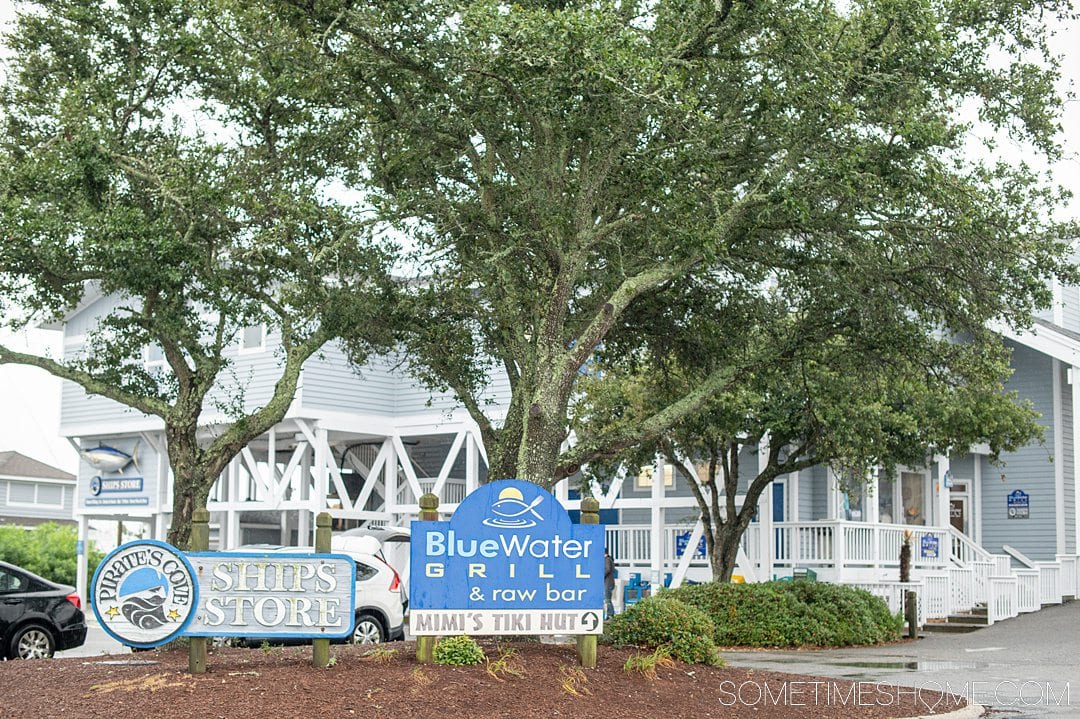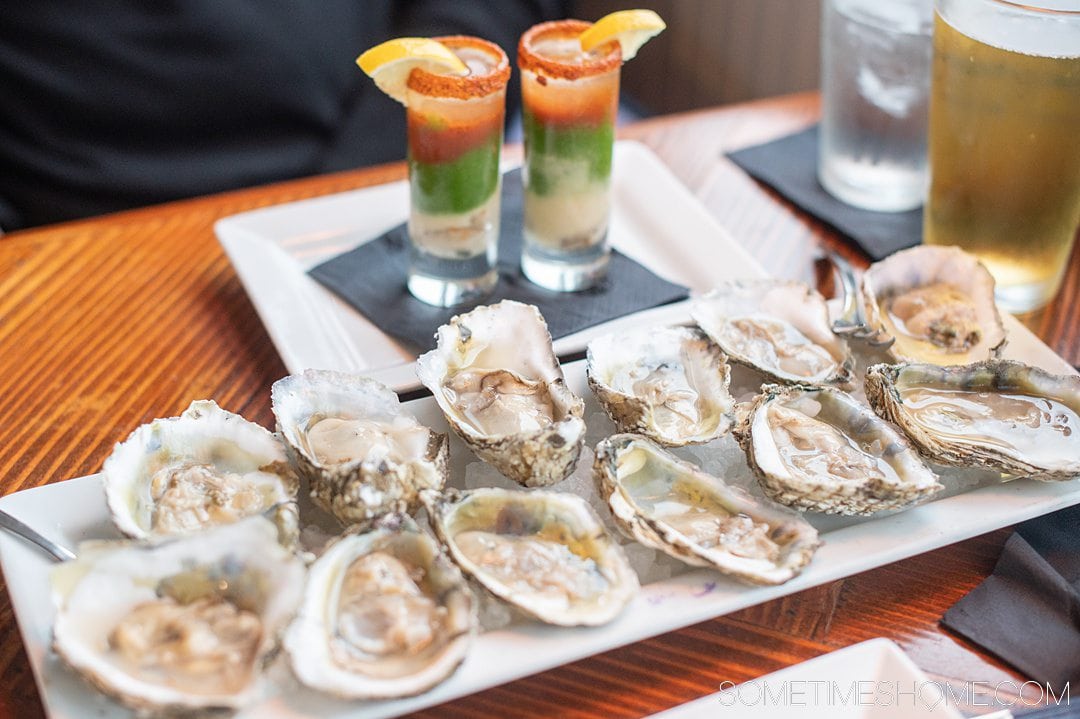 It was also nice to not have to compete with other visitors for a waterfront table if we wanted one. The restaurants know such seats are in demand. And because it was off-peak, shoulder season time, we were seated with a view at whatever restaurant we ate at
Another cool thing about visiting the Outer Banks in October was that several restaurants had pink cocktails for Breast Cancer Awareness month. Drink proceeds benefitted the cause.
Walk to Roanoke Island Festival Park
You can easily walk from The Tranquil House Inn over the bridge next to the hotel to Festival Park. We used the opportunity to simply get some exercise but there's potential for there to be events and a museum visit when you vacation in the Outer Banks. You can drive there as well – there is parking on the island.
For $11 you can experience the Roanoke Island Festival Park Museum when it's open. You'll learn about what it was like for the English settlers to come over to Roanoke Island in the 16th century.
This is also where you can gain access to visit the recreation of Elizabeth II boat from the late 1500s. We didn't go on it but enjoyed a view of the boat while we had a seafood lunch in the Outer Banks at Avenue Waterfront Grille, across the water.
They occasionally have fall events as well, like a scavenger hunt they held in October. Check their calendar for the latest information.
The museum is open Tuesday through Saturday from 9:00am to 5:00pm.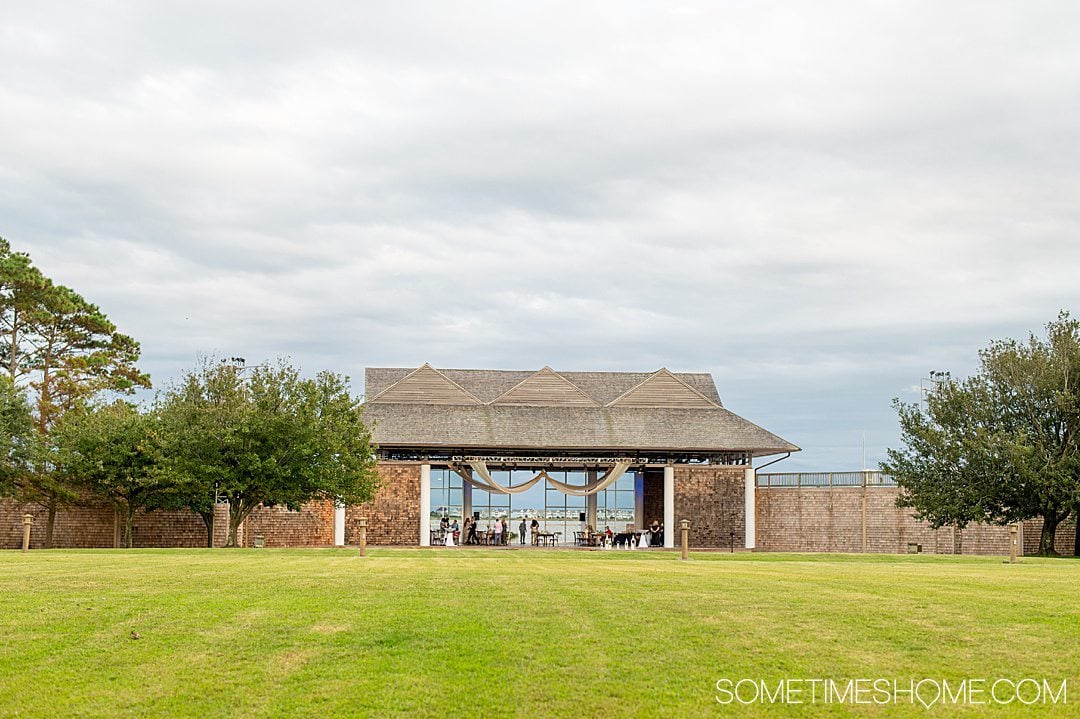 Warm Up at a Cute Coffee House
There were so many cute cafes and coffee shops in the Outer Banks. We loved how welcoming Island Perk Coffee Shop was just across from the Tranquil House Inn on Roanoke Island.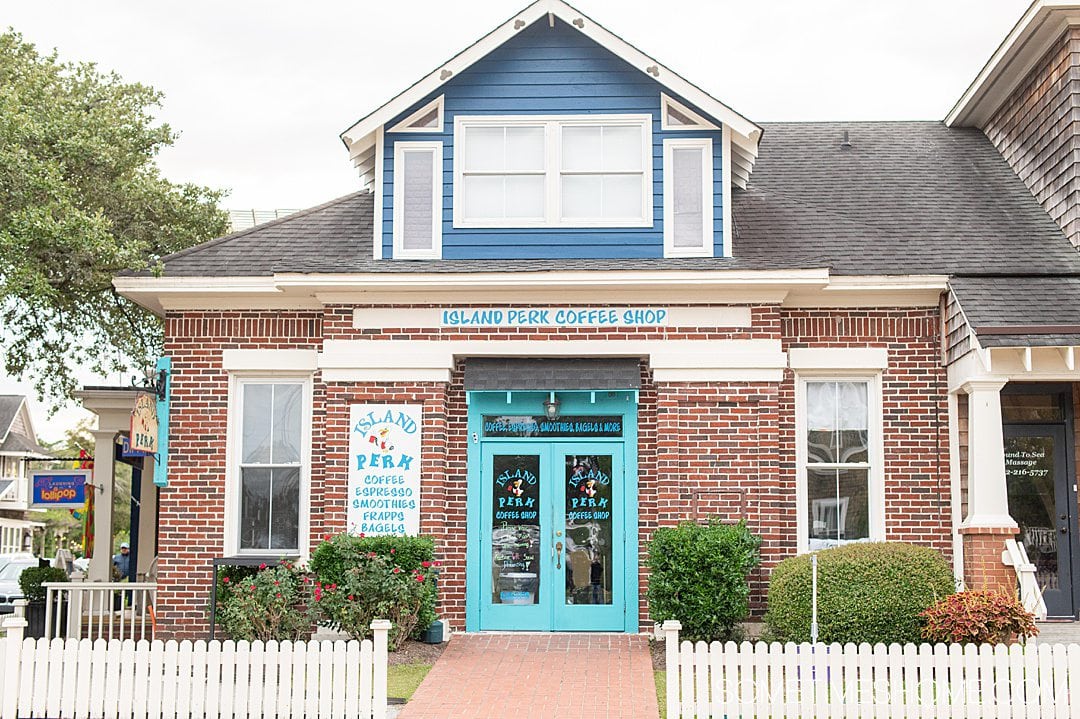 Ocracoke Coffee Company was also adorable. It had plenty of patio seating to enjoy the October air, complete with seasonal pumpkin decorations.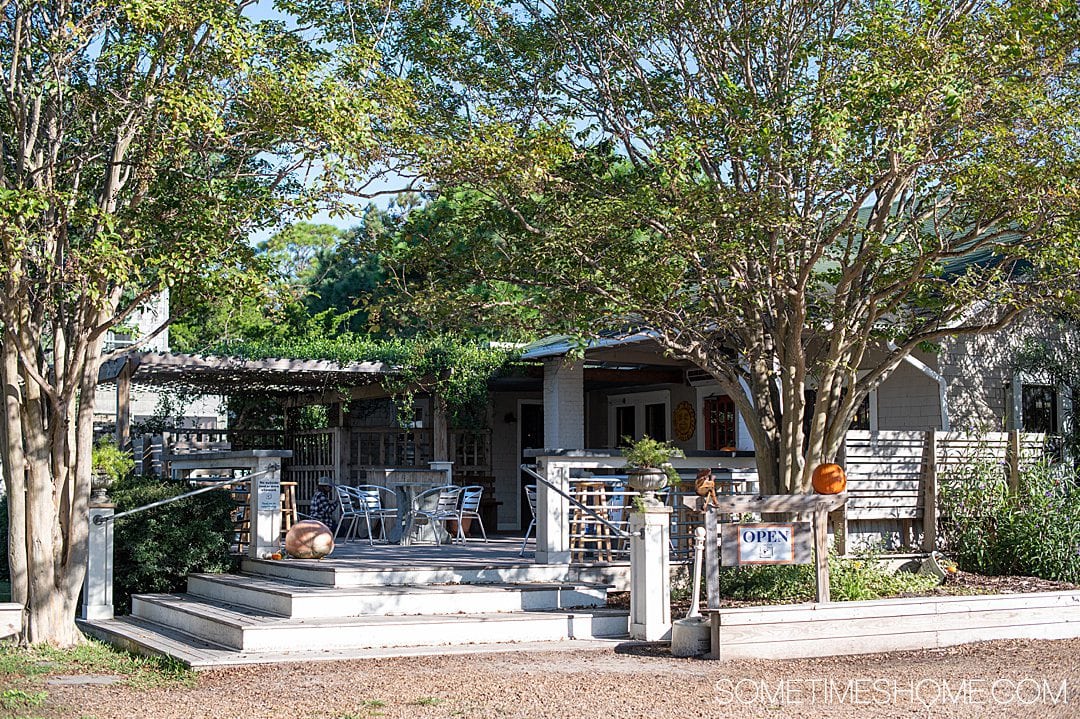 Walk on the Beach
You have to walk on the beach at some point during your Outer Banks vacation along North Carolina's shores. These barrier islands provide miles and miles of coastline to choose from. (And they're very unique in their location. Read this article about Hatteras Saltworks for precise information about why.)
We loved the pink and orange sky sunset gifted us as we arrived to Ocracoke. And the views to the ocean from Hatteras beach, which was across the road from the Graveyard of the Atlantic Museum.
We wore sweatshirts to keep warm during our October visit to the Outer Banks. Though we saw a few people enter the ocean during the day.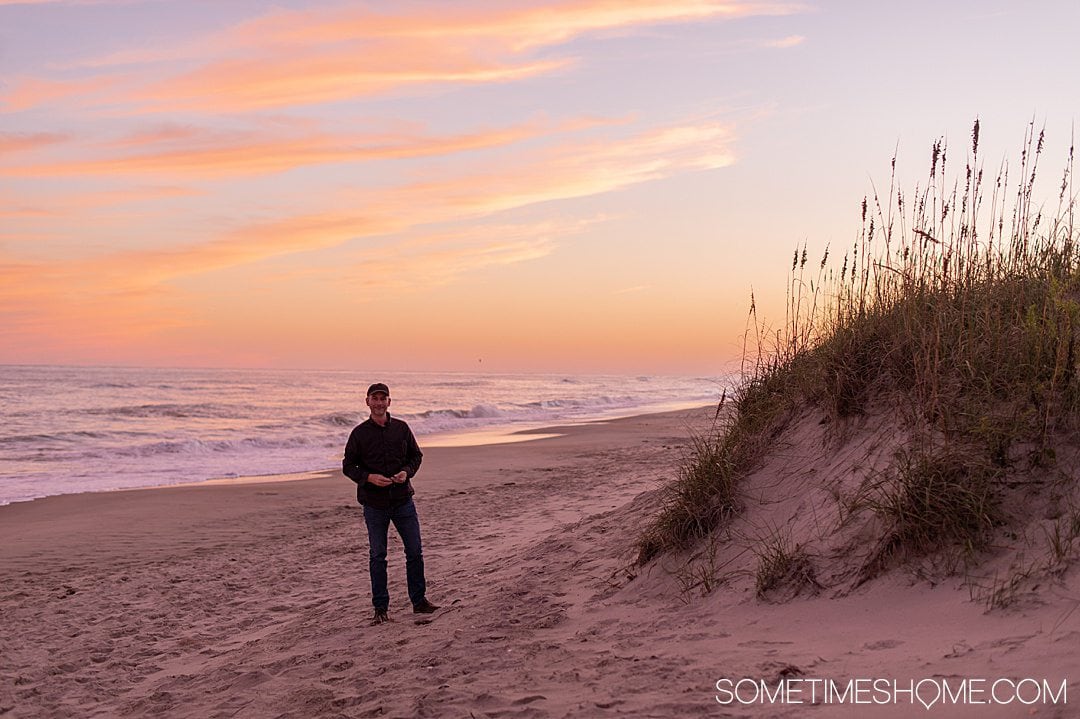 Enjoy Adult Beverages
Breweries, wine tastings, and RUM, oh my!
We loved 1718 brewery on Ocracoke island, sharing a bottle of wine at Ortega'z wine bar in Manteo and tasting the rum spirits at Outer Banks Distilling.
Passing the time with some good libations and the company of your partner is one of life's greatest past times.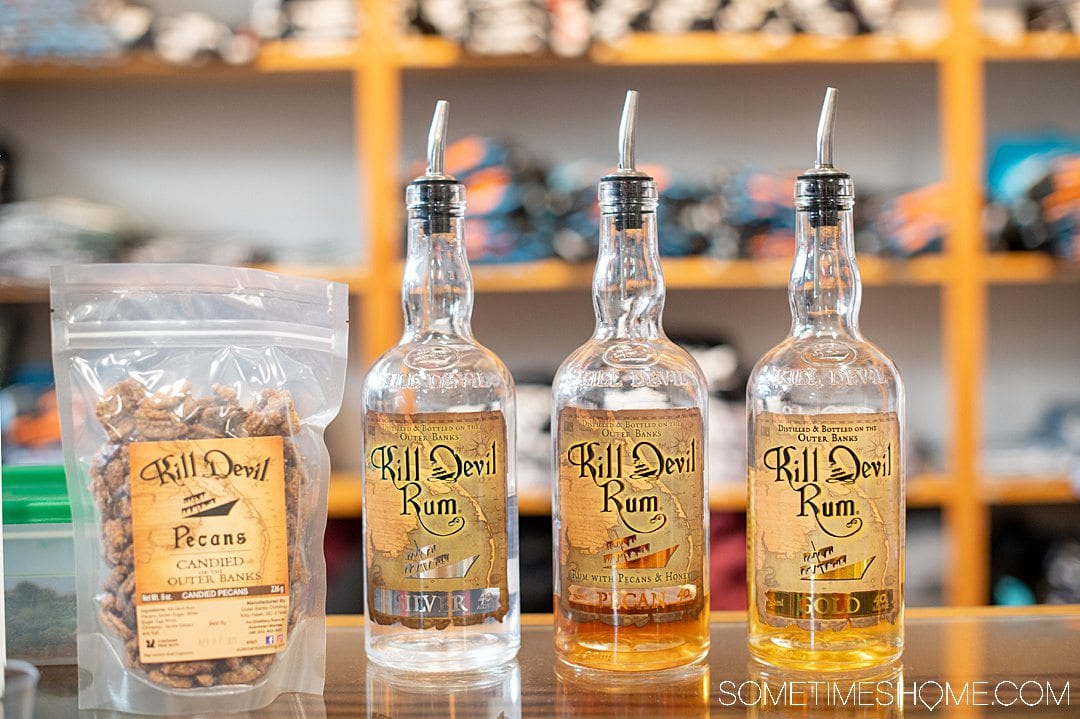 Prepare for the Holidays with Some Indoor Shopping
If you visit during summer, you may not be in the mood for holiday shopping unless you celebrate Christmas in July! But who would be on their beach vacation during that season? You're not in a holiday-season mindset or mode.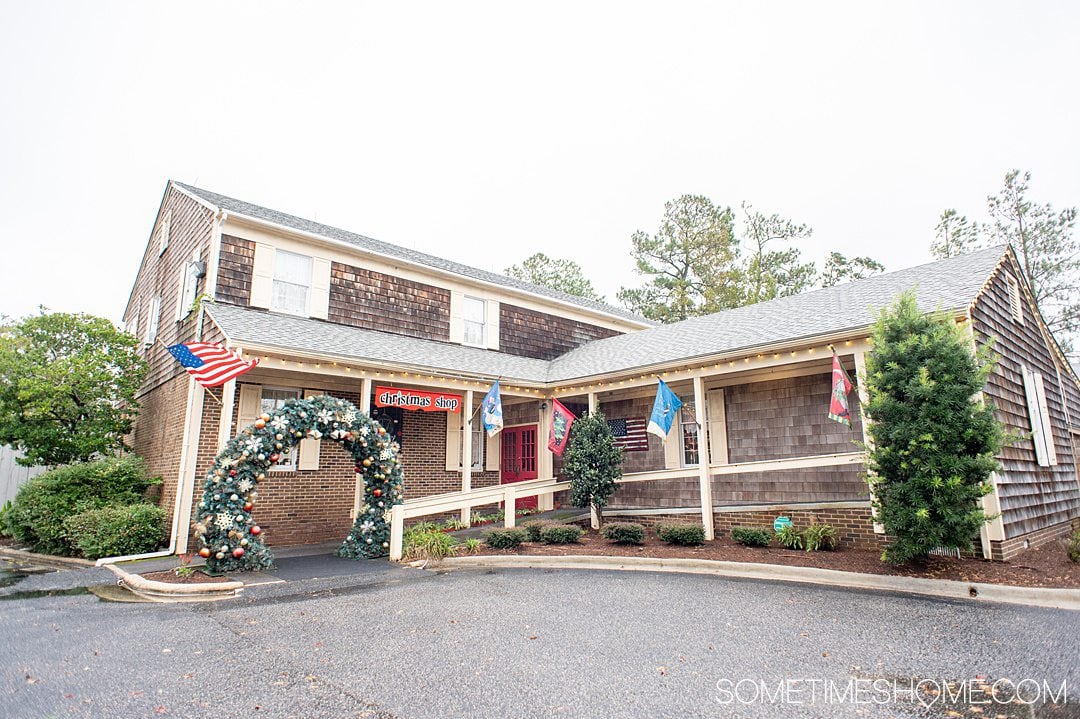 But when we were there in October, the holidays were on our minds. It was officially fall when Starbucks has their pumpkin spice lattes, and fall squash abounds.
We loved our time inside the Christmas Shop store! They have so much more than Christmas items, including some spa-like gifts, and Halloween and Thanksgiving items. And since it was so close to Halloween within the month, all Halloween items were on sale.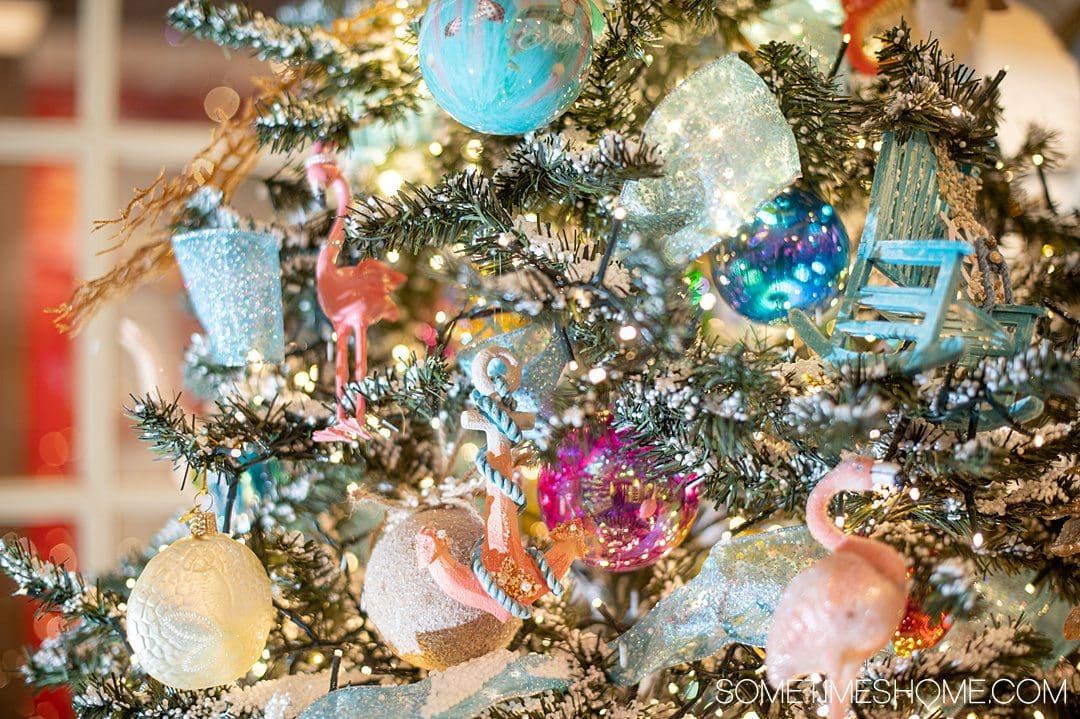 Conclusion about the Outer Banks in October
Going to the Outer Banks in October is wonderful. You'll avoid the crowds, reap some extra benefits of having less people there, and the weather is still fantastic during the day. Just pack some layer options for at night and you'll be golden!
Please note: We thank the Tourism Authority for Dare County's Outer Banks for generously hosting our tasting. We also may make a small commission from affiliate links in this post but all opinions are ours and we bring you genuine content with real facts, photos, thoughts and recommendations. Always.
Heading to the Outer Banks? Also check out: