Upcycled Retro Cigarette Machines: How the Art-o-Mat from Winston-Salem is Democratizing Art
What do you get when you cross old cigarette machines with a retro-loving creative artist? Art-o-mat, founded in Winston-Salem.
These machines are blowing our minds and capturing our hearts as artist-loving, environmentally conscious citizens of the world. They should be on your radar too and their small pieces of art in your home.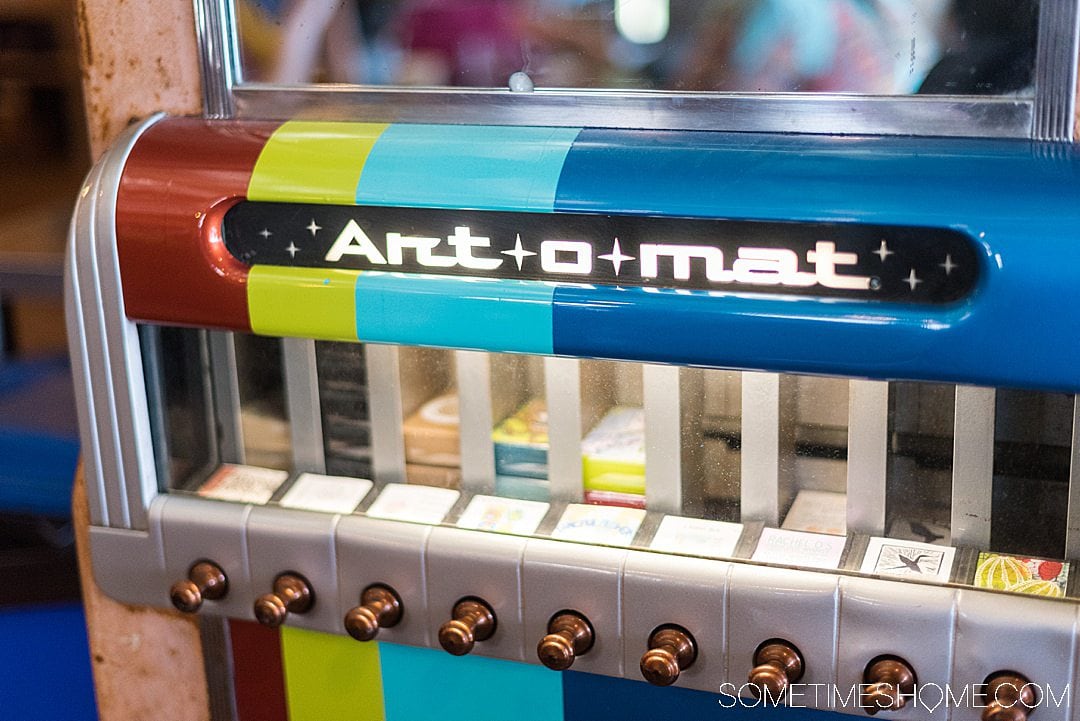 What the Heck is an Art-o-mat?
At the heart of it, it's an old cigarette vending machine that has been recycled for a better, more creative purpose. Thus, it's been "upcycled" with the purpose of democratizing art around the world. (And we love that in upcycling them it's creating less waste for the planet!)
They're purposely low-tech – preferring mechanical devices – and utilize selective wiring. Sure, they could be more electronically sophisticated but where's the nostalgia and retro nod in that?
There's pure beauty not just in each piece but in the concept as a whole. Cigarette vending machines were made illegal by the FDA in the United States in 2010. The only exception is an establishment where no one under 18 was allowed.
I recall a diner I grew up going to on Long Island having a cigarette vending machine as soon as you walked in. As kids, my sister and I would pull on the handles, which you were able to do even if you didn't put money in to buy a pack. (Which we weren't trying to do, of course. We were in elementary school.)
The smoking section of the restaurant was remodeled long after I moved away from the state when smoking inside restaurants became illegal in New York State around 2011. (And even earlier in NYC around 2002.) Which steadily became more commonplace in America. And so, back to the invention of the Art-o-mat in Winston-Salem…
As these machines become more scarce, their theoretical value goes up. (We don't mean financially as we have no insight into the monetary value of the machines. Nor do we have knowledge of what the cost of the raw materials are, how much money goes into upcycling them, and their subsequent sale. We simply mean to say the value of a product typically increases as its scarcity increases along with it. Clark Whittington is breathing new life into these could-be-relics and is making them desirable again.)
Who Dreamed of this Upcycled, Innovative, Artistic Idea?
Clark Whittington is a Graphic Designer by training but an inventor by ingenuity. And he's been a self-proclaimed "retro geek" his whole life.
He created the first Art-o-mat in Winston-Salem in 1997, when the art it dispensed to customers cost them $1 a piece. It set his unique take on "dumpster art and graphic design" apart from "typical Joe's that love and make art," as he put it. Twenty plus years later, Clark does this full time.
He doesn't do it for the cash but for the love of art and creating the installations. Clark says, "It's the idea and concept of the machines that excite me, not the money." He pours his heart and soul into these machines and the Art-o-mat operation. And it shows.
(Photo below is of Dan, left, with Clark, on the right.)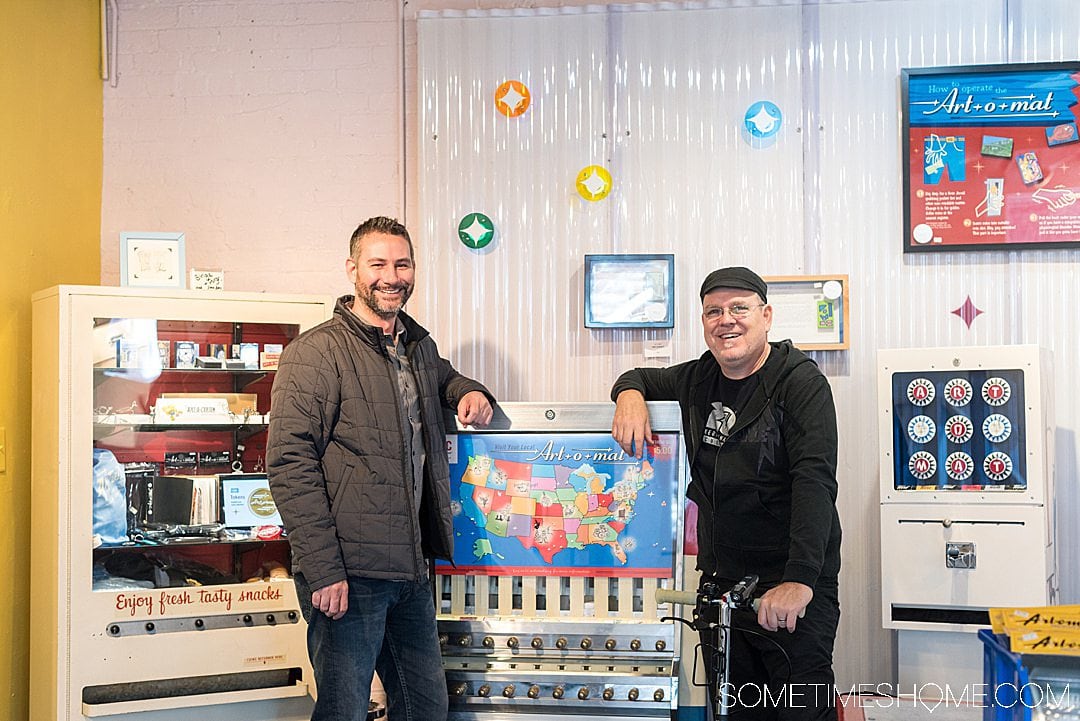 How Many Art-o-mat Machines Exist?
There are 170 Art-o-mat machines around the world and each one is unique. That number increases over time, of course, as Clark gets new orders. You can view all of the Art-o-mats in their online portfolio.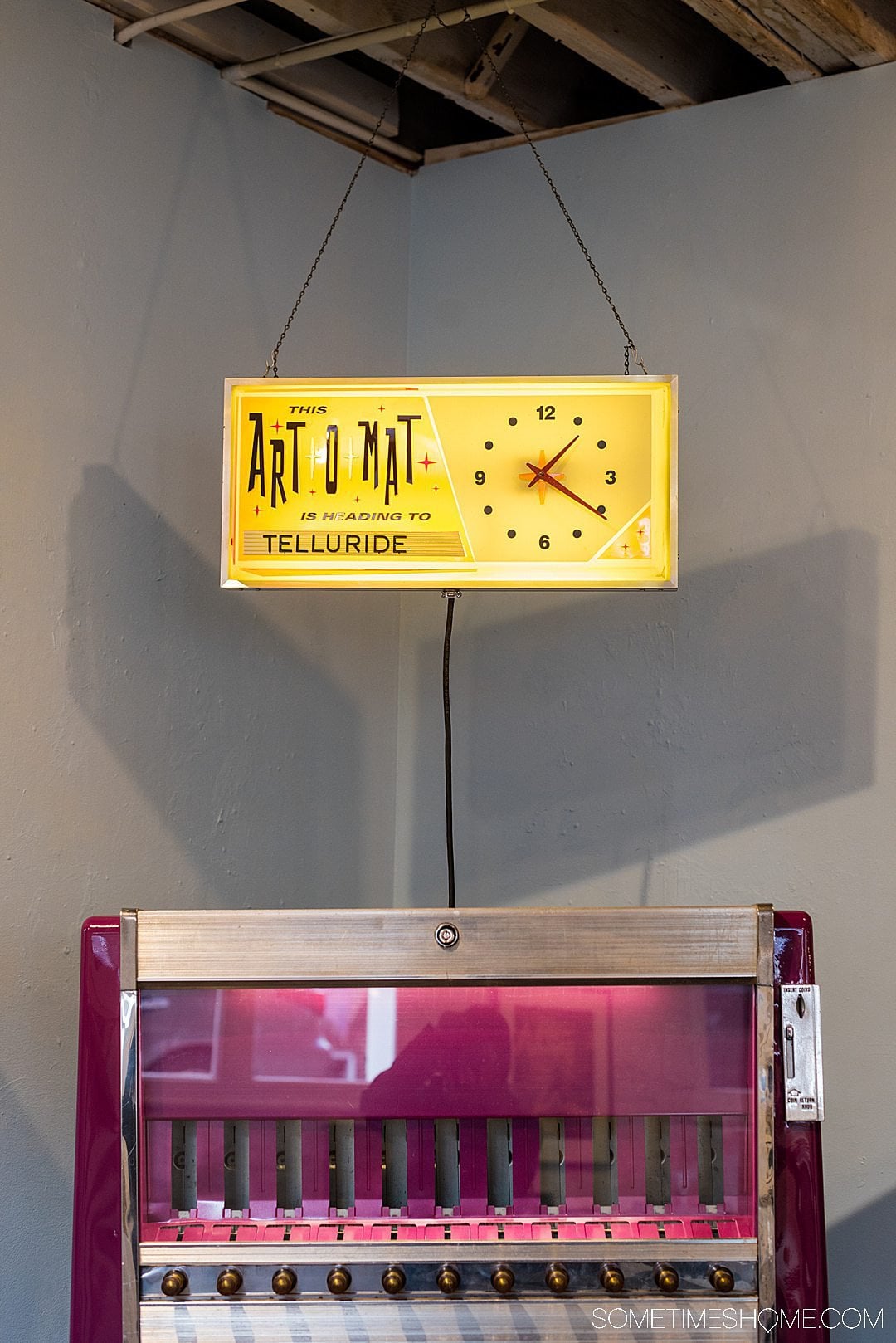 Where Can You Find an Art-o-mat in Winston-Salem, NC?
The largest concentration of them is in Winston-Salem, North Carolina, where they are created. They're all over the city. It was fun for us to happen upon them in a lot of destinations we visited, including several restaurants, like Krankie's downtown, Mary's Gourmet Diner and Earl's in Industry Hill. We saw them in shops and breweries too, including one at Wise Man Brewing.
We caught up with Clark Whittington at Delurk Gallery in the Arts District to learn more about these incredible machines. His passion was apparent and it was interesting to learn more about the ups and downs of being the "father" of the Art-o-mat (though we're sure he'd never phrase it that way).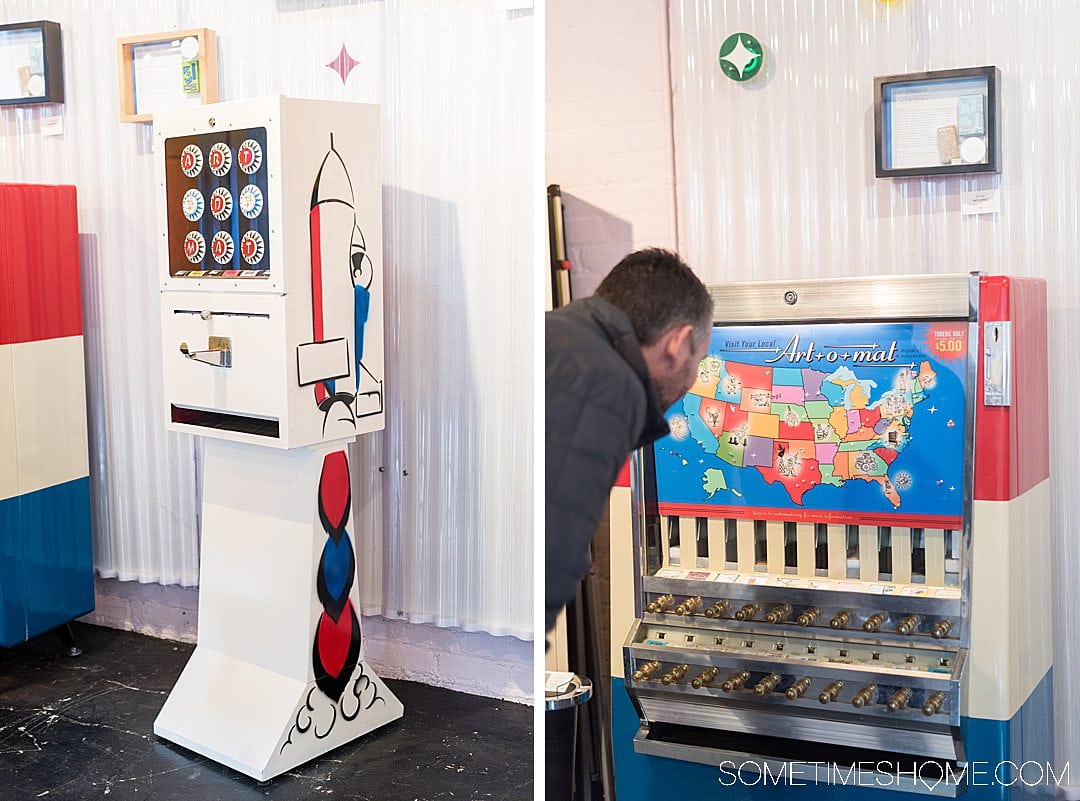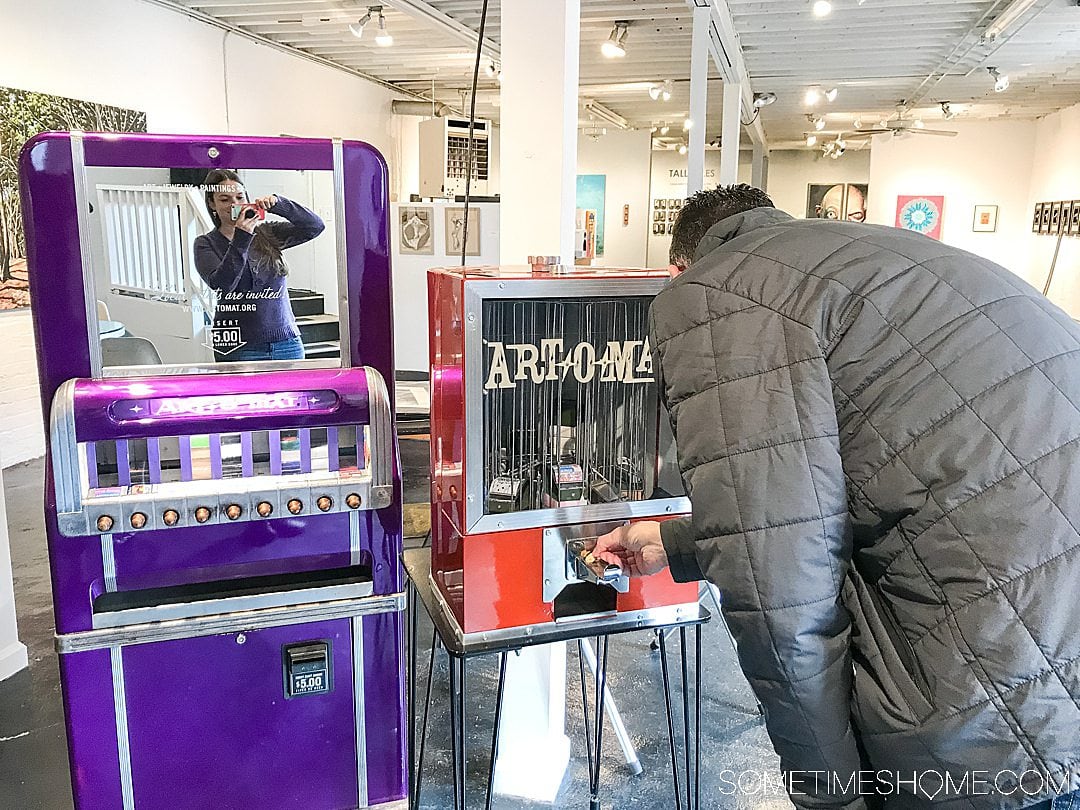 We happily partook in our first Art-o-mat purchase here. I photographed Dan in action as he chose the column of art he wanted to pull from and put his token in to receive art in return.
Some other places we spotted them in Winston-Salem included:
Colony Urban Farm (now closed, unfortunately): We loved the vibrant green "ant farm" Art-o-mat in Winston-Salem here, a place that carried local farm-fresh foods and local honey.
a/perture Cinema: Another playful theme as the first hominid in space, Ham the Astrochimp, stares at you from the Art-o-mat glass, discovered downtown at this independent movie theater on W. 4th Street.
Hotel Indigo: We were surprised to pass a teal and wood Art-o-mat in Winston-Salem here before going up to our room. It was placed right before the guest elevators on the ground level.
There are really so, so many in Winston-Salem it'd be hard to see them all on one trip. But that's part of the fun of going back. You can always find more! Aperture Cinema used to have one that was inspired by Picasso's famous Guernica painting, whose home is in Madrid.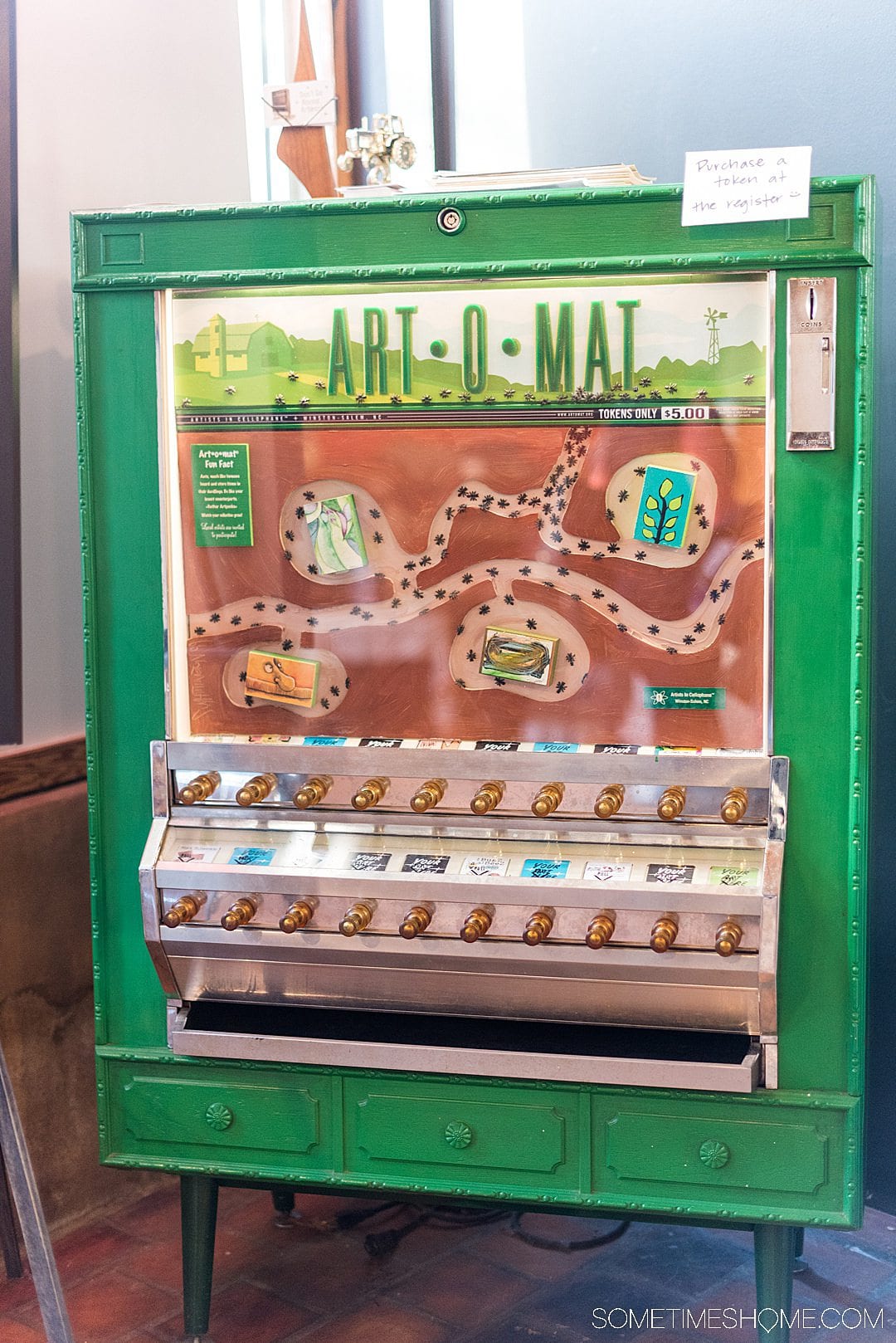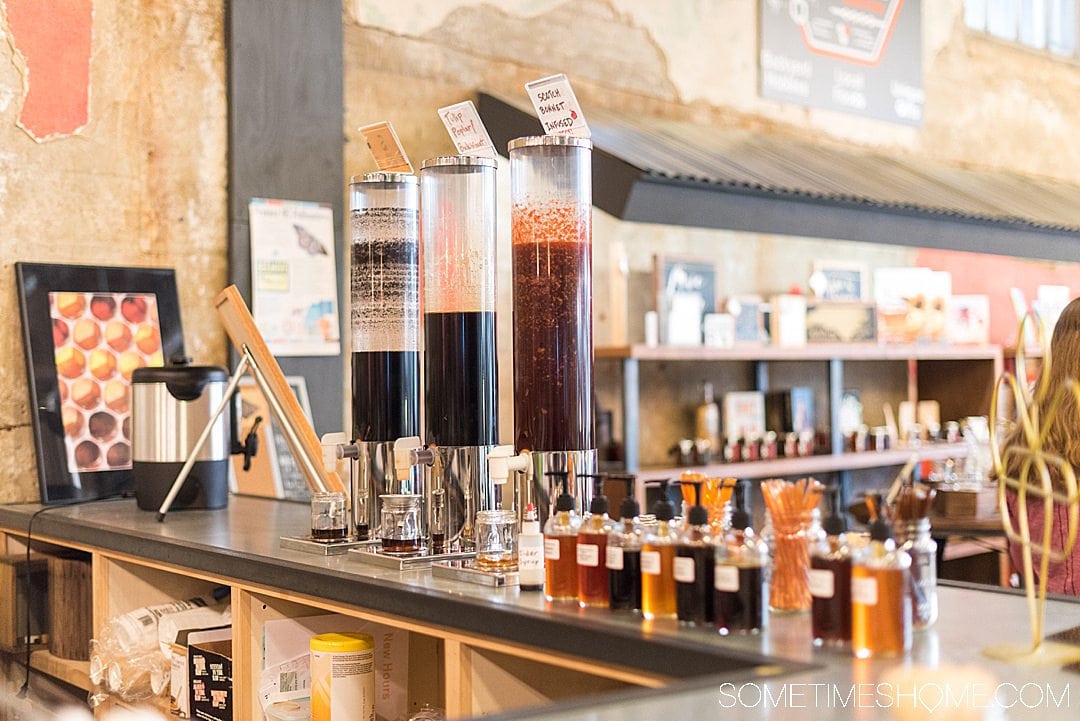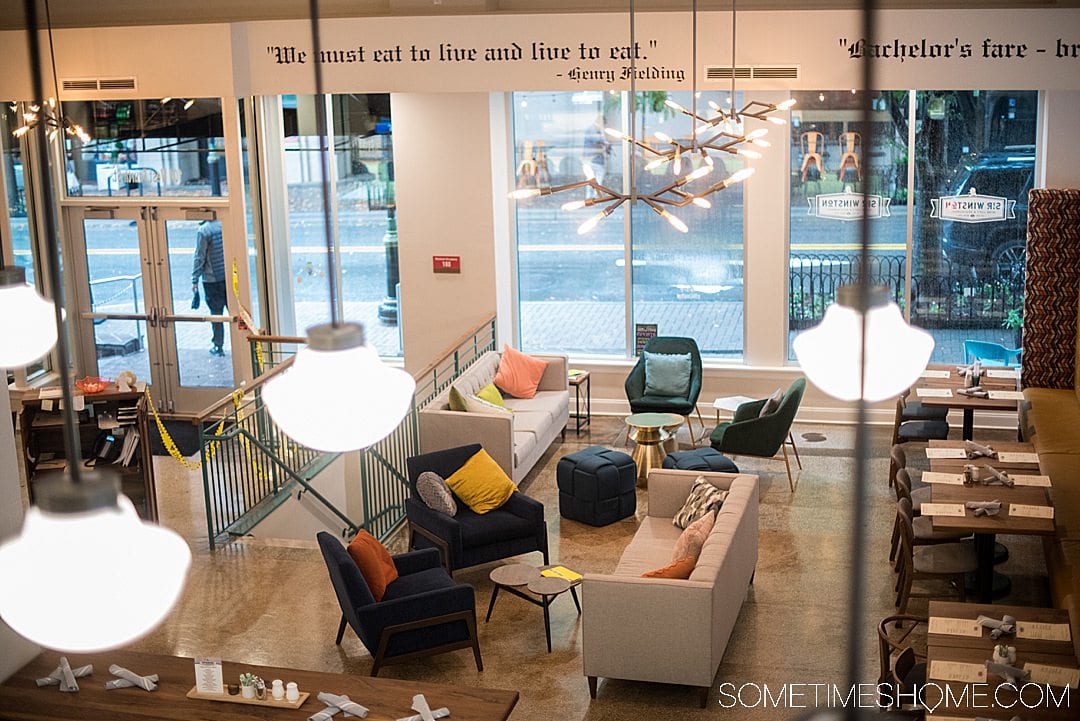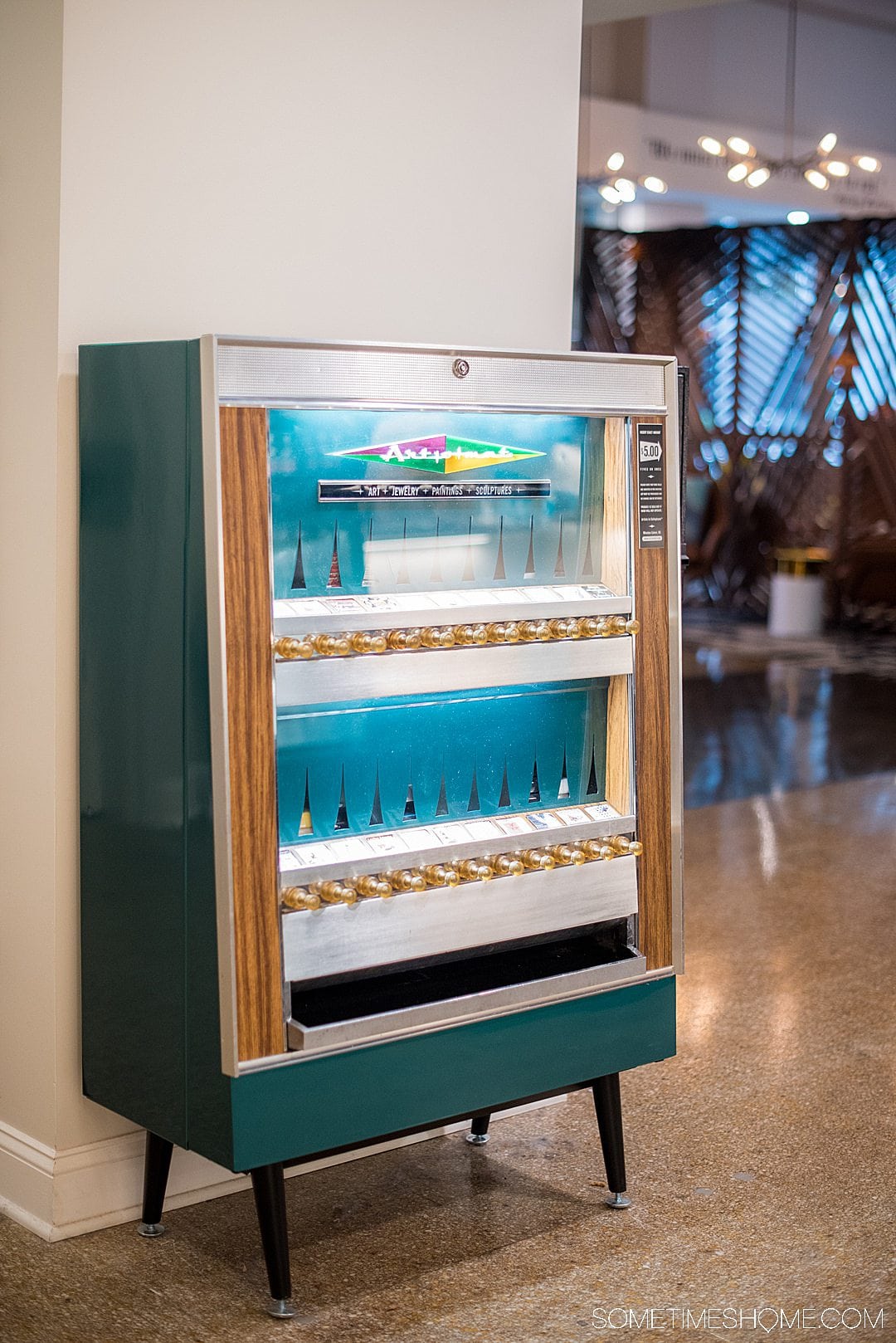 Where to Find Art-o-mats Outside Winston-Salem (including around North Carolina, Las Vegas, Canada and Austria)
It's amazing there are so many Art-o-mat installations around the world. Internationally, they're located in Vienna, Australia, and Canada. Within the continental US, they're in nearly every state from California and Washington, to Wyoming, Kansas, Florida, Indiana, and Louisiana. (Truly, they're in nearly every state!)
They're also all over North Carolina, not only in Winston-Salem. They're in Raleigh, Charlotte, Asheville, Greensboro, Durham, Cary, Chapel Hill, Greenville, and beyond. Clark informed us there are nine at the Cosmopolitan hotel in Las Vegas, Nevada but only six of them are in public. (The other three are in the following places: the executive office area, another is on wheels for private events on the property. And there's a third, which is portable for events on/off the property.) There's also an Art-o-mat in Hawaii, at the Honolulu Museum of Art.
He tries to match the Art-o-mat to the venue. For example, he reveals that he left the patina on a green machine being delivered to an Irish pub because it matched the bar's personality in this fantastic short six-minute documentary on UNC TV.
You can find them in a variety of venues from markets, to restaurants, libraries, museums, theaters and hotels.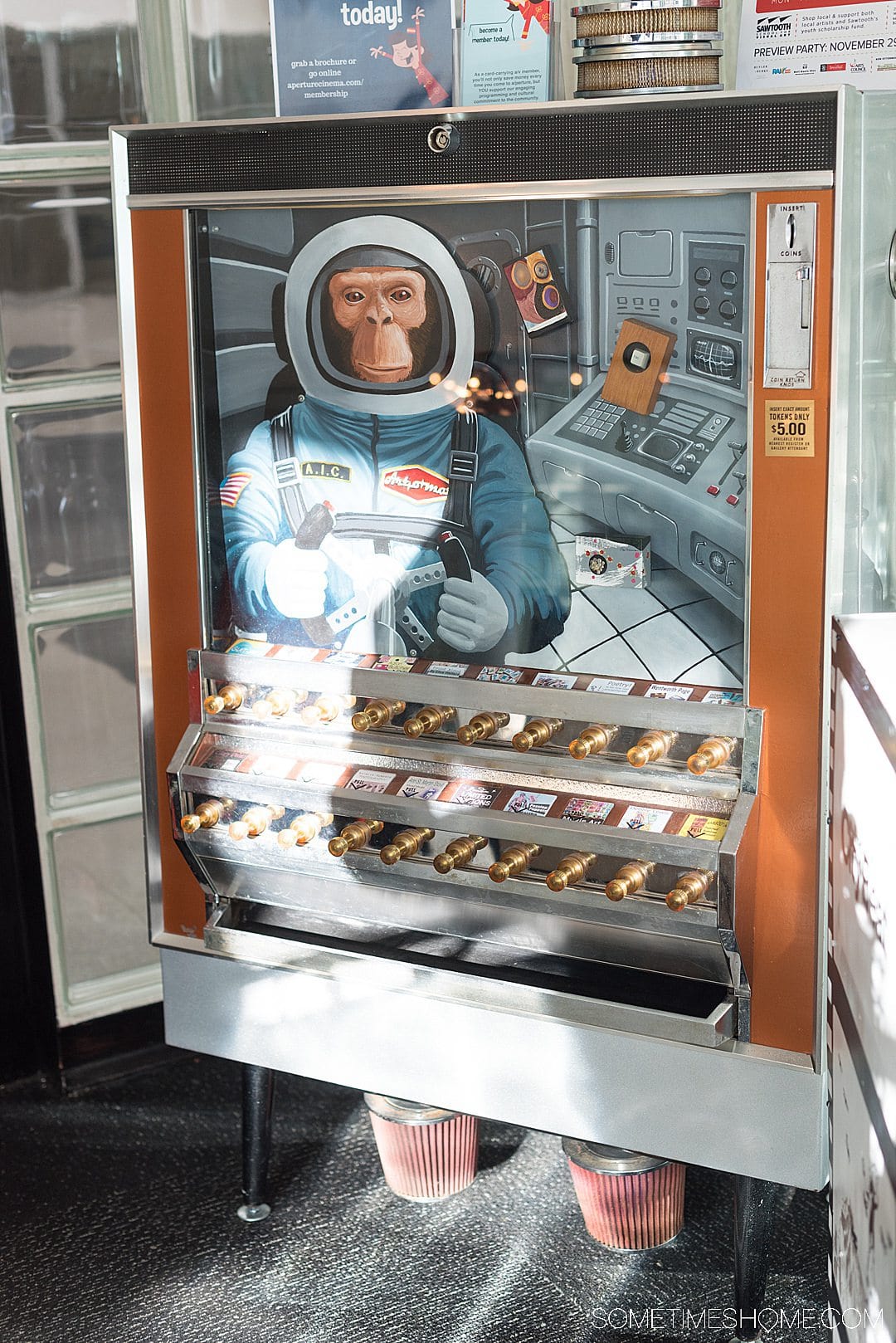 What Kind of Art May You Purchase?
The possibilities are endless! We were truly impressed by the creative ways artists are using the confines of Art-o-mat dispensers to sell their art. 3D art is dispensed in container boxes and 2D art (like paintings) is dispensed on wooden blocks wrapped with acetate for protection.
For quality control and liability purposes, all orders for the venues are fulfilled through Clark, and all art from approved artists is mailed to him.
Here are some of the artists' products we have seen:
Keychains
Clay birds
Photography
Bracelets
Hair pin (with a focus on bicycle motifs)
Painted bamboo pendant
Quotes
Ceramic dishes
Sarcasm (yes, really!)
Wire sculptures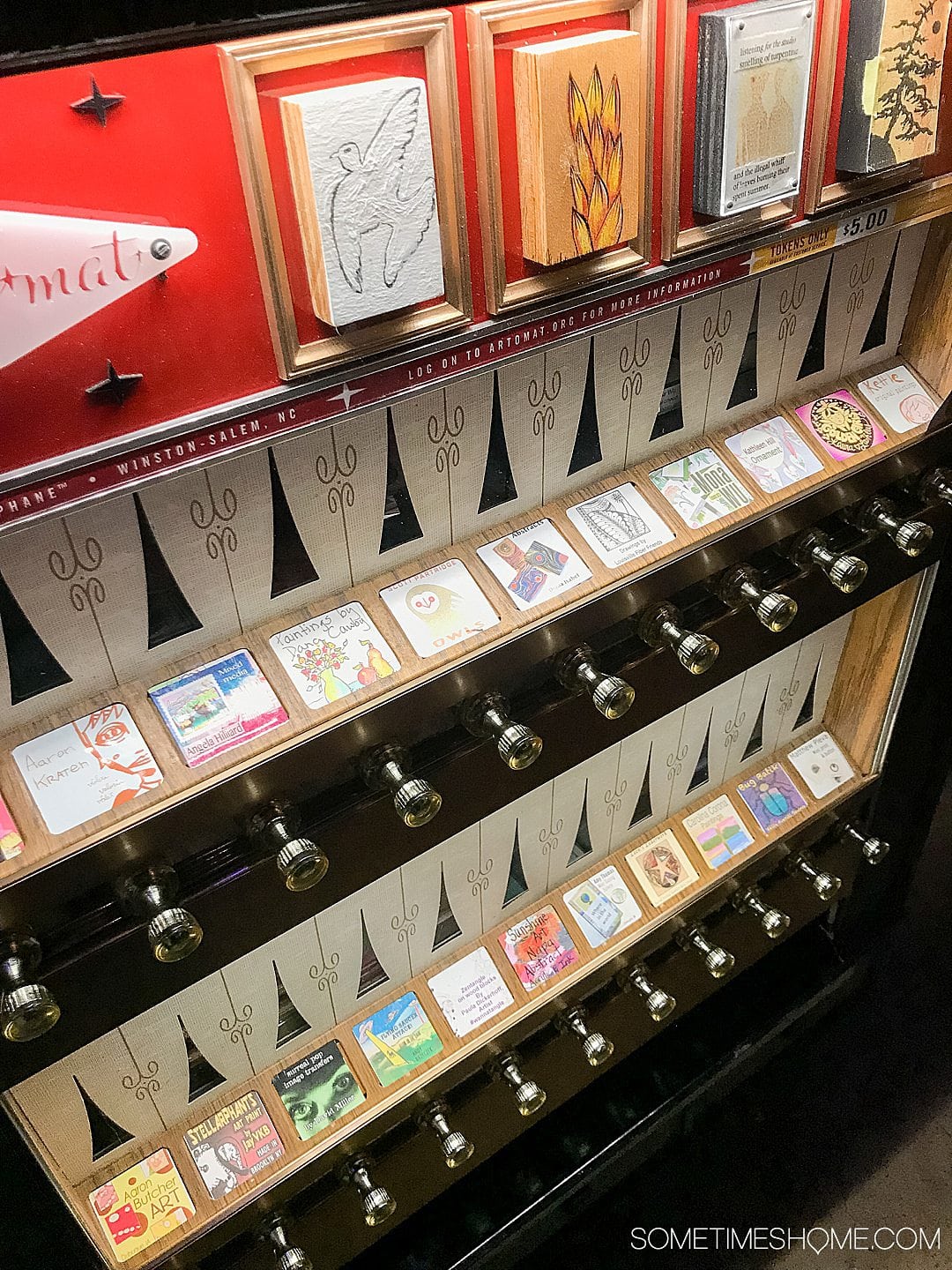 How Art-o-mats are Democratizing Art
We believe everyone is entitled to art. And we're both artists who find inspiration in what others create. This is part of why we love street art so much – anyone and everyone is welcome to experience it, create it and consume it. (Have I mentioned I love Dan's art around our home?)
Hundreds of artists, of all different skill levels and points in their careers, sell through Art-o-mat in Winston-Salem and around the world. That means you could be buying a piece of art from an artist whose work may go for $75 (or higher) or $8 (or lower), based on the artist. And the average price amongst Art-o-mats? Just $5. Clark, "wants art to be in people's hands" and their affordable price point and accessible vending machines are making it possible.
It's everyone's choice to participate, whether you're the artist, a hosting venue or the buyer.
How an Art-o-mat Machine Works
The artist names are marked on the machines where the cigarette brand names used to be. Though the exact piece of art you receive may be a surprise, the artist you are receiving it from was your choice!
A majority of the machines use tokens in exchange for product. For example, if you're at Slims Bar in downtown Raleigh, you just have to ask the bartender for a token in exchange for $5. A few machines accept $5 bills. You'll know when you look at the machine.
Then simply walk over, insert the coin or cash, and pull the lever for the artist whose art you want to dispense. Voila!
For so many artists This is the first official paid sale for so many Art-o-mat artists. (And if you're an artist who has tried to sell your work you know how elating that is.) For so many of the customers, this is the first piece of real, handmade art they've purchased. And that's a huge deal.
As Art-o-mat says on their site and Facebook page, "Don't go 'round artless!"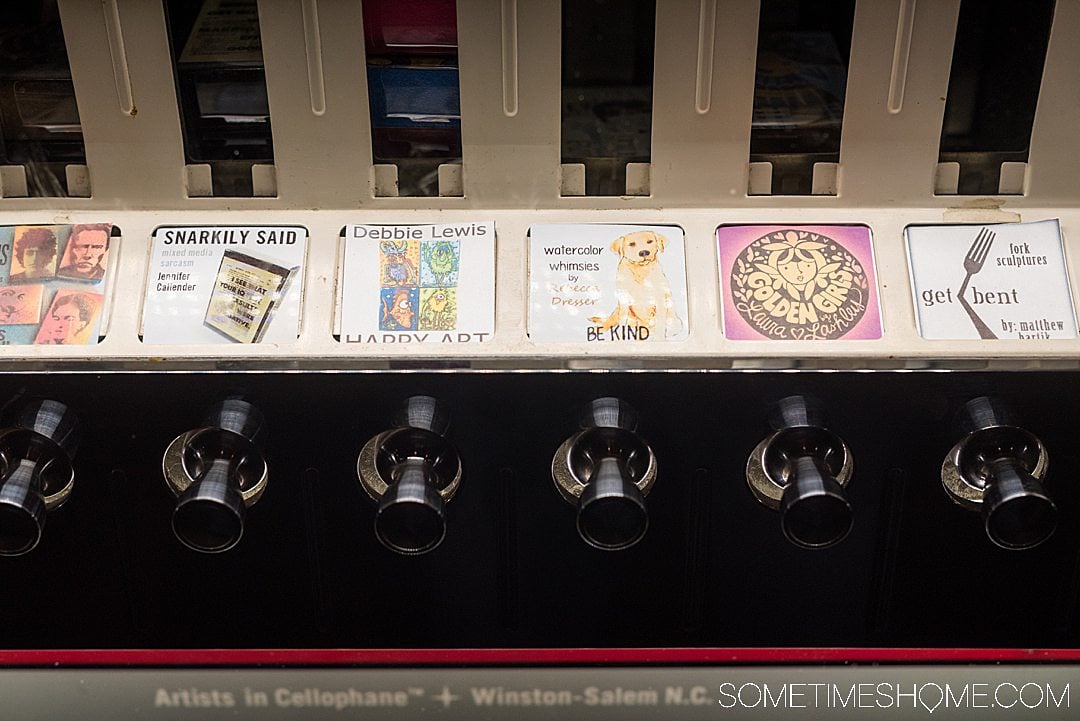 Art-o-mat Artist Submissions
They currently have about 400 contributing artists from 10 different countries. Clark receives hundreds of inquiries a year from artists wanting to contribute to Art-o-mats.
It's an amazing creative outlet for hobbyists, part-time artists, and professional artists, alike. They need a variety of art so everyone is encouraged to submit no matter the medium, style, or skill level. As mentioned in their submission guidelines, their, "selections are made based on effort, craftsmanship, and originality."
If accepted, artists need to work hard to get their stock over to Clark and his team, at a minimum of 50 pieces at a time. They view their partnerships with artists as an ongoing relationship and not a one-and-done kind of deal, which we love. They encourage artists to send art when they can and match their pieces to a host-based on the venue's needs. Of the $5 paid for the art by customers, artists receive 50% of it, which is currently $2.50 per piece.
Artists in Cellophane, the official name of the company behind Art-o-mat founded in Winston-Salem, sell prototype kits for $19.99 as a convenience to artists. However, you don't have to use a kit to submit your work as long as it meets the required dimensions and standards. They are strict about the guidelines because, understandably, they want their machines to continue operating properly; an improperly sized submission could break the sensitive machines.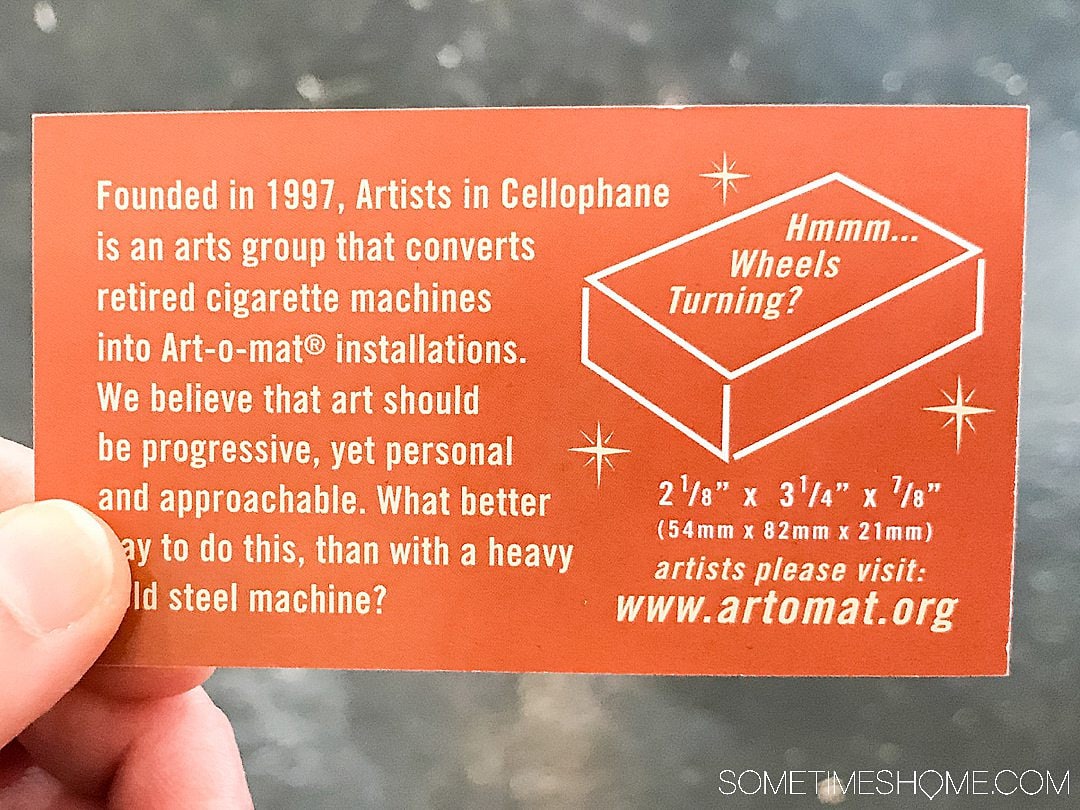 What do you do with an Art-o-Mat piece of art?
The answer is: anything you want! Just like there's no right or wrong way to eat a Reese's (hopefully our joke lands), there's not a right or wrong way to appreciate or display your art. Some of the art is wearable, like jewelry, and some of it is functional, like keychains. Or some of it is sculptural and it can sit on your desk. Many of the blocks are stand-alone paintings.
Clark knows some people stack the blocks up or simply place them on a mantle. We have some of ours on display on a shelf in our apartment, one by Aaron Kraten and another by Corona Fine Art.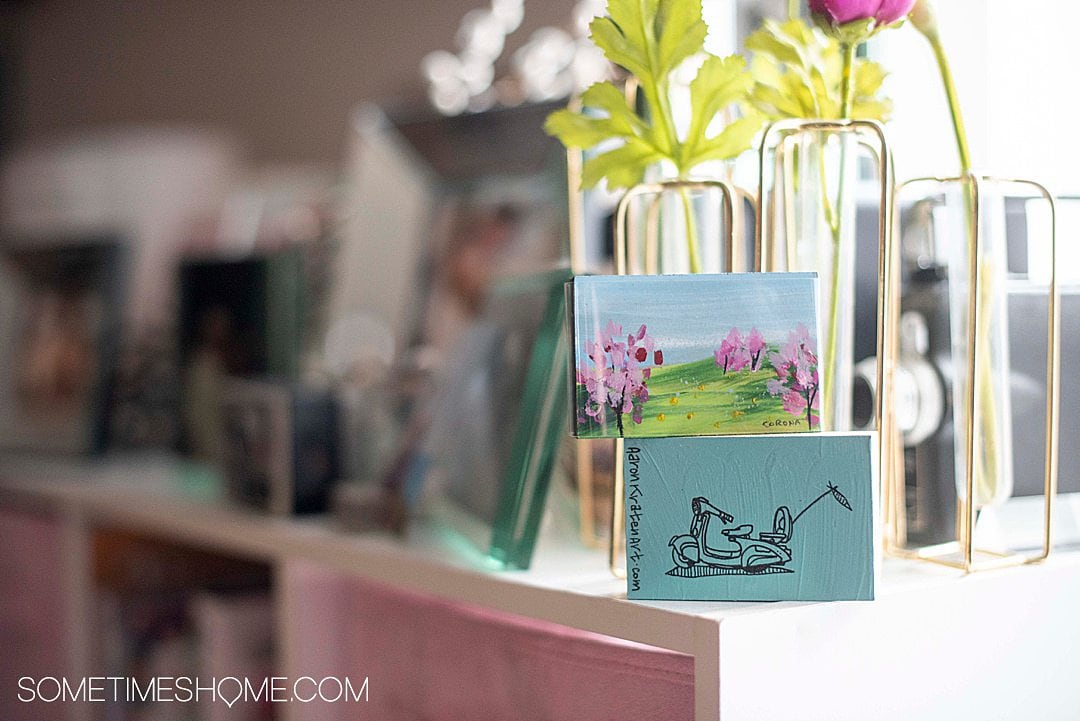 Want to plan a vacation solely based on the location of an Art-o-mat? We don't blame you. So what are you waiting for? Locate your closest Art-o-mat, support an artist and get awesome art to boot, and let us know what you think!
Please note: We thank Visit Winston-Salem for hooking us up with Clark! All the opinions in the post are ours and we bring you genuine content with real facts, photos and thoughts. Always.
Do you love art like us? Also check out:
What do you think of the Art-o-mat concept? Let us know in the comments below!