Exciting Tampa Boat Trips for Everyone (St. Pete Too)
For a city on the water, Tampa boat trips and boating culture are essential to living in – and visiting – this city on the bay. No matter how long you're in the Tampa area or nearby St. Petersburg (or "St. Pete"), you must sign up for a boat trip; it's the best way to see sites you cannot reach by car or on foot.
We have listed something below for every kind of Tampa boat trip and boat adventure desire, from fishing excursions to luxury yacht charters and group Tampa Bay boat tours.
So grab your sunscreen and sunglasses because whether you're a Tampa native or tourist, you'll want to get on the water ASAP after reading about these fantastic Tampa and St. Pete boat trips!
Disclosure: We may make a small commission from affiliate links in this post, but all opinions are ours. We bring you content with genuine facts, photos, thoughts, and recommendations. Always. As Amazon Associates, we earn from qualifying purchases. This helps keep our content free and accessible to our readers.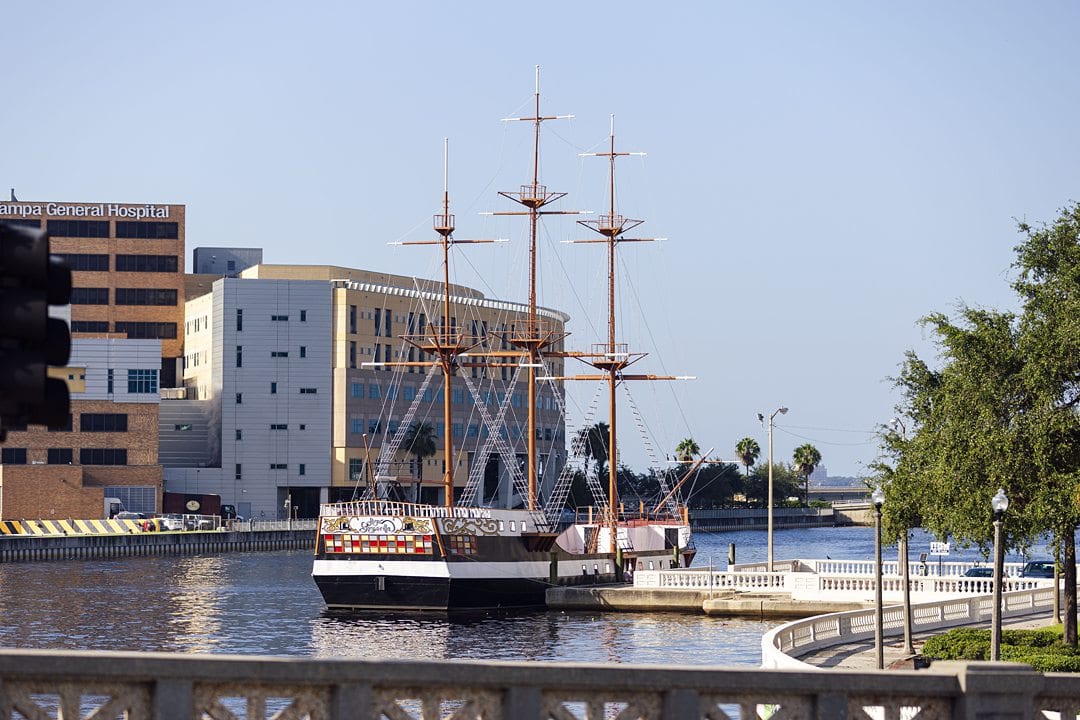 Tampa Boat Trips
One of the things Florida is well known for is its incredible coastline. Tampa is amongst the most popular destinations along the west coast of the Sunshine State, and Tampa boat tours will allow you to see the bay of Tampa (yes, there is an actual bay!) and the blue-green waters of the Gulf of Mexico.
You'll have the best time forming romantic memories as you see the breathtaking Florida sunset from the water, enjoy an exhilarating motorboat ride as a family, or perhaps sign up for one of the boating day trips for a bachelorette party. There's really no celebration that isn't appropriate for a fun time on the water!
Tampa Water Taxi Celebrity Homes and Tampa Bay History Tour
If you want a relaxing tour that cruises from Tampa, where you will see celebrity homes (like Derek Jeter's, former New York Yankees baseball player) and learn about the history of Tampa in a marine setting, book this tour.
It's marketed as a "Tampa Celebrity Homes Boat Tour," but the more compelling part may be its focus on Tampa's history.
During this 1.5-hour boating adventure, you'll get to see the city's skyscrapers from the water, Harbour Island lighthouse, experience Davis Islands canals, and get a narrated tour. The boat leaves behind The Tampa Bay History Center, right next to downtown's Cotanchobee Fort Brooke Park.
Tickets are just under $40 per person. Bottle water is offered onboard and included in the ticket price.
➡︎ Book your Tampa Celebrity Homes Boat Tour
Bay Rocket
Prepare for an epic ride with the Bay Rocket boat tour in Tampa. This bad boy takes you on a 45-minute joyride through the most extraordinary sights in town for a great time you'll remember as a highlight of your time in Tampa.
You'll zoom past the Tampa Riverwalk, the Skyway Bridge, and the downtown Tampa skyline, all while feeling the wind in your hair and the sun on your face.
But it's not just about the thrill. Your boat captain will also fill you in on the city's backstory and highlight all the cool stuff you don't want to miss, including waterfront mansions and a lighthouse.
And the best part? This ride is so much fun for everyone, young and old. So, grab your whole family and hop aboard the Bay Rockets for a wicked good time on the bay.
Tickets start at $34.95
Don't forget to bring these Florida essentials to Tampa
Cruisin Tikis Clearwater
Let's talk about the ultimate party on the water with Cruisin Tikis Clearwater Tampa boat ride. (Don't let the company name throw you – it does, in fact, leave from Tampa and cruise Tampa's Hillsborough River.)
This is different from your average boat ride, my friend! It is a 90-minute tiki boat tour on an octagonal "boat" with a thatched roof that is all about living your best life with your favorite people.
The tiki bar boat is fully equipped with a cooler and a sound system, so BYOB and drinks to get the party started. You'll pass the Amelie Arena, Tampa Riverwalk, and Starz Center For the Performing Arts as you jam to your favorite tunes cruising along the pretty coastline.
This Tampa boat tour has a strict guest cap of 6 people. (Coast Guard's rules!)
➡︎ Don't miss out on this fun boat tour! Book tiki boat time!
But don't forget to take in the breathtaking views around you. You'll be passing by some of the most iconic sights in the area, including the Clearwater Beach Marina and Caladesi Island.
Could this be one of Tampa's most entertaining outdoor activities? We think so.
Tickets from $59.95.
Tiki Tampa Boat Tour (with a Bathroom Onboard)
If you prefer something that is a little more of a cross between a "normal" boat and a tiki boat that can fit double the passengers, check out this tiki boat. It has a 12-person capacity and also has a bathroom onboard.
Luxury Yacht Charter For the Day
Are you ready to take luxury to the next level? The Yacht Charter Tampa Bay private charter lets you experience Tampa Bay in style. This yacht is perfect for any occasion for up to 12 guests with Mahi Mike at the wheel. (And there is a restroom onboard!)
You'll cruise on a beautiful boat with a bar, sound system, and comfortable seating. You can use the kitchen onboard, and the boat has Wifi. It's great for a fun family day or a group of friends who want to charter a yacht. Want to rent the boat for something even more unique, like a wedding ceremony? No problem.
The tour's highlights are undoubtedly the sunset and a chance to see playful dolphins. Then, as the sun starts to dip below the horizon, you'll be treated to a stunning view of the bay. It's the outstanding backdrop for a romantic date or an unforgettable celebration with your friends.
Starts at $2,500 per group.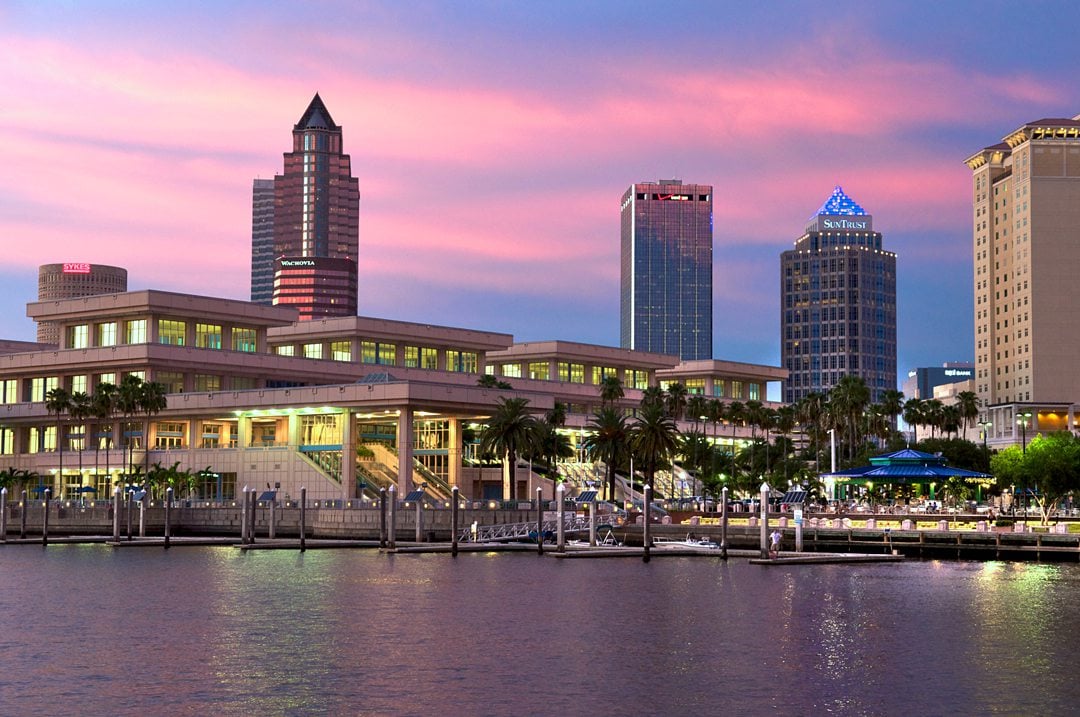 Luxury Private Boat Charter
If you want something that is a little more low-key than a multi-deck private charter yacht, this is the Tampa boating option for you.
Leave from the Gandy Boat Ramp right on Old Tampa Bay and head south to cruise towards St. Pete. Use of snorkel equipment is included with your boat rental, there's a restroom onboard, and it includes snacks and bottled water.
Since you're chartering your own boat, you're able to customize your tour. Sail during the day and pay for a full day or half day. Sail at night for a sunset half-day cruise option. A full-day tour includes 2-4 stops, and a half-day tour includes 1-2 stops. Moreover, the company (Salt Life Watersports) will pick you up at the dock nearest your Tampa vacation location.
Tampa Bay stop options include Egmont Key, Downtown Tampa and Harbour Island, Downtown St. Pete, Clearwater Beach, St. Pete Beach, John's Pass, WTR, the Getaway, Weedon Island, the company's "Mystery Island," and more.
Prices start at $918 for a half-day tour.
➡︎ Reserve this limited-availability boat before someone else does!
Pirate Water Taxi
If you want an easy way to get around the waterways of Tampa as you dash around the city's great landmarks and sites, consider buying a hop-on hop-off all-day ticket for Pirate Water Taxi Tour.
They have six boats that comprise their fleet that travel the Hillsborough River and Tampa's waterways daily, starting at 11:30 am. You can track where the boats are on their website if you're wondering when the next boat will come to your stop.
They have two routes – River Route and Island Route – with a total of 14 stops. Stops include Tampa's Riverwalk, Sparkman Wharf/ Channel District, Harbour Island, Davis Islands, Armature Works, Ricks on the River, and the Florida Aquarium. Guests can transfer between routes at stop seven at the Convention Center.
The Pirate Water Taxi even offers happy hour beer specials Monday through Thursday from 4:00 pm to 7:00 pm on their River Route boats.
Though you may be tempted to take your dog with you, only service animals are allowed onboard.
Purchase a pass that allows unlimited hop on and off at various spots in Tampa all day for $34.00. You can purchase tickets onboard at any one of their route stops or save $2 by booking on their website.
Pirate Ship Boat Tour
Grab your eyepatch, hoist the Jolly Roger, and get ready for an unforgettable adventure on this Pirate Boat Tour. This unique tour lets you live out your pirate fantasies and sail the waters of the Tampa Bay area like a true buccaneer.
The ship is fully equipped with everything a pirate needs, from cannons and muskets to a fully stocked bar. And the crew? They're all dressed up in full pirate regalia and ready to entertain you with stories, songs, and games.
The highlight of the tour is the water cannon battle, where you'll engage in a friendly "battle" with another pirate ship. It's an especially great experience for little ones.
The boat is also available to rent for private charters and has a variety of special event cruises each year. Keep this in mind for a Tampa Bay boat tour – we hope she'll be out of dry dock soon so you can get your tickets.
Tampa Bay Fun Boat Sightseeing Cruise
Are you ready for some sightseeing fun? Look no further than the Tampa Bay Fun Boat. This boat tour is all about having an amazing time while enjoying the beautiful sights of Tampa Bay.
Your point of embarkation is Tampa Convention Center Boat Docks, where you will board a 35-passenger, 36-foot commercial deck boat.
Captain Darryl doubles as your tour guide as you begin your tour on the Hillsborough River and continue to the bay. You'll learn about Davis Islands and Harbor Island and have a chance to see dolphins and maybe a rare sea turtle spotting.
The boat ride provides great value during a 2-hour journey, passing by some of the most iconic area landmarks, such as the Sunshine Skyway Bridge and the historic Fort De Soto Park.
There is an onboard bathroom, and guests can bring a small cooler with beverages – alcohol is approved to bring onboard as long as you have an ID. You can bring food onboard as well. Want to bring your dog along? No problem! They're pet-friendly. This tour is also wheelchair accessible; they simply ask that you call ahead to arrange things.
Tickets start at $18.
If two hours isn't enough, you can inquire with the company about a full-day trip that stops at Beer Can Island, where you can swim, sunbathe, and play on the beach. Pricing is available upon request.
Little Toot Dolphin Adventure
If you want to get up close and personal with some of Florida's most beloved marine life and ocean creatures, the Little Toot Dolphin Adventure is the tour for you. You'll have the chance to spot the resident bottlenose dolphins in their natural habitat.
The star of the dolphin exploration tour is the Little Toot, a unique boat that's designed to create a big wake that the dolphins love to play in. As the boat powers through the water, you'll see the dolphins jumping and swimming right alongside you.
But the Little Toot Dolphin Adventure is more than just a dolphin tour. You'll also get to enjoy the stunning views of Clearwater Beach and the surrounding islands, and the knowledgeable crew will keep you entertained with interesting facts about the local wildlife and the area's history.
Tickets are $25.24 plus taxes.
Tampa Water Taxi Dolphin Sightseeing
Looking for a relaxing and scenic way to experience Tampa Bay? Look no further than the Tampa Water Taxi Dolphin Sightseeing tour.
This 1.5-hour tour takes you on a leisurely cruise through the bay, which takes you past some of Tampa Bay's most iconic landmarks, including the historic Tampa Riverwalk and the impressive downtown skyline.
But the real star of the show is the dolphins, who often swim right up to the boat and provide some lively entertainment.
The crew is also knowledgeable and happy to answer any questions you may have about the local wildlife and the area's history.
Tickets start at just under $34.
➡︎ Get your dolphin watch on! Book this tour now to secure your preferred date and time.
Yacht Star Ship Lunch and Dinner Cruises
If you're looking for a luxurious and unforgettable experience in Tampa Bay, Yacht StarShip Cruises has got you covered. This company offers a variety of cruise options, from romantic dinners to corporate events.
The boat dock is next to Sparkman Wharf in downtown Tampa, in the Channelside District near the Florida Aquarium and Port Tampa Bay. They also have options for sailing from Clearwater if that is closer to your location.
The yachts are a sight to behold, with sleek designs and elegant interiors, and the staff is friendly and professional.
While onboard the cruise, you'll sail through Tampa Bay and take in beautiful views of the skyline and surrounding islands. And if you're lucky, you may even spot some dolphins or other wildlife.
They have plenty of date options if you are interested in Yacht Starship's Dining Cruises. You'll be treated to a free bar at sea with cocktails, beer, and wine. During a few hours of sailing time, you'll enjoy a 3-course meal. Afterward, dance to the tunes from a DJ until you dock! If you're more of a breakfast person, check out their brunch cruises.
The cost from Tampa starts around $47 for a cruise-only ticket. And $79.95 for dinner cruises. Tickets from Clearwater start around $52.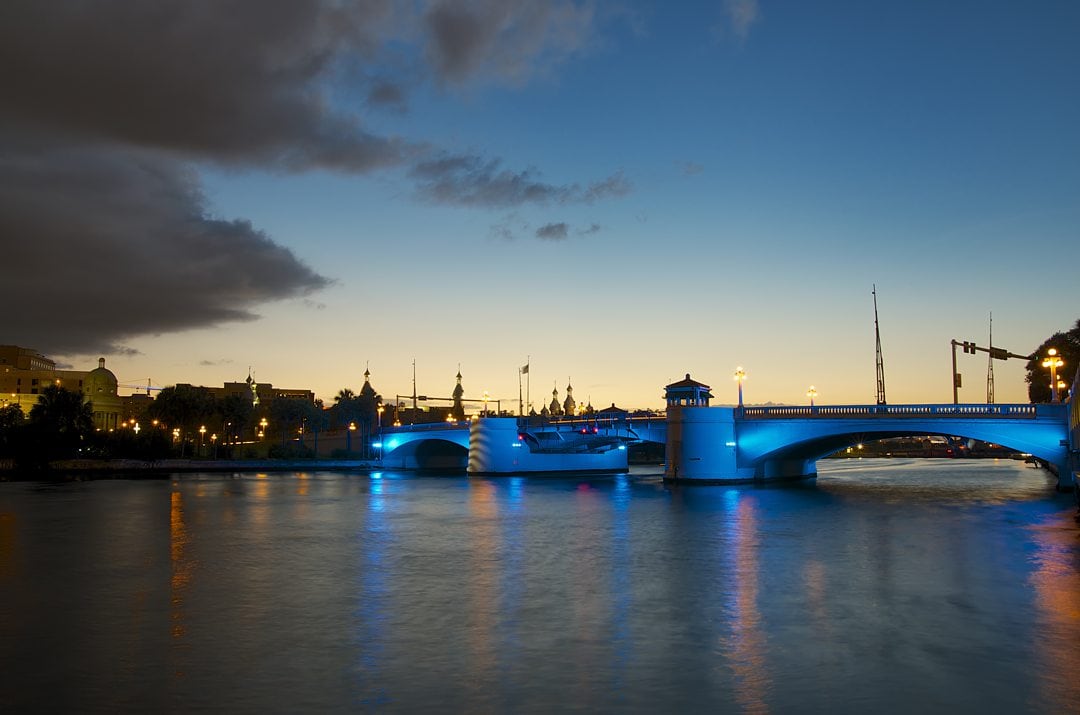 Tampa Boat Fishing Charter
Reel Nauti Fishing Charters is the perfect choice for those looking to experience the thrill of fishing in the beautiful waters surrounding Tampa Bay. The charter's captain is a knowledgeable and experienced fisherman, ready to take you to the best spots for catching fish.
The boat is equipped with all the necessary fishing gear and safety equipment, so you can relax and enjoy your day on the water.
During your charter, you'll have the chance to catch a variety of fish, including redfish, snook, trout, and tarpon. And with the stunning views of Tampa Bay as your backdrop, it's a truly unforgettable experience.
Starts at $650 per group.
St. Petersburg Boat Tours
St. Pete Coastal Cruises
St. Pete Coastal Cruises is the perfect choice for exploring the beautiful waters surrounding Tampa Bay through various cruise options. You can choose the perfect experience, whether a relaxing sunset celebration cruise (think: proposal or an anniversary!), a booze cruise, or an adventurous dolphin-watching excursion.
The company's fleet of boats is modern, comfortable, and equipped with all the amenities you need for an unforgettable trip. The friendly and knowledgeable crew is always ready to answer your questions and point out interesting sights along the way.
Prices start at $40 per person.
➡︎ Limited availability: Book your fishing charter