I've been to Norway several times and still believe that the best time to visit Norway is January.
Summer and winter are both appealing. It's hard for me to admit winter may be the best time to go because I am a warm weather girl through and through.
The first time I visited was during winter while living in New York; I figured if I was going to be cold somewhere in January it may as well be Scandinavia, right?
If you ask me, "When is the best time to go to Norway?" I have to admit, it really is fabulous to visit Norway in January!
So much so, in fact, I've returned during winter.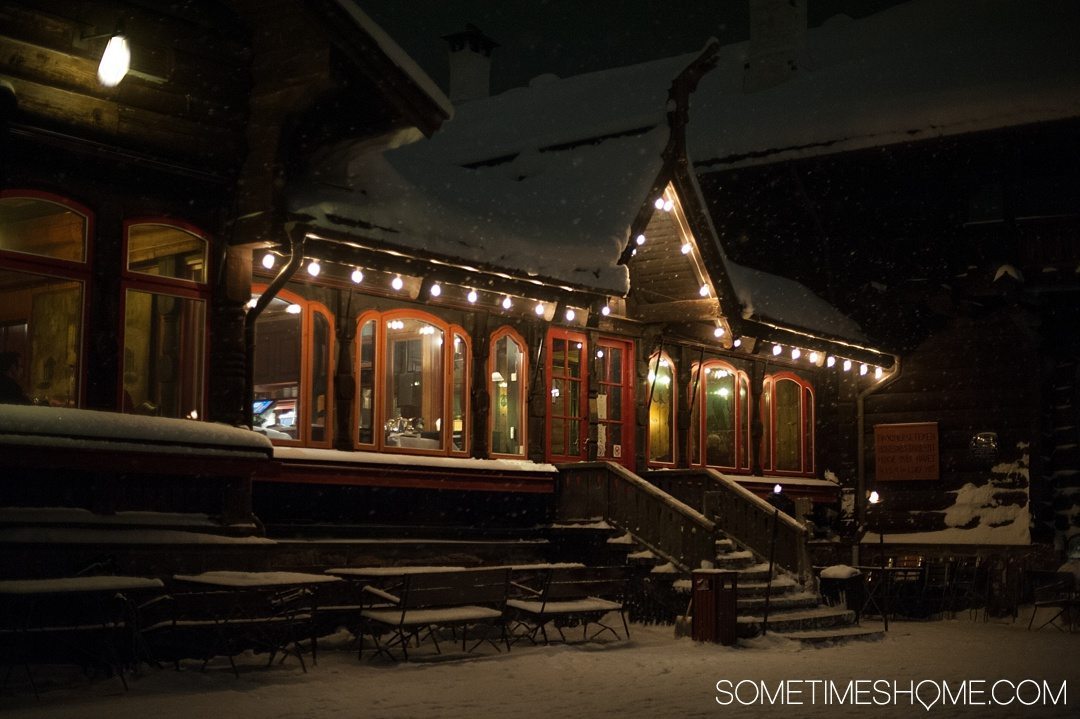 1. Magical Snowy Scenery is Plentiful
If the thought of a "Winter Wonderland" pulls at your heartstrings, Norway in January is the place for you. You're nearly guaranteed to see snow somewhere (if not everywhere) if you go to Norway during January.
I felt like I was in an episode of The Vikings as we walked around Oslo's Norsk Folkemuseum, covered in snow. Could you faint from the beauty? I could!
We saw breath-taking scenery like this everywhere we went, not just at the outdoor museum when we went to visit Norway.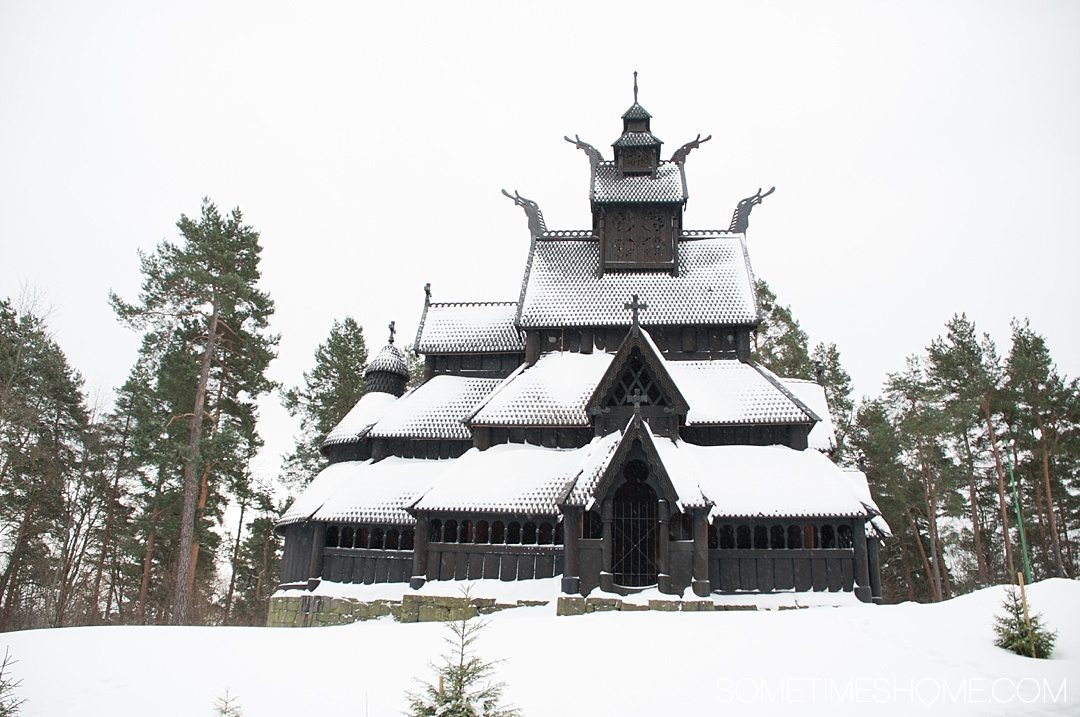 2. There are Less Tourists during Winter in Most of Norway
During summer there are tons of tourists no matter where you go. The weather's nice, people are flocking to the region and of course the country's residents are out and about soaking up the sunshine and green grass covering the ground. But I felt like I had the place to myself in winter.
The photo below was taken at the Royal Palace in Oslo during the afternoon with only four other people in sight. (It's darker in the afternoons there because the days are shorter in January.) The photo pictured above, of the stave church, would make you think we had the museum to ourselves. We pretty much did.
The only area that experiences peak season during winter is in the Arctic Circle, in an area like Tromso. There are plenty of fun winter sports to do in this northern city in Norway. The northern lights and winter excursions, like whale watching, being two great Tromso excursion options.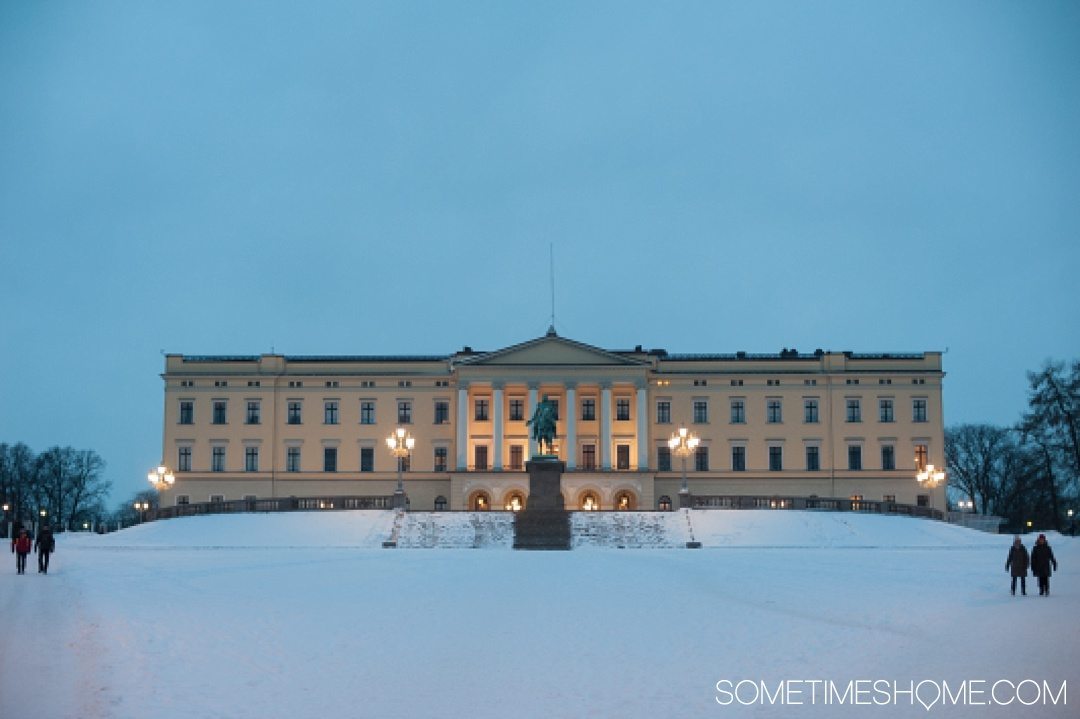 3. Sunrise is Typically Later (If There One)
I'm not a morning person, but I am a photo person. Due to the daylight hours in January, sunrise has never been so easy to capture because it's later! As previously mentioned, days are much shorter during Norwegian and Scandinavian winters.
Oslo, Norway in January brings a sunrise time about 9:15am and sunset around 3:30pm. (Depending on when you visit Norway, there may not be any daylight in some cities like Tromso and Kirkenes, due to their location in the Arctic Circle.)
Sure, that makes daylight hours during your Norway vacation less plentiful and more precious. But when you can capture an image like this pink and purple sunrise at the Oslo Opera House without waking up at 6:00am can you really complain? And yet, another reason why January is the best time to go to Norway!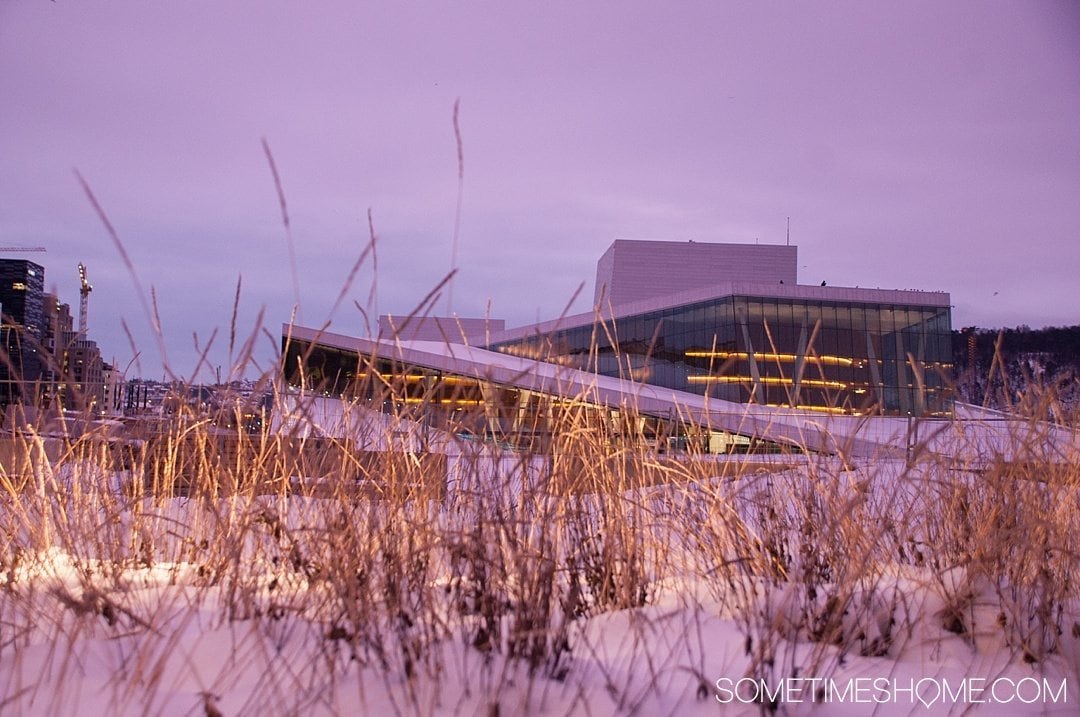 4. It's Not THAT Cold Everywhere
I thought I was crazy to visit Norway during one of its coldest months. Would I freeze and get frostbite? When people still ask me, "How cold is it in Norway in January?" My answer is, "Pretty freaking cold."
However, Norwegian's have a famous saying, "There's no such thing as bad weather, only bad clothes." Be prepared and logical in your packing list and you'll be okay.
In Oslo and Bergen, especially, I found myself dressing in lighter layers than I expected.
The only place I found to be unbearably cold at one point and thought frostbite could truly be a problem was in Tromso.
(I recall taking a trip up a mountain in the famous Fjellheisen cable car to see an aerial view of the city. I wasn't being able to feel my toes through my layers of multiple thick socks and snow boots. I knew frostbite was a real threat in that moment and it was time to defrost in front of a heater. I quickly traveled back down the mountain to get warm and thaw.)
I ordered anything I thought may warm me up before I left for the trip as I prepared my bags! I purchased insulated leggings and made sure I had jeans baggy enough to wear layers under. I bought Gortex mittens. Hand warmers were purchased in bulk. Hats, scarves and long sleeve shirts were plentiful. (You may think that sounds like a crazy list but trust me – I used it all in Tromso, especially, to beat the January Norwegian weather.)
The point is – pack right and you'll be a-okay. And it really isn't that cold in many of the southern cities in Norway.
5. You can See Breathtaking Northern Lights during Norwegian Winters
As soon as you learn what the Northern Lights are (also known as Aurora Borealis) it's likely to be a fast addition to your bucket list. It's truly one of the most gorgeous things I've ever laid eyes on.
This scientific phenomenon is the sun's electrically charged particles reaching the earth's atmosphere. It's science in motion. Neon signs in nature.
Watching the animation unfold before us during an organized Northern Lights tour we took in Tromso was wild. The best way I can describe it is imagining an invisible person skywriting with glow sticks.
I'm almost speechless recalling the experience, trying to communicate its wonder. If you visit Norway in January we cannot recommend traveling north to Tromso specifically for a shot at seeing the Northern Lights.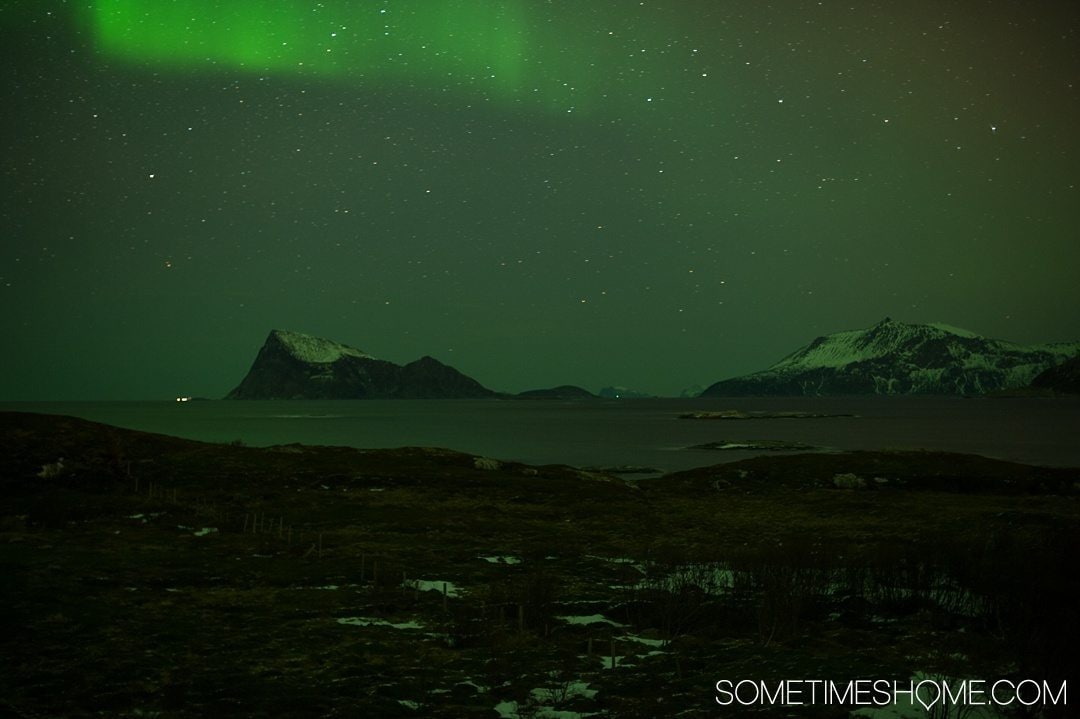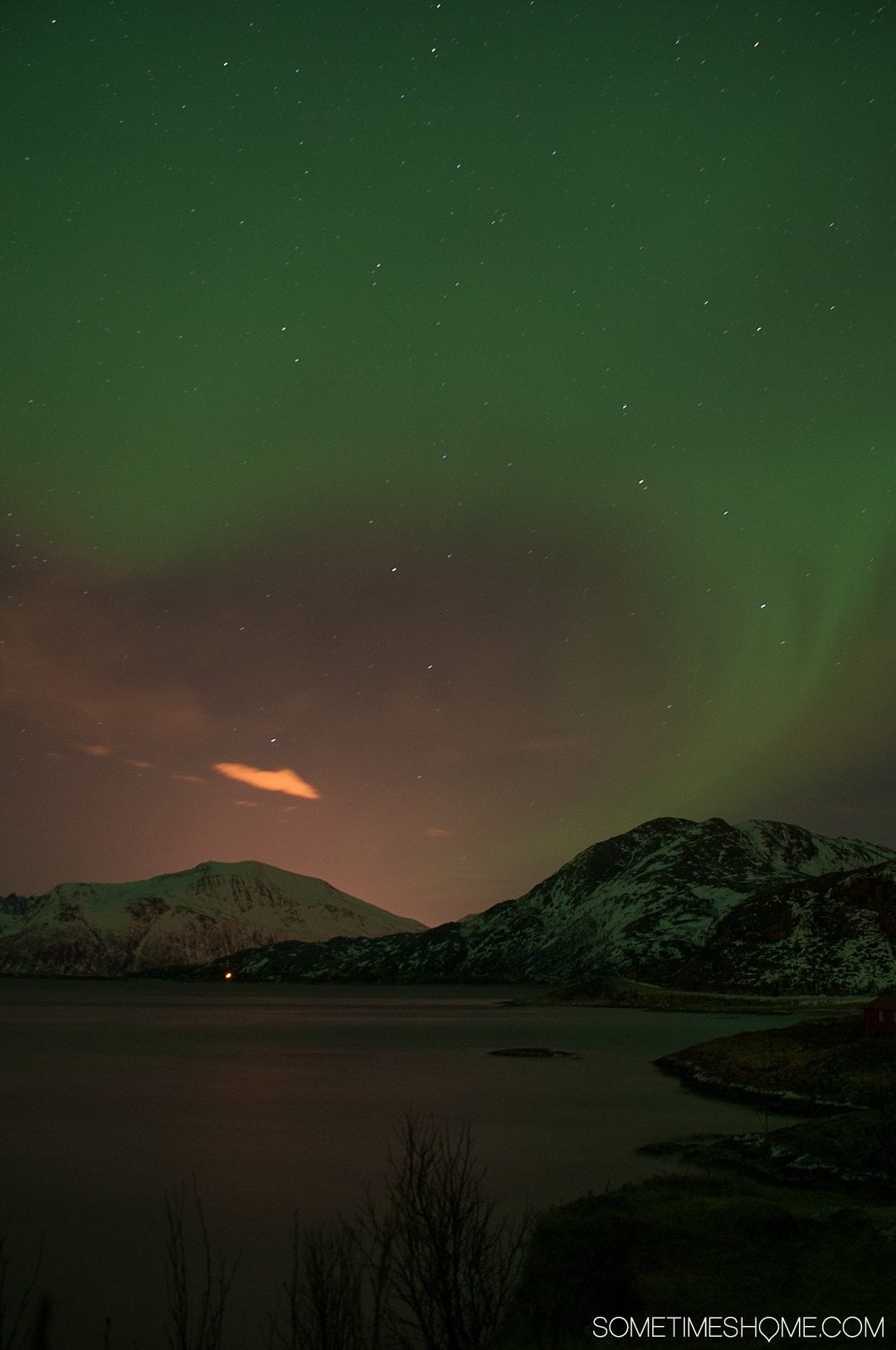 6. Cost are Generally Lower during Winter
Since it's not a popular time to visit the country, as a whole, prices are more affordable. This is particularly for tours and accommodations.
Consider this a major bonus because Norway is one of the wealthiest countries in the world and prices coincide with that fact. Small savings on hotels and Air BnBs could be the difference in making it an affordable trip to consider or putting it out of your price range.
7. Delicious Comfort Food at Its Best
Norwegian's have some of the most delicious, delectable comfort food.
Reindeer soup, sausages, warm fish cakes with potatoes and great coffee all make me yearn for January in Norway.
Having these foods during summer just isn't the same.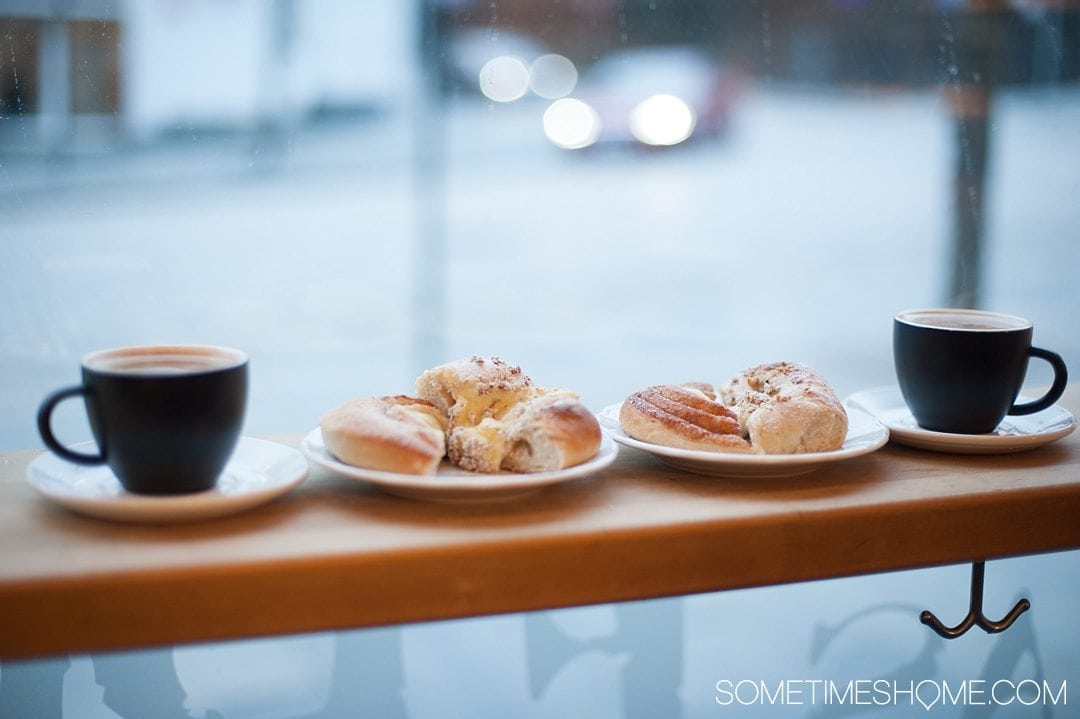 8. Awesome Snow Sports and Activities
When you live in the cold you adapt to it, including what sports your culture embraces. Norway's winter sports are impressive and invigorating!
Here are a few activities you may see or participate in during January in Norway, particularly in the north:
Sleigh rides with reindeer
Ice sculpture competitions
Humpback Whale Watching (November through January)
Dog Sledding
I was lucky I happened to be in Tromso during an ice sculpture competition (twice during January and February!).
Another reason why January is the best time to visit Norway is because, for the most part, by the end of the month the whales have migrated away from Tromso.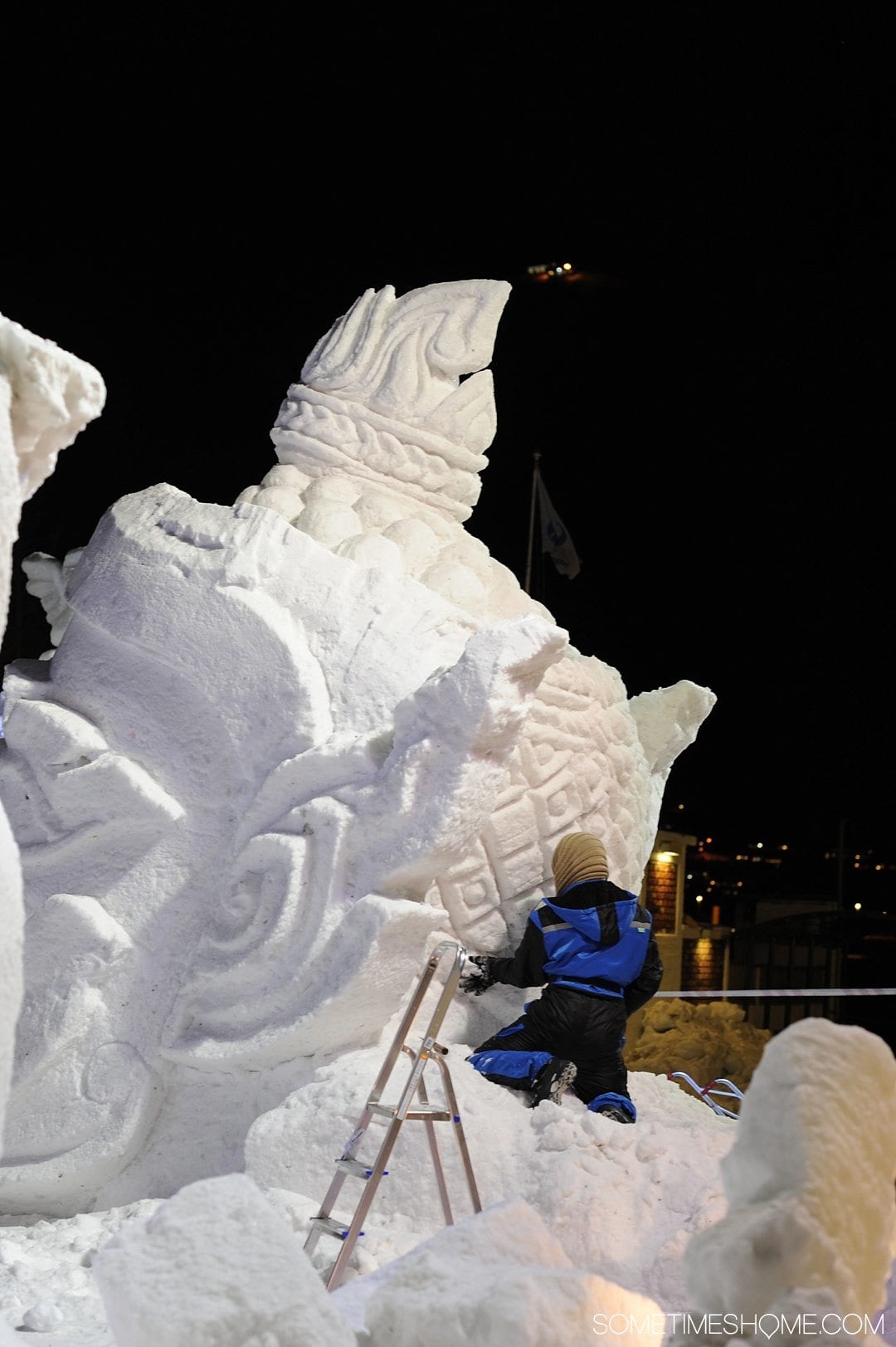 If this has piqued your curiosity about Norway also check out:
Would you visit Norway in January?