Kimpton Cardinal Hotel Review in Winston-Salem (Spoiler Alert: Loved It!)
It wasn't until the Kimpton Cardinal Hotel came into our lives I would have said "It's possible," when presented with the challenge of finding a hotel in a wonderful downtown location where you can have a great French meal, interact with llamas and go bowling.
This is, of course, all before climbing into an inviting bed in a beautifully designed room for the evening. We know – it sounds like an impossible unicorn combination. But this Winston-Salem hotel is making the unlikely into reality and we felt like royalty there.
Disclosure: There are affiliate links in this post, which means we may earn a small commission if you click the link and proceed with a purchase, at no cost to you. We truly only recommend hotels, products, and services we personally use. As Amazon Associates, we earn from qualifying purchases.
💻 Already know you want to book the Kimpton Cardinal Hotel? Book your date to hold a room immediately!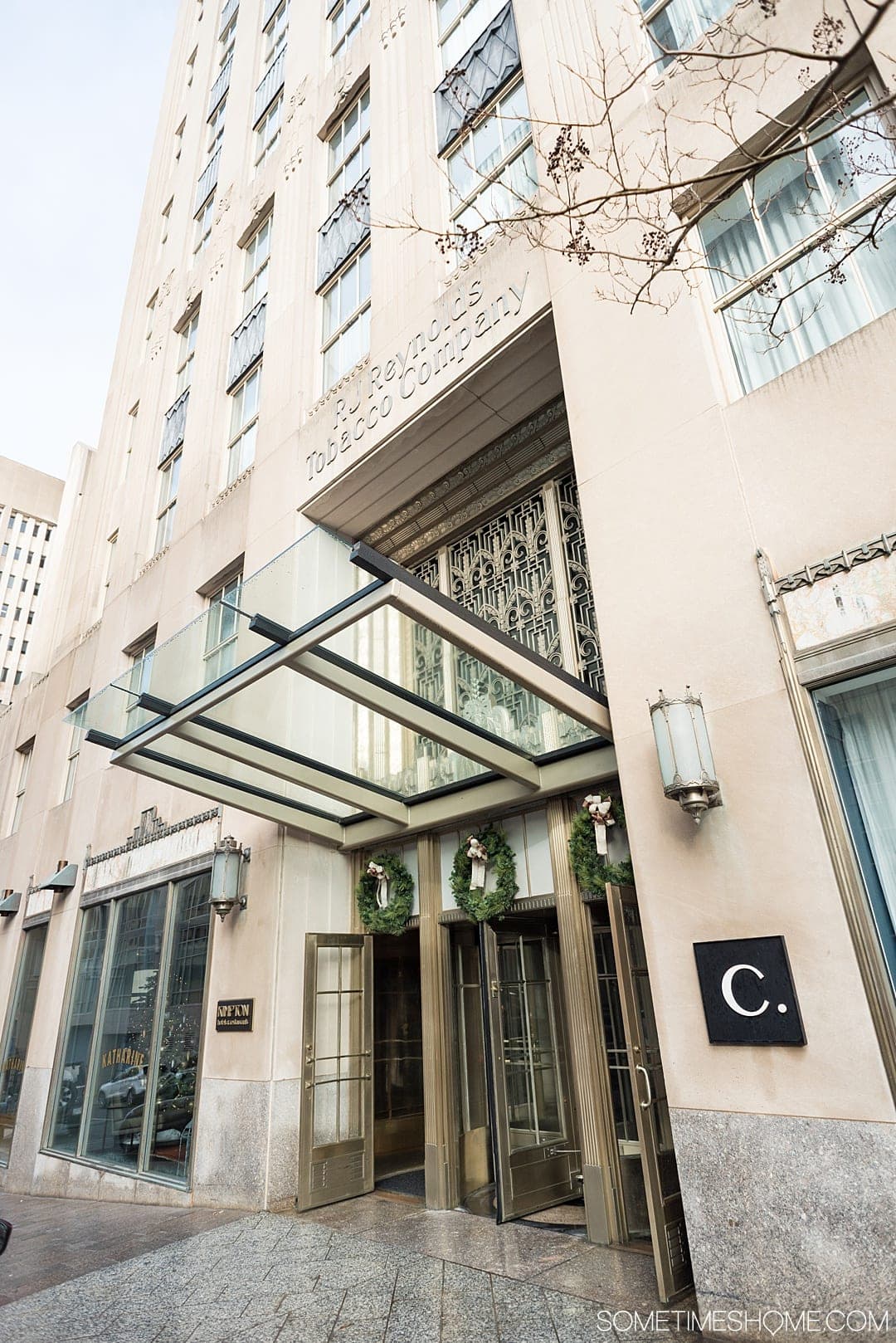 Historic Building in a Prime Location
If you see anything that refers to the "original" Empire State Building in Winston-Salem, it's because the RJ Reynolds building is said to have inspired the iconic NYC landmark. This building, which was finished in the late 1920s and clearly marked with a vertical black "Cardinal" sign on the corner of North Main Street and 4th Street East, is an icon itself.
Its silver "RJ Reynolds Tobacco Company" letters in the front have been kept intact for historic purposes as well. It was the tallest building in North Carolina at the time it was finished, at 314 feet tall, and is on the National Register of Historic Places.
Speaking of history: Their elevators are a solid illustration of the building's Art Deco design, covered with metal plating. They have also managed to tie in United States history in a playful way: the faces of the Founding Fathers are embroidered on the rugs outside the elevators on each floor. (Our floor boasted Thomas Jefferson.)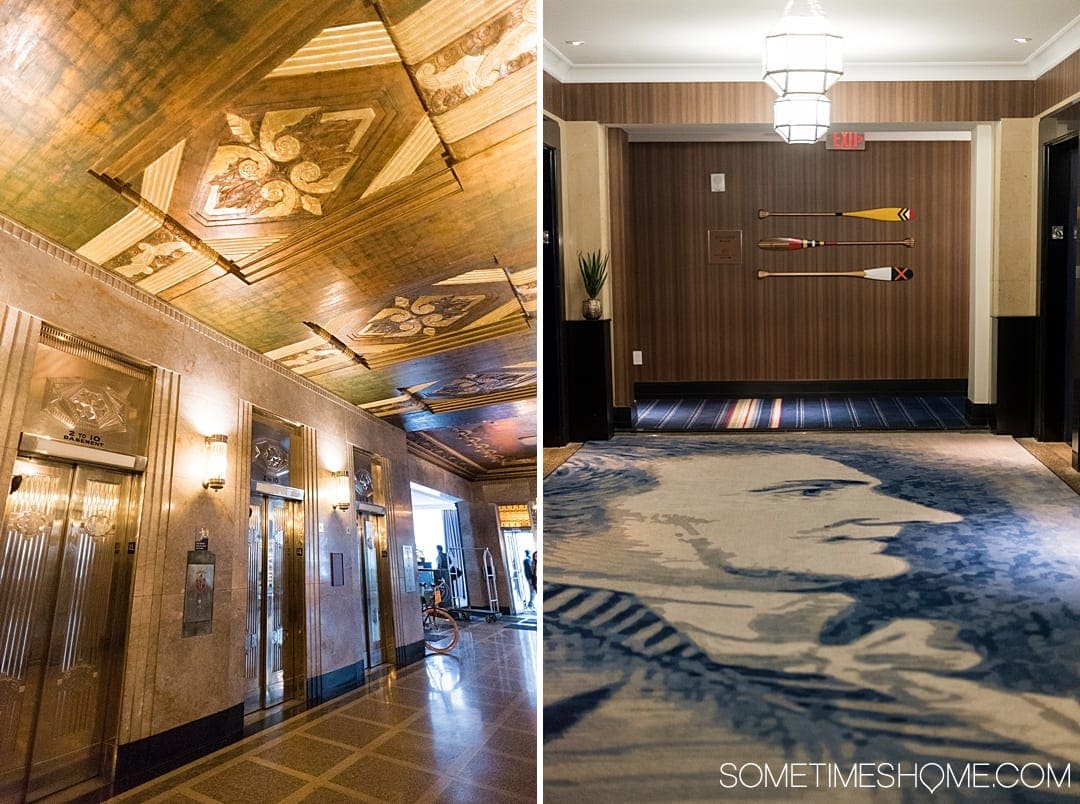 Gorgeous, Colorful Lounge at the Kimpton Cardinal Hotel in Winston-Salem
Can we hire their designer for our home? It was just the right amount of warm masculinity with hints of whimsical feminine colors and full of fun textures.
Fuchsia and navy? We're in.
Gold oversized magnolia flower sconces? Yes, please.
Velvet walls and chairs? Please ship some to our home too.
The lounge turns into a nightly wine hour location from 5:00 to 6:00pm, with complimentary drinks and snacks. The bar is hidden behind the "C." you see in the photo below on the left and a lovely staff member serves the libations.
Additionally, this is a wonderful place to sit and read if you don't want to be alone in your hotel room. It really is quite inviting. Be sure to check out the original artwork on the walls.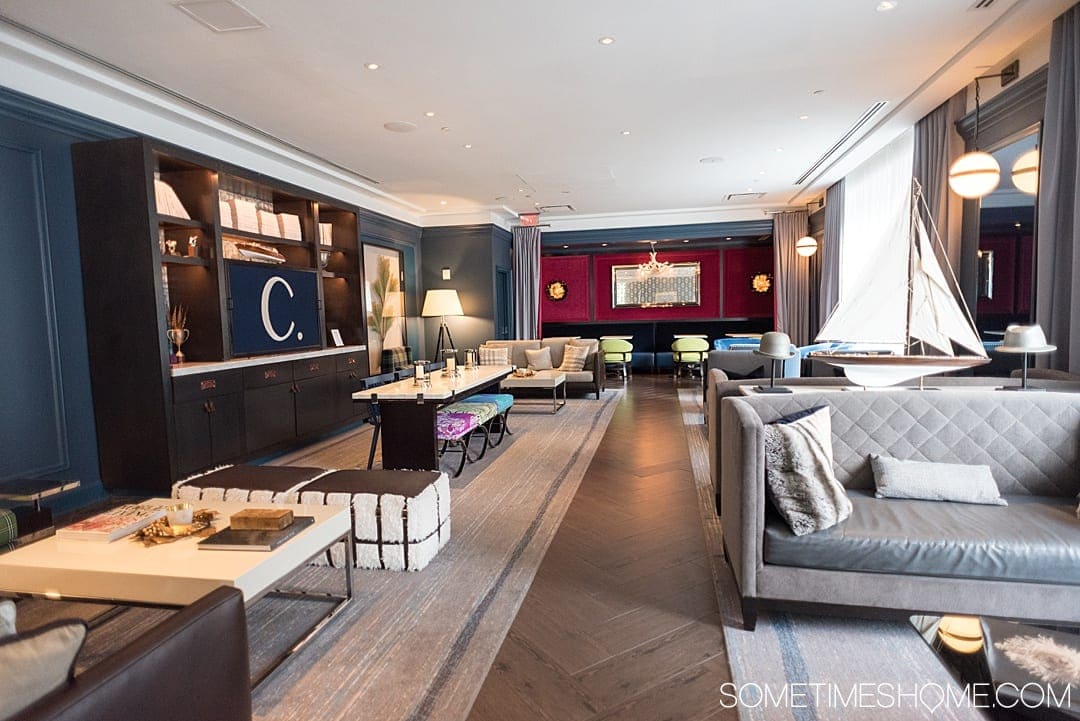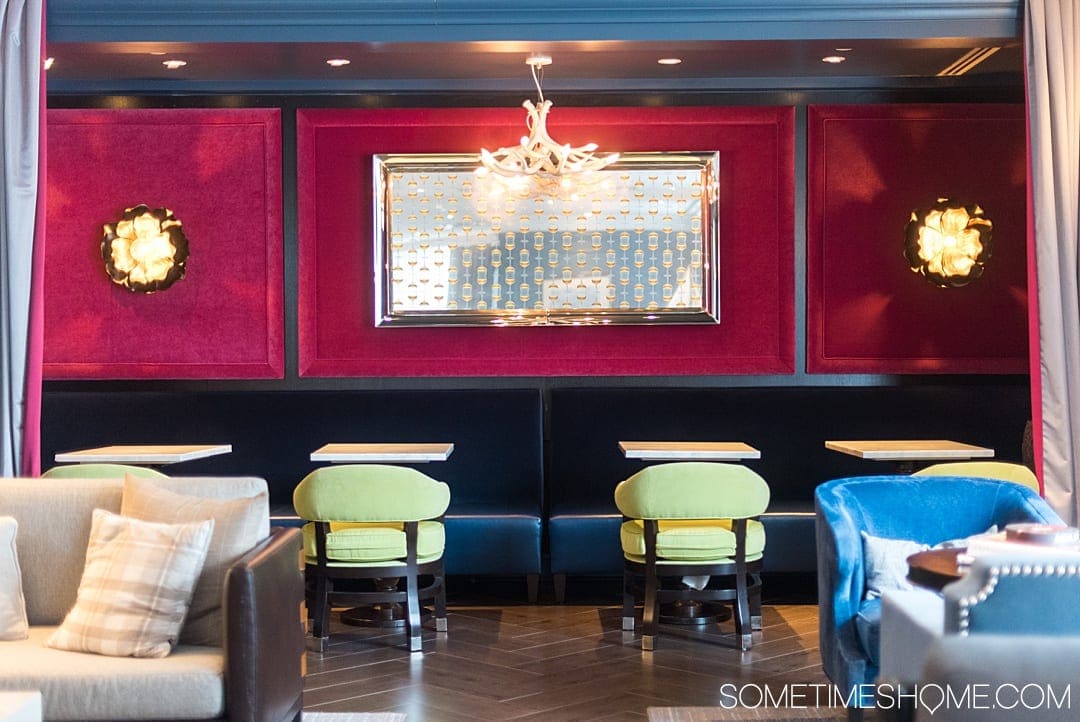 The Kimpton Cardinal is Dog Friendly
Queen Elizabeth has her Corgies and even Marie Antoinette had her pugs. And we all know Oprah has her Cocker Spaniels and Golden Retrievers! These royal figures probably didn't – or don't – prefer traveling without their pets….and why should you?
Even though we don't own any dogs we are huge fans of them. We love that the Kimpton Cardinal Hotel allows dogs and honors their arrival on a sign at the front desk complete with dog treats to satisfy your pups!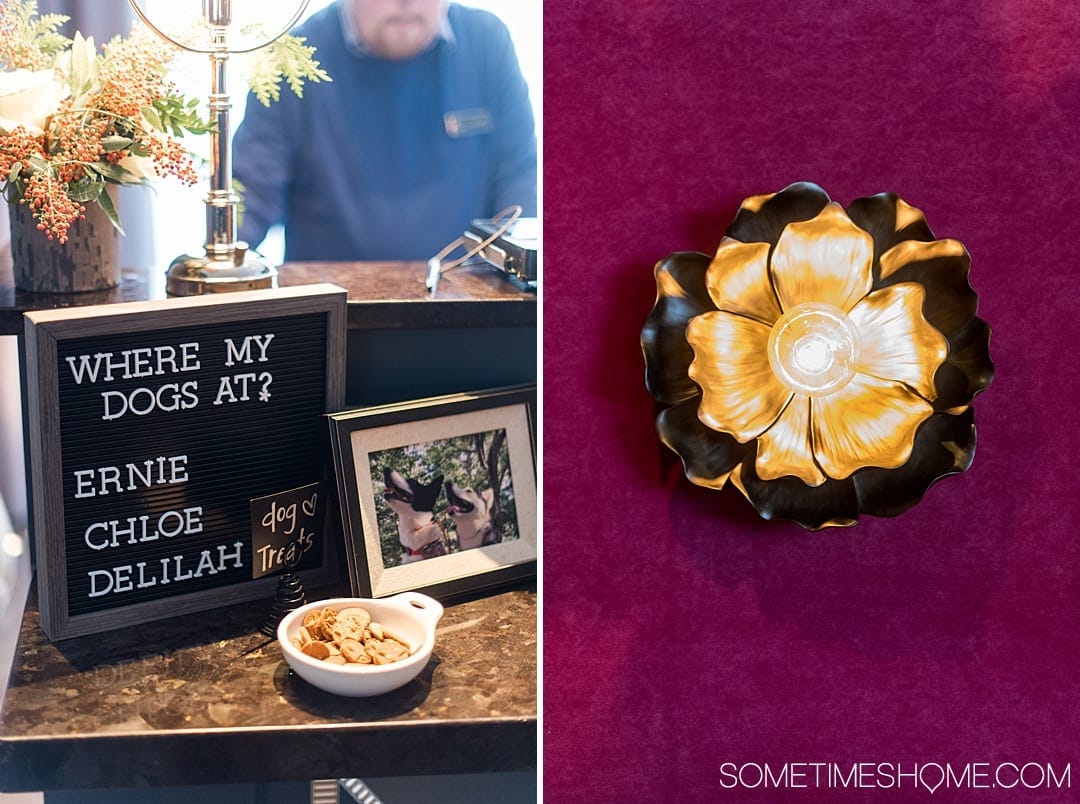 Kimpton Cardinal Hotel is Llama Friendly Too!
You read that correctly. This hotel in Winston-Salem, NC has various special events throughout the year. Our first stay with them was in December when they opted to have llamas on the property for a bit of holiday fun.
This is when we learned their unspoken yet somewhat known pet policy in an inside circle: if it fits through the door it can come in.
The llamas did, indeed, fit through the door. I saw them walk outside with my own eyes!
They were such sweet animals, hired from a local farm to spend a few hours at the Kimpton Cardinal hotel with adults and kiddos. We were in awe of them. Does this not remind you of his royal highness, Prince Ali, from Aladdin?
He's got seventy-five golden camels
(Don't they look lovely, June?)
Purple peacocks, he's got fifty-three
(Fabulous Harry, I love the feathers!)
When it comes to exotic-type mammals
Has he got a zoo?
I'm telling you, it's a world-class menagerie
Yes, royalty!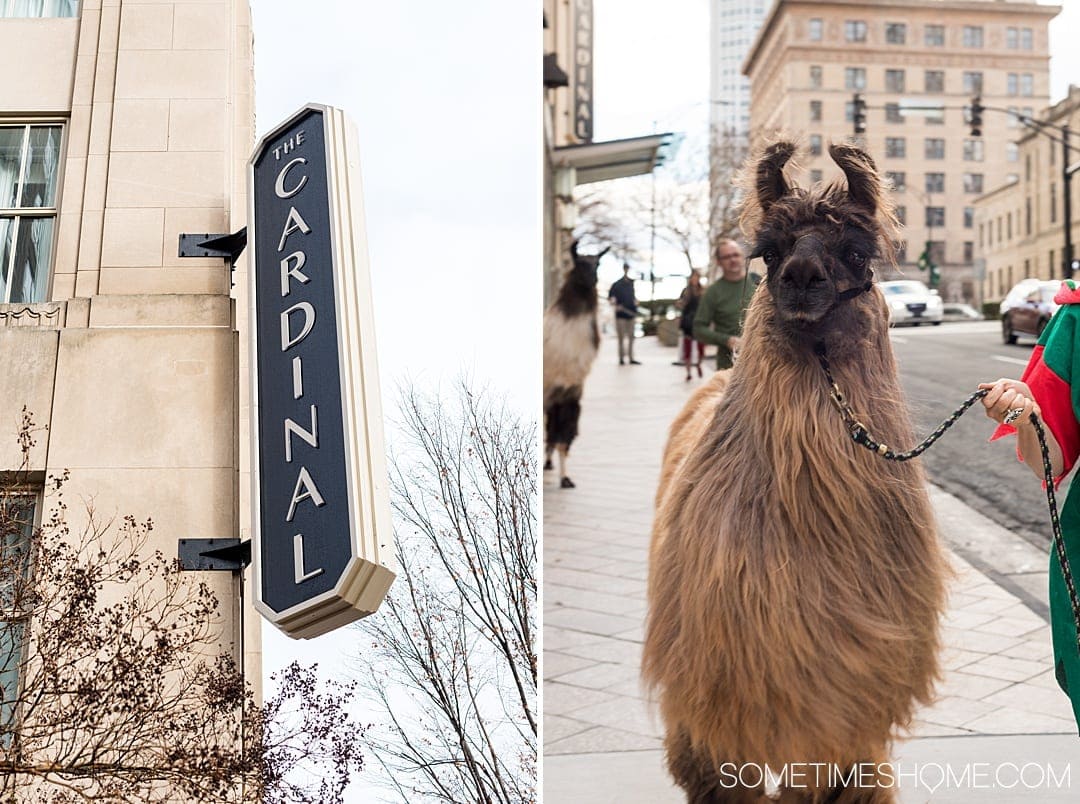 High-Class Restaurant and Bar Inside the RJ Renolds Building
The Katharine is the Kimpton Cardinal's restaurant (and one of the best restaurants in Winston-Salem.) It is open for three meals on weekdays, including brunch on the weekend. (Weekends swap breakfast and lunch for one brunch meal.)
Its name is inspired by the wife of RJ Reynolds (the building's namesake) and its French menu includes things like Coq au Vin and Escargot (snails).
But don't worry – if you have a less adventurous palate they have things like steak and salmon too. We love French food so we dove right into Baked Escargot served with round biscuits atop each one with loads of yummy oil and garlic.
The Butcher's Block was excellent as was the Roasted Duck Breast.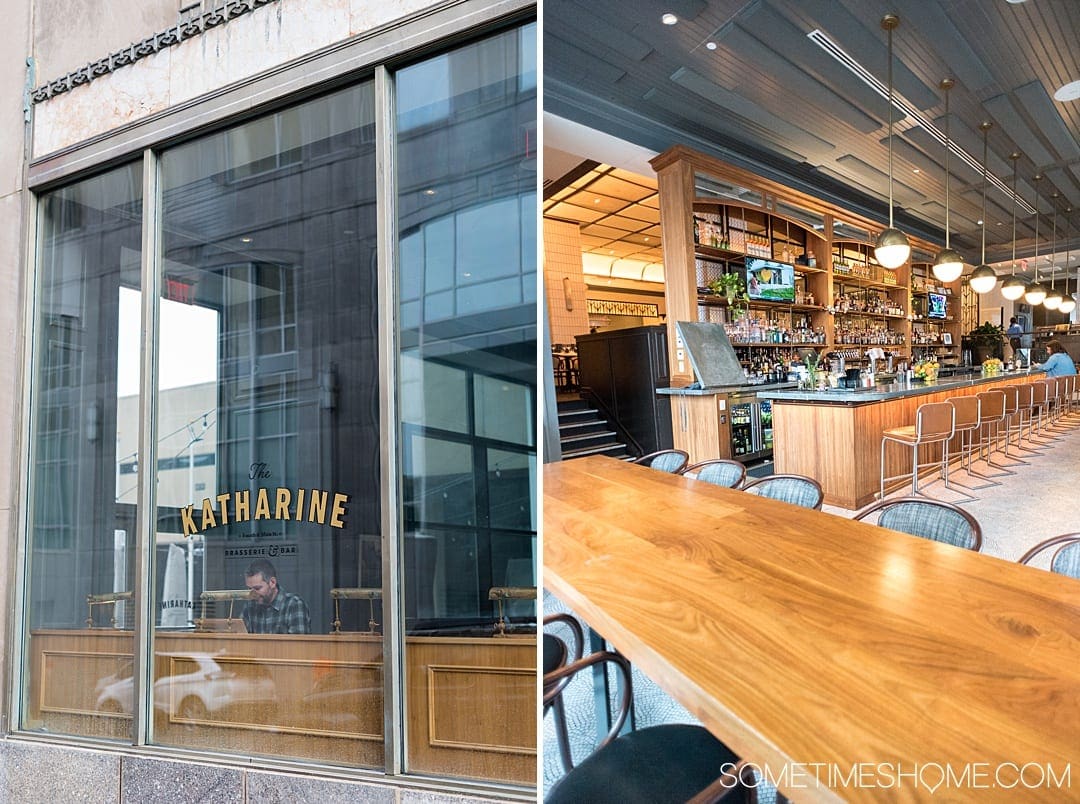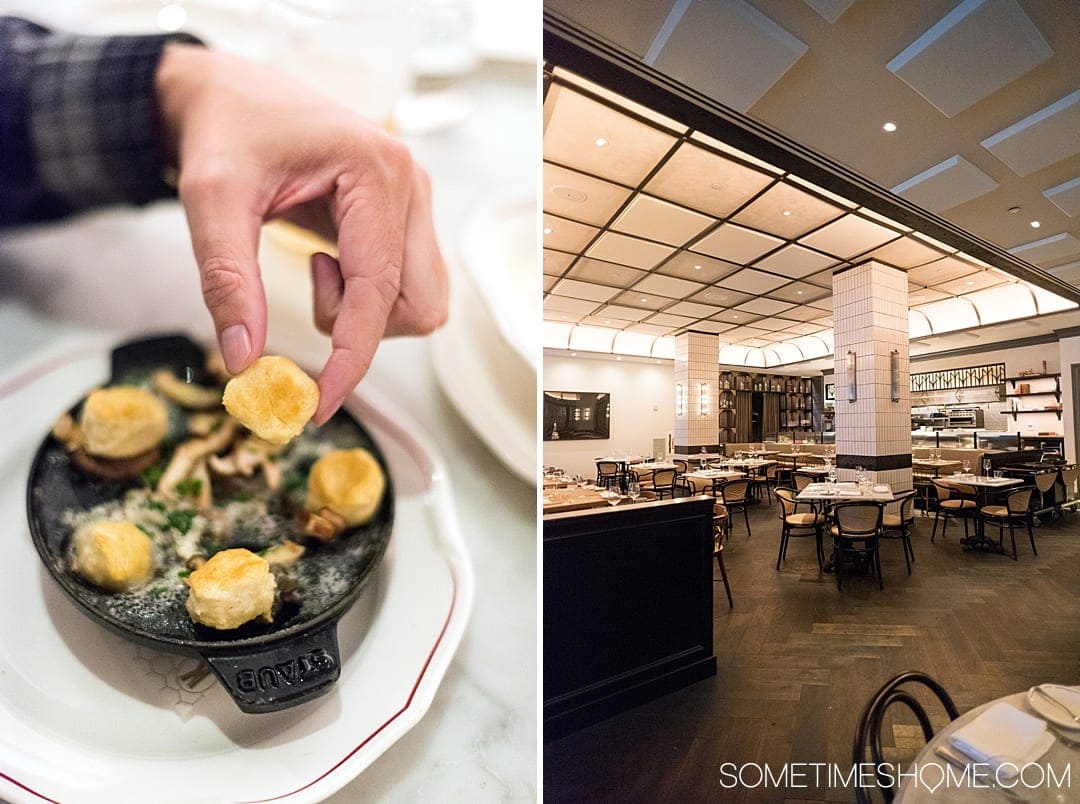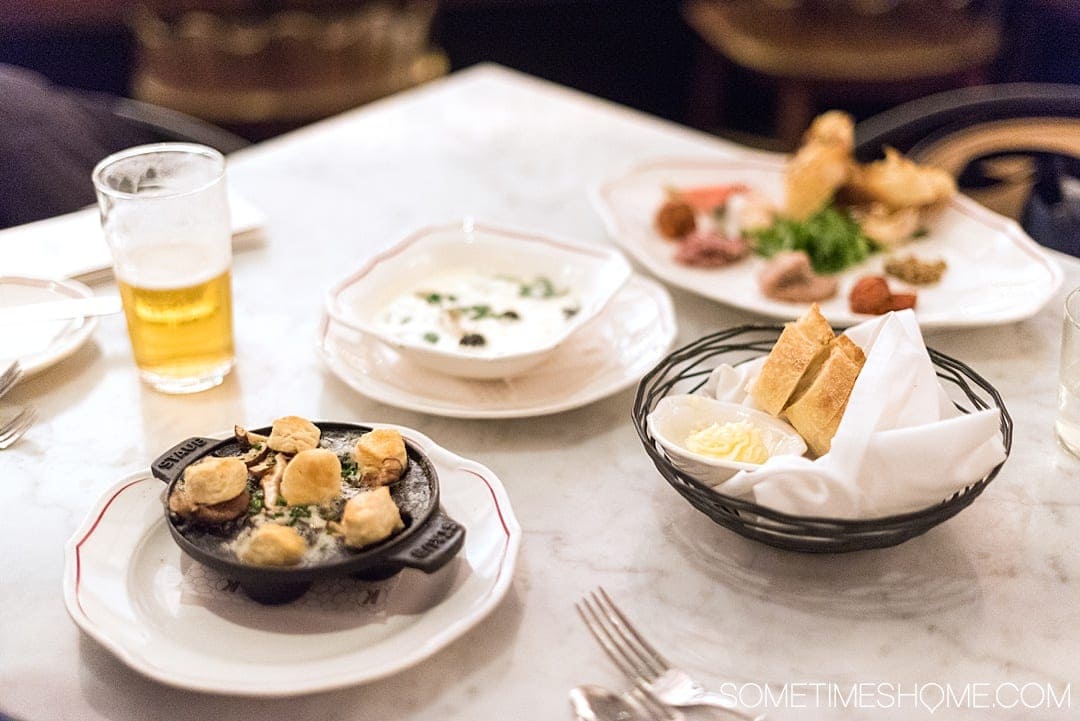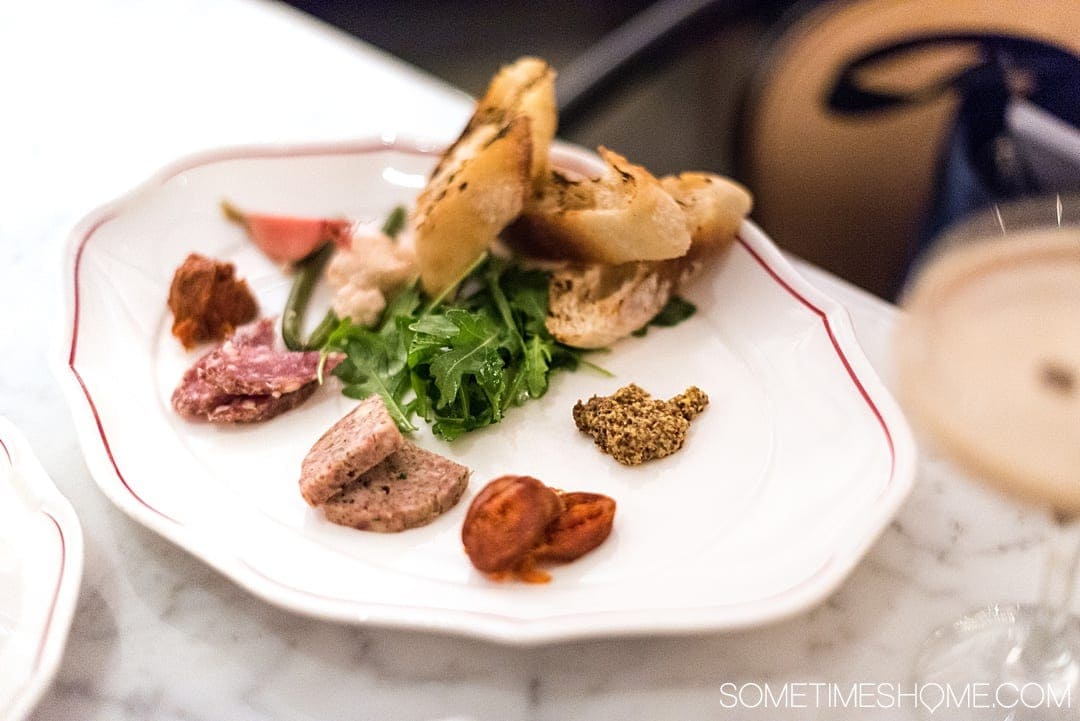 Luxurious Rooms at Winston-Salem's Kimpton Cardinal
Sipping cocktails at our table at The Katharine was followed by heading up to our luxurious hotel room for bed. Whoever works on the interior design for Kimpton Hotels deserves lots of awards! Their boutique hotels have singular designs for each property and they are always impeccable.
Our favorite design elements in the room were the ropes "holding" the side lamp on one side of the bed and the beautiful grey wood armoire that held seersucker robs and a hidden mini-fridge.
Their bath products are designed by Atelier Bloem, in The Netherlands. There was a note in the bathroom that if we didn't take our partially used bath products home their partners at Clean The World would use them in their program providing hygiene kits around the world. WE LOVE THAT! So much.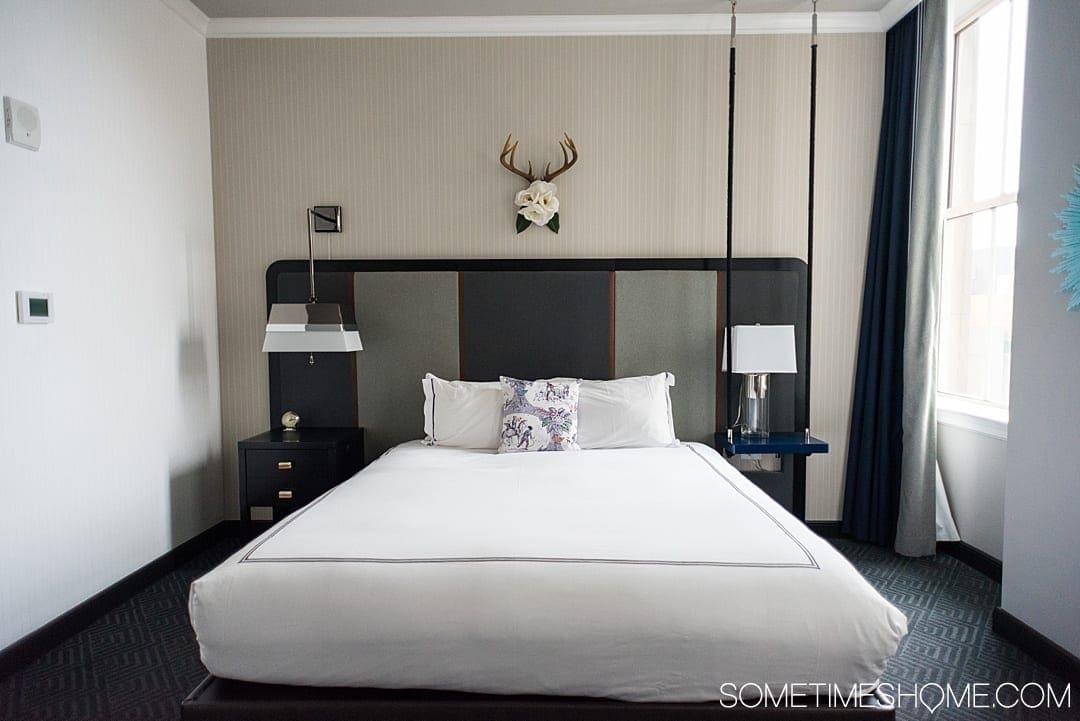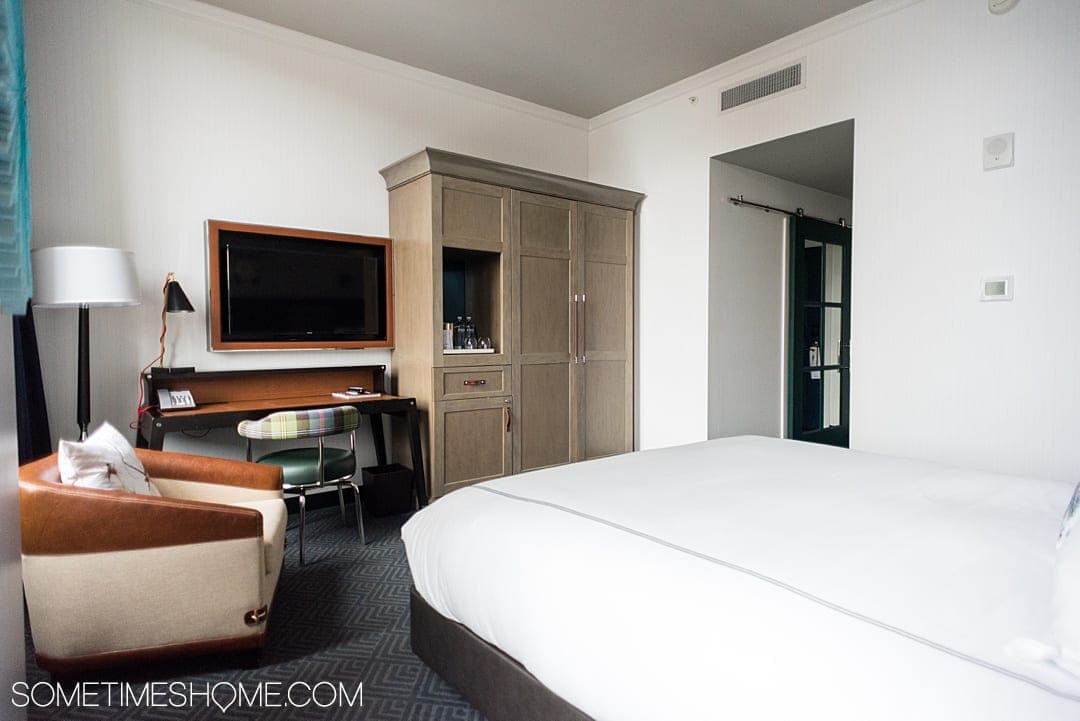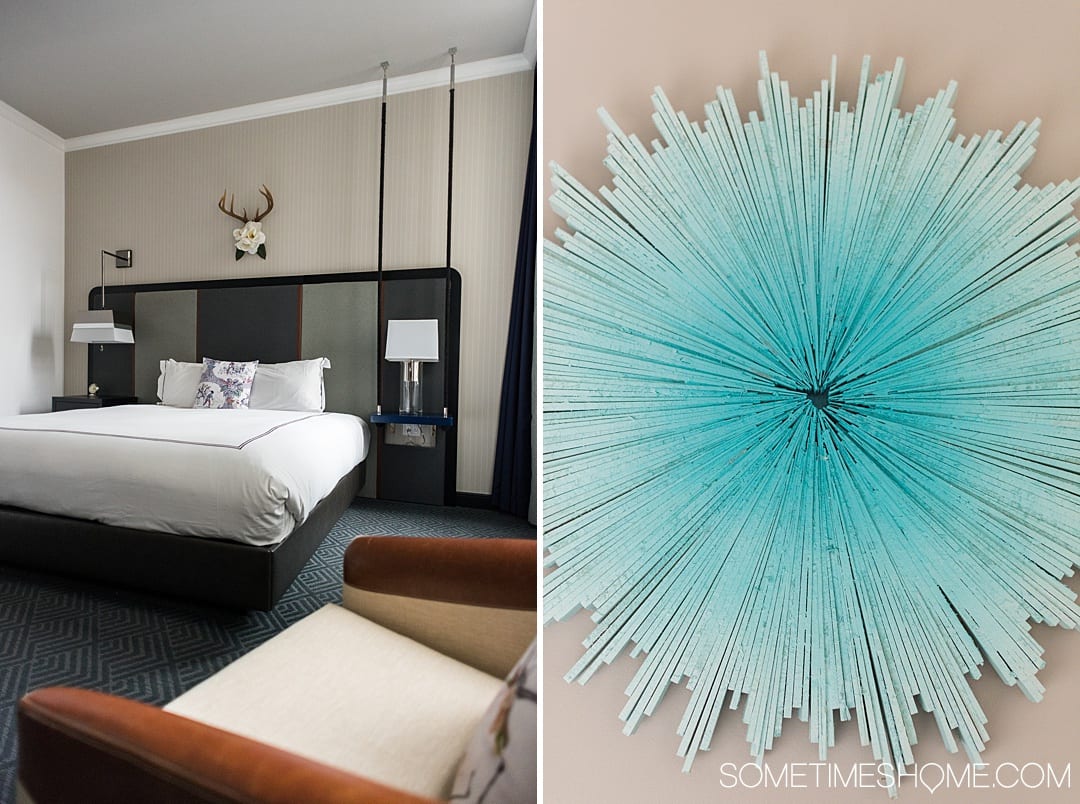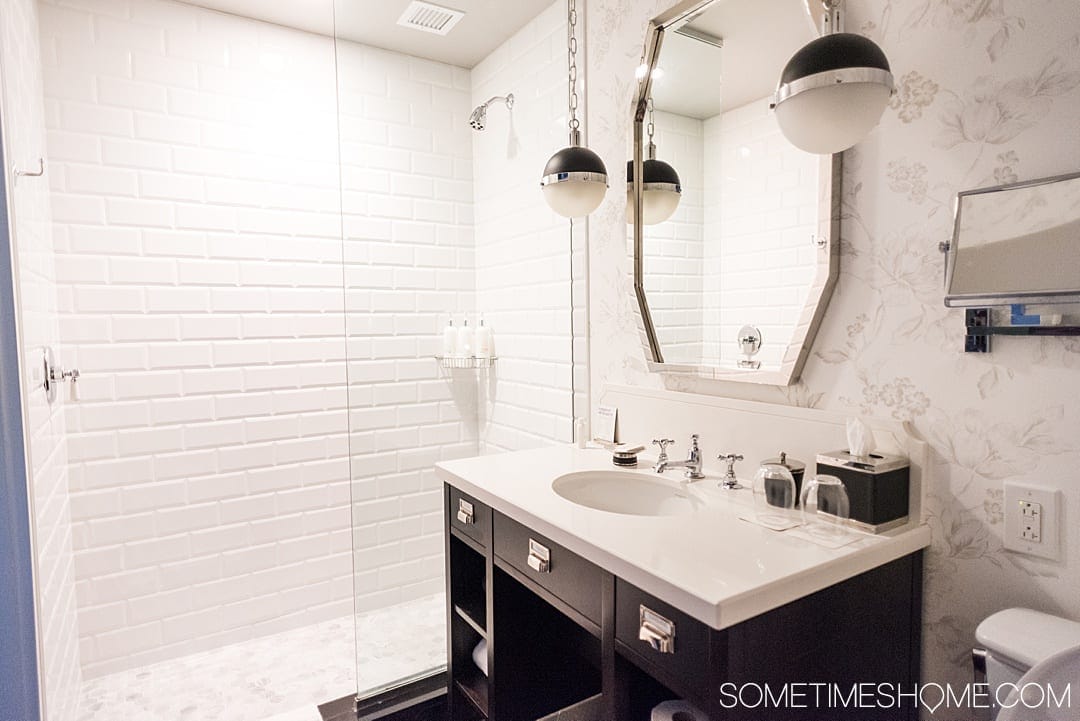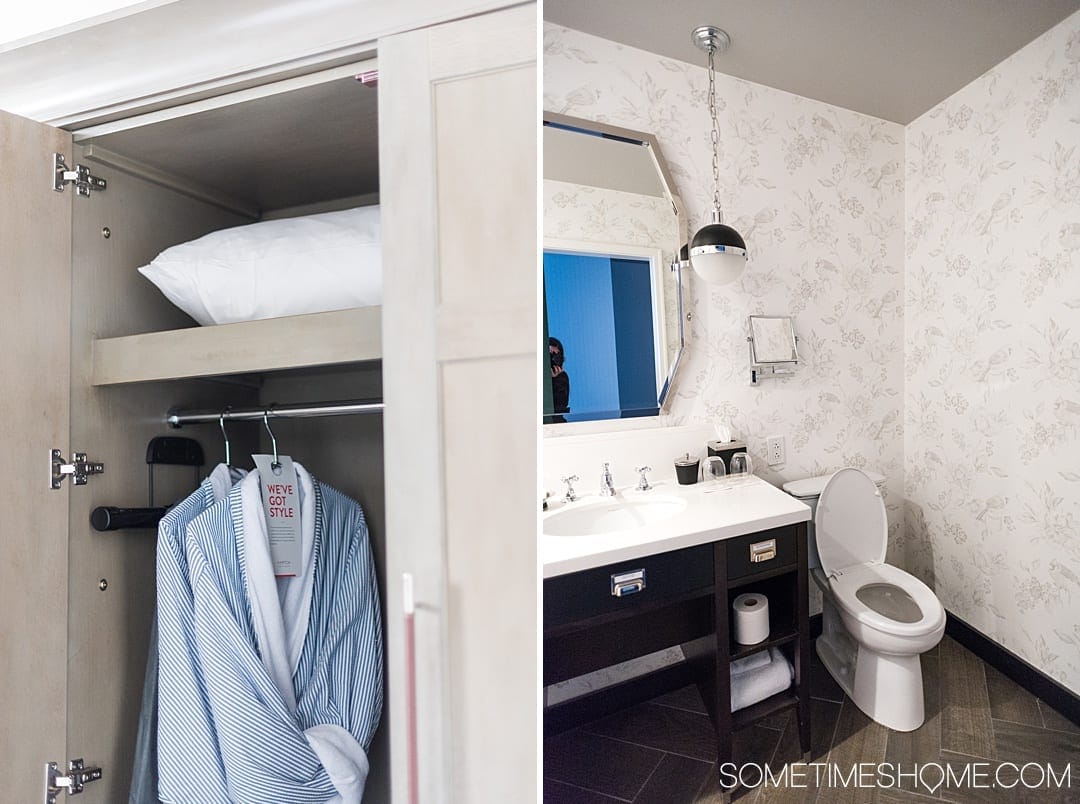 ➡︎ Book a Room at the Kimpton Cardinal Hotel ⬅︎
Unique Amenities at the Kimpton Cardinal Hotel in Winston-Salem
You are rewarded with unique activity options as a guest of this Winston-Salem hotel. We heard a rumor there was a bowling alley, basketball court, ping pong, and foosball tables, gym, and twisty slide for adults in the lower level of the hotel. Could it be true?!
We asked the front desk about it and alas, the rumors were true! So what did we do next? Headed downstairs to see the unlikely amenities in person. Mikkel immediately tested the slide. (Which was full of static but wonderful.)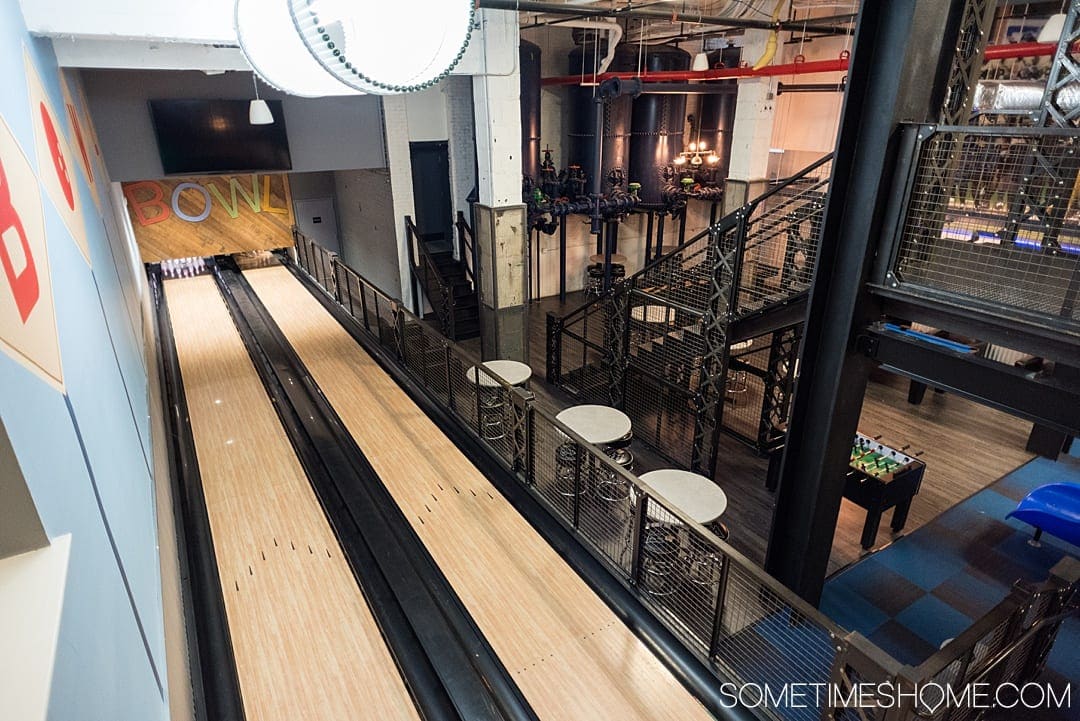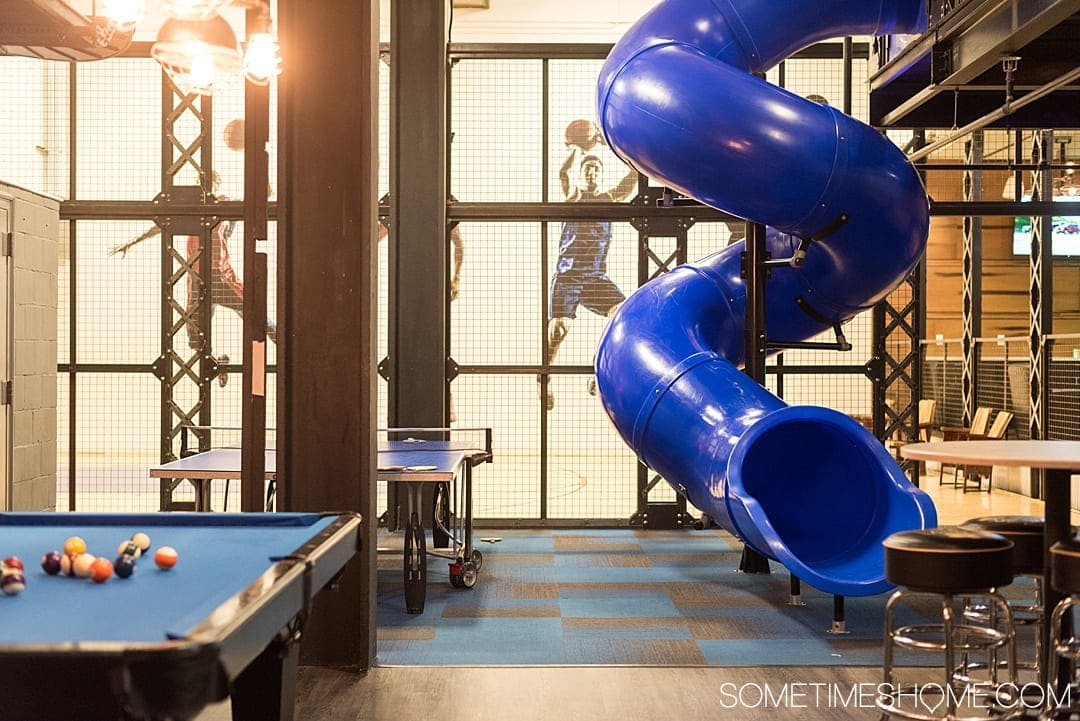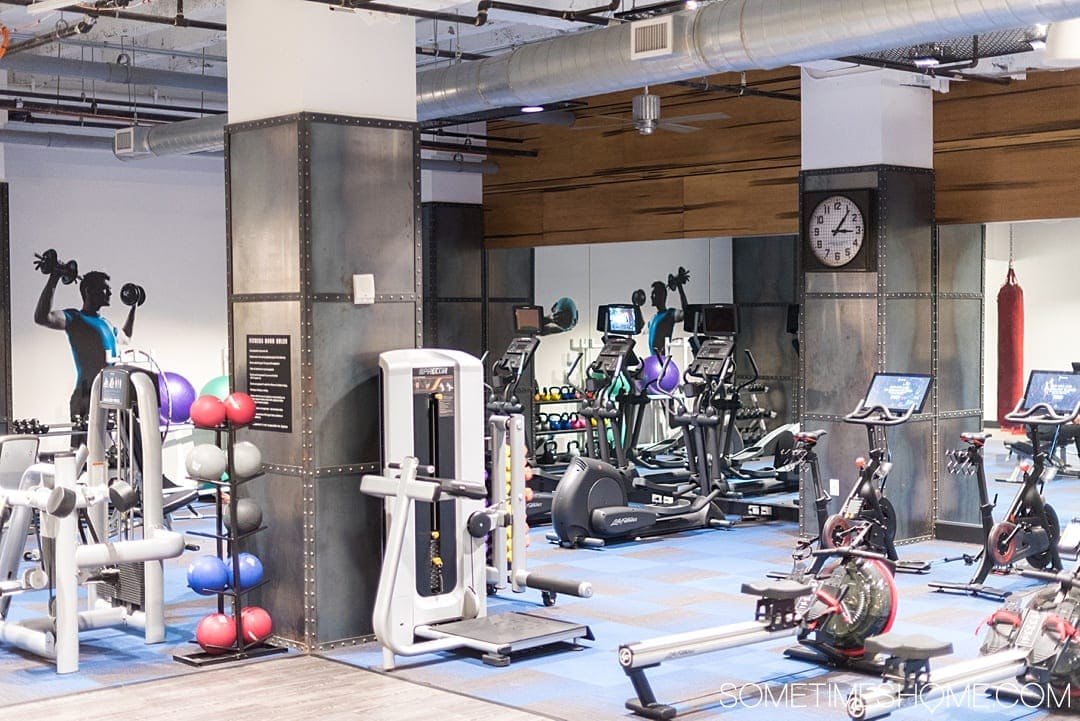 Additional Practical Information about the Kimpton Cardinal, part of the IHG Brand of Hotels
Here's some additional Kimpton Cardinal Hotel information we'd be remiss not to mention in a review:
Parking is sometimes tough in downtown Winston-Salem. There's valet and overnight parking available at the hotel for an additional fee. There's also discounted parking available through the hotel if you are eating at The Katharine.
While the Kimpton Cardinal is one-of-a-kind, it is, in fact, part of Kimpton Hotels. This means you can earn rewards as a member of their IHG Rewards Club, simply for staying or dining at their hotels and restaurants. Yay!
Another incentive to sign up for IHG Rewards is complimentary wifi. Otherwise, wifi at the hotel is available for a daily fee.
This property is a Kimpton hotel and residence tower. One set of elevators goes to the floors of their 174 guest rooms. The other set goes to the residences.
There is not a pool or spa on the property but in-room spa treatments can be arranged upon request.
They have event space available to rent for anything from weddings to board meetings.
Fun fact: Cardinals are the state bird of North Carolina.
💻 Book the Kimpton Cardinal Online: Hotels.com or directly on IHG
Visiting Winston-Salem, North Carolina? Also check out: