Essential First Visit Guide to Ocracoke Island in the Outer Banks
Ocracoke Island in the Outer Banks is a wonderful place to visit! And for years, I felt like the only person on the east coast who had never been there. But that changed with our first trip to Ocracoke, our foray into the Outer Banks.
We've returned since because Ocracoke is just so darn enjoyable!
It's common to see round oval-shaped stickers on cars with "OBX" in big black letters in the center as a badge of honor for having vacationed there. They're on cars we see all over the United States.
This elbow-shaped area of islands is full of adventure. But what should you expect on Ocracoke Island in the Outer Banks during a first-time vacation there?
We share all the pertinent information you need below, essential for your first visit to this magical (and relaxed) island.
Disclosure: There are affiliate links in this post, which means we may earn a small commission if you click the link and proceed with a purchase, at no cost to you. We truly only recommend hotels, products, and services we personally use. As Amazon Associates, we earn from qualifying purchases.
🕐 Short on time? No Problem!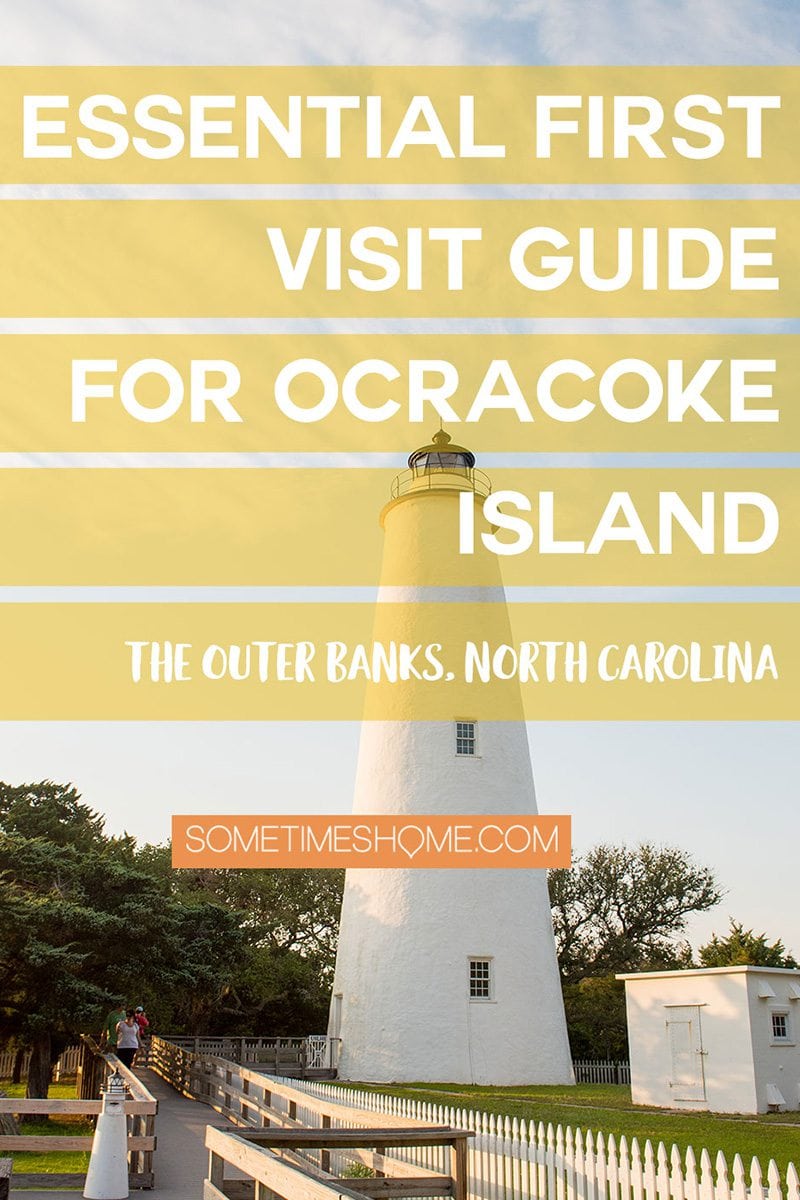 How to Get to Ocracoke Island in the Outer Banks
Ocracoke is a 16-mile-long barrier island that is part of The Outer Banks, a series of barrier islands off the east coast of North Carolina.
Since they're small the easiest way to get there is in a vehicle or private boat unless you're able to charter a small "puddle jumper" plane. We discuss arriving by car in this post, which is the most popular way to travel there.
We drove from Raleigh to Ocracoke, the state's capital in central North Carolina, while our friends who met us there during our first trip drove from Charleston, South Carolina to Ocracoke.
We drove a southeastern route coming from the northwest that took approximately four hours, excluding our ferry ride.
Ferry to Ocracoke Island
Ocracoke is an island. Therefore, you have to take a boat to get there.
It's key to understand you'll have to take a ferry to get to Ocracoke Island after driving on the barrier islands (for instance, where Kitty Hawk and Nags Head are). Our friends from Charleston drove a northeast route coming from the south that was about seven hours to a different ferry (there are three ferry options for Ocracoke).
We input "Hatteras Ferry Terminal, NC" into our GPS at 9:45am and hit the gas.
We drove east on Route 64 for about three hours. One of the most notable stops we made was at Roanoke Island, the first island you need to cross to get to the Outer Banks driving from the north. I highly recommend stopping in the visitors center – we got so much great information there and the staff couldn't have been nicer!
Did you know Roanoke Island was where the first English settlement was, back in the 1580's?!
Shortly after you cross over Roanoke Island you get to Route 12 (or NC-12). To get to Hatteras, you head south. You'll soon be on the Outer Banks Scenic Byway, one of only 150 nationally designated byways in the US.
Awesome OBX Audio Guide for Your Drive
If you're driving to the ferry, you must download this amazing audio guide. Guide Along apps are our favorite tours of their kind.
⭐️ 5-Star Rating
Suggested or custom itineraries, including Cape Hatteras National Seashore and Light Station, Bodie Island Light Station, Duck, Roanoke Island, Wright Brothers National Memorial, Jockey's Ridge State Park, and more.
No date limit or expiration.
One-time purchase.
Pre-load at home before you leave strong wifi – no data connection is required for the app to work after you download it.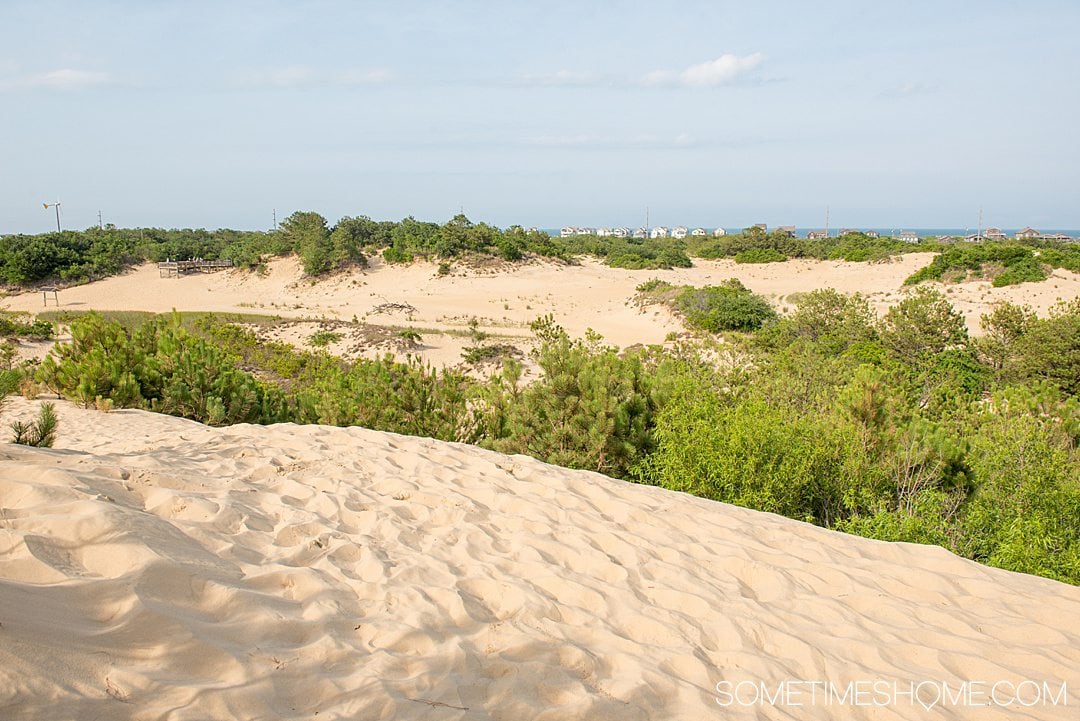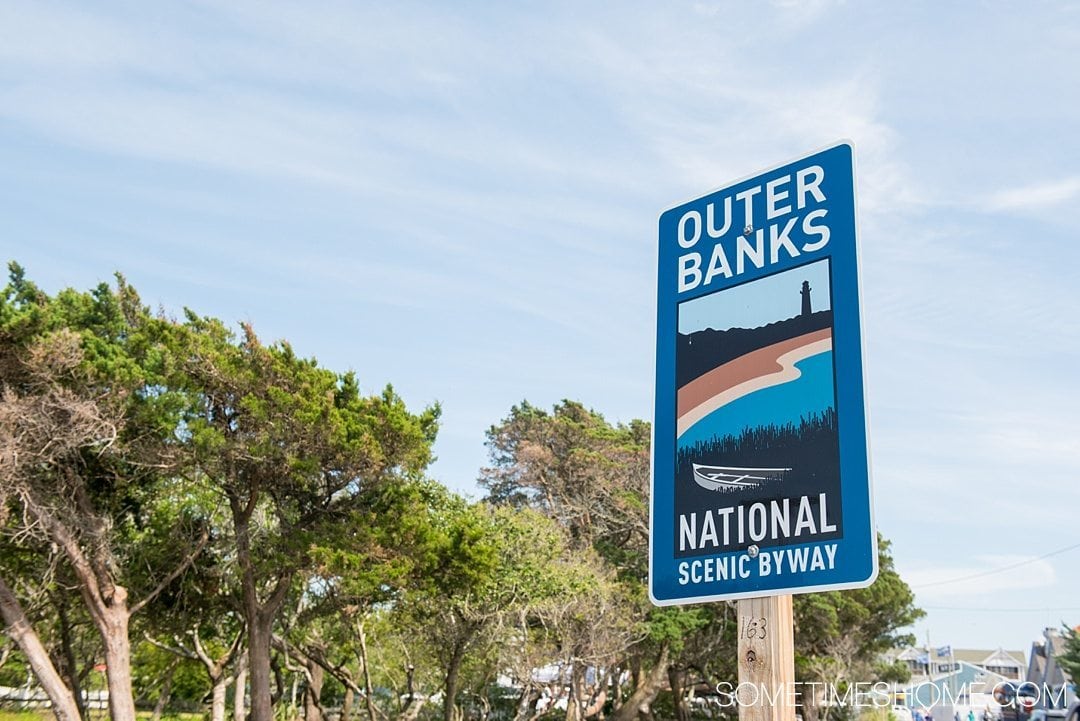 What is a byway, you ask? I was curious too! In the US it's a minor roadway recognized by the Department of Transportation for its historic qualities.
Hatteras Ferry to Ocracoke
The Hatteras Ferry to Ocracoke is free. During peak season (which begins mid-May) they run every 30 min from 5:00am to midnight. Ferry schedules are available online here.
You drive your car onto the ferry, and you can either stay in your car (with the windows open, engine off) or move about the ferry during the one-hour ride to Ocracoke. If you're curious, as I was, there are bathrooms at the front of the ferry terminal area as well as on the ferry.
Once you arrive at Ocracoke Island, you simply drive off the boat. The ride to Ocracoke Village is approximately 20 minutes. We ended up on a 2:00pm ferry, arrived at the island at 3:00pm, and were at our weekend house rental by 3:30pm.
Another Ocracoke ferry option is a paid one. This option has larger ferries; it's recommended you reserve your space online ahead of time, especially during peak season. Our friends took the Swan Quarter Ferry, which takes about two and a half hours from the ferry terminal to Ocracoke Island. The Cedar Island Ferry, a third similar option, takes the same time.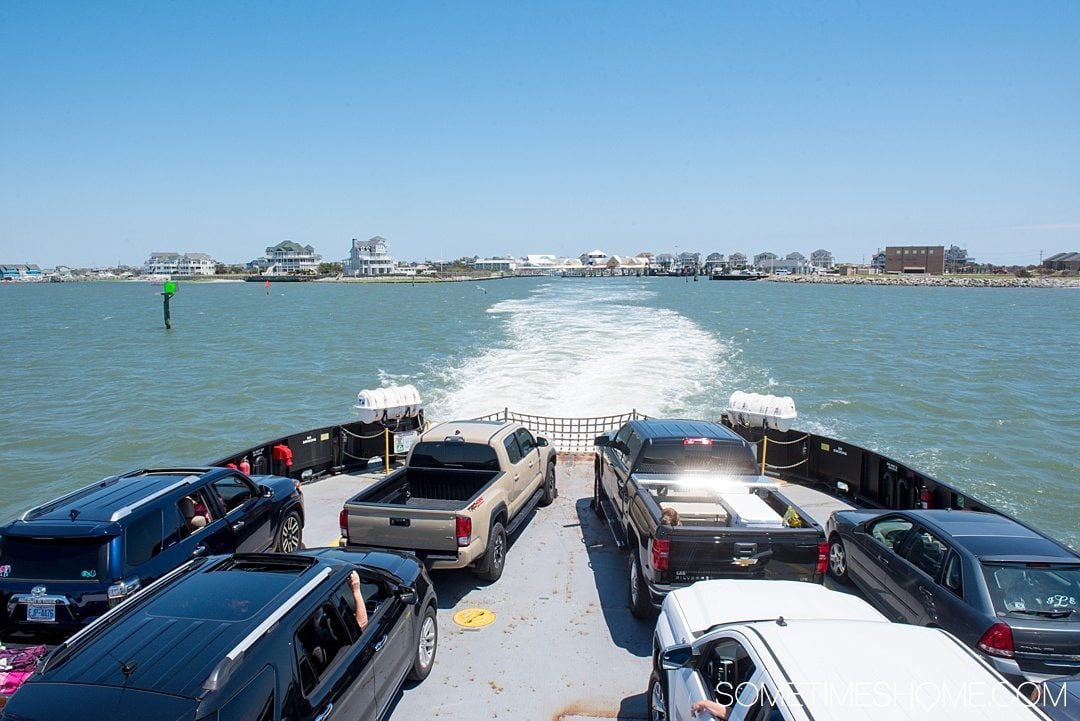 Gas Stations Before Ocracoke Ferry, Coming from Hatteras
We recommend getting gas before you reach the ferry at the end of Hatteras Island. There are several gas stations as you drive south on NC-12 to reach it. If you're a low-gas-price hunter, then your best bet is to get gas in North Carolina before you even reach Roanoke Island.
Though we typically found gas on the islands was only $0.10 to $0.15 more than back in Raleigh.
Places to Stay in Ocracoke NC
Home Rentals on Ocracoke Island in the Outer Banks
We reserved a house with a few friends for Memorial Day holiday weekend, from Friday to Monday, three nights and three days for our Ocracoke Island accommodations.
Our friends found our weekend home on VRBO and asked us to join them our first trip to the island. We stayed in historic, "Elise's House" on Howard Street, the oldest street in Ocracoke that dates back to 1888. Luckily it is well maintained and had been updated since the 19th century. (Photo below.)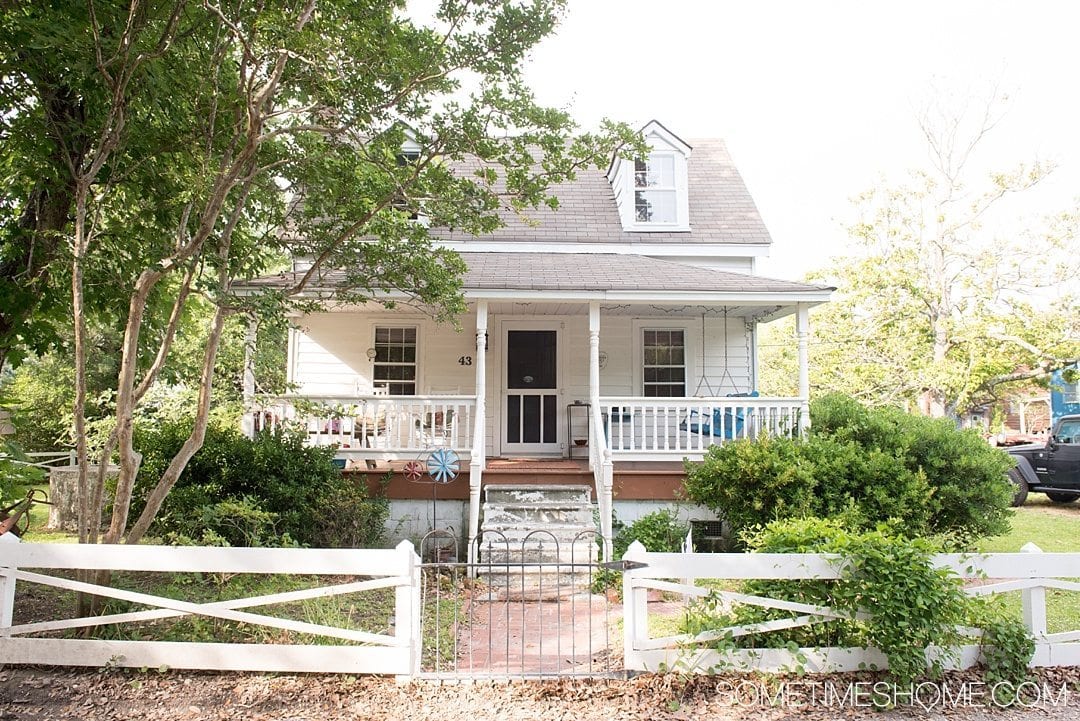 What to expect on Ocracoke Island in terms of accommodations is lots of house rentals and some hotels. It seemed just about every home on the island was available to rent either from VRBO.
Hotels on Ocracoke Island
There are also a few hotels and motels that looked very cute, especially the ones with balconies overlooking the water like Captain's Landing and The Anchorage Inn. Here are a few to look into:
Some of the hotels had private pools that looked very refreshing! Remember though: the beach is always only a walk or a drive away on Ocracoke Island.
Where to Eat and Drink on Ocracoke Island: Restaurants and Beer
Food on Ocracoke Island
When we weren't taking advantage of the kitchen in our VRBO for meals, we were out at restaurants on the island.
There are plenty of great places and Ocracoke restaurants to enjoy, and you'll even find some mouth-watering North Carolina southern classics there.
🍴Check out our full post about Ocracoke restaurants for detailed information. 🥄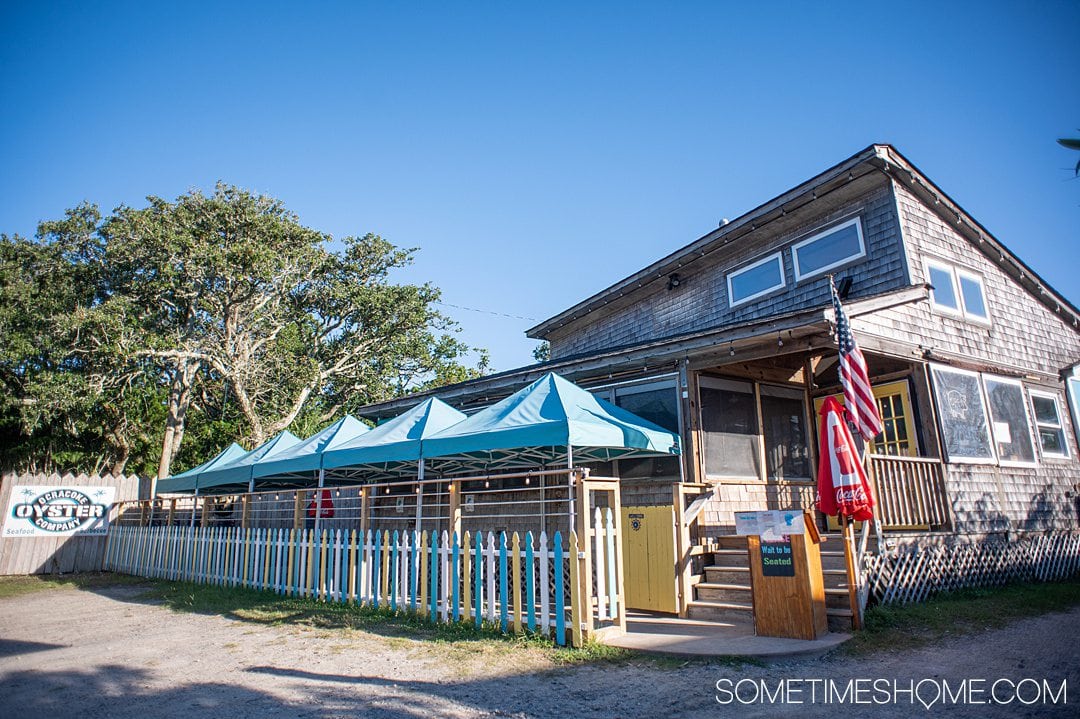 Drinks on Ocracoke Island
We enjoyed grabbing a drink and experiencing the neighborhood view from the patio of Zillie's Island Pantry, which has wine, beer, various gourmet provisions, and cigars for guests to purchase.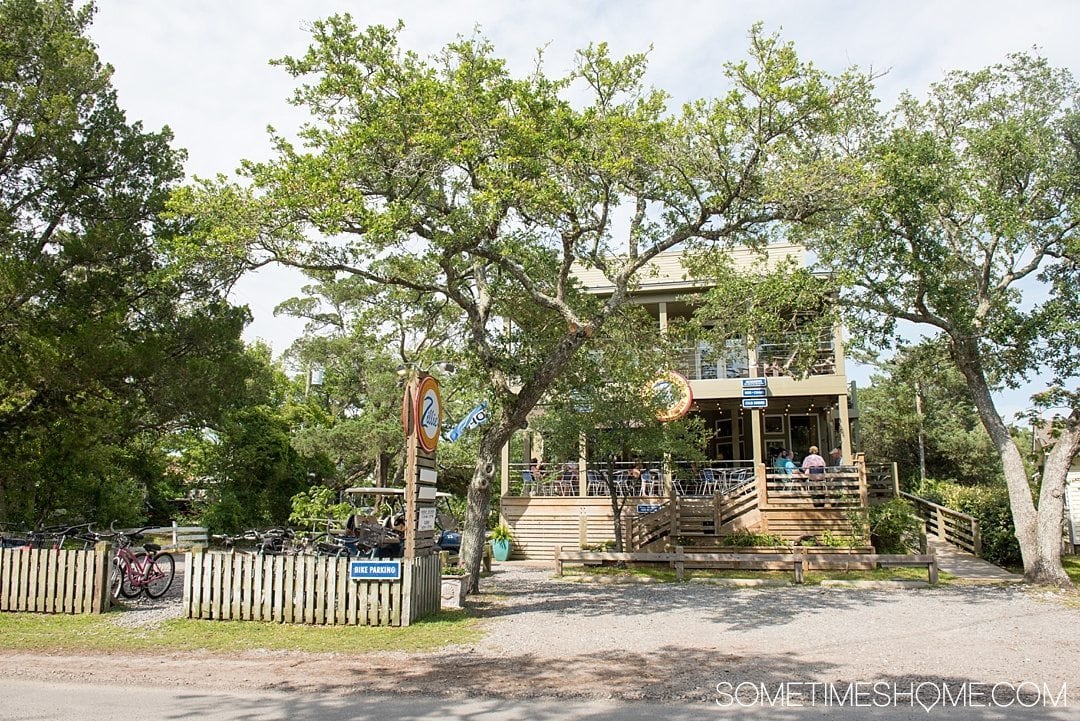 We also really enjoyed the beer at 1718 Brewing. It was the best we had in all of the Outer Banks all weekend, including the brewery in Nags Head and Lost Colony brewing in Manteo on Roanoke Island.
Things to Do in Ocracoke
Overall this is a relaxing trip. You're not going to be rushing between tourist attractions or sites. But here are some things to do that will keep you occupied if you're craving adventure:
Fishing
Fishing is popular from the beach and by charter. We saw a few boats that had posted their available openings for the day even if you don't make a reservation in advance.
You must obtain an "ORV" or Off-Road Vehicle permit from the National Park Service (NPS) if you wish to drive your vehicle onto the shore to fish on the beach. It is $50 for 10 days or available by annual pass.
Passes can be obtained on the island at the NPS desk at the Ocracoke Island Visitors Center. Driving on the beach without a permit is a federal offense and you'll face hefty fines if they catch you without the permit so be sure to get one! And don't forget to print and tape it to your front window if you do.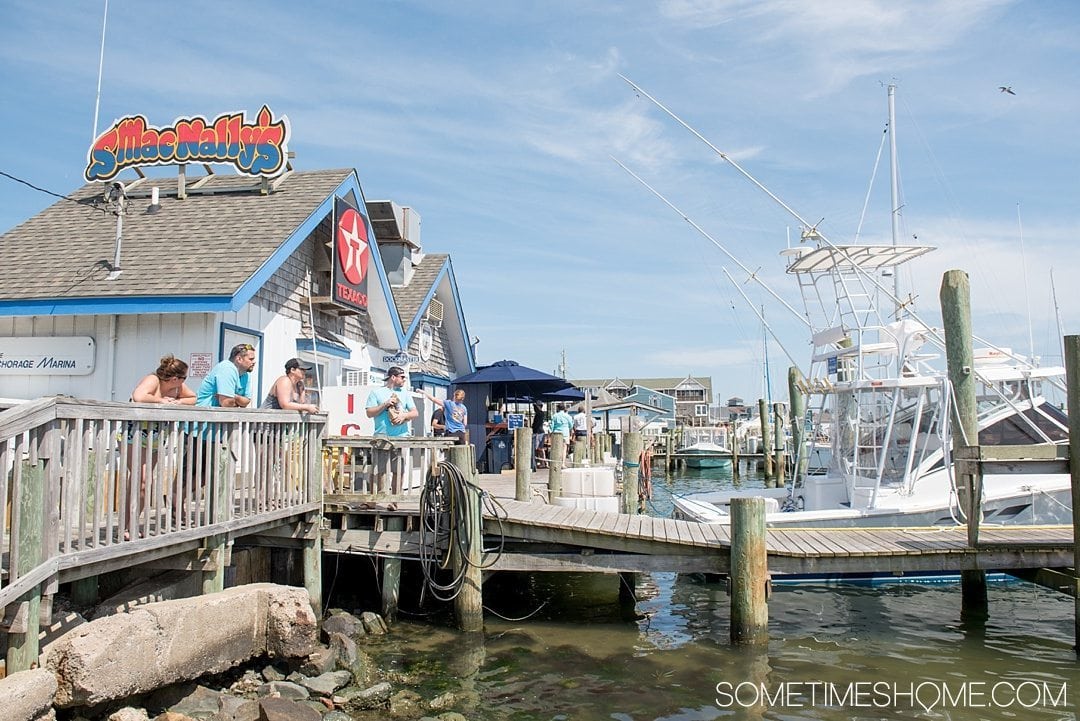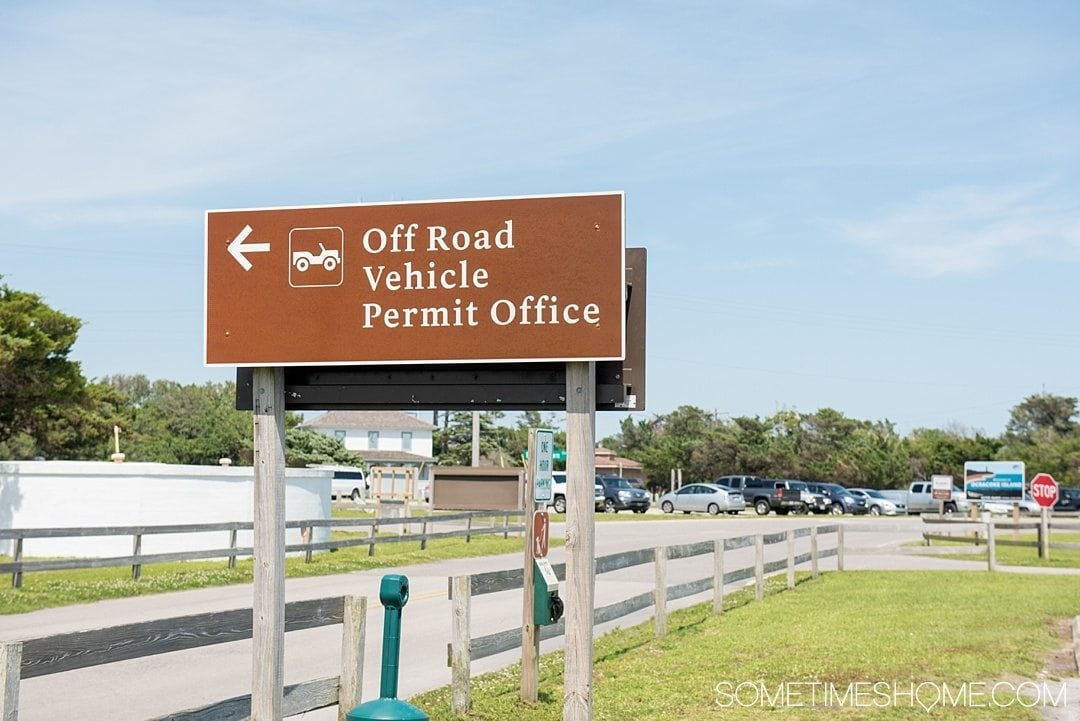 Embark on an Audio Tour of Ocracoke Island
One of the most educational things to do on Ocracoke Island is to navigate the town/Ocracoke Village with this free audio tour by Ocracoke Navigator. We loved learning more about the area's history this way.
If you aren't getting great cell phone service in Ocracoke, you can download the tour's MP3 audio files online while on wifi, then use the files offline for the tour.
Take a Walk or a Run on Ocracoke Island
Ocracoke Village is really cute and stumbling upon houses like the one below made us (and my camera) smile.
Morning is the best time of day to walk around during late spring and summer, or in the fall shoulder season before high temperatures and humidity reach their peak.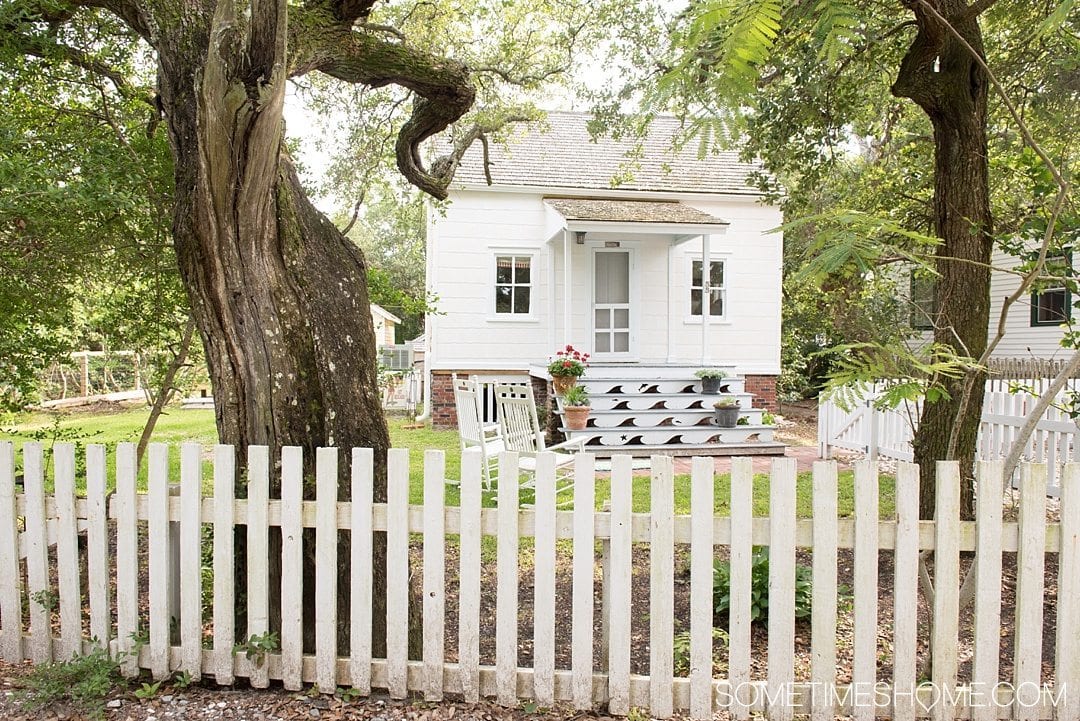 Rent a Bike or Golf Cart
Bicycles and golf carts are available to rent by the hour from a variety of locations in town per day or week. It's an incredibly bicycle-friendly and golf-cart-accessible community.
The bike rentals pictured below are available from The Slushy Stand, opposite the surf shop, at 473 Irvin Garrish Highway.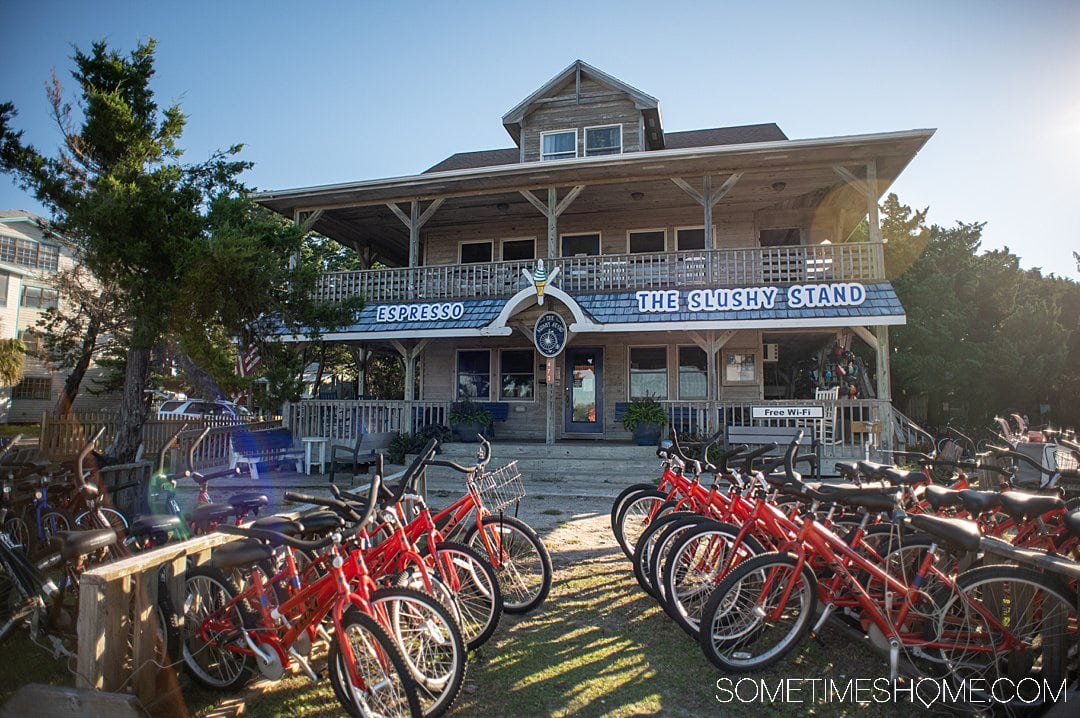 Participate in Water Sports
Surf or kayak on Ocracoke Island with rentals. (Kayaking is something we always love to do.) You can ride the waves of Pamlico Sound, the largest lagoon on the North American east coast.
Ride the Wind surf shop has boards and kayaks to rent and private or group surf lessons are also available.
Visit an Ocracoke Art Gallery
There are a few galleries on the island we enjoyed walking around by the marina. Art shopping is an especially great indoor thing to do on a rainy or cold day in the Outer Banks.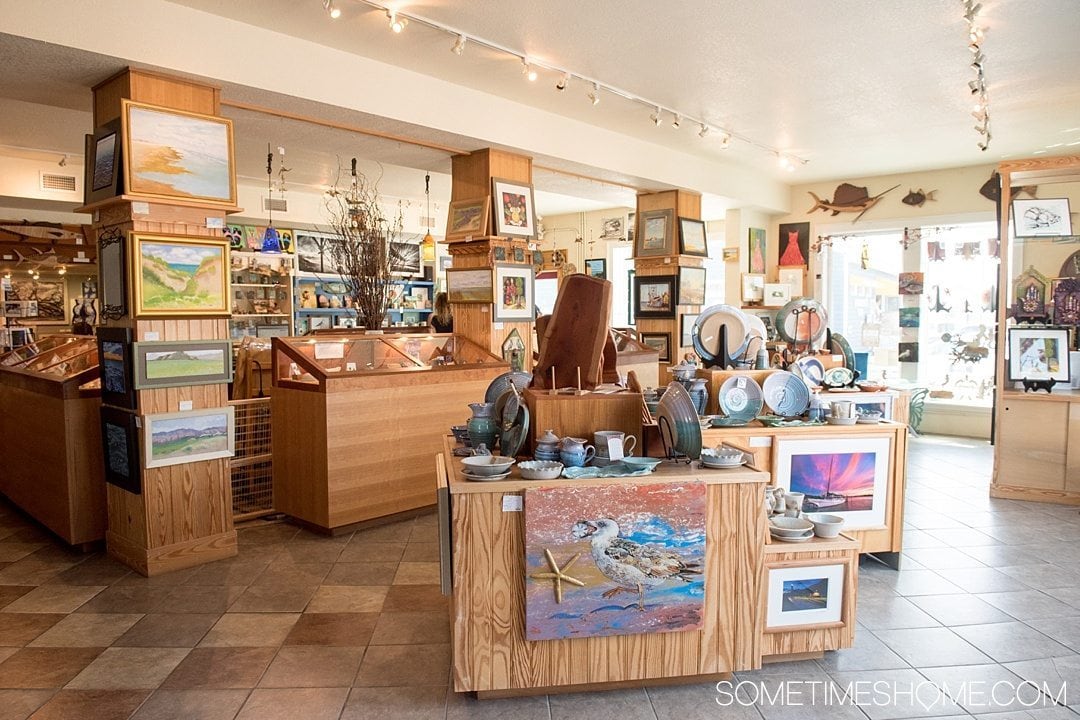 Fly a Kite
Maybe it sounds odd and like a nod to yesteryear. But we saw a few people flying kites on the beach and we were jealous we didn't have one. We knew the wind in the area is great for flying things like kites due to our experience Hang Gliding nearby in Kitty Hawk.
But be sure to bring a kite to fly in Ocracoke because the wind conditions are great! 5-star rates, colorful and interesting kites of all kinds are very easy to find on Amazon.
✔️ Want free shipping on your Amazon order and don't have Prime? Sign up for a free trial!
Walk to Ocracoke Lighthouse
Visit Ocracoke Lighthouse, especially just before sunset. We loved visiting during golden hour to take some spectacular photos, about an hour before the sun sets down under the horizon.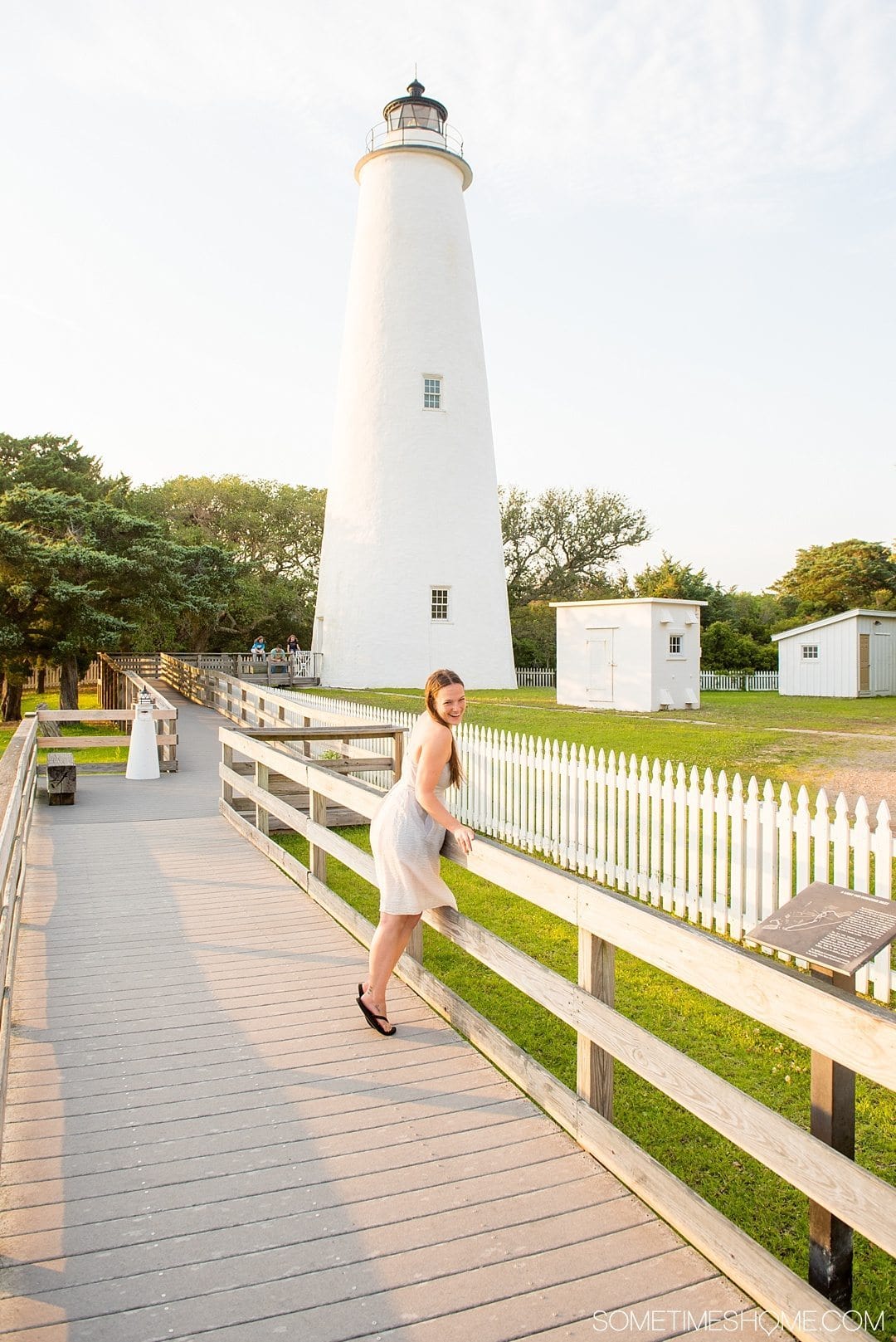 Drive to See the Ocracoke Pony Pen
These horses once roamed freely on the island. Now they can be seen in their fenced-in pony pen. Go during "business hours" during the day because they put the ponies in stables every night. They're taken out to the small pasture in the morning.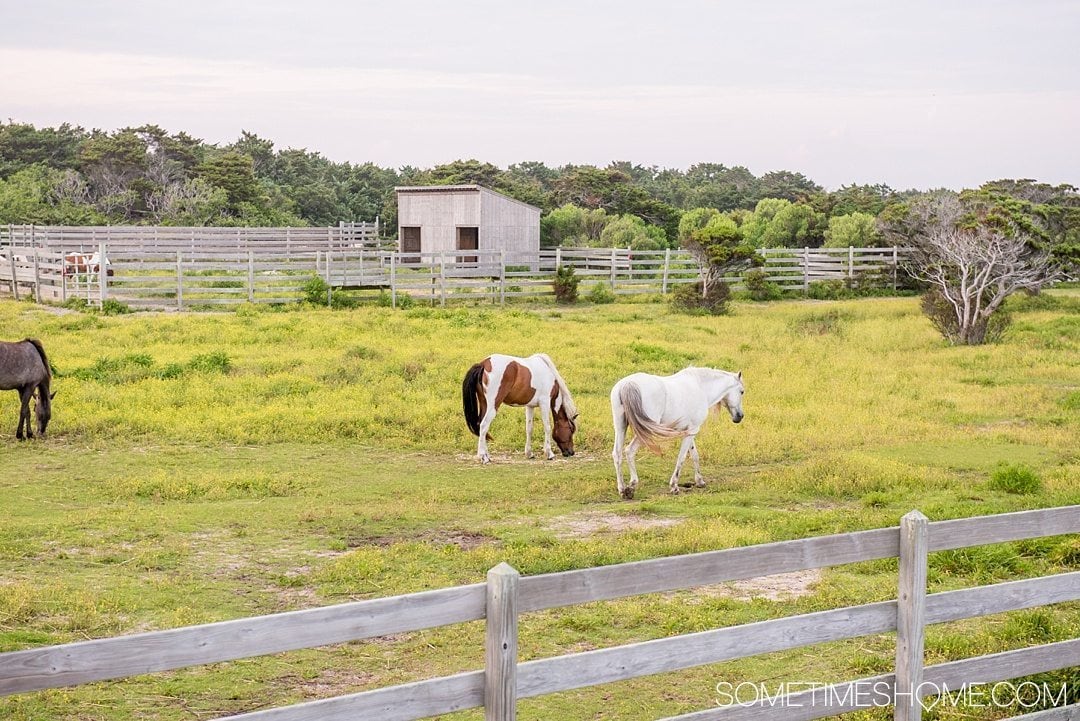 Listen to Live Music
Many places on Ocracoke island, including Dajios, SmacNally's, and Ocracoke Coffee Company, often have live solo artists and bands, especially on evenings during the weekend.
Watch the Sunset Over the Harbor or on the Beach
This was also a highlight for us! We loved watching the sunset over the harbor in Ocracoke Village or on the beach. It was just beautiful.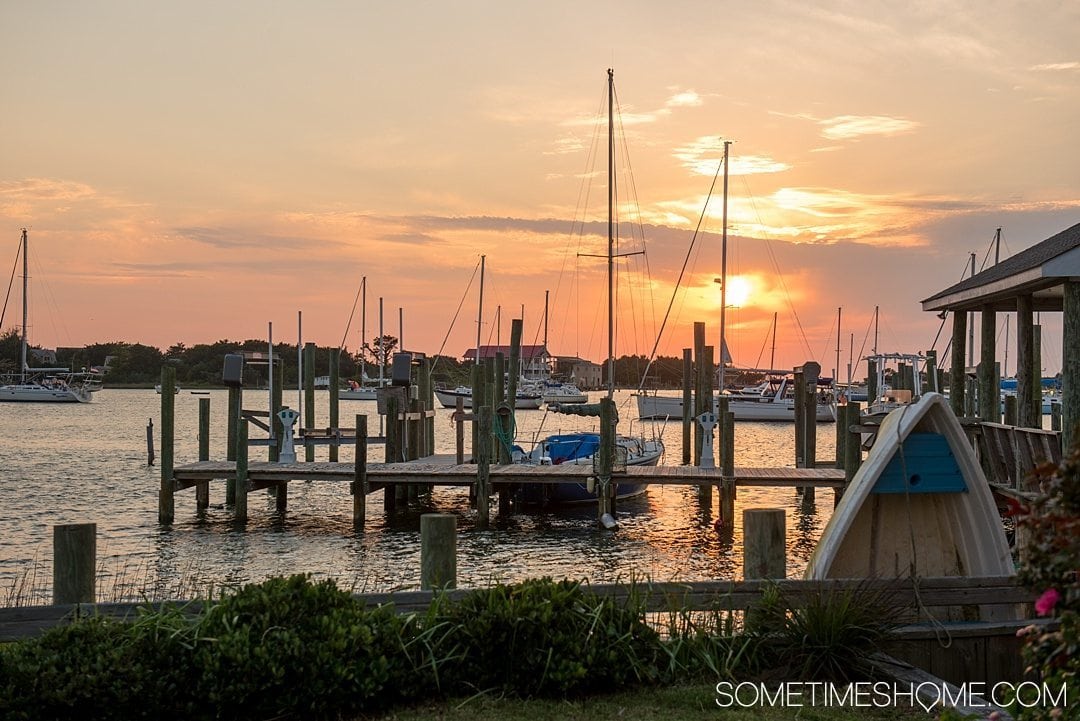 Information about the Grocery Store on Ocracoke Island
It's also helpful to know the shops we passed on Route 12 South to Hatteras in case you are unable to grocery shop at home beforehand or need to pick up a few things on the island or just before the ferry.
The shops included a CVS on Roanoke Island, a Dollar General, and a Food Lion. There's also Connor's and Lee Robinson General Store in Hatteras. Both carry Hatteras Saltworks products, which we can't recommend enough.
Variety Store Groceries in Ocracoke Village, open daily from 8:00am-9:00pm. They have a good selection of food, beer, and wine. And the prices are totally reasonable and normal.
They won't necessarily have promotional deals, like Harris Teeter, Stop n Shop, or Publix runs. But they have a lot of options and fair prices, seemingly not inflated just because they're on an island.
There's also an ABC Liquor Store next to the grocery shop on the island, that's closed Sundays. It's open Monday through Saturday from 11:00am to 7:00pm.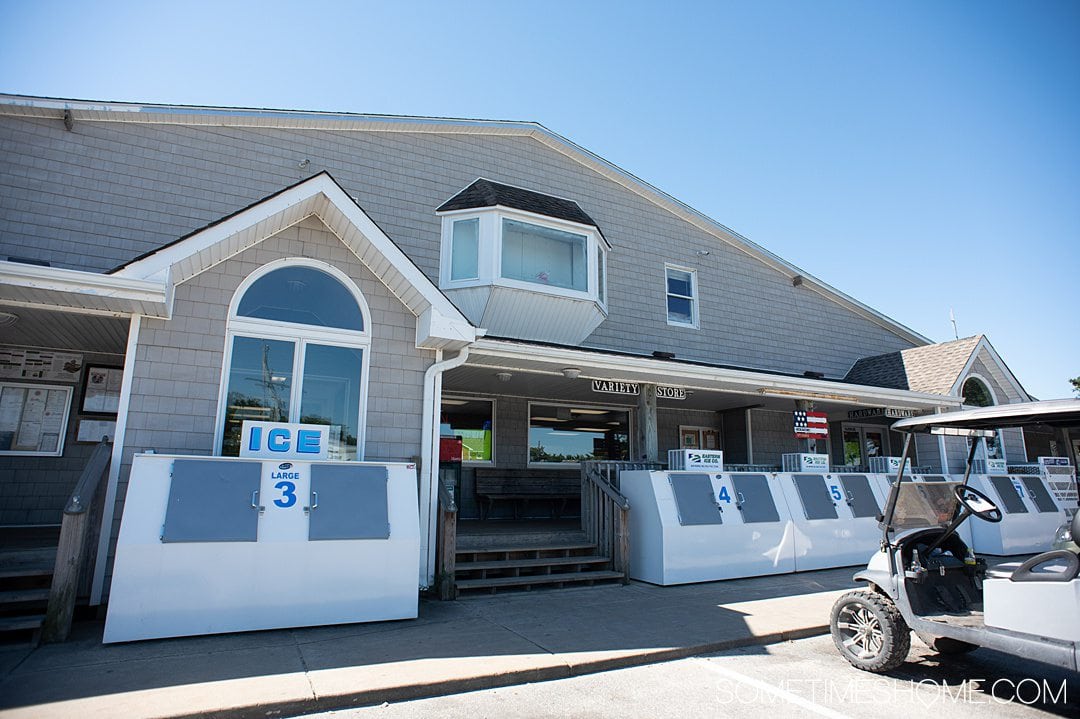 We also recommend stopping at Outer Banks Distilling on Roanoke Island to pick up some rum. We loved the rum here and bought two bottles, even though we're not typically rum drinkers.
There were also plenty of mom-and-pop seafood markets, bait shops, restaurants, ice cream, and coffee shops on the island, like Ocracoke Coffee Company, where we purchased much-needed iced coffees in the morning.
Tips Regarding What to Pack for Your Ocracoke Vacation
It's necessary to pack all the usual things for your beach vacation, of course. But here are some additional things you may not remember or haven't thought of:
Bug Spray and The Bug Bite Thing
Man, it's BUGGY out there! I don't want to brag but bugs love me, so bug repellent is essential.
Read this for some detailed information about the bug repellents to try and learn about why we love the Bug Bite Thing if we do happen to get bitten. (Which is inevitable for Mikkel, even with good spray.)
Must-have item for your Outer Banks vacation:
The only thing we have tried that gets rid of bug bites from your skin is The Bug Bite Thing. This item is a MUST pack when we travel. We always pack one in our backpack/day bag and another in our luggage. Don't travel without it! And yes, it really works!
Sunscreen
You will need it. Don't forget it!
Aloe Gel
In case you forget the above or simply underestimate how many times you need to reapply to avoid sunburns.
A Kite
It's usually windy on the island. (This is part of the reason the Wright Brothers favored traveling to The Outer Banks from Ohio for their famous "first flight," and Jockey's Ridge State Park in Nags Head is a great place to go hang gliding). So flying a kite is ideal here…and a very fun thing to do on the beach.
Towels and Sheets
Depending on your VRBO rental or apartment listing, you may need to bring your own. (We had to bring sheets and opted to bring pillows to our VRBO rental.) Perhaps your accommodations don't require you to bring all of the above but it's worth double-checking before you go.
Your Favorite Groceries
There is a grocery store on the island (as mentioned above) but if there's anything special you want, like your favorite specialty cereal for the mornings or anything for dietary needs, you may want to bring it.
We packed our car full of groceries and beer before we left home.
Tripod for Your Camera
If you're into photography (especially night photography) bring a tripod. If there is a clear night sky, the stars are beautiful there. I didn't have my tripod with me, and I wish I brought it.
I did, however, manage to get this beautiful evening photo with the help of the fence right next to me. You can even see the moon! And be sure to check out our photography tips.
📷 Our favorite lightweight, compact travel tripod 📷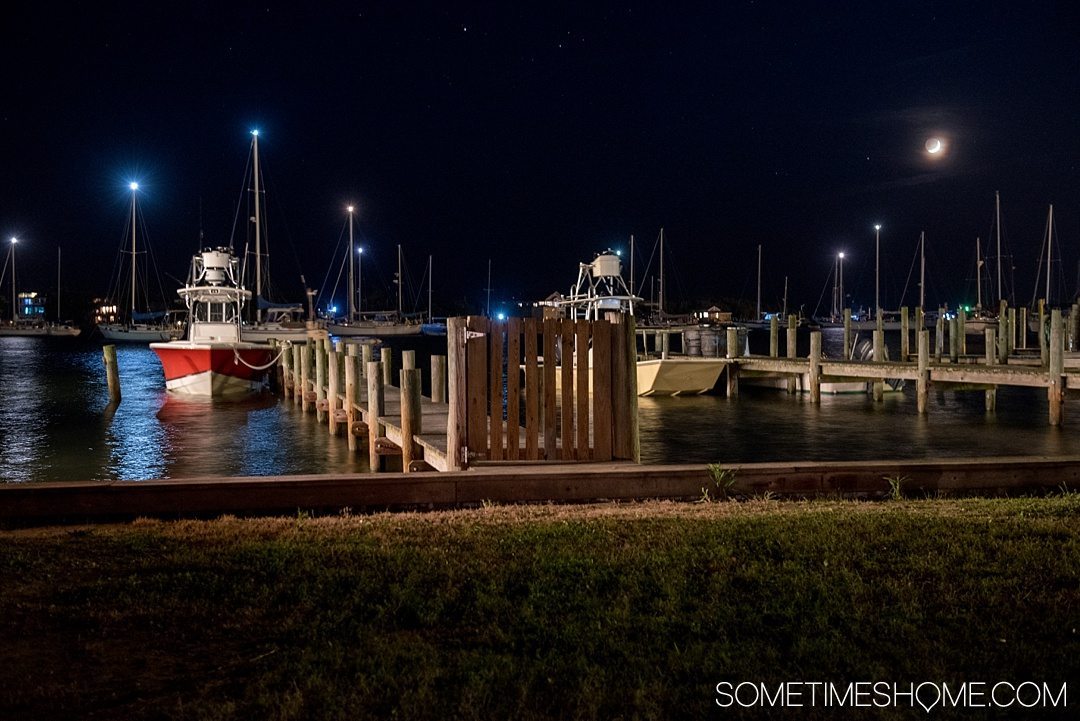 For more things to do in the Outer Banks, check out these posts: