The Best Seafood Restaurants in the Outer Banks
We are like moths to flames when it comes to having seafood near the seashore. It only made sense to try to find the best seafood restaurants in the Outer Banks when we visited.
There are so many restaurants in the Outer Banks we can't possibly eat at them all. No one can. But these are the recommendations for the best seafood from the places we visited on our trip.
We also want to note that we found it more commonplace for menus to have fried seafood, which we didn't want 99.5% of the time. If you like to err on the healthier side of seafood options, you'll be pleased to know you won't find us writing about fried dishes for the seafood restaurants below, with the exception of one towards the end.
We are sharing where we went, what we ordered and what we thought of these seafood restaurants, including stops in Nags Head, Manteo and Wanchese (both on Roanoke Island), Buxton and Hatteras.
Disclosure: There are affiliate links in this post, which means we may earn a small commission if you click the link and proceed with a purchase, at no cost to you. We thank Dare County for hosting us. We truly only recommend restaurants, hotels, products and services we personally enjoyed and have used. 
Blue Water Grill & Raw Bar, in Manteo
This was THE PLACE to get raw oysters in the Outer Banks. We were baffled to discover it was so hard to find raw oysters anywhere in OBX. We still don't quite understand why that's so. Most places we went to had fried oyster on the menu. (Our waitress concurred it's an oddity of the Outer Banks and she doesn't understand it either.)
But we were so grateful for the Blue Water Grill & Raw Bar.
We had perfect seats inside, overlooking the marina below. It was a great indoor activity on a rainy day in the Outer Banks.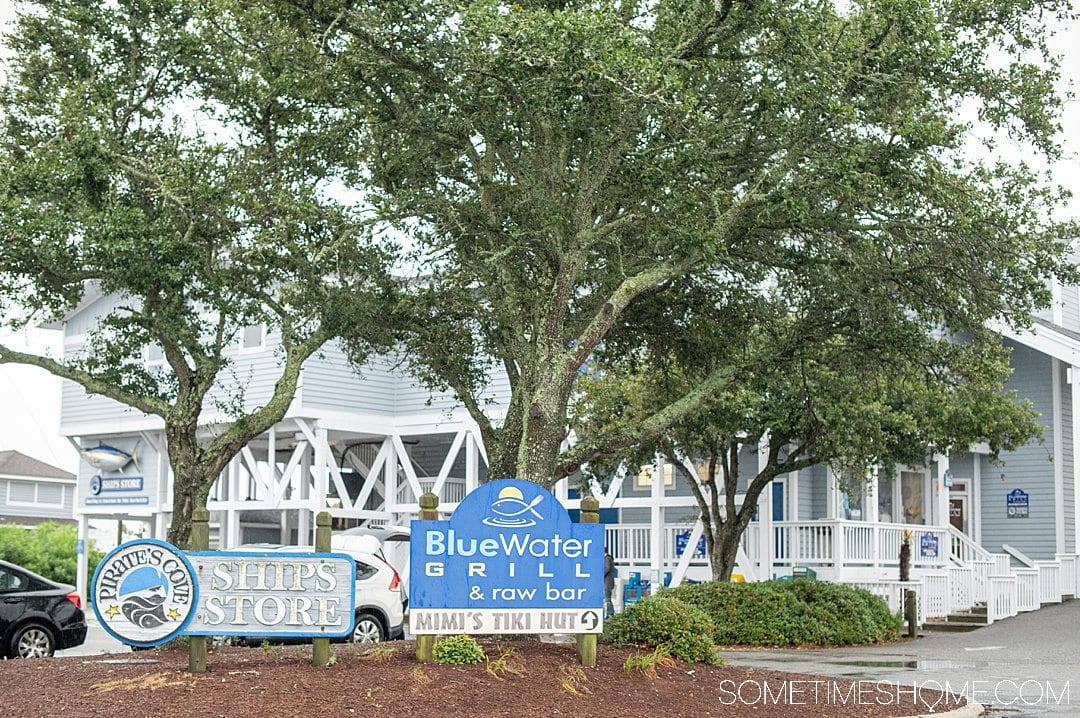 Raw Bar Selection of Oysters
We loved that visiting during October's shoulder season meant they had an oyster Happy Hour for $1 oysters. (They have oysters even if it's peak season, they just don't have special happy hour pricing for them.)
You choose one condiment option from their menu per six oysters. We chose classics, a mignonette and cocktail sauce. Call us purists.
We tried to branch out by tasting a lemon horseradish sauce. But it tasted too much like we were putting salad dressing on the mollusks so we reverted back to our favorite firsts.
We also indulged in two Oyster Shooters. They are alcoholic shots with an oyster in the bottom of each one, vodka, and cocktail sauce if you've never tried them. The restaurant or bar you order it from usually puts their own spin on it, whether adding spices, like sea salt or hot sauce, or – in the case of Blue Water Grill – a refreshing pureed cucumber mixture.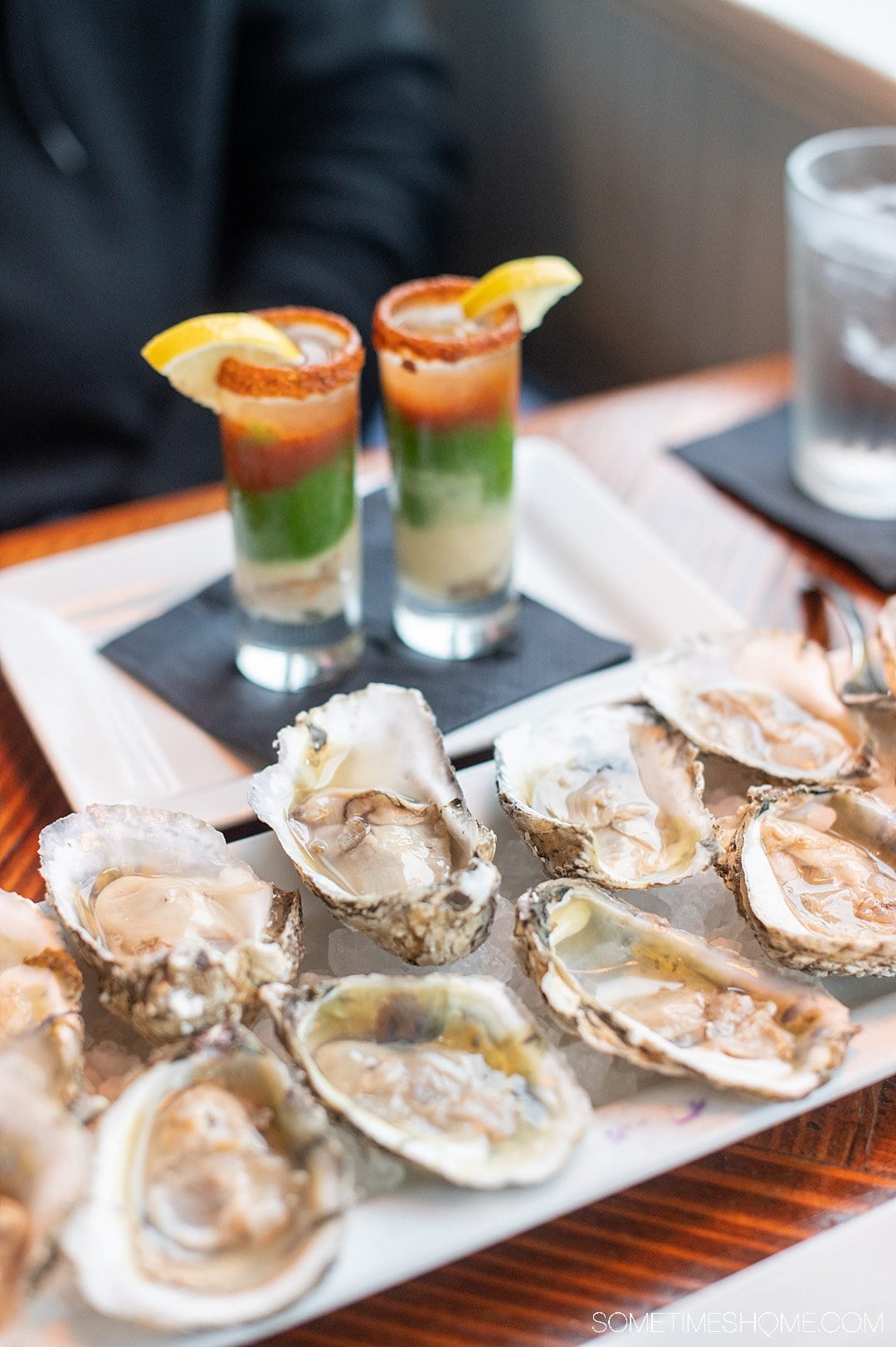 We're pretty nostalgic about oyster shooters and order them whenever we see them on a menu. We had them on our second date in Raleigh back in 2015, at 42nd Street Oyster Bar, and it was Dan's first time tasting them. He doesn't love them like I do (he likes them) but he's always game to have one.
Crab Cake Dinner
Dinner was delicious. The crab cakes were pure lump crab. It didn't seem like they had any filler so I'm not sure how they stuck together! They were served with refreshing corn and tomato salsa and on top of yummy grits. Two thumbs up.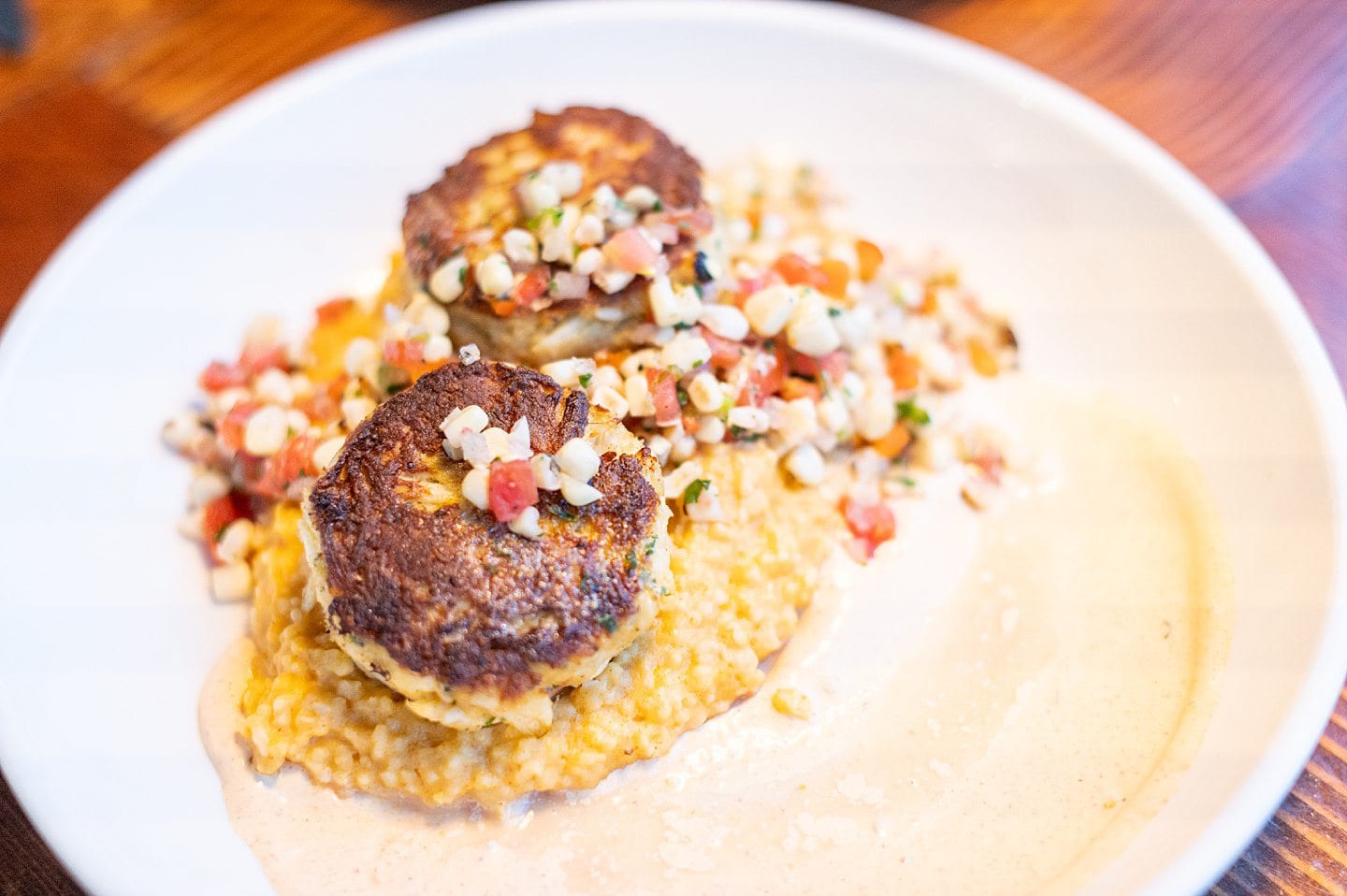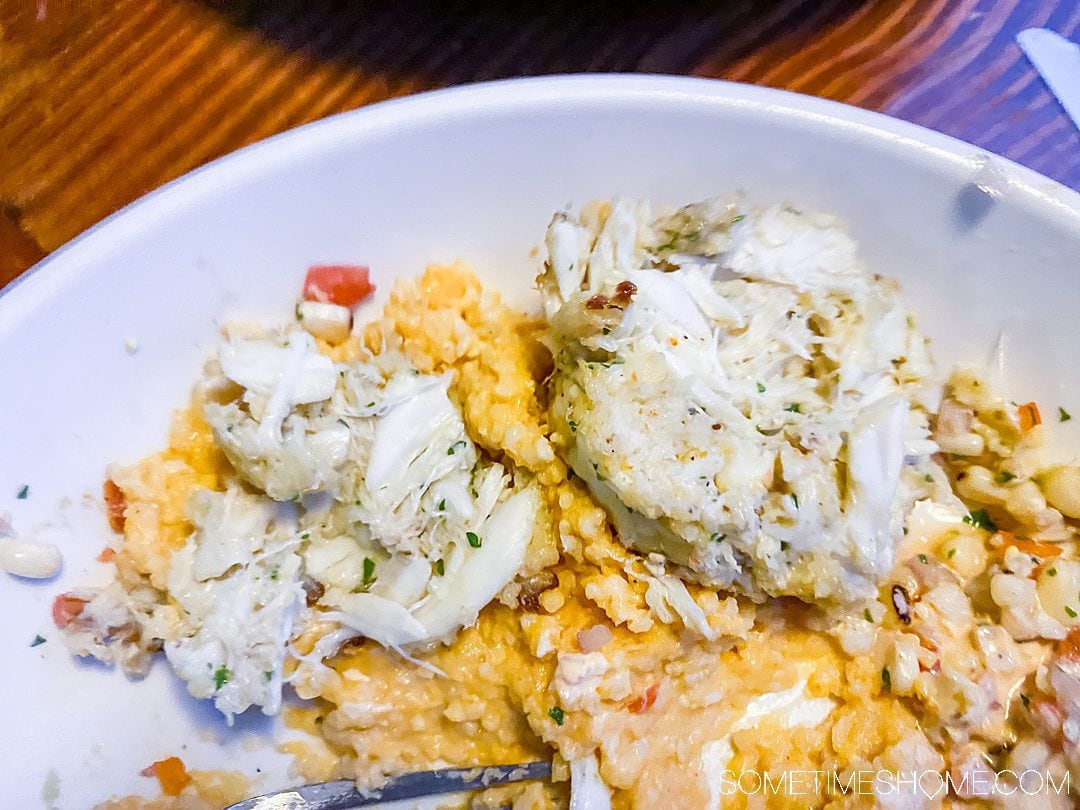 Pop's Raw Bar, in Buxton
We discovered an absolute favorite spot to get seafood on this trip in the Outer Banks: Pop's Raw Bar. It was perfection.
We sat at a picnic table on the outside deck and enjoyed sunshine and the view across NC-12 (the main road in OBX) to the water.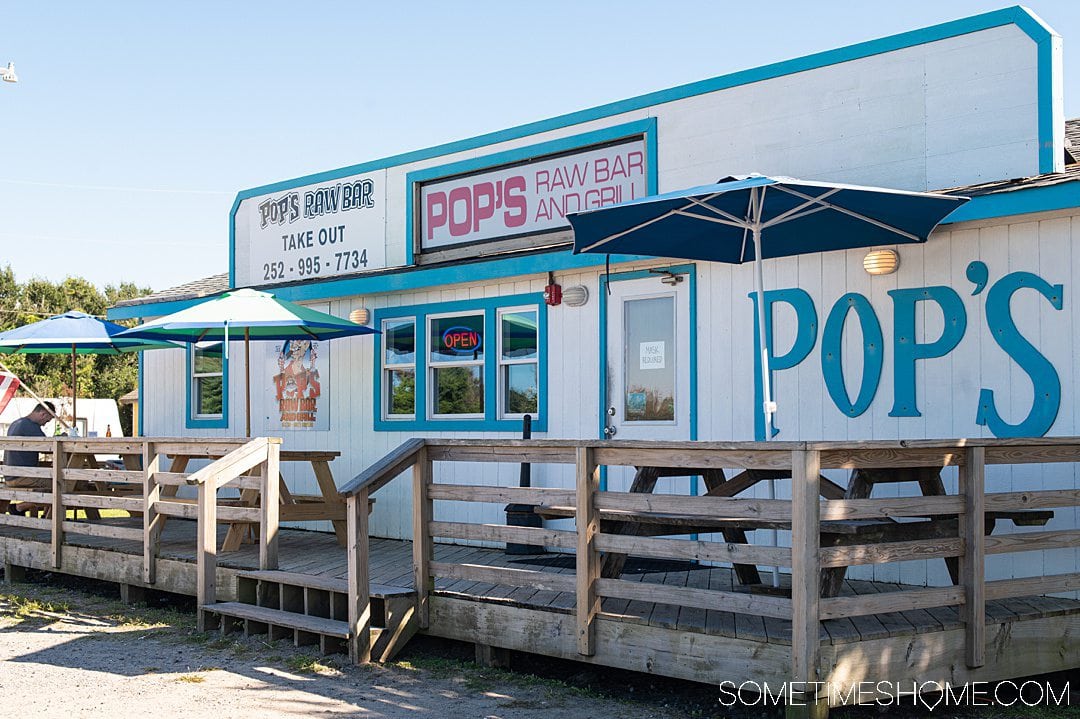 It's a no fuss, no frills kind of bar that serves seafood in a variety of ways. We're not really sure why "raw" is in the name because everything on the menu is either fried or steamed. But we loved it just the same.
We ordered steamed clams that were served with a side of melted butter and cocktail sauce to dip them in. They were so good we ordered shrimp after that, wanting to try more on their menu and fill our bellies.
They serve local NC shrimp at what quickly became one of the best seafood restaurants in the Outer Banks in our eyes. Each shrimp was sweet and fresh, even under a cloak of seasoning on the shells we peeled off. They were very easy to peel and eat…then enjoy!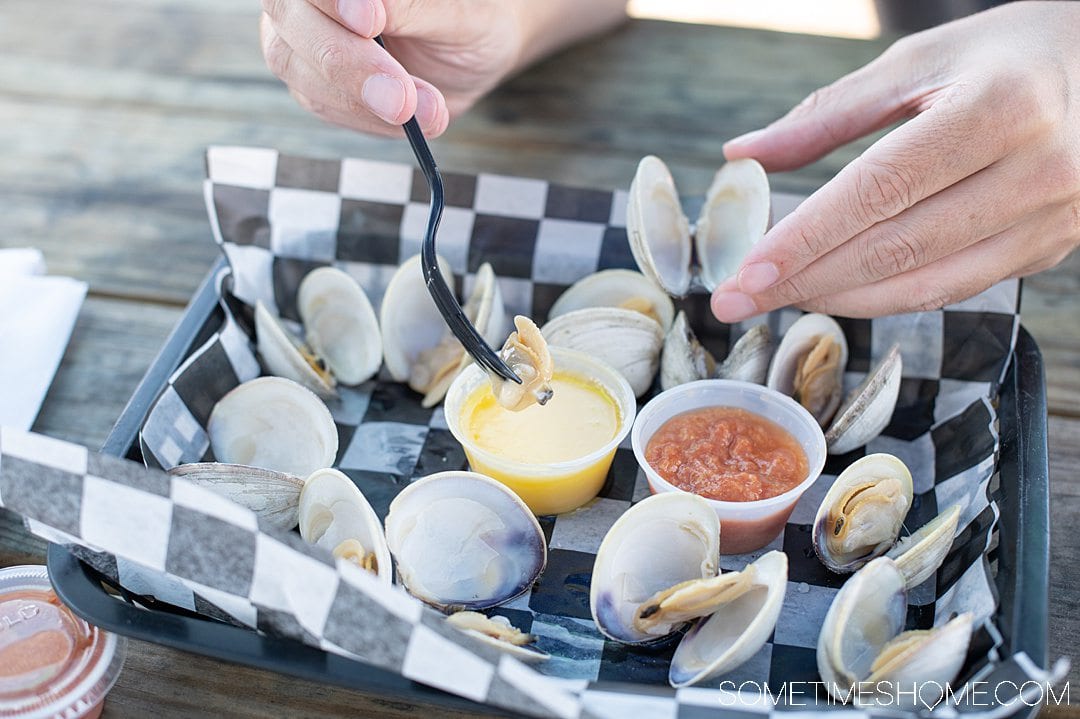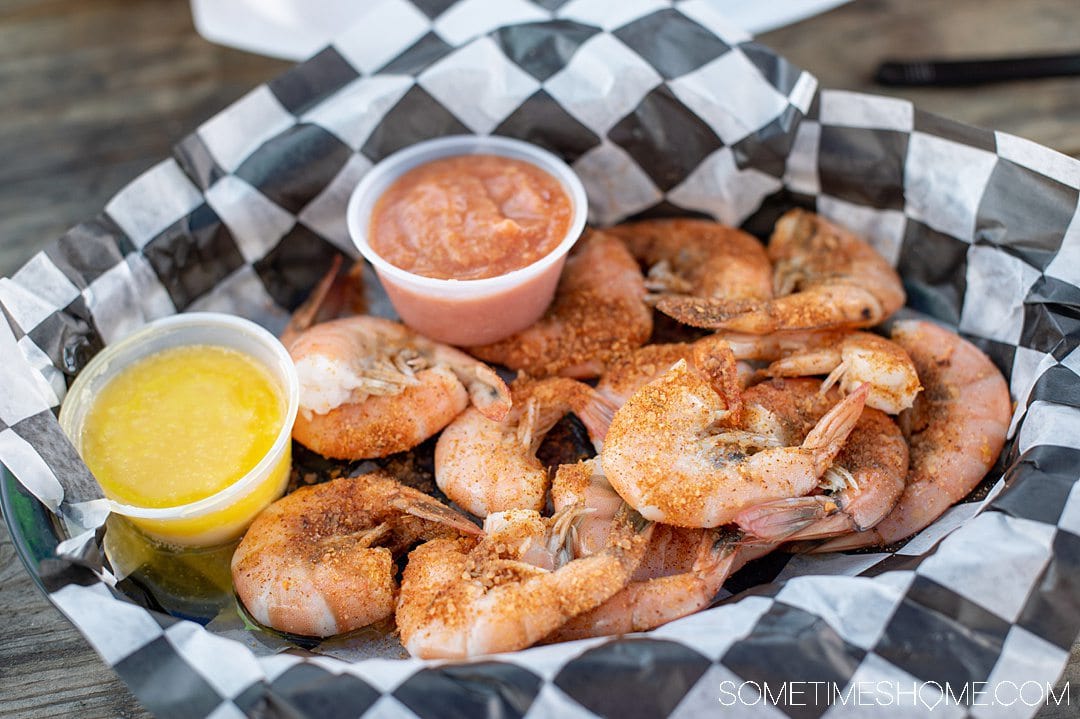 Dinky's, in Hatteras
One of the things you may have to deal with if you go to the Outer Banks during shoulder season, when temperatures get a little cooler (especially at night) is high winds and cold weather.
The night we went to Dinky's was prime for indoor seating and comfort foods. And that's exactly what we got at one of the best seafood restaurants in the Outer Banks.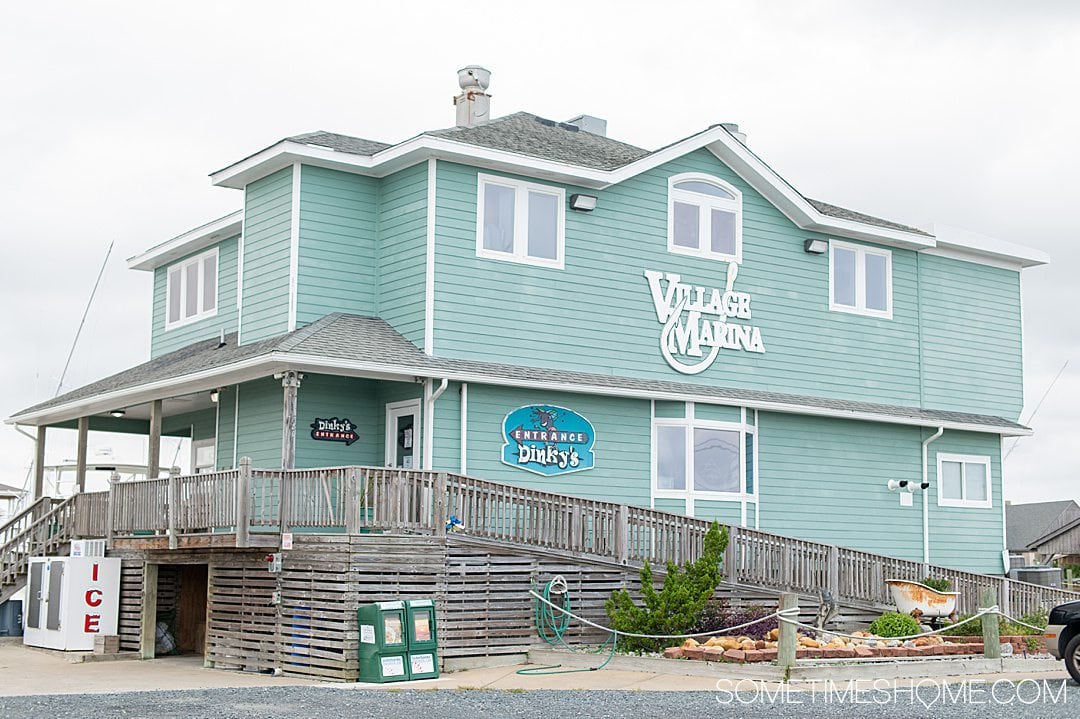 We couldn't decide to eat here, or the neighboring Breakwater Restaurant. Both menus looked good and for all the positive or negative reviews at Breakwater Restaurant, there were equal pro/con thoughts on TripAdvisor for Dinky's.
What sold us was looking at the daily specials on Dinky's Facebook page that day. When we read, "Buffalo Tuna Bites with a Ranch Dipping Sauce $12" the decision was made! (Dan's from Buffalo, NY – why wouldn't we want more Buffalo sauce in our lives?)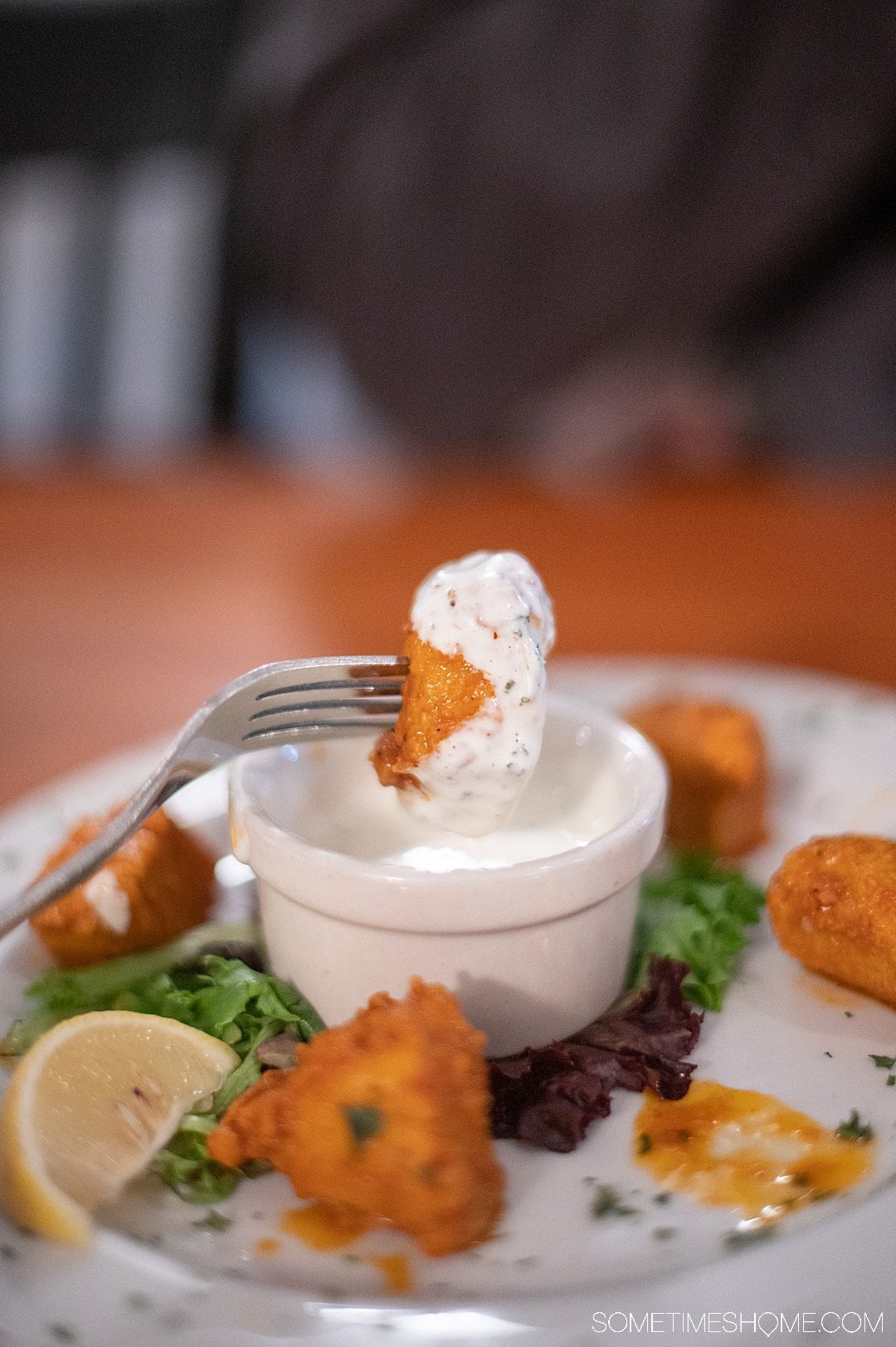 We put our names down on the waiting list because they were seating at 50% capacity and it was peak dinner time on a Friday night. The 30 minutes flew by; we were soon seated inside their beautifully decorated restaurant.
I immediately noticed the gorgeous woodwork and asked if a boat builder had created the bar, railings and tables – the answer was yes. Little details like that do not go unnoticed by me!
Dinner at Dinky's, One of the Best Seafood Restaurants in the Outer Banks
The seafood here was great. The tuna bites special did not disappoint – we've never had anything like it and we'd schedule a trip to the Outer Banks solely around when Dinky's has this special again.
Dan had a parmesan-crusted piece of Grouper based on the recommendation of the owners of Hatteras Saltworks, who we saw earlier that day and raved about the dish. He loved it! (If you love deep sea fishing, by the way, you can do that in the Outer Banks!)
I had an incredible piece of Yellow Fin Tuna, a special of the evening, with a Mediterranean twist. It was so big I, unfortunately, couldn't finish it.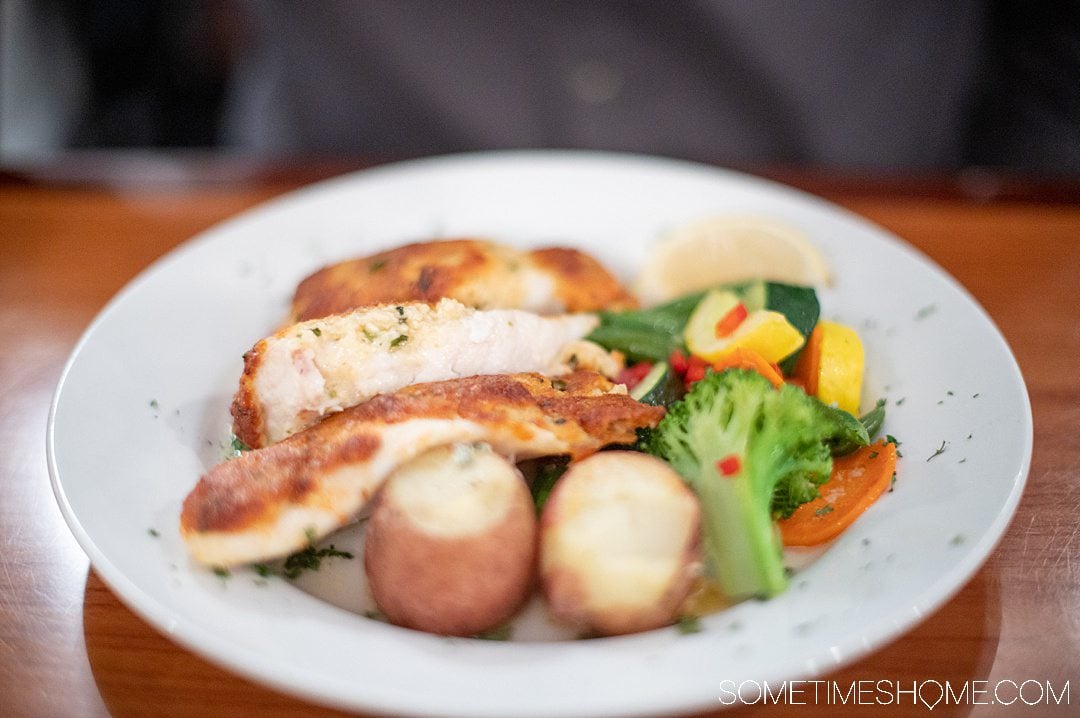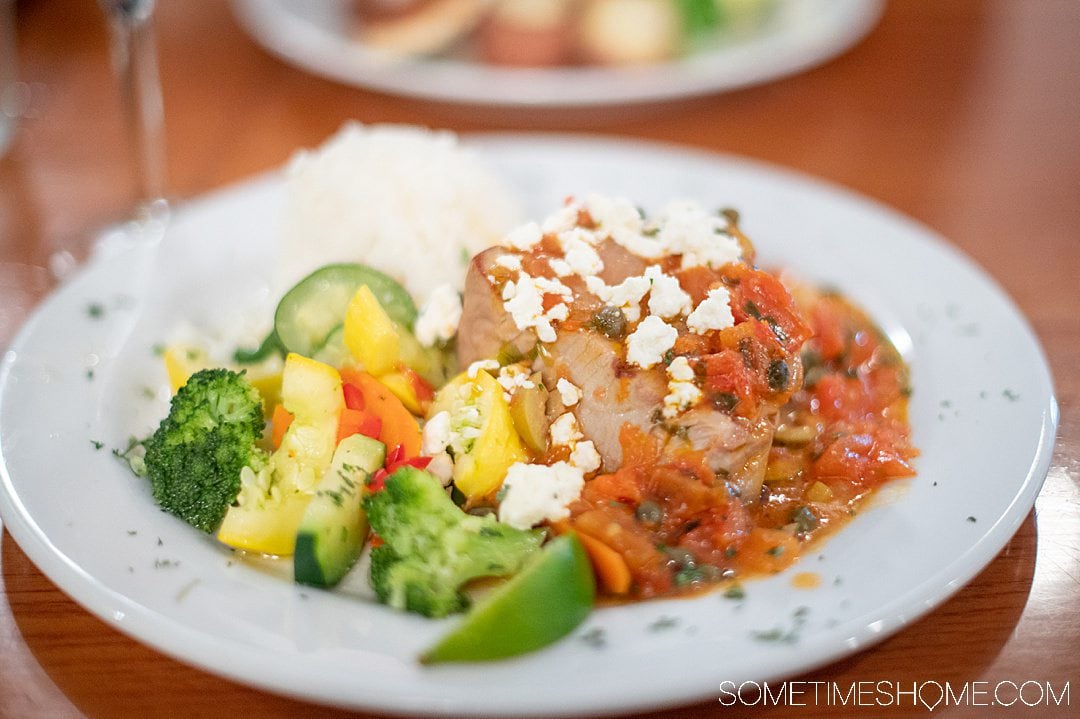 Cafe Pamlico at the Inn on Pamlico Sound, in Buxton
We stayed at this delightful hotel for one beautiful evening. It was, by far, our favorite accommodations in the Outer Banks. A great perk was being able to walk from our room to dinner at one of the best seafood restaurants in the Outer Banks: Cafe Pamlico.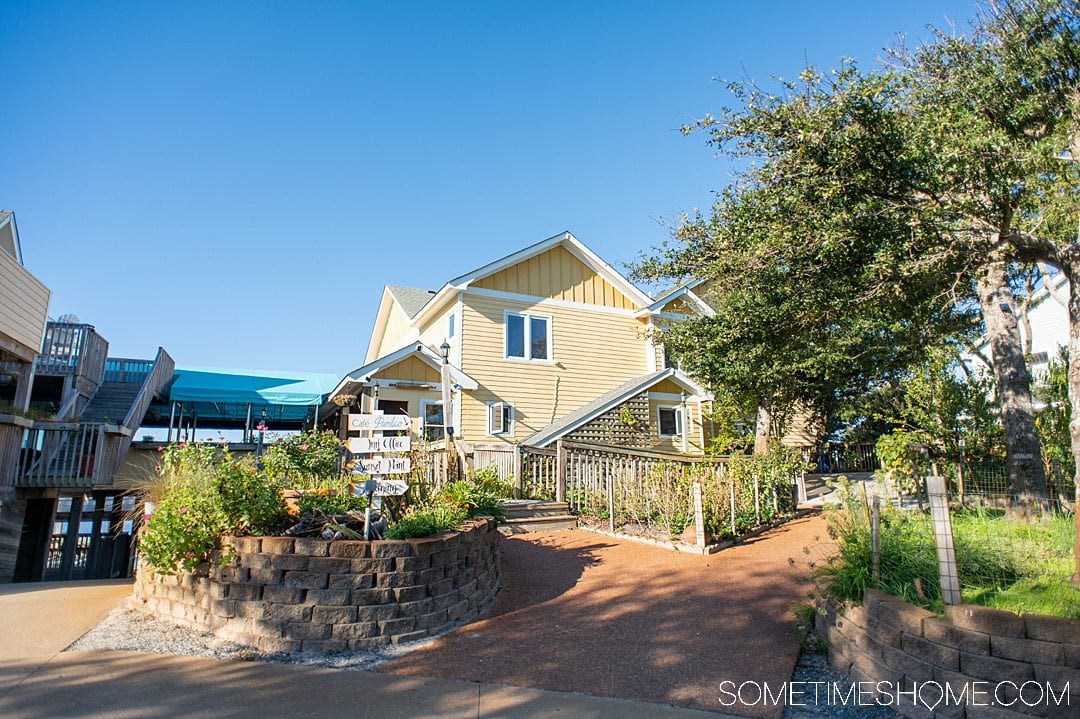 This is one of the best seafood restaurants in the Outer Banks that is more "upscale" than most place. The area is pretty casual and chill, overall. Beach vibes. But if you want to celebrate a birthday, anniversary or just get dressed up a little bit for dinner go to Cafe Pamlico.
We were excited to try a number of seafood options. We had their tasty crab bisque for an appetizer. Dan ordered their scallops entree served with angel hair pasta in a light cream sauce for his main course.
The scallops were huge and we couldn't believe there were five of them. They were from Maine and weren't local. Yet we appreciated how well they were cooked and how great the dishes tasted.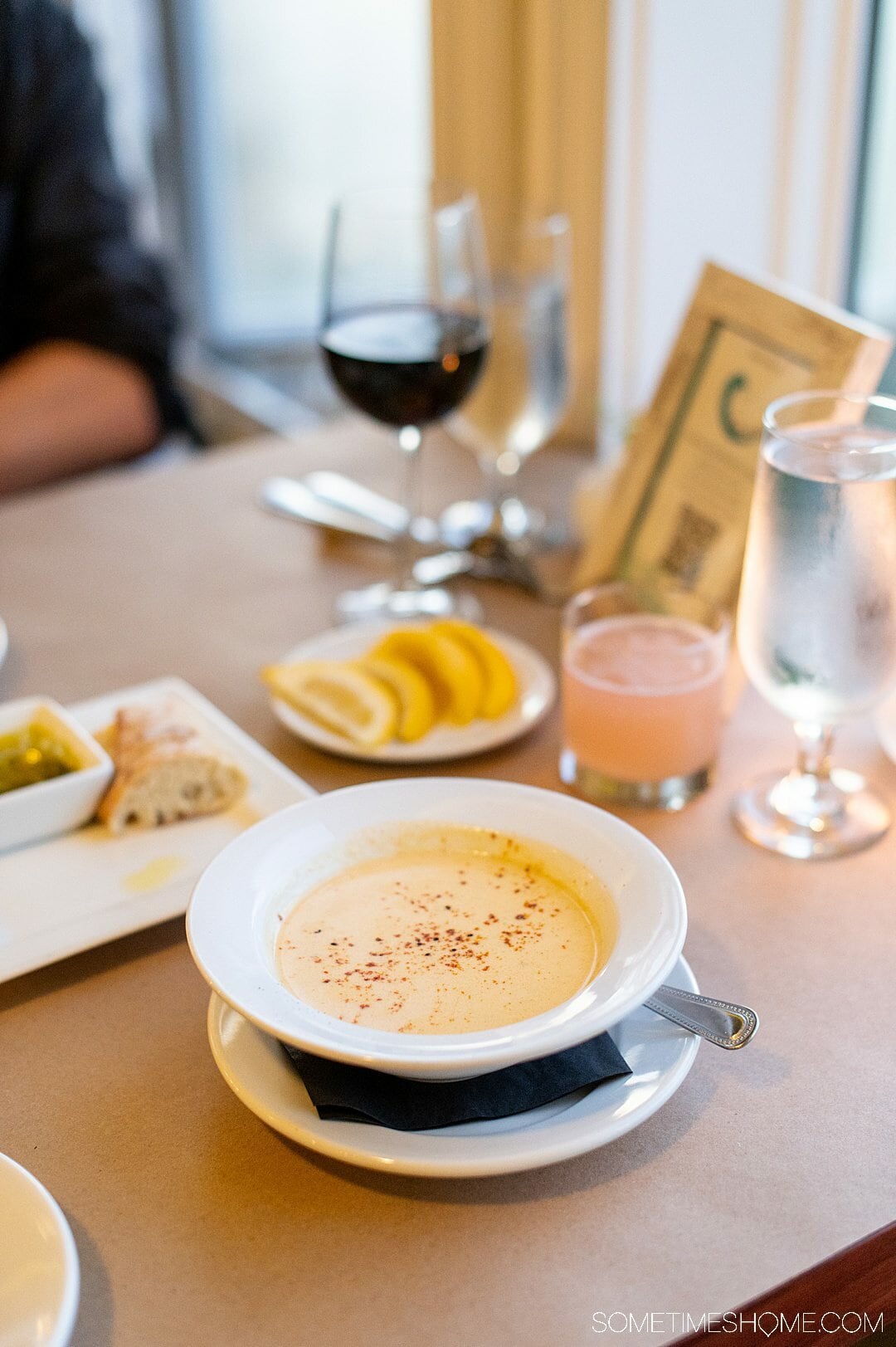 Avenue Waterfront Grill in Manteo
We arrived at Roanoke Island just in time for lunch. Avenue Waterfront Grille had a bit of a wait so we put our names down on the waitlist. It's in the Manteo's downtown area so we walked around the area while we waited for a table.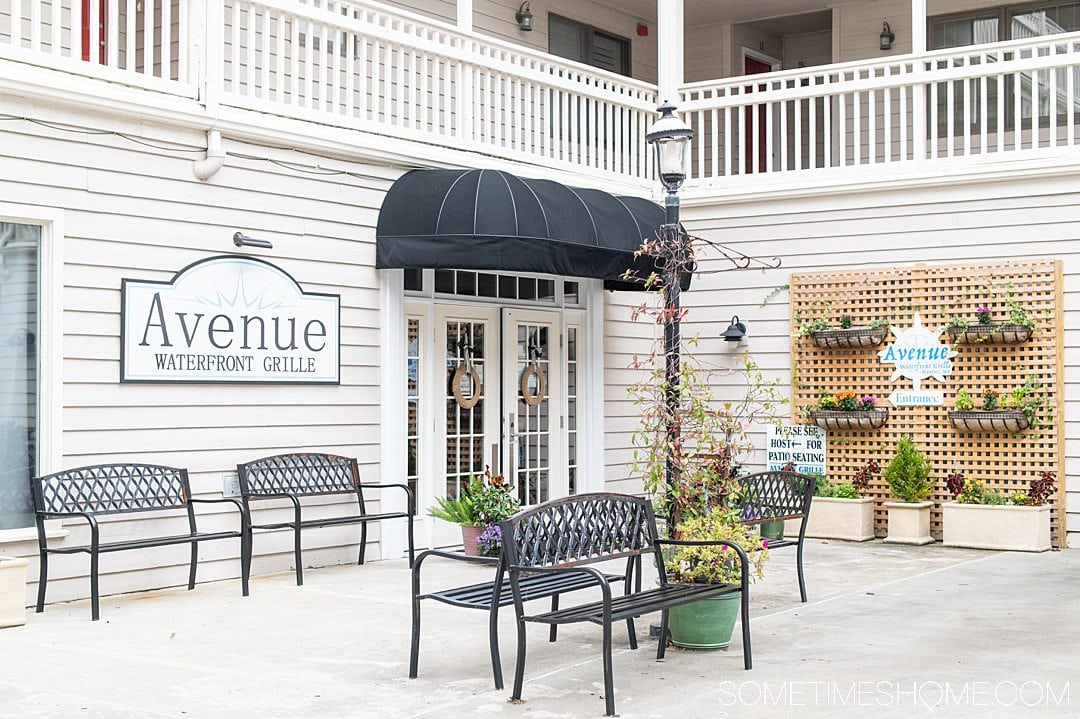 We had lunch with a marina view. We could see the Elizabeth II 16th century vessel past the trees. (Trees that were helping block the October winds from our table, thankfully.)
The photo of the boat, below, is from a different angle in Manteo. But we had a great view of it from our outside table at Avenue.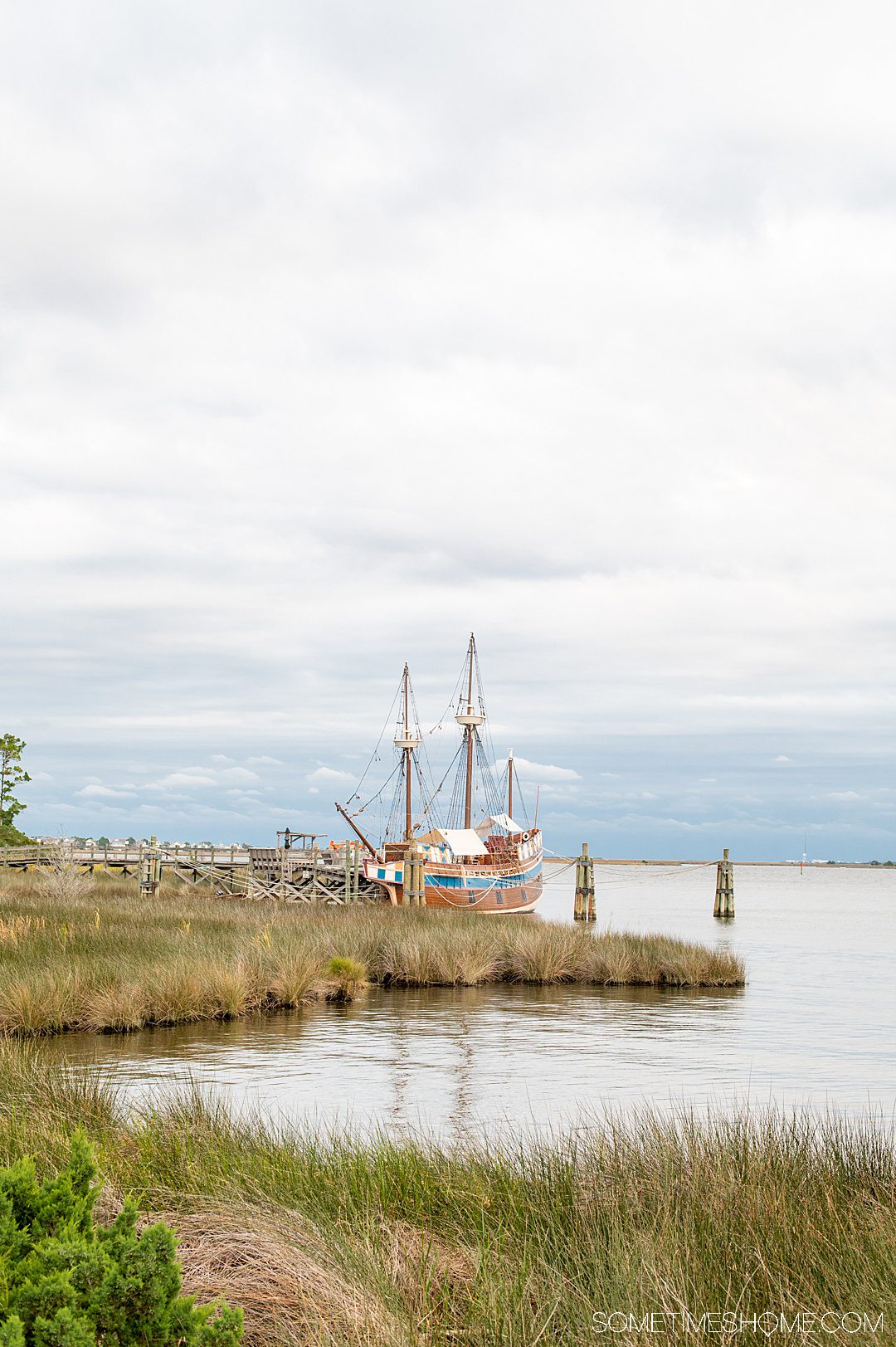 We ordered a steamed shrimp appetizer to start because we were still dreaming of the shrimp we had at Pop's the day before. The local NC steamed shrimp were delicious.
I ordered tacos with the grilled fish of the day. I loved that they had a bean salad option for a side – a healthy option! Dan ordered a fresh fish sandwich with French fries. (Men don't take on calories as women do – am I right, ladies?)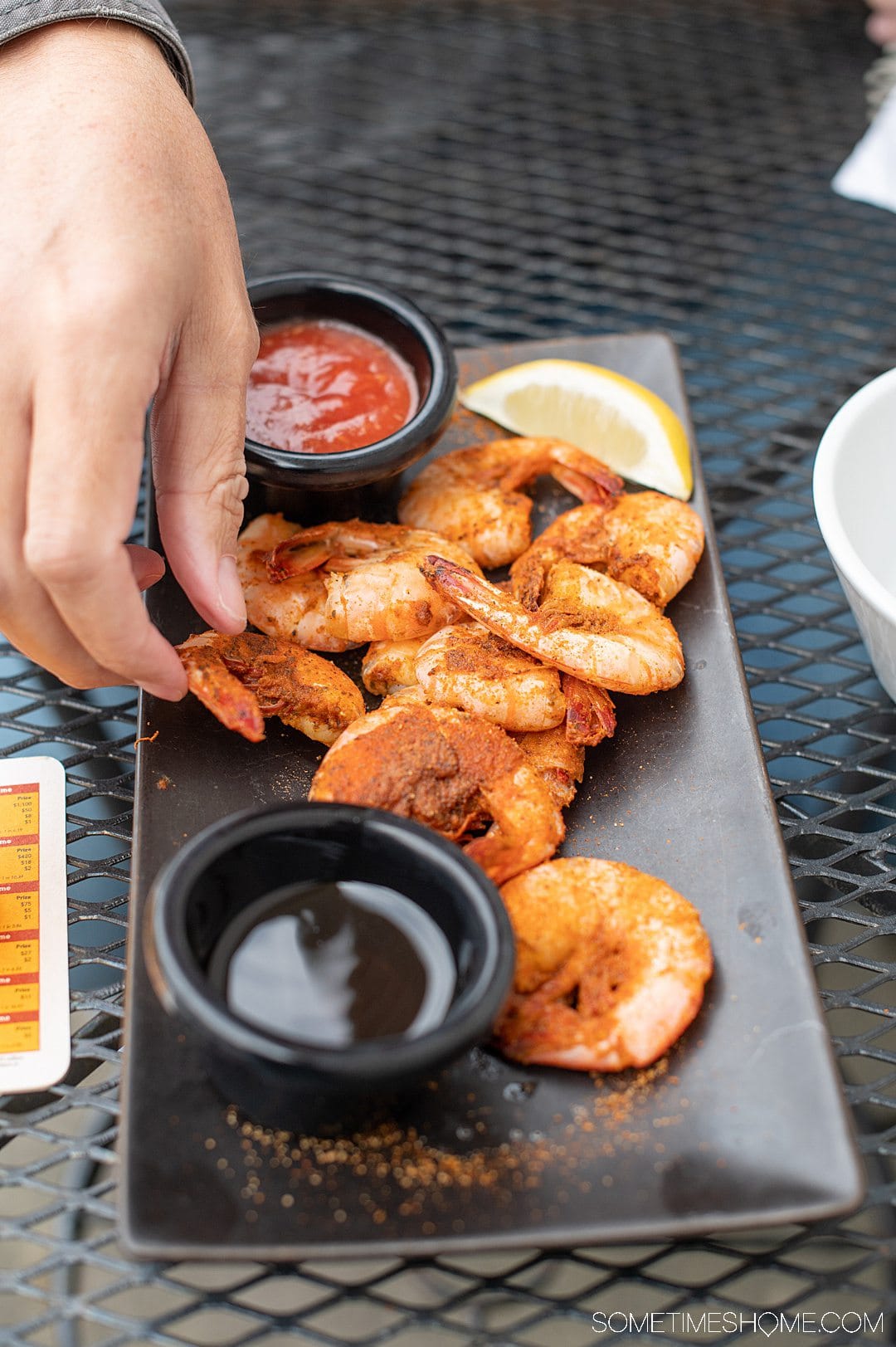 One of the reasons this makes our list of the best seafood restaurants in the Outer Banks is because of our waitress. The hostess was incredibly overwhelmed and all over the place. We forgave her for it. But what she lacked in organization and focus the waitress made up for in every way.
Not only was she phenomenal but she served with a smile every time she came outside to check on us. Which had to have been a bitter pill to swallow because she was wearing short sleeves and a small skirt in incredibly cold temperatures.
I don't blame her for thinking it wouldn't be so cold that day because it was the first week of October. But it was pretty darn cold that afternoon. She took it like a champ. Our dining experience here was far more superb because of her service.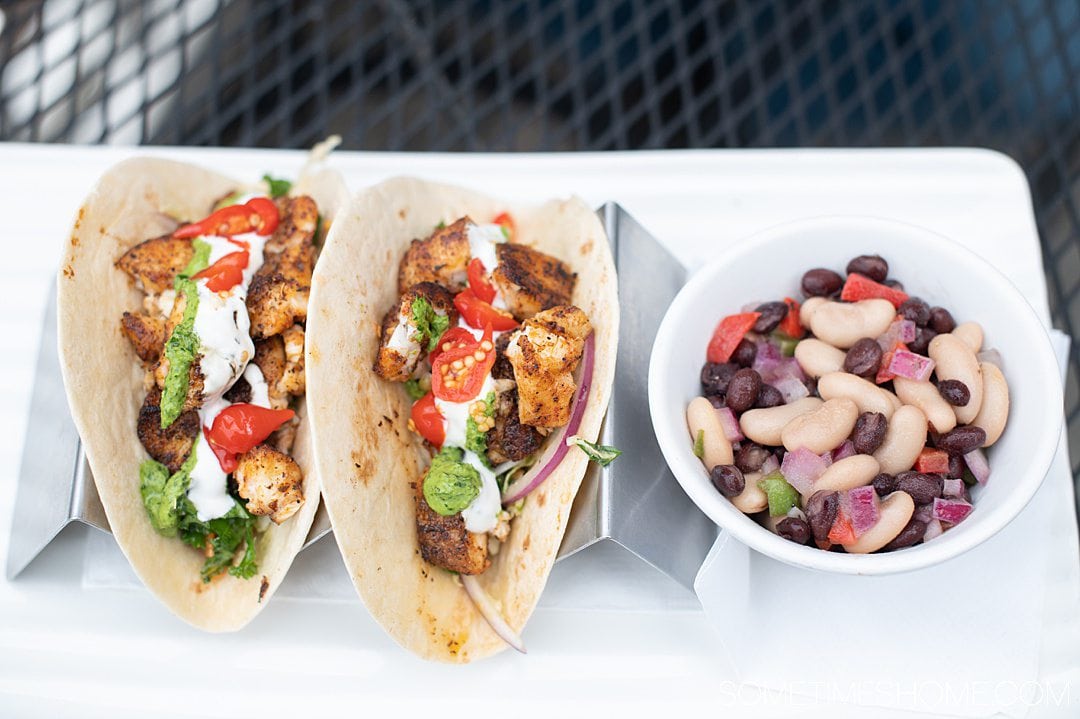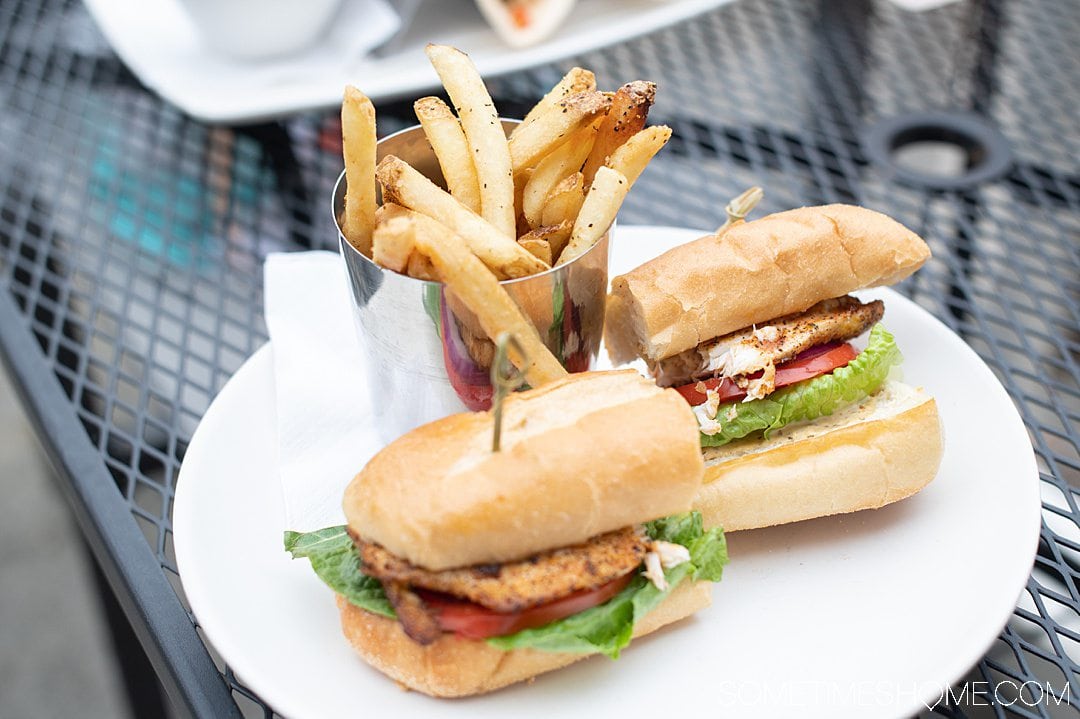 Single Fin Thai-Sushi Restaurant, in Nags Head
We guess the "single fin" in this restaurant's name is a nod to surfboards or the single fin on Stand Up Paddleboards. Which, if it is, is super cute! What a great name for a sushi restaurant in the Outer Banks.
The takeout sushi we got here in Nags Head was great. (And I'm a tough sushi critic, always measuring things to sushi from trips to Japan even though it's not apples to apples.) We picked it up on a rainy day after we visited the Wright Brothers National Monument just north of Single Fin in Kill Devil Hills.
We ordered three rolls (two regular – California and Spicy Tuna – and a "fancier" third roll) and two pieces of salmon nigiri. The fancy, priciest one was our least favorite of what we ordered. Next time we'll stick to the great "regular" rolls we had and maybe even try some additional options.
We definitely recommend this as one of the best seafood restaurants in the Outer Banks if you're craving sushi and maki.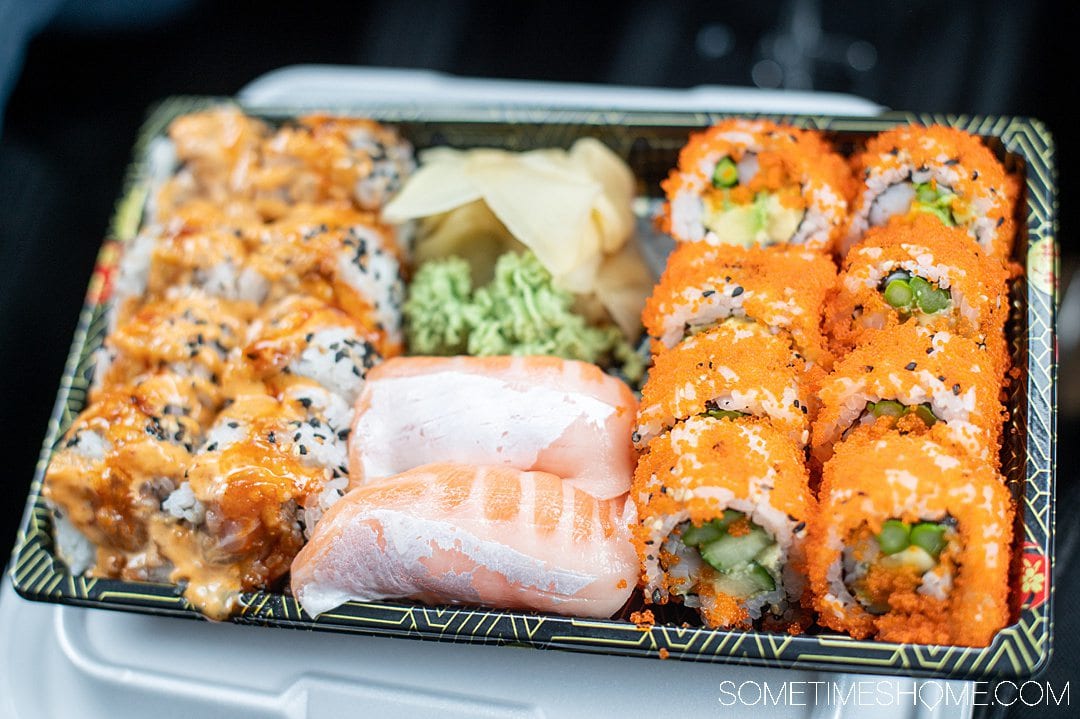 Diamond Shoal's Restaurant, in Hatteras
This is a restaurant and seafood market, in case you're staying at a rental house with a kitchen and want to buy some fresh fish to cook.
They also have the only sushi bar on Hatteras Island, open for dinner from 5:00pm to 9:00pm Monday through Saturday. Sushi is not available on their lunch menu. That was okay though. We found other seafood options to enjoy.
(Single Fin Sushi is in Nags Head, which is the island north of Hatteras. This is why Diamond Shoals Restaurant sushi bar remains the only sushi bar on Hatteras Island.)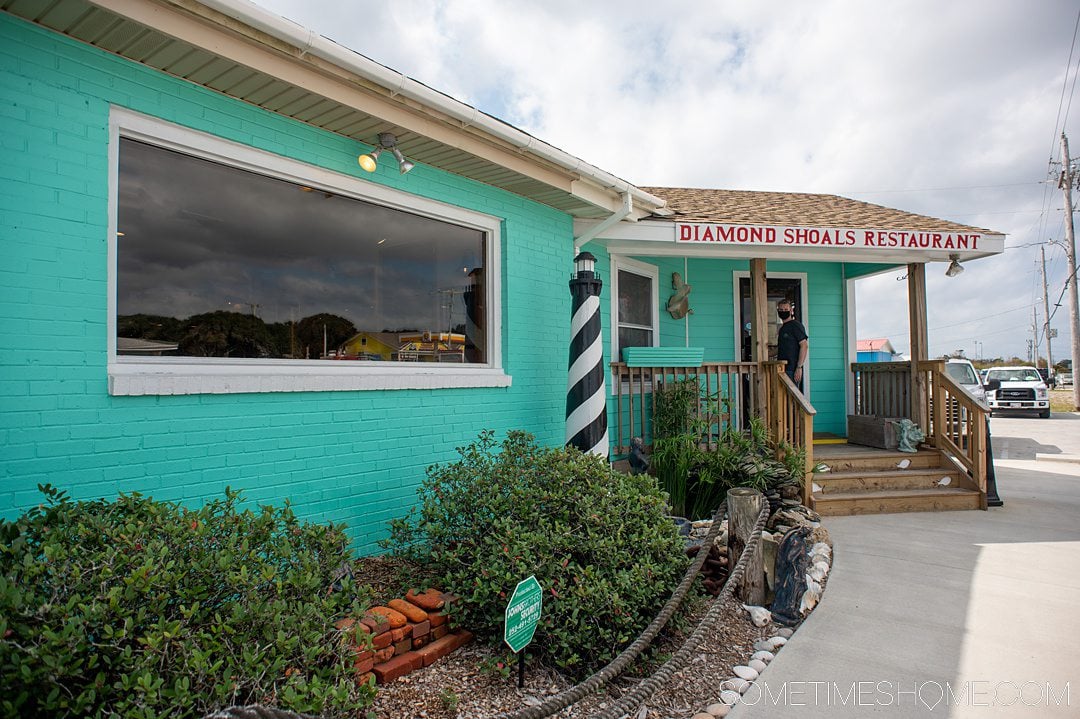 The Seafood Standouts at Diamond Shoals Restaurant: the Soups
We had to try a cup of their crab bisque and clam chowder after we learned the chowder is an award-winning family recipe.
They were good – I like soup to be hot but they were both served warm or room temperature, so it was skewing my opinion of them.
We appreciated the chunks of crab in one cup of seafood soup and the chunks of clams in the other. It definitely added to the flavor.
Lunch Entree Items on the Menu at Diamond Shoals
Most of the lunch menu at Diamond Shoals is dominated by fried seafood options, not grilled. We were told that even their "fresh bites" seafood appetizer is fried when we asked our waitress to clarify the menu description.
And what's labeled "fresh" on their menu – including clam strips and oysters – is breaded and fried. Why would they fry everything if it's fresh? We love some fried southern food, but seafood isn't something we prefer prepared that way.
Half our lunch order defaulted to the only non-fried option I could find on their menu. Dan ordered the fried Grouper Lunch Basket and I ordered the Tropical Fish Wrap with grilled Grouper inside. Both were okay but we wouldn't go back there again for a full meal.
If you visit Diamond Shoals Restaurant and want fish, we recommend getting a bowl of their clam chowder as your meal. Or trying some fresh catch as your entree – but it'll be the priciest option.
Ask for your soup to be served very hot. (Better to ask for it to be served very hot and you can let it cool down for a minute than for it to come out slightly warm and have it get cold way too fast.)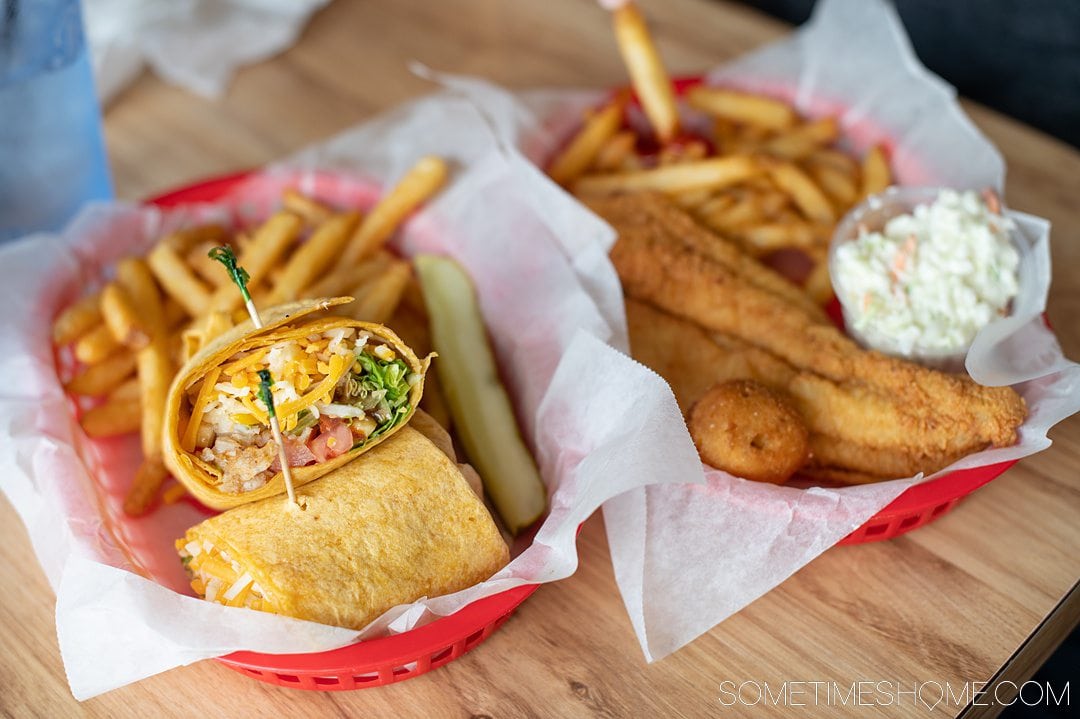 Wanchese Landing Grill & Marina, on Roanoke Island
We loved this adorable restaurant overlooking Wanchese marina. Candidly, it's last on our list only because we didn't end up getting seafood here. We only had time for breakfast one morning. (But it was delicious and we loved looking at all the enticing menu offerings – we're dreaming of going back for their seafood.)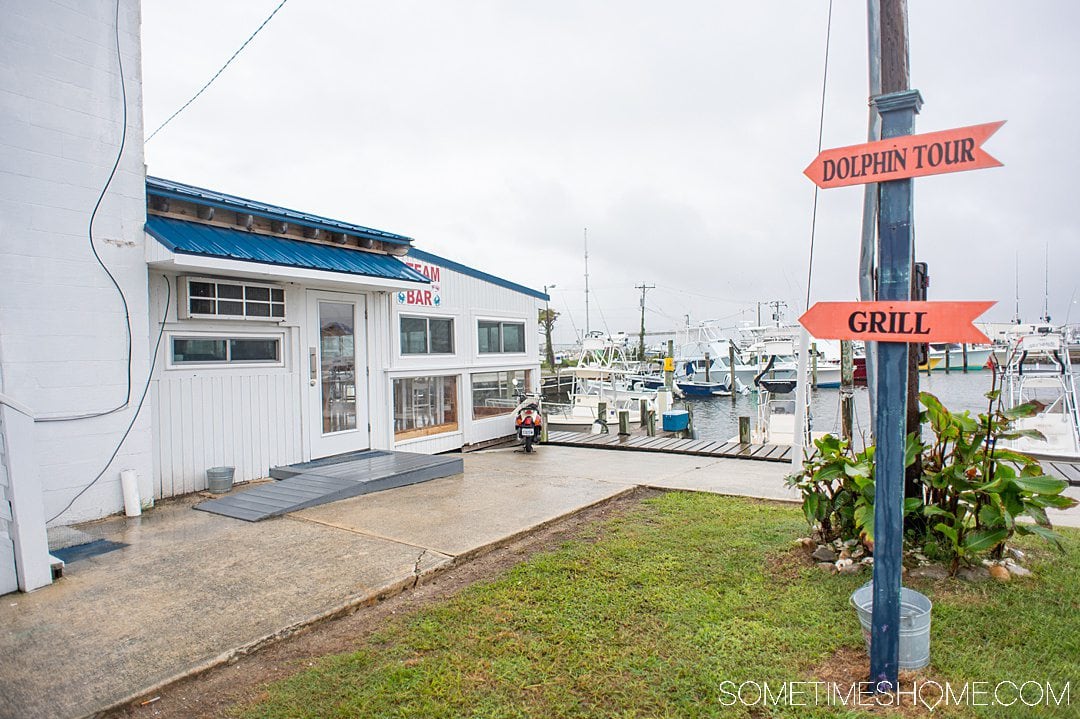 Their reviews regarding their fish dishes, however (which we've thoroughly read because I swear reading restaurant reviews is a favorite pastime of mine, are stellar.
They offer shrimp, clams, snow crab legs, and oysters on their steam bar menu. Fresh catch is offered when in season that is posted on their daily menu board inside the grill.
They're a quick-serve/casual establishment where you order and pay at the counter in one area, then find a seat in their dining area. Your food is then delivered to your table.
We visited on a gloomy day in the Outer Banks but loved sitting inside the colorful dining area, watching the rainfall on the marina.
But if you visit and there's warmer, sunnier weather they have an outside area to dine at as well. Though the view of the marina isn't as good because it's on their front lawn, on the opposite side of the water (closer to the street, where you enter the area).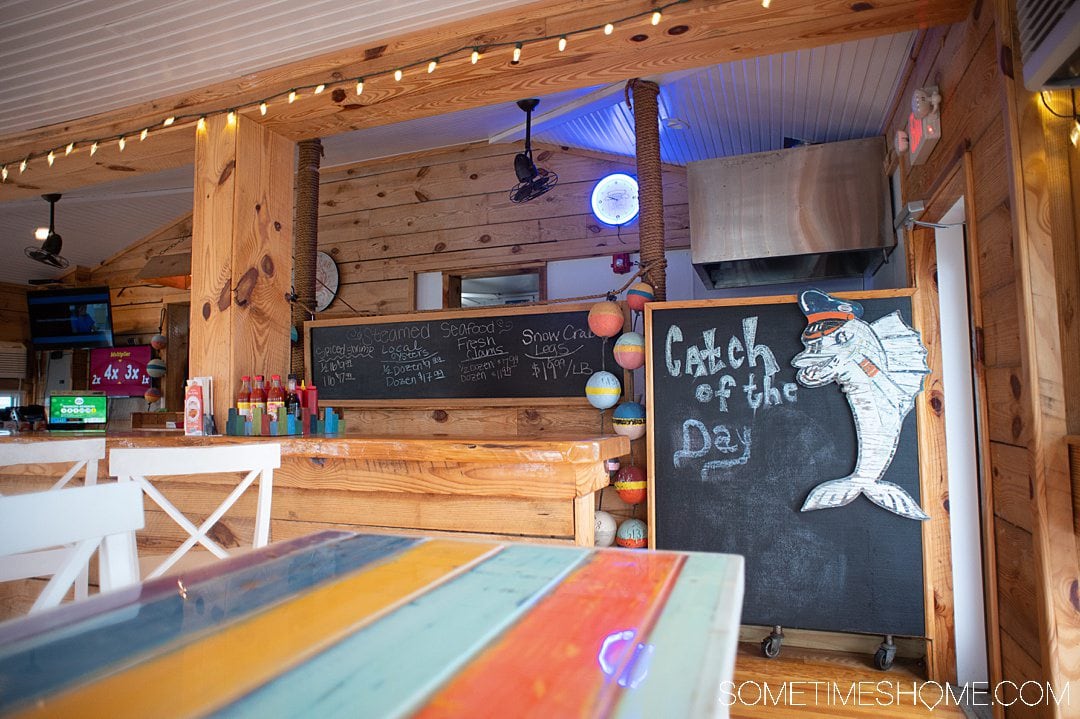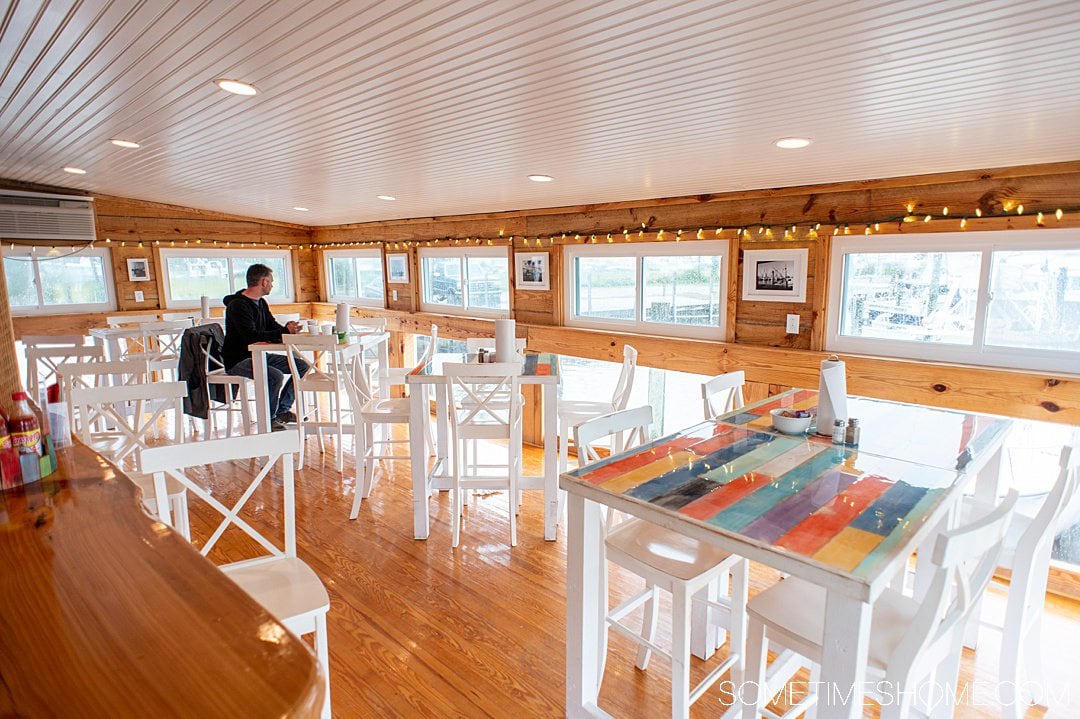 For more Outer Banks content check out:
What type of seafood – fish, shellfish or mollusks – do you enjoy most?