20 Best Restaurants in Downtown Winston Salem NC
The best restaurants in downtown Winston Salem are easy to find and get to. We've been to this North Carolina city several times, and a huge reason why we return is the promise of great food and beer.
And every time we return, we stay downtown, so we know a thing or two about the restaurant options. Choose from these must-try options downtown no matter what you crave or enjoy – the options are plentiful!
Disclosure: There are affiliate links in this post, which means we may earn a small commission if you click the link and proceed with a purchase at no cost to you. We thank Winston-Salem for hosting us at a fraction of these restaurants. We truly only recommend hotels, products, and services we personally use. As Amazon Associates, we earn from qualifying purchases.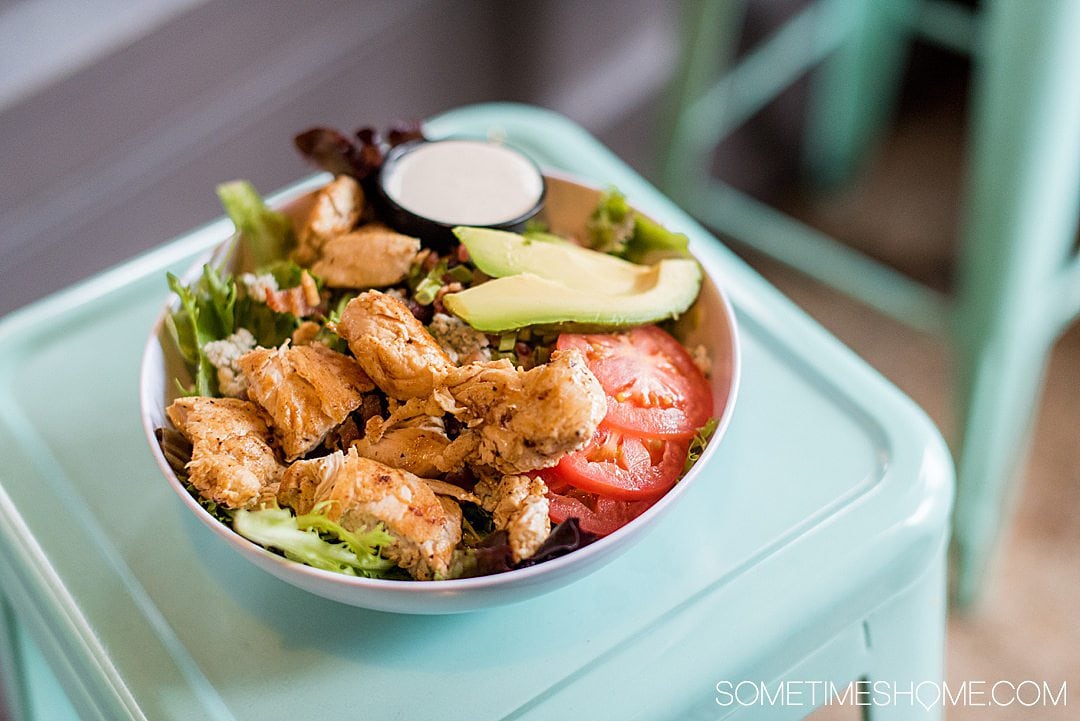 1. Mission Pizza Napoletana Restaurant
Right out of the gate, we are proclaiming that Mission Pizza Napoletana is one of our favorite places in downtown Winston-Salem. We always make sure we go there when we visit.
We weren't surprised to learn they have been a James Beard Foundation Semi-Finalist. The delicious food here scintillates your taste buds.
When we look at the images from our meals there, we are flooded with memories of the rich flavors of the dishes. And not just the flavors but the QUALITY of the ingredients.
The most fascinating part is the owner and head chef, Peyton Smith, was formerly a part of the soccer world, not the chef community. He's certainly earned his place amongst creators of top cuisine, however. And supports local farmers and producers, "executing an Italian ethos in NC.".
Our favorite dishes included:
Arugula Salad with fresh, finely grated Parmigiano cheese lightly tossed in lemon and extra virgin olive oil with fresh cracked black pepper. It's so simple but so amazing. Get it, and you won't regret it.
Bucatini all'Amatriciana (this pasta is amazing, and we dream about it!) with all sorts of tiny pieces of high-quality meats like pancetta and soppressata, tossed with pecorino cheese.
Clams Scampi Style, which was literally the BEST clams we've had to date (and we eat our fair share of seafood). We're sad that they're not a menu item anymore. But we're leaving this dish on this post in hopes they bring it back one day.
Pizza is plentiful there but it's not our favorite. We like the pizza from Cugino Forno better.
Zeppoles for dessert, which they serve in a brown paper bag, and you shake up with powdered sugar.
If you are game to be surprised with what they serve you, opt to do their omakase option. Their $40 prix fixe menu option lets the chefs choose the 5 courses you get (pizza included). This "pizzakase" option is good for foodies.
They take reservations for their prixe-fixed options, only. But if there's a wait for a table when you arrive, it's 100% worth waiting for. We usually put our names down, get a drink elsewhere, and return in time for our table.
Open Wednesday through Saturday, starting at 5:00 pm.
Address: 707 Trade Street NW, Winston-Salem, NC 27101 | Reviews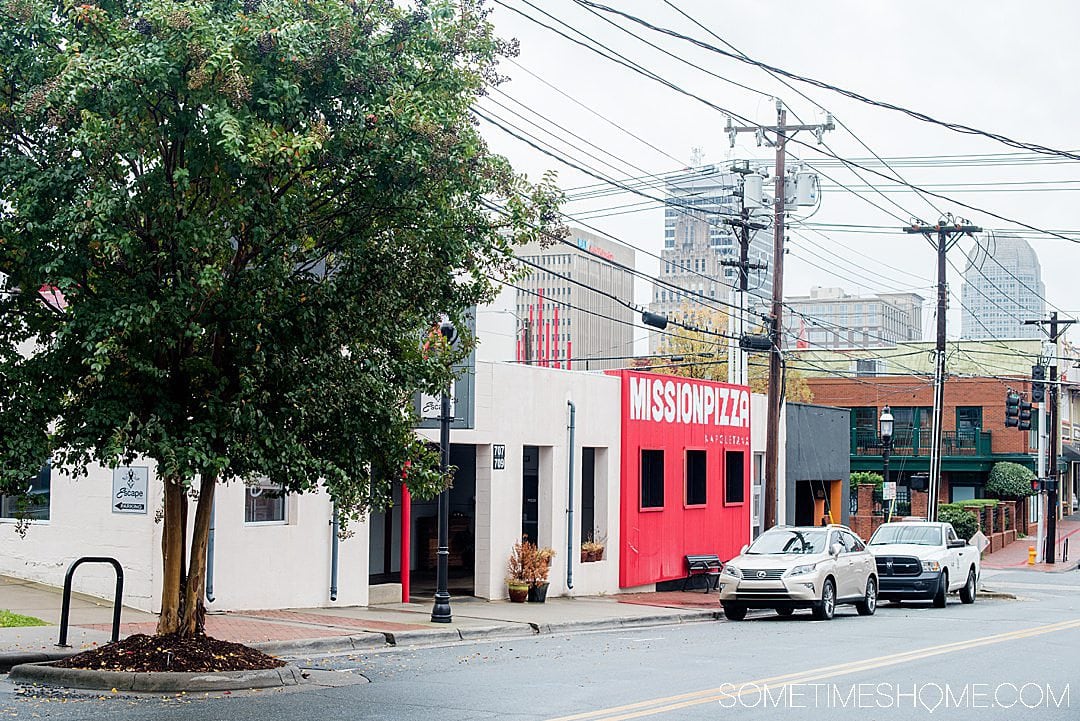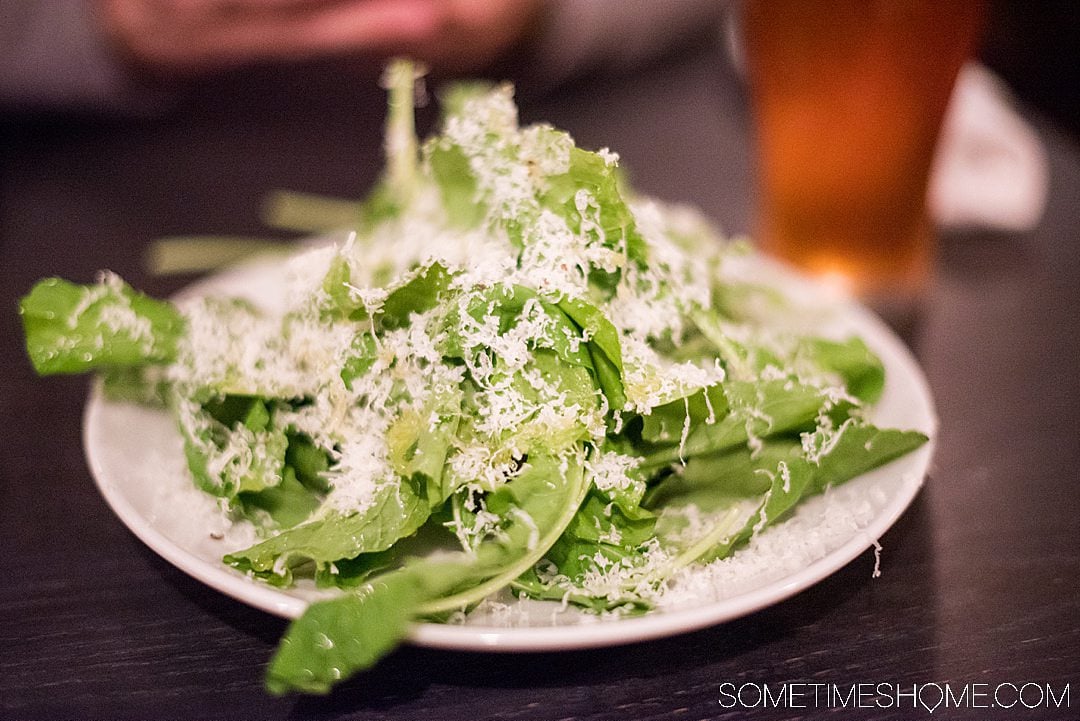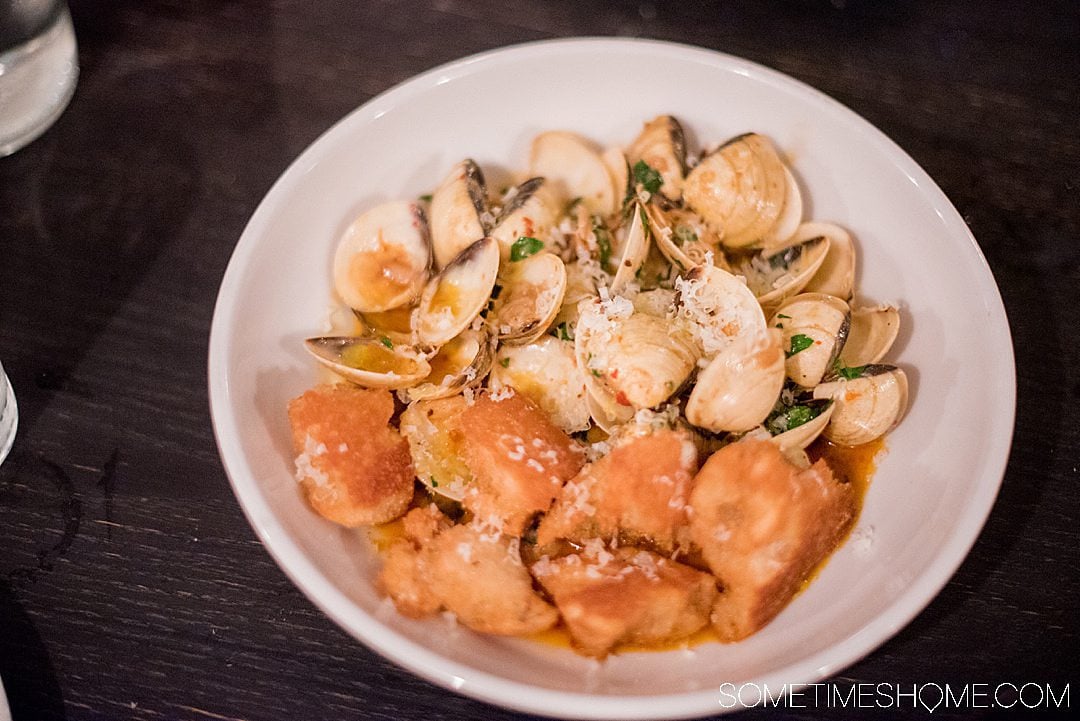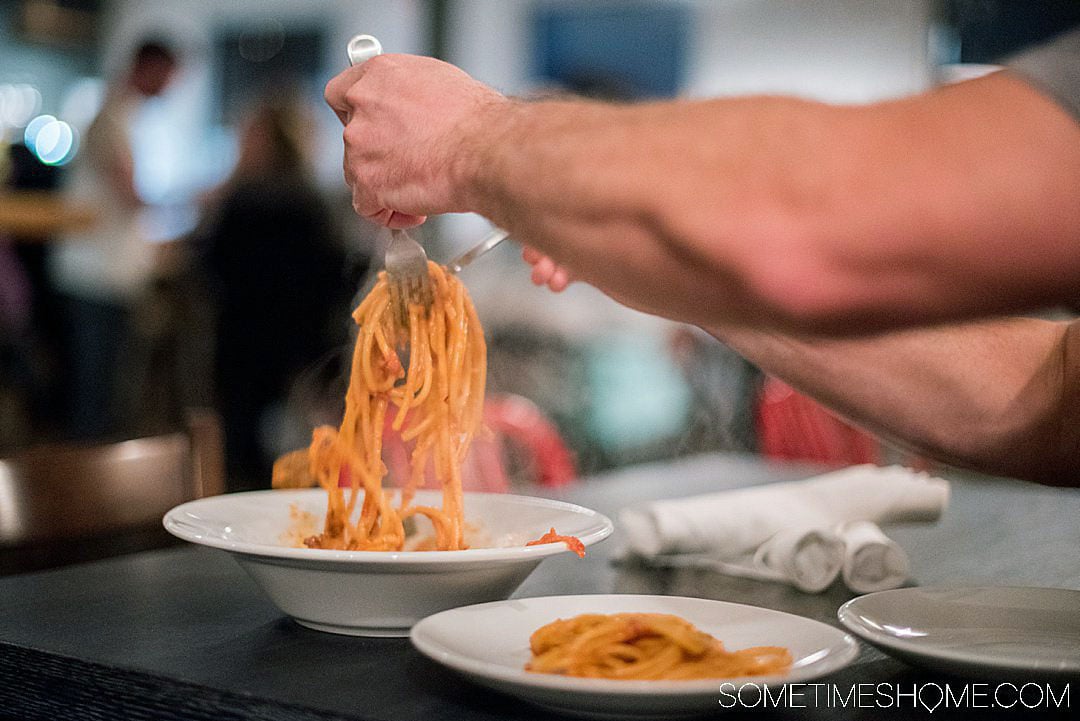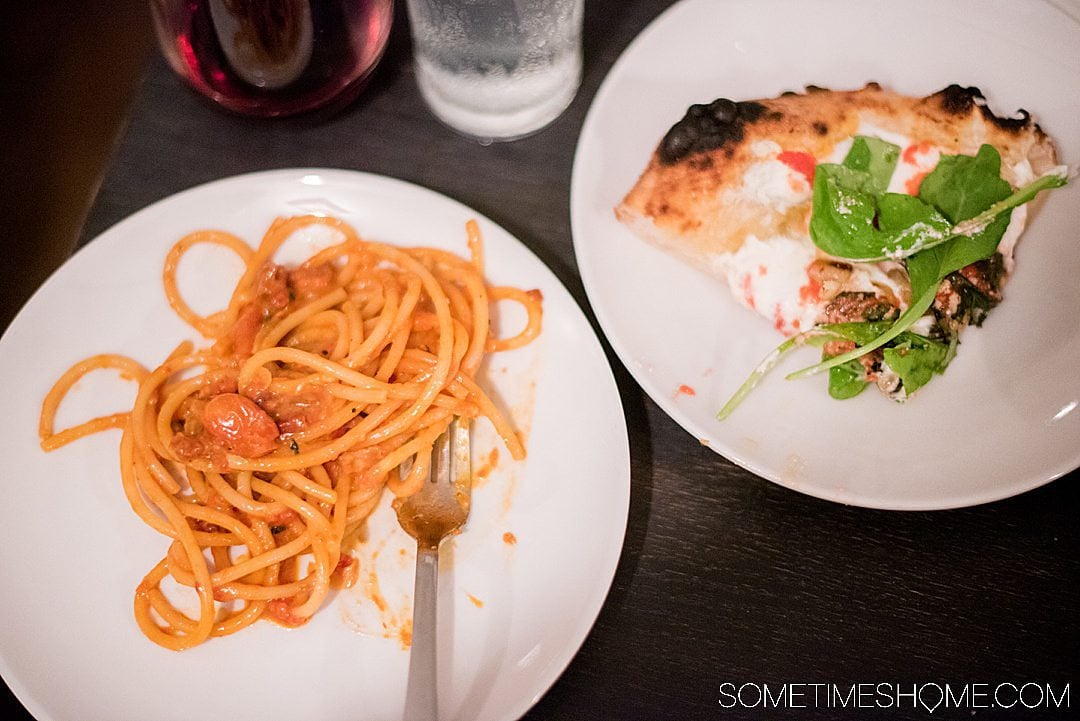 2. Six Hundred Degrees
This restaurant is located at Bailey Power Plant, nearby Cugino Forno, and Incendiary Brewing Co. They cook certain dishes with fire, hence the name of the restaurant.
We heard about it being the place to go shortly after it opened, so we were excited to try it.
We thought it was good, not great. The restaurant is very segmented inside; we couldn't decide if we missed things like being able to see the bar or if the rooms felt cozier. We're still undecided!
Our Order and Recommendations at Six Hundred Degrees
The menu was slightly confusing with starters, entrees, a la carte items that are whole meals (like steaks), and then plenty of sides that could be meals in themselves too. (We have to say the side portion of risotto we received was huge and could have fed us both dinner!)
We recommend General Tso's Burnt Ends, which were cubes approximately one-inch square that was delicious and quality pork belly.
Though we tried the Little Gem Salad, it was disappointing. Though we enjoyed the chicken wings!
The pull-apart rolls were really good and when we sat down for our 7:30pm reservation utterly famished, we appreciated how quickly they were served.
The bill, with gratuity and a beer, came to just under $100.
We're glad we tried this downtown Winston Salem restaurant. You can let us know what you think if you go!
When we were discussing our experience with a friend who has been here before, he said that the Bacon Wrapped Venison is one of the best things he's ever eaten. We'll have to try that next time!
Open Monday through Thursday, 5:00 to 9:00 pm; Friday and Saturday, 11:00 am to 10:00 pm. Closed Sundays.
Address: 450 N Patterson Ave Ste 120, Winston-Salem, NC 27101 | Reviews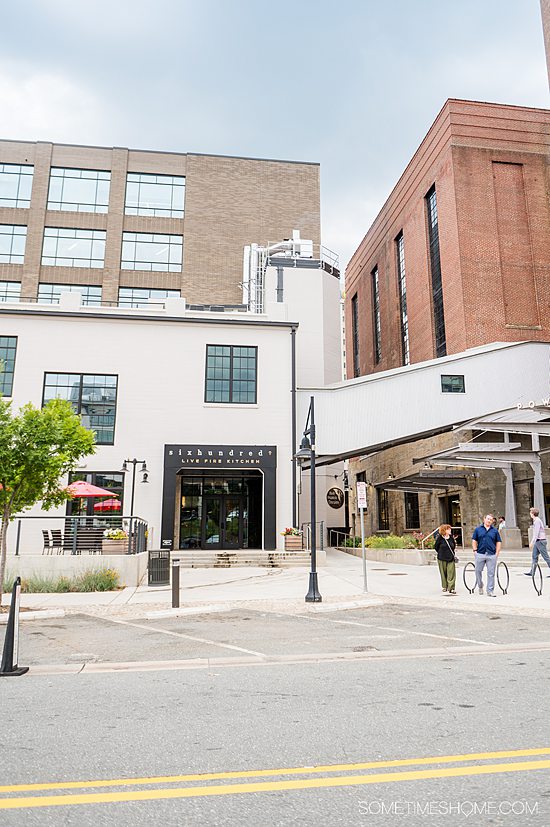 3. Cugino Forno
Part of the beauty of Cugino Forno, near Incendiary Brewing Company in Winston-Salem, is that the menu is limited to pizzas, three salad options, and a few desserts. That's it!
But the pizza is the star. It's damn good and, in the humble opinion of us NYers, it's the best pizza in Winston Salem. (To be honest, we can't speak to their salads and desserts because we leave all the room in our bellies for pizza when we go.)
This is the kind of place where you order at the counter, get a table number, and place it where you decide to sit down so they can deliver your order to you. It's low-key and casual.
You can get take-out and also choose items from their freezers, like pizzas you can cook at home. (You can even buy one to cook once you get home from your weekend trip to Winston-Salem if you live anywhere within a two-hour drive.)
Open daily, 11:00 am to 9:00 pm, and an hour later on Fridays and Saturdays.
Address: 486 N. Patterson Ave. #115, Winston-Salem, NC 27101 | Reviews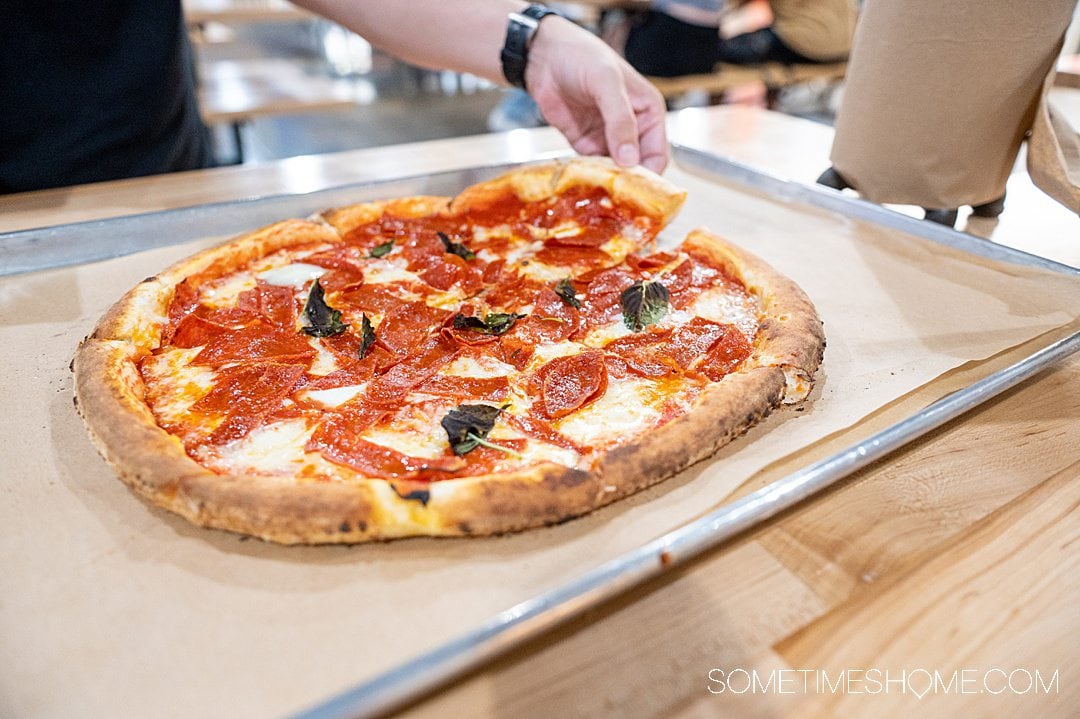 4. Small Batch Beer Co.
I'm guilty of looking up reviews on TripAdvisor before arriving to a restaurant. But I love food photos and we eat with our eyes first, don't we? That's why I knew I had to have a milkshake when we arrived at Small Batch Beer Co. without even looking at the menu. And I'm not necessarily a milkshake kind of girl.
(Dan and I have different flavor preferences when it comes to these things too. He prefers vanilla eight times out of ten, and I love whackier flavors like mint chocolate chip or black cherry.)
We weren't disappointed with our choices at Small Batch, from the milkshake and craft beers to our salad and burger.
Dan had a beer brewed in-house as it was the start of our self-guided Winston-Salem breweries tour, and we shared the milkshake because it's huge.
Here's what else we ordered:
Free Bird Salad was their take on a Cobb Salad with grilled chicken
Smoke Batch Burger with grilled jalapeño peppers, pork belly, cheddar, bacon, and handcut fries
Black and White milkshake with Oreo cookies, chocolate drizzle, and a chocolate chip cookie
Small Batch Co. brewed beer, which they make in a nano-brewing style as their name indicates
Closed Mondays. Open Tuesday and Wednesday, 11:00 am to 10:00 pm; Thursday and Friday, 11:00 am to 11:00 am to midnight; Saturday, 10:00 am to midnight; Sunday, 11:00 am to 10:00 pm (kitchen closes at 9:00pm).
Address: 241 W. 5th Street, Winston-Salem, NC 27101 | Reviews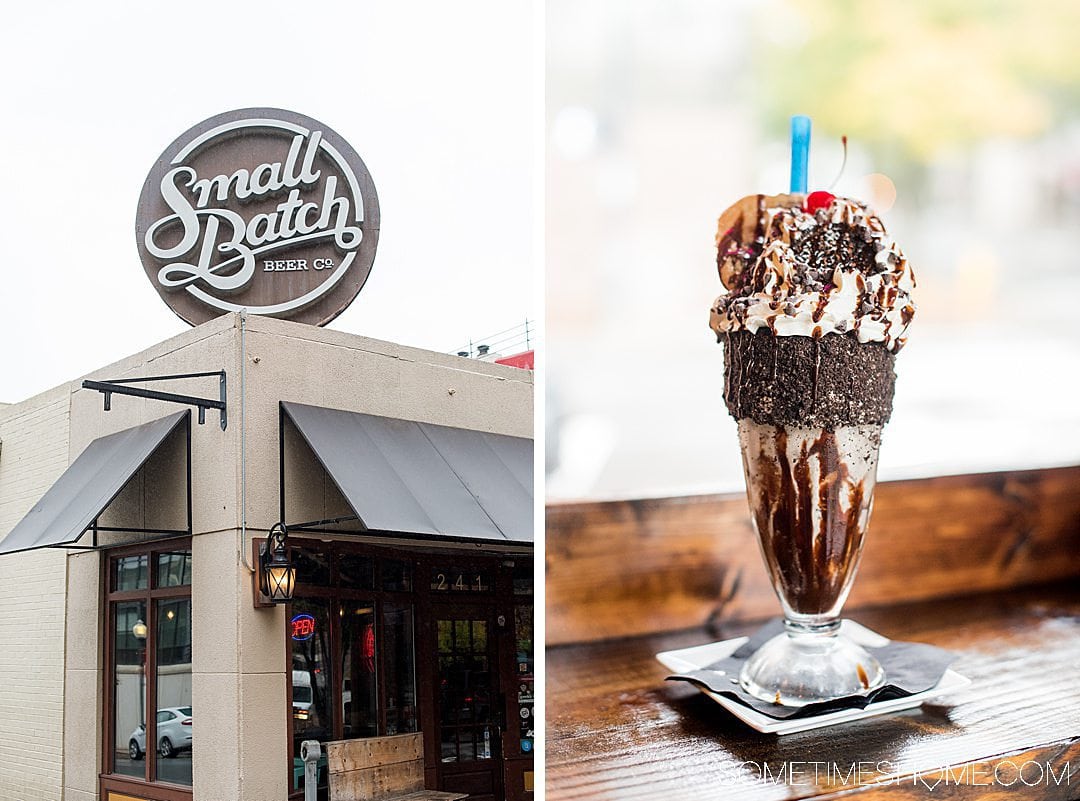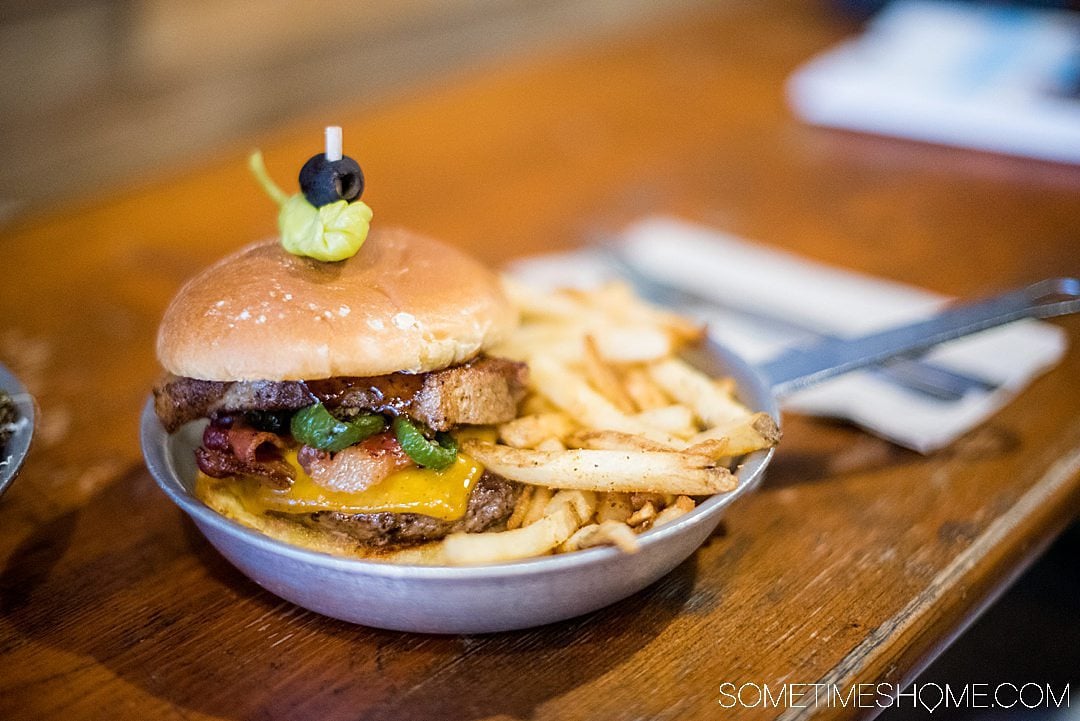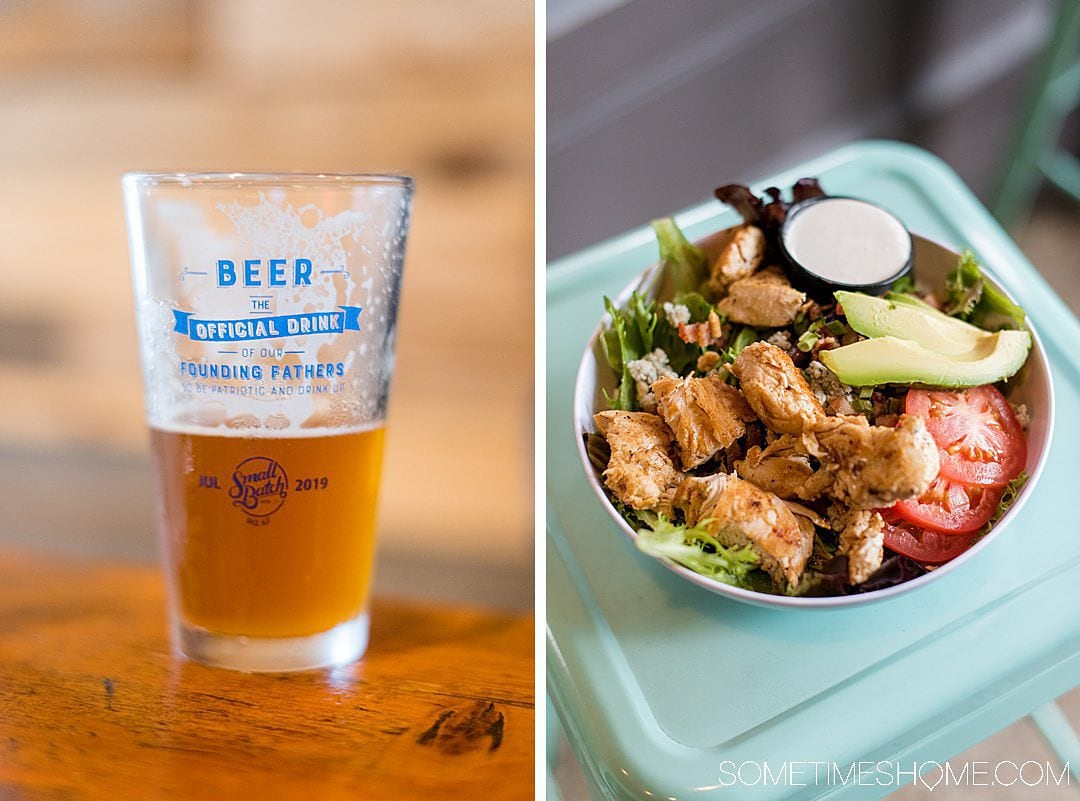 5. The Katharine Brasserie and Bar at The Kimpton Cardinal Hotel
We love French food. And we're a little hard to please in this department, not just because we have high standards but because we've both been to France many times e and have cooked French food at home. (Mostly Dan – he's the French cuisine cooking pro in our home!)
We were impressed by The Katharine, a brasserie and bar at the Kimpton Cardinal Hotel in downtown Winston-Salem. It's one of the restaurants in downtown Winston Salem that is an especially lovely restaurant for a special occasion.
We stayed at the Kimpton Cardinal Hotel overnight so it was especially exciting to learn it had a great reputation. That meant we could have a delicious meal and cocktails and take the elevator upstairs to our rooms after and not have to drive anywhere.
The restaurant was named after Katharine Reynolds, the wife of the R.J. Reynolds Tobacco Company founder. Reynolds American's original home was that building.
We enjoyed the following in their beautiful dining room:
Butchers Block Plate with house-made rillettes, pate, and pickled chow chow
Baked Escargot (snails) with roasted garlic, herbed butter, and mini biscuit topper
Coriander Crusted Duck Breast with fingerling potatoes and orange coriander sauce
Open for breakfast every day from 6:30 to 10:00 am; Saturday and Sunday brunch from 10:00 am to 2:00 pm; lunch Monday through Friday from 11:00 am to 2:00 pm; dinner every day from 5:00 to 10:00 pm; bar is open daily from 3:00 pm to 11:00 pm.
Address: 401 N. Main Street, Winston-Salem, NC 27101 | Reviews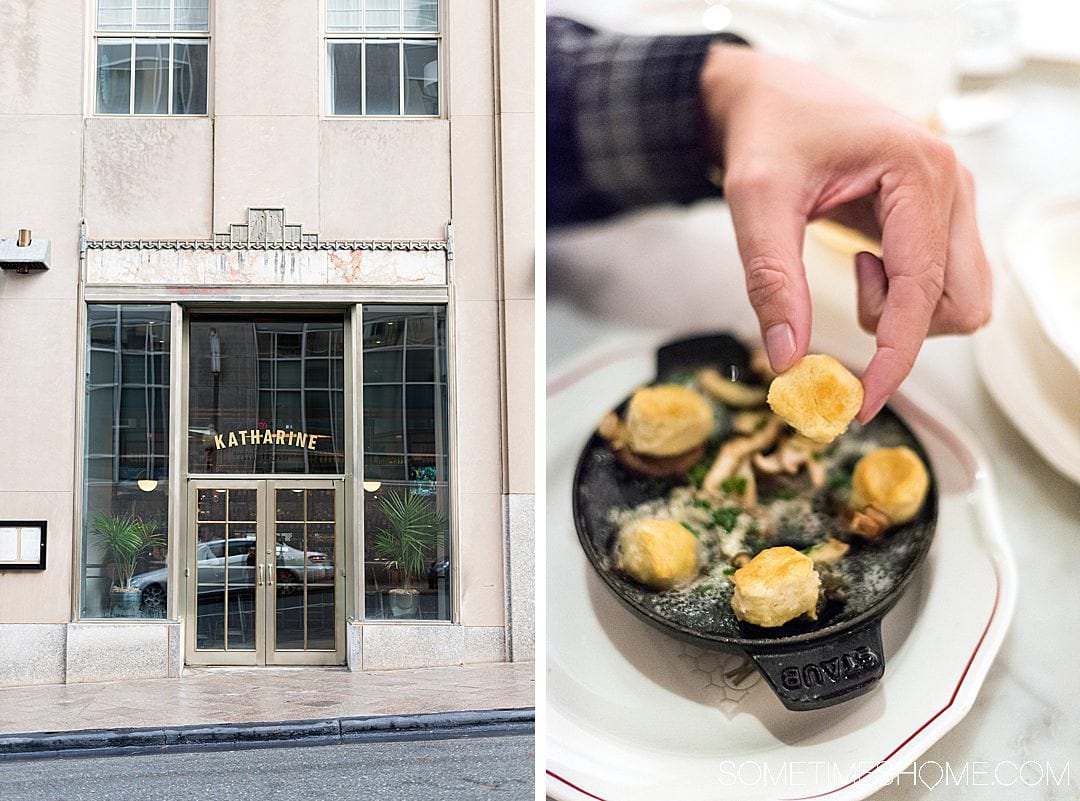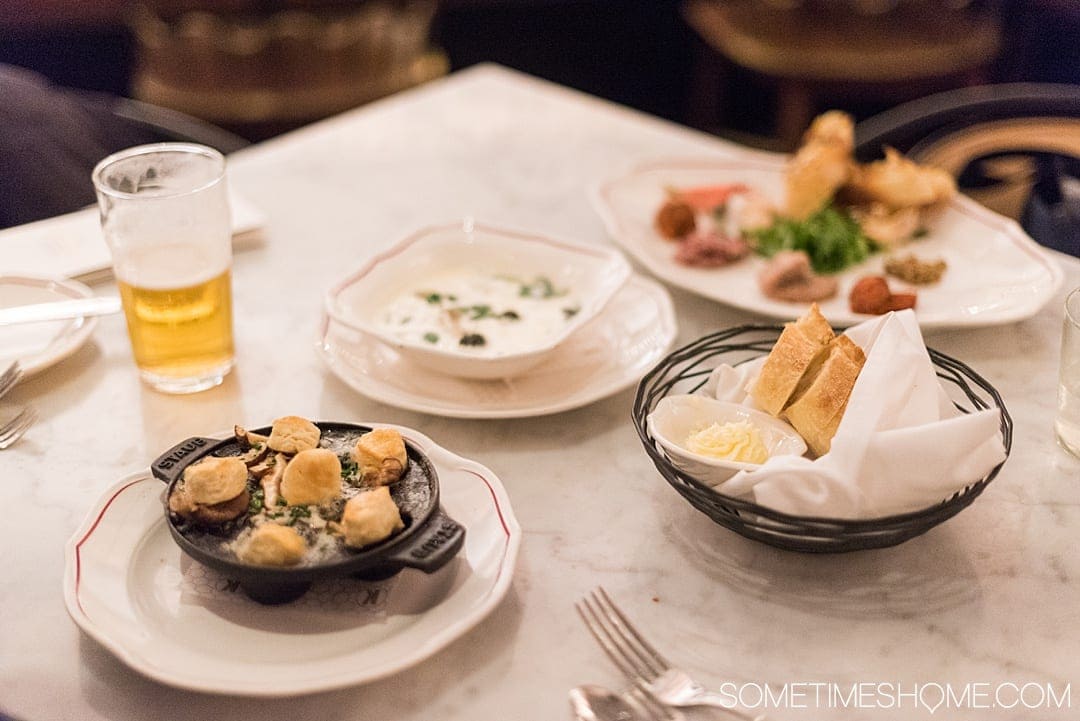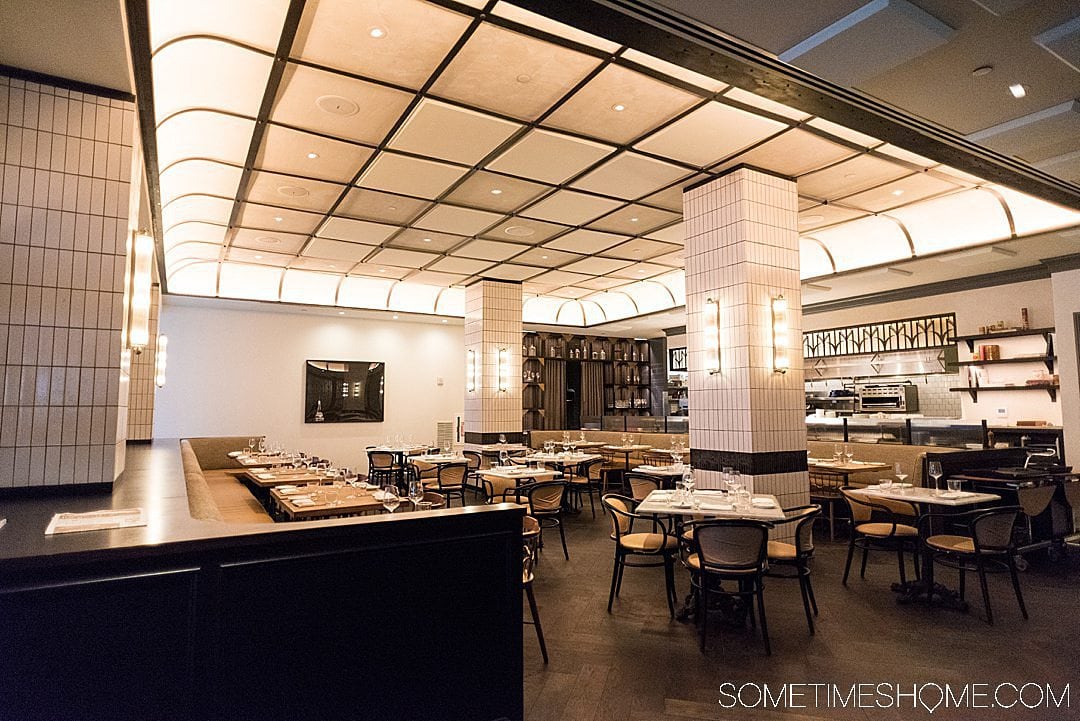 6. Young Cardinal Cafe & Co.
If you're craving a breakfast of something sweet and something savory, this is the place to go. You can get pancakes and eggs in a nice environment and coffee refilled to keep you caffeinated as you eat!
We only had to wait about 15 minutes for a table on a busy Sunday before we drove back home, east of Winston-Salem, during our weekend getaway from Raleigh.
Enjoy eggs benedict, avocado toast, French toast, biscuits, and omelets – they have it all.
Open Tuesday through Sunday, 8:00am to 3:00pm. Closed Mondays. They do not take reservations.
Address: 424 4th Street NW, Winston-Salem NC 27101 | Reviews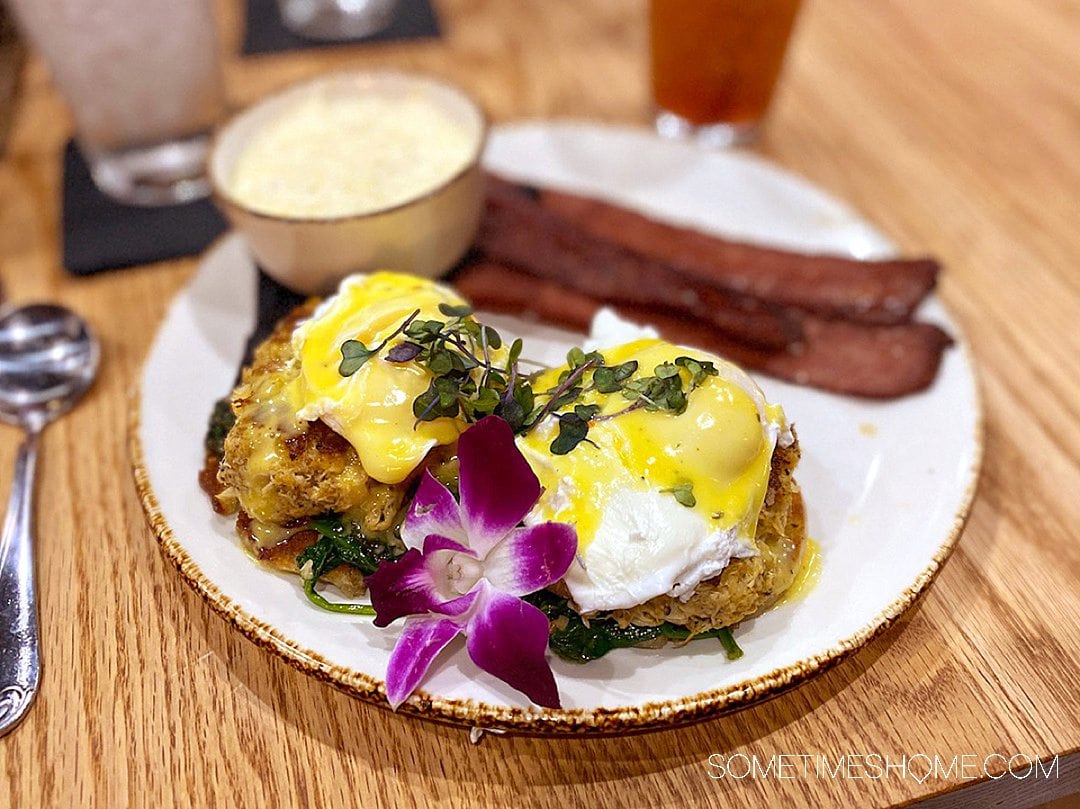 7. The Porch Kitchen and Cantina
When we drove up to where the GPS took us to get to brunch at The Porch, I thought we were in the wrong place until Dan pointed out the colorful tables and flags beyond the parking lot, past a very tall arch of greenery that serves as an entry to the parking lot pathway to the restaurant.
We felt like we struck gold with this gem of a place to be and eat. You can't help but smile, thanks to the many colors of the decor inside and out.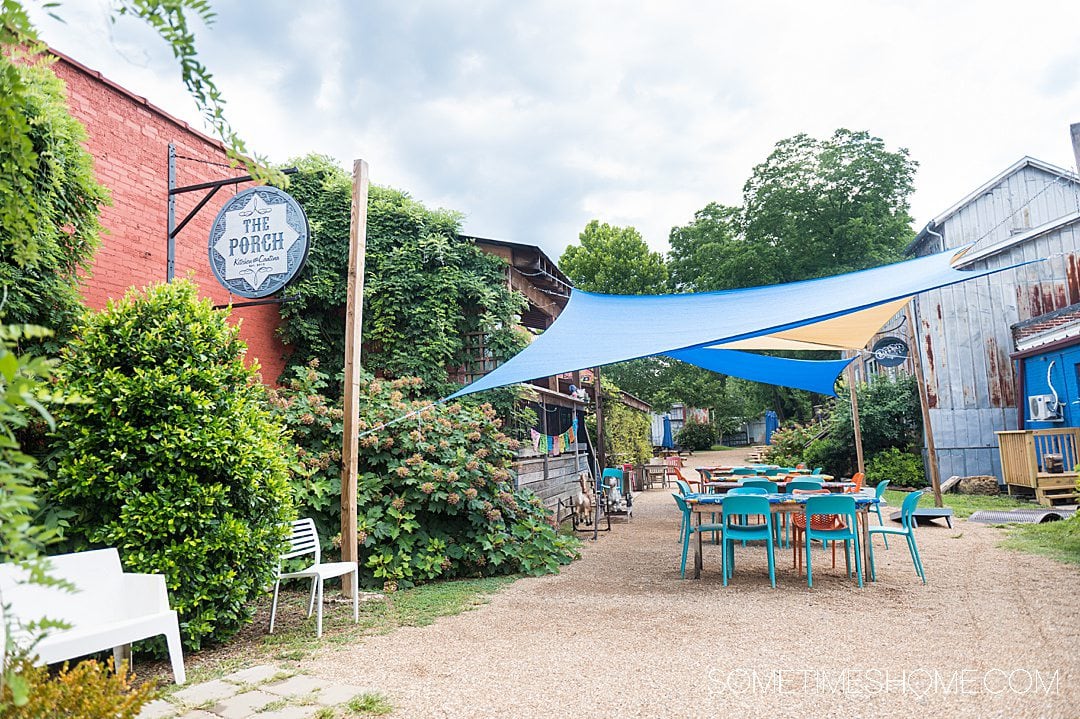 We had brunch here on a Sunday and were blown away but the variety the menu offers, from omelets and French toast to burritos, salads, and breakfast tacos. They have savory and sweet options and what you may consider "American" items and southwest or Mexican inspired too.
We ordered an OG Burrito with smoked chicken and the Carry the Torch breakfast tacos (they come three to an order) with fried avocado. You can choose your protein or avocado option with a lot of their savory dishes.
The service was great, the ambiance great (we sat outside) and the food was delicious and priced right. We can't wait to go back!
Open Monday through Saturday, 11:00am to 9:00pm, and Sundays from 10:00am to 3:00pm.
Address: 840 Mill Works St, Winston Salem, North Carolina 27101 | Reviews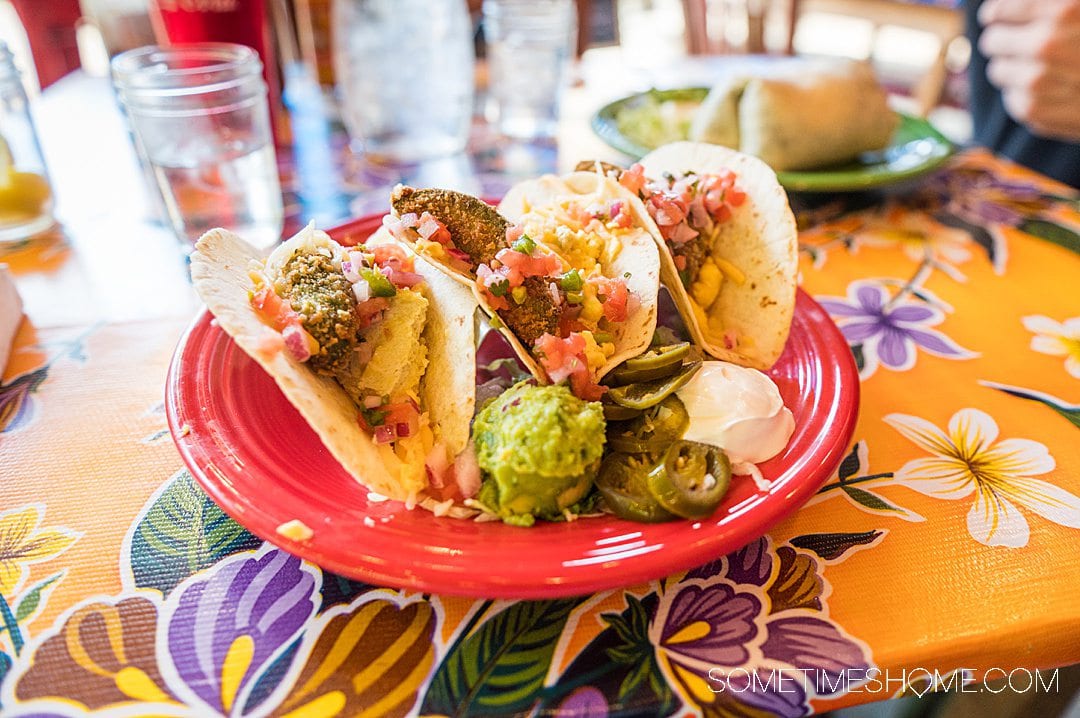 8. Krankie's Coffee
The best way to start a day is with a great meal. And that's especially valid if it's the weekend and you're heading out to a place like Krankie's Coffee for brunch.
They have the cutest little coffee shop inside for to-go items (not just cups of coffee but bags of it and some cute apparel, too) and a full sit-down restaurant. They also have one of the most colorful, favorite Art-o-mat machines as well.
By the way: did you know Texas Pete hot sauce is from Winston-Salem? It's true! It's from North Carolina…contrary to what you may have thought, definitely not from Texas. It was on every table at Krankie's.
We devoured breakfast:
Hoppin' John bowl with a rice and cornbread base, topped with collard greens, peas, and chow chow (I added an egg)
Smothered and Covered Chicken Biscuit, with fried chicken drenched with sausage gravy (such a southern classic!)
Open daily, 8:00am-3:00pm.
Address: 211 E 3rd Street, Winston-Salem, NC 27101 | Reviews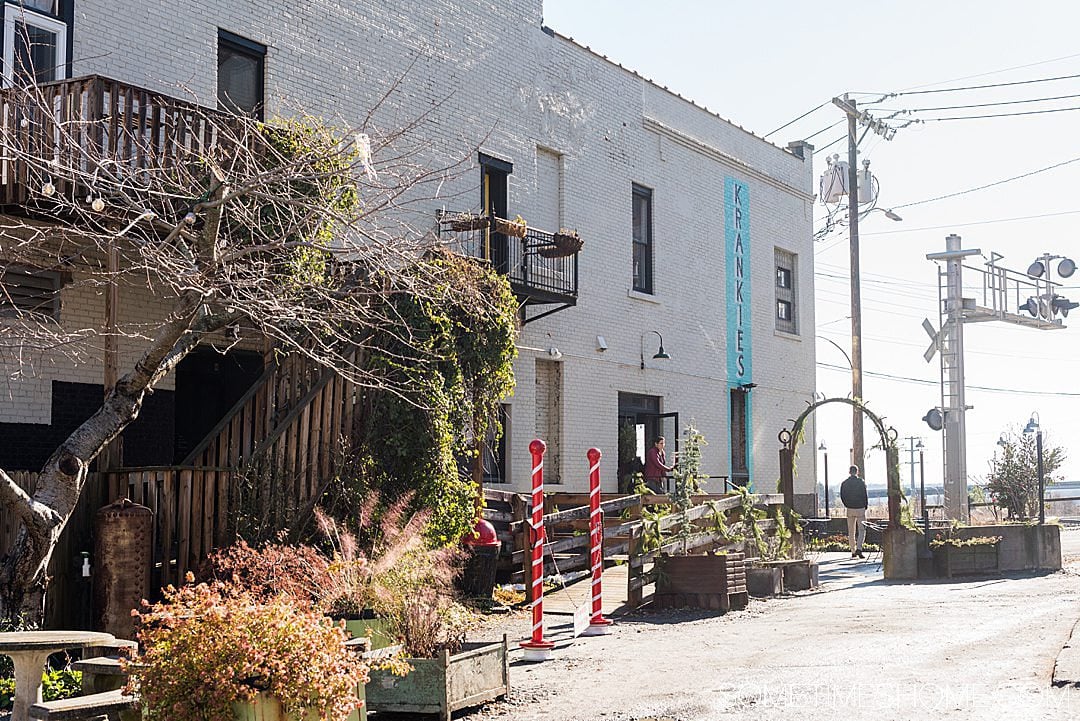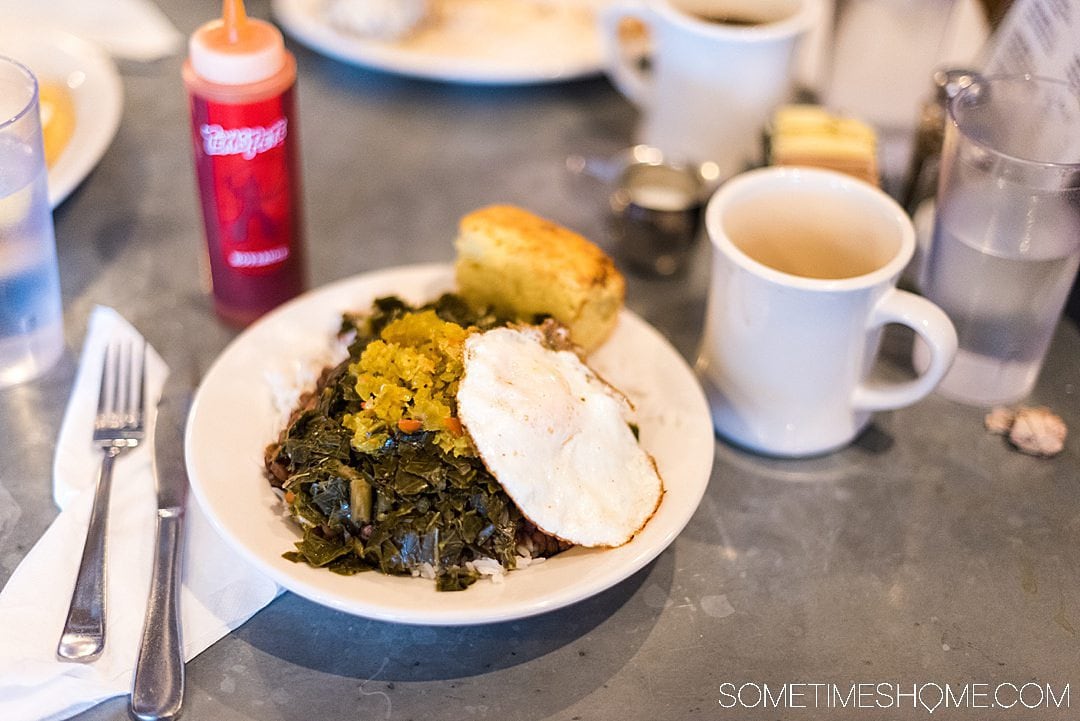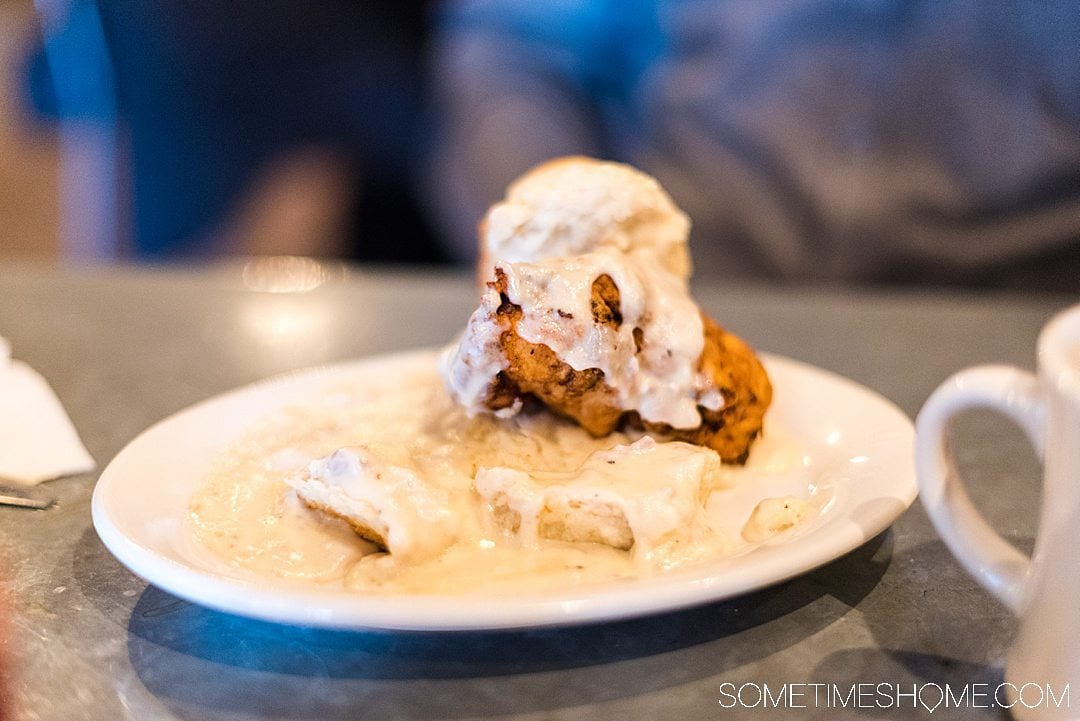 9. Mojito Latin Soul Food
Chef Mike, a partner at the space that was formerly Mary's Gourmet Diner, purchased the restaurant from her. He is the owner of the new Latin restaurant along with his wife, Michelle. They bring years of expertise in Cuban cuisine to the table in Winston-Salem.
We love Cuban cuisine, especially from our short time living in Fort Lauderdale together, so we were excited to try Mojito Latin Soul Food.
They have everything from ceviche to burgers, elote corn to Cuban sandwiches. We like that they have Impossible meat options for the non-animal-meat eaters out there.
We liked it, but didn't love it. We'd definitely try it again and order more menu items we have yet to taste. However, it's a staple in downtown Winston-Salem, and we love that it's bringing different cuisine to the mix and the story behind it all.
Closed Tuesday and Wednesday. Closes at 6:00pm on Sundays. They do not take reservations.
Address: 723 N. Trade Street, Winston-Salem, NC 27101 | Reviews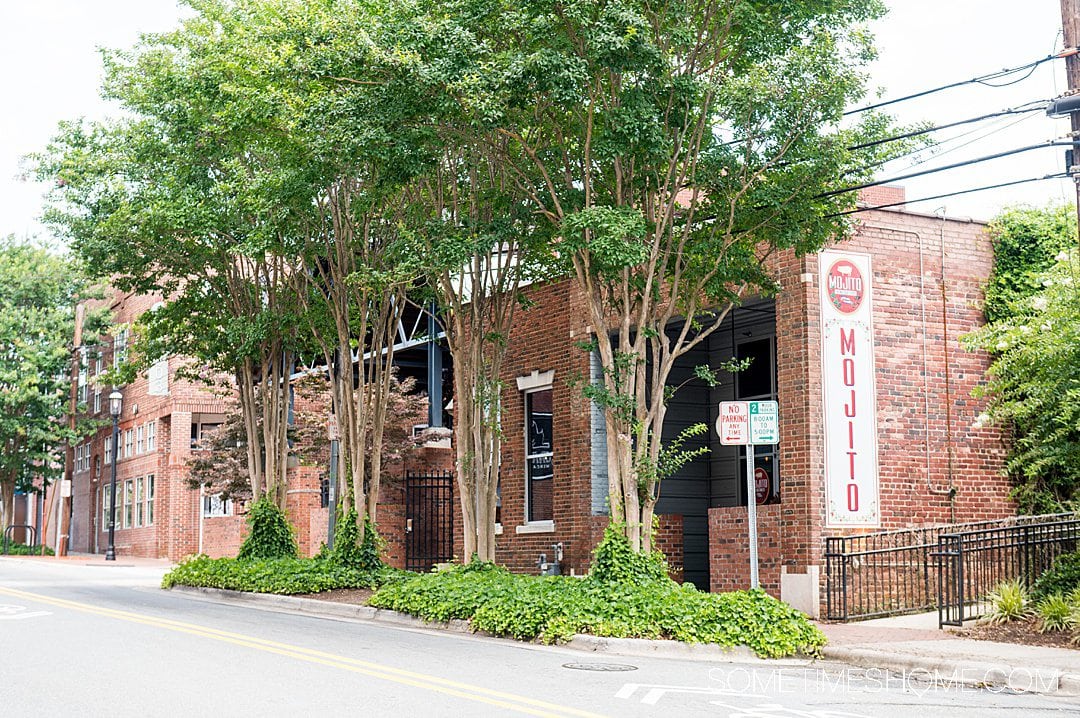 10. Earl's in Winston-Salem's Industry Hill
This was one of our favorite stops. The first time we went, we were leaving to go back home to Raleigh and wanted something that was no fuss, low-stress, and casual. It wouldn't hurt if it was comforting and delicious!
We went to Earl's because Dan and I spotted it while we were trying Wise Man Brewing, across the street earlier in our trip.
It was exactly what we were craving! It's also a whiskey bar and music venue for country, bluegrass, and folk. We were hooked and we've been back since to hear some live music there on Fridays and Saturdays. On Mondays, they have an open mic night and specials on appetizers between 4:00 pm and 7:00 pm.
Our favorite menu items include:
Tator Tot Nachos (because how can you say no when you see that on a menu?) with queso, ranch, bacon, jalapeño peppers, and scallions
The Wedge salad, prepared in the classic style with iceberg lettuce, topped with bacon, tomatoes, and blue cheese
"EFC" Earl's Fried Chicken sandwich with lettuce, pickles, and mayo
Open 7 days a week from 11:00 am to 2:00 am.
Address: 121 W. 9th Street, Winston-Salem NC 27101 | Reviews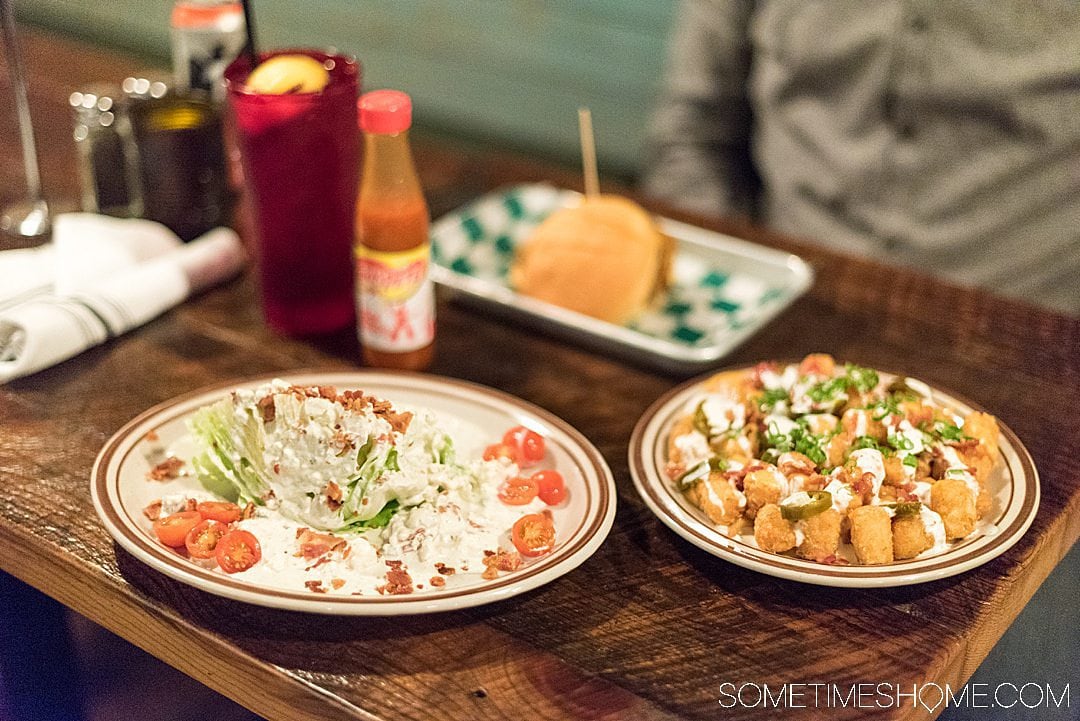 11. Mozelle's (A Fresh Southern Bistro)
It took us a few visits to Winston-Salem to secure reservations at Mozelle's. It's been a staple for downtown Winston Salem residents since it opened in September 2008. But we'd only remember to make reservations once we passed it upon arrival, which is far too late.
Reservations fill up fast at Mozelle's Fresh Southern Bistro, so be sure to reserve early for your chosen time!
They serve southern food made with some seasonal ingredients but always fresh local ingredients. They have indoor and outdoor seating. We highly recommend their tomato pie. It was delicious and surprisingly light; we shared one entree between the two of us and couldn't believe how big the portion was.
They're definitely considered a downtown Winston-Salem restaurant, but they're just a one-minute drive outside of the heart of downtown, more so in the nearest suburban neighborhood.
A lot of their dishes can be made to be vegetarian or vegan, and they accommodate gluten-free diets as well.
Open Tuesday through Sunday, 11:00 am to 9:00 pm, closed Monday.
Address: 878 W. Fourth St. Winston-Salem, NC 27101 | Website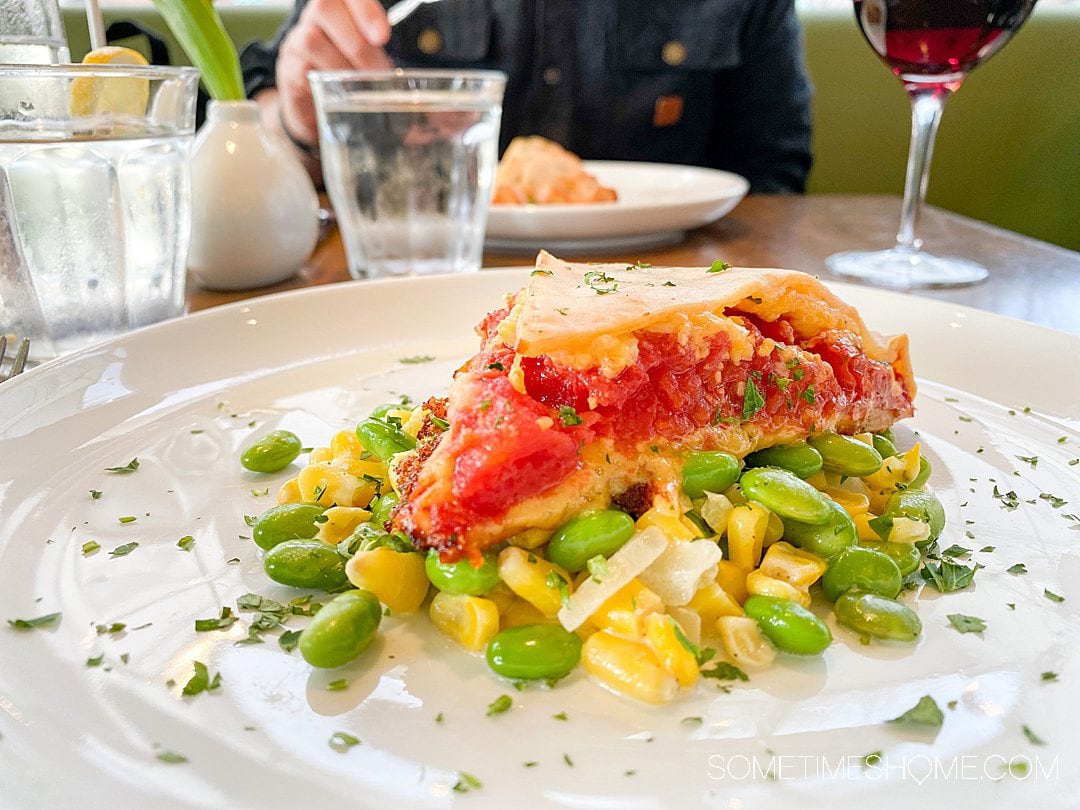 12. Foothills BrewPub
While beer immediately comes to mind when you think of the famous brewery, Foothills Brewing, they have one of the best restaurants in downtown Winston-Salem serving up great comfort food.
It's an elevated pub and no-fuss environment that's always busy. We've enjoyed lunch and dinner here.
This is not to be confused with the brewery where they make their beer. That is located 10+ minutes from downtown Winston-Salem. It's a great place to visit, mostly for the beer because they don't have a food menu inside. We are referring to the downtown Winston-Salem tasting room, which has a sit-down dining experience option in addition to its beer and classic cocktails.
Open Sunday through Wednesday, 11:00 am to 10:00 pm; Thursday to Saturday, 11:00 am to 11:00 pm.
Address: 638 W 4th St, Winston Salem, NC 27101-2730 | Reviews
13. Camino Bakery
This bakery is right near Young Cardinal, in the heart of downtown Winston Salem. It's more casual and faster than their sit-down service neighbor! They serve pastries and coffee that you pay for at the register and can sit and enjoy or easily get to go.
It's named after a pilgrimage route in Spain, called Camino de Santiago. (Also known as The Way of St. James.) The founding beliefs of the bakery are built on inclusivity, empathy, authenticity, and creativity.
We have gone to Camino Bakery in the past for one of two reasons: 1) We wanted something less expensive and faster than a sit-down meal, 2) The wait time at Young Cardinal Cafe, next door, was so long we said screw it and got a muffin and coffee next door instead.
It's a wonderful place to go to for any reason. And we L-O-V-E that they make fresh bread. Give us all the homemade bread! They serve things like quiche and focaccia bread by the slice for breakfast, lunch, or brunch as well. May we recommend their homemade bagels and fresh blueberry muffins?
Camino Bakery is a great place to try in downtown Winston-Salem, particularly for breakfast.
Open Monday through Thursday, 7:00 am to 11:00 pm; Friday, 7:00 am to midnight; Saturday, 8:00 am to midnight; Sunday 8:00 am to 8:00 pm.
Address: 310 W 4th St, Winston-Salem, NC 27101 | Reviews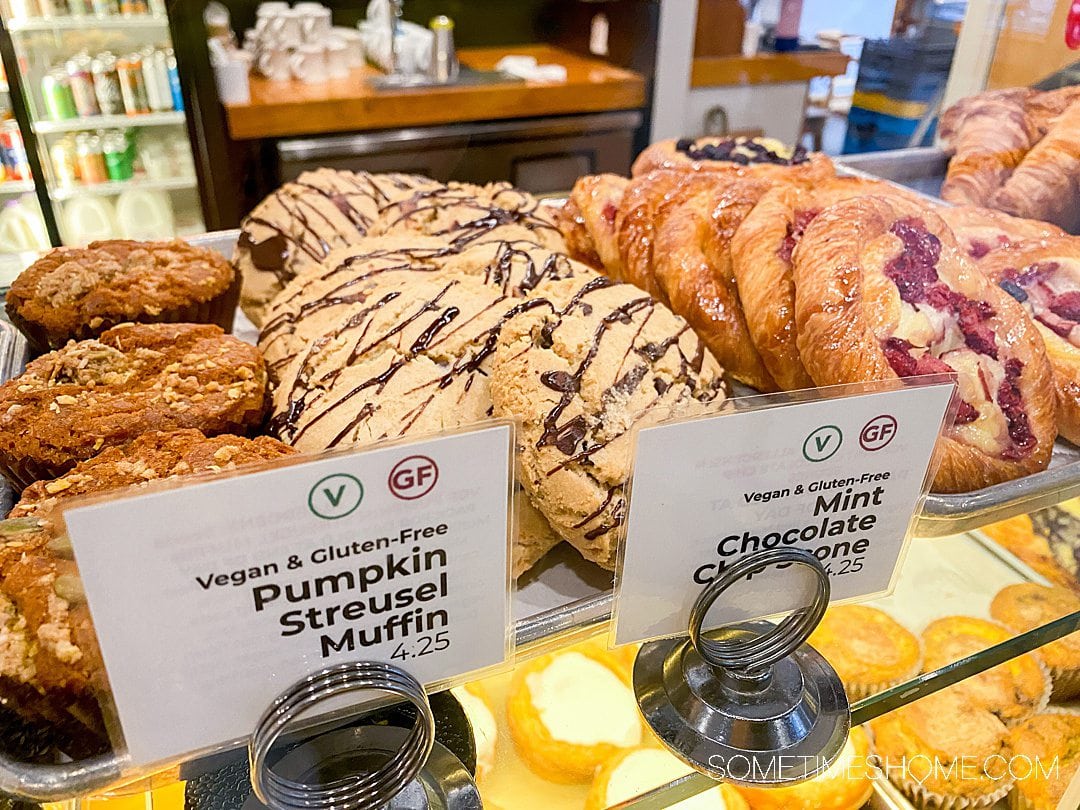 14. Yamas Mediterranean Street Food
If you love the Chipotle-style of ordering and love Mediterranean food, Yamas is the perfect place for you. We are dreaming of their creamy hummus as we write this and fresh veggies mixed with feta cheese and falafel!
Of course, they have other Mediterranean favorites, like spanakopita and Mediterranean fries. It's a great place if you want an affordable healthy meal in downtown Winston Salem. They also have plenty of vegan and vegetarian options.
The family that owns Yamas owns 4 restaurants in the area. They started their restaurant group in the 1980s in Fort Myers, Florida (right near Sarasota, Florida) and related it to North Carolina in the second decade of the 21st century.
Their hospitable ethos shines through in their downtown Winston-Salem restaurants, Yamas included.
Open Monday through Sunday, 11:00 am to 8:00 pm.
Address: 624 W 4th St, Winston Salem, NC 27101-2730 | Reviews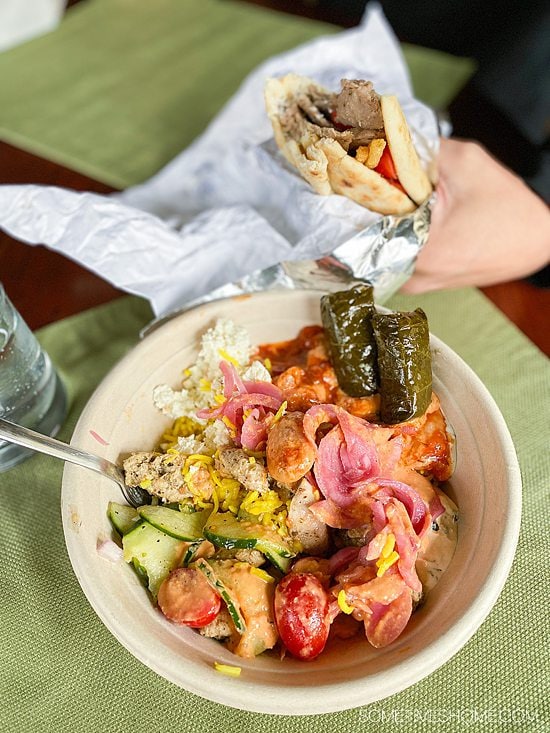 15. Cin Cin Burger Bar
Another restaurant brought to you by the Michael Family Restaurant Group, which owns Yamas Mediterranean Street Food! Yet Cin Cin (pronounced Chin Chin, like one of the ways to say "cheers" in Italian) is where you'll want to be if you're craving a burger in Downtown Winston-Salem, and you're near 1st Street.
One of the things we love about their menu is that they have adult milkshakes and loaded French fries! (That's spiked milkshakes for the newbies out there.)
We also very much appreciate that while they don't take reservations for parties of 6 or less, they do have an online waitlist. They recommend joining it approximately 15-20 minutes before arrival.
Their menu is extensive; there is truly something for everyone. They have creative small plates, including Pittsburg Pierogis and Reuben croquettes, salads galore, burgers and sandwiches a plenty, and then some.
We loved that they served our burger on grilled sourdough (they're not all this way but the one we ordered was). We upgraded our fries to be loaded with gorgonzola cheese crumbles, blue cheese dressing, and green onions. It was all really, really good.
Address: 1425 W 1st St, Winston Salem, NC 27101-2666 | Reviews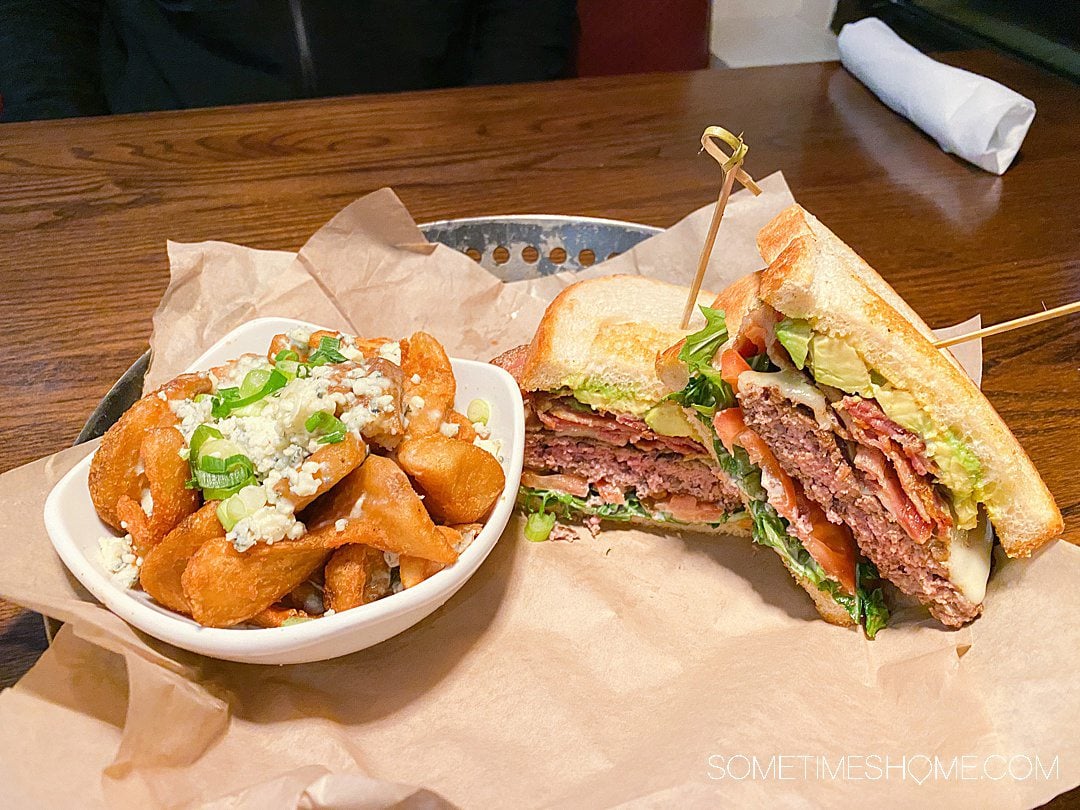 16. Black Mountain Chocolate Bar
The reason Black Mountain makes our list of downtown Winston-Salem restaurants you must try is that it's fulfilling a wonderful niche in the area: desserts + drinks. This reminds us of the dessert restaurant, Bittersweet in downtown Raleigh.
Whether you want to make chocolates and craft cocktails your dinner or after-dinner treat, it's a wonderful option to extend your fun in Winston-Salem. This is also a great place to get some chocolate souvenirs for friends and family back home if you're visiting the area on vacation.
Try anything from their cookies to brownies, tarts, and frozen custard. They have non-alcoholic drinks too, including chai tea, hot chocolate, and lattes.
We indulged in two martinis – one chocolate and one espresso, both delicious – and a brownie with two truffles. We tried their coffee truffle, which packed a great coffee-flavor punch, and their Texas Pete truffle, which had a delicious amount of spice.
Open Tuesday, Wednesday, and Sunday from noon to 6:00 pm; Thursday from noon to 8:00 pm; Friday and Saturday from 10:00 am to 11:00 pm; Sunday from 12:00 to 6:00 pm. Closed Monday.
Address: 450 N Patterson Ave Suite 110, Winston-Salem, NC 27101 | Reviews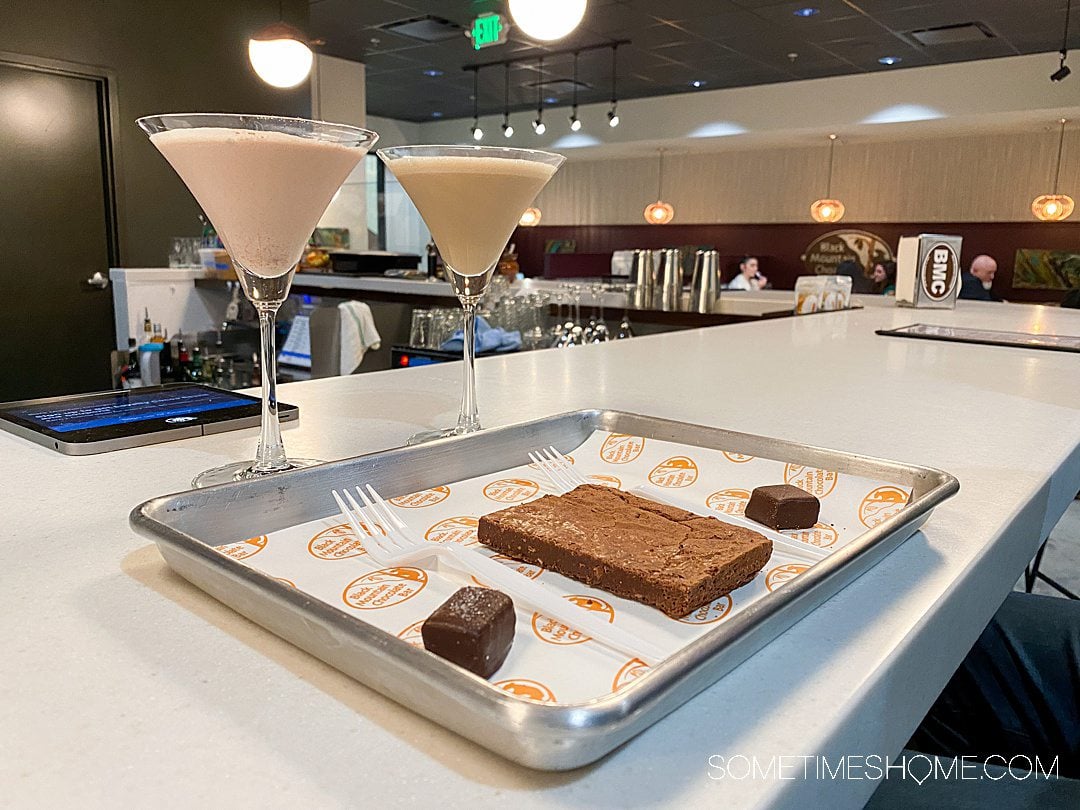 17. Chad's Chai
When we walked past this gorgeous drinks bar in downtown Winston-Salem, it immediately went on our "must try" list. We returned the next day.
Though we're not gaga for chai tea or matcha (sorry!) we were game to try it along with the other tea offerings at Chad's Chai. We were also very interested in their tea flight, something we have never seen anywhere else.
Though this isn't exactly one of the downtown Winston-Salem restaurants in the traditional sense, they have pastry items that you can certainly make a meal out of.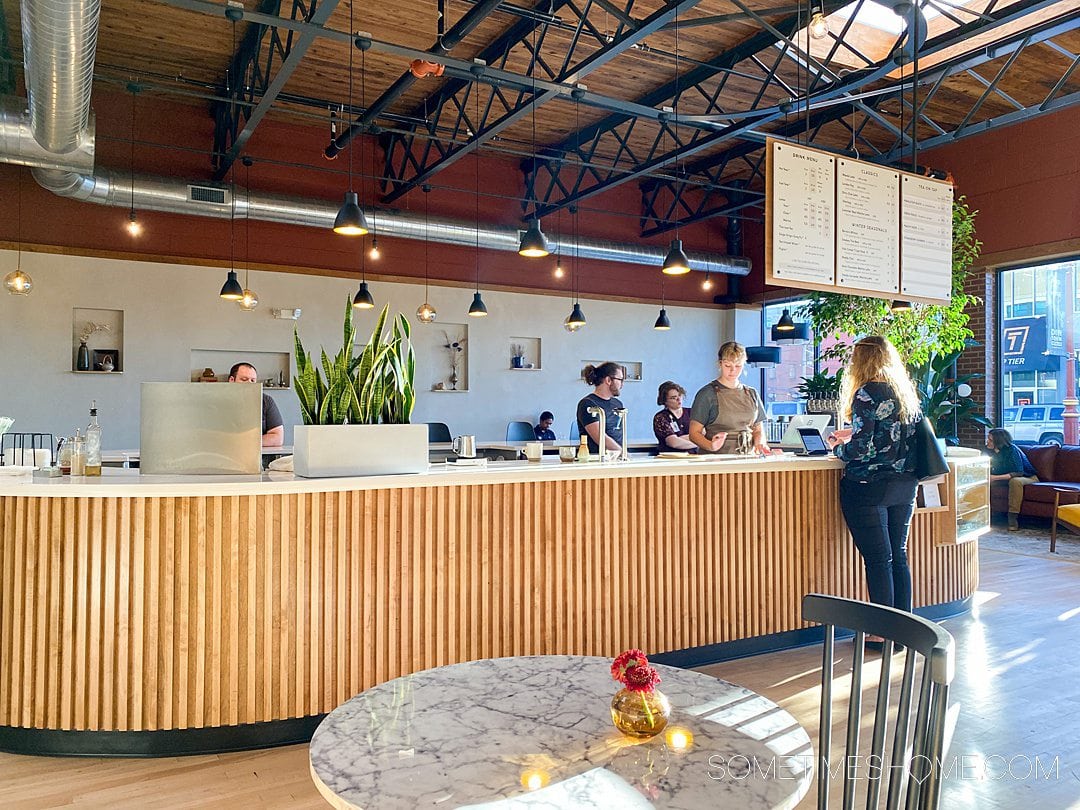 Chad's tea is served in over 50 coffee shops and restaurants, including downtown Winston-Salem restaurants from Foothills to Mozelle's, Camino Bakery, Black Mountain Chocolate Bar, and Sir Walter Coffee in downtown Raleigh.
He's the "tea man" to all his friends, specializing in Indian chai tea. They believe in community and love hearing tea stories! If you want to share a story, then add #chadschai to your social media posts.
Open Monday through Thursday, from 8:00 am to 8:00 pm; Friday, from 8:00 am to 9:00 pm; Saturday, from 9:00 am to 9:00 pm; Sunday, from 9:00 am to 8:00 pm.
Address: 617 N Liberty St, Winston-Salem, NC 27101 | Reviews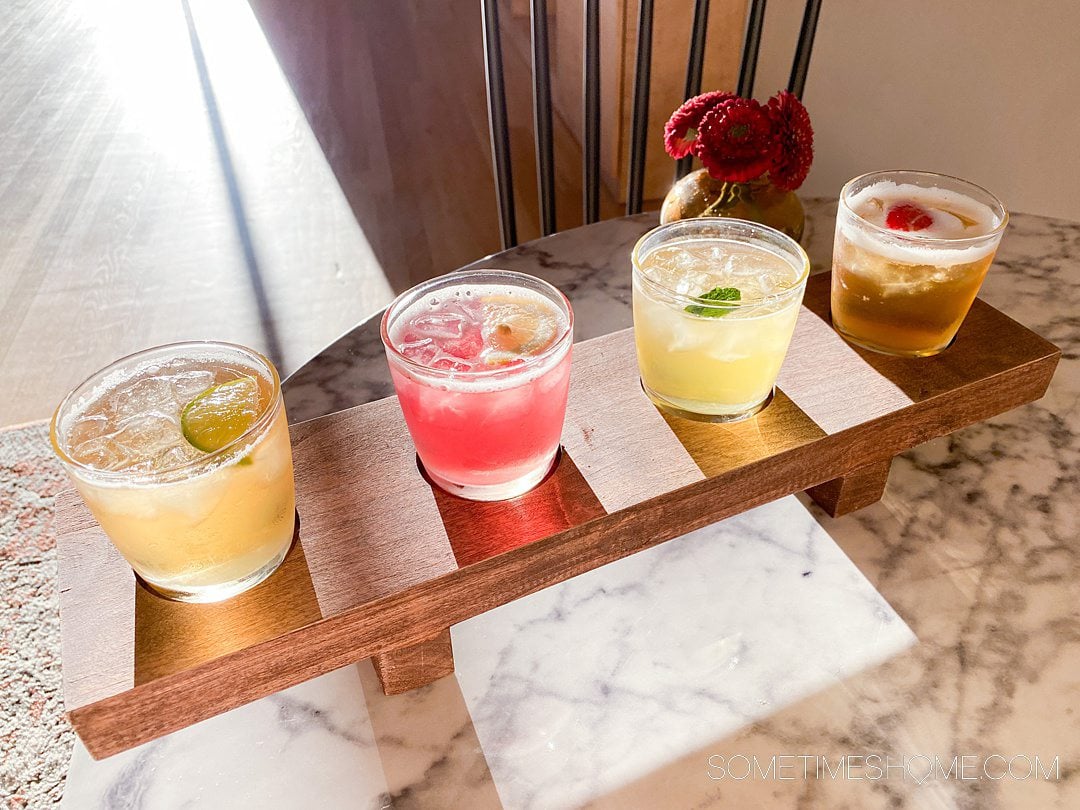 18. Sweet Potatoes
With over 1,000 positive reviews on TripAdvisor, it's clear Sweet Potatoes is a beloved downtown Winston-Salem restaurant. If you want authentic southern cooking, this is the spot to go to.
This women-co-owned and operated restaurant serves menu items like fried green tomatoes, okra, sweet potato cornbread, chicken and waffles, and fried chicken. They also offer twists on southern classics BBQ Shrimp 'n Grits and Catfish NOLA style.
Open for lunch Thursday through Saturday, 11:00 am to 3:00 pm, and for dinner Wednesday through Saturday, 5:00 pm to 9:00 pm.
Address: 607 N Trade St, Winston Salem, NC 27101-2914 | Reviews
19. Quanta Basta (QB Italian Eatery and Wine Bar)
This family-owned and operated downtown Winston-Salem restaurant brings together an extensive wine list and rustic Italian dishes to North Carolina. In true Italian style, their menu is organized by antipasti, primi, and second options.
Order something like a cheese plate or something a bit heavier like Veal Scaloppine alla Saltimbocca. For something in the middle, order a personal pizza.
Open from Wednesday to Saturday, 5:00 to 9:00 pm; Closed Sunday through Tuesday.
Address: 680 W 4th St, Winston Salem, NC 27101-2767 | Reviews
20. 6th and Vine
Speaking of wine bars and cheese plates, another great option in downtown Winston-Salem is 6th and Vine. They are quite literally on 6th Street.
Sixth and Vine has indoor and outdoor dining and brunch on the weekends, as well as a great menu of appetizers, entrees, salads, burgers, and sandwiches. It's also the best place to get a cheese plate in Winston-Salem, aside from The Katharine. Why not have a bottle of wine with it too?
Wednesday from 4:00 to 9:00 pm; Thursday from noon to 9:00 pm; Friday from noon to 10:00 pm Saturday from 11:00 am to 10:00 pm; Sunday from 11:00 am to 8:00 pm. Closed Monday and Tuesday.
Address: 209 W 6th St, Winston Salem, NC 27101-2901 | Reviews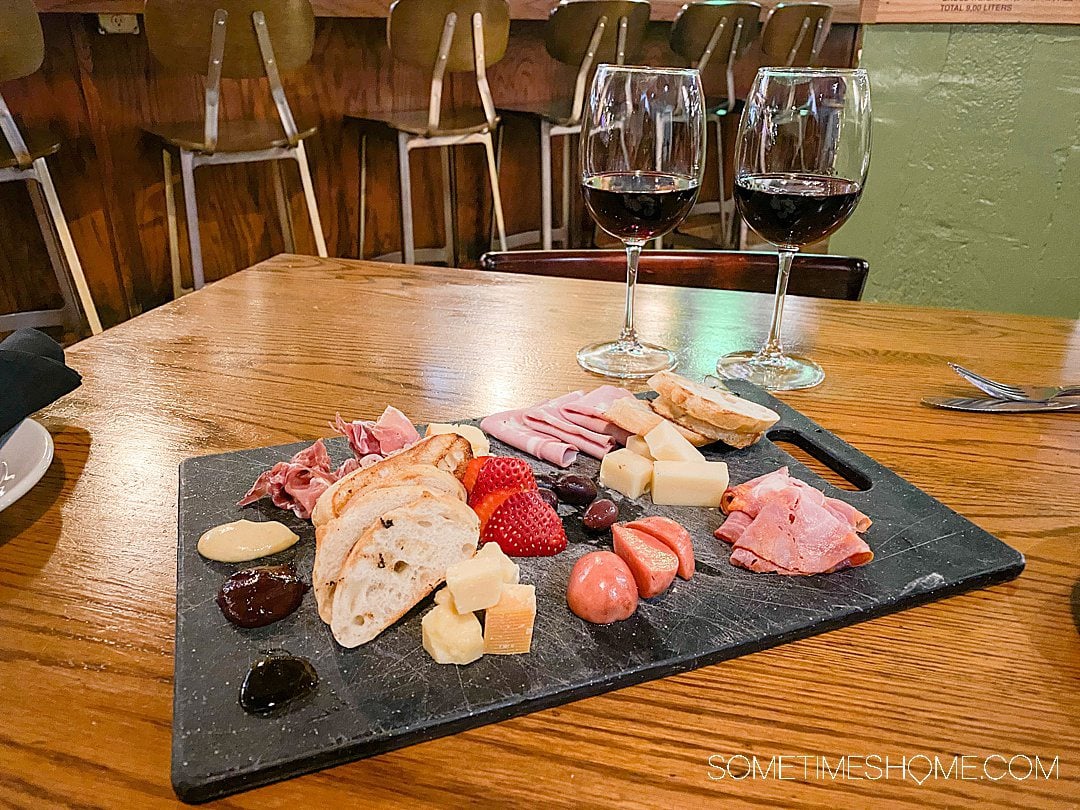 restaurants in downtown Winston Salem Conclusion
No matter the cuisine or restaurant you choose, whether you gravitate towards sweet or savory menu items, we hope you eat your heart out in Winston-Salem as we did.
The dining scene is strong and you'll never be at a loss for restaurants in downtown Winston-Salem with our guidance!
Read this next: