Lavender Field near Raleigh: Lavender Oaks Farm Info for a Perfect Flower Visit
We set out on a warm summer day to enjoy the outdoors and the lovely fresh scents at a lavender farm not too far from Raleigh.
It was a beautiful (albeit hot) afternoon activity. We have tips and information you'll want to know to have a perfect visit to this picture-perfect flower field in Chapel Hill.
Disclosure: There are affiliate links in this post, which means we may earn a small commission if you click the link and proceed with a purchase, at no cost to you. We truly only recommend hotels, products, and services we personally use. As Amazon Associates, we earn from qualifying purchases.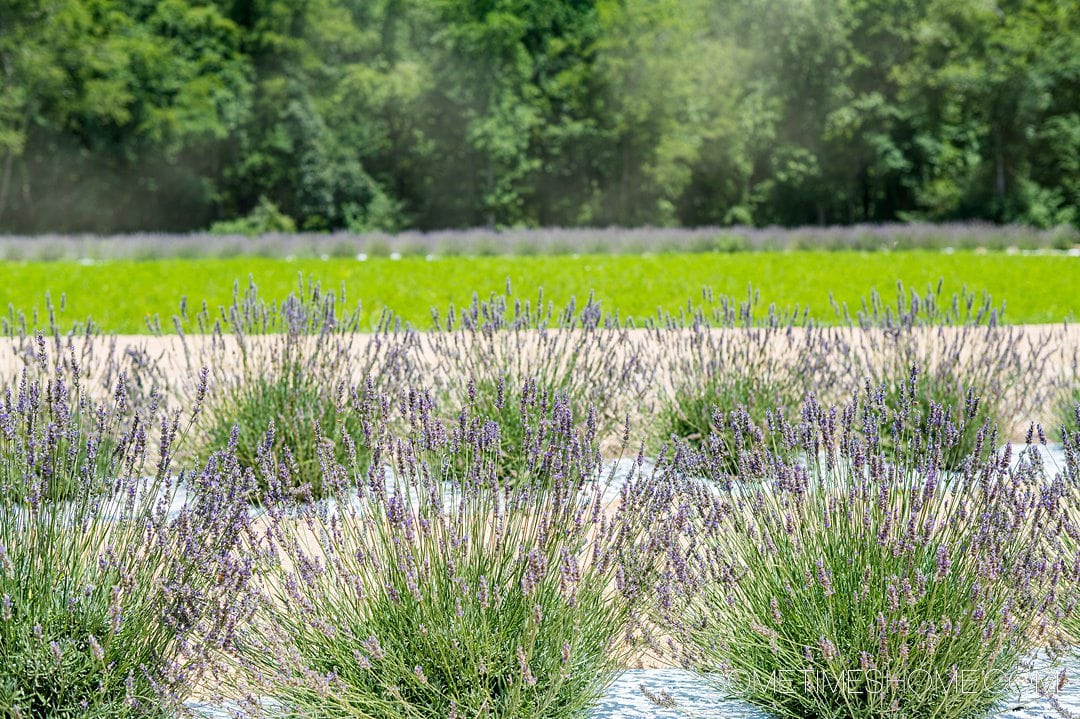 How Much Lavender is at Lavender Oaks Farm?
Let's start with what everyone really wants to know: what this lavender field near Raleigh looks like.
We went the third week of June when two fields of Provincial lavender were in bloom. There wasn't as much as you would envision when we went though of course, no shortage of lavender to enjoy and cut. But it's not like you show up and see rolling fields of purple blooms like in France.
We went to a lavender farm out east on Long Island in NY that we were more impressed with. However, if you're looking for a lavender farm near Raleigh, near Chapel Hill, or by Durham, you're not going to drive to NY for the afternoon of course. So this is a great option!
When is the Lavender in Bloom?
There are nine varieties of lavender grown at Lavender Oaks Farm. They grow from May through July. We recommend going during June and July, when they allow their "u-pick" lavender, for a fee.
Can You Cut Your Own Lavender at the Lavender Farm?
Yes you can! You have to bring your own scissors so don't forget to travel there with a pair.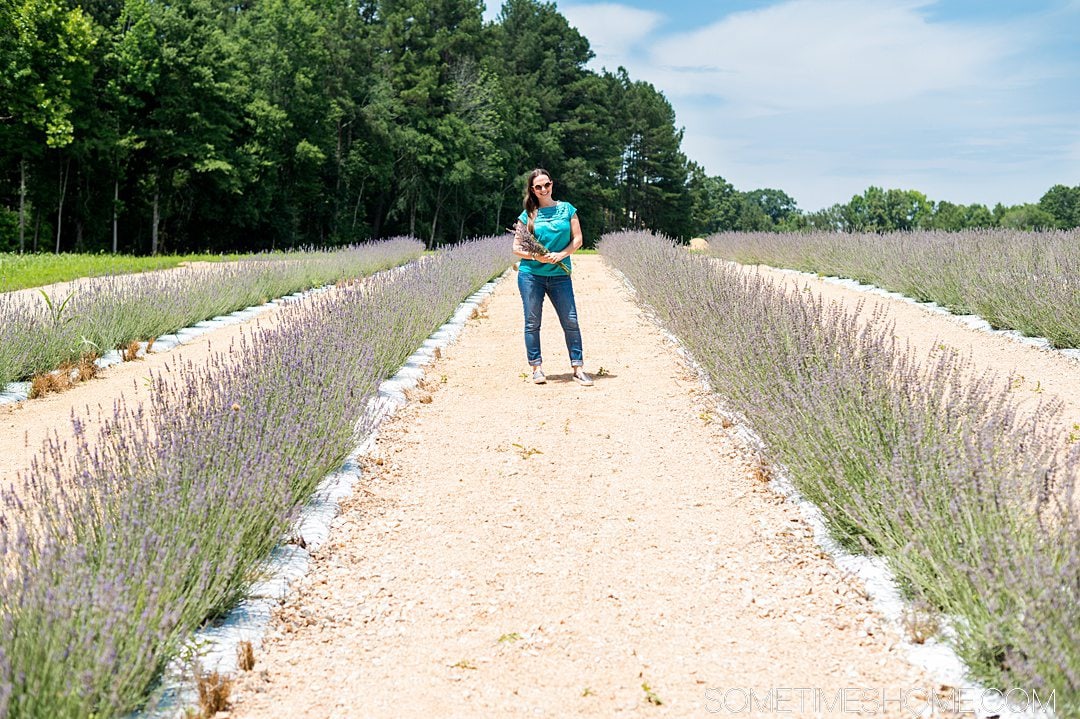 Can You Buy Lavender and Lavender Products There?
You can! When you arrive simply head to the main building that you have to pass after the parking lot and you'll see signs for a door at the left of the building.
There are all sorts of products, from lavender syrups to perfumes, lavender essential oils, and soap.
There are even occasionally lavender cookies there to buy that a local baker makes. (However, don't count on their being "food" to buy there unless it's a weekend they're hosting an event with food trucks and such.)
If you don't see something lavender that you want there – or you simply want to buy more because the scent is so awesome – we have you covered. Check out the awesome lavender products offered on Etsy and our lavender list on Amazon.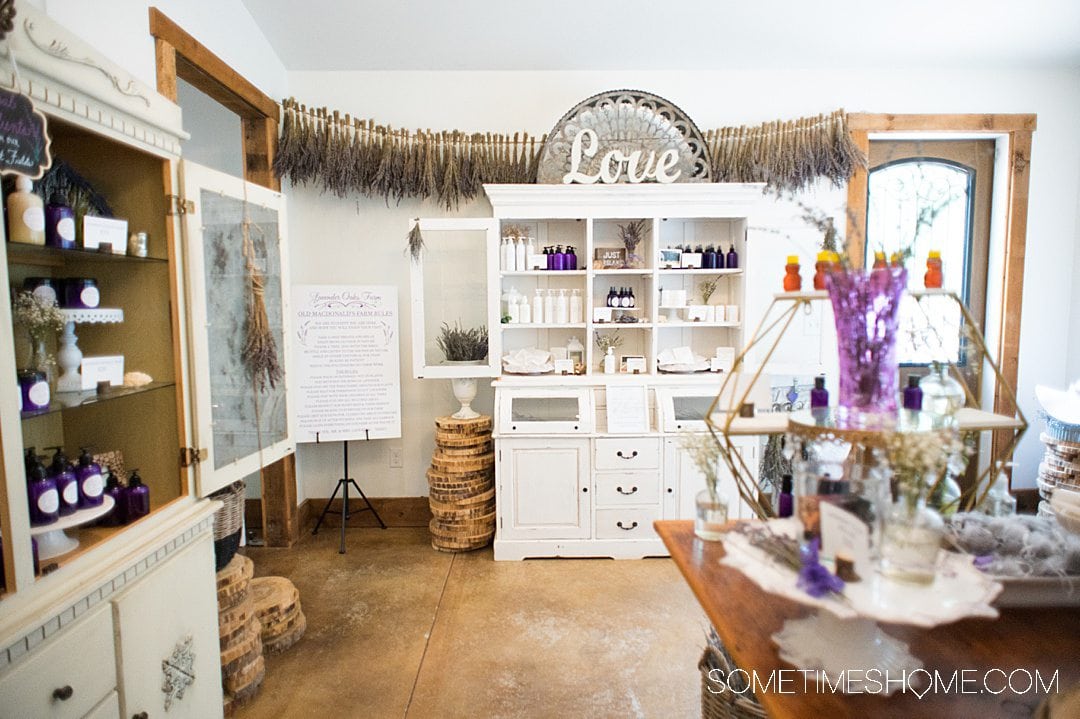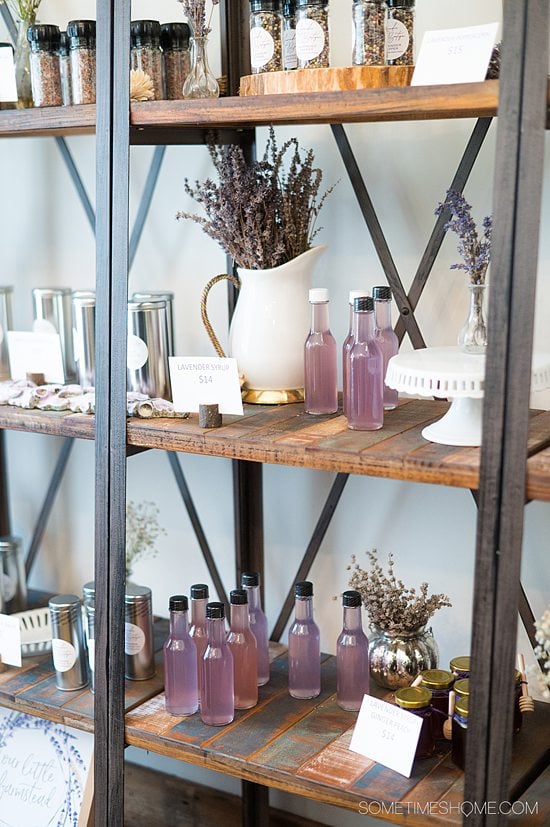 How Do You Pay to Cut Lavender at This Lavender Farm near Raleigh?
You pay a $5 admission fee and $10 for 20 stems of lavender when you arrive. You can do so in the shop area of the main building with cash or a credit card. The total for admission plus cut-your-own-lavender is $15.
Parking and Bathrooms at the Lavender Farm
There is a big parking lot and bathrooms available at Lavender Oaks Farm.
The bathrooms are in the main building and are lovely with really cute tree-trunk sink basins! They're the same indoor bathrooms guests of events there would use.
The restrooms in the main barn are accessible through doors in the outdoor patio area.
Lavender Oaks Farm Operating Hours
Their hours vary from day to day and they will close if the weather looks like rain and thunderstorms. Be sure to check the following before you drive there:
Hours on their website to plan your visit
Check again to make sure they're open just before you start to drive there
Check the weather to make sure it won't rain during your visit (because they may close)
In general, they're not open on weekends because they reserve Saturdays and Sundays for events, including things like weddings, fundraisers, and the like. They are sometimes open on weekends (like for their annual Lavender Festival) but they're mostly open on weekdays.
Check their website for their current hours. If it's going to rain, they may change their hours last minute so check the weather too.
What Else Can You Do at the Lavender Field?
You can go there to shop (which won't take but 10-15 minutes) and enjoy a picnic outside.
We were so glad we packed a picnic lunch to enjoy there at their really cute, light-lavender colored tables with adorable fringe-bordered umbrellas because it prolonged our visit.
What Else Should You Bring for a Successful Lavender Field Visit?
Sunscreen, WATER, handheld fan and sunglasses…and a camera! It gets really hot out there and we were incredibly parched out in the blazing hot sun. We also recommend wearing close-toed shoes (like sneakers) because the walk to the lavender is on a gravel pathway.
It's not a bad idea to wear a hat as well. We wish we did!
Photography at the Lavender Field
If you're going there as a person who simply wants to snap pictures of friends and such then you don't need a permit.
But you do need a permit from them if plan on doing a full-out photo shoot, like with a family, or an engagement session, a lifestyle/brand session, etc.
You can coordinate that from their website. Permits are $150 each, and they allow multiple sessions to be booked at a time. They allot golden hour – between 6:00-8:00pm – on select summer days.
How Much Time Do you Need at Lavender Oaks?
If you're going to only cut lavender, an hour is plenty of time to show up, park, cut your own lavender (which takes a very small amount of time for 20 stems) and enjoy the grounds, then go home.
Truthfully, it is so hot out there that you won't want to stay much longer anyway.
There were some Adirondack chairs in the shade when we visited around 1:45pm. If you bring a book you may want to read out there for a little while.
But mostly we went, had our picnic lunch, looked at the shop, paid to cut lavender, used the restrooms, then left.
Bees and Butterflies at Lavender Oaks Farm
If someone in your party isn't too keen on bees or butterflies (or moths) this may not be the best place for them.
Bees are very attracted to lavender and they're needed to pollinate the plants. We harmoniously co-existed with the bees when we were there. It's not recommended that you swat them or try to kill them. If you leave them alone they will truly leave you alone.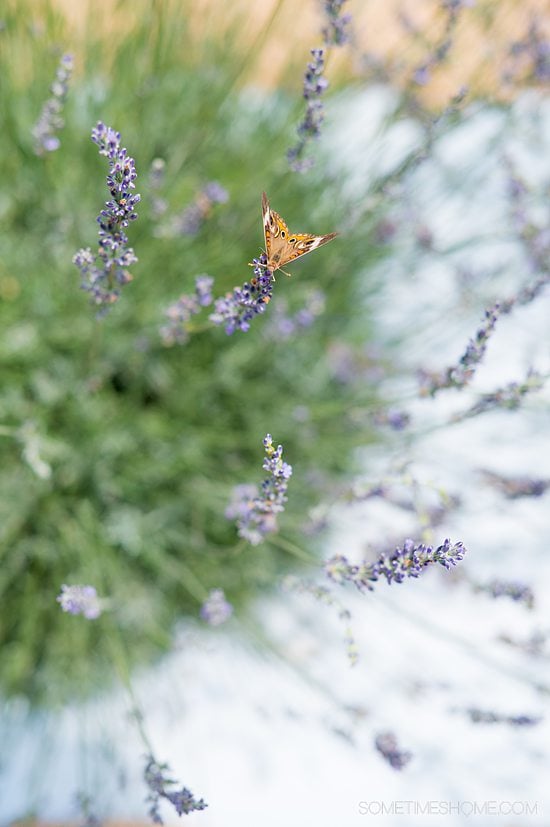 How Do you Get to Lavender Oaks?
Head to Chapel Hill! They are located off Jones Ferry Road and Hwy 54.
The address to put into GPS is:
3833 Millard Whitley Rd.
Chapel Hill, NC 27516
It takes you right to the entrance. From there, drive through the open gates and down a long "road" (it's truly a very long driveway!) and follow the signs to get to the parking lot for the lavender field. They have great signage along the road.
They are very close to downtown Chapel Hill.
Who Owns Lavender Oaks Farm?
Mr. and Mrs. Lavender, of course! We're not just being funny – that's the sign on their parking spot near the main structure on the property! Of course, that's not their real names. But we did enjoy that they playfully call themselves that.
We met Karen Macdonald in the little shop that connects to their event venue space. (Her real name isn't Mrs. Lavender, of course.)
She's a lovely woman with a smile on her face and lots of lavender nearby.
Events at Lavender Oaks
Every year they have a Lavender Festival. Tickets sell out in advance so we recommend purchasing them ahead of time as soon as you know you want to go.
They also have Culinary Lunch and Learn events, which are ticketed. During these lunches, you have lunch inside their events facility and learn about cooking with lavender, learn about how they built the 60-acre family farm, and get a private tour of the lavender farm.
Are Pets Allowed at the Lavender Field?
Pets are not allowed there.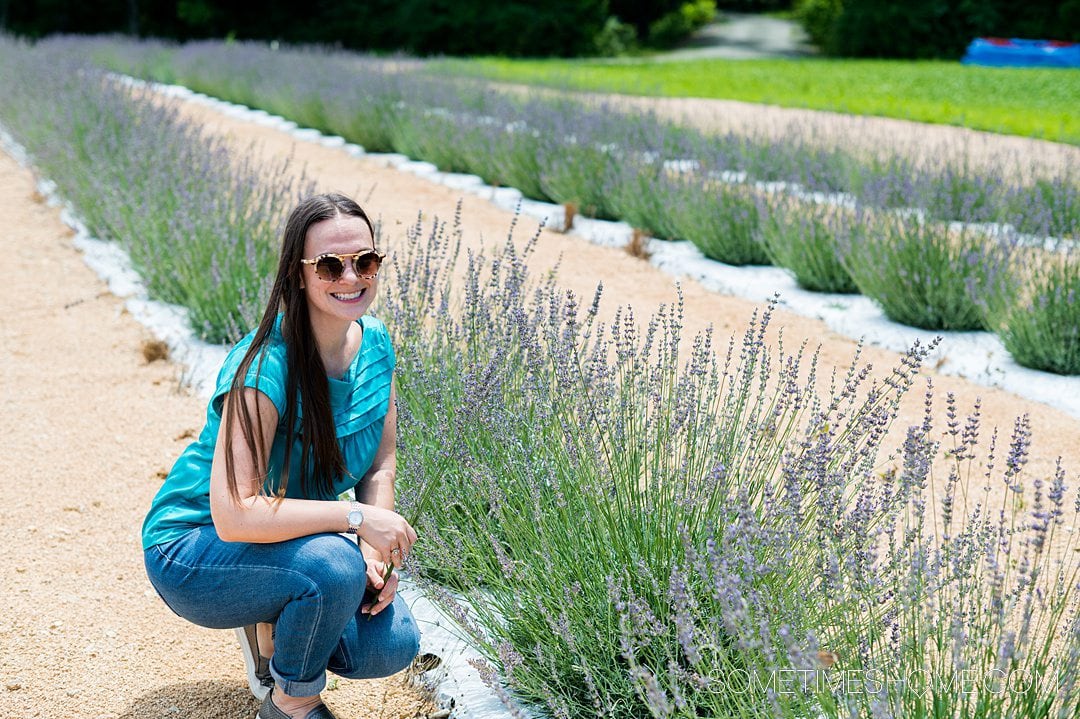 Weddings and Events at Lavender Oaks Farm
It's a lovely venue for a lavender farm wedding. Know that lavender grows when it's summer so you'll likely be looking at hot months for an event there if you're interested for times when lavender will be in bloom.
You must book an appointment if you're interested in meeting with Karen (the owner) to discuss your event.
What is There to Do Nearby?
Downtown Chapel Hill is just 5 miles from Lavender Oaks Farm.
Chapel Hill is where the University of North Carolina is. You can tour the murals in Chapel Hill, have lunch or dinner there, see the campus, and the like.
Need somewhere to stay overnight or a great place for an authentic Italian meal? Head to Il Palio in Chapel Hill. It's wonderful!
Of course, if you love flower fields, we have a list of the best colorful flower fields to visit near Raleigh. So if you want to "flower field hop," by all means, we encourage it!
Making Your Lavender Last
One of the best things about lavender is that it dries out beautifully. I got home and immediately hung it upside down. It dried out fully in about a week. I tied it with some hand-dyed silk ribbon and it now rests on this silver shelf in my bathroom.
I smile every time I see it! If you're curious, there are three different varieties of lavender in my bunch, hence the three contrasting colors.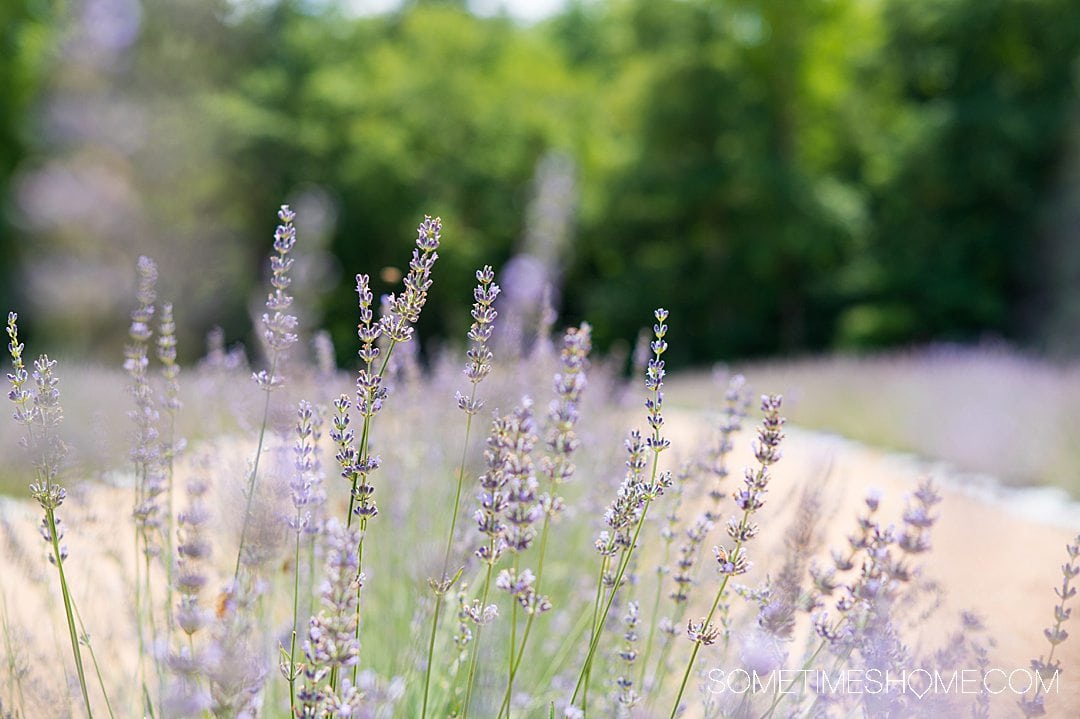 Interested in flowers and beautiful photo spots in North Carolina? Also check out: