2022 Raleigh Sunflowers in North Carolina: The Only Guide You Need
Their vibrant colors were almost as bright as our smiles as the Raleigh sunflowers basked in the North Carolina sun.
We first visited on a Sunday afternoon, which admittedly, was probably a peak time to see the premiere sunflower field in NC. But we couldn't worry about the crowds when we approached the beautiful expanse of summer blooms; they were there to see the same beauty we came to soak in. In future years, we were sure to visit on weekdays, so it was less crowded.
We update this post every year and are happy to say that the sunflowers are BACK for 2022! (They were planted in mid-May.) And there are additional sunflowers to add to those at Dorothea Dix Park that we're sharing with you.
Having gone for many years, we have all the tips you need to know for a successful visit.
Disclosure: There are affiliate links in this post, which means we may earn a small commission if you click the link and proceed with a purchase, at no cost to you. We truly only recommend hotels, products, and services we personally use. As Amazon Associates, we earn from qualifying purchases.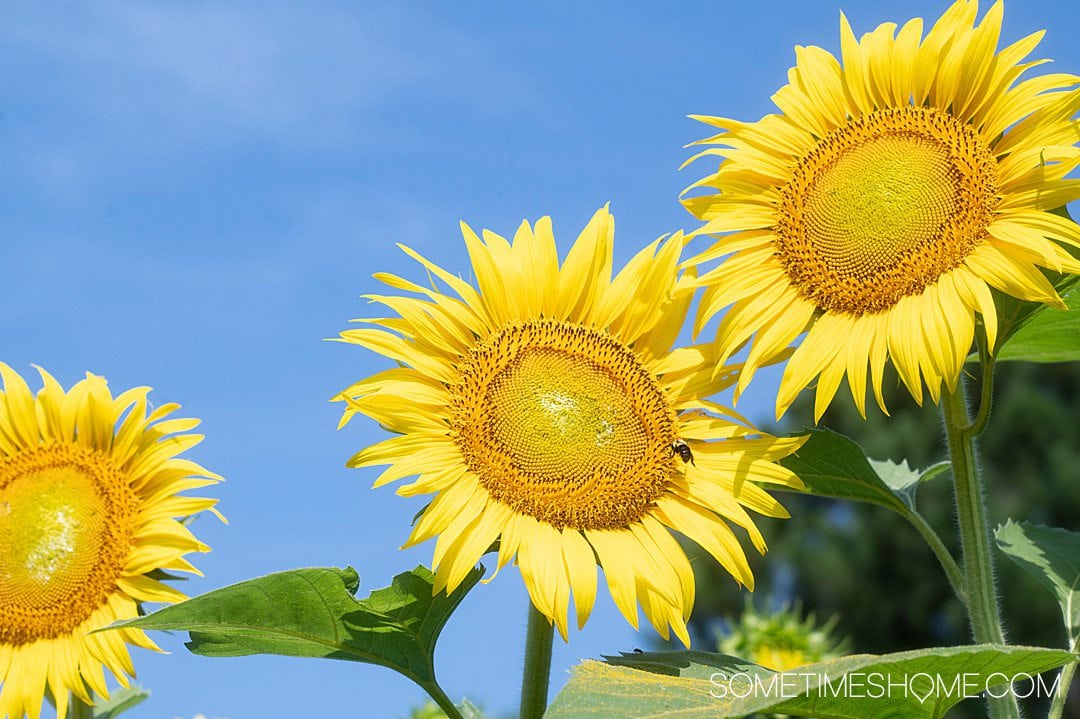 Location, Hours, and Cost of the Raleigh Sunflowers at Dorothea Dix Park
The sunflowers are in Dorothea Dix Park, near the Raleigh Farmers Market just outside downtown Raleigh. They're open daily from dawn to dusk, including holidays. (Please note, however, that while the park is open daily all year, the sunflowers are a seasonal attraction. Read on for more information.)
There is no fee to see this stunning, ever-so-popular for photos, sunflower field at all! It's free to visit. (See "Things to Do Nearby" later in the post to shop local to support the community.)
Driving, Parking and Getting to the Sunflower Field
You can drive to the sunflower field in Raleigh, bike or walk on the Rocky Branch Greenway.
GPS Address: Flowers Field at Dix Park, 2105 Umstead Drive, Raleigh, NC 27603
Parking near the sunflower fields during the weekdays is limited to the gravel lot off Hunt Drive (use the GPS address we posted above, and you'll start to see signs within the park for where the sunflowers are) and the parking lot near the Magnolia Room (which is right off Umstead Drive, next to William Field in Dorothea Dix Park).
This is because people who work in the buildings at the park for NC Department of Health and Human Services use the paved lots during the weekdays. (But there are fewer people visiting during weekdays too, so there should be ample parking in the designated visitor lots.)
On weekends, any paved lot is fair game for parking as well.
The walk from the gravel lot off Hunt Drive lot near the soccer field to get to the sunflowers was about 50 yards – or a couple of minutes. It is not far at all. The further inside you park to the gravel lot, the closer you are to the flower field.
We also saw a fair amount of people who biked to the park, which we thought was a great idea.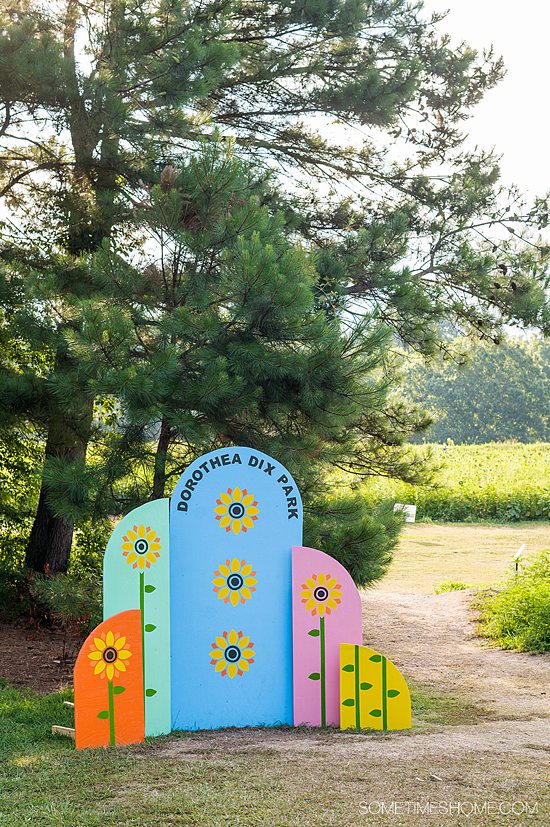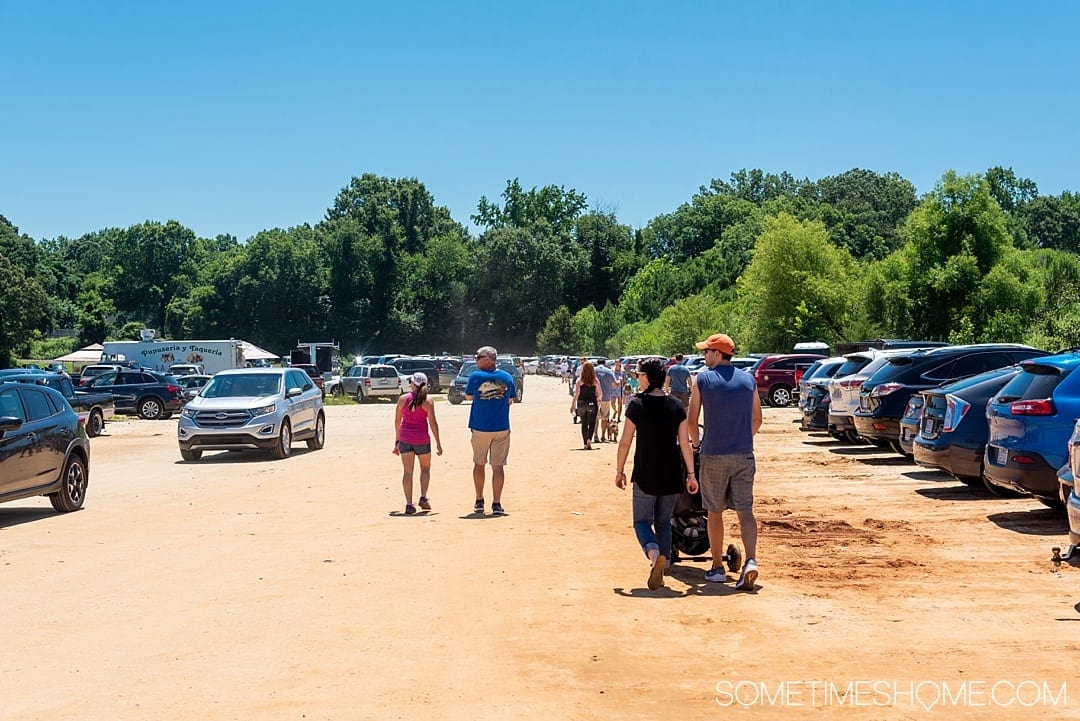 Time to Allot for a Sunflower Field Visit
It depends on what you want to accomplish. We saw a good amount of families taking photos with a professional photographer while some parents were taking iPhone photos of their children dressed in matching outfits.
Then we saw couples taking selfies but even more teenage, and college women dressed to the nines, having friends take Instagram-worthy pictures of them. They were probably there a bit longer than we were.
Our interest was simply in going to see the field, snap a few photos of the Raleigh sunflowers for ourselves, take a selfie or two, and be on our way. We asked someone to snap some photos of us with my camera as well.
It probably took us about 30 minutes once we arrived to Dorothea Dix to:
Navigate the congestion of cars and park
Walk to the sunflowers from the parking lot
See the flower fields
Walk through the rows of flowers a little
Take some photos…
…and be on our way
If you want to stay longer, there is some art there now that is in collaboration with CAM (Contemporary Museum of Art in Downtown Raleigh) as well as a little area with hammocks and a playground.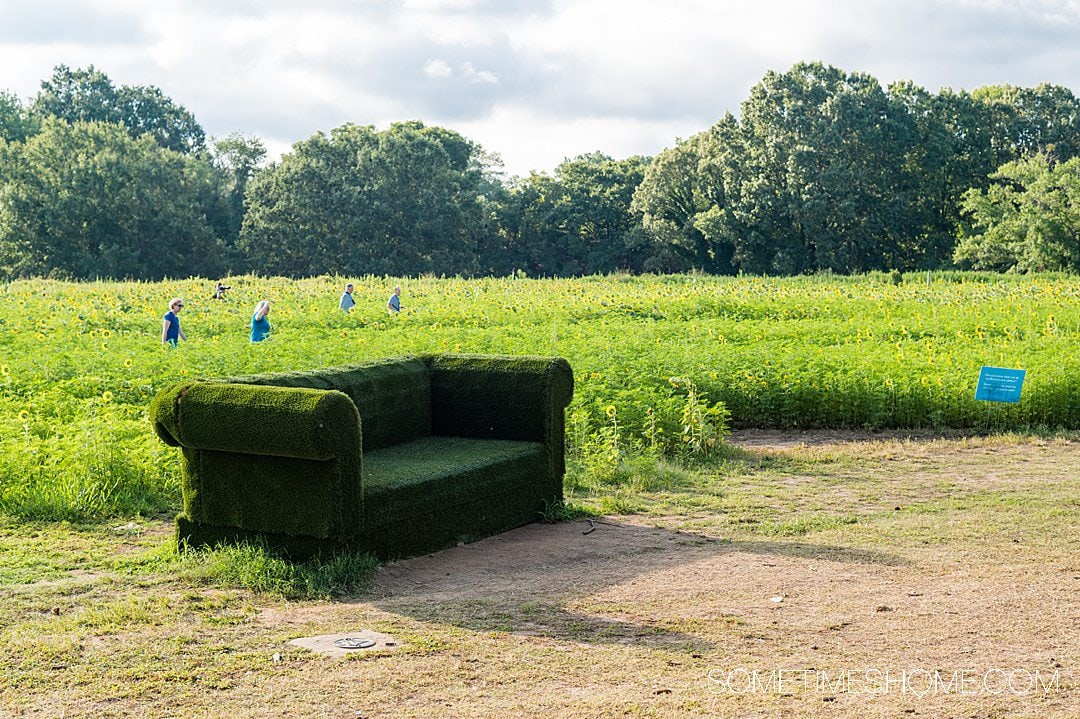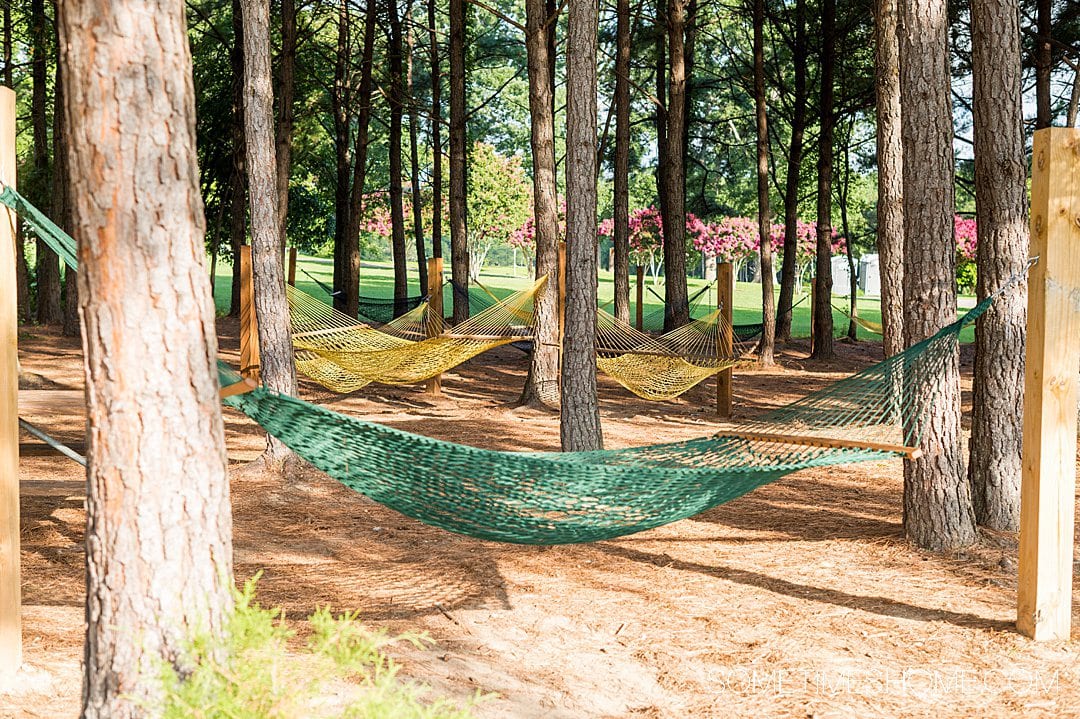 Pets at the Sunflower Field
We saw a few people with their dogs, so yes, pets are welcome on a leash. Just be kind about curbing your pet's waste if you bring Fido along.
How Long are the Raleigh Sunflowers in Bloom? 
The sunflowers slowly grow from the ground in June, then their peak lasts about two weeks when they fully flower in July. Mid-July is always a good estimate for when they will bloom and be photo-ready.
In general, the Raleigh sunflowers' blooming schedule is at its peak between the first and third weeks of July, varying with precise peak dates year to year.
Below is a photo of what they looked like July 16, 2021, when some were at their peak, others were just blossoming, and some were just growing about a foot high without flowers just yet: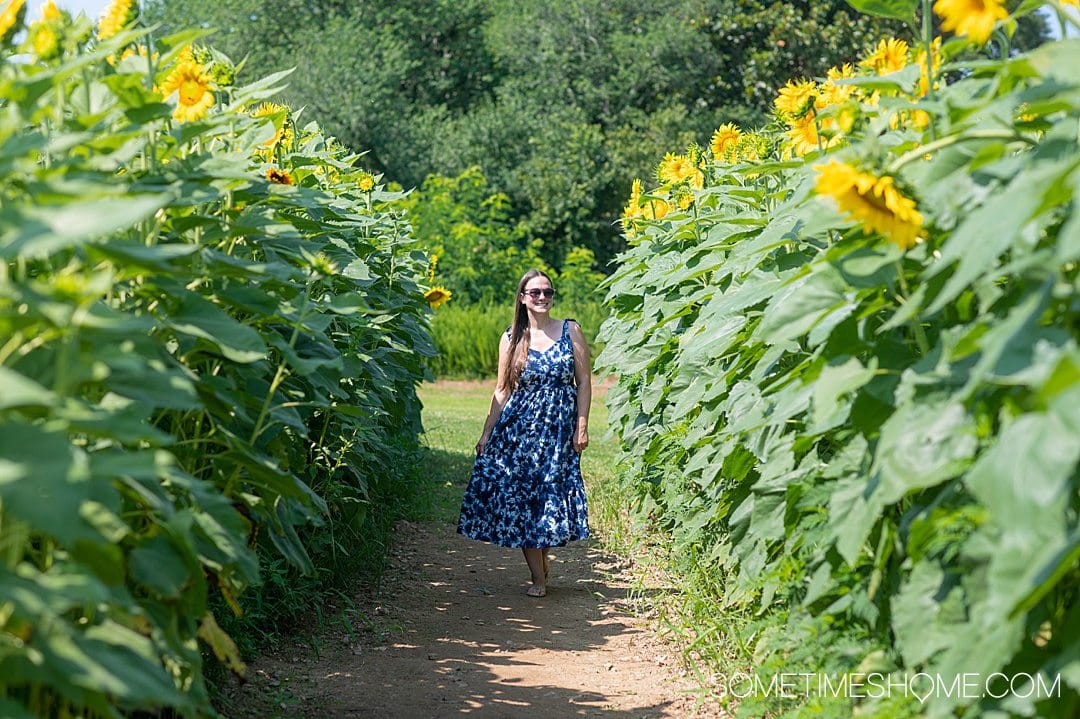 Additional Summer Sunflowers in Raleigh
NCMA Sunflower (and Flower) Field
An additional sunflower field blooms nearby at NCMA (North Carolina Museum of Art). This patch of flowers also has Zinnias and Cosmos. (When we visited the third week of July, we didn't see any Cosmo flowers in bloom, but maybe they're still to come.)
To find the field, park your car in one of the lots and walk down the path into the sculpture gardens. It's past the big three-ring iron sculpture that you can see in the distance in the image below. You can't see the field when you're walking toward it because it's downhill, but you can see the sculpture behind it as you walk back uphill.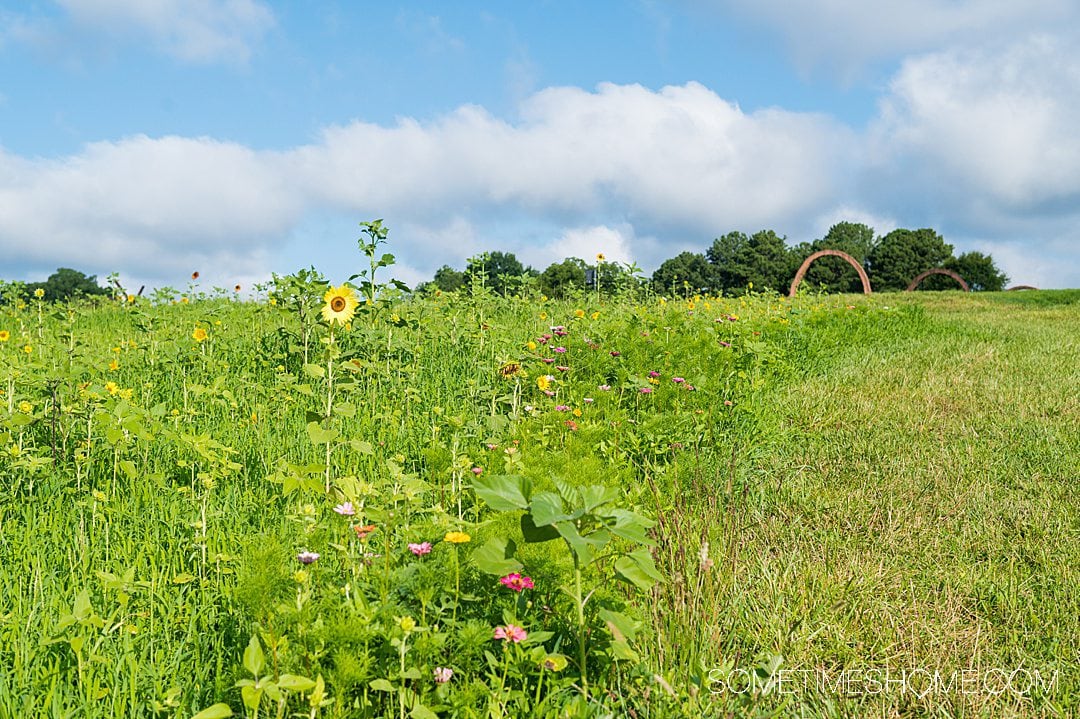 There is an additional planting of sunflowers and colorful flowers right by the Ellipse. This is much closer to the parking lot and is great for mobility-challenged visitors.
You can bike the 5.4 miles between Dorothea Dix Park and NCMA's Museum Park with Citrix Cycle bike rentals in Raleigh if you don't own your own bicycle. (It's a great date idea.) It's only $2 per ride for 45 minutes and $2 for each additional half hour.
Last year, the museum offered two workshops in July to teach nature photography, so keep an eye on their website for new offerings.
➜ Check out 9 Colorful Flower Fields near Raleigh, NC 🌺🌸🌻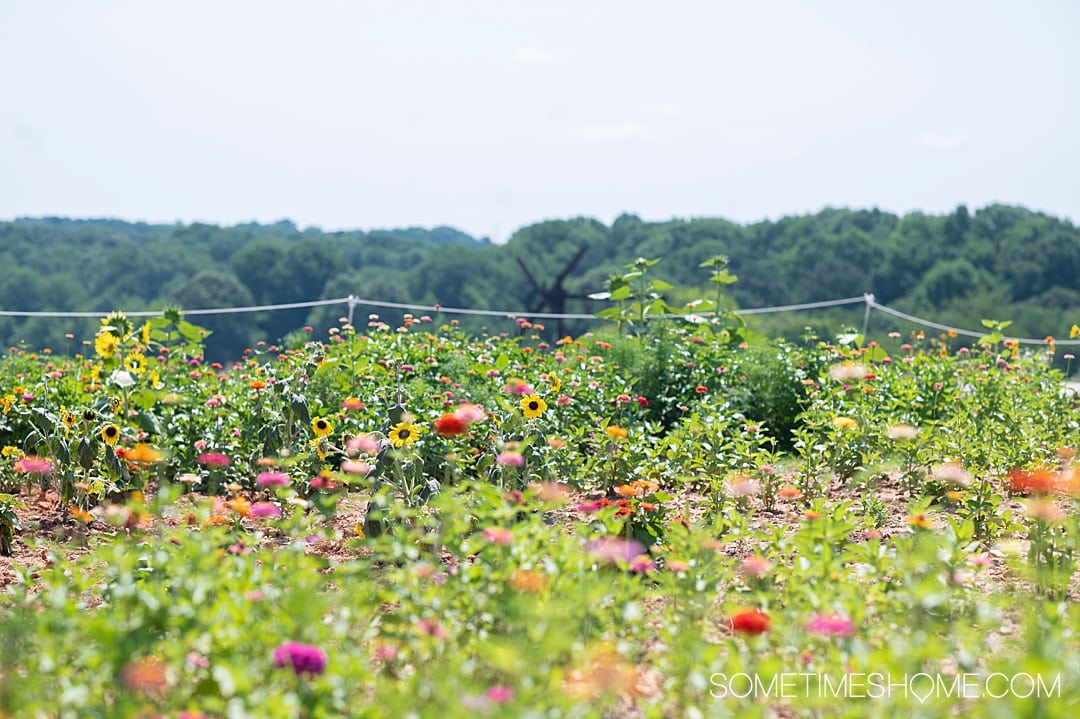 Additional information about the Dorothea Dix Park Sunflower Field: Best Time to Visit, Parking and More
Bees at the Sunflower Field
I wanted to also include a note about the bees. If you can see from most of my photos, there are plenty of bees on the Raleigh sunflowers. If you have a bee phobia (melissophobia, as it's called) this may not be the place for you.
However, if bees don't bother you as long as they keep to themselves, you'll be a-okay. They were way more interested in the sunflowers than humans. In fact, I didn't see them flying around humans at all; they were cozy on the sunflowers and too busy pollinating them to notice there were people around!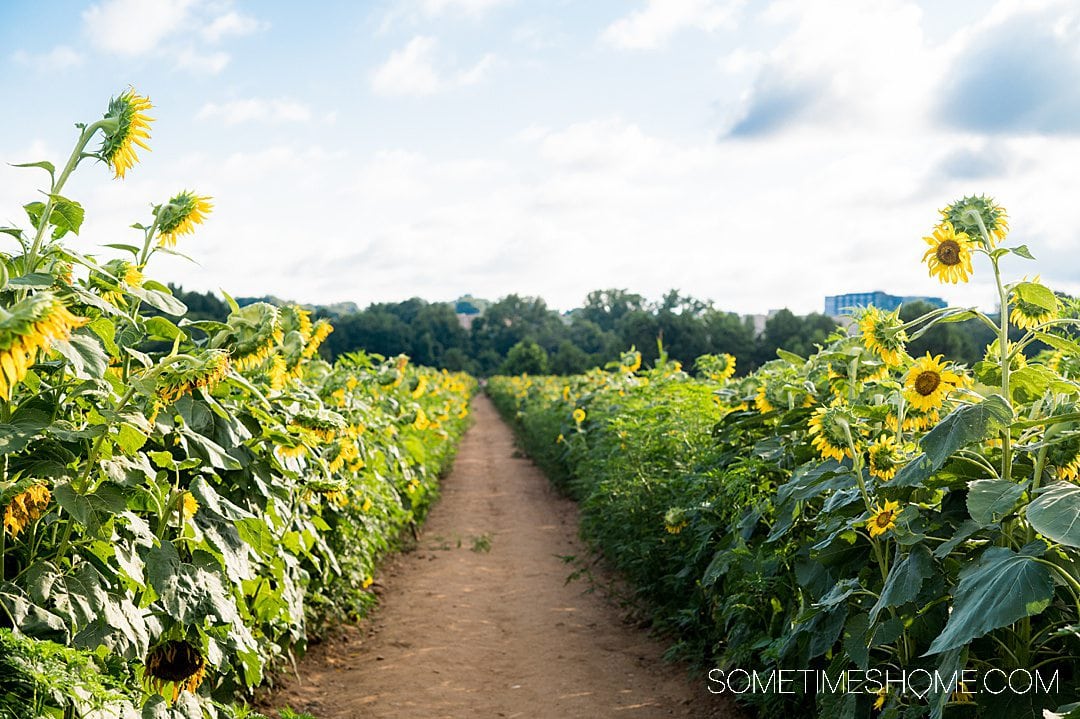 When to Visit this North Carolina Sunflower Field
Season and Months
Please note they are only in bloom during summer, June through August. And, within those three months, July is almost guaranteed but June and August are unpredictable. 
Below we share information regarding:
Best time of day to visit
Weekends vs. Weekdays
What to Bring with you
Bathrooms
Special Events
Best Time of Day to Visit
The park is open from dawn to dusk (sunrise to sunset). The earlier you go, whether a weekday or weekend, the less busy it will be.
An interesting thing about sunflowers is how their giant heads track the sun. Sunflowers are MAGICAL. They possess "heliotropism", which is an ability to track the sun. It's also known as solar tracking.
This means the sunflowers will be facing towards the east during sunrise and the west during sunset. (The sun rises in the east and sets in the west.)
We went in the afternoon, and they were facing the downtown Raleigh skyline. If you were standing with the skyline behind you, you saw the "back" of the sunflower heads and stems.
They may only face east, though, once they mature. (Partially because heliotropism is a result of the way the flower goes through stem growth, and once it's mature, it stops growing.)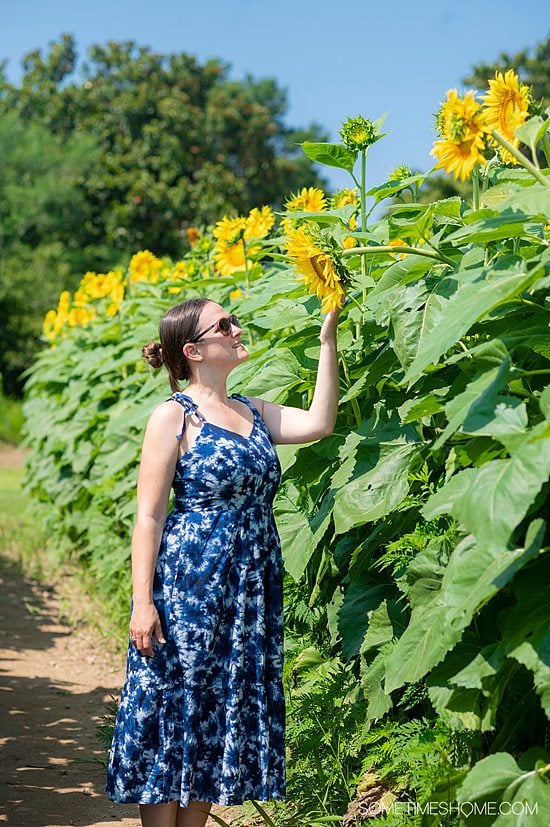 If you want to get there when the Raleigh sunflowers are facing the camera behind your back, when it's the picture-perfect time to capture your face facing a camera and the sunflower heads facing towards it too, with downtown Raleigh's skyline, go in the afternoon.
Sun's Location during Precise Times over the Sunflowers
We've included screenshots from a sun app we use for photography purposes below. Notice the image on the left is from July 20th and the one on the right is from August 16th.
The time between only varies slightly. This is where the sun will be each day, no matter the year. (Unless some "higher ups" of the world decide to change our clocks.)
In the images below, the numbers on the aerial view show the time of day (in military time with a 24-hour clock). The arrows point to where the sun is throughout the day, at that specific time. You can see how it moves in a semi-circle over the land as the day goes on, from sunrise to sunset.
The direction of downtown Raleigh is to the right of the image or east of Dorothea Dix Park. The sunflower heads will face towards the point of the arrow because that's where the sun is. And they love facing the sun!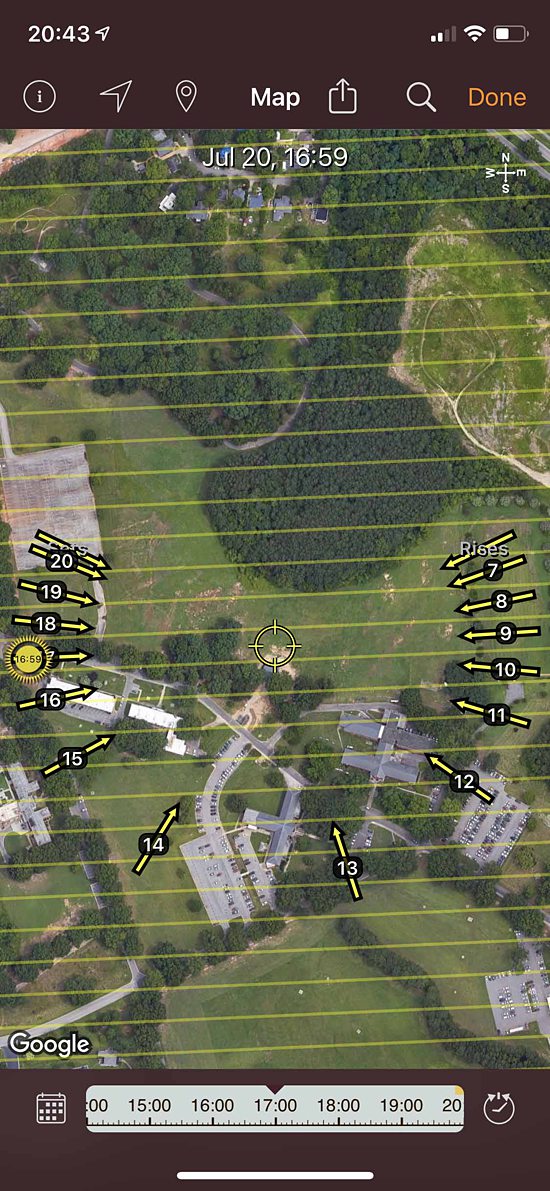 Weekends vs. Weekdays at the Sunflower Field
Inevitably, weekends are going to be busier than weekdays. They're open from dawn until dusk every day.
We visited the sunflowers in past years before peak, during, and afterward (with sunflowers-a-plenty!) and have driven directly into the lot without issue. The busiest we've seen it during random weekdays was maybe with ten other cars there in addition to ours.
Back in 2018, we spontaneously decided to go on an absolutely gorgeous Sunday afternoon (aka: weekend); it took about five minutes to sit in "traffic" to get to the parking lot.
The dense car crowd had a lot to do with the influx of visitors when we went, who probably all had the same idea we did! "It's gorgeous! There are sunflowers in bloom! Let's go be outside amongst the flowers!"
What to Bring: Snacks, Water, Sunscreen, and Sunglasses
There was one taco food truck nearby, just a pathway walk away, while we were there. However, it was mostly there for the adult soccer players engaged in a soccer game on the adjacent park field. While there may be a food truck while you're there on a weekend, I wouldn't count on it.
Bring water and sunscreen – both of which you'll be grateful you have! There isn't any relief from the sun (no trees overhead for shade), which is why I mentioned sunglasses too. A hat or visor may also be a great idea.
no products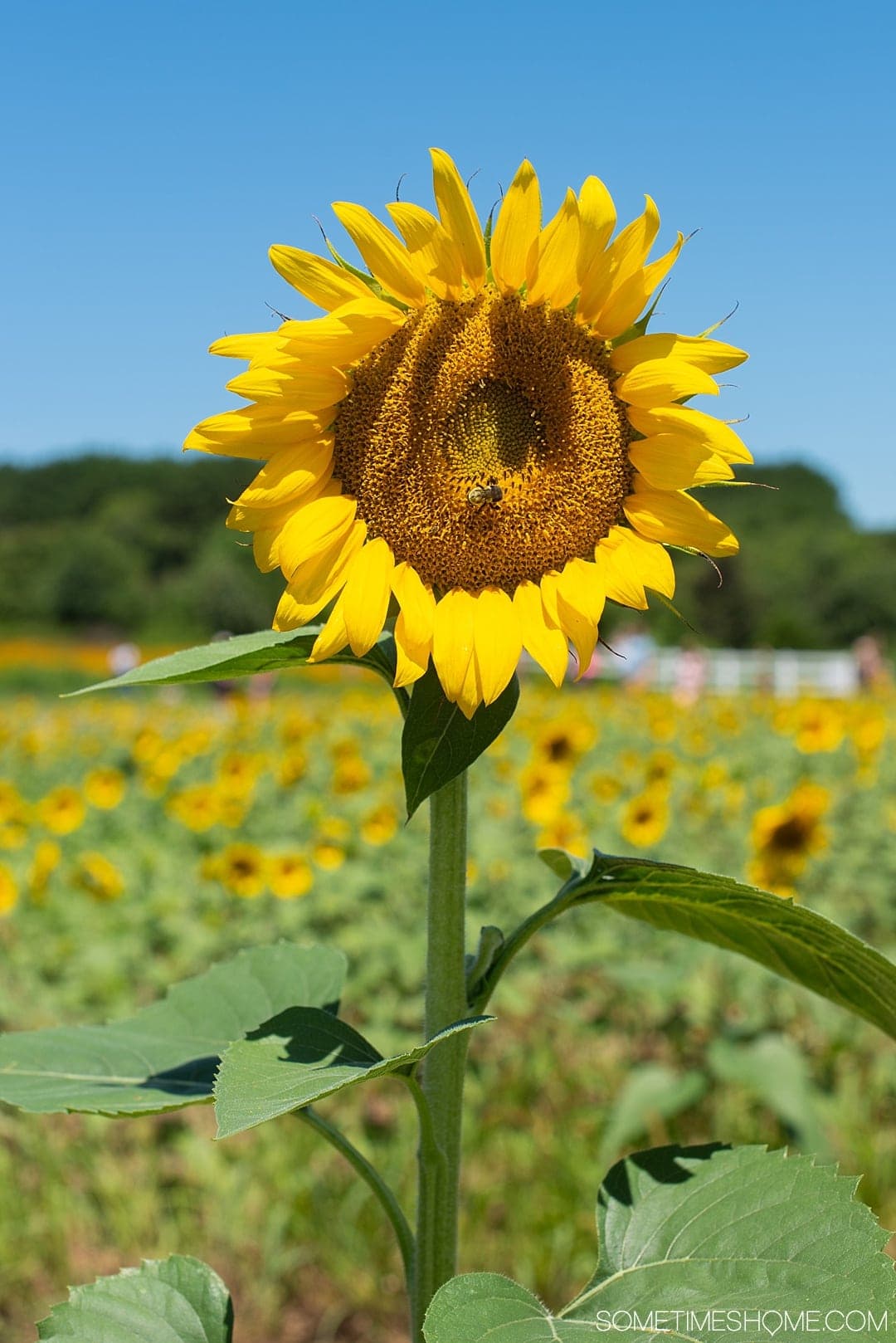 Bathrooms at the Sunflower Field
There are limited port-a-potties near the sunflowers.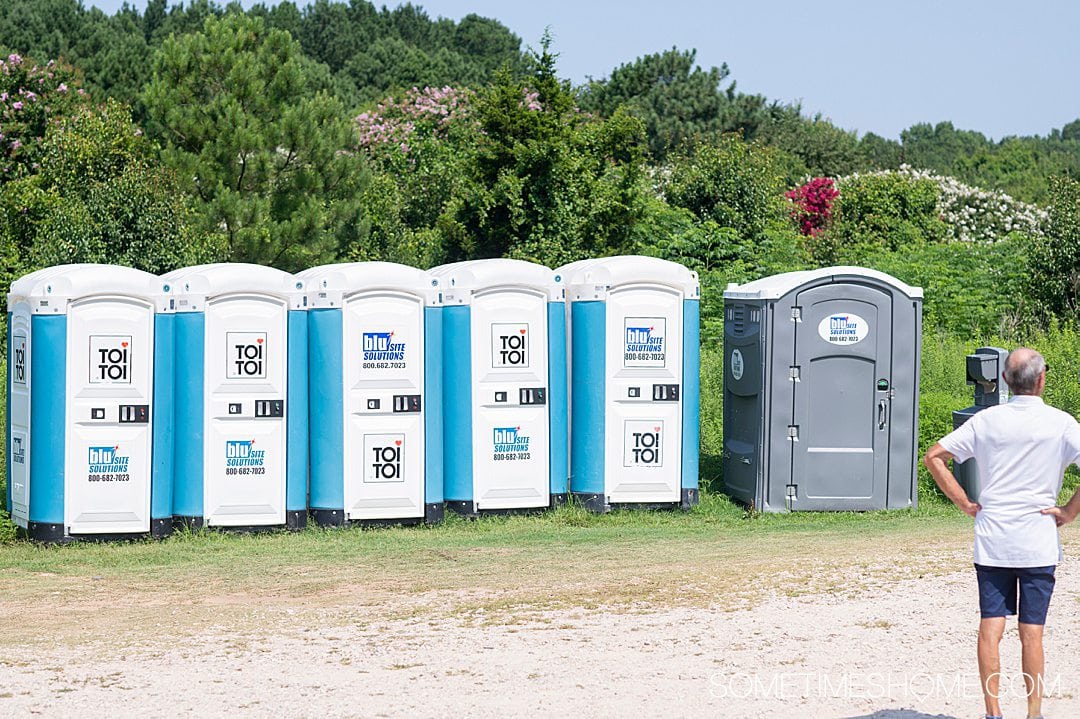 There are also bathrooms available at The Chapel during visitor hours:
Tuesday and Thursday, 6:00pm to 9:00pm
Saturday from 10:00am to 4:00pm
Sunday from 12:00pm to 5:00pm
Special Events at the Sunflower Field at Dorothea Dix Park
SunFest was an annual event that typically took place the second weekend Saturday in July. They had a Ferris wheel, inflatable slides and bounce houses, putt-putt golf, live music, and other specialty vendors. Food trucks were plentiful and there were fresh brews and cider for the adults like the year before.
SunFest was been canceled for 2020. It didn't return for 2021 and hasn't for 2022. We will continue to update this post with pertinent information for future years, as we have done for the past years.
What Happens to the Sunflowers When They Die?
The sunflower fields are a collaboration between Raleigh Water, the Office of Sustainability and Parks, Recreation and Cultural Resources.
The sunflowers are a wonderful habitat for pollinating bees while they are in bloom. When the sunflowers die, the seeds are harvested from the flowers by Raleigh Water to process biodiesel for educational programs and demonstrations.
Dorothea Dix Sunflower Field Blooming History
Here is a bit more information from personal experience over the past few years to give you an idea of how the blooming varies:
In 2022, peak was the second week of July.
In 2019, the first week of July showed flowers not yet open and green stems about three feet or less.
The third week of July 2019 was the peak. The fourth week of July still showed plenty of sunflowers in bloom, even though many were passed their prime.
In 2018, the first week of July was ideal.
In 2017, the end of June was the perfect time to see them.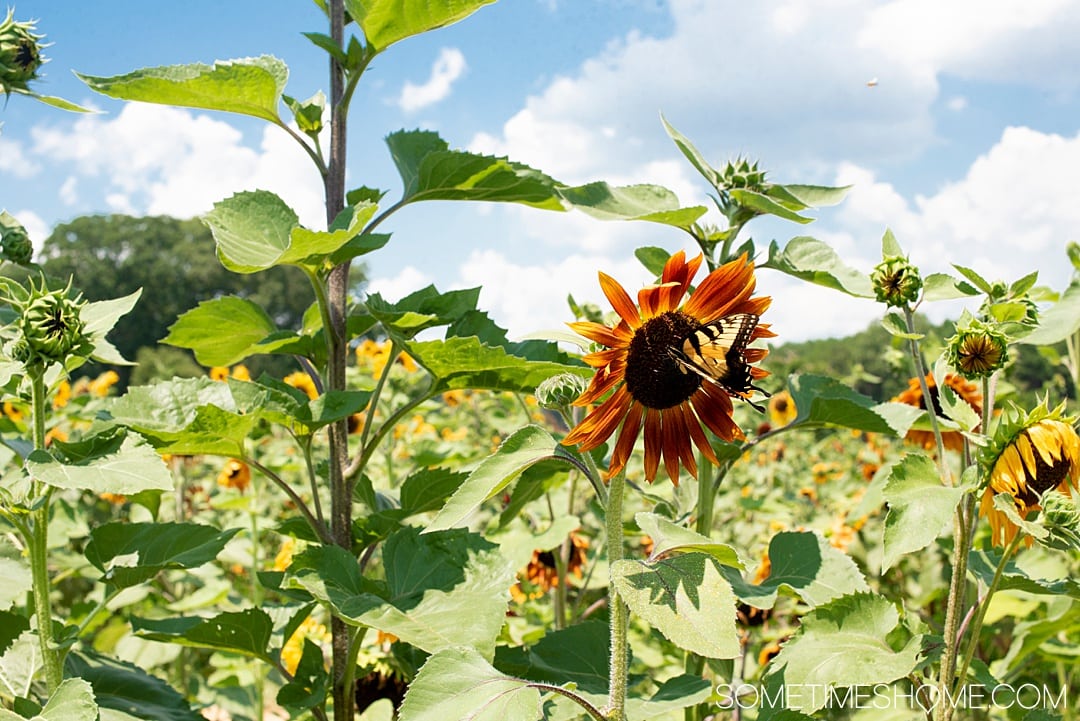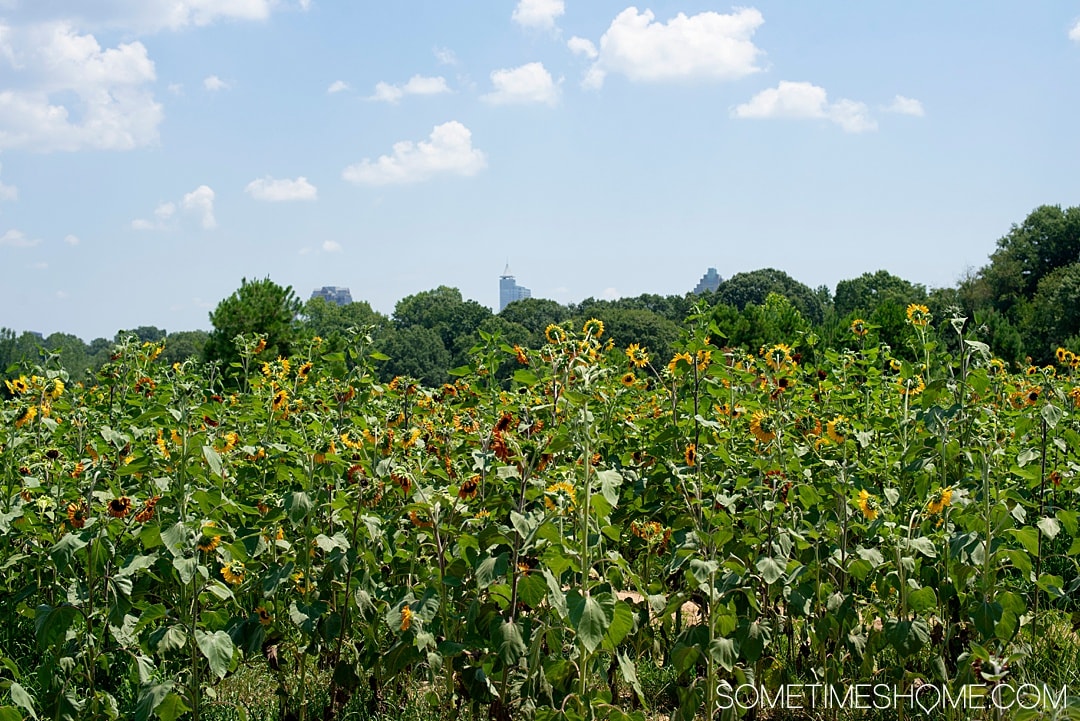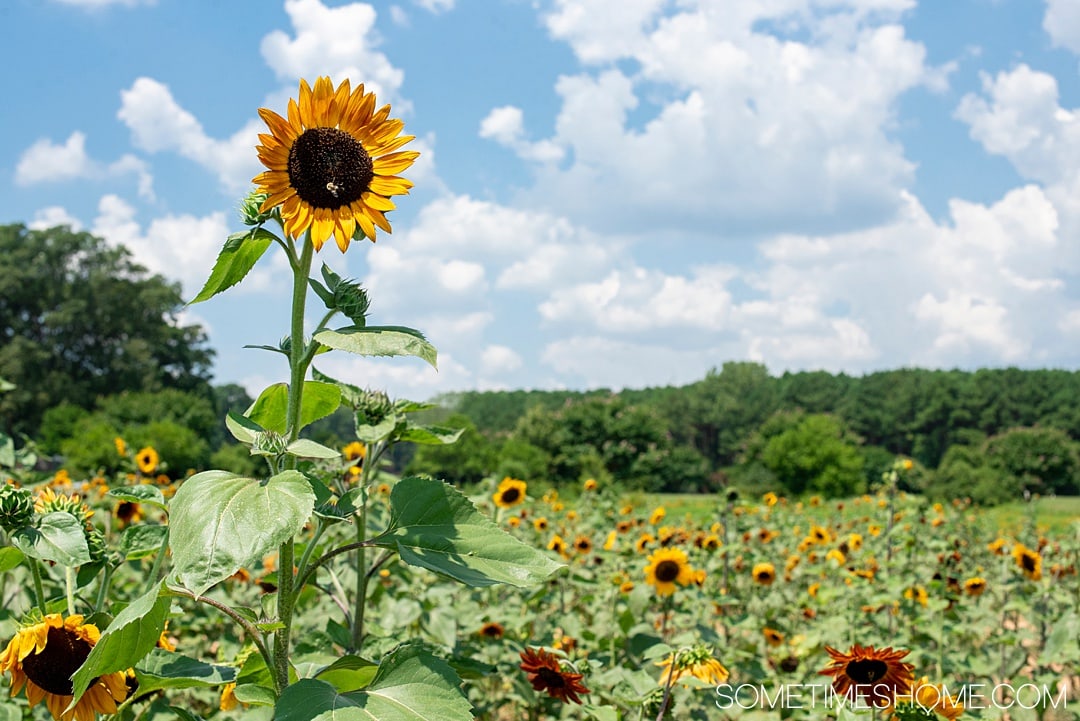 It's still pretty cool to see the huge sunflowers that are past their prime. I've never seen the seeds dry and easily removed like they were on them! You could literally see how the seeds dried out, then take them out of the face of the sunflower.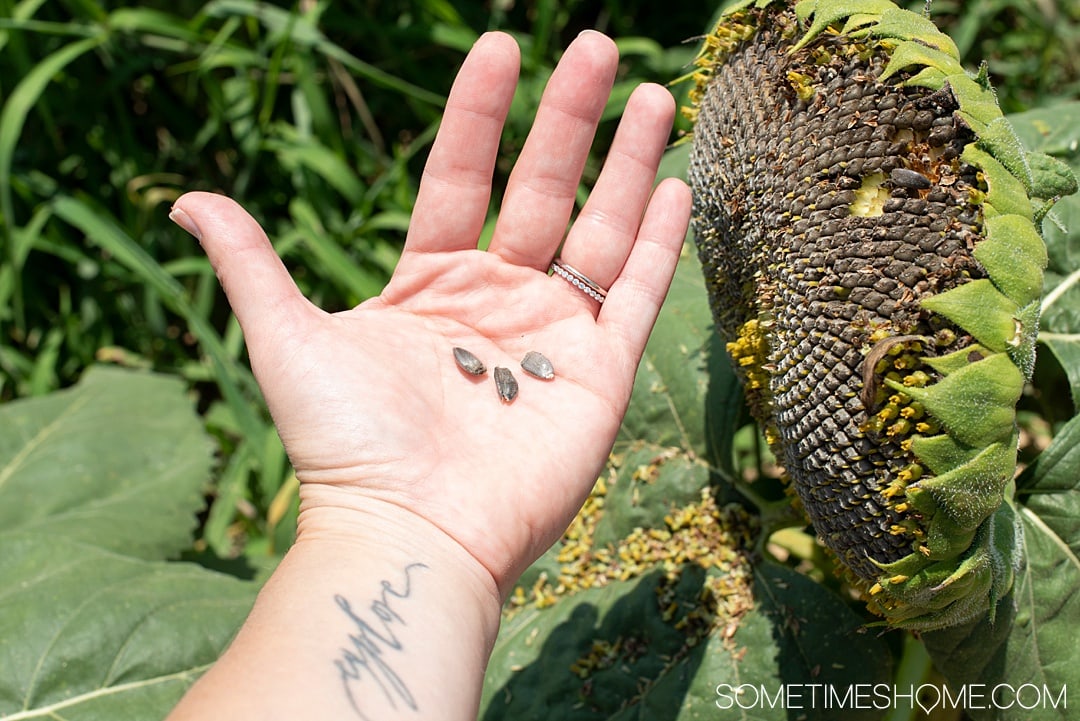 For future reference, here is what the sunflowers looked like before their peak, on July 5, 2019. They were about three feet (or less) in height. They still needed time to grow!
**Don't forget that the incredible North Carolina State Farmer's Market is only about a mile away and open daily, whether or not the sunflowers are in bloom. Support your local farmers!**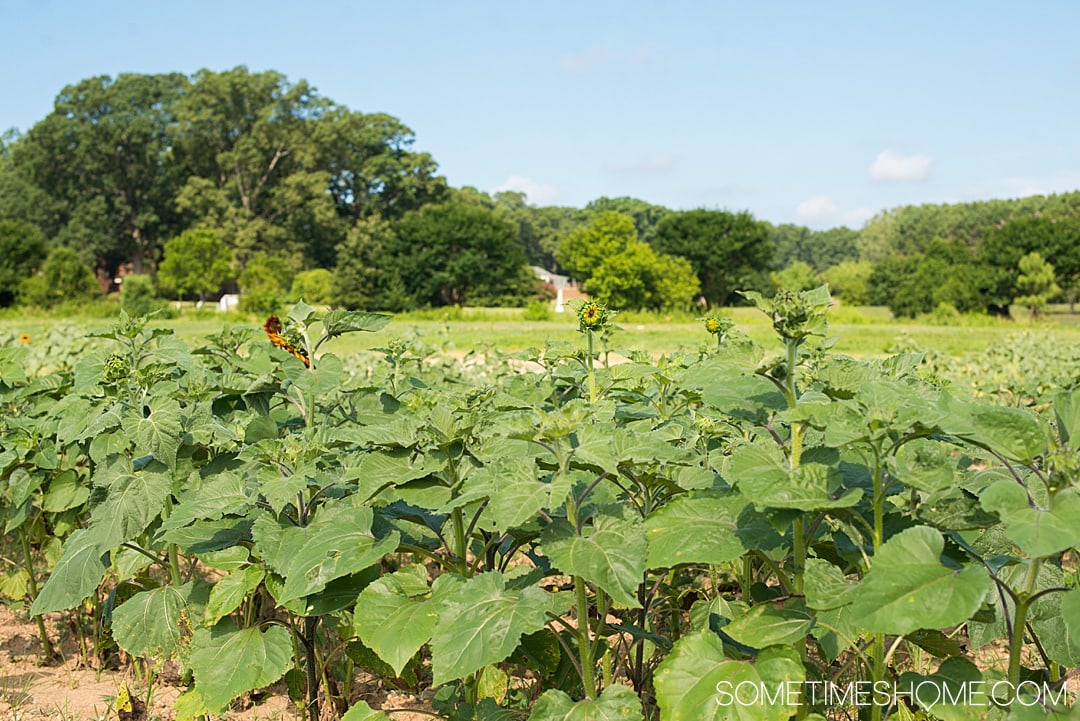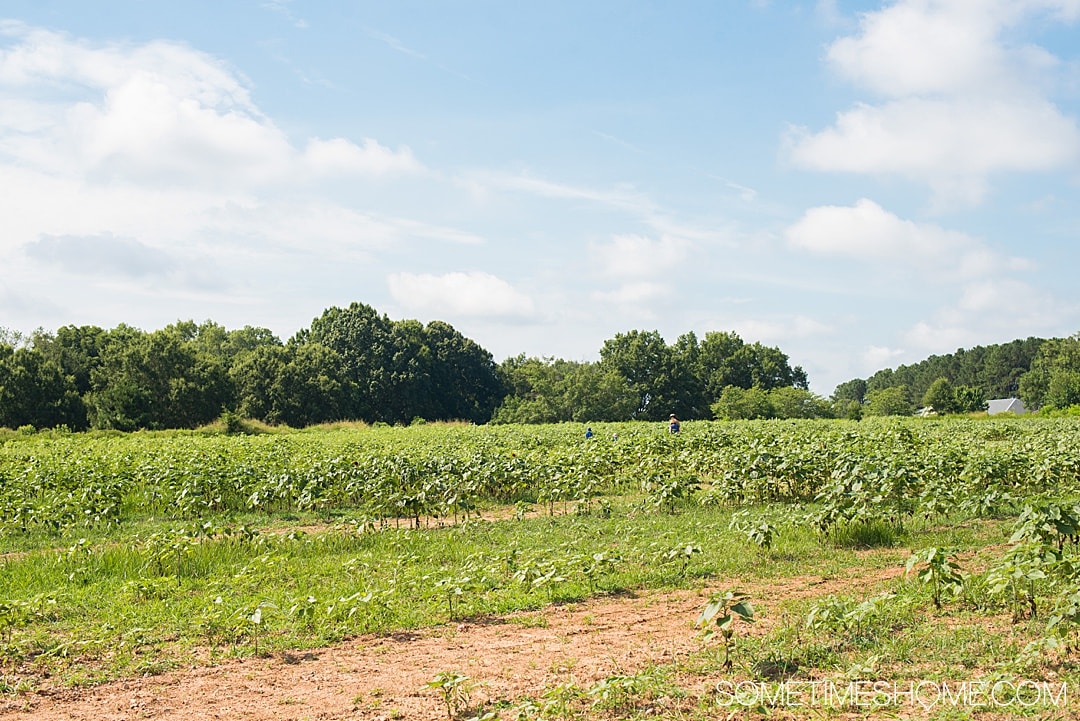 The photos below are from the second week of July 2019. Thus, as we mentioned, nature is unpredictable to 100% certainty. We do our best to keep you updated and keep past years in this post as a history of what's occurred in the past since we update it yearly.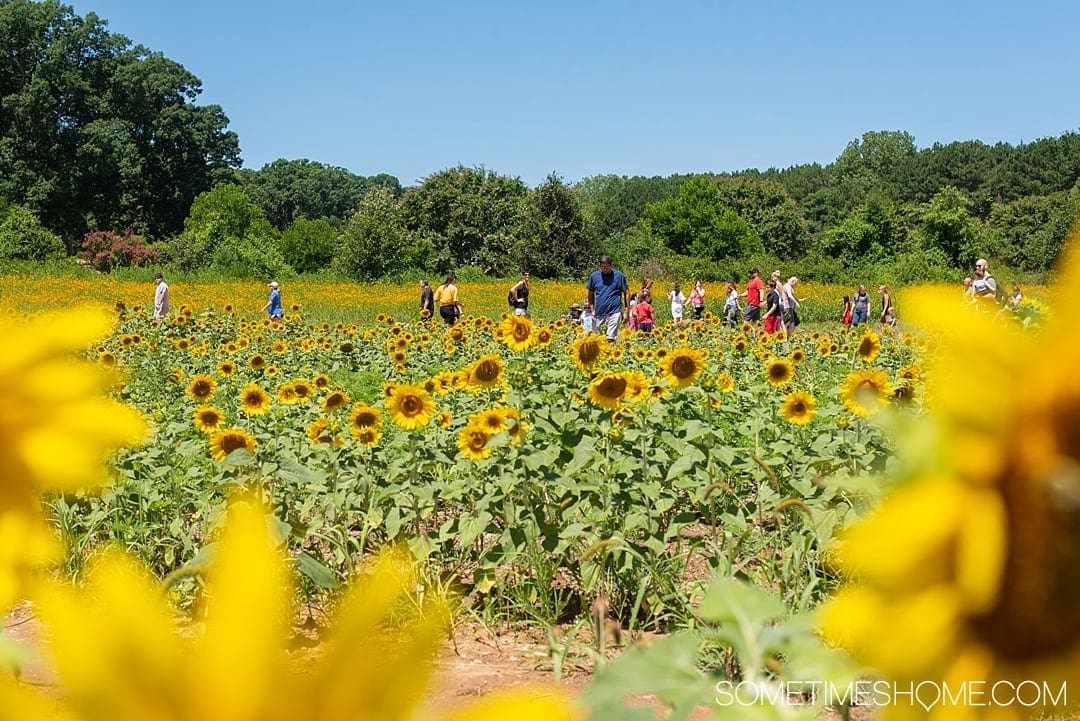 As with any blooming schedule, like the Cherry Blossoms in Washington, DC, keep your expectations realistic. If you have gone in the past and they were towards the end of the line, be grateful you saw a glimpse of them!
Also, notate "Raleigh Sunflowers" in your Google or iCal for the first or second week of July in 2021, so you'll potentially be right on time in the future! And be sure to keep visiting our site, Sometimes Home, for updates.
Keep in mind flowers are seasonal – but that's part of what makes us cherish them so much during summer. And for the last few years, there was an additional small attractive flower field just next to the sunflowers. They kept us happy even past the prime of the sunflowers. They looked like the orange flowers below.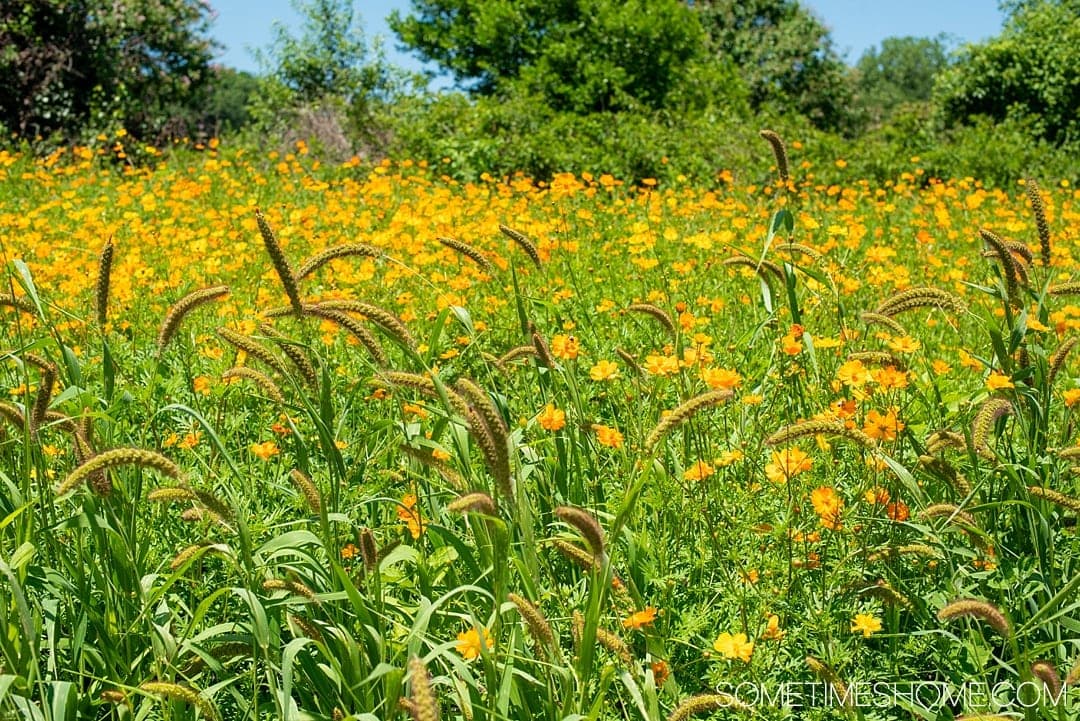 Things to Do Nearby the Sunflower Field at Dorothea Dix
We absolutely loved walking around the Raleigh Farmers Market after we had a lovely time with the Raleigh sunflowers. The time of year when sunflowers are at their peak happens to also be an amazing time to be at the farmers market. The tomatoes were divine, the blueberries and peaches in season, and the plant vendors fully stocked. We bought a good amount of produce and succulents to take home!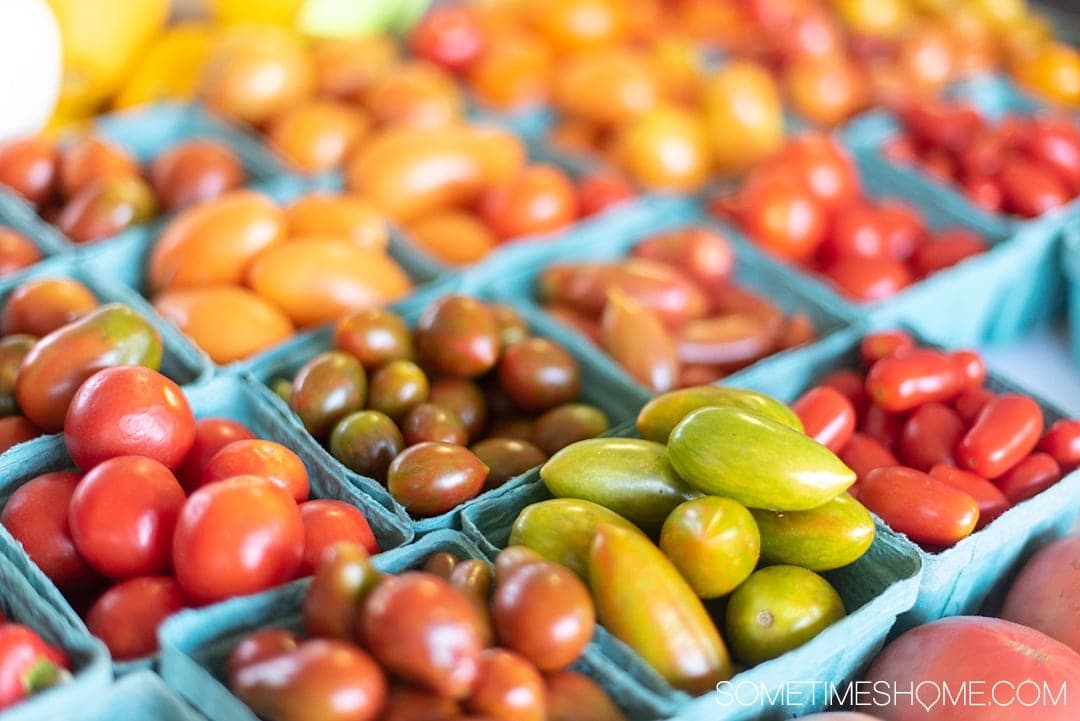 There's also Boulted Bread and Sam Jones BBQ just blocks away, an amazing view at Lonnie Poole golf course across the road at NC State campus (great place to grab a beer), and incredible museums, photo spots, and restaurants downtown.
If you have the time, and you're in from out of town for these beauties staying more than a day, check out all there is to do in Durham as well. It's just thirty minutes northwest of downtown Raleigh.
Map of Dorothea Dix Park and Additional Information
For more info and a map of the park (including the sunflower fields and parking) check out the Dorothea Dix Park website.
More Seasonal Flowers at Dorothea Dix Park
If you love flowers, mark your calendar for March, when the daffodils off Umstead Drive in Dorothea Dix Park bloom. It's beautiful, especially close to sunset!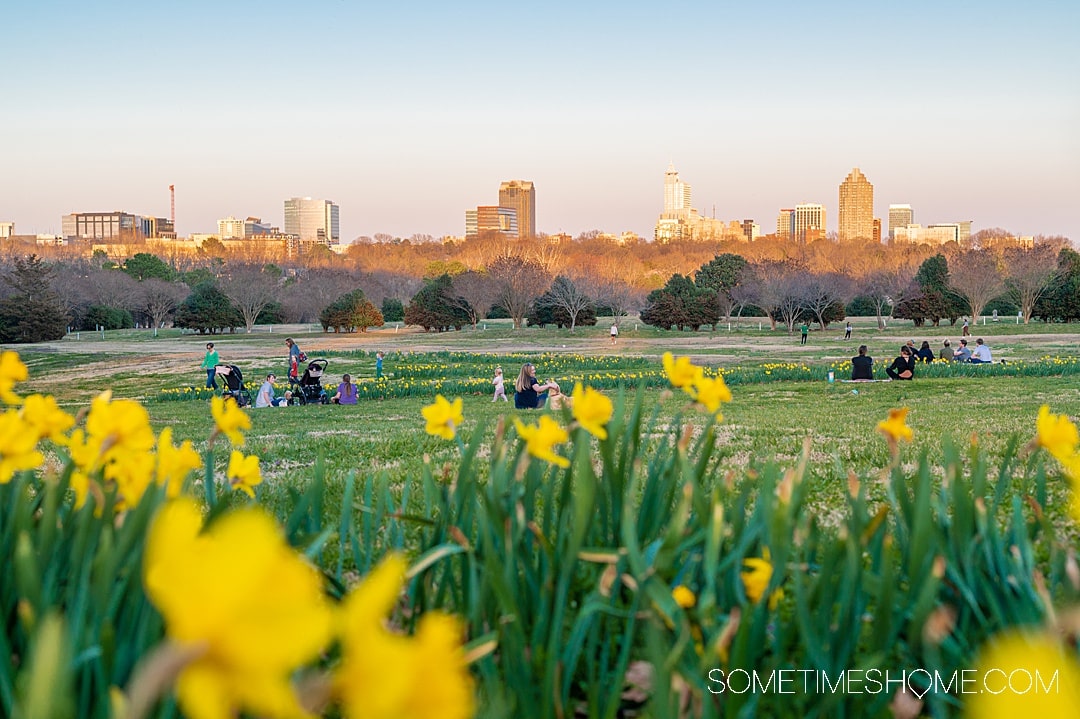 For more to do in Raleigh, read this next: