Must-See Long Island Lavender Field: Lavender by the Bay
Lavender by the Bay is a beautiful and expansive Long Island lavender field, filled with the gorgeous colors and scents of these amazing flowers. It's an oasis on Long Island's North Fork that will transport you to the South of France, even if you've never been there.
And if you don't have a chance to visit this year, we still have some recommendations for your lavender fix at home. Yet in case you can get there…we are sharing everything you need to know and be aware of for a successful, productive visit!
Disclosure: We may make a small commission from affiliate links in this post, but all opinions are ours. We bring you content with genuine facts, photos, thoughts, and recommendations. Always. As Amazon Associates, we earn from qualifying purchases. This helps keep our content free and accessible to our readers.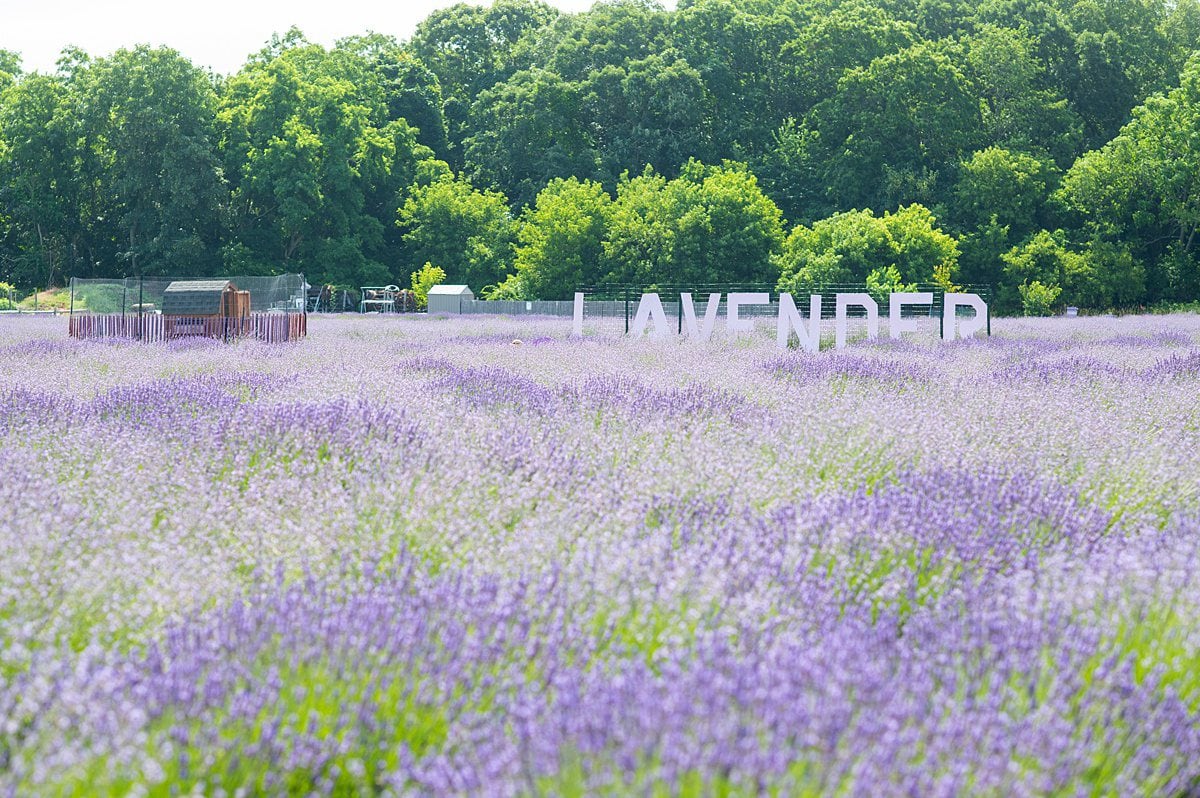 About Lavender by the Bay, the Long Island Lavender Field
Lavender by the Bay is a family-owned and operated business providing fields of lavender for public enjoyment. They have two locations on Long Island, one in Calverton (close to Riverhead, in Suffolk County) and another in East Marion, which is their original location on Long Island's North Fork a little further east.
All the photos and information in this post are from the East Marion location.
History of the Lavender Farm
The lavender farm family has grown two generations since Serge and Susan, who started it, met decades ago in Israel. Serge had moved there from the South of France, and Susan moved to Israel from New York.
They got married there and lived at a kibbutz for ten years before deciding to move back to Susan's hometown area in NYC to raise their children in 1979. As they raised their kids, they would take them out east on Long Island for summer vacations on the Long Island Sound, to a modest home they purchased in Southold, NY.
Serge, an experienced gardener, and farmer, planted some lavender at their vacation home to remind him of his childhood in France. The plants and flowers grew very successfully, thanks to his expertise and the coastal salty air.
Susan would dry this lavender to make lavender-filled sachets, and Serge would cut the flowers and let them dry for bunches that lasted for years. Between her sachets and his dried flowers, a local lavender farm business formed. It was a success and the local residents and vacationers loved their products.
As their passion grew, so did the demand for their products, including their famous lavender honey, which Serge created after taking up beekeeping. They looked for a larger piece of land to expand the hobby-turned-business and Lavender by the Bay was born.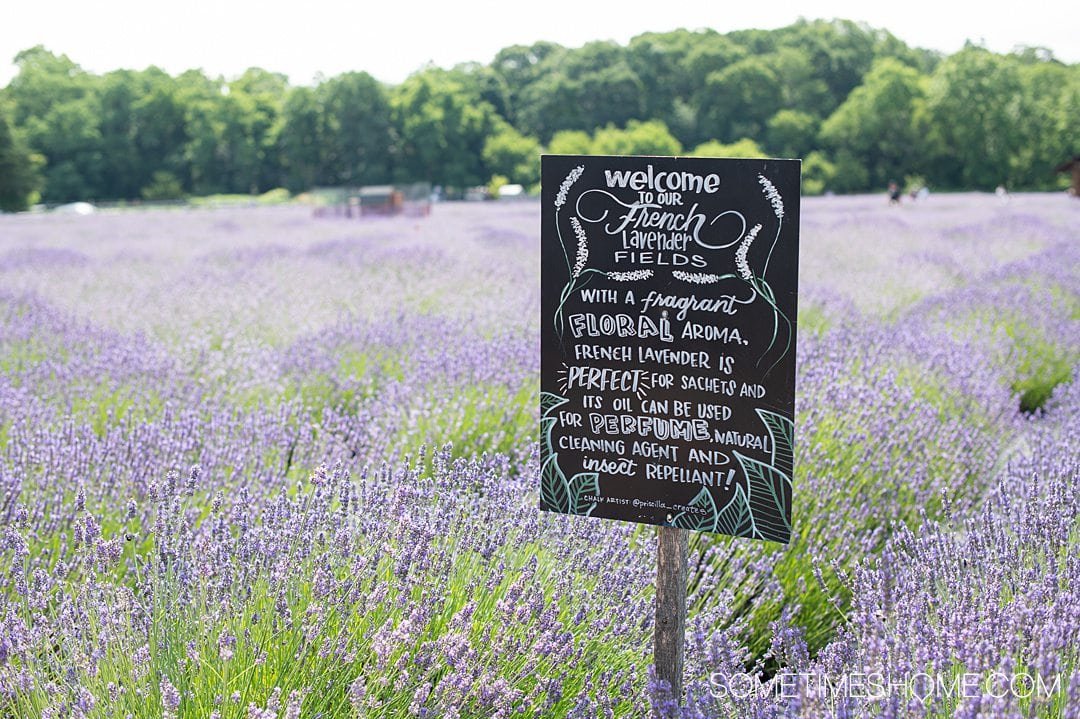 Today, their children and grandchildren enjoy the lavender fields and help with the business. Their kids, Chanan and Micha, and their spouses take care of some business aspects of Lavender by the Bay. The grandchildren help out in assorted ways too, depending on their ages. Serge has additional help from seasonal employees who assist with the farming.
It's nice to know that when we visited Lavender by the Bay, we were supporting a family who had a dream that turned into a successful booming business!
Location of the Lavender Farm in Suffolk County, on Long Island's North Fork
Lavender by the Bay is, as the name indicates, by the bay on Long Island. However, it is not on it. (You won't get waterfront photos at the lavender field but the rows of lavender provide plenty of photo opportunities in themselves.)
It is home to 80,000 lavender plants on its 17 acres.
They have two locations: East Marion on Long Island's North Fork, and a little further west on Long Island in Calverton, which is by Riverhead. Their second location opened in 2018 and is across from Splish Splash water park, off Route 25.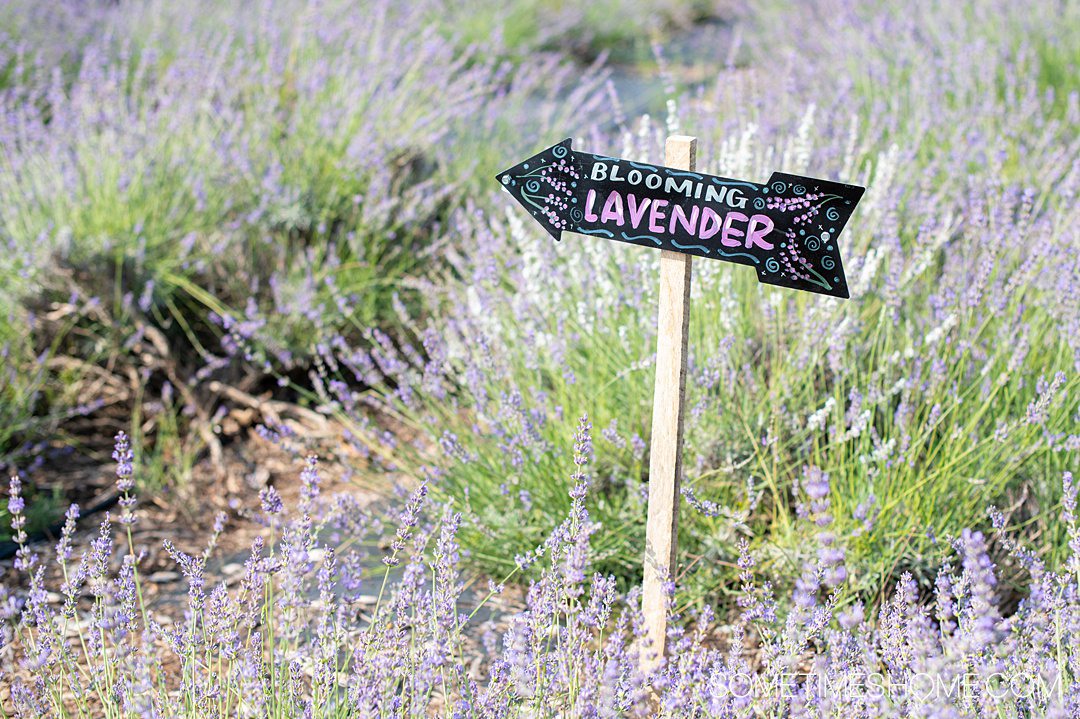 Best Time to Visit Lavender By the Bay (and Best Season for the Lavender)
We visited the second weekend of July. It was a perfect time to go because nearly everything, except one plot of land on the lavender farm, was in bloom.
So when is lavender in bloom? Well, there are three periods to target if you want to see the flowers in their blooming glory at this local lavender farm:
Mid-June: English lavender typically blooms during this time
Early July: French lavender is at its height during this time
Late summer/early fall: English lavender blooms for a second time, shorter than the first bloom
By the end of July, the French lavender is usually gone. The "peak bloom" for French Lavender is during early July.
The lavender flowers last for 2 to 2.5 weeks, but they usually begin to harvest them after the first week to create premium, sellable products. Lavender by the Bay is great about keeping its website and social media up to date with information about their blooms and the current status of the local lavender farms.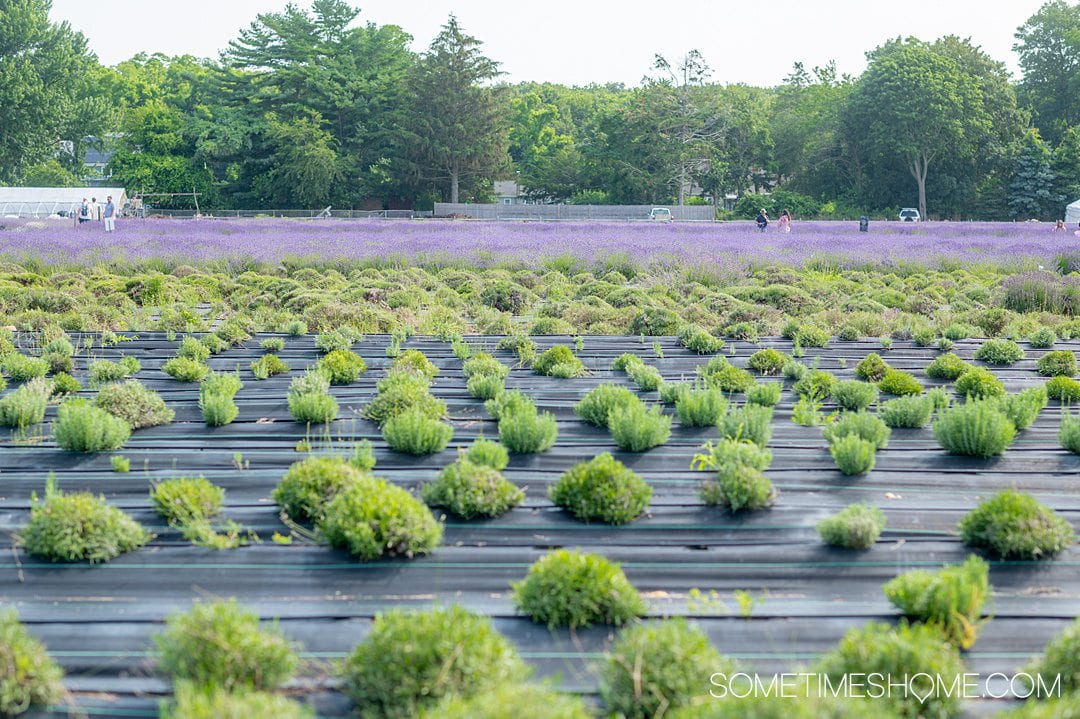 How Much Time to Allot for the Lavender Farm
We recommend an hour or so. Our visit was just over an hour once we explored all the areas of the flower fields, shopped and used the restroom, and were back in our cars. The ticketed times allot for this amount of time, but no one kicks anyone out. You really don't need more time than that, however. And by that time, you're probably ready to see other things in the area and go somewhere to hydrate.
What to Bring to the Lavender Flower Fields on Long Island
You don't need much to enjoy the flower fields! All you really need is yourself and a smile. Definitely bring sunscreen and sunglasses. It's hot and sunny there, especially during summer. (Lavender loves the sun.) And don't forget your camera!
It is a dog-friendly destination as long as your pet is leashed. We saw plenty of dogs there.
Photography at the Long Island Lavender Flower Fields
If you're simply taking photos as an amateur or with friends or your partner, there is no fee to take photos there. In fact, they encourage it! They have cute purple Adirondack chairs amongst the flowers and adorable hand-drawn signage around the lavender fields that all yearn for photos.
If, however, you are a professional photographer or videographer, setting up a professional session for engagement or wedding photos, or a lifestyle or fashion shoot with reflectors and tripods, there is a fee. It's $250 for a weekday and $350 for a weekend.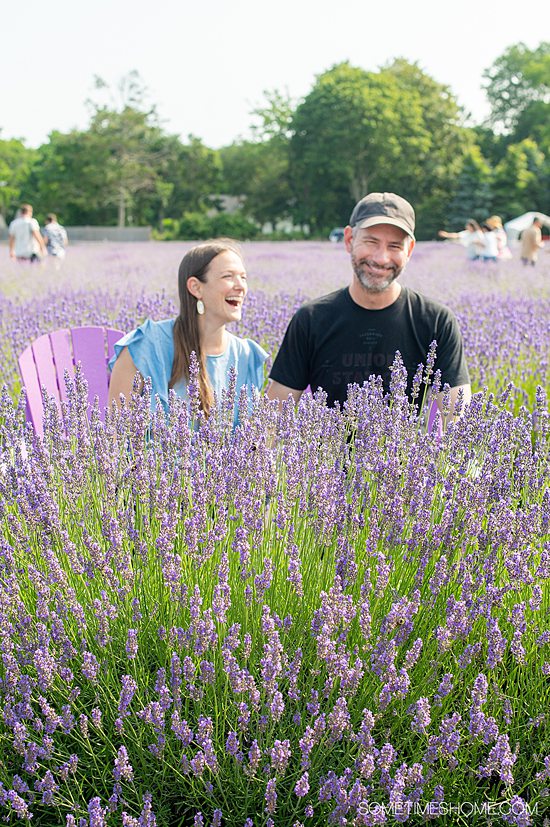 Lavender Garden Info: Various Types of Lavender Blooms and Varieties
Did you know lavender is part of the mint family? For as many times as we've seen lavender, purchased it, and even been to a lavender farm in the past, we didn't know it was a member of the mint family until we learned it at Lavender by the Bay!
The lavender at this lavender farm is planted in rows, as most farms are. They have different plots of land for different varieties so they know what section – and type – is blooming during different times. Notice the signs on the property as you walk around because some of them say the type of lavender it is.
There is English lavender and French lavender here. Some of their varieties include Purple Bouquet, Melissa, Grosso, and Super. Lavender comes in various shades of purple and white as well.
What is the Difference between French and English Lavender?
The difference between French and English lavender is simply things like their hardiness, size of the flower, blooming times, and color. French lavender grows to a taller height than English lavender. The deep, rich purple color you see in photos from lavender fields in Provence, of course, comes from French lavender.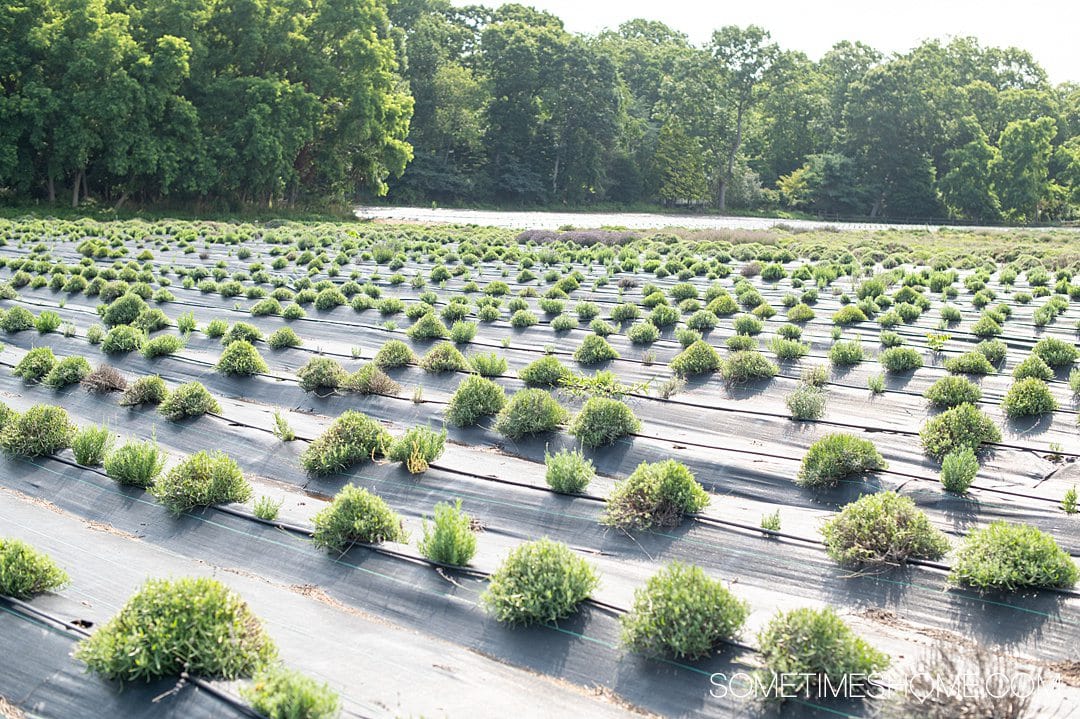 The Lavender Shop at Lavender by the Bay
If you want anything lavender scented or in its pure form, this is the place to get it. We were impressed by all the options in the gift shop, from sachets to soaps. They have a lot of bee-themed things too.
If you want a potted lavender plant, they have them. And if you want cut lavender that will dry beautifully to keep in your bathroom, for instance, they have that too. They sell eye masks filled with lavender, essential oils, bath salts, and more.
"You Pick" lavender is no longer an option here though it was prior to 2020, so the best way to get a bunch of their amazing lavender is to buy it from the shop.
(If you buy lavender, you're going to need a cool vase to put it in. Buying handmade vases from Etsy means you'll be supporting another small business!)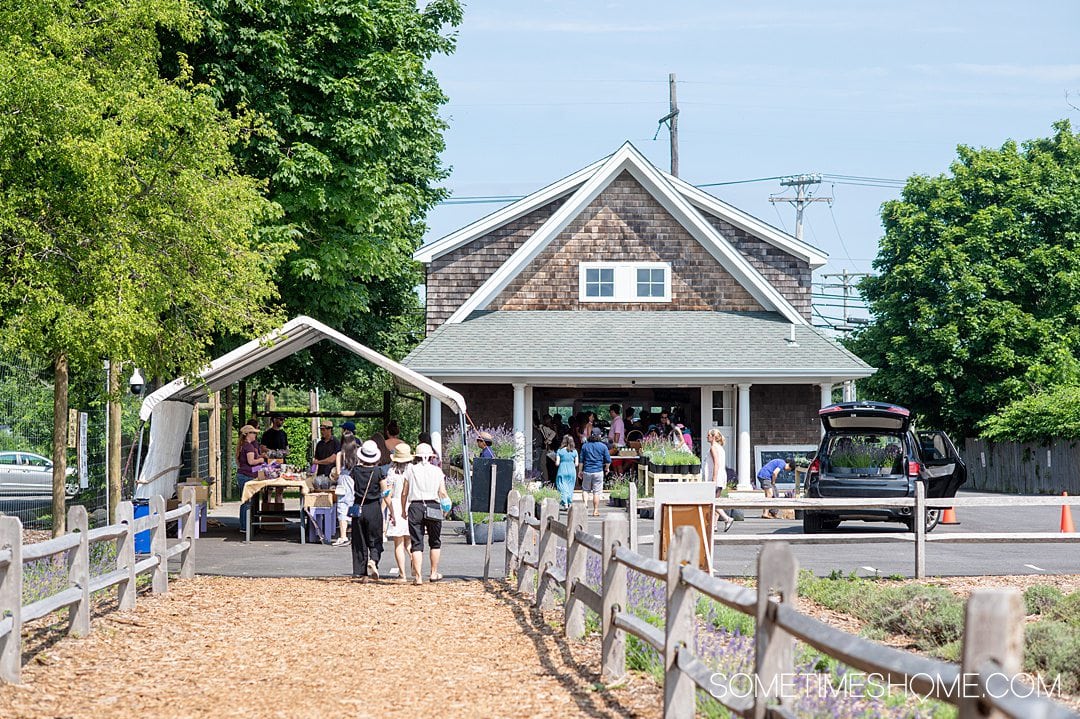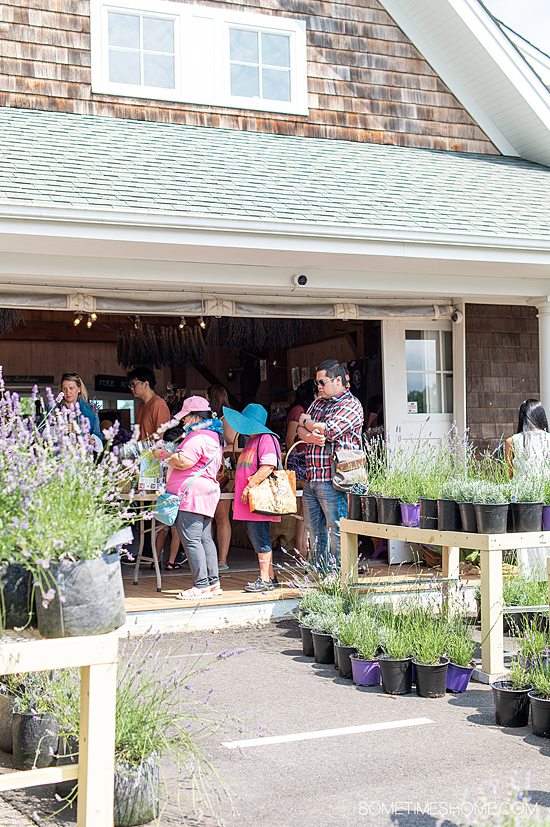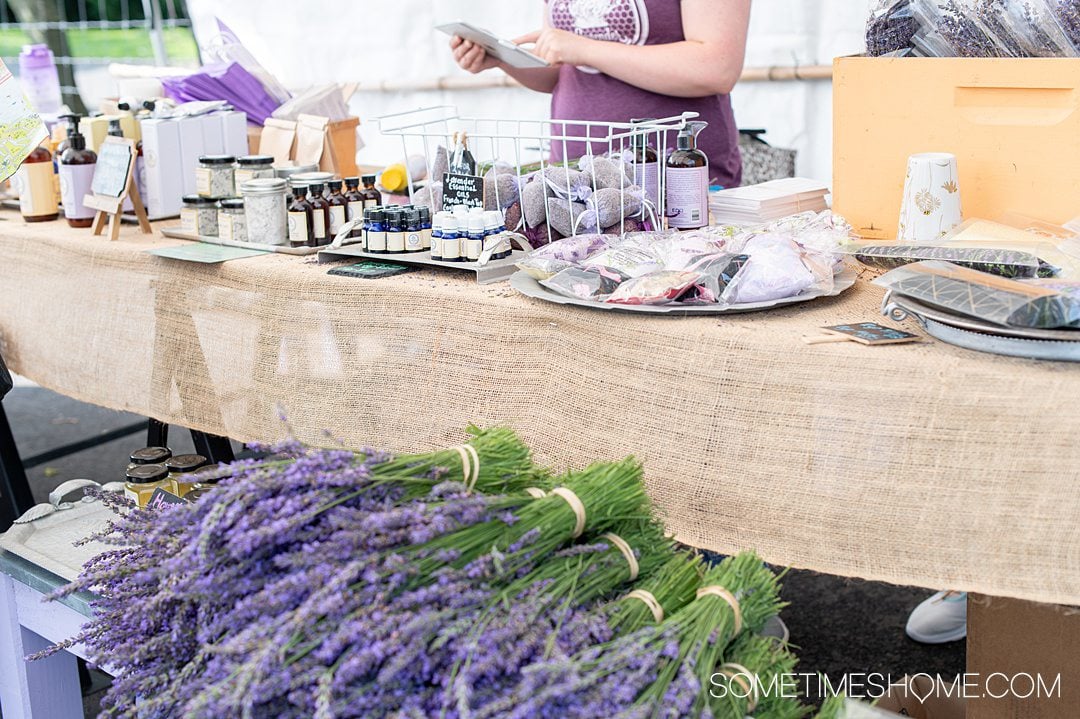 Lavender Remorse or Withdrawals
In case you visited and purchased lavender items but you are running out of your supply, or just in case you left and regret not buying something, we put together a list of some great lavender products to consider on Amazon. (Including our favorite Dr. Teal's Lavender scented foaming bath soap and bubbles.)
Additional Locations You Can Buy Lavender by the Bay Products, in Person
They also sell their products in New York City, at the Greenmarket (one of my all-time favorite farmer's markets!).
Lavender Garden Chickens, Butterflies and Bees!
Lavender attracts insects looking for pollen. And they need the help of bees to pollinate. Because of this (just like at a sunflower field) there are a ton of bees. They also have bees on the property for their beekeeping and lavender honey production. They're helping the plants, not hurting them, and truly want nothing to do with humans. If you don't bother them, hopefully, they won't bother you! If you hit them, they may defend themselves.
We also spotted some butterflies.
There is a small chicken coop on the property in the center of this Long Island lavender field that was fun for our friend's daughter to take a look at then talk to us about, imitating the chicken sounds. Instead of wood shavings lining the coop at Lavender by the Bay, dried lavender was in its place. Which probably makes it the best smelling chicken coop, but we didn't get close enough to take a whiff!
Not only do the chickens give the family who owns the flower field eggs, but they help keep the plants healthy. How do the chickens act as natural pest control? They feed on bugs throughout the farm when they are free to roam (which wasn't when we were there so we imagine it's outside of guest hours).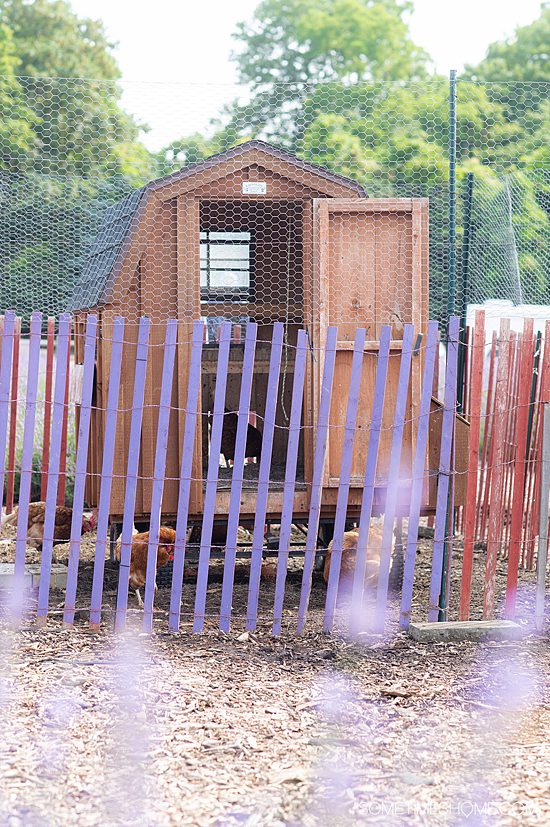 Lavender by the Bay, Long Island Lavender Field: Practical Information
Hours of Operation
Lavender by the Bay is open April and May, from 9:00am to 5:00pm on Saturdays and Sundays. During these months, they may open during the week depending on the weather.
They are open 7 days a week, from 9:00am to 6:00pm, June through September. The fields close at 5:30pm.
Tickets to Visit the Lavender Fields
Ticketed times to visit this Long Island lavender field were implemented out of necessity because of COVID.
However, since the experience of visiting the fields is more pleasant with the ticketed system, they will be used for the future. (The owners shared with us that it used to get very crowded without the ticketed system, so they plan on continuing to use ticketed, timed entries. This has proven to provide a more enjoyable experience for their guests.)
Tickets are only available through their website when the flowers will be in bloom.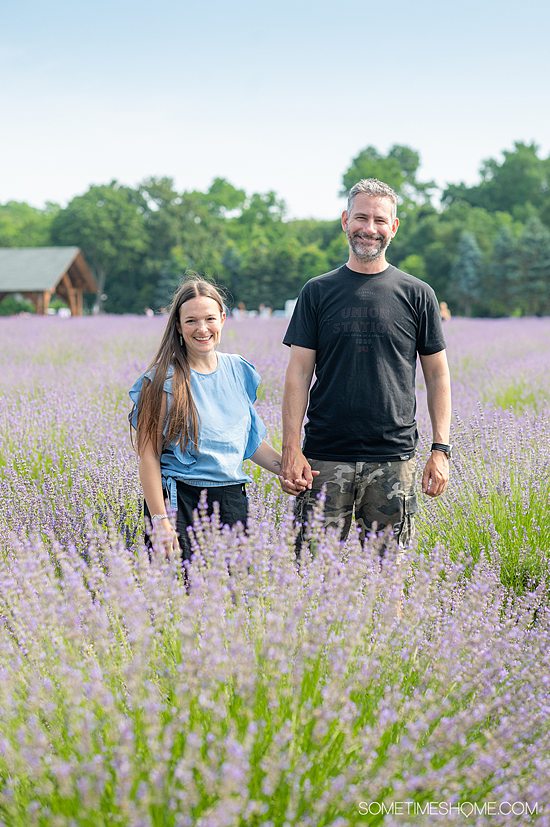 Bathrooms at Lavender by the Bay
There are bathrooms at Lavender by the Bay. They're the "fancy" portable trailers that you may see at some outdoor weddings. There are a few stalls on each side – the men's side and women's side – with a sink to wash your hands, complete with – you guessed it – lavender soap!
Getting to the East Marion Location of Lavender by the Bay on Long Island (including Parking)
Driving to this amazing field of lavender is the easiest way to get there, and there is onsite parking.
The gravel lot at Lavender by the Bay is free to park in if you're visiting. The earlier it is on weekends, the easier it is to park. We went on a Saturday at 9:00am and were able to immediately get a spot. We imagine that weekdays are the easiest to park there.
By the time we left this Long Island lavender field, around 10:30am on a Saturday, it was packed and it was more difficult to find a parking spot.
To get to the parking lot simply put the address into GPS: 7540 Main Road, East Marion, NY 11939.
If you are interested in taking public transportation to East Marion, you can take the Long Island Railroad (LIRR) to Greenport. From there it's a 20 to 30-minute bike ride to Lavender by the Bay, or a 20-minute car ride with a taxi or rideshare.
If you would rather bike ride from the LIRR station to the lavender field, Dan's Bike Rental is a great option. (They are open seasonally.) The staff will meet you at the train station or your bus stop. (Dan's Bike Rental actually doesn't even have a storefront. They just bring the bicycles to you!)
Another option to get to the North Fork of Long Island is the popular Hampton Jitney coach bus from Manhattan. You can take it to East Marion.
Where to Stay near the Long Island Lavender Field
We had such an amazing weekend out east on Long Island, and we were so glad we stayed overnight because there's so much to do there. It's especially relaxing during summer.
There is a Residence Inn by Marriott hotel, right near Calverton, which is where the other location of Lavender by the Bay is. And if you're like us, one of your favorite things about booking travel is utilizing Marriott Bonvoy points for hotels!
Marriott has a new program like VRBO or Air BnB, to stay at a home or villa. Check out the options in the area on Long Island through their Home and Villa program.
There are a number of wonderful VRBO options on the North Fork of Long Island, near Greenport. Be sure you search for accommodations in the North Fork area because the lavender fields could take an hour to get to from the Hamptons area, which is on the South Fork.
Things to Do Near Lavender by the Bay
Stroll on the Beach at Orient Point's Waterfront
The closest "attraction" to Lavender by the Bay's lavender flower field is Orient Park County Park, which has a beach overlooking Long Island Sound. It's a 10-minute drive east of the flower field.
There's a public parking lot connected to the park. We parked our car and walked out onto the beach to watch the neighboring Cross Sound Ferry load, honk its horn and be on its way (which honestly scared the shit out of us because it's loud and we had no warning!). (The ferry travels between Long Island and Connecticut.)
Dan skipped a few rocks as our friend's 4-year-old daughter built a "rock fire," and I took photos of it all.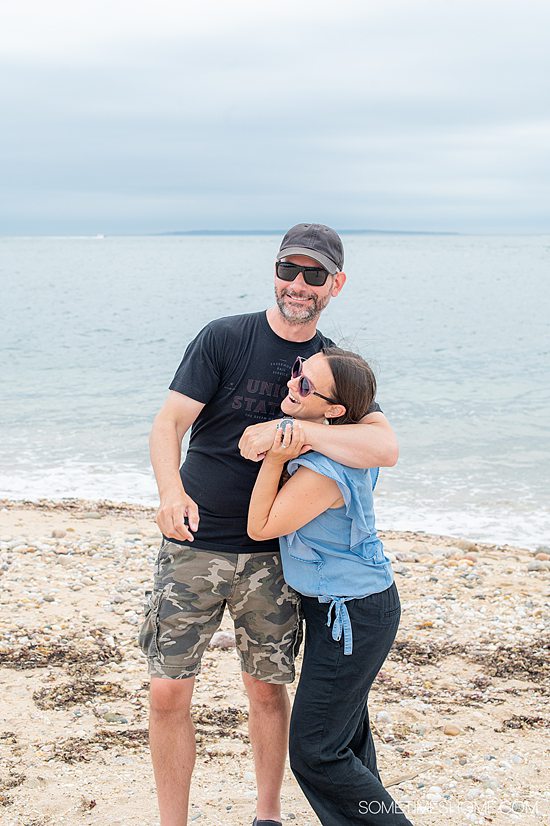 Walk Around the Town of Greenport
The Village of Greenport was our next destination, which was approximately 30-minutes from Orient Point (or 20 minutes from Lavender by the Bay). Going to Greenport from Lavender by the Bay (or from Orient Point), means you are heading west on the North Fork of Long Island.

Greenport has a cute central area with shops and boutiques and plenty of restaurants including some on the water. We ate at Claudio's, then walked to an adjacent park with a carousel for our friend's daughter.
Claudio's has two areas of their restaurant, which we want to note because the one that isn't on the water (but right next to it) takes reservations. The restaurant area of Claudio's that is on the wharf does not take reservations. For a shorter wait during summer, go early! We got there at around 11:30am and there wasn't a wait. By the time we left around 1:00pm, it was packed.
Taste Wine at Local Wineries
There are plenty of wineries nearby if you want to spend the day appreciating farms, from lavender to grapes! We absolutely love a good winery and have had some of our best experiences in the United States at wineries, from North Carolina's Yadkin Valley to vineyards in the mountains of Charlottesville.
Sign up for a tour that leaves the driving to pros as you taste wine at some of the North Fork's most well-known wineries, including Osprey's Dominion and Duck Walk Vineyards.
Disclosure: There are affiliate links in this post, which means we may earn a small commission if you click the link and proceed with a purchase, at no cost to you. We truly only recommend products or services we personally use.
Heading to New York? Also check out: