Fast History and Info about North Carolina Muscadine Grapes and Wine
North Carolina Muscadine grapes are truly the state's native superfood, so to speak. There was so much to learn about these little round bursts of flavor! Things we never even considered before a one-on-one tasting left us yearning for more education about the grapes.
Like where to pick Muscadine grapes, southern wine production, and the grapes' health benefits, to boot and even some fun grape items on Etsy.
Disclosure: There are affiliate links in this post, which means we may earn a small commission if you click the link and proceed with a purchase, at no cost to you. We truly only recommend hotels, products, and services we personally use. As Amazon Associates, we earn from qualifying purchases.
United States Muscadine Grapes Originated in North Carolina
It was pretty cool to see the oldest vine in Europe in Slovenia. We didn't even realize an "oldest" vine could be such a prized piece until that trip.
Ever since then, it's been evident that whoever holds the oldest vine gets bragging rights in a region. Such is the case with the oldest vine for Muscadine grapes in the United States.
The oldest vine can be found in eastern North Carolina, on Roanoke Island, which is part of the Outer Banks. The "Mother Vine," as it's called, is believed to be over four centuries old. One of the observations Europeans made when they arrived on the land many, many years ago was its bounty of grapes.
This grape is a Scuppernong variety, which we learned is closest to the taste of "wild" grapes of North Carolina. This makes sense since you would think that's how grapes were growing back then: in the wild. The Scuppernong grapes from the Mother Vine are green Muscadine grapes.
Even today, you can find wild grapes amongst the trees in North Carolina.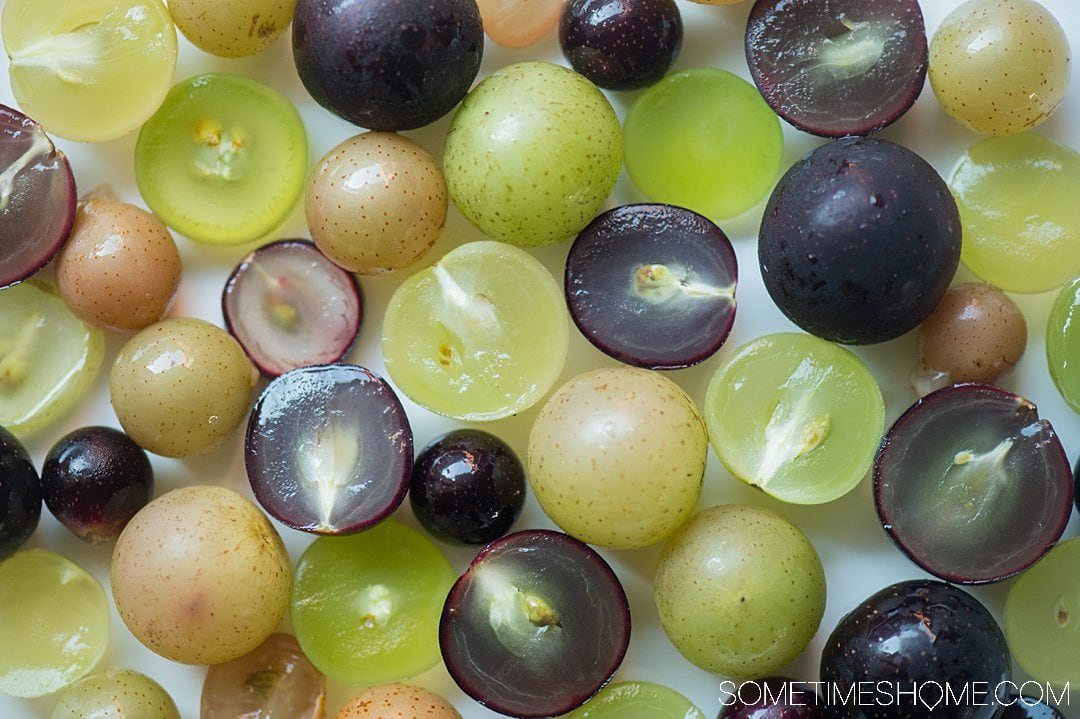 Muscadine Grapes Love Southern Climates
If you Google "Songs about Muscadine," just about 20 songs come up. And guess what? Most of them are country songs!
It's no wonder "Muscadine" is a common subject of country songs because, like country, both are generally considered southern. (Haha!)
They're actually native to North Carolina and love the southern sun and the warmth in the south. (Don't we all?) Thus, they grow incredibly well in warm temperatures and have very few pests. They're well suited to the area. They also grow well in places like Georgia and Florida.
Why are Muscadine Grapes not like the Other Grapes?
Slip-Skin Grapes
Muscadine grapes are "slip-skin" grapes. These are unlike most grapes you purchase in the supermarket, with the exception of Concord grapes, which are like this. Most grapes used for wine production are not slip-skin grapes…unless it's Muscadine wine, of course.
A slip-skin grape is what you may guess it is. You slip the fruit out of its thick skin and eat what's inside. Most people spit out the pits as well. (They're pretty big and don't taste great. Ironically, they have a ton of health benefits. More on that later.)
Its thick skin is what allows it to survive warm temperatures in the south.
How to Eat Muscadine Grapes
You can usually pop grocery store-bought grapes in your mouth and eat the whole thing. Most of the time, they're seedless with thin skin you can eat.
But you eat Muscadine grapes a little differently.
You can eat the whole thing, but most people simply pop the fruit out of its skin and spit out the seeds. (We don't recommend eating these grapes on a romantic date! But they'd be great to cook with. Or eat with your long-time partner. 😉 ) The grape's flesh texture reminds us a lot of lychees.
The skin is edible, so you don't have to throw it away. It's just that it may be harder to swallow because of how thick it is and your taste preferences.
Debby, the Executive Secretary of the North Carolina Muscadine Grape Association, shared that all Muscadine grapes have seeds. And whether you discard the skin and seeds or not is a personal preference.
We discarded most of the skins and all of the seeds we had during our tasting.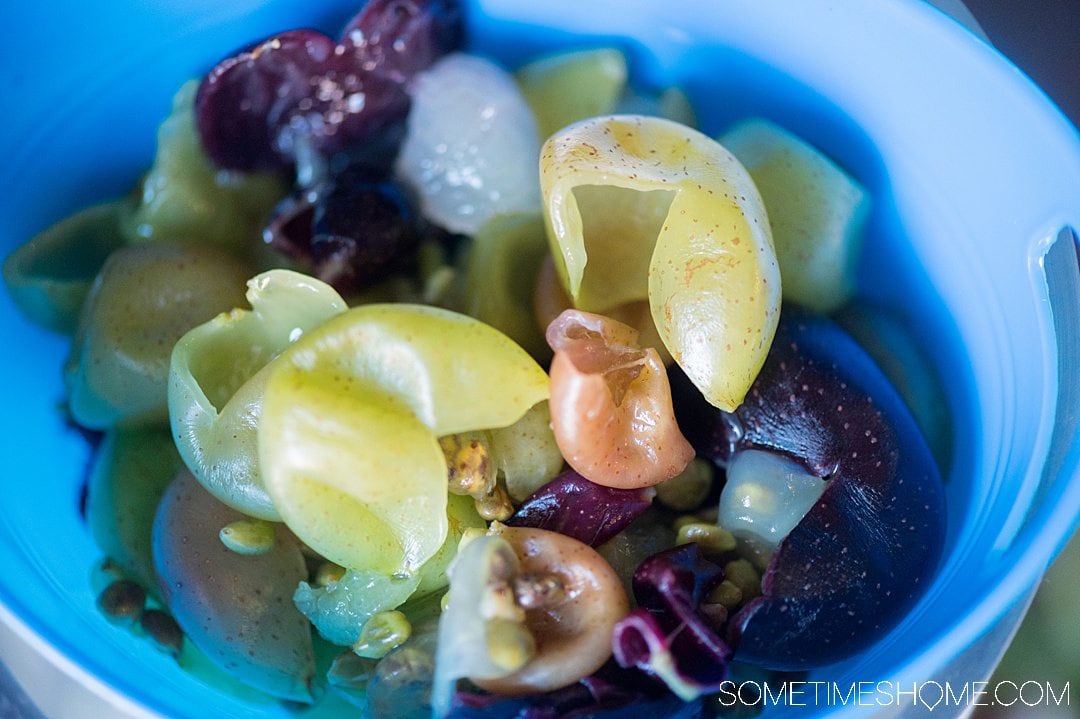 Can You Cook with Muscadine Grapes?
Absolutely! You can choose to go savory or sweet with your recipe. Muscadine grapes are sweet (as are most grapes – it's a sugary fruit), so we're excited to balance our sweet with savory by cooking the main entree below. But you can add them to dessert and ice cream, as Chilly Chicken Creamery does with local ingredients in Warrenton, NC.
Some recipes call for both Muscadine grapes and Muscadine wine so be sure to buy both. (We share how to get either in our post that you're reading…keep reading!)
Here are a few recipes for you to try: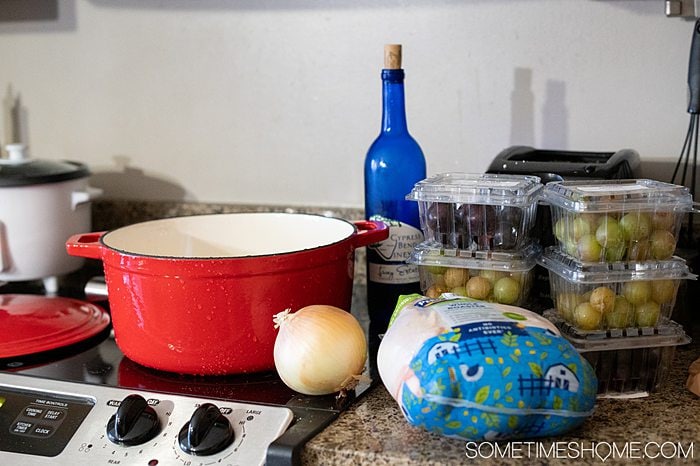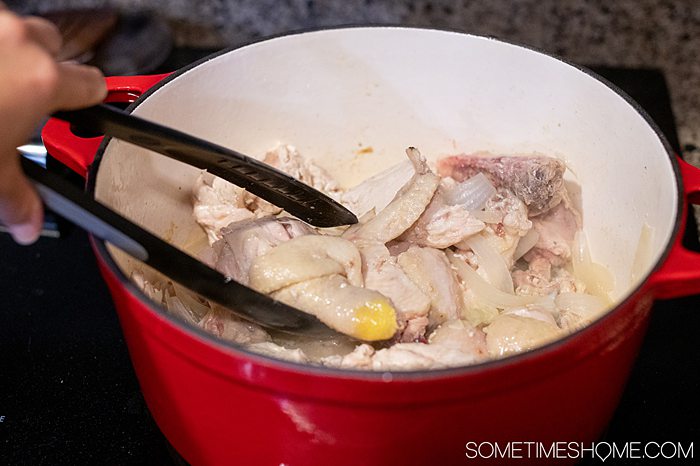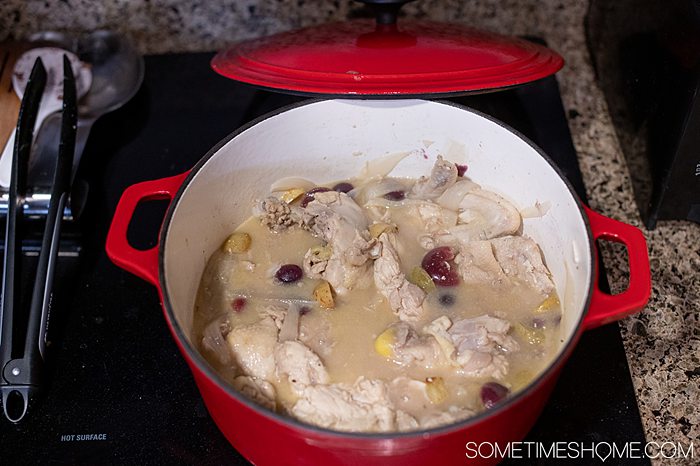 If You Prefer to Drink Your Grapes: Muscadine Wine (Dry and Sweet)
Good news for the wine lovers of the world: you can drink your muscadine grapes! This probably isn't news to you, however, it may be news that there is a dry version of muscadine wine. Our eyes (and palates) were expanded when the organizer of our virtual tasting, Kristen of Tabletop Media Group, shared this information with us!
Cypress Bend Vineyards bottle of Livy White Muscadine is an "off-dry" white with notes of fruit, including pineapple and peach. We love their sliding-scale graphic on the back of the wine label; it's useful to visually understand where a bottle of their wine ranks on a sweet-to-dry scale. Its low pH pairs well with sushi or fish, Thai food, salads, and more.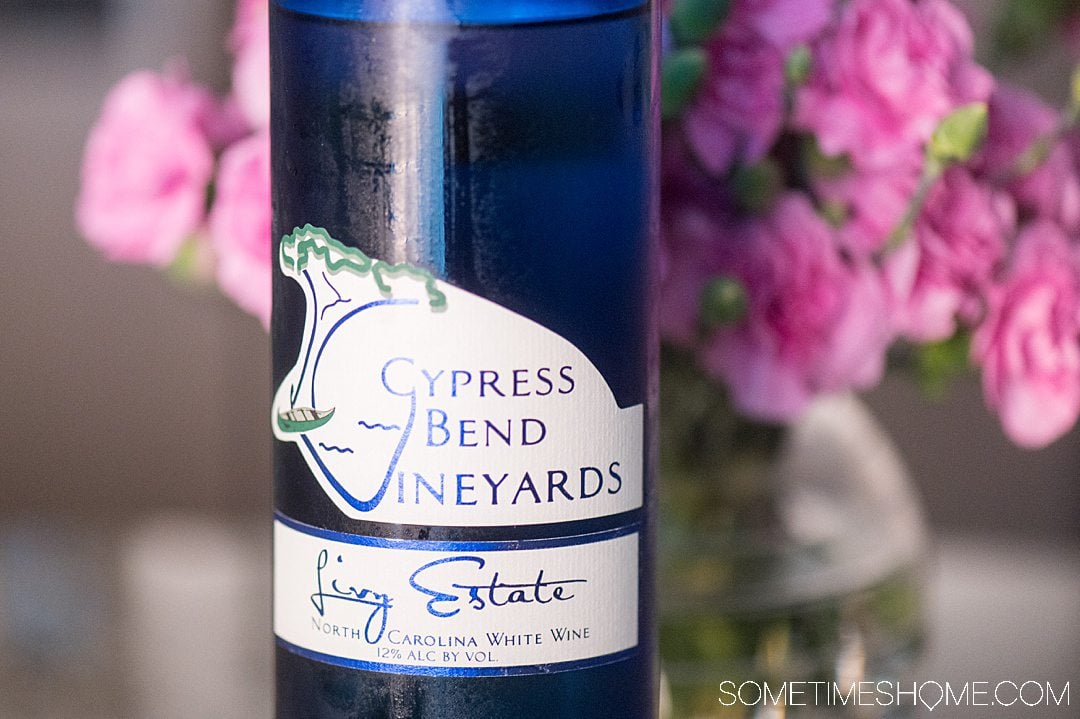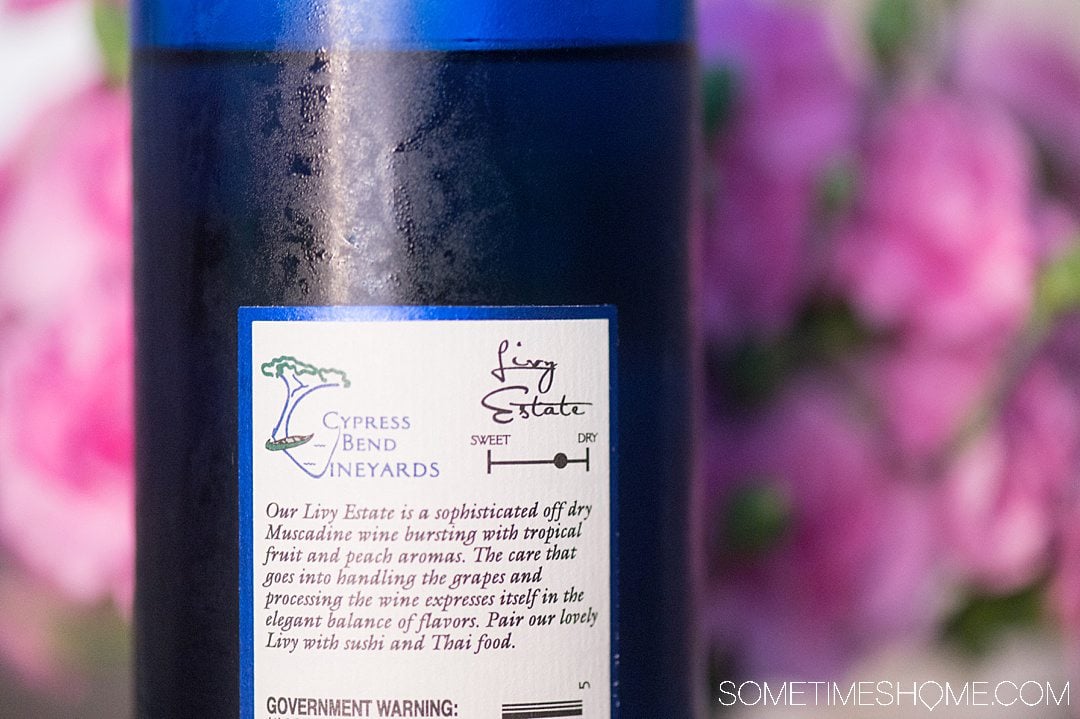 We'll be excited to visit their winery one day. Their tasting room is open daily and it looks like a beautiful property. It's about two hours from Raleigh, 45 minutes south of Pinehurst, and an hour southwest of Fayetteville, NC.
Hinnant Family Vineyards makes their own wine as well. You can pick your own grapes at their vineyard (mentioned below).
Easily Order Muscadine Wine Online
Luckily for us (and you), you can order easily order muscadine wine online at The Wine Feed, which is a local shop in Raleigh, North Carolina. We love supporting small local businesses, and they've made a dedicated page for you!
Muscadine wines, ranging from just $10 to $14, are available to order on their site on a special page. The four chosen wines were thoughtfully curated by Phil, owner of The Wine Feed. They are some of the best Muscadine wines the area has to offer.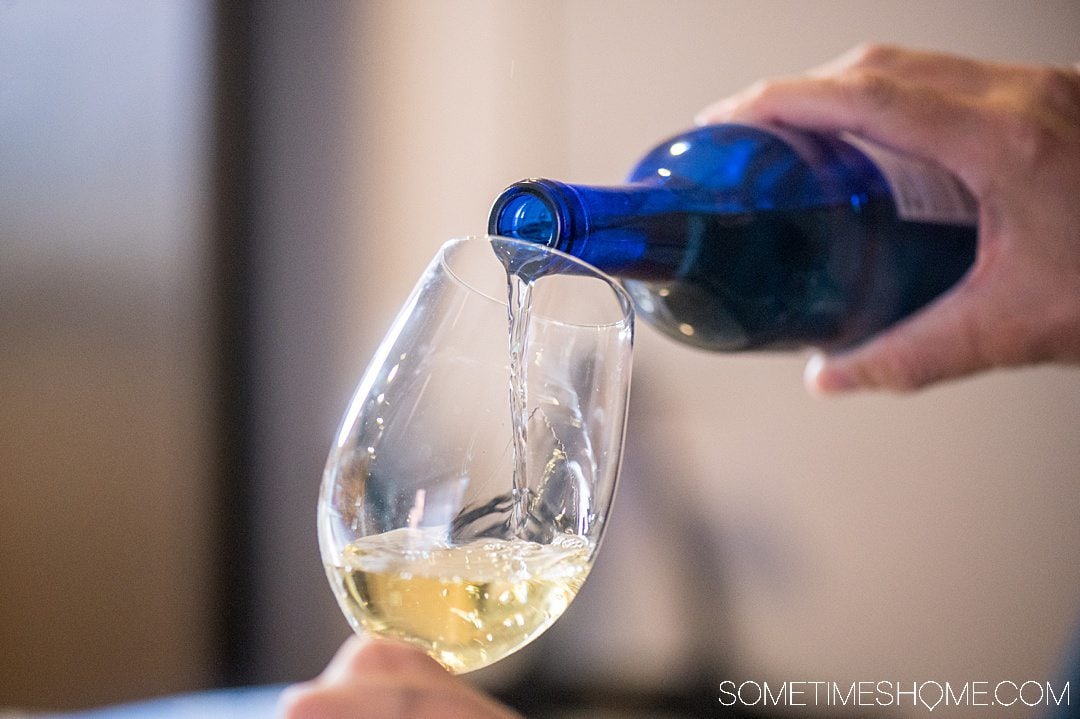 They don't carry NC muscadine wine in the store, but once you place your order, they can have it as soon as the next business day.
There are two ways to get your wine:
Shipped to one of the following states: North Carolina, Virginia, or Washington DC, via UPS.
Pick up (often available the next business day if your order is placed by 3:00pm). The shop is conveniently located on Glenwood South in Raleigh, North Carolina, and there's another in Durham on S. Roxboro Street.
Here's where you select between the two on The Wine Feed's checkout page: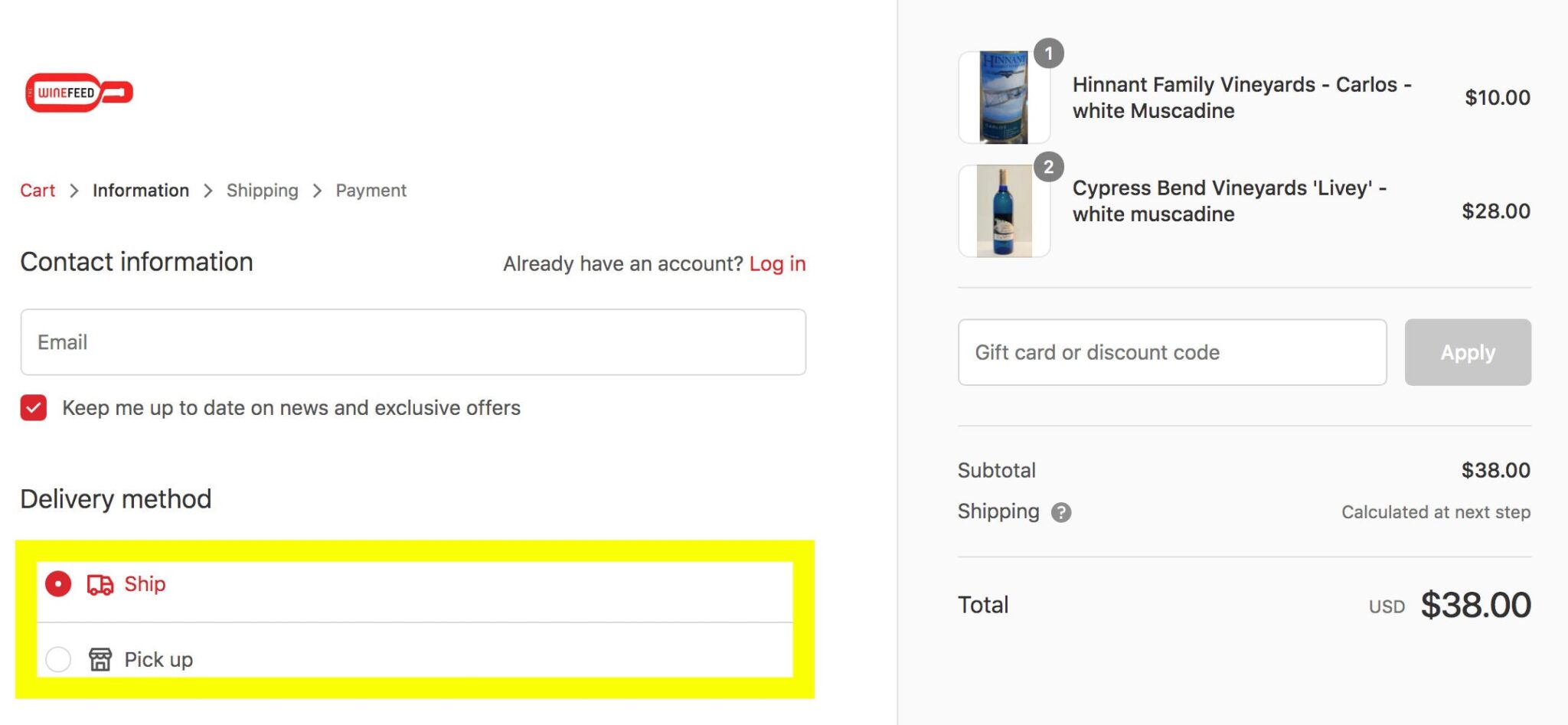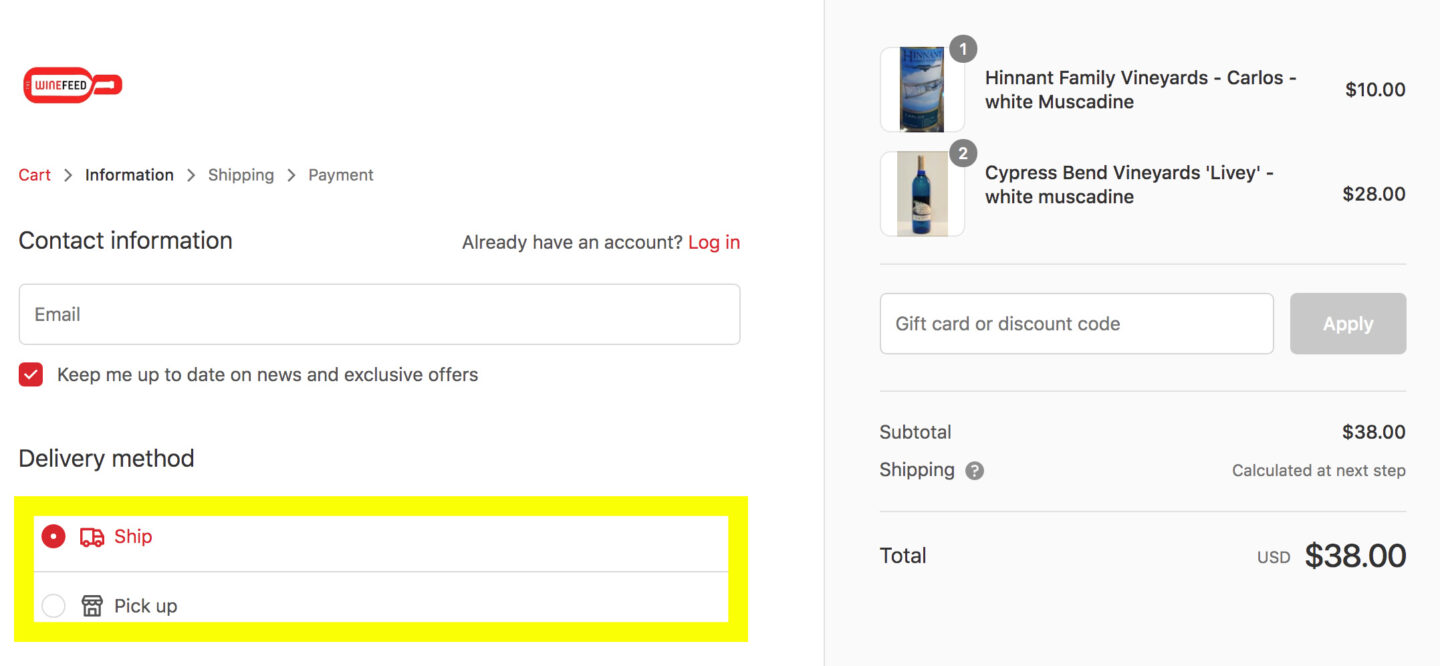 Where You Can Get Your Own Muscadine Grapes in North Carolina
We want to share where you can get your own muscadine grapes in the area in fruit form. Because if you know, you can cook with them there are more reasons to buy them!
Pick Your Own Muscadine Grapes in NC
You can go to a vineyard and pick your own grapes off the vine in North Carolina, just like you can go to a pumpkin farm to pick your own pumpkins.
The grapes come off the vine singularly, as opposed to in bunches. We have personally tried the grapes at Hinnant Family Vineyards and have spoken to Bob Hinnant, one of the co-owners, about their fruit. You can pick their quality grapes in person on a portion of their 100-acre vineyard.
Here are some muscadine grape varieties Hinnant Family Vineyards grows:
Triumph (green)
Tara (green)
Hall (green)
Lane (red)
Supreme (red)
Carlos (green)
Noble (red)
Carlos and Noble are particularly great for Muscadine wine because they produce a lot of juice. Carlos, in particular, is a leading grape for wine production in North Carolina. 90% of Muscadine wines in NC are made with Carlos grapes.
Part of the reason North Carolina muscadine grapes are well suited for wine is that their aromatics are generous and long-lasting. This flavor profile is easy to work within winemaking.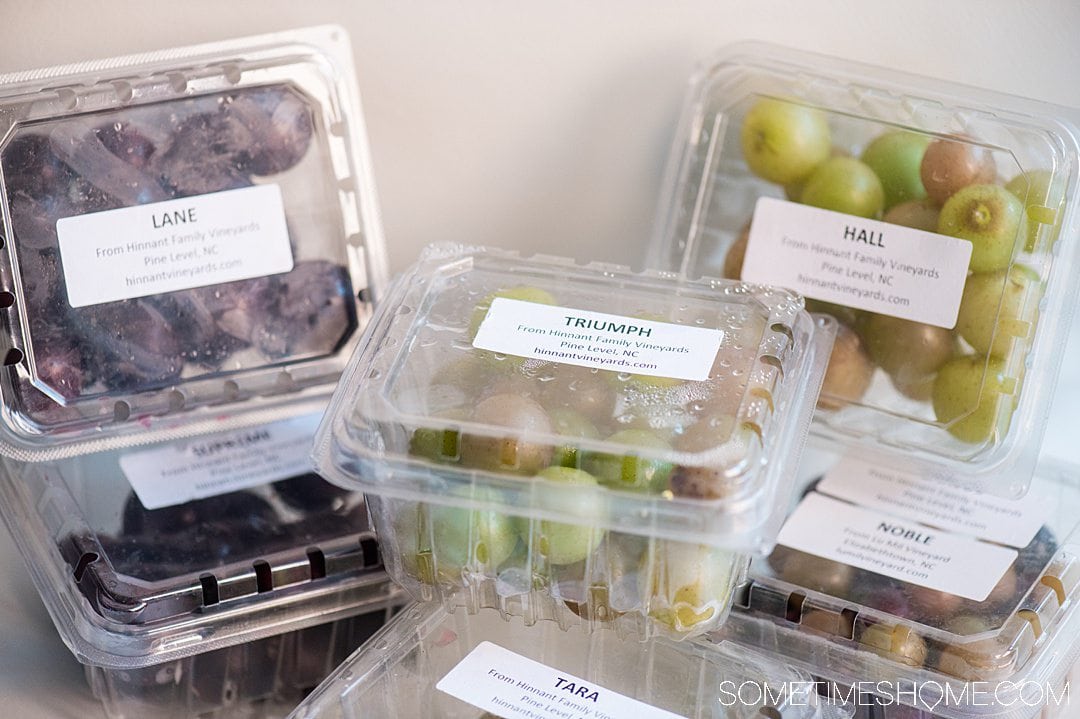 Additional Helpful Information We Learned about Muscadine Grapes
In regards to green grapes, the greener the grape, the less ripe it is. This usually means it's going to be a more sour-tasting grape. The more bronze the green grape, the more ripe it is.
There are two types of muscadine grape vine scars: wet and dry. A dry scar means there's a clean break from the vine. A wet scar is when the skin of the grape tears a little. This looks like a cut where the juice starts to leak out. Wet scar grapes (like Carlos and Noble) don't last as long as dry scar muscadine grapes do off the vine. (This makes sense because an open "wound" would make the fruit more vulnerable.)
You'll extend the life of your grapes by about a week if you refrigerate them.
The picking season is from August to the first week of October, and it's fun and affordable for the whole family. (The vines are all significantly pruned back during winter.) It's $1 to enter the Hinnant Family Vineyard and $1.50 for each pound of grapes you pick.
Hinnant Family Vineyards is on the way from Raleigh to Goldsboro, a favorite North Carolina gem of a city!
Where to Buy Muscadine Grapes in NC
If you can't make it to a vineyard, you can still get muscadine grapes. They're available in a lot of grocery stores in North Carolina (and, if we had to guess, throughout the South).
You'll find them at supermarkets like Lowe's Foods, Lidl, Food Lion, and – our favorite – the NC State Farmers Market in Raleigh. Typically, they're sold in quart-size plastic clamshell containers.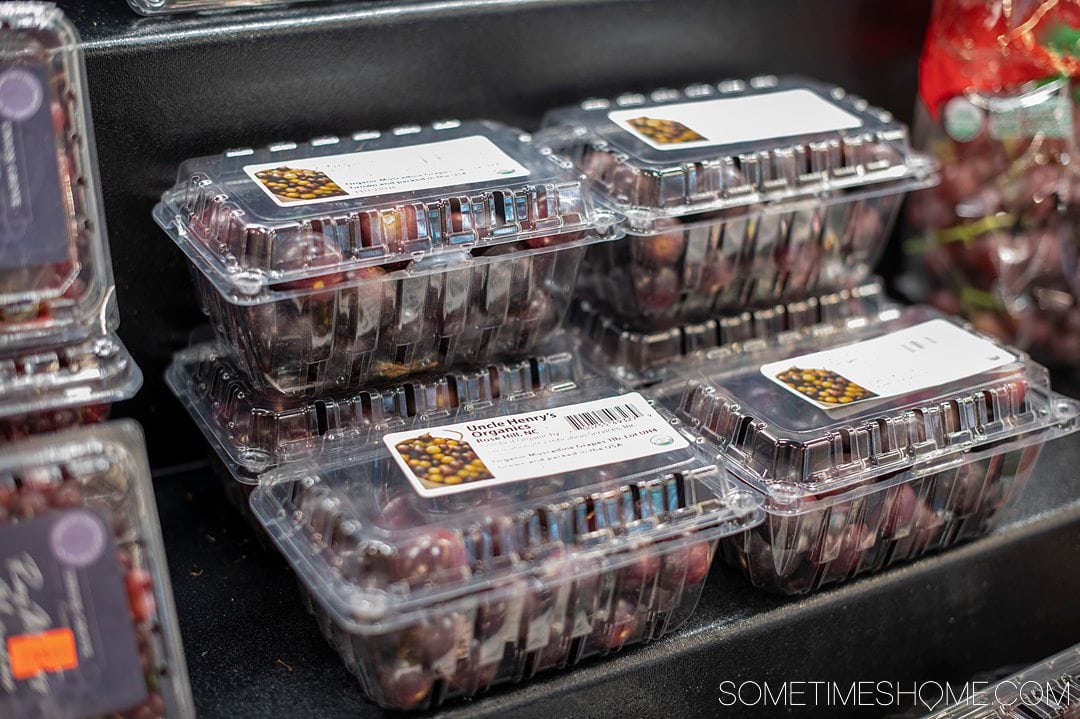 Muscadines with a bit of a Champagne Grape Taste: RazzMatazz Grapes
There's been an exciting development in the science of grapes! RazzMatazz grapes are a hybrid muscadine but they're small, like champagne grapes.
They're a little bit of an anomaly in the grape world for a few reasons:
They are "ever-flowering" plants. Bunches ripen from early spring to late summer. The only thing that stops them is the first frost!
It's a hybrid between muscadine and vinifera grapes. (Viniferas are common European grapes. Maybe the hybrid between the Muscadines from the US and viniferas from Europe is our ideal grape! It feels like the perfect marriage of some of our favorite travel location preferences! For some cheeky info on vinifera grapes, read this.) It's not an exact number – which, from what we understand, is really complicated to determine – but an approximation is that RazzMatazz grapes are 75% muscadine and 25% vinifera, or bunch grapes. This is probably why its growth habit is more like a hanging grapevine and grows in bunches rather than true muscadines.
RazzMatazz grapes are picked in bunches, whereas most muscadines are picked as individual grapes.
They are much smaller than most muscadine grapes.
They're seedless, and you eat the skin.
RazzMatazz grapes are available to home growers after decades of scientific research. These self-pollinating muscadine x vinifera hybrid grapes are a great option for gardeners and farmers because, like all Muscadines, they don't need to be sprayed to yield fruit successfully. If you want to buy some to grow, check out Gurney's.
But if you're like us and not about to garden for them, they're available at some grocery stores. And they're great – they "pop" in your mouth and have a delicious flavor.
They're sold in pint-sized clamshell containers for about $3.50 to $4.00. We can't wait to have some for our happy hour date times with wine and cheese plates.
By the way, if you live in Raleigh or Durham, North Carolina, Muscadine grapes are easy to find at Weaver Street Market when they're in season (summer).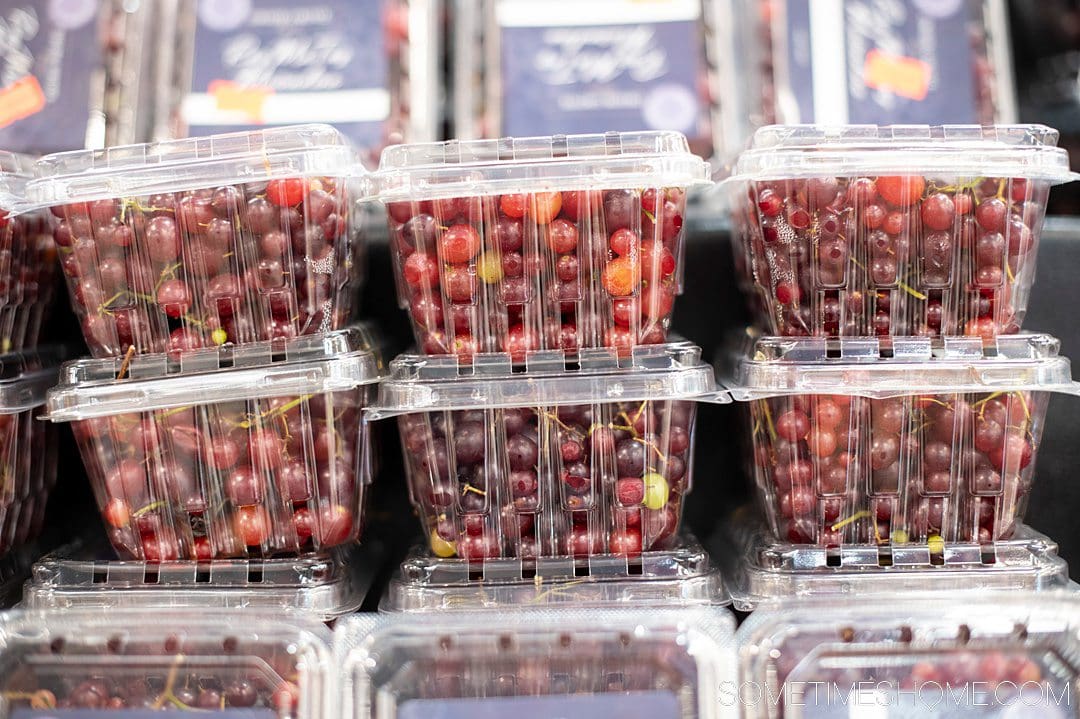 Health Benefits of Muscadine Grapes
These sweet little spheres pack a punch of antioxidants! Ironically, their nutrient-rich polyphenols are mostly in the parts you throw away most of the time: the skin and seeds.
Polyphenols are complex micronutrients with huge benefits.
They have been proven to…
…have anticancer benefits.
…decrease metastasizing and cancer growth.
…help prevent cardiac toxicity.
…have a protective agent that helps safeguard astronauts from radiation.
If most people throw away the polyphenol-rich seeds and skin, how would someone reap the health benefits of muscadine grapes? Simple answer: pills.
Don't be surprised if you see muscadine grape pills alongside fish oil and garlic pills in the future!
Visiting North Carolina? Also check out: