Dijon in One Day: Top Things to Do with Limited Time
We asked ourselves several questions before booking our train tickets from Lyon to spend time in Dijon: Is one day in Dijon enough? What kinds of things are there to do in Dijon, a city whose name is most recognized by Americans for its famous mustard?
We discovered a gorgeous city rich with history and sites that had nothing to do with mustard but a lot to do with the history of France, Burgundy, and even Britain!  
Disclosure: We may make a small commission from affiliate links in this post, but all opinions are ours. As Amazon Associates, we earn from qualifying purchases. This helps keep our content free and accessible to our readers. We thank the Dijon Tourism Office for coordinating a complimentary Dijon City Pass for us to test the product.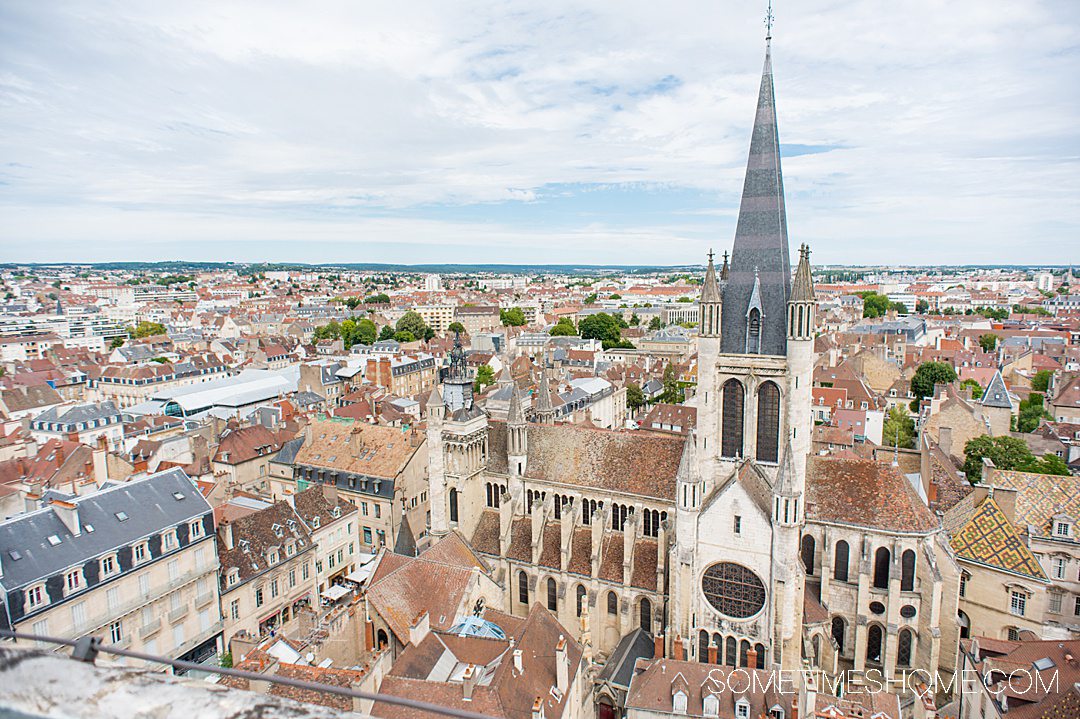 Things to Do in Dijon If You Have One Day
We boarded our train from Lyon for a day in Dijon, excited to discover what there was to do within the hours we had there.
What follows is all the amazing things we got to do and see in one day in Dijon. We liked it so much that we'll expand our time to an overnight stay next time we're in the area! If you have the time and desire to stay overnight, we recommend it. 
We'll tell you the top attractions if you have one day, if you need reservations for particular experiences in Dijon, where we had a Michelin-starred lunch, and our thoughts on if a Dijon City Pass is worth it.
🕐 Short on time? No Problem!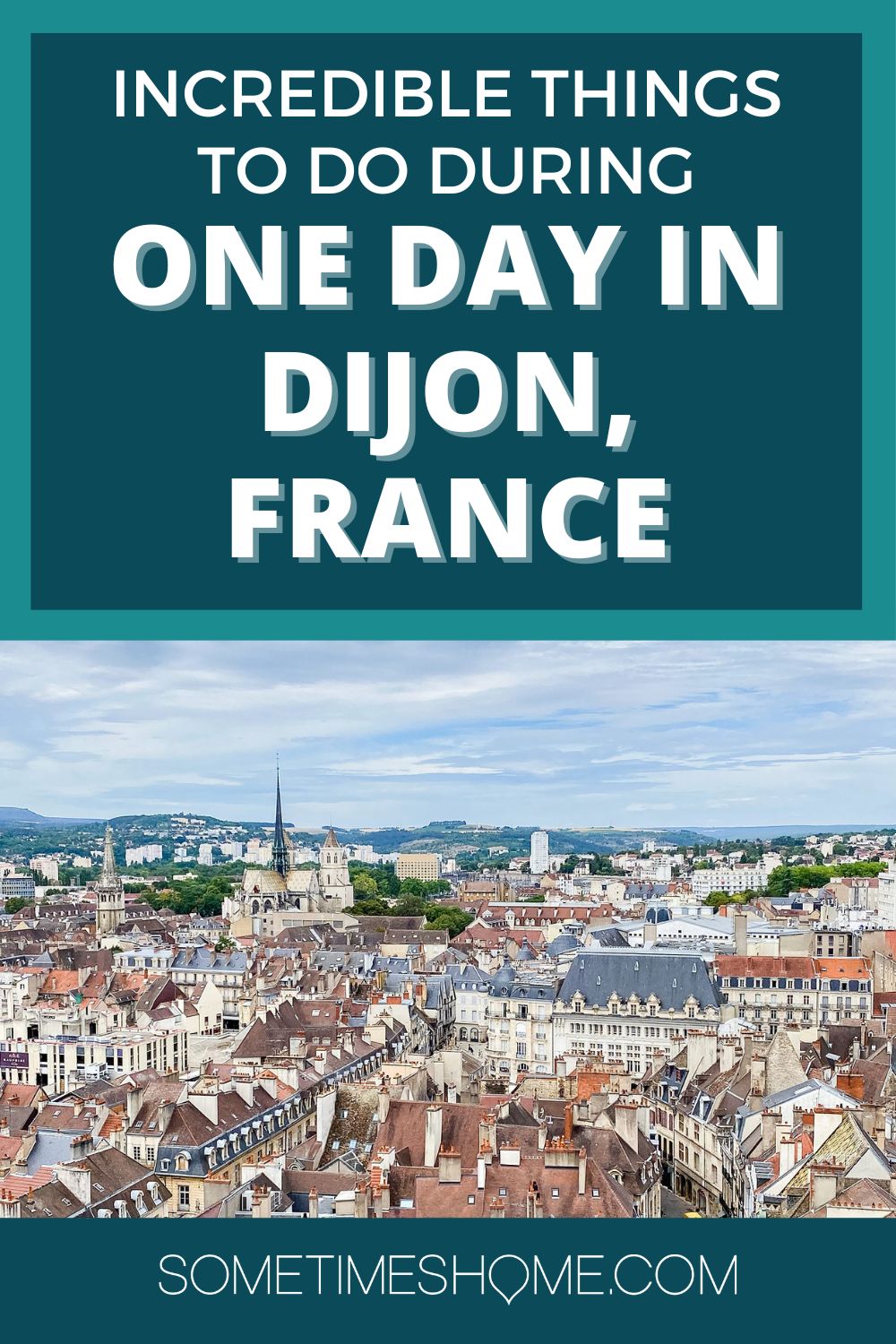 1. Follow the Owls for a Historic Self-Guided Walking Tour of Dijon's Old Town
There are 22 notable locations to visit in Dijon that are marked on a historic map. You can pick up one of these maps at the local tourism office, which is right next to the train station. 
Gold plaques with an owl illustration on them mark these locations around Dijon. The plaques can be found on pathways and on buildings throughout the city. 
Following the owls was a great way to make sure we were seeing Dijon's hits within less-than-24 hours there.
Things like Notre Dame Cathedral and Dijon's Opera House are marked on the tour. The corresponding booklet we picked up at the tourism office the morning we arrived gave us a little history about each landmark. 
2. Visit Dijon's Beautiful City Parks
One of the things that surprised us about Dijon was the lovely parks scattered throughout the city.
Two places to note are Jardin Darcy Park, where Dijon's famous polar bear sculpture is, and Arquebuse Botanical Garden. 
Another park-like area to note was a public plaza with a lot of pedestrian traffic. It's just by the entrance to Dijon's old city area. The plaza features a lovely fountain that we stopped to admire, with children looking down at frogs and a grand arch called Porte Guillaume (William Gate) that welcomes visitors to town.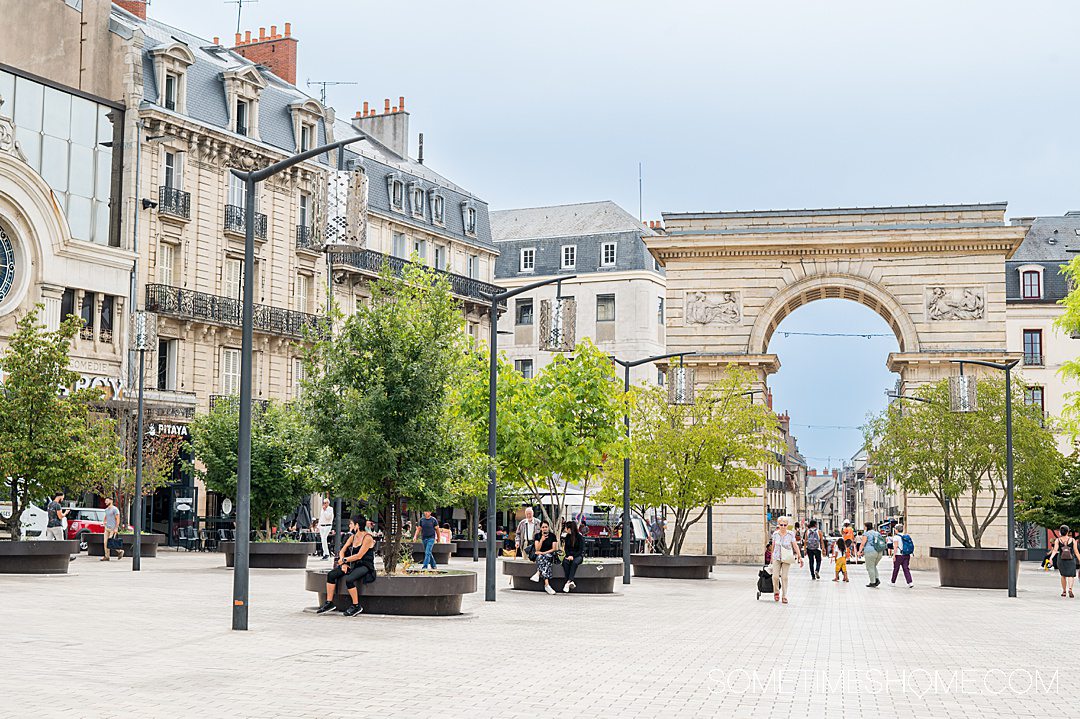 3. Visit Notre Dame Cathedral
Paris is not the only city with a famous Notre Dame Cathedral. In fact, many cities throughout France have a cathedral called Notre Dame. Dijon is one such city.
Dijon's Notre Dame Cathedral is also the location of the famous original stone "owl," the emblem of the city. We recommended seeing the cathedral's interior as well as making sure you see its facade and complete exterior.
Take a walk around the building to find the tiny owl. If you're looking at the front of the building, it's around the corner on the left side of the cathedral. It's smaller than you may expect (pictured below), but it's easy to spot because there are usually tourists there taking photos or rubbing it for good luck.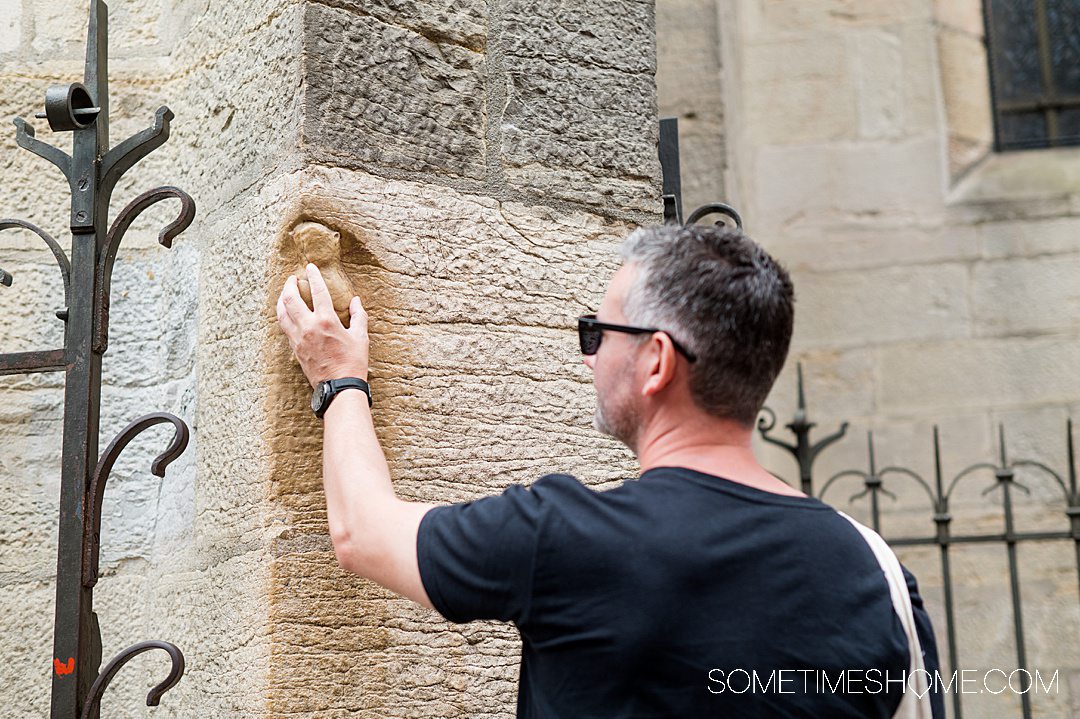 4. Walk Up the "Tour Philippe le Bon" (Philip the Good) Tower for an Aerial View of Dijon
One of our favorite things to do in Dijon was tour the Philip the Good Tower.
This tour must be booked in advance; it was easy to reserve the morning we arrived in the city thanks to the help of the tourism office. You cannot climb the tower without a guide; it is not otherwise open to the public. 
We secured two spots for the late-morning tour that finished just before our lunch reservation. 
During the tour, our guide took us to the beautiful garden called Places des Ducs de Bourgogne, where there was a statue of Philip the Good next to the tower we were about to go inside. We climbed to the top of the stone spiral staircase to see the gorgeous view of the city. The bird's eye view was breathtaking. 
All along the tour, you will learn about the history of Dijon, including information about its Burgundy and British rule throughout the centuries.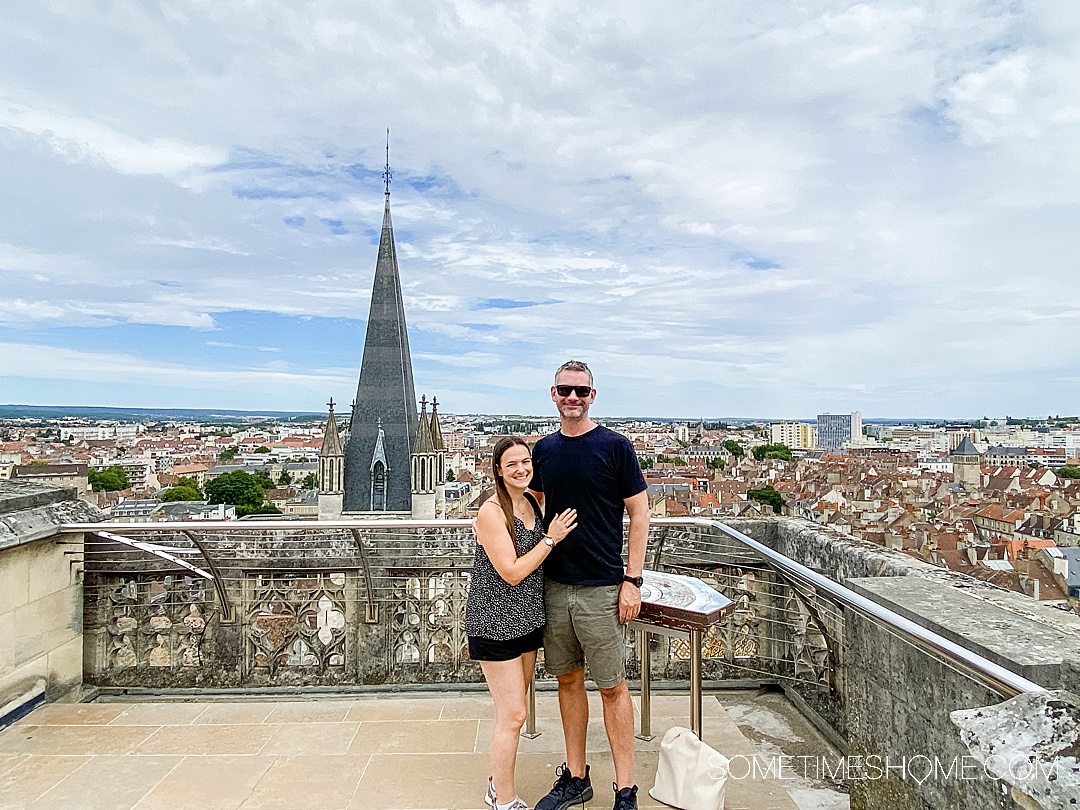 5. Tour Palais des Ducs et des États de Bourgogne
If you tour this Dijon Palace for any reason, let it be the beautiful sculpture room where you can look down on the impressive plaza below!
Overall, a tour of Palais des Ducs et des États de Bourgogne is worth the visit and a great thing to do in Dijon to see how people used to live. The palatial rooms inside are gorgeous.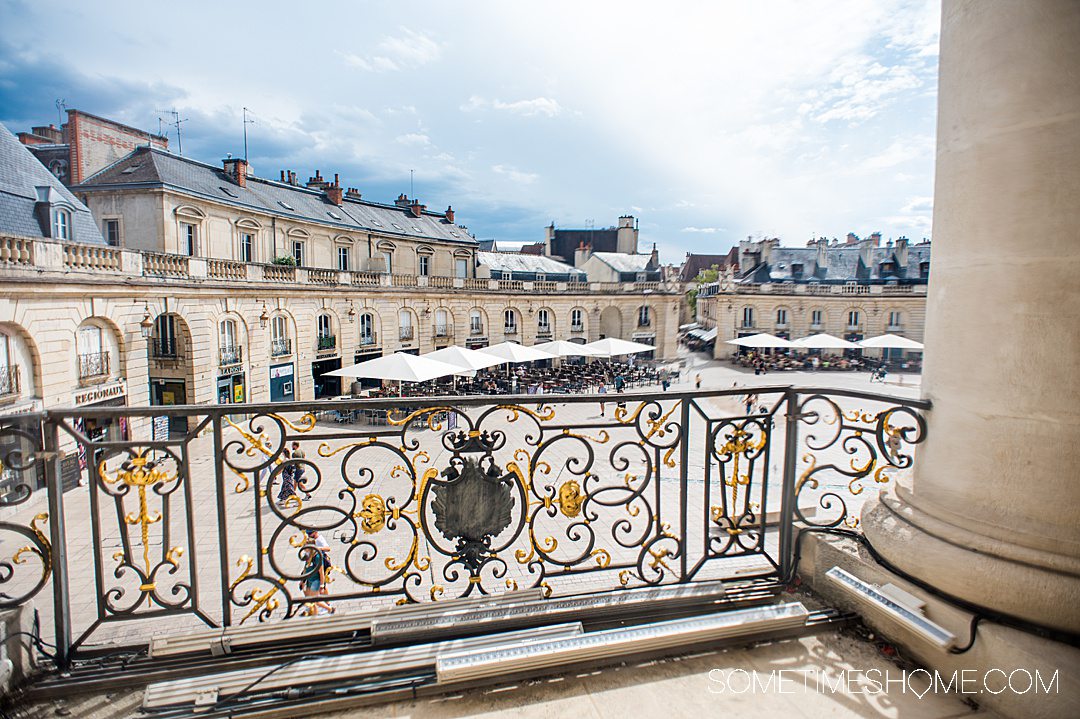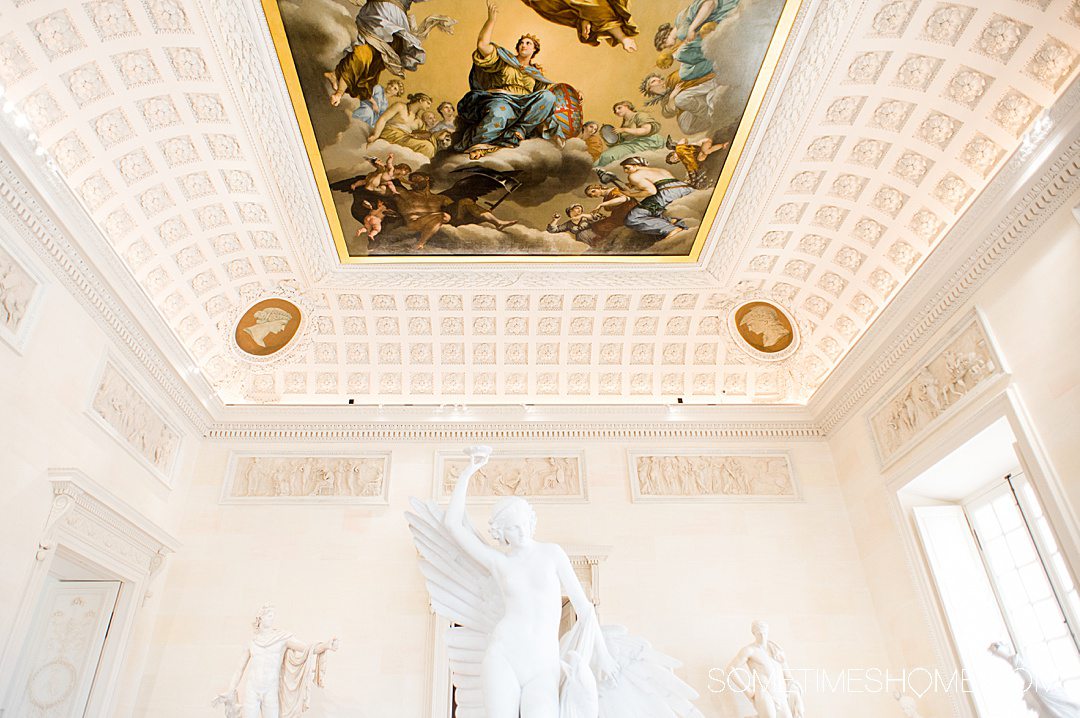 We Always Travel with Our Solis Hotspot
We need wifi at so many restaurants nowadays whose menus are QR codes. And many tourist attractions have apps we have to download. That's why we need to be connected when we travel.
▶︎ Use code "SOMETIMESHOME" for 15% off your purchase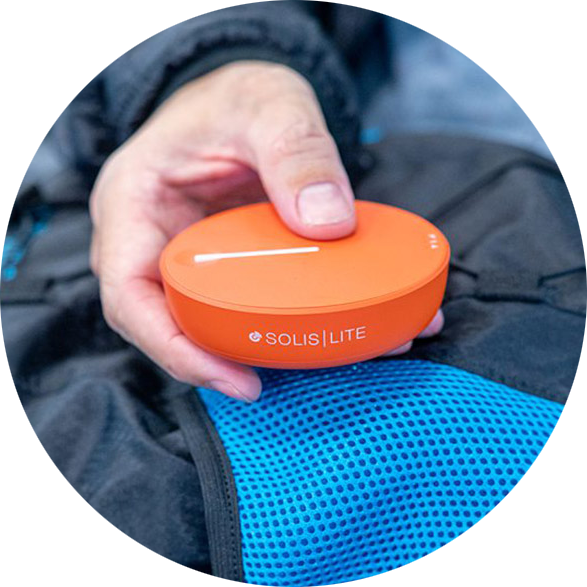 6. Visit Dijon's Les Halles Market
We made it a priority to visit Les Halles market during our one day in Dijon. It is open every Tuesday, Thursday, Friday, and Saturday from morning until afternoon. The market was one of the prettiest we've ever been to — and we've been to many!
It was bustling inside and out when we visited late Friday morning. Locals were getting their groceries, and visitors and residents were enjoying the restaurants and cafes lining the building's perimeter. 
There was so much to see there, from butchers and cheese mongers to olive vendors, florists, bakers, and more. It was a feast for the senses – from smells to sounds and sights – as we gazed into the cases of beautiful cheeses, meats, and more. 
Cartons of farmers' fruits and vegetables were ready to go home with the city's patrons, and pastries from boulangeries were ready to go in our bellies!
We bought a pastry for a morning snack as we continued walking around the market, dreaming of what we would buy for our home kitchen if we lived in France.
If you want a sit-down meal or beverage break, enjoy one of the several restaurants and cafes that surround the market.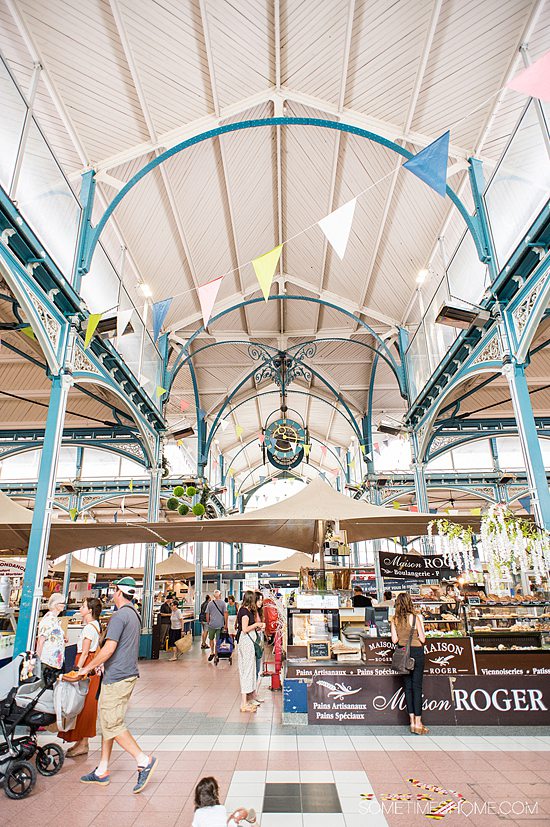 Just outside Les Halles market is one of the prettiest picturesque spots in the city. It's a wall complete with flowers climbing to the top. The adjacent corner cafe is the perfect spot to people-watch and enjoy a drink.
The market also has flea market-type vendors outside some days, selling clothing, shoes, and children's toys.
There is a free restroom inside the market.
7. Experience Elevated Cuisine at a Michelin-Starred Restaurant in Dijon
Similar to its neighboring city of Lyon, Dijon is a city of gastronomy in its own right. There are several culinary things to do in Dijon, even if you only have a day there. 
One of the things we were most looking forward to on our one-day discovering things to do in Dijon was our lunch reservation at CIBO, a Michelin-starred restaurant. We reserved a table for two online about two to three weeks in advance.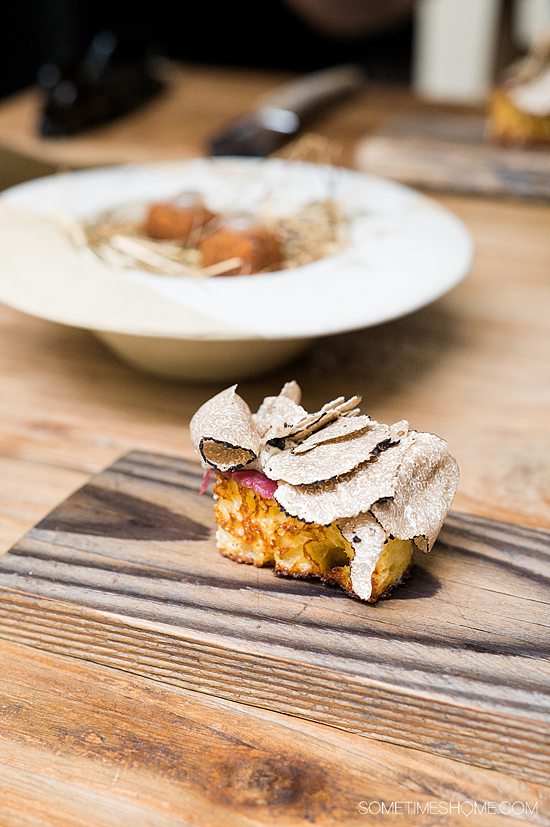 There are only a few tables inside, and its wonderful reputation precedes it; every table was full. We recommend you make a reservation in advance if you want to eat there.  
Modern Design of CIBO Restaurant
CIBO's interior design was lovely and modern while keeping the charm and character of its interior stonework and "rustic" vibe intact. Its decor finishes were as balanced as the food, from the choice of plates and flatware to the delicious wines the sommelier recommended for our courses.
Lunch at CIBO, a Dijon One-Star Michelin Restaurant
We chose to dine at CIBO because the lunch menu and interior design appealed to us, and the price was right. Seeing the restaurant during the day excited us; it was lovely, thanks to a skylight in the back room that allowed refreshing daylight to shine through while the sun was out. 
We like to treat ourselves to a nice meal or two wherever we go (food tours included), and just as we booked a similar restaurant in Valencia a few years prior and had wonderful memories from our experience, we wanted to book something like CIBO as a treat to ourselves in Dijon. When we were in Marseille, France, we did the same thing. And the same in Lyon.
CIBO did not disappoint, and we thoroughly enjoyed our experience. 
The dishes change in accordance with what is in season, and we were presented with a wax-sealed menu upon arrival. A farm-to-table restaurant, as some may call it, its ingredients are sourced from farms and vendors within 200km of its location. 
We had five courses; each one was beautiful, flavorful, and inventive.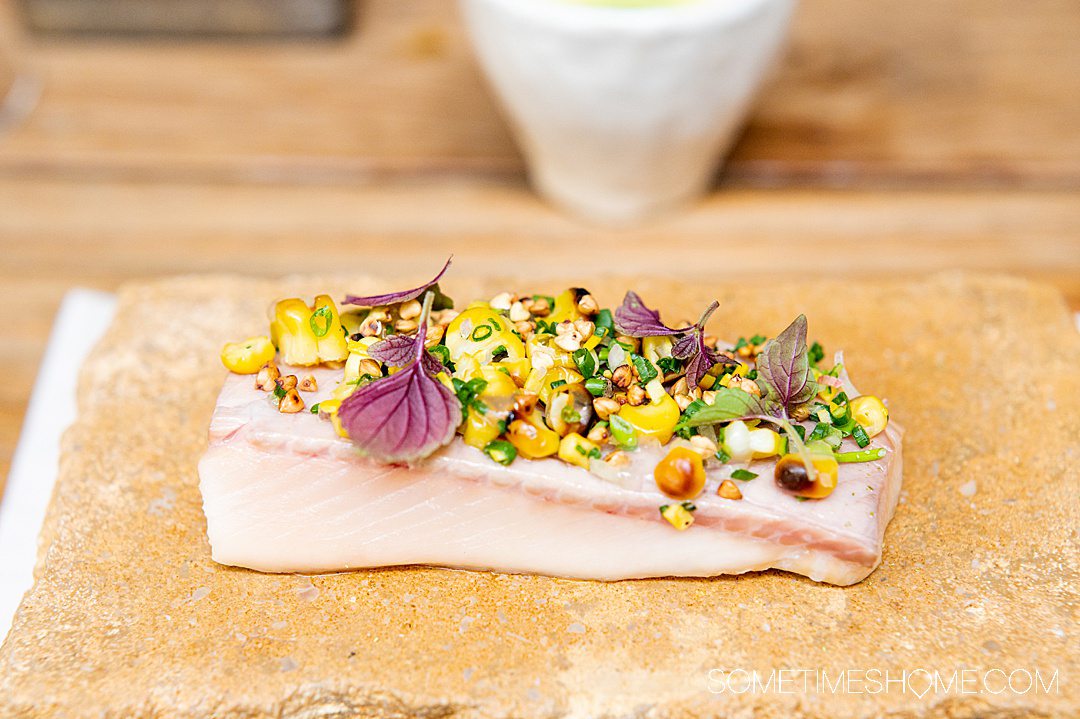 Other Restaurants in Dijon
If a Michelin-starred restaurant isn't for you, try a different restaurant in Dijon. They have many!
We had a beer and a snack at L'Alsacien Dijon later in the day. It is a casual and affordable Dijon restaurant I loved discovering because it brought me back to the delicious Alsatian food from a trip to Colmar. They even had happy hour specials. 
8. Visit Dijon's City of Gastronomy
Another culinary thing to do in Dijon is visit a new area of the city just south of the train station called the City of Gastronomy. Visiting for a view of the building's architecture alone is worth it. 
We walked there from the Arquebuse Botanical Garden, which was a lovely stroll.
We were disappointed when we arrived to learn the exhibits closed at 6:00 pm, which we thought was rather early during summer. But we were delighted to discover the cafe was open!
So we sat down to share an appetizer and two glasses of wine in the small window of time we had before our train left to go back to Lyon. To our advantage and yours, there is a tram stop right in front of the City of Gastronomy that will get you to the train station in a short time.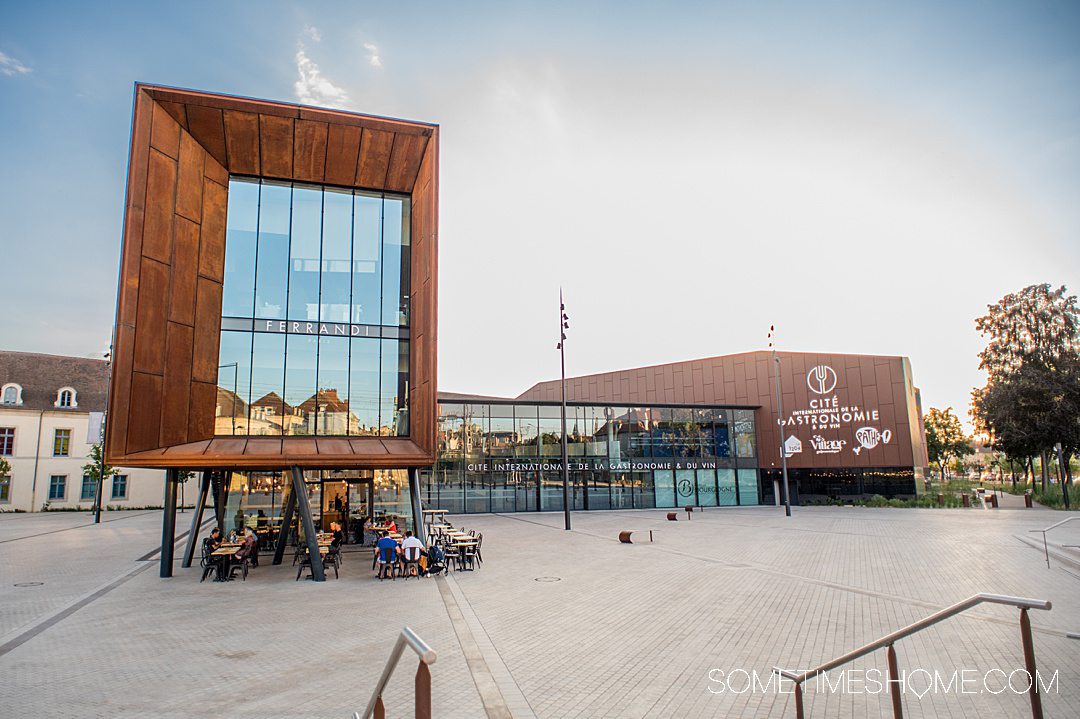 9. Buy Dijon Mustard Souvenirs
Though you wouldn't really know that Dijon is famous for mustard simply walking around the city center and Old Town, you likely have knowledge of Dijon mustard. 
There is a very well-known mustard shop in Dijon that you may spot or include as a destination of your day of things to do there if you keep your eyes peeled or add it to your schedule, called Boutique Moutarde Maille. The brand was established in the early 18th century. If you show your Dijon City Pass card you can get a discount.
The shop on Rue de la Liberté is a great place to try some interesting mustard flavors and buy souvenirs. We loved the shop's mushroom-flavored Dijon mustard, but there were plenty of flavors to try, including balsamic and pesto. 
You can buy bigger jars to bring home in checked luggage or tiny jars for carry-on bags. 
Address: 32 Rue de la Liberté, 21000 Dijon, France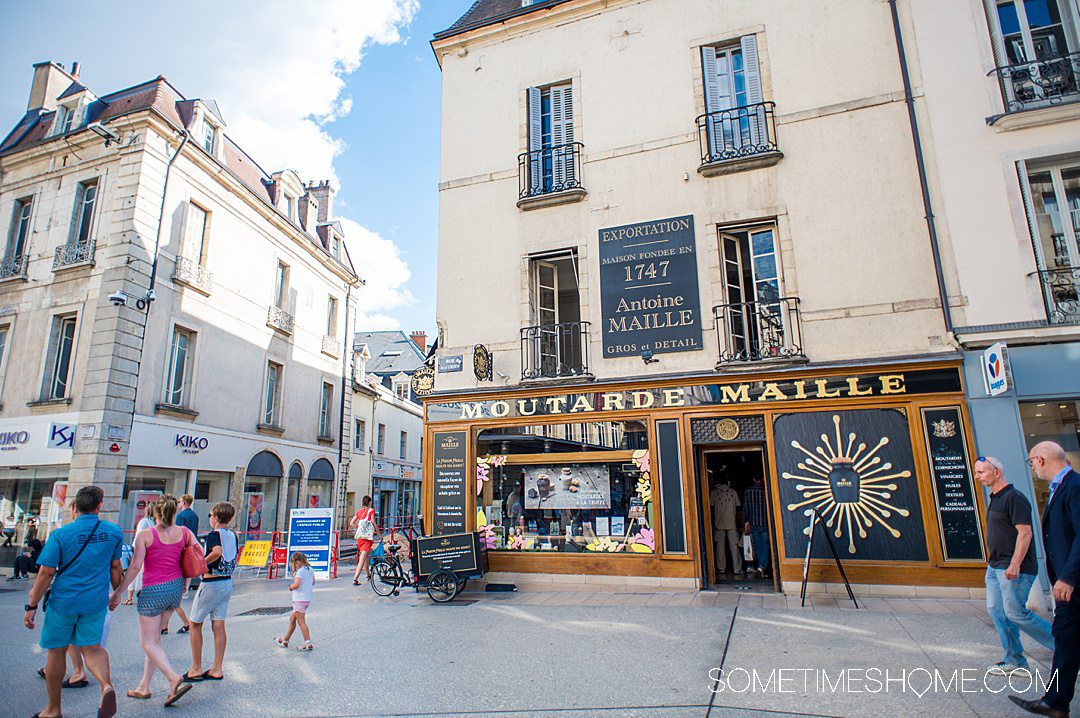 10. Have a Drink at Monsieur Moutarde
We were lured inside Monsieur Moutarde after seeing the building's attractive exterior.
The bar manager happened to be there as we snapped photos underneath their cute outdoor sign. Our curiosity was piqued as he shared some of the building's history. We stepped inside to discover a gorgeous bar with a lot of character and charm. 
If afternoon or evening cocktails are a priority when you travel, be sure to add a stop at this bar to your list of things to do in Dijon. 
Address: 40 Rue des Forges, 21000 Dijon, France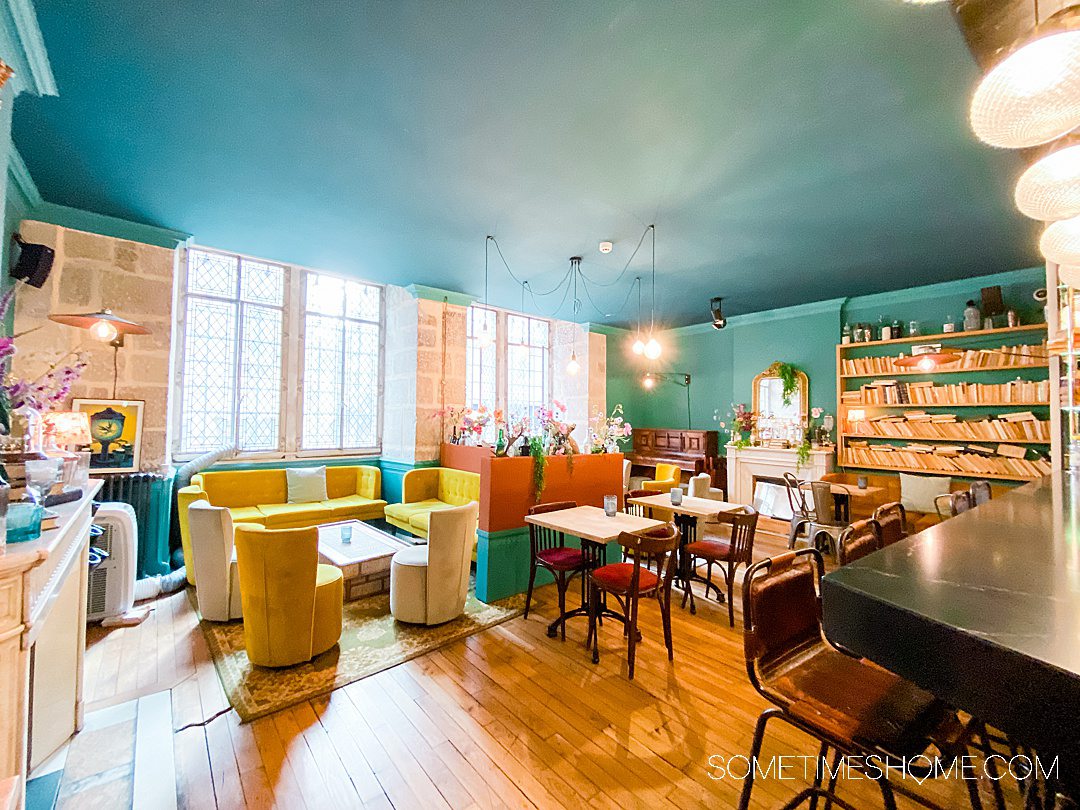 Start Your Day at Dijon's Tourism Office
The first order of business upon arrival in Dijon was a stop at the tourism office. We got to the city via train on a Friday morning. The train (which we booked via Trainline) departed Lyon at 8:30 am, and we arrived in Dijon just after 10:00 am. 
The tourism office, which is conveniently located next to the station, was open when we arrived. We stopped in to ask for advice, get some maps, and ultimately invest in a Dijon City Pass for the day. 
Buy a Dijon City Pass and Transit Pass
When you buy a Dijon City Pass, you automatically get a transportation pass with it.
We were there for a day, so we tried out the 24-hour pass, but you can also buy a pass for 48 hours or 72 hours. (Two days or three days.) 
What to Book Ahead of Time with the Dijon City Pass
We knew we wanted to walk up the steps to the top of the Philippe Le Bon (Philippe the Good) Tower and knew from research that we had to reserve the tour in advance. 
We were flexible with what time we did the tour and were able to book it that morning for the same day. 
How far in advance you book the tour varies depending on whether it is peak tourism season or not and if you're there on a weekend versus a weekday. We visited Dijon on a summer Friday in July, and we were able to book a tour for two people for hours after we arrived via the tourism office.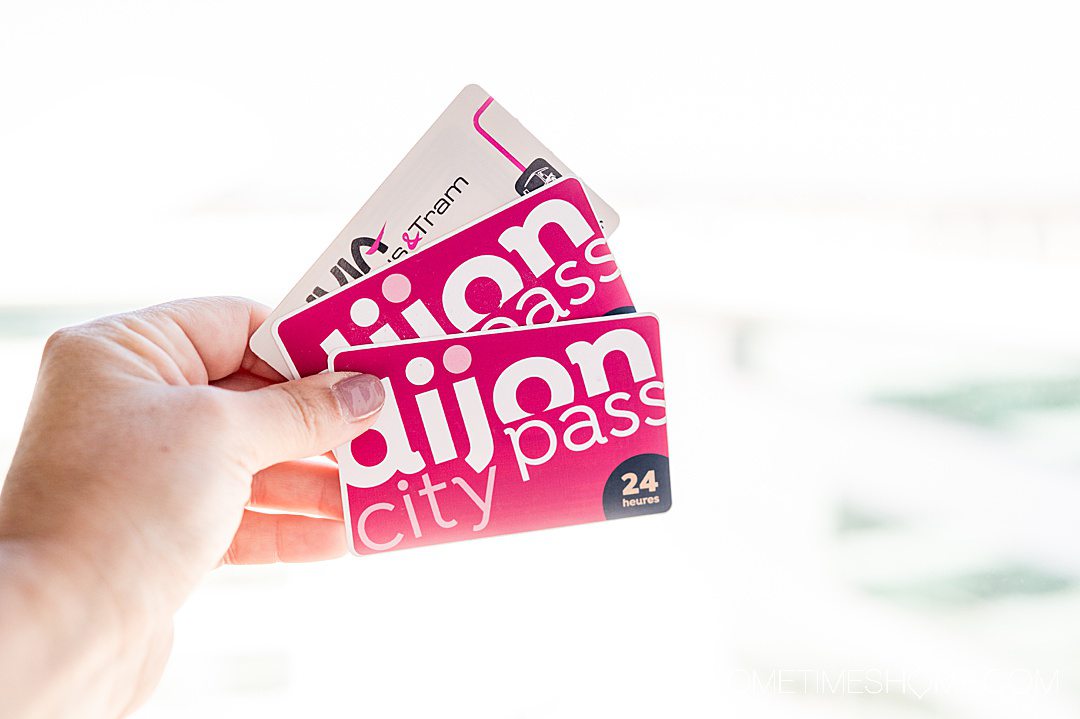 Is a Dijon City Pass worth it?
Like most things regarding travel and costs, it depends on what you want to do.
If you want to get around the city faster, the included transportation pass is really nice. However, how much you use the trams or buses depends on the schedule. For example, if you have to wait eight minutes for a tram but the destination you're trying to get to is only a 10-minute walk away, and it's a nice day, it may be better to walk there. 
However, if it's really hot or cold outside, and you're tired or mobility challenged, the trams are a great option. But, then again, you can buy tickets for the trams and buses without buying Dijon City Passes. 
If you think you'll shop a lot and the discounts included with the card and free wine tastings are appealing to you, it's something to consider.
In our opinion, we do not think the Dijon City Pass is worth it unless you are going to rent a car to explore nearby areas. If you do, then it's worth the cost because of the entrance to castles and museums that surround Dijon. But in that case, we recommend you stay in the area overnight and get the 48-hour or 72-hour pass.
What is included with the Dijon City Pass?
Entrance to various museums, public transportation, and discounts are included with the city pass.
Keep in mind that while a pass may be for "24 hours," and the city transportation runs from the morning well into the night, museums and such generally have operating hours of 10:00 am to 5:00 pm or 6:00 pm. 
If you arrive at 10:00 am and leave the city around 8:00 pm, stopping for lunch for an hour and a half mid-day, figure you have approximately five to seven hours to utilize the city pass if you buy one for 24 hours for one day in Dijon.
Museums and Castles
Most of the museums and castles included with the Dijon City Pass are not in the city. They are reachable by a 10 to 60-minute car ride. The attractions located in the city center on the pass include Philip the Good Tower and the Fine Arts Museum. 
Transportation
Public transportation (buses and trams) is included with each Dijon City Pass purchase. For most of the day, we walked to get from point A to B to see the sites we wanted to visit. 
However, when time started to tick away and our day in Dijon was coming to a close, it was nice to use our transportation cards to move about the city more quickly. It allowed us to visit one or two more spots before the day ended. 
An example was when we were at the City of Gastronomy and took the tram back to the train station to make it back in time for our transportation to Lyon; walking to the Dijon train station would have taken us a lot more time.  
Additional Discounts
You can take advantage of additional discounts with the Dijon City Pass card, like at Boutique Maille, the famous mustard shop in the city center where we bought gifts to take home, mentioned above. You also get 50% off gifts in the tourism office shop (which are pretty good souvenirs!), 10% off bike rentals, and some additional discounts. 
Dijon, France FAQs Answered
What's the deal with Dijon Mustard?
To be honest, we're not sure. As Americans, we mostly know "Dijon" thanks to their famous, sharp mustard that is sure to clear your sinuses. (I love a good condiment!)
But we were surprised that the only sign of this delicacy in the city was in souvenir shops.
We bought mustard to bring home and give as gifts to some mustard-loving friends we made on a trip to Bordeaux during our river cruise in France a few weeks earlier. 
Yet other than finding it in notable souvenir shops, some of which have been around since the 18th century, Dijon was a LOT more than mustard. In fact, it was barely about mustard. 
We did, however, notice a day trip to an area near Dijon to learn about mustard, mentioned in a pamphlet we got from the tourism office.
Why are polar bears and owls used so much for Dijon souvenirs?
As soon as we stepped into Dijon's tourism office, we realized there were two noticeable icons in their printed marketing and media materials and for sale as souvenirs: a polar bear and an owl. 
But why?
The polar bear is an ode to a famous animal sculpture in Jardin Darcy public park, which stands at one entrance as a greeter or protector, depending on how you look at it.
The owl is thanks to the stone owl on the side of Notre-Dame church. This animal has been worn down and "polished" over time thanks to visitors rubbing its body for good luck as they pass by the small icon. 
We loved that Dijon used the owl for the iconic tour around the city. The cute fellow was welcoming and fun!
Is there enough to do in Dijon for two days? What about three Days?
Yes! There were especially a lot of things to do in the surrounding areas, which would be great day trips from Dijon.
Use Dijon as your home base and sign up for excursions that include transportation or rent a car to get around the area.
➡︎ Secure your space on these great tours and around Dijon
Don't Postone Renting a Car!
If you purchase a Dijon City Pass, you may want to consider three days there. It makes visiting some of the attractions included with the pass outside of the city even more worthwhile. This includes wine and cheese destinations Château de Meursault and Fromagerie Gaugry.
If this sounds appealing, purchase the 72-hour Dijon City Pass.
Conclusion for One Day of Things to Do in Dijon
When you visit Dijon for a day, you'll discover a beautiful city with a rich history. Its landmarks, architecture, history, and gastronomy will delight you, and, like us, you'll be left inspired to come back, wondering what new experiences await your next visit to this lovely city in southern France. Heck, you may even want to visit for two days, three, or more!
Going to France? Check out: