Our Secret Tip to Help You Pack in 10 Minutes Flat
It's inevitable I get asked a recurring question days leading up to a trip, whether from family or a friend: Did you pack yet? The answer is usually a resounding "no."
Dan and I have packing down to a science, which is why we can do it the morning of a trip or day before. Our secret tip for packing in 10 minutes will help you do the same.
Packing almost always ends up being low on our priority list before we leave for vacation or travel for work. Our strategy involves the same awesome backpack luggage and a quick turn of the wrist to throw our items in it.
Disclosure: There are affiliate links in this post, which means we may earn a small commission if you click the link and proceed with a purchase, at no cost to you. We truly only recommend hotels, products, and services we personally use. As Amazon Associates, we earn from qualifying purchases.
Our Secret Packing Method
You've heard the saying, "Don't need to reinvent the wheel." I take my queue from this old adage. If you ask anyone the one thing they always consistently pack for trips I bet most people would answer something along the lines of: underwear, a toothbrush and other assorted toiletries.
Somewhere along the line we realized how much simpler packing would be if we had duplicates of all our toiletries – and makeup for me – that I always keep packed. Simple….but genius, right?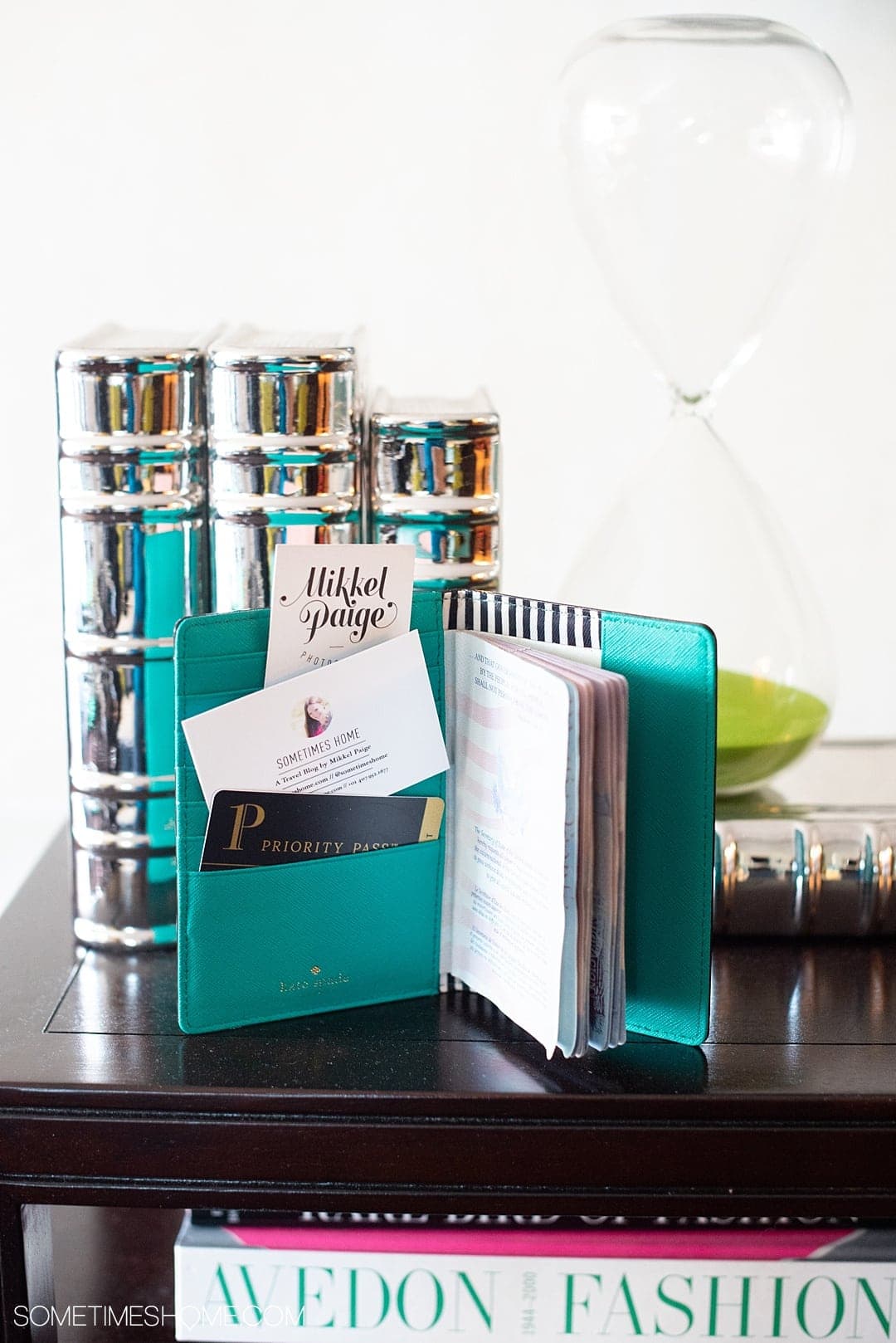 What do we Keep Packed?
There are three things that are always ready to go in my home:
Passport
Toiletries bag
Small makeup bag (for Mikkel)
What's Inside the Bags?
Passport
Our passports are always in their passport holder. The holder keeps it safe and clean in the drawers we keep them in.
My Kate Spade passport holder also has compartments for me to put business cards and my lounge Priority Pass in.
This means I don't have to search for all this things when I pack for international trips we take. They're already ready to travel.
Toiletry Bag
Unlike a passport, which you can't have two of, the key to the success of my toiletries and makeup bags is everything is a duplicate item.
To clarify, this means that each item in this bag stays there all the time.
I don't unpack my razor from my toiletry bag when I get home, for instance, and place it in my shower. I already have a razor in my home shower. This is a dedicated travel razor. The same rule applies for everything else on the list. The same for Dan – he has duplicates of all his toiletries ready to go in his own toiletry bag.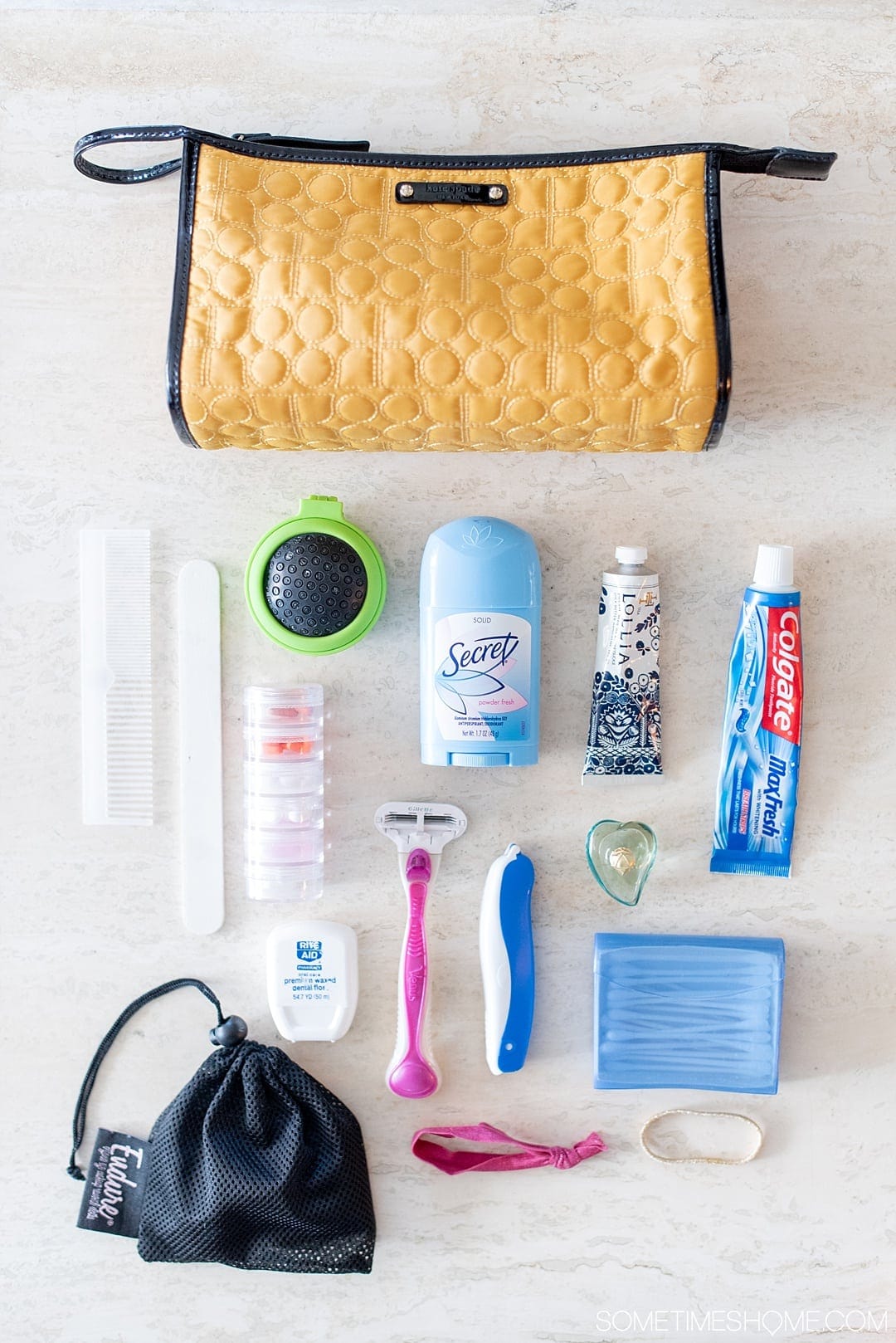 What's in the bag:
Collapsable hairbrush (it saves so much space! It's easy to find at Target or a dollar store)
Comb
Travel size deodorant
Razor
Hair bands
Travel toothbrush
Toothpaste
Lotion/moisturizer
Travel size perfume
Q-tips
Dental floss
Medicine/pills
Contact case (I used to have this in there because I wore contacts but I had Lasik surgery and don't need it anymore!)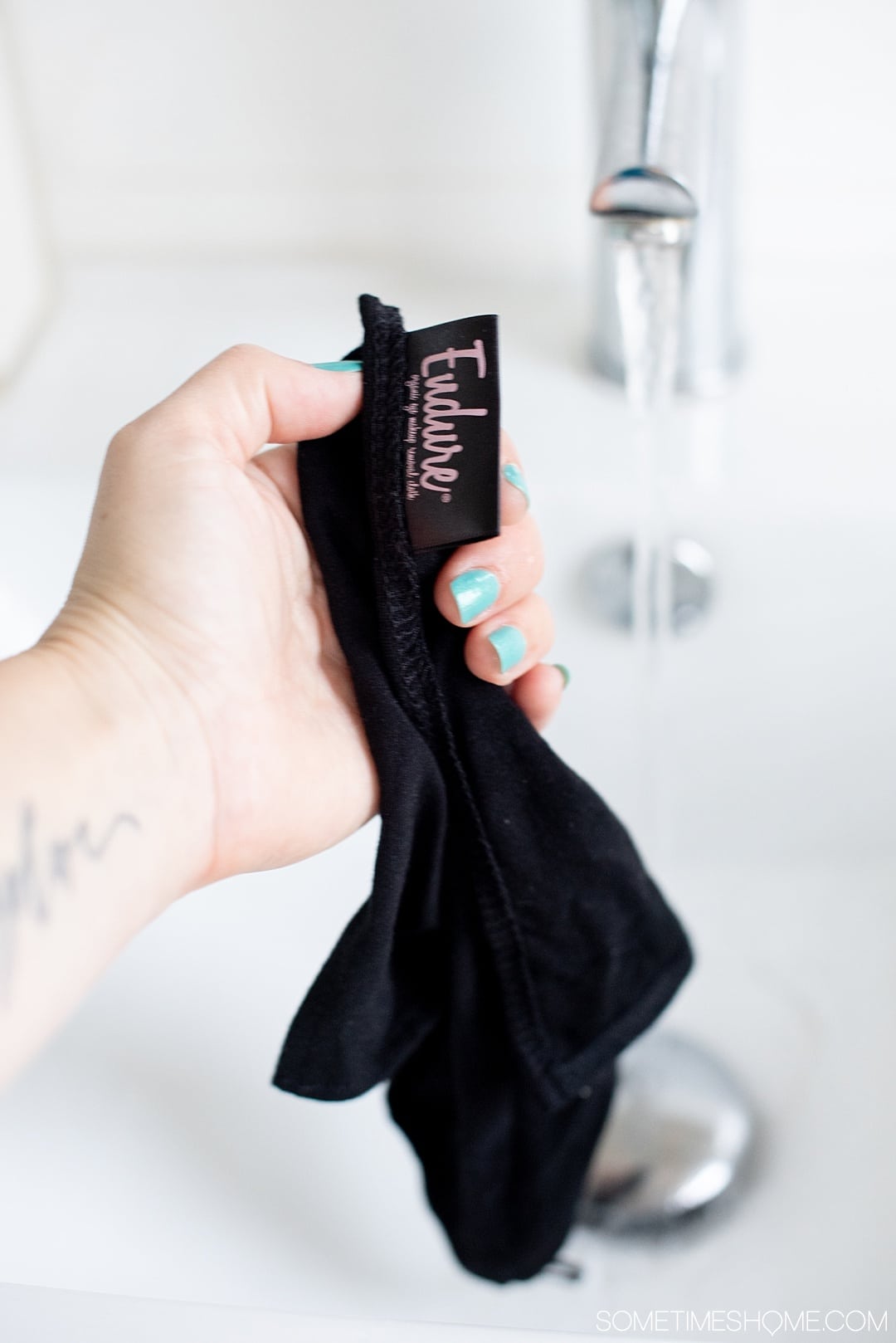 Awesome, Organic and Reusable Makeup Remover Cloth
My favorite item in this bag was a discovery that has made it even more efficient to pack with this time saving method. It is an organic reusable makeup cloth I found at Endure Beauty. We also love that it helps reduce waste and save the planet, which is something we always strive for.
It's heaven to not have to repack cotton rounds and makeup remover wipes for trips. (I used to pack both.) Now I simply keep this cloth in my bag. It's super soft and great for sensitive skin (if you want to get technical it's made from Bamboo Ponte, which is proven to have antimicrobial properties).
I also love that it's eco-friendly. (Reduce, reuse, recycle to help save the planet.) I've found the best way to use it is to get it wet with a little warm water under the bathroom faucet. Then you can either use it with a little soap to wash your face or (what I do) is put makeup remover liquid on it to get my eyeliner and mascara off entirely.
Then you hand wash it with soap and warm water and hang it to dry. (You can also throw it in the wash with your clothes in a mesh bag shipped with it but since I usually don't have a washer and dryer when I'm traveling I've found hand washing it works best for my needs.)
Ready-to-Go Medicine in my Toiletry Bag
In terms of medicine, I always have a little of everything packed and ready to go. I am a believer in modern medicine including anything that could help an ailment while traveling.
I bought the empty plastic pill container at the dollar store. The reason I like this one is that it's sturdy and needs some manpower to twist it open. There are much flimsier ones made to sit on your counter, not to travel with, that will open on their own in your suitcase or backpack. You don't want one of those! Get one that won't open on its own.
Here's what I pack in my pill case: Advil, Motrin, Zyrtec (for allergies), Pepto Bismol, Imodium, and Excedrin.
Makeup Bag
I'm usually low-key when it comes to makeup on a day-to-day basis but I'm especially low-key on vacation. Funny enough, I have a lot of makeup I've accumulated over the years.
I keep the following in a small silver mesh bag, separate from my big stash fo makeup.
The rest of it – the stuff I play with if I want to get creative with other eyeshadows, eyeliners, lip gloss, etc. – is in a much bigger bag in a bathroom drawer. This smaller bag contains my staple makeup and sits in a bathroom drawer I open daily.
My small makeup bag travel kit contains:
Mascara
Blush
Tweezers
Eye shadow (2 colors – one for highlights and one for shadows)
Eyeliner (I use cream liners)
Eyeliner brush
When I need to grab my makeup when I'm putting my things together to pack for a trip guess what? My makeup is already packed! That's because it stays packed in that bathroom drawer.
I toss it into my Cabin Zero backpack (which is always stored under our bed because they're soft and collapsable) and I'm done.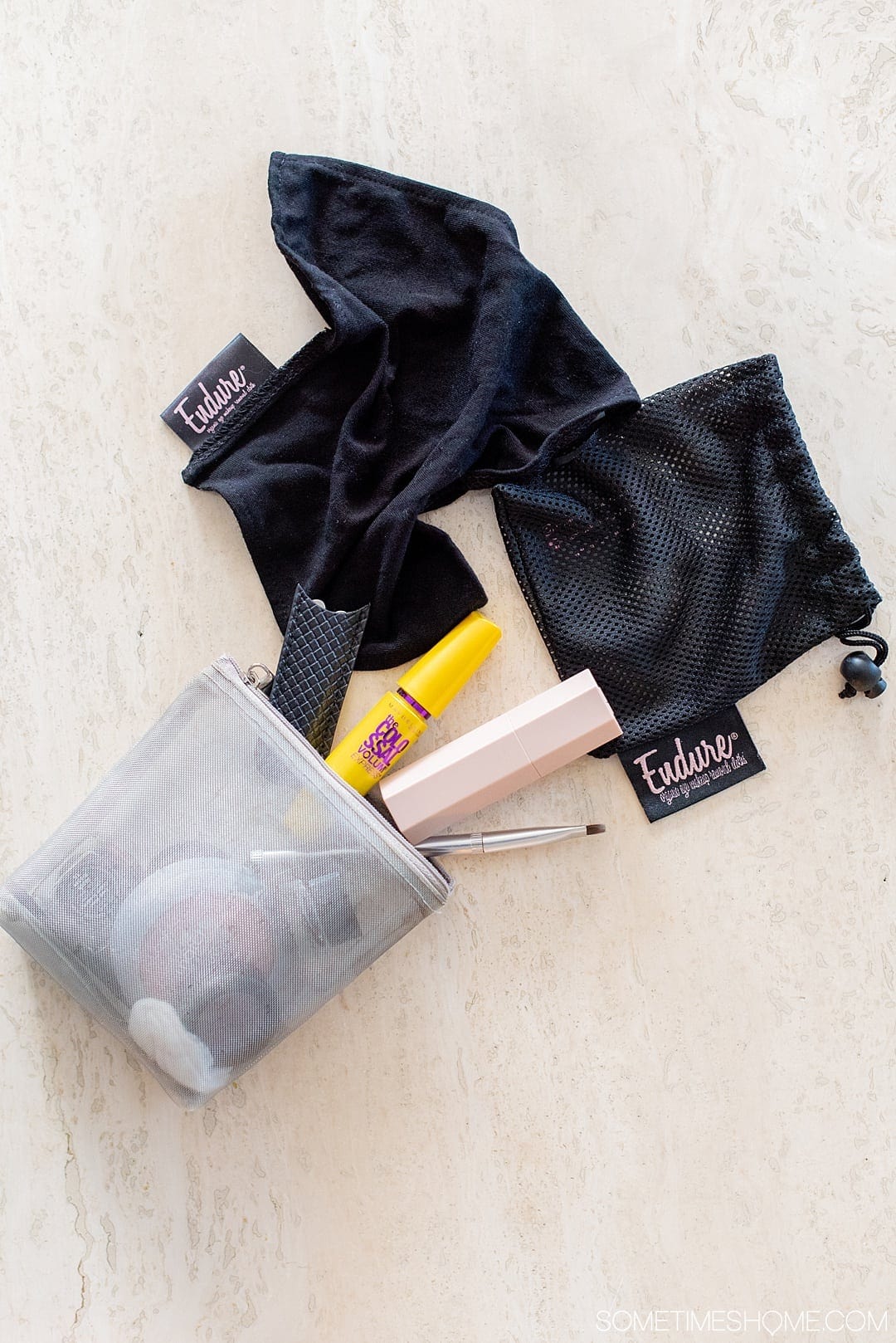 How Much Time Does This Really Save?
This tip for packing in 10 minutes saves a lot of time, believe it or not. Just like having a capsule wardrobe can save you time, so can having your toiletries packed and ready to go at all times.
Imagine if you had to pack…then unpack…then repack your toiletries, passport contents, and makeup every time you traveled. It saves me about 30 minutes of time, thought and energy each time we pack to go away.
If someone offered you over 30 minutes of extra time, would you take it? Save that amount of time with this secret tip. Pack like you're Superman operating at hyper-speed, whether for a road trip or flight, with this tip.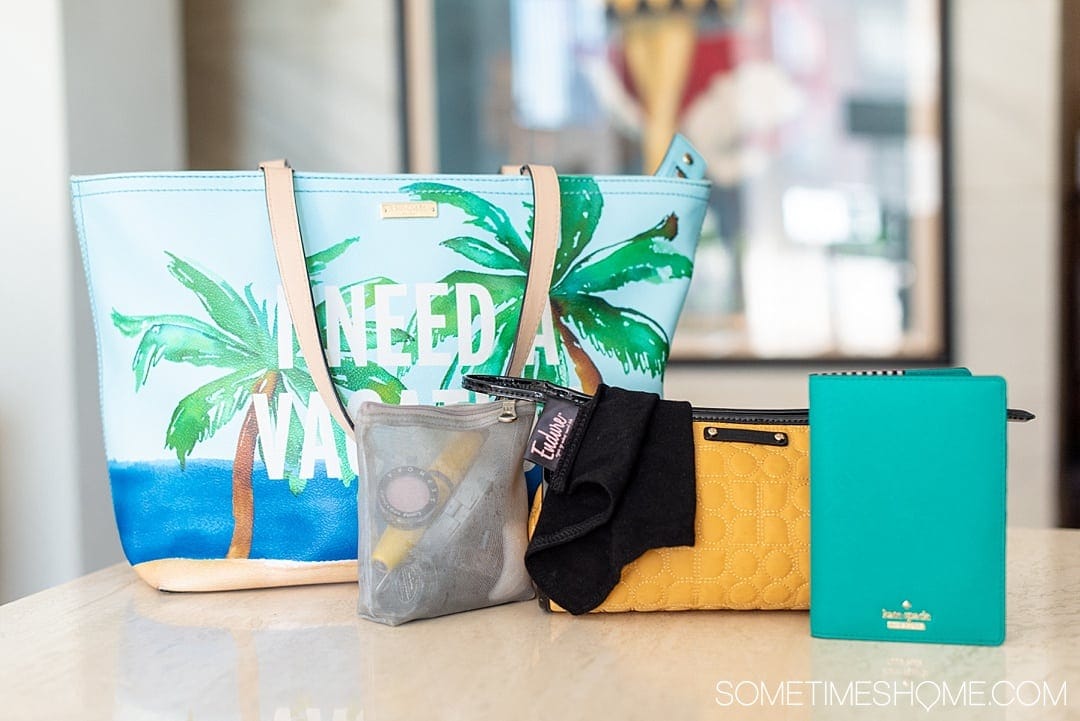 The Key to Success
The key to being successful in using this tip for packing in 10 minutes is that you need to be diligent in restocking things you've run out of when you return from a trip.
For instance, if I run out of toothpaste I'm sure to replace it as soon as I get home. Or if I need to do a solid thorough wash-run of my Endure Beauty organic reusable makeup remover cloth I do that as soon as I get back and place it back in my toiletries bag immediately after it dries.
That way I'm not scrambling to find my favorite travel toothpaste in the chaos of a long pre-trip to do list.
Keeping things always stocked, ready-to-go and in the same place you always put them will help you succeed in this tip for packing in 10 minutes, and give you time for other things in your life.
Then you can pack the night before your trip or the morning of like I do! And when someone asks you, "Have you packed yet?" the question won't stress you out!
Please note: We thank Endure Beauty for generously allowing us to try their fabulous product. There may also be affiliate links in this post, which means if you proceed to a post we may make a small commission, which helps support our blog. All the opinions in the post are ours and we bring you genuine content with real facts, photos and thoughts. Always.
Traveling soon? Also check out:
Let us know if you have any packing tips by commenting below!