Harbor Hotel in Watkins Glen Review: Picture Perfect Waterfront Hotel in the Finger Lakes
The delicate peach-colored accordion fold on a tissue tucked into the end of the toilet paper at the Harbor Hotel in Watkins Glen said it all: "THIS HOTEL HAS ATTENTION TO DETAIL!" It didn't stop there. I was continually impressed with the accommodations at this beautiful waterfront hotel.
I loved taking pictures of its exterior and interior, as a photographer. And as an avid traveler, I was grateful for the comfort it provided during our stay. This review of the Harbor Hotel in Watkins Glen includes many photos and thorough information to make your decision to book even easier.
Disclosure: There are affiliate links in this post, which means we may earn a small commission if you click the link and proceed with a purchase, at no cost to you. We truly only recommend hotels, products and services we personally use.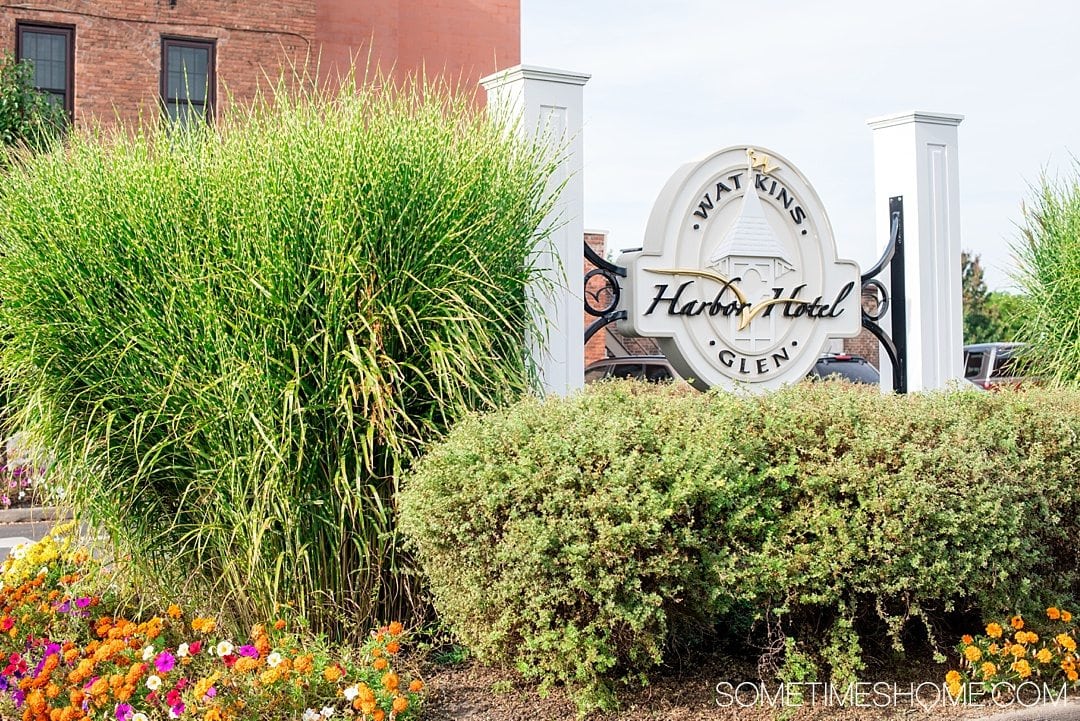 Harbor Hotel in Watkins Glen Curb Appeal
There is no doubt this hotel has some serious appeal from the moment you drive up to it. The care they took with the design and quality of their sign, alone, speaks volumes.
There are two ways to approach the hotel, which opened in 2008: first by the street, of course, and the second by boat on Seneca Lake. Both views are beautiful! The landscaping is really impressive and the colors of the plants and flowers add to this luxury hotel's allure.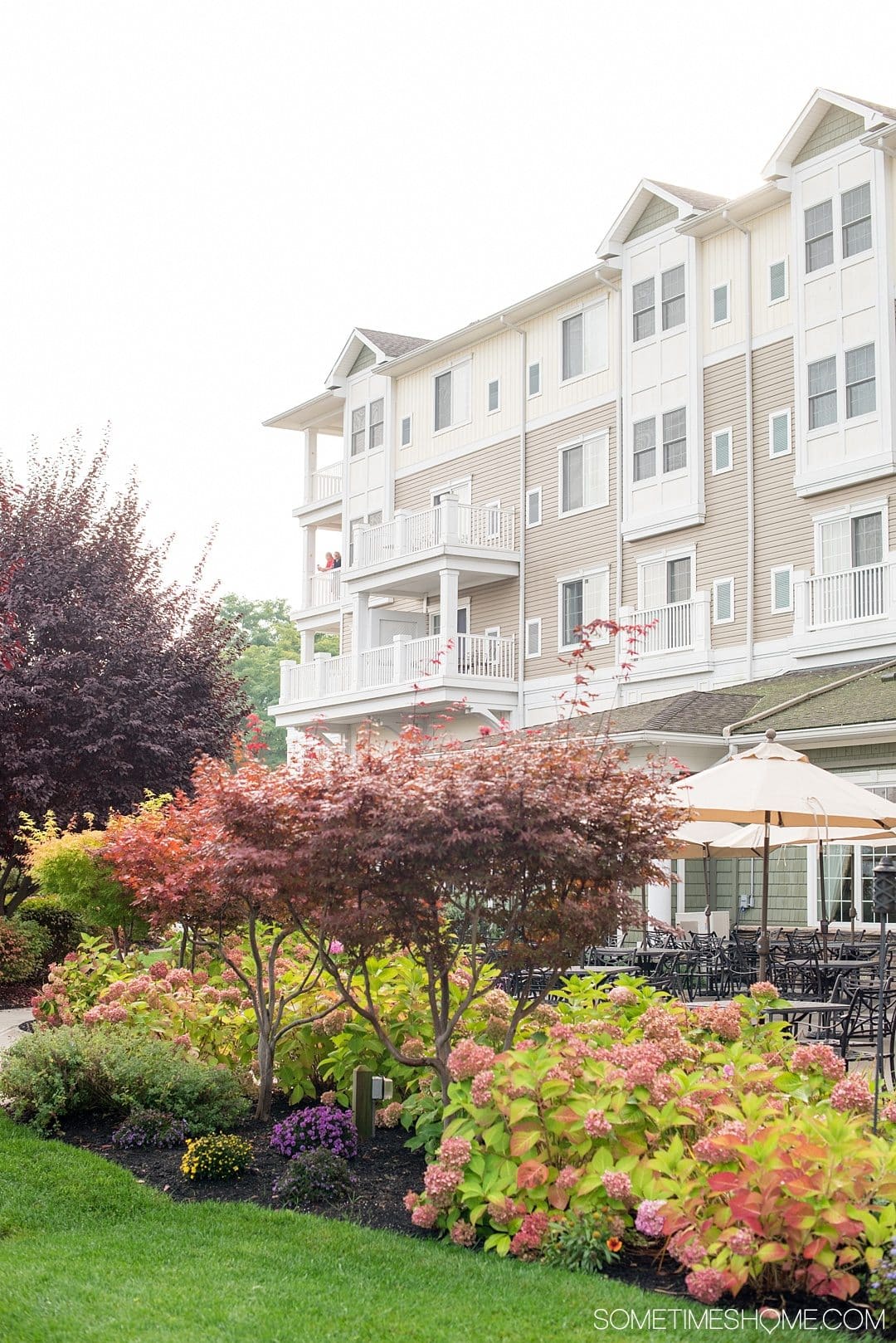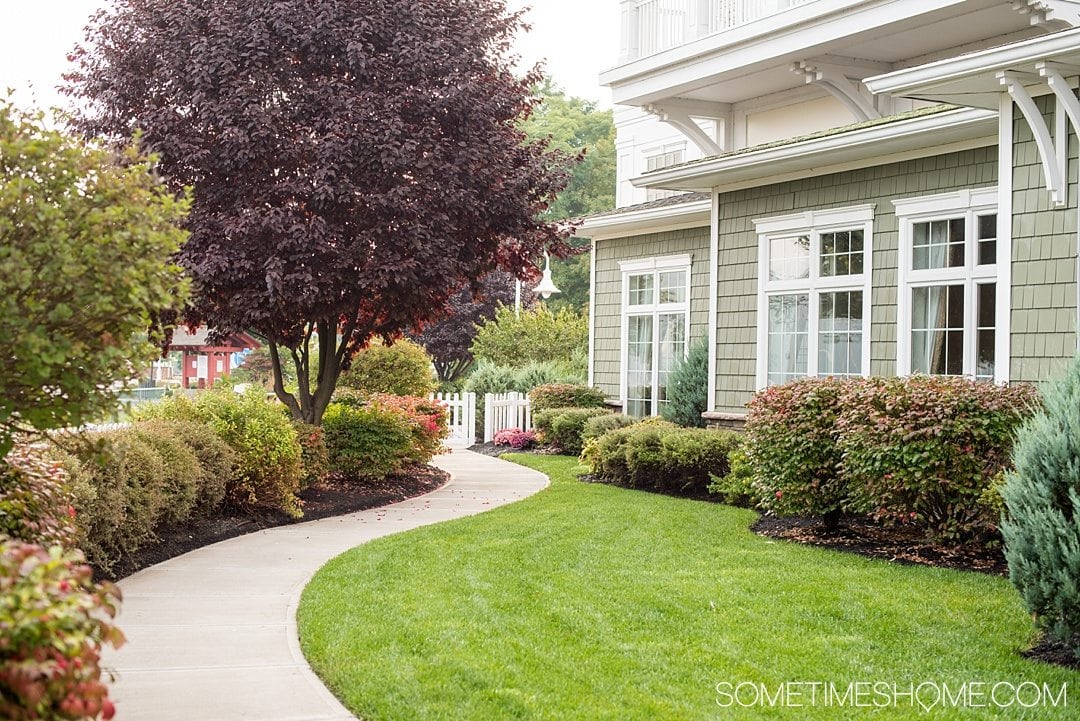 Common Spaces
Any hotel with a fireplace in its lobby is communicating a warm welcome to its guests – literally and figuratively. Its hearth invites you to stay awhile. There are always fresh flowers on the center table along with the daily newspaper, and friendly staff to greet you at the front desk.
The common area in the "back" of the hotel (or side closest to Seneca Lake) also has a welcoming fire pit to enjoy during the day or in the evenings. It's the perfect place to cozy up to a loved one during a romantic weekend getaway. Additional Adirondack chairs line the pathway so many guests can enjoy a waterfront view and seat at all times.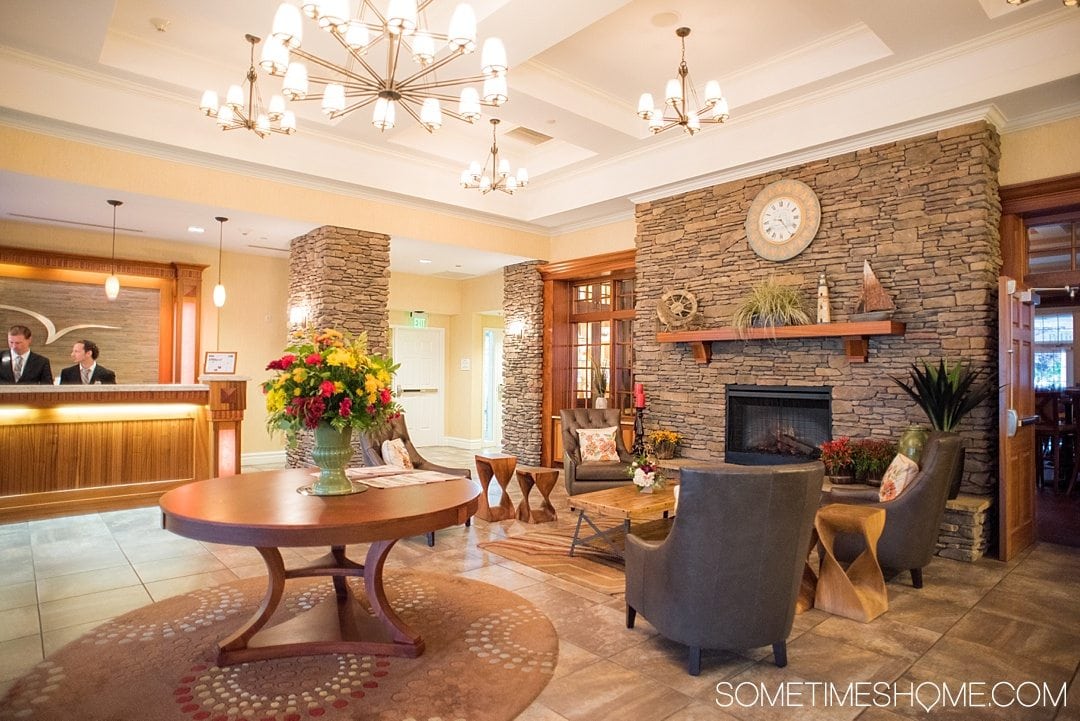 Onsite dining is also available for three meals each day. Their Coldwater Bar is the perfect place for an evening or pre-dinner cocktail before heading to their Blue Pointe Grille for dinner. Or, in the morning, enjoy an outdoor breakfast on The Patio.
Guest Areas at the Harbor Hotel in Watkins Glen
The hallways showcase the upkeep of the hotel is an utmost priority. The water color palette is matched in the guest room corridors. Bright daylight bulbs in sconces and overhead lighting illuminate the way through white wainscot panelling and cool-toned blue hued walls.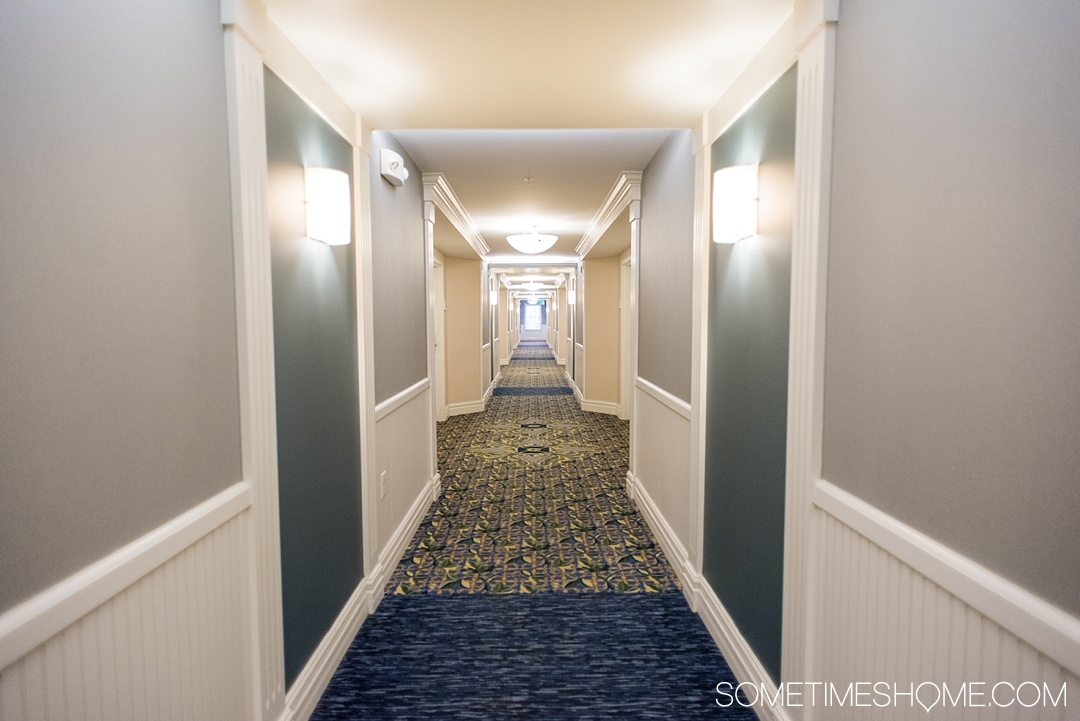 I opened the door to my room and was delighted by the "Cape Cod" inspired design. The colors were calming and the bed called to me! I am a huge fan of throw pillows, thus seeing them so elegantly placed on each bed made me smile; an embroidered "HH" on the front one was the icing on the cake.
The wainscotting from the hallways was echoed in the rooms from the headboards, to a table for two, to a vanity seat, and finishes in the bathroom.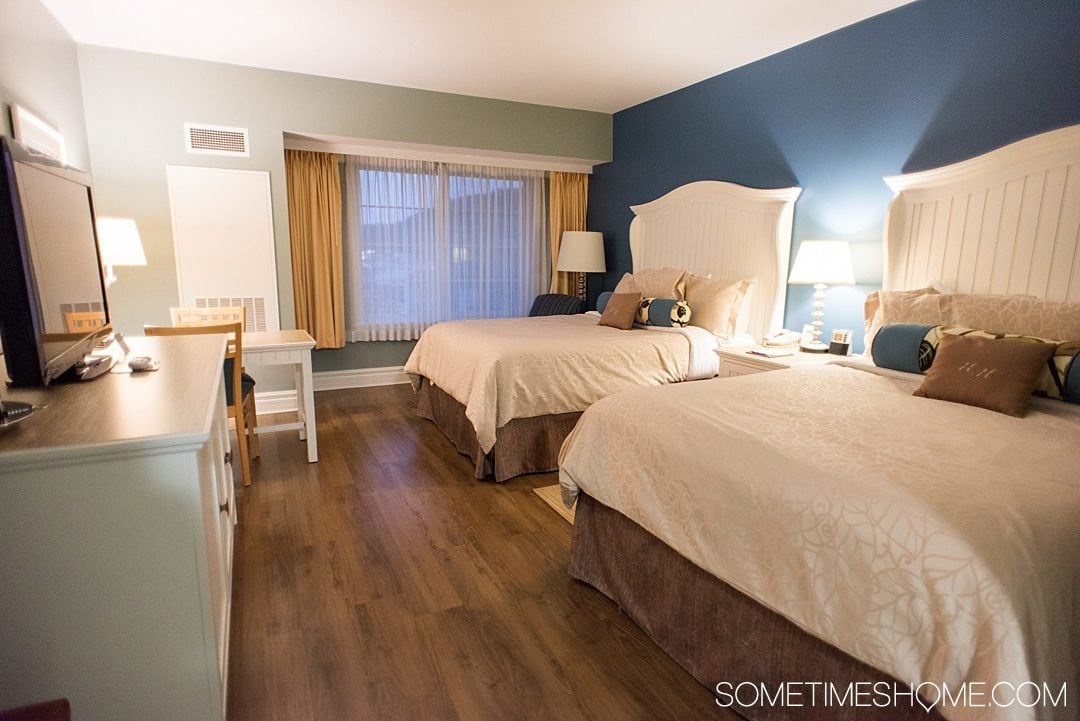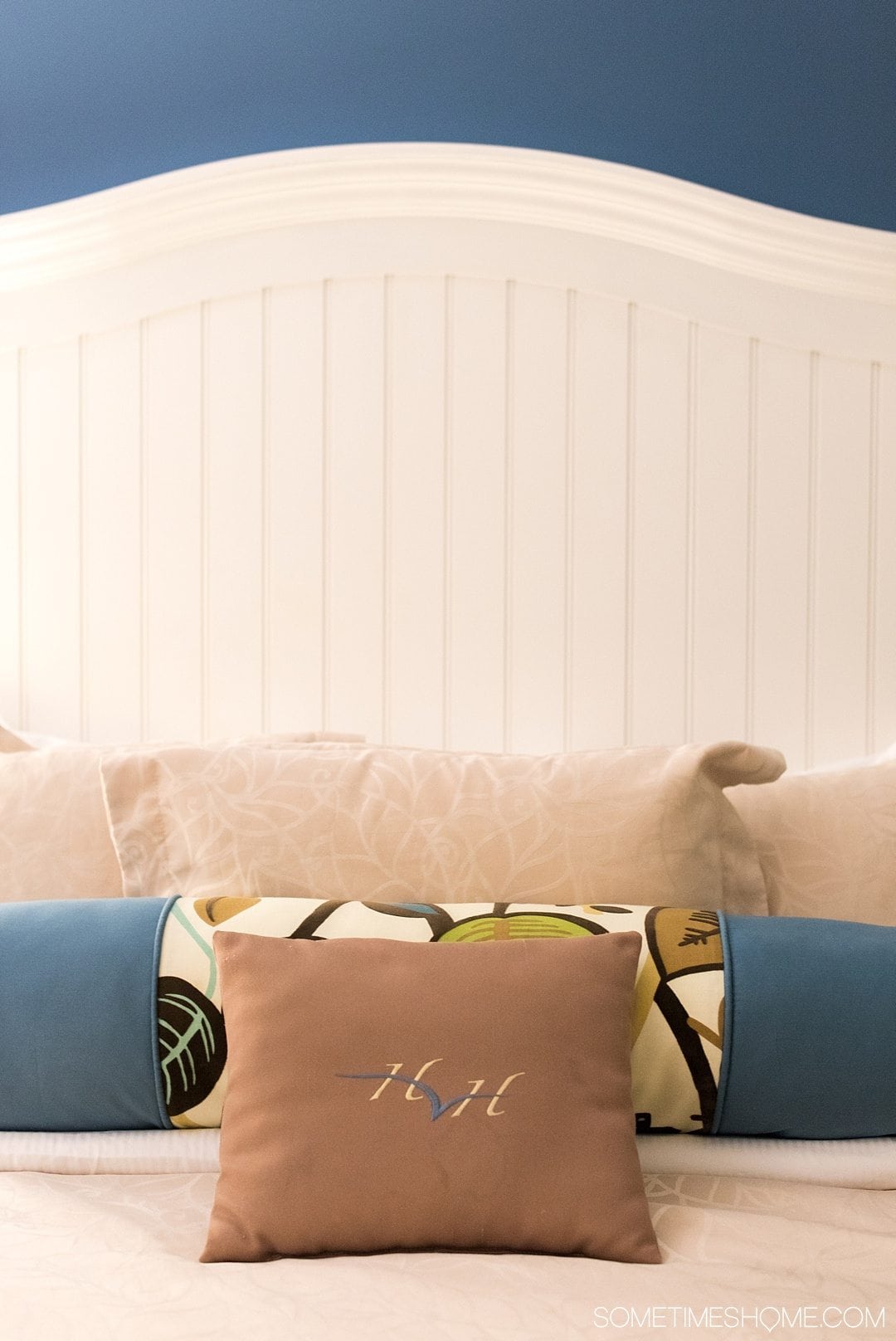 I thoroughly enjoyed sitting at the vanity and using the provided cosmetic mirror and additional lighting to apply makeup before dinner that evening. It's a nice addition to the bathroom and I felt an important detail in this review of the Harbor Hotel in Watkins Glen.
Little things like that go a long way in helping them stand out amongst other hotels I've been to! So did the beautiful granite countertops, superior bath products, and full standing, completely tiled shower. Even the toilet paper and tissue box stood out!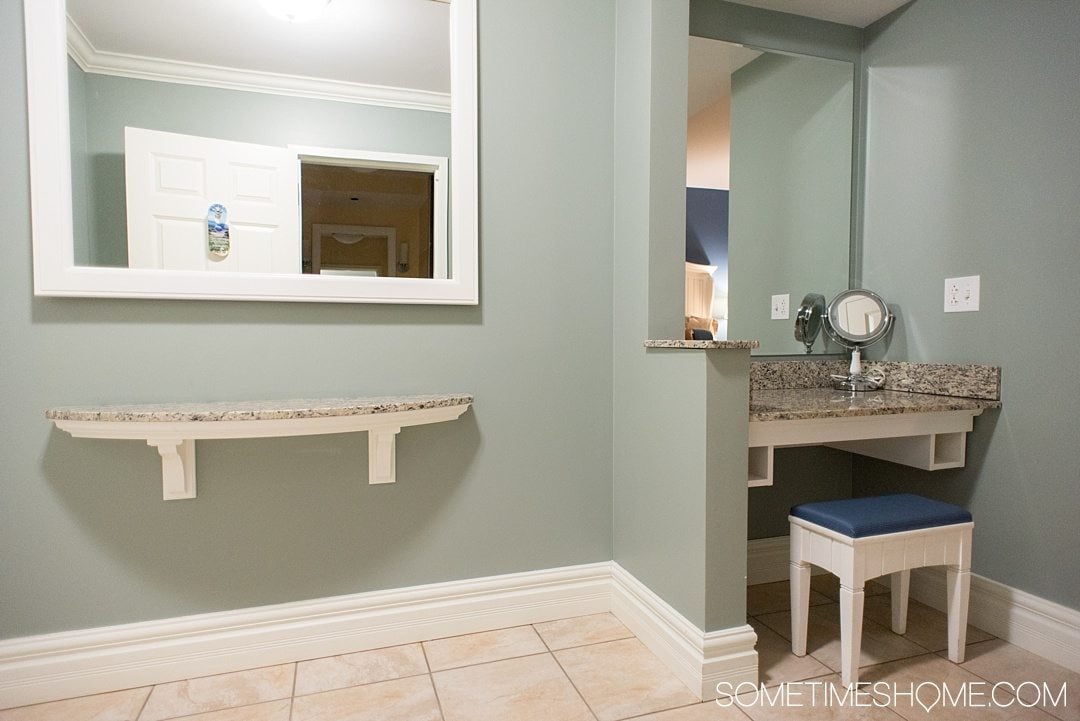 Here is additional helpful information regarding guest rooms and services at the Harbor Hotel:
Guests enjoy complimentary, high speed wifi
Hotel is 100% non-smoking
Each floor has coffee stations in the morning near the elevators – the Harbor Hotel has said "no" to unsightly, unsanitary brewers in the rooms (hallelujah) and fresh, complimentary coffee is available at the start of each day (just follow the smell of fresh java)
Guests are invited to use a state of the art fitness center and indoor heated pool
24-hour room service is available with a limited menu
Each room has a high definition, flat screen tv
Safety deposit boxes are available at the hotel's front desk near the main lobby
Pets are not allowed in the hotel
Nightly turndown service is topped off with delicious chocolates on your pillow
Beds have high thread count, luxury cotton sheets
The hotel has 104 luxury guest rooms and suites
Check in is at 4:00pm and check out at 11:00am
Book Your Stay at the Harbor Hotel in Watkins Glen
Here are a few things to consider when booking your stay:
Time of year: If you're planning on staying during a peak time (generally the summer) be sure to book very much in advance, especially for a weekend.
Promotional packages: The hotel runs a variety of wonderful getaway packages, from a romantic Valentine's Day special to Winter Weekdays, to something they call a Bed and Breakfast Package. Be sure to check current options.
Various views are available to book (for example, a Lake View and Village View) as are various room sizes, from your usual king and queen, to suites and rooms with jacuzzis.
Seneca Lake Wine Events: Consider yourself a wine enthusiast? Be sure to check out the many events on the Seneca Lake Wine Trail website to see if one corresponds to any dates you wish to visit the region. We especially loved visiting Point of the Bluff Vineyards nearby in Hammondsport.
Things to do Near the Harbor Hotel
There is a ton to do in the Finger Lakes. Within an hour or less of driving time, there are world-class museums, restaurants, towns to explore, and strong viticulture.
Here are a few things to do in Watkins Glen and its neighboring Finger Lakes towns:
We hope this review of the Harbor Hotel in Watkins Glen made your decision to book your reservation even easier if you're visiting the Finger Lakes!
Please note: We thank Visit Goldsboro for generously hosting us. We may make a small commission from affiliate links in this post if you click through and proceed with a purchase or action, and we thank you for supporting our small business, at no cost to you. All the opinions in this post are ours and we bring you genuine content with real facts, photos, thoughts and recommendations. Always.
Heading to the Finger Lakes? Also check out:
What's a favorite waterfront hotel you've stayed at or dream of visiting?