Why Everyone is Talking About Raleigh's Morgan Street Food Hall
I'm forever a cheerleader of new ventures in downtown Raleigh, North Carolina. It's where I choose to spend a large percentage of my time so I have true love for the city. Yet I could not have imagined the excitement I'd feel as I walked into Morgan Street Food Hall, the first of its kind in the area. I'm a tough food critic and fairly judgmental of design. But Raleigh's Morgan Street Food Hall impressed me in every way. As food halls become more and more popular across the world, this city's stand out is still a cut above the rest.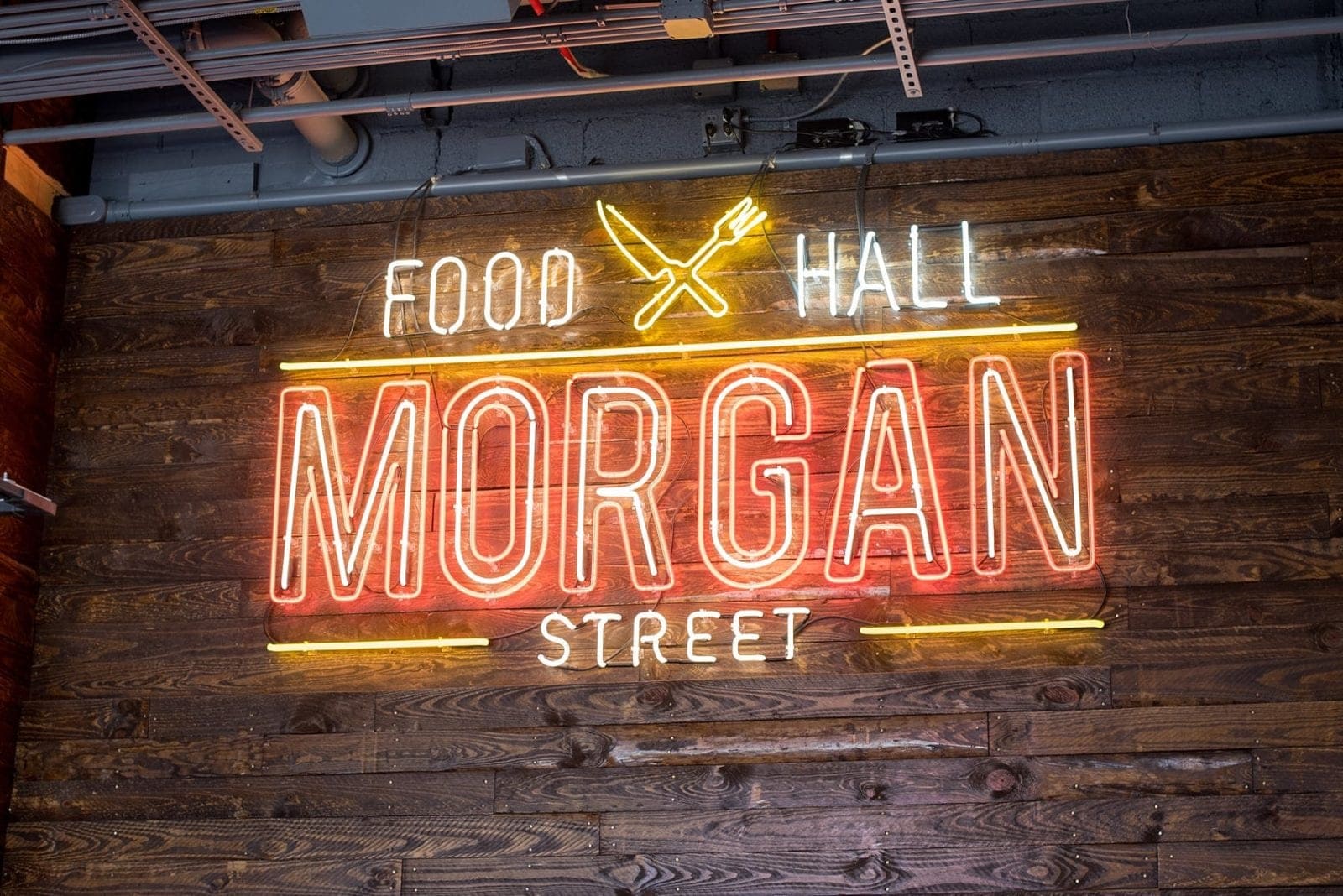 USA Today named Morgan Street Food Hall #3 on a list of "10 Best New Food Halls" across the country in 2018.
This Morgan Street Food Hall review includes:
Location
Backstory
Parking
Design
Food (all vendors are linked in part 2 of the post as well)
Beverages
Additional Offerings
How it Operates…and Hours of Operation
What to Expect
Wifi and Restrooms
Opening (update: it's open!)
Location
I've lived around the corner from Morgan Street Food Hall's 20,000 square foot location for over three years. I've seen the "Warehouse District" neighborhood, as the area's called, go through a wonderful renaissance. From the opening of The Dillon mixed use residential and commercial building, to existing staples like Humble Pie, The Pit and Boxcar arcade bar, it's a great place to be.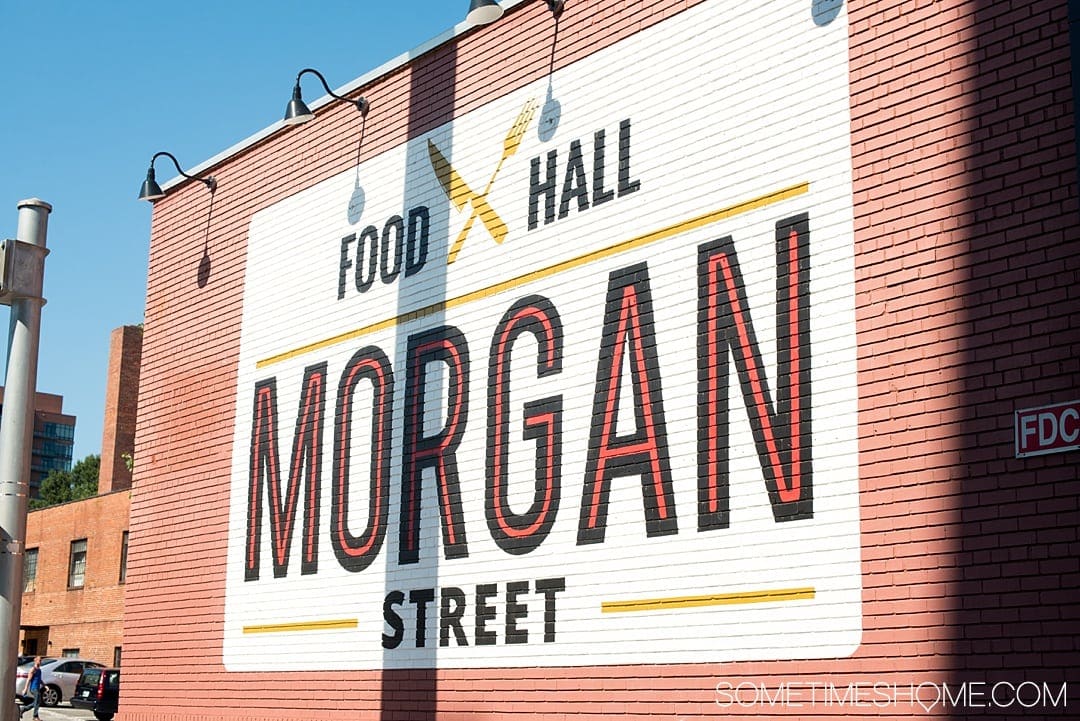 As the name indicates it's located on Morgan Street, between West Street and Boylan Avenue.
It's about a five minute walk from there to the Glenwood South area.
It's approximately a ten minute walk from there to Fayetteville Street.
If you know where the landmarks are, it's very close to:
Citrix
The Dillon
Flying Saucer Draught Emporium
State of Beer
Second Empire Restaurant and Tavern
If you enter from Morgan Street you'll notice rustic letters above the doors that read "FOOD HALL" with "Morgan Street Food Hall" decals on all four doors (as seen below). You'll see the mural, pictured above, around the corner on West Street, where you can enter the building from the doors connected to the West Street outdoor patio as well.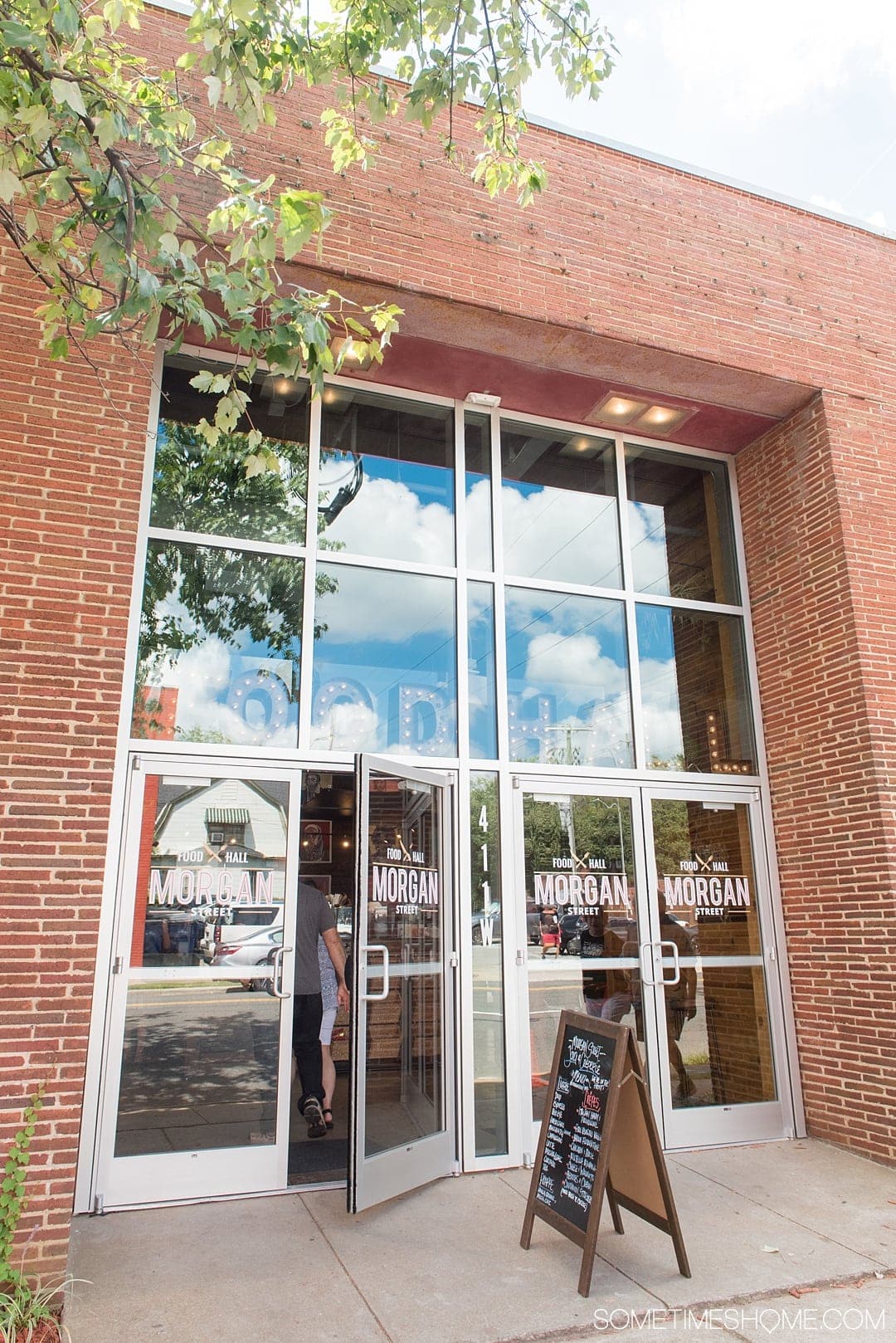 Morgan Street Food Hall Address: 411 West Morgan Street, Raleigh, NC 27603
Morgan Street Food Hall History and Backstory
The most exciting time for the Warehouse District neighborhood in the past year and a half was seeing a sign go up indicating the corner building was home of the new Morgan Street Food Hall in Raleigh. A food hall?! Yes, please! I love food and have adored visiting great food halls, from Lisbon Portugal's Time Out, to New York City's The Plaza Food Hall, to Tampa's Armature Works.
I'm somewhat attune to who owns a lot of stock in the downtown Raleigh food and property scene, whether AC Restaurants' Ashley Christensen or Empire Eats' Greg Hatem. If downtown Raleigh is the center of a bullseye, I consider Glenwood South one ring adjacent to it.
Recently I became aware of the "King of Glenwood South", as I'm affectionately proclaiming him: Niall Hanley. He's an entrepreneur and owner of Hibernian Hospitality Group, the parent company of names you probably already know and love.
Their umbrella includes hot spots along Glenwood Avenue, particularly bustling in the evenings: The Hibernian Irish Pub, Solas, Raleigh Beer Garden and XoCo Dos Taquitos, to name a few.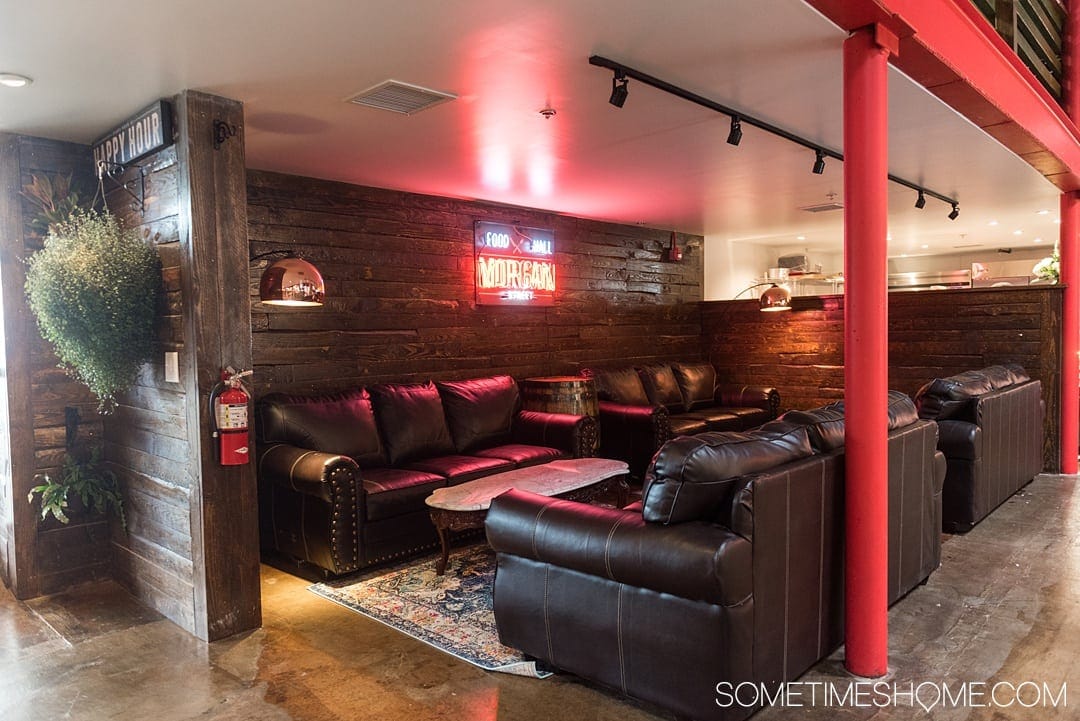 In this video from Visit Raleigh, he explains Raleigh's a place where cultures come together. The community in the city is a welcoming one. It's also rapidly expanding as new businesses flock to the area, including startups and Apple.
Niall thought it was time Raleigh had its own food hall, liken to those he grew up with in Ireland. I love the idea that this is a place that brings people together; whether groups of friends or families, they'll connect at this unique location through food and drinks that encompass a variety of cross-cultural cuisines.
Parking
Street parking and garage parking is available. Some nearby street parking is metered during weekdays between 8:00am and 6:00pm, though some isn't. Check signs for parking time limits regardless of meters. For instance, parking on the north side of West Morgan Street is limited to one hour during weekday business hours.
There's also a brand new parking garage at The Dillon if street parking is scarce. It's on S. Harrington Street, between Hargett and South West Streets.
Morgan Street Food Hall Design
The interior of Morgan Street Food Hall is a beautiful marriage of vibrant and neutral tones, wood and brick, leather and metal. It has an industrial vibe with exposed HVAC and steel beams. But it also has a warmth in its finishes from handmade wooden high top tables, to beautiful area rugs, couches and chairs, which bring a modern living room vibe to the space. Neon signs interplay with chalkboards, splashes of green paint, wallpaper, and tile.
They also hired talented local Raleigh artist, Lisa Gaither, to paint a colorful, playful mural on the back wall near Wicked Taco. It was deemed the "Morgan Street Mafia" but unfortunately it is now extinct – an axe throwing station is in its place. (Sad!)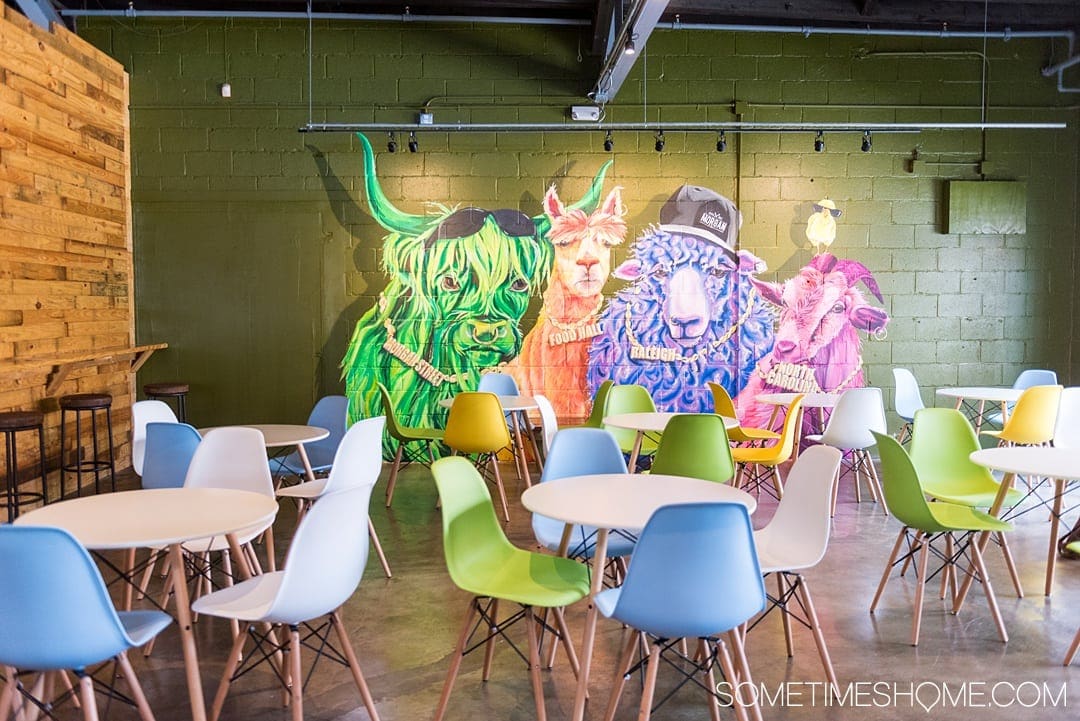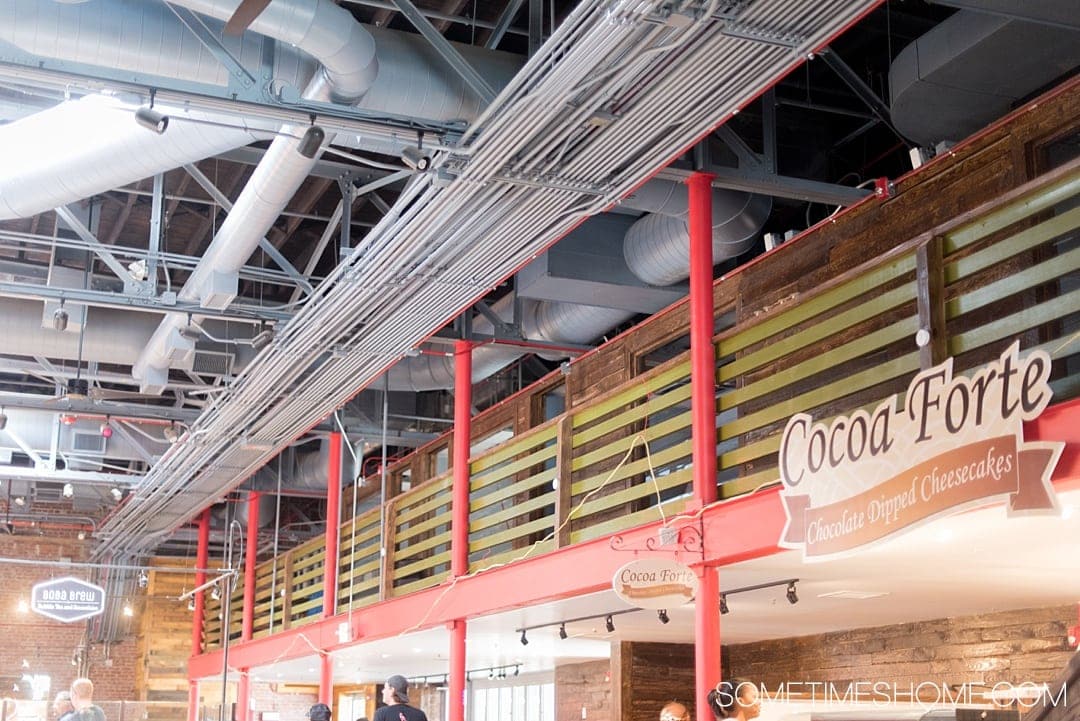 There are limited freestanding kiosks selling assorted items from bubble tea to ice cream, but the majority of vendors have a home in one of the perimeter food stalls. Morgan Street Food Hall has a wide open flow with minimal curves, yet just the right amount of shape to encouragement movement through the space.
There's also an outdoor area with additional seating and dining options, including a bar that reaches from the interior to the outdoors. The outdoor patio is beautiful: vines creep up the overhang structure poles to meet strung market lights above. The patio's street-side hightop bar stool seating is a great place to people watch!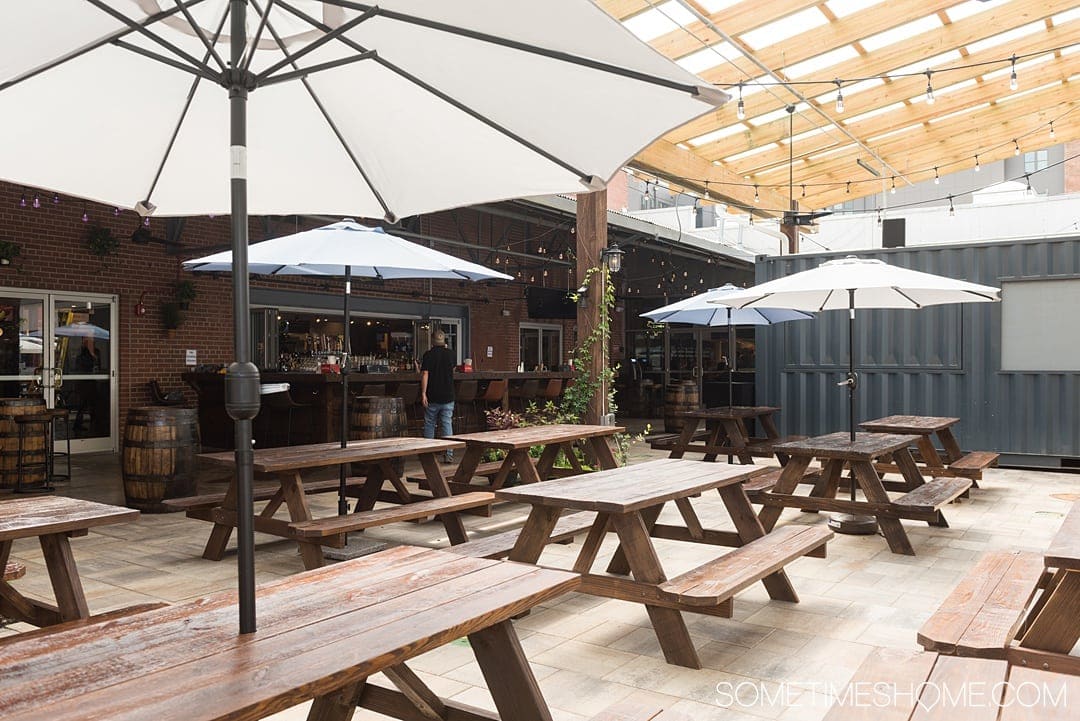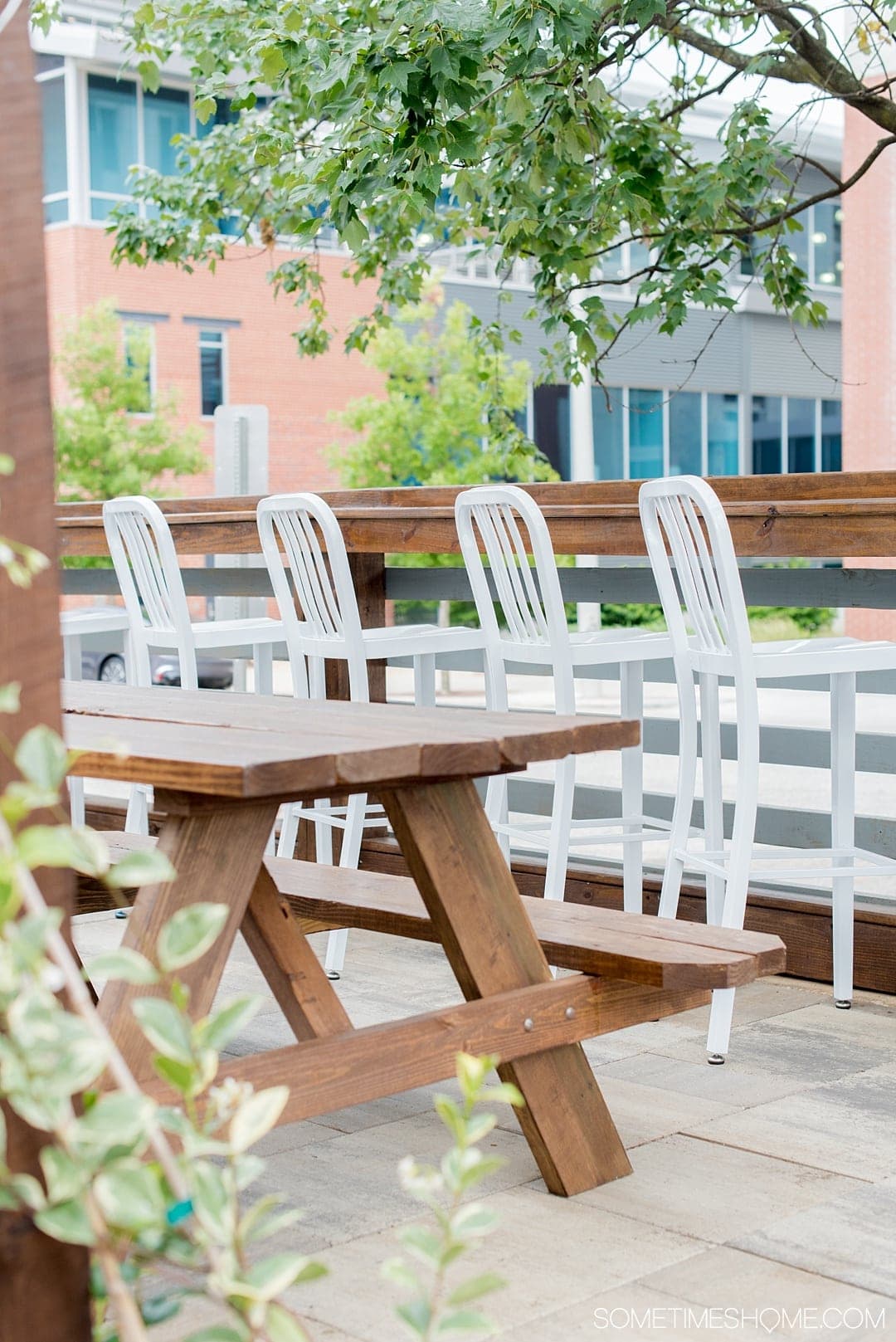 Food
I love the variety in Morgan Street Food Hall! They've been careful not to overlap cuisine much and have everything from Indian food, to southern cuisine, Japanese, Mediterranean and more.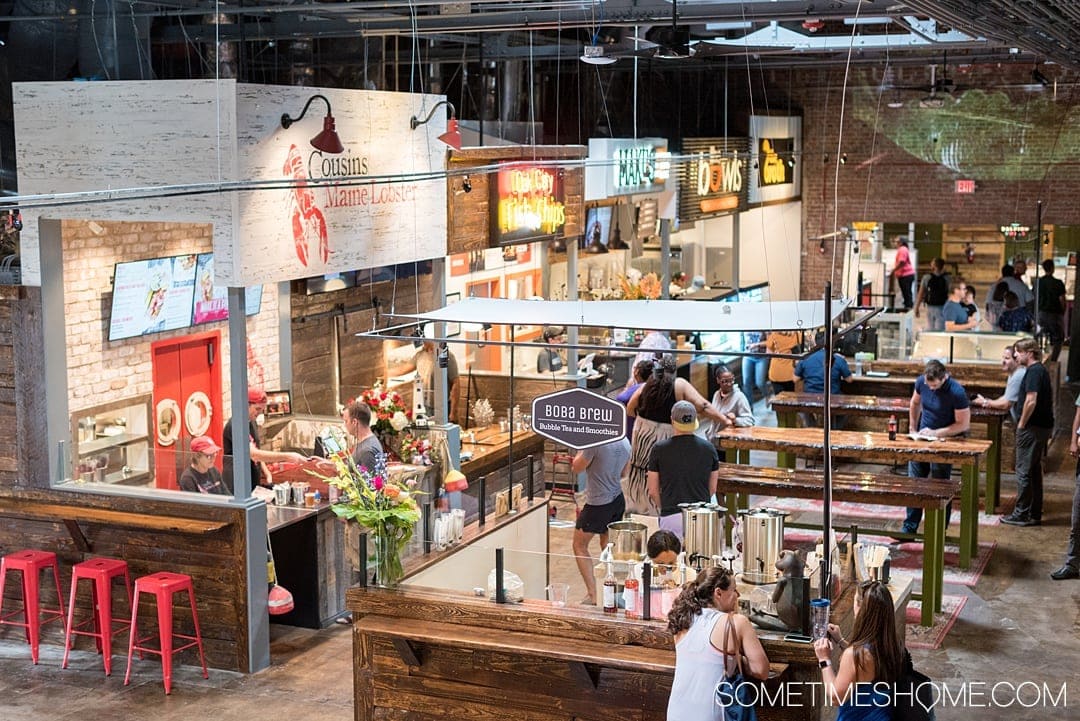 Please visit the second part of this coverage to view the complete list of food options.
The post includes cuisine type, a few menu offerings, an extensive map inside the food hall and some stories behind the vendors.
Beverages
Whether your poison is liquor, beer, wine, or a juiced vegetable there's something for everyone to drink. All of the vendors may offer their own non-alcoholic beverages for purchase but if you want something a little stronger you certainly have options.
The Arbor bar is situated at the center of Morgan Street Food Hall. (If a fireplace is the hearth of a home so too is this central meeting place; it's sure to warm up your insides! Coincidentally there is an interior fireplace next to The Arbor.)
Auntie Betty's is a small gin bar that will make its own tonic and serve craft cocktails.
Boba Brew offers smoothies and bubble tea.
Morgan Street Java and Creperie, as the name indicates, has a lot of coffee options.
Raleigh Raw will have a trendy shipping container space on the outdoor patio. This healthy downtown eatery you may already know and love will serve organic, cold pressed juices.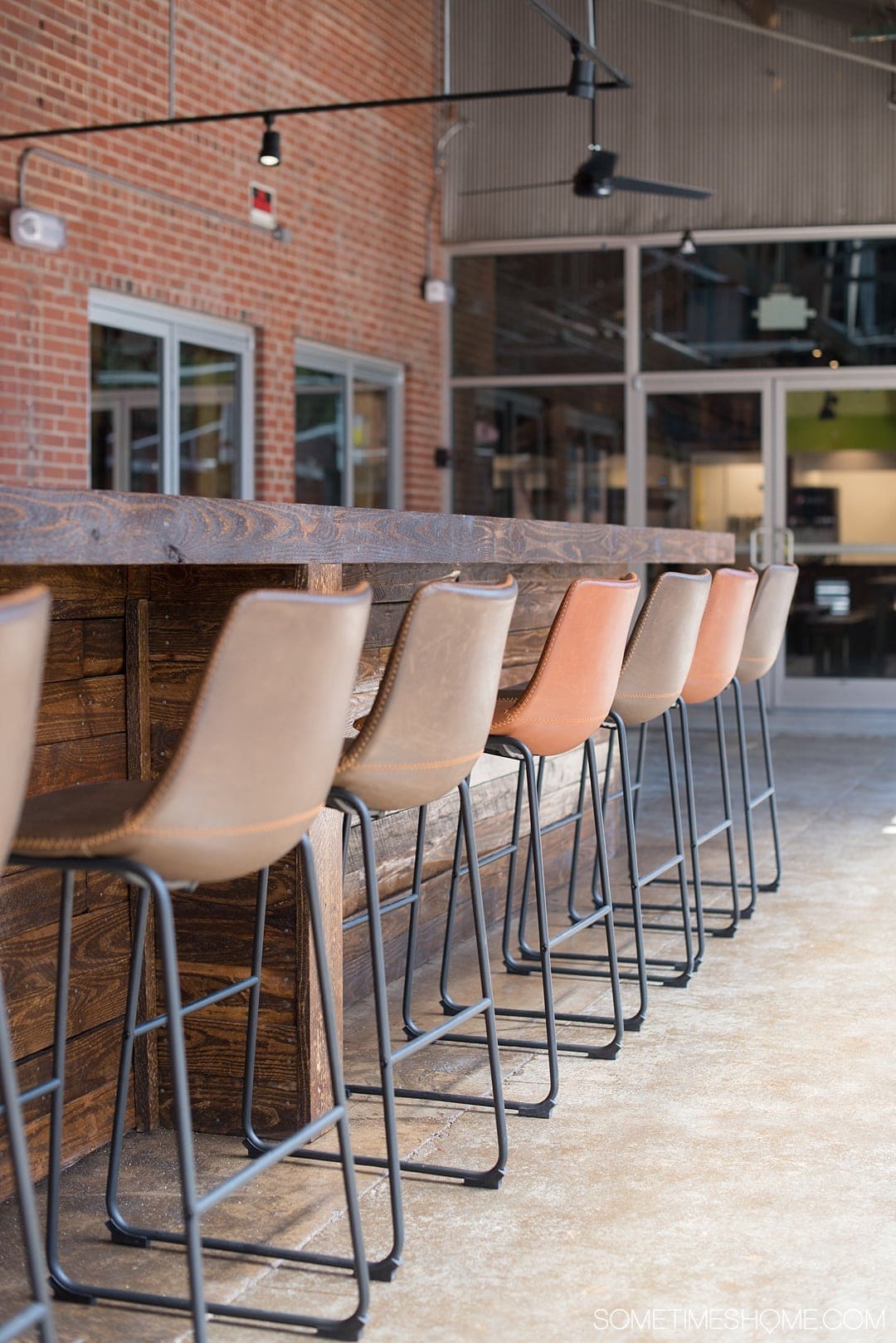 Additional Offerings
There are many other things inside Morgan Street Food Hall, like local snacks to buy, cheesecake bites, etc. that add even more options to your visit!
Please note Fleurs de Moufette, pictured below, was closed as of July 2019.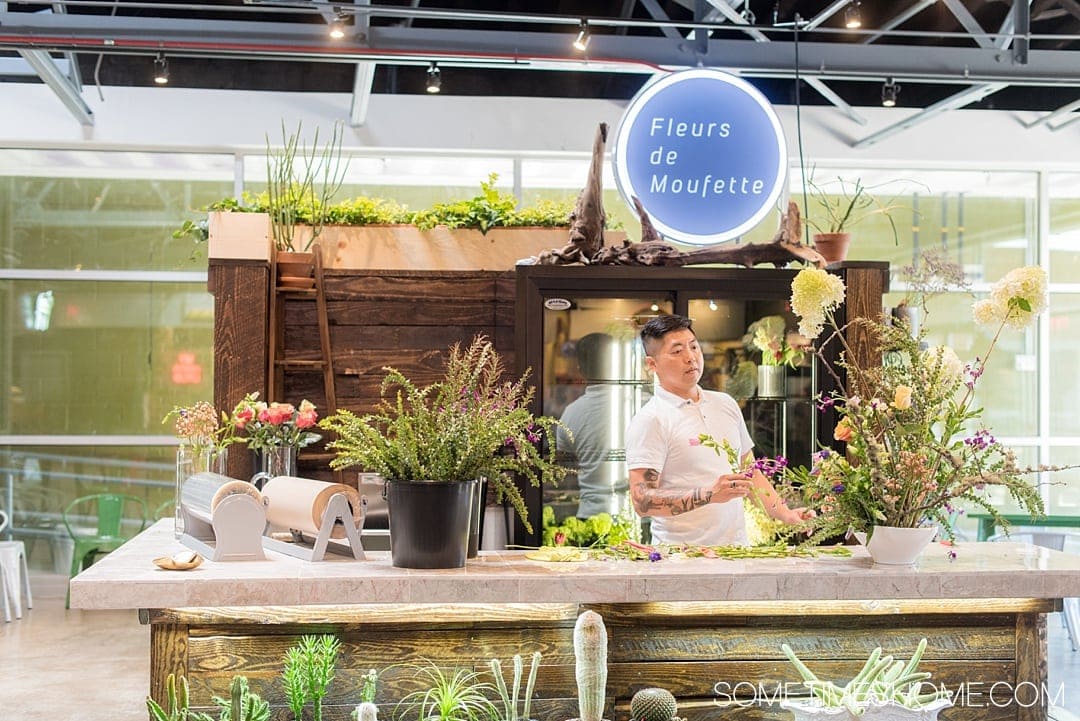 The food hall will also periodically offer local provisions, like candles, perishable sauces and pre-packaged food products, and more.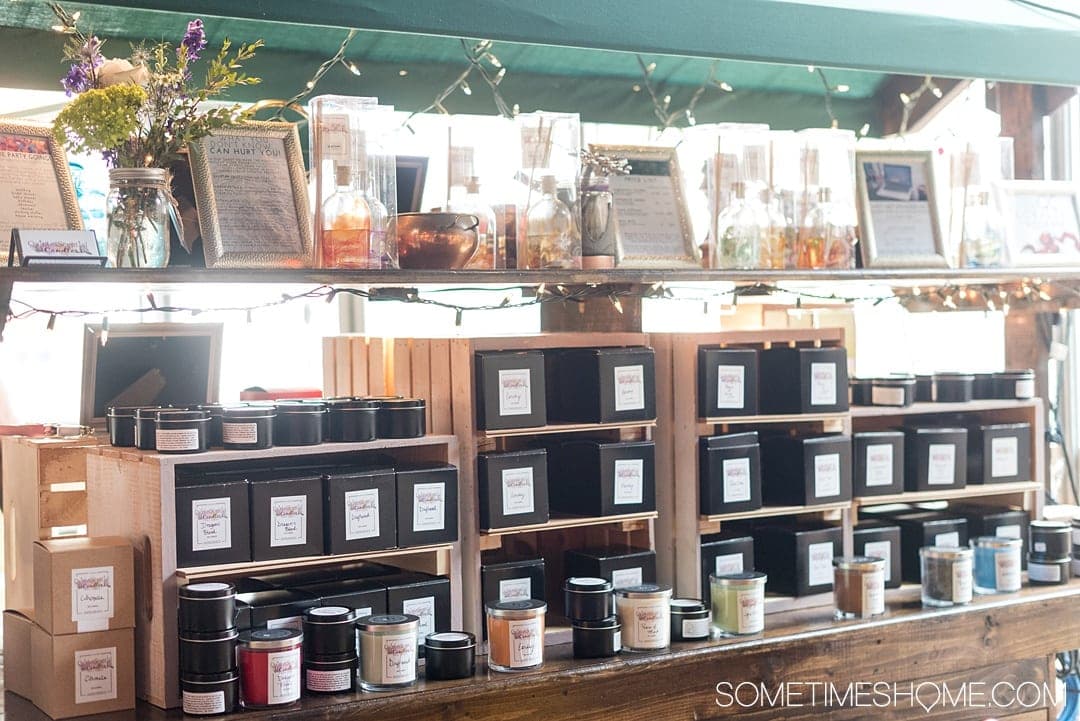 How it Operates…and Hours of Operation
Morgan Street Food Hall is a central space that houses individual businesses. You pay for items per kiosk or food stall. In other words, a single Morgan Street Food Hall card doesn't exist. But a good 'ole credit or cash is accepted everywhere! There is also an ATM inside the food hall near the restrooms.
It will be open seven days a week, from morning to evening. Lunch and dinner are their main meals though the creperie and smoothie vendors may be open earlier for breakfast. Generally hours are as follows:
Sunday through Wednesday: 7:00am to 10:00pm
Thursday through Saturday: 7:00am to 2:00am
Hours of operation may change in the first weeks or months they're open as they get a feel for traffic.
Please note: they open at 7:00am yet many vendors don't open until 11:00am for lunch service. Additionally though they're open until 2:00am on weekends a lot of the food vendors close at 10:00pm and the bar is the only remaining option open from 10:00pm to 2:00am.
What to Expect
Be prepared for a great time if you're game for an environment unlike any other I've experienced in the region. I've indulged in a good amount of food halls around the world and this one is in a class all its own. It's not exactly like any other I've visited. From Harrods famous food market in London, to Japanese food boutiques, to neighborhood Parisian markets, it's one Raleigh can be proud to say is uniquely theirs.
If you're looking for a sit down restaurant with waiter and waitress service this is not the place you'll find it. It's also not a place to grocery shop for raw cooking materials for your home. However it is great for is a group of people that may all have something different in mind for their meal.
It's a divine place to mix and match options if you're in the mood for a burger for dinner but cheesecake for dessert. Or treat it as your new favorite hang out spot where you have a world of cuisine at your fingertips…and good libations to boot. It's a no-fuss destination serving a plethora of fresh, delicious food relatively quickly.
I look forward to going alone during the day to treat myself to a great dish and atmosphere, as a self-employed, solopreneur. Or visiting with my partner when we don't feel like cooking and aren't in the mood for our "same old" defaults. I will definitely be meeting colleagues and friends here as well.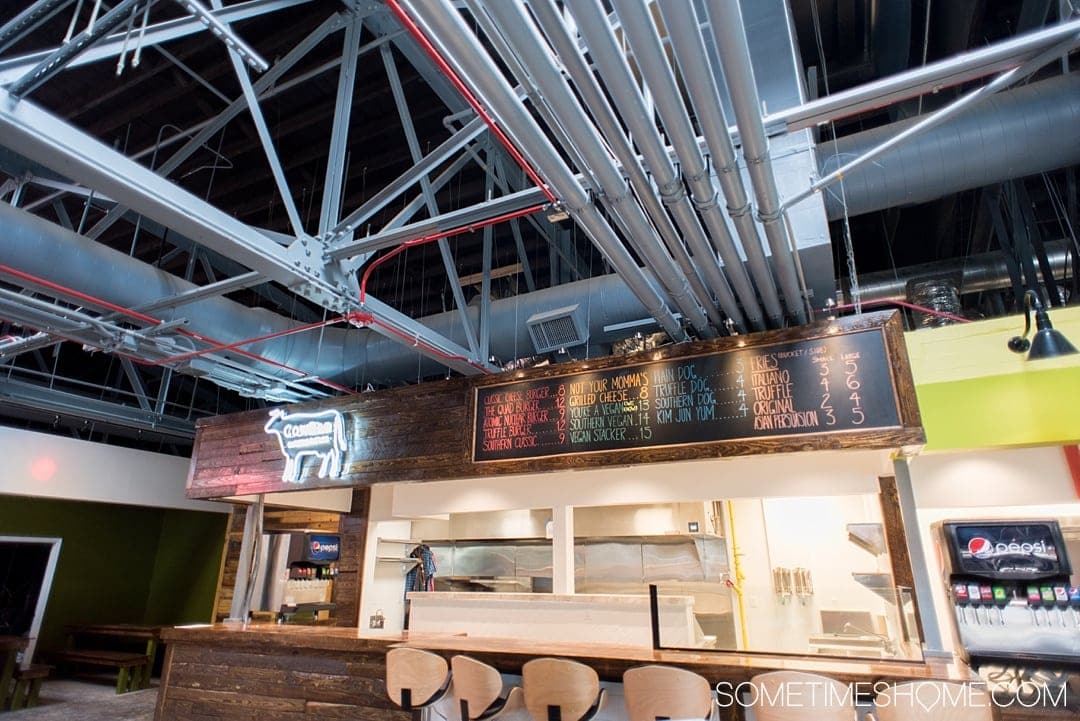 There is unlikely to be a wait at Morgan Street Food Hall like there may be at a sit down restaurant since the crowds are distributed across different vendors. To help with the traffic flow they've done things like add stanchions and have moved around some tables and chairs to accommodate diners.
Some vendors, like Makus Empanadas, utilize pagers to notify guests their order is ready. This enables them to walk around while they wait for their food.
They plan on having the option to book private events yet it is not currently offered.
WiFi and Restrooms
As a general FYI Morgan Street Food Hall has free wifi and indoor restrooms. Simply select "Morgan Street Food Hall Guest" from the drop down menu of wifi connections and "check in" on Facebook to access it. (It is most likely the only wifi option without a lock next to its name.)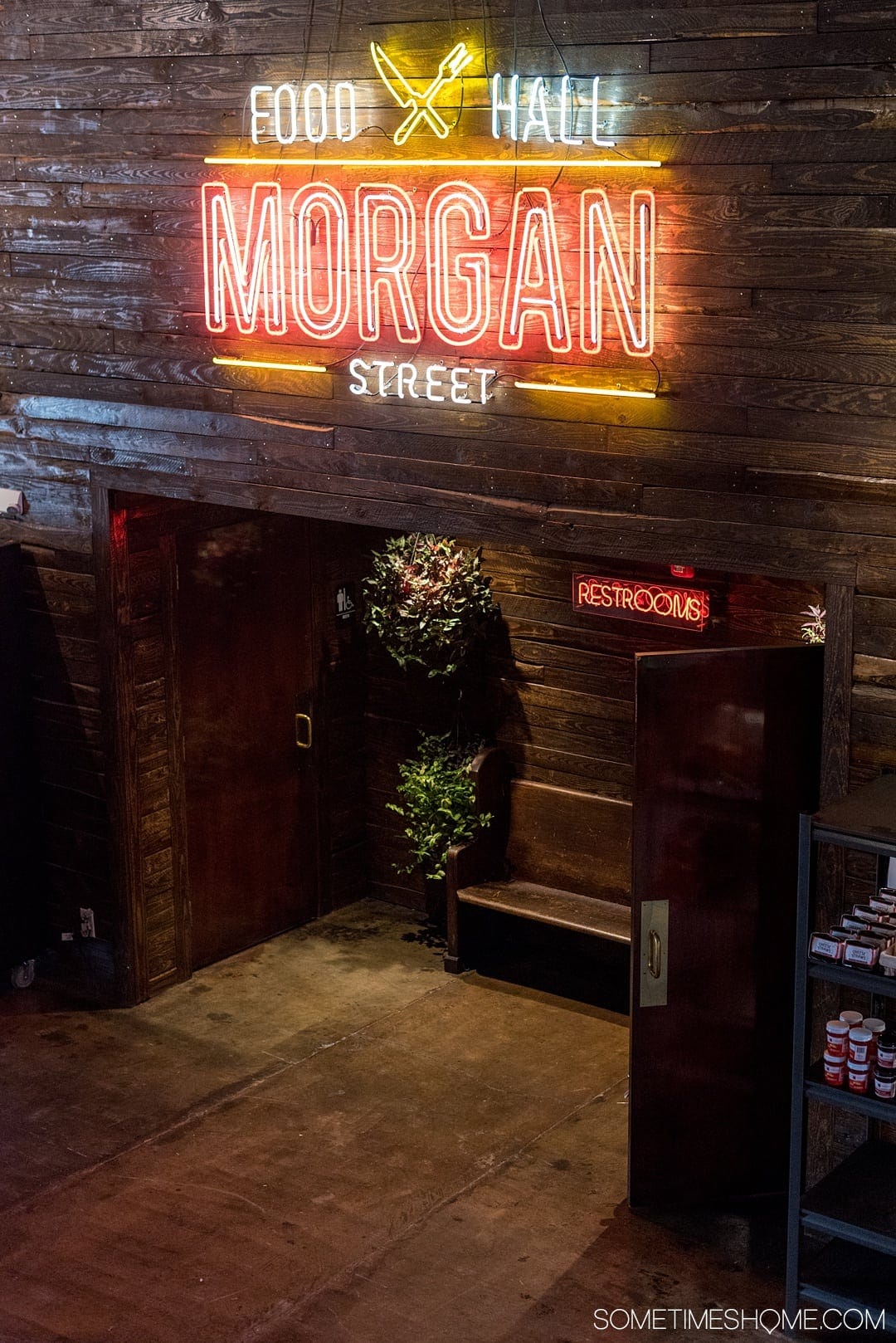 Part 2: a Detailed Look at the Vendors
Don't forget to read part 2 of the post, where we extensively outline who the vendors are, what they serve, and share some insight into the stories behind the names and meals: Take Away the Guesswork: Raleigh's MSFH Vendors
Love food and drinks, like us? Also check out:
Like this post? Save it to Pinterest and reference it later on!