Staying at The Roycroft Inn? Here's What to Expect
We were enjoying the music of an incredible guitarist as he strummed and sang his heart out. Our cocktails were plentiful and we were in a comforting atmosphere on a Friday night. It was my first time in this great town and I knew the next time we visited I had to stay at The Roycroft Inn in East Aurora, New York.
About a year and a half later the time had come and we stayed overnight in this beautiful inn. Its story, attractions and rooms were amongst my favorite features of this historic hotel.
History
You can expect to have a wonderful, art-rich experience at The Roycroft Inn. My initial interest in the Inn and its campus was based on the knowledge it's where Elbert Hubbard founded the American Arts and Crafts movement.
And since I have always had a fondness for this movement, from homes I have seen around the United States, to Disney's Grand Californian hotel in Disneyland (if you're a Disney fan you know the one!), to Asheville's Grove Park Inn, I was very interested.
It's worth noting Hubbard had a tie to the Darwin Martin House in Buffalo, designed by Frank Lloyd Wright. Darwin Martin made his fortune through the Larkin Soap Company (LSC). Hubbard's first business venture was there selling soap, until he sold his LSC shares to found the Roycroft artisan community.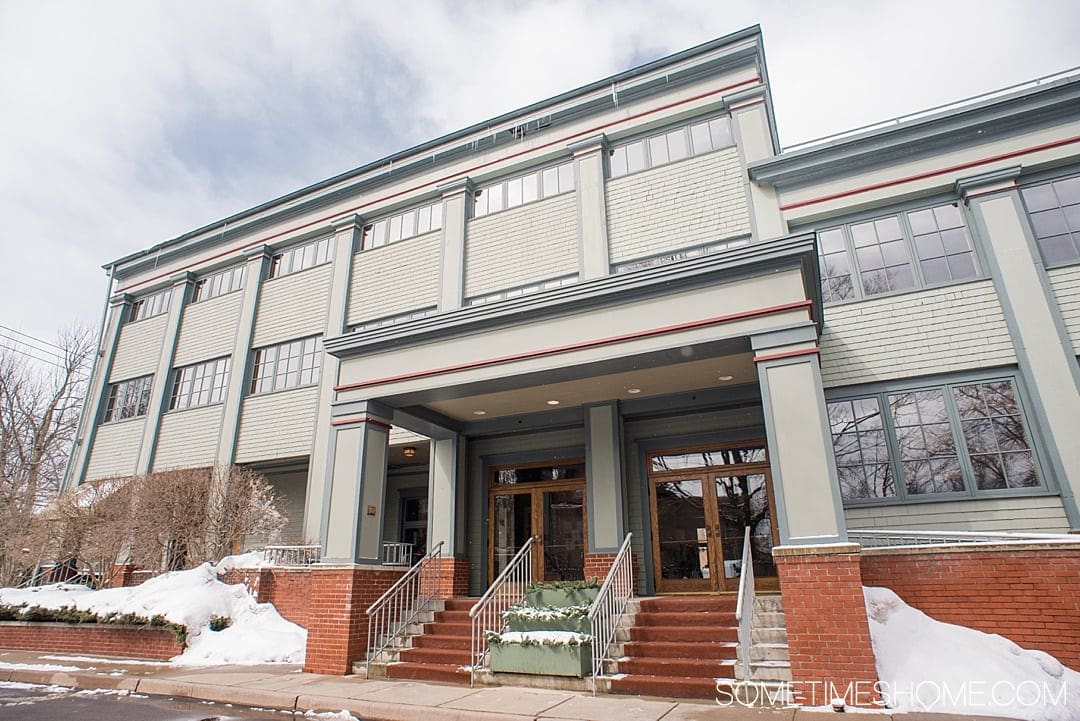 The Inn was opened in 1905 as a place for reformist artists and craftsmen to stay. It was put on a list of National Historic Landmarks in 1986. From then until the mid 1990s it underwent an $8 million renovation and reopened to the public in 1995.
"Roycroft" was a name Hubbard chose to honor two British printers, Samuel and Thomas Roycroft, who created and bound books in London during the 17th century. But the word also translates to "King's Craft." This was important because it denoted a special level of high achievement in a craft.
If you were part of an elite guild of master craftsmen you were able to create items for the King. That's precisely the level of skill Hubbard wanted at the Roycroft. (The Arts and Crafts movement started in Europe but Hubbard brought it to America, where it flourished.)
Design of The Roycroft Inn, in East Aurora New York
The design of the Roycroft Inn is, of course, American Arts and Crafts style. Clean lines and simple forms are the predominant themes, mixed with romantic folk style decorations.
The symbol of the Roycroft and its artisans was an honor to be able to imprint onto designs, especially furniture and books, and stands proud in front of the stone-clad Town Hall, as seen below.
You'll notice all the signs, menus and websites have use a particular font. This is an Arts and Crafts style typography.

Roycroft Campus
The Roycroft Inn is one building that is part of the Roycroft campus. The campus includes 14 structures, from a museum, to chapel and print shop.
The museum is a wonderful stop during your visit. It's here you're able to watch a brief video on Elbert Hubbard, see artifacts from the Roycroft and American Arts and Crafts movement, and visit a beautiful gift shop.
The Copper Shop gallery, as its called, is open year round, seven days a week. You can find items as small as books and stationery or as large as ceramic bowls and furniture. (Some pieces are on display simply for admiration and are not for sale while others are available to purchase.)
Tours are available for a fee during peak season, which is May through October. There are various tour options from a one hour, two hour, Fact or Fiction tour, or combination of options, Wednesday through Sunday (no tours are currently given Monday or Tuesday).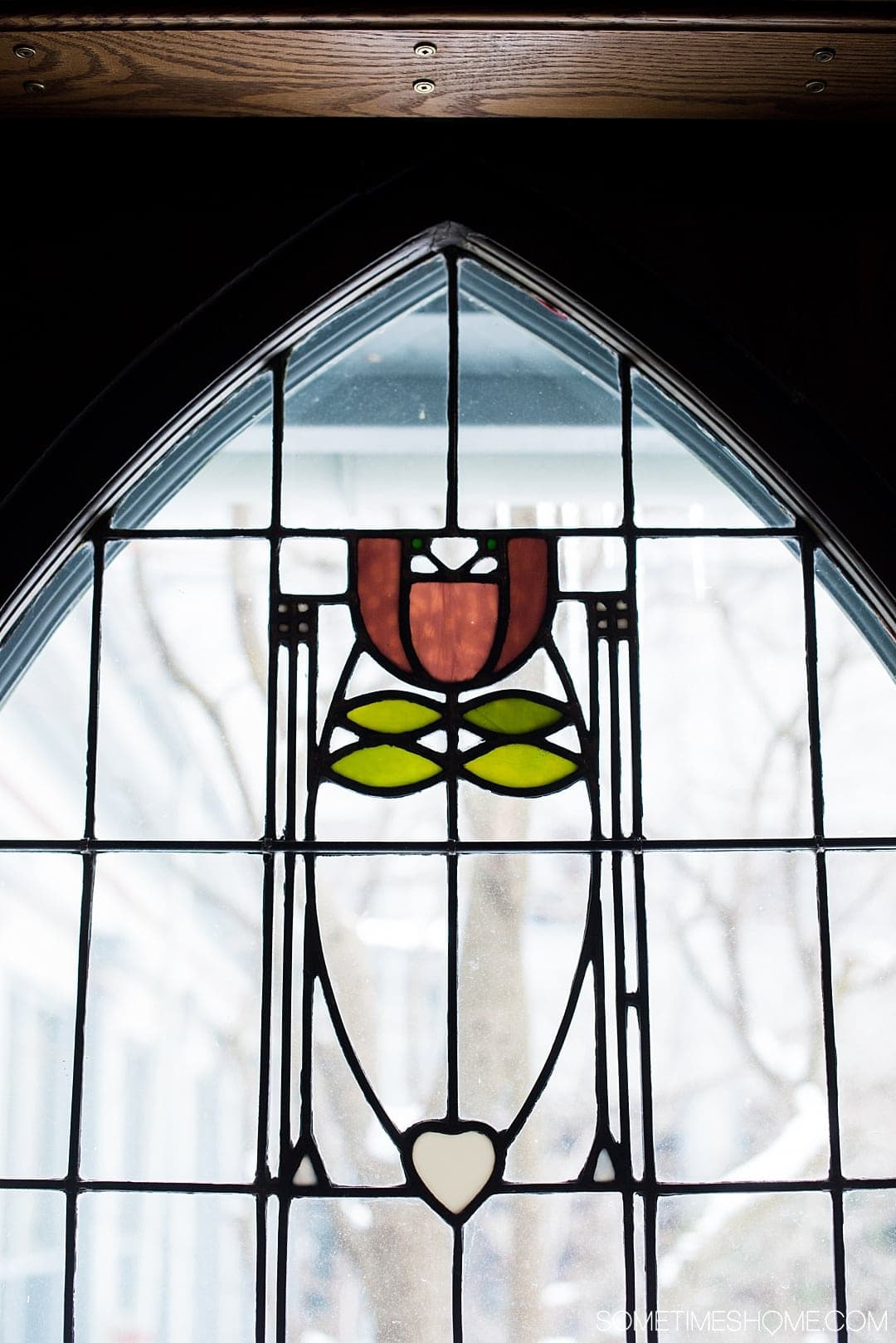 Parking
If you're a hotel guest there are spaces in front of the hotel for you! If you're visiting for a meal or to hear some weekend music there are spots on the street and a lot across the road for the Roycroft Museum.
Common Spaces
The Salon is the area of the hotel where you enter and check in for the night. It's the perfect place to enjoy a conversation with friends during the day or a good book.
Here, you're surrounded by beautiful murals by Alexis Jean Fournier, an original Roycroft artist. Their beauty was restored during the Roycroft Inn's massive renovation project.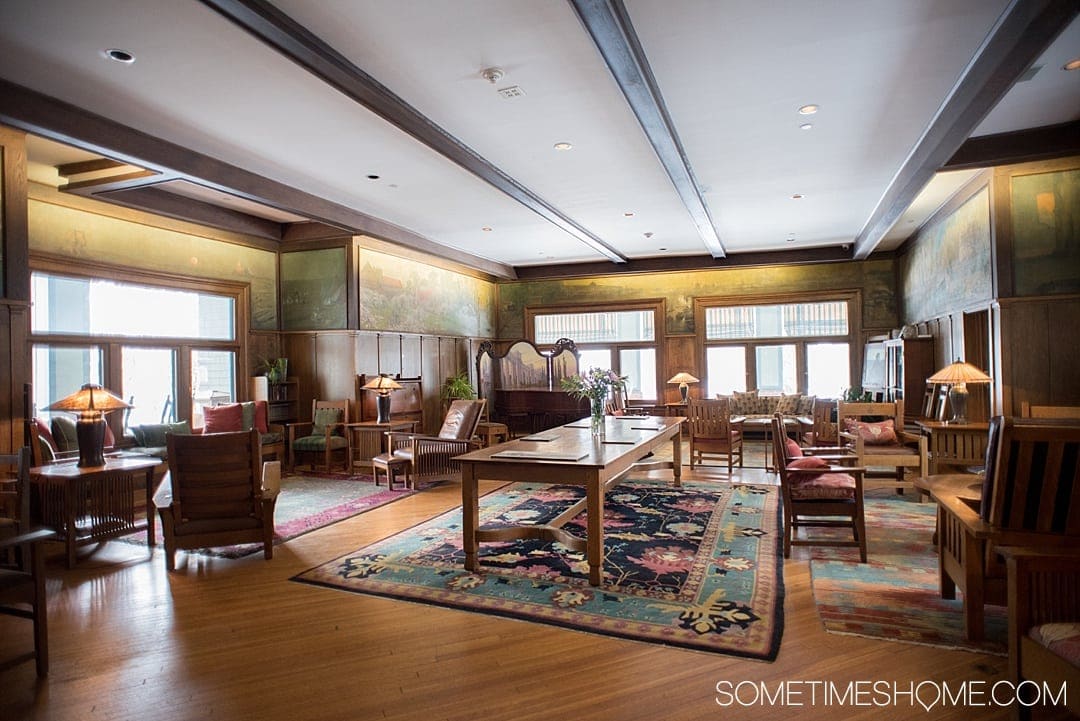 There's a restaurant on site thats serves three meals a day plus Sunday brunch (my favorite!). Check out their current promotions like Wine Wednesday where they waive a corkage fee if you BYO bottle of wine, or $5 pint nights on Thursdays.
My favorite space, however is the Craftsman Lounge…
The Lounge
The Craftsman Lounge is the heart of the Roycroft Inn in East Aurora New York, if you ask me! It's a meeting location for cocktails, to enjoy the warmth of a fire, to talk with the bartender, or listen to music. Live music is my favorite calendar event at The Roycroff Inn and they have it throughout the year, typically on Thursdays and Fridays.
One of my favorite little touches was a drink coin we were given by the front desk while we waited for our room. Inside the square envelope with the coin was an inspirational quote!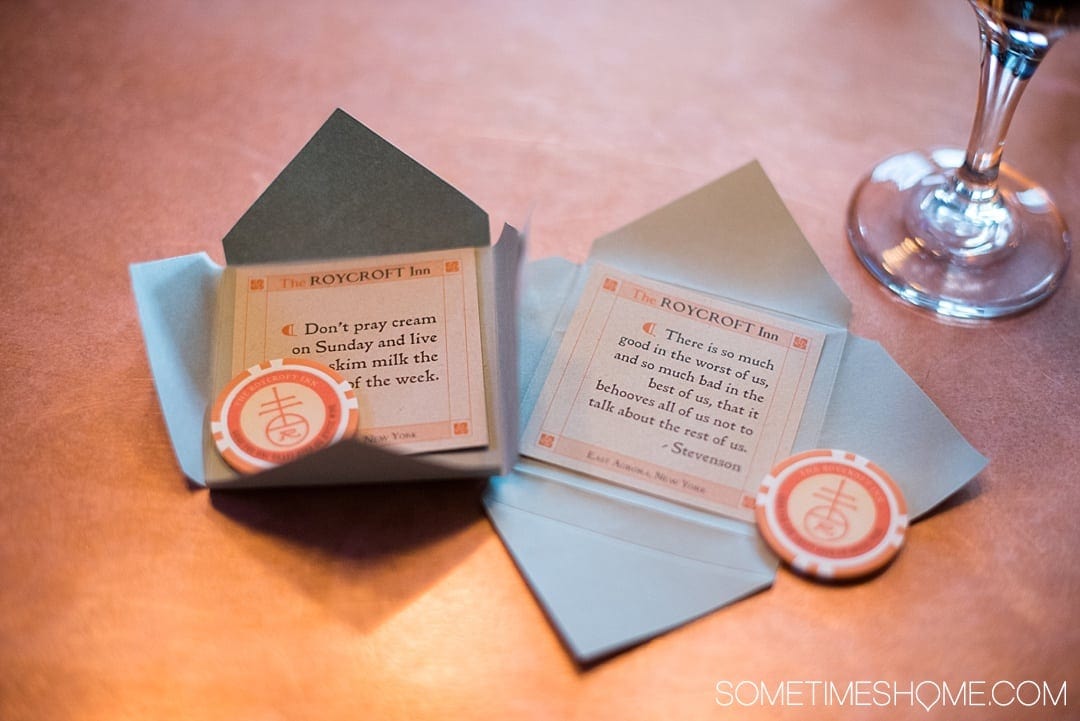 Guest Accommodations
Guest check in is at 4:00pm and check out is at 11:00am. We were able to check in slightly before check in time when our room was ready. You can get to the guest accommodations level(s) via stairs or an elevator.
Walking up to our room revealed a beautiful hallway. I was drawn to the skylights and perfectly placed lines, whether molding or Arts and Crafts style light fixtures.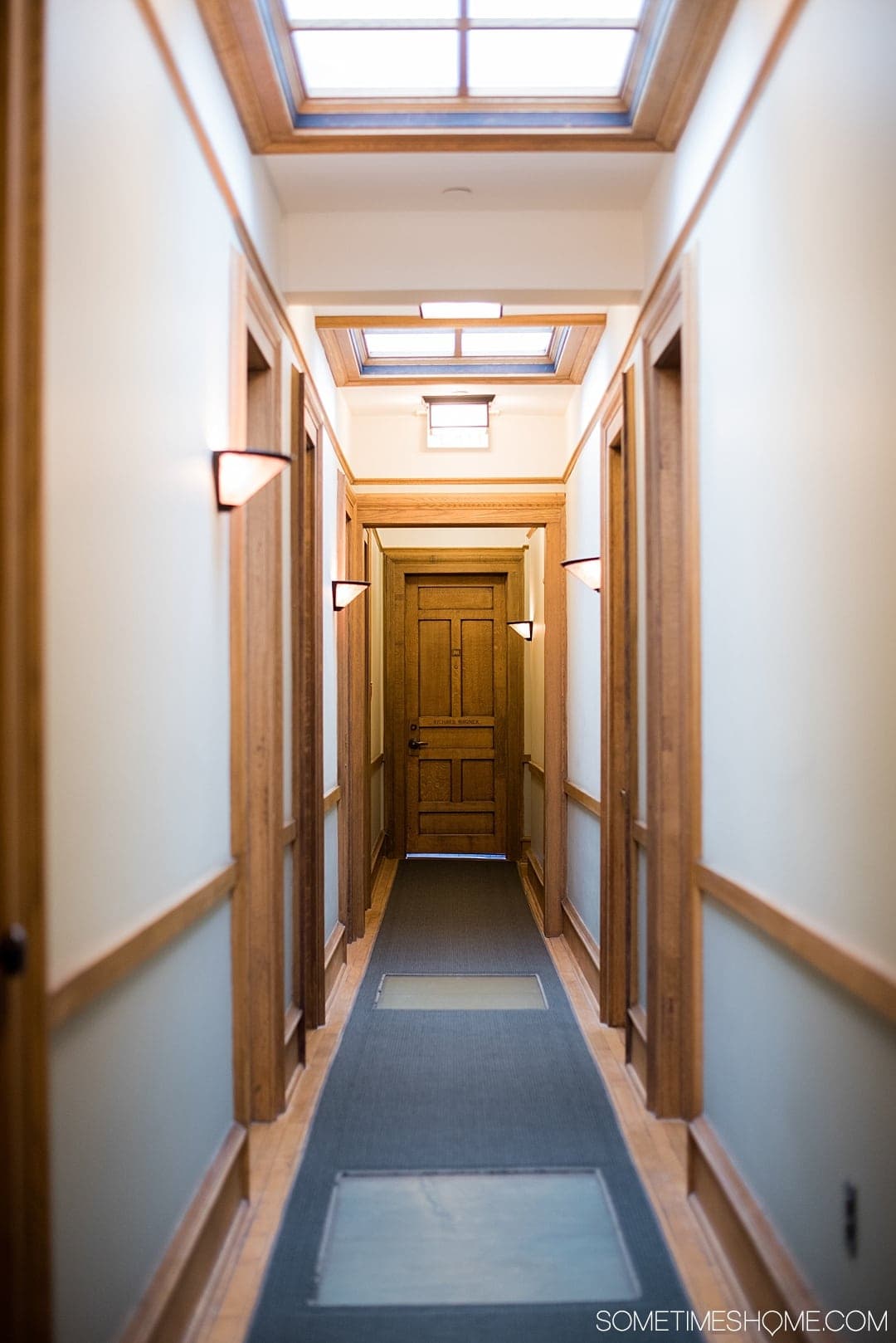 Our "Three Room Suite" was perfect for the two of us. The bathroom was to the left when you walked in and wardrobe, luggage rack and small wet bar area were before the main entry into the bedroom. I loved how the room-before-a-room concept created a separation of spaces. The interior window made it felt like we had a little porch when you looked back towards the door from inside.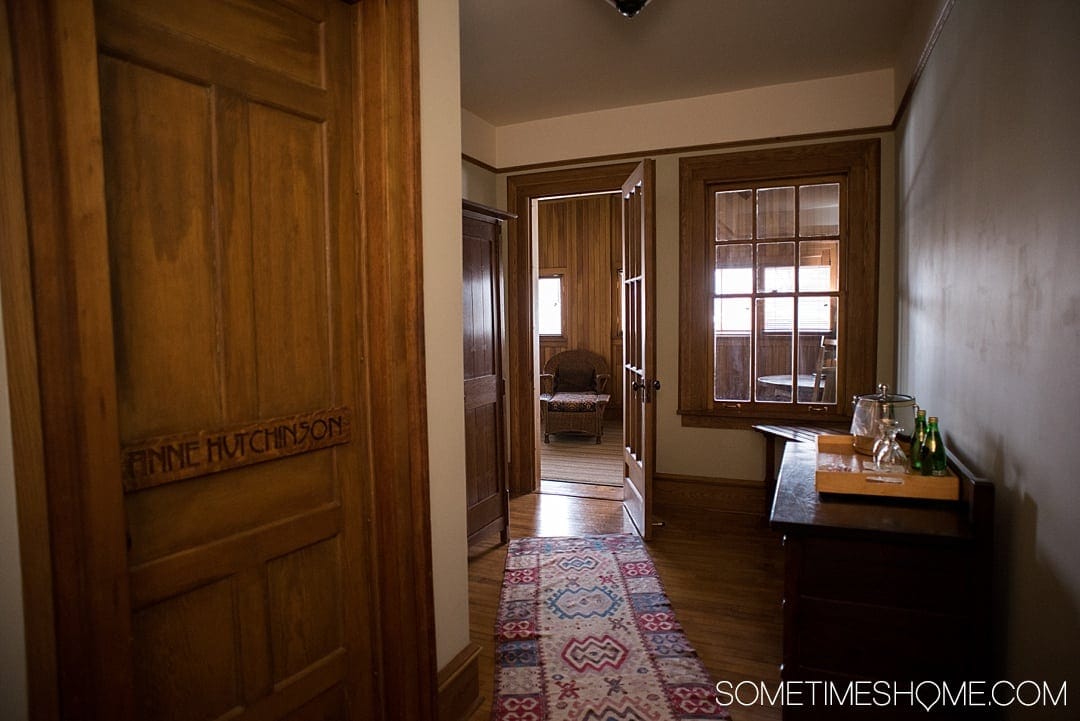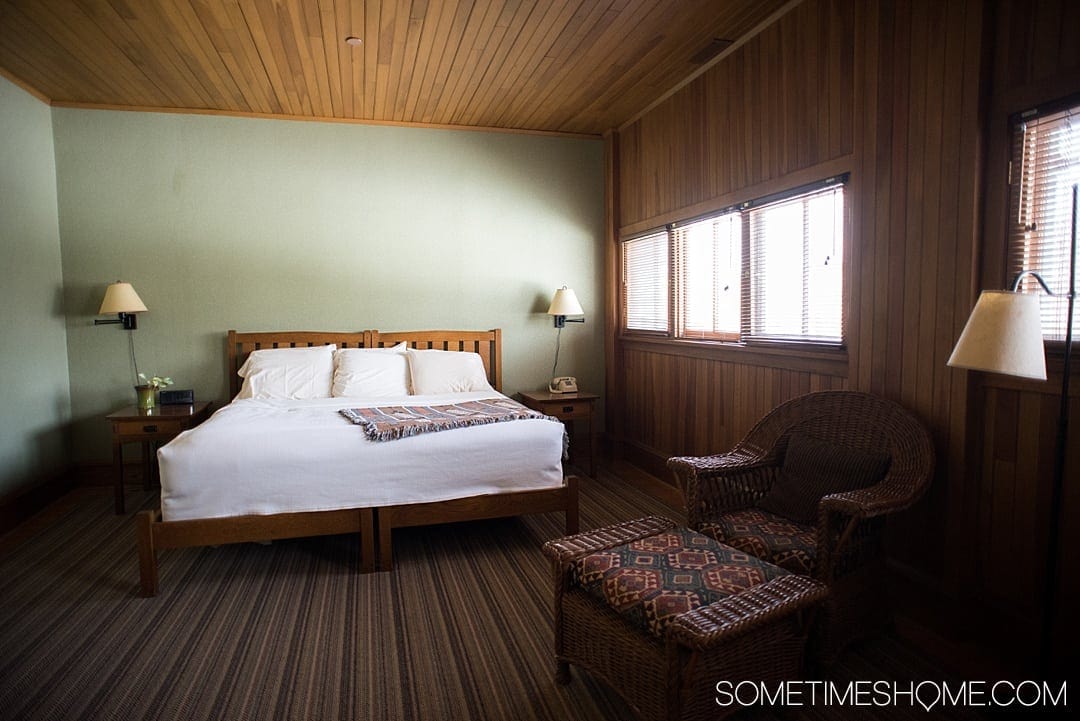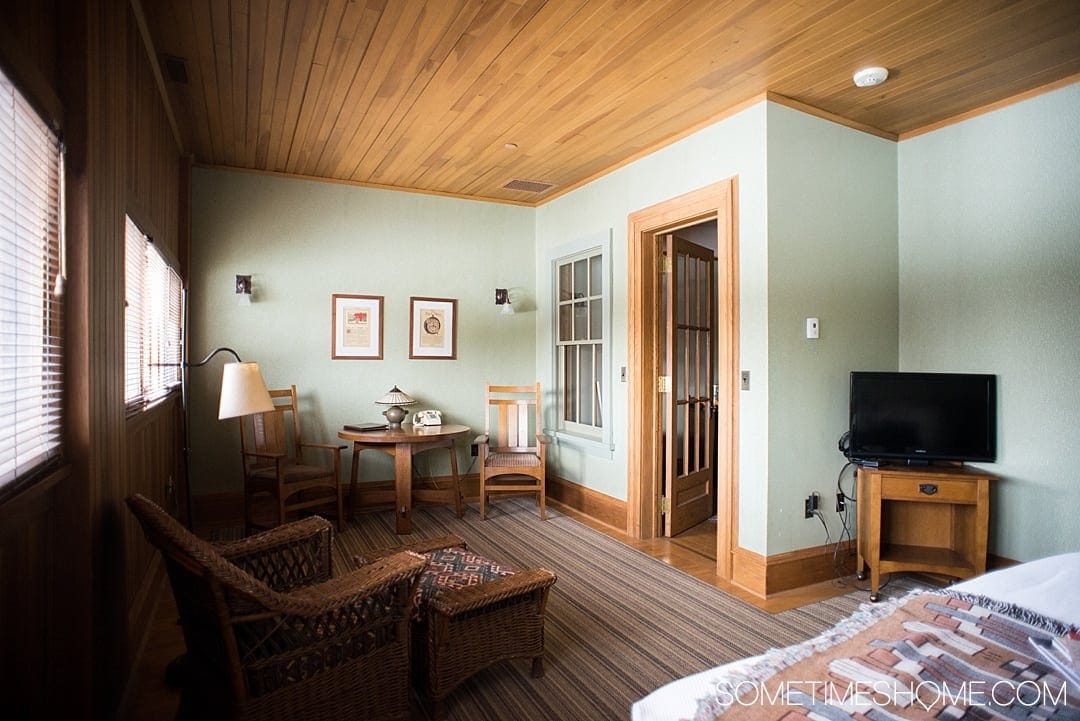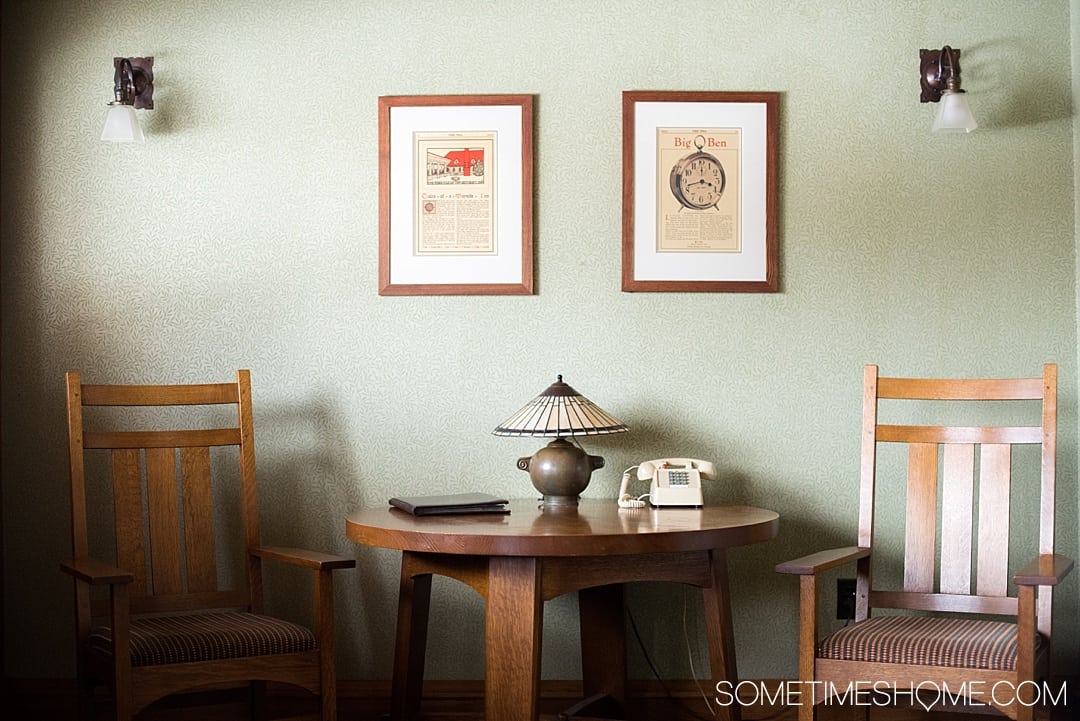 Our sitting area came in handy when we wanted to rest our feet a few moments. I got a kick out of the old phone used to call the front desk that rested on the sitting area table next to a perfectly sized Tiffany-inspired lamp. Note all the furniture is designed in the Arts and Crafts style.
The bathroom had a little bit of an odd curve to it and felt a little tight by the sink but its spacious shower and tub made up for it.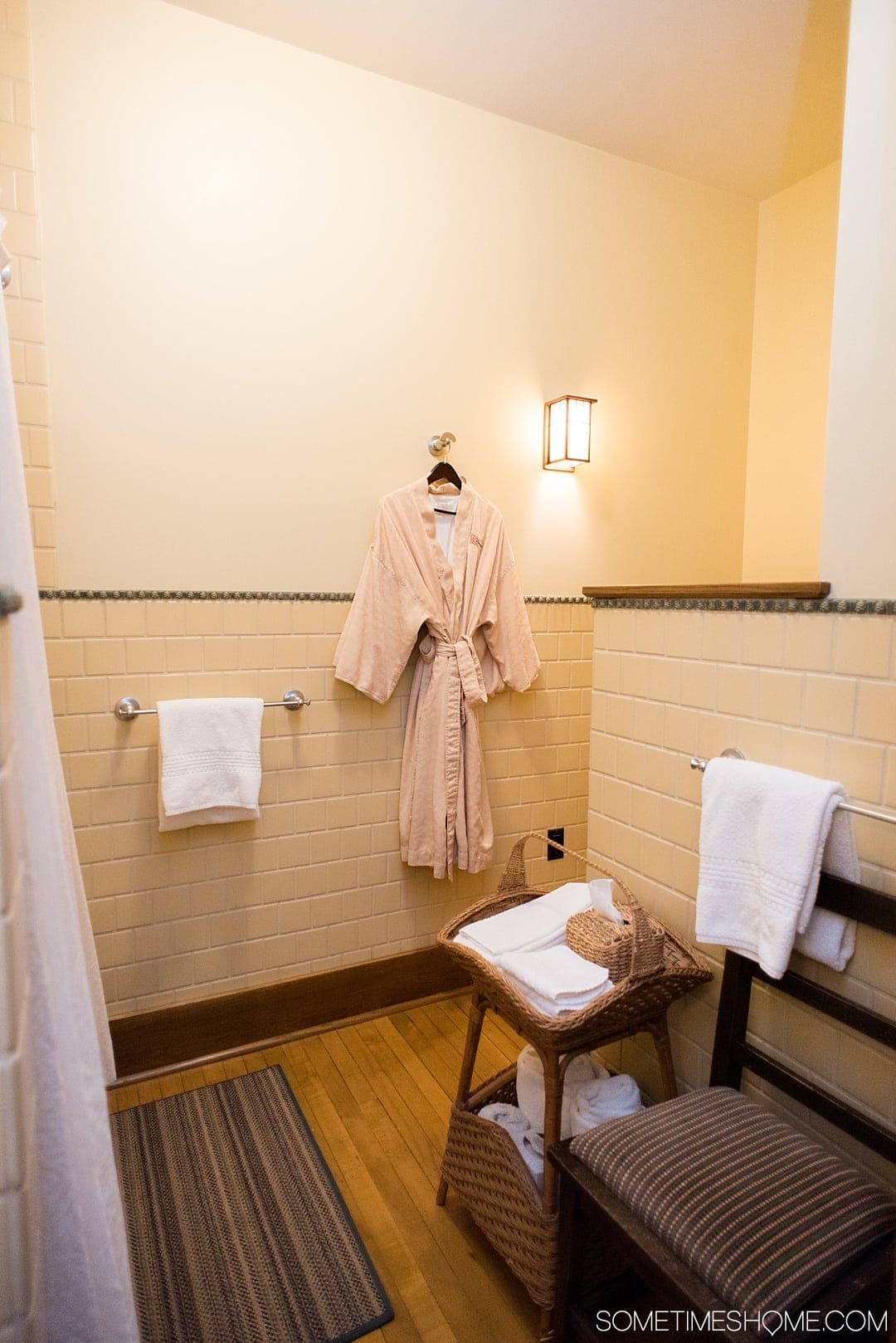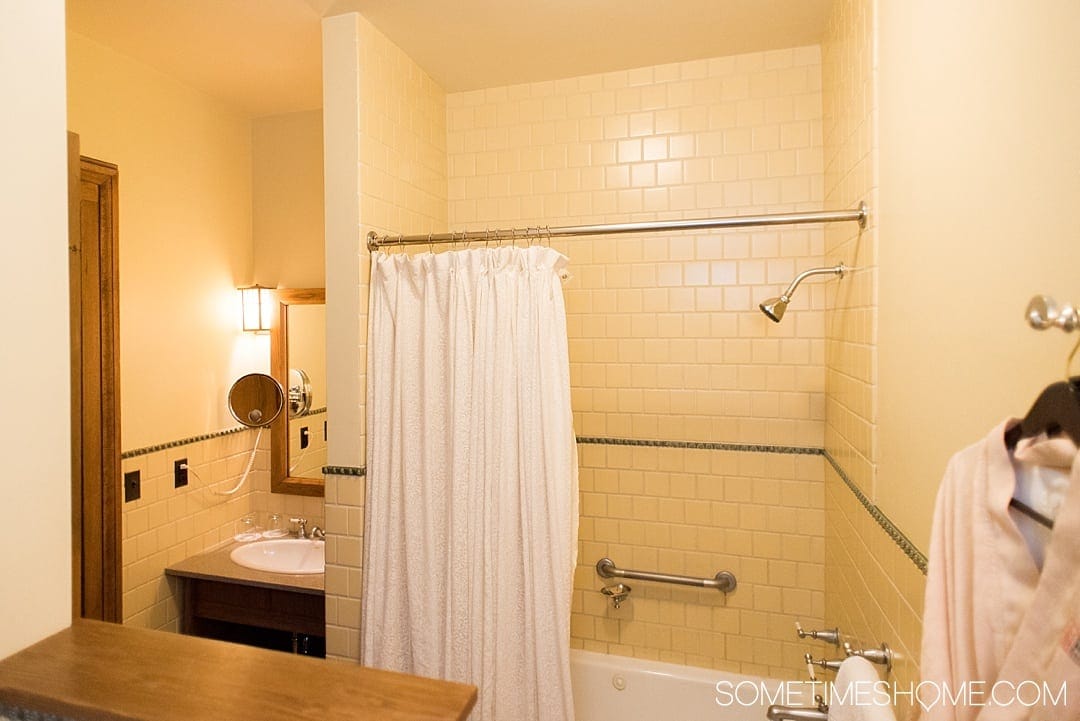 You can make a reservation at The Roycroft Inn online but all rooms and suites aren't available there so it may be worth the good old fashion reservation system! It's a better bet to pick up the phone and call them to reserve your stay.
The Roycroft Inn: 716-652-5552, or toll-free: 1-877-652-5552
Night Time
The Roycroft Inn in East Aurora New York is a very quiet neighborhood. Expect to get a good night's sleep, with a lack of any noise pollution, whatsoever.
If you're wanting to explore town before bedtime, however, there are great restaurants and bars in the main area of East Aurora or you can simply grab a beer or glass of wine at the Craftsman Lounge at the Inn.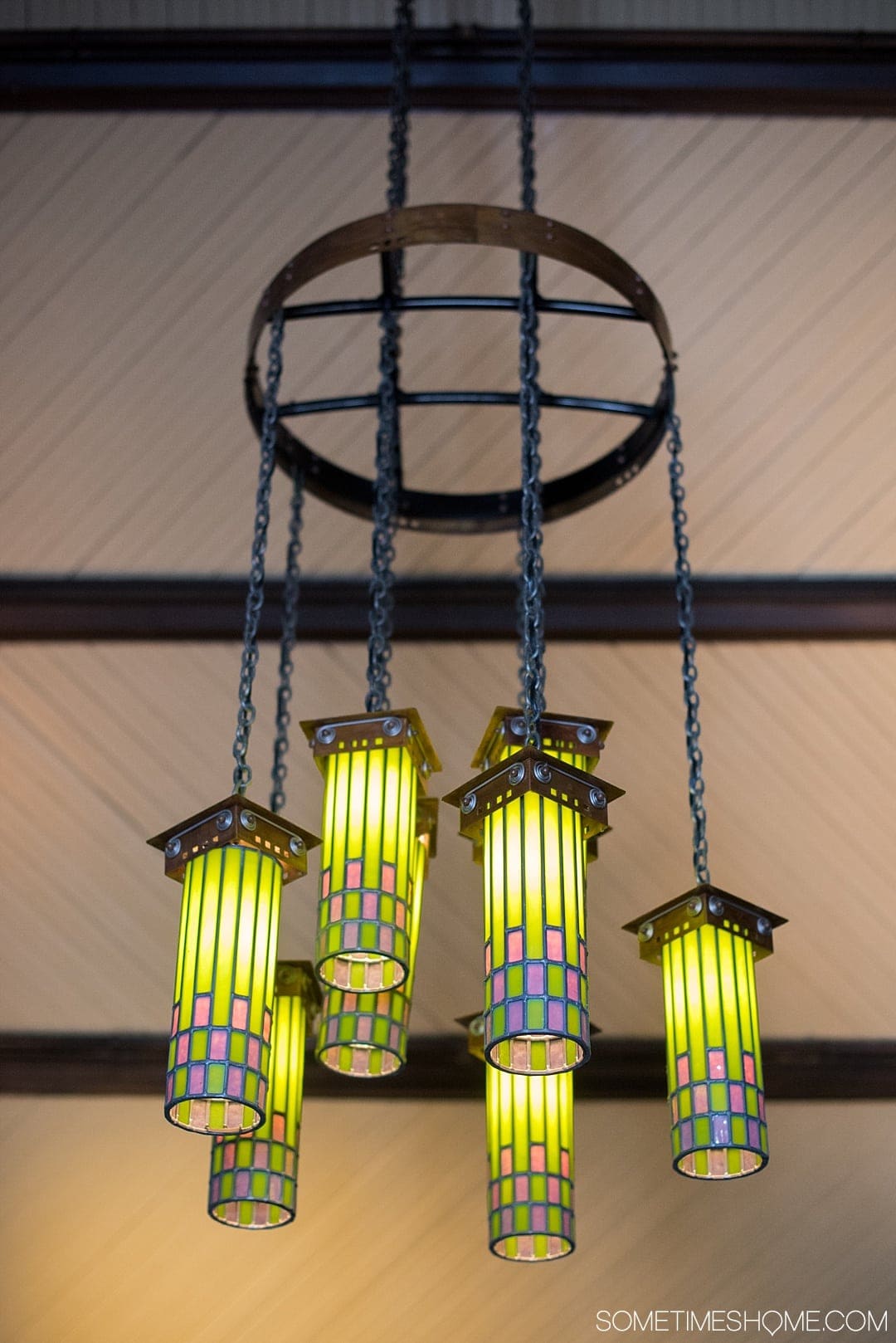 For great things to do in the area check out:
Please note: we thank Visit Buffalo Niagara for generously hosting us. We also may make a small commission from affiliate links in this post but all opinions are ours and we bring you genuine content with real facts, photos, thoughts and recommendations. Always.
There may also be some affiliate links in this post, which means we may earn a small commission if you click the link and proceed with a purchase. We only recommend products or services we personally use and recommend.