Helpful Tips and Facts to Know if You're Traveling to Slovenia
Slovenia facts will be helpful if you're traveling to this wonderful little country just north of Croatia, east of Italy and south of Austria.
It was the perfect destination for a one-week getaway; we thoroughly enjoyed exploring the region and its major cities in the limited time we had. We quickly learned some useful things during our trip that are great to know before you go to this fantastic area.
Some Slovenia History
Slovenia became a country in 1991, after it gained its independence from Yugoslavia. It's a newer nation so if you tell your grandparents, "I'm going to Slovenia!" they may have no idea what country you're talking about. We told my mother and aunt we were going there and they said, "Must be a new country." They were right!
Slovenia's Geography, Population and Languages
Slovenia's an incredibly geographically diverse country. It contains a portion of the European Alps, gorgeous hills and lowlands and part of the Mediterranean coast. We traveled through beautiful hilly vineyards, saw snow capped mountains, walked around gorgeous lakes and next to peaceful rivers and admired the sea…all within a few days. We even explored some intriguing caves. (On a guided tour, of course. We're up for exploring but we're not that daring or experienced to go it alone underground!)
In addition to its bordering countries mentioned above (Italy, Austria and Croatia), Hungary touches the northeast edge of the country. It's good to know this because its bordering nations cultures have an influence on Slovenia, whether present day influence or historically speaking.
Slovenia has been part of the European Union since 2004. (Their currency is the Euro.) Parliament governs the country and they have a president who has no power.
Their population is just over two million people.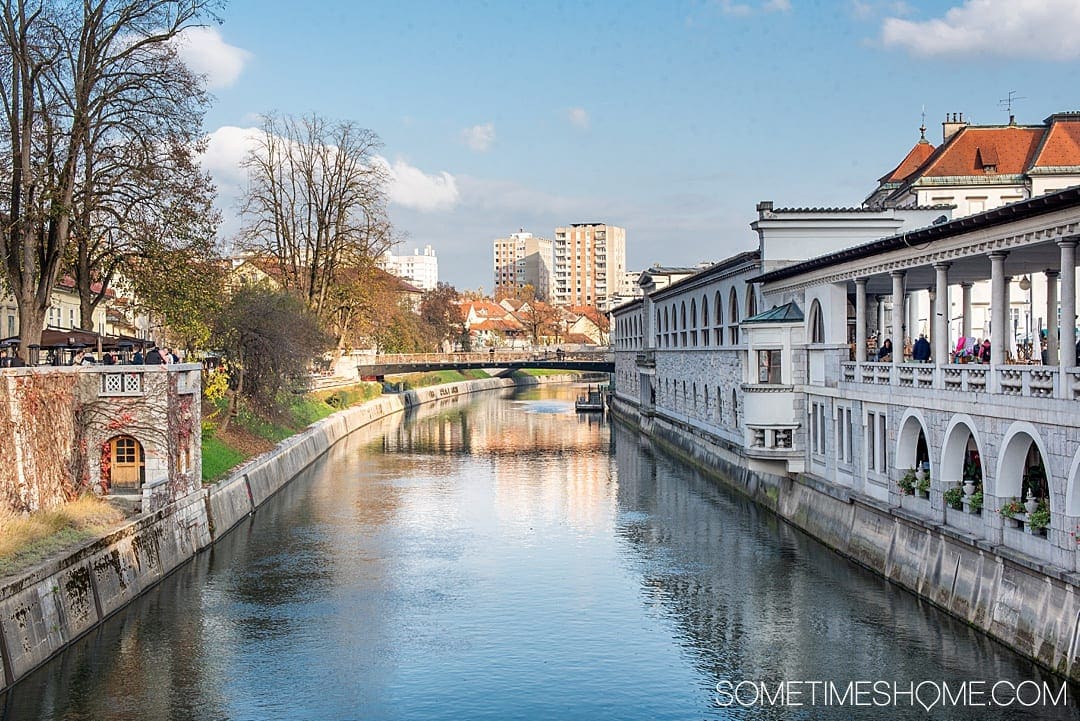 Slovenia is kind of a Chicken Shaped Country
This is more so a funny observation than anything else but it's one we love! Our tour guide on our food tour in Ljubljana pointed it out to us: the shape of the country is like the silhouette of a chicken! It's good to know in case you need this information for Jeopardy one day or to spot Slovenia on an unlabeled map. (Haha!)
Once you see it you'll never forget it and you'll look at the outline of the country the same way again!
They have Three Official Languages 
Slovenian (major language)
Italian (minor)
Hungarian (minor)
Three Keywords/Phrases
You may encounter someone in an older generation who doesn't speak English but there's a good chance anyone you meet 40 years old or younger speaks fluent English or enough to communicate with you. 99% of the people we met spoke English. (The missing 1% being a nice woman we met at a winery in the hills of Maribor who only spoke basic words in singularity. But, even then, we could communicate with her enough to order wine and pay for our bill! That's just enough, isn't it?)
Knowing how to say "thank you" and "you're welcome" is helpful in any country. We feel it's a sign of respect to try to acclimate to their culture, even for a short visit.
Here's how to speak Slovenian:
Hvala = thank you (pronounced "val-a")
Prosim = you're welcome (pronounced "pro-seem")
And for a bonus:
Dobradan = good day (pronounced "doe-bra-don")
Slovenian Wine Regions and Types
Slovenia is known for wine and is home to the oldest wine vine in the world. (You can see the vine in Maribor outside the Old Vine House; scientists have proven it's over 400 years old.) It has three distinct wine regions so of course it needed its own heading in our post about Slovenia facts and tips. (We love wine!)
The three regions are:
Podravska in the northeast, known as the most prestigious wine region in Slovenia (this is the region where Maribor is, perhaps the second most popular tourist destination in Slovenia after its capital, Ljubljana)
Posavska in the southeast, the smallest in terms of wine production
Primorska in the west, with many wines under Italian influence due to its close proximity to the country
We dedicated one day to driving around Maribor to try the region's wine, which is why we know it best. "Sipon" wine is unique to Slovenia and was a personal favorite. The rumor is when Napoleon's army was in the region they tasted it and said, "C'est bonne!" which was then translated to "Sipon!" (Isn't that a great story?)
It was cold when we visited in November so it was helpful to know "kuhana vina" means "warm wine." Having a cup of warm wine on a cold evening hit the spot many a night!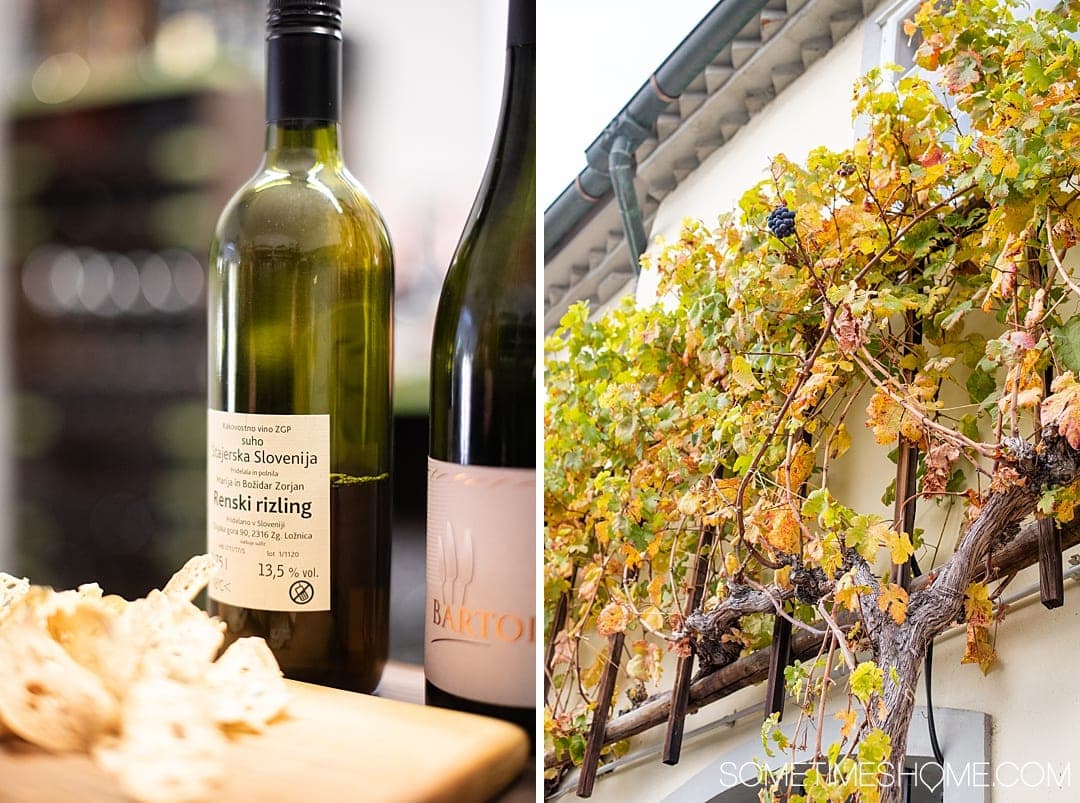 The Water is Slovenia is Divine
Speaking of beverages, their drinking water – from the tap – is perfection.
In Slovenian, "pitna voda," is drinking water. (We learned that in the airport bathroom. A sign above the sinks indicated the water was okay to drink with that translation.)
The water in Slovenia was DELICIOUS. It tasted so pure and fresh and we were happy to drink it in large quantities to stay hydrated. We filled our reusable water bottles from our hotel room sink, at the airport and even in Ljubljana's city center through the help of a cute Kangaroo, which is really a disguised water filling station.
Trust us on this Slovenia tip: there is no need to buy bottled water in Ljubljana. (And it'd be a shame to unnecessarily buy bottled water since the plastic sucks for the environment.) We asked for tap water at every restaurant we went to. All Slovenian do.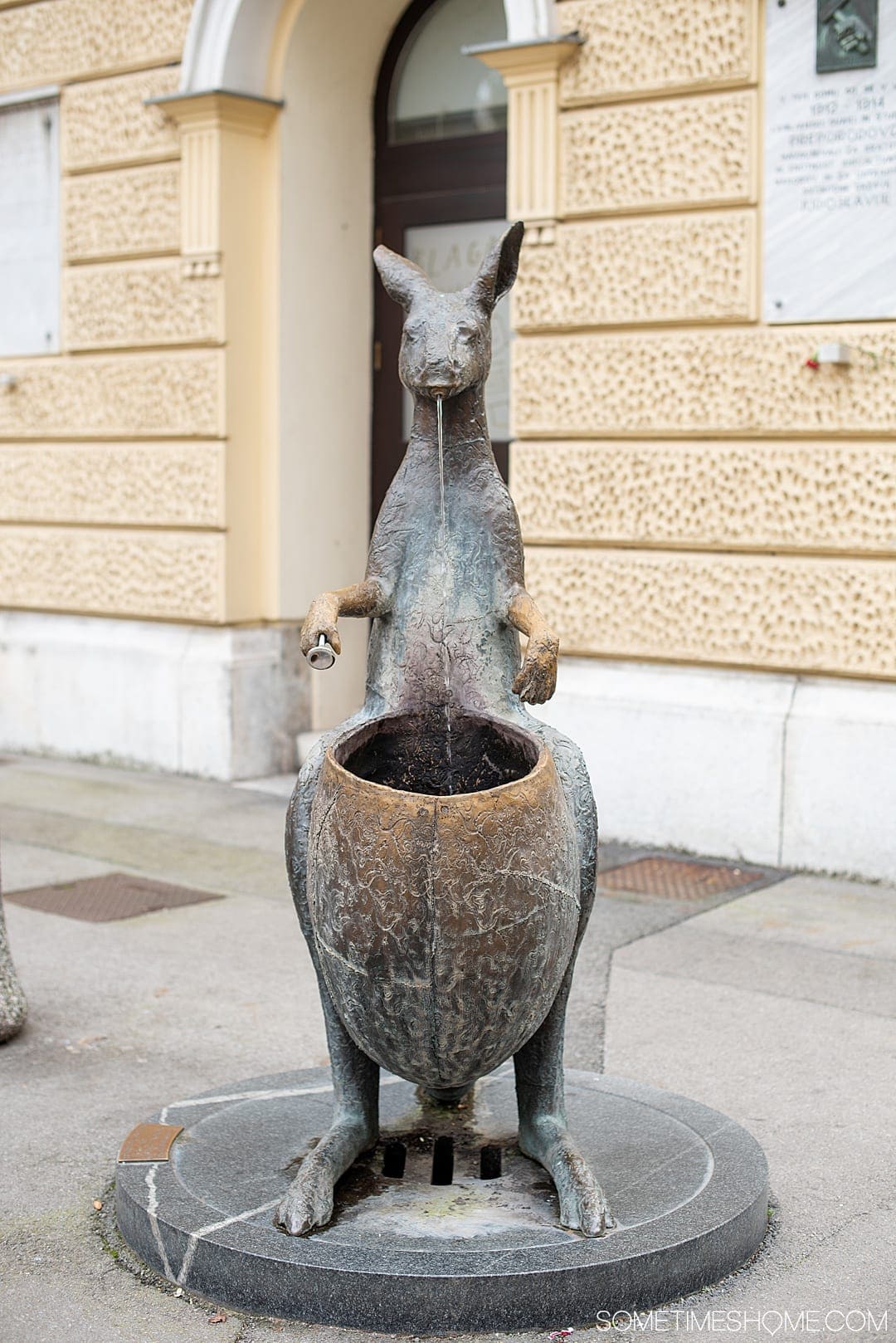 Roads and Driving in Slovenia
There are only about five major roads in Slovenia so it's really easy to drive all over the country. Sure, they have networks of roads all over their suburbs and cities yet they don't have a million interstates or anything that overcomplicates driving directions.
Slovenian roads pretty much all stem from Ljubljana, its capital city. (All roads lead to…Ljubljana!) This makes it super simple to drive between the major cities you'll visit for a perfect Slovenian trip.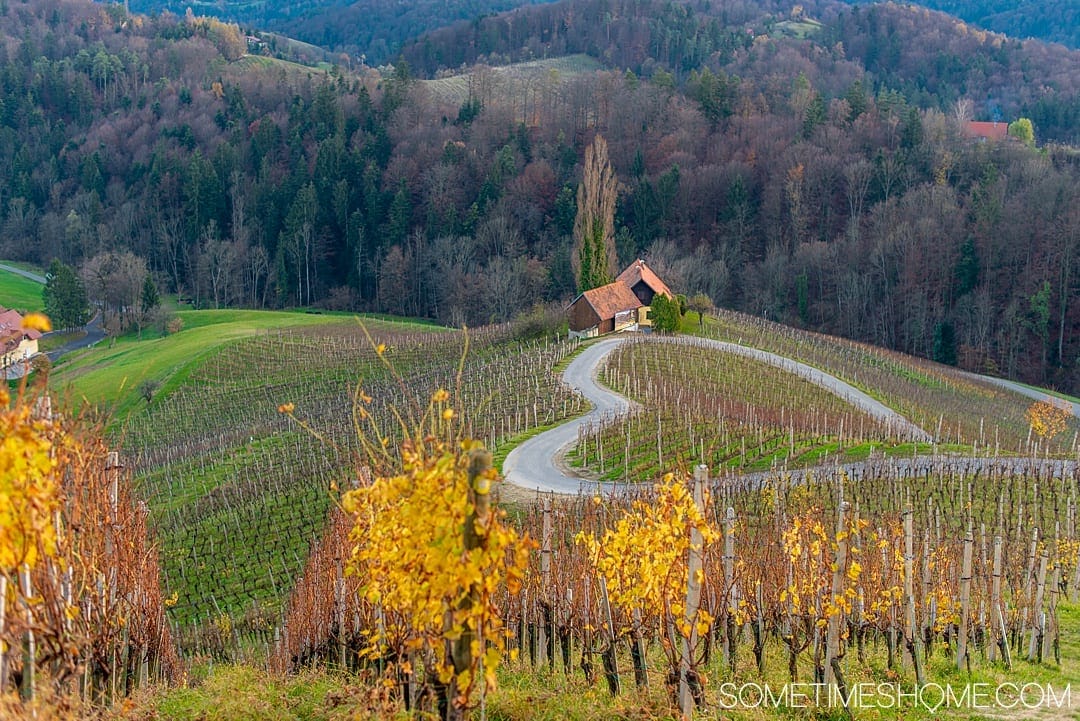 Whether we were driving from Ljubljana to Maribor, or Maribor to Lake Bled, or to Piran on the coast, there were only a few major highways. It's really hard to get lost there unless you're meandering through a small neighborhood.
(And even then we never got lost with our handy dandy pre-travel tip to download OK Maps to navigate in a foreign land…even when we were in the countryside trying to find the heart-shaped road in Maribor in the photo above.)
They don't have "traditional" toll roads where you need to stop to pay a machine. If you rent a car simply make sure there is a valid, non-expired vignette sticker on the upper corner of the windshield on the driver's side. (It looks like the sticker in the photo below though the color varies each year.)
You'll periodically drive under a structure on certain parts of the highway that automatically scan this, much like EZ Pass in New York or New Jersey or SunPass in Florida.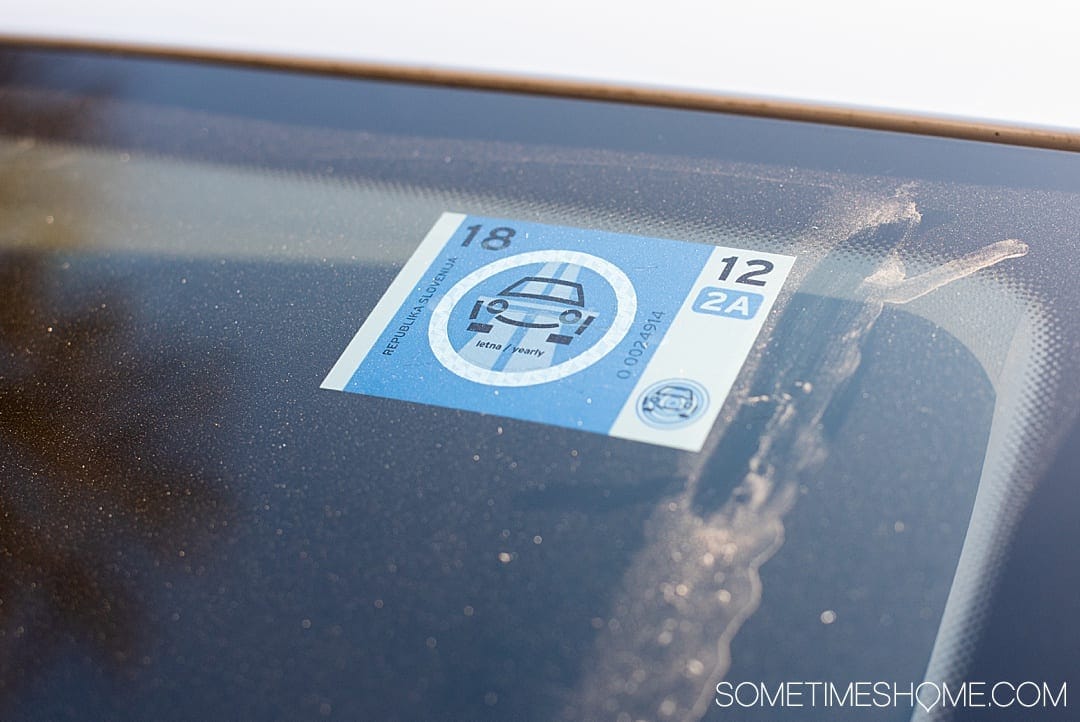 The road signs are typical for Europe so if you've driven elsewhere in the continuent you'll already be familiar with the signs.
Slovenia fact: they drive on the right side of the road. We also had to pay inside for gas at some stations before pumping. Otherwise the gas stations were relatively easy!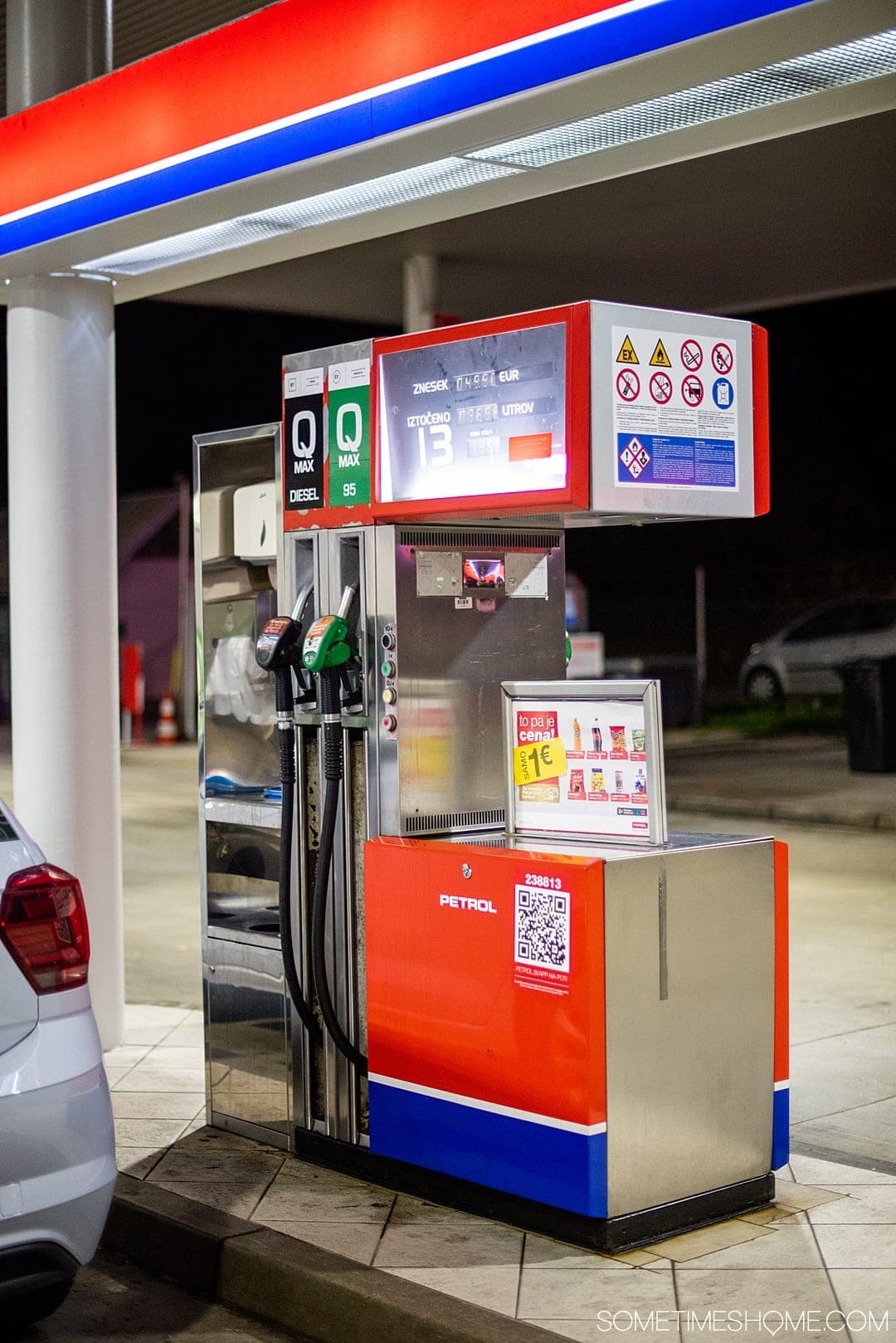 English Radio SI & Songs
Sometimes we wanted a little background noise or to jam out to songs as we were driving through Slovenia. We turned on the radio to discover a few radio stations.
We liked to tune to the "Radio SI" station because they reported the news in English and Slovenian. Also about 80% of the songs they played were hits from America. Perhaps only one in every ten songs were in another language. (Which we guessed was Slovenian, of course.)
As we said, they don't have a ton of stations either so just scan through the channels and you'll find Radio SI.
Peak and Off Peak Seasons to Visit Slovenia
We know Slovenia is still a hidden gem. (Kind of how Croatia was ten years ago.) Sure, they have a peak season as any destination does, around late May/early June to August/early September.
We admit we've never visited during peak season (we only traveled to this Balkans country during off season) so we can't speak from experience. But we imagine it's more crowded during this time. Yet much greener too.
It was really fantastic to go in the off season. It worked for us because, 1) it wasn't crowded, 2) the weather was crisp some days but still warm enough to only wear a light coat and 3) flights and hotels were more affordable when we went, the second week of November.
Peak and Off Peak Tourist Times in Slovenia
Off Season in Coastal Towns
Because Mikkel is a wedding photographer and is usually working during peak times a lot of tourists travel (i.e: May through November) we often travel during the off season.
It's worth noting some pros and cons of traveling to Slovenia's coastal towns during the off season, in particular, because it may influence your decision for when to travel to Slovenia. (Coastal towns include Piran, Portoroz, Izola and Koper.)
Pros:
We felt like we had the whole town to ourselves. The hotel had several guests when we stayed Saturday to Sunday. But Sunday night felt a bit less populated; come Monday morning it felt like we were the only guests at the hotel. We asked the front desk if we were, in fact, the only ones there. Yes, we were!
This was great because it meant more affordable rates at a cool hotel we may not have been able to otherwise afford on Tartini Square – the PRIME location in Piran.
It may be easier to park off season as well! Piran is unique in that only certain cars are allowed in the main part of town by its harbor. Everyone else has to park in a parking garage and take a shuttle to the town center – even most people who work there. The garage is less full during off-peak times. (Luckily our hotel came with free parking and we were able to unload our bags in front of the hotel with our rental car then run the car to the parking garage afterwards and take the shuttle back to the hotel.)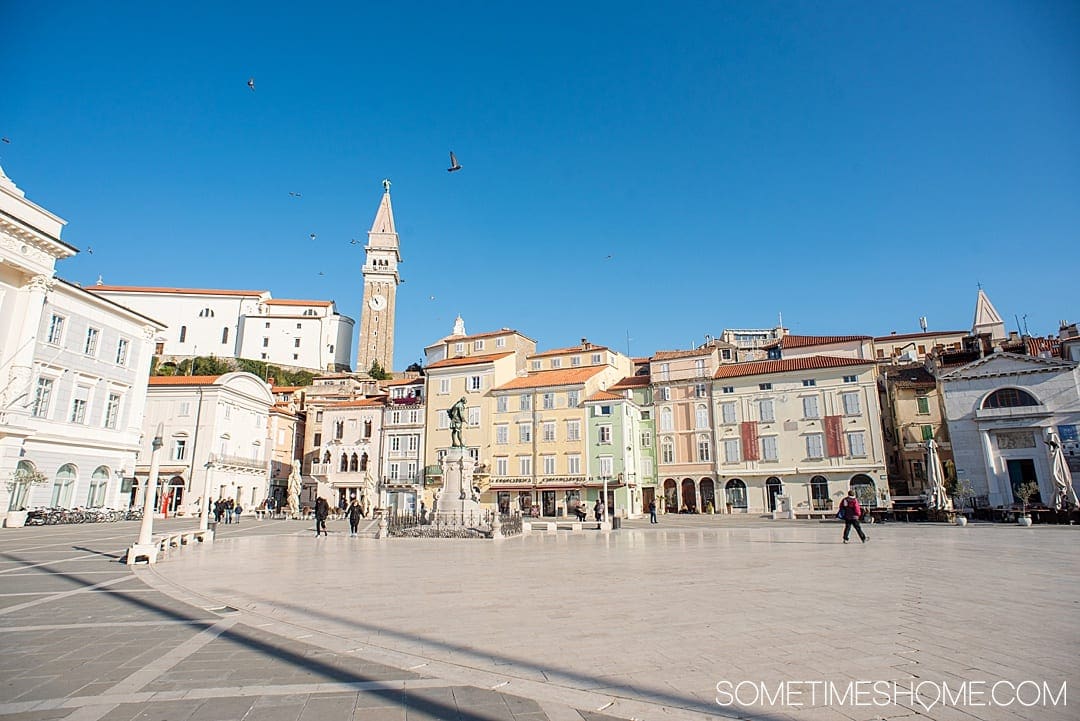 Cons:
Traveling to Piran in mid-November (let's call it the start of winter there since it was very cold on the coast, largely because of the wind there) meant a lot of shops and some restaurants were closed. For no reason other than it was off season. We took a day trip from Piran and drove to the neighboring town of Koper. We were sad to find nearly all the shops we wanted to go into were closed, or closed so early we missed them being open at 3:00pm. Even a Christmas shop was closed and Christmas was around the corner!
It's cold and windy in the off season. We were very glad to have scarves and gloves to pair with our winter coats. I can imagine vacationers walking around in tank tops and cute skirts during the warm, peak season. Yet mid-November was COLD. Luckily the sun was shining and it's hard to tell 80 degree weather from 40 depress in our photos!
Off Peak Season Inland in Slovenia
A pretty major celebration occurs during Maribor's off peak season: St. Martin's Day. We were there a week after it concluded and found a few wineries were closed to recuperate from the festivities. We learned this is typical and there's often no telling when they will reopen because it's simply based on how they feel! (That's so European of them.) If there aren't that many tourists, thus not a huge business opportunity to be open after the festival, we understand why they'd be closed.
Off peak in Ljubljana, Maribor and Lake Bled and Lake Bohinj was nice because we didn't have to deal with crowds. Especially because Lake Bled is very popular and is a small town. We imagine traffic can get really intense and congested, really fast. We enjoyed the views despite a piece of us wishing we knew what the view with greenery on the trees looked like with our own eyes, not just in photos on social media. But the photos we got were still pretty awesome…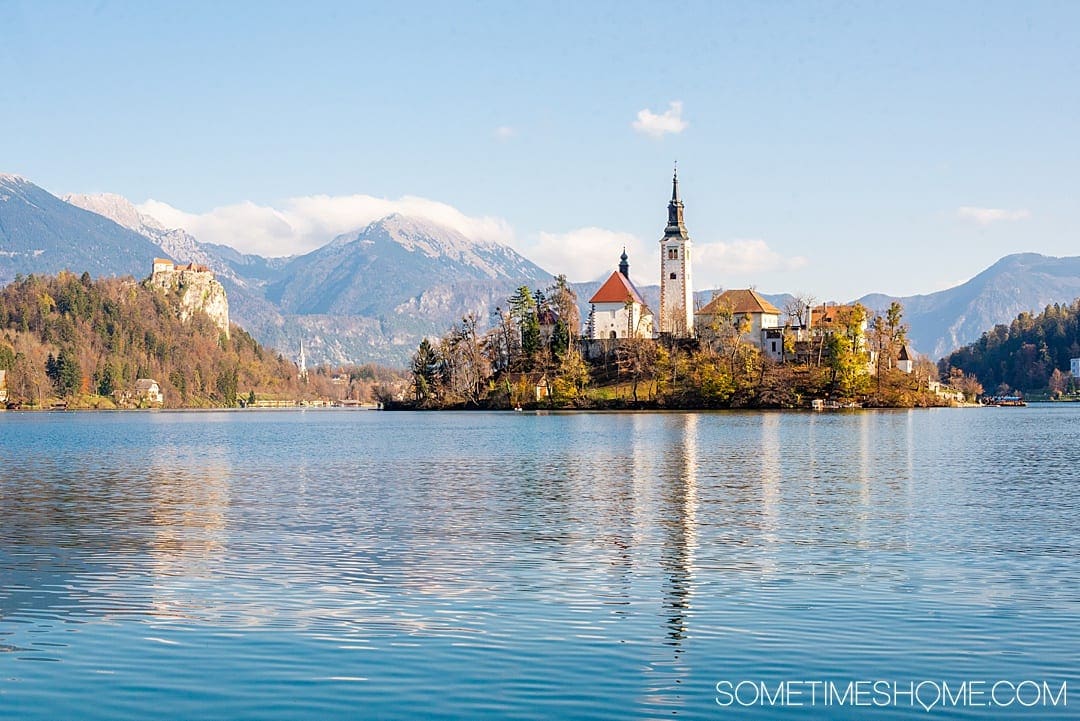 Traditional Food in Slovenia
The food in Slovenia is baller. I dream of their dumplings weekly since having traveled there. (And they're not like Asian dumplings, but a roll cut into slices.)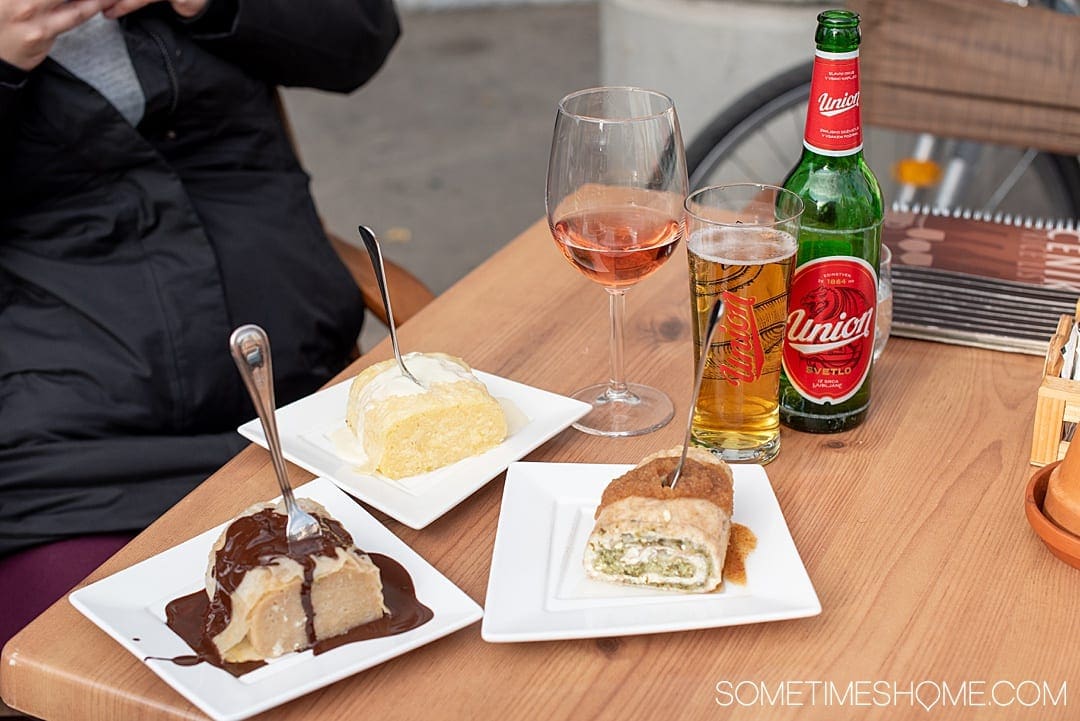 Lunch is the big meal of the day for Slovenian residents but of course if you're American, like us, you're used to big dinners. We say there's no need to choose – have a hearty lunch and dinner.
Traditional Slovenian food and drinks are delicious and worth trying whatever you can during your vacation. We also enjoyed Slovenian cheese, soups and stews, honey, and various seasonal vegetables.
Slovenia facts: "Gostilna" means "restaurant" so if you see a building or storefront labeled as such there's food inside!
We also had a wonderful 12-course meal at Restaurant Mak, a restaurant in Slovenia gaining attention for its innovation and delicious food. If you want to experience Mak we suggest making reservations in advance.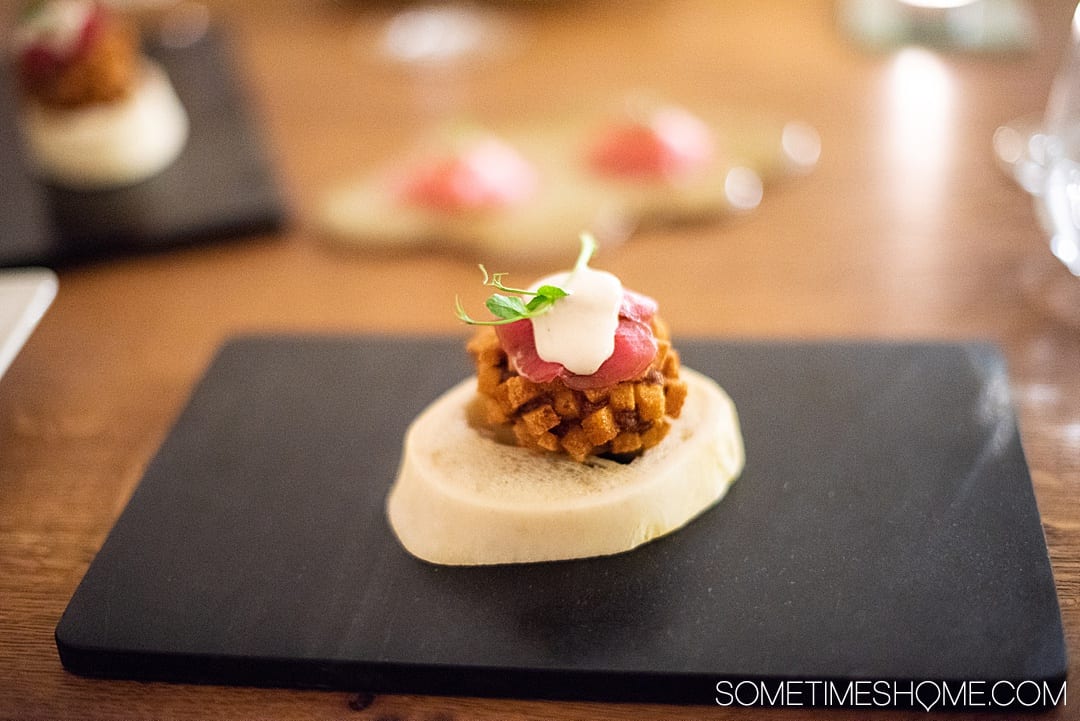 Tipping in Slovenia
Here's a helpful Slovenia tip regarding paying in restaurants: we were able to charge our meals to credit cards but there wasn't a way to add extra gratuities to the bill. So we always left a little cash, which means you need to have Euros on hand. (We left about 10% of the bill as a thank you for great service.)
Ljubljana is a World Renown Green City
Slovenia is a friend to the environment. (Which we love!)
2016: Ljuljana was voted the European Green Capital
2017: Ljubljana received the Responsible Tourism Award
2018 and 2019: Ljubljana won a Sustainable Tourism Award at ITB in Berlin (a very large travel conference)
We see a pattern here! A lot of cities have pedestrian only centers where your options are to walk or bike through town. Civilian parking was only allowed on the perimeters of some old towns, including Koper, thus keeping the town centers more pedestrian friendly and cleaner. (This also meant you probably weren't going to get run over by a modern day car in a narrow passageway built in the 14th century.)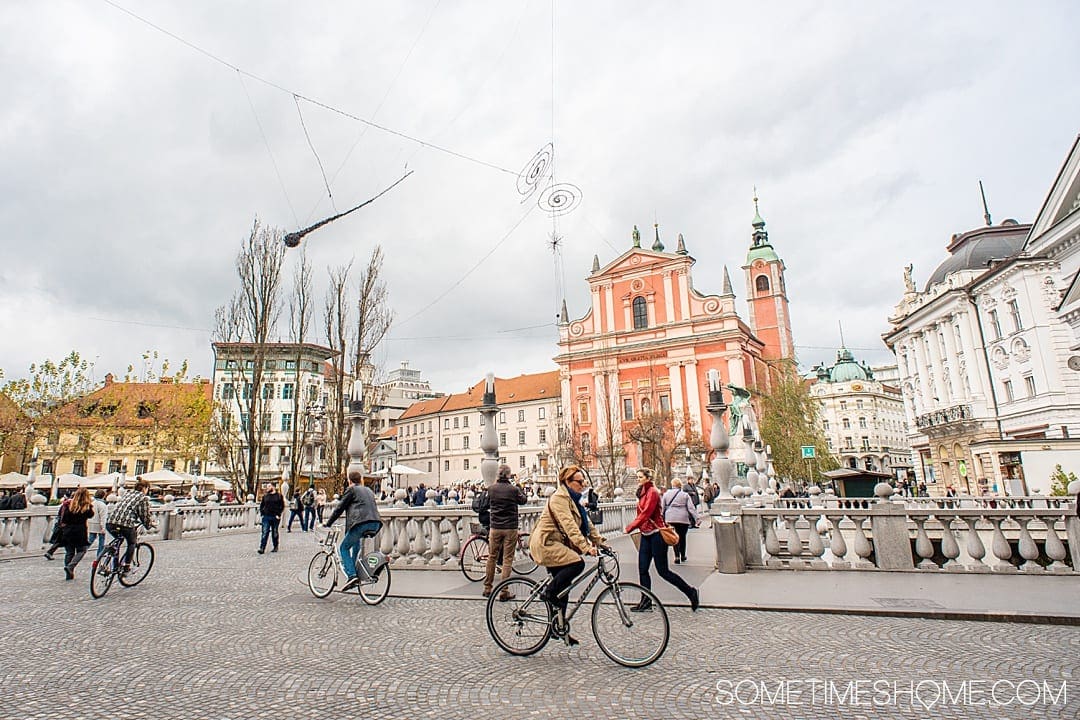 We know these Slovenia facts and tips will help you on your journey through a truly remarkable country!
Be sure to check out our Instagram Story highlight on Slovenia too.
Disclosure: There are affiliate links in this post, which means we may earn a small commission if you click the link and proceed with a purchase. We only recommend products or services we personally use and recommend.
Heading to Slovenia? Also check out:
What European countries have you visited?