15 Traditional Slovenian Foods to Delight Your Tastebuds
I found myself craving štruklji every day after our first bite of the wonderful local dumplings. We were so excited to try traditional Slovenian food it was the first thing we did after checking into our hotel in Ljubljana, the nation's capital.
Our first impressions of the country were seen and tasted through food as we explored the city trying cheeses, vegetables, and beverages. We'd learn the country's favorite delights on our seven-day trip there through wonderful plates and dishes you need to try.
A few things to note about food in Slovenia before we get to our list:
Lunch is Typically the Biggest Meal of the Day for Slovenians
However, as Americans whose largest meal is dinner, we didn't have any trouble finding restaurants open for dinner. Especially ones with traditional Slovenian food, which of course we were most interested in.
Slovenia is a Young Nation
It gained its independence from Yugoslavia in 1991. If its traditional foods remind you of its bordering nations, notably Hungary, Austria, and Italy, it's probably because they've had a historical influence on Slovenia.
We LOVED Our Food Tour Showcasing Traditional Slovenian Food
I cannot recommend LjubljanaYum Slovenia food tour enough. Their communication was stellar, staff friendly, and spoke English perfectly – both written beforehand in emails and spoken during the tour. The meeting spot was easy to find and we learned so much.
I recommend taking a tour as close to the day you arrive as possible, so you know what to order the remainder of your trip. It was one of the smartest decision we made. Alenka, our guide, had professional training in the culinary field and was so incredibly knowledgeable about the food in Slovenia, her home country.
Tap Water is Delicious in Slovenia and Okay to Drink
Water is not only perfectly fine to consume from the tap it's really good. I wish every country we traveled to had such wonderful water. The photo below is of a Kangaroo fountain in Ljubljana's city center, near the area you buy tickets for transportation to Ljubljana castle and the outdoor farmers market.
You can fill your reusable water bottles up if you pass her by. Simply push the silver disc button you see her holding in her right hand (left in the photo) and voila! We always asked for tap water as restaurants (in addition to wine or beer, of course!).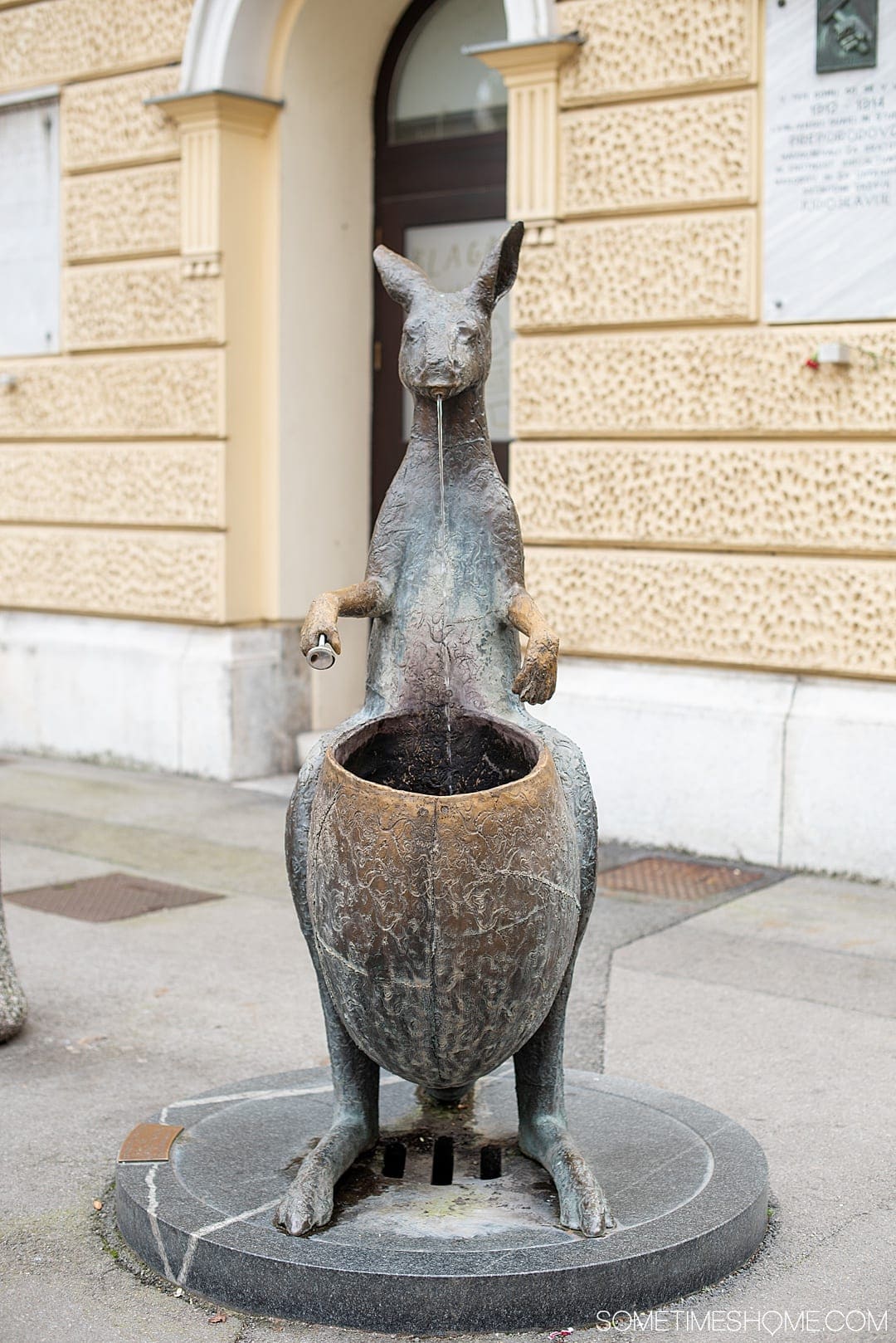 Without further adieu…our list of typical Slovenian foods you need to try!
1. Local Cheese
Cheese, glorious cheeeeese! Cheese is one way to my heart and the country must have known it. One of the first stops on our food tour was at a market selling cheese. We were able to try a mixture of 50% sheep and 50% goat cheese, called kozovč. It was divine – smooth, semi-soft, and very delicious. And so began my love affair with Slovenian cheeses.
There are a lot of high-quality cheeses in the country and we saw it offered on many menus the remainder of our trip. Why resist? We always ordered it.
The beautiful cheese plate pictured below was one we enjoyed while driving between Lake Bled and Lake Bohinj, at a restaurant named Strud'l. It was served with dried apples, raisins, and walnuts. The other, with three scoops of different flavored farmers' cheese, called "skuta", was served at the cozy restaurant, Taverna Kupljen, in the hills of Jeruzalem.
We happened upon the chalet-looking structure on a drive through the wine region during our stay in Maribor. Of the three scoops, one was plain, another paprika and a third flavored with roasted pumpkin oil. (Keep reading for more information on pumpkin oil.)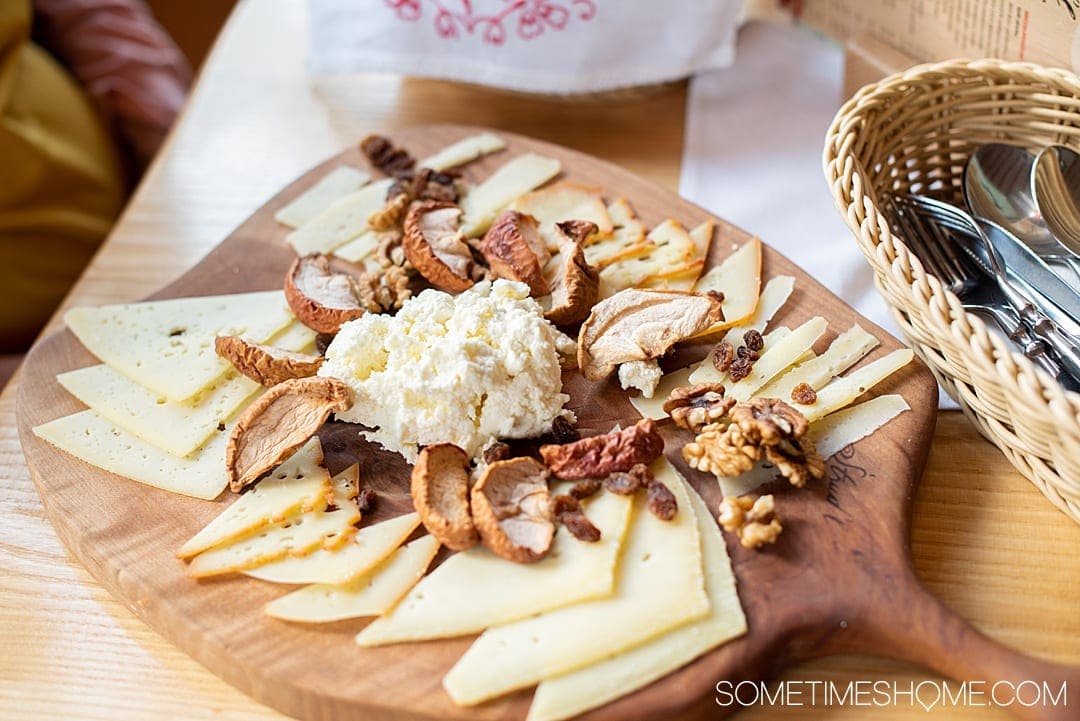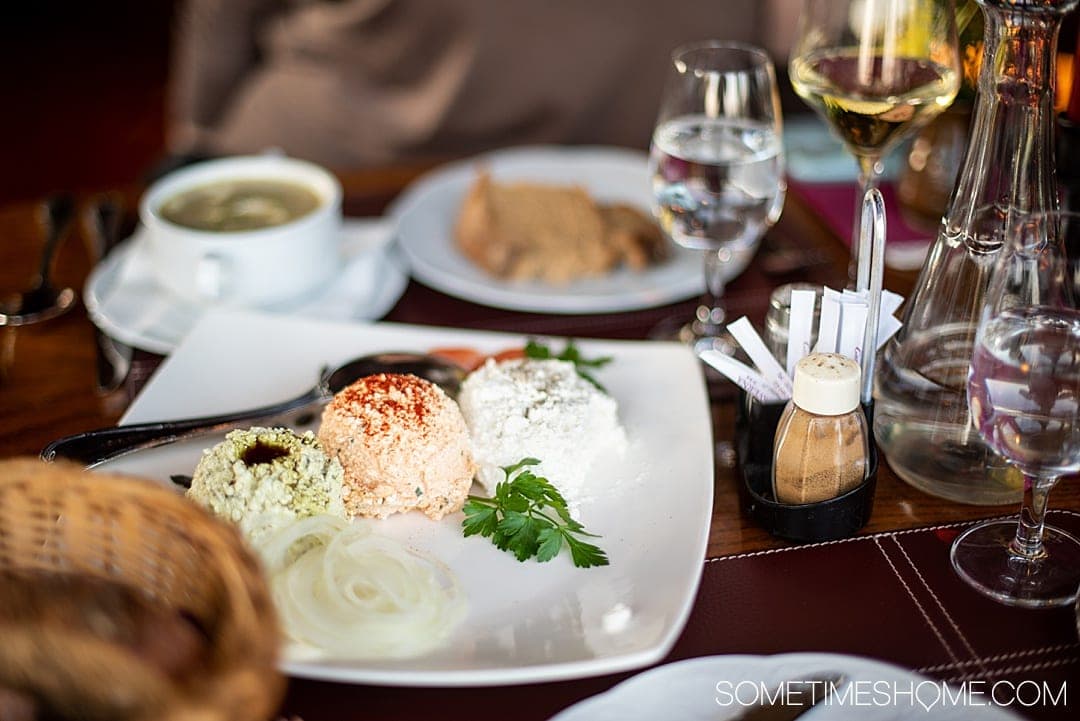 2. Rolled Dumplings: Štruklji
This was, by far, the most memorable of the Slovenian dishes we had. These dumplings are made in dozens and dozens of different flavors both savory and sweet. If I had to guess every Slovenian family has their own twist on a štruklji recipe too. (Pronounced something like: strook-lee.)
It's not like an Asian dumpling that immediately comes to mind when you hear the word. Rather it's a log roll cut into pieces, much like how a sweet strudel is made. You'll often find savory seasonal varieties on menus; we were there during November and had a seasonal squash flavor, pictured below. Our first bite included a taste of the vegetable, farmers cheese rolled into it, the extra thin dumpling dough and sauteed bread crumbs on top.
We loved it so much, in fact, we went back the next day to get more. We tried two sweet versions: one with hazelnuts and the other white chocolate. Of course we couldn't resist ordering a third to go with our glass of wine and beer; we chose an herbed tarragon option.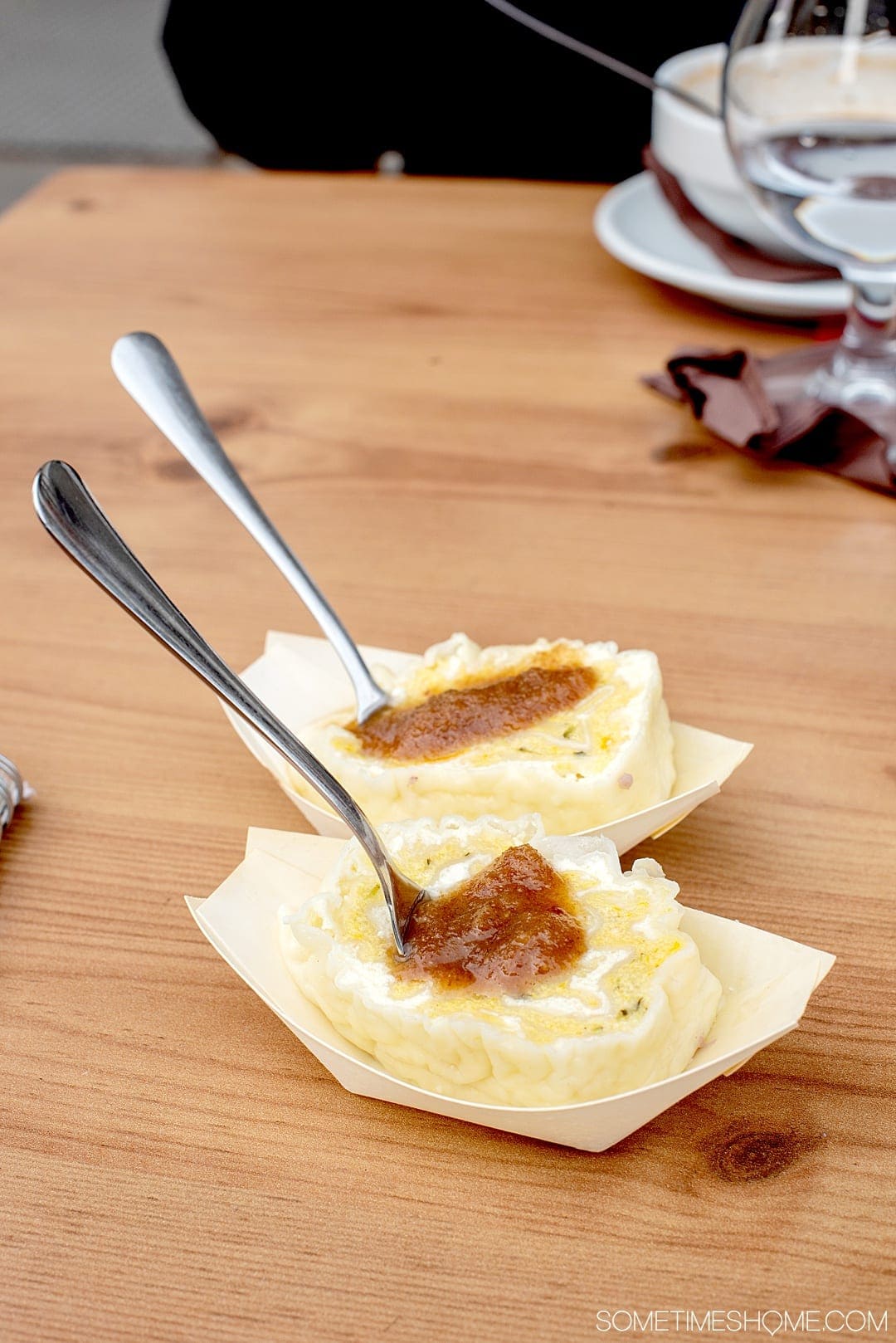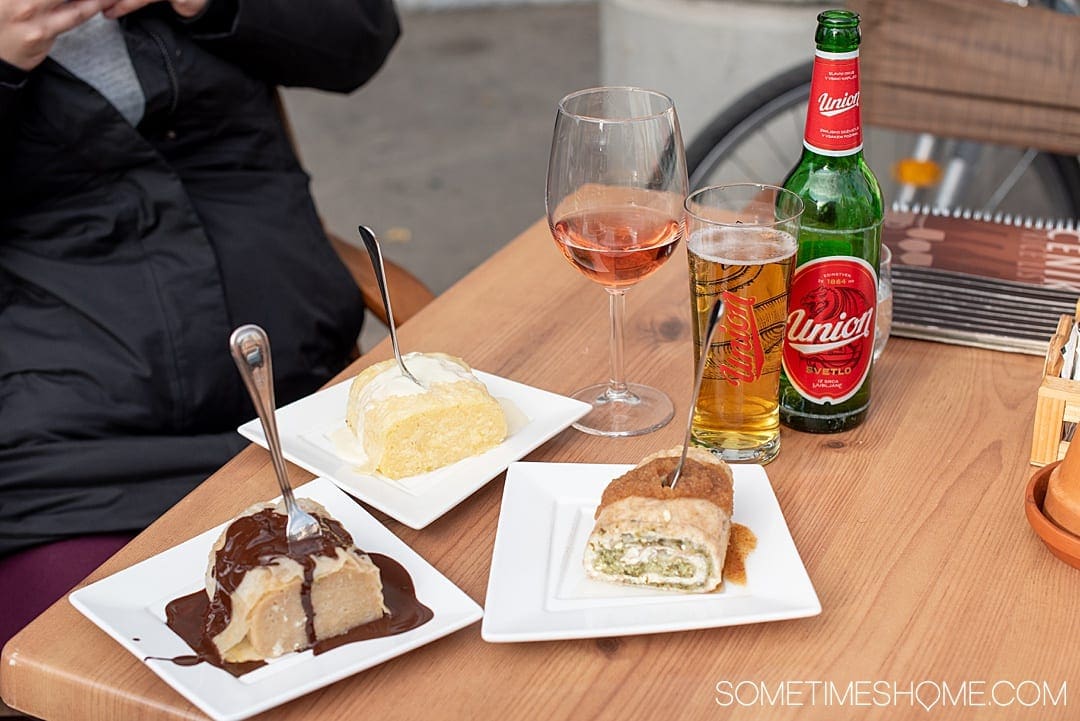 3. Slovenian Honey
Beekeeping is a huge deal in Slovenia. We learned there are two million people in Slovenia and for every 1,000 people, there is a beekeeper, whether professional or hobbyist. This means there are approximately 2,000 beekeepers in this small nation. That's something to be proud of since there are so many environmental benefits to having bees and their honey around.
Slovenia has an indigenous type of bee with grey-brown stripes instead of yellow. You'll find a lot of shops in the country selling honey and bee souvenirs. We were even gifted small jars of the "yellow gold" when we checked into Hotel Park in Ljubljana. They have a rooftop beekeeping program we were able to catch a glimpse of!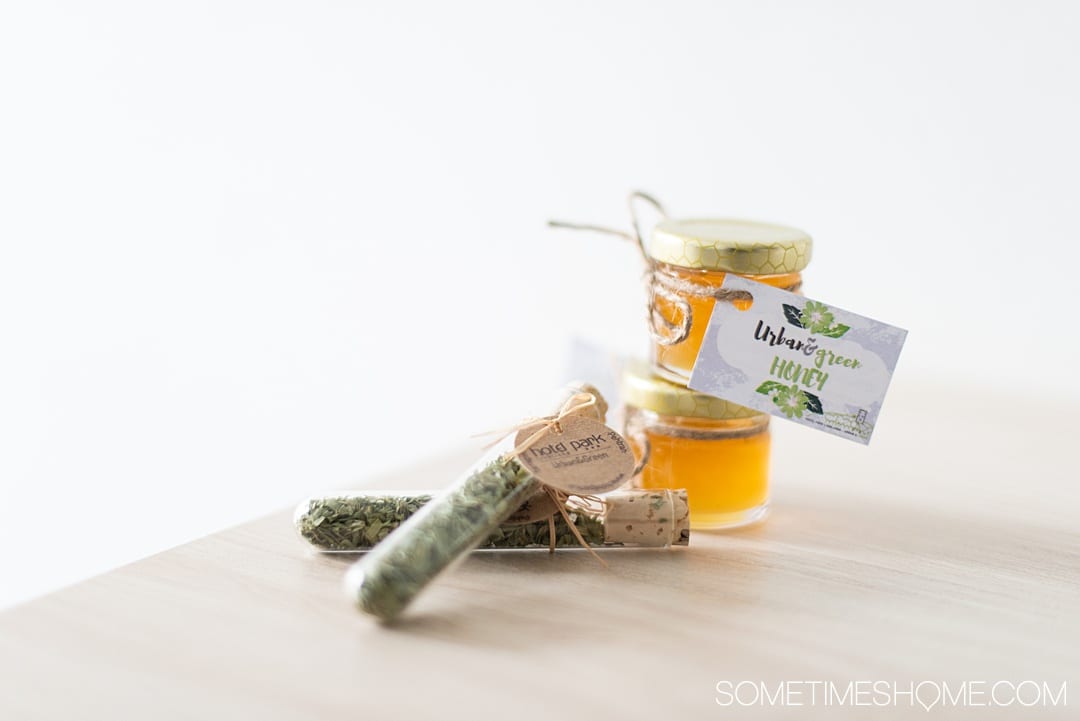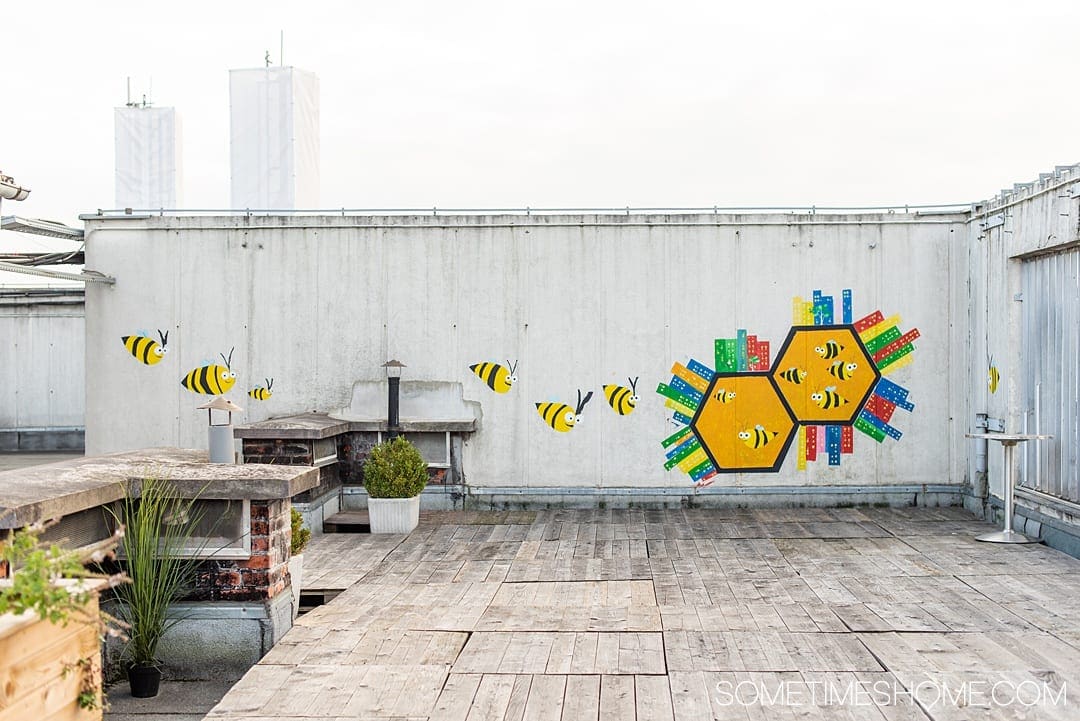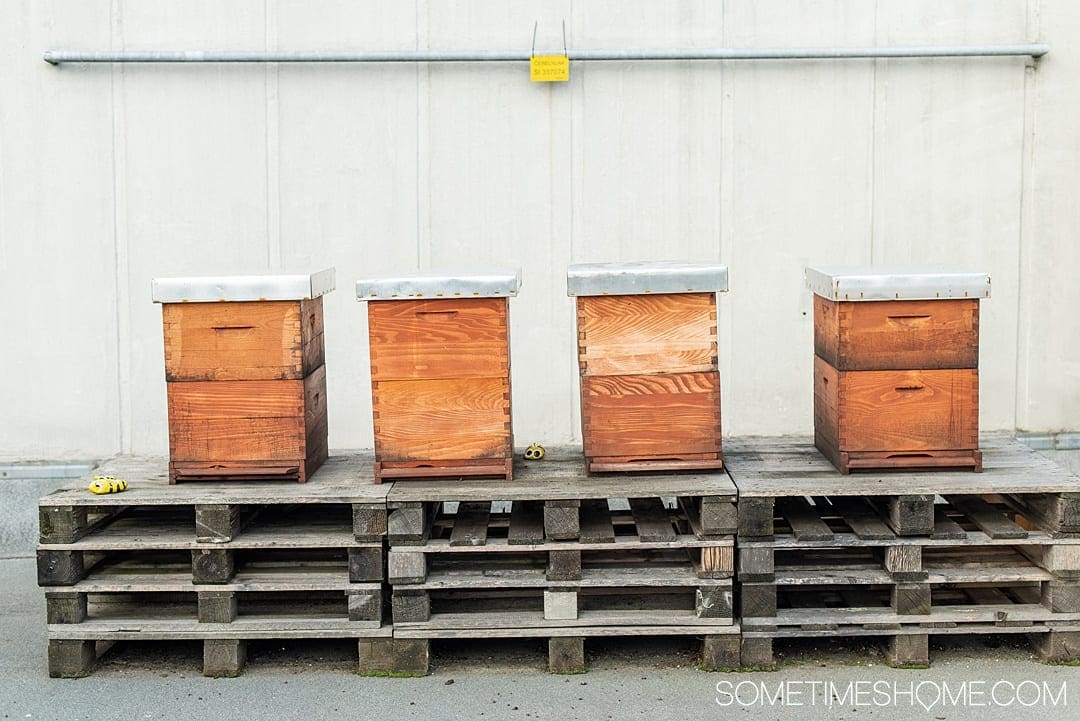 4. Mashed beans: Matevž
This is an incredibly traditional Slovenian food. We had it served alongside sauerkraut as sides with a sausage plate. It's made using beans soaked in water for many hours, cooked potatoes, and pork cracklings. The lower class used to eat it as a main dish many years go but today it's enjoyed as a side dish. (See photo below: it's the dark scoop on the right.)
5. Sausage
We had sausage during our food tour on our first day in town. We tasted a traditional homestyle recipe linked with our štruklji and ričet stew. It's a recipe dating back to the end of the 18th century, called Kranjska. Alenka, with LjubljanaYum, educated us it's served with grated horseradish and Slovenian mustard.
I admit we thought the horseradish was cheese before tasting it as it looks the same! (See the first photo in #6.) We liked it so much we ordered it a few days later at Strud'l in Lake Bled.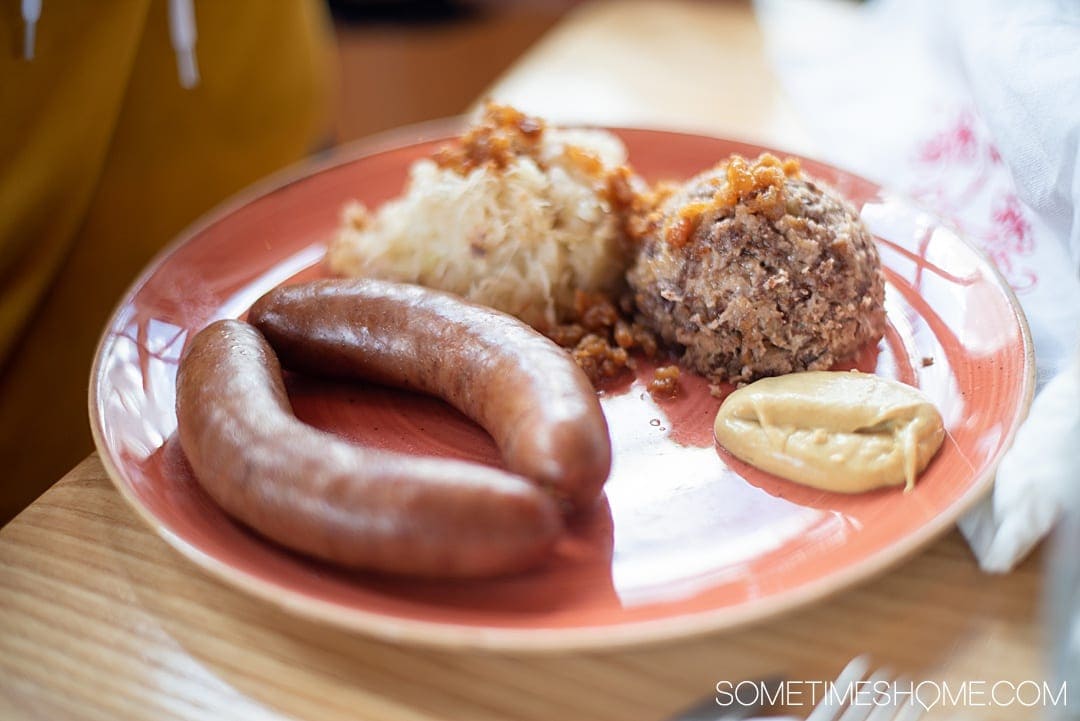 6. Traditional Slovenian Stews and Soups
I adore soup no matter the weather. Luckily we visited during fall when it was the perfect temperature outside to be craving it…often. We tried homemade ričet (barley stew) on our food tour as we enjoyed sitting outside and people watching. We also ordered mushroom soup in Jeruzalem and again at Strud'l in Lake Bohinj. Traditional Slovenian food includes soups and stews and we support it!
7. S
auerkraut
We had the sexiest sauerkraut I've ever eaten on our food tour with LjubljanaYum. It was prepared in an inspired, modern way with beans and a thin coat of Slovenian lardo. Sauerkraut is something Slovenians often eat yet it's not always served in such a modern interpretation. It was a real treat to try it this way as if it were a dense slice of steak; our knives cut through it like butter! 

8. Slovenian Wine
There are three distinct wine regions in Slovenia. I'd be remiss not to include wine as traditional Slovenian food, albeit an alcoholic beverage. It's such a part of their culture and they make some damn wine. We learned if you are a wine enthusiast, it's one of the most unique countries to visit.
Slovenia has Orange Wine
They also have a wine I'd never heard of before our trip: orange wine. It's a white wine that has been made in the way red wine is with grape skins. All orange wines aren't orange (some are deep yellow, peach, or copper). Color depends on the white grape variety used to create it and how long the skin had contact with the grape juice.
Orange wines are often made in smaller batches at artisan wineries where the goal is quality over quantity. It's also usually (but not always) made with organic grapes using only natural methods of winemaking.(In other words, not the way a lot of wines are mass-produced with manipulation in wine cellars.)  You'll often hear it labeled as "biodynamic" because of this.
Learning about Slovenian Wine at the Old Vine House
The first place we really learned about Slovenia's various wine regions was the Old Vine House. The world's oldest vine lives here too, seen below. (They know it's over 400 years old because a scientist drilled through the stem to count its rings in 1971.) The vine in the world carries a story of survival – it's lived through fires, wars, construction and even vine plague.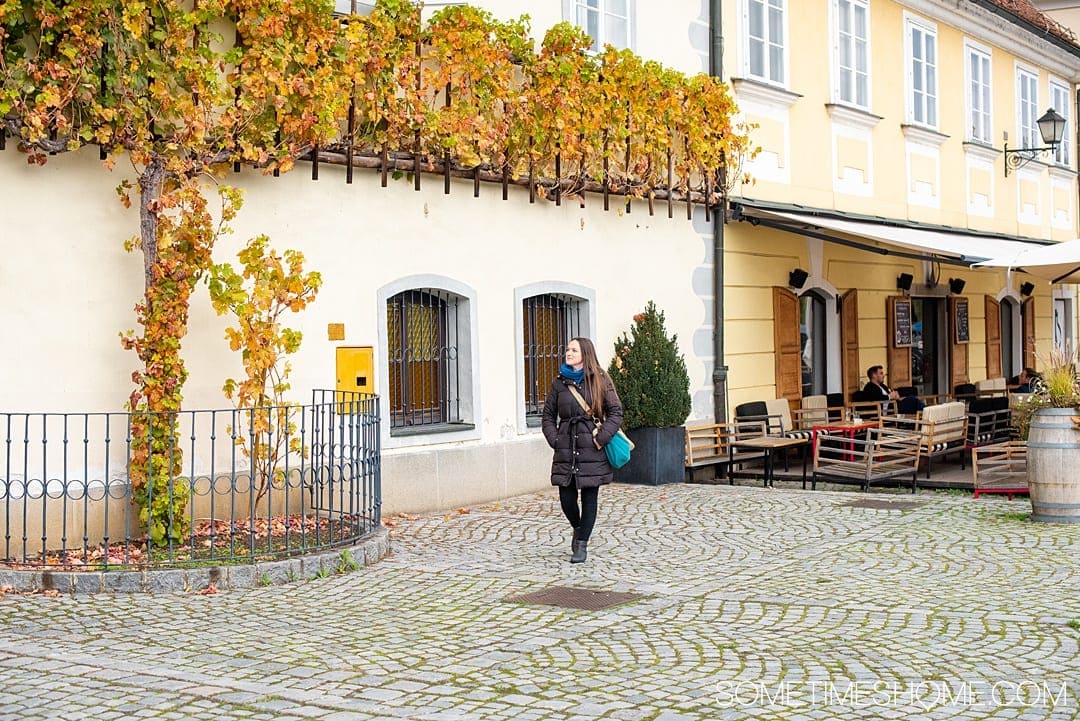 We went inside for a tasting with a sommelier named Jernej. He taught me more about wine I've ever learned on many tastings, combined. His knowledge seemed endless as he shared information about what we were tasting and the different types of corks laid out before us. Not only did he passionately teach us about the wine before us but he shared information about how integral wine is to Slovenian culture.
There are 28,000 wineries in Slovenia, including hobbyists. I was astonished to learn there is a Wine Queen, elected every year or two for each wine region. Contrary to what you may be thinking, it's not a beauty pageant! It's an honor given to the most knowledgeable women who represent Slovenian as a type of spokesperson at public events.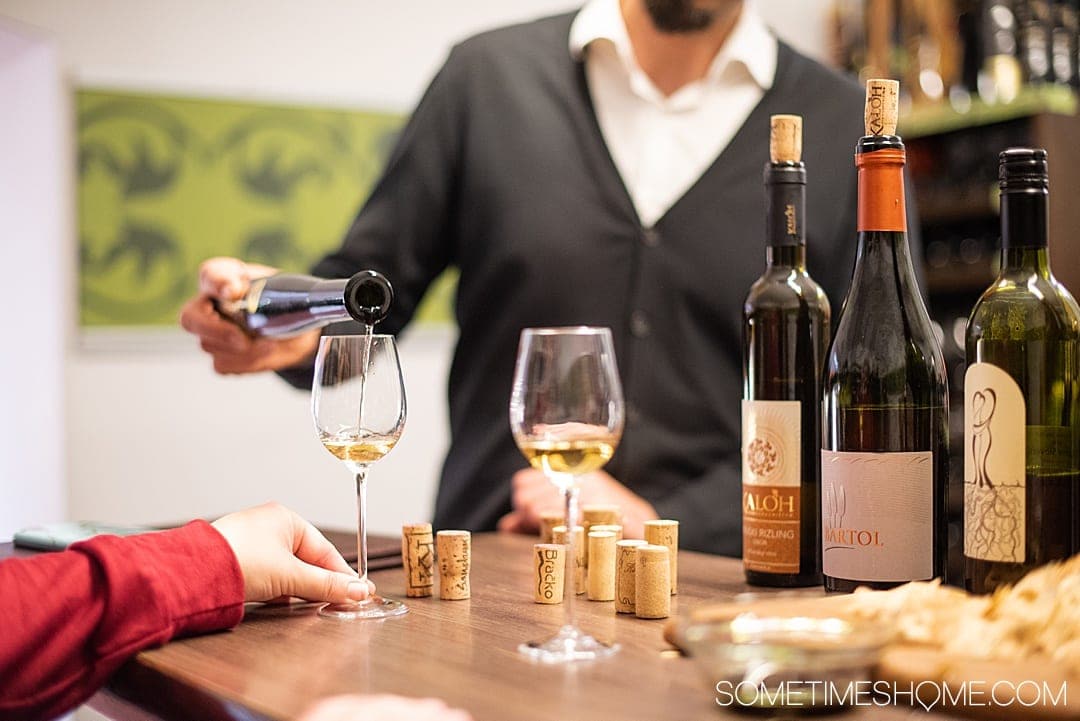 I am very much looking forward to returning to Slovenia and taking a private tour with Jernej, with Big Guy's Wine Tours. (Trust me – read his wine tour reviews!)
Note if you visit Slovenia in the fall, right after St. Martin's Day in November, a huge festival the entire country celebrates, many wineries may be closed for a week or more to recuperate from the festivities. You'll be in for a real treat if you can visit during St. Martin's Day though!
9. Slovenian Ravioli: Žlikrofi
When our waiter told us the ravioli on the menu was a traditional house specialty I immediately placed my order (and a glass of wine to go with it, of course). We thoroughly enjoyed our lunch at Mal'ca Mimogrede in Maribor, and the traditional Slovenian dish of ravioli I was eating.
I dipped each bite in a fruit jam that accompanied it. It reminded me of a plate of Swedish meatballs served with lingonberry jam.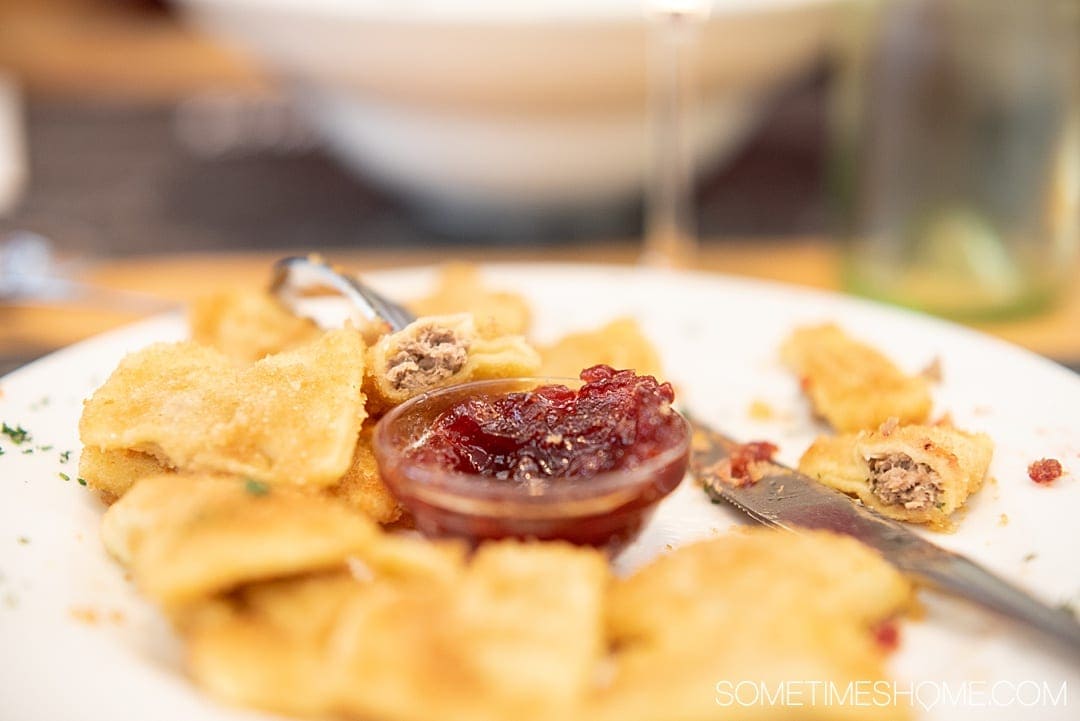 10. Pumpkin Seed Oil
We were presented with cubes of bread surrounding a shallowly filled dish with dark oil during our food tour with LjubljanaYum. I wasn't sitting within arm's reach so I asked my friend, "What is that?!" My friend tasted it and gave the nod of approval. I asked for a bite and tasted pumpkin seed oil for the first time. It was delicious.
Pumpkin seed oil is popular in Slovenia. You can simply put a bit of it in a bowl and dip bread or crackers in it. Or get creative, as the people did at the craft beer bar we stopped at on our food tour. They created a homemade spread with pumpkin seed oil and smashed pumpkin seeds that topped pieces of sliced bread. They finished it with a piece of prosciutto and a small sliver of red onion.
Our food tour guide, Alenka, taught us the longer the manufacturer roasts the seeds the darker it gets in color. It looks black in a large volume but if you hold it up to the light its dark green hue is revealed. We loved it so much we bought some at the airport on our way back to America. It was a hit at my family's Thanksgiving just days after we returned.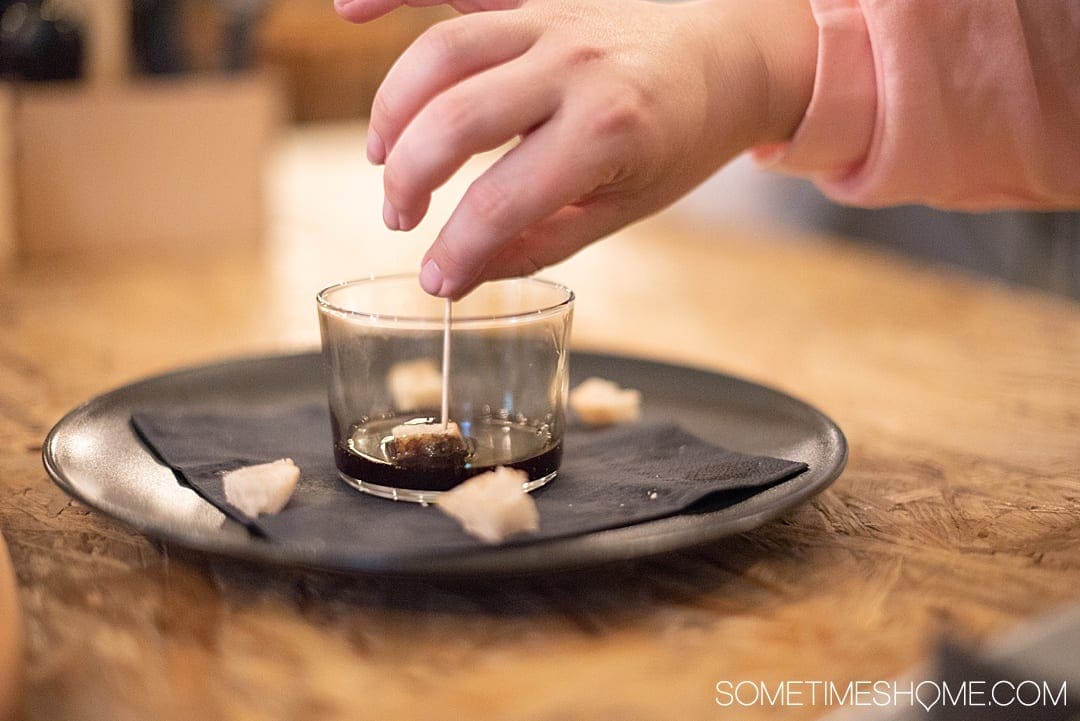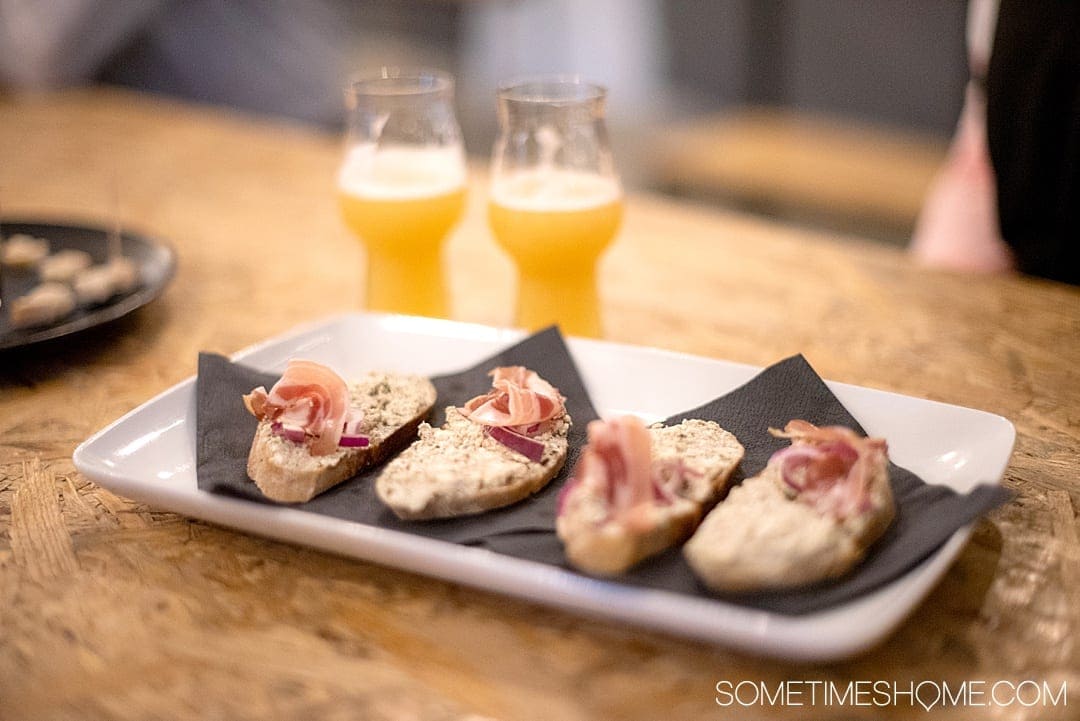 11. Seafood from the Adriatic Coast
Did you know part of Slovenia is on the Adriatic Coast?
Slovenia's northern border neighbor is Italy. And the Slovenian city of Piran, in particular, was under Venetian rule centuries ago. The rich and colorful coast brings a lot of fresh seafood to Slovenia. (I would never have expected seafood and pasta dishes to be considered traditional Slovenian cuisine but it is!)
We had a very traditional dish of stuffed calamari a few times. It's prepared with ham and cheese inside and is grilled with a brush of olive oil and parsley. It's delicious.
We also had damn good whole grilled Branzino a few times. (It's like a European Sea Bass and is incredibly affordable in Slovenia. We paid about €10 to €12 for a small grilled fish.) I can't recommend it enough! Squeeze some lemon on it, beware of bones, and you're good to go!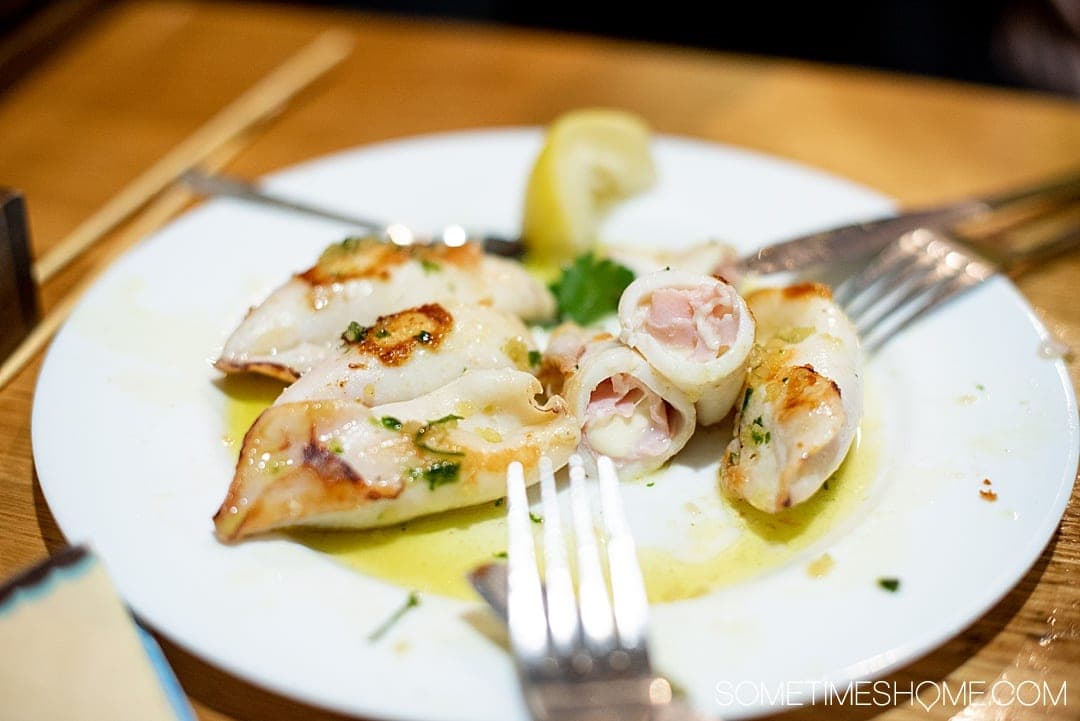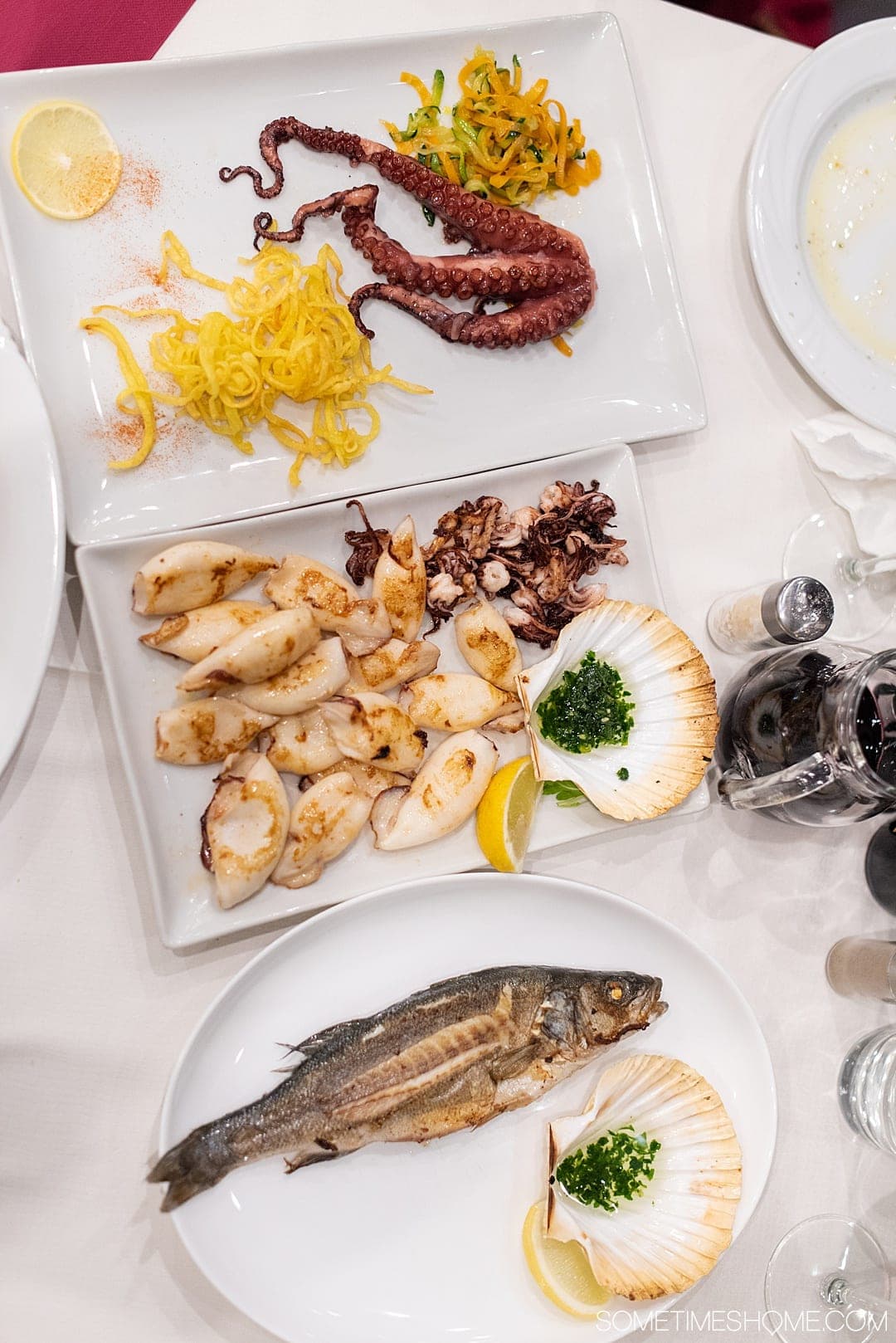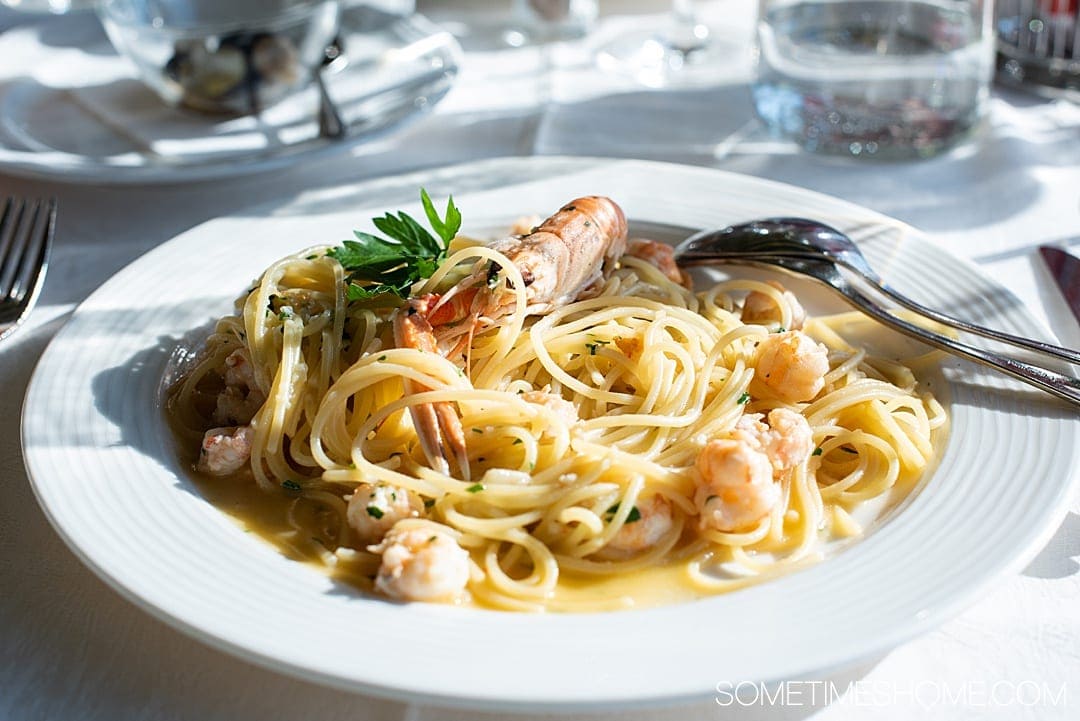 12. Persimmon
This fruit looks a bit like an orange-colored tomato that grows on trees. The semi-sweet flesh inspires many dishes in Slovenia. We were fortunate enough to attend the Persimmon Festival held annually in Strunjan, about a 10-minute drive from Piran.
The delicacy of choice for us at the festival was persimmon-flavored gelato. We also saw many persimmon trees as we drove through the western region of the country.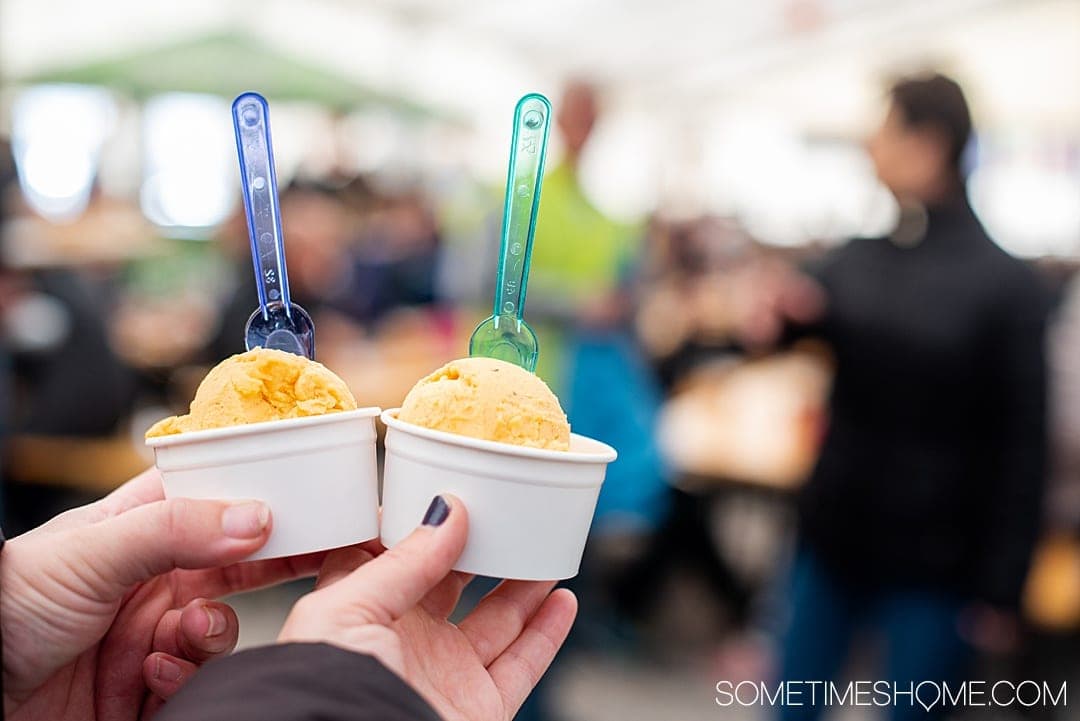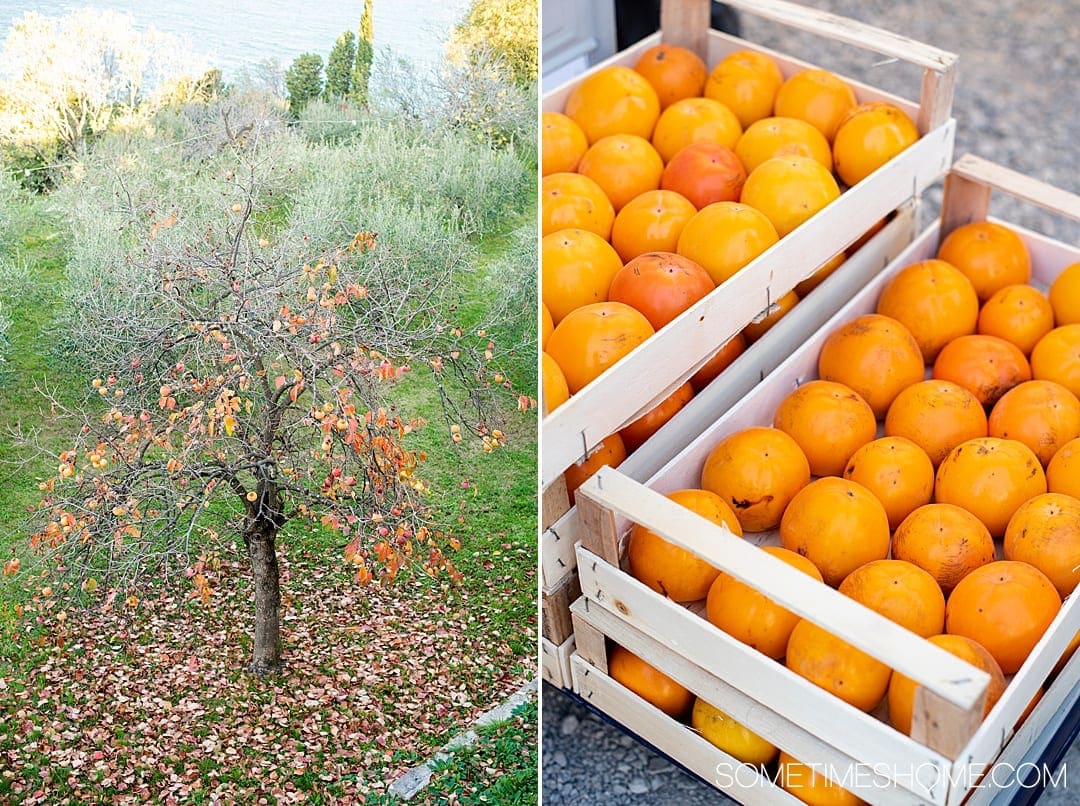 13. Salt
Piran, in particular, is known for salt. And we love learning about salt wherever we go if it's a regional specialty. (Even if it's closer to home like Hatteras Salt Company in the Outer Banks.)
The salt pans are a reason the area flourished as far back as the ninth century. It's plentiful now – all different types of salt can be found in any store around the world for less than a few bucks. But it was once a huge commodity and a spice deeply valued and revered.
Piran is one of the few regions in the world where salt is still produced in a traditional way. Their salt harvesting techniques date back to traditions followed 700 years ago.
I was over the moon to find a small salt maker, Barba, when we stopped by the Persimmon Festival near Piran. It didn't take me long to decide to buy two jars: mushroom flavored and lemon. You may see shops for another widely known company, called Piranske Soline. We saw two shops of the same name during our trip, one in Ljubljana and another in Koper.
Salt makes a great gift to give to family and friends who couldn't travel to Slovenia with you! Or a gift to yourself for your home kitchen. (I may or may not have a salt buying habit.) I hope everyone uses local salt for food in Slovenia too! It's damn good.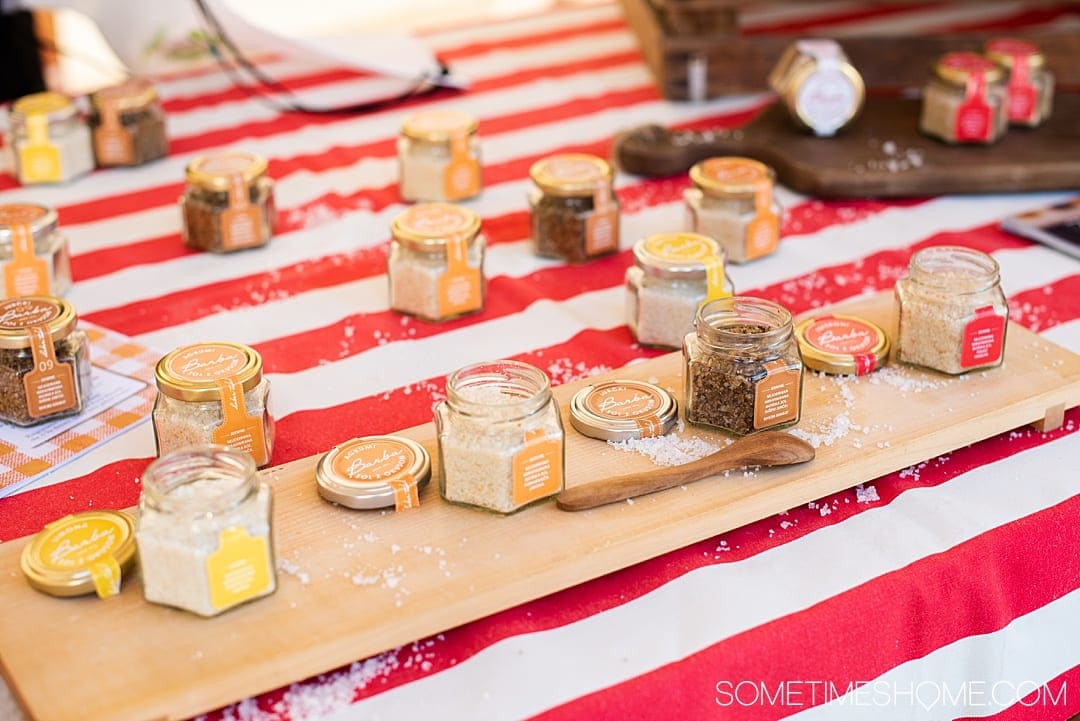 14. Traditional Slovenian Food Layered Cake: Prekmurska Gibanica
I've found the older I get the more I appreciate less sweet desserts. This layered cake contains poppy seeds, apples, cinnamon, farmers' cheese, and walnuts between layers of different types of pastry dough. It has a very mild sweetness which is because, historically, sugar wasn't something everyone could afford for Slovenian cuisine.
I really liked it – it was the perfect mix and sweet and savory and it's definitely a Slovenian food you should try.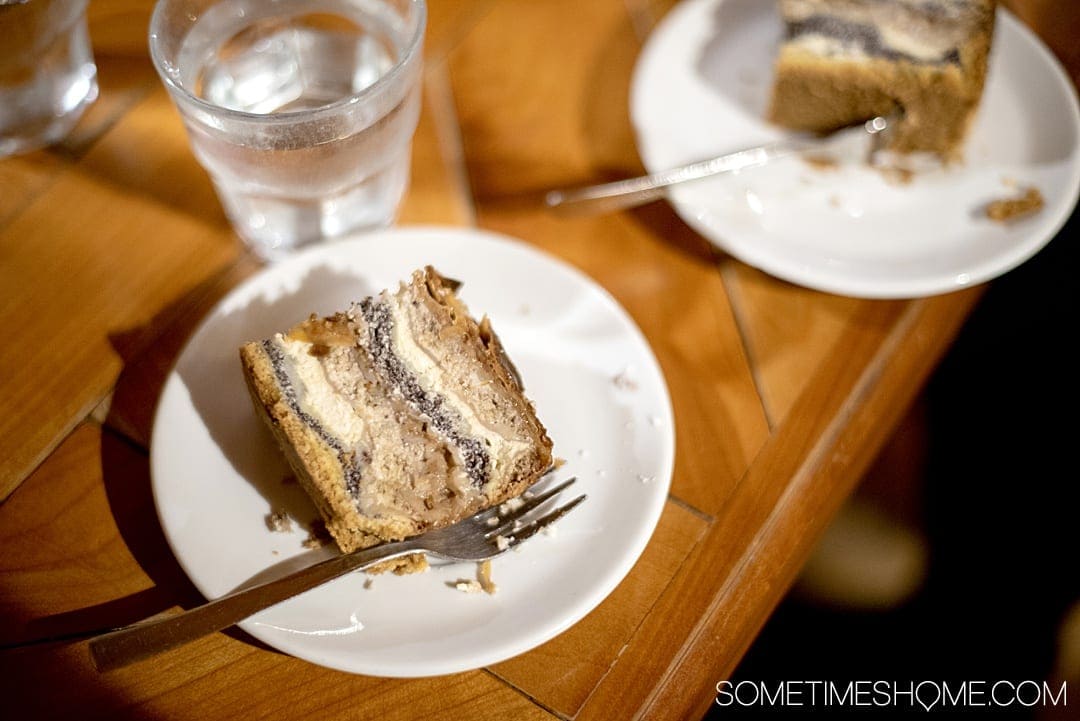 15. Cream Cake: Kremna Rezina
Last but certainly not least is a cream cake we heard talked about frequently on our trip! We kept reminding ourselves to look for it and completely forget to in Lake Bled, the area known for the cake.
As luck would have it found it at a cute pastry shop in Koper. (Koper is a city on the northwest coast of Slovenia, about 30 minutes east of Piran. You pass it if you are driving from Ljubljana to Piran or vice versa.)
Its fluffy yellow cream tasted a lot like vanilla pudding or custard with whipped cream on top. Its flaky pastry shell topping added a beautiful light texture to the dessert.
It's actually a little heavy so if you're not incredibly hungry I recommend splitting a square with another person. Definitely order it with coffee!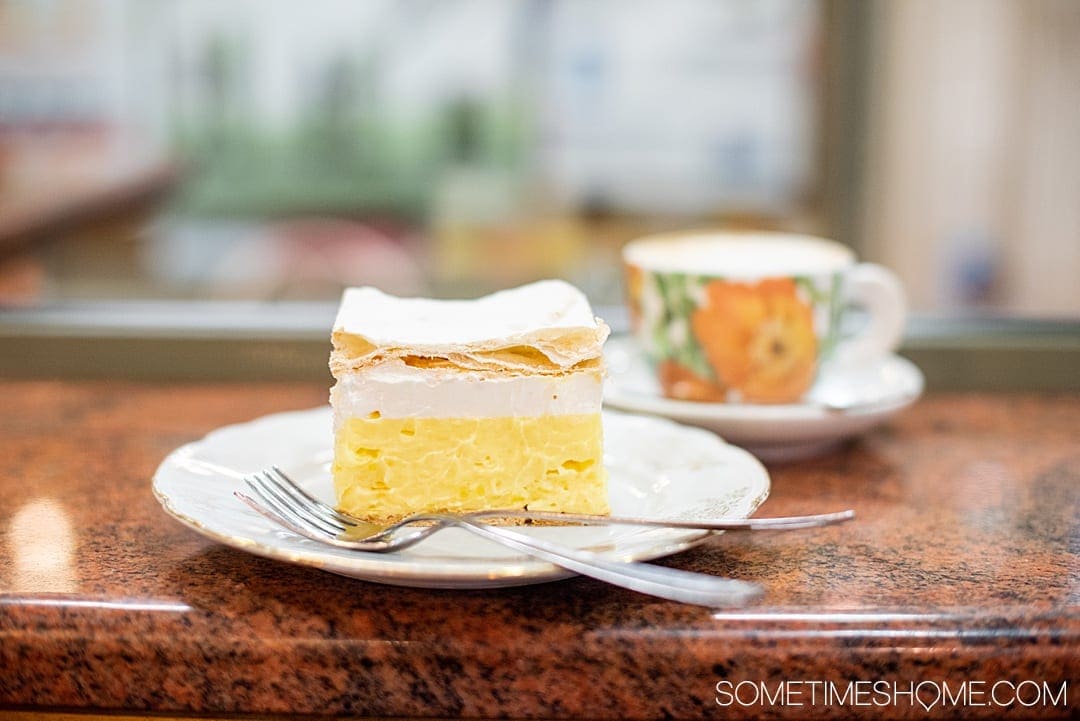 Take a Self-Guided Slovenian Food Tour with the Help of an E-Book, by Slovenian Locals
If for some reason you don't have time to take a food tour then consider purchasing the online guide Ljubljana Yum offers. They're taken care to support many reputable local businesses in it by directing visitors to the best available restaurants, wine bars, cafes and more.
My favorite pages of their self-guided food tour e-book are 21 through 31 of the 38 pages. This is because these pages are where they share the best locations for traditional Slovenia dishes, what those dishes are and how to say the names of the foods in their language. And it's less than 10 Euros! You can't go wrong. (If you sign up for one of their tours, the e-book is their gift to you.)
Final Thoughts on Traditional Slovenian Food
The food was very memorable and a highlight of our seven days in Slovenia. It was not an afterthought at any point of our vacation; touring Slovenia through food and their cuisine was a driving force for a lot of our schedule and many of our destinations.
Please note: we thank Visit Ljubljana and LjubljanaYum for generously hosting us. We also may make a small commission from affiliate links in this post but all opinions are ours and we bring you genuine content with real facts, photos, thoughts and recommendations. Always.
Visiting Slovenia? Also check out: