31 Best Cities in Spain: Complete Must-See List Big to Small
Spain is a country with a rich history, diverse culture, and stunning landscapes, making it a must-visit destination for travelers. So whether you're interested in ​​the best cities in Spain for their architecture, art, food, or outdoor activities, this incredible country has a city for you.
Among the most popular destinations are big cities in Spain, like Madrid, Barcelona, Seville, and Valencia, where you can experience the unique blend of ancient and modern cultures.
Small cities in Spain, like Toledo, Salamanca, and Segovia, have their appeal, too, with must-see historical highlights. If you want something in the middle, check out our medium size Spanish cities ideas.
Spain also boasts stunning natural wonders such as beaches, mountains, and national parks, making it a perfect destination for nature lovers. Above all, the friendly locals and warm Mediterranean climate make Spain a welcoming and enjoyable place to visit.
No matter which cities you choose to visit, you'll experience delicious food, warm people, and a rich cultural heritage that is unique to Spain.
Disclosure: This post has affiliate links, meaning we may earn a small commission if you click the link and proceed with a purchase at no cost to you. We recommend experiences, hotels, products, and services we use and support. As Amazon Associates, we earn from qualifying purchases.
Best Cities to Visit in Spain: Big Cities
These Spanish cities have a population of over 400,000 people. Some, like Barcelona and Madrid, have populations in the millions.
1. Madrid
Spain's capital is a bustling city full of energy, excitement, and incredible food. There's always something happening in Madrid, whether it's a lively street performance or a late-night party at a local club. Its location in central Spain (nearly smack dab in the middle of the country) make it a great location to start your Spanish vacation.
One of the best things about Madrid is the food scene. From traditional Spanish tapas to trendy fusion cuisine, there's something to satisfy every palate.
Don't miss out on trying some of the local specialties like jamón ibérico, churros con chocolate, or cocido madrileño. And especially check out Madrid's Le Campana restaurant for their famous calamari bocadillo sandwiches.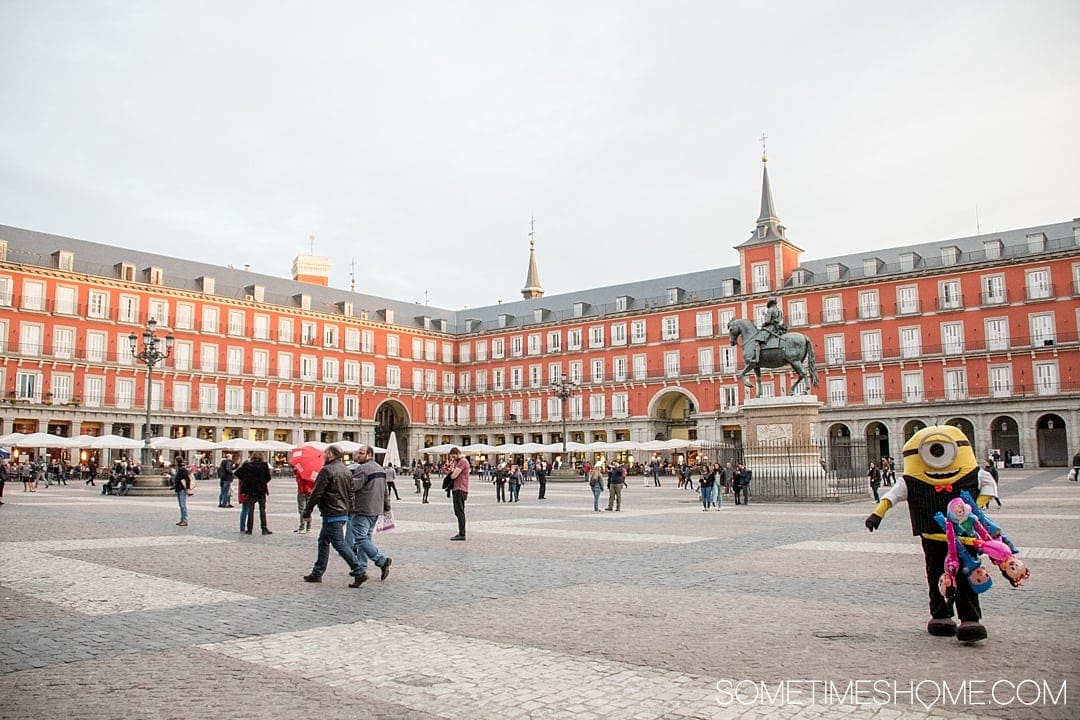 You can find a great restaurant in Plaza Mayor to get some churros or cocktails and sit for hours loving life and people-watching.
Of course, there's plenty to see and do in Madrid beyond eating. Check out the Museo del Prado (Prado Museum) for some incredible Renaissance artwork, or take a stroll through the stunning Retiro Park. For a real taste of Madrid's nightlife, head to the Malasaña neighborhood, Calle Gran Vía, or the trendy Chueca district.
It's also home to four UNESCO World Heritage Sites: San Lorenzo de El Escorial, Alcalá de Henares, Aranjuez, and Hayedo de Montejo. In addition, beautiful parks, such as Retiro Park and Casa de Campo, offer a peaceful escape from the bustling city when you need a break.
Another great thing about Madrid is that it's very easy to do day trips to other areas of Spain from here, thanks to the country's wonderful train system.
Overall, Madrid is a city that's full of life and culture. So whether you're a foodie, an art lover, or just looking for a good time, you'll find it all.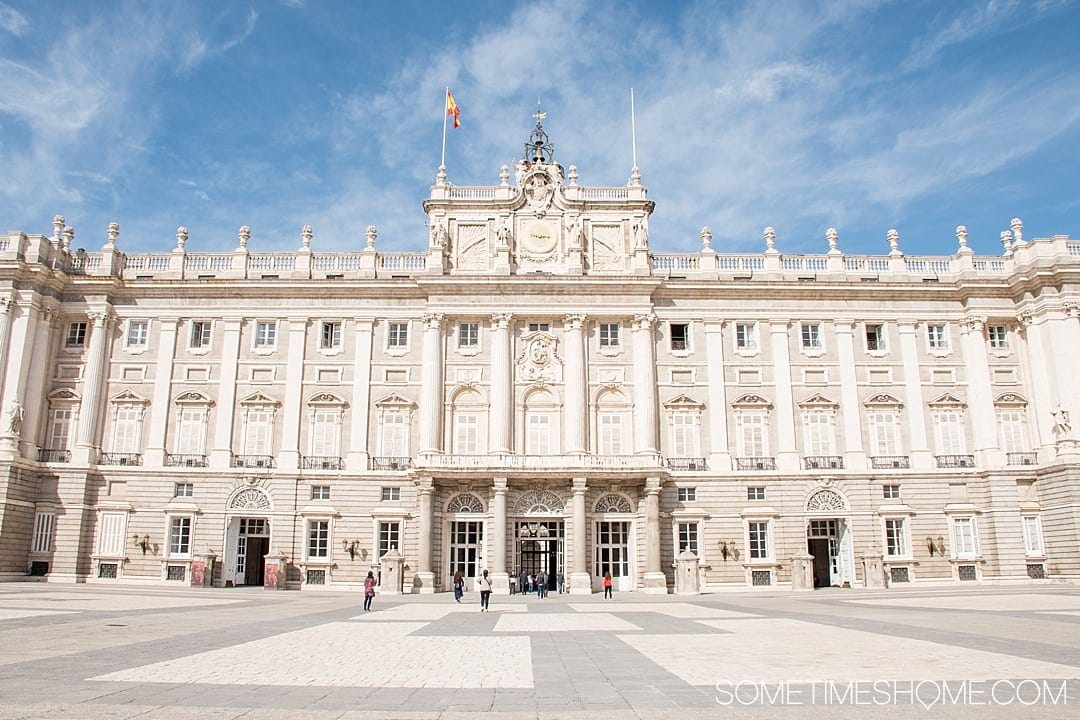 2. Barcelona
Barcelona is Catalonia's capital and a city you absolutely have to visit. It has a vibrant culture, incredible architecture, and of course, mouth-watering food.
One of the best things about Barcelona is its unique architecture. The city is home to some of the most incredible UNESCO sites in the world, like Gaudi's La Sagrada Familia, Park Guell, and Casa Batlló, with its famous "dragon back" roof. Everywhere you look, stunning buildings and sculptures will leave you awestruck.
► Secure Your Choice Hotels in Spain Now
You can soak up the local atmosphere while exploring the Gothic Quarter or stroll along La Rambla, Barcelona's famous pedestrian street. Oh and don't forget to visit one of the famous food markets. La Boqueria is the oldest market, but for a more authentic experience, visit Mercat de Santa Caterina or the grand Mercat de Sant Antoni instead.
Barcelona is the place for you if you have a healthy appetite for shopping, the beach, and nightlife. Its sunny weather, beautiful architecture, and bustling energy make it a dynamic city.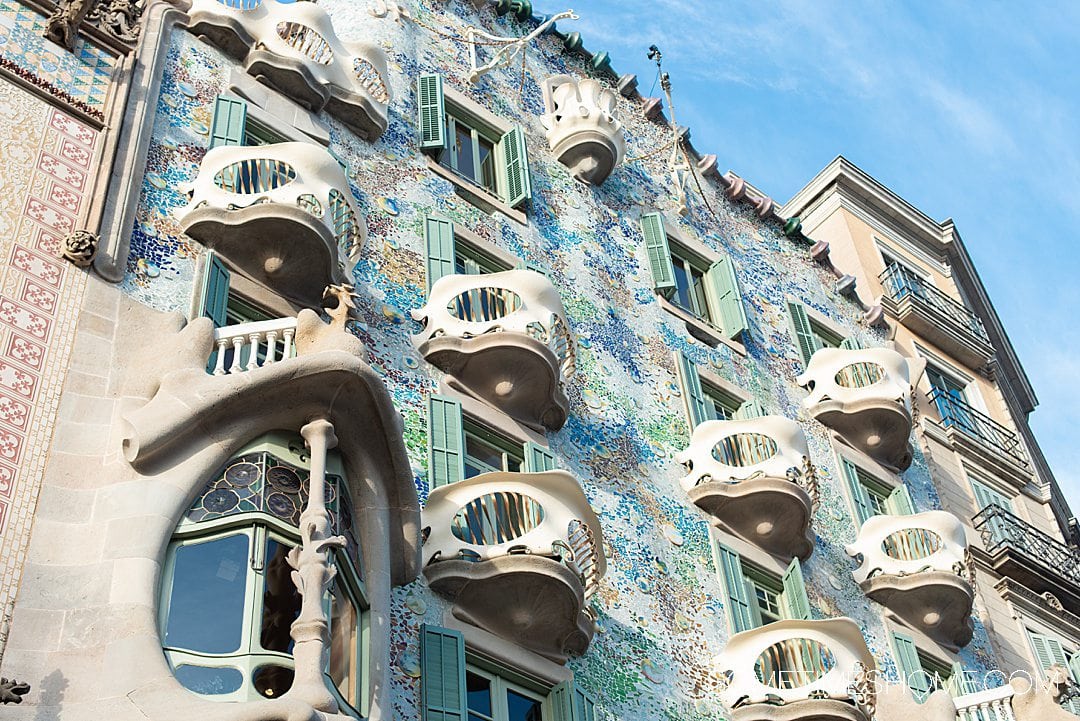 3. Valencia
The city of Valencia is a UNESCO World Heritage Site and the birthplace of paella, a traditional Spanish dish you must try. It's also the third largest city in Spain.
Located on the east coast of the country, you can wander the old city and get happily lost among the maze of tiny, charming streets. The city has numerous historic landmarks, such as the Central Market and the Gothic Quarter, which glimpse Valencia's rich history and cultural heritage.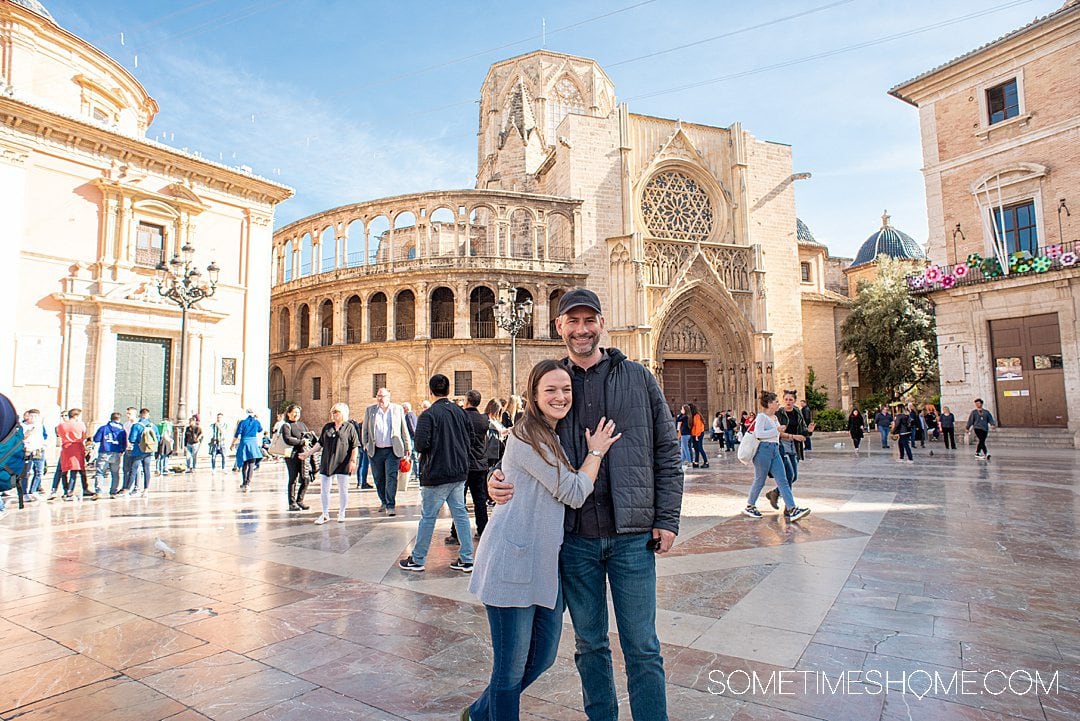 It's also famous for its City of Arts and Sciences, a cultural complex with cutting-edge structures and exhibitions. The complex will leave you amazed; chances are you've seen it featured in sci-fi films and TV series.
In addition, the huge complex boasts a planetarium, an interactive science museum, an opera house, and a performing arts center. It's also home to Oceanográfico, Europe's largest aquarium.
Valencia also offers beautiful beaches, stunning architecture, and delicious cuisine. One of our all-time favorite meals was at a restaurant called Karak in Valencia.
The city's famous annual Fallas Festival is worth traveling to this coastal city for. Take a deep dive into Spanish culture as you wander the street to see the huge sculptures built in several city neighborhoods. The sculptures are burned at the end of the festival in city-wide celebrations that take over the streets and sidewalks.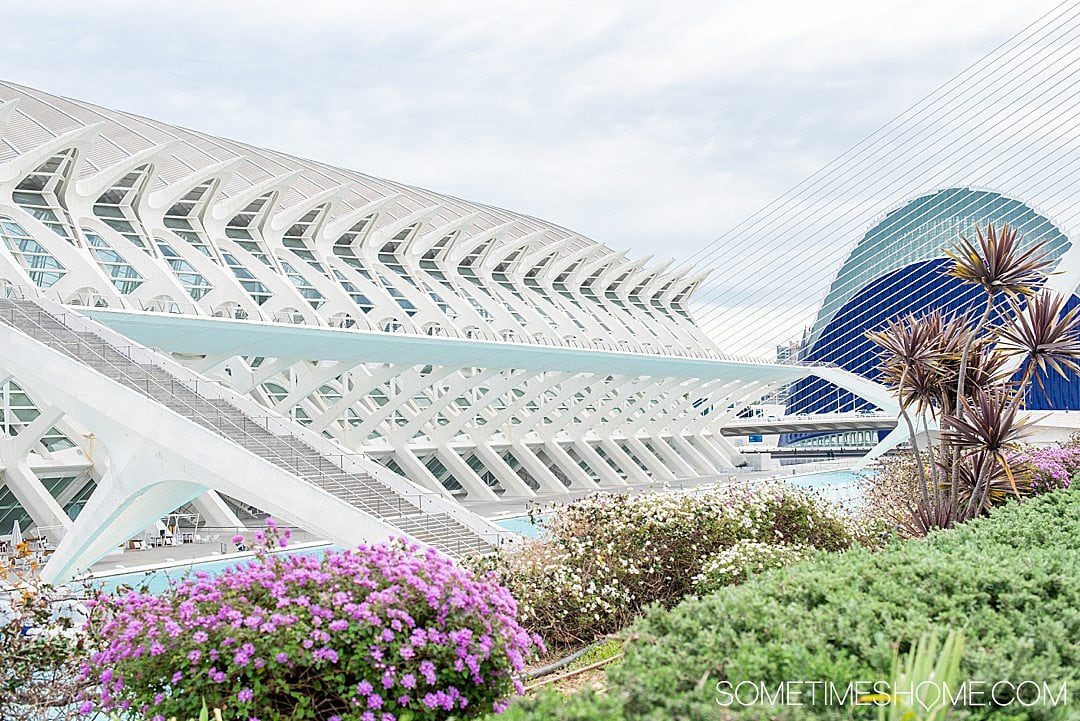 4. Seville
Seville is a city that will capture your heart with its lively atmosphere and warm hospitality. It's the capital of Andalusia in the southern region of Spain. It's likely the most well-known city on the Iberian Peninsula. Its iconic landmarks, such as the Alcázar Palace and the Giralda Tower, are examples of the city's stunning Mudéjar architecture.
Also, pay a visit to the famous UNESCO site Seville Cathedral, which houses the tomb of Christopher Columbus. Or its colorfully handpainted Plaza de España, originally built for the Ibero-American Exposition of 1929.
The city is perfect for dancing your heart out and experiencing the vibrant flamenco scene. As for food, Seville is known for its regional specialties, including flamenquin, and salmorejo. These items can be enjoyed in its many traditional bars and restaurants.
Beyond the architecture and food, Seville is a city full of energy and passion. If you're adventurous and love the outdoors, explore Doñana National Park just outside the city by day. The park has activities like kayaking, horseback riding, kite surfing, hot-air ballooning, mountain biking, and 4×4 private guide tours.
Then experience the fiery passion of flamenco at night.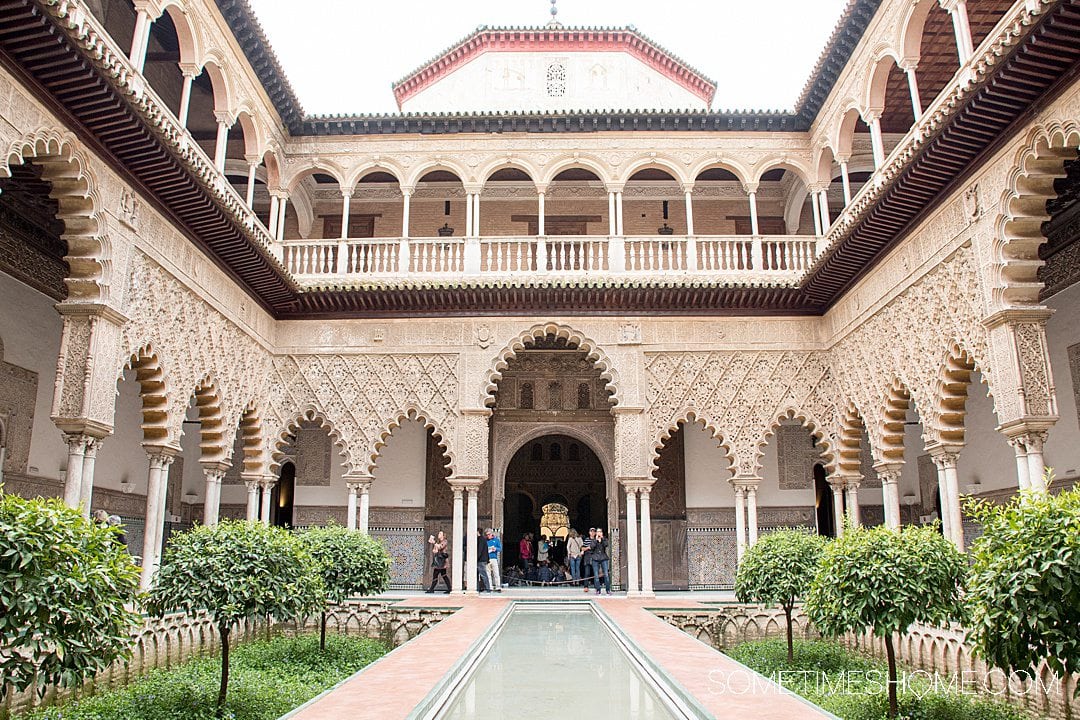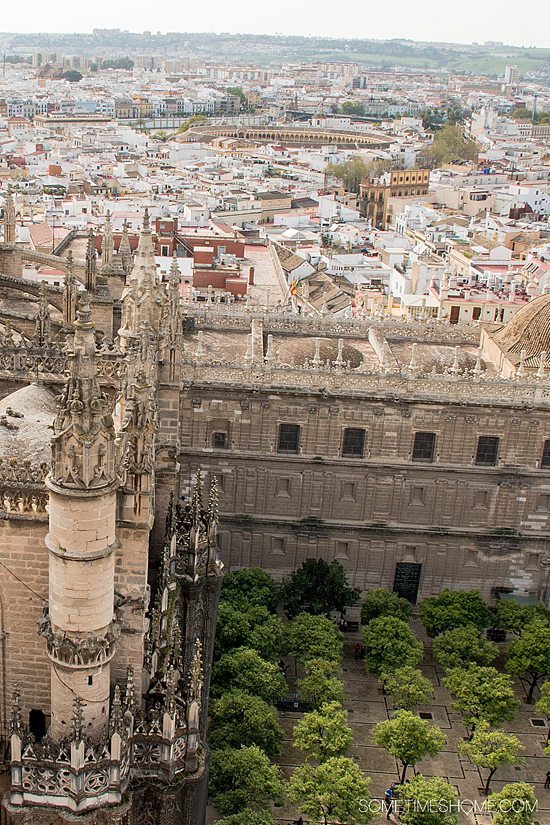 5. Zaragoza
In the community of Aragon, you'll find Zaragoza, a city with a robust cultural scene. It's easy to get to Zaragoza from Madrid by train.
The Basílica del Pilar is a must-see for history buffs, with its stunning baroque architecture and views of the city. Art lovers will love the Pablo Gargallo Museum, which has a remarkable collection of modernist sculptures.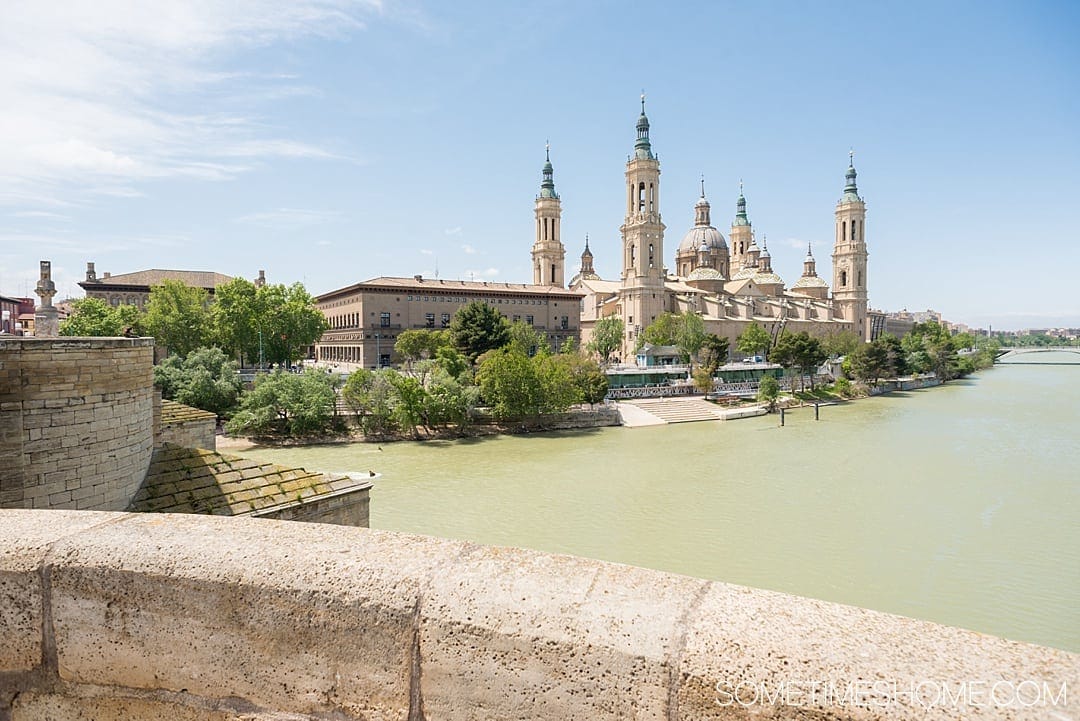 For relaxation time, hit up one of the city's many parks or grab a drink in one of the lively plazas. The main plaza in Zaragoza's old town, Plaza del Pilar, is picturesque, with an interesting water feature and Earth sculpture. We loved taking playful photos there.
Nearby is the Museo del Teatro de Caesaraugusta, which is an old Roman theater that is centuries old.
There are always plenty of murals around the city too, thanks to its annual "Asalto" festival. The food scene is on point in Zaragoza too. Don't miss trying local specialties like tapas and Aragonese sausage or stopping by the bakery Pasteleria Fantoba, in the Old Town. It was founded in 1856, it's open every day of the year, and it's beautiful inside!
It's a city full of surprises, and you'll see why it's worth a visit.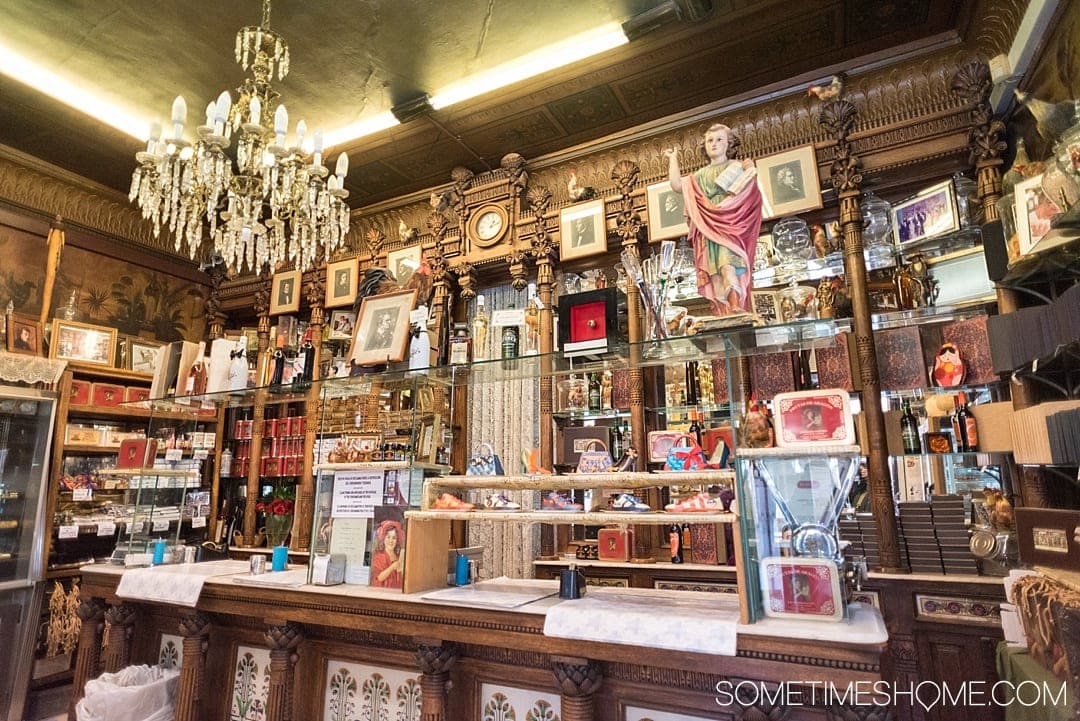 6. Bilbao
Bilbao is known for its mix of industrial grit and cultural charm. Most famous for its modern architecture, you'll likely recognize its futuristic Guggenheim Museum Bilbao, designed by famous architect ​​Frank Gehry.
It also offers a unique twist on what a bridge should be. Don't miss experiencing the Vizcaya Bridge. Rather than drive across the bridge, you take a gondola across. How cool is that?
Besides modern attractions, you can escape into nature. For example, take a visit to the nearby Urdaibai Biosphere Reserve or the Santimamine Cave. You can also enjoy hiking in the extraordinary Basque Mountains or visiting the beautiful beaches of the Basque coast from Bilbao.
7. San Sebastián
San Sebastian, or Donostia as the locals call it, is a coastal city in the north of Spain that's got a vibe like nowhere else. You can enjoy some of the best beaches in the country, but the real gem here is the old town, with its narrow streets and cool tapas bars. People flock to this foodie town.
Try local specialties like grilled shrimp and txakoli wine, then head to the Monte Igueldo neighborhood for some seriously wild nightlife.
Check out the morning surf scene if the night scene isn't your style. Whether you're a seasoned pro or just starting out, you'll find some of the best waves in Europe here.
8. Malaga
Malaga is a sunny city on the southern coast of Spain in the Andalucia region. Whether you're into art, history, or just lounging on the beach with a drink, you'll enjoy being here.
The UNESCO sites of Alcazaba castle and Roman Theatre are must-sees for history buffs, while art lovers will love the Picasso Museum.
When it's time to relax, hit up one of the city's many beaches or stroll along the harbor for fantastic views. Or, if you're feeling adventurous, take a boat trip to one of the nearby coves for some seriously stunning scenery.
9. Murcia
Murcia is a charming city in southeastern Spain famous for its historical landmarks, like the Cathedral of Murcia, which blends Gothic, Renaissance, and Baroque architectural styles.
Another landmark is the Salzillo Museum, which houses a collection of Baroque sculptures by Francisco Salzillo, a famous sculptor from Murcia.
While this city is known for its lively street life and nightlife, Murcia has a laid-back vibe during the day, with plenty of parks, gardens, and plazas to relax and soak up the sun.
Just outside the city, is hiking and mountain biking in Sierra Espuña natural park. If you prefer, enjoy the beaches of the nearby Mar Menor and Mediterranean coasts.
10. Palma (Mallorca)
Do you want to visit a city that will leave you feeling inspired and energized? Then Palma de Mallorca is for you! It's got a mix of old-world charm and modern energy. This stunning city is most famous for its Gothic Cathedral, La Seu, which towers over the city and offers spectacular views of the surrounding Bay of Palma.
Palma is in the Balearic Islands, on the island of Mallorca. It's an idyllic vacation spot for relaxation and tranquility, although if you're up for some fun, you can head to Ibiza, right next door. Off to the east is the gorgeous island of Menorca, which offers another perfect escape.
There's a lively atmosphere in Palma with plenty of bars, cafes, and restaurants where you can try some of the delicious local food and drink, like paella or sangria. There are also plenty of other outdoor activities to enjoy, like swimming in the turquoise waters of Cala Mayor Beach.
Best Cities in Spain: Medium-Sized Cities
These cities have a population between 100,000 to 400,000 people.
11. Granada
Granada is at the base of the Sierra Nevada Mountains in southern Spain. It's surrounded by beautiful landscapes and natural parks, making it a popular destination for outdoor enthusiasts.
Here you can visit the most romantic building in the world, The Alhambra. It's a stunning complex of palaces, gardens, and fortresses considered one of the world's most important examples of Moorish architecture. One of Spain's top tourist attractions, you'll want to book tickets well in advance.
Granada is where flamenco was born. Head to the mountains to see an authentic small group performance during your time in Granada, and you'll be moved beyond belief.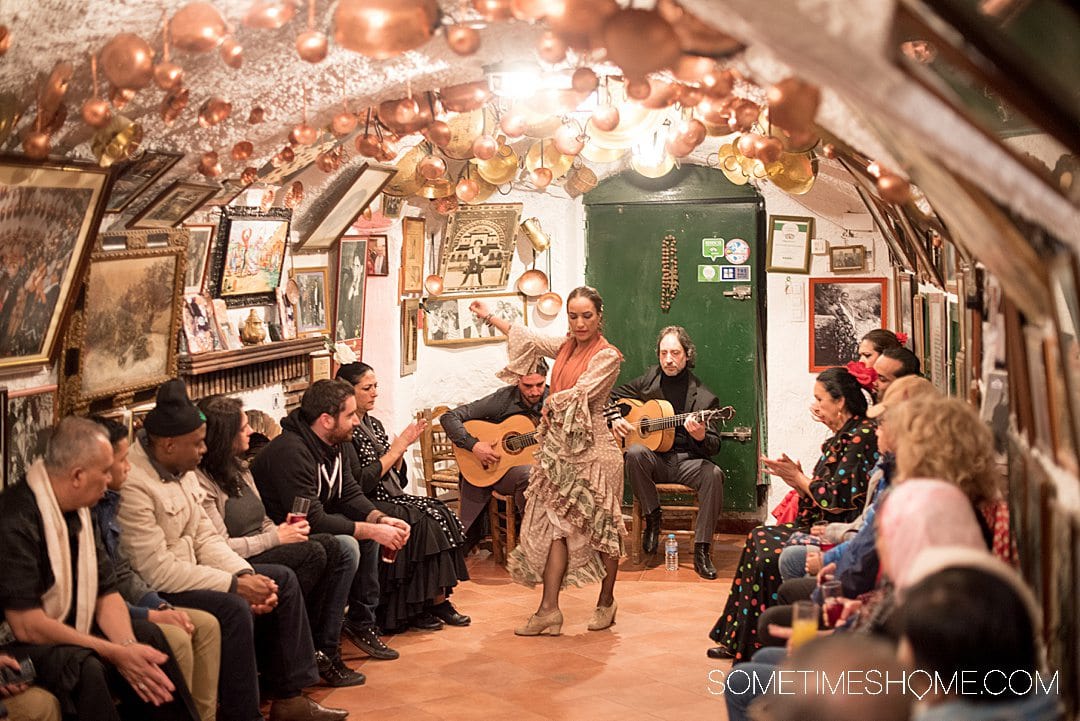 12. Cordoba
Also located in Andalucia is the city of Cordoba. It's known for the great mosque, or "Mezquita-Catedral de Córdoba," a truly remarkable structure. You'll also want to check out the Jewish Quarter, where you can get lost in the winding streets.
Another highlight of a visit to Cordoba is its flower-filled courtyards and patios. They're largely considered some of the prettiest in the world, not just the country. In fact, they're such a sight that many tours offer guidance for where to find some of the most spectacular of them all since many of them are hidden.
When you need a break from all that sightseeing, grab a bite to eat at one of the many local restaurants; cured meats and fresh veggies will have your taste buds singing.
When the sun sets, the city really comes alive – hit up a bar for a drink and some live flamenco music, and you'll see why Cordoba is one of Spain's most underrated cities.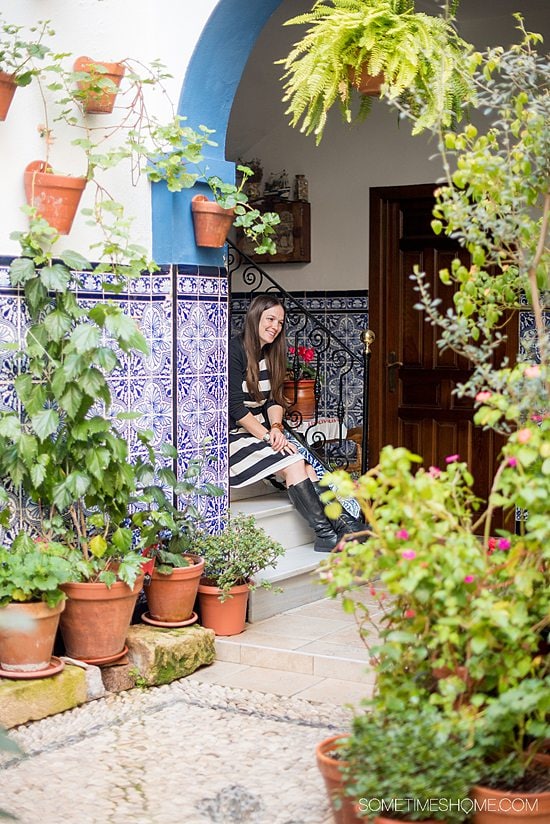 13. Cádiz
Cádiz is a coastal port city in southern Spain famous for its charming old town, filled with narrow streets, colorful buildings, and historical landmarks. Be sure to see the Cathedral of Cádiz and the Roman Theater. Water lovers will relish in the crystal-clear waters of La Caleta Beach.
The city has a relaxed atmosphere, with plenty of bars, cafes, and restaurants where you can try some delicious local food and drink, like fried fish or sherry.
If you'd like to head inland, Jerez de la Frontera is a short trip away and boasts Moorish architecture. It's also famous for flamenco.
14. Pamplona
Made famous by the Running of the Bulls, Pamplona is a city in northern Spain where thousands of people participate in this wild festival every year. Watch runners endure the race of their lives as they run through the streets, avoiding charging bulls.
But even if you're not into that kind of thing, Pamplona is still worth a visit. The old town is full of charming streets and historic buildings, like the Gothic-style Cathedral of Santa Maria.
You can also arrange a day trip to the nearby Pyrenees Mountains for some amazing scenery, hiking in summer, and skiing in winter.
15. Oviedo
Oviedo is a city that'll leave you feeling like you've experienced the best of both worlds, whether you're here for the history or just to soak up the modern vibe. Located in northern Spain, this historic city is famous for its well-preserved medieval architecture, like the impressive Cathedral of San Salvador and the Palace of Valdés.
Adventure awaits in the city's lively bar and restaurant scene or the great outdoors. Enjoy hiking in the nearby Picos de Europa Mountains or visit the beautiful beaches of the Asturian coast.
16. Marbella
Along the Costa del Sol is a popular beach retreat on the Mediterranean Sea: the city of Marbella. Europeans from all over come here to vacation each year.
It's popular to go to Puerto Banus to see the yachts in the harbor and do some shopping. Or head to Plaza de los Naranjos to eat at a restaurant with outdoor seating in the square. There are also a lot of beach clubs and spas in Marbella if you want to treat yourself to some rest and relaxation during your vacation in Spain.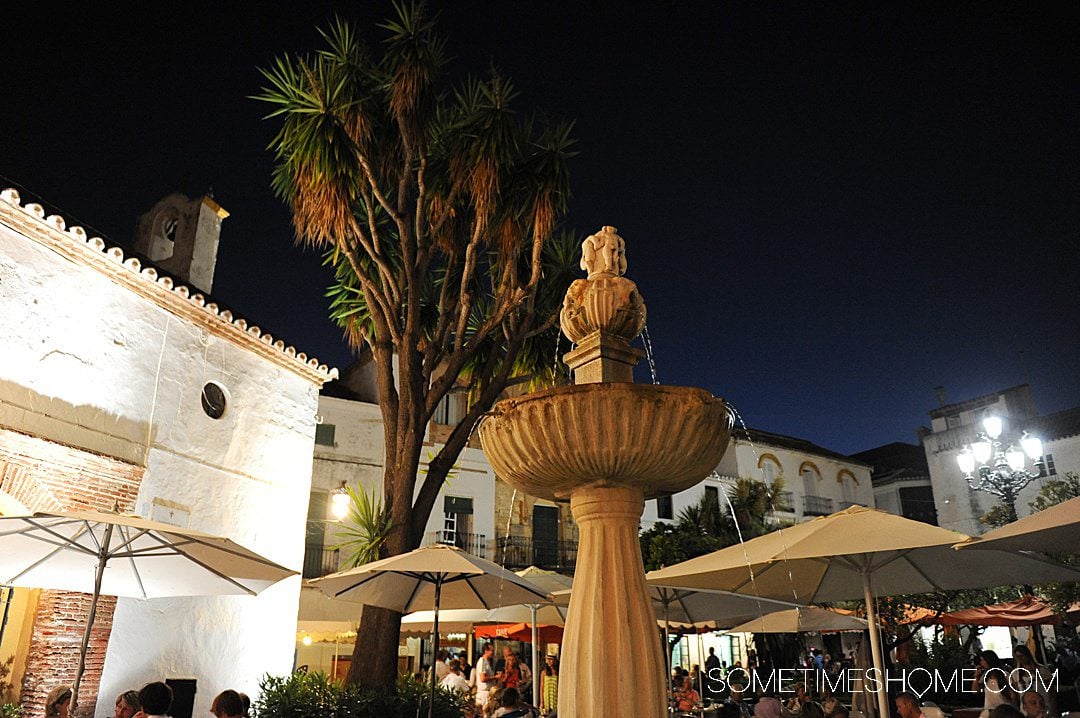 Best Cities in Spain: Small Cities
These small cities in Spain have a population of less than 150,000 people. They may be small but they're mighty and pack a lot of punch in their charming city centers.
17. Toledo
Pack your walking shoes, grab a map, and get ready to discover one of Spain's most fascinating destinations. Toledo was declared a UNESCO World Heritage Site in 1986 and is the capital of the Castile La Mancha region. You'll feel like you've stepped back in time when you visit the city's historic center; perhaps it's because Toledo was the capital of Spain until the 16th century.
Medieval walls surround the old town. It's packed with impressive buildings and monuments, like the Alcázar castle and the Cathedral of Toledo.
Fun fact: this city is also known for its steel. Toledo artisans have been forging swords for over 2,000 years. But it's not all history – there's a vibrant art scene here, with cool galleries to check out.
When you need a break from all that sightseeing, hit up one of the local taverns for some delicious food and drinks in this unique city.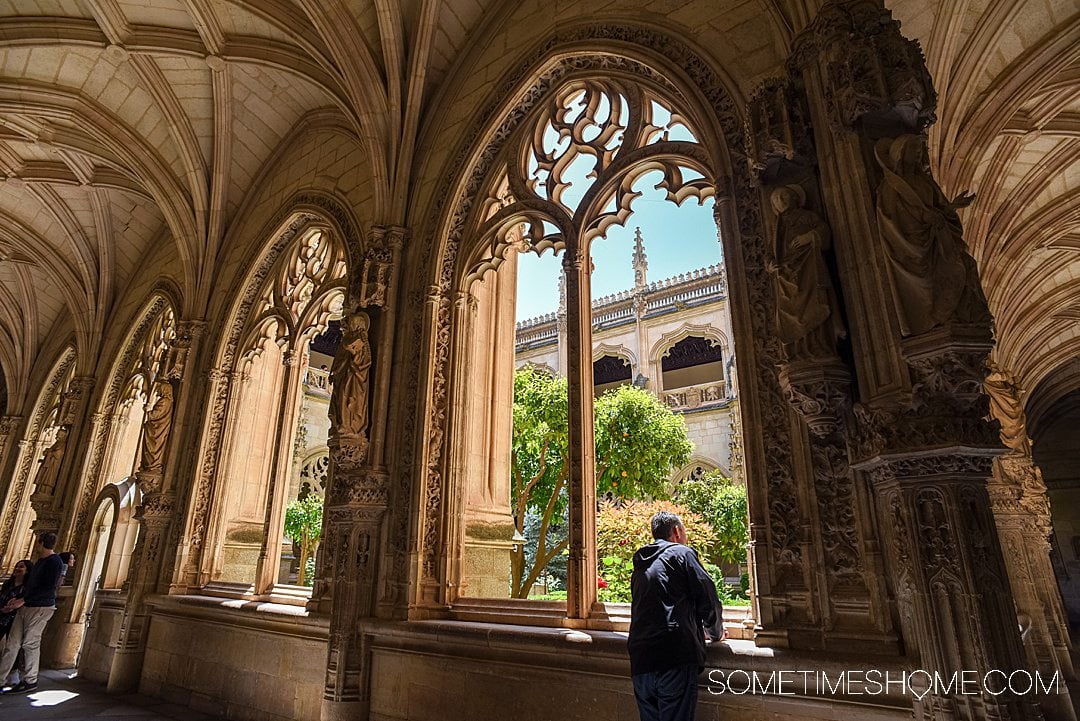 18. Girona
If you're looking for a charming city in northeastern Spain, Girona will steal your heart. It has a medieval old town straight out of a fairy tale, with narrow streets and colorful buildings in Spain's Costa Brava that will make you feel like you've stepped back in time.
After you explore the city's history, check out its contemporary side with a visit to the Saint Felix neighborhood, filled with modernist architecture and hip cafes. Finally, for those who are feeling active, rent a bike and cycle along the river for some gorgeous scenery.
Trust us, Girona is a hidden gem you don't want to miss.
19. Santiago de Compostela
Have you heard about the Camino de Santiago? It's a famous pilgrimage route, also known as The Way of Saint James, that's been traveled for over a thousand years. Santiago de Compostela is the endpoint of the trail (or start point, depending on your preference).
The historic old town is full of charming streets and impressive buildings, like the Cathedral of Santiago de Compostela, which is said to hold the remains of Saint James.
The area also offers adventure. First, take a day trip to the nearby coast for amazing beaches and incredible scenery. Then, dive into the food scene and try traditional Galician cuisines like octopus or empanadas.
Santiago de Compostela is a wonderful place for spiritual seekers or those just looking for a unique travel experience.
20. Logroño
Logroño is a bustling city in the La Rioja region near Basque. It's located along the Camino de Santiago, mentioned above. (The pilgrimage route that travelers have used for over a thousand years.)
Today, Logroño is a hub of activity, with plenty of bars, cafes, and restaurants where you can try some delicious local food and drink, like juicy Rioja wines or savory tapas dishes.
The city is also home to stunning historical landmarks, including the Gothic-style Santa Maria de Palacio Cathedral and the 16th-century Church of San Juan.
21. Salamanca
It's said Salamanca is the place to have a good time, so get your party clothes ready. The highlight of Salamanca is the nightlife – the bars and clubs here are some of the best in Spain, and you can party until the early hours. Perhaps that's thanks to the University of Salamanca, founded in the 13th century, and its young students living there.
On the flip side, it's also been described as the most elegant and glamorous of all the historic city centers in Spain. Visit the impressive Old Cathedral and the New Cathedral, and if you're into art, you'll love the many museums and galleries in the city.
22. Ronda
Ronda is a city in Andalusia in southern Spain with some seriously epic views. This historic town is built on a cliff so that you can take in breathtaking views of the surrounding countryside and the deep gorges below.
With its impressive buildings and monuments, like the famous Puente Nuevo bridge and the Arab Baths, Ronda is more than just a pretty face. It's also got a lively culture and a vibrant atmosphere.
However, the city is most famous for the Plaza de Toros, where you can see a real live bullfight!
23. Segovia
This ancient city is famous for its well-preserved Roman aqueduct, one of the country's most impressive sights. In fact, you can see the aqueduct in the center of the city.
But that's just the start – there's plenty more history to see here, like the Gothic-style Cathedral of Segovia and the Alcázar castle. It's said to have been one of the castles that influenced the Imagineers who created Disney's Cinderella castle.
After stepping back in time, enjoy the surrounding nature on a day trip to the nearby Sierra de Guadarrama Mountains for its impressive landscapes.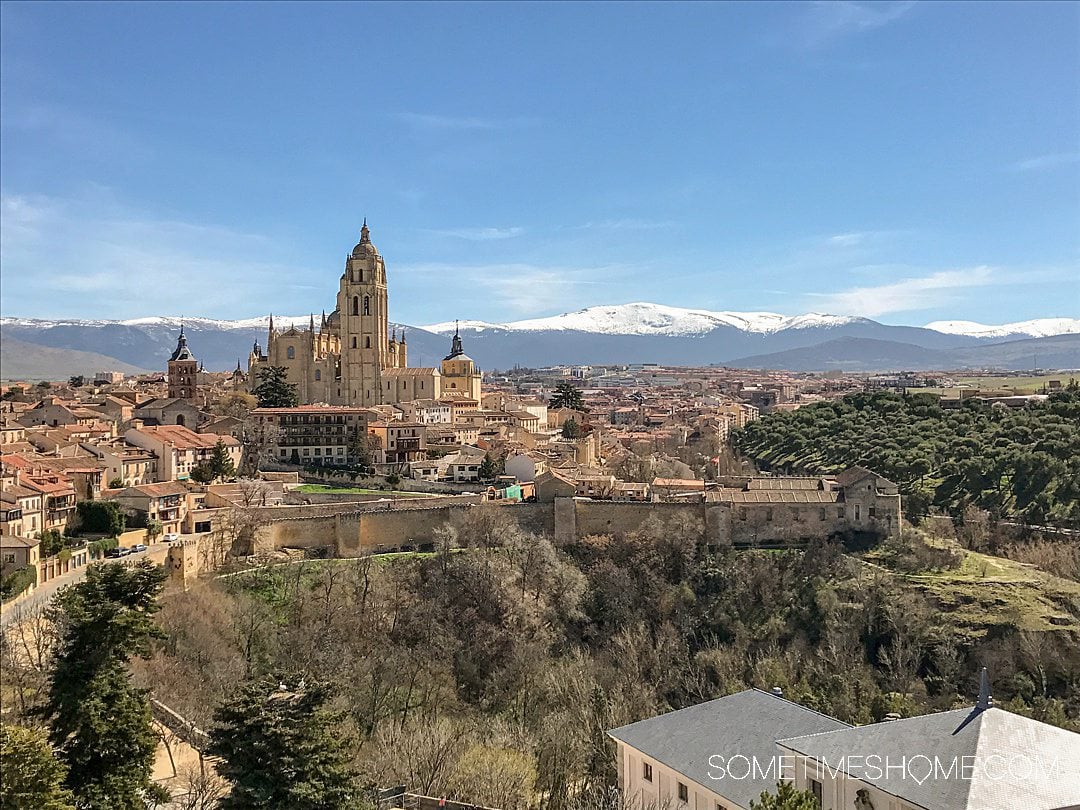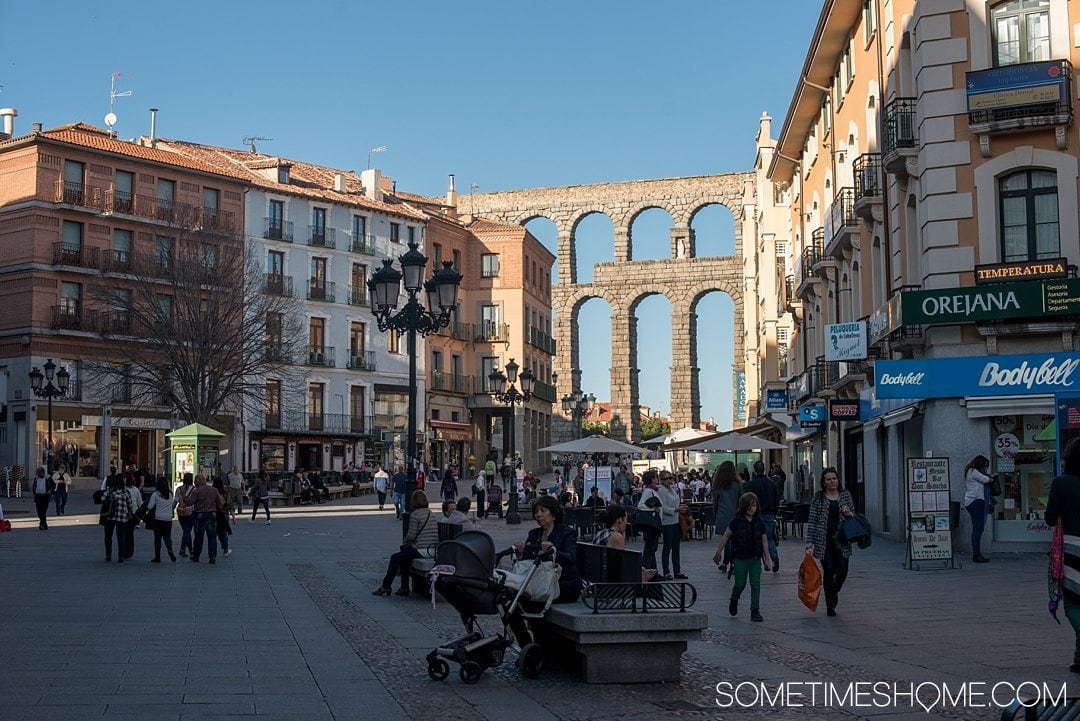 24. Ibiza
Ibiza is one of the best cities to visit in Spain if you like to party. It's widely known as a party island with wild nightlife and stunning beaches. However, for a bit of adventure, there are plenty of outdoor activities to enjoy here, like kayaking, windsurfing, or exploring the island's stunning coastline by boat.
Yet Ibiza is more than a beach and party. The island is home to two UNESCO World Heritage sites, the archaeological sites at Sa Caleta and Puig des Molins (necropolis).
Located in the Balearic Islands, there are two other islands to enjoy on your trip, which are just a hop, skip, and a jump away: Mallorca and Menorca.
25. Cadaqués
Cadaqués is a picturesque town famous for its crystal-clear waters, white sandy beaches, and rugged coastline, inspiring artists and writers for generations.
The town has a relaxed atmosphere with plenty of cafes, bars, and restaurants where you can try fresh seafood or cold cava. (And we love a glass of cold, bubbly cava!)
There are plenty of outdoor activities to enjoy too, like swimming in the clear blue waters of Cala Nans Beach or exploring the nearby Cap de Creus National Park.
The city of Figueres is about an hour away by car, which offers unique, modern architecture. So why not hit two birds with one stone and see both places?
26. Cuenca
The historic walled town of Cuenca is beautifully perched on a hilltop, surrounded by dramatic gorges and towering cliffs. Cuenca is a maze of narrow streets, ancient buildings, and stunning views.
Get lost in the ambiance, try some local food, and head to the nearby Serrania de Cuenca Natural Park or explore the La Mancha regions while you're here.
It's about a two-hour drive from Madrid, making Cuenca a perfect place for a day trip if you don't feel like staying the night.
27. Olite
Olite is in the Navarra region of Spain. This picturesque town is home to the Palacio Real de Olite, a stunning medieval palace once the home of the kings of Navarra. Lush gardens surround the palace; its ornate interiors are a testament to its rich cultural heritage.
The town has a relaxed atmosphere where you can try some delicious local food and drink, like grilled meats or crisp white wines. In addition, there are plenty of outdoor activities to enjoy, like hiking in the nearby Pyrenees Mountains or exploring the nearby Basque Country.
It's also close to Pamplona, making it possible to visit both destinations in one day.
28. Mérida
Are ancient Roman ruins your thing? Mérida has more critical ancient Roman monuments than any other city in Spain. Because of this, it is a designated UNESCO World Heritage Site.
Explore the Guadiana bridge, the Roman Theater, the Amphitheatre, the Temple of Diana, and the Los Milagros Aqueduct during your visit to one of the best cities in Spain for Roman heritage.
Walk across the impressive Roman Bridge, which spans the Guadiana River, and discover an abundance of bars, cafes, and restaurants.
Look out for festivals and cultural events throughout the year, including the Mérida Classical Theatre Festival. It's held in the Roman Theater and Amphitheater and features classical play performances.
Outside the city is the Cornalvo Natural Park, which will inspire and energize you.
29. Santillana del Mar
Santillana del Mar is a small town located in the province of Cantabria in northern Spain. This charming town is often referred to as the "jewel of Cantabria." It's not hard to see why.
The town is filled with narrow, cobblestone streets lined with beautiful stone buildings and homes, giving it a timeless, old-world feel. For example, visitors to Santillana del Mar can explore the Colegiata de Santa Juliana, a medieval church that dates back to the 12th century, or the Palacio de la Serna, a stunning medieval palace.
A site of note near Santillana del Mar is the UNESCO World Heritage site, Cave of Altamira and Paleolithic Cave Art of Northern Spain. It is one of the world's most famous prehistoric cave paintings, dating back 36,000 years. As the UNESCO website states, it is a designated "Property of Cultural Interest under the Law on Spanish Historical Heritage (1985), the highest legal protection in Spain."
It's just a 30-minute walk or a 5-minute drive from the town center, so if you're in Santillana del Mar, it's worth a visit.
30. Lugo
The historic Iron Age city of Lugo is in the northwestern region of Galicia. Most famous for its well-preserved Roman wall, which encircles the entire city, UNESCO considers it one of the best examples of Roman military architecture worldwide.
Lugo is one of the best cities in Spain, known for other stunning historical landmarks, like the Catedral de Santa Maria. This beautiful Gothic cathedral dates back to the 13th century. The city is also known for the Convento de San Francisco, a stunning Renaissance-style convent now used as a cultural center.
Nearby are options for hiking in the Galician Mountains or exploring the stunning Rías Baixas coastline.
31. Plascencia
A must-see destination for medieval architecture lovers, Plasencia is known for its well-preserved medieval structures. Located in the province of Cáceres in the western region of Spain, the city is home to several unexpected buildings, like the Gothic-style Cathedral of San Pedro and the Renaissance-style Convent of Santa Clara.
In addition to its rich history, Plasencia is a hub of cultural activity, with a vibrant arts scene that showcases local talent and traditions. Furthermore, the city is renowned for its delicious cuisine, which features a range of regional specialties, like fresh-caught seafood, juicy meats, and a variety of sweet treats.
Visiting Multiple Best Cities in Spain
It's easy to travel around Spain. You can either use a city, like Madrid, as your home base and travel around day by day or switch hotels as you hop from one city to the next.
If you use a city as your home base, it's usually easy to book trains depending on the city. Major cities are surely easy to book trains from with plentiful time and route options.
Secondly, we recommend renting a car. They drive on the right side of the road in Spain, and roads and highways are in great condition and well-marked. For car rentals, we recommend Discover Cars.
Don't Postone Renting a Car!
Conclusion
The best cities in Spain range in size and activities, but there is no doubt plenty to do and see in this popular European country.
Whether you prefer to head to an urban area like Barcelona to get lost in the vast metropolis or explore a historic small town like Segovia, or a combination of small, medium, and large cities, you will indeed have a memorable time bouncing around Spain!
Heading to Spain? Read this next: