Take Away the Guesswork: Raleigh's Morgan Street Food Hall Vendors
My mouth is watering with the memory of my first bite of Morgan Street Food Hall dishes in Raleigh. Chef Greg of Iyla's Kitchen offered me a taste of their Black Eyed Pea Hummus, made from scratch. It was incredible.
They have half the continents covered and the cuisine hits as close to home as good 'ole southern meals and as far reaching as Japanese food. Whether you're in the mood for curry, a poke bowl, empanadas or ice cream there is truly something for everyone at the 20,000 square foot home to one of Raleigh's hottest culinary teams.
This post was specifically written to take away the guesswork you may have for visiting Morgan Street Food Hall in Raleigh, for breakfast, lunch, dinner, or a snack. I extensively describe the space, including location, parking, backstory and what to expect, in this sister post. Here, we deep dive into the vendors that are cooking up the latest and greatest in Raleigh's downtown Warehouse District neighborhood.
Note some of the vendors have closed as a result of loss of business during COVID; we do our best to keep this as up-to-date as possible.
About Morgan Street Food Hall Restaurants Represented
There isn't much overlap between cuisine amongst the vendors. This was purposeful so there'd be a little of everything represented. The Morgan Street Food Hall owner, Niall Hanley of Hibernian Hospitality Group, was sure to vet applications. Everything from business plans to attire was considered. And, more importantly, taste. (They have an application process you can kickstart on their website if you're interested in applying to Morgan Street Food Hall in Raleigh.)
I've incorporated a little bit about the vendor if I know any backstory. In some cases the owners were venturing into the food industry on their own for the first time. In other cases, the space is a "satellite" stall of a bigger restaurant, located elsewhere in the area.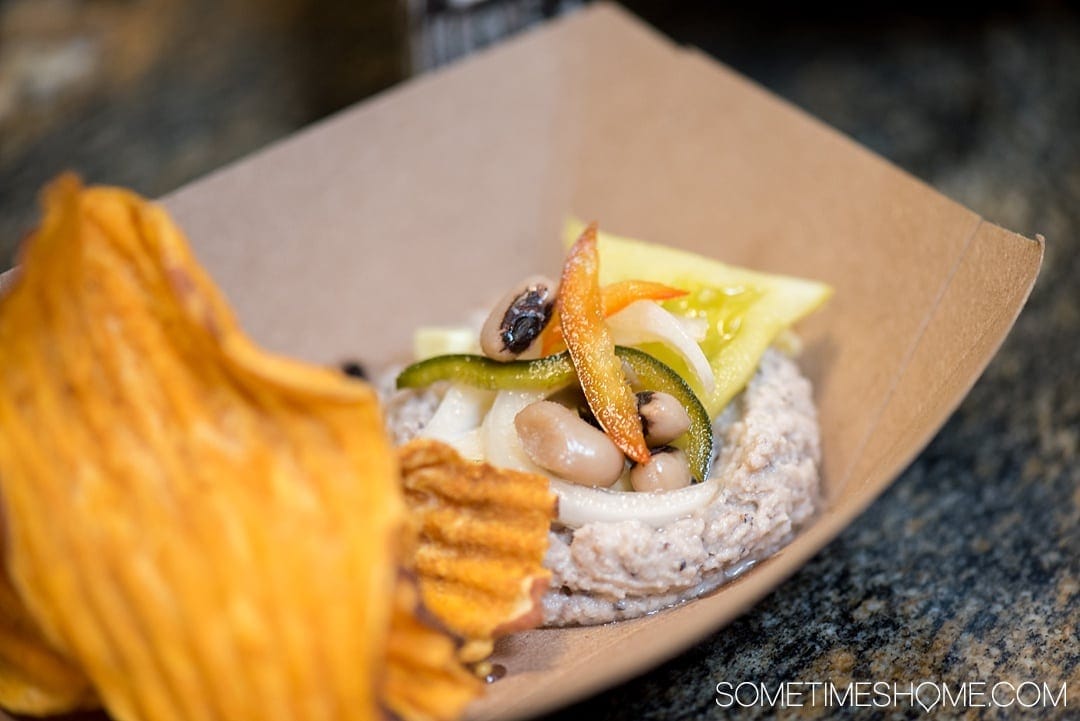 (Photo above: Iyla's Southern Kitchen Black Eyed Pea Hummus)
Map of Morgan Street Food Hall Vendors
The Morgan Street Food Hall in Raleigh has over twenty food vendors. They are listed numerically in the text beneath the map I've rendered. The numbers correspond to the stalls for ease of location. Beneath that is an alphabetical listing, extensive description of each vendor's offerings.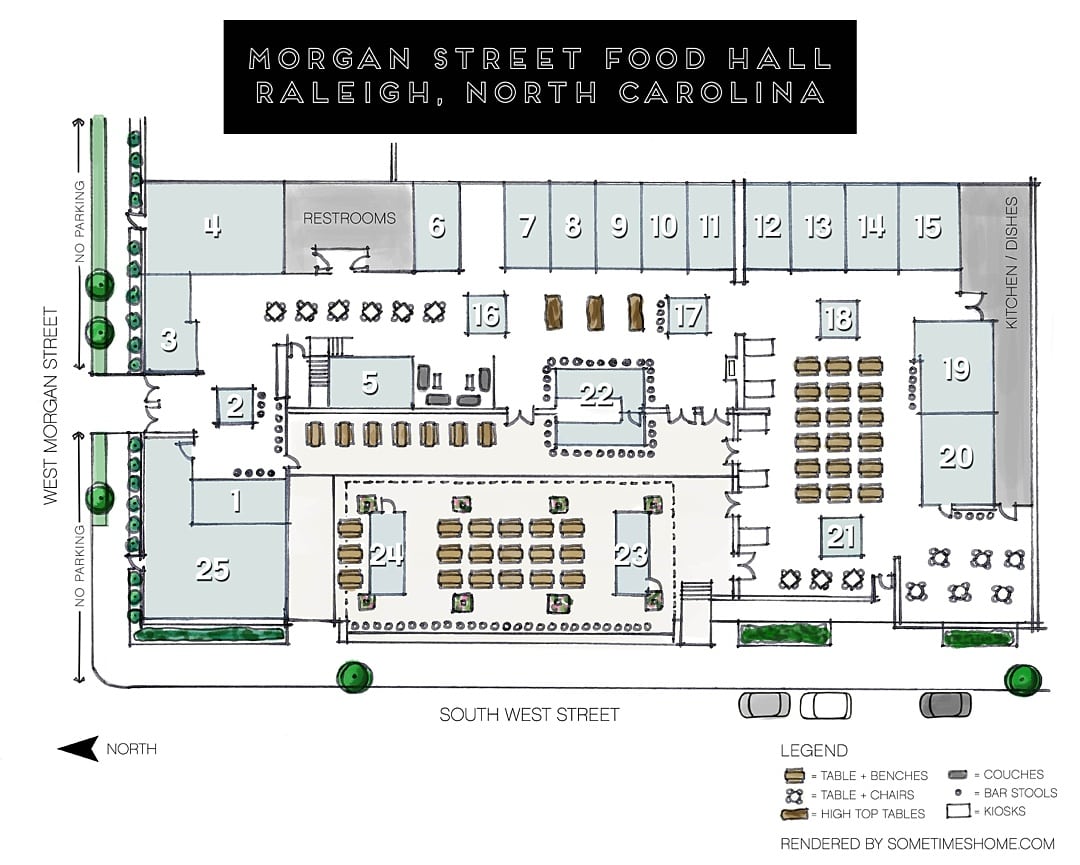 1. Iyla's Southern Kitchen
2. Bad Cat Coffee, Crepes and Bagels
3. Opa!
4. YoHo Hibachi and Sushi Burrito
5. Primal Cuts
6. Buena Papa Fry Bar
7. Cousins Maine Lobster
8. Oak City Fish & Chips
9. Makus Empanadas
10. The Bowls
11. Katsu
12. Curry in a Hurry
13. Bella's Wood Fired Pizza
14. Chopsticks
15. Open
16. Boba Brew
17. Big League Waffles & Scoops
18. Raleigh Rolls
19. Cow Bar
20. Wicked Taco
Next to 20, in the corner, is now Epic Axe
21. Fleurs de Moufette (closed as of July 2019)
22. Arbor
23. Open
24. Open
25. Auntie Betty's Gin and Absinthe Bar
Cuisine, Morgan Street Food Hall Menu Items and Backstory (listed alphabetically)
Auntie Betty's Gin and Absinthe Bar
If you need something to "take the edge off" after a long week they have just the cocktail for you! They're purposely a bit hidden, like a speakeasy, near Iyla's Southern Kitchen. But after finding the door (which isn't difficult, it's just on the right if you're looking at Iyla's) grab a seat at the bar and order a craft cocktail. Their menu focus is of course on gin and absinthe but they have other spirits as well, including North Carolina locally made Cathead Vodka from Greensboro.
I don't even like tonic, but the bartender promised me they have very high quality product. And if I didn't like my gin and tonic drink, call On the Lash, he's make me something else. So I was game. I tried it and LOVED it! It had me back in Portugal, enjoying an oversized glass and refreshing taste.
Menu items to look for: "Death in the Afternoon," a mixture of absinthe and cava, or a martini named, "The Julia" with gin and vermouth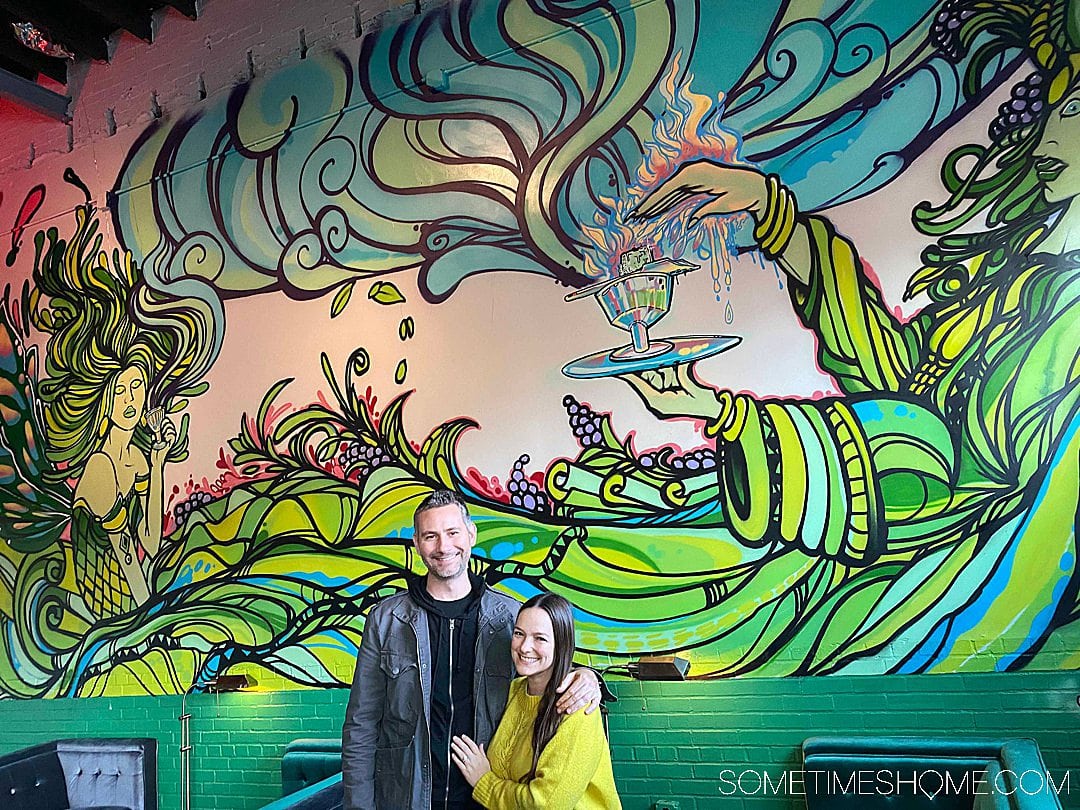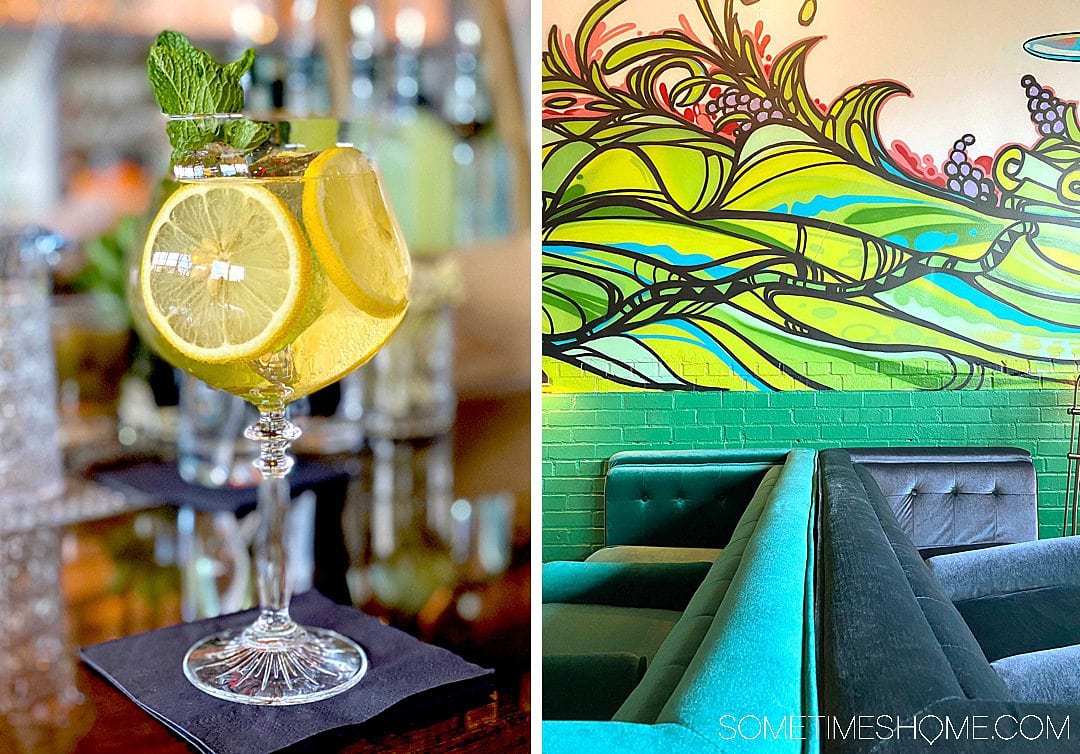 Bad Cat Coffee, Crepes and Bagels
One of my first trips to Europe included a stop in Paris. Ever since I continue a quest to find the best crepes wherever I go. If you want crepes or a carb (I LOVE a good bagel!) stop here and be sure to get your brew on with a coffee to quench your thirst! This is an especially wonderful restaurant vendor option at Morgan Street Food Hall for breakfast!
Menu items to look for: sweet crepe and a hot shot of espresso on the side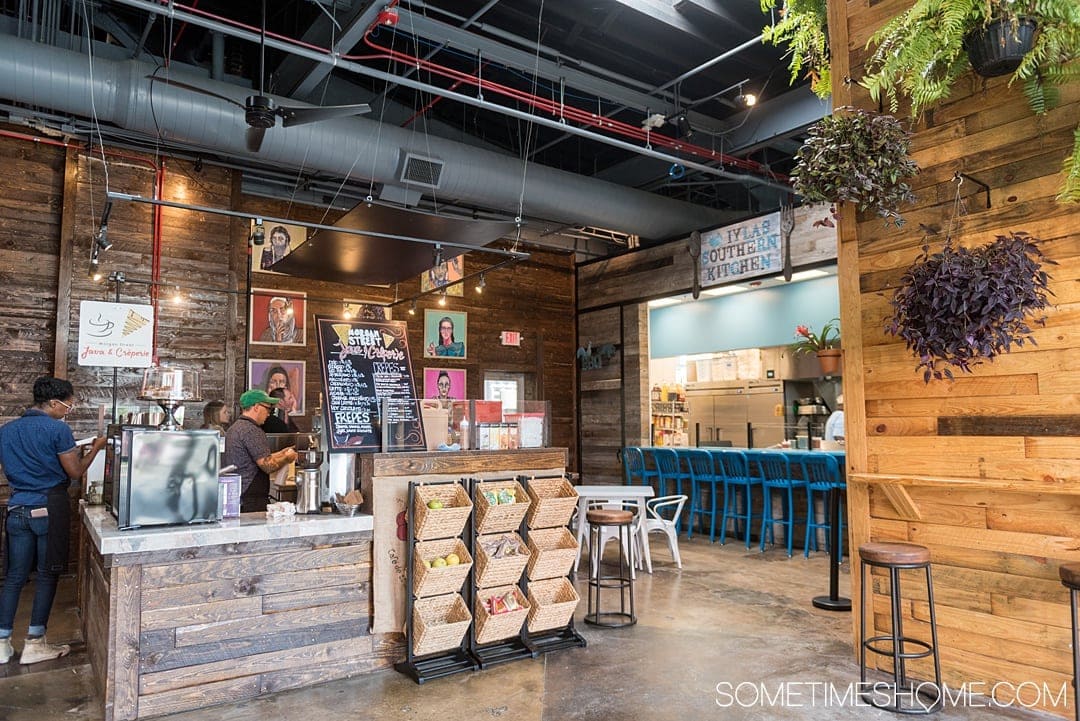 Bella's Wood Fire Pizza and Tapas, Italian
Any pizza connoisseur knows the best way to cook a pie is in a wood fired oven. The pièce de résistance here is their beautiful, red tiled over visible to all passersby. They offer small tapas plates inspired by Italian cuisine as well, like wood-fired bruschetta and a petite baked brie.
Menu items to look for: classic Margherita pizza made with the highest quality, San Marzano tomatoes and Casino Clam pizza featuring roasted garlic and clam meat.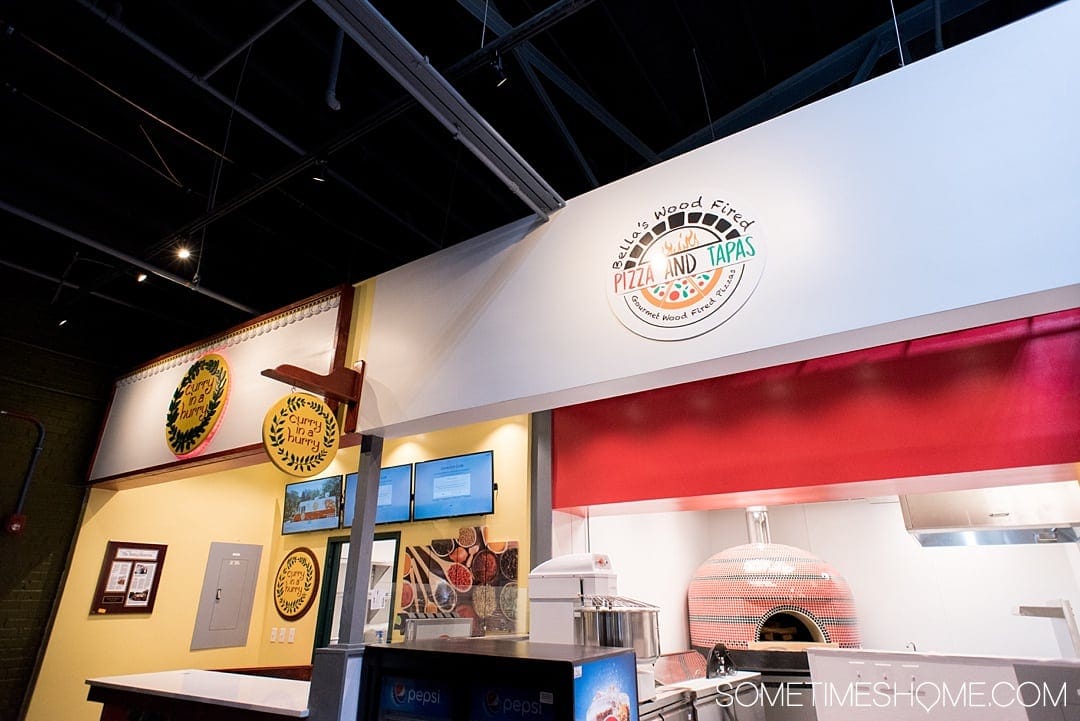 Big League Waffles & Scoops
If you're into waffles with ice cream on top, this is for you! You know the saying, "Eat dessert first"? Well, this will count as your meal and dessert when you opt for it at Morgan Street Food Hall.
Menu items to look for: Triple stack your waffles and have three times the doughy goodness with your ice cream!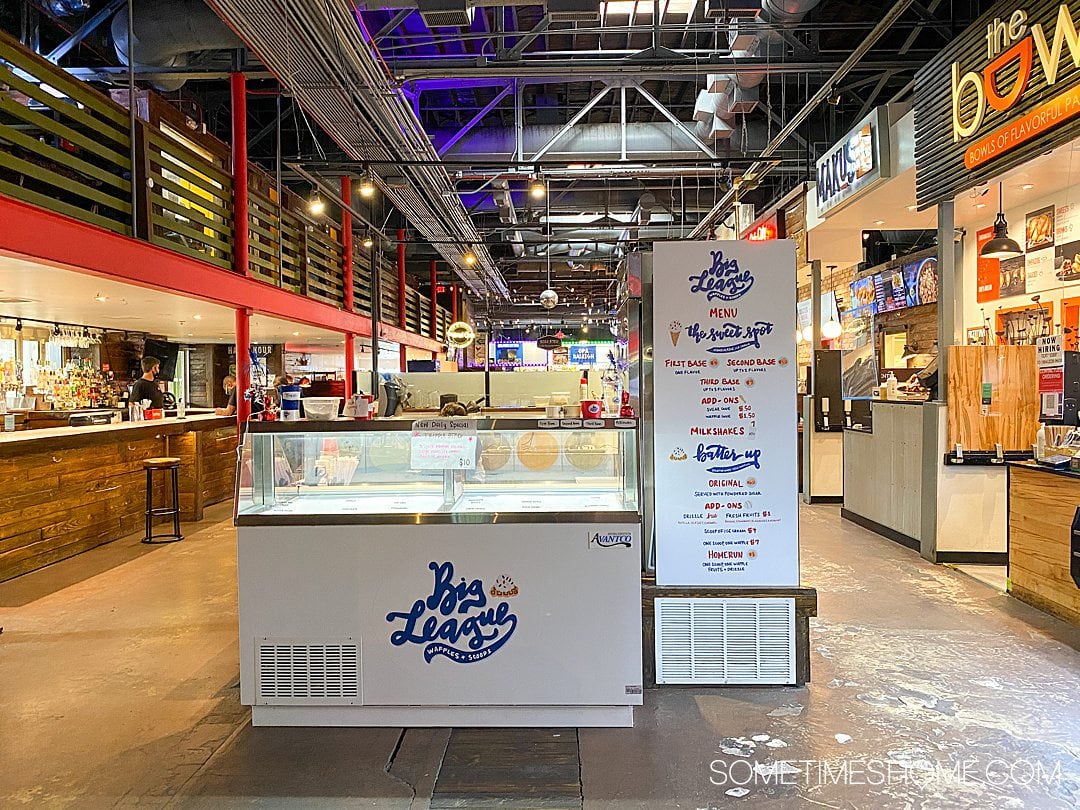 Boba Brew, Bubble Tea and Smoothies
Sometime in my late teens I grew to be a huge fan of bubble tea. Tapioca balls (the "boba") coat the bottom of a refreshing drink and you become strangely addicted to them after you get used to the texture. I'm SO excited Boba Brew exists. It's a much needed addition to the Raleigh food scene. I love that they have loyalty cards – I will surely be putting that to good use!
Menu items to look for: Taro tea with customizable boba toppings and Strawberry Classic smoothie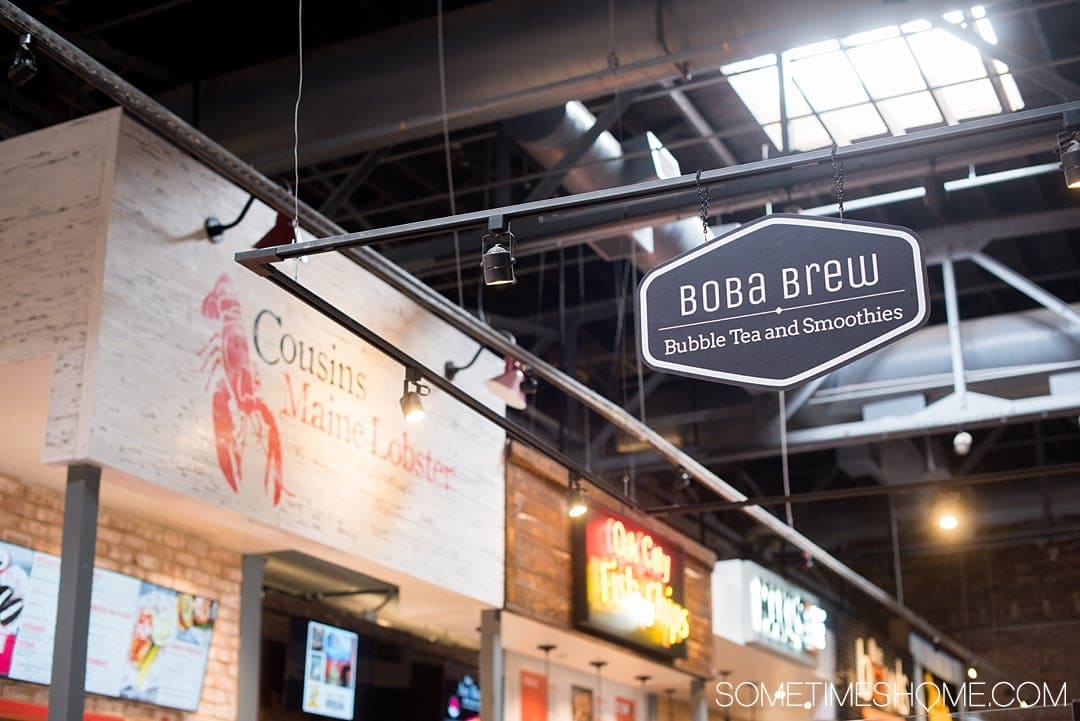 Buena Papa Fry Bar
This one's a new vendor to Morgan Street Food Hall as of summer 2021. And who doesn't love French fries? (It's Dan's favorite "food group," haha!) Think of a loaded baked potato but instead of a whole potato there are fries as the base.
You can get all sorts of types of loaded fries here. Their hand-cut French fries, "con todo" (with everything) are Colombian inspired, with Latin infused flavors. However, there's pretty much a menu item for all the major cultures, from Italian, to Greek, and American.
Menu items to look for: El Americano, with bacon, sour cream, melted cheddar cheese, and chives, and El Colombiano fries, topped with refried beans, chicharron and chorizo, pico de gallo and guac!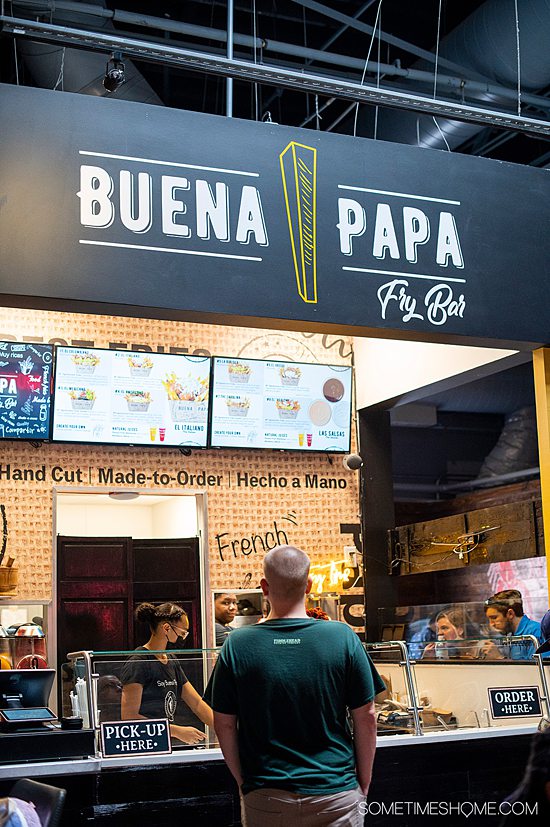 Chopsticks and Forks
Craving Asian cuisine? Try Chopsticks and Forks, which replaced MKG Kitchen that was formerly in this space at Morgan Street Food Hall.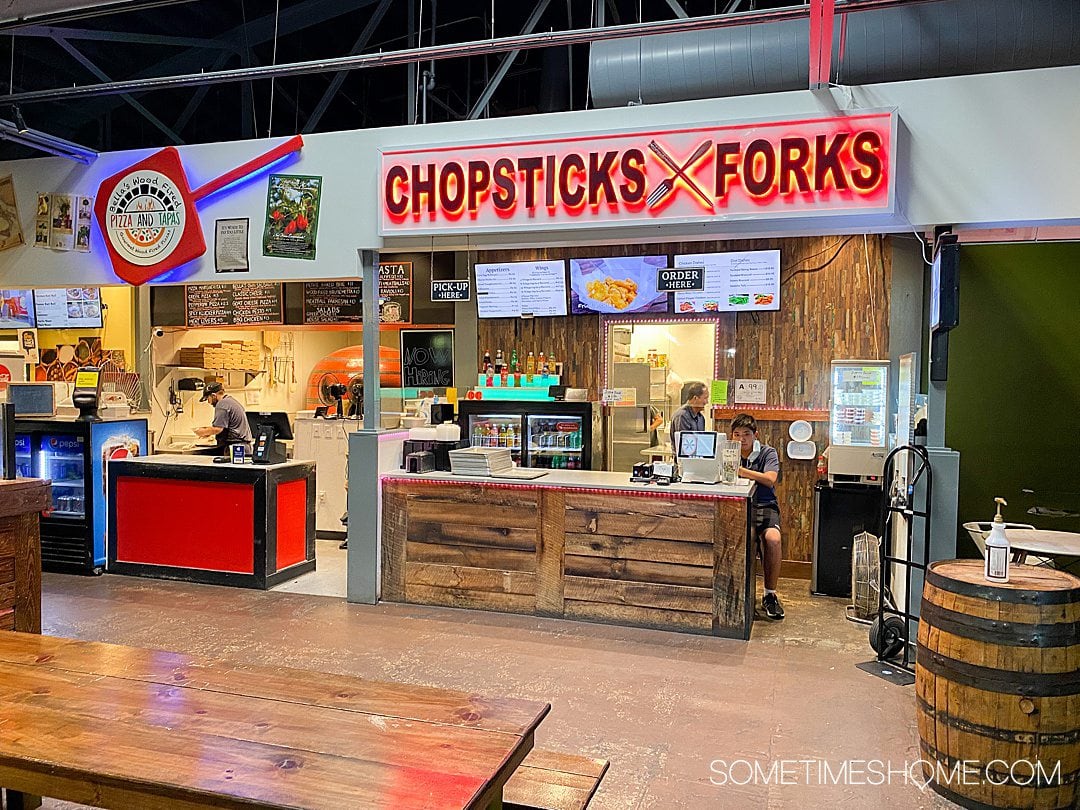 Cousins Maine Lobster, Seafood
If lobster-mania is your thing, so to speak, get ready for your crustacean fantasies to become reality! This famous franchise food truck was brought to Raleigh through Deb and Greg Keller.
Deb was searching for her next great adventure after raising two children and becoming "empty nesters" after sending them safely off to college. With years of volunteering and charity work under her belt it didn't take long for Jim and Sabin ("the" Maine cousins who started the business) to recognize Deb was special. (I love that she continues to be a part of Make-a-Wish Foundation, a charity I personally grew to love while living in Orlando, Florida). They took a leap of faith by allowing Deb and Greg to open the first franchise truck outside of Los Angeles. (Did you know it was started in Los Angeles, not Maine?)
Food truck ownership isn't for the faint of heart yet Raleigh's franchise has continuously been a shining example and leader in the food truck industry. Deb, Greg and their friend and team member Tom, have overcome any obstacle put in their way.
If you've ever been to a Food Truck Rodeo in the Triangle you know the longest line at the event will be for Cousins Maine Lobster. Luckily you now have one more fabulous option to taste Maine lobster. And the best part is you know this stationary location will always be there!
Menu items to look for: Lobster Tots (a twist on loaded fries) and classic Maine Lobster Roll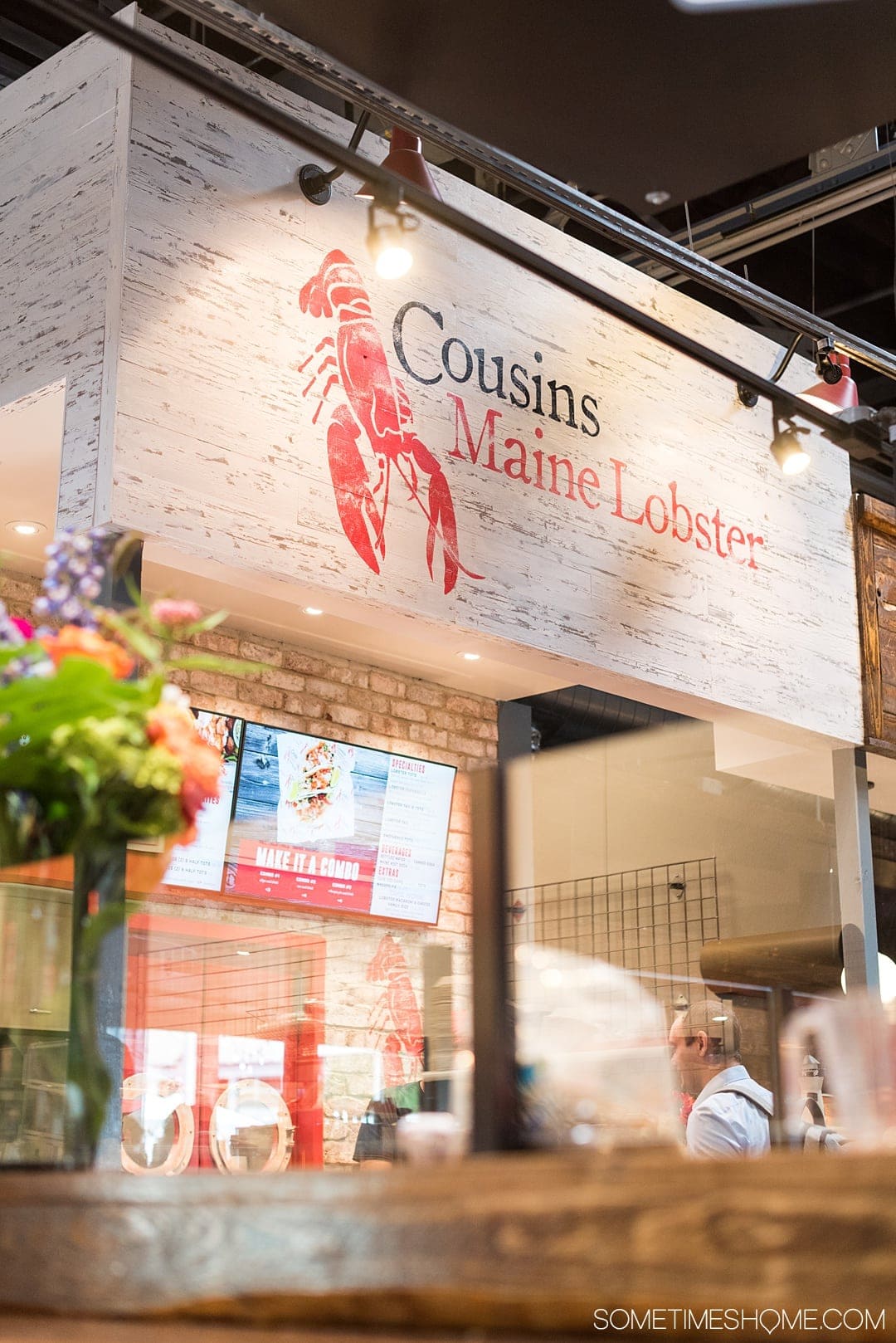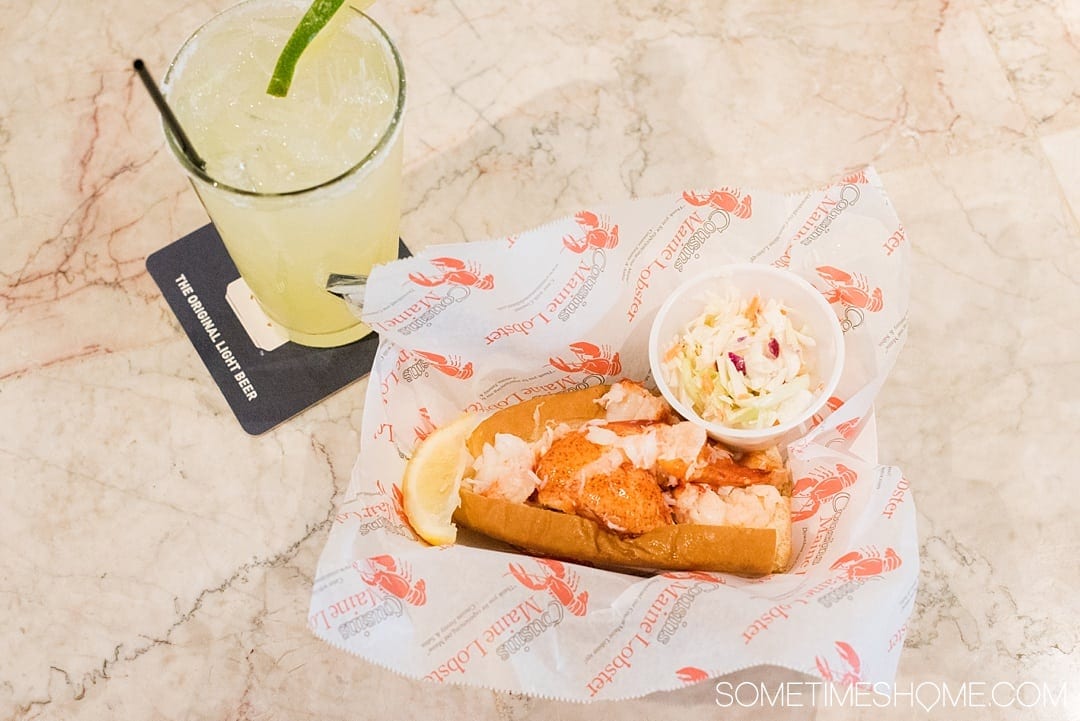 Cow Bar Burgers & Fries
This vendor offers handcrafted artisan burgers and fries, as their name indicates. They strive to provide a unique twist on a well-loved American favorite. I love that they offer a vegetarian burger too, created with curry infused kidney beans and grilled zucchini, topped with fire-roasted veggies and served on a brioche bun. They also offer hot dogs and grilled cheese. Hold me back from eating all their french fries.
Menu items to look for: Truffle Burger, Kim Jun Yum Hot Dog, and Italiano French Fries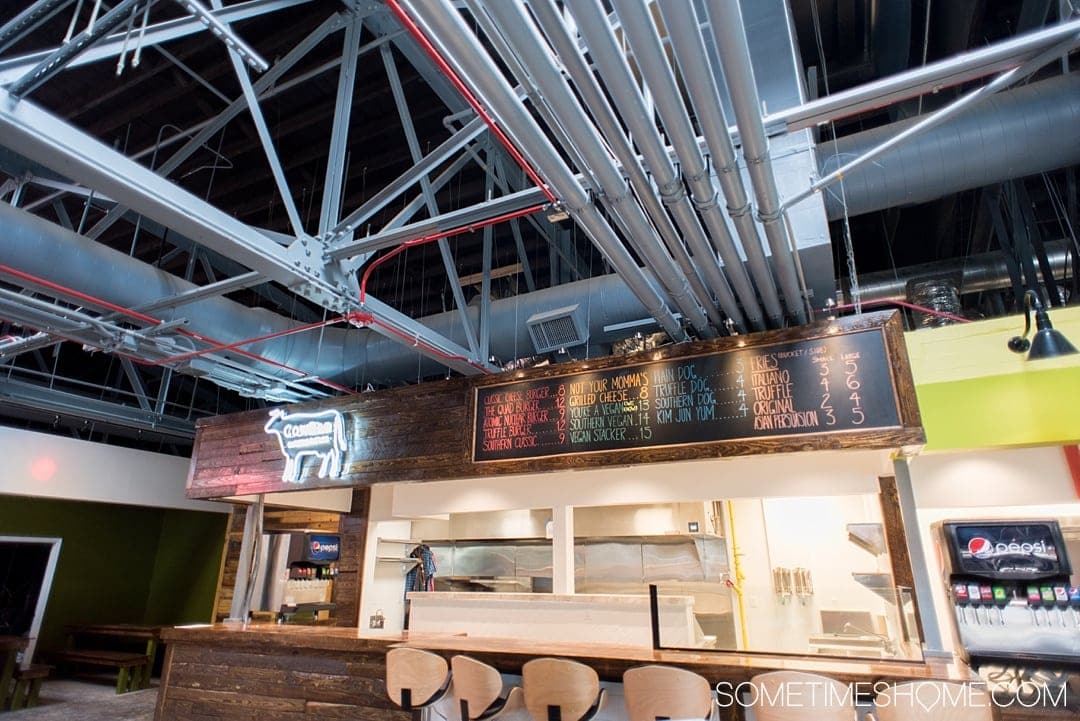 Curry in a Hurry, Indian
This is one of the vendors I'm MOST excited for! Raleigh is lacking really great curry and I feel so fortunate it's just two blocks from where I live.
What's even better is it's family owned and operated. Alaksha Surti is a bad ass woman entrepreneur! I loved speaking with her about her love for hospitality and passion for cooking. Family and friends encouraged her to open a food truck after she began getting more and more catering inquiries for her flavor packed creations. She uses fresh, quality ingredients and authentic Indian spices to create her dishes, many of which are family recipes passed down through generations. (We all know that provides for some of the most memorable meals.)
As her name means in Sanskrit, I believe Alaksha is one in a million. I felt an instant connection to her story – her love of travel and worldly knowledge (she has lived in India, Australia, London and Orlando before moving to Raleigh), her caring nature having raised three kids, and her connection to her husband, twin sister, aunts, uncles, parents and friends. If you stop by Curry in a Hurry be sure to say hello to her (she has the most beautiful accent).
This is a great spot for flavorful vegetarian, vegan and gluten-free options. Lamb and chicken are also on the menu.
Menu items to look for: Kati Rolls (the Indian burrito, if you will), and Mutter Paneer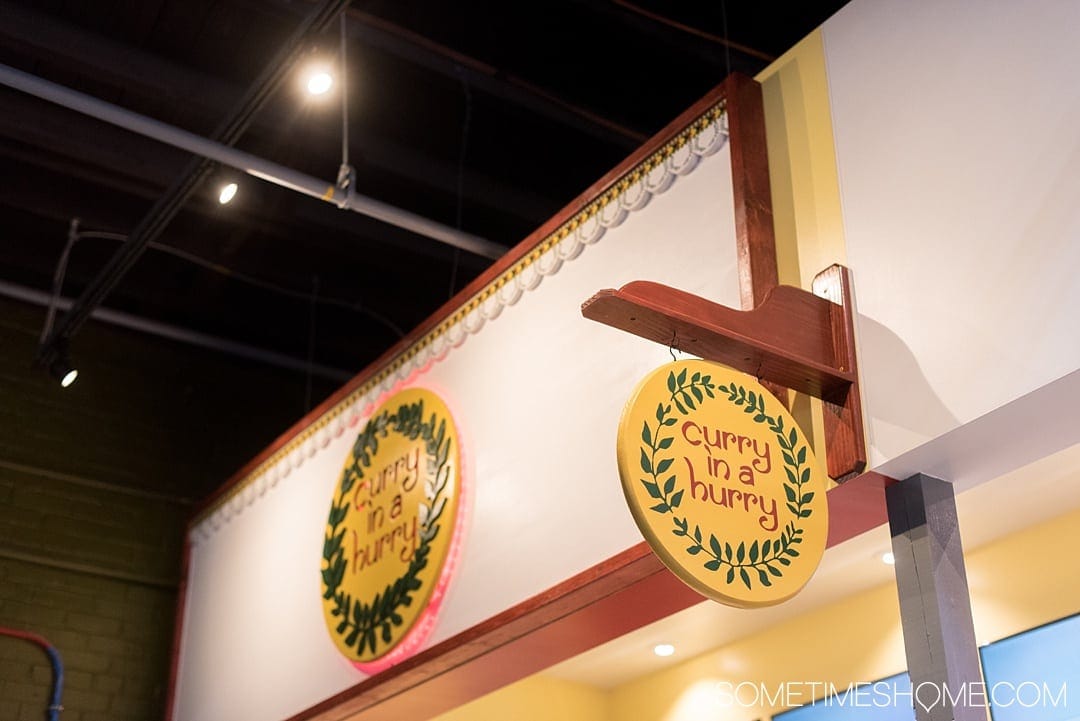 Epic Axe
If you're wanting to work off some calories after a meal with a little axe throwing, Epic Axe is conveniently located inside Morgan Street Food Hall, near Wicked Taco. It's the second axe throwing location in Raleigh that we know of. (The first is on Glenwood South, less than a mile away from Morgan Street Food Hall.)
This activity kind of reminds us of our great times attending the North Carolina Renaissance Fair!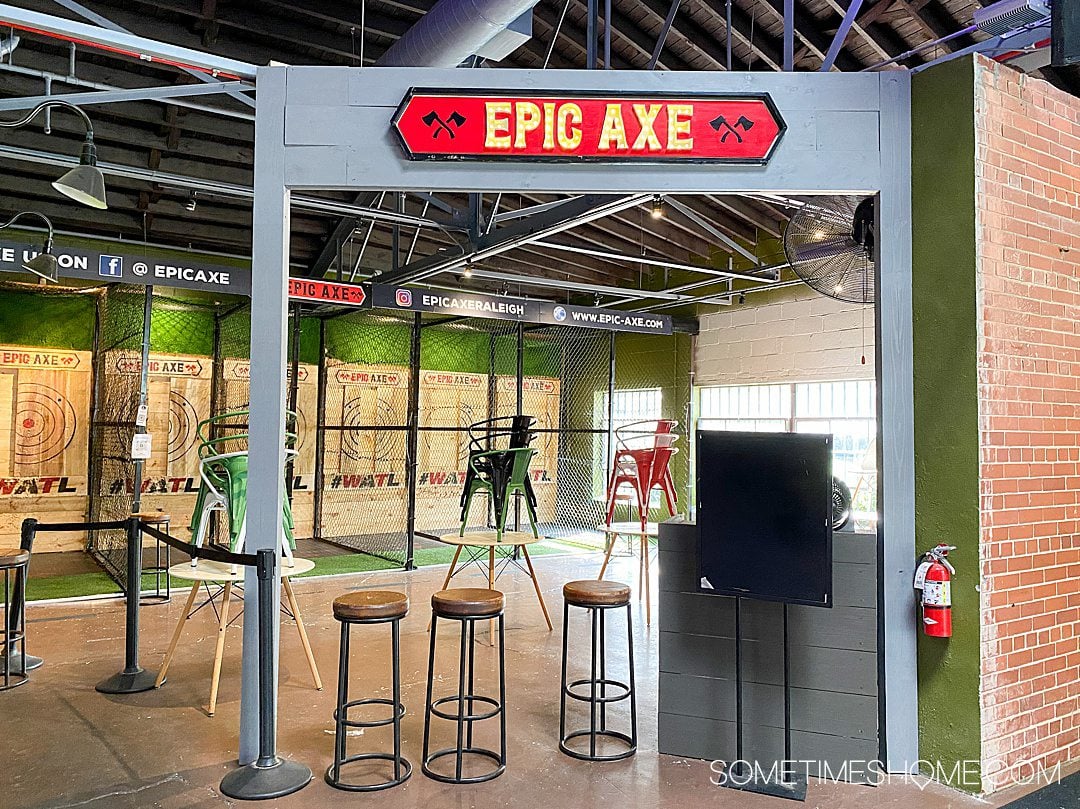 Iyla's Southern Kitchen
Devon and her husband, Chef Greg, are venturing into the food industry on their own for the first time in their careers. No stranger to the food and hospitality industries, Chef Greg has previously worked for The Ritz-Carlton in Charlotte and Fairmont Hotel in Washington, DC.
Their excitement was contagious as I talked to them about their anticipation for this space, named after their toddler-aged daughter. I could feel the positive energy radiating from Chef Greg as we discussed their menu. I was blown away by their Black Eyed Pea Hummus. And any person who loves pickling – tomatoes, corn, cucumbers – is a friend of mine! Like true southern gems, they pickle their own.
Menu items to look for: BBQ "Sundae" with Smoked Cheddar Mac & Cheese, Pulled Pork, Collard Greens Drizzled with BBQ Sauce, and Fried Chicken and Waffle Sandwich (yes, you read that correctly)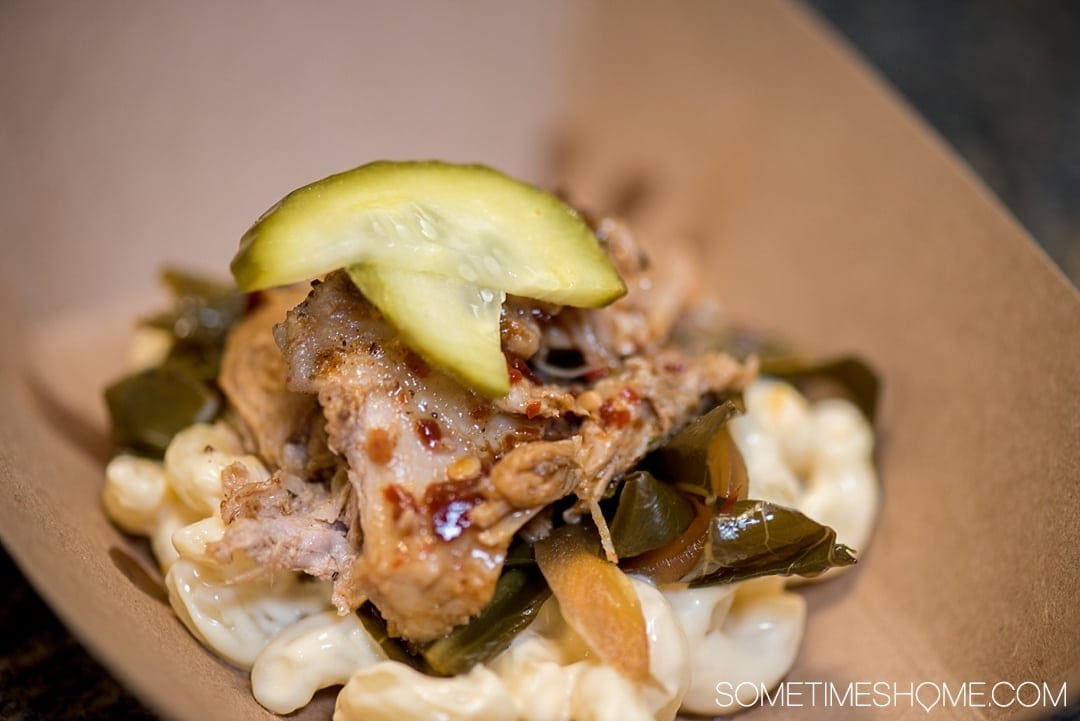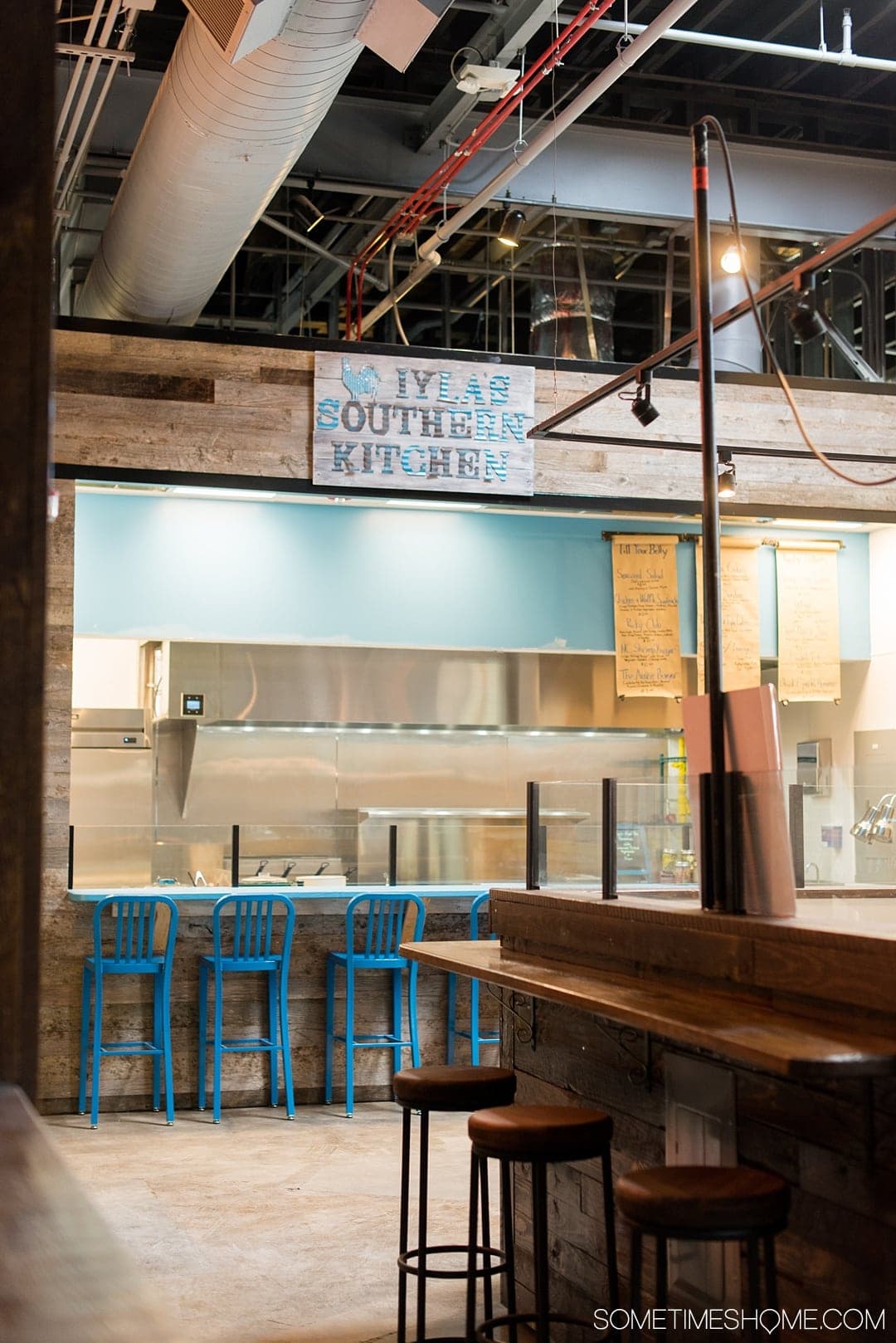 Katsu (Formally "The Broth", Asian Hot Noodle Bowls and Comfort Food)
I think Japanese blood runs through my veins though I'm told my heritage is strictly European. I fell hard and fast for Japan the first time I visited in 2013. And so, my fondness for a good bowl of Japanese food began.
Formally: The Broth features Asian style comfort food. They have ramen bowls topped with carefully selected ingredients and offer famous Korean Fried Chicken as well. I have to admit I've had it twice since they opened (even in the heat of summer) and the vegetable broth is just as flavorful as the meat broths! Menu items to look for: classic Tonkotsu Ramen or Pork Belly Sliders
Currently, as of summer 2019: The Broth has reconcepted and reopened as "Katsu," offering classes Asian inspired katsu dishes. Katsu is panko crumb breaded and lightly fried protein, most typically pork or chicken.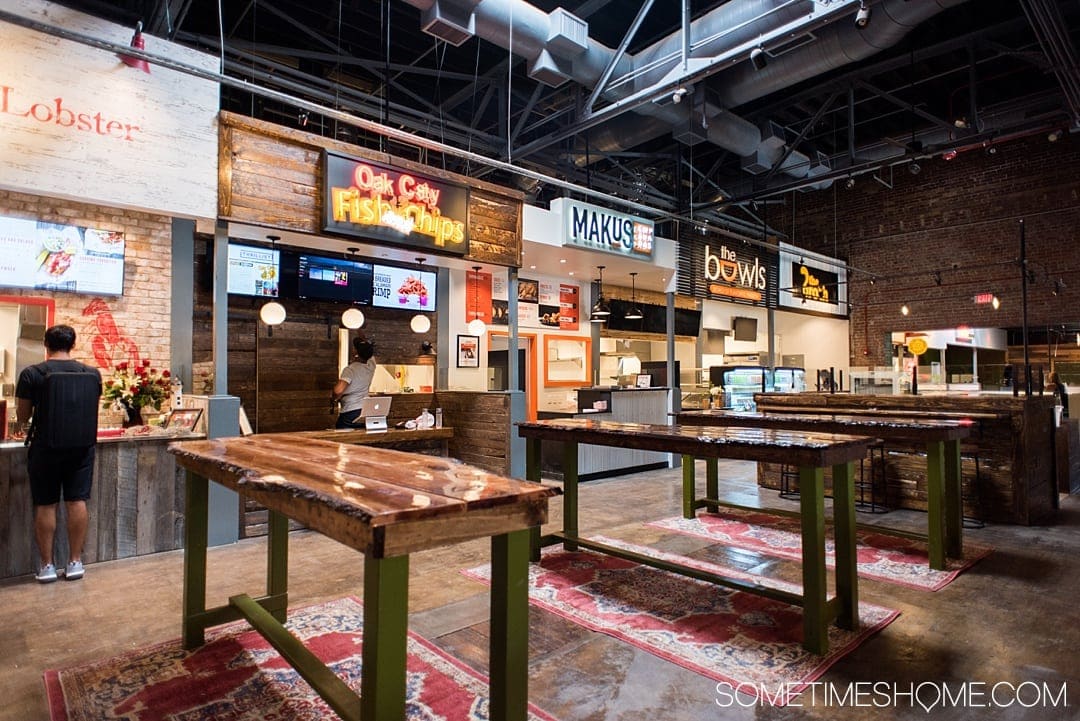 Makus Empanadas, South American
A friendship of three best friends turned into a venture to share their Argentinian culture and cuisine with the Triangle. Makus (pronounced, "Make us") Empanadas may have started their restaurants half a decade ago, yet their bond goes back to preschool. And what's better than one set of family recipes passed down through generations to share with the world? THREE sets!
Their first location in Durham, at Hope Valley Commons, is joined by a space at Morgan Street Food Hall in Raleigh. Grab a glass of red wine from the bar (a favorite of these born and raised Argentinians, true to culture!) and a pack of empanadas. Visiting as a group? Try their Family Meal.
Menu items to look for: Bacon and Cheese empanadas, and Sweet Corn vegetarian option
Oak City Fish & Chips, Fried Seafood and French Fries
They are fully prepared to venture into a food stall at Morgan Street Food Hall, with three food trucks already on the road in the Raleigh Durham area! Shrimp, calamari and fish are their specialties and their menu items won't send you towards decision paralysis. They focus on doing a few things, very well.
Menu items to look for: Fish and Shrimp Combo Basket – don't forget a side of fries!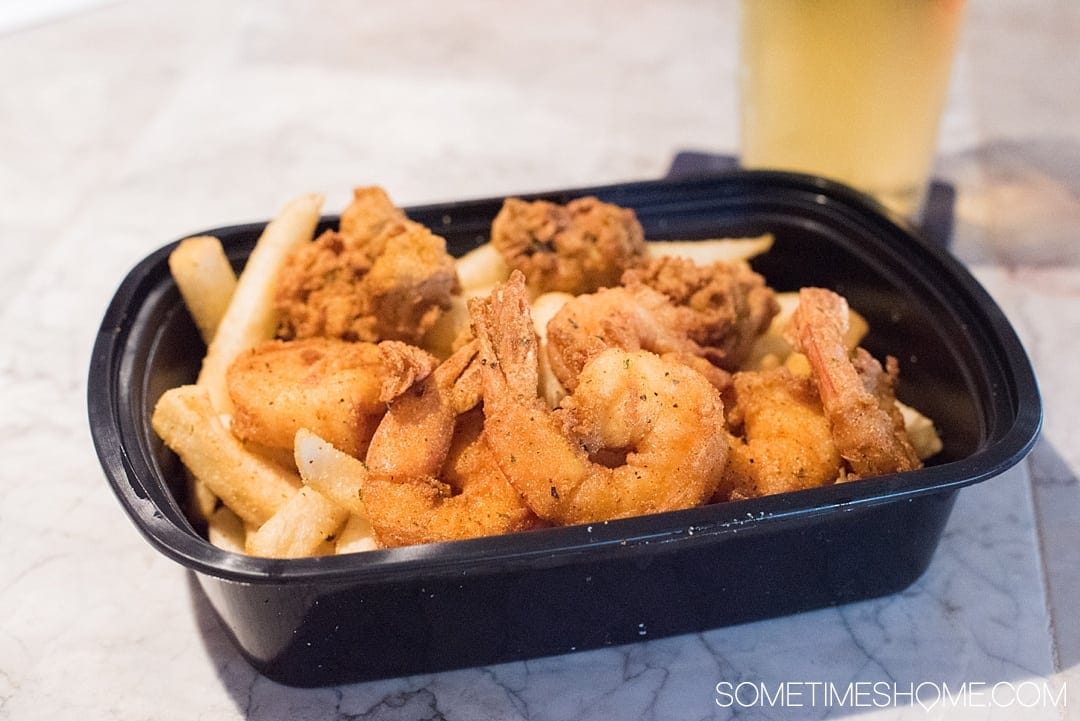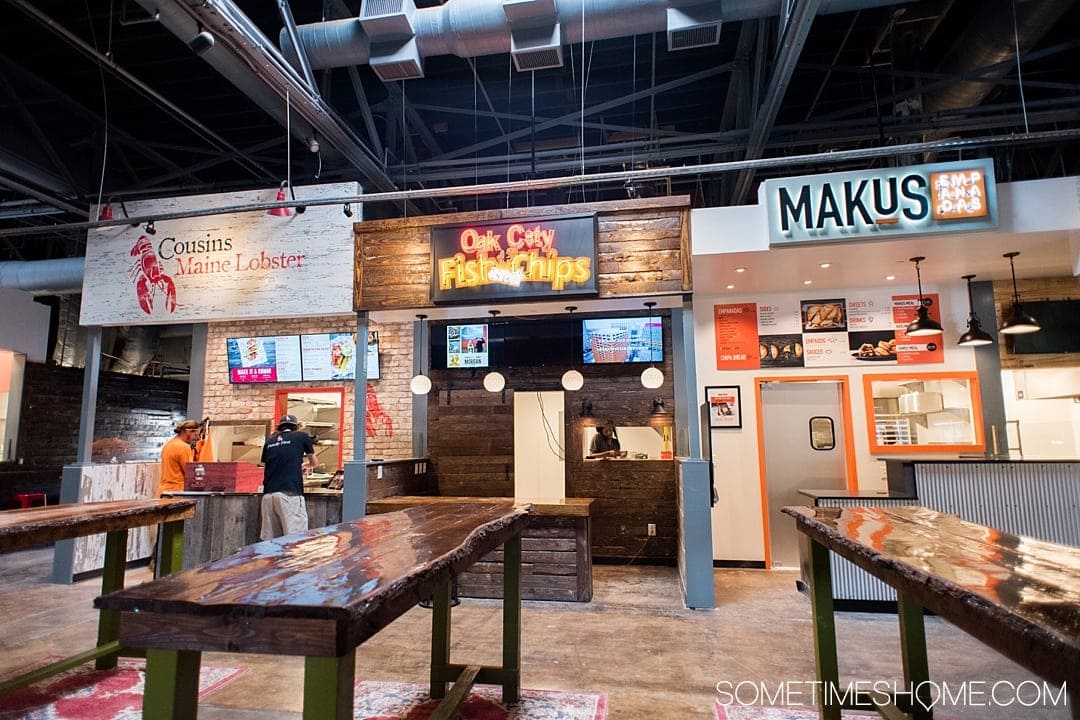 Primal Cuts
The Morgan Street Food Hall menu of restaurant offerings needed a great deli sandwich option and Primal Cuts has been added to provide it! They offer premium cuts of meat, homemade sauces and artisan bread. You can order off the menu or build your own.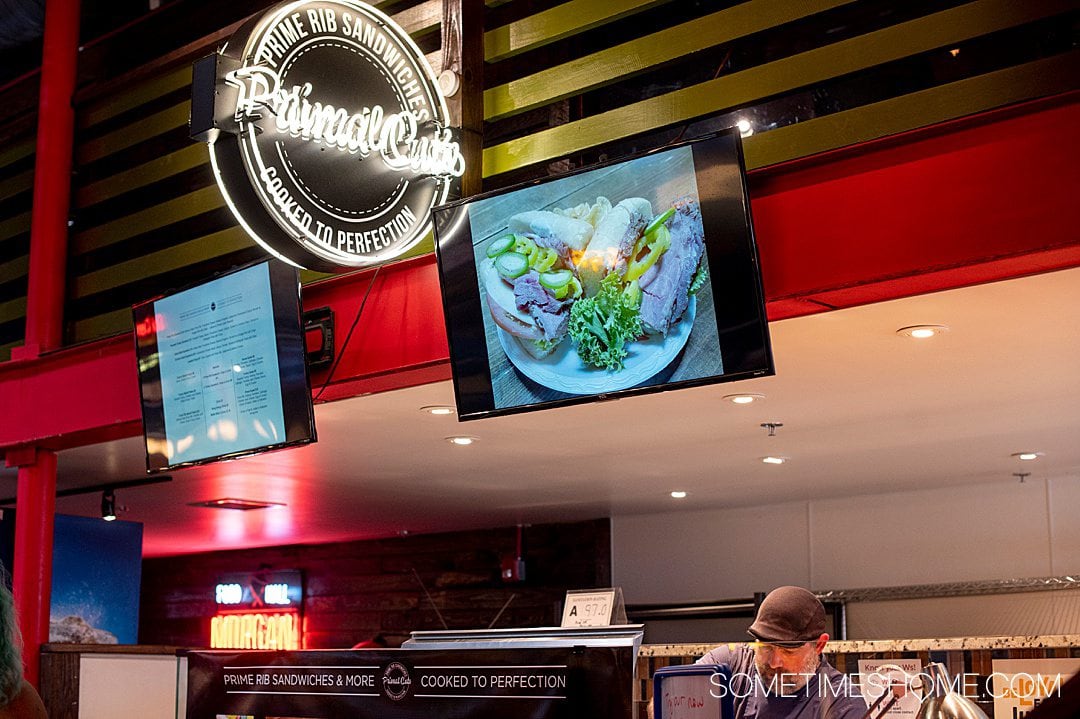 Raleigh Rolls, Ice Cream
This space brings a twist on ice cream to Raleigh. I first saw rolled ice cream on a trip to Thailand; it was a novelty to see liquid cream poured onto a freezing metal plate and turn solid before being rolled into a cup. Very cool! It's sure to be a hit with children and adults, alike. I know everyone will be adding videos and Boomerangs to their Instagram accounts!
Menu items to look for: Monkey 'N Around with bananas and Nutella, or a build your own like Cookies and Cream with M&Ms and chocolate sauce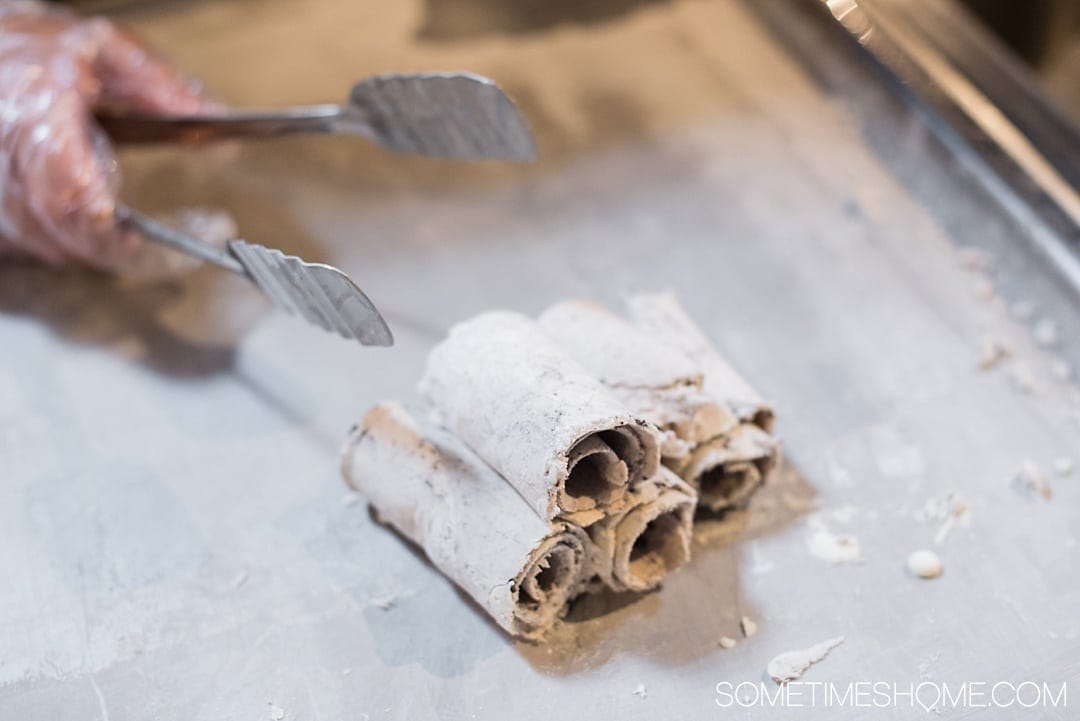 Opa!, Greek Mediterranean
Opa is now in the vendor space where Sassool was previously located in Morgan Street Food Hall.
Their menu offers Greek favorites, including a farmers salad, falafel pita, Gyro platters and Spinach pie.
Menu items to look for: Dolmas Plate (stuffed grape leaves) and Kebab Platter.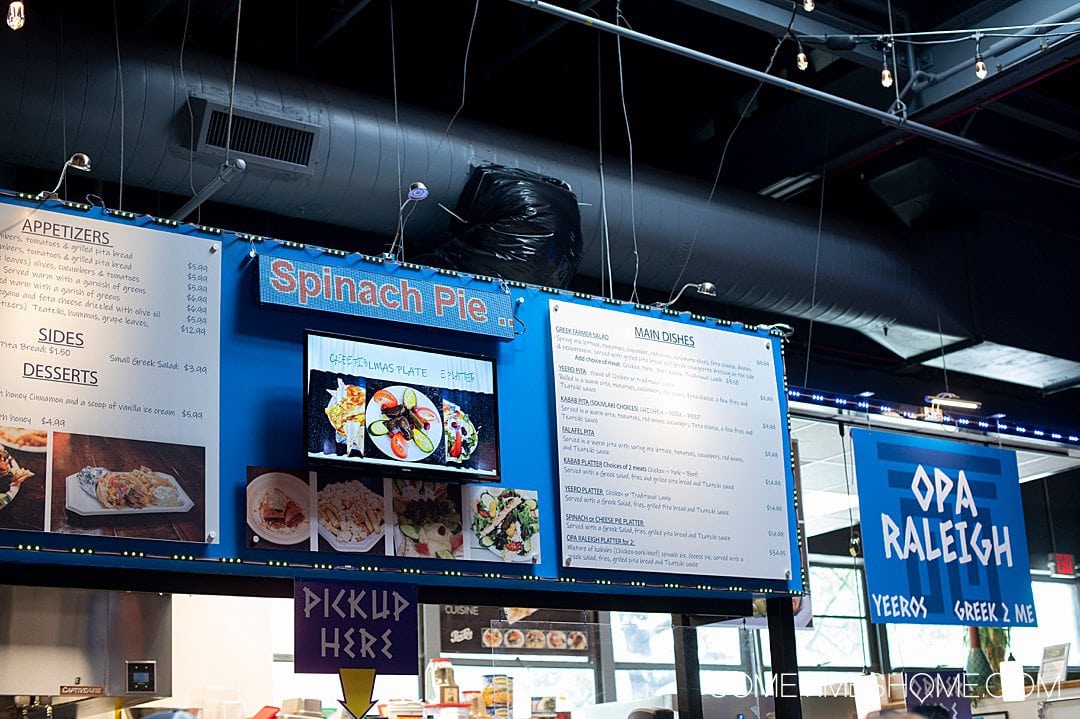 The Arbor, Bar
This bar uniquely spans indoors and outdoors at Morgan Street Food Hall. They serve beer, wine and cocktails.
Menu items to look for: You can't go wrong with any order at the bar!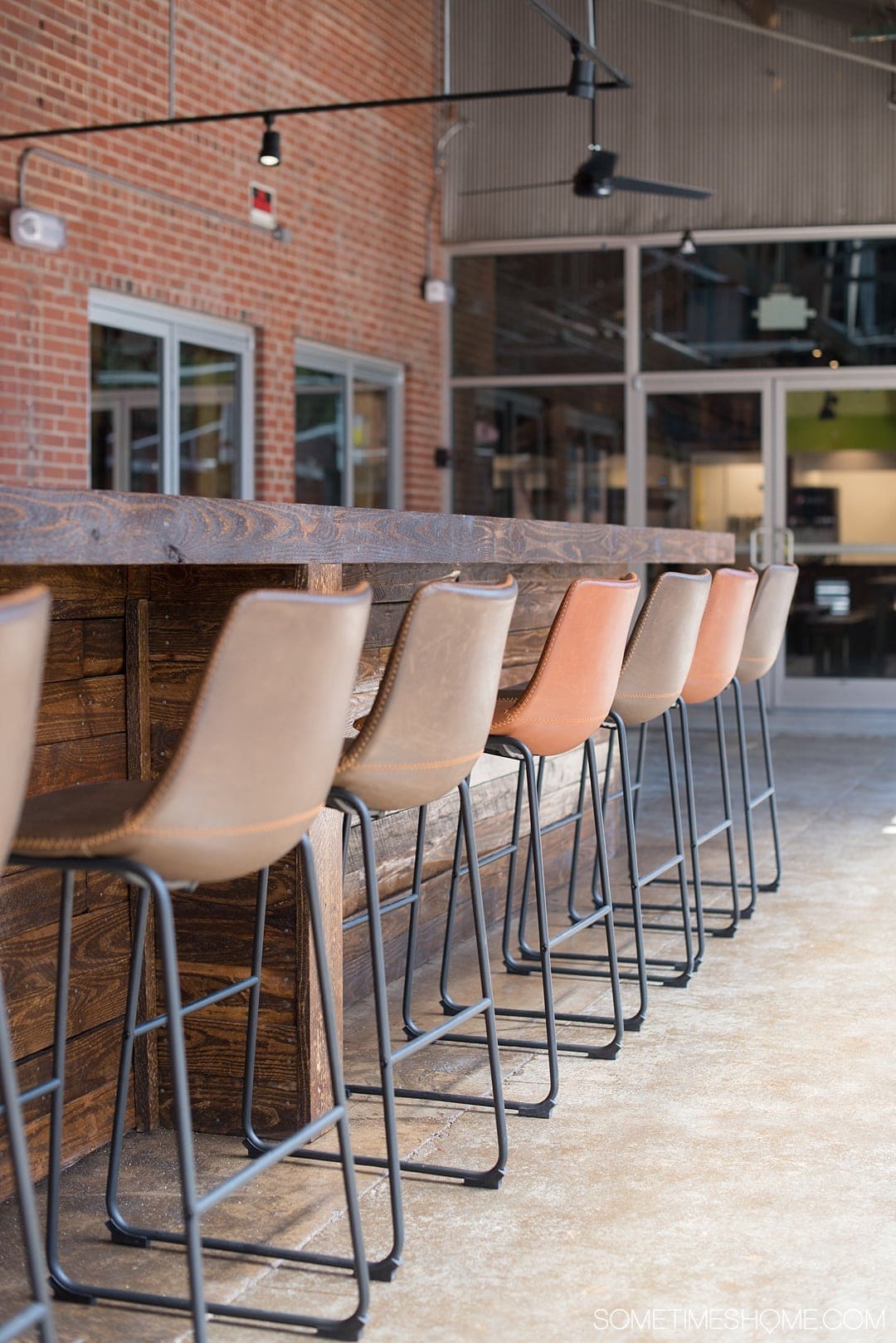 The Bowls, Rice and Poke Bowls
This vendor serves Asian bowls of "Flavorful Passion". They have eight great options on their menu that you can customize with your choice of fish. Small bites are also offered if you are in the mood for something lighter or want to add a side to your bowl.
Menu items to look for: Kona Poke Bowl and Mac & Cheese Egg Rolls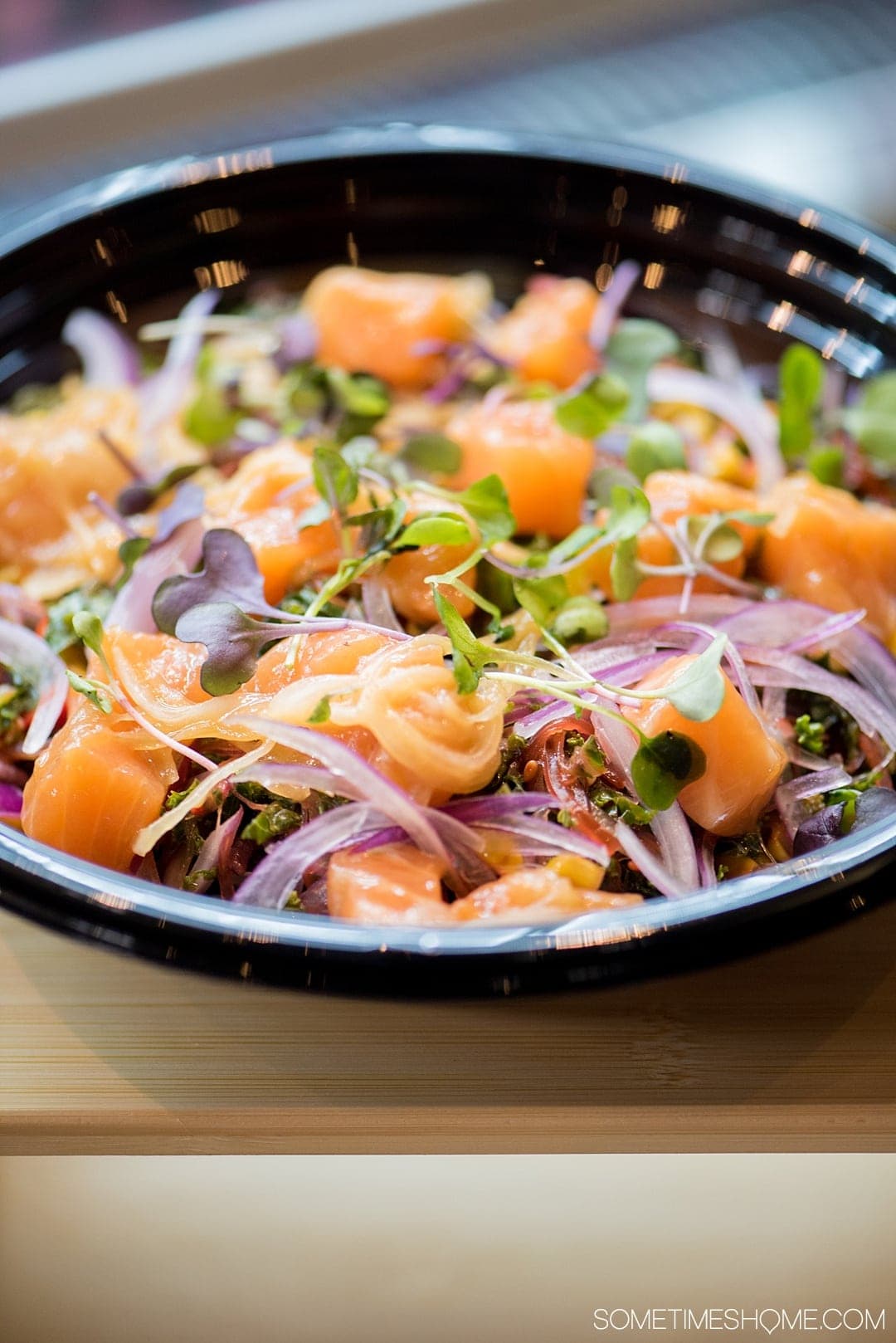 Wicked Taco
Tacos are often the equalizer of cross-cultural cuisine as a food adored by many. And I was happy to learn Morgan Street Food Hall has a taco vendor. Wicked Taco, with an existing location off Western Boulevard by NC State Campus, brings their love of salsa crafting and tortilla making to the food hall to round out a stellar list of options.
Menu items to look for: Psycho Billy Cadillac Taco with rotisserie chicken and pineapple, and Roasted Hatch Chile Queso
YoHo Hibachi and Sushi Burrito
Offer hibachi and sushi burritos with a mix of Chinese, Japanese and Thai cuisine on their menu.
Menu items to look for: Their sushi burrito of course! We love salmon in ours.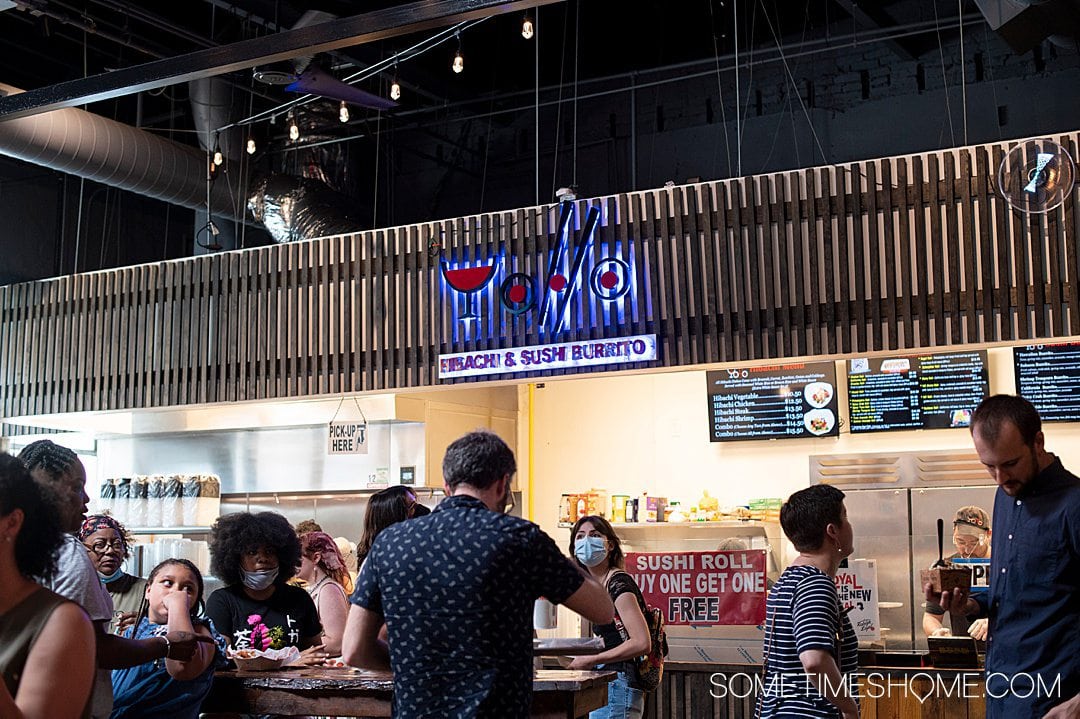 Part 1: Morgan Street Food Hall Overview
Don't forget to read Part 1 of the post, where we spill the beans on Why Everyone is Talking About Morgan Street Food Hall.
If you are heading to Raleigh, check out the helpful articles below:
What are you most excited to try at Morgan Street Food Hall? Like this post? Pin it for later!