The Longleaf Hotel in Raleigh: Review of a Midcentury Modern Dream Destination
It's Dan's dream to have a midcentury modern room in our house which is just one reason we immediately loved the Longleaf Hotel in Raleigh.
We live just blocks away from this small hotel in downtown Raleigh. Some people may even consider it a Raleigh boutique hotel; while we can see why, we'd say it's slightly larger than that but we love that it's owned by a small business and has boutique aspects.
It's incredibly easy to get to from RDU airport and if you're road-tripping too. So if you're arriving via plane or car to the city, you'll easily arrive at The Longleaf Hotel.
Disclosure: There are affiliate links in this post, which means we may earn a small commission if you click the link and proceed with a purchase, at no cost to you. We truly only recommend hotels, products, and services we personally use. As Amazon Associates, we earn from qualifying purchases.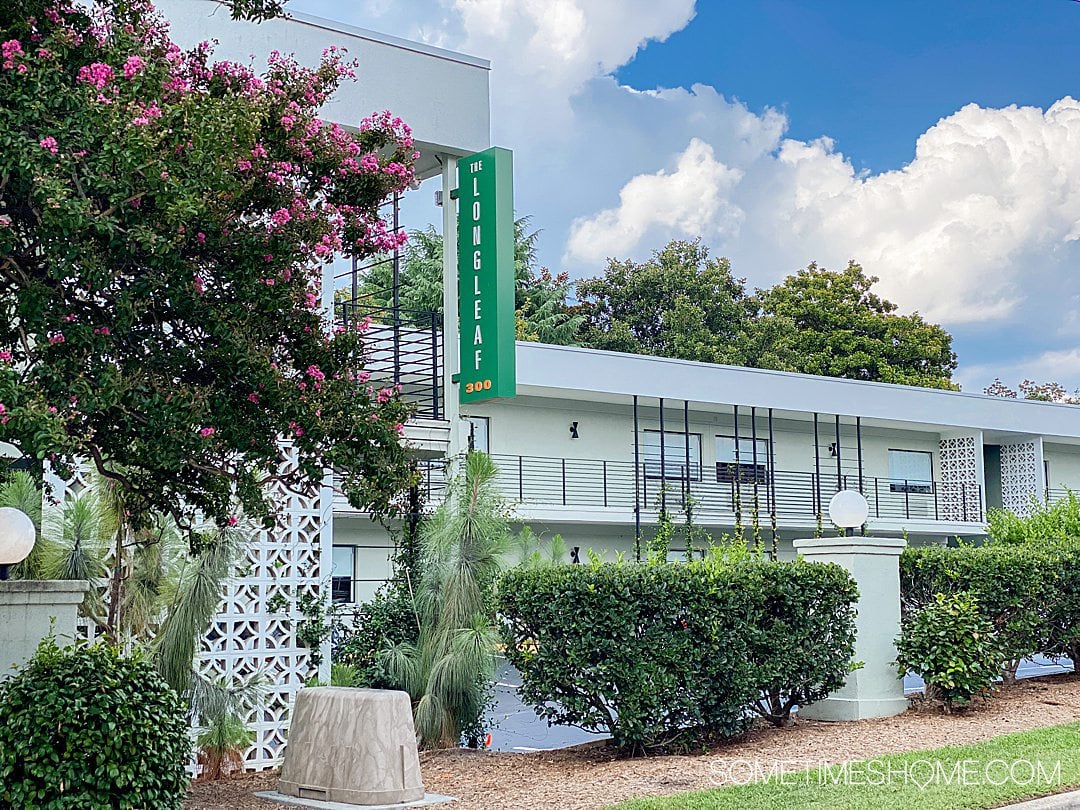 Long gone is the Days Inn hotel it used to be, which I vividly remember on my first trip to Raleigh from NYC in 2014. not too long after I moved to Raleigh, it was closed down then purchased with the intention to keep it as a hotel…but with a fresh face and new incredible concept.
There's NOTHING ELSE LIKE IT in the heart of Downtown Raleigh for accommodations. And we know because we are constantly on the lookout for some! We've been a little jealous of Durham's fabulous boutique and unique hotels for years. That all changed with the Longleaf Hotel!
Thank you Loden Properties, for bringing this gem to Raleigh, NC.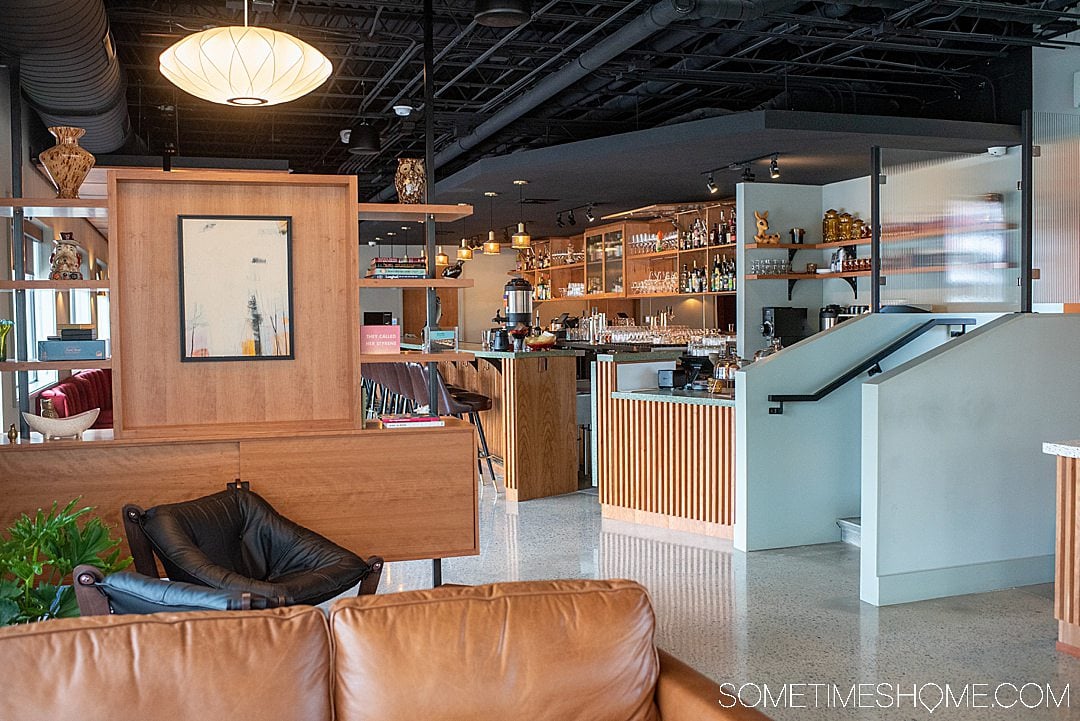 What's in a Name? Long Live the Longleaf Hotel
We very often drive into Raleigh from Capital Boulevard. The hotel comes into view on the left as you drive along Capital Boulevard, heading north towards downtown. There's a huge, 16 feet neon sign on the side of the building that exclaims, "Long Live Longleaf"! But why the name? Why the proclamation? Where did this come from?
We're so happy The Longleaf Hotel in Raleigh has chosen to honor what is a vital southern pine tree in its name. They're truly bringing awareness to the cause simply by having visitors wonder "why?"
More About Longleaf Pines
Longleaf pine trees once occupied about 90 million acres in the southern United States, from Texas to Virginia. But by the 1990s, its population had been mostly diminished either by industry or fire. The trees that remain provide two things: protected forests, with important ecosystems, and hearty wood whose products are sturdier and more valuable than other pines used to make similar materials.
It's a tree that was even written into a North Carolina state toast in the 1950s:
"Here's to the land of the long leaf pine, The summer land where the sun doth shine, Where the weak grow strong and the strong grow great, Here's to "Down Home," the Old North State!"
Soon after the poem for the state toast debuted, the Longleaf Pine was declared the state tree of North Carolina. (Just as the dogwood flower is the state flower of NC.) There is a state festival celebrating the Longleaf pine each year. There's even a longleaf film festival celebrating the Longleaf Pine ecosystem in the Tar Heel state! Who knew?
Needless to say, the Longleaf Pine remains a prominent staple of North Carolina in memories and its future. It has very durable, long, and attractive needles, as its name partially indicates. And the hotel has acknowledged and honored its beauty in its branding, exterior, and interior design.
The Longleaf Hotel Optimistically Draws from an Environmental Issue
We're very happy to see the name of this hotel in Raleigh is drawing attention to an environmental issue in the region. As Joshua Gajownik, Creative Offices Of designer, shares on their Instagram feed, "We wanted a message larger than the hotel itself…"
Bravo!
And it did its job because ever since our first visit we became more aware of the Longleaf Pine too. And we are able to better recognize why Longleaf Forests are important as we travel, like during our trip to Fayetteville or Pinehurst's Sandhills area.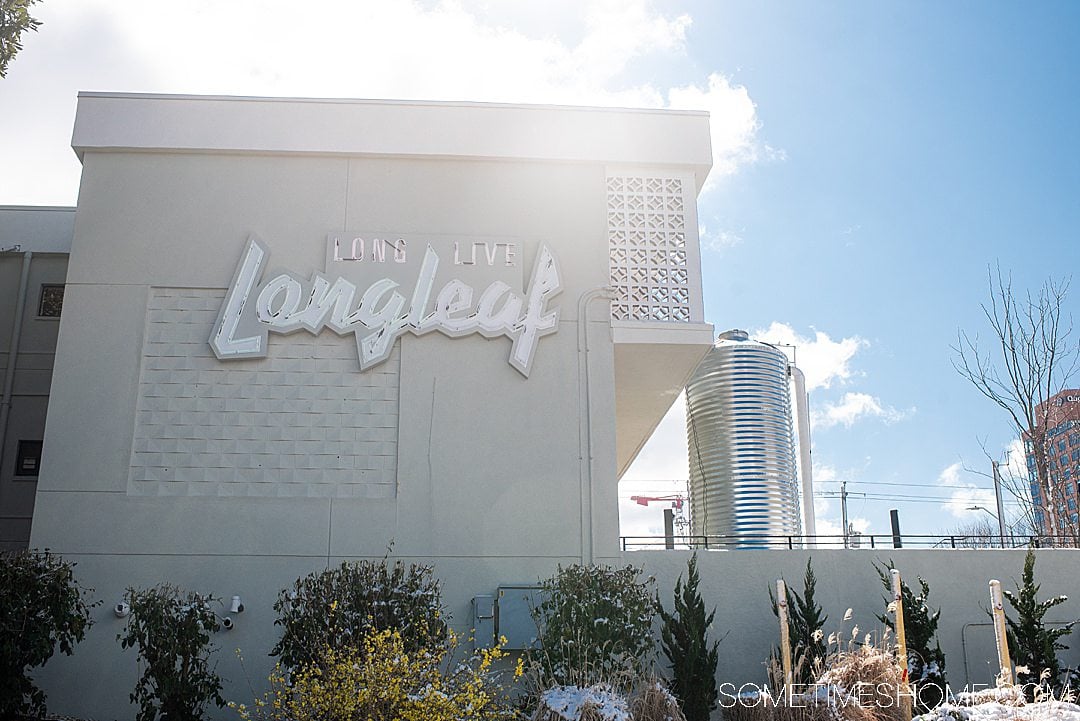 Location of this Retro Inspired Downtown Raleigh Hotel
So where exactly is The Longleaf Hotel within downtown Raleigh? If you're a regular visitor or resident who is familiar with the area and restaurant scene, it's just across from the wedding venue Melrose Knitting Mill, and Mulino, an Italian restaurant.
It's just two blocks northwest of the North Carolina Museum of Sciences (which is a block from the State Capital Building on Fayetteville Street, less than a 10-minute walk from the Longleaf Hotel) and three blocks northeast of 42nd Street Oyster Bar. The area is considered the Capital District, next to the Boylan Heights neighborhood.
It's a great location that's within walking distance of great food halls and renowned restaurants, the best photography spots in downtown Raleigh, music venues, and a plethora of wonderful, free museums. It's only a 15-minute walk from the Raleigh Convention Center. And it's a short drive from areas like North Hills, Five Points, and the famous Raleigh sunflowers at Dorothea Dix Park, come summertime.
Address: 300 N. Dawson Street, Raleigh, NC 27603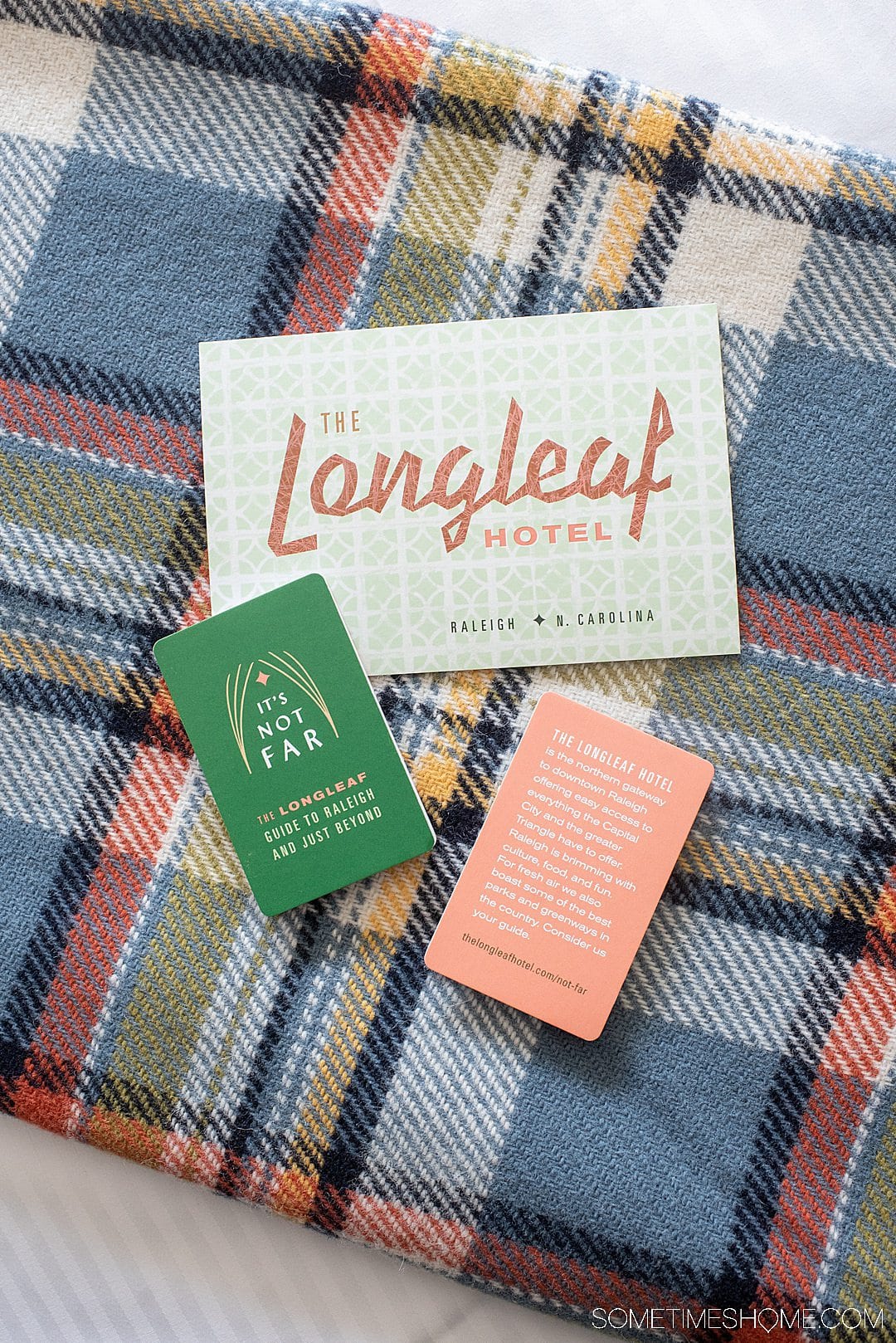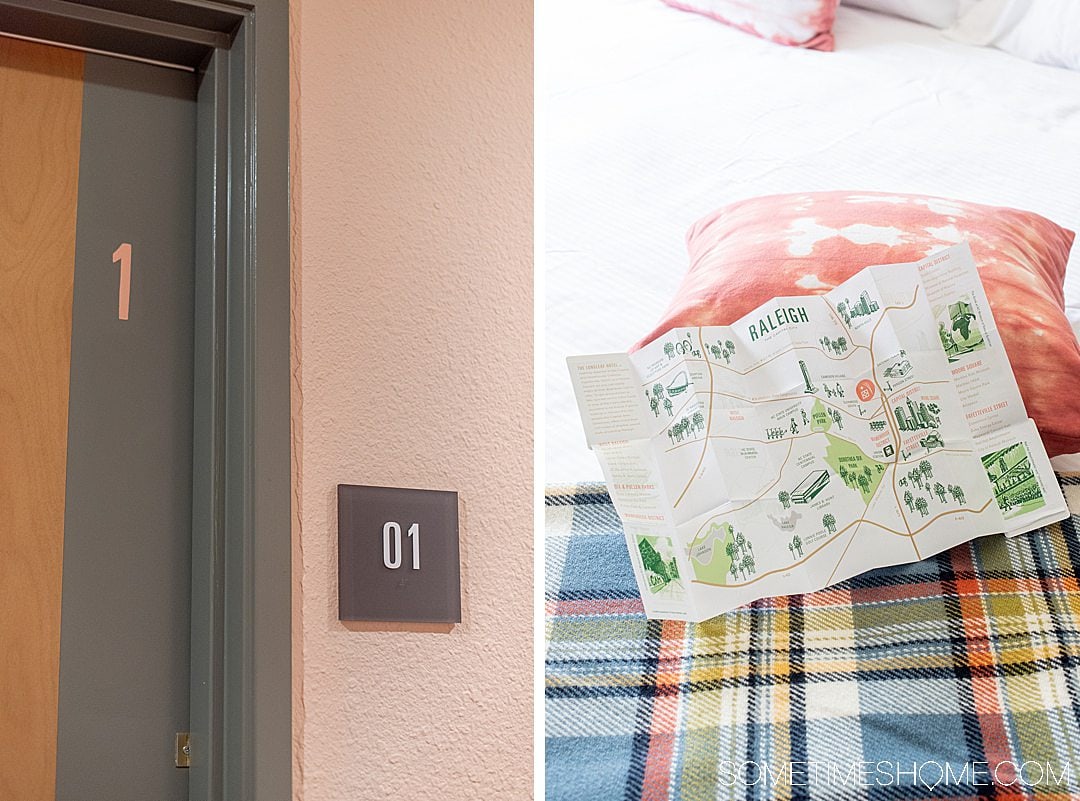 Mid-Century Modern Hotel Exterior
The Longleaf Hotel is exactly what you would hope for in a 1960s-inspired lodging. Its two stories are painted in grey, black, and white, with concrete tiles that echo the era that inspired it. A vertical green sign with the hotel name is by the main front staircase that illuminates at night.
And there's a small yet fun sign as you enter one side of the parking lot that says, "Eat, Drink, Sleep…The Longleaf Hotel & Lounge". It has a "motel" vibe with exterior hallways that remind us of the Unscripted Hotel in Durham, 30 minutes away.
Stairs lead up to the second level of rooms at this hotel in downtown Raleigh, which are accessible from the outside. But even the exterior staircases are thoughtfully decorated with attractive sconces, hand-painted lettering by Raleigh local Spclsigns, and cool lighting fixtures. And of course, we adore the pine trees planted around the parking lot. They also planted climbing vines. We cannot wait to see them reach the rooftops of the second story come summertime!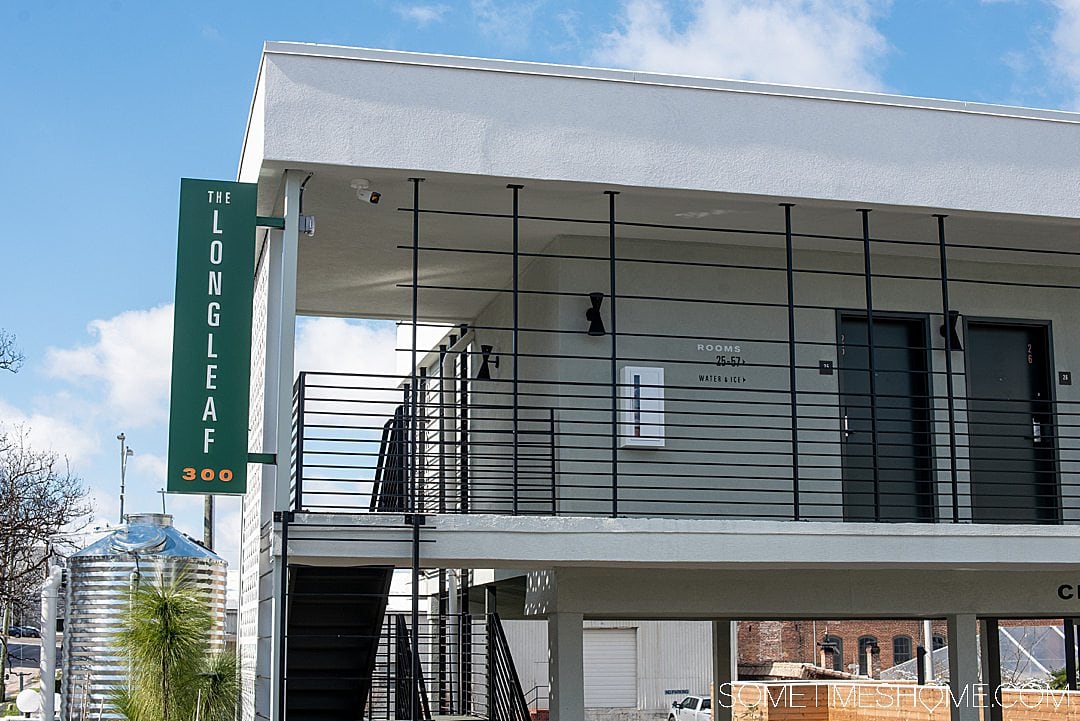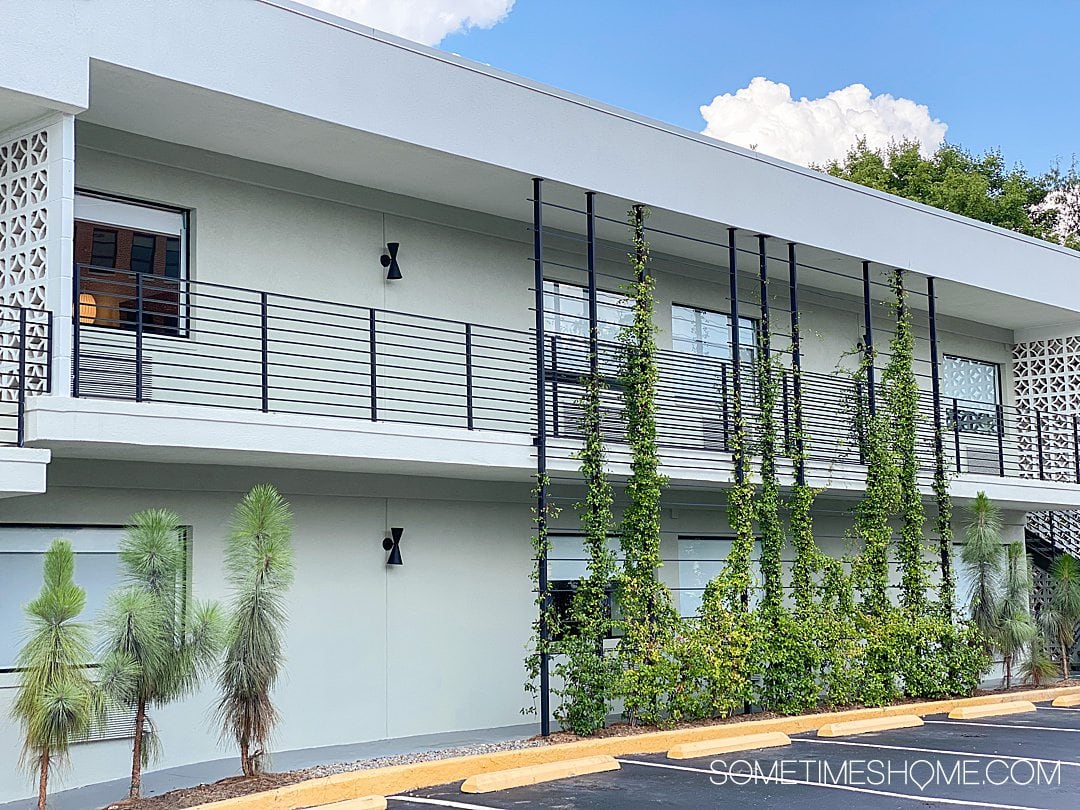 Outdoor Lounge and Seating Deck at The Longleaf Hotel
The Longleaf Hotel isn't just for lodging; it has an outdoor deck space that's quite lovely, accessible from the indoor lounge area or directly from the parking lot near the porte-cochere.
They've really made the outside area welcoming, attractive, and cozy. They have greenery (fake but evergreen!) under small lounge areas and tensile roof structures to provide shade on a sunny day (whether hot or cold).
They have water features and it's multi-level, and dogs are welcome. It's the perfect place to enjoy the outdoors during spring, summer, and fall, and it's become quite the hotspot for locals, not just hotel guests.
It was a savior during COVID – there is plenty of spacing between areas, the staff is attentive and it has such a lovely ambiance. (And we're definitely some of the best people to review this Longleaf Hotel area because we have been there a fair amount.)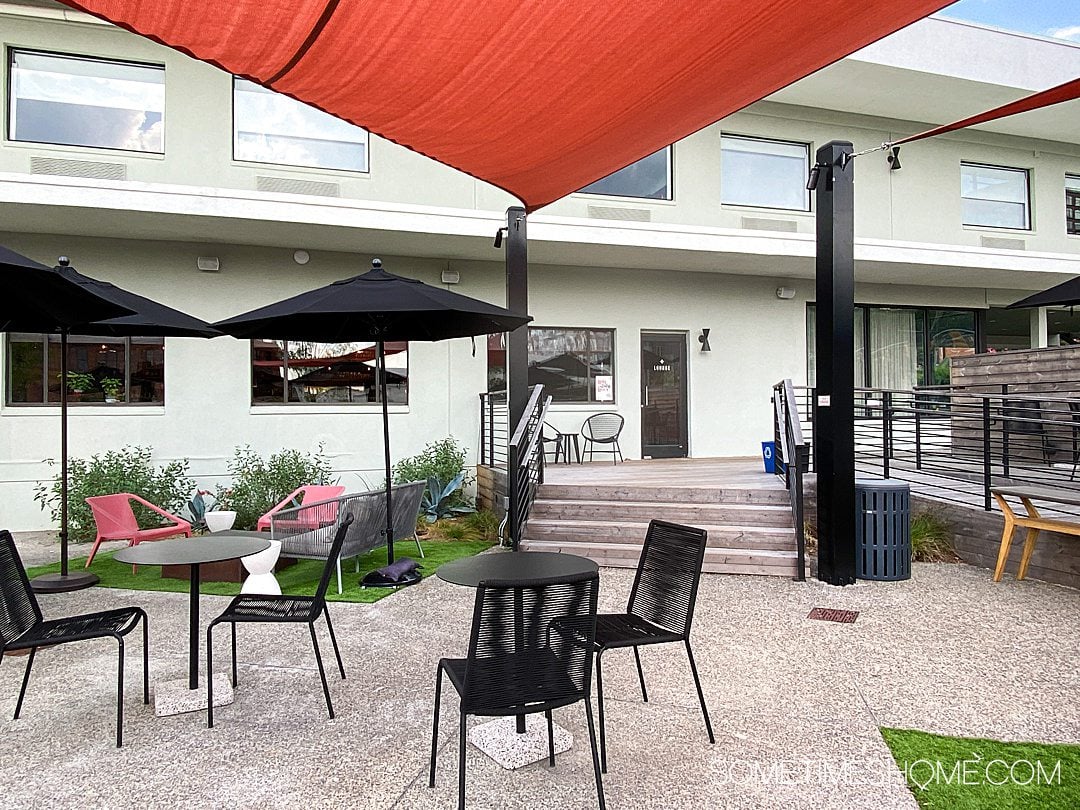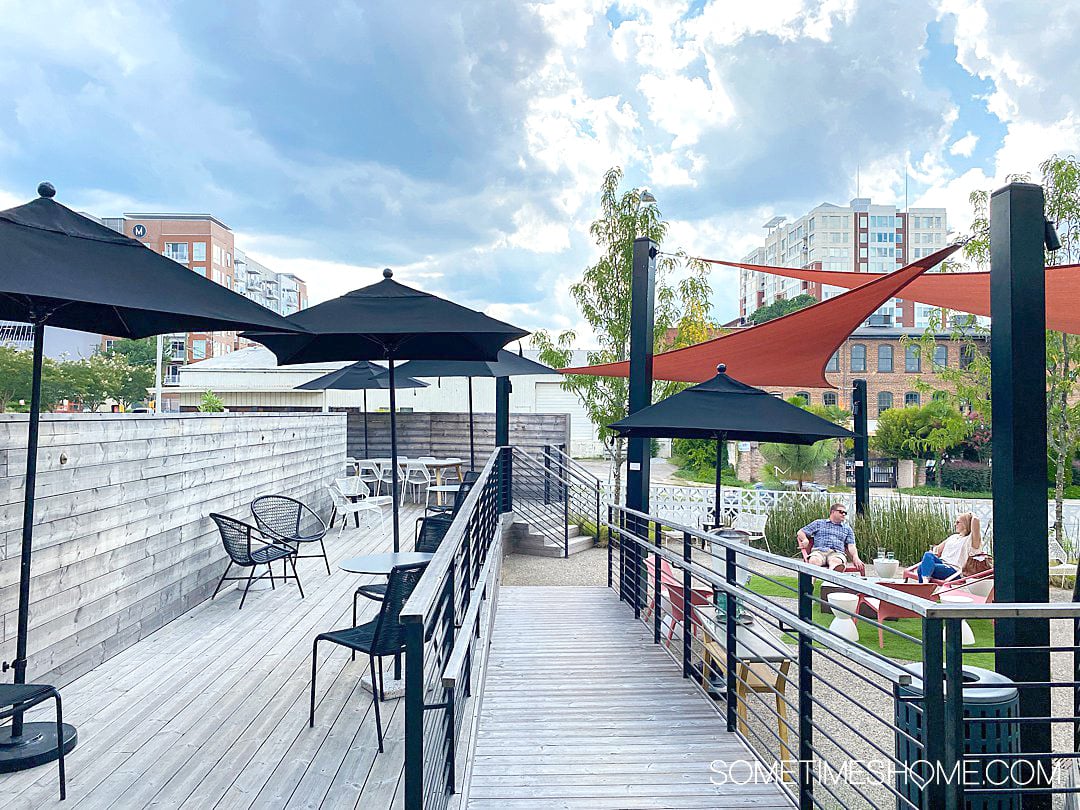 Longleaf Lobby Appeal
The Longleaf Hotel in Raleigh supports local artists. And it's front, center, and prominent as soon as you walk in. You see the welcome/check in desk with shelves beneath it. They contain offerings from local artists including pottery from Liz Kelly.
The options may be minimal but they're significant and incredibly well-curated. They offer tie-dyed products from Rise and Ramble, a textile designer based in Durham, NC. And of course assorted branded merchandise from Joshua Gajownik's designs.
They have two lounge areas to the left of their welcome desk with a decorative bookcase behind it. I took some of the books off the shelf, suspecting they were chosen for a reason. And they were! One has "this day in history" in North Carolina, which I had to open to the current date. Another is for the Longleaf Pine, of course!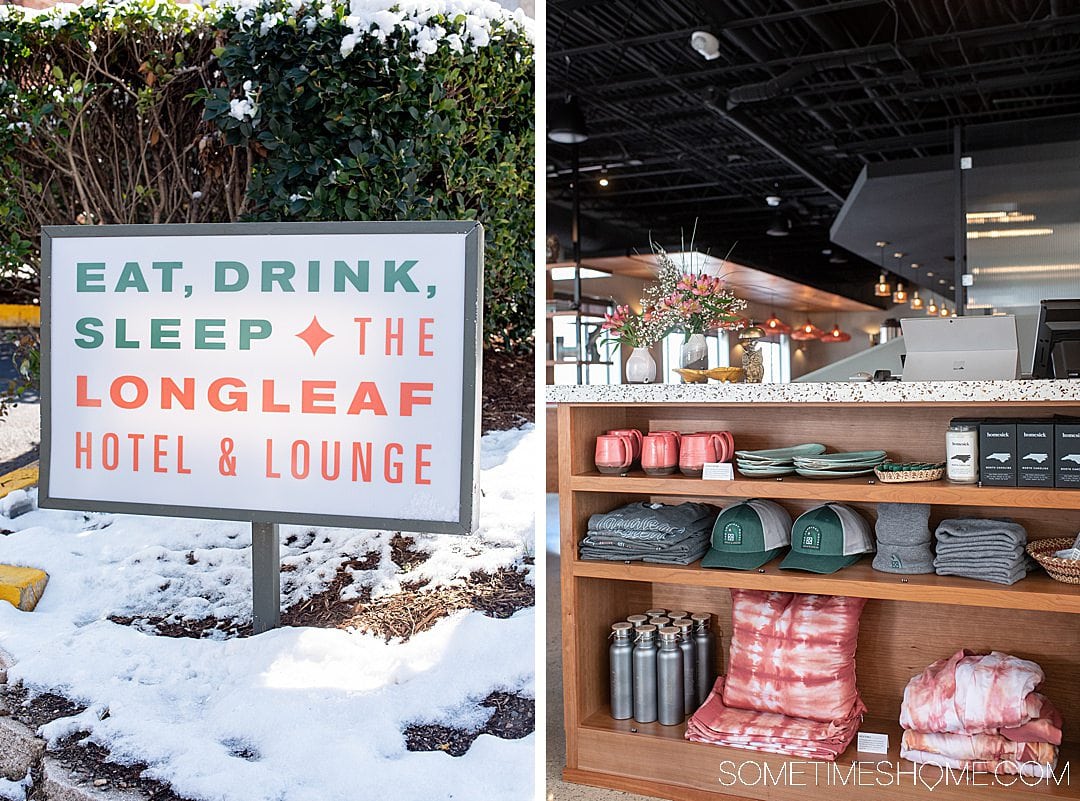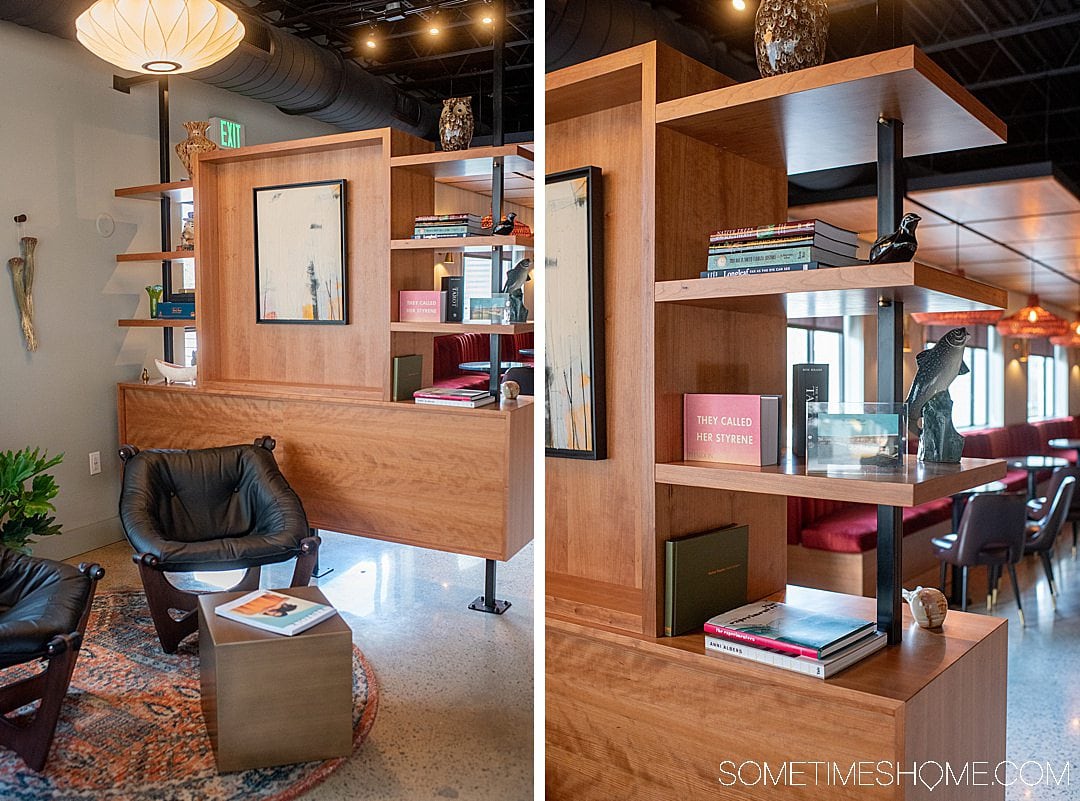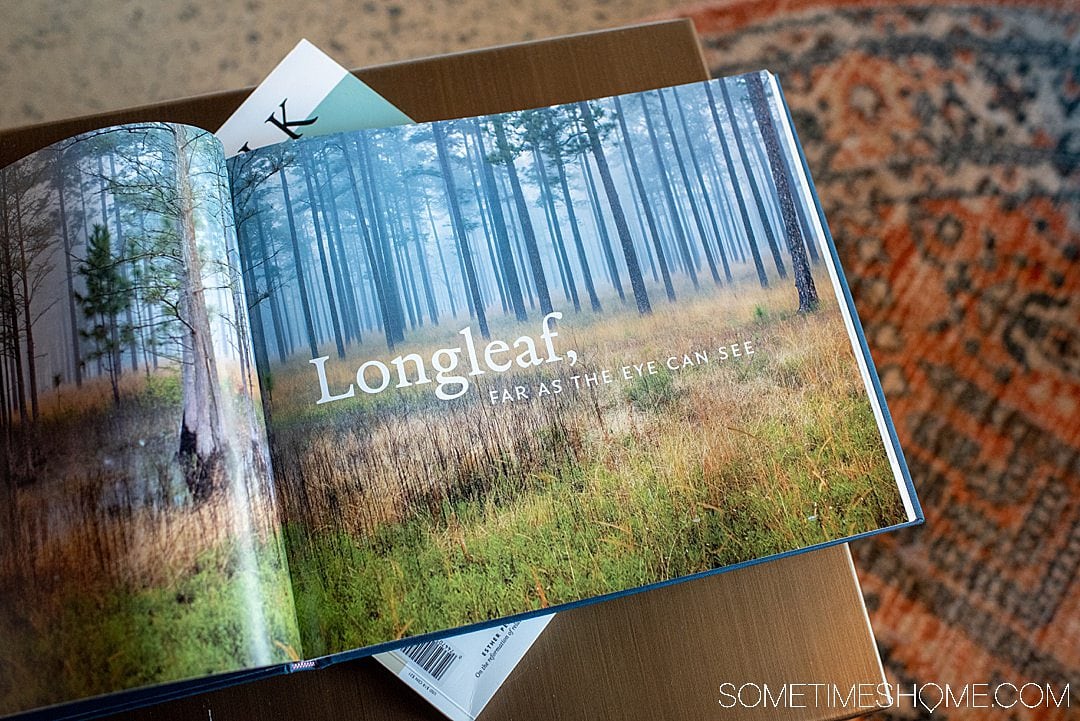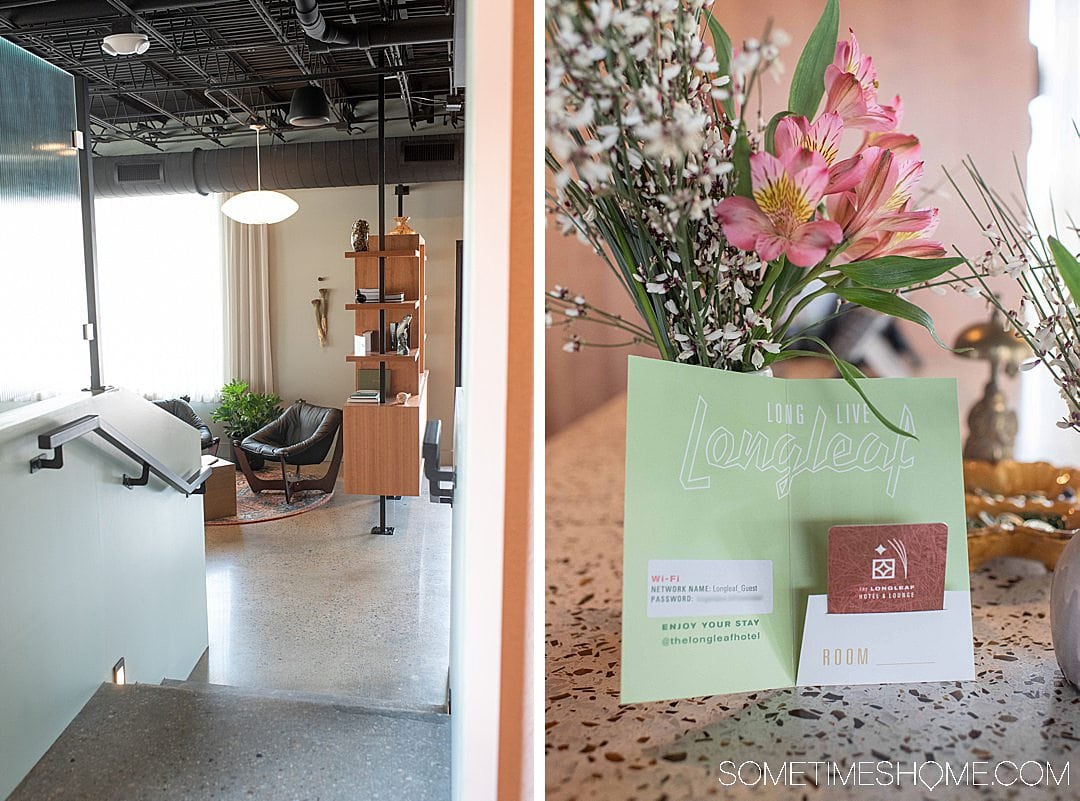 Get 1960s Snacks and Classy Cocktails in the Longleaf Lounge Area
Y'all…I LOVE A DEVILED EGG! And guess what? They have them on the menu! And they're no fuss and cost-effective at two for $3. Hard-boiled eggs, on the "half-shell", as I like to say, stuffed with creamy yolky-mayo goodness. And that's it. No fluff. Just the good stuff.
Who wouldn't love this southern classic food with a gin cocktail? They have additional snacks like Ruffles potato chips and onion dip, and wasabi soy flavored snack mix to keep you thirsty as you drink their great cocktails.
Do you know what else is back? Terrazzo! Their lounge includes a cool bar area with a terrazzo bar top and floors. Sunshine radiates through during the day and the lighting is dim and moody at night. It's a perfect location for intimate drinks and conversation no matter if you're staying at the hotel or not. (It's open to all!)
The beer menu is wonderfully local including beer from Brewery Bhavana, Trophy and Crank Arm a few blocks away in Raleigh, Fullsteam and Ponysaurus in Durham, and Mother Earth from Kinston, and Fonta Flora from Morganton, to name a few.
There's an additional lounge area just up the steps before guest rooms too. We love the boho vibe we were getting from the many throw pillows with a signature Rise and Ramble square pillow to tie in the rooms. And that ultra-cool magazine rack across from a woven piece of art that hangs on the opposite wall.
It's the perfect nook for reading a magazine with morning Counter Culture Coffee (from Durham) or enjoying a glass of wine with a book.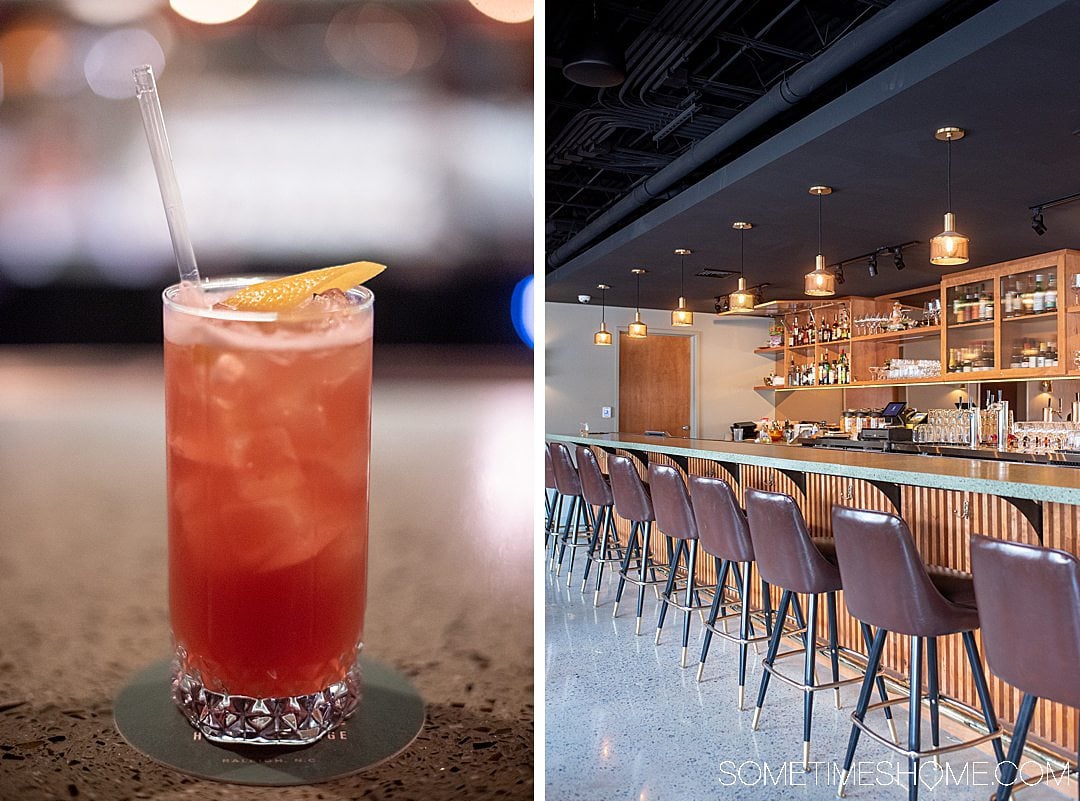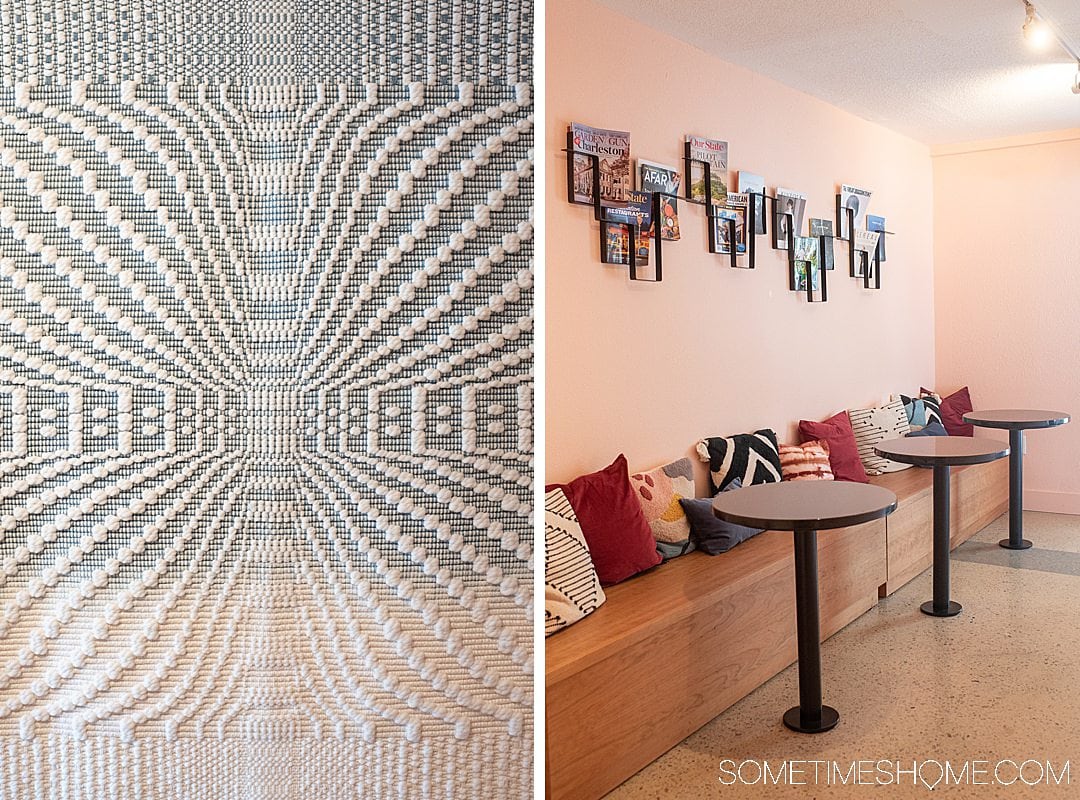 Longleaf's Breakfast Bar
It's worth mentioning there's a breakfast bar for mornings when you're craving a croissant and a coffee. Truth be told, if you want a bigger, hearty breakfast there are plenty of options downtown, especially on weekends.
If a single croissant or muffin does the job for you enjoy it in the lounge, your room, or on a green, woven Risom chair carefully sourced from Knoll Inc. (Designed in the 1940s by Jens Risom. It has such a cool story, in and of itself.)
But if it isn't enough for you to eat, check out the places below (many are some of our favorite Raleigh NC spots), which are within walking distance to The Longleaf Hotel's location: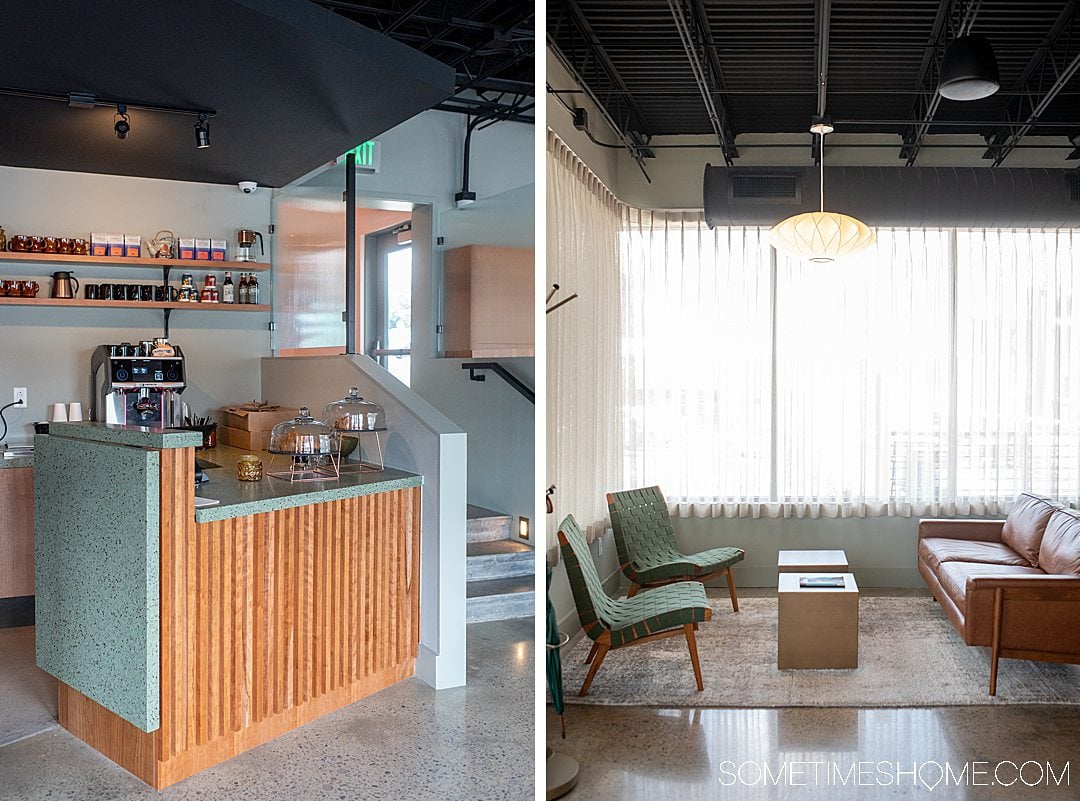 Hotel Rooms with Touches by Local Artists and Small Businesses
We think the hand-painted lettering by Spclsigns on the wall is so cool – seeing it outside and inside made our hearts flutter. The hallways are painted a light pinkish, salmon color.
Contrasting dark carpets in navy blue, maroon and orange give us extra mid-century modern vibes. They lead to rooms on the first floor, which is what we visited for photos of a Standard King, Room #4.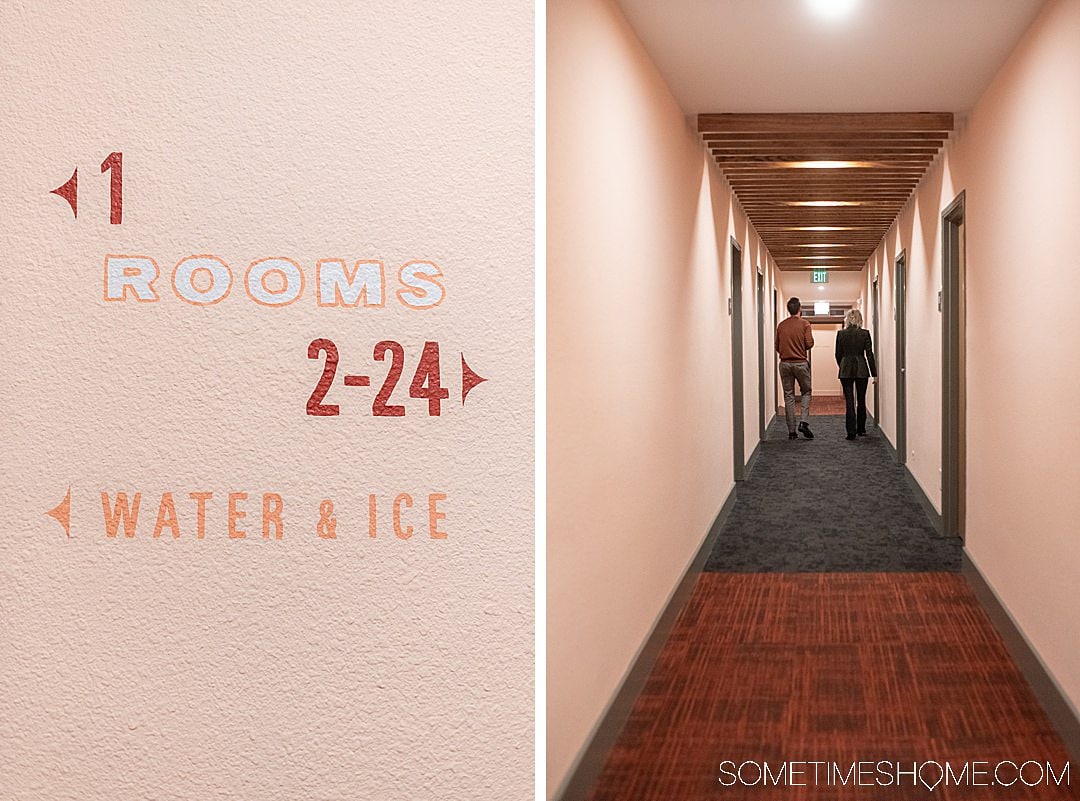 🌴Florida Packing List
The Florida sun is HOT and STRONG! Don't forget to pack outdoor essentials like reef-safe sunscreen and a reusable water bottle to protect yourself from the Florida sun!
It's also a good idea to pack an umbrella or poncho (you never know when it will rain) and a cooling towel – because even if it rains, it can still be well over 90 degrees!
The elevated bed is complete with an oversized wood headboard handmade by Bull City Designs, tie-dye pillows from Rise and Ramble, and a plaid blanket in case you're cold. It kind of reminds us of something out of Twin Peaks….meets North Carolina.
The bathroom wallpaper pattern is pine needles, created by Claire Craven, of Craven Color. And the desk is complete with branded Longleaf Hotel postcards to send home as well as a "Long Live Longleaf" pencil.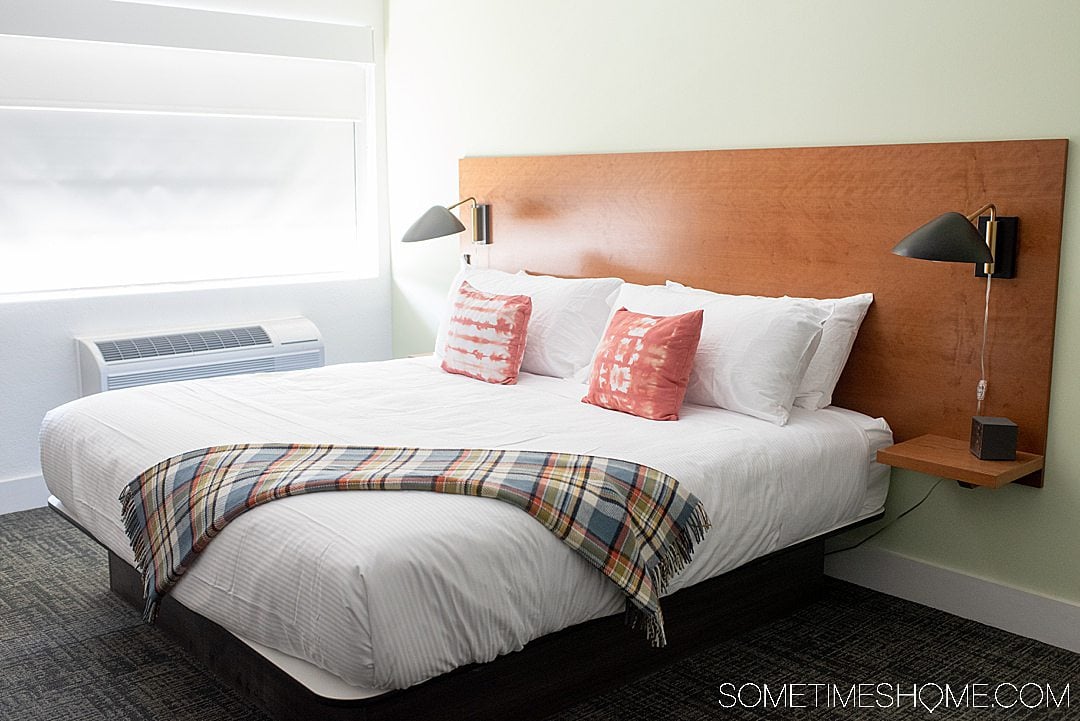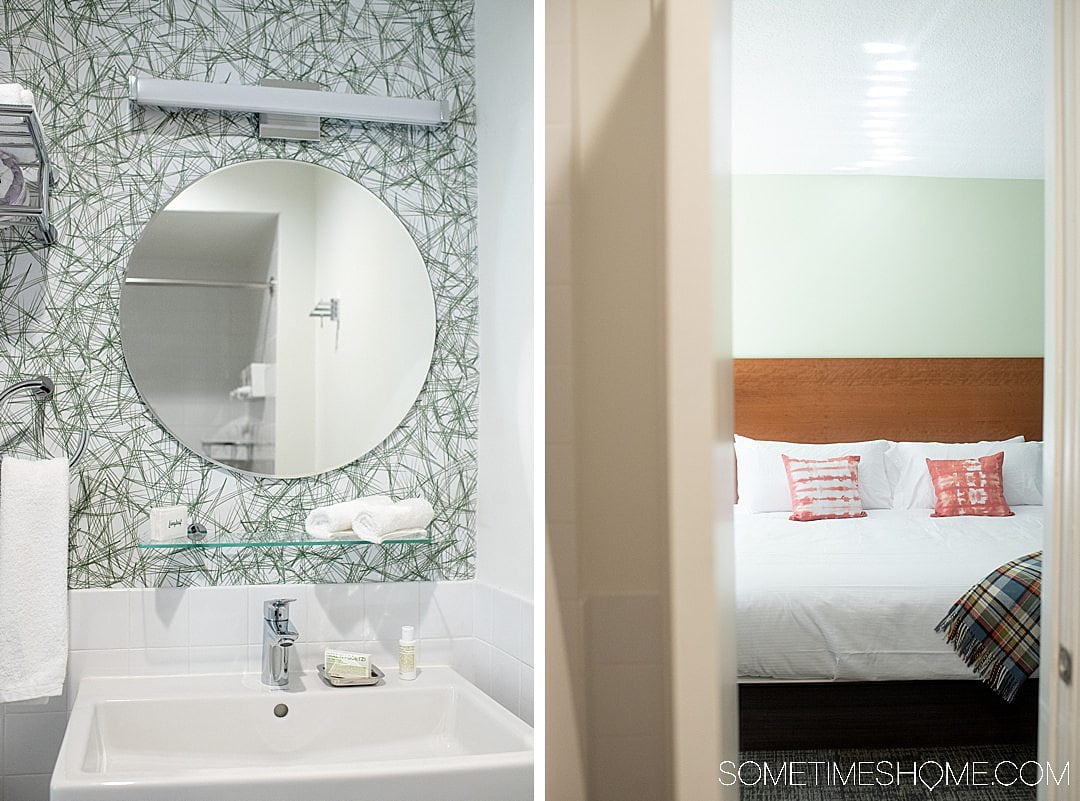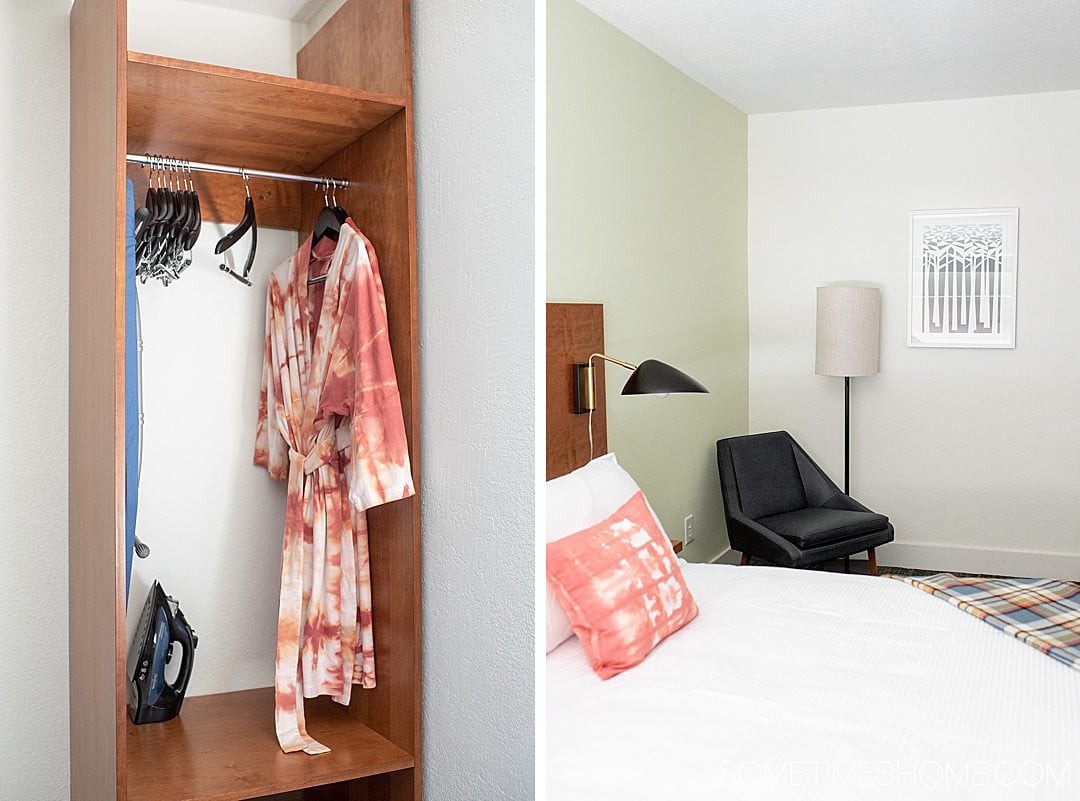 The tie-dye robes are available for guest use. And if you love them too much to leave them behind, you can purchase one along with some local in-room offerings if you're hungry. They do a great job of including local favorites, like Videri Chocolate bars, made in Raleigh and Big Spoon Roasters bars from Durham. And Carolina Kettle Chips, who donates 2¢ for every 2 oz. bag sold.
WiFi is complimentary, and there's also a safe, refrigerator, iron, and hairdryer in the room. They have Malin + Goetz products in the bathrooms, which are created with sensitive skin types in mind yet suitable for all, striving for sustainability in packaging, and are never tested on animals.
Prices per night range from about $125 to $200 a night, not including taxes and fees, depending on the day of the week and time of year. Check hotel availability on Booking.com.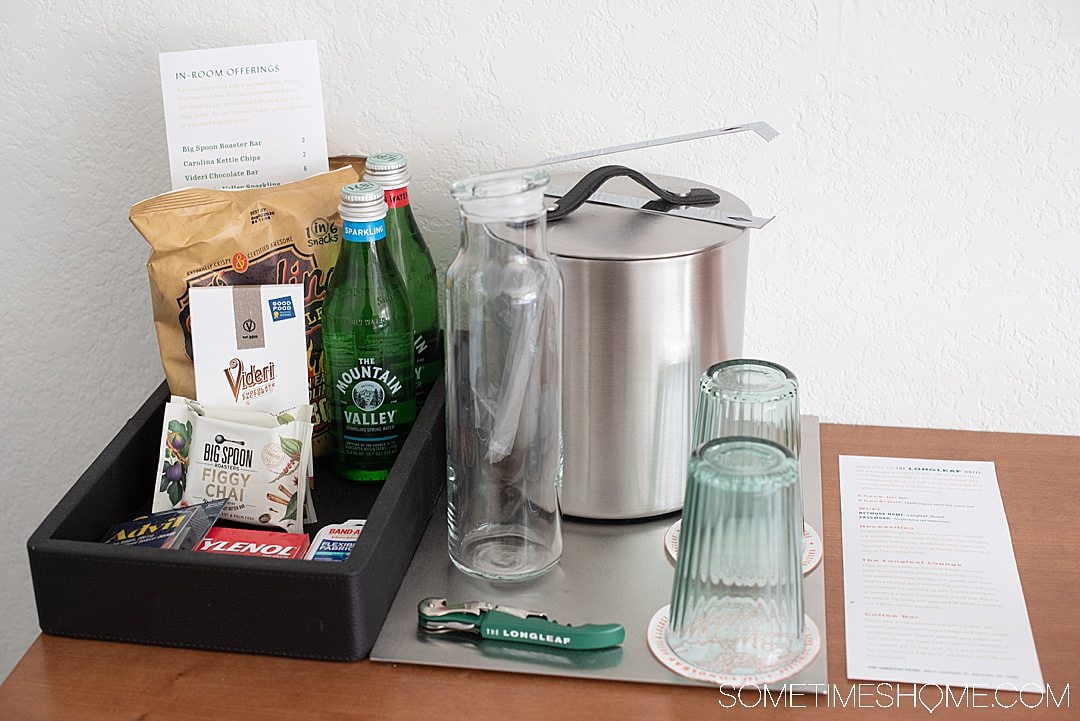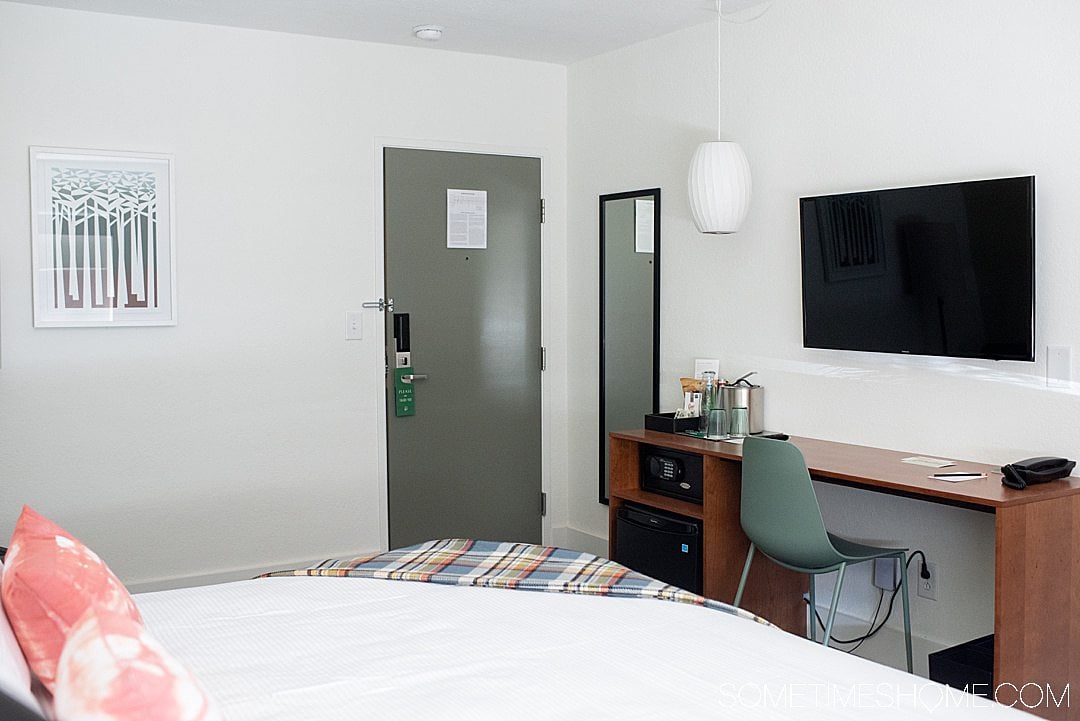 We're so proud and delighted The Longleaf Hotel is in downtown Raleigh, North Carolina. And we're so happy to have a unique, individually owned hotel here.
Please note: we thank The Longleaf Hotel for generously hosting us. We also may make a small commission from affiliate links in this post but all opinions are ours and we bring you genuine content with real facts, photos, thoughts and recommendations. Always.
Heading to Raleigh? Also check out: