Best Boutique Hotel in Raleigh NC: Heights House Hotel, Downtown
We first encountered the best boutique hotel in Raleigh NC, long before it was given a complete makeover, but with enough construction going on for us to wonder, "Who bought this mansion and is going to live here?!"
It's common for us to take neighborhood walks (especially Dan, who takes walks daily when we're home). We often head up the hill by our apartment, over to the Boylan Heights neighborhood. At some point in 2020, we saw a gorgeous property being restored and wondered what it would be: A private home? An event space?
Lo and behold, it was the Heights House Hotel, the only boutique hotel of its kind in downtown Raleigh. So when we had a chance to tour it, we jumped at the opportunity.
Disclosure: There are affiliate links in this post, which means we may earn a small commission if you click the link and proceed with a purchase, at no cost to you. We truly only recommend hotels, products, and services we personally use. As Amazon Associates, we earn from qualifying purchases.
Where is the Heights House Hotel?
This gorgeous, historic property is in the Boylan Heights neighborhood of downtown Raleigh. If you arrive to Raleigh via RDU airport, it's easy to get here with a rental car, taxi, rideshare, or public transportation that goes downtown, which is approximately twenty to thirty minutes away depending on traffic.
Once you get to the downtown area, it's all very walkable. You can walk to Fayetteville Street, the main avenue downtown (which would take about 15-minutes, depending on how fast you walk), or to the Warehouse District, which is only five minutes away by foot.
The immediate neighborhood Heights House Hotel is in is very suburban. It is in Boylan Heights, which is just over Boylan Bridge. Boylan Bridge has one of the most iconic views of the downtown Raleigh skyline.
Here, there are sidewalks to meander through the attractive neighborhood and admire the architecture and pretty landscaping everywhere.
Address: 308 S Boylan Ave, Raleigh, NC 27603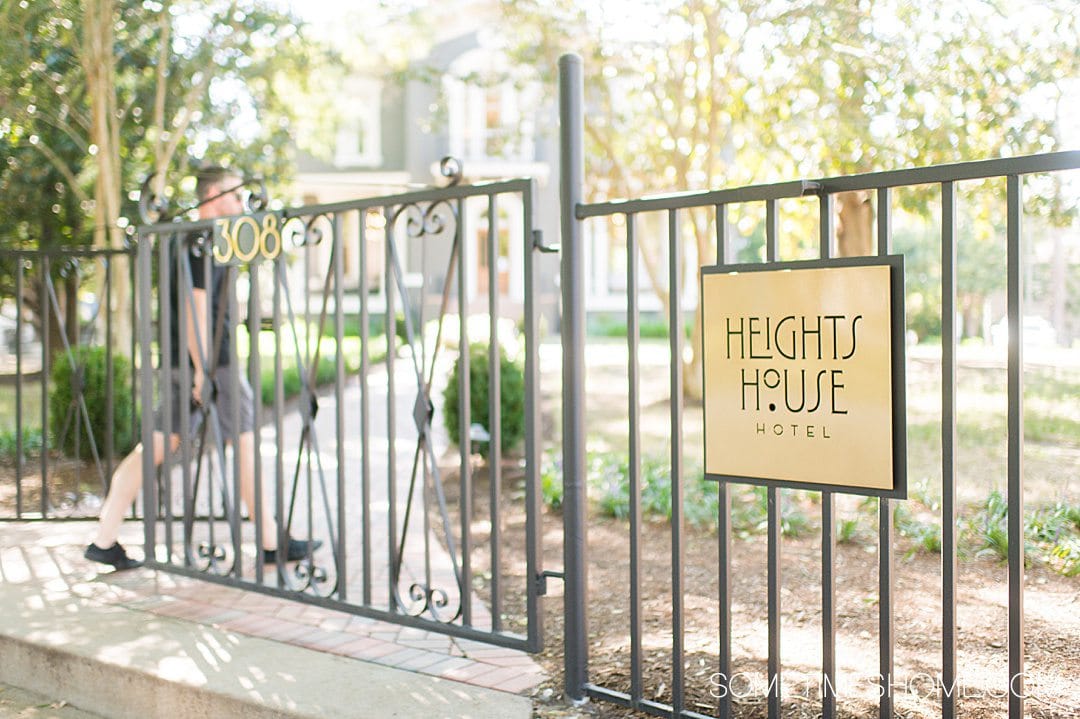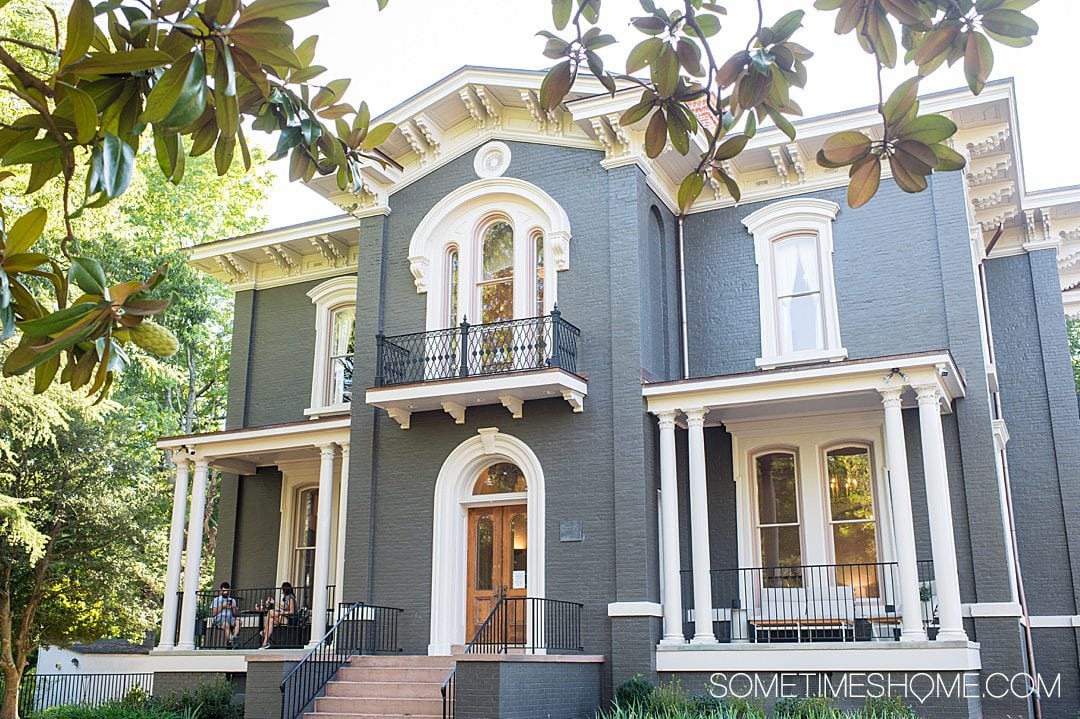 Heights House Hotel History
As you would probably guess from the grandiose home and its beautiful exterior, yes, this is a historic home. It was built as Montfort Hall in 1858, commissioned by William Montfort Boylan with architect William Percival. (And the neighborhood it's in is named, "Boylan Heights" in downtown Raleigh.) The Italianate mansion was completed in 1860.
This pre-civil war home is on the list of National and Raleigh Historic Landmarks. Pretty cool, right? There's even a stone on the side of the building that reveals the year it was erected, that we saw as we walked around to the back entrance of the hotel, to enter where check in is, in the home's new addition.
A Monumental Purchase and Restoration
Acquiring the Property
Sarah and Jeff Shepherd, the current owners of the property, live in Boylan Heights. They'd periodically walk through the neighborhood, as any residents would in the area, and look at the houses. They noticed this historic home and started to dream about what it could be and their dreams of owning a small boutique hotel continued to take shape.
Through a property purchase, rezoning, and renovations they poured their heart and souls into making Heights House Hotel what is today. It opened in spring 2021.
Here is a timeline of their history with historic Montfort Hall turned Heights House Hotel:
2016: Sarah and Jeff created a business plan for a boutique hotel.
2017: They reached out to the property owner of Montfort Hall to ask about purchasing the historic home.
2018: Sale of the property was completed in June, for $1.1M.
2019: They started the rezoning process for it to become a hotel (which also meant adding more than 5 rooms). It was approved early in the year. Renovations began.
2020: Restored the property over the course of the year.
2021: Opened in May.
Transforming Montfort Hall to Heights House Hotel
Sarah and Jeff were grateful for a book created in the 1970s, by a man who wrote his thesis on the house for Appalachian State. This book allowed them to learn so much about the property.
Along with this useful tool, and architects who were very much familiar with restoring historic properties in Raleigh (and all of the historic preservation guidelines, boards, and committees that they would have to be mindful of) they were incredibly successful in honoring the integrity of the home while bringing it into the 21st century.
There is a lot of the original home still intact and one of our favorite places to see it is when you walk in the front door. The four iconic columns and the painted glass you see when you look up are original, though they were of course given a facelift. We learned the columns are ornamental, not structural. But man, don't they look fantastic?
Sarah shared that the house was in great structural shape – but needed a lot of little things fixed. Namely, starting with a full roof replacement.
They dealt with a ton of water damage, wallpaper stripping, painting, tiling, and restoring hardwood floors, to name just a few things that were improved and redone within two floors and the acre property, to the tune of $4M. But the resulting 10,000 square feet Heights House Hotel, with its 15-foot ceilings and gorgeous details, is truly outstanding.
Adding onto Heights House Hotel
If you're curious to know how they expanded the house to become the best boutique hotel in Raleigh NC, it's especially clear to see as you pass through the main area, upstairs, walking towards the back of the home. They kept the integrity of the back wall of bricks and painted it white.
There's also a gorgeous chandelier from the 1940s we couldn't help but stop to admire as we walked through the hallway connecting the two areas. Details to ogle over abound at Heights House.
Nine Room Options at Heights House
There are nine rooms at the boutique hotel. Yes, just nine! That's part of what makes it so special and what gives it an intimate vibe.
We would say there are two categories of rooms at this boutique hotel in Raleigh: historic suites and new suites, named for obvious reasons.
Here's the breakdown of the nine rooms:
Five Historic Suites:
One with two queen size beds
Four with king size beds (one suite is ADA accessible on the bottom floor, and another is the "honeymoon suite")
Most of the fireplaces in the historic suites are original, though now ornamental, only.
Four New Suites:
Two with king size beds
Two with queen size beds
Dan is 6'2″ so we love a boutique hotel that has an abundance of king-size beds!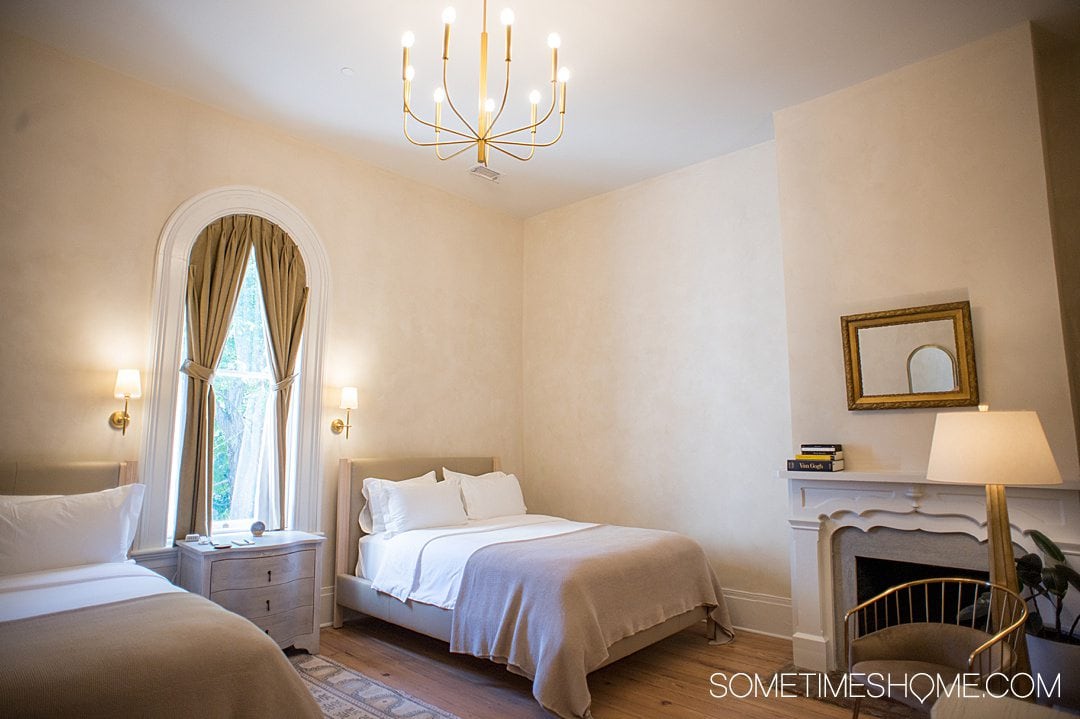 Price Point of the Suites at the Heights House Hotel
The space, ambiance, and personal touches that go into a boutique hotel such as Heights House are extra special. And the rooms are priced incredibly reasonably for a hotel of this caliber.
Historic suites range from around $279, to $399 a night (for the honeymoon suite).
New suites are between $229 and $249, per night.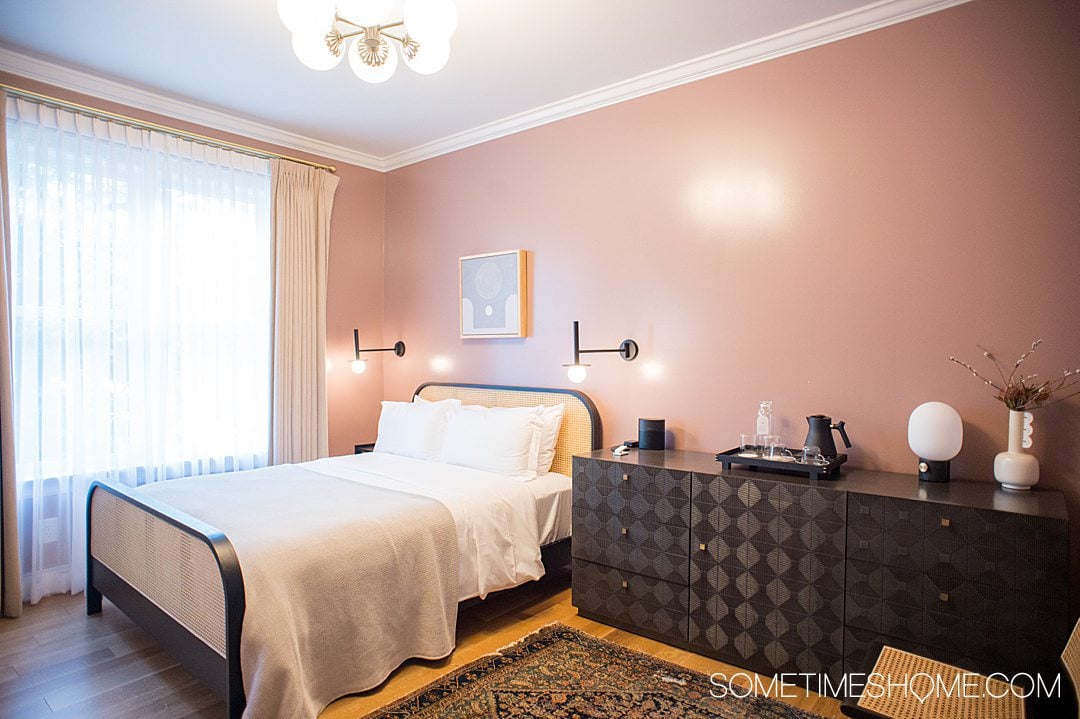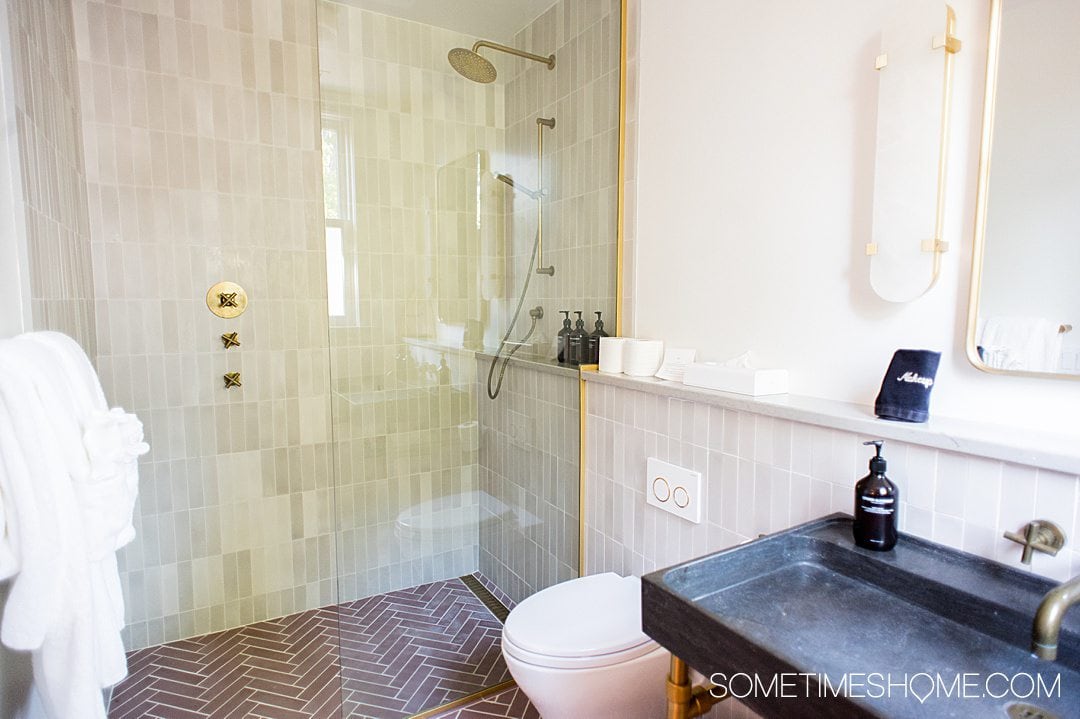 Checkin, Checkout and Cancellation Policy
Check-in time is at 4:00pm and checkout is 11:00am. You can extend your checkout for a small fee, per hour.
Their cancellation policy needs to be somewhat strict because they only have nine rooms.
Their detailed policy is on their website, but overall, if you wish to cancel you need to do so with eight days or more notice for a full refund. Within two to seven days, your reservation is subject to a 50% charge of your scheduled stay. Cancellation within 2 days equals charge for the full rate (because it's unlikely they'll rebook the room at that point, which is completely fair).
If you want to reschedule prior to your stay, seven days out, you're welcome to do so.
Who Can Stay at Raleigh's Heights House?
We may be biased because we don't have kids, but we truly appreciate that this is an adults-only property. This means that no children under the age of 18 are permitted to stay, including babies. Sarah and Jeff, the owners, have two kids themselves. So it's not because they don't like kids! Rather, it's to maintain a certain level of an experience they want guests to have during their stay.
It's also worth noting that the property has quiet hours beginning at 10:00pm, so it's not a great place for party animals who like staying up all hours of the evening. (Downtown Raleigh may be good for that however if you want to explore the city then come back to a nice quiet hotel to sleep.)
This property is also smoke-free, vape-free and drug-free.
What's Near this Boutique Hotel in Raleigh NC?
There is so much! As we mentioned, you can walk downtown from here. You'll find a ton of restaurants (in fact, some of our favorites in all of Raleigh), a nail salon (in case you want to pamper yourself), breweries, craft beer shops, coffee shops, public parks, museums, and more.
Amenities and Spaces at the Heights House Hotel in Downtown Raleigh
Common Spaces at this Boutique Hotel in Raleigh NC
The original four spaces on the first level of the Heights House Hotel in North Carolina, are the same original four common areas of the home. Every room has been restored to picture-perfect condition and they spared nothing in design and finishes.
If you love photography, this is a haven! (If you want to have a professional photoshoot here, contact them, and also check out our information about the best places to take photos in Raleigh.)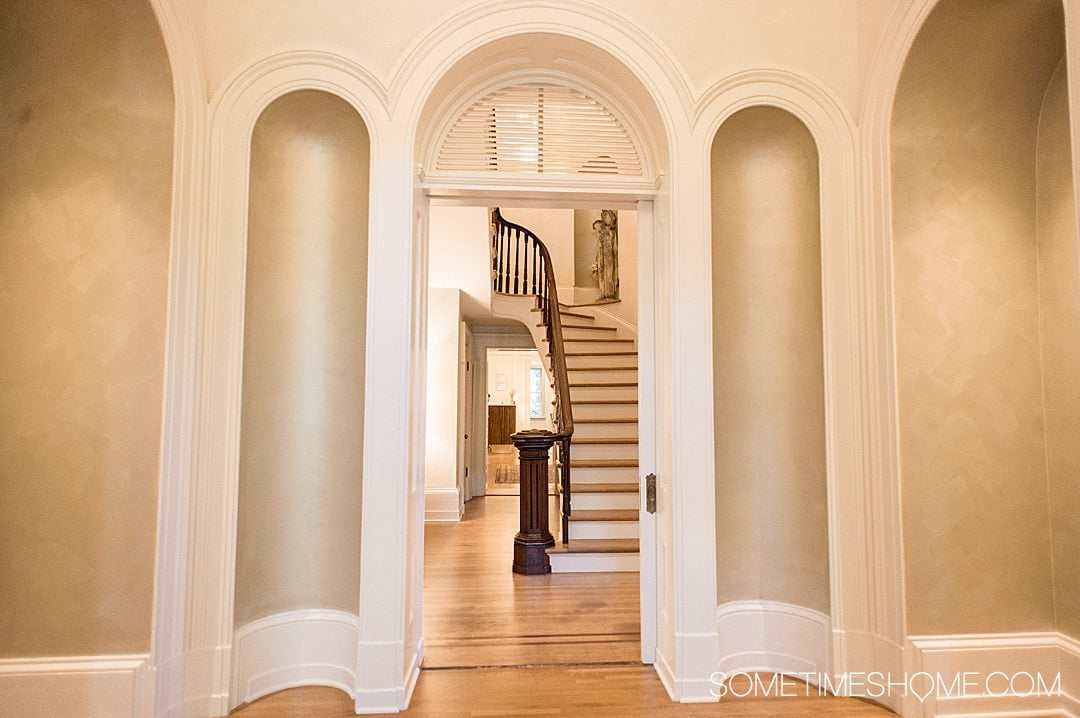 Drawing Room
The first room we saw after we passed through the check-in area, was the drawing-room. If you enter through the parking lot, you'll actually come in through the back of the house, where the check-in desk is.
This room has two couches in it, a central fireplace, a beautiful light fixture, and additional chairs, plants, and art.
Dried flowers aren't an easy thing to make look modern, elegant, and cool. But they are awesome everywhere you turn in Heights House. I asked Sarah about it and she said that a very talented woman, Deana Nguyen of Feature Flora, did them all.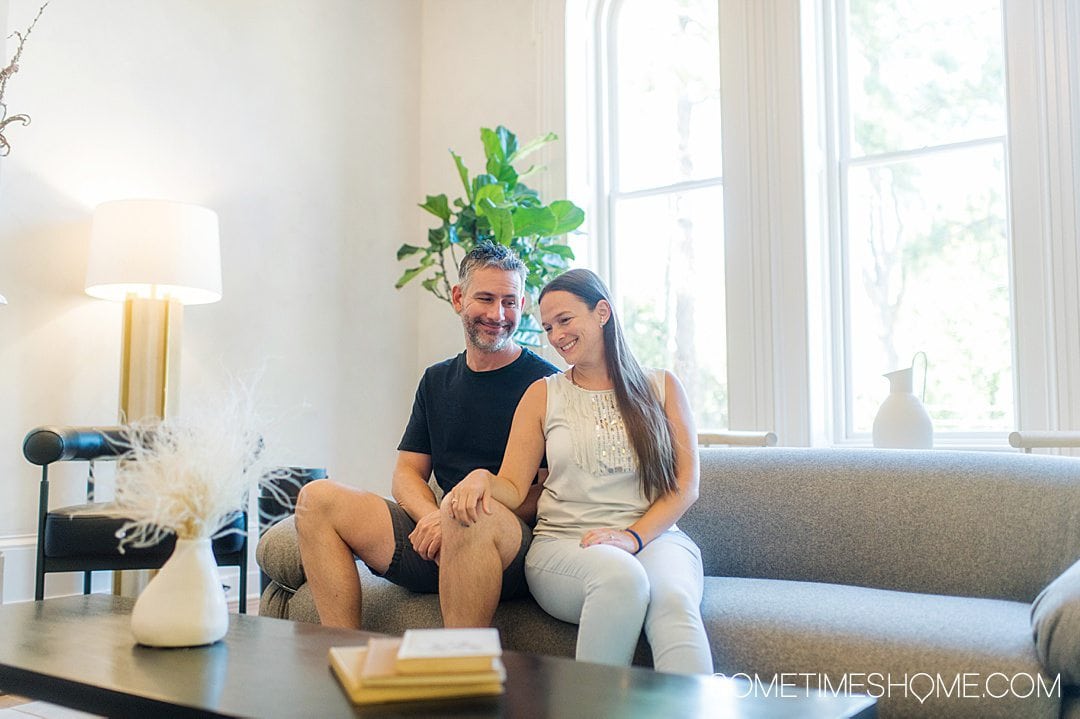 Dining Room with Coffee, 24/7 and Daily Continental European Breakfast
If you love coffee like us, you'll be happy to know it's available all the time in the downstairs common room. And it's a local product that's nationally known: Counter Culture coffee. (Which is stocked at a lot of North Carolina hotels, aside from being a popular nationally recognized leader in the coffee industry, like at The Durham Hotel and also Longleaf Hotel.)
They also have breakfast for guests, daily. Local items like Boulted Bread (a great local fresh-baked bread company) and quiches from a Place at the Table are available along with things like hard-boiled eggs.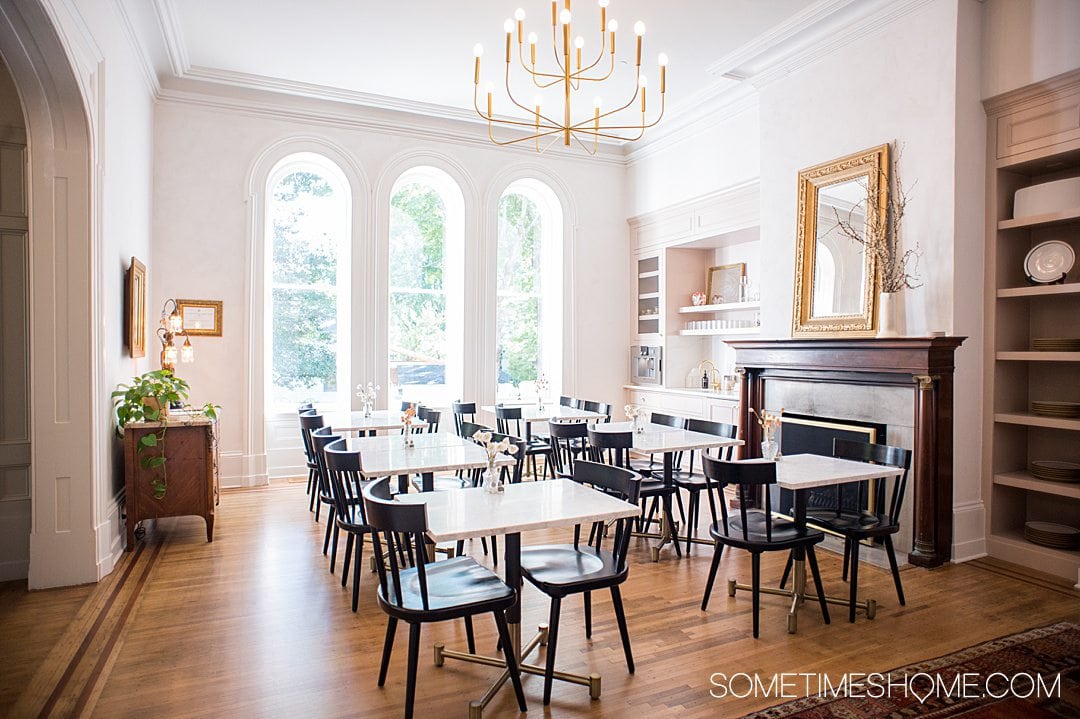 The Parlor at Heights House NC
This space has two black velvet chairs we're obsessed with, one of the original fireplaces of the home, and a fun semi-circle bar.
In the works for the future is an intimate cocktail bar, here! The Parlor will serve cocktails, wine and beer and of course they'll have their cheese plates available too. This would be something that's open to anyone, not just guests, for an added fee, like a normal bar.
We love a "hotel" bar so we cannot wait for them to make this available to locals, visitors and guests!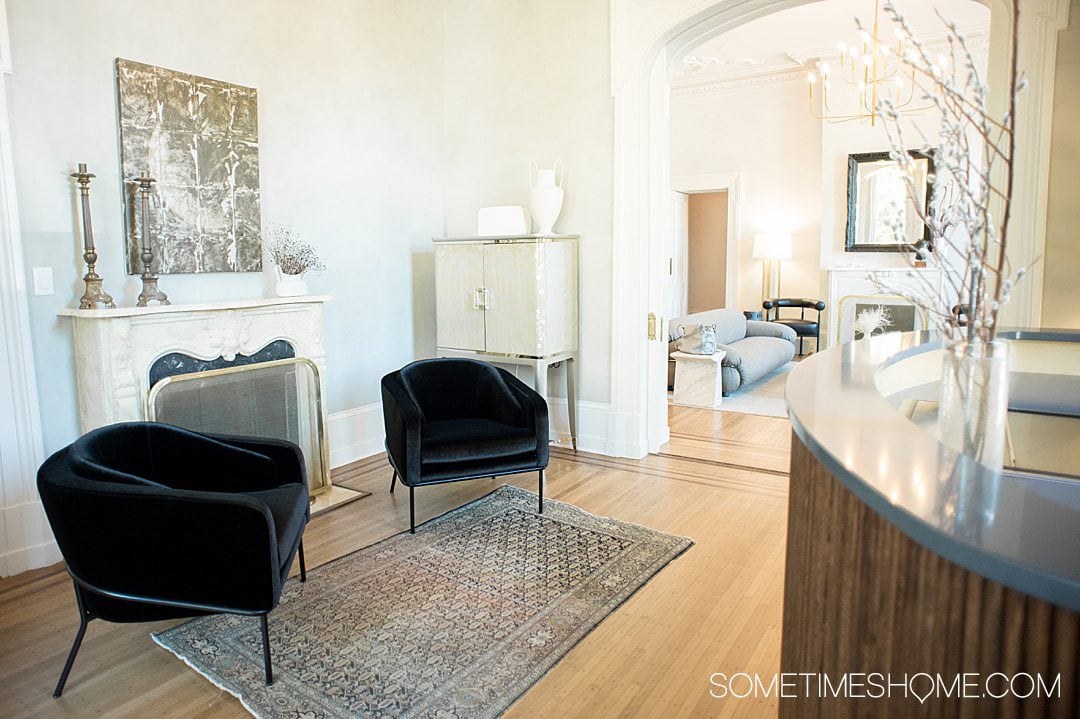 Heights House Library
How charming is this library? Don't you just want to sit on the ottoman, grab a book and read? (Okay fine, maybe a glass of wine, too.)
Sarah shared that many of the heirlooms on the shelves here are from her family's personal collection. They worked with a designer who went to antique shops to help fill the rest.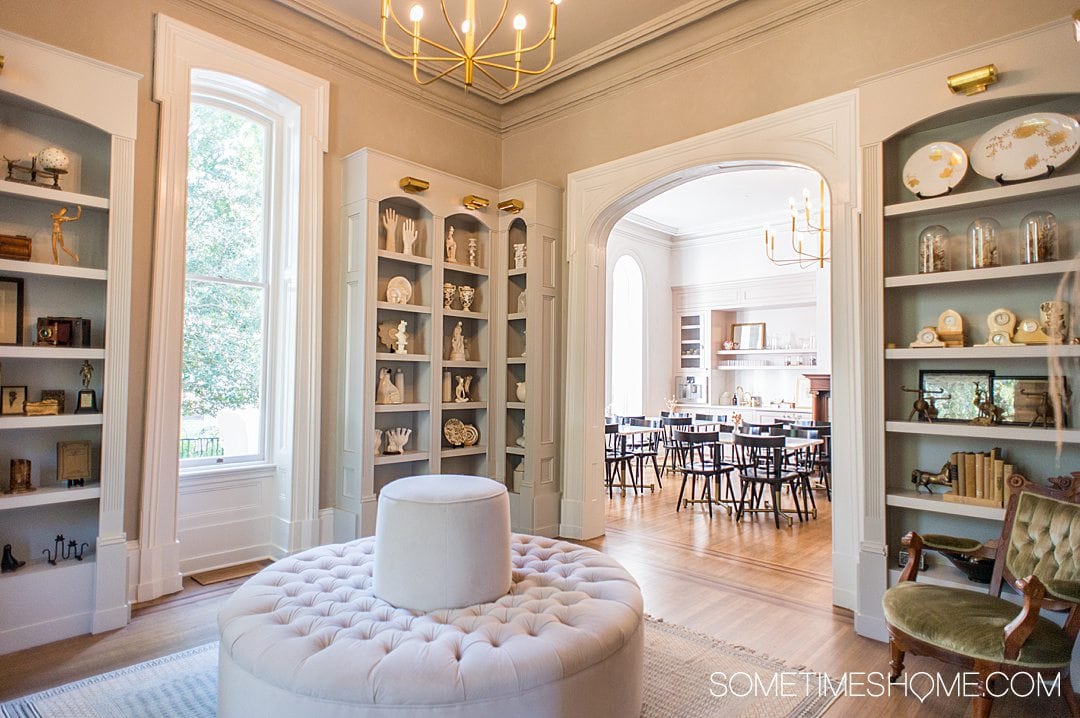 Downstairs Piano and Sitting Area
One of our favorite spaces is one we've never seen posted anywhere, which shocked us. We haven't seen it on any news reports, in any other articles, or on social media. It's such a hidden gem!!!
Sarah and Jeff didn't waste any space when they created this dream boutique hotel in Raleigh NC. Including the basement! They put a comfy couch, their family piano, and several chairs in an area that's a perfect suite for a wedding, a place for corporate meetings, or simply an area perfect for guests to play the piano or read a book. Sarah even played part of a song for us on the piano!
Something else we love about this space is the books and notepad carefully placed on a table. The notepad, like so many details at Heights House Hotel, was custom designed for the boutique hotel.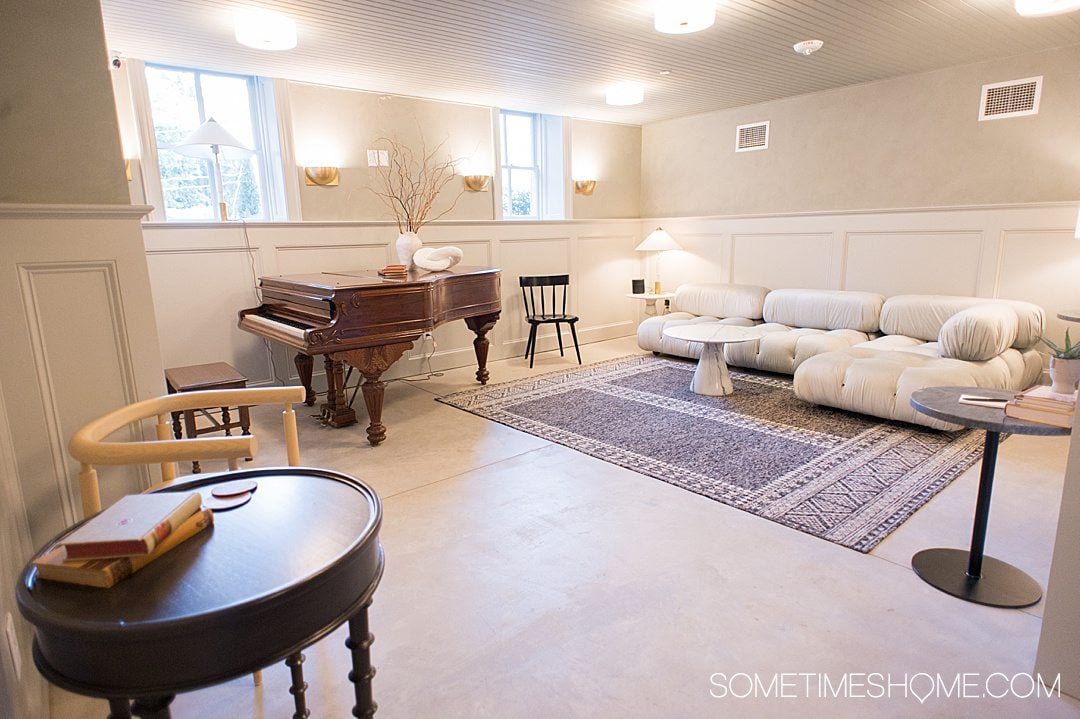 Hidden Nook in the New Suite Area
There's a back staircase at Heights House, where you can access the new suites area. At the top of those stairs is the cutest little nook with two velvet-upholstered chairs.
It's perfect for reading, conversation, or enjoying a glass of wine with a friend or your partner.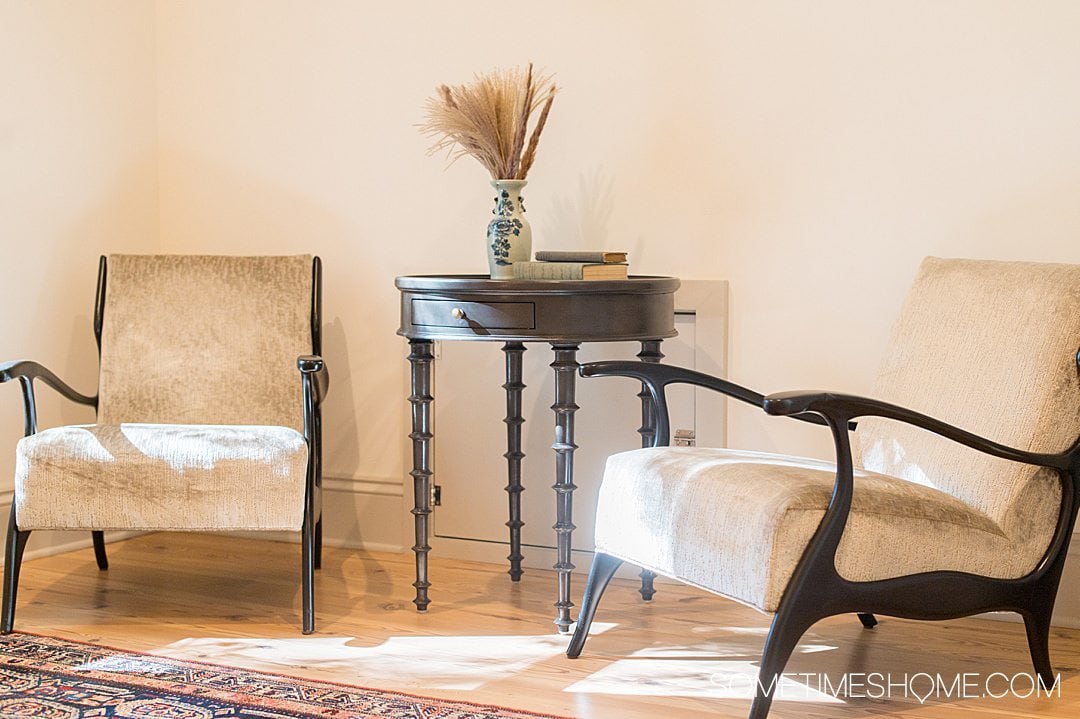 Option to Book Onsite Massages
Craving a massage for yourself or for you and a partner staying at this Raleigh boutique hotel? They can arrange for that to happen at the hotel! Simply let them know what you want to book and they'll make it happen.
Daily Happy Hour for Guests
One of our all-time favorite pastimes as a couple is happy hour – at home or out – and charcuterie and cheese boards. It's truly a favorite date idea. Naturally, one of our favorite things about this boutique hotel in Raleigh is that they have daily happy hour for guests, from 5:00pm to 6:00pm.
And it's a gorgeous plate! They serve local cheeses, fresh fruit, crackers, and pickles. They even have their own custom clay plates designed for the hotel. We can't express enough how incredibly relaxing it was to choose a comfy seat on one of their two front balconies, have a perfectly chilled glass of wine, and pre-dinner snack like this. The breeze was delightful and talking about our week, speaking with Sarah, and enjoying the Magnolia trees in front of us was joyful. This is something included for all guests staying at Heights House.
We love when hotels do this, like the Kimpton Cardinal in Winston-Salem does as well. But it's much more intimate and a more pleasant experience at Heights House, due to the boutique hotel nature of the property.
Outdoor Fire Pit
There is an outdoor fire pit for guests to enjoy, with Adirondack chairs encircling it, for breezy nights that are perfect for enjoying the warmth of a fire.
Free Wifi
Need to work during your vacation? We get it. We often need to as well, whether we're at a getaway in Delray Beach, Florida or close to home in North Carolina!
Heights House has free wifi available for guests.
Parking at Heights House NC
There is a lot adjacent to the building, that is part of the property, just for House House. Not only that but it really drove the point home (no pun intended) that they overlooked no detail; even the bricks in a double herringbone pattern underneath the cars, paving the parking lot!
Events at Heights House
When we initially passed Heights House, the thought crossed our mind it would maybe become a wedding venue. I'm in the wedding industry, so naturally, that was an idea.
And they do host events here!
You can book a room, like the piano room mentioned above, for corporate meetings. Or, envision it as a groom or bride's suite for a wedding.
If you have an event here where they tent the lawn, for example, then you are required to rent out this downtown Raleigh mansion, entirely. This makes sense for a number of reasons. They can host one wedding per weekend, with a guest attendee capacity of 149.
Heights House can accommodate 20 to 30 overnight guests for a wedding, for a flat rate buyout. You can also do a buyout for a weekend for a corporate retreat, or family reunion, for example.
Holidays at Heights House
While the boutique hotel is relatively new, Sarah and Jeff have visions of beautiful Christmas trees and white lights for the holidays. And when you're sitting inside Heights House you can almost see that vision come to life, no matter the month.
We look forward to all the creative, wonderful holiday creations they come up with, which will surely add to the great holiday events and experiences in North Carolina.
And given that the fireplaces in the four common spaces of the original house all work (with gas now, instead of logs), we can imagine what a cozy place this will be to stay during the holidays.
Is Heights House the Best Hotel in Downtown Raleigh?
It depends on what you're looking for. If you're one for a true boutique hotel experience or someone who likes a very modern twist on a bed and breakfast, this is for you.
If your price point doesn't go beyond $150 a night and you're looking for something more like a traditional hotel but also with its own personality and style, we recommend the Longleaf Hotel. We love that hotel too, and the two (Heights House Hotel and Longleaf) are very different.
They differ in price point, rooms, decor, outdoor spaces, and more. Head over to our post about the Longleaf Hotel for detailed information.
Heading to Raleigh? Also check out: