Fantastic Distillery in the Finger Lakes NY (with Wine too!)
We love to visit distilleries on any trip, and going to a distillery in the Finger Lakes, a beautiful area of New York, was wonderful.
This is particularly because wineries are simply more plentiful and easy to find over distilleries. Luckily you don't have to look far for a great distillery experience if you're off to this upstate, western New York region. And, what's more, is the distilleries just happen to also be near great wineries too.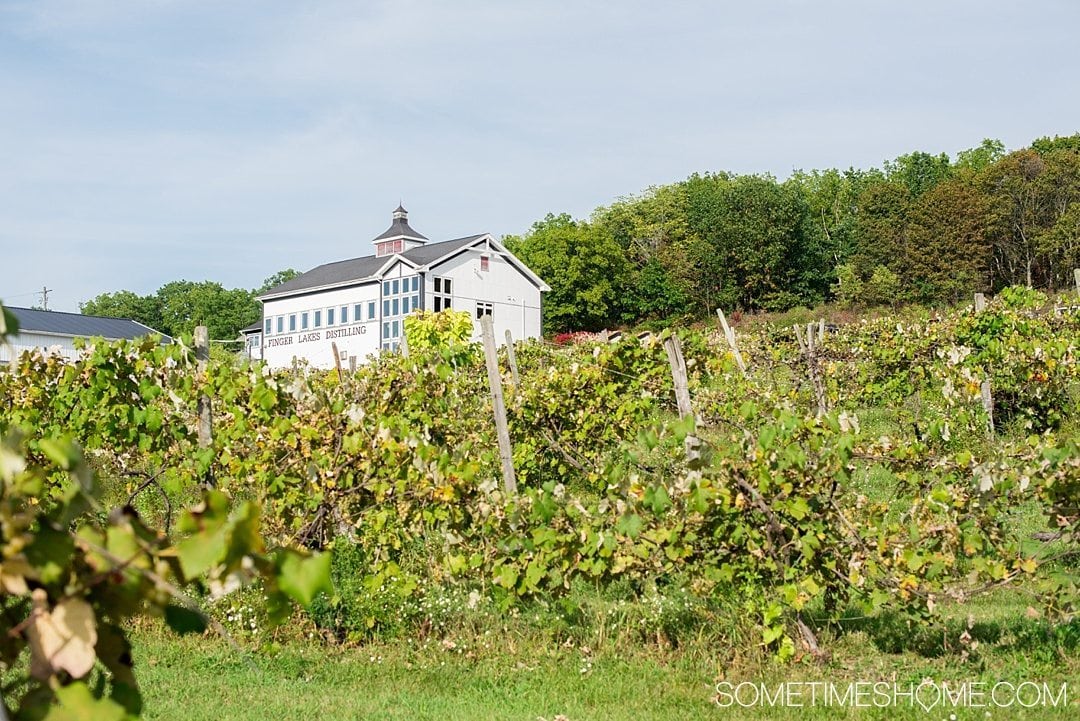 We enjoy supporting local distilleries, wineries, and breweries whenever possible, from Greensboro and the Outer Banks in North Carolina, to San Diego, California.
Finger Lakes Distilling
I quickly knew I was going to like Finger Lakes Distilling as we drove up to their location and I gazed at the rows of grapes and beautifully landscaped tall grasses on the pathway to their guest entrance. Any company that takes pride in all aspects of their business and guest experience is good in my book. (It reminds us of a lot of beautiful winters in the Yadkin Valley in North Carolina, actually!)
They grow their own grapes to create grappa, and (fun fact alert) their vodka is created from grapes as well! (A lot of vodkas are produced from potatoes, which is why grape-produced vodkas are more interesting to me.)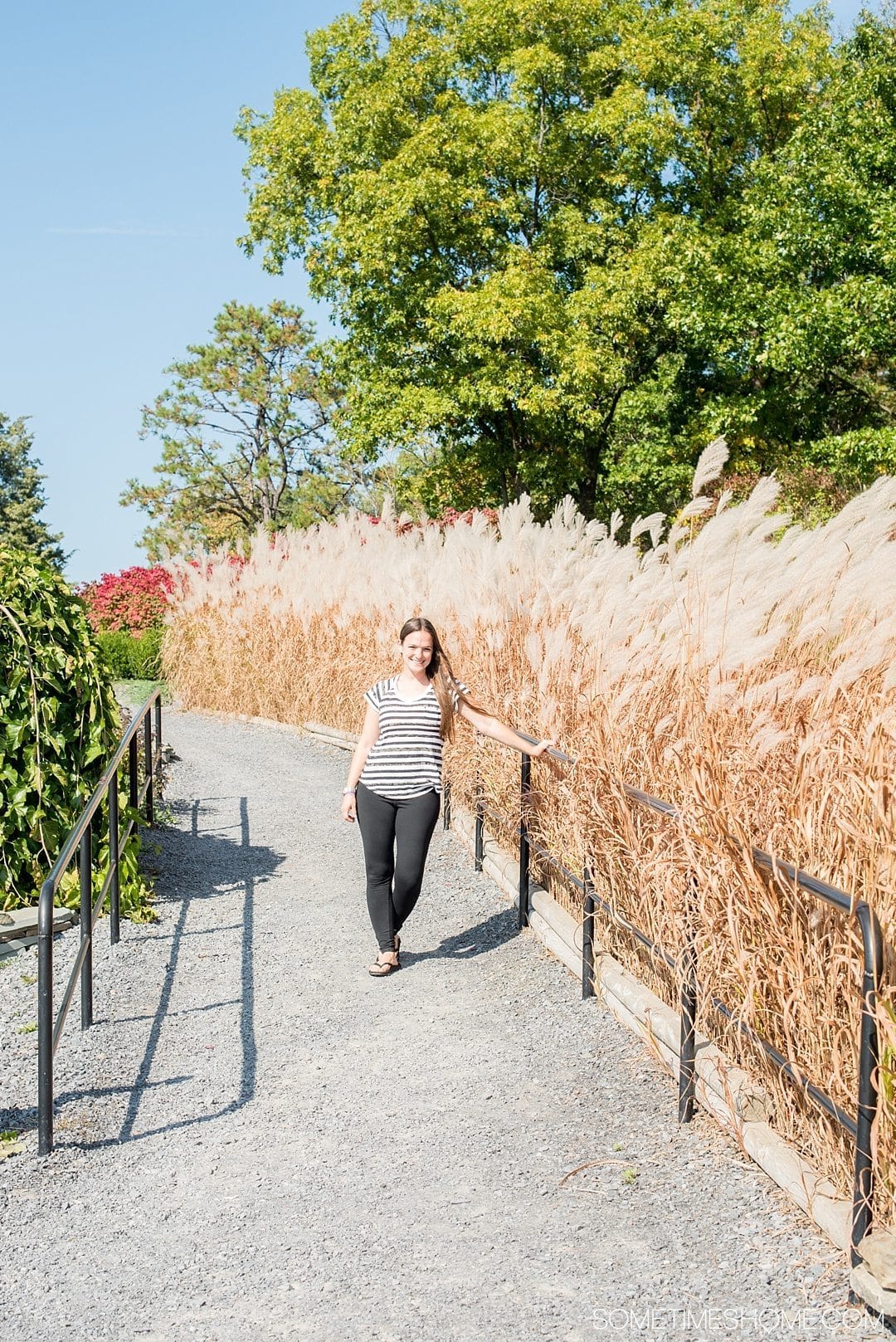 As a certified New York Farm Distillery, 75% of the agricultural products they use are state grown. They utilize local corn, apples, cherries, maple syrup, and the like to craft their products. I love that they don't add anything like extracts or flavors to speed up the process. Instead, they favor letting time take its natural course to ferment and season. This results in superior, matured products.
There is a beautiful tasting room you can spend a few hours in (drink responsibly and don't drink and drive!) tasting 17 different spirits, including whiskey, gin, liqueurs, and brandy. They are open daily from 11:00am to 5:00pm.
Address: 4676 NYS Route 414, Burdett, New York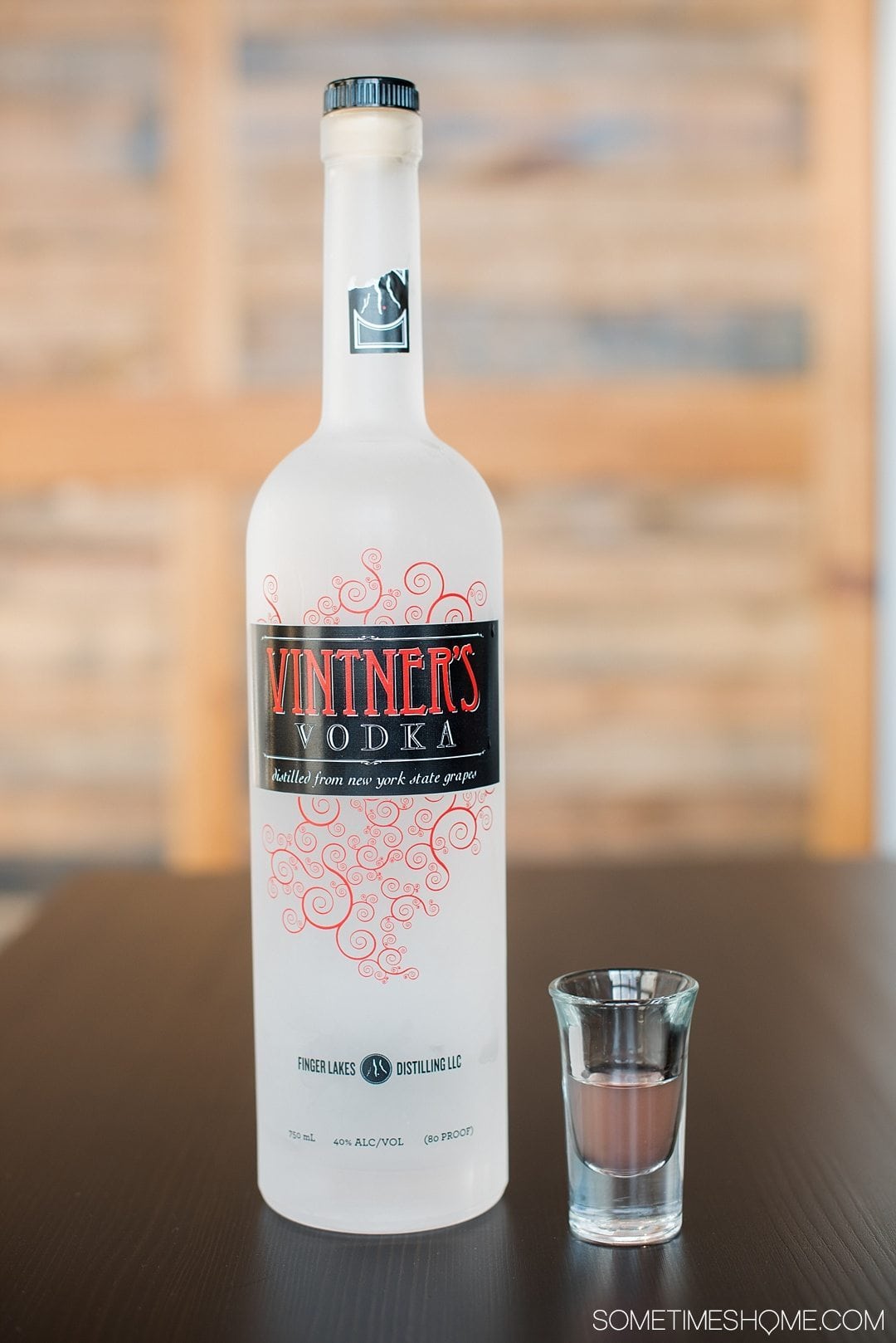 Nearby Wineries to Visit
Did you know that the Finger Lakes region is the second-largest wine region in the United States? You read that correctly. I had no idea! With over 120 wineries in the region it's a hot spot for wine enthusiasts to visit, no matter your experience or knowledge level.
It's also regarded as one of the 12 best wine regions in the U.S.A. The two below are the awesome ones we visited, not including the weekend we spent in Hammondsport during another trip, enjoying Point of the Bluff Vineyards.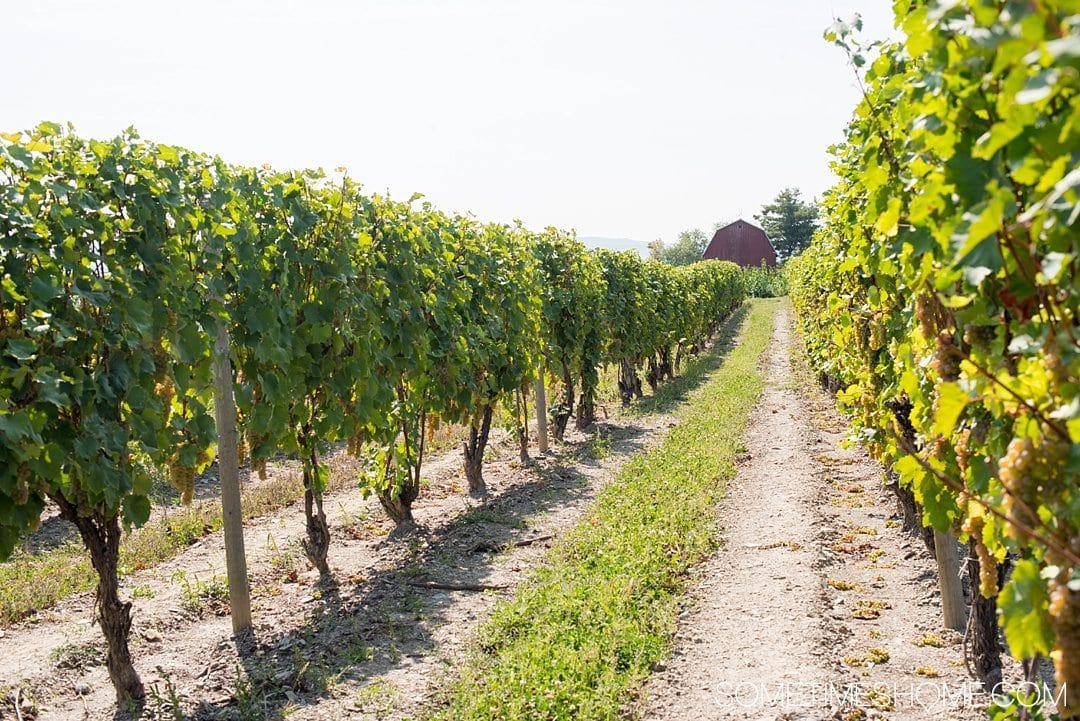 Atwater Vineyards
This beautiful winery, with over 82 acres of property and 60 "under vine," as they say, is in a prime location overlooking Seneca Lake. Their 17 varieties of grapes grow on the southeastern hills of the area and are used to make delicious wines. They're available for tasting in their attractive tasting room, complete with wooden bars and inviting staff.
Their team member, Amanda, helped us taste that day and I quickly found out she is the famous maker of "Mandy's Magical Wine Kit." After we tasted this hot mulled wine (liken to gluehwein from Germany) I was HOOKED and bought a box for the holidays. For myself, of course, not as a gift (though it would be a fabulous gift!).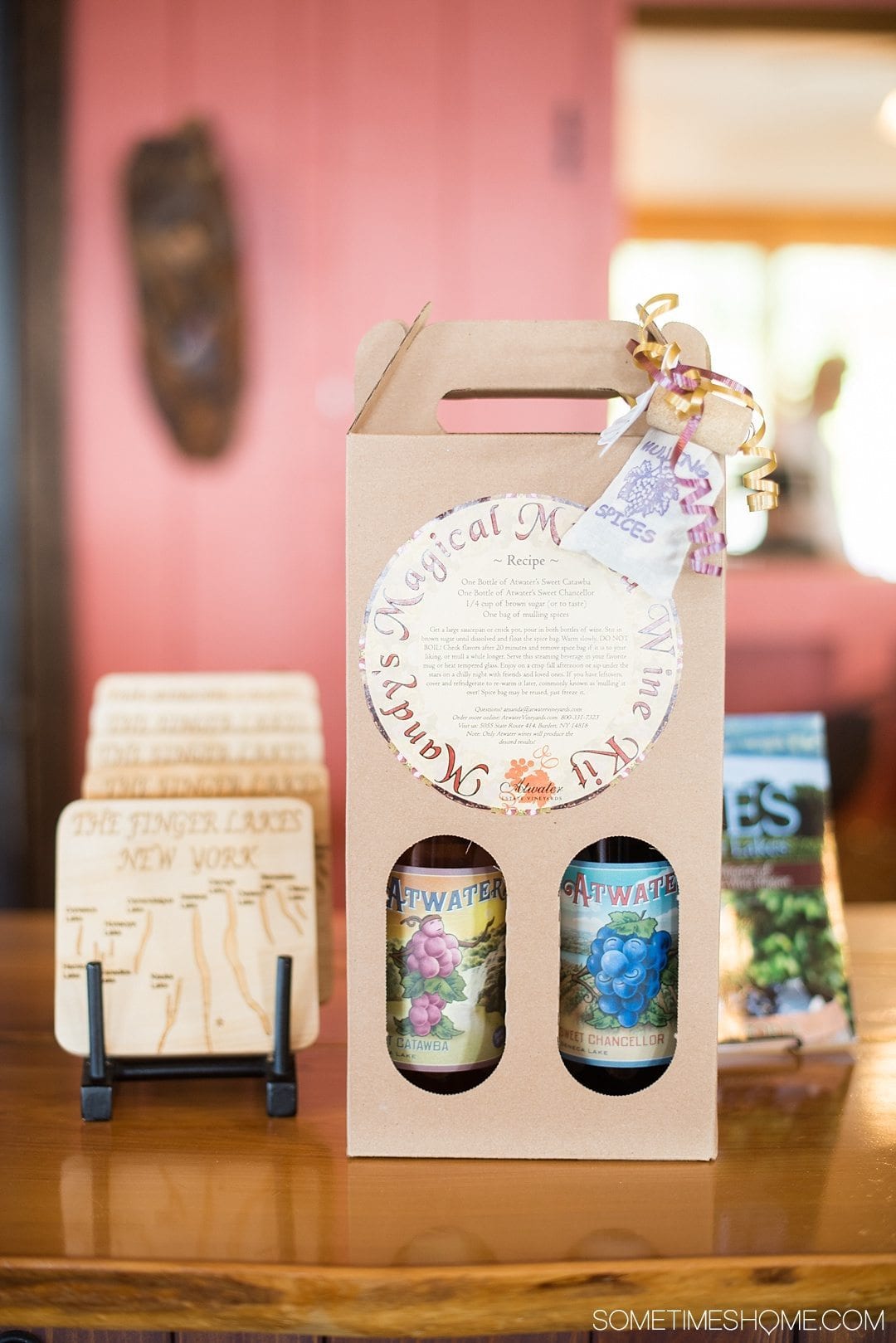 For a primo drinking spot at Atwater grab a seat on their back deck. Sunset time is especially popular. They also host many wonderful events throughout the year so be sure to check out their event calendar.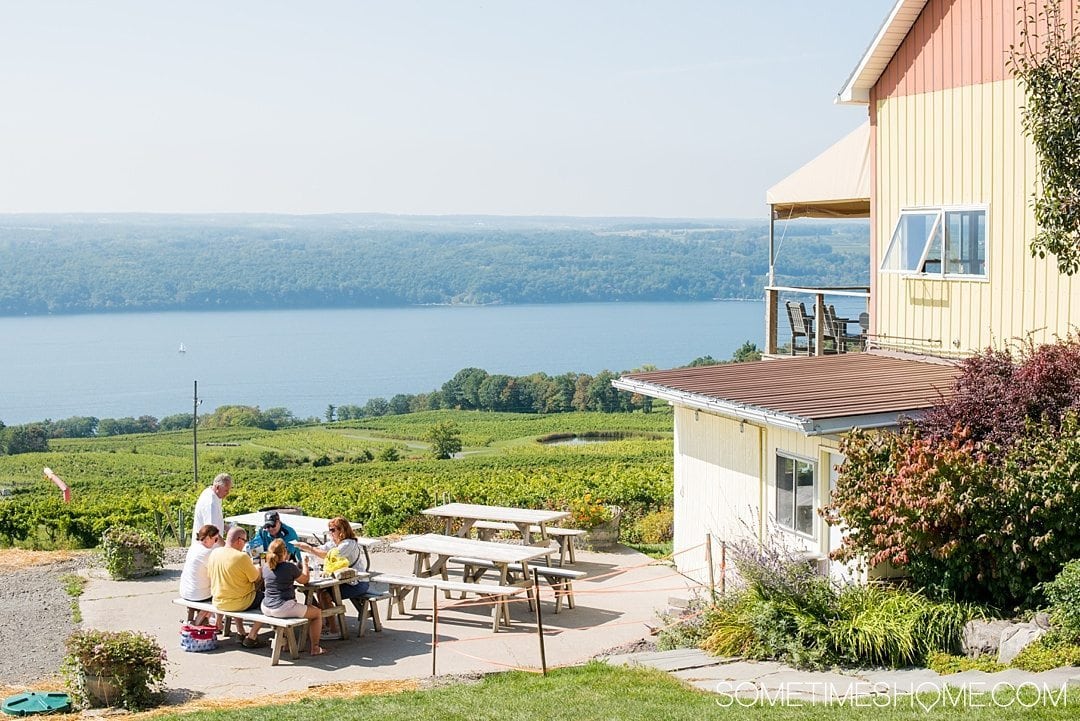 Dr. Frank's in the Finger Lakes
If you have ever joked wine would be just what the doctor prescribed, you would be correct here! Dr. Frank came to the US as a war refugee in 1951 and revolutionized winemaking.
Before his arrival, vintners in America could not figure out how to grow European grape varieties on US soil due to differing climates, pH levels, and the like. Dr. Frank, with a Ph.D. in viticulture, introduced a grafting process that allowed him to successfully plant 60 varieties of grapes at this very winery. This opened up an entire industry to the region they previously thought was not possible.
You taste delicious wines in what used to be Dr. Frank's home at Dr. Konstantin Frank winery. I even bought two bottles! Allan, the knowledgeable staff member who assisted with our tasting, knew all sorts of interesting information! No matter the question I asked he knew the answer.
Did you know the longer grapes stay on the vine the sweeter they get? And a "brix" is the name for the sugar level of a grape? He took us out to the beautiful vineyards after our tasting to fill us in on even more info about the wine-making process and show off the beautiful property.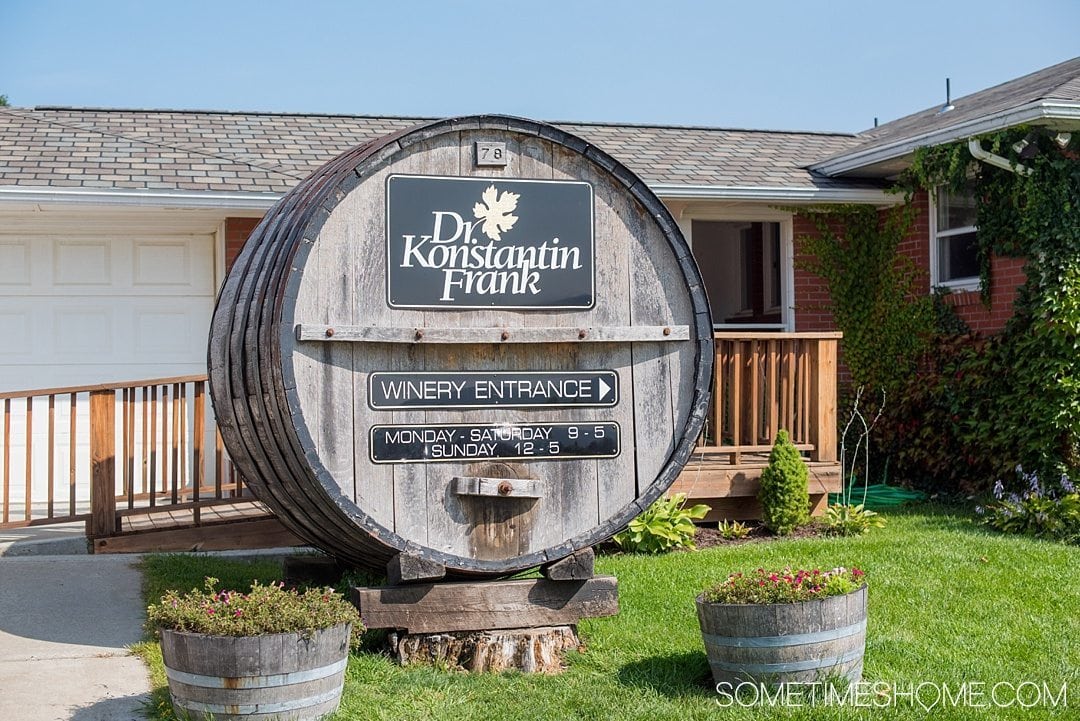 Don't let Corning's location fool you: though it certainly gets cold during winter they don't get that much snow. The region ended up being the perfect area for vineyards and their resulting wine to succeed. We have Dr. Frank to thank for that.
Check out their tasting events that are COVID-conscious too.
Point of the Bluff Vineyards
One of the most enjoyable wine tastings and visits we've had in the Finger Lakes was at Point of the Bluff Vineyards. We had such a wonderful time doing a wine and cheese tasting in their historic tasting room, which used to be a school house.
They also have a space on their property that is a concert venue, and they host events like yoga classes and farmers markets.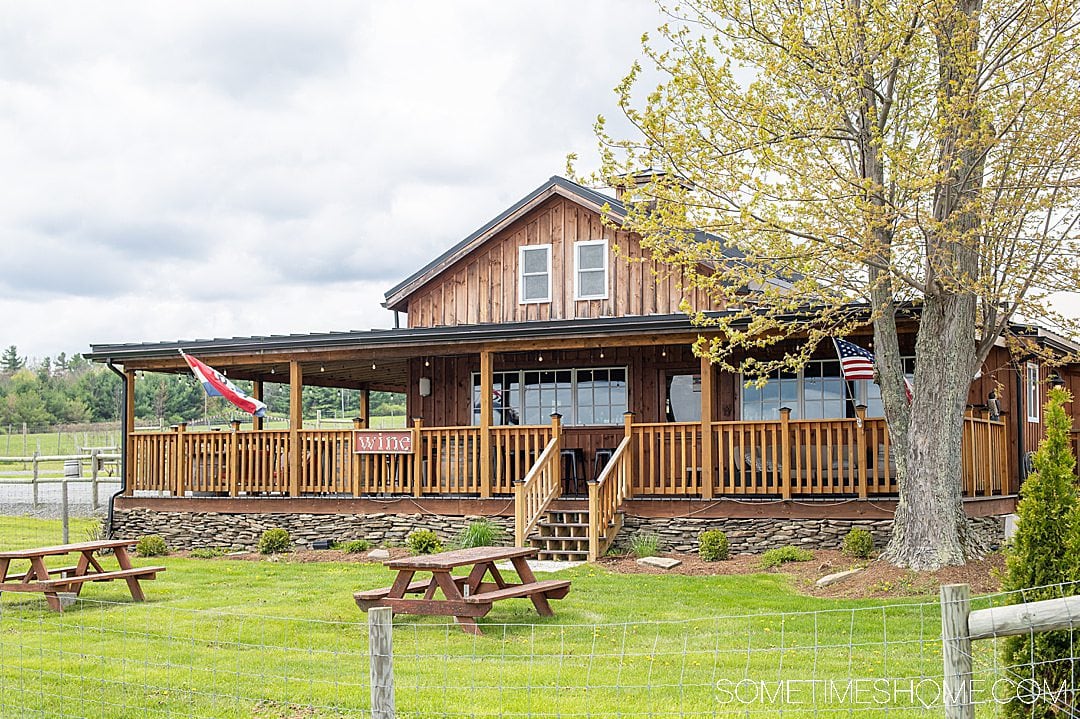 Please note: we thank Watkins Glen and Corning Tourism for generously hosting us. All the opinions in the post are ours and we bring you genuine content with real facts, photos and thoughts. Always.
For more things to do in the Finger Lakes region check out: