25 Best Miami Boat Tours (+ Unique Water Sport Ideas)
If there's anything we appreciate when we travel, it's the ability to see a city by land and sea. This is why Miami boat tours appeal to us. It's a fun way to understand why the water is such an appealing reason for people to live in Miami and make it a vacation destination.
There are boat tours you can take in Miami during the day or during sunset, and ones that you can have dinner on too. You can charter a boat for a very private and luxurious experience, or you can try to do something ultra-unique, like Flyboarding or exploring Miami on jet skis.
No matter the type of tour, we know one thing: you have to sign up for one of them to fully experience all Miami has to offer.
Read on to the end for all your Miami boat tour options and bookmark this post for your next Miami vacation.
Disclosure: There are affiliate links in this post, which means we may earn a small commission if you click the link and proceed with a purchase, at no cost to you. We truly only recommend hotels, products, and services we personally use. As Amazon Associates, we earn from qualifying purchases.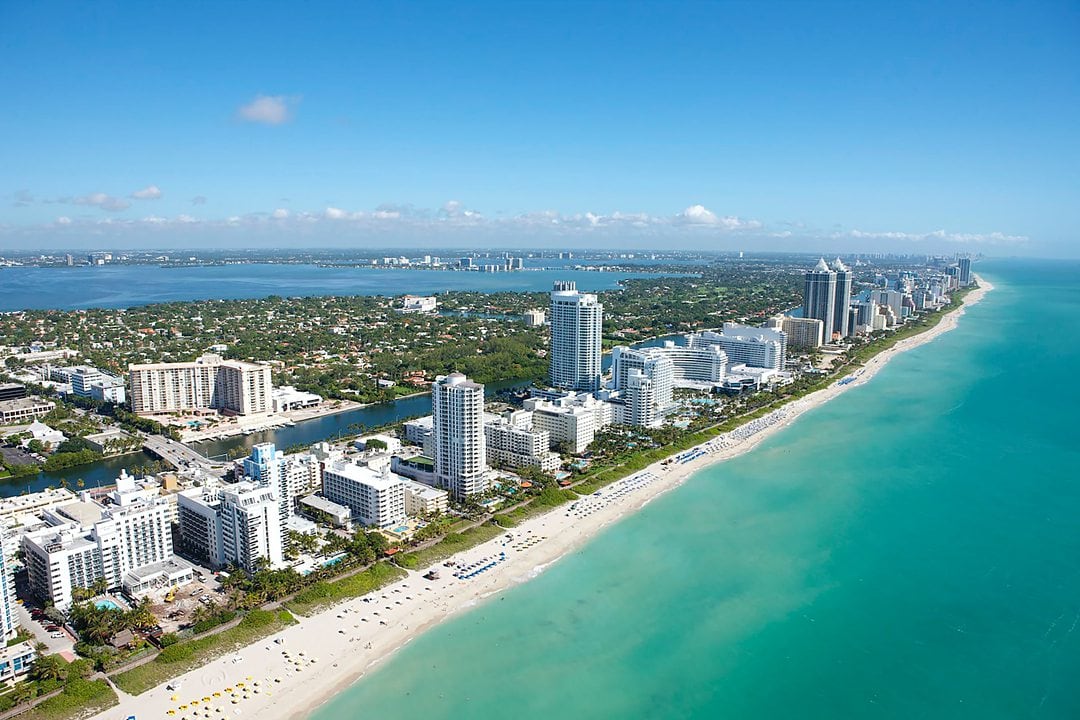 💦 Daytime Miami Boat Tours
Love the thrill of riding in a speedboat as the wind presses against your face? These daytime tours are for you.
➜ 1. Speedboat Sightseeing Tour of Miami
Cruise down Miami's waterways on a speed boat as you spot multi-million dollar homes on Fisher Island, Star Island, and Venetian Islands where many celebrity homes are located.
Your captain will narrate and act as your local guide as he shares information about Miami's cultures and history during this 45 minutes adventure.
You'll appreciate the photo ops of the Miami skyline from the water during this Miami boat tour…and you'll love zipping around the water on a thrilling speedboat tour.
Your boat trip meeting point is located inside Bayside Marketplace for this group tour. Be prepared to laugh and smile as the boat bumps up and down on the water and slows down for your great times viewing millionaire and billionaire homes, viewing South Beach, and enjoying the Atlantic Ocean!
➜ Book this Speedboat tour for less than $50
➜ 2. Island Queen Miami Boat Tour
If you want a boat with conveniences like air conditioning and a restroom, this one-and-a-half-hour tour of Millionaire's Row is a great choice. You'll have great views of the Miami skyline during this Miami boat tour aboard the double-decker boat, Island Queen.
➜ 3. Three-hour Catamaran Cruise
This catamaran boat cruise lasts three hours and allows you to jet ski and go on a banana boat while out to sea. Drinks are included, which is certainly a perk if you're on vacation in Miami!
➜ 4. Miami Skyline Cruise
This cruise shows you why Miami is the "Magic City," from its millionaire mansions on Hibiscus Island to Venetian Islands, and even Star Island, where Al Capone's mansion is.
There's a cash bar if you are thirsty or hungry onboard during this 90-minute Miami sightseeing adventure with a bi-lingual guide, that begins at Bayside Marketplace.
⚓️ Secure your spot on your choice Miami Day Cruise
💦 Private Miami Boat Tours (Have a Boat to Yourselves)
Want to explore Miami but solo or just with your family and friends? If group tours aren't for you, sign up for a private tour, listed below.
➜ 5. Charter a Yacht for 1 to 12 people
Set out for the ocean yourself or with a group of up to 12 people, on this 4-hour private yacht charter on a 45′ vessel.
This experience is great if you're a big group and split the cost, like for a family gathering or bachelor or bachelorette party. Or, maybe you want to splurge for a special occasion, like a birthday, and party like a rock star on a yacht that's temporarily "yours."
Cruise Biscayne Bay and have fun spotting wild dolphins. You'll have free time to snorkel in the ocean, and the boat can anchor at the Sandbar at Biscayne Bay or on an island.
You'll have a great time on the 45′ yacht's top deck or enjoy the living space below deck. You'll find amenities onboard like a microwave, air conditioning, a refrigerator, and a bathroom. A full bar with alcoholic beverages and ice are included, which makes it easy to board and simply enjoy your sailing.
➜ 6. Intimate (and Private) Miami Catamaran Sail
Sail on a private catamaran for three hours! Enjoy the peaceful breezes off the coast of Miami with a memorable adventure at an affordable price. If you're feeling extra adventurous, they will clip you onto the boat and allow you to hang off the side! (Weather and safety permitting, of course.)
➜ 7. 2-Hour Private Boat Rental Up to 8 People
Book this boat for up to 8 people for 2 hours. Be sure to bring a music playlist because they have Bluetooth and speakers on the boat! You can also bring your favorite drinks along to stock in their onboard cooler.
➜ 8. 4-Hour Private Miami Boat Tour
If you only have a party of up to 5 people (including yourself), consider this 4-hour boat tour. There is no set itinerary so you can customize what sights you see from the water. You'll captain the boat yourself and depart from the Miami River. Enjoy Miami Bay from Nixon Sandbar to North Miami Beach during your time onboard, driving around the ocean.
➜ 9. Take a Deep-Sea Fishing Half-Day Miami Boat Tour
Love to fish? Don't miss the chance to go deep-sea fishing for half a day off the coast of Miami!
➜ 10. Private Sailing Cruise for Up to 4 People
This private sailing for up to four people may be the tranquil city escape you've been looking for. This Miami sailboat adventure lasts two to four hours and includes soft drinks and water, and sails from Miami's Coconut Grove, near downtown Miami.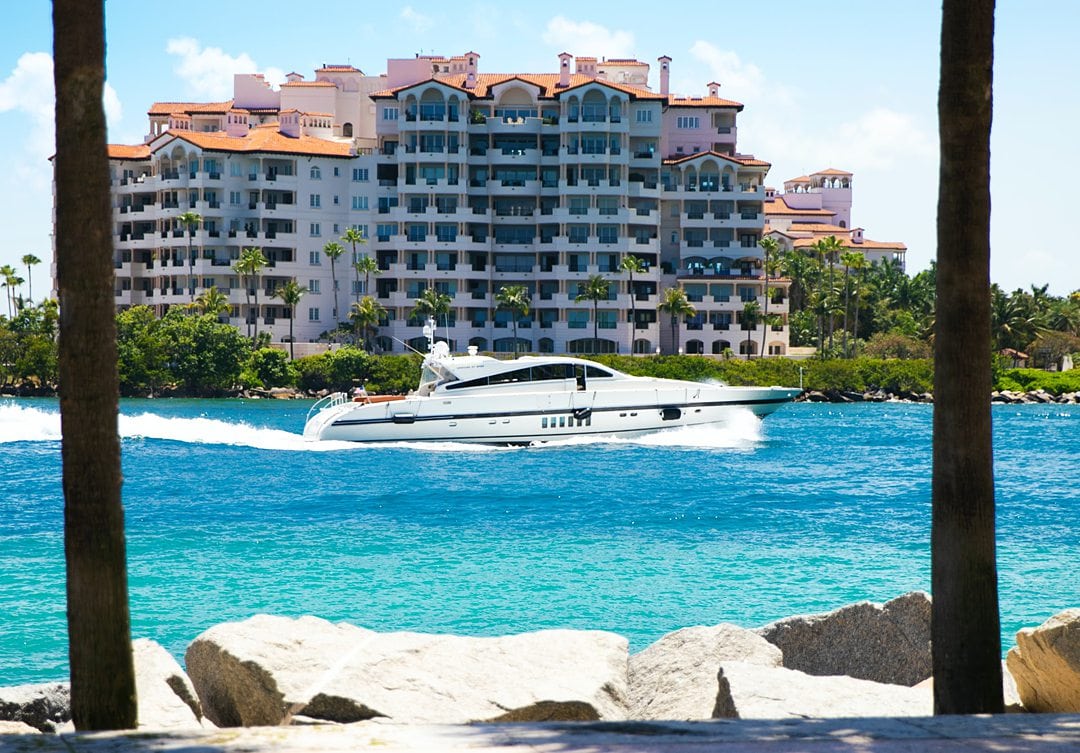 💦 Miami Sunset Cruises
One of the prettiest views of the water is during sunset. These Miami boat tours allow you to soak up the sun just before it sets on a sunset cruise that sails during this golden time.
➜ 11. Sunset and "Moon Watch" Miami Boat Ride
This private two-and-a-half-hour sunset and "moon watch" boat ride for up to 8 people includes an experience spanning three picture-perfect situations: daylight, into the sunset, and then nighttime.
You'll get a beautiful view of the twinkling downtown Miami skyline. It's sure to be a photo-worthy adventure. You can bring your own snacks and drinks on board too.
➜ 12. Catamaran Ride around Biscayne Bay National Park
Sip a complimentary glass of champagne while watching the sunset during this shared catamaran Biscayne Bay boat tour. You'll even see the Cape Florida Lighthouse on Key Biscayne during this Miami water tour.
Cruise the bay as the sun sinks below the horizon and enjoy sunset photos and the warm glow of the setting Miami sun.
🌅 Don't wait! Book your sunset cruise in Miami.
💦 Airboat Tours in Miami's Everglades
➜ 13. Shared Tour of the Everglades from Miami
If you're more of a person who loves a jungle over the beach, consider an airboat tour of the world-famous Everglades in Florida.
Pick-up and drop-off transportation is provided from your Miami Beach or Downtown Miami hotel. This day of Everglades adventures is nearly 6 hours in total.
Everglades National Park is one of the most unique parks in the world. For starters, it's the only place in the world where alligators and crocodiles co-exist. You'll learn more about this fascinating wetlands ecosystem during your airboat tour, which includes your entrance fee to the National Park.
If you'll be closer to Fort Lauderdale and want a tour that starts further north, check out this option.
Must-have item for your Tropical vacation:
The only thing we have tried that gets rid of bug bites from your skin is The Bug Bite Thing. This item is a MUST pack when we travel. We always pack one in our backpack/day bag and another in our luggage. Don't travel without it! And yes, it really works!
➜ 14. More Exclusive Everglades Tour from Miami
If you're looking to set out for a day of adventure that's a bit more exclusive, look no further than this private Everglades adventure tour, priced per person. You'll learn about the ecosystems of Miami with a biologist guide. Lunch, snacks, and non-alcoholic drinks are included.
You'll have the chance to see marine life, like manatees, crocodiles, and gators, as well as interesting birds, and more.
Pickup is around 7:00-7:30 am and you'll get away from the city for a change of pace during your Miami vacation. They'll even store your luggage, free of charge. And they can even drop you off at the airport, cruise port or your hotel when the tour concludes if it's within their transportation radius.
💦 Other Cool Water Tours in Miami
There are other great ways to explore the ocean in Miami if you want to be a little more adventurous! Here are three suggestions:
➜ 15. Jet Ski Tour of Miami
Sign up for a guided Jet Ski tour of Miami's Biscayne Bay, if you love thrill rides and adventure.
➜ 16. Parasail Above Miami
Set sail in a new way as you parasail above Miami's Biscayne Bay. For an hour, you'll be in the boat and parasail along South Florida's blue-water coastline, on the Atlantic Ocean. (We parasailed in California at Catalina Island and it was a lot of fun!)
➜ Can't decide between jet skiing and parasailing? You don't have to! Book this Miami combination tour and do both!
➜ 17. Flyboard Through Miami
Flyboarding will make you feel like you're part of Back to the Future but on the water! Water propulsion literally propels you into the air as you glide over the water. It's certainly an incredibly unique water experience for you to have in Miami.
➜ 18. Paddleboard Miami
Paddle around Paradise Island and feel great about the workout you got after your experience too. You can choose to enjoy the water and Miami's skyline from a clear kayak, paddleboard, or double kayak as a guide takes you around the area by water.
➜ 19. Miami Wakeboarding
Have you ever wanted to try wakeboarding? Now's your chance! You can book this private wakeboarding lesson in Miami for up to 5 people, for one price. Choose a morning or afternoon time for your one-hour adventure.
➜ 20. eFoil Lesson in Miami
If you have tried wakeboarding and enjoy it, you may want to try to hover above the water (as opposed to on it) with a private eFoil lesson.
You'll have your own instructor during this one-and-a-half-hour experience that teaches you how to use the board as you embark on a completely new and different experience in Miami. Imagine telling all your friends about this!
➜ 21. Bounce on the Water During a Half-Day Miami Boat Tour
It would be so cool to jump on a giant trampoline in the water during this half-day tour. You'll have the opportunity to bounce on the water, kayak or paddleboard, and see Flagler Monument.
💦 Land and Sea Combo Tours in Miami
If you want to see Miami by land and then hop on a boat in the water to see it by sea in one day, consider a combination tour.
➜ 22. Day Trip from Miami to Key West
The Florida Keys are just south of Miami. While Key Largo is the closest key to Miami, Key West is further. You can sign up for a day trip from Miami to Key West that lasts all day and has an optional add-on boat ride and snorkel outing.
You'll be picked up at your hotel early in the morning, stop for breakfast during your bus ride to Key West and have free time to explore the island. During your time in Key West, you'll have the option to sign up for activities like snorkeling or going on a glass-bottom boat.
Don't worry if it's your first time snorkeling; this excursion includes professional instructions, and you'll have a blast!
➜ 23. Boat + Land Tour Visiting Wynwood and Little Havana
We love that this Miami tour option stops at amazing Miami neighborhoods, including Little Havana and Wynwood. But they also include a boat tour of Miami's well-known Biscayne Bay in the price of the all-day tour, which will show you the Port of Miami and Millionaire's Row from the water.
➜ 24. Three Experiences in One: Land + Sea TouR
This day tour combines three great experiences: an airboat ride in the Everglades with a boat tour of Biscayne Bay, and City Sightseeing as well on a double-decker bus with narration.
➜ 25. Duck Tours Miami
If you want to see Miami by land and sea but don't want to switch the vehicle or vessel you're in to do that, sign up for a duck boat tour! These boats have tires to roam around the streets of Miami but all the mechanics to transform into water boats on the ocean too.
It'll take you around South Beach and then roll into the water during this 90-minute tour.
Cruises that Depart from Miami
Don't forget that Port Miami is a huge cruise port – not just in Florida or the United States, but in the world! In fact, some people call Miami the "cruise capital of the world."
Several cruise lines leave from this Miami port for cruise vacations that sail to destinations like the Bahamas, Mexico, Dominican Republic, and Central America. Cruise lines include MSC Cruises, Royal Caribbean, Norwegian Cruise Line, and Virgin Voyages, though cruise contracts with the port may vary yearly.
💦 Protect Yourself From the Sun (and Bad Swimsuits) with these Miami Boat Tour Tips
We recommend wearing a bathing suit and some sort of cover-up on top for these Miami boat tours. For men, that may be swim shorts and a t-shirt. For women possibly a bathing suit and sundress, or a t-shirt and shorts over it.
We recommend checking out the swimsuit options for women at Change of Scenery. They sell luxury swimwear made from sustainable fabric. We love their cover-up options too, and their prints always rock. Use code "SOMETIMESHOME" for 10% off your order.
You must wear sunscreen in Florida! The sun is incredibly strong, year-round. We recommend reef-safe sunscreen (it's better for the Earth and you).
Additionally, we recommend a good pair of sunglasses with UV protection, lip balm with SPF protection, and hair ties if you have long hair. (The wind on the water will definitely tousle your hair and make it knotty so it's best to tie it back.)
We also don't travel anywhere without our Bug Bite Thing, because we can all agree that itchy bug bites are super annoying when you're trying to enjoy your vacation!
Conclusion for Miami Boat Tours
The best Miami boat tours depend on what you desire for your South Florida vacation, how much time you have, and your budget. Whether a sightseeing boat tour is for you, a private cruise, or a group tour, there is no doubt that the best way to explore Miami's coast is by boat.
Get ready for fun in the sun, and relaxation on the water! Enjoy your Miami vacation to the max by signing up for a Miami boat tour.
Read this next: