Our Experience Hang Gliding in the Outer Banks with Kitty Hawk Kites
Hang gliding in the Outer Banks is such a cool experience. And anyone can do it, especially if you sign up for an intro lesson to start.
The lessons for beginner hang gliding take place at Jockey's Ridge State Park in Nags Head, North Carolina. It's the perfect windy oasis and National Park to take flight.
It's truly an adventurous and unique activity in the Outer Banks and we're so glad we did it – and that the weather worked out, in the end.
Weather, however, is up to chance. But the rest of the positive experience is due to consistent customer satisfaction with Kitty Hawk Kites activities.
Our Outer Banks Hang Gliding Review
We had a great experience with hang gliding in the Outer Banks, which we did with Kitty Hawk Kites. It was a smooth process from sign up to flight, and even afterwards with the delivery of photos and videos we added onto the package.
We recommend this activity to anyone who wants an experience that's different than going to the beach or simply dining out in OBX. (These are also great things to do but not as singular as hang gliding.)
A small percentage of people who visit the area do this; just think of the bragging rights you'll have if you're one of the few who visits the Outer Banks and participates.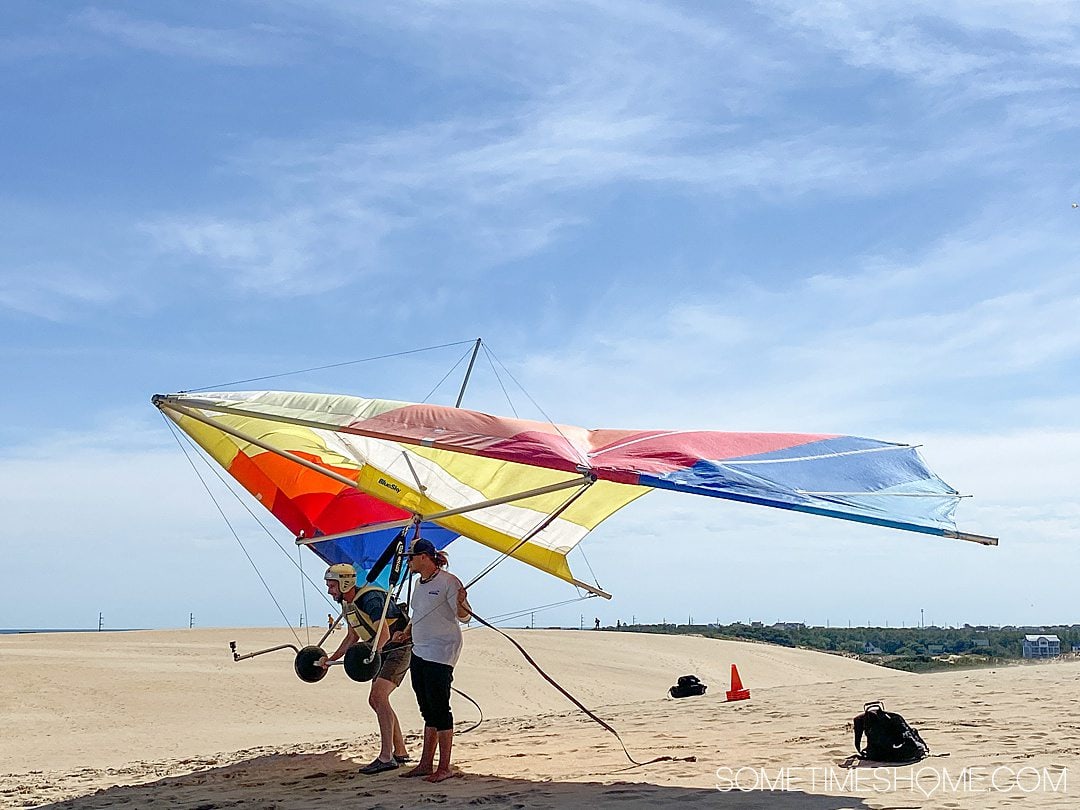 Hang Gliding Lesson Options
There are several hang gliding experiences you can sign up for with Kitty Hawk Kites, including:
Dunes Hang Gliding (this is what we signed up for)
Tandem Hang Gliding
Hang One Camp (where you learn how to hang glide, solo, and get your USGHA Hang One rating)
Cost of Beginner Dunes Hang Gliding
Beginner Dunes Hang Gliding costs $119 per person if you're signing up for one to two people. (The cost decreases slightly if you're signing up a group of 3 or 4 people.)
It was a great day-date idea for us as a couple and we thought it was a very reasonable cost for the experience.
Each person gets five "flies." There are typically 15 people in each lesson, with three total instructors, one of who is the main leader for the day.
Groups are broken down into five people and each group gets a glider. You rotate your five flies on a single glider. (In other words, there are three gliders, with five people per glider.) Person A flies, then person B has his or her turn, person C, etc. until all 5 people get a fly. Then you get your second turn and it starts at the beginning again.
Buying the Kitty Hawk Kites Photo Package
Kitty Hawk Kites offers some additional add-on options, including a film and photo package. It's very affordable if you pre-purchase it, at just $29 plus tax. (It's $39 plus tax if you decide to buy it before your lesson at the hang gliding office.)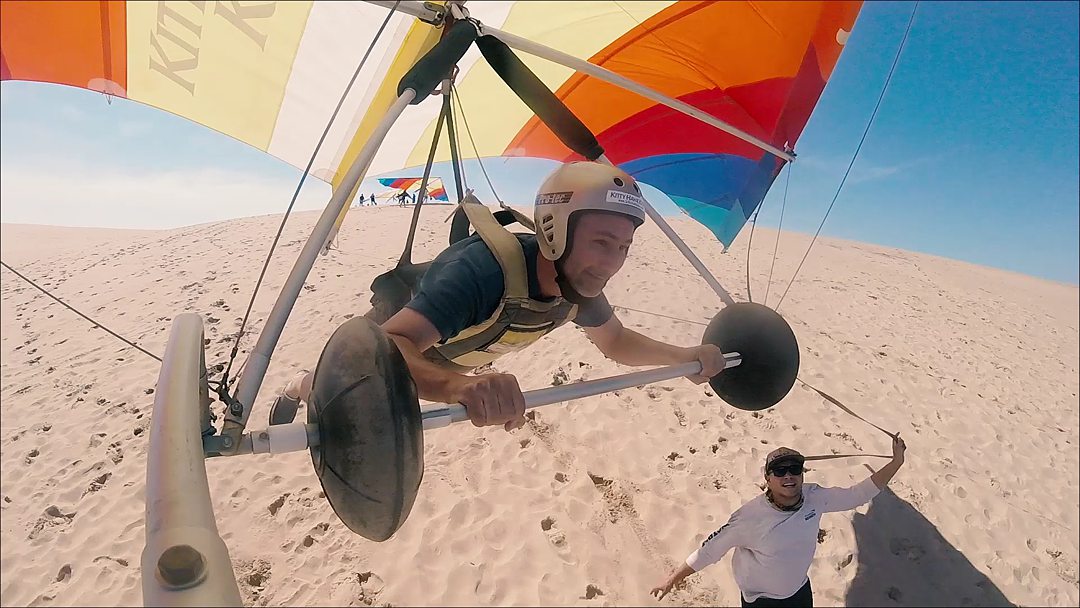 Bringing Your Own Camera
Originally we left our cell phones and camera in the car. We figured it was best to not have anything on us for hang gliding in the Outer Banks. We realized, however, the film package includes videos from a stationary GoPro attached to the glider. This gives the camera a view of you but not from a distance, including the glider. We wanted both views.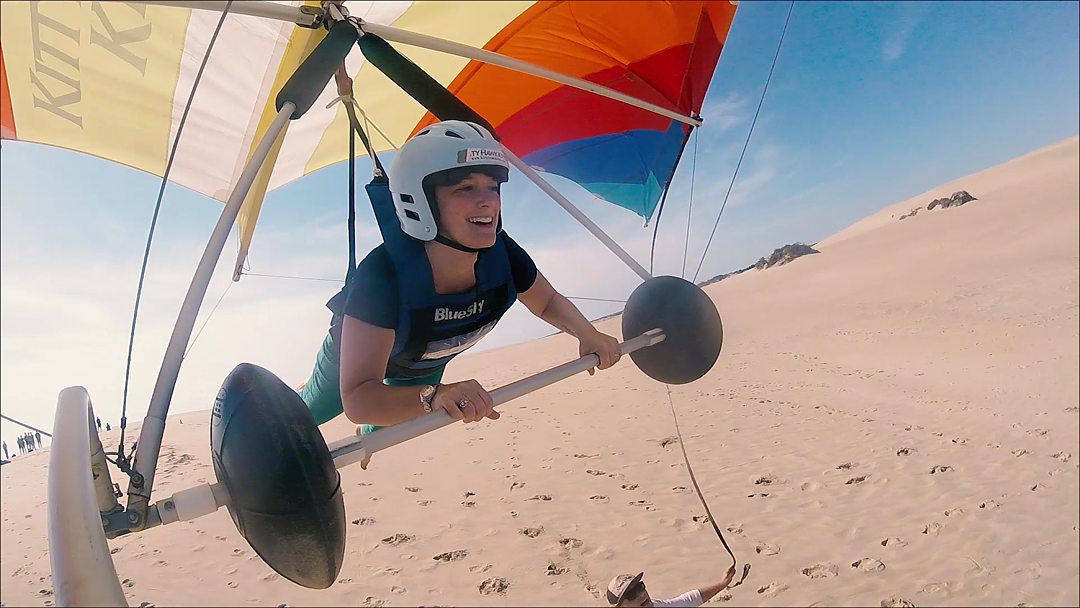 Though we realized it was easier to have some stuff on us because if one of us was gliding the other person was staying on the ground simply watching. Having a backpack with water and a camera, be it a DSLR or a cell phone, was easier than we initially thought.
Luckily the parking lot wasn't far from where we were gliding – perhaps a 10 minute walk from inside the park to the parking lot and vice versa.
So I ran back to the car to grab my iPhone (I didn't want to risk sand interfering with my DSLR in a sand dunes park). We happily snapped photos and additional videos of each other from the ground. Then we had a bystander's perspective to add to the footage from Kitty Hawk Kites, if you will.
We're glad we had both – our photos and the ones from Kitty Hawk Kites. They're done through a third party that delivered them within two days via a link through a text message delivered to our cell phones. It was very easy to get the images and video from there.
Why October is a Great Time to go Hang Gliding in the Outer Banks
An advantage of visiting the Outer Banks in October was the temperature. Why is this important? Because of the heat of the sand.
We had friends vacationing in the Outer Banks the last week of September, the week before our vacation, the first week of October. We spoke to them the day before their trip ended – they said they had yet to go to Jockey's Ridge State Park because it was just too hot everyday.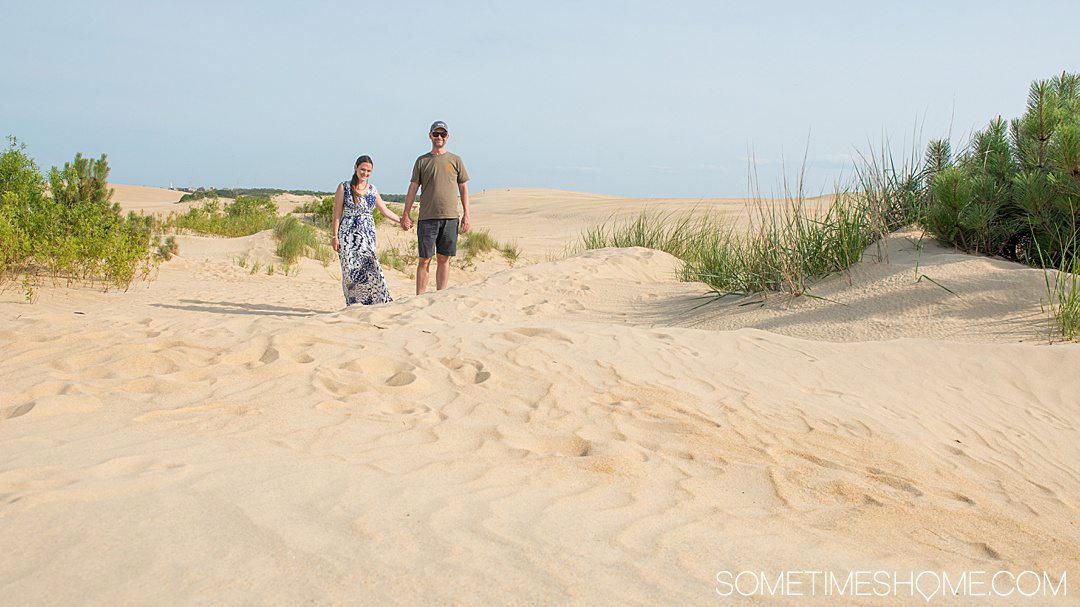 If you've ever been skiing during a sunny day you understand the effect: The sun reflects off the white snow and can actually give you a sunburn. Well, that effect can happen with the sand. But it's obviously sand, not snow, and retains the heat so well it can burn your feet.
Going in October gives you better chances of the temperature being more agreeable so the sand won't burn, though not guaranteed.
Weather Affects Hang Gliding
It's not so uncommon for there to be rain during the month of October because it's hurricane season until November. Our hang gliding experience was originally booked for a Sunday but it got rained out.
Luckily, we were able to move our reservation to the next day and sneak it into our itinerary before we had to head back to Raleigh that afternoon.
Our advice is to book the experience towards the beginning of your stay so if the date has to be moved you have some options to reschedule the following days. Kitty Hawk Kites has two lessons per day and have 15 people, max, per lesson. So during peak season, especially, options are limited.
If they need to cancel due to weather you will get a refund. Hopefully this doesn't happen, however, and the weather cooperates. We were lucky it cooperated for us in the end and we had a beautiful day and great experience.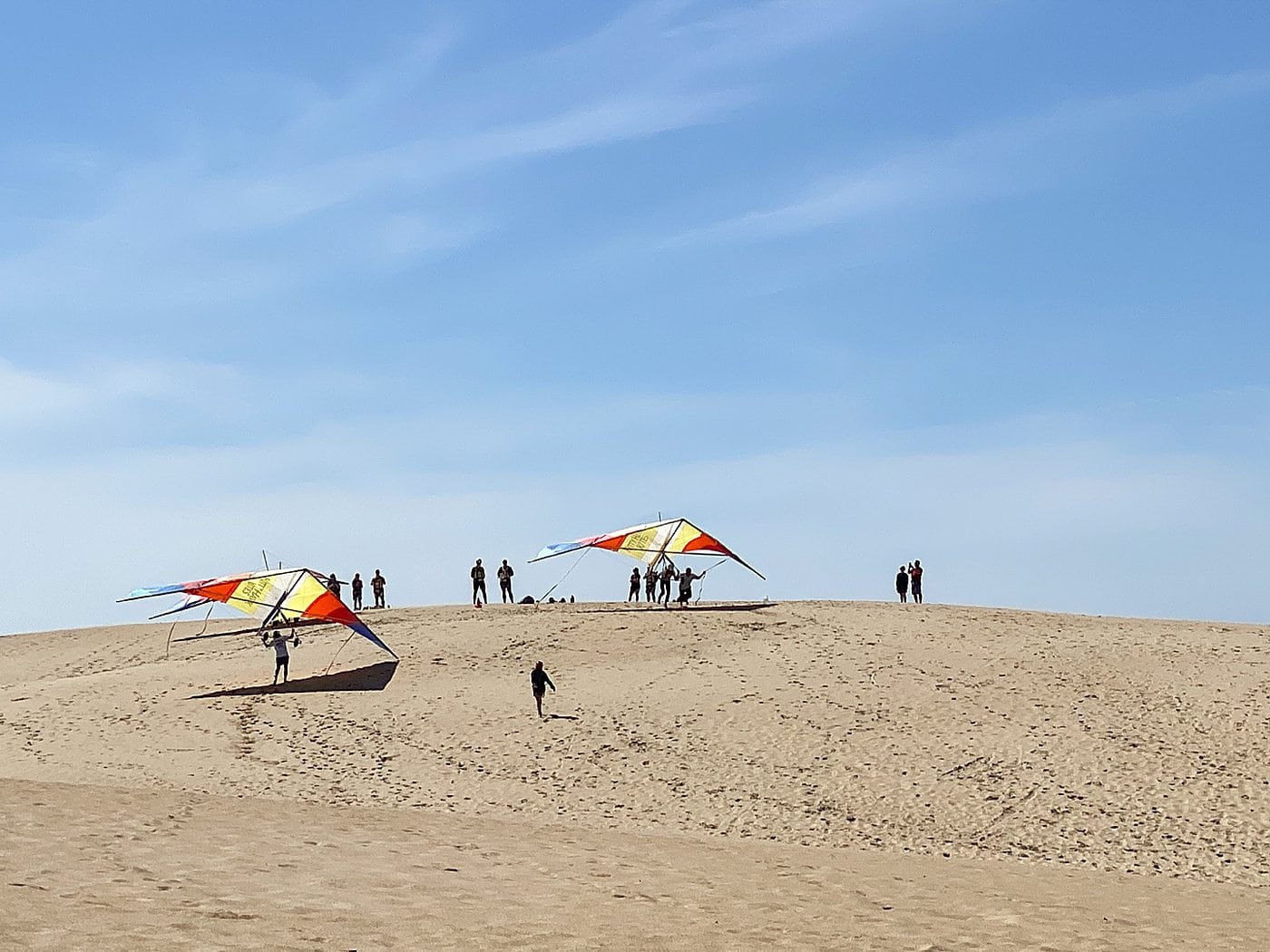 Our Beginner Hang Gliding Experience with Kitty Hawk Kites in OBX
We were shocked that we were able to go on a hang glider solo, without a tandem rider. But once we went through the 30 minutes of pre-flight instruction and our hang glider flies we understood why. It's a pretty low key activity albeit a ton of fun.
We arrived at Kitty Hawk Kites about 15 minutes before the class started. It's very easy to find the correct location to meet the group: There are signs along the main road in Nags Head of the Outer Banks to get to Jockey's Ridge State Park, as well as for the hang gliding location. (There are also only two main roads in the area, which are 158 or NC-12. They run north-south, nearly parallel to each other.)
We parked our car in the lot and walked a couple feet to the main Visitors Center building. If you're looking at the Visitors Center from the parking lot, the Kitty Hawk Kites building is a little behind and to the left of it.
It's not a big area; it's especially easy to locate because of the colorful small hang glider located next to the walkway that leads to the small office building.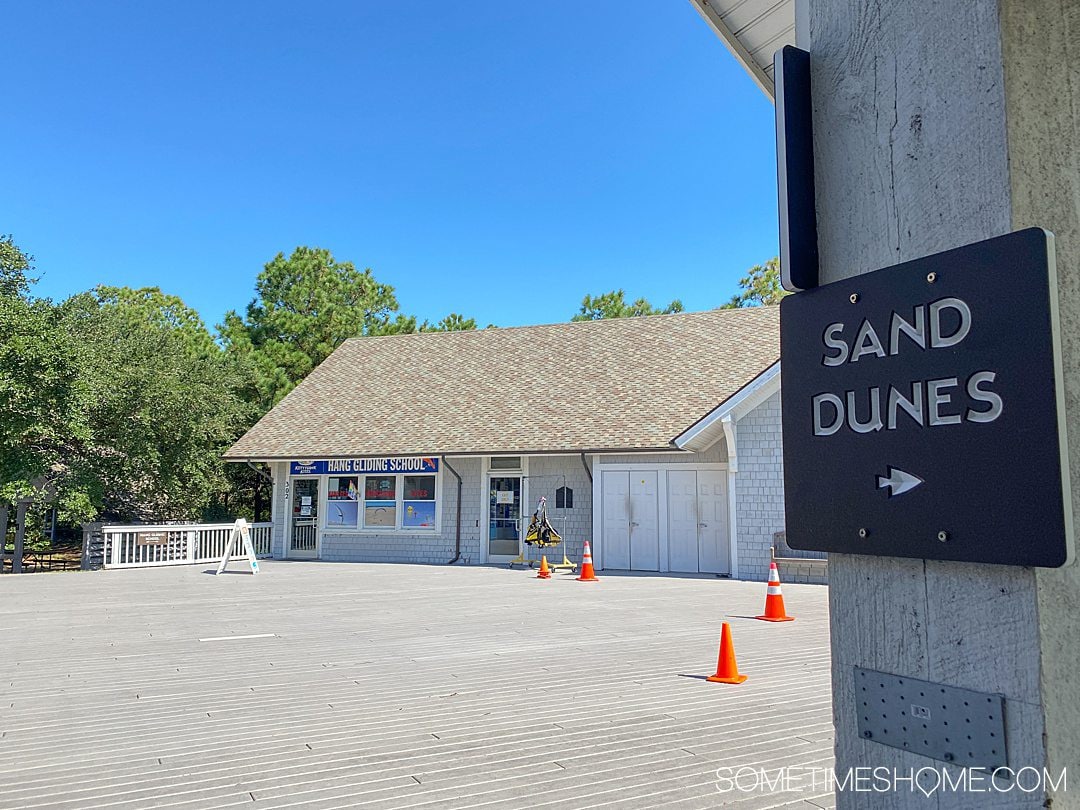 There are public restrooms next to the Jockey's Ridge State Park Visitors Center building.
The first order of business was signing some release forms, which is normal protocol for an adventure activity. (We had to do the same thing for our zip lining date in Fayetteville, NC.)
We waited on the outdoor deck for our instructor, Charles, to begin the our 30-minute pre-flight hang gliding lesson.
Introduction to Hang Gliding in the Outer Banks
Charles spoke to us about the history of flying in the area (including a brief history of people who tried to fly before the Wright Brothers, and made some cool "flying machines"). We were especially glad we went to the museum part of the Wright Brothers National Monument the day before so we understood how cool what we were about to do was.
It was serendipitous because if it hadn't rained the day before we wouldn't have gone there before our hang gliding.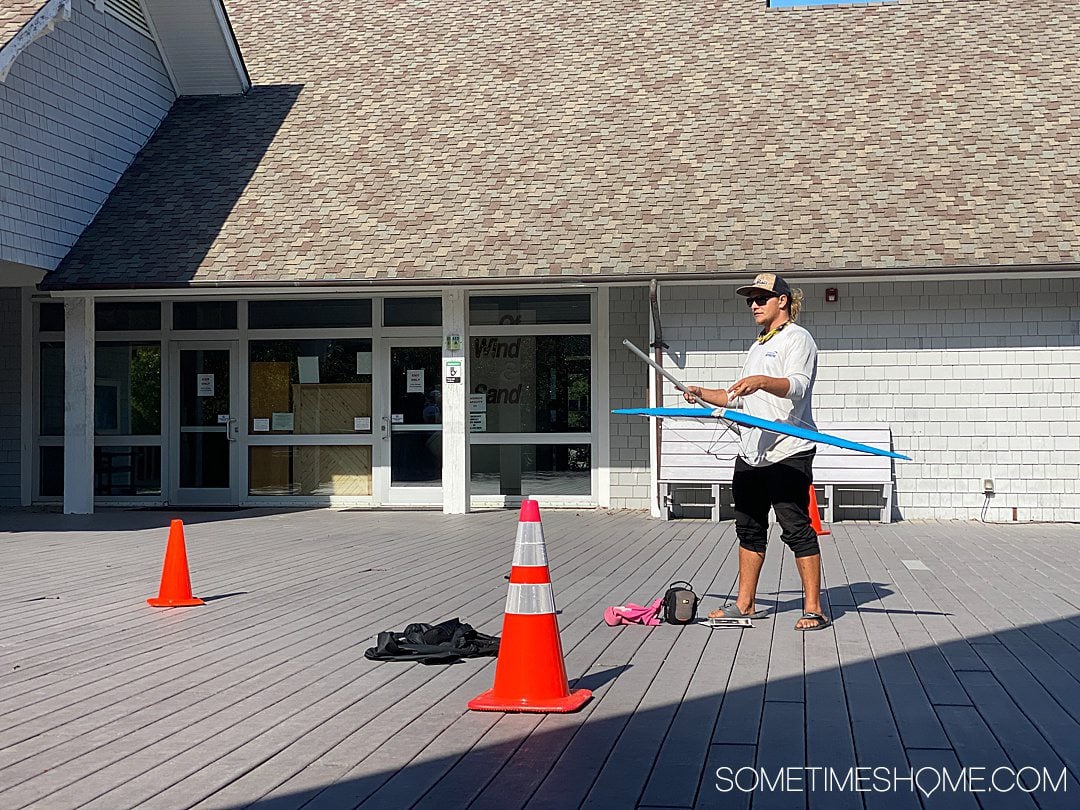 Our instructor, Charles, then used a little model hang glider to show us some things about how the gliders work and instruction on what we were about to do.
After some Q&A he outfitted us all with a helmet and harness. He ensured both fit well and then we were on our way to the dunes to glide.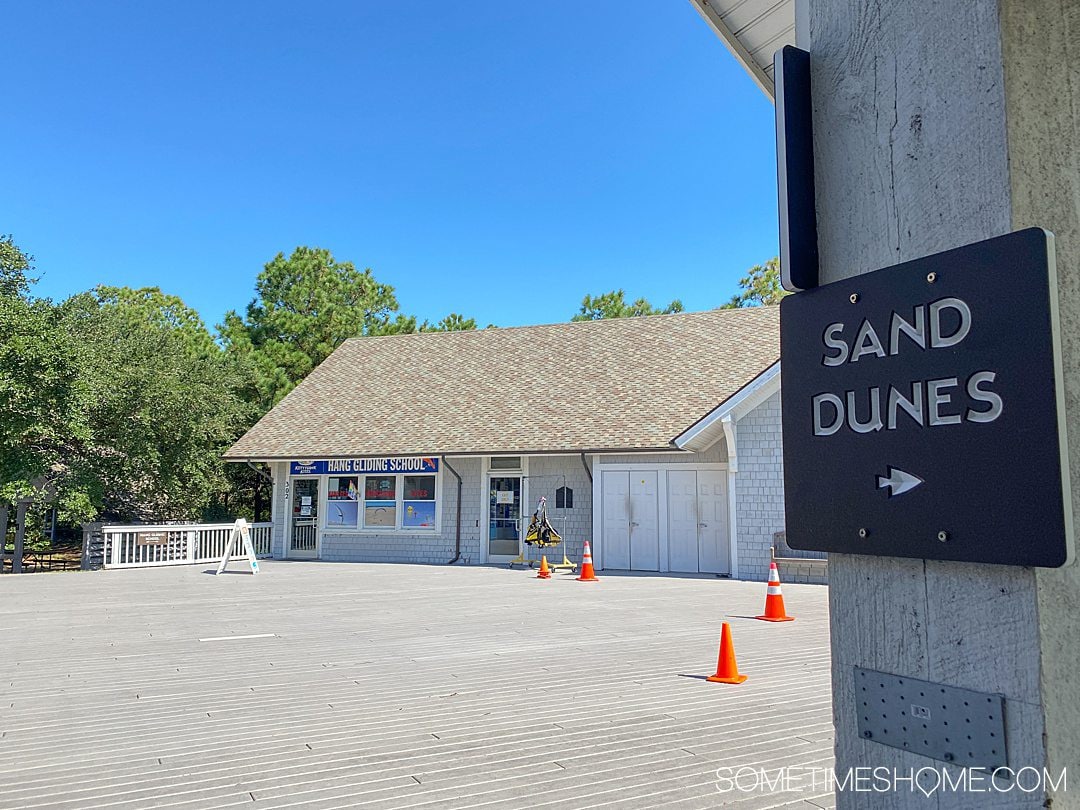 Hang Gliding off the Dunes
The group walked about ten minutes out to the Jockey's Ridge State Park dunes from the Visitors Center area. It was easy to see the destination because three gliders were in the distance.
One by one, we had our time flying with the glider under the guidance of our instructor. He had a hold of a rope attached to the glider the whole time so we were safe! You can't go flying off on your own without that safety net, so to speak.
I had a rough landing on one fly and very quickly learned why it's vital you wear a helmet and that the helmet fits snugly. It hurts when your body, including your head, bangs against the side of the glider!
All in all, we had a great time and it was a wonderful way to dip our toes into this kind of gliding.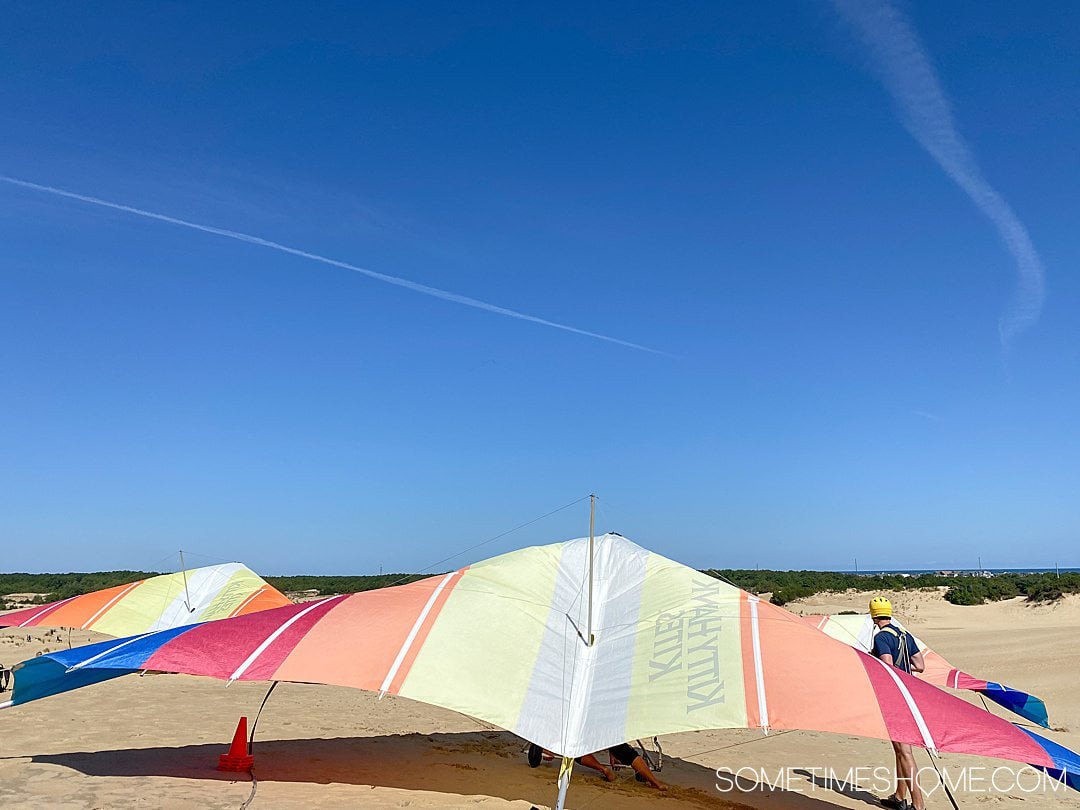 Two Other Types of Hang Gliding We've Done in the Past
There are two other types of hang gliding we've done in the United States we want to mention.
Another kind of hang gliding is when a plane takes you up in the air, with your motor-less glider attached, and you're released from the lead when you're high enough in the sky. Then wind and air pockets guide a licensed pilot through the air as you glide in tandem (unless you're a licensed pilot and can fly solo).
We did this kind of hang gliding near Morganton, NC at Thermal Valley.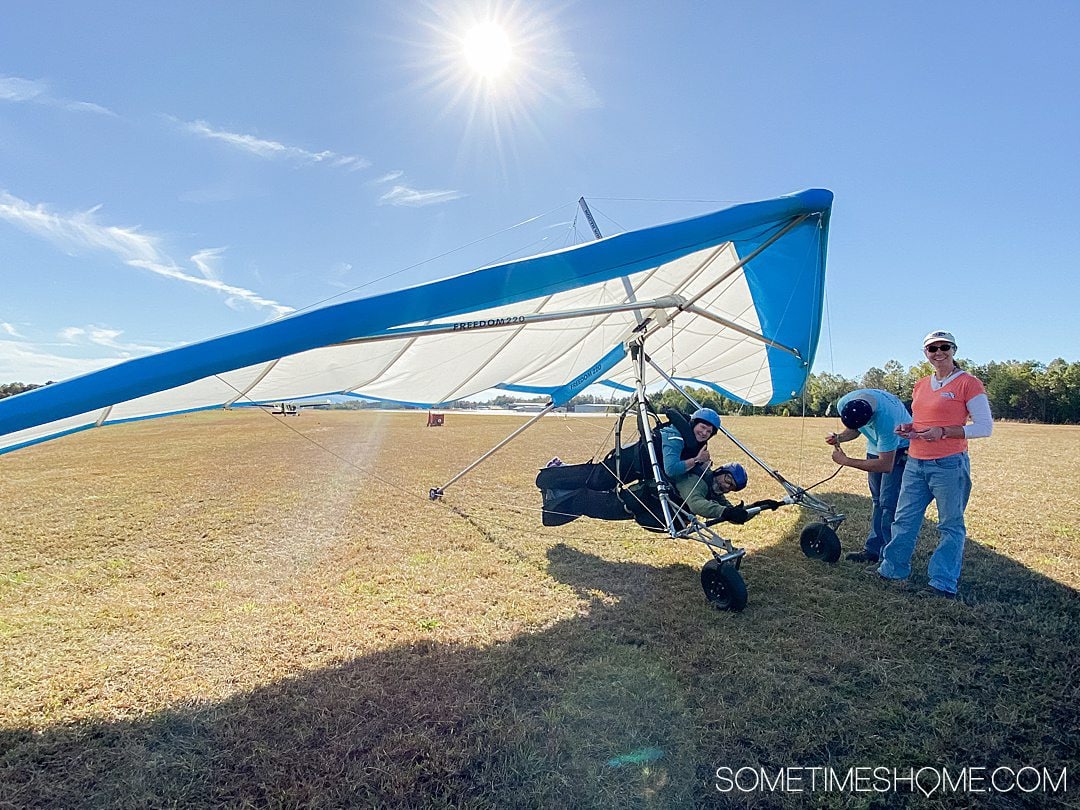 The second type is in an enclosed glider plane, which we experienced in the Finger Lakes of New York. A plane with a motor takes the enclosed glider up in the air like the tandem hang gliding mentioned above, but you sit behind the pilot who's controlling the glider in this case.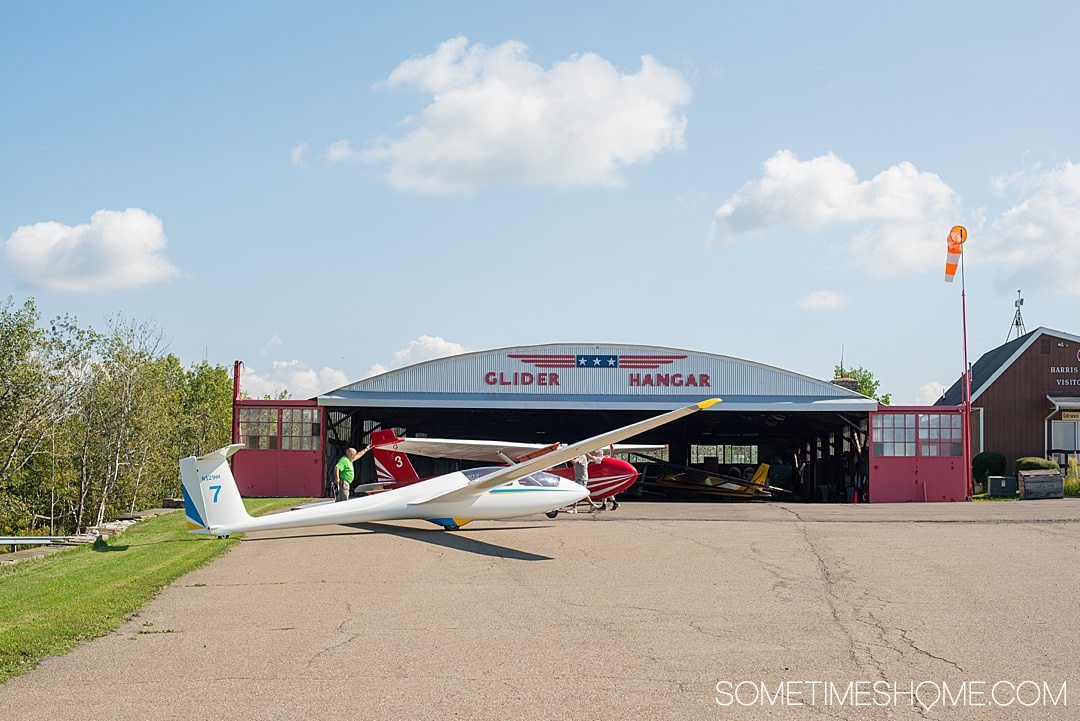 Soaring like a bird in the sky – even if only for seconds or minutes – is always a memorable experience for which we are grateful. Being a part of nature in that way is amazing.
Please note: We thank the Tourism Authority for Dare County's Outer Banks for generously hosting our tasting. We also may make a small commission from affiliate links in this post but all opinions are ours and we bring you genuine content with real facts, photos, thoughts and recommendations. Always.
Heading to the Outer Banks? Also check out:
Have you ever been hang gliding? Let us know your thoughts in the comments, below.