Outer Banks Distilling Adults-Only Enjoyment in NC
One of our favorite activities during our OBX vacation was a visit to Outer Banks Distilling.
It was great to meet two of the owners who were there and see their loyal fans and customers come in, one after one. They were stopping by to taste their rums and specialty cocktails but also to buy merchandise like you would not believe! It's wasn't a surprise to learn they also have a loyal social media following.
People from all 50 states come to Manteo on Roanoke Island to visit Outer Banks Distilling. They have also had customers come into their distillery from about 20 to 50 different countries around the world.
We tasted their Kill Devil Rum, bought two bottles, had drinks and even bought a cigar to enjoy later.
History of the Outer Banks Distilling Building
The 1946 building they're in was restored beginning in January of 2014. They guttered the place and cleared out 20 tons of scraps! They remodeled and opened in May of 2015.
In its previous lives, it was a furniture store and the offices of the Board of Education. They re-configured the space to accommodate their Kill Devil Rum distillery (complete with a mezzanine level), bar, merchandise area and a single handicapped-accessible bathroom.
They also say they have the thickest piece of concrete in Dare County (where OBX is) to support the German copper stills and assorted distilling machinery inside. We will take their word for it – we can only imagine what they had to go through to stabilize the foundation and pour concrete for the machinery.
Three Indoor Areas of Outer Banks Distilling
They have three indoor spaces in total. Purchases inside their space need to be done separately, in two different areas.
One is the merchandise side, including things like t-shirts, stickers, hats, cigars and their rum. This is where you can taste their rum and purchase bottles.
The other is their bar area, where you can purchase mixed cocktails. (The bar area is past the door frames and "The Wheelhouse Lounge" sign in the photo below.)
A third area is their distillery, which isn't open to walk through though you can view it through an indoor window.
We'll walk you through each area below.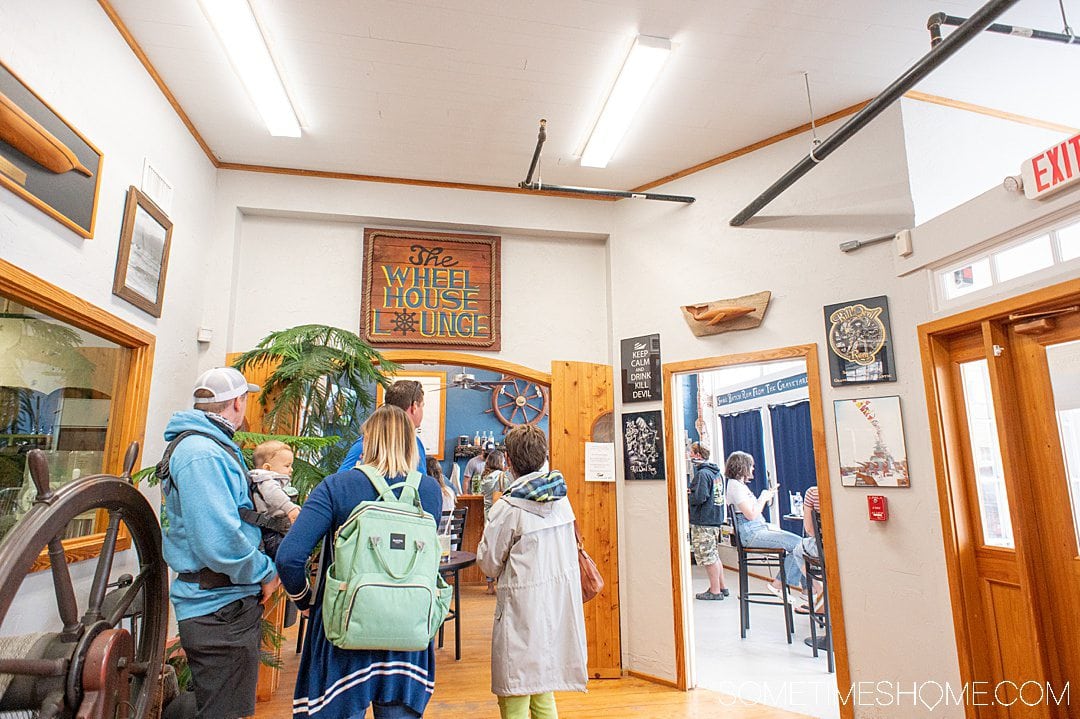 1. Merchandise Area of Outer Banks Distilling
We're not normally rum drinkers but having a taste of their three main rums sold us. We purchased the gold and pecan to have at our home bar. It was just SO GOOD!
We are looking forward to making some of the recipes on their website.
They also sell cigars from the Dominican Republic that are dipped in their rum. What cigar enthusiast could resist, at $7 each? We love a cigar once in a while. So we bought one to enjoy later. (Perhaps with some rum!)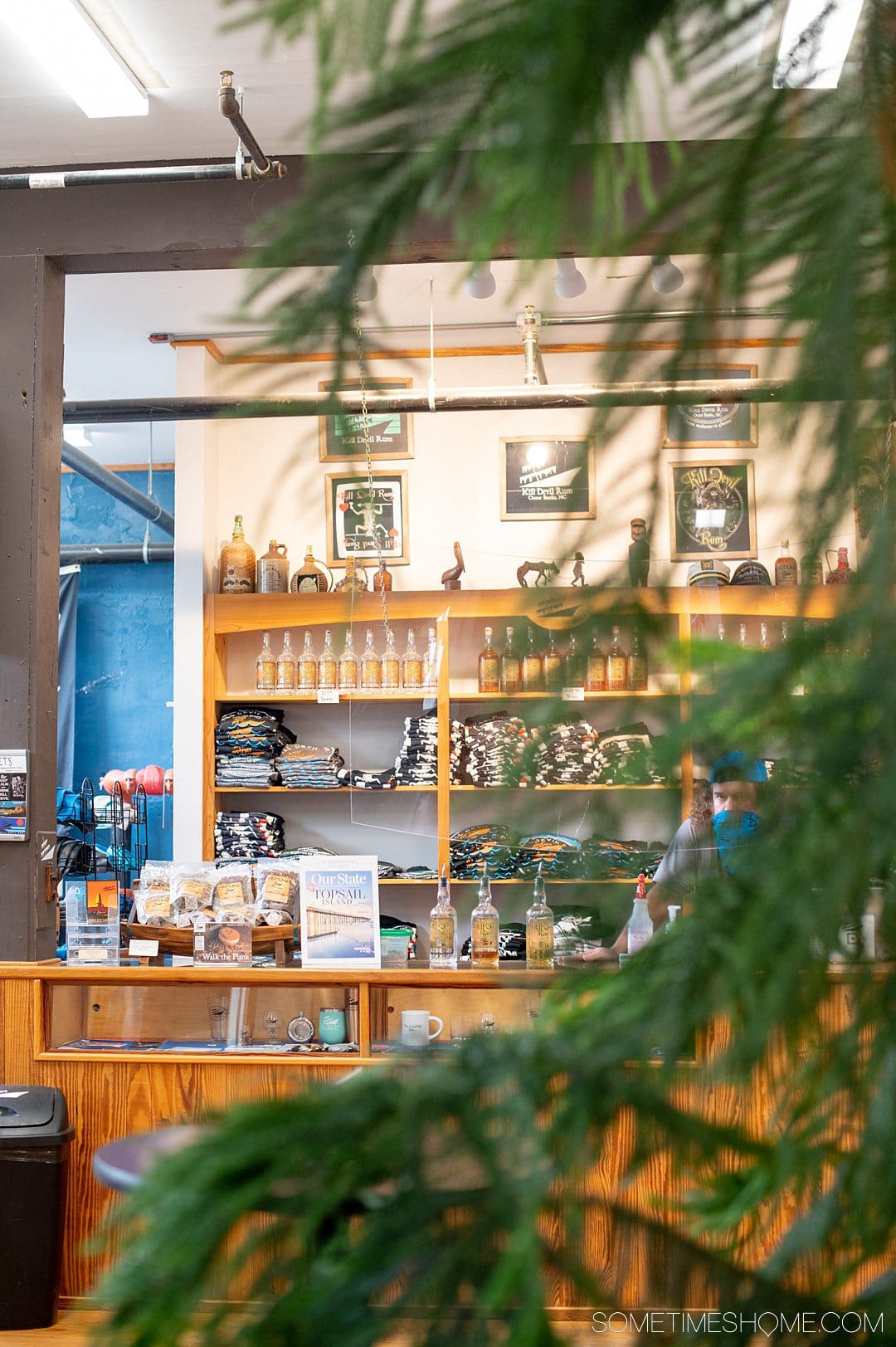 2. Outer Banks Distilling Indoor Bar Area
The second space is the bar area. There is some seating at the bar in addition to a couple of high top tables. They were great about reduced capacity during COVID. (They also have limited outdoor seating as well.)
3. The Distillery at Outer Banks Distilling
The third space inside is their distillery. It was previously open for tours prior to COVID but is not currently operating them.
They may restart them in the future so check their website for updates.
If they're running tours, here's the scoop:
$10 per person for an hour and a half tour. They show you how they create their rums, "From molasses to glasses," a phrase they trademarked.
45 min of the 1.5 hours is spent in the distillery to learn how the rum is made.
Afterwards, visitors have a rum tasting.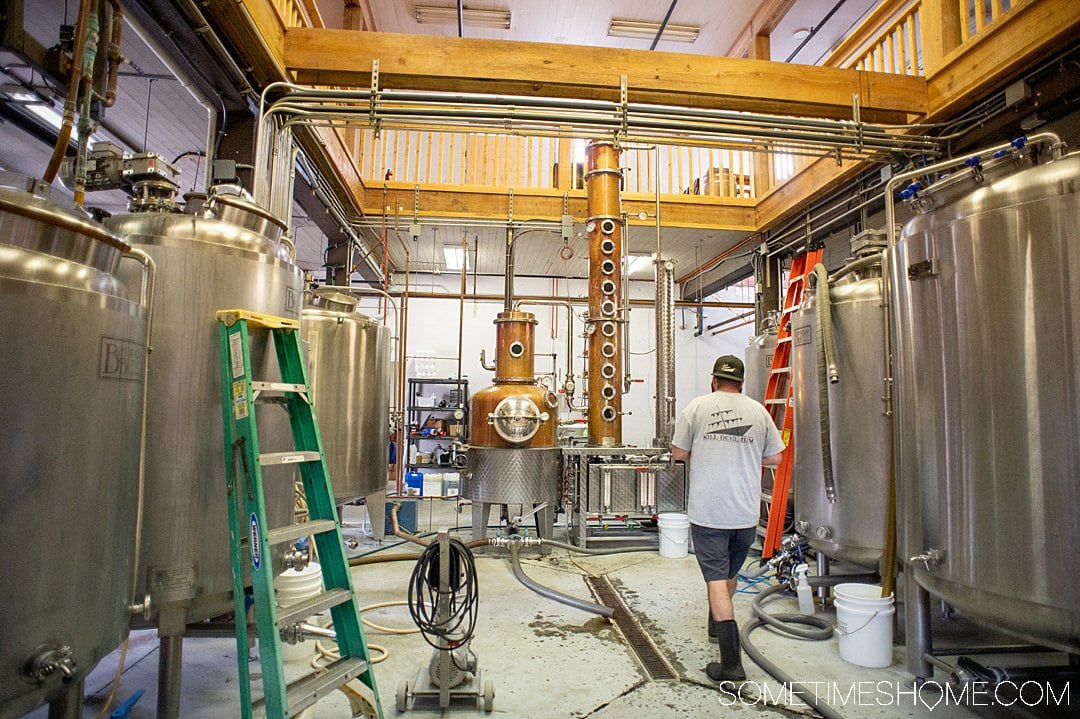 Outside Seating at Outer Banks Distilling
Outer Banks Distilling also has a small outdoor seating area with a couple of picnic table on the side of the building.
We saw some experienced customers bring their own lawn chairs to sit outside on the front sidewalk after they ordered cocktails at the indoor bar. So smart!
Types of Kill Devil Rum and the Rum Bottle Design
Outer Banks Distilling creates "Small batch rum from the graveyard of the Atlantic."
Their Kill Devil Rum operation runs from 4:00am to 9:00pm, seven days a week, even though they're closed to the public on Sundays and Mondays. They produce a lot of rum and have several options to enjoy at any given time.
Their Flagship Series consists of their three staple rums:
Gold ($32.95)
Silver ($24.95)
Pecan ($28.95)
They also offer a variety of rum on a seasonal basis. A winter rum and a summer solstice rum are released twice a year to correspond with the seasons. This is their Solspice Series.
We love their Shipwreck Series, which are all rums named after a historical shipwreck in the Outer Banks.
Their rum bottles were custom designed for them. The neck was formed so it's comfortable to hold the bottle while you pour it, especially with bartenders in mind. And there's a compass rose embossed on the bottom of the bottle as a nod to navigation.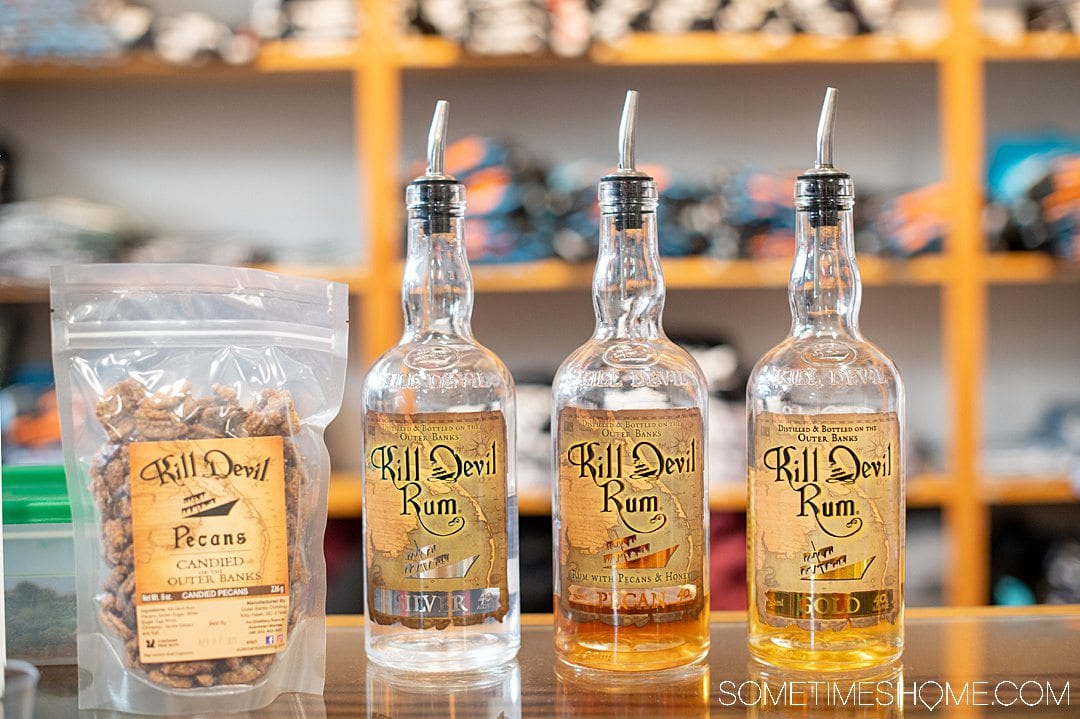 Additional Information about the Outer Banks Distilling Bar
We sat in their bar area and enjoyed two delightful cocktails. Everything is made in-house, down to the coconut milk they use in recipes.
We ordered two drinks during our October OBX visit:
Devil Killer: Kill Devil Rum Pecan Honey, orange, pineapple, house-made coconut cream, and topped with fresh nutmeg (in the highball glass).
Carver's Courage: A collaboration with Carver's Coffee, includes Kill Devil Rum Pecan, honey, house-made roasted peanut milk, Front Porch Cold brew coffee, Demerara syrup, house-made chocolate bitters (the martini glass).
A slideshow plays at the television by the bar showcasing the remodeling of the distillery. It was fun to watch it as we enjoyed our rum; it further drove home the point that the four distillery owners are more like brothers. It's probably why the energy inside their space feels very "homey" and customers feel so welcome there. (They were also sure to greet everyone who came into the building, which did not go unnoticed by us.)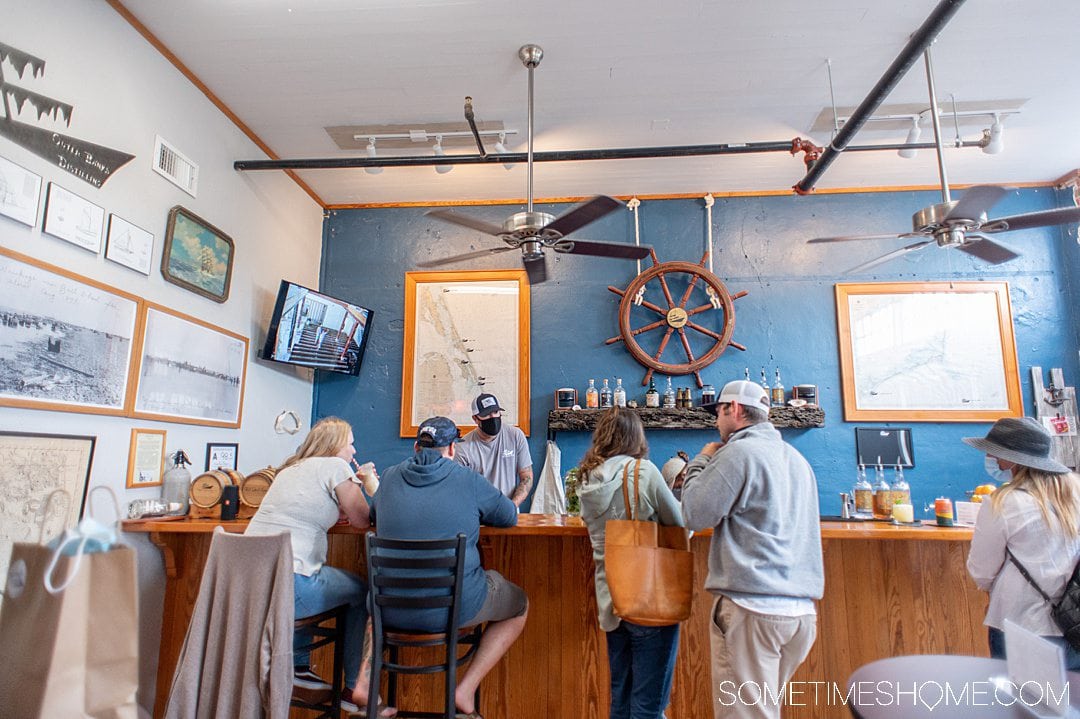 What's the history behind Kill Devil Rum? Where did the name come from?
The owners of Outer Banks Distilling live in Kill Devil Hills. We didn't quite know why the area was named that so we asked. It was very interesting to learn the history of the name of this Outer Banks town through the distillery co-owner, Scott.
He shared that the first term for rum was "Kill Devil," used during the late 1500s and early 1600s. People would say, "you must have the devil inside you," as they vomited on ships, a result from ingesting water that was probably filled with foreign bacteria. They began to carry barrels of rum onboard to drink that instead of water. This was because the distilling process involved with making rum killed bacteria. Thus, they believed rum killed the devil.
As the Atlantic coast off the shores of the Outer Banks were prone to shipwrecks, barrels of rum would float ashore. And that's why the name of the town became "Kill Devil Hills."
Where You Can Buy Kill Devil Rum Outside of their Manteo, NC Distillery
Their rum is sold in ABC stores across North Carolina if you can't make it into their Manteo, NC distillery in the Outer Banks. You can also find it in Virginia, DC, NY and Alabama. They sell about 5,000 cases of rum each year.
Outer Banks Distilling Partners with the Community
One of the things we loved about Outer Banks Distilling was that they're not just located in the Outer Banks – they're truly a part of the community.
They regularly collaborate with local businesses, like with Outer Banks Rum Balls, who uses their Kill Devil Rum in their confections. You can buy a box online or on the merchandise side of their distillery in Manteo.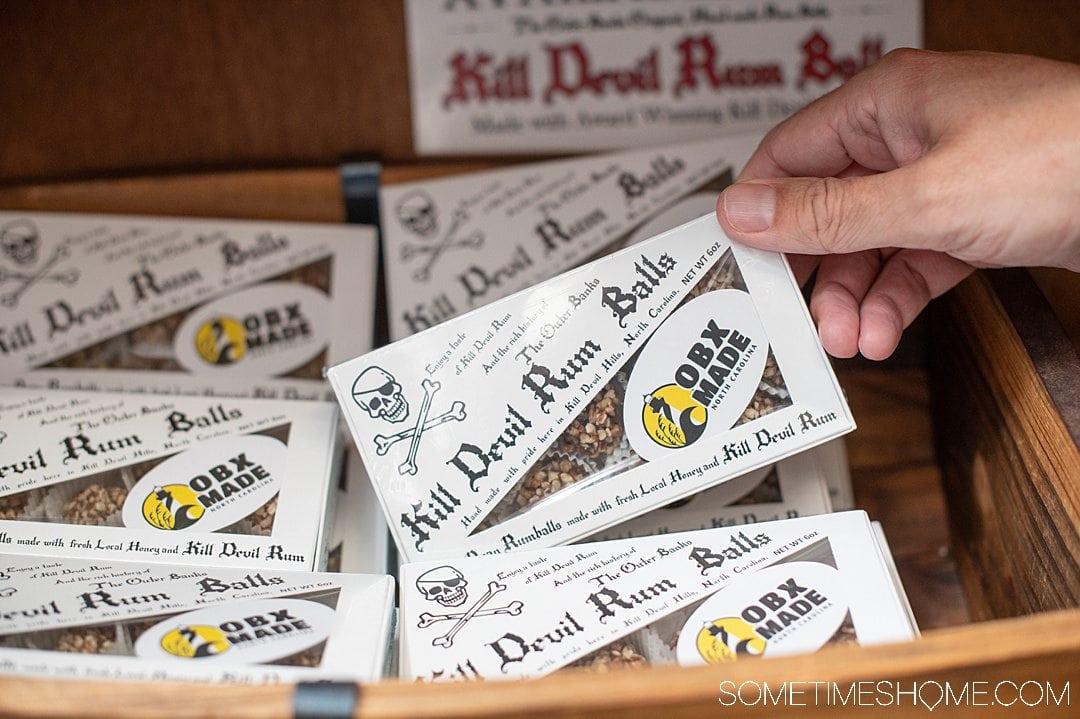 They partner with local Surfin' Spoon frozen yogurt shop too. Their Kill Devil Rum is used for the shop's seasonal Walk the Plank fall ice cream sandwich flavor.
The honey they use in their cocktails and rum is Outer Banks Bees honey from Wanchese, which is a town just south of where the distillery is on Roanoke Island. The pure honey is available to purchase in their shop as well.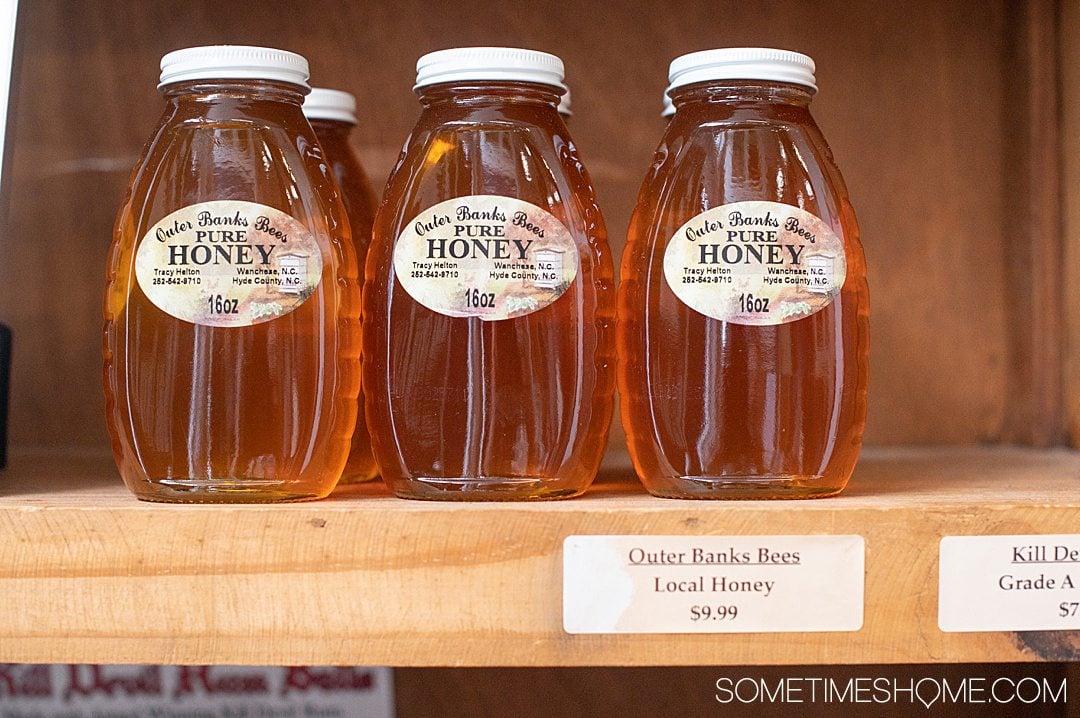 The pecans they use to create their pecan rum are from Manns Harbor, just across the water towards North Carolina's mainland. The pecans are rum-soaked to flavor their Kill Devil Rum Pecan flavor, then they are candied and packaged after they're used so they don't go to waste. Not only are they available in their shop but they…are…ADDICTING!
We brought some home and they're easily now Dan's favorite treat in our pantry.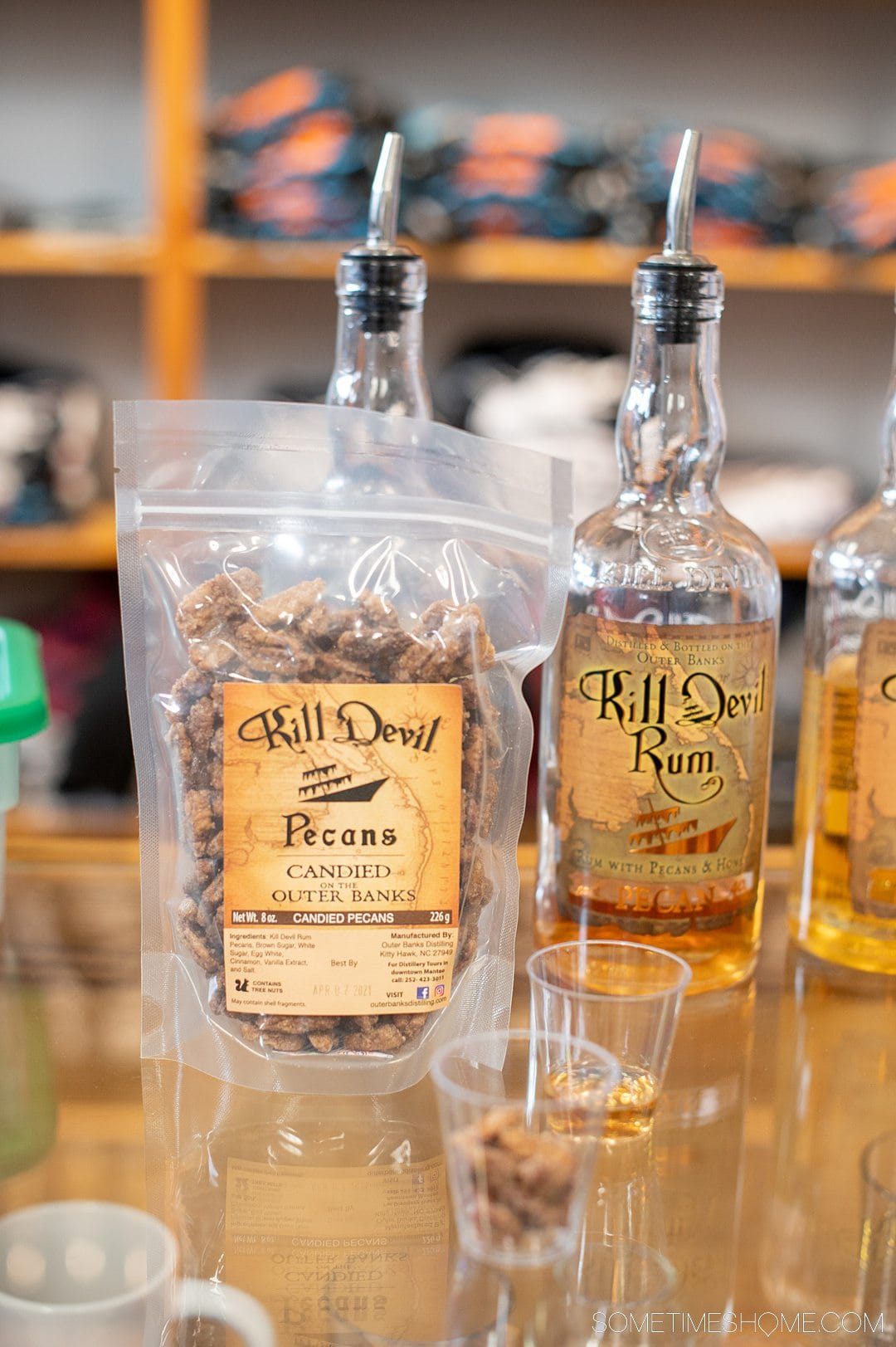 Outer Banks Distilling Gives Back
Not only are they an ingrained part of the community but they give back too. They create a small batch of Angel's Share rum, whose proceeds go to the community.
In 2018 the funds helped build a playground in Dare County (Outer Banks' county). They created a second batch when Hurricane Florence devastated the area to contribute funds to NC Community Foundation.
2019's proceeds went to help Ocracoke Island, that was greatly affected by Hurricane Dorian. Outer Banks Distilling also donated about $9,000 to the Outer Banks Community Foundation in 2019.
Look for Kill Devil Rum in North Carolina
Be sure to look for Kill Devil Rum on menus at seafood restaurants in the Outer Banks, or at restaurants in Ocracoke, or anywhere else in North Carolina, for that matter. We look for it all the time now and love seeing it on menus.
You can also find it in the "North Carolina" section of most ABC stores in the state, which are government run.
Outer Banks Distilling Hours
You can't take a trip to the Outer Banks and not visit Outer Banks Distilling, no matter if the weather outside is sunny or rainy.
They are open Tuesday through Saturday from 10:00am to 5:00pm.
Address: 510 Budleigh St., Manteo, NC 27954
Disclaimer: We thank the Outer Banks Tourism Authority for generously hosting us. We also may make a small commission from affiliate links in this post but all opinions are ours and we bring you genuine content with real facts, photos, thoughts and recommendations. Always.
Heading to the Outer Banks? Also check out:
Let us know your favorite type of drink in the comments below!