Outer Banks Indoor Activities if it Rains, is Cold, or Windy
Outer Banks indoor activities are certainly not at the top of your list for visiting a beach vacation. But there's a reason this area was the perfect, windy place for the Wright brothers to take the first flight in the world with their Wright Flyer in Kitty Hawk: it's windy. And hurricane season does, indeed, affect the Outer Banks of North Carolina.
So it's entirely possible – though we wish everyone who visits nothing but ideal weather for their trip – you'll need some options for indoor activities during your vacation.
We had great weather overall for our Outer Banks getaway. But there was one day it rained the entire day. Thankfully we had plenty of options for what to do in the area, including things to do in the cities of Manteo, Wanchese, Nags Head, and Kill Devil Hills.
Disclosure: We may make a small commission from affiliate links in this post, but all opinions are ours. We bring you content with genuine facts, photos, thoughts, and recommendations. Always. We thank the Tourism Authority for Dare County's Outer Banks for hosting our stay. As Amazon Associates, we earn from qualifying purchases. This helps keep our content free and accessible to our readers.
🕐 Short on time? No Problem!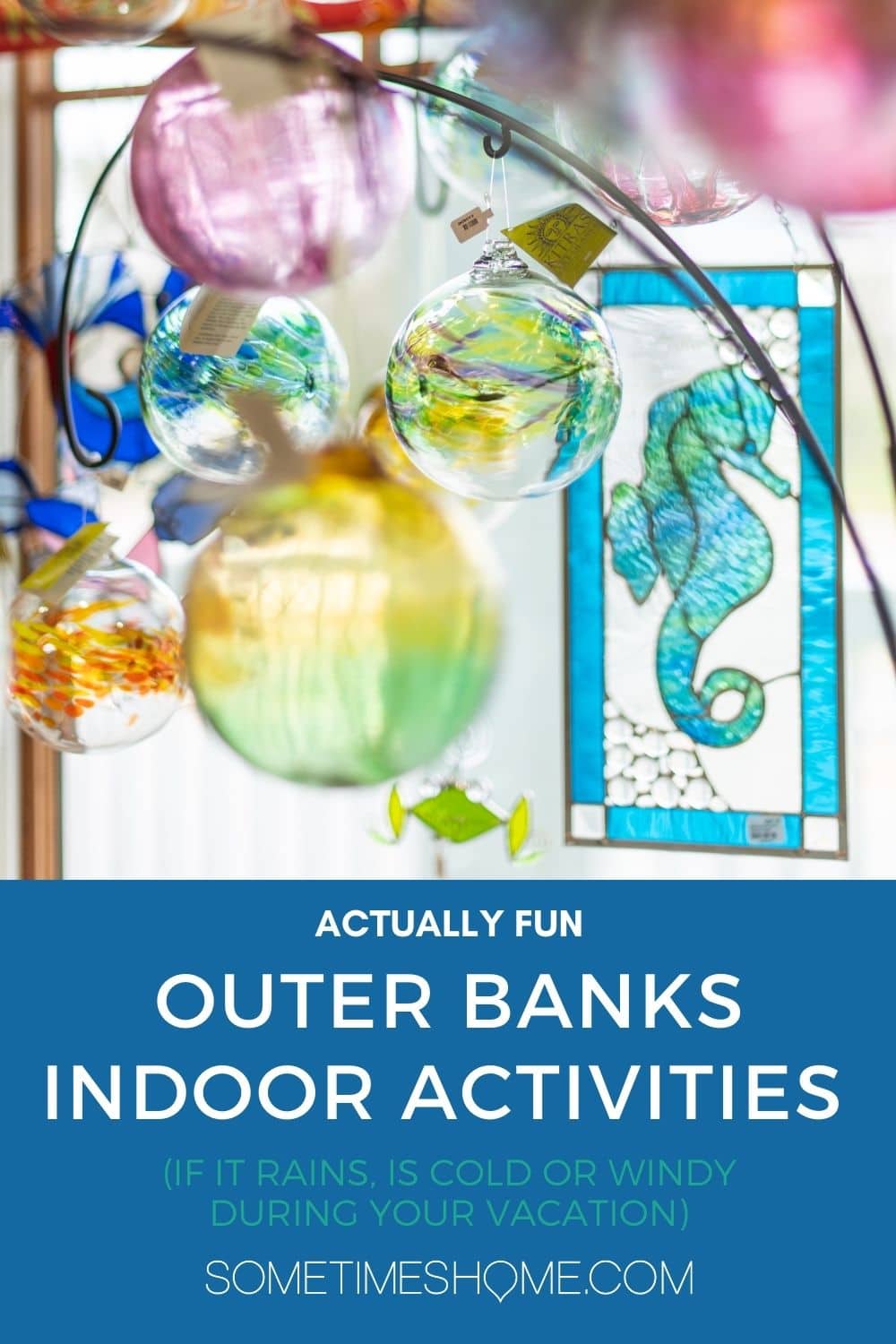 ENJOY A SELF-GUIDED AUDIO TOUR During an OBX Road Trip
If the rain isn't terrible, or its simply windy and you're looking for something to do "indoors," get in your car and take this self-guided audio tour.
Make sure you download it on wifi. Then, even if you don't have cell service in areas of the Outer Banks along the route, you can still get the GPS information from the app. It works like magic!
Guide Along tours are the best audio guides we've ever encountered anywhere. They're well worth the investment, and you can use them again and again and do them at your own pace. You can do the tour in one day, break it up in several days, weeks, or years. It's up to you!
⭐️ 5-Star Rating
Suggested or custom itineraries, including Cape Hatteras National Seashore and Light Station, Bodie Island Light Station, Duck, Roanoke Island, Wright Brothers National Memorial, Jockey's Ridge State Park, and more.
No date limit or expiration.
One-time purchase.
Pre-load at home before you leave strong wifi – no data connection is required for the app to work after you download it.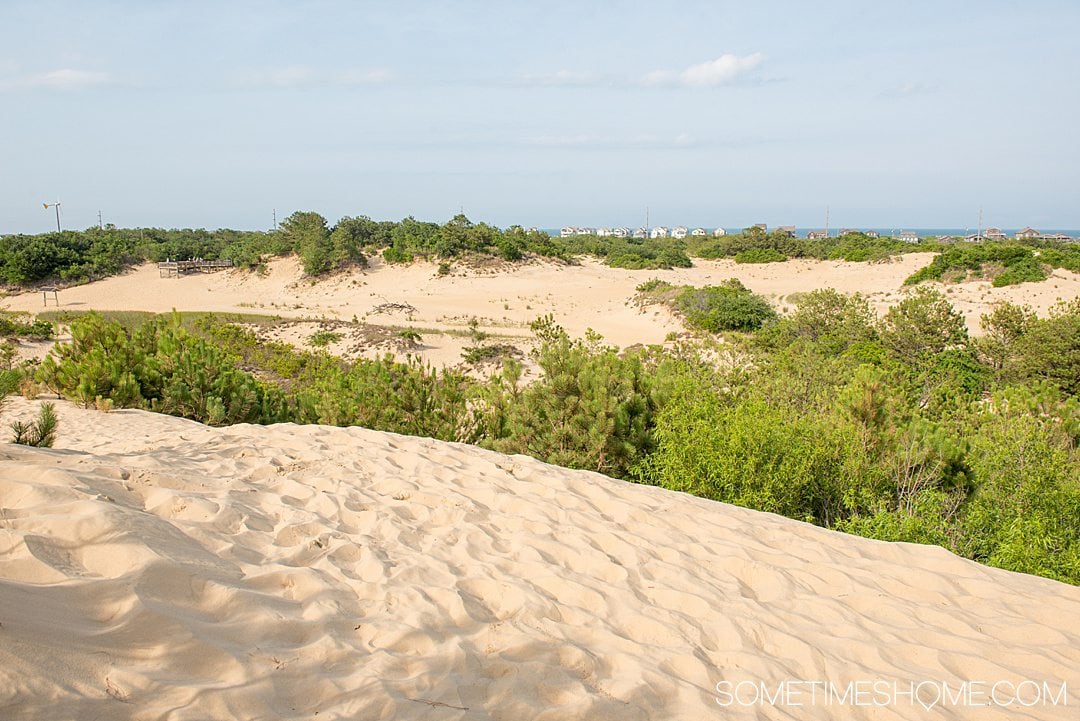 Partake in Fun Indoor Shopping
We're not "shoppers." Shopping for clothes, for example, may not be at the top of our list. But, truth be told, once in a while we'll indulge in some outlet shopping, like when we visit Orlando (they have great outlets). But shopping includes things like going to art galleries and shopping for some fun candy. Which we love!
Visit The Christmas Shop (which is so much more than simply Christmas items)
We passed the Christmas Shop on the way to our hotel, The Tranquil House Inn, in Manteo on Roanoke Island. If it didn't rain we never would have looked inside but we were so glad the inclement weather encouraged us to visit.
The name doesn't do the place justice. They have MUCH more than Christmas ornaments and decorations inside.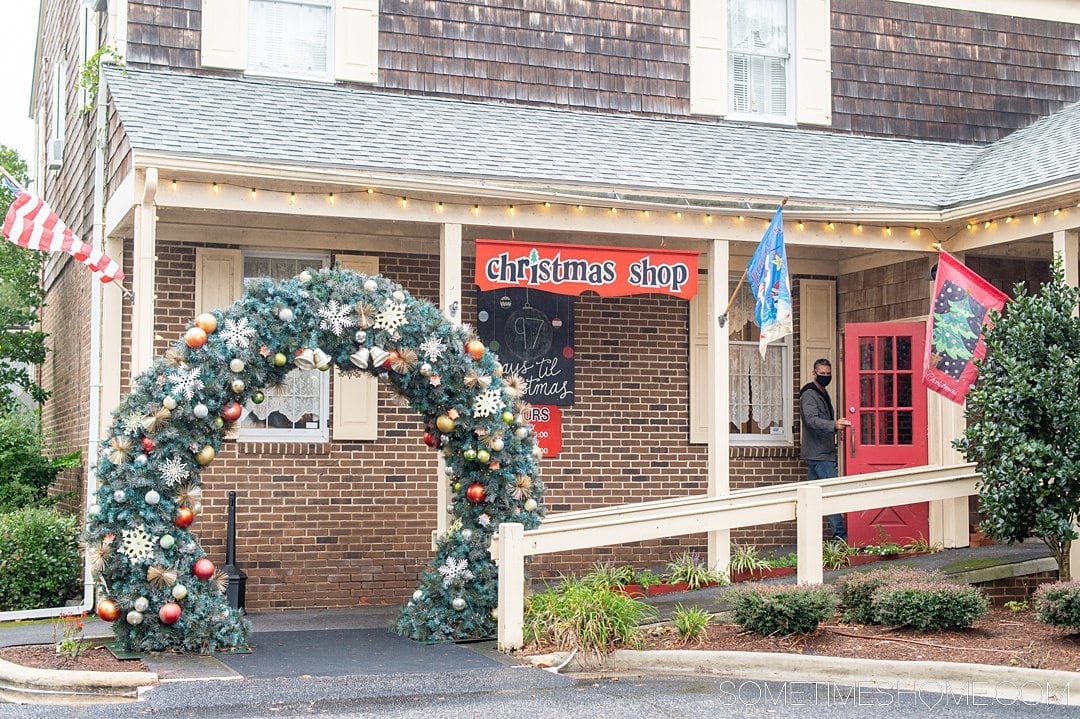 Its facade is also incredibly deceiving. We're truly not sure how this place is so huge since it seems like a medium size home from the front parking garage. But it's massive inside.
It feels like it never ends…and it's definitely worth going to, especially if it's raining, but perhaps even on a nice day!
Here's what they sell in addition to Christmas items:
Card and gifts for any occasion, like if you want to buy a friend a nice gift.
Halloween decorations are available all year.
Thanksgiving/Harvest-themed decorations (also available year-round).
Candy: They had a HUGE candy room! And even sweets from decades ago that took us back to our childhood!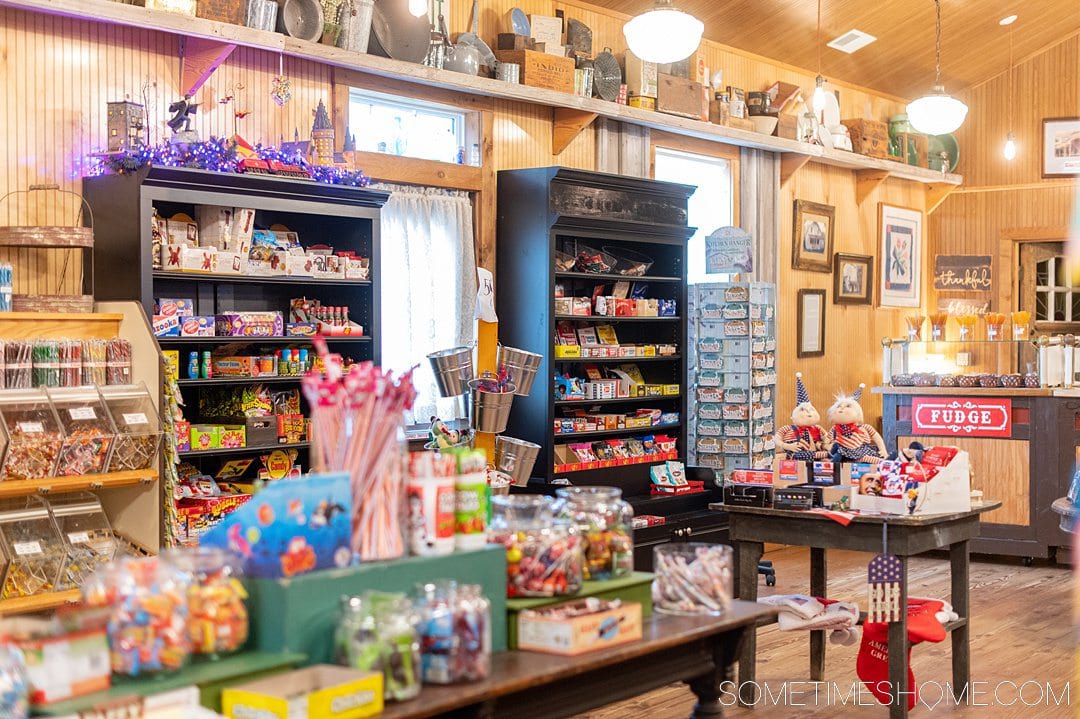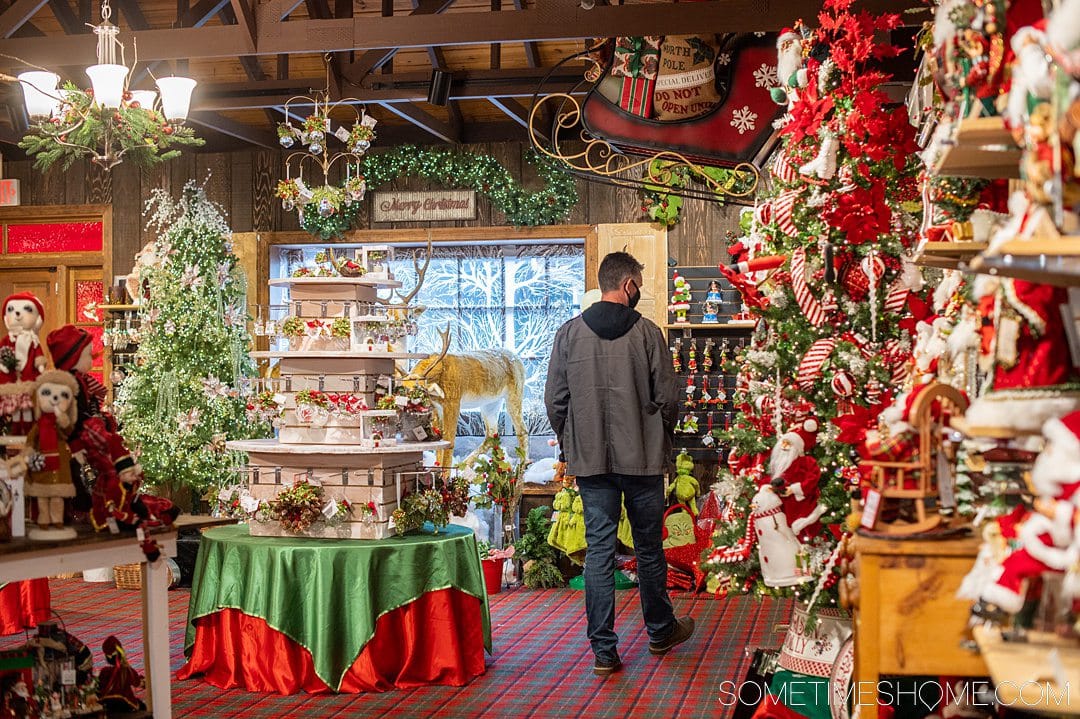 Get a Sugar High Indoors in the Outer Banks at Sugar Kingdom
I'm a candy-loving kid at heart. The colors and huge building of Sugar Kingdom caught my eye from the road, and the cute icons outside lured me to see what was beyond, indoors.
(We couldn't sit in the cute ice cream cone chairs outside when it was raining because they were soaked! But it was worth posing with the rainbow lollipop for a photo under the protection of the building roof.)
Inside is a candy dream, with bulk candy and boxed or packaged candy. They have a candy counter of chocolates by the pound as well, including truffles and all sorts of chocolate-covered pretzels. They also have little toys for kids and some arcade games.
We spent about 20 minutes checking things out. It kind of reminded us of being at one of the smaller candy stores at Walt Disney World's Disney Springs.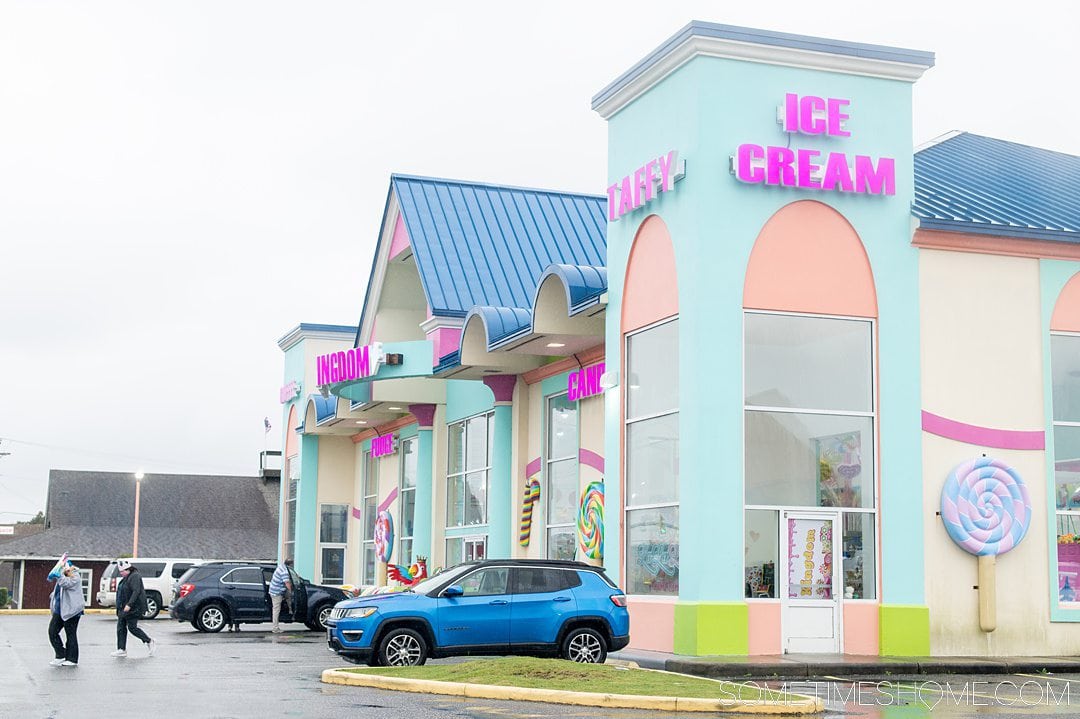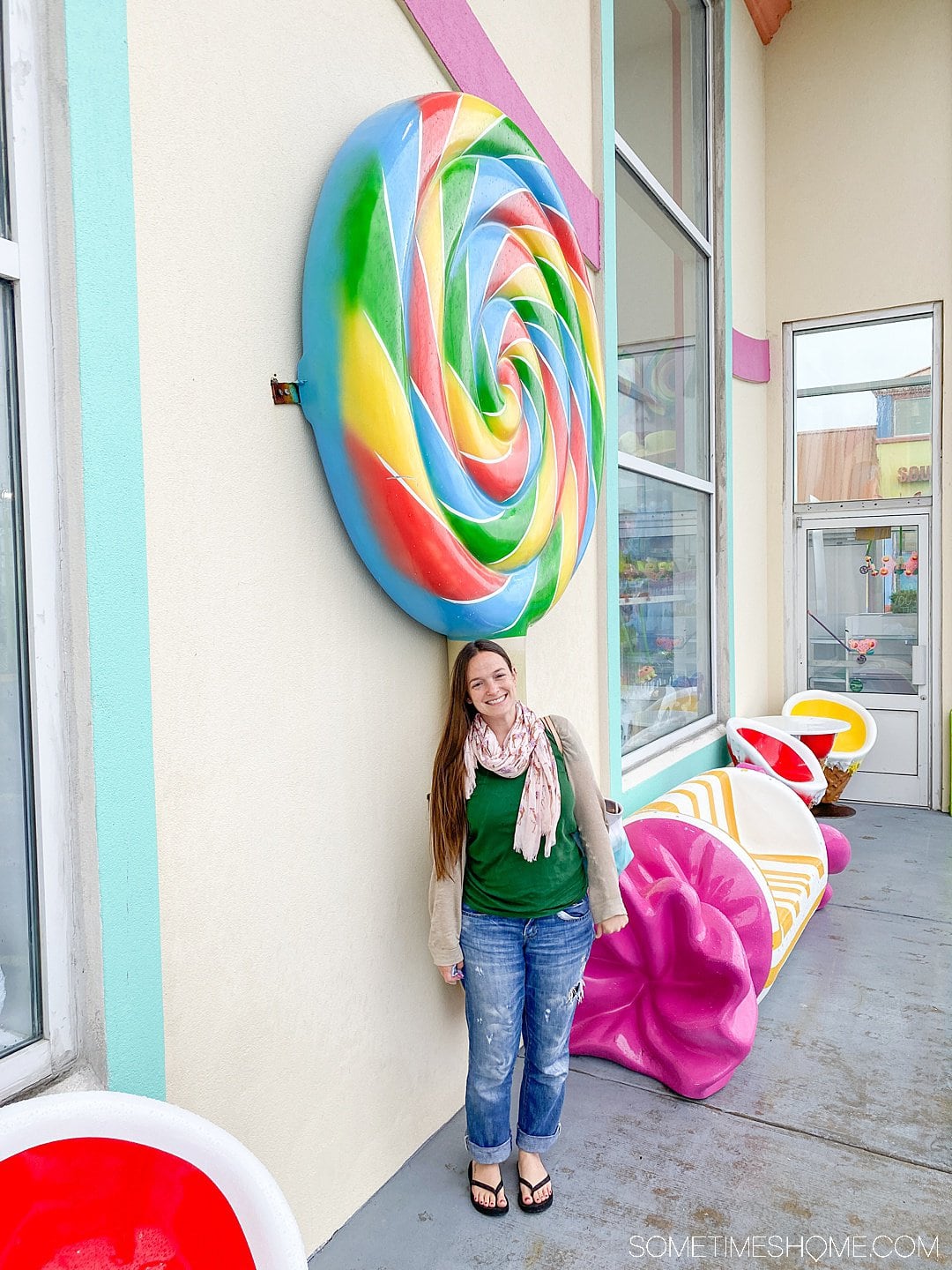 Shop at a SeaWorthy Art Gallery
We loved going to SeaWorthy Gallery in Hatteras. They had such great jewelry, glass ornaments, and pottery gifts inside.
It was grey and gloomy outside, but the inside provided lots of colors. And it seemed like all of the items inside were from artists, who we cannot agree with supporting more. It's also inspiring to see what kinds of things they create.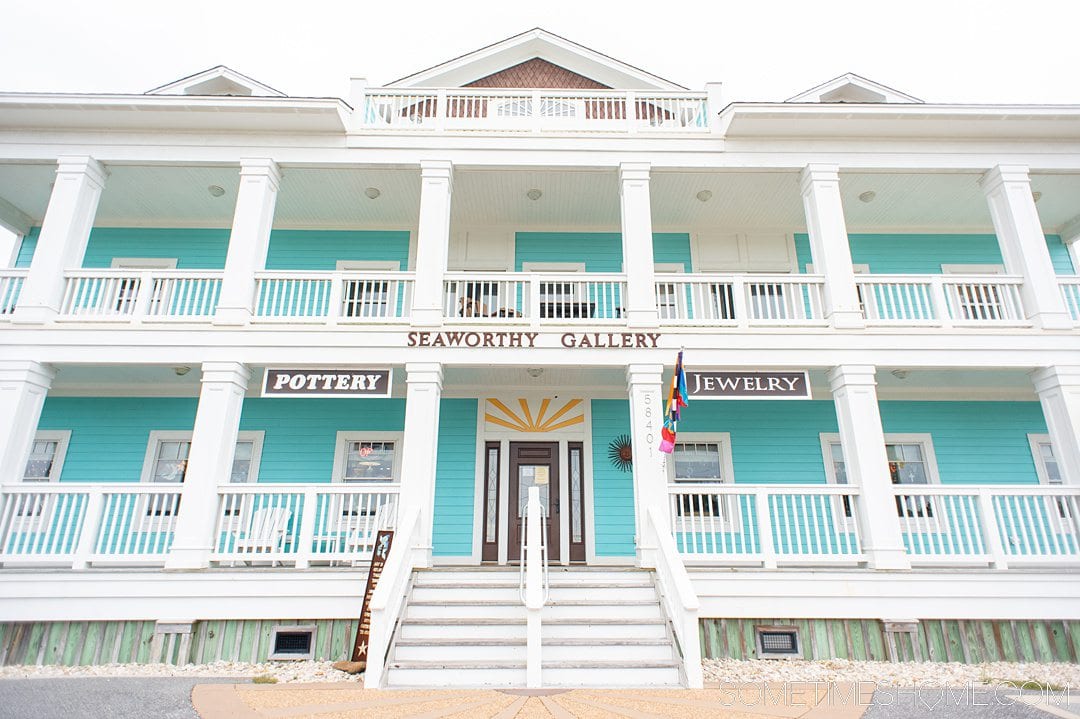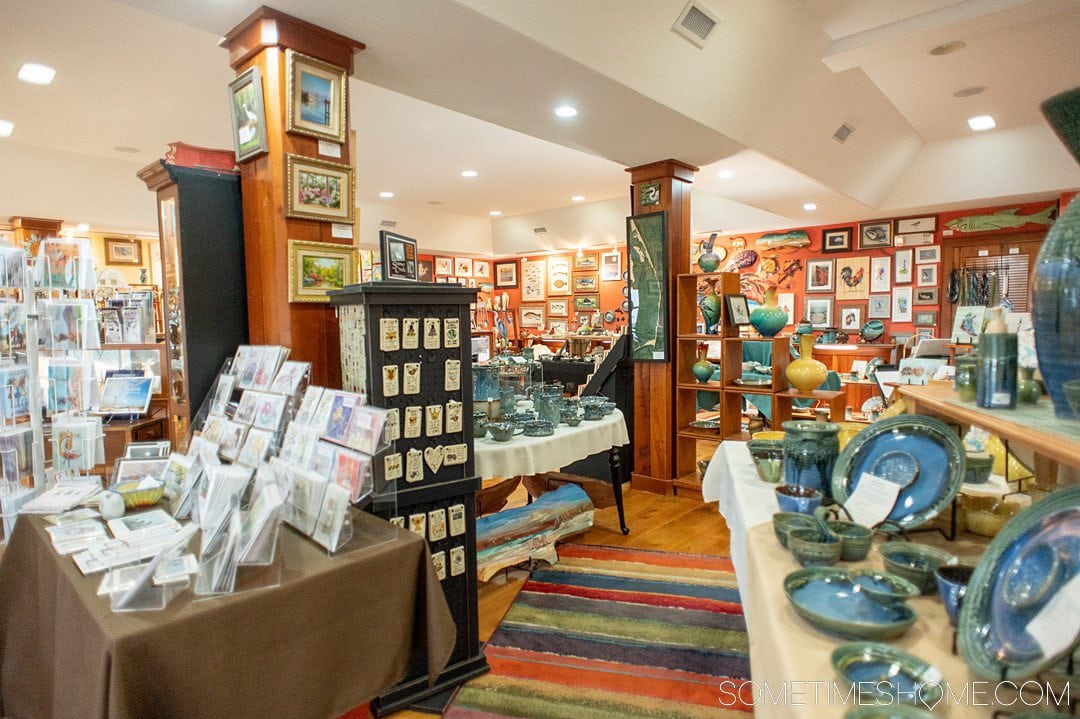 Visit Lee Robinson General Store
The day after we visited with Shaena and Brian from Hatteras Saltworks, we visited Lee Robinson's General Store in Hatteras. We were thrilled to discover the awesome display of their sea salt.
In addition to this, we loved browsing the plentiful options of beer and wine they had as well as the sweet treats! We admit we indulged and bought some ice cream.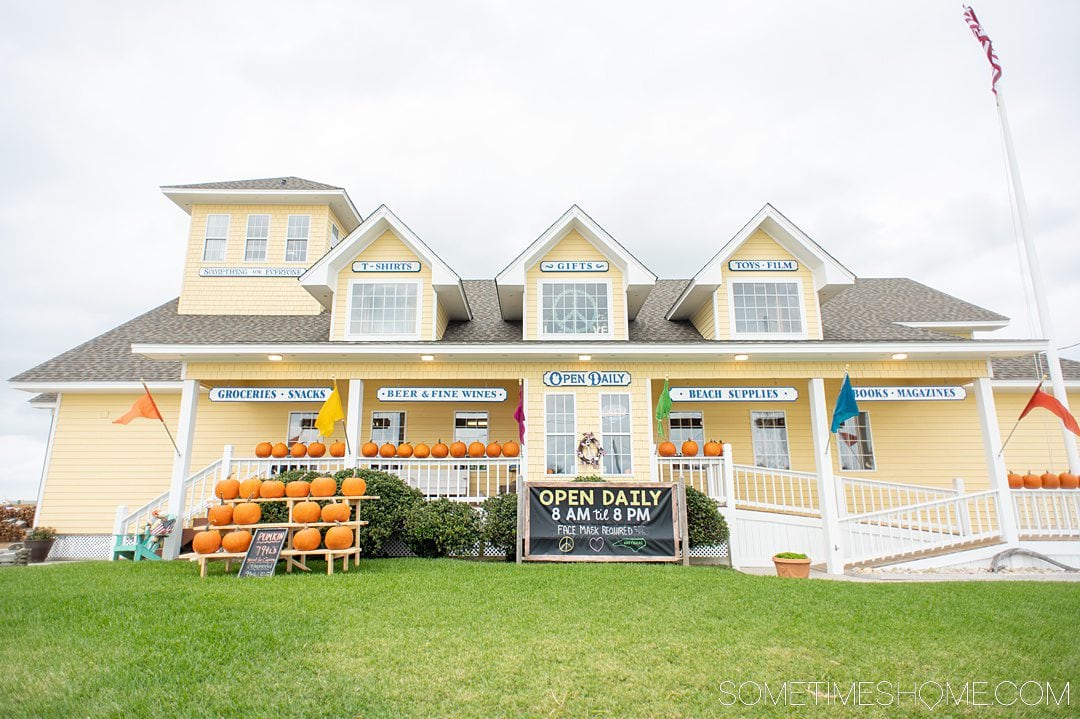 Shop at Nags Head Outlets
If you want to do a little shopping for clothing, especially, check out the Outlets at Nags Head.
Many of the shops have closed due to lack of business during COVID, unfortunately (more so with fashion-focused shops closing on a national scale, not necessarily from lack of traffic in the Outer Banks). But if it's raining, you may want to give it a go and see what stores are there.
Outer Banks Indoor Activities, Visiting Museums
Check out the Indoor Museum Portion of the Wright Brothers National Memorial in Kill Devil Hills
There are two parts of the Wright Brothers National Memorial in the Outer Banks near Kitty Hawk:
Outdoor area and monument.
Indoor museum with a reproduction of the 1903 Wright Flyer as the museum's grand finale.
Cost for the memorial is $10 per adult. It's a National Park, though, so if you buy an annual pass for NPS it's valid here.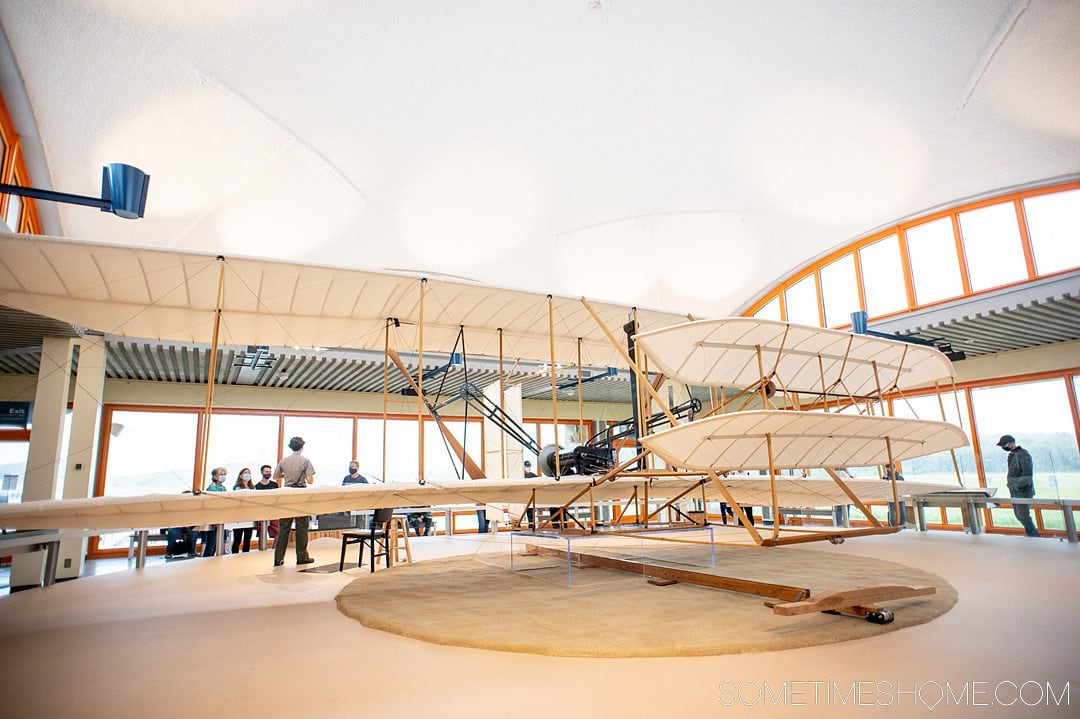 Another option is to buy a $35 annual pass specifically for the Wright Brothers Memorial, which gives entry to the pass holder plus three adults. If you're a party of three or four adults, and plan on visiting just one additional time outside of seven consecutive days, this is the way to go.
Your entry is good for seven consecutive days from the date of purchase. If it's raining, cold or incredibly windy, or it looks like there is rain in the forecast while you're vacationing and you'll need Outer Banks indoor activities, save this for an inclement weather day.
You'll purchase a ticket the first day you go to the Wright Brothers National Memorial. Then, if the weather ends up being nice the next day, for instance, you can return and walk the outdoor portion of the park and memorial then. (That is exactly what we did.)
The indoor portion of the museum takes a good hour to read everything on the walls (and I have a habit of reading every piece of written information at a museum) and see the 1903 reproduction of the Wright Flyer.
Graveyard of the Atlantic Museum in Hatteras
This museum is a tribute to the shipwrecks in the Atlantic Ocean. The museum is free of charge though they have a box for monetary donations when you walk in.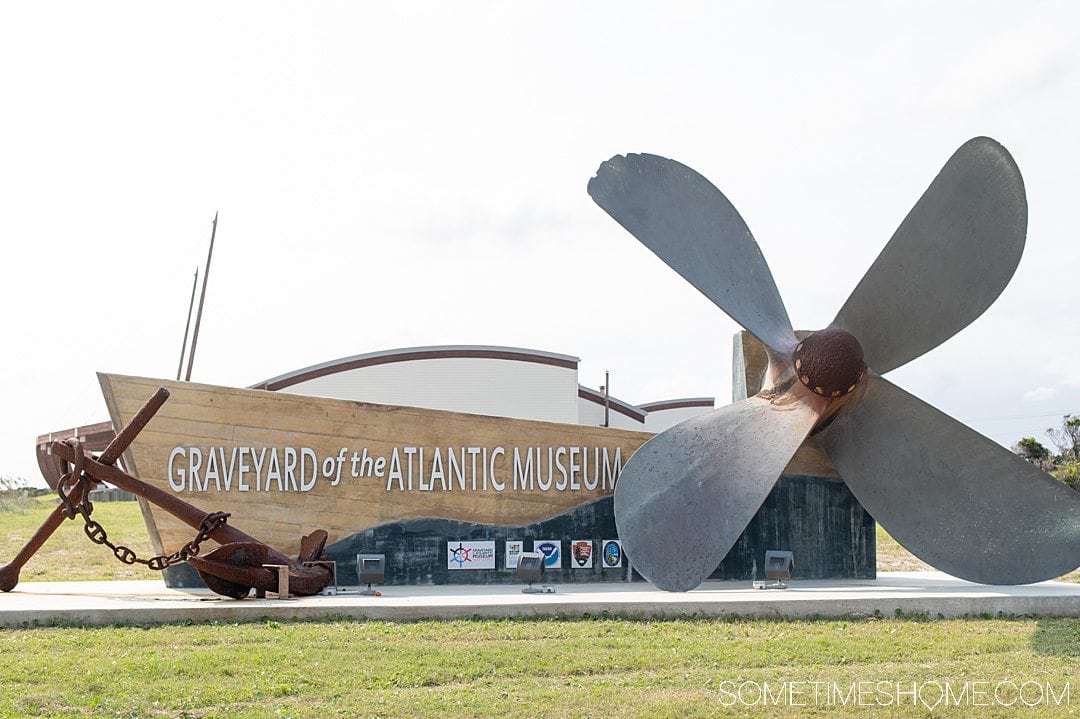 It took us about an hour to walk through the museum and read the information. The most interesting things were the lighthouse Fresnel lens (picture below) and the information about the Titanic sinking.
This was a little confusing because it didn't happen close to the Outer Banks but it was certainly a shipwreck in the Atlantic, so it fit the description of the museum.
The museum was good, but not great. But we enjoyed it for a small amount of time, and since it's free and educational about the Outer Banks, why not visit?
If the weather outside is tolerable, perhaps just a bit windy or overcast, there's beach access to Hatteras just across from the parking lot.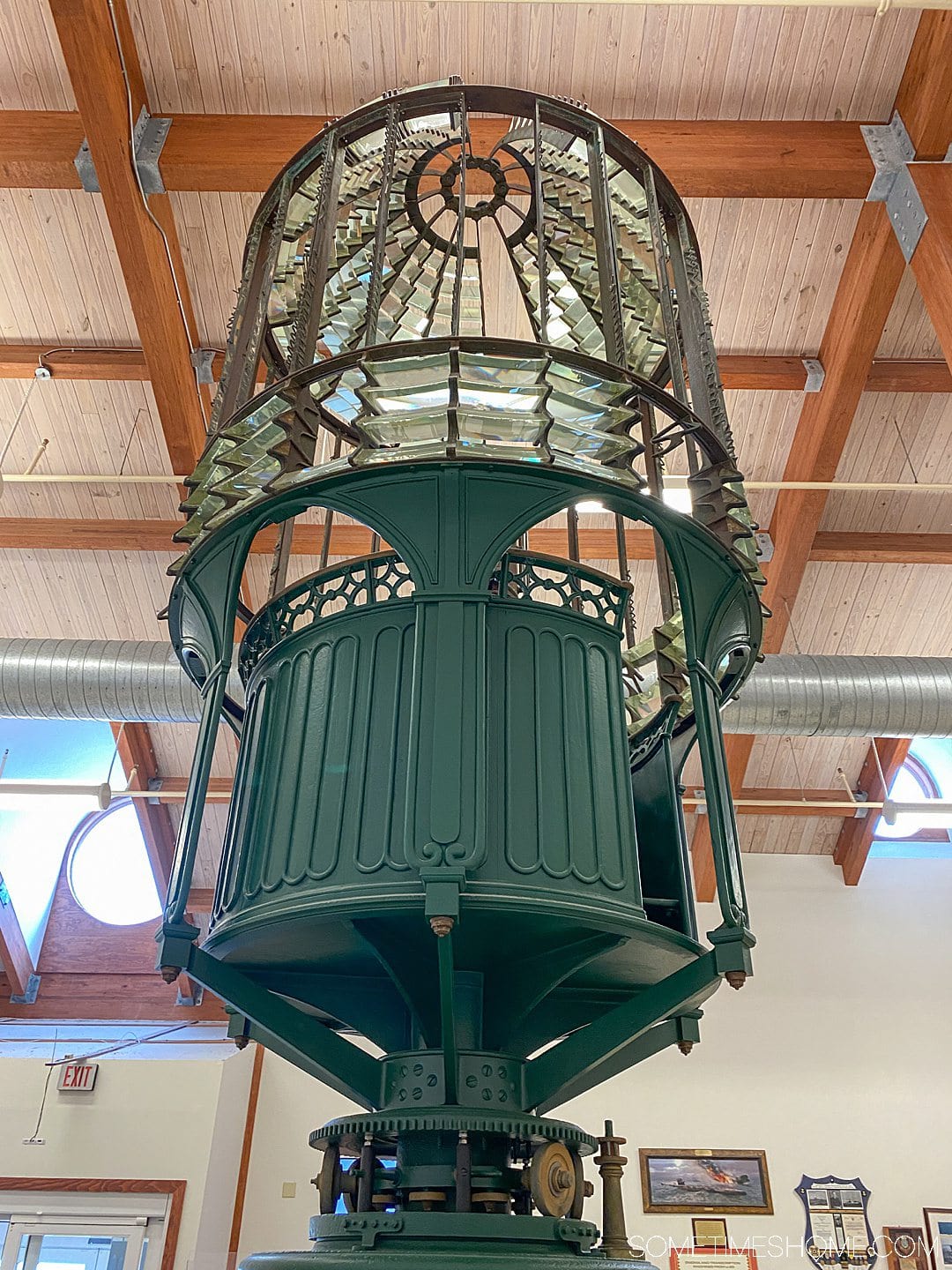 Things to Do for Outer Banks Indoor Activities with Alcohol
One of Our Favorite Outer Banks Indoor Activities: Visit Outer Banks Distilling
One of the most fun stops we made during our trip to OBX was to Outer Banks Distilling, where they produce Kill Devil Rum.
You can have a great time at their indoor bar, tasting all their delicious, handcrafted cocktails. They make all their ingredients themselves down to their coconut milk.
Pre-COVID, they were offering tours of the distillery for a nominal fee. They're not currently running tours, but check their website for updates because it's likely they'll start again in the future.
They are open Tuesday through Saturday, from 10:00am to 5:00pm.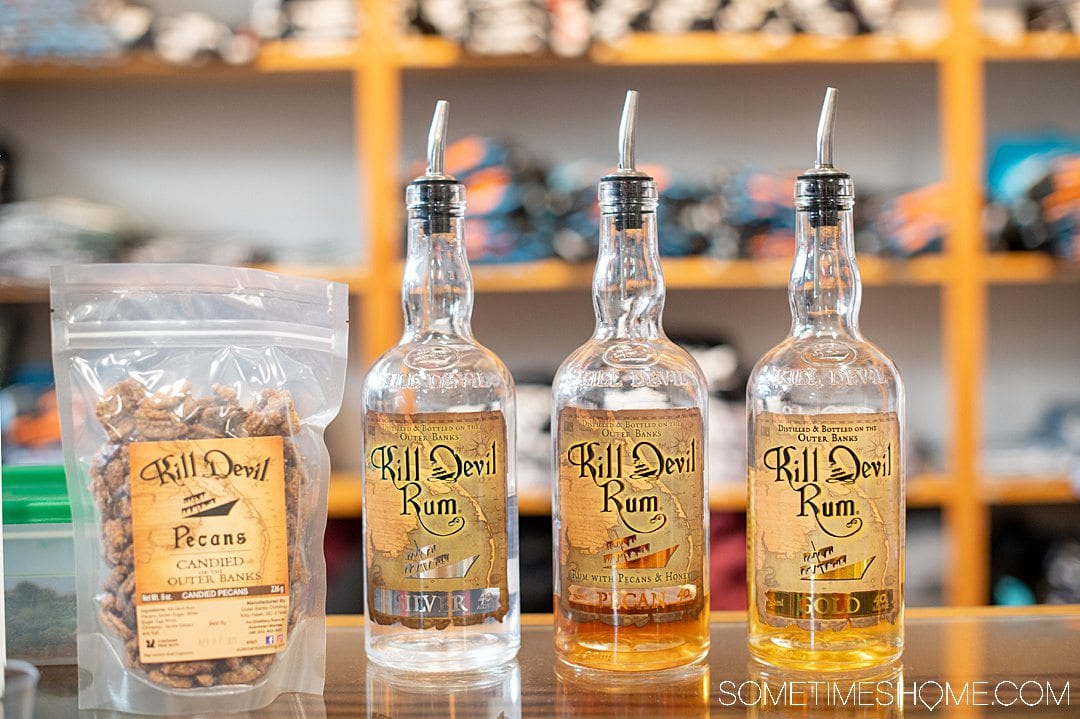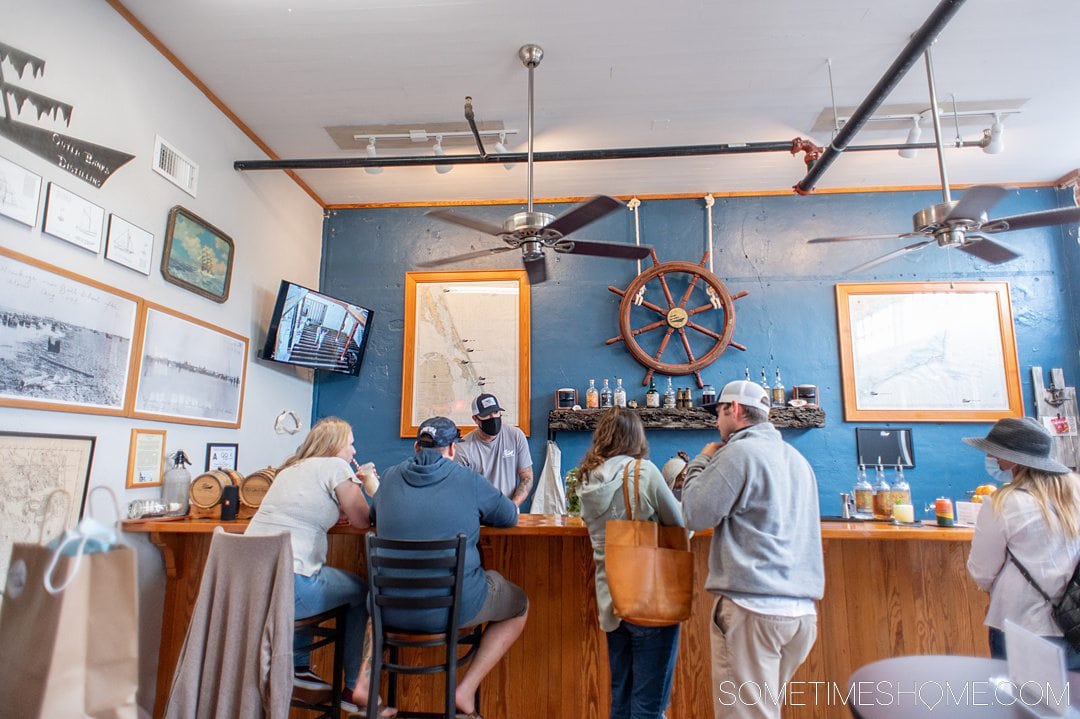 Share a Bottle of Wine at Ortega'z in Manteo
Do you know what's great to warm up with if there's bad weather? Wine!
We had dinner in Manteo on Roanoke Island in OBX and didn't want to the night to end. It was very chilly outside, though – windy and cold. It was time to find something to do indoors for the rest of the evening. We were also in the Outer Banks in October during shoulder season (which is before or after peak season) so there wasn't a ton to do after 7:30 pm, anyway.
Yet we didn't need much – Ortega'z Southwestern Grill and Wine Bar was perfect! We loved splitting a bottle of red wine and talking to the bartender about the Outer Banks.
Needless to say, this was one of our favorite relaxing Outer Banks indoor activities. It was perfect to wind down (or "wine" down, ha!) before bedtime, just two blocks away from where we were staying, at The Tranquil House Inn.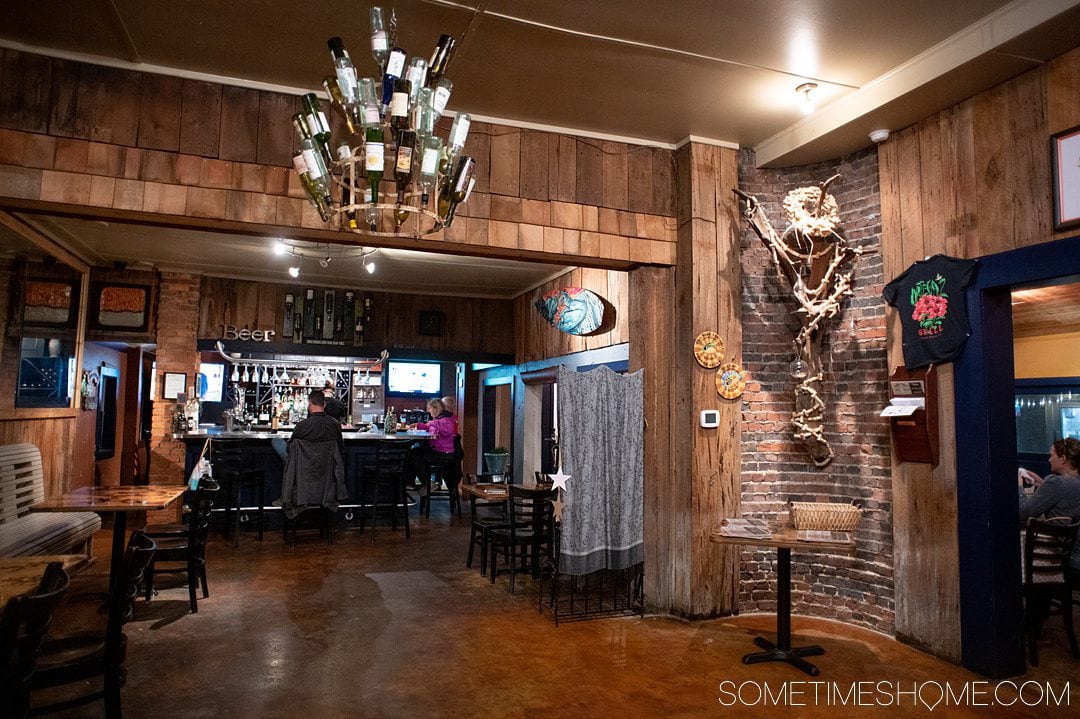 Pick up Some Local Wine at The Cotton Gin
There was a great little shop across the street from our hotel, the Tranquil House Inn, on Roanoke Island. There was a sign outside the shop indicating they had wine tastings inside. But when we inquired, we discovered they only had sweet wines, like those typically made from muscadine grapes. We typically like dry wines.
However, the nice woman there told us that The Cotton Gin, not too far away, sold some dry, local wines. And a little wine tasting and purchase seemed like a perfect Outer Banks indoor activity on a rainy day. So off we went!
We tasted about three reds and really enjoyed Sanctuary Vineyards' Morton red table wine. We bought a bottle and enjoyed it at home after we got back to Raleigh from OBX and were naturally missing our vacation.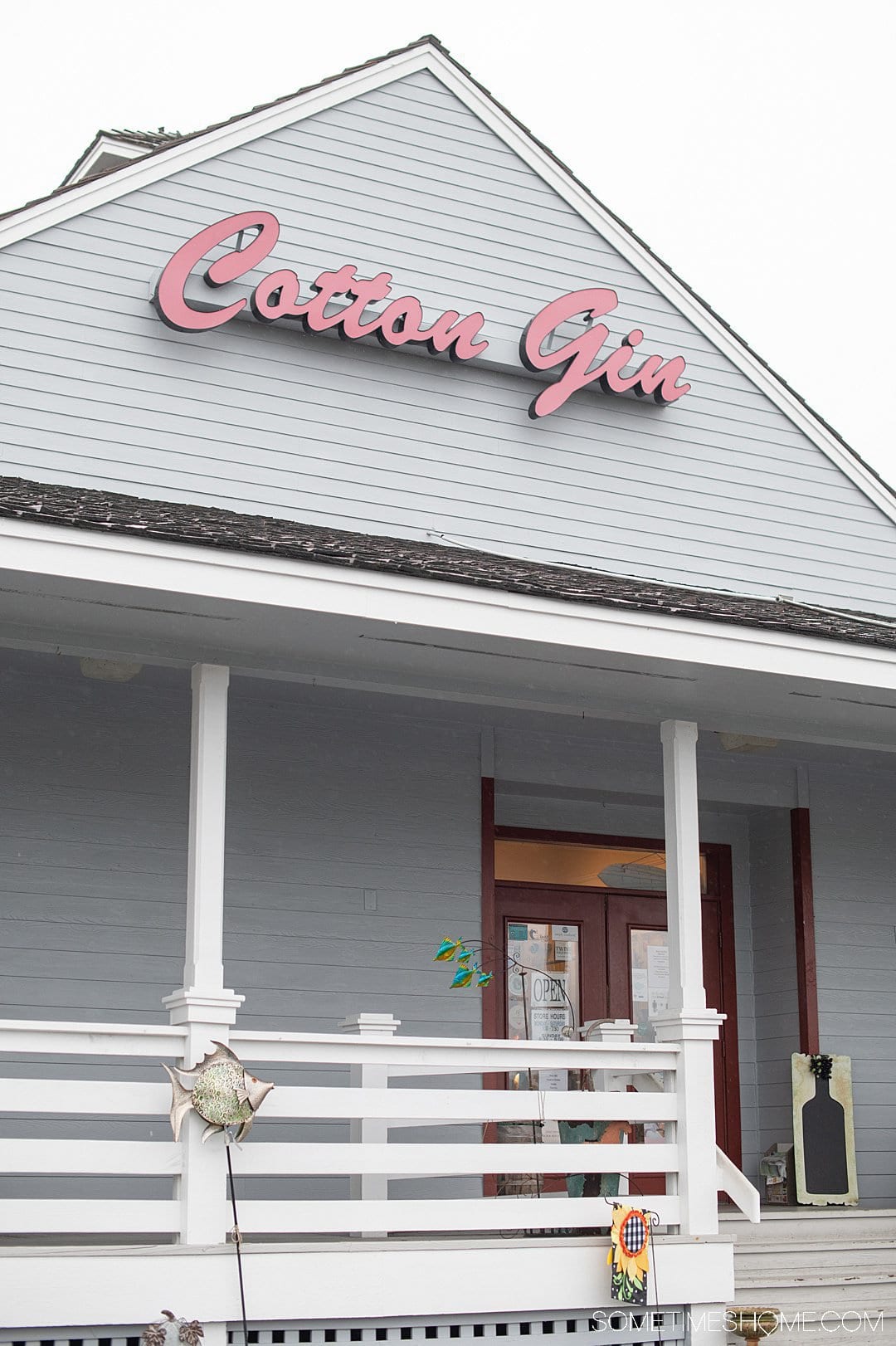 Grab a Flight of Beer at the Outer Banks Brewing Station
We passed Outer Banks Brewing Station as we drove along NC-12 in the rain. It was as good a time as any to stop in for some beer.
They have a huge outdoor seating area if it's nice out, but if it's not, there's lots of indoor seating too.
We thought the beer was pretty good! It was better than the beer at Lost Colony in Manteo but not as good as the beer we've had elsewhere in North Carolina, like at Winston-Salem's Foothills (though it's a much different operation) or in Ocracoke at 1718 Brewery.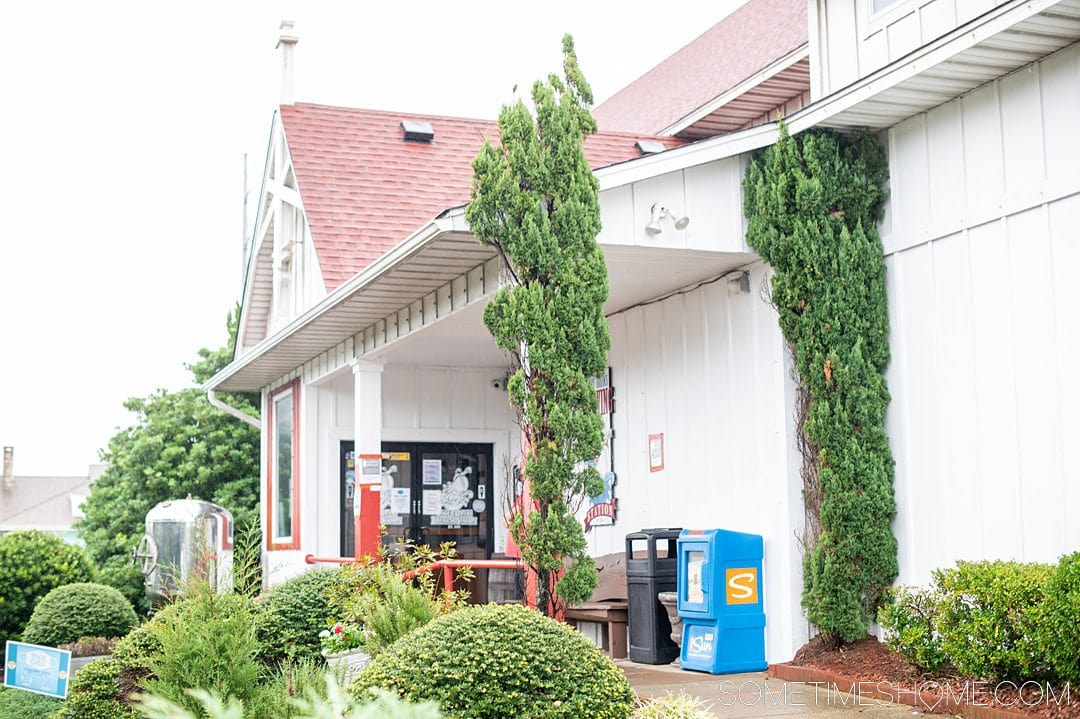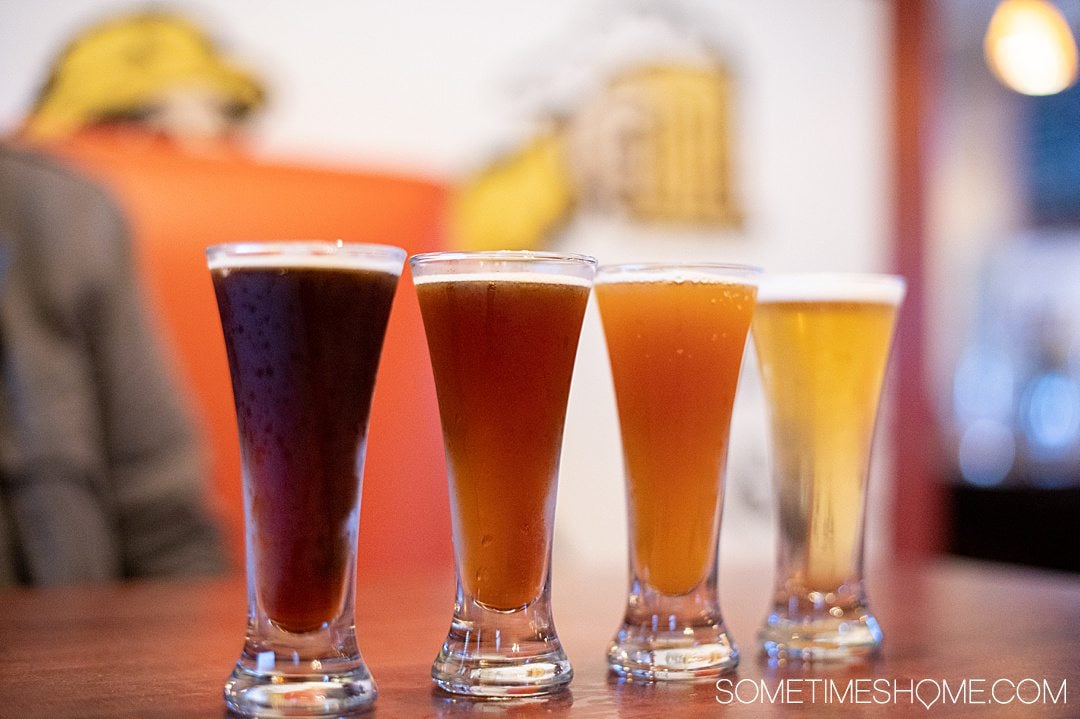 Go Bowling at OBX Bowling Center
What better way to forget about the rain or wind outside than with the thunderous noise of crashing bowling pins and rolling of bowling bowls cruising down slick wooden lanes inside?
Play a few games of bowling at OBX Bowling Center in Nags Head. Be sure you bring socks to wear with the bowling shoes if you're like me, and usually wear flip-flops on a daily basis during spring, summer, or fall.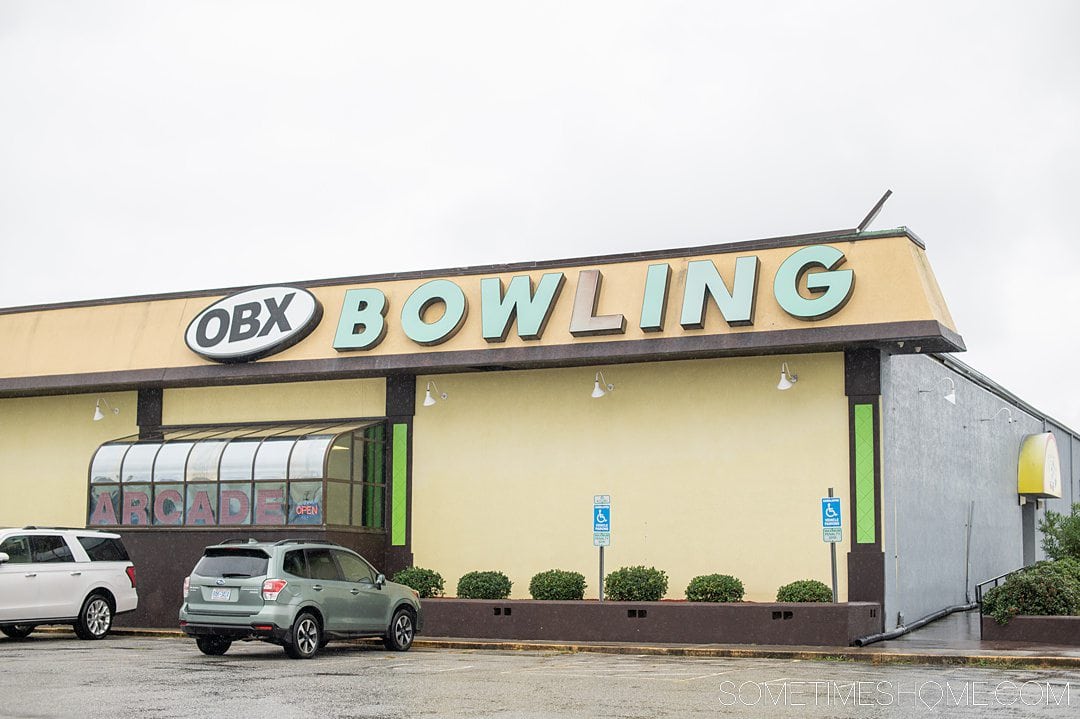 Enjoy Outer Banks Food with a Waterfront View (from Inside)
Get Oysters at Blue Water Grill & Raw Bar in Manteo
A highlight of the trip was getting Happy Hour oysters at the Blue Water Grill & Raw Bar. You'd think it's easy to find raw oysters in the Outer Banks because they farm them there, but it's actually quite difficult. Imagine our shock to discover this!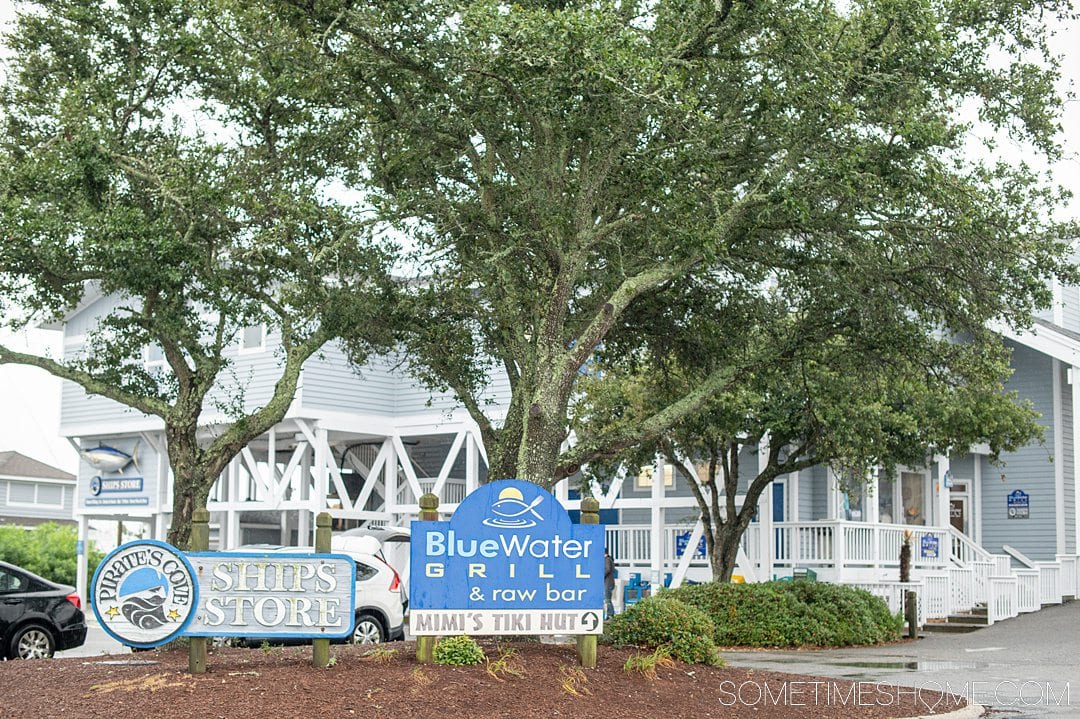 We're suckers (or shuckers, haha) for oysters, so it was a treat to have them. And there's no better way to do so than from the safety and covering of a nice restaurant when it's raining. We were even still able to have a waterfront view where we sat inside, enjoying our OBX seafood.
One of the perks of visiting the Outer Banks during their shoulder season, like when we were there in October, is Oyster Happy Hour from 4:00 to 6:00 pm at Blue Water Grill. They have oysters during peak season, too; they just don't offer happy hour then.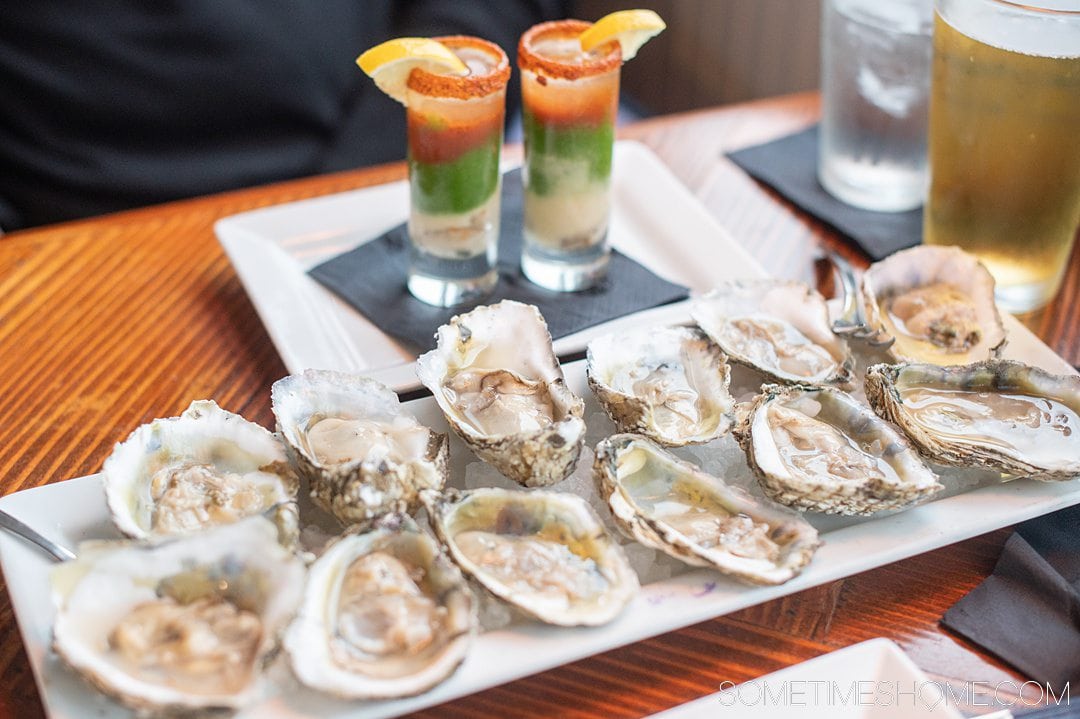 Have Breakfast or Lunch Indoors with a Marina View at Wanchese Landing Grill & Marina
If you can't be on the water, at least you can view the water from inside.
We LOVED Wanchese Landing Grill & Marina, a casual dining place, for breakfast. We shared a breakfast burrito and biscuit. They were both great and super affordable.
The interior design is quite honestly the cutest and most well-done we have seen in all of The Outer Banks! You'd never know it by looking at the unassuming building from the outside.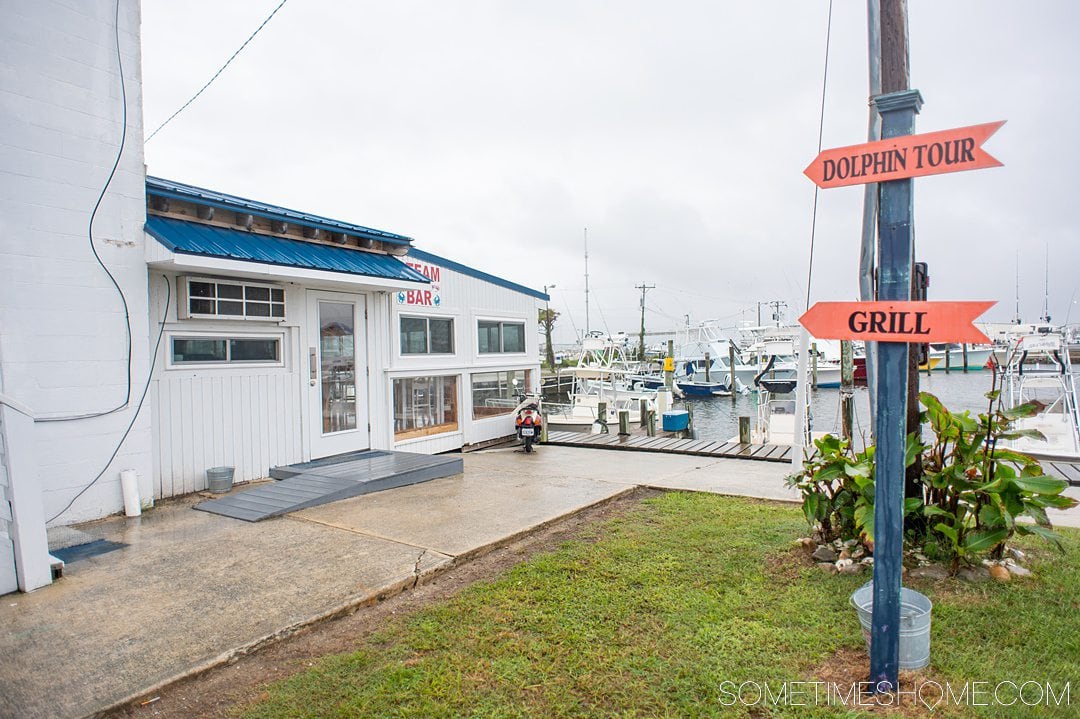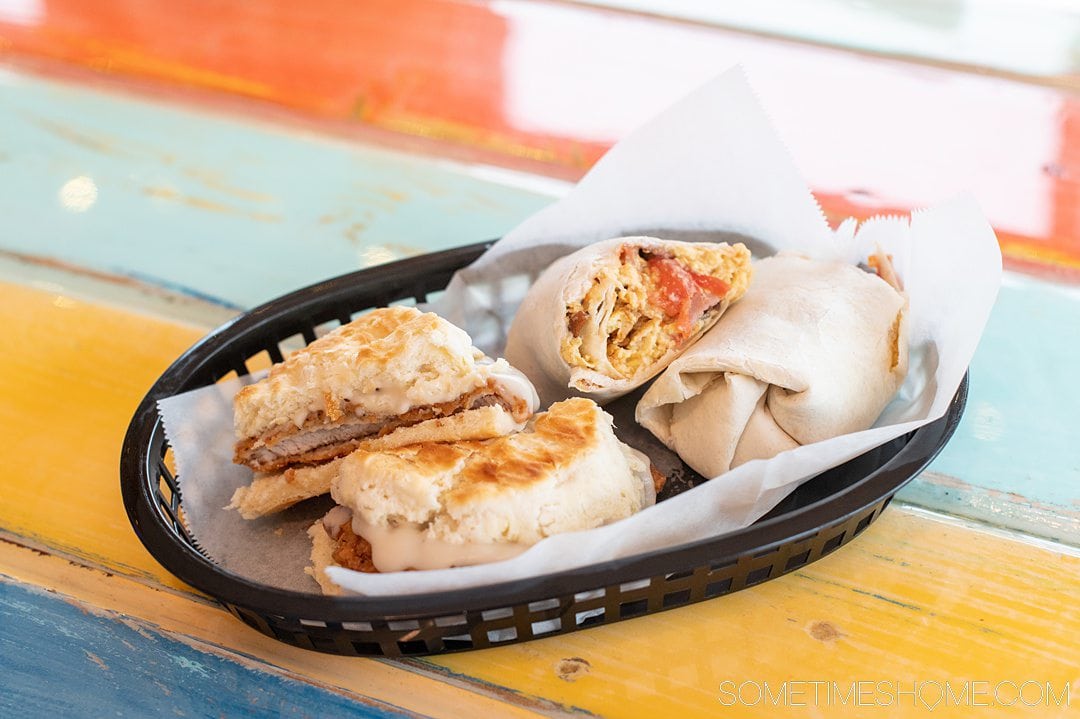 Check out additional information for your trip to the Outer Banks: