Ocracoke Restaurants to Try During Your Outer Banks Vacation
Ocracoke is a wonderful destination in the Outer Banks. After a day of traveling to get there, including a ferry to reach the island, you'll definitely be hungry. But it's also important to know about Ocracoke restaurants because it's likely you'll be on the island for a few days vacation (even a week or two) and during that time you'll want to eat! And eat well. We've written up some great local spots for you to try while you're there.
These are not all the restaurants in Ocracoke nor do we live on the island; we can't keep the list up to date every week or to the minute. But we do our best to keep the information as accurate as possible, including firsthand accounts if we've eaten there or had drinks there. Let's dig in!
Ocracoke's Dajio
Good for: late lunch and dinner
Dajio's has a more formal-feeling restaurant inside with white-tablecloths, and a more casual patio outside. (But remember, you're still on an island on beach time so you can leave black tie attire at home!) It's owned and operated by Judy and Doug Eifert, a couple who met in the restaurant business and fell in love with Ocracoke after their first visit. They subsequently moved to the island and opened Dajio.
We also had a great meal there and they continuously get rave reviews from others too. It's the perfect place to treat yourselves to a memorable meal at an Ocracoke restaurant you'll remember.
The prices are completely reasonable, with entrees ranging from $18 for chicken or pasta dish, to $30 for seafood or the market price for the steak of the day.
They also take the farm-to-table concept to heart; they pull fresh ingredients from a garden at the restaurant, everyday. Doug and Judy also whole-heartedly believe in supporting their local fishing economy and keeping sustainability top of mind. Also, if you catch a fish in the Outer Banks and bring it to Dajio, they'll cook it for you!
Dajio very often has live music, so be sure to check their music calendar. They don't accept reservations (it's first come, first served) and they have takeout as well, available until 8:00pm on the days the restaurant is open.
Hours: 3:00pm to 9:00pm Tuesday through Saturday; closed Sunday and Monday.
Address: 305 Irvin Garrish Highway, Ocracoke, NC 27960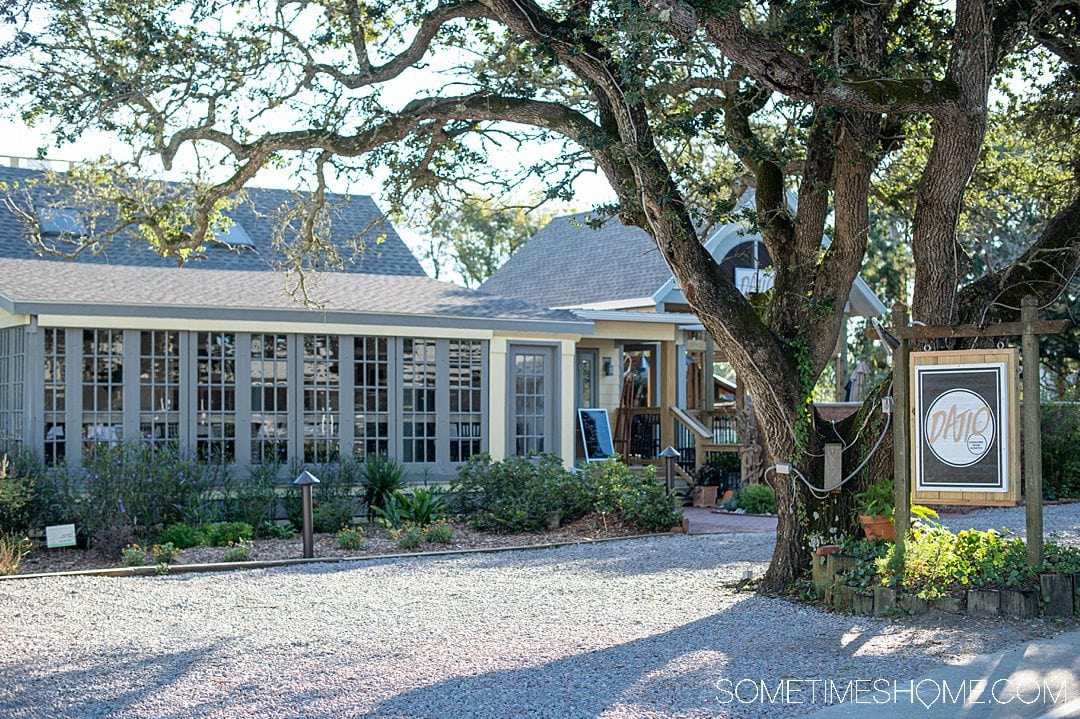 Flying Melon
Good for: dinner in Ocracoke
This is one of the most popular restaurants on the island if you want a nice sit-down dinner. It's been a mainstay restaurant on Ocracoke for years. Flying Melon specializes in seafood – from fish and oysters, to sushi – and their menu reflects it. They also have a bar inside. Entrees are priced between $20 to $30.
Hours: Open from 5:00pm to 9:00pm, Wednesday through Saturday. Closed Sunday, Monday and Tuesday.
Address: 181 Back Road, Ocracoke, NC 27960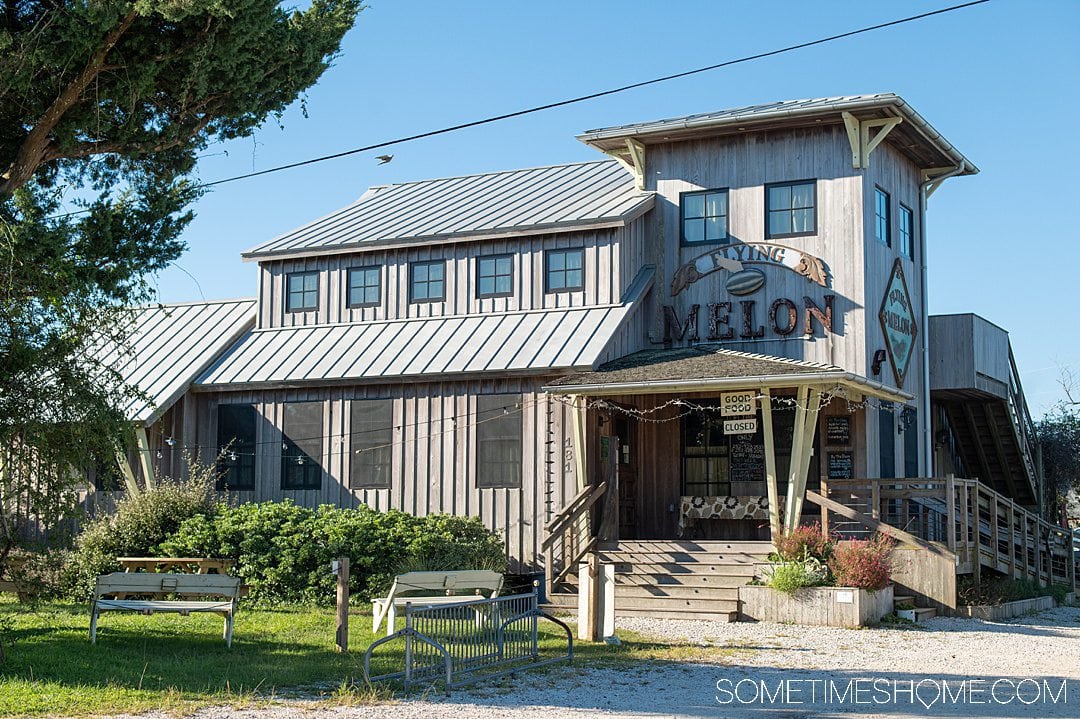 1718 Brewing and Plum Pointe Kitchen
Good for: lunch or dinner in Ocracoke, as well as beer
Every beach town should have a great brewery! And for Ocracoke, it's 1718 Brewing. They have an Ocracoke restaurant to go with it: Plum Pointe Kitchen.
It's a little confusing to figure out where Plum Pointe Kitchen is if you find it on TripAdvisor or Yelp. You won't see any sign that says the restaurant name from the road if you're walking or driving there because it's inside the brewery.
1718 Brewing
1718 Brewing served the best beer we had in the Outer Banks that weekend, including Lost Colony on Roanoke Island in Manteo, and OBX Brewing in Nags Head. They have a solid selection of types of beers, from IPAs to stouts, to sours.
There is indoor and outdoor seating, if the weather is nice and you want some fresh, sea-salty air. 1718 Brewing often has live music and sometimes has a weekday open mic night.
1718 Brewing Hours: open daily, from 12:00pm to 10:00pm
Address: 1129 Irvin Garrish Highway, Ocracoke, NC 27960
Plum Pointe Kitchen
If you're craving food to go with those delicious beers, go to the counter inside the brewery to order food. Follow the black sign with white letters that reads, "Plum Pointe Kitchen." They have a solid menu including soft pretzels, tacos, nachos, a burger, sliders, Philly cheesesteak, fish, shrimp 'n grits, etc.
They close an hour before the brewery closes.
Plum Pointe Kitchen Hours: open daily, from 12:00pm to 9:00pm
Address: 1129 Irvin Garrish Highway, Ocracoke, NC 27960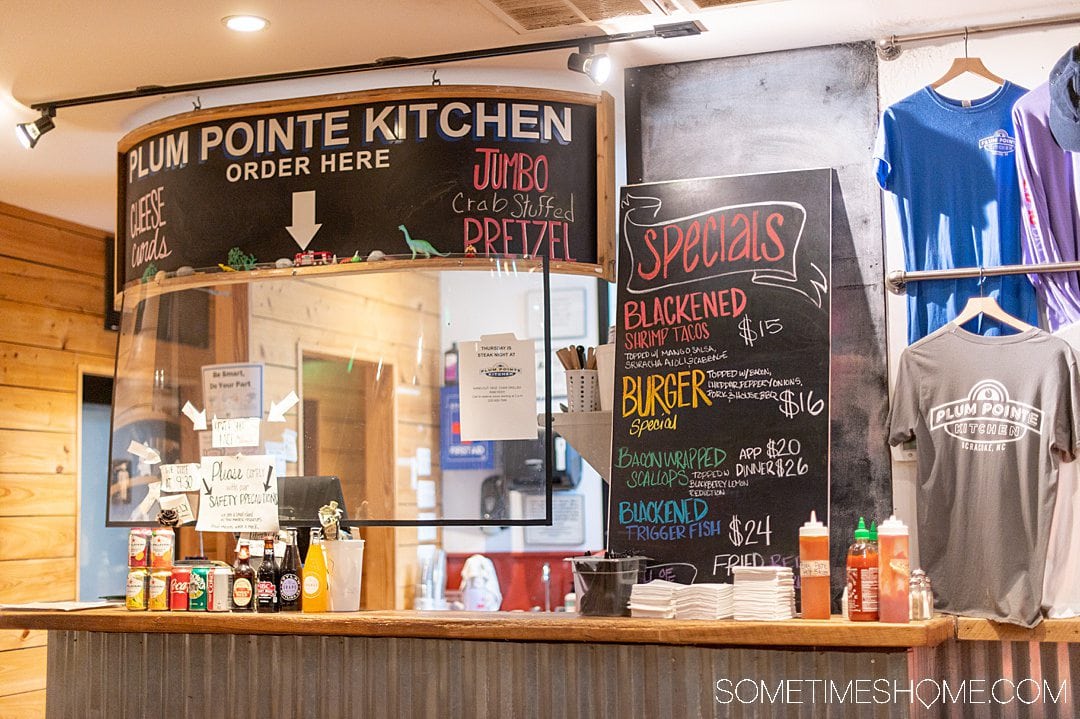 Eduardo's Regional Mexican Cuisine (including Burritos and Tacos)
Good for: casual breakfast and lunch in Ocracoke
We walked to get coffee elsewhere in Ocracoke but we weren't feeling anything the coffee place had on their breakfast menu. We did, however, pass Eduardo's on our walk to get caffeine. So instead of getting food at the coffee place, we said to each other, "Let's get a breakfast burrito!"
Eduardo's is owned and operated by Chef Eduardo Chavez, and it is super casual: it's just a food truck in a grass and gravel lot with a fenced in area, tables and cute island umbrellas to provide some shade. Tacos and burritos range from $7 to $15 for one to three tacos or a burrito, and they have things like ceviche, quesadillas and burrito bowls as well.
The photo of our burrito may not look appealing but it was yummy. It was a little small for $10 but that's island costs for you – they have to pay for the off season with the profits they make in the peak season! We hope to go back here in the future for lunch. During peak season the line can get long; it's up to you to decide if it's worth the wait.
Hours: Tuesday through Saturday, 10:00am to 8:00pm; Sunday and Monday from 10:00am to 3:00pm.
Address: 10 Lawton Lane, Ocracoke, NC 27960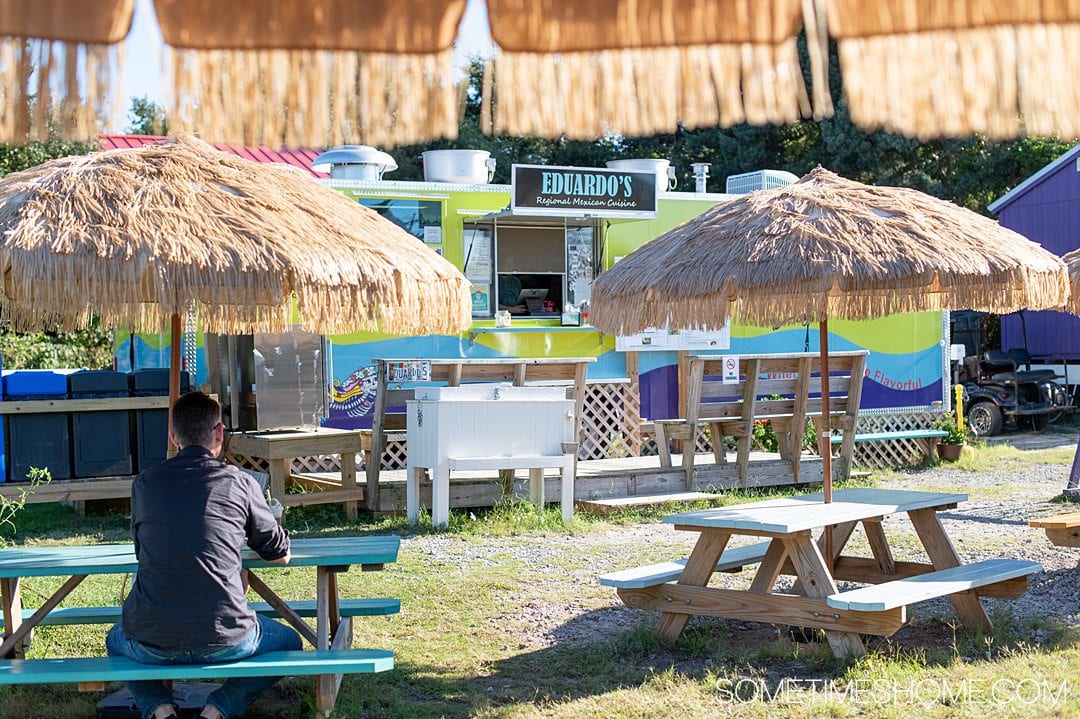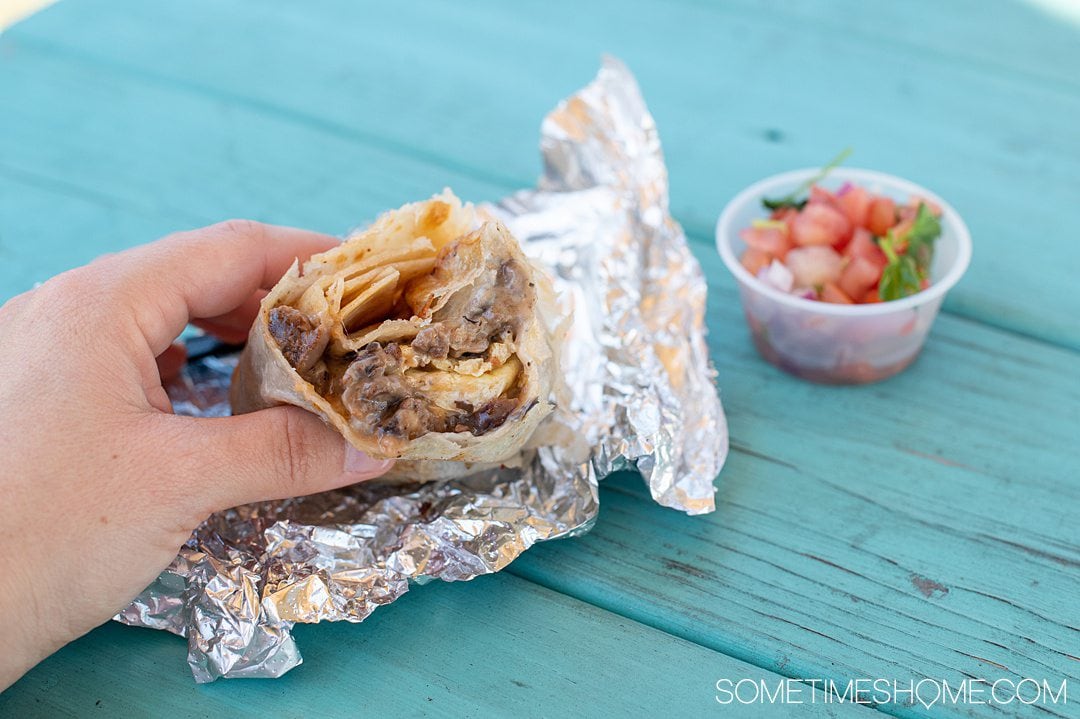 SmacNally's
Good for: waterfront lunch and dinner in Ocracoke
This is one of the only restaurants in Ocracoke that is truly on the water. SmacNally's has been a staple Ocracoke restaurant since they opened in 1999, in their great location. Eat here if you are craving food with a view of the boats coming in from a day of fishing or some going out in the afternoon.
They serve typical bar food (think: fish sandwiches and burgers with curly fries or fried onion rings) and peel 'n eat shrimp (NC shrimp is delicious). The food at SmacNally's may not knock your socks off but you'll get a great view with a meal that fills you up. We also love that they often have live music and support local fisherman.
Hours: 11:00am to 9:00pm, daily
Address: 180 Irvin Garrish Highway, Ocracoke NC 27690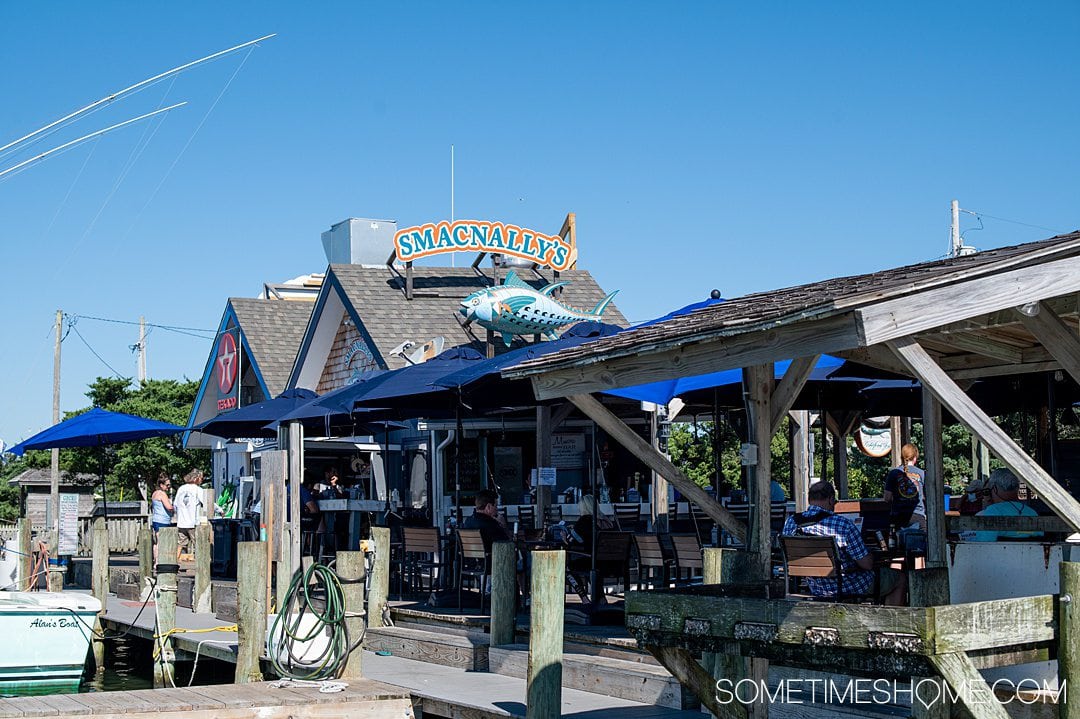 Back Porch, Ocracoke Restaurant and Wine Bar
Good for: Sunday brunch (in season) and dinner
Back Porch is a nice restaurants with a bar, screened in porch and inside seating. They have a seafood-forward menu with local options, as well as some seasonal specialties. Prices range from $12 for a burger and fries to $29 for a seafood platter. Their bar offers beer, wine and cocktails.
Hours: Open Wednesday through Saturday, 5:00pm to 9:00pm. They have a seasonal Sunday brunch from 9:30am to 1:30pm. Closed Sunday, Monday and Tuesday.
Address: 110 Back Road, Ocracoke, NC 27690
Ocracoke Oyster Company
Good for: lunch or dinner
We had been here years before when the restaurant was under different ownership and a different name. But this time, as Ocracoke Oyster Company, we have to admit we didn't really like it. It was overpriced and the food was not good. (We ordered tacos with rice and beans on the side and a crab cake sandwich with potato salad – none of it had any flavor. The redeeming thing about Ocracoke Oyster Company was our waitress, who was great.)
Reviewers on TripAdvisor seem to like it though, so maybe we just had an off day or they were trying out a new chef in the shoulder season; we're not sure. But if we try it again we'll stick to what's in the title: oysters! (And we'd get them raw so there's no flavoring needed from the kitchen.)
But if you want to give it a go, try for yourself. Maybe you'll have better luck! They also have live music some nights, which would be a definite draw for us in the future, even if to get drinks and raw oysters and listen to some tunes.
Hours: Tuesday through Saturday, 11:00am to 9:00pm, and Sunday and Monday from 4:00pm to 9:00pm.
Address: 875 Irvin Garrish Highway, Ocracoke, NC 27960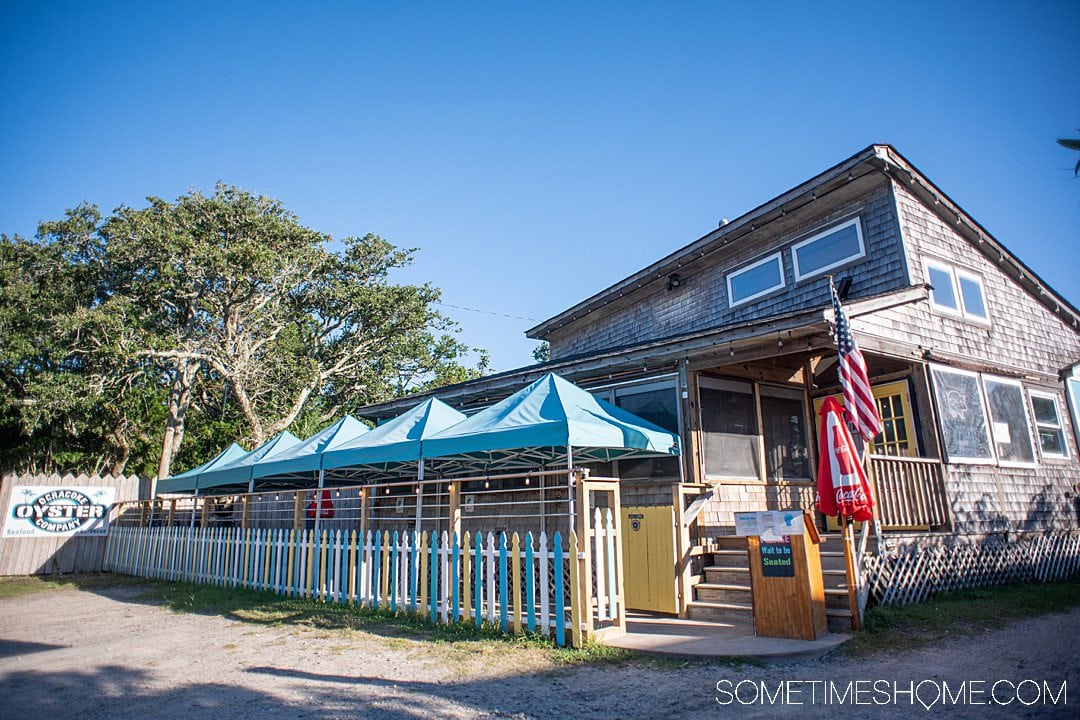 Howard's Pub
We arrived in Ocracoke just in time for sunset, which was around 6:30pm during our October visit. This meant that a lot of restaurants were closing for the day shortly after we arrived. Luckily, we found Howard's Pub. It was a great choice because they have a full menu until 9:00pm. It's a relaxed, casual atmosphere with good food.
The college and sports flags, and license plates everywhere, add to its whimsical feel. You can get anything from burgers, to seafood, to raw oysters, fried oysters, fried pickles and mozzarella sticks, from salads to sandwiches…they pretty much have something to suit anyone's desires.
Hours: 11:30am to 9:00pm, daily
Address: 1175 Irvin Garrish Highway, Ocracoke, NC 27960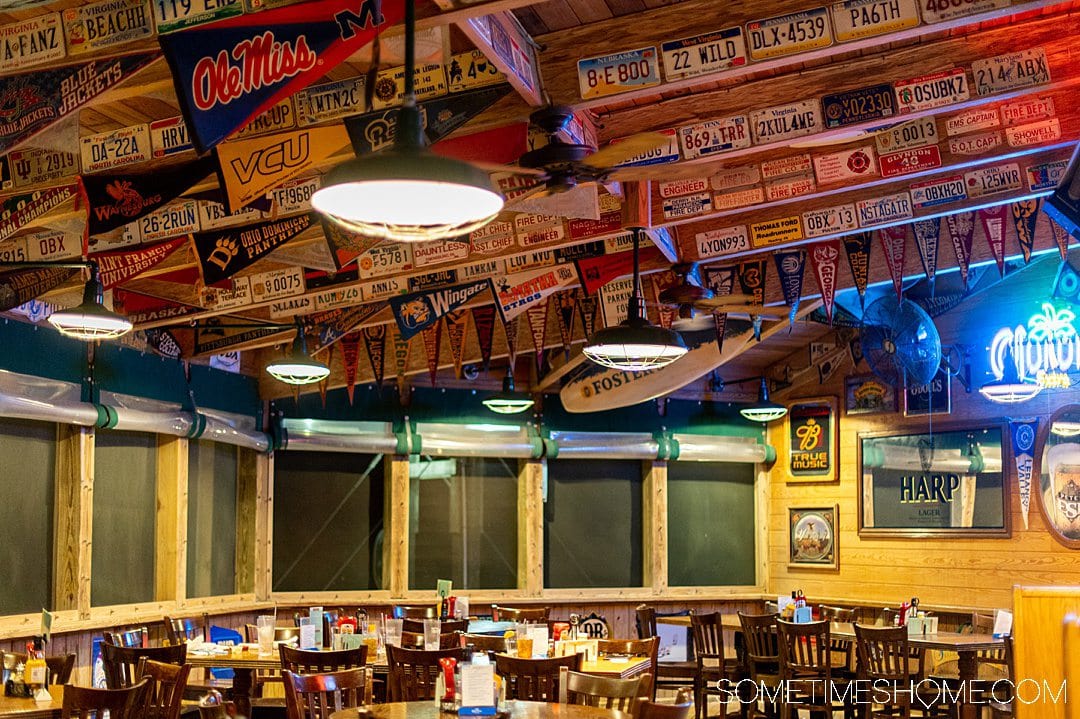 Thai Moon
This Asian restaurant is at Spencer's Market off Irvin Garrish Highway. Their website indicates they do not accept credit cards and you have to call ahead to place your order. We haven't eaten here (yet) but want to try it next time we visit Ocracoke.
Reviews are good though and if you're looking for a break from the usual Ocracoke restaurants' cuisine during your Outer Banks vacation, this seems to be a fabulous option. (We have loved Thai and Asian food long before our trip to Thailand, but that only strengthened it!)
Summer Hours: 11:00am to 9:00pm, daily (call to place your order ahead of time: 252-928-5100)
Address: 589 Irvin Garrish Highway, Ocracoke, NC 27960
Zillie's Island Pantry
Good for: beer, wine and charcuterie and cheese plate ingredients
Sipping beer and wine and enjoying the weather from the patio of Zillie's made for a lovely Ocracoke afternoon. They're mostly a place to get wine and beer (not hard alcohol, which has to be purchased from government-run ABC stores in North Carolina), though they have some specialty food items. As their website states, however, they're not a restaurant.
If you are craving ingredients for a meat and cheese plate with some nuts (which we love for a good date night idea), Zillie's is a great place to stop. You can purchase those ingredients there or nosh on them as you sit on their porch enjoying a beverage. They sell cigars too if you want to purchase one. (We like a good cigar once in a while, like whenever we're in Fort Lauderdale.) You can get it all to stay or to go.
Hours: Open daily, Monday through Saturday, 11:00am to 8:30pm; Sunday 12:00pm to 8:00pm.
Address: 538 Back Road, Ocracoke, NC 27960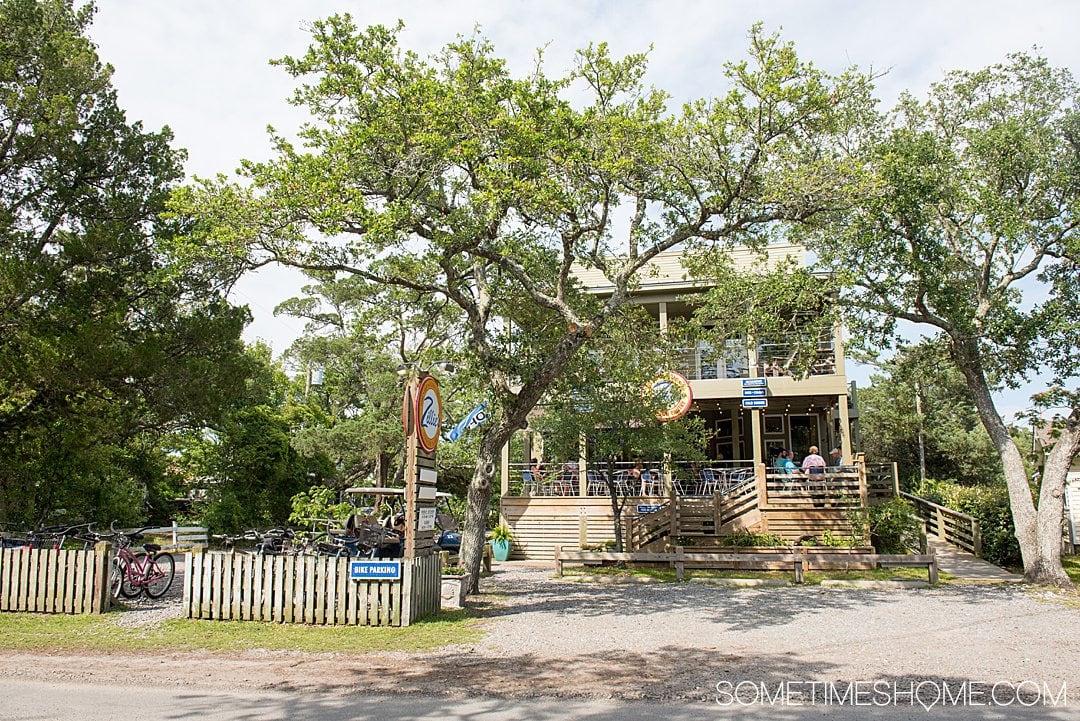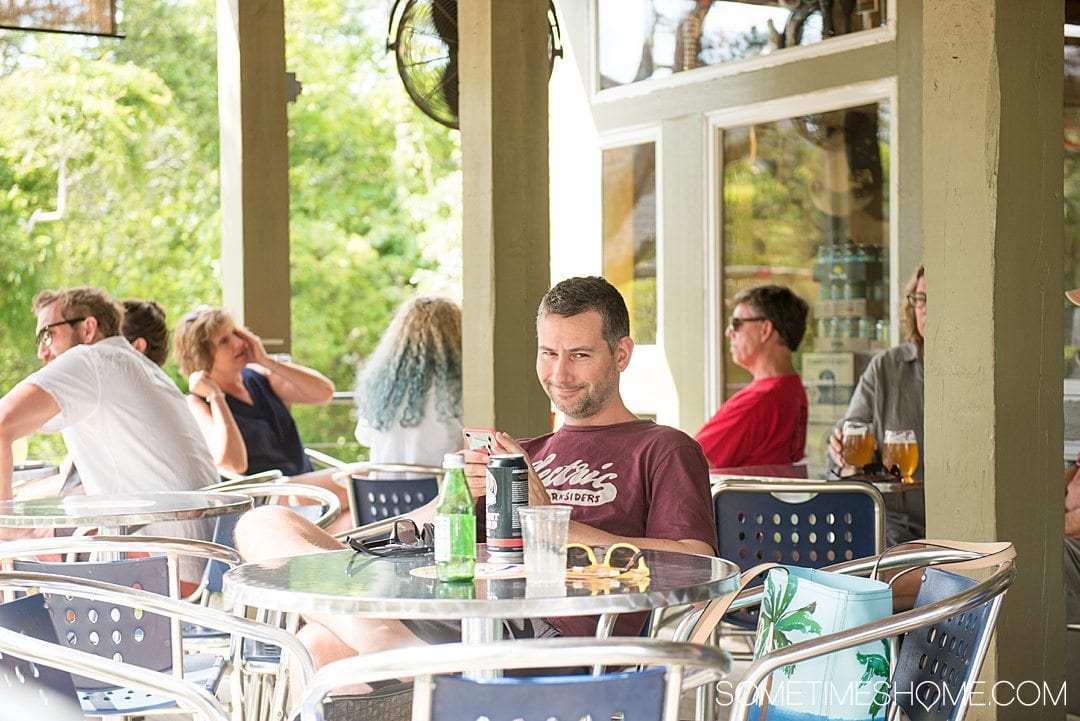 Ocracoke Coffee Company
We walked to Ocracoke Coffee Company one morning to get some caffeine and see what was on their breakfast menu. It was a nice 15-minute walk from our hotel room at The Anchorage Inn & Marina.
This establishment, that has been in business over 25 years, has a lovely outdoor patio and some indoor seating as well. While it may be busy during the morning, the line keeps moving on a busy day and the staff is friendly. They have coffee, tea, espresso, smoothies, and some pastries, and they even have live music some afternoons.
Hours: 7:00am to 5:00pm Monday through Saturday, and 7:00am to 12:00pm on Sunday.
Address: 226 Back Road, Ocracoke, NC 27960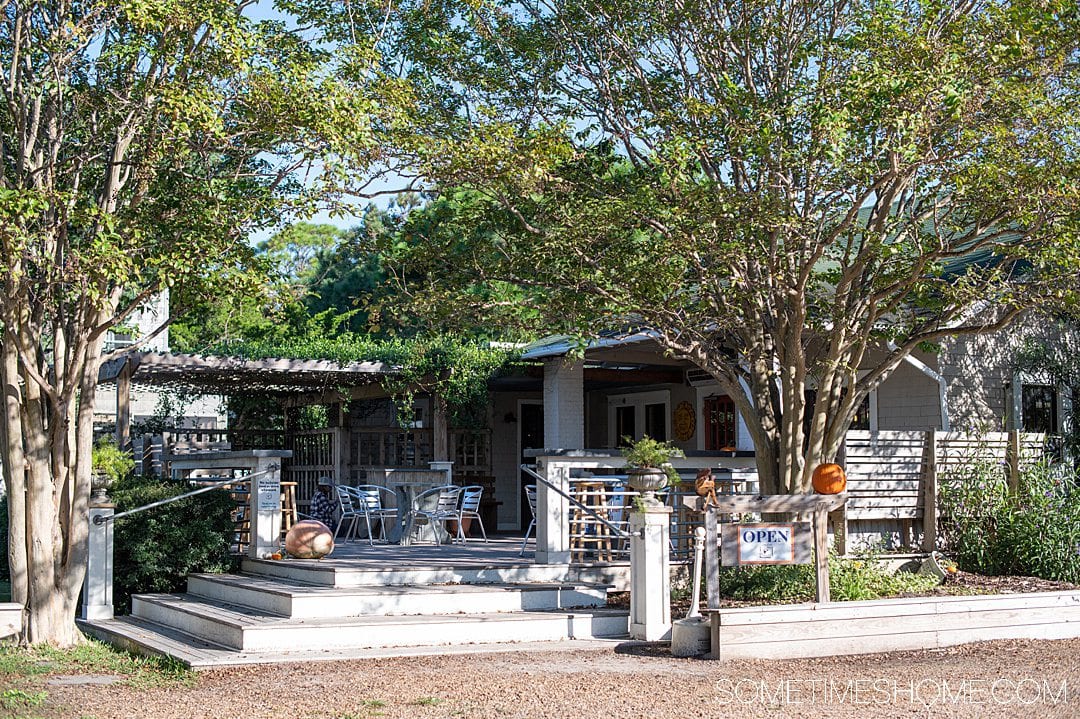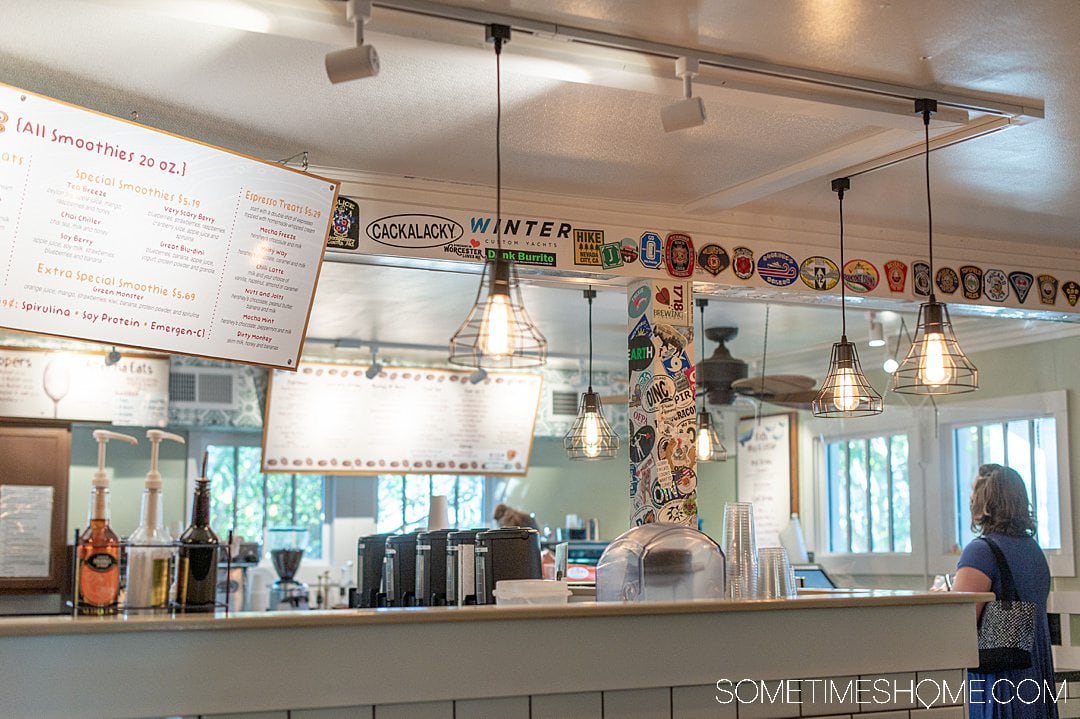 The Magic Bean Coffee Bazaar
Another coffee option on the island is The Magic Bean. This establishment is a laid back place with a hippie kind of vibe (if you ask us). They open hours before Ocracoke Coffee Company at 4:30am but close 5 hours before at 12:00pm.
The flooring is new as of 2021 so it looks a little different than our photo from a few years ago, but they still serve coffee and smoothies!
Hours: 4:30am to 12:00pm, daily.
Address: 35 School Road, Ocracoke, NC 27690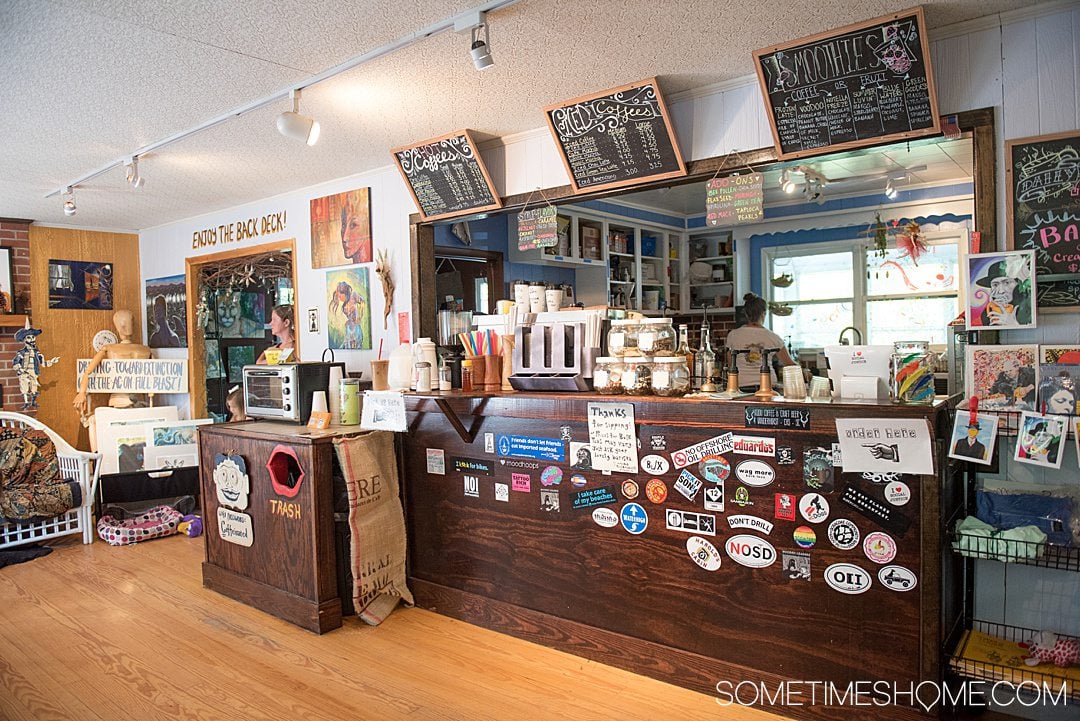 The Slushy Stand
Good for: espresso, coffee and ice cream on Ocracoke Island
What The Slushy Stand serves is apparent in its name and icons on front of the store: ice cream (hard scooped and soft serve), slushies, espresso and coffee. Any drinks they make hot can be served over ice. (They also have bike rentals in case you want to ride around on the island!)
Hours: 7:00am to 9:00pm, daily.
Address: 473 Irving Garrish Highway, Ocracoke NC 27960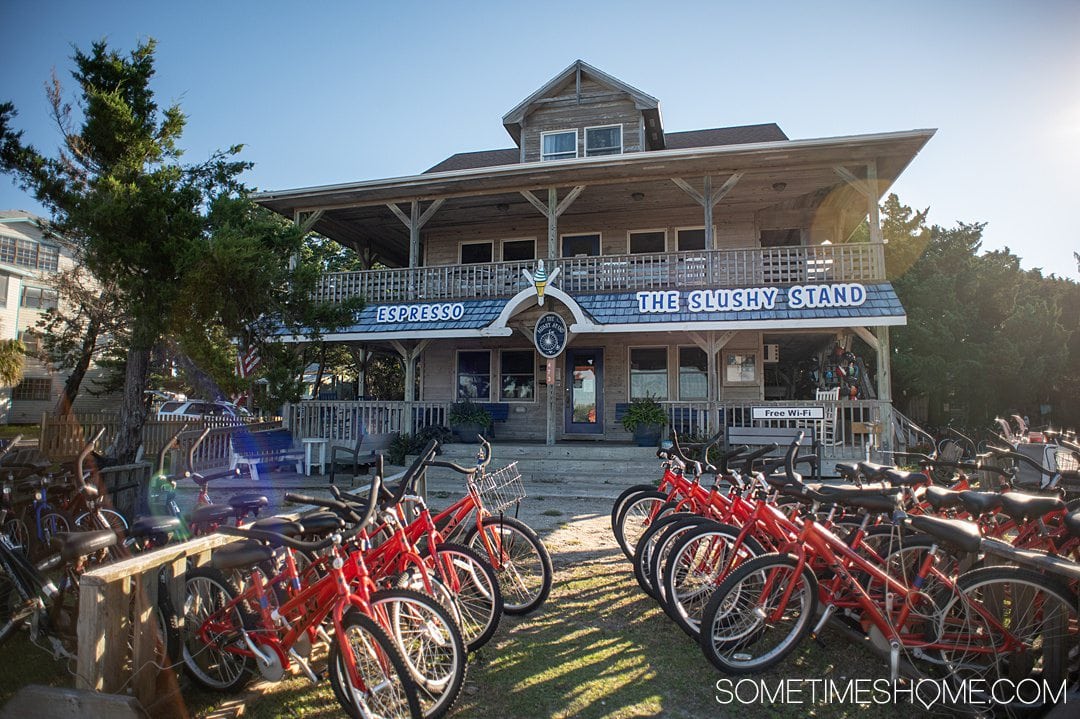 Ocracoke Variety (and Grocery) Store
This is pretty much the only place to get groceries on Ocracoke Island. If it's your first time visiting Ocracoke, we recommend you review all our tips for visiting Ocracoke. But in terms of groceries, if you're renting a house you should either come stocked in your car when you cross over the islands on the ferry or plan to shop here.
We stopped inside Ocracoke Variety Store, simply to see what they sell; we were so surprised with the great selection. They pretty much have anything you need, including beer and wine. (For normal prices too! They don't jack it up simply because you're on an island.) There is a hard liquor store in the same building, in a door that you enter from the porch, next to the grocery store. (All hard liquor sales are controlled by the state, in North Carolina).
In addition to groceries, they have toiletry items, beach gear (including chairs), ice, and over the counter medication.
Hours: open daily, 7:00am to 8:00pm.
Address: 950 Irvin Garrish Highway, Ocracoke, NC 27960
Heading to the Outer Banks? Also check out: