Adult Things to Do on Disney's BoardWalk (2023)
There are plenty of adult things to do on Disney's Boardwalk (or the "Epcot Boardwalk" as some call it, though its official name is Disney's BoardWalk, with a capital "W").
From bars to dinner, dessert, games, performers for children of all ages, and some 18+ venues, adults will love checking out this hidden gem at Walt Disney World in Florida.
And yes, the BoardWalk is free to visit!
Disclosure: This post has affiliate links, meaning we may earn a small commission if you click the link and proceed with a purchase at no cost to you. We recommend experiences, hotels, products, and services we use and support. As Amazon Associates, we earn from qualifying purchases.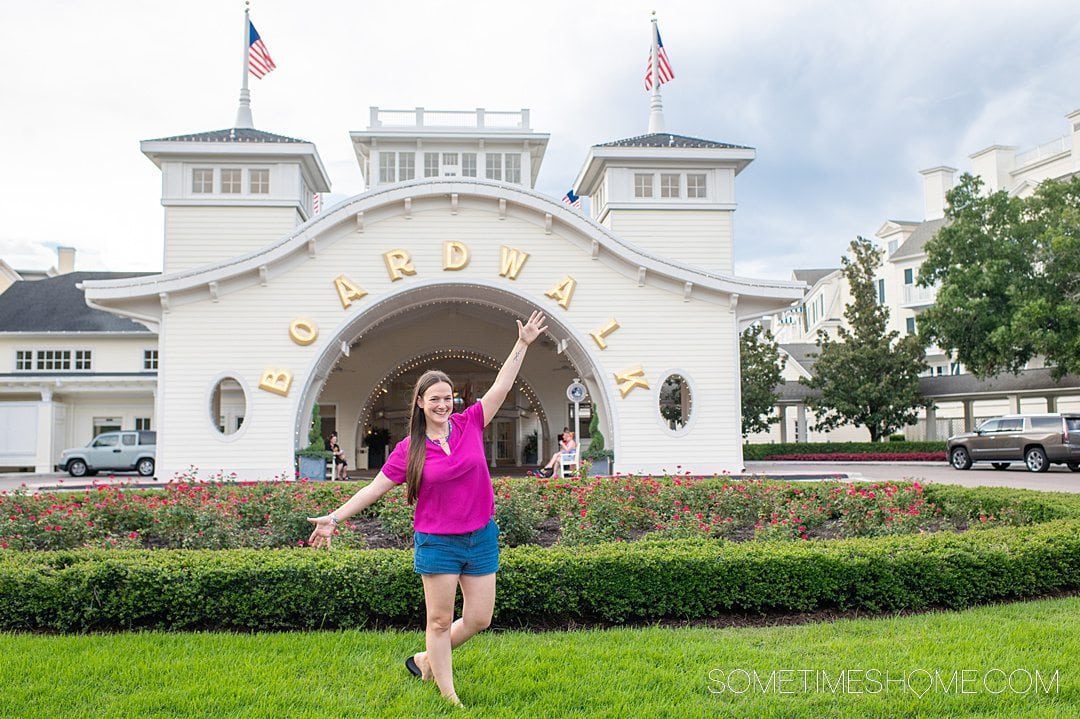 Overview of Things to Do On Disney's Boardwalk for Adults
We'll go through the following Disney's BoardWalk locations and entertainment in this post:
Bar hopping (which includes a lot of the BoardWalk hotels)
Getting dinner on the BoardWalk
Getting dessert
Practical information (like parking and restrooms)
Where else to go for adult entertainment after the BoardWalk
Bar Hop on Disney's BoardWalk
There are great bars on the BoardWalk. There are several inside hotels, like inside Disney's BoardWalk Inn. There's also a stationary carousel bar at the BoardWalk Inn pool that's very photo-worthy.
Additionally, there's AbracadaBar (a personal favorite) that connects to the Italian restaurant on the BoardWalk, named Trattoria al Forno. Across from the entrance to AbracadaBar is Joe's Marvelous Margarita stand.
As if these options aren't enough, there are several great restaurants and bars at the Swan, Dolphin and Swan Reserve.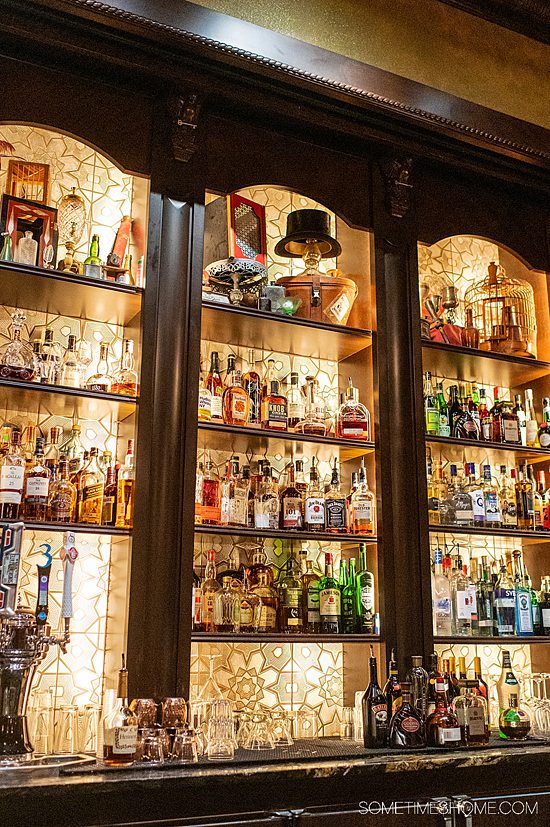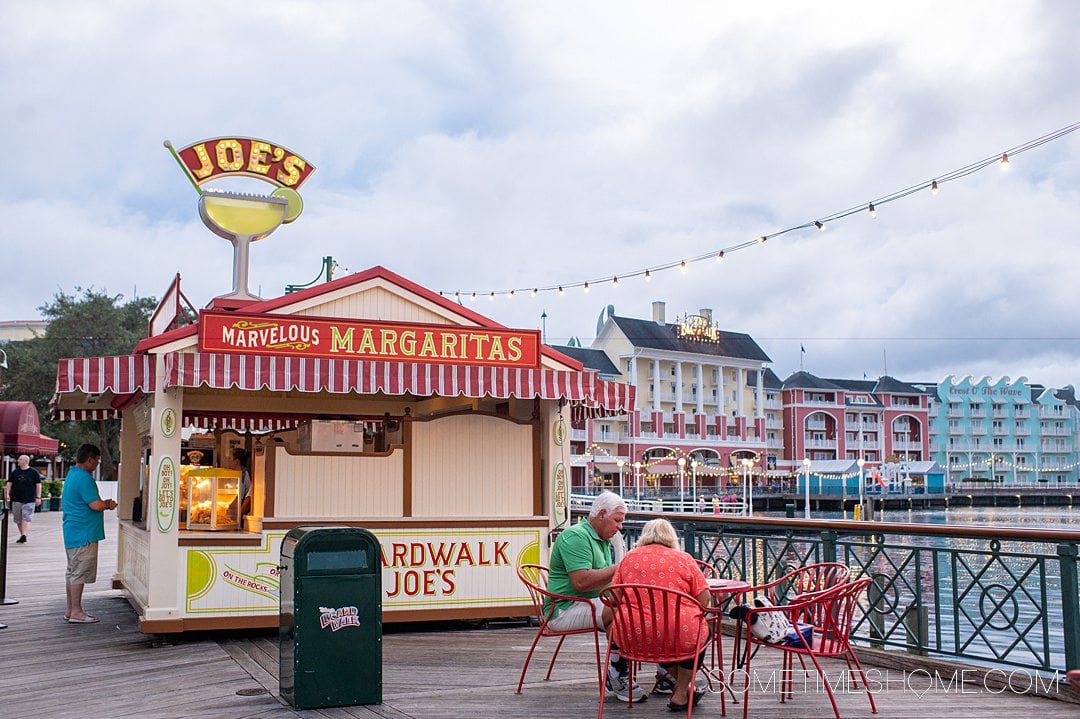 We loved the bar at Swan Reserve. You take the elevator up one floor to the bar area after you enter through the ground-floor doors. We also really liked the bar at Todd English's Bluezoo at the Swan hotel.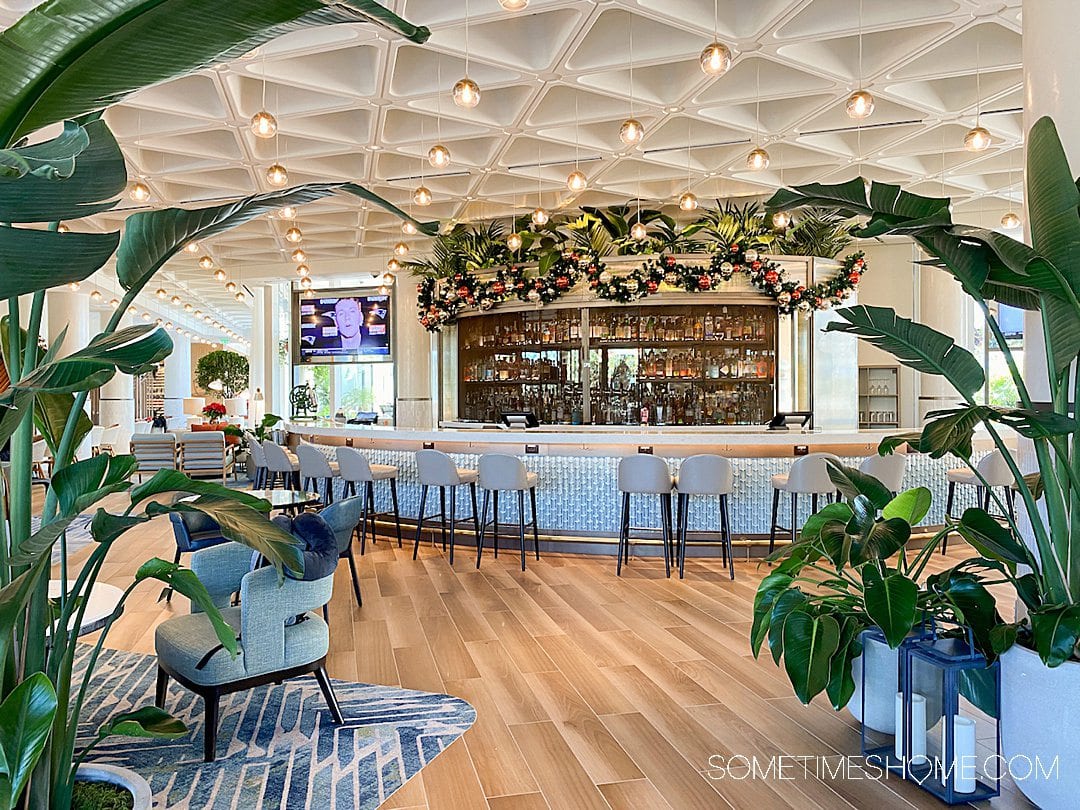 Disney's BoardWalk Entertainment
Watch the BoardWalk Performers
There are nighttime performers on the boardwalk who are extremely talented and very entertaining to watch. For example, you may encounter a man who juggles and jump ropes or a team of acrobats who perform hula-hooping feats!
No matter the age of the viewers, including adults, these performers are mesmerizing.
Go to Jellyrolls
This is one of our FAVORITE places in all of Walt Disney World! It's a dueling pianos bar at the end of the BoardWalk, past the BoardWalk Inn but just before Atlantic Dance Hall. It's one of the best things to do at Walt Disney World besides the parks, and it's an especially great indoor activity in Orlando, should the weather be rainy or far too hot to be outside.
Reservations are not required or accepted. There is a cover charge of $18 to enter and you may have to show ID to prove you're 21 or older. You can pay with a credit card for the cover charge.
Then you sit at a table, have drinks (alcoholic or non-alcoholic), eat popcorn if you want, which is free, and sing along to songs that the audience requests.
It's mostly songs from decades of musical history, including from singers like Billy Joel, Lady Gaga, Queen…you name it, they'll sing it. Once in a while, they'll perform a Disney song upon request, but most songs performed are certainly non-Disney.
Bring singles to tip the performers (optional but appreciated). If you want to take a break from your table to see the Epcot fireworks at 9:00 pm, simply let your waiter or waitress know you're doing so and they'll save your table.
Just get your hand stamped to re-enter Jellyrolls when the fireworks are done.
Jellyrolls Hours of Operation
They are open nights; doors open at 7:00 pm and the show starts at 8:00 pm. The musicians perform until well past midnight. It's shocking how fast time passes at Jellyrolls! We've often stayed from the show's start time until closing.
Traveling to the BoardWalk by Car for Jellyrolls
If you are traveling to the BoardWalk to go to Jellyrolls by car, simply tell the security guards you're going there and they should direct you to free parking.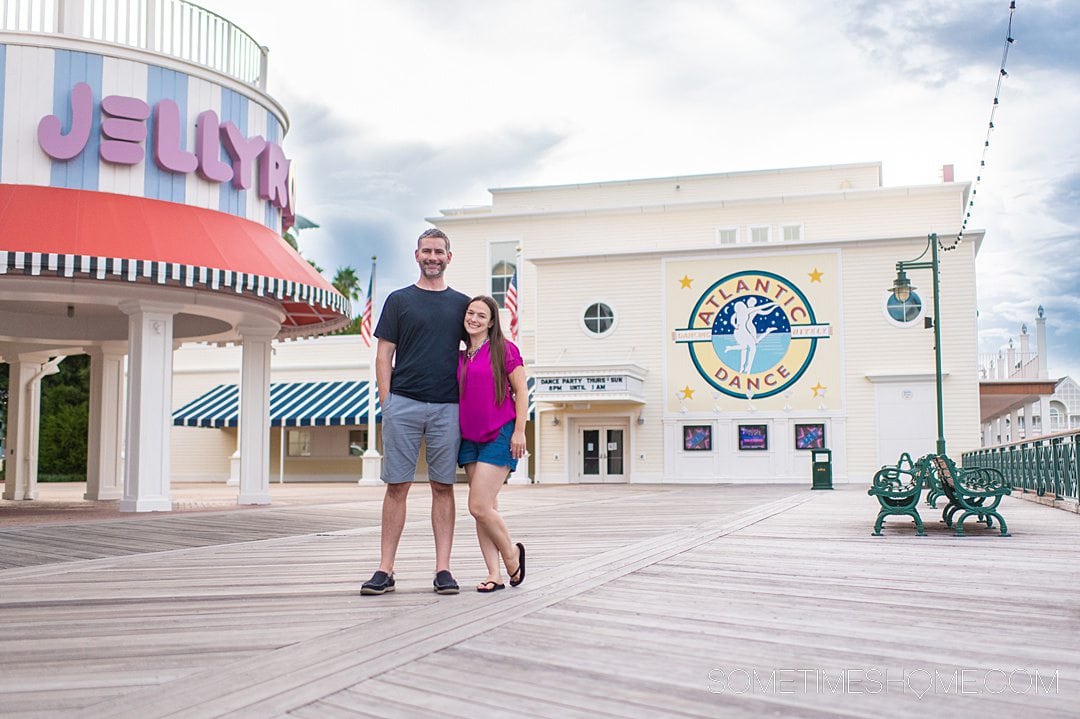 Dance at Atlantic Dance Hall
If you love dancing, then Atlantic Dance hall is where you want to be, as adults looking for things to do on Disney's BoardWalk. They are open in the evenings and are 21 and over. You can dance until the morning hours of the next day!
Play Carnival Games
It would be so romantic to win your partner a prize from the Carnival Games on the BoardWalk! The games open up in the late afternoon. Shoot hoops, water guns, and more. This is a pay-to-play activity on the BoardWalk.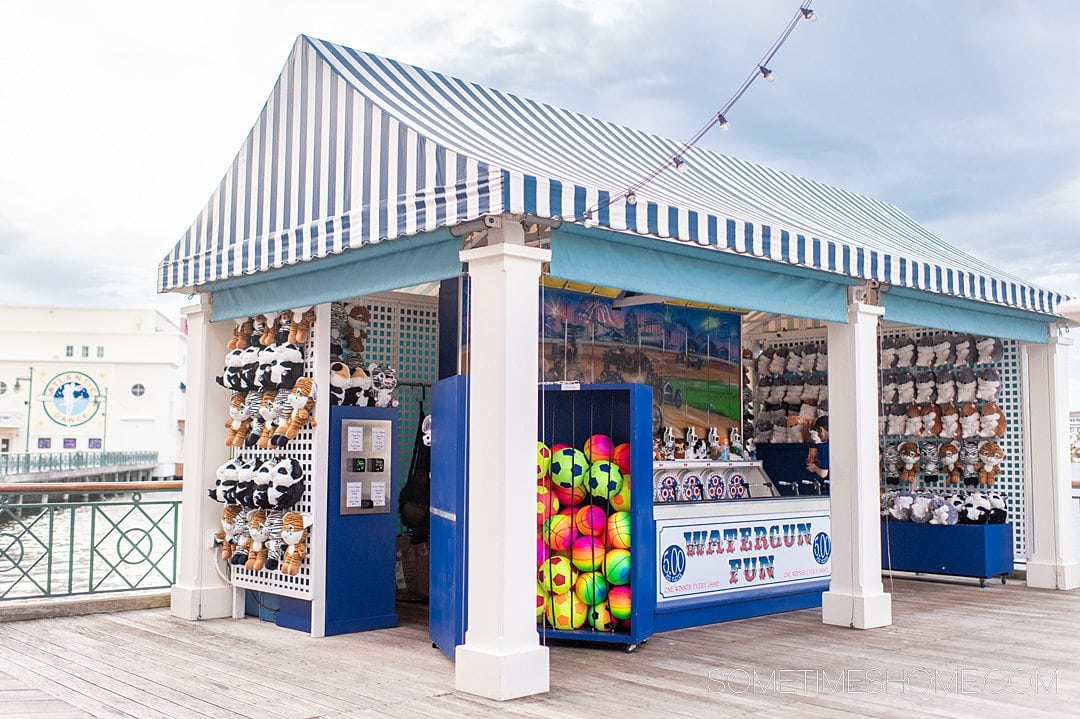 Epcot Fireworks
You don't have to be inside Epcot to see the fireworks. You can see them from the BoardWalk. As adults looking for things to do on the BoardWalk, we always note the time we go into Jellyrolls so we can take a break outside to see the fireworks. (The staff inside is great about this.)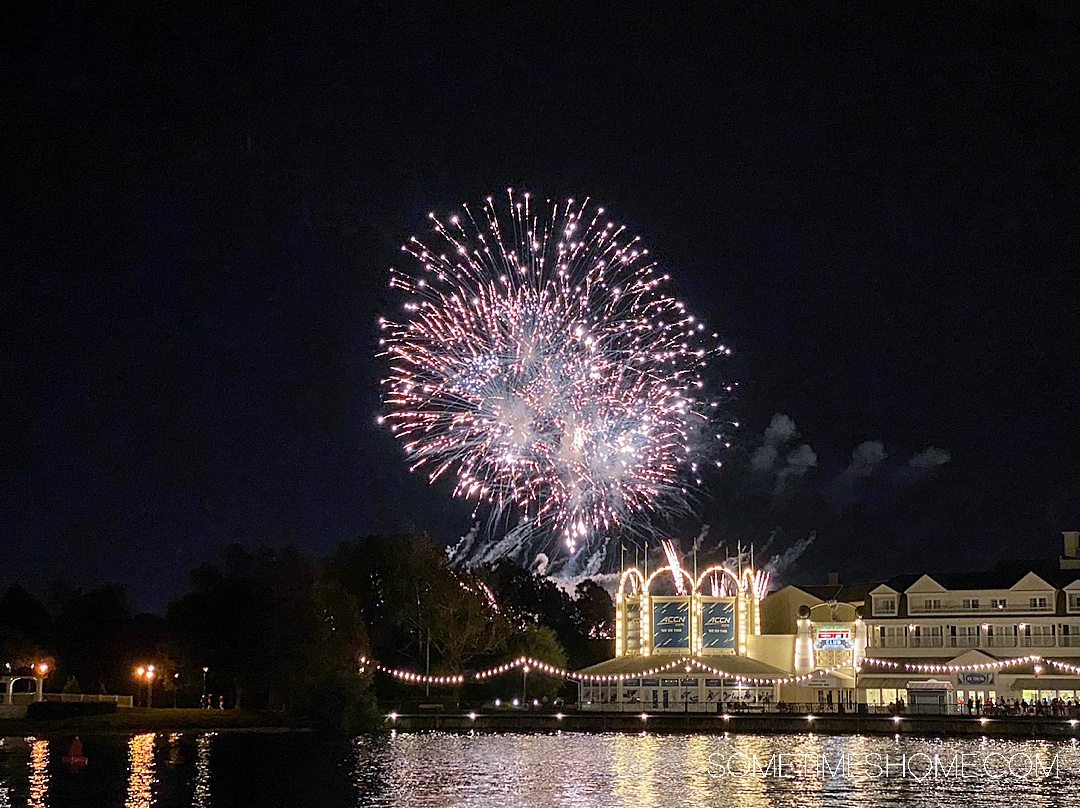 Walk Around the BoardWalk
One of the most pleasant things to do on the BoardWalk is simply taking a walk. You'll notice mile markers for runners and walkers in case you want to count it as exercise!
You can walk around the "circle" of the BoardWalk. If you start at the entrance from BoardWalk Inn, where you walk down steps to get to the BoardWalk to the right of the hotel, you can walk a full circle on pedestrian walkways from the length of the BoardWalk.
You'll head over to where the Yacht and Beach Club Hotels are, past the International Gateway entrance to Epcot, where you'll see the SkyLiner and back around to where you began the walk.
The views around the circle are different as you walk so be sure to bring your camera, at least for one lap!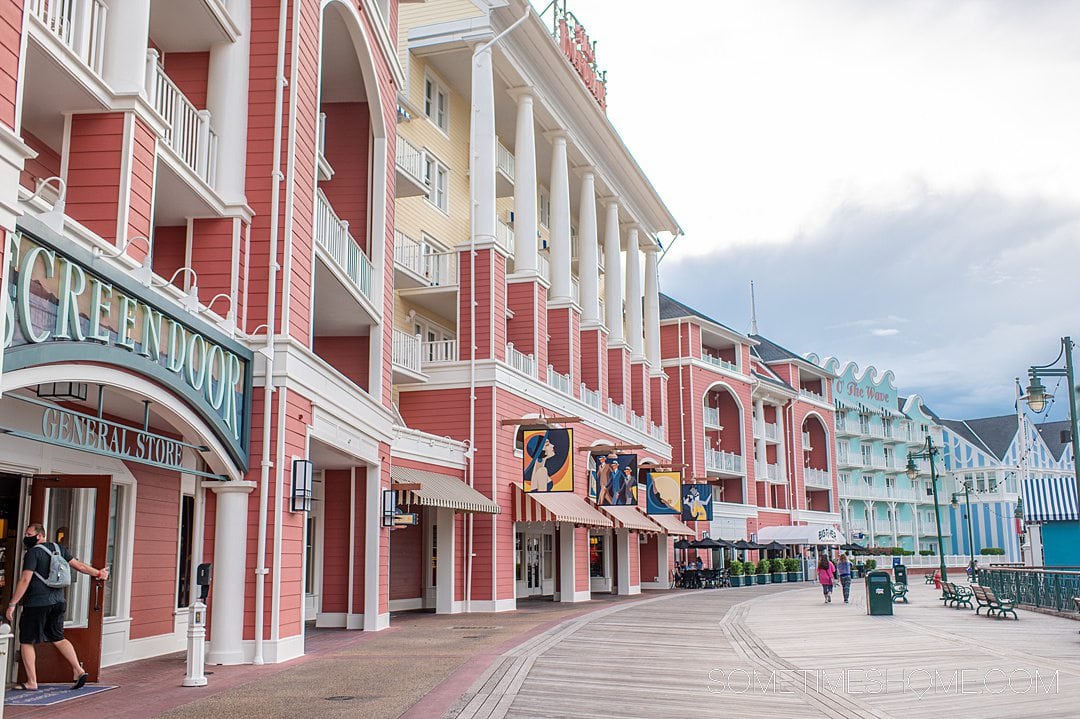 Food Things to Do on Disney's BoardWalk
Get Dinner on the Boardwalk
There are several sit-down restaurants to choose from for a meal on Disney's BoardWalk.
You can go to Flying Fish, Trattoria al Forno, or Big River Grille. Alternatively, if you walk around to the other side of the BoardWalk which is technically the Yacht and Beach Club hotels, there are additional restaurants inside the two hotels.
This includes Yachtsman Steakhouse, Ale & Compass, Cape May Cafe, and Beaches & Cream Soda Shop.
The Swan, Dolphin, and Swan Reserve hotels have additional restaurants as well. This includes places like Kimonos for Japanese food, Shula's Steakhouse, and Il Mulino for Italian food. Amare is a Mediterranean-inspired option at Swan Reserve.
If you want something that is low-key for dinner, there is pizza on the BoardWalk that you can get from a to-go window near Trattoria al Forno. You can also get a Margherita pizza, meat and cheese plate, or French fries inside AbarcadaBar.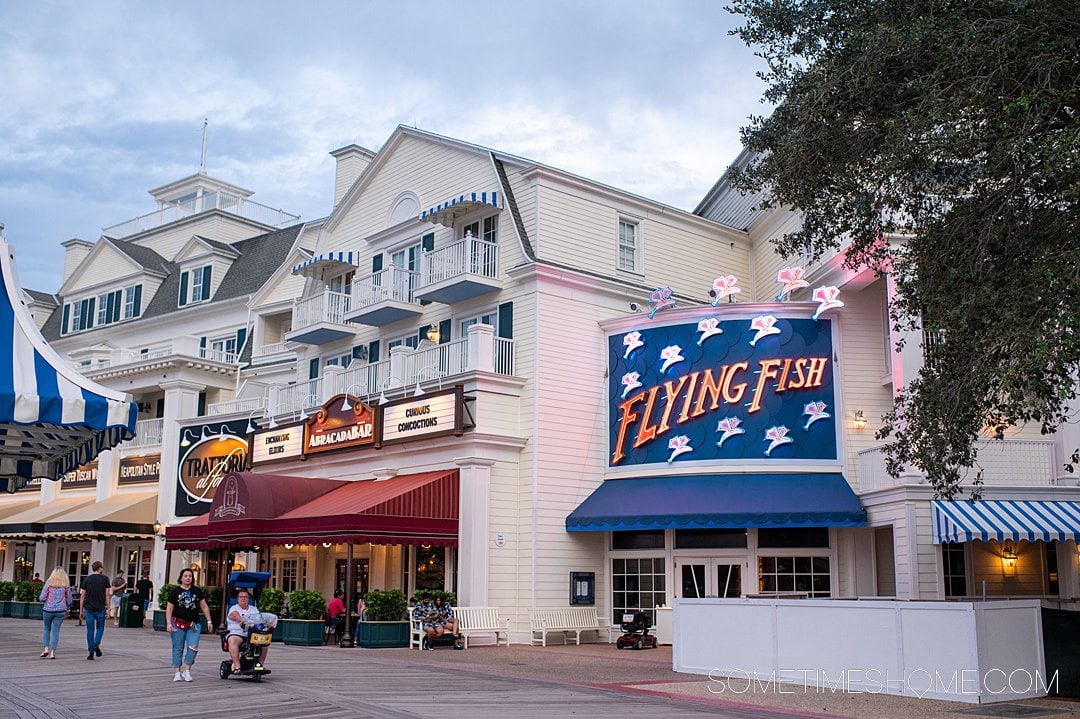 Indulge in Dessert on the BoardWalk
If you haven't already had dessert where you ate dinner, indulge in some sweets on the BoardWalk. There used to be a bakery near Trattoria al Forno but that is now closed and a deli is in its place. However, there are still some good options.
There is a quick-service ice cream shop on the BoardWalk near Trattoria al Forno. There is also Beaches & Cream Soda Shop at the Yacht and Beach Club. They have table service, and you can order ice cream sundaes, milkshakes, and such.
One of the newer places to hit the BoardWalk is The Cake Bake Shop Restaurant by Gwendolyn Rogers, which will hopefully open in 202. No official date has been announced.
It replaced ESPN Club, at the side of the BoardWalk closest to Epcot's World Showcase entrance. It will serve cookies, brownies, cakes, French macarons, pies, cheesecakes, and more.
Disney Shopping on the Boardwalk
We wouldn't say that the BoardWalk is a great destination for shopping if you want Disney items. There is a gallery on the BoardWalk with original art pieces if you're shopping for Disney art for your home.
Other than that, the shops that are technically hotel stores are what you'll find. They have Disney apparel, candy, some wine, and other assorted Disney World souvenirs. If you want to really shop for Disney items outside the parks, we suggest heading to Disney Springs or shopping online – we posted links, below.
Disney Shopping Beyond the BoardWalk
If you're looking for items that you can't find on the Boardwalk, you can likely get them online (that's if you're unable to shop elsewhere on the Boardwalk before you leave).
We have been so impressed by what you can buy online at ShopDisney.
ShopDisney for Adults (and Kids Too)
Just in case you want to gear up with Disney items before you leave for your Walt Disney World vacation, we recommend shopping on ShopDisney. They have awesome items online, even more than you'll find in the park.
An example of that is their incredibly sophisticated, adult Disney jewelry. You can also get your Mickey ears online, fun t-shirts, kitchen dishes, bath products, and more.
✨ Get Your Walt Disney World Gear on ShopDisney ✨
Getting to the BoardWalk (Transportation)
You can get to the BoardWalk in one of five ways: walk, drive, take the Skyliner, take a boat, or use Disney World buses to arrive.
Visiting the BoardWalk from Epcot and BoardWalk Resorts
If you exit Epcot at the World Showcase entrance, you'll be steps away from the BoardWalk. There's only one direction to walk as you exit from that area so you can't get lost.
The World Showcase entrance is near the UK Pavilion and France.
If you're staying at any of the following hotels, you can walk to the BoardWalk too, either because they're on the BoardWalk or yards away: Swan Reserve, Swan and Dolphin, BoardWalk Inn, Disney's Yacht Club Resort, Disney's Beach Club Resort.
If you don't feel like walking from the resorts or you are mobility challenged, opt for a boat ride to the BoardWalk instead with one of the free boats that travel between the Swan, Dolphin, BoardWalk Inn and Villas, Yacht and Beach Clubs, and Epcot.
BoardWalk Access from Hollywood Studios
You can walk to the BoardWalk from Hollywood Studios (it's kind of a long walk, but you can do it along a designated pathway). You can also take a boat, bus, or Disney's Skyliner.
Take the bus to the BoardWalk Inn and Villas and walk to the BoardWalk from the bus drop off.
Getting to the BoardWalk from the Magic Kingdom or Animal Kingdom
The easiest way to get to Disney's BoardWalk from either of these parks is to take a bus. Just look for a bus going to the BoardWalk Inn or BoardWalk Villas; you can easily get to the BoardWalk from there. Alternatively, you can take a bus to the Yacht or Beach Club, then take the 5-10 minute walk to the BoardWalk from there.
Taking a Car to the BoardWalk
If you are driving to the BoardWalk in your own vehicle, you can park there. Just let security know where you're going, and it should be free to park. Note that it may be harder to park during peak times at Walt Disney World, when the lots may fill up with hotel guests.
If you're unable to park at the BoardWalk Inn lot and you are in need of a solution, head to the Swan Reserve, where there is a paid lot. You simply get a ticket from the automated machine upon entering the lot and pay when you leave.
Once you're parked at the Swan Reserve, Disney's BoardWalk is a 10-15 minute walk along pathways that guide you to its location.
You can also call for a Minnie Van, which is Walt Disney World's version of Lyft.
If you want to rent a car while you're in Orlando, be sure to check Discover Cars for the best prices and easy-to-navigate website.
Don't Postone Renting a Car!
DIsney's BoardWalk Practical Information
We tackled self-parking above, but you may want to know other practical information.
For example, what time does the BoardWalk open or do they have restrooms?
The BoardWalk never really closes because it's a pedestrian area of Walt Disney World. But the WDW website lists its hours as 6:30 am to 10:00 pm. Yet some bars there are open later.
The shops and gallery have their own opening hours as do the BoardWalk games. As do the restaurants and bars. For example, Abracadabar opens at 4:00 pm and closes at midnight. Big River Grille & Brewing Works is open from 11:00 am to 10:00pm as another example.
Restrooms are plentiful at the BoardWalk. The restaurants have them as well as the hotels there. For example, there are plenty of restrooms available inside Disney's BoardWalk hotel.
There are also restrooms near the BoardWalk pool, by the mini-arcade at the hotel.
There are also plenty of places to sit along the BoardWalk, between benches and Adirondack chairs. One of the best things to do on Disney's BoardWalk, in our opinion, is sit and talk, and enjoy the Florida sunshine. (And, let's face it – people watch, of course!)
Disney's BoardWalk FAQs Answered
Can you see fireworks from the BoardWalk?
You can see Epcot's fireworks but not the whole show. You can see the fireworks that reach high in the sky. If you stay at the Swan Reserve, however, you can see the fireworks from the top floor of the hotel and they stream the music into the room too.
Epcot fireworks are at 9:00 pm and last for about 12-15 minutes.
Are Disney Springs and Disney's BoardWalk the same thing?
No, they are not. They're located in two different areas and have very different things to do. The BoardWalk is more so a casual, hidden gem. Far less people go there. Disney Springs is frequented by thousands of people a day, has a tons of shopping, and far more restaurants.
Disney Springs is where Cirque du Soleil is, where the World of Disney shop is, where Rainforest Cafe and Lego store are, and more.
Is Disney's BoardWalk the Old Downtown Disney?
No, it is not. Downtown Disney is now Disney Springs. Disney's BoardWalk has been it's own destination and attraction for decades, even while Downtown Disney existed where Disney Springs is now located.
What does it cost to visit Disney's BoardWalk?
If you're wondering what the admission ticket is to Disney's BoardWalk, it's free to visit.
Any cost that comes into play depends on what you spend your time doing. For example, if you simply sit on the benches there and see the BoardWalk performers at night, it's free.
But if you eat at a restaurant and then go to Jellyrolls after, you have to pay for your meal and drinks, then pay to enter Jellyrolls.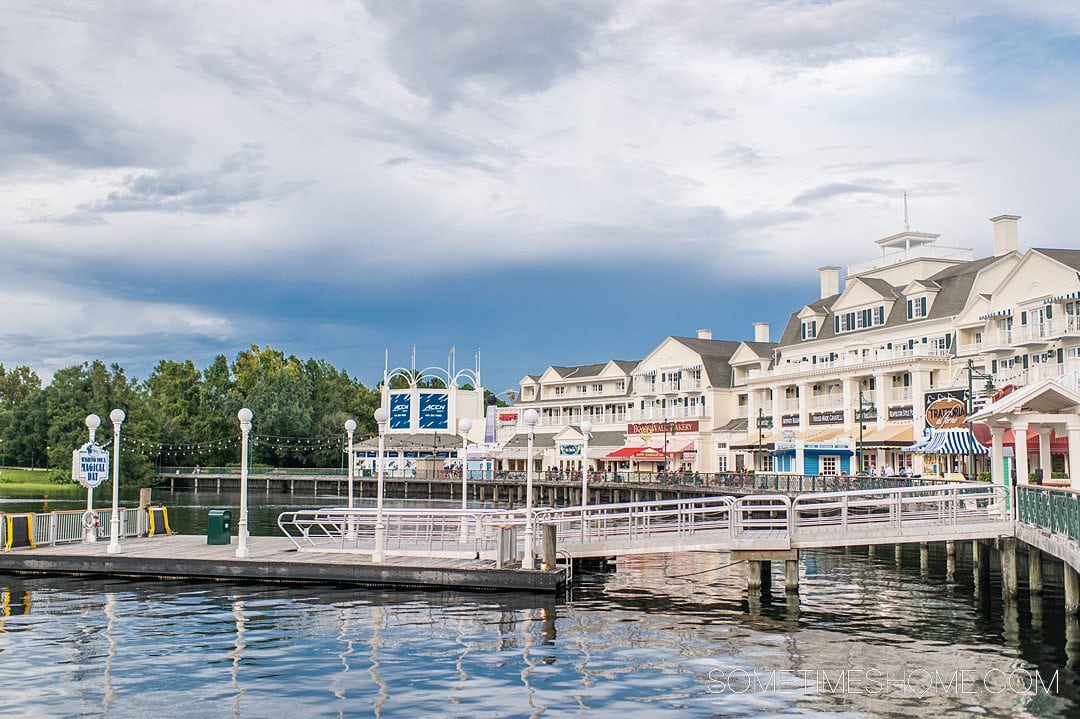 What time are the performers on the BoardWalk?
The performers – like jugglers and acrobatic performers – are there at night. They are not there during the day. They usually sporadically perform around 7:00 pm to 10:00 pm, every day.
We've seen them in front of Abracadabar and in front of the area by the art gallery.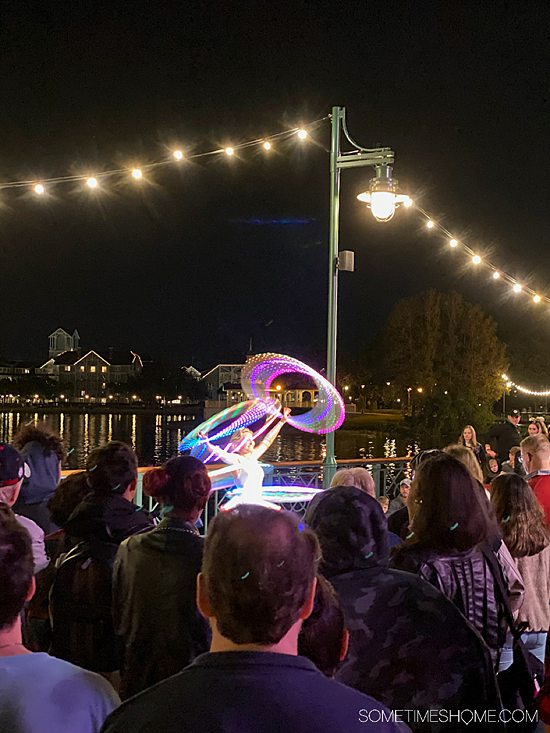 Do you have to be a Disney hotel guest to visit the BoardWalk?
No, you do not. You don't have to be a Disney hotel guest nor do you have to have tickets to the parks. Nor do you have to be staying at Walt Disney World at all!
We often go for the afternoon or evening when we're simply staying with friends who live in downtown Orlando.
Can you walk to Disney's BoardWalk from any Disney theme parks?
The entrance to Epcot's World Showcase is within walking distance. It's right between the England and France pavilions.
A much further walk away is Disney's Hollywood Studios. Though it's possible to do the walk via a designated pathway, it takes a considerable amount of time when compared to the distance between the BoardWalk and Epcot.
The walk to Hollywood Studios is approximately 25-30 minutes, whereas the walk between Epcot and the BoardWalk is 5-10 minutes.
Is Disney's BoardWalk pet-friendly?
No, it is not though Service Animals are allowed. The same rules apply to the BoardWalk as in Disney's theme parks.
Adult Things to Do Near the BoardWalk at Disney World (Besides the Parks)
Miniature Golf at Fantasia Gardens
If you feel a little competitive, walk to the Swan Reserve from the BoardWalk to play miniature golf at Fantasia Gardens. It's next to the hotel, and it's only a 5-15 minute walk, depending on where you're walking from on the BoardWalk.
There are two sides to the miniature golf course: a fun side with characters and colorful scenes from the movie, Fantasia, called Fantasia Gardens, and a more difficult Par 3 course, called Fantasia Fairways. (The Fairways side is actually really hard!)
There's often a wait to play so if you have a long wait, simply head to the Swan Reserve to grab a drink until you can play.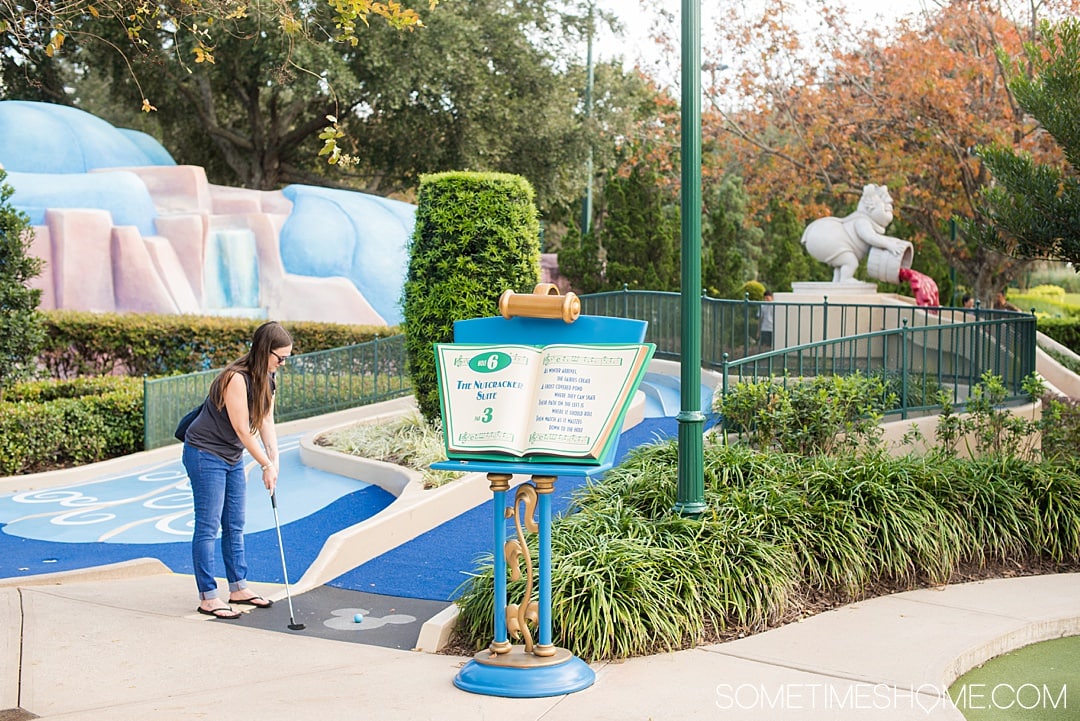 Cirque du Soleil at Disney Springs
One of the most romantic things to do at Walt Disney World is going to a Cirque du Soleil show at Disney Springs. It's an incredible performance with acrobatics, musicians, and singers. We recommend purchasing tickets in advance.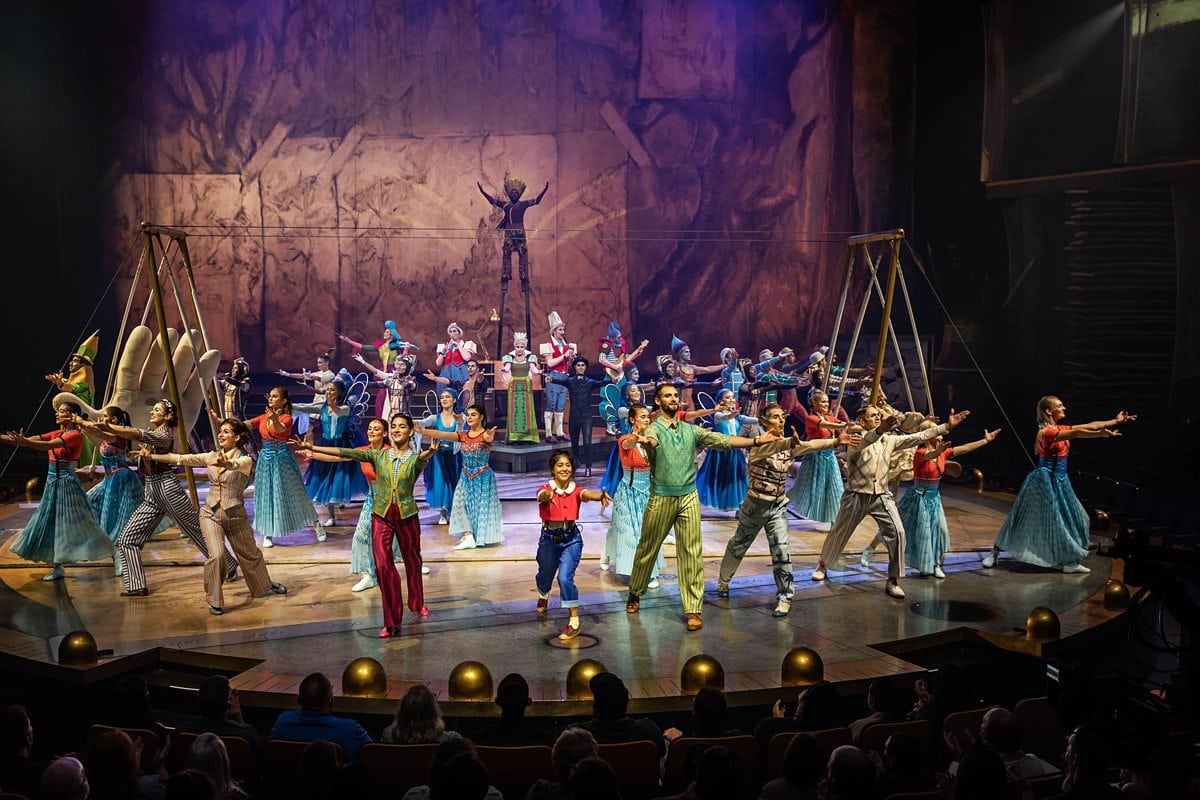 Things to Do in Florida, Beyond Walt Disney World
If you will be in Florida for a while, head to Florida's Space Coast, which is only an hour's drive east. This is where Disney Cruise Line has its own terminal on the Space Coast at Port Canaveral.
Another idea is to head south to Miami, where you can explore the famous (and colorful) Wynwood neighborhood, with murals galore! Or head to Little Havana for a fun time.
From there, you can keep driving south to Key Largo, which is hours closer than Key West.
Heading to Orlando? Read this next: