Top Things to Do in Trieste, Italy if You Only Have One Day
Trieste sightseeing was never so fast and furious as when we spent a few hours there on a day trip to Italy from Piran, Slovenia. In the spirit of our hop, skip, and a jump over the Italian border, here is our hit list of top things to do in Trieste, which we were able to see and do in just five hours.
Disclosure: This post has affiliate links, meaning we may earn a small commission if you click the link and proceed with a purchase at no cost to you. We recommend experiences, hotels, products, and services we use and support. As Amazon Associates, we earn from qualifying purchases.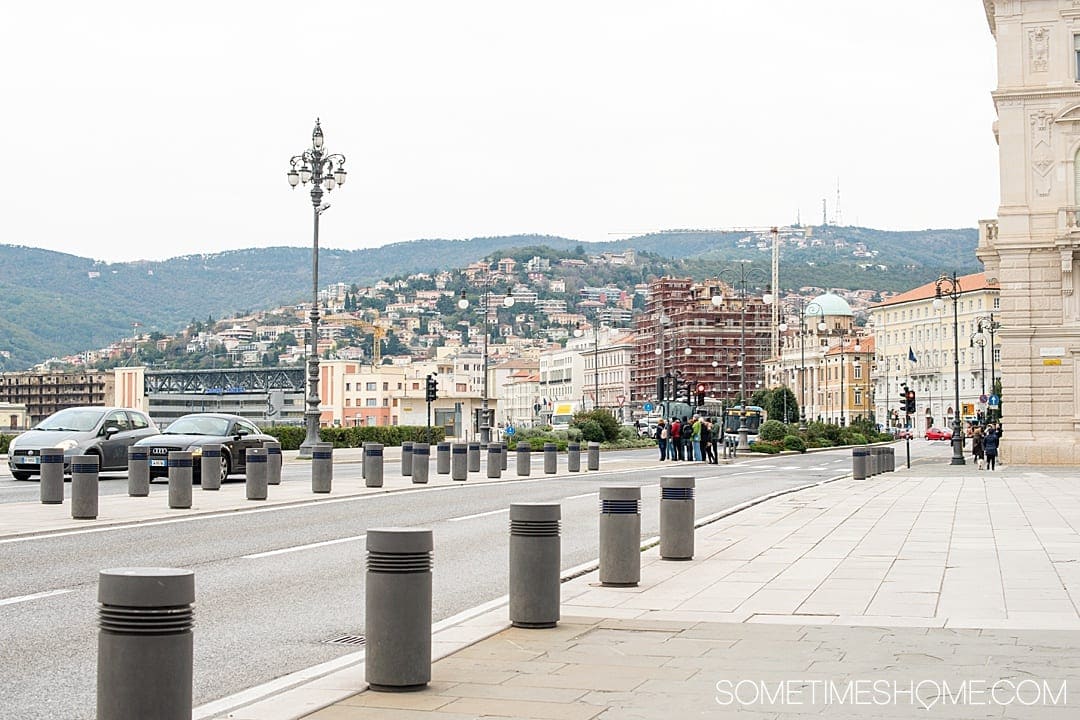 Tour Miramare Castle
Miramare Castle is a relatively young one, constructed in the mid-19th century. It's interesting to think about what was going on in the world when it was built in the 1850s: California became a state, the New York Times was founded, and Moby Dick was published.
Speaking of the ocean, the monarch who ordered this castle to be built, Maximilian I, was a lover of the sea. It's no wonder it's on the coast with an ideal view of the Gulf of Trieste and the Adriatic Sea.
Boats can directly dock at the castle. One of the rooms inside the castle that made a lasting impression was Maximilian's quarters. They were built with particularly low ceilings, intricate woodwork, and various nautical motifs to remind him of his ship's quarters.
Miramare Castle is the only experience in this post that's a few miles north of the city center. We drove there in our rental car. If you don't have one, you may want to explore how to get there with public transportation or a taxi. We also highly recommend renting an audio guide to better understand the castle.
Don't Postone Renting a Car!
Leave about two hours for this Trieste sightseeing experience if you're seeing the city in five hours. But be careful because it's easy to want to spend five hours at Miramare Castle, alone. You must look at your watch and be mindful of the time!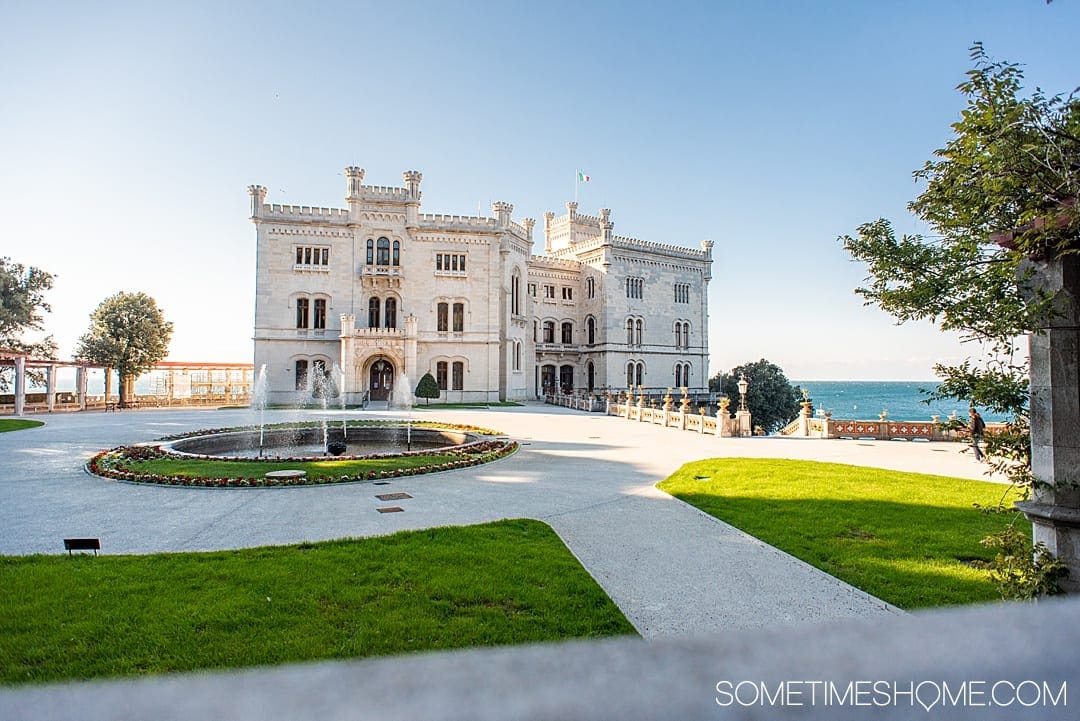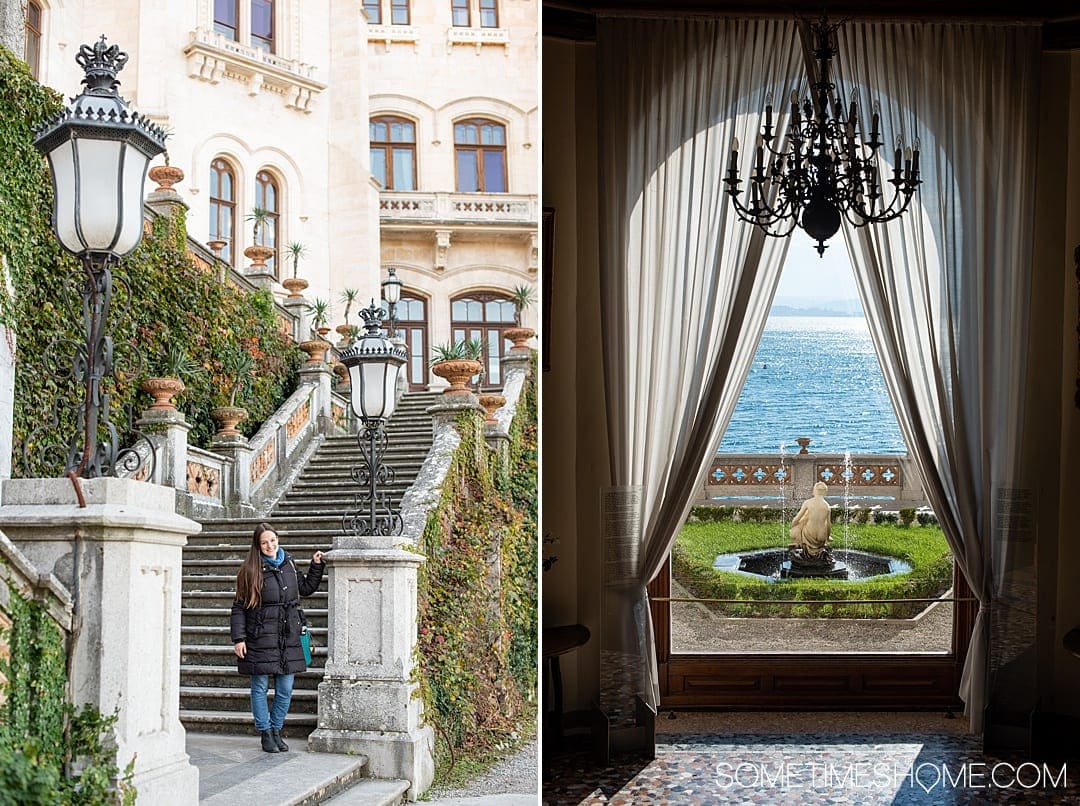 Eat Pizza
Come on! How could you go to Italy for a few hours and not have pizza for lunch? We had to.
As you maybe would have guessed, finding pizza in Italy isn't difficult. There are loads of places to indulge in a carb-filled pizza meal in Trieste. Be sure to order yours with a beer, glass of Italian wine, and espresso as we did!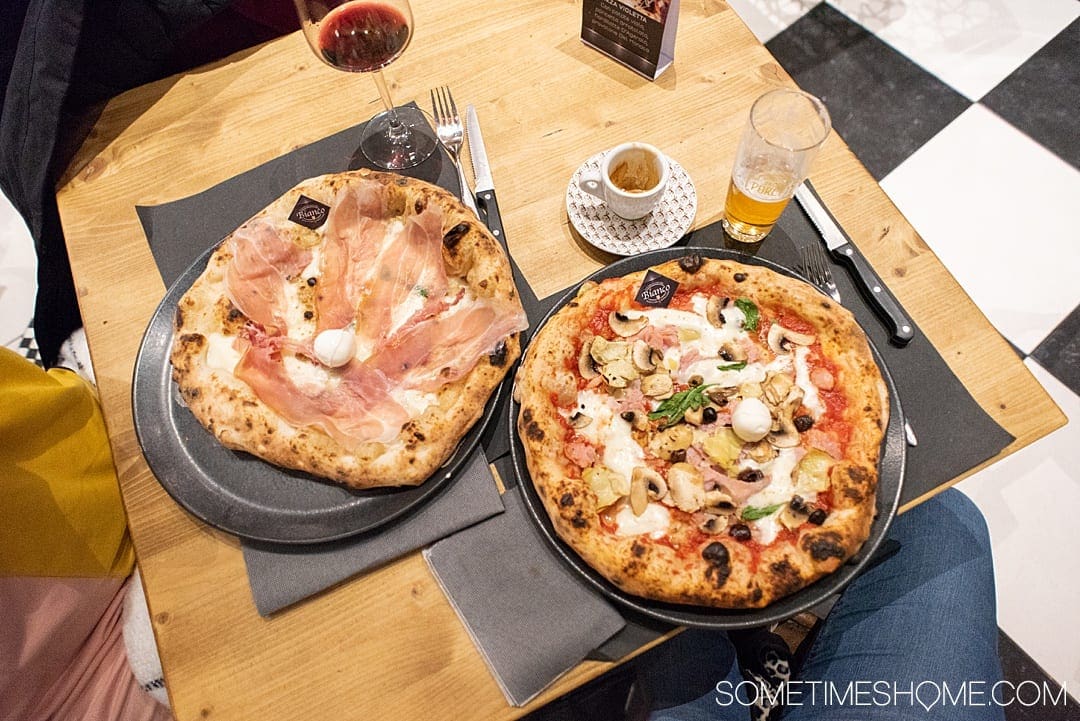 Try Traditional Trieste Sweets
We picked up a desserts guide at the Tourism Office on Piazza dell'Unito d'Italia when we were roaming around the city with just a few hours to spare. It noted some sweets to try while in town, unique to Trieste. We were game!
None of them really struck a chord with us in the taste department. But we like to experience the culture when touring a new place thus we were happy to buy these to form an opinion for ourselves and support the local economy.
One treat we had to try was one that received an award for the best pastry in Italy. Liberty Bakery created it, and it's only sold there. (It's the cookie wrapped in red foil below.) I love that they use salt from Piran for their creations! Liberty isn't really a tourist destination, so it was a little hard to find.
I'm posting the address so you can find it easily: via Carpison 7, Triest, Friuli-Venezia Giulia, Italy 34133.
The one I ended up liking the most of the desserts shown below was the small round cookies. They are called "fave" and represent birth, life, and death in white, pink, and brown colors. They are flavored with vanilla, rosewater, and chocolate and have a bit of almond paste in them.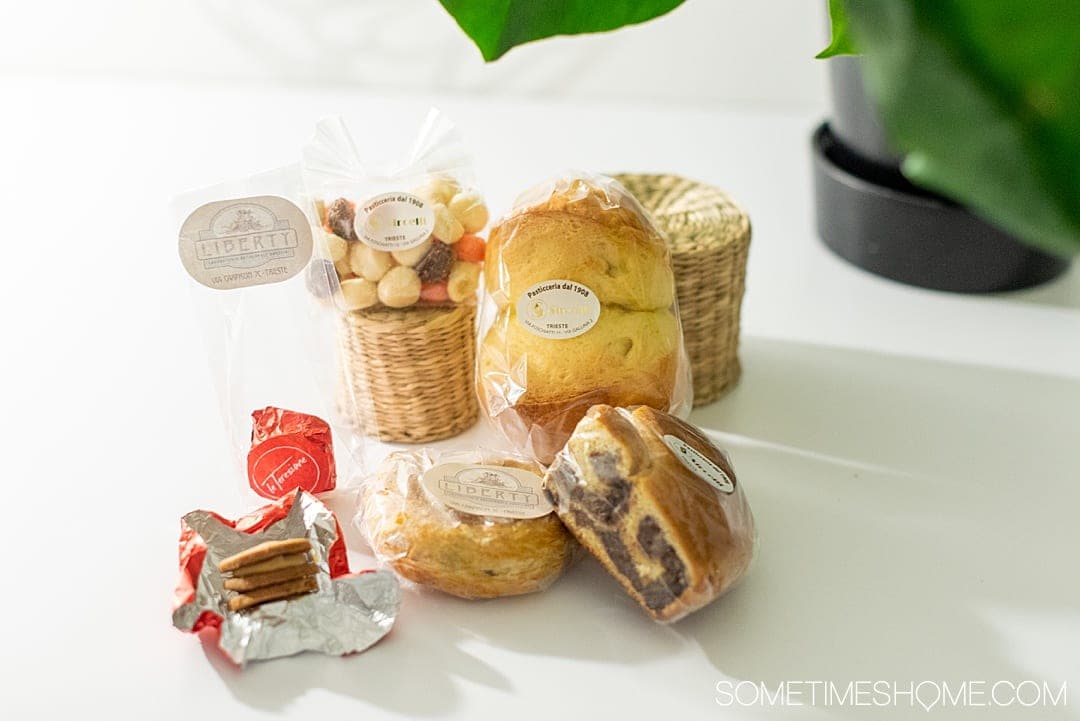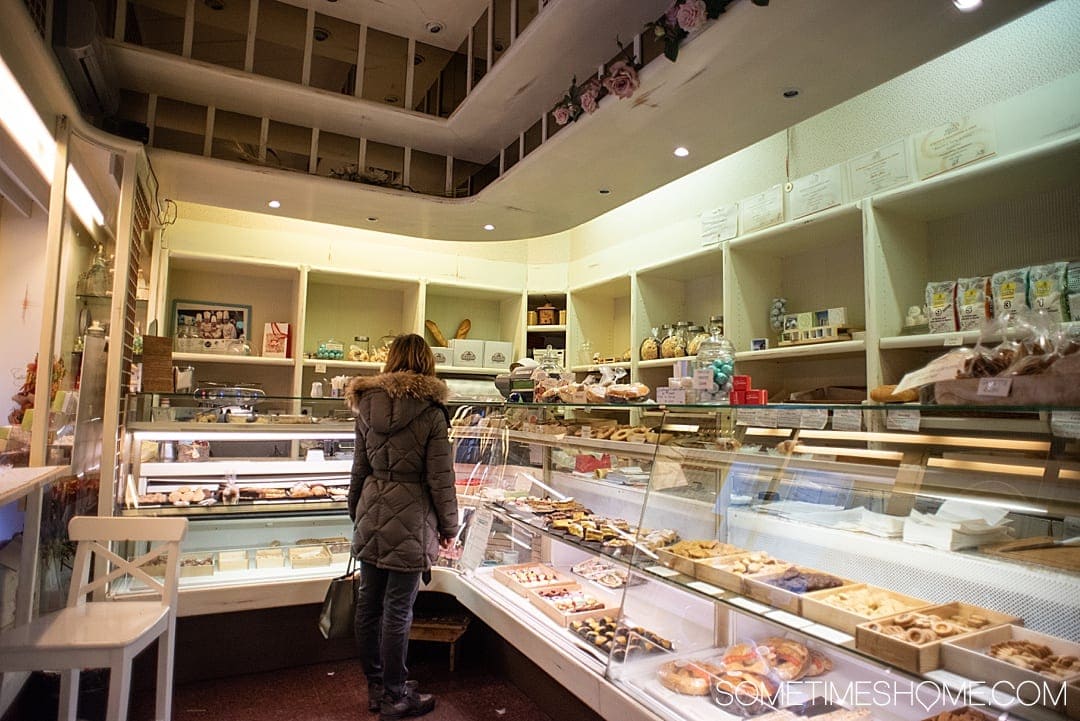 Walk Through Key Sites during your Trieste sightseeing
With limited time we decided to walk through a few areas for the photo opportunity and to see them with our own eyes. These included the following that I go into a bit further depth below:
Grand Canal
Piazza dell'Unito d'Italia
Roman Theater Ruins
Piazza Della Borsa
Trieste sightseeing the Grand Canal
If there's any one spot in Trieste that's Instagram-worthy, it's this small canal that reaches into the urban landscape. Water from the Gulf of Trieste flows into this canal and keeps small boats afloat.
This Trieste sightseeing location was created in the 18th century (well, not originally as a sightseeing location, of course – it had a purpose) and allowed boats to come right into town in order to load and unload goods.
It's no surprise this also became the center of Trieste's commercial trade; today, a bank, museum, and a few eateries and coffee shops line the canal. It terminates at the Church of Sant'Antonoi Nuovo, an orthodox church built in the Neoclassical style in the 19th century.

Piazza dell'Unito d'Italia
This grand piazza is the most striking in Trieste sightseeing. The Italian flag proudly flies over the "Unity of Italy Square," with architecture dominating it on three sides. The fourth side is open to the shore as if to welcome guests with open arms.
Throughout time this Great Square, as Slovenians have called it for decades and as it was originally named prior to the second decade of the 20th century, has been the site of historic events.
From royal funerals to an infamous Mussolini speech that was broadcast throughout Italy to a Green Day concert in 2013, it has seen its share of occasions.
City Hall is also located here; we saw many families taking photos in the square celebrating what looked like college graduation day when we visited.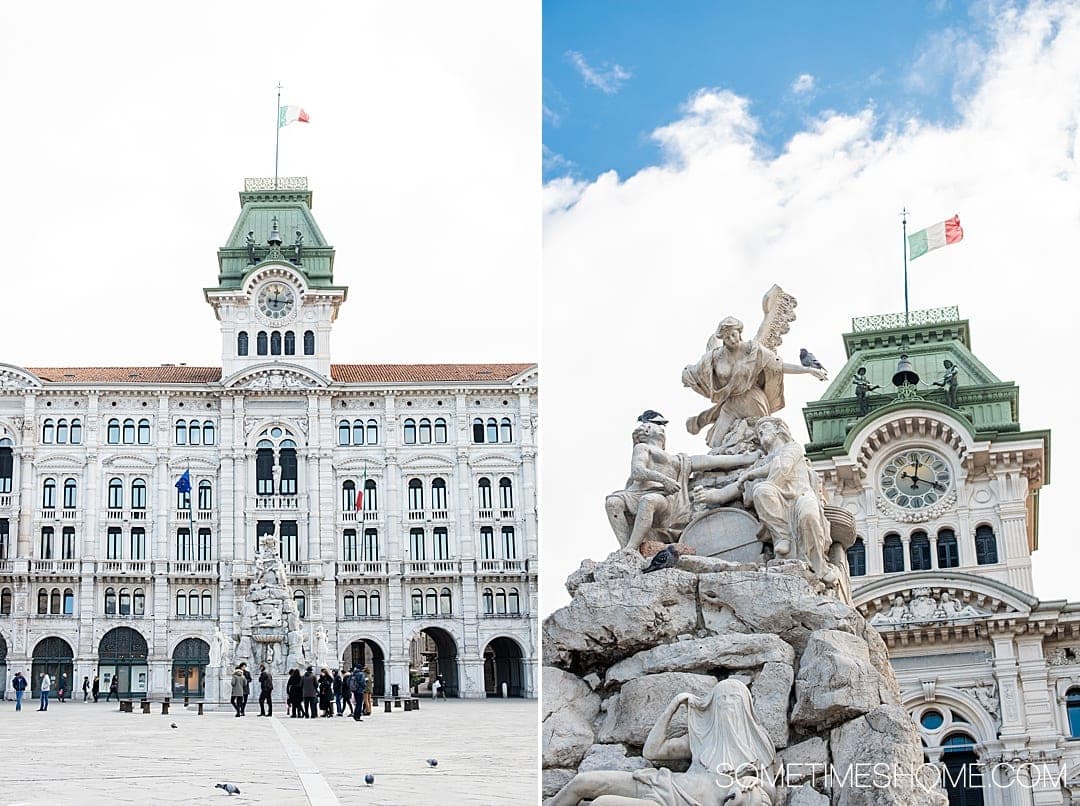 Roman Theater Ruins
Roman Ruins are not scarce in Europe; you can see them in a lot of cities you vacation in, whether you're in Zaragoza, Spain or Rome. And the same is true in Trieste! 
The Roman Ruins in Trieste are a really quick spot to visit because it's something you see from the sidewalk and view within five minutes (including stopping to take photos, free of charge).
Imagine this was built in the first or second century and was buried over time only to be rediscovered in the 20th century. It's pretty amazing how well preserved it was and what it's been restored to!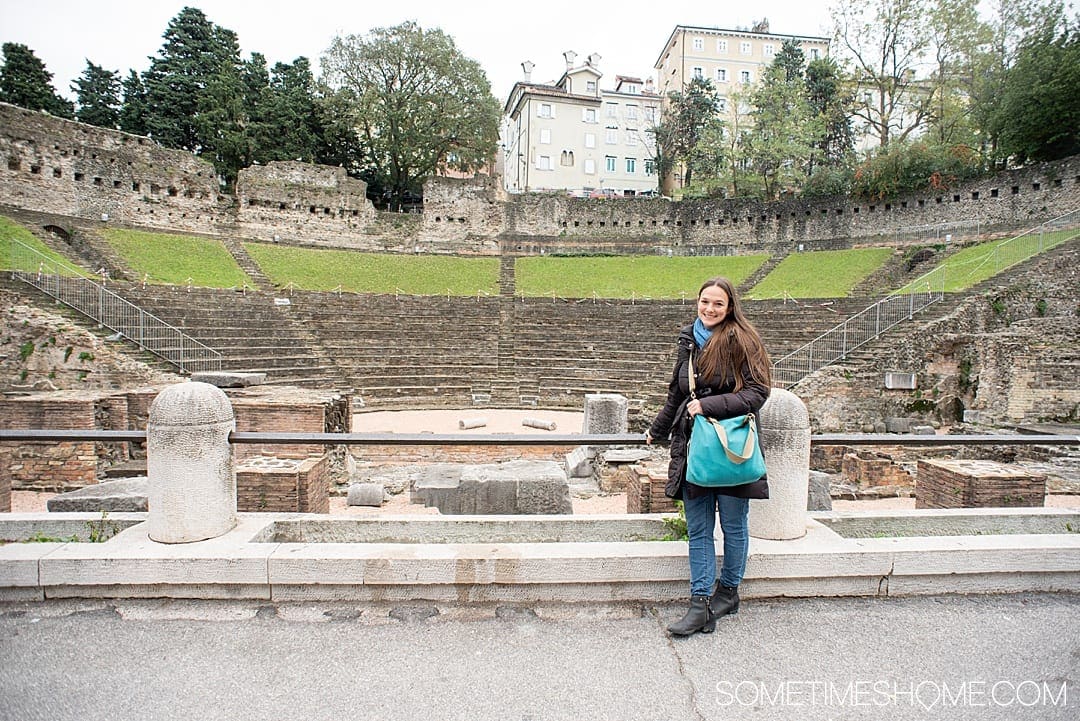 Piazza Della Borsa
This beautiful square is smaller than its neighbor, Piazza dell'Unito d'Italia (above), but it's impressive nonetheless. Historically, it served as Trieste's stock exchange area and center of commerce.
Take a moment to look at the diverse architecture that surrounds the square. The attractive white, yellow, and pink building you see below is the Chamber of Commerce, with Neptune's fountain to its right.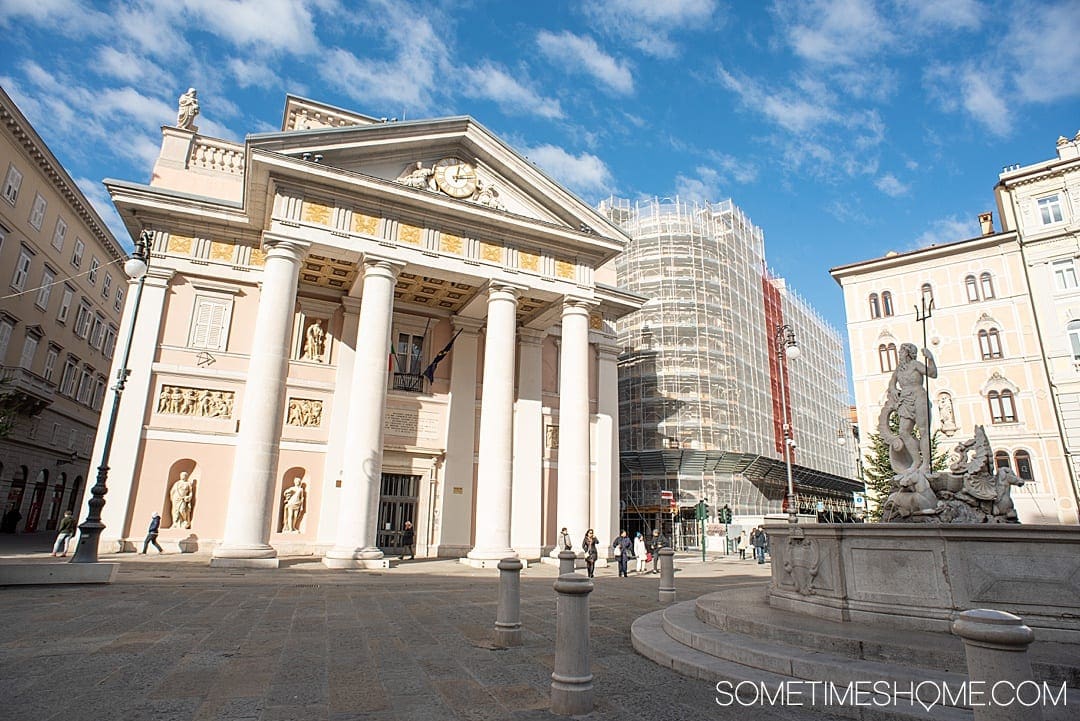 More Things To do in Trieste
We visited in November, so we didn't have as much daylight as visiting in the summer, per se. Thus we wanted to drive back to Piran as close to sunset as possible.
But if you have more time and daylight, visit the Basilica Forense ruins and San Giusto Castle, right next to each other. They are within Trieste's city center and are close to the Roman Ruins. It's an uphill climb that's worth it because the top overlooks the city.
Conclusion
We did a lot within five hours in Trieste and knew we made the right decision to go on a day trip from Piran. We headed to Koper when we left Trieste to see the quaint coastal town in Slovenia before reaching our hotel for the night on Tartini Square.
Don't forget that a guided tour awaits you in Trieste if you don't want to go it alone!
Heading to Europe? Also check out:
Would you drive to Trieste, Italy if you only had a few hours?