A Foodie's Favorite Restaurants in Downtown Grand Rapids, Michigan
Who knew Grand Rapids could be such a culinary haven for refined tastebuds and photo-worthy plates? We're sharing our favorite restaurants in downtown Grand Rapids, which we happily tried within our three day visit.
We knew stopping in Grand Rapids for a few days was a must on a lake trip to see friends in Michigan. And what's one of the best ways to judge a city? Through their food, of course!
Lunch, Brunch and Dinner in Downtown Grand Rapids
Some of the following restaurant recommendations were open for lunch and dinner. Others were only open for one or the other. We've indicated their days and hours of operation below.
Høst at Søvengard
Our first dinner in Grand Rapids was one of my favorite meals there. This restaurant in downtown Grand Rapids is in the Westside neighborhood and is part of Søvengard. Søvengard is home to an indoor/outdoor biergarten and also, the restaurant, Høst.
The restaurant's name is Danish for "harvest," and is very much Scandinavian inspired in its meals and beautiful design.
They feature farm to table menu items and inspired cocktails, both of which change often. I loved that they mention some of the farms they source their ingredients from on top of their daily offerings list.
A standout appetizer of the night was salt and vinegar pearl potatoes with smoked char roe, crème fraîche, garlic scape puree and dill. Their pound cake dessert with macerated cherries and whipped cream was delicious and I didn't leave a drop of my fresh berry tart dessert on the plate.
I also highly recommend The Green Bough cocktail, which was described as Earthy, herbal and elegant. It had Iron Fish Woodland Gin, Match Green Tea (I asked them to go light on this ingredient, which they did), Lillet Blanc, Honey-Mint Syrup and Fresh Lemon Juice in it. It was tasty!
Open for dinner Tuesday through Sunday. Closed Mondays. Open for brunch Saturdays and Sundays.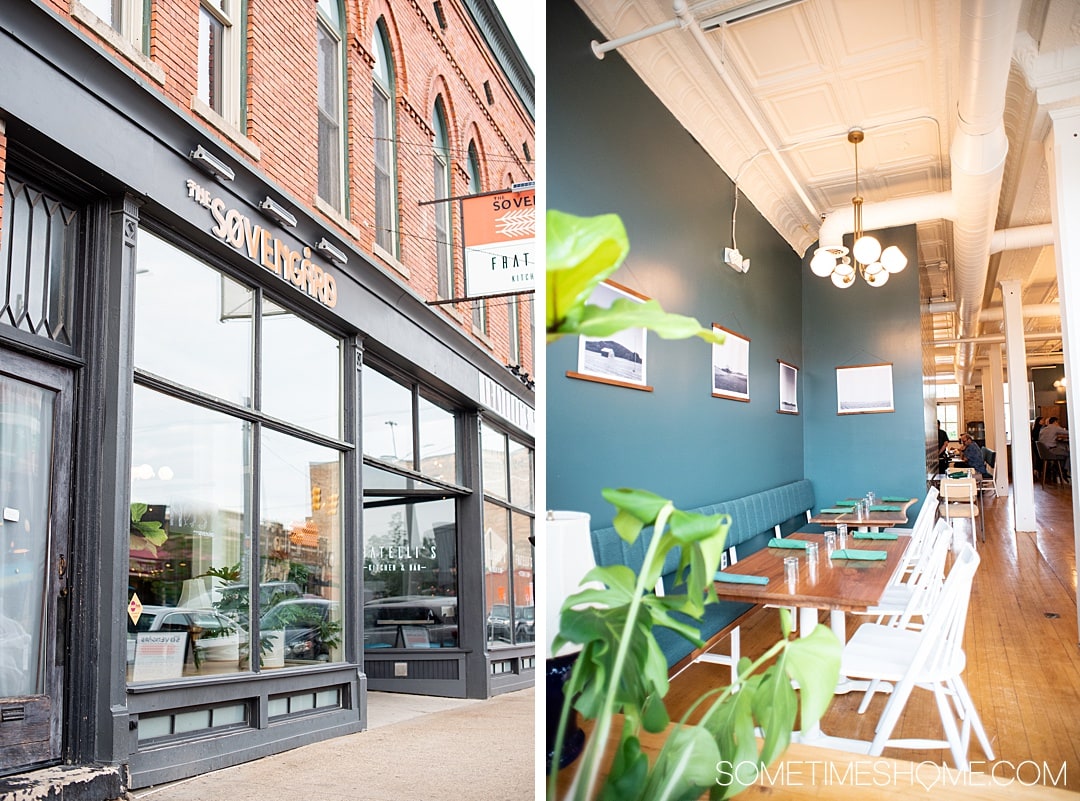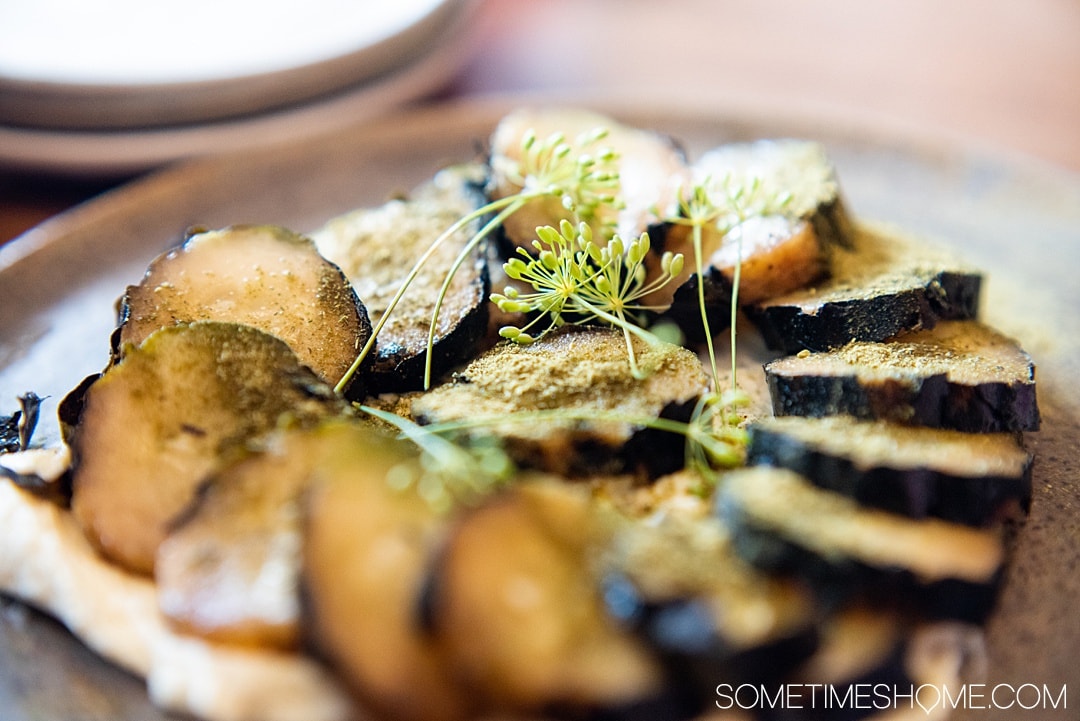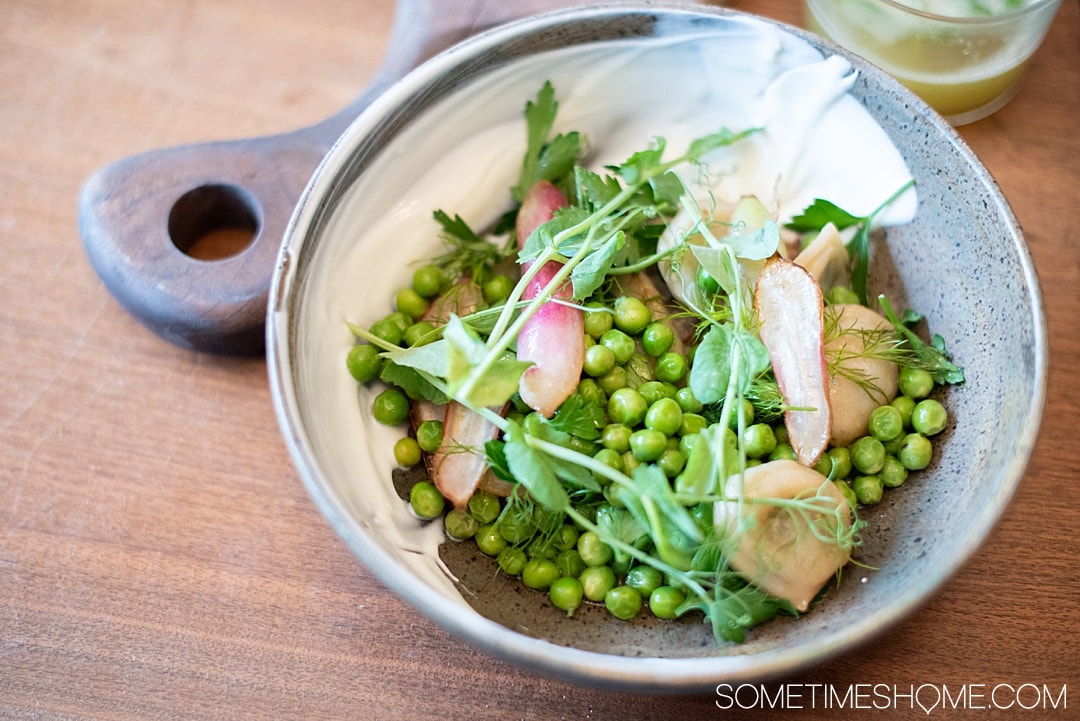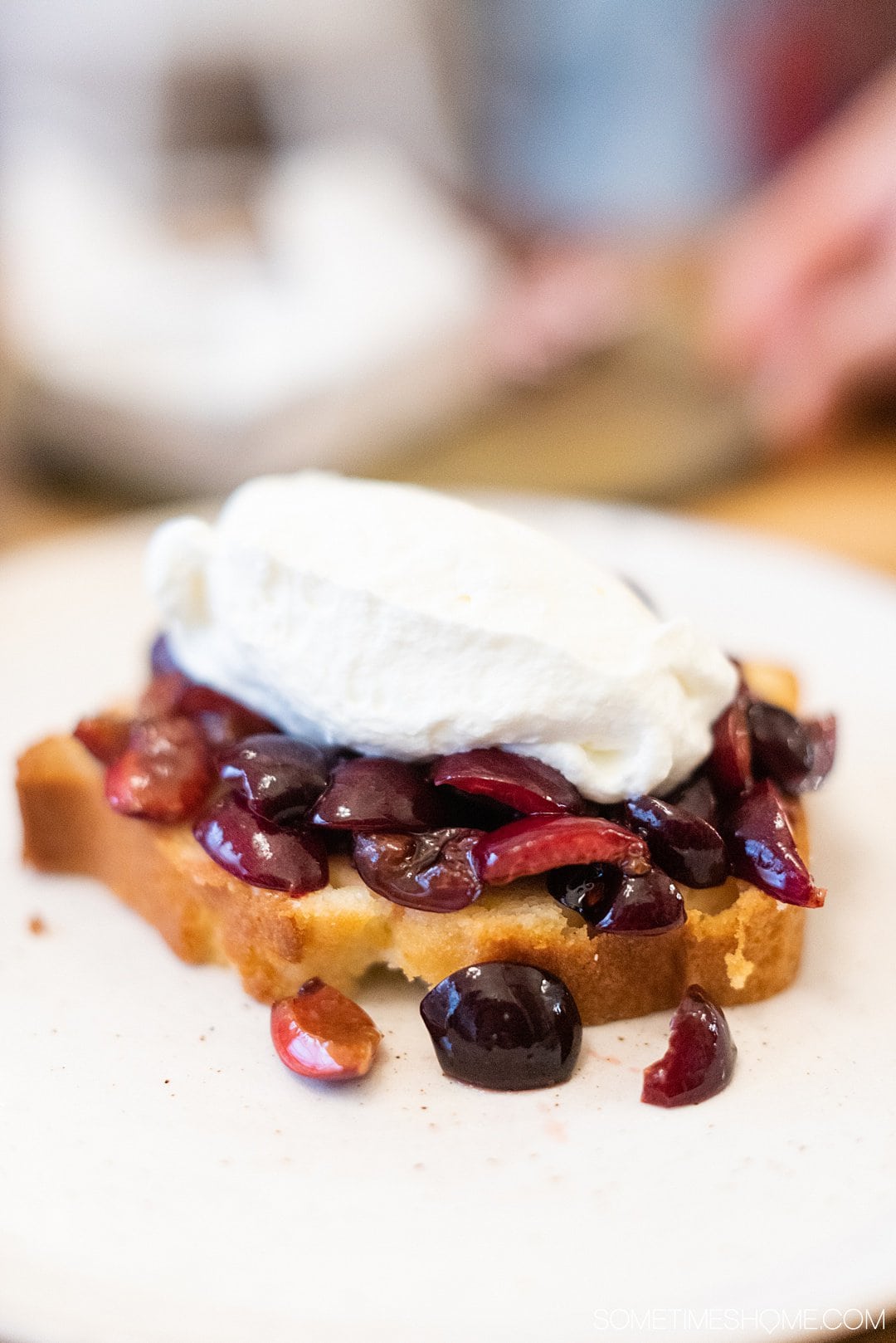 Quick Service Restaurant Options at Grand Rapids Downtown Market
I've never met a food market I didn't like. The Grand Rapids Downtown Market did not disappoint! It impressed me in two particular ways:
The diverse variety of food options inside from sushi to Pho soup, and from cheeses to juices.
How gorgeous the building is! It made me so happy to discover it is LEED Certified Gold, an honor only bestowed to the most thoughtful building design and construction as it pertains to being environmentally conscious.
Definitely try the ceviche at Fish Lads, who also offer half off oysters every Monday. (Yum!) Try the bread at Field and Fire, the cheese at Apertivo and the salads from Bliss & Vinegar. (I went gaga over their homemade salad dressings; try the Smoked Tomato Vinaigrette.)
Know what else is cool about the market? They host events (like weddings!) and a variety of classes. For instance, if you've ever wanted to learn how to roll your own sushi you can at Grand Rapids Downtown Market!
Open Monday through Thursday 11:00am to 7:00pm, Friday 11:00am to 8:00pm, Saturday 10:00am to 8:00pm and Sunday from 10:00am to 7:00pm. Note some merchant hours may vary.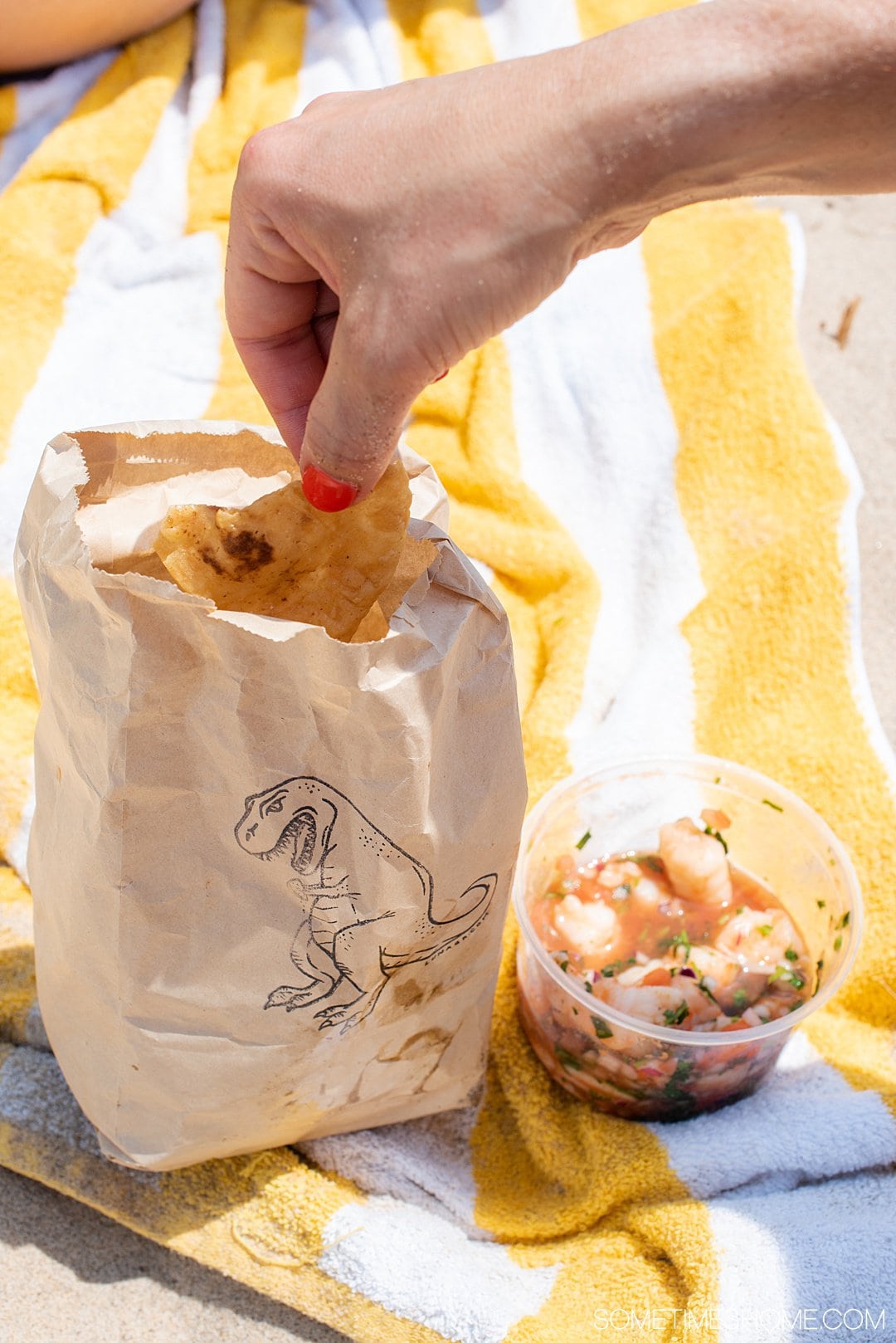 Donkey Taqueria Restaurant in Downtown Grand Rapids on Wealthy Street
Donkey Taqueria was packed when we arrived. And after we had our meal it was easy to understand why it's a hit. It's a cool and casual restaurant with delicious food. It's obvious it keeps repeat customers coming back taco after taco, creamy guacamole dish after cold margarita.
If you're going during peak times be sure to go with the mindset you may have to wait. Grab a drink at the bar or walk around Wealthy Street for a bit while you wait, the street where the restaurant is.
The Queso Fundido De Coliflor was amazing (cheesy cauliflower dip) and I equally loved the Refried Black Beans dip.
Reservations are not accepted.
Open daily.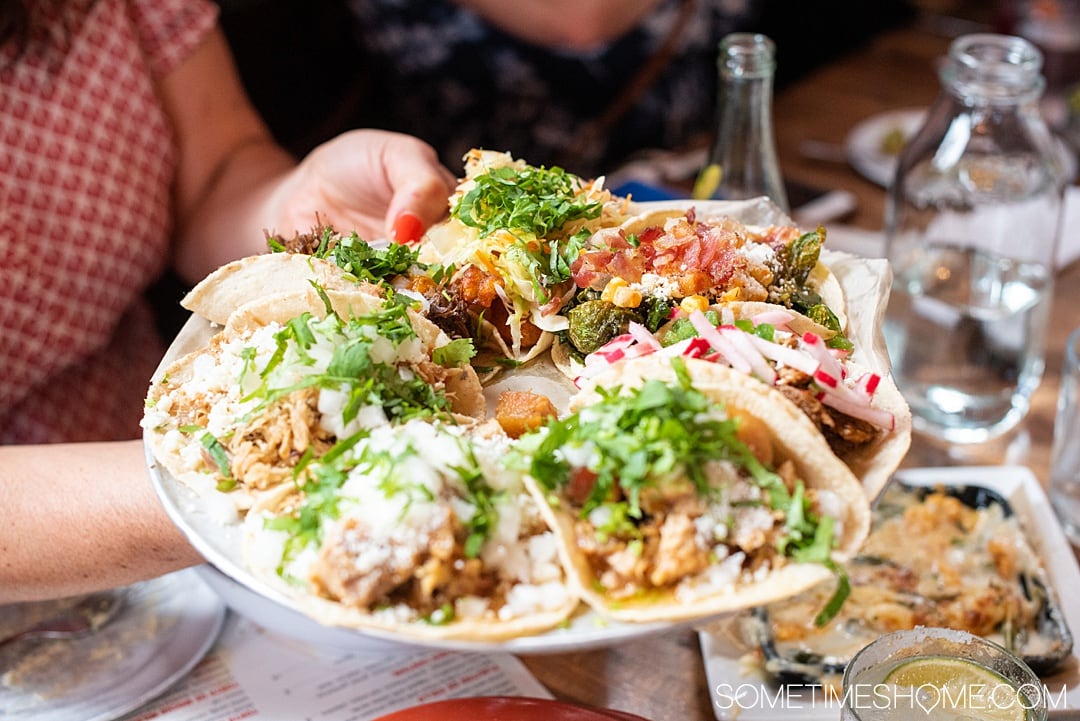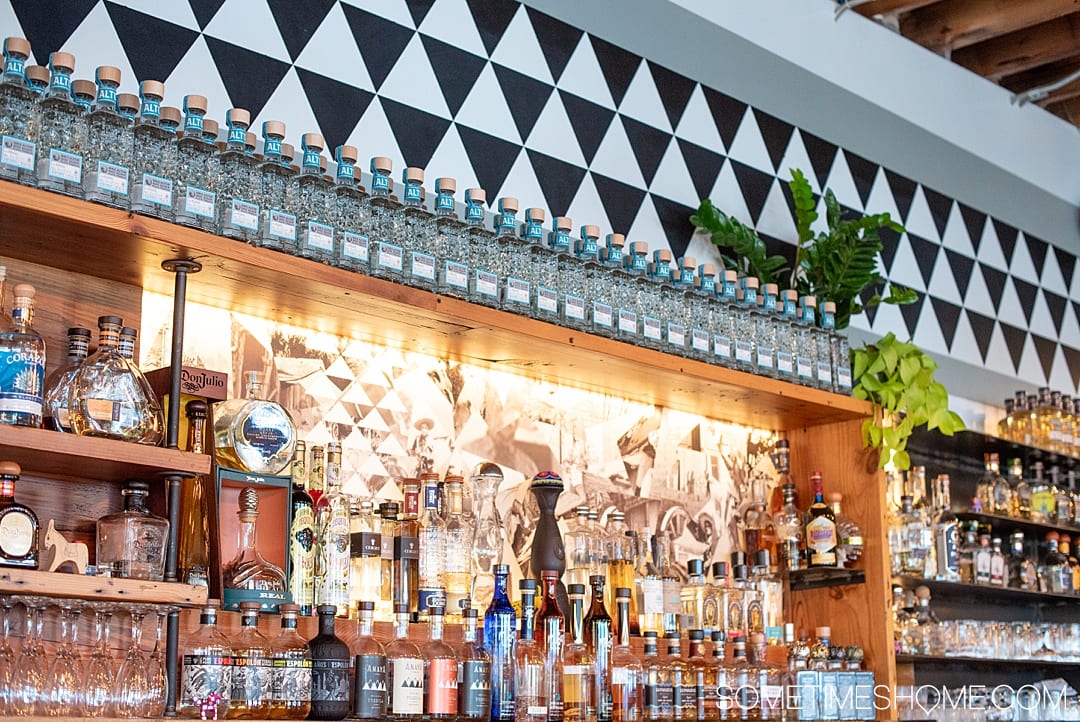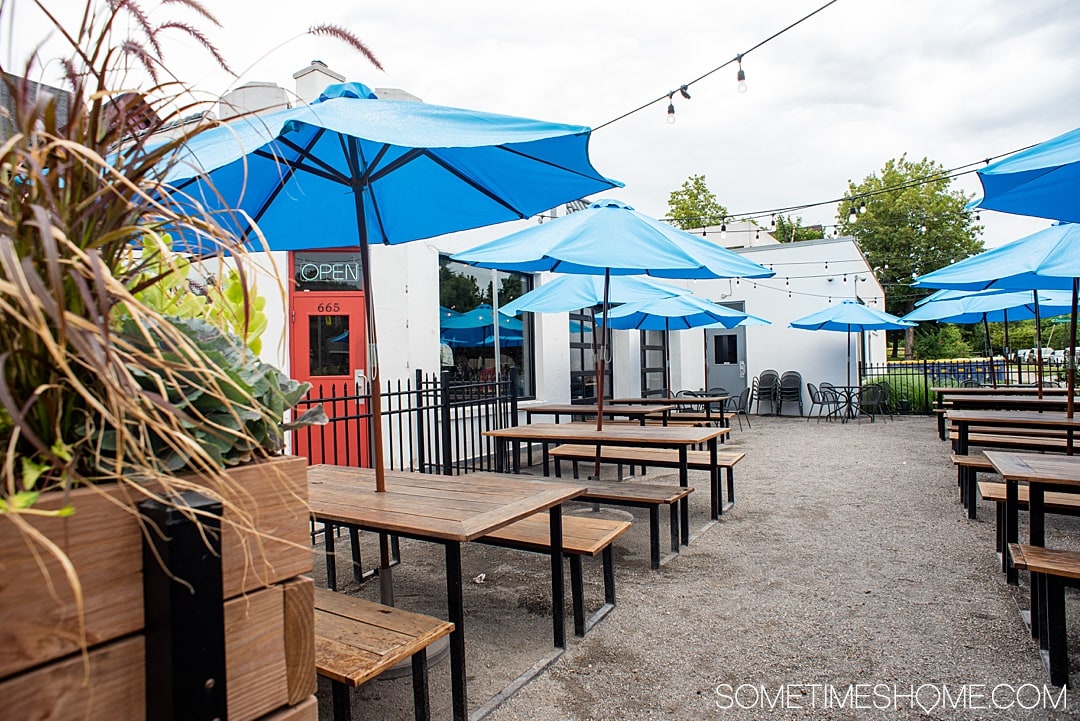 Terra
Terra gets their ingredients from about 30 local farms for their farm-to-table menu. A standout was their Buffalo Cauliflower appetizer that inspired me so much I had to make a version of our own when I got home.
Another favorite from Terra, that I've never seen anywhere else, is their Rose Wine Flight. It's four 4 oz pours of roses, served in a gorgeous hand carved wooden paddle. We found out the butcher hand carved them when they opened.
They are open for dinner, everyday. Reservations are recommended.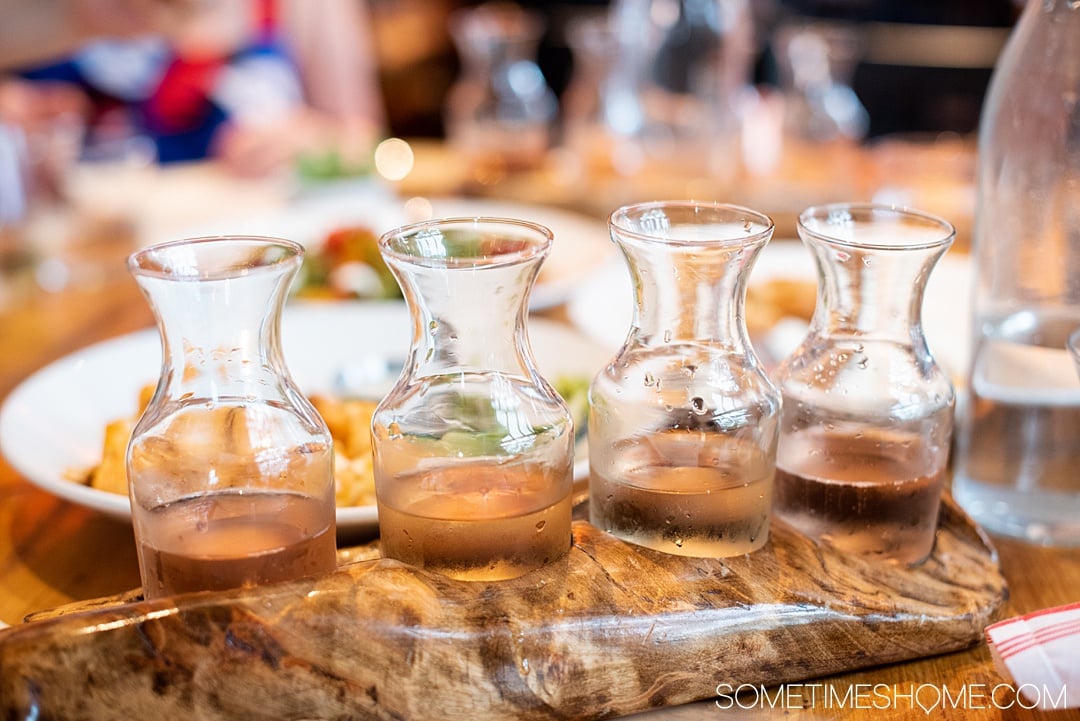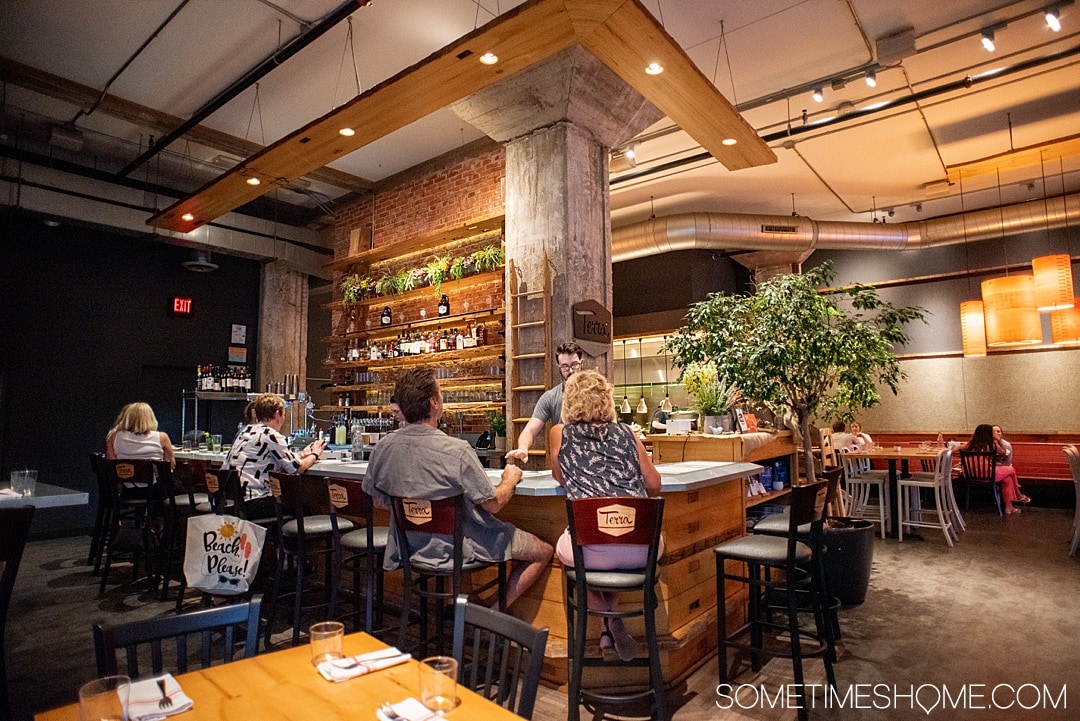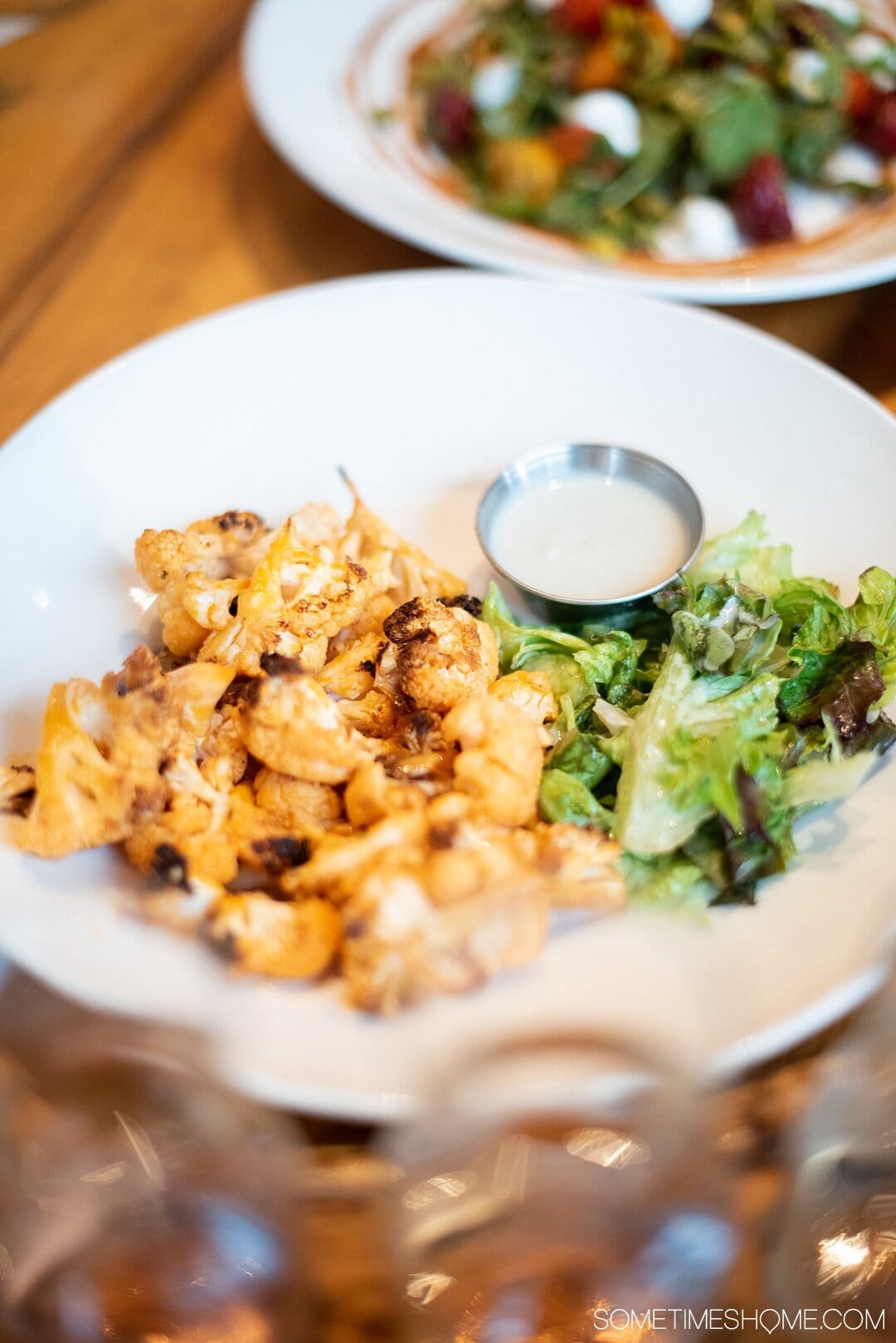 Butcher's Union
If I said you can get a great glass of wine for less than $7 at a nice steakhouse in this day and age, would you believe me? Its affordability, warm ambience and great food make Butcher's Union one of the top restaurants near downtown Grand Rapids on the Westside.
We were told there is always a wait there and found it to be true the Thursday night we visited. We understood why when we opened our menus to find affordable prices and great options, from steak to chicken to fish.
My favorite appetizer was the Butcher's Union Mild Mannered Meatballs served on a bed of polenta with a red sauce and shaved parmesan cheese. A glass of red wine accompanied my Charred Flank Steak, cooked to perfection and served with green beans and a square slice of potato gratin.
Open Tuesday through Sunday, closed Mondays.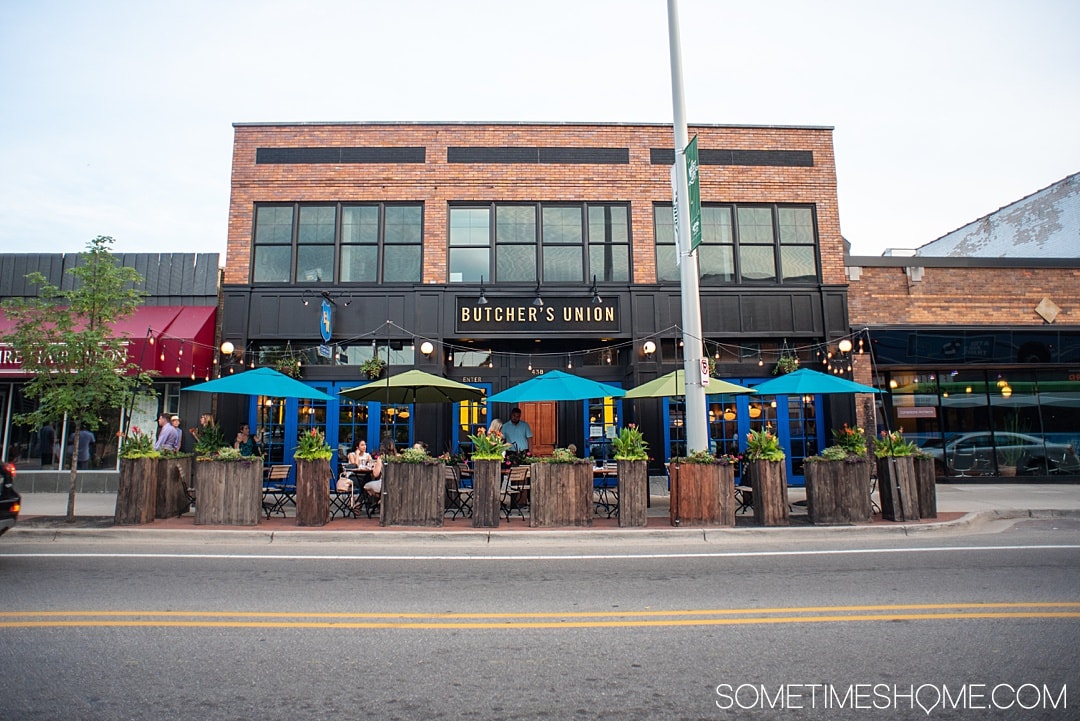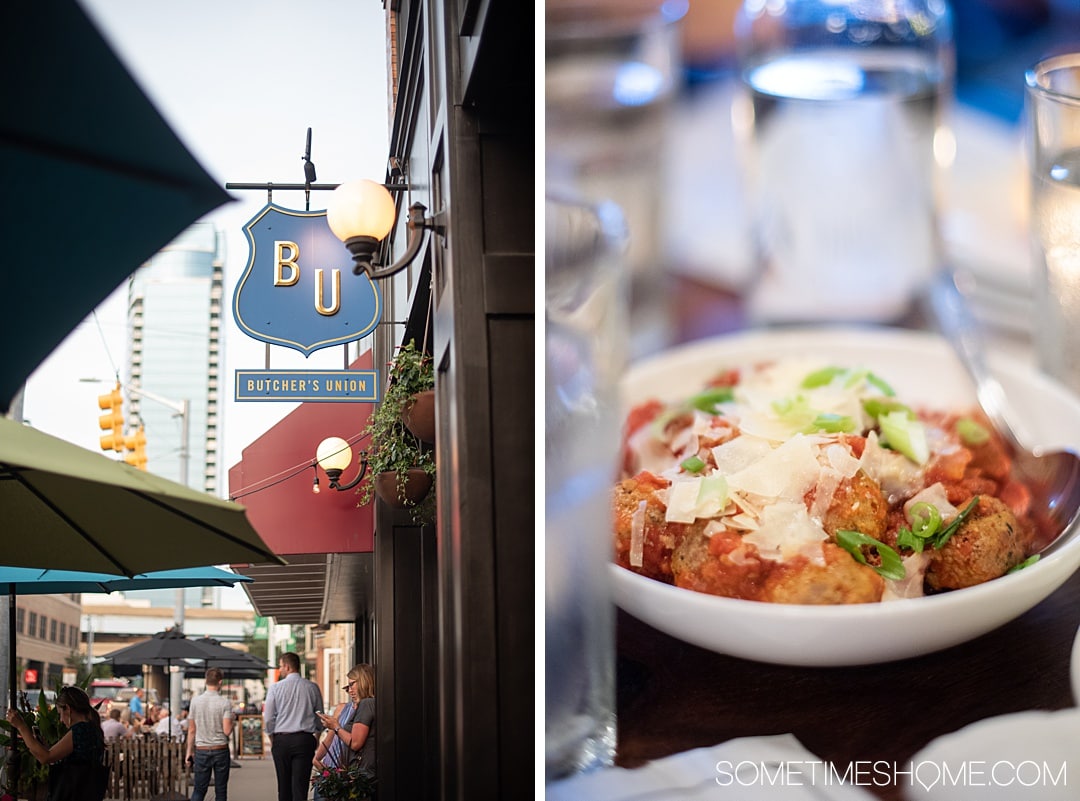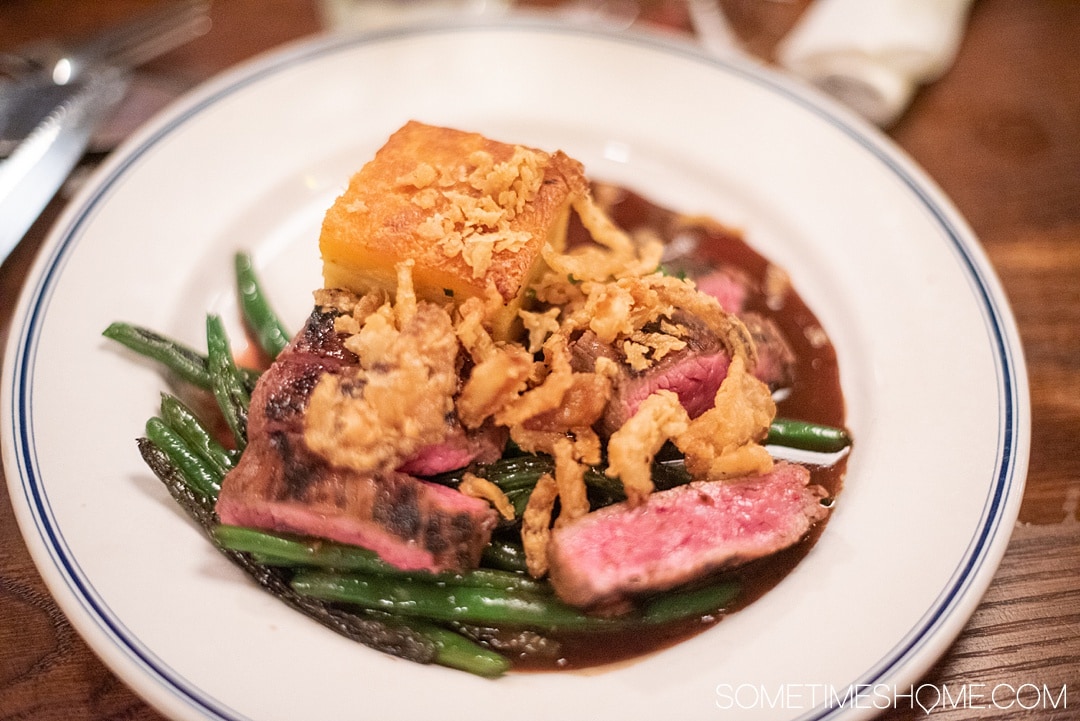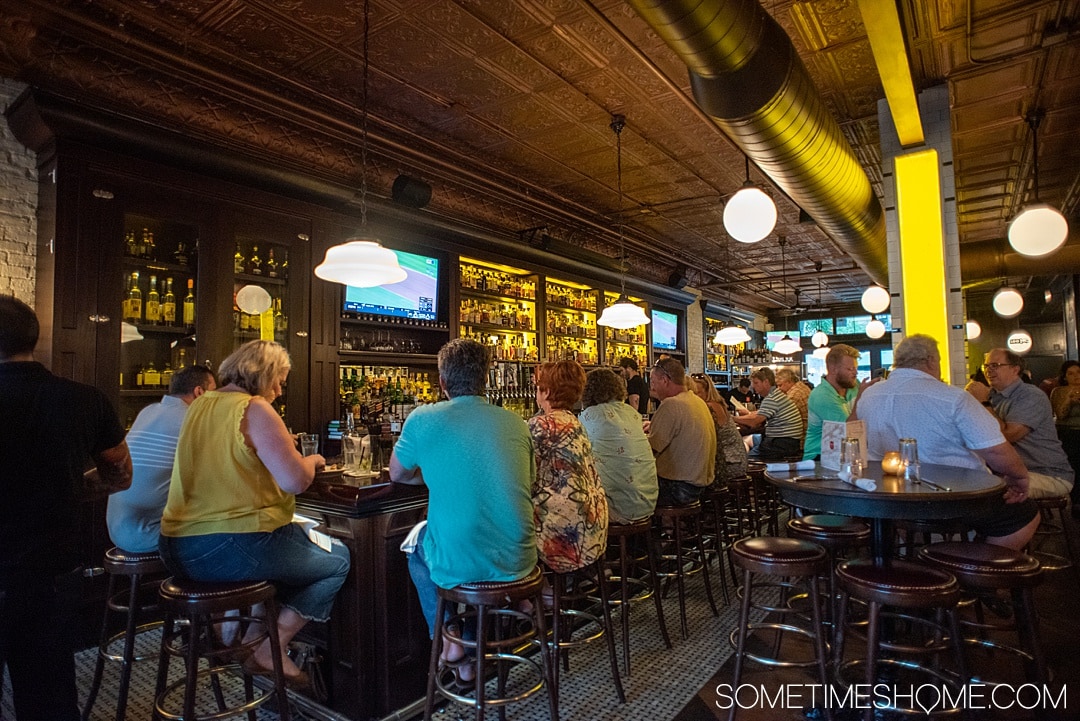 One Bourbon
Mmmm One Bourbon! Their bourbon drink menu wasn't necessarily for me however even a non-bourbon lover can find a cocktail to enjoy from their full bar. I had an "Easy Like Sunday Morning," decorated with a slice of kiwi! It is made of Uncle Val's Restorative Gin, St. Germaine and fresh lime juice shaken with muddled kiwi and topped with soda. (I sprang for the option of replacing the soda with Prosecco.)
Their menu options made it easy to say yes to indulging in additional appetizers while we waited for our table down the street at Butcher's Union. We tried their Pickles + Cheese plate with sweet and sour pickles and farm fresh cheeses, their Deviled Eggs with dill and chives, and Spicy Chicken Dip served with fresh pita chips. They also have an outdoor patio in the back with an Instagram-worthy "You're Neat" mural. We love a double entendre.
Opens Tuesday through Saturday. Closed Sunday and Monday.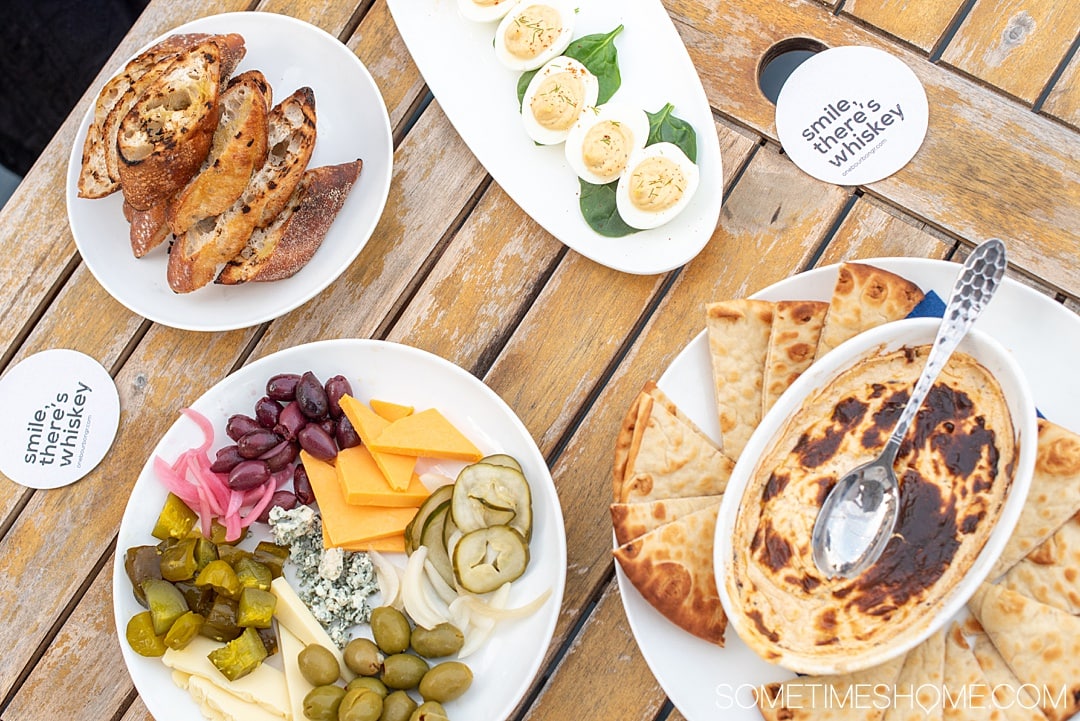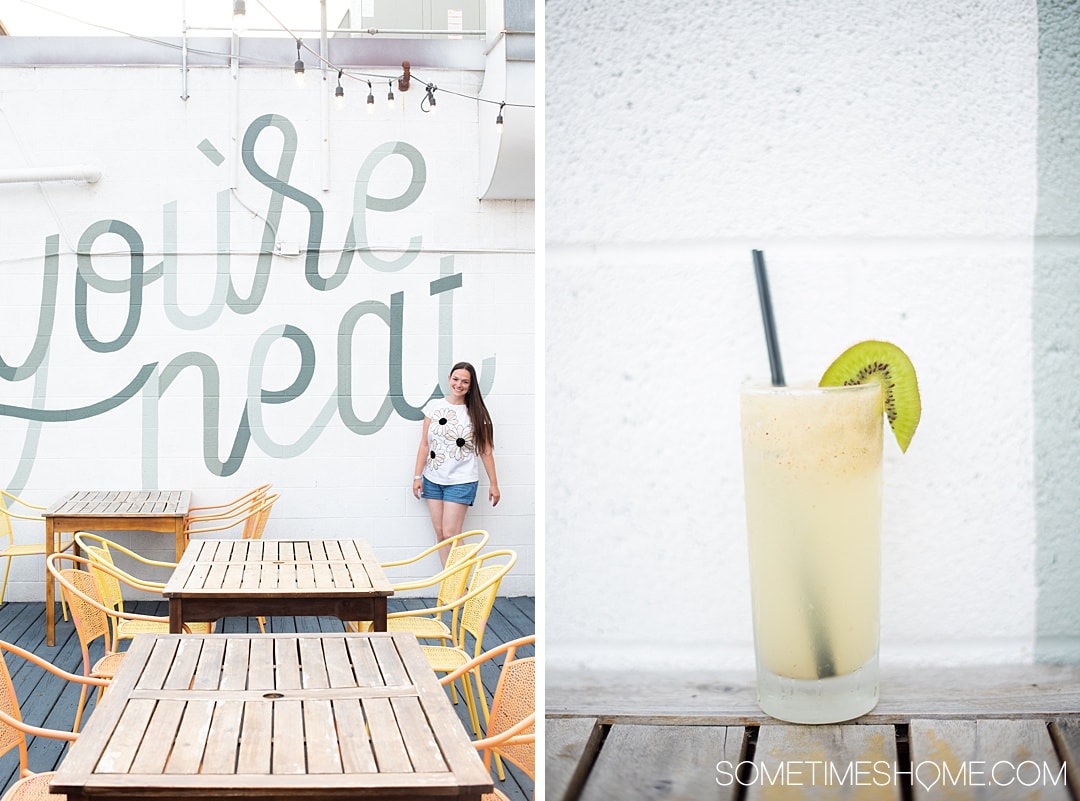 Breakfast + Coffee Restaurants in Downtown Grand Rapids
Madcap Coffee in Central Downtown Grand Rapids
Madcap Coffee is likened to Intelligentsia from Chicago, Death Wish Coffee from Saratoga Springs, or Counter Culture Coffee from Raleigh.
I arrived to Grand Rapids needing caffeine and a place to do a bit of work. Madcap's Monroe location is conveniently located just a couple blocks from the hotel where I was staying, the AC Marriott, and was filled with like-minded workers all needing a mid-day jolt.
The staff was friendly and willing to discuss my coffee needs when I said I didn't like acidic coffee. Their solution was perfect and I thoroughly enjoyed my drip coffee order and how it was served to me, in a beaker.
Open 8:00am to 4:00pm, daily.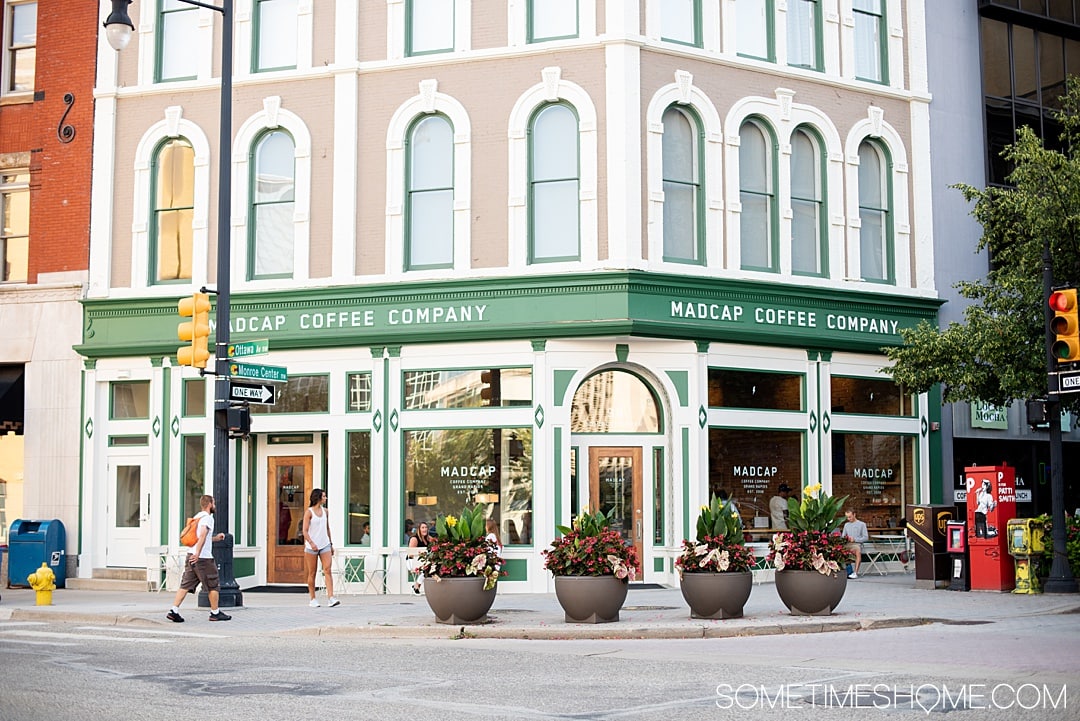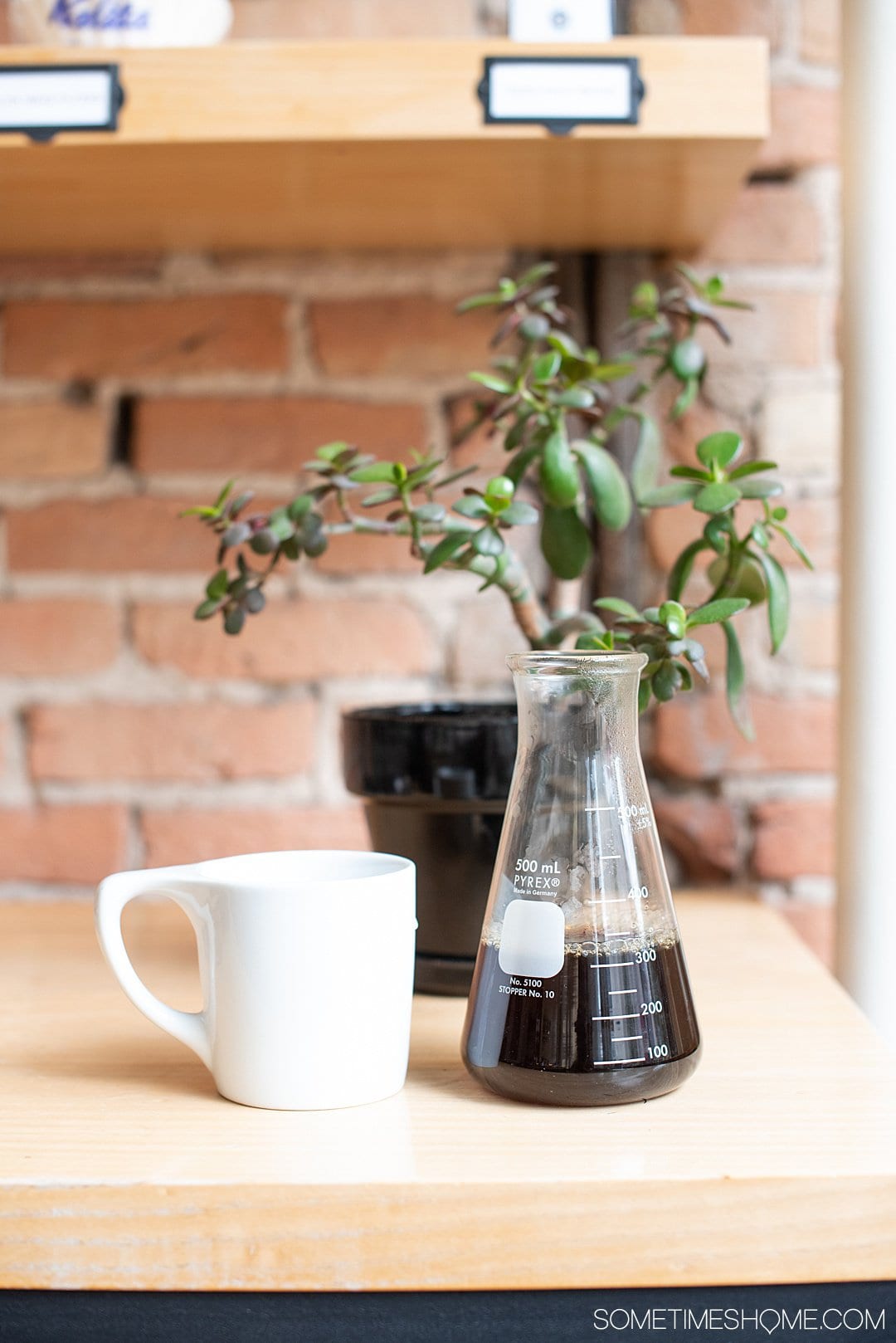 Downtown Grand Rapids' Field and Fire Cafe
You can taste the love baked into Field and Fire Cafe products. And I'm such a sucker for delicious carbs. (Dan has more will power than I do.)
They have a spot at the Grand Rapids Downtown Market, mentioned earlier in this post, so we first had their organic wood-fired baked bread as part of our Lake Michigan beach picnic. One of their baguettes was perfect to enjoy with cheese from Apertivo there. (Butcher's Union serves their bread products too!)
But I walked to their dedicated stand alone store a couple days later for breakfast on Monroe Avenue NW, while on the hunt to see all the street art murals in Grand Rapids. It was a bit of a walk from the AC Marriott but it was worth it! (And you can always Uber or Lyft there if you don't have a car and don't feel like walking.) I loved the savory pastry I had with a slightly cheesy and completely fluffy center. They have a full menu of sandwiches and salads too, for breakfast and lunch.
The cafe is open Monday through Friday.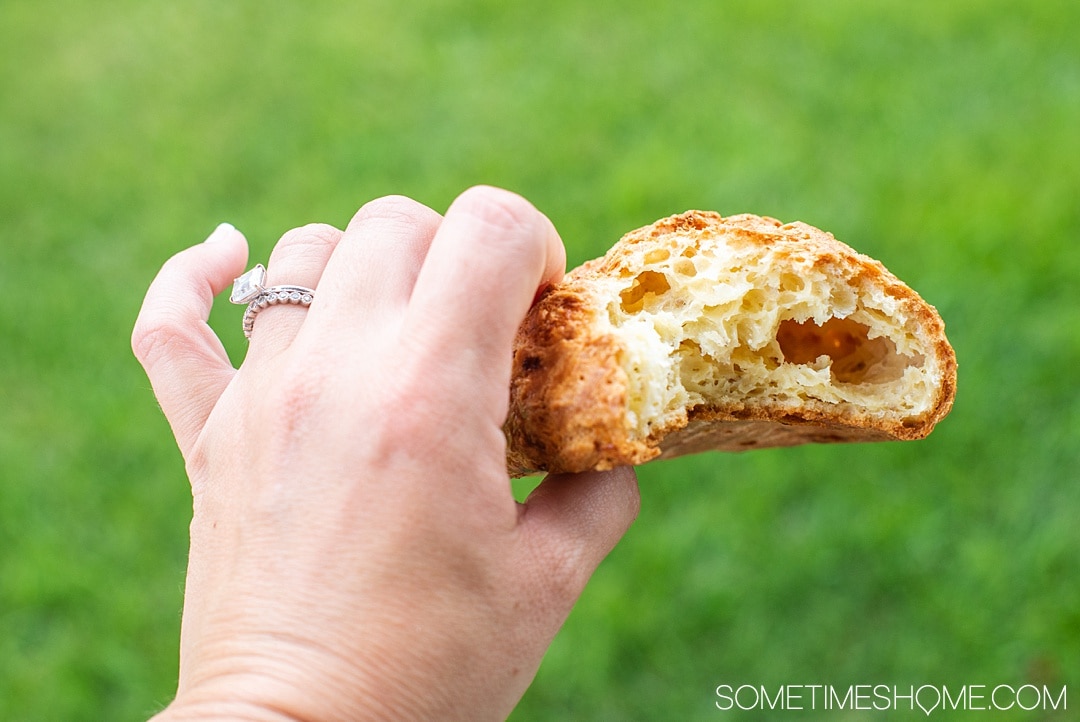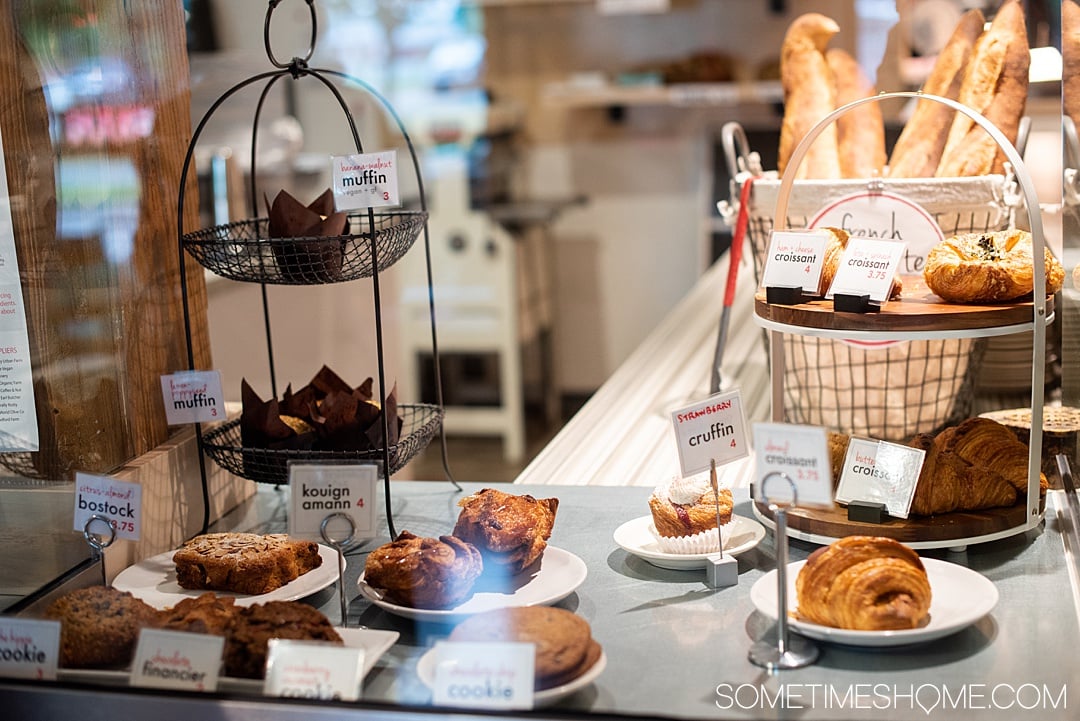 Outside Coffee Co. (Where you can be outside Downtown!)
We were warned this would be the most Instagram-worthy coffee spot in Grand Rapids and it definitely is! As its name indicates, it's outside and has the cutest little camper-type "food truck" they serve coffee drinks from. They also have an assortment of toasts – from avocado toast to smoked salmon – and ice cream options for later in the day. (Or breakfast – life is short. Eat dessert first, perhaps.)
The flowers were in bloom when I visited and everything was green, green, green in July. I'm sure all the seasons present their own charm here. The garden's great and they've created pockets of seating that make it seem somehow intimate.
When Rachel, from Rachel Off Duty who was on our trip, said, "Cinnamon Sugar Toast! My mom used to make that for me." I replied, "Mine too. Let's get it!" And we did. And it brought us back to childhood in the way only food can sometimes. It was perfect.
Though they are open year round, every day of the week.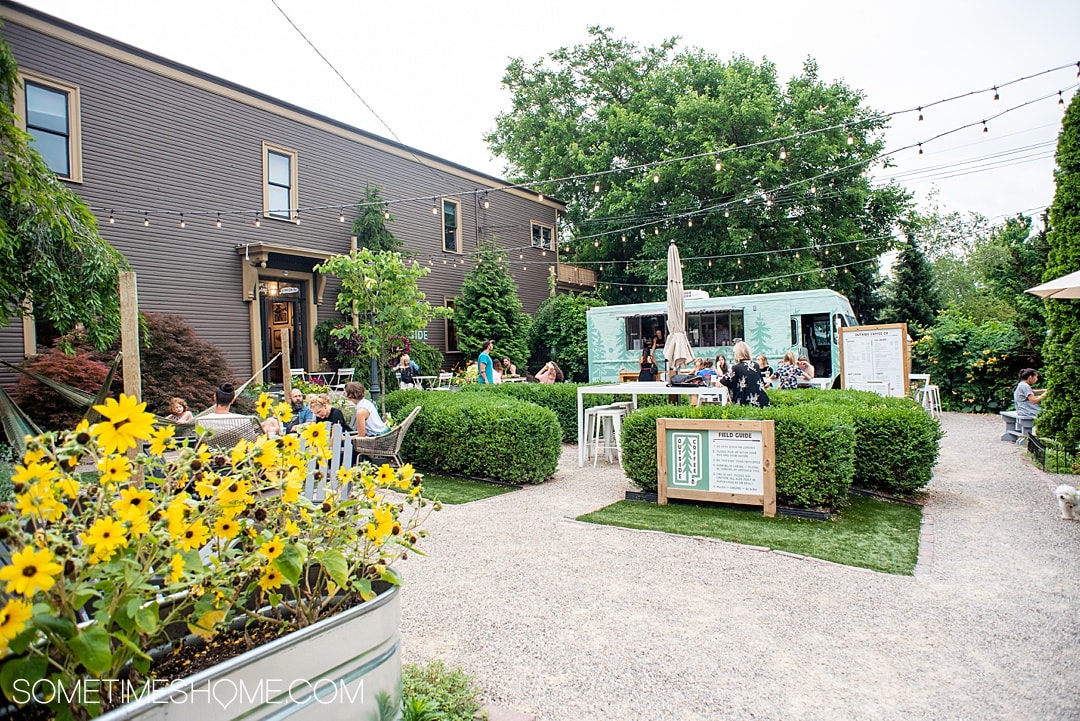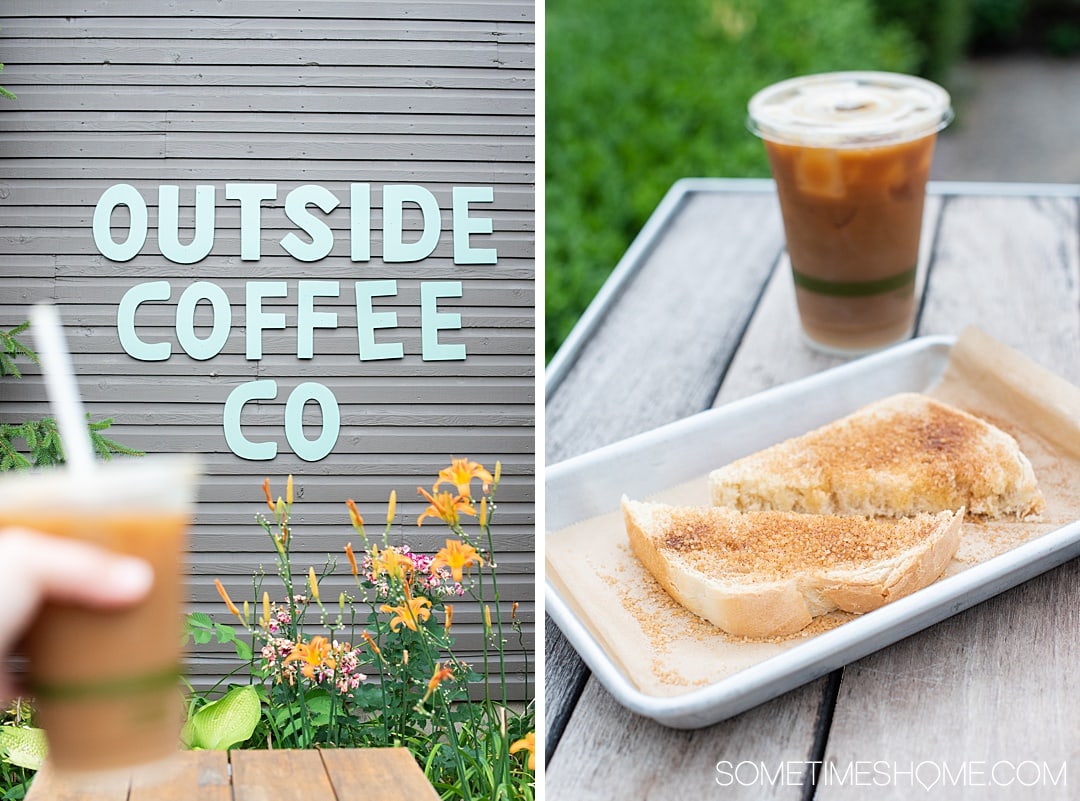 The LittleBird with Outdoor Seating in Downtown Grand Rapids
This breakfast spot has a certain European flair to it. Small, tiny tiles on the floors inside set the foundation for Parisian cafe style seating throughout. We happened to sit outside because the weather in Michigan in July was too pretty to not take advantage of. But the inside was cozy and inviting too.
I had an egg white omelette with a generous helping of goat cheese on top and the perfect amount of salad and fruit to go with. There are so many menu items everyone in your party can find something to suit their taste. Or go solo a few times and never repeat a dish!
They are open Wednesday through Sunday.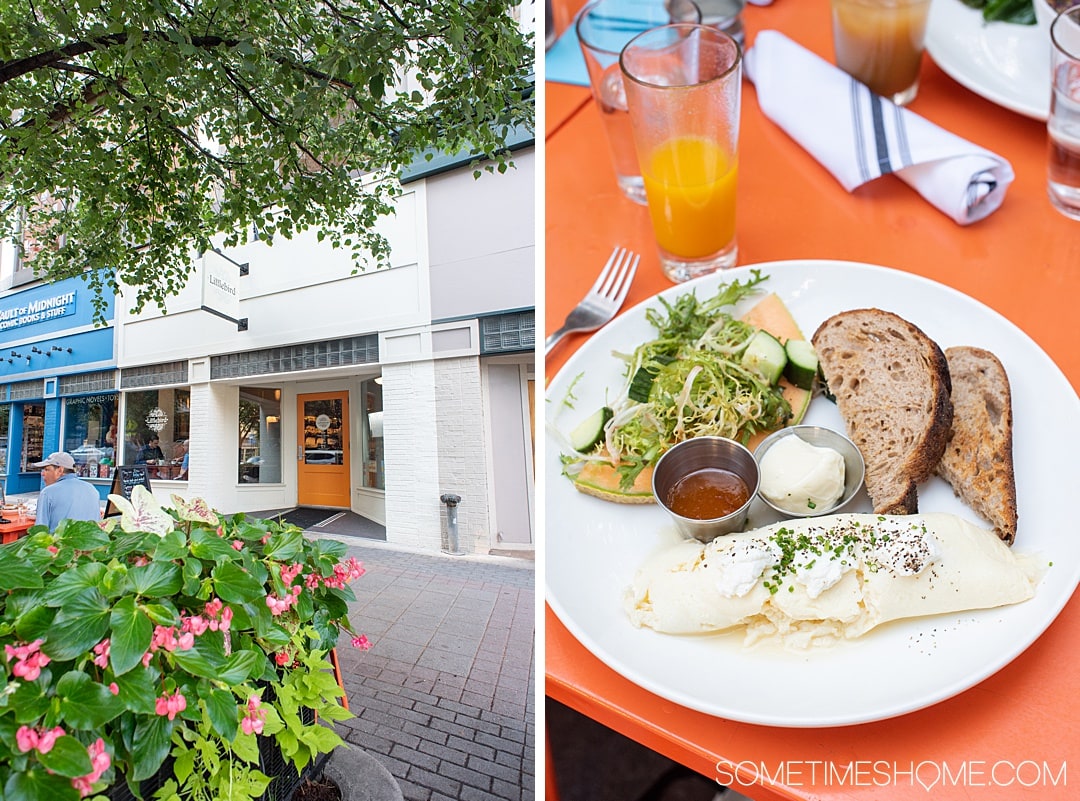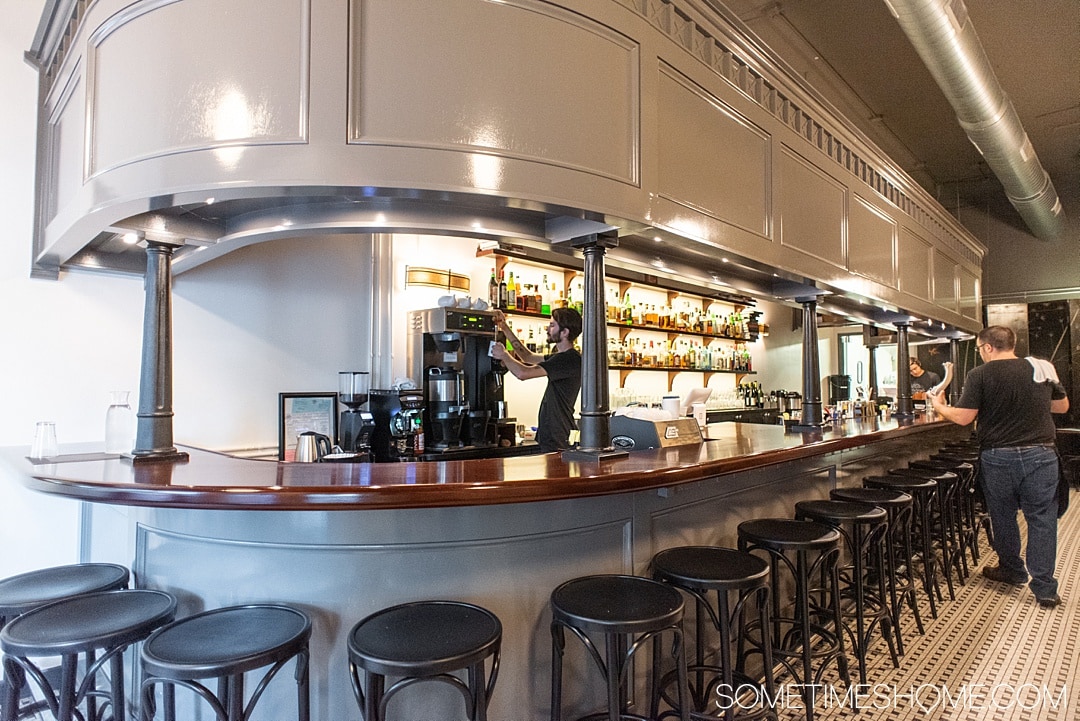 Grand Rapids – Extra Treats (Alcohol Included)
Treats would be anyone's favorite aspect of most trips, right? Especially if you have a sweet tooth! The treats in Grand Rapids, Michigan proved to be some of our favorites of the entire visit.
MoKAYA
MoKAYA is named after a native people in Central America who predate the Mayans. They drank a liquid from bowls, which archeologists say contain traces of cacao. This is the first known evidence of chocolate consumption in North America, thousands of years ago. The owners of MoKAYA have honored these people with their name and the famous bowls in the pattern of their branding and logo.
Max and his dad, Smitty, own MoKAYA, on Wealthy Street in Grand Rapids. They believe in supporting the community, the finest ingredients and local partnerships. We were amused to find truffles created with local beers in a gift set! Yet I couldn't resist creating my own box of six unique flavor combinations to try, like Jalapeño Jelly with Rosemary Lime and Thai Basil Black Pepper.
If you're craving something a little less adventurous try a homemade chocolate covered Oreo or a crunchy Peanut Butter Cup. Even their milk chocolate peanut butter paste is created in house! (And it's one of the best chocolates I've ever tasted with bits of crunch and salty goodness wrapped inside the silky goodness of smooth peanut butter.)
Open Tuesday through Saturday.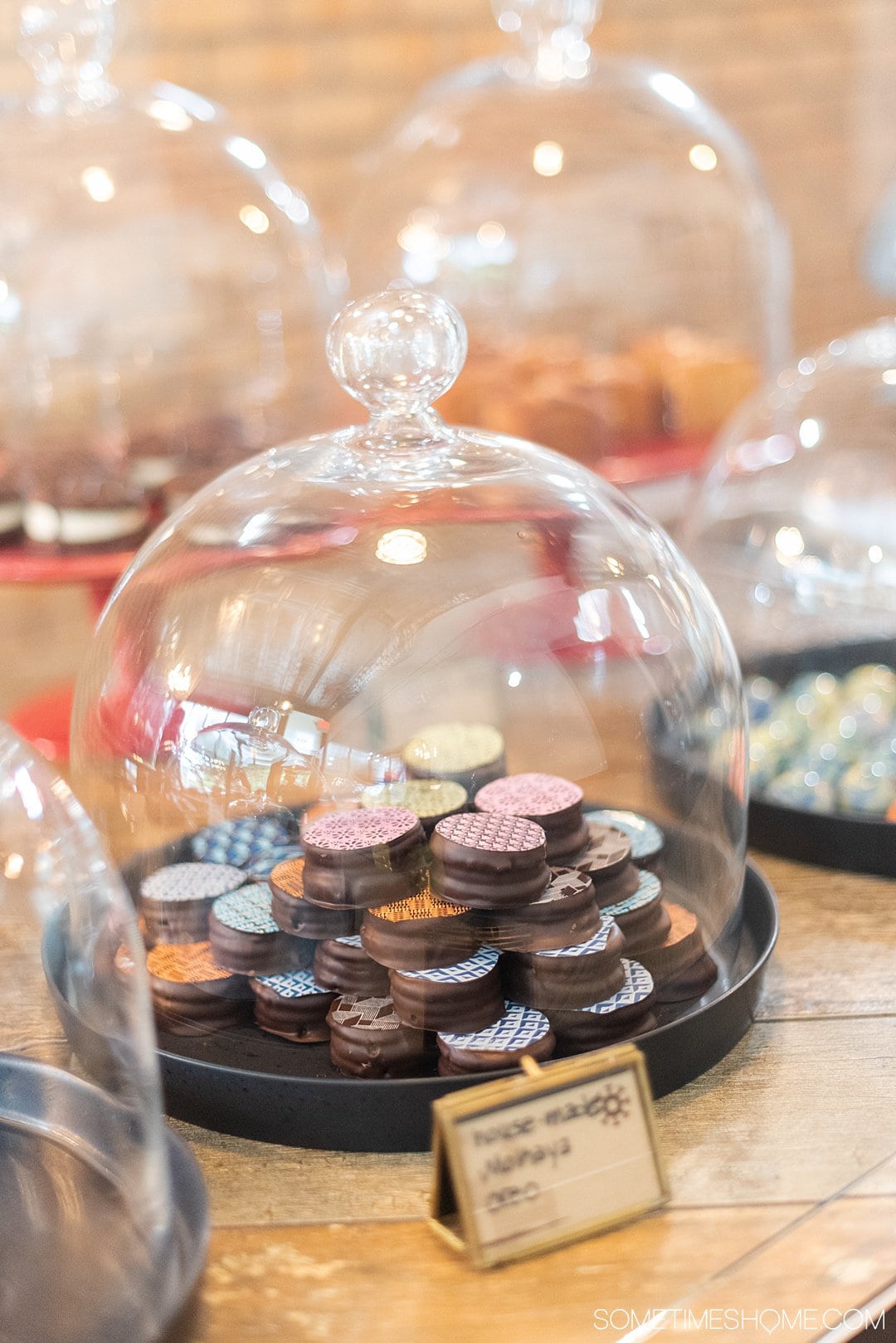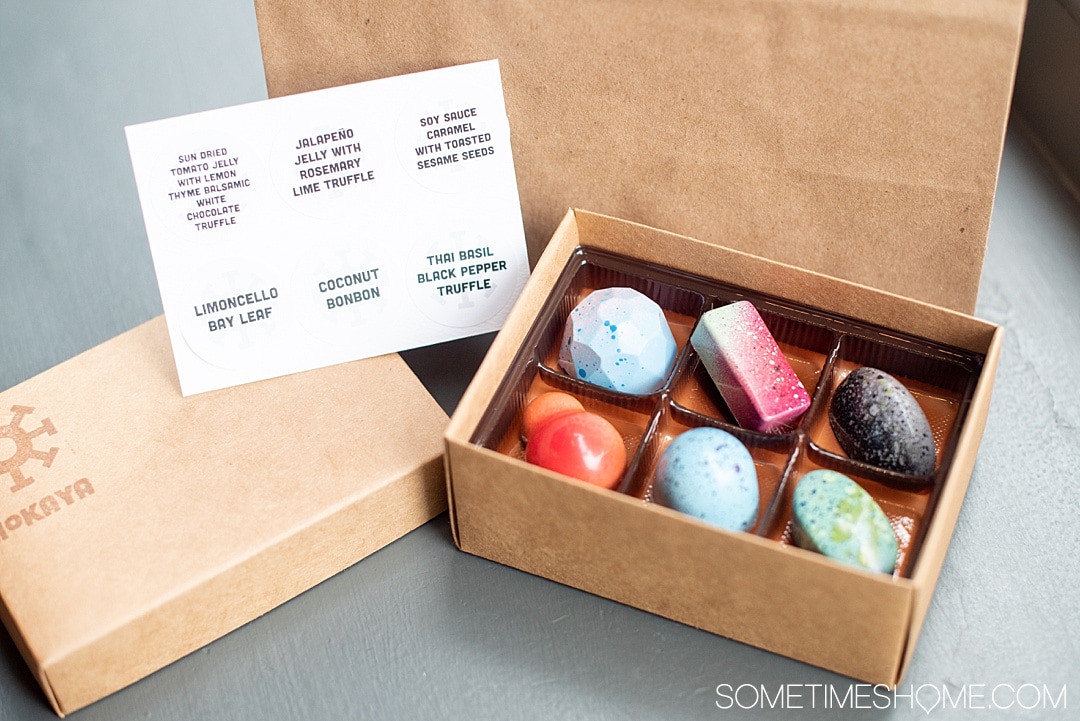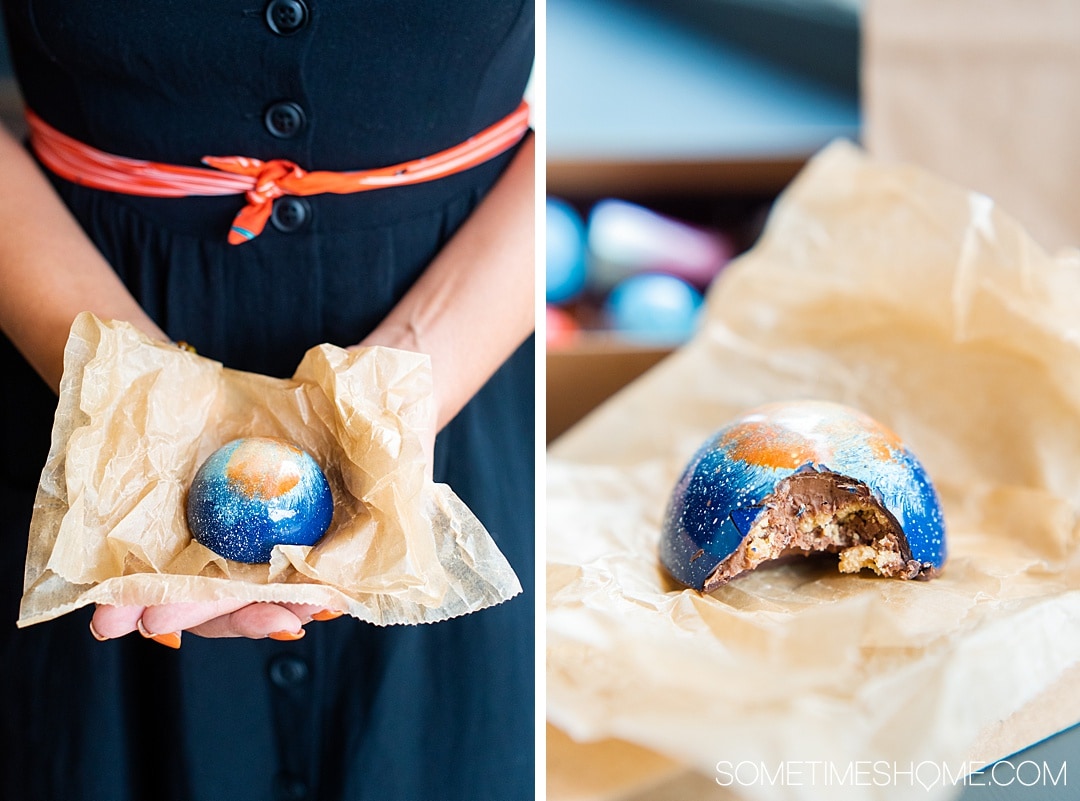 Sandy Point Beach House (Formerly Zoko 822)
Summer in the city calls for frosé! (That's frozen rosé wine, of course.) This scrumptious slushy concoction is sweeping the nation and Sandy Point Beach House smartly hopped onboard the frozen wine train. Even if you're restaurant hopping in downtown Grand Rapids outside the months of May through September, when their frosé is available, it's worth stopping in for their sangria and northern Spain "Basque country" inspired tapas.
During summer enjoy an added bonus: their outdoor patio. It's within eyesight of a colorful outdoor wall mural I couldn't take my eyes off of. Try visiting on Thursdays when they also have live music and munching on their Marcona Almonds and Crispy Chickpeas snacks!
They are open Wednesday through Saturday.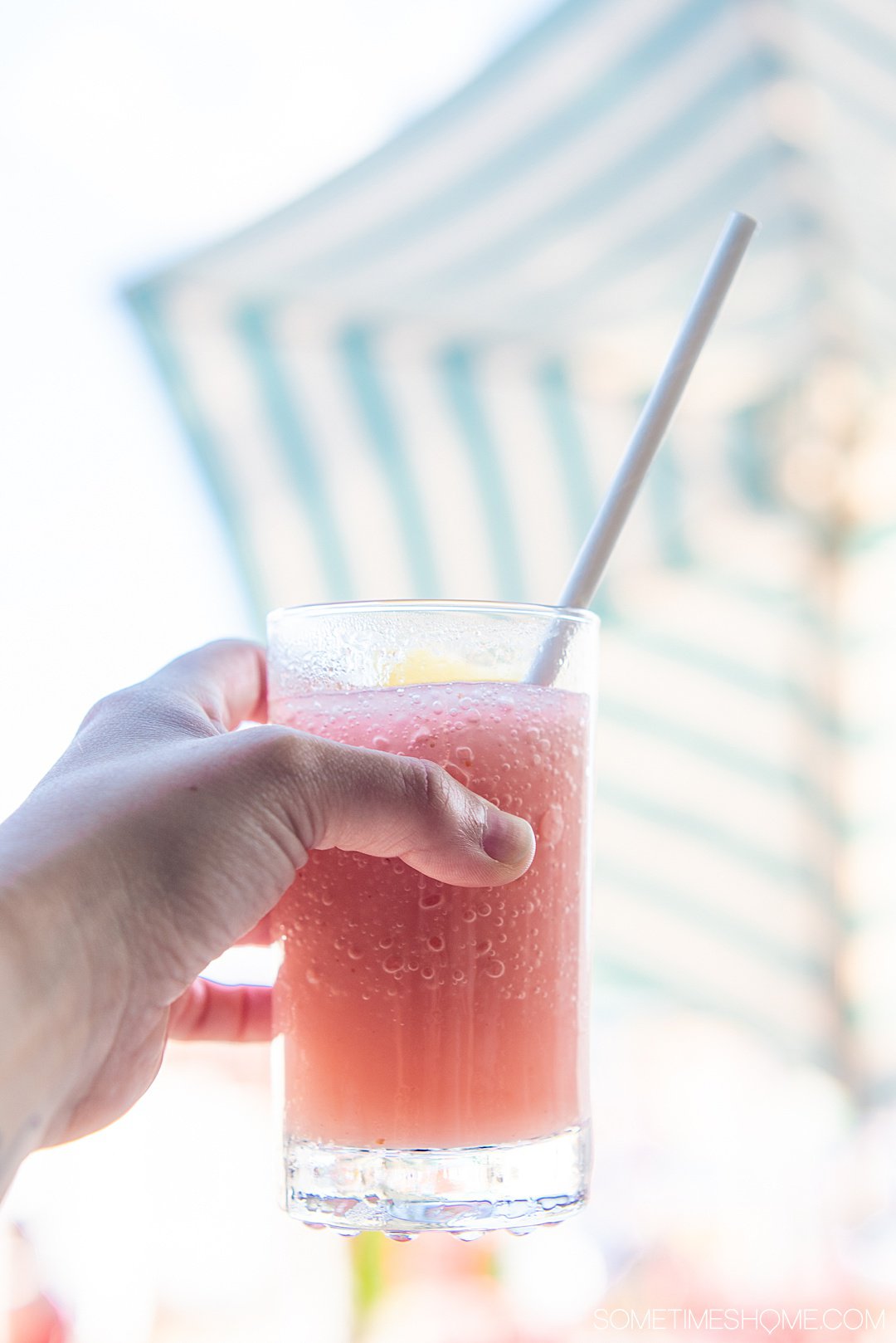 Founders Brewing Co.
What's a trip to downtown Grand Rapids, Michigan without a stop at the world-famous brewery, Founders? We love doing brewery tours, from Winston-Salem in North Carolina to San Diego in California.
Their "All Day IPA" is one Dan can drink any time. (Trust us – we've tested it.) 😉 I went one evening to check out their tasting room and restaurant. It was a beautiful night so we sat outside and enjoyed the faint sounds of a musician inside player guitar during their Tuesday open mic night.
They have so many beers on tap so whether you love IPAs, stouts or pilsners you'll find something as long as you drink beer. They also have a few beers on tap exclusive to the Grand Rapids taproom. We're looking forward to returning one day to try the food too!
Their Taproom is open daily.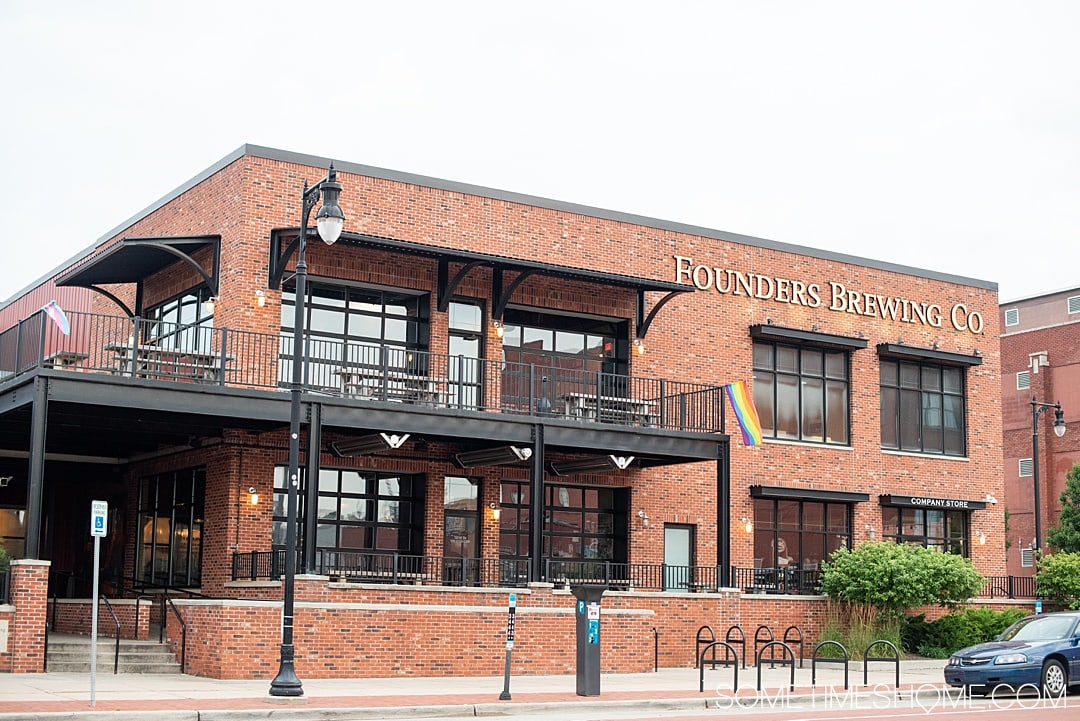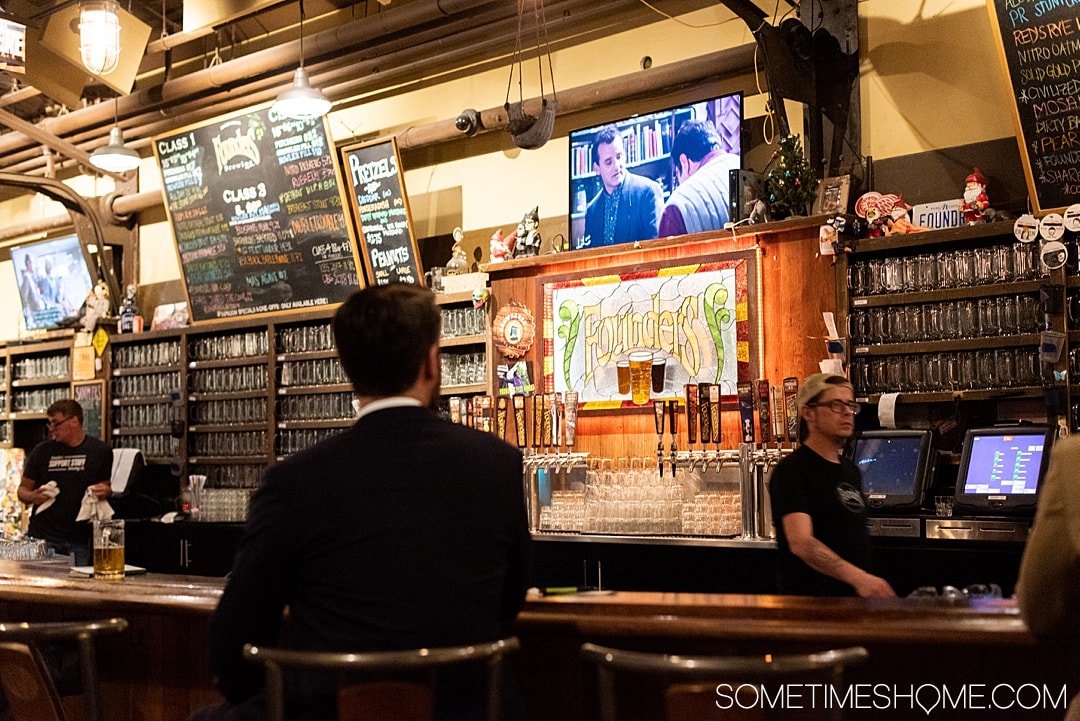 Please note: We thank Experience Grand Rapids for generously hosting us. All the opinions in the post are ours and we bring you genuine content with real facts, tastes, opinions and thoughts. Always.
Foodies, like us? Also check out:
What's your favorite kind of splurge for a meal or local treat when you travel?